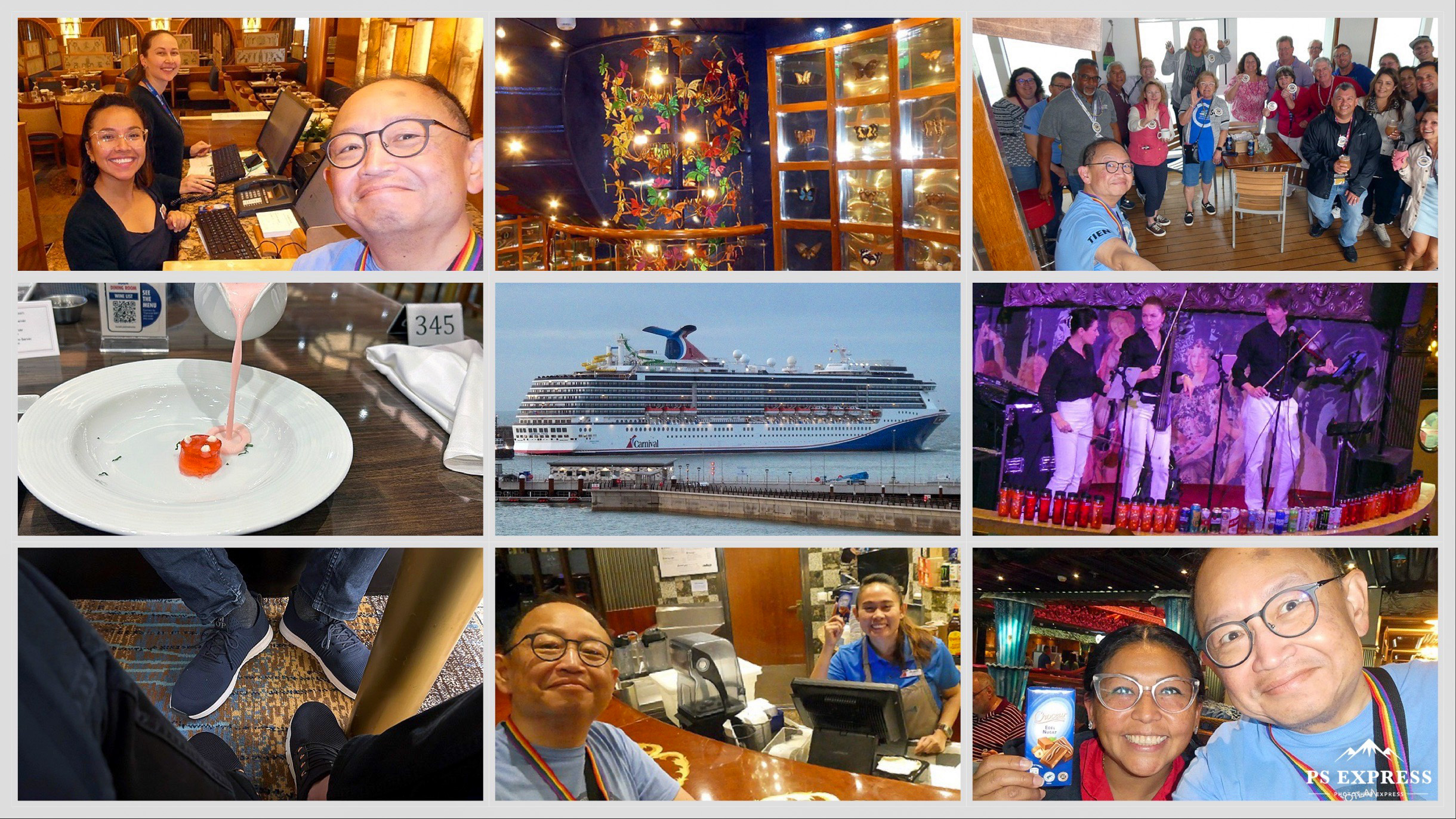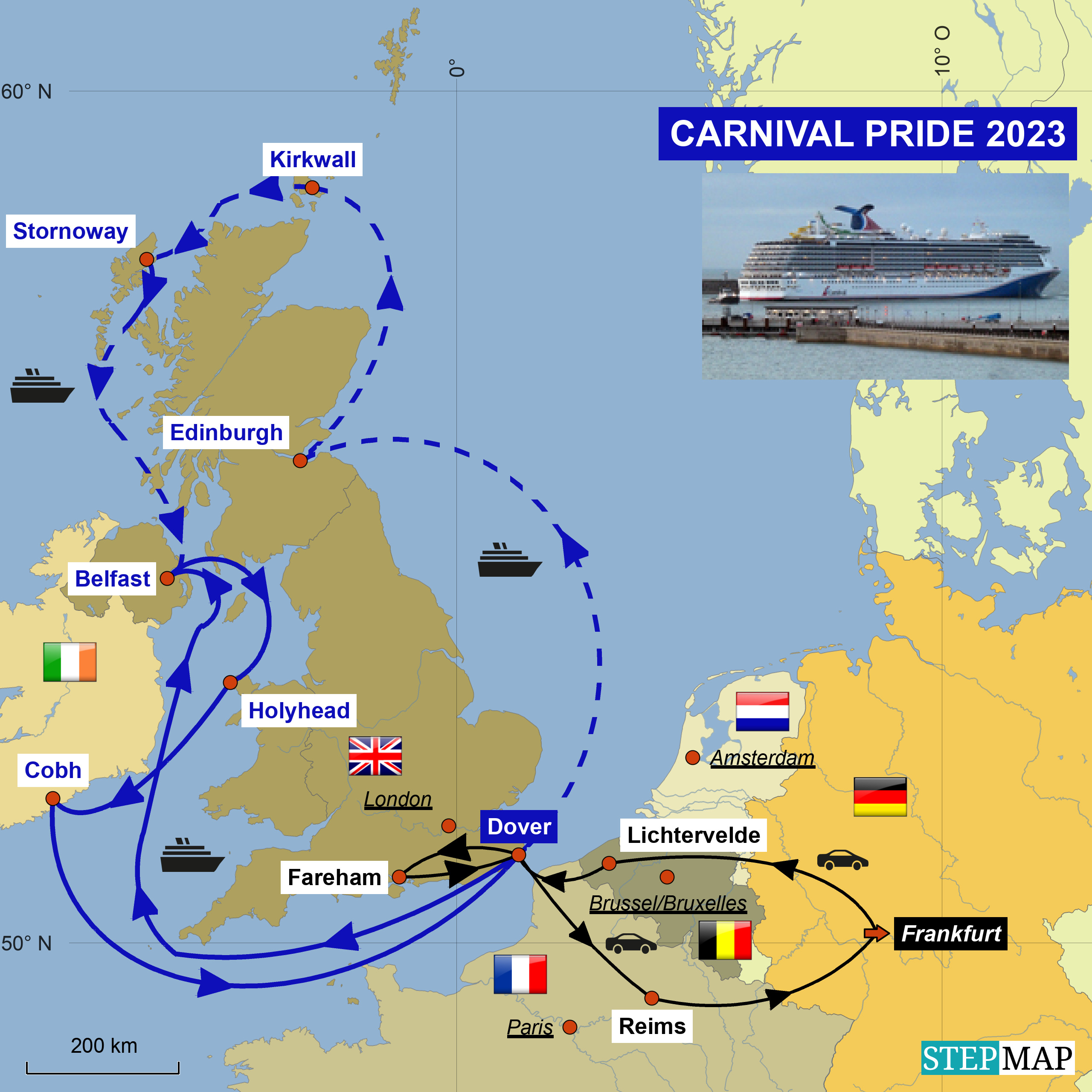 Sie kommt wohl gleich. Die Daten wurden auf der Seite vom
Hafen Dover
aktualisiert. Ganz weit hinten wird sie es wohl sein.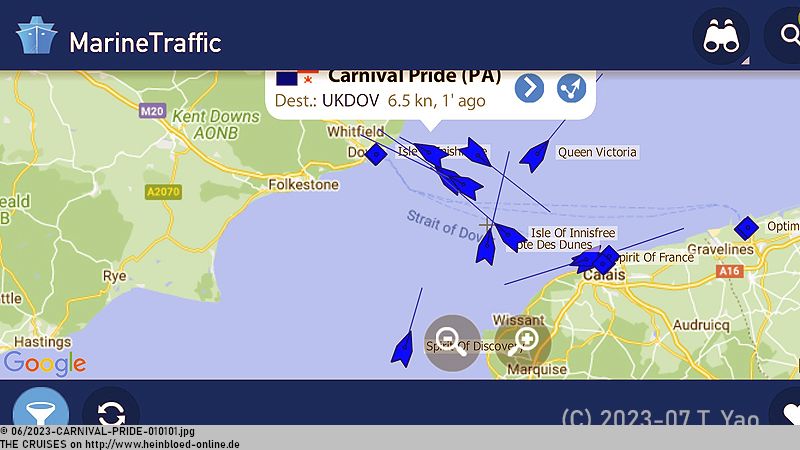 She'll be right there. The dates have been updated on the Port of Dover page. It will probably be very far behind.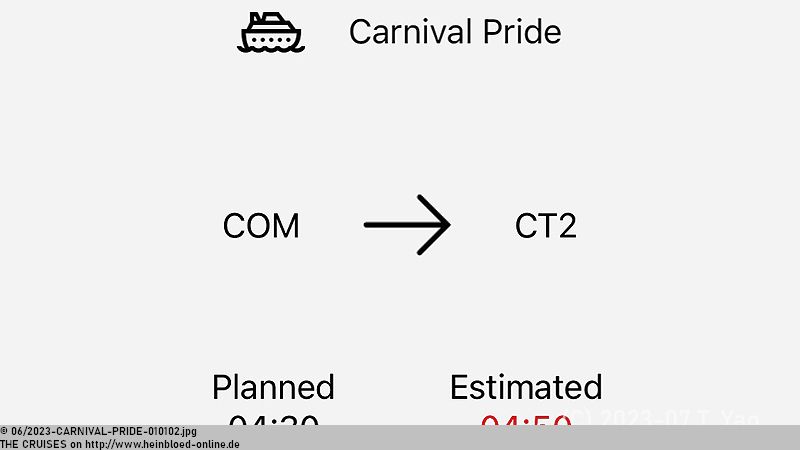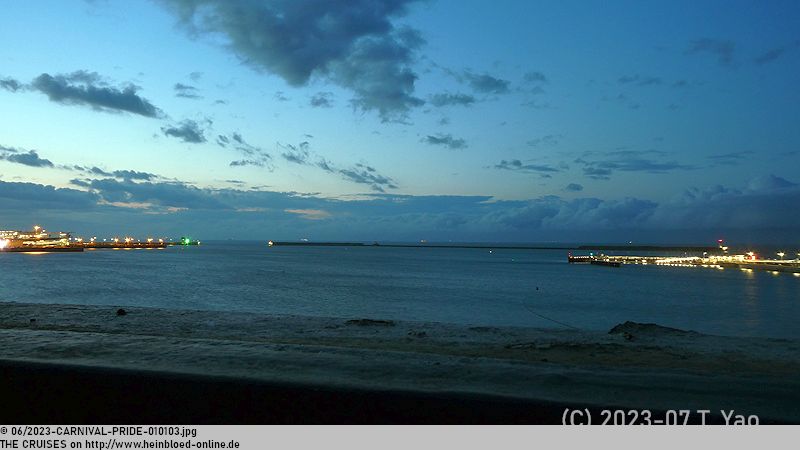 And then she made it this far to Dover, England: CARNIVAL PRIDE.

Und dann hat sie es bis hierher nach Dover geschafft: CARNIVAL PRIDE.
Danach kommt meine Stalkerin wieder: SPIRIT OF DISCOVERY.

Then my stalker comes back: SPIRIT OF DISCOVERY.

We'd instead go to Costa for breakfast. There are also products from the M&S Foodhall. My chicken sandwich is delicious. It looks like croque monsieur, but it tastes very different. I'm excited.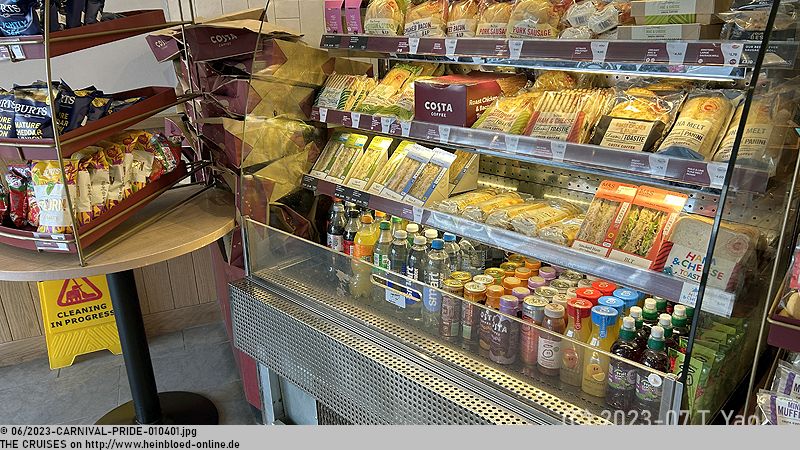 Wir gehen lieber zu
Costa
frühstücken. Dort gibt es auch Produkte aus der
M&S Foodhall
. Mein Hühnchen-Sandwich ist sehr lecker. Sieht aus wie Croque Monsieur, aber es schmeckt ganz anders. Ich bin begeistert.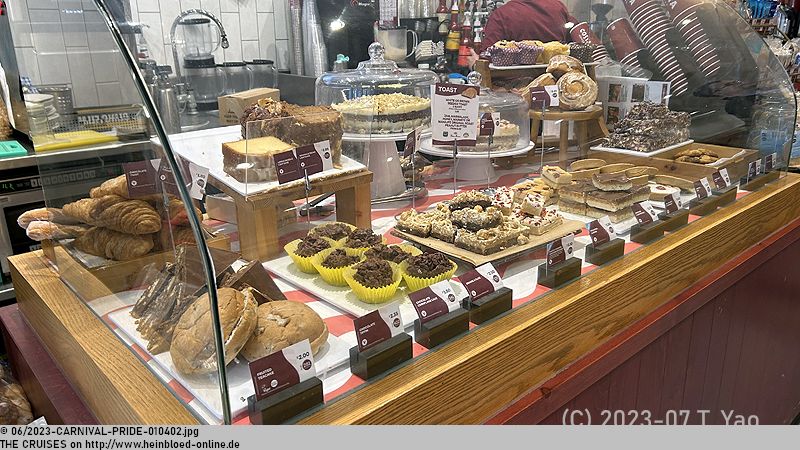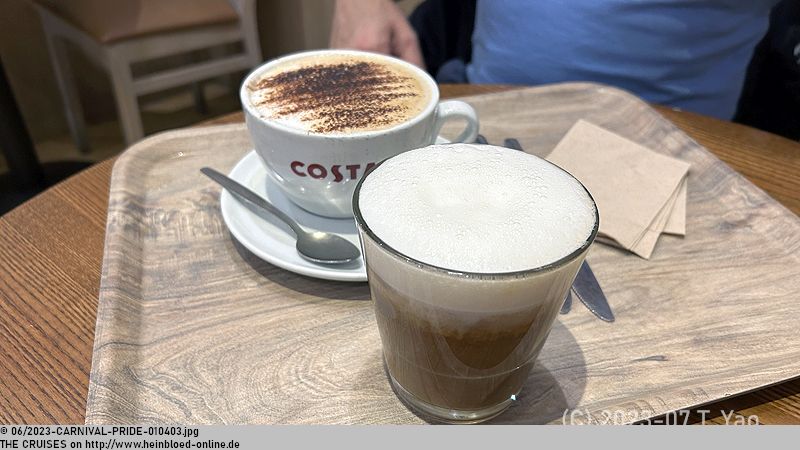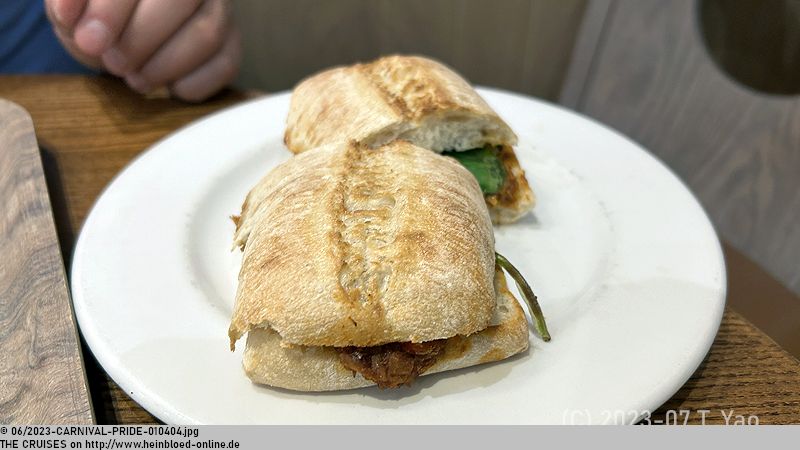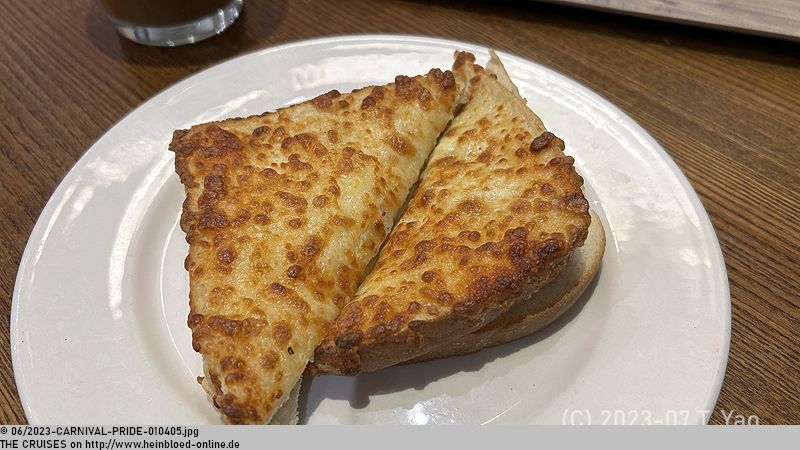 Bevor wir losfahren werde ich auch noch die letzten Päckchen für unsere Reiseführer in den ausgefallenen schottischen Häfen wieder los.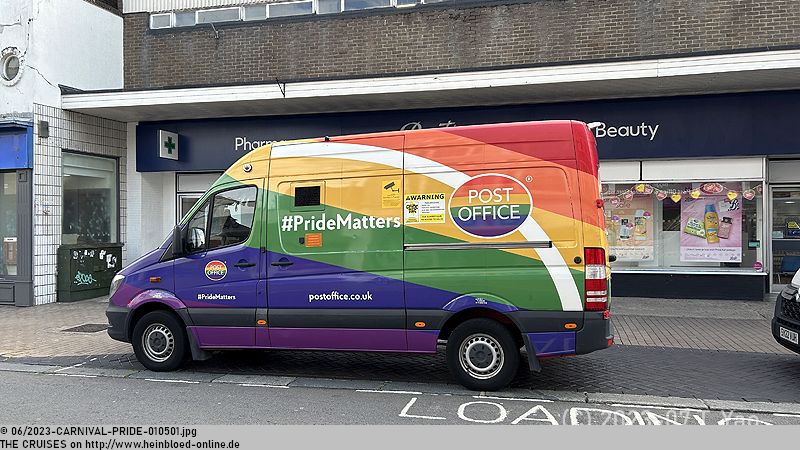 Before we set off, I will also get rid of the last packages for our travel guides in the canceled Scottish ports.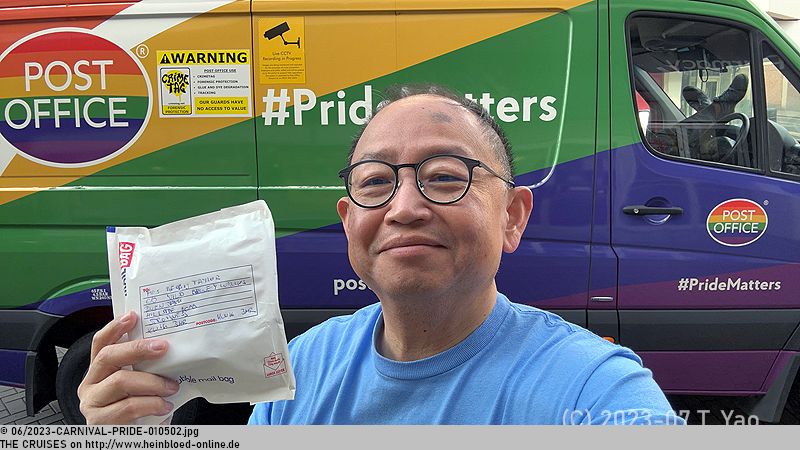 Unser Hotel ist so alt: die Fenster bekomme ich kaum noch hoch um zu fotografieren. Ich muss sie mit Hilfe einer Tasse offenhalten, damit ich fotografieren kann. Die Warnung vor den Tauben auf dem Fenster ist korrekt. Aber sie sind wohl auch Shipspotter und gucken gerne mit, als ich die einlaufende Schiffe fotografiere. Das Serviceverständnis des Hotels ist gleich Null. Sie machen sich nicht mal die Mühe einem Gast ein Taxi zu rufen...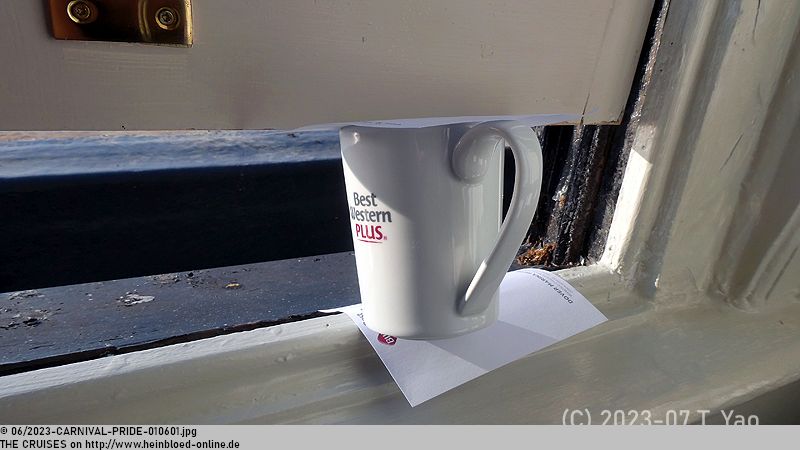 Our hotel is so old: I can hardly get the windows up to take pictures. I have to hold them open with the help of a cup so I can take pictures. The warning about the pigeons on the window is correct. But they are probably also ship spotters and like to watch when I photograph the incoming ships. The hotel's understanding of service could be better. They don't even bother to call a guest a taxi...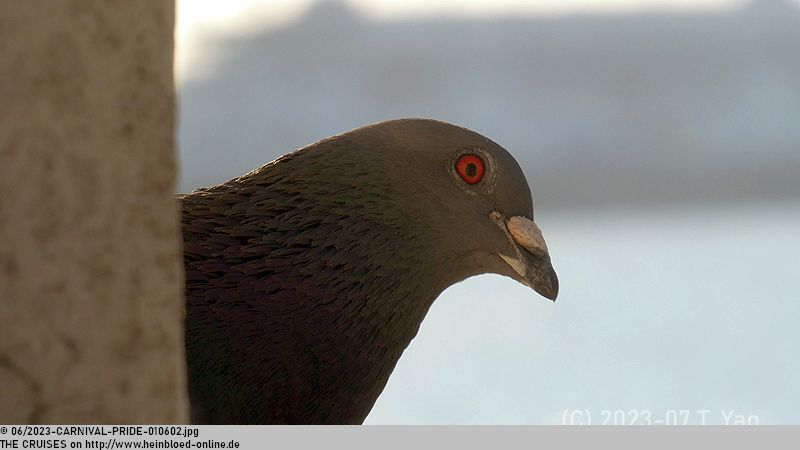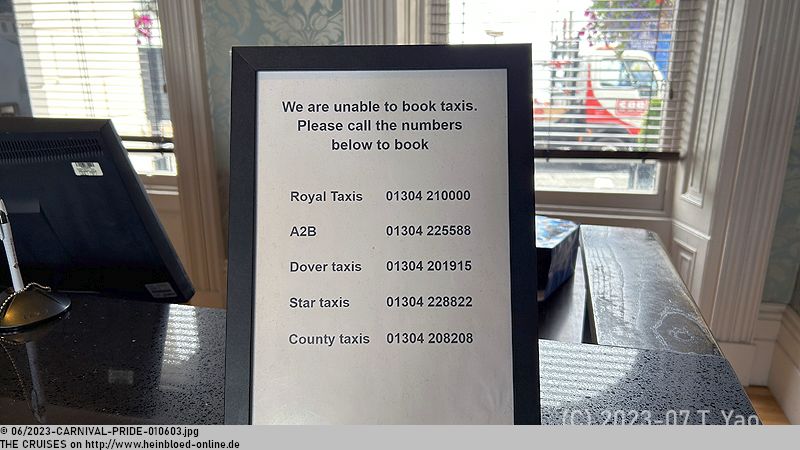 The question repeatedly arose in various forums: are there enough taxis in front of Dover Priory Street station? Today the trains are running again, and taxis always wait before the station when we drive by.

Es kam immer wieder in diversen Foren die Frage: gibt es eigentlich genügend Taxen vor dem Bahnhof
Dover Priory Street
. Heute fahren die Züge wieder und vor der Bahnhof standen immer Taxis bereit, als wir vorbeigefahren sind.
Ich war über den günstigen Preis verwundert, zu dem ich ursprünglich gebucht hatte: 195 USD/Nacht*Person in einer Balkonkabine "nackt" (= plus Service Charges, Getränke und WiFi). Wenn ich gewusst hätte, dass wir nur wir noch dabei geblieben sind: hätten wir wohl für 80 USD das Upgrade-Angebot wahrgenommen und wir wären auf ein höheres Deck gezogen. Wir haben wie üblich über
Dorothy von Cruise Brothers
gebucht. Das brachte uns noch ein kleines Bordguthaben noch ein, das darauf basierte, dass wir ursprünglich noch mehr Kabinen hatten. Wir hatten eine monatliche Zahlung vereinbart. So dass wir über den langen Zeitraum die Kreuzfahrt abgezahlt hatten und es nicht "weh" tat. Am Schluss kamen dann Superschnäppchen auf dem Markt, die mich etwas "verrückt" gemacht hatten. Aber das waren reine Lockangebote: das einzige, das man am Schluss hätte buchen können, wäre eine Suite gewesen. Also hätte es "Full House" sein müssen. Jetzt fahren 1.777 Passagiere mit. Das Schiff hat eine Kapazität von 2.124 (Unterbetten). Also rechnerisch sind etwa 300 Kabinen frei. Wir haben direkt an Bord angefragt, ob wir gegen Entgelt upgraden können, aber man teilt uns mit, dass es noch nicht geht, weil man sich nicht sicher sein, ob der eine oder andere, der nicht auf die Mails reagiert hat, doch noch auftaucht. Auch werden wir später im Restaurant noch gefragt, ob unsere Mitreisenden (die abgesagt haben) auch an den gleichen Tisch wollen.

I was amazed at the low price I originally booked for 195 USD/night*person in a "naked" balcony stateroom (= plus service charges, drinks, and WiFi). If I had known we were the only ones left, we would have taken the upgrade offer for 80 USD and moved to a higher deck. We booked as usual through Dorothy from Cruise Brothers. This earned us a small onboard credit based on having more cabins initially. We agreed on a monthly payment. So that we had paid off the cruise over a long time, and it didn't "hurt". In the end, there were super bargains on the market that made me a little "crazy." But those were mere bait offers: the only thing you could have booked in the end would have been a suite. So it should have been "Full House." Now, 1,777 passengers are traveling with it. The ship has a capacity of 2,124 (lower beds). So arithmetically, about 300 cabins are vacant. We asked directly on board whether we could upgrade for a fee, but we were told it wasn't possible because we weren't sure whether one or the other who had yet to respond to the emails would still turn up. We are also asked later in the restaurant whether our fellow travelers (who have canceled) also want to sit at the same table.

There are no maps with the route at Carnival, so I had to create it myself with Stepmap. Otherwise, I am pleased with the reporting on the measures taken in the dry dock in Cadiz shortly after the transatlantic crossing. We can look forward to a prettied ship.

Es gibt bei Carnival keine Karten mit der Route, also musste ich sie mit
Stepmap
selbst erstellen. Ansonsten freue ich mich über die Berichterstattung über die Maßnahmen im Trockendock in Cadiz kurz nach der Transatlantik-Überfahrt. Wir können uns auf ein aufgehübschtes Schiff freuen.
Die einzigen echten Befürchtungen, die wir hatten: der normale Kaffee an Bord. Mir hat meine indonesische Kollegin den Luwak-Kaffee als Tassenfilter mitgebracht und Bruno hat sich echt deutschen Filterkaffee von
Reinholz
mitgenommen.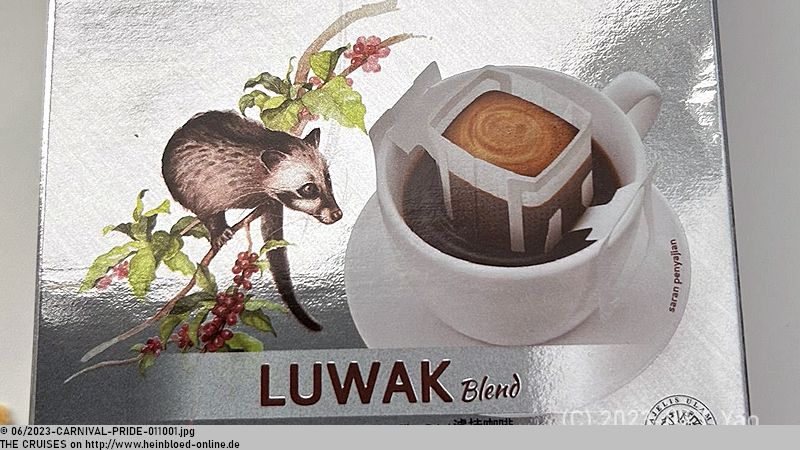 The only genuine apprehension we had: the regular coffee on board. My Indonesian colleague brought me the Luwak coffee as a cup filter, and Bruno took real German filter coffee from Reinholz with him.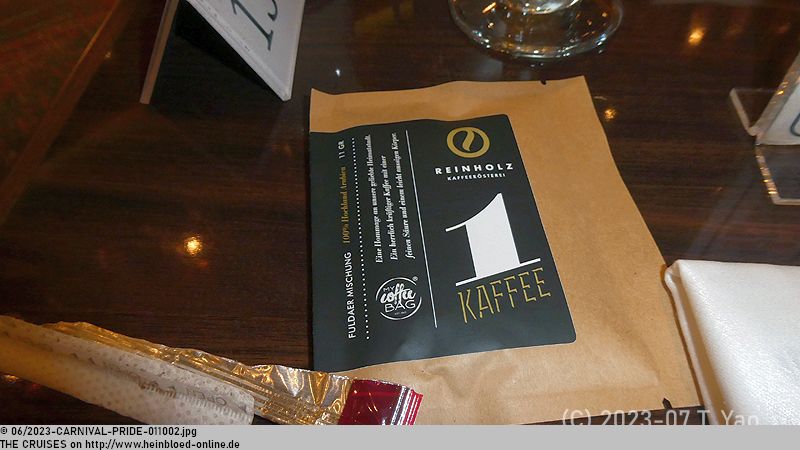 Wir sollten ja alles so lassen, wie ursprünglich gebucht. So reisen wir allerdings bereits früher an und wir sind bereits um 10:35 Uhr an Bord. Auch die Kabinen sind bereits bezugsfertig. Viele Gäste haben ja bereits in Kiel ausgeschifft und wurden über eine Luftbrücke bereits nach London gebracht. Daher konnte die Crew bereits viele Betten in den letzten Tagen bereits für die heutige Einschiffung fertigmachen.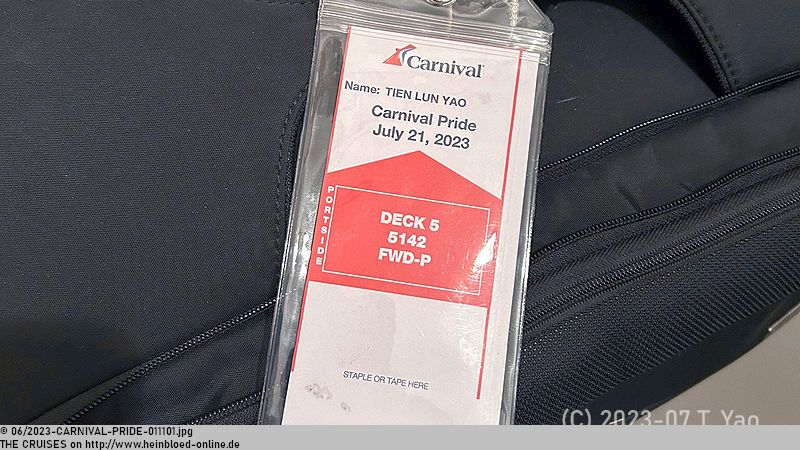 We should leave everything as initially booked. However, we arrive earlier and are on board at 10:35 hrs. The cabins are also ready for occupancy. Many guests have already disembarked in Kiel, Germany and have been airlifted to London, England. Therefore, the crew has already been able to get many beds ready for today's embarkation in the last few days.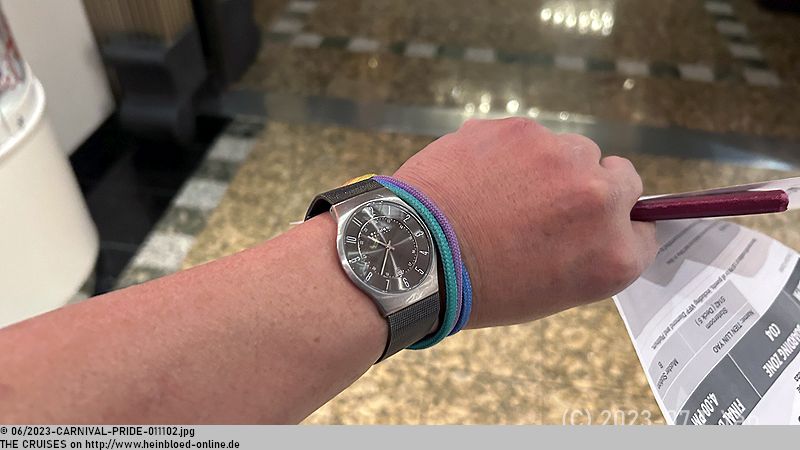 Sie schlagen uns vor, dass wir direkt an der Sammelstation B vorbeischauen und uns das Anlegen der Rettungsweste zeigen lassen und unser Besuch erfasst wird. Anschließend sollen wir in Ruhe unsere Kabinen beziehen und uns noch das Sicherheitsvideo ansehen. Damit hätten wir unsere Schuldigkeit getan. Ich erinnere mich an unsere Reise auf der
GRAND PRINCESS 2017
, als wir in Long Beach lagen und neben uns bei der Rettungsübung auf einem Carnival Schiff zuschauen konnten. Die fand mit "Zucht und Ordnung" auf dem offenen Deck mit gleichzeitiger Präsenz von allen statt.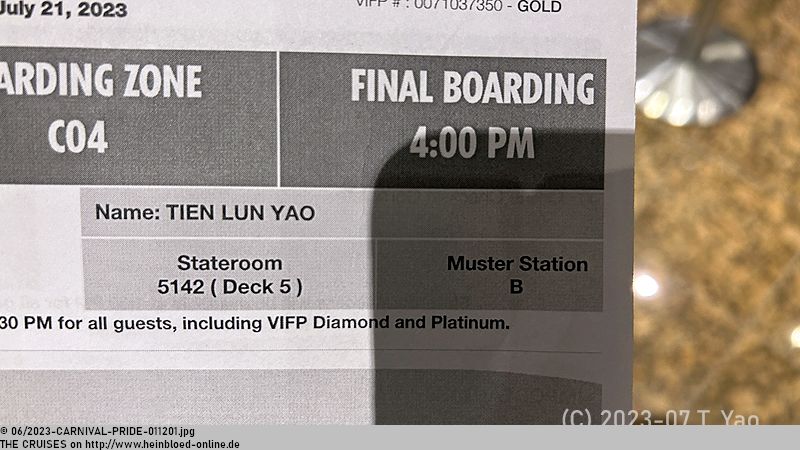 They suggest that we go straight to muster station B and have them show us how to put on the life jacket, and our visit will be recorded. Then we should move into our peaceful cabins and watch the security video. With that, we would have done our duty. I remember our voyage on the GRAND PRINCESS 2017 when we were in Long Beach, CA and could watch the rescue drill on a Carnival ship next to us. It took place with "breeding and order" on the open deck with everyone present simultaneously.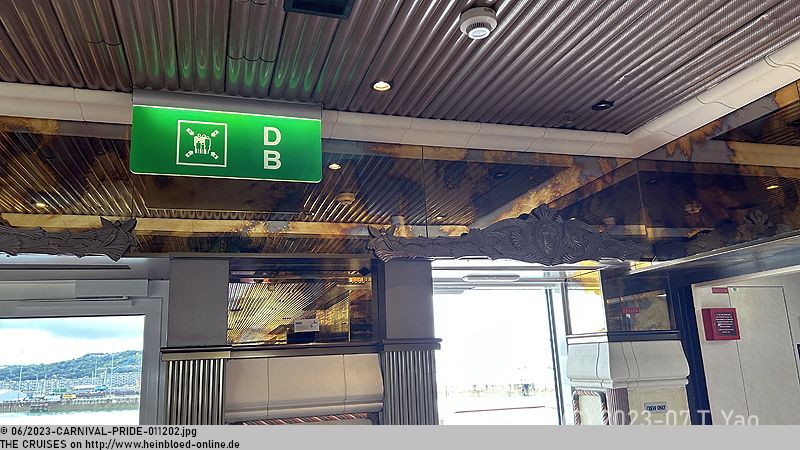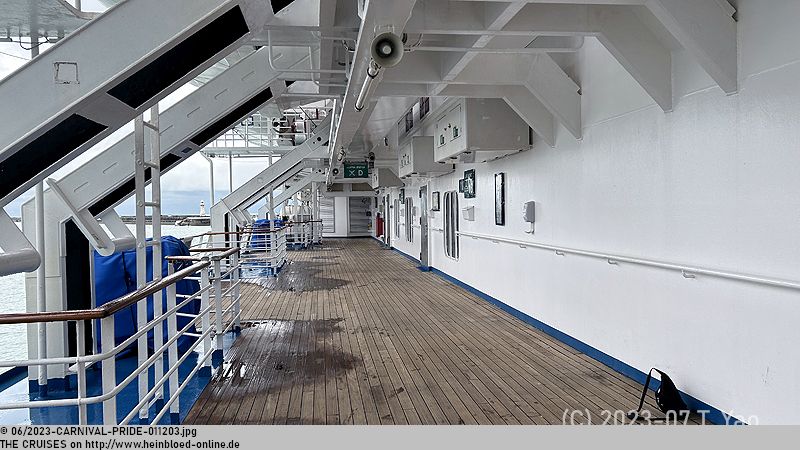 We were lucky when we were at the reception. What I don't like about Carnival: They always have a minimal reception desk, and they hope guests get annoyed with queuing and leaving. On the embarkation day, there is only one employee at the reception (another one only for higher-status customers), which I find very "brave." The advertised virtual queue is not operational. So you have to queue. The pictures of the senior officers scroll through so quickly that I can hardly photograph them. You can also use a machine to change large bills into small ones.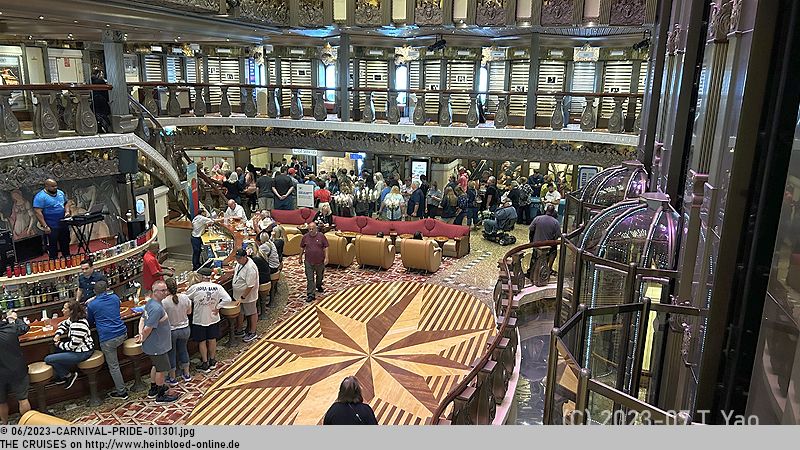 Wir hatten noch Glück, als wir an der Rezeption waren. Was ich bei Carnival nicht mag: Sie haben immer eine sehr kleine Rezeption und hoffen, dass die Gäste so genervt vom Anstehen sind und verschwinden. Am Tag der Einschiffung die Rezeption nur mit einem Mitarbeiter zu besetzen (ein weiterer nur für höhere Statuskunden), finde ich doch sehr "mutig". Die virtuelle Warteschlange für die geworben wird, ist nicht in Betrieb. Man muss also anstehen. Die Bilder der Senioroffiziere werden so schnell weitergeblättert, dass ich sie kaum klar fotografieren kann. Um große Geldscheine in kleine zu wechseln, kann man auch einen Automaten nutzen.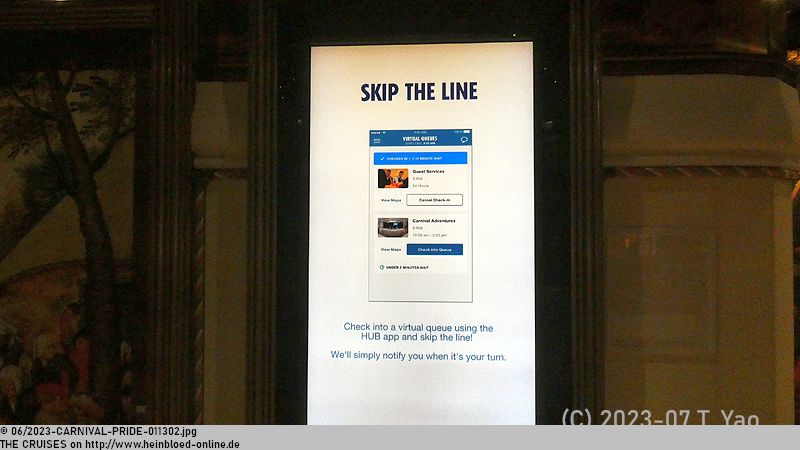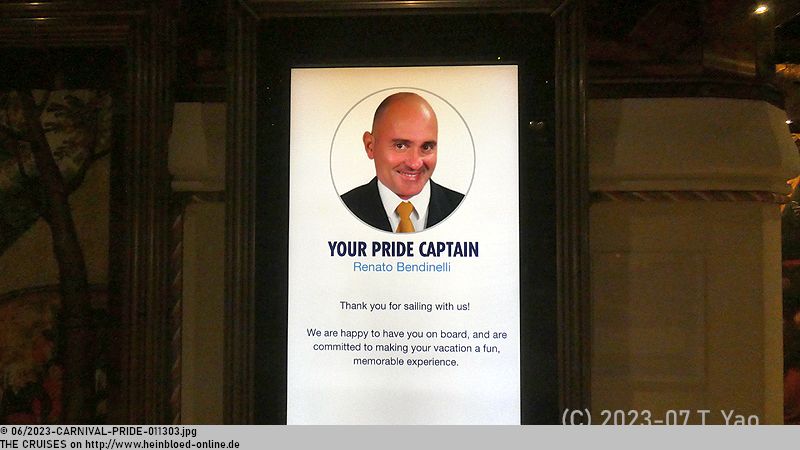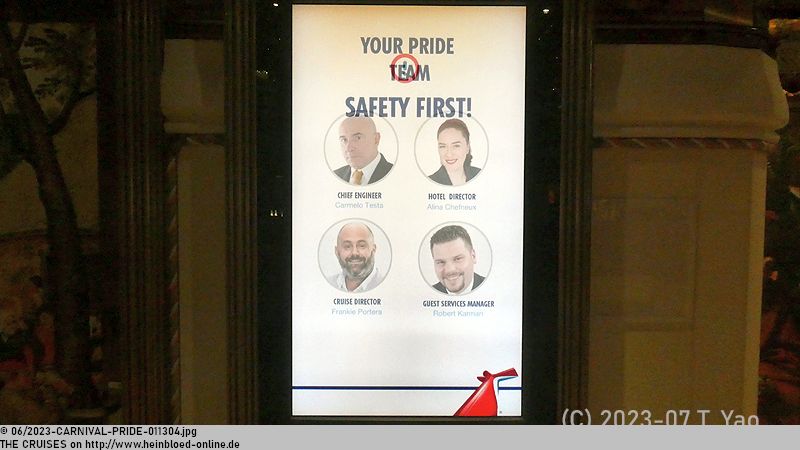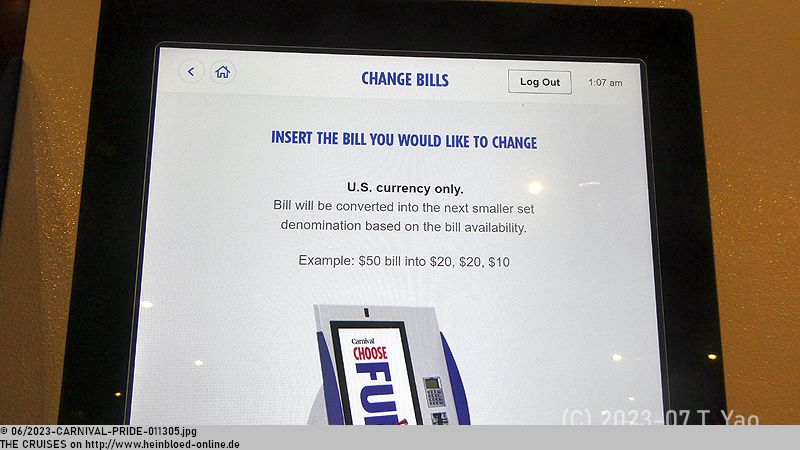 Hier erfahren wir endlich auch die Zeiten in den Häfen. Wir können daher mit den ursprünglichen Planungen aufschließen. Unsere 500 USD Bordguthaben und die anteilige Servicecharge sind rückzahlbar sind bereits auf unserem Bordkonto. Die 1.500 USD für die drei Tage haben wir nicht ausgeschöpft. Wir schicken schon alles nach Miami. Als wir zurück sind, melden sie sich und teilen uns mit, dass wir die Belege nochmals schicken sollen. Kurz danach erhalten wir den Zahlungsavis. Leider bekommen wir die Summe als USD-Scheck mit der Post. Hoffentlich geht das 1/3 Kreuzfahrtpreis zurück auf die Kreditkarte.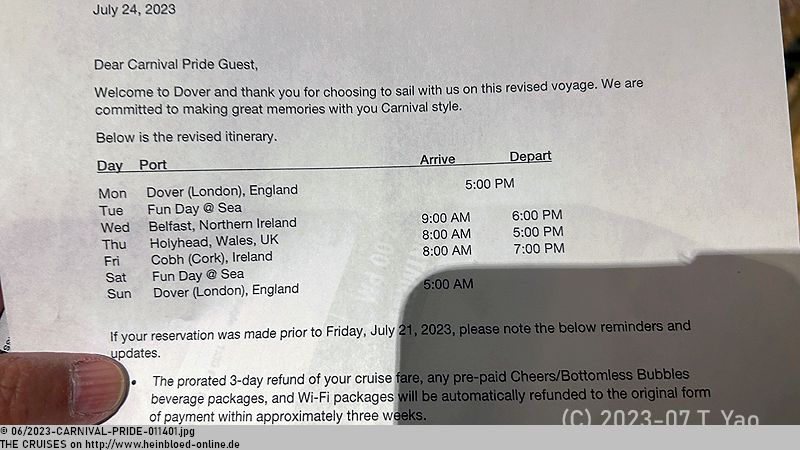 Here we finally find out the times in the ports. We can therefore catch up with the original plans. Our 500 USD onboard credit and prorated service charge are already in our onboard account. We didn't exhaust the 1,500 USD for the three days. We're already sending everything to Miami. When we returned, they got in touch and told us we should send the receipts again. Shortly after that, we receive the payment advice. Unfortunately, we get the amount as a USD check in the mail. Hopefully, the 1/3 cruise fare goes back to the credit card.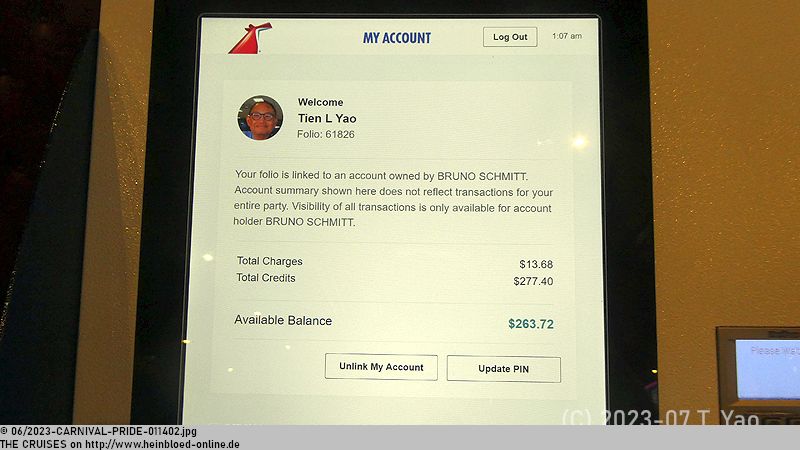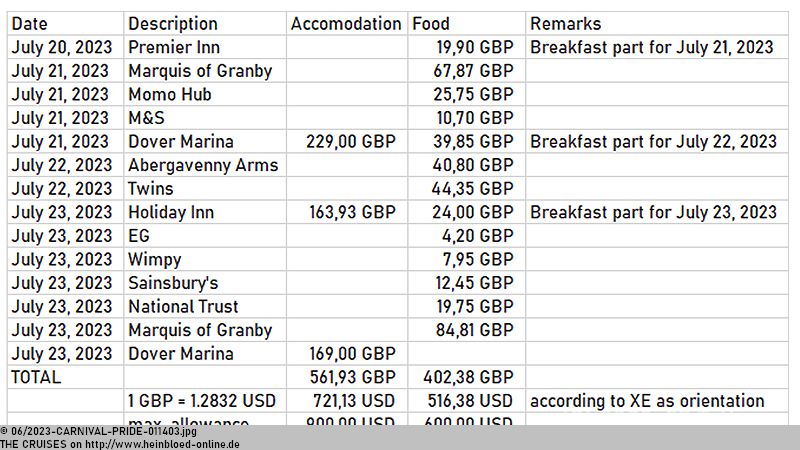 Our cards are hanging on the door. We're already getting the gold cards. At the end of the nine-day cruise, we would be Gold Members. For six nights, we stay red — a pity. But gold doesn't mean much at Carnival anyway. Otherwise, our cabin makes a good impression. Just like last time on OOSTERDAM 2023, we request the 2nd service, which is unavailable at Carnival.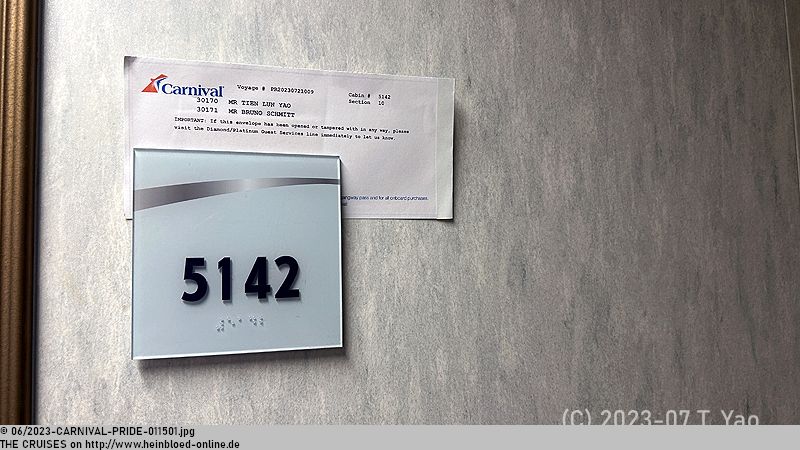 Unsere Karten hängen an der Tür. Wir bekommen bereits die Goldkarten. Am Ende der 9-tägigen Kreuzfahrt wären wir Gold-Mitglieder. Bei 6 Nächten bleiben wir rot. Schade. Aber Gold bedeutet sowieso nicht viel bei Carnival. Unsere Kabine macht an sonsten einen guten Eindruck. So wie zuletzt auf der OOSTERDAM 2023 fragen wir den 2. Service an, aber das gibt es bei Carnival nicht.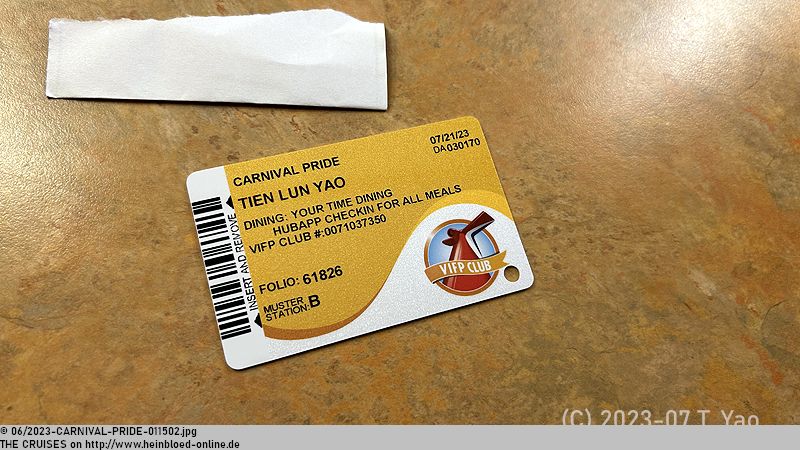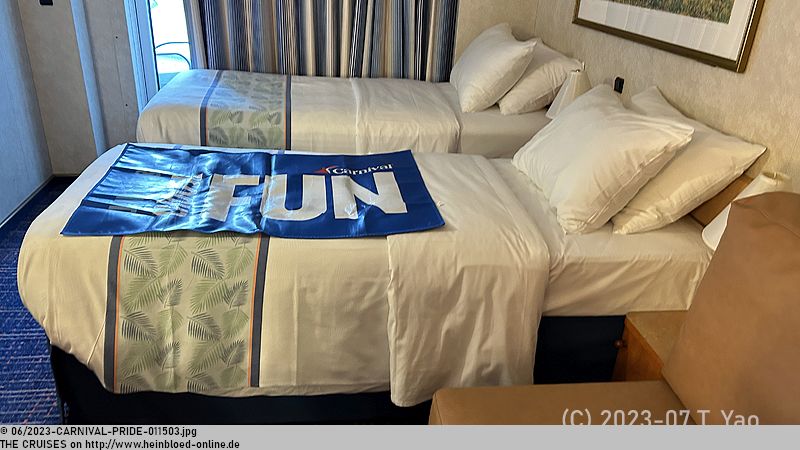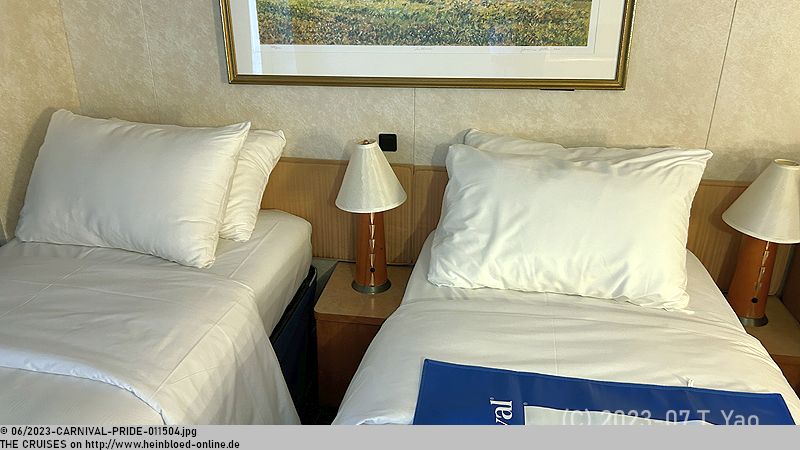 Too bad: the power supply has not been modernized. Only one US outlet and one Euro outlet. No USB ports. There would still be sockets behind the bedside table, but we would have had to bring multiple euro plugs. Very impractical: the safe, which you must lock with a magnetic card. If passenger 1 shuts it with his card, passenger 2 can no longer open it. Therefore, we do not have to lock a magnetic card in the safe and hide it somewhere to unlock it simultaneously. A little more impractical: these hangers are without hooks. Whatever the reason: we find several sockets in the cabin corridor. Several people must have been angry about this. Our magnetic hooks make tidiness in the cabin easier. My Sharp box for my needles and syringes is ready for me.

Schade: man hat die Stromversorgung nicht modernisiert. Nur eine US-Steckdose und eine Euro-Steckdose. Keine USB-Ports. Hinter dem Nachttisch wären noch Steckdosen, aber dafür hätten wir noch Euro-Mehrfachstecker mitbringen müssen. Sehr unpraktisch: Der Safe, den man mit einer Magnetkarte abschließen muss. Schließt Passagier 1 ihn mit seiner Karte ab, kann Passagier 2 sie nicht mehr öffnen. Wir müssen daher eine Magnetkarte nicht in den Safe einschließen und irgendwo verstecken, damit wir beide gleichzeitig den Safe öffnen können. Noch etwas unpraktisch: diese Bügel ohne Haken. Warum auch immer: wir finden mehrere von den Fassungen im Kabinengang. Da müssen sich schon mehrere hierüber geärgert haben. Unsere Magnethaken machen die Ordnung in der Kabine etwas einfacher. Meine Sharp-Box für meine Nadeln und Spritzen steht für mich bereit.
Wir haben eine Kabine mit "eingeschränkter" Sicht. Aber unsere ist gar nicht so schlimm.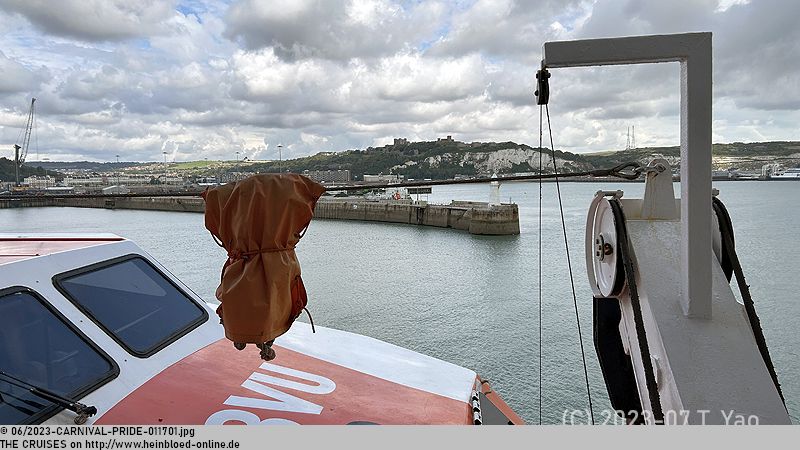 We have an "obstructed" view cabin. But ours is pretty decent.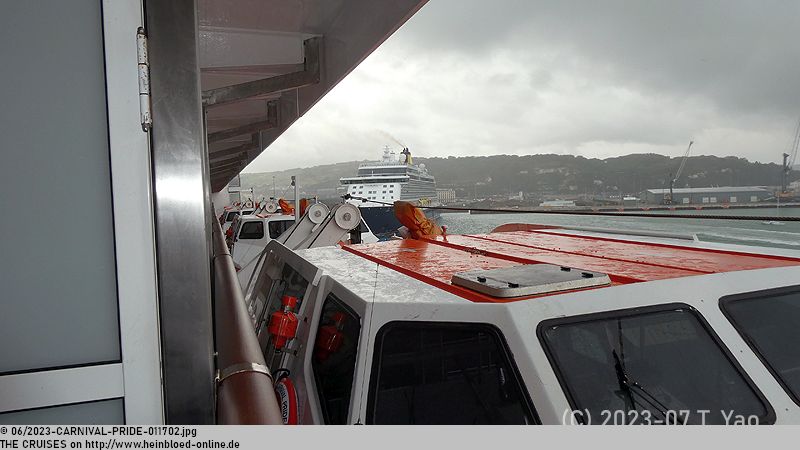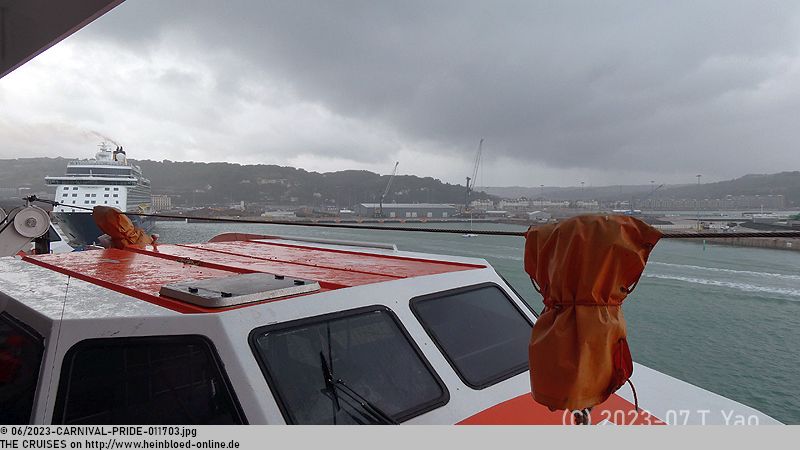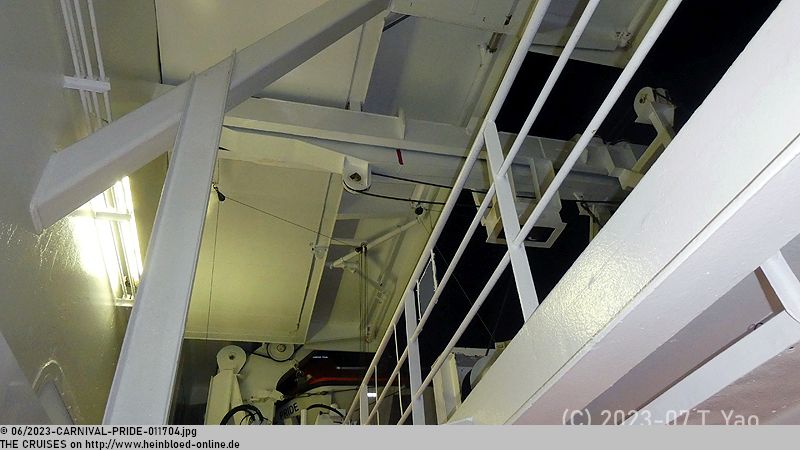 Als wir das erste Mal damals mit der
CARNIVAL FASCINATION 20
08 unterwegs waren, gab es noch eine Schale mit vielen Warenproben. Mittlerweile gibt es Spender für die Seifen, aber auch noch echte Seife. Es gibt keine Zahnputzbecher bei Carnival.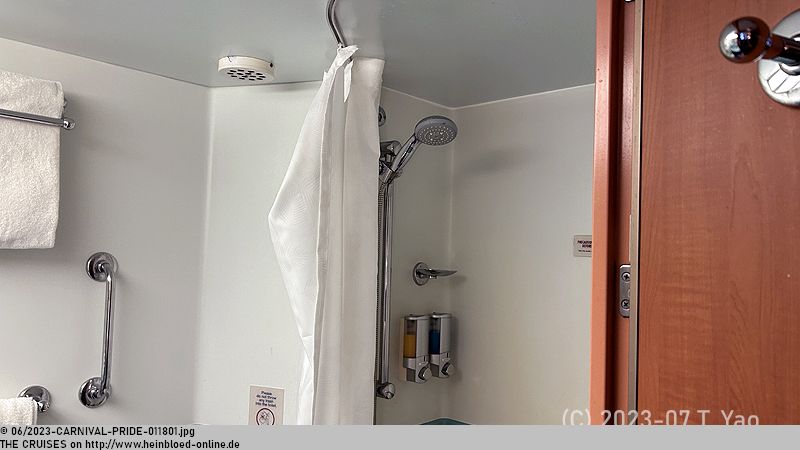 When we were out and about with CARNIVAL FASCINATION 2008 for the first time, there was still a bowl with lots of product samples. There are now dispensers for soap, but also real soap. There are no toothbrush cups at Carnival.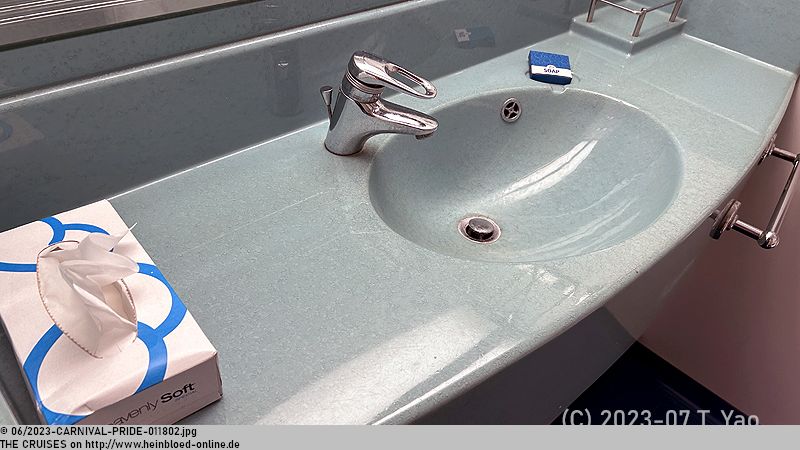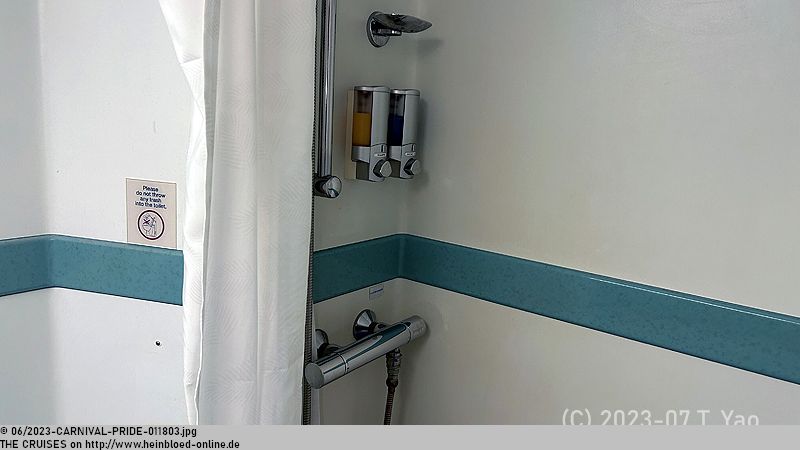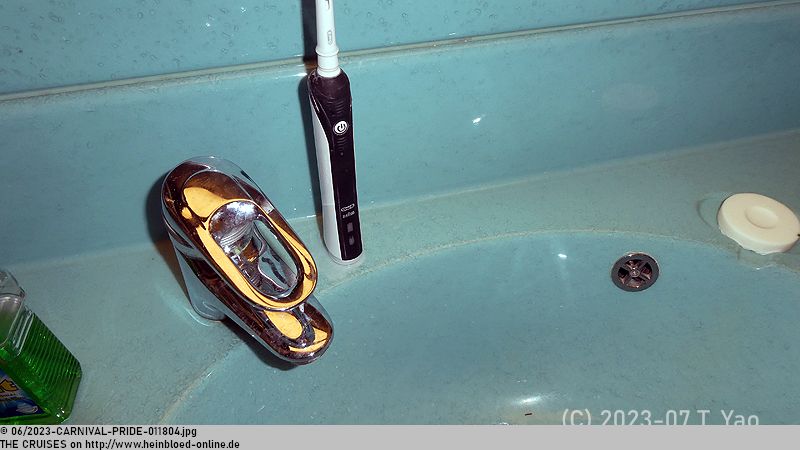 Probleme bereitet die Klimaanlage: wir können sie nicht selbst regulieren. Das Thermostat reagiert nicht. Außerdem ist der Luftdurchfluss zu stark. Wir versuchen es zunächst mit Eigenhilfe. Die Temperatur schwankt extrem. Kaum ist die Temperatur gut, ist es später wieder zu kalt oder zu heiß. Als wir um Decken bitten kommen sie nicht. Erst als ich an der Rezeption vorspreche, bekommen wir die Decken.

The air conditioning causes problems: we cannot regulate it ourselves. The thermostat does not respond. In addition, the airflow is too strong. We try to do it ourselves first. The temperature fluctuates hugely. As soon as the temperature is suitable, it is too cold or too hot later on. When we ask for blankets, they don't come. Only when I visit the reception, do we get the blankets.

My pre-orders are coming, but that was all for nine nights. But since we are traveling by car, we take the remaining bottles. On the final day, the Facebook group will be filled with offers for Back-to-Back travelers who are welcome to collect bottles throughout the ship. A particular annoyance: my canapés. Delicious. Delivering it without napkins, cutlery, and plates doesn't go well with me. There is a complaint about that. How to eat the stuffed mushrooms as finger food that are thoroughly soaked in oil?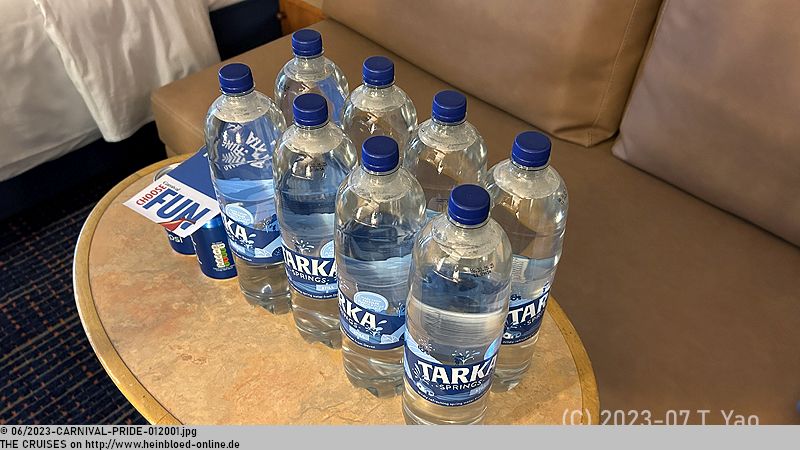 Meine Vorbestellungen kommen, aber das war eigentlich alles für 9 Nächte gedacht. Aber da wir mit dem Auto unterwegs sind, nehmen wir die übrigen Flaschen mit. Am letzten Tag stehen in der Facebook-Gruppe jede Menge Angebote für Back-2-Back-Reisende, die gerne auf dem gesamten Schiff Flaschen einsammeln können. Ein besonderes Ärgernis: meine Canapés. Sehr lecker. Nur ohne Servietten, Besteck und Teller das zu liefern, kommt bei mir nicht besonders gut ein. Dafür gibt es eine Rüge. Wie soll man die gefüllten Champignons als Fingerfood essen, die voll in Öl getränkt sind?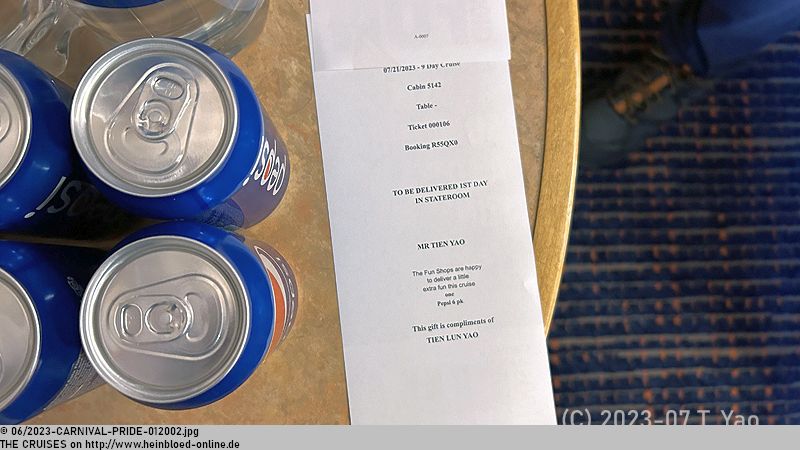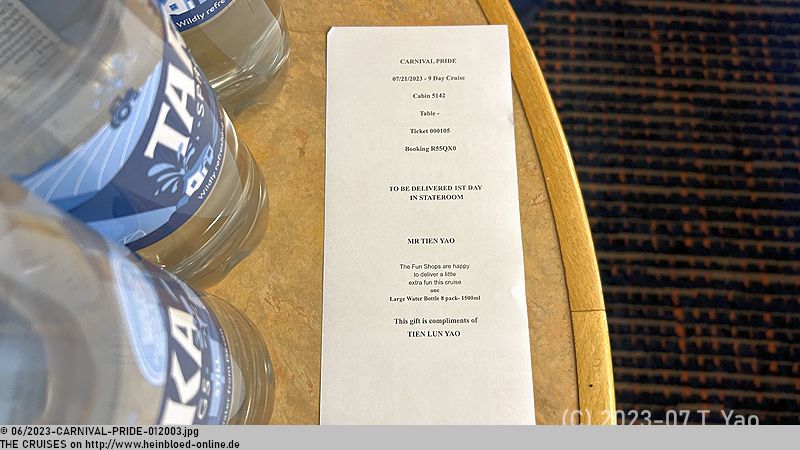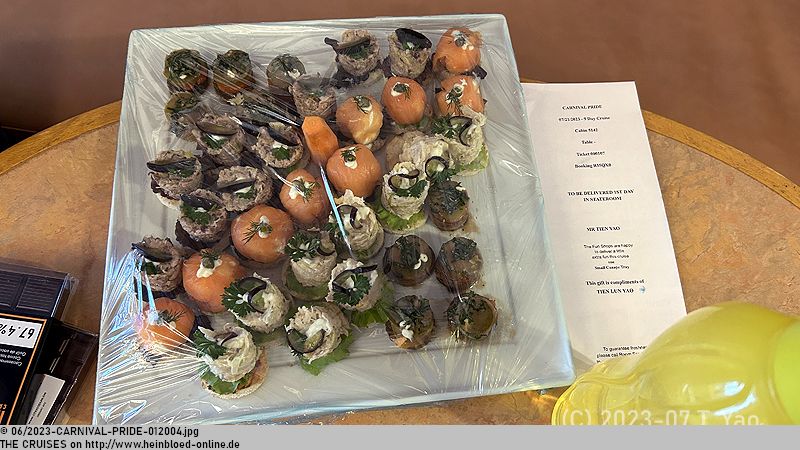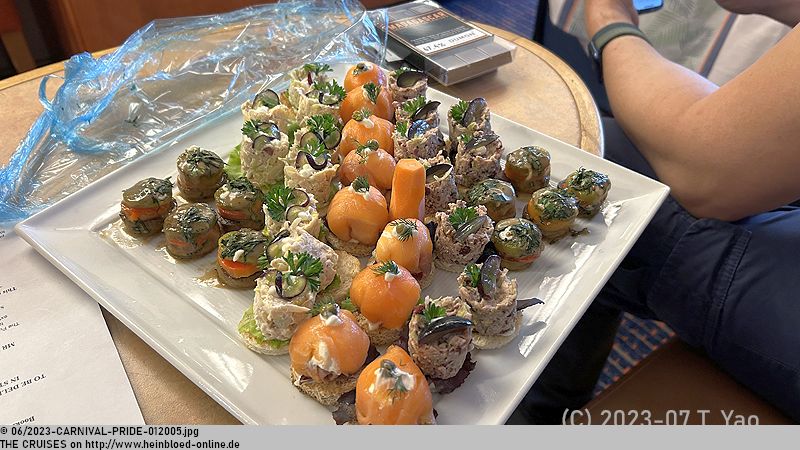 Die anderen Reisen in diesem Blog/
The other voyages in this blog: