Scroll down for English explanations - alternates with German explanations.

Bislang haben wir vom Schiff noch nicht viel gesehen. Und endlich fallen die Details auf.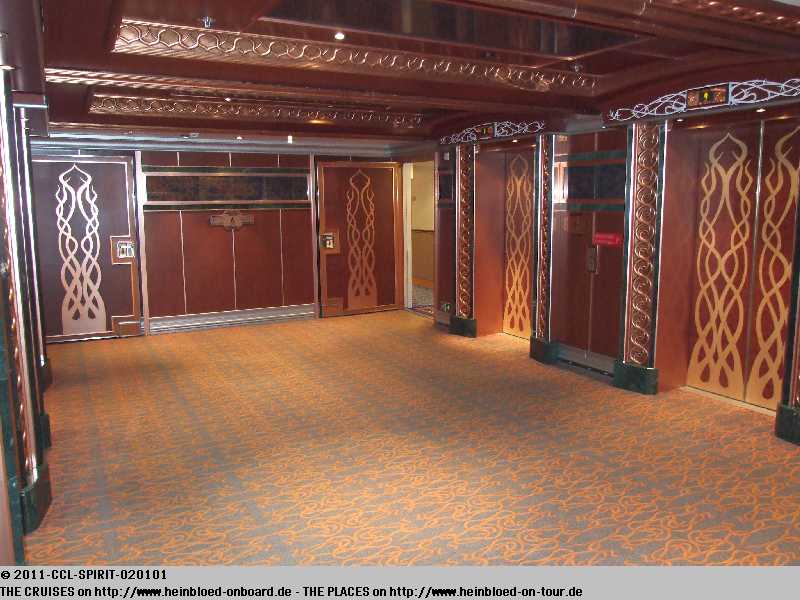 So far we had occassion to see very much of the ship. And so we saw many details now.

Someone spent a lot of effort.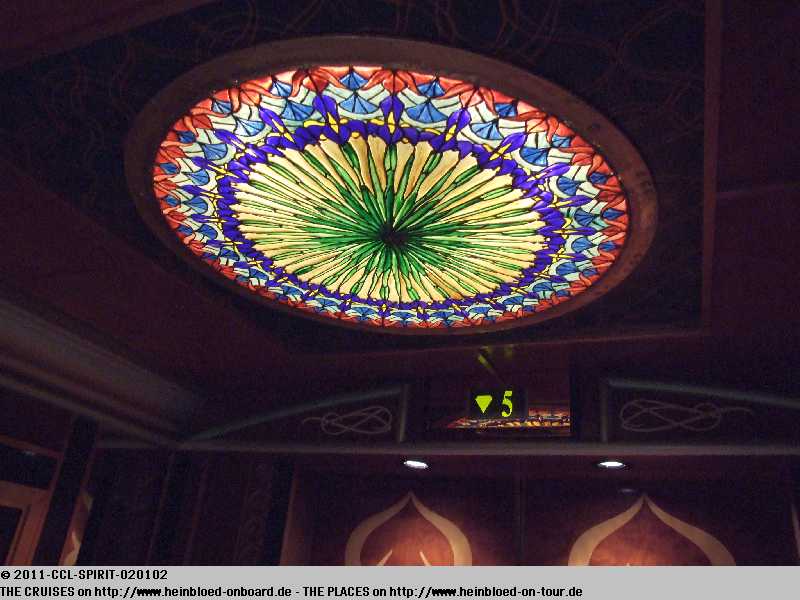 Jemand hat sich doch sehr viel Mühe gegeben.
Und die Deco Lounge wirkt doch sehr gemütlich.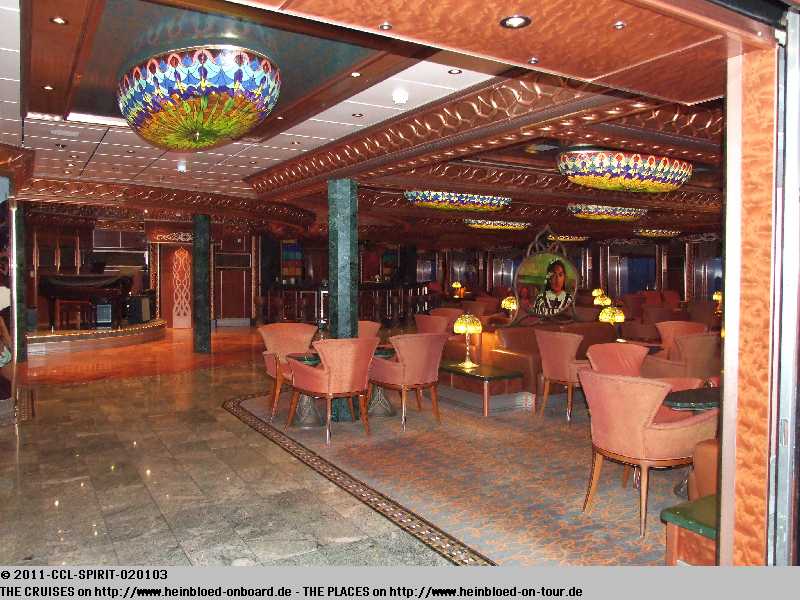 And the Deco Lounge make a very comfortable impression.

You could see with the stairways that it was one design.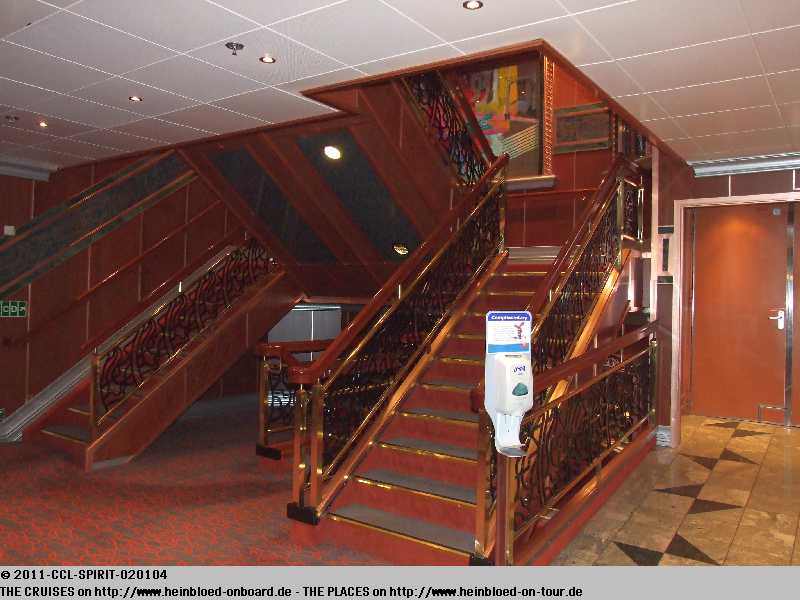 Auch bei den Treppenhäusern, hatte man doch den Eindruck, dass hier alles aus einem Guss ist.
Wenn hier etwas umzieht, kann man kaum mit den Beschriftungsgeräten arbeiten... das passt alles zum Design.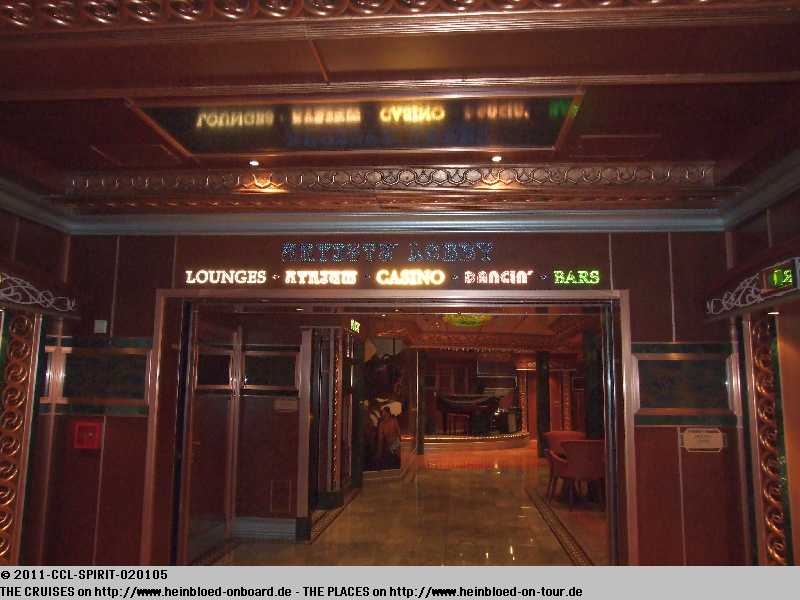 If something moves within the ship you cannot work with a lettering instrument... fits to the design.

Who loves Tiffany-Lamps and Arc Deco will love this ship.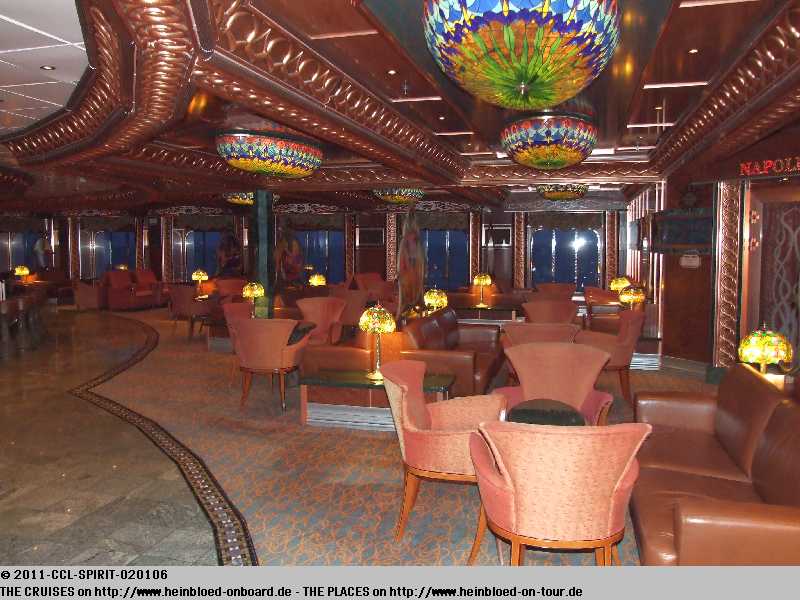 Wer Tiffany-Lampen und Jugendstil mag, ist auf dem Schiff sehr gut aufgehoben.
Als ich erstmalig das Atrium erreicht habe, kann ich nur WOW sagen...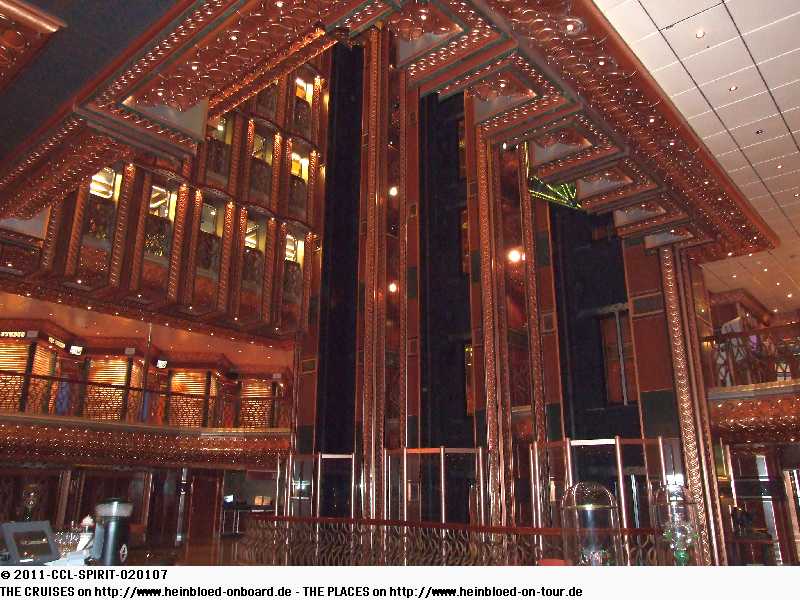 When I arrived the first time the Atrium I could only say WOW...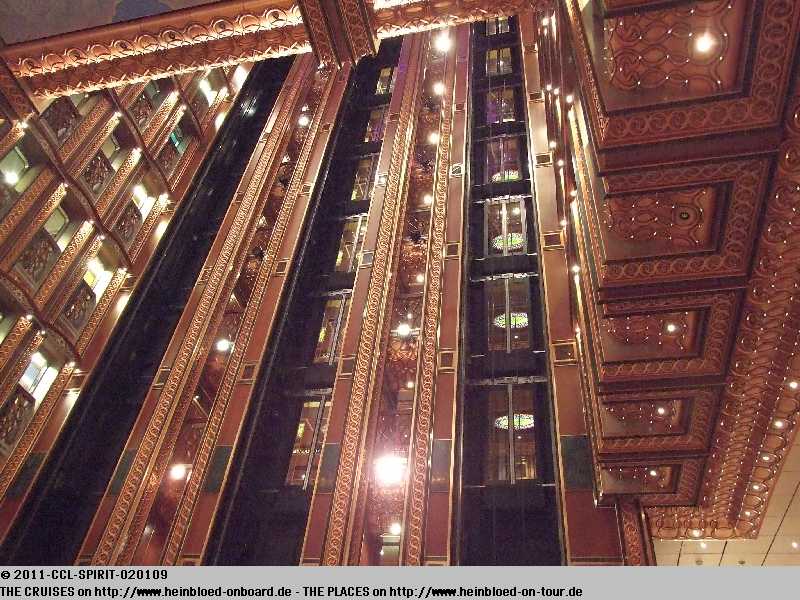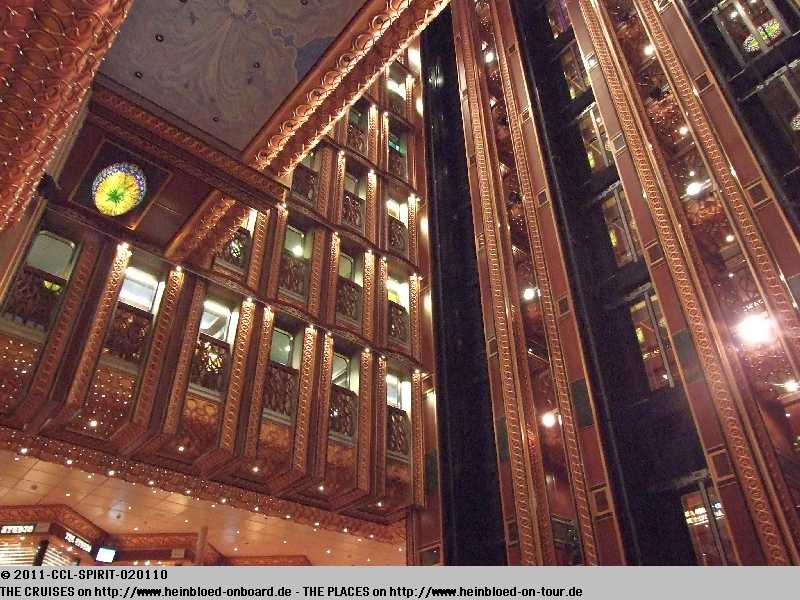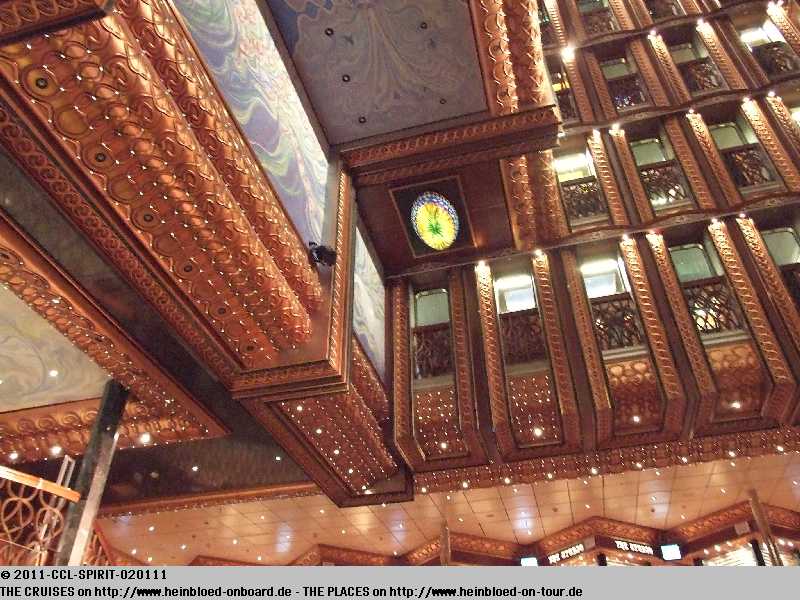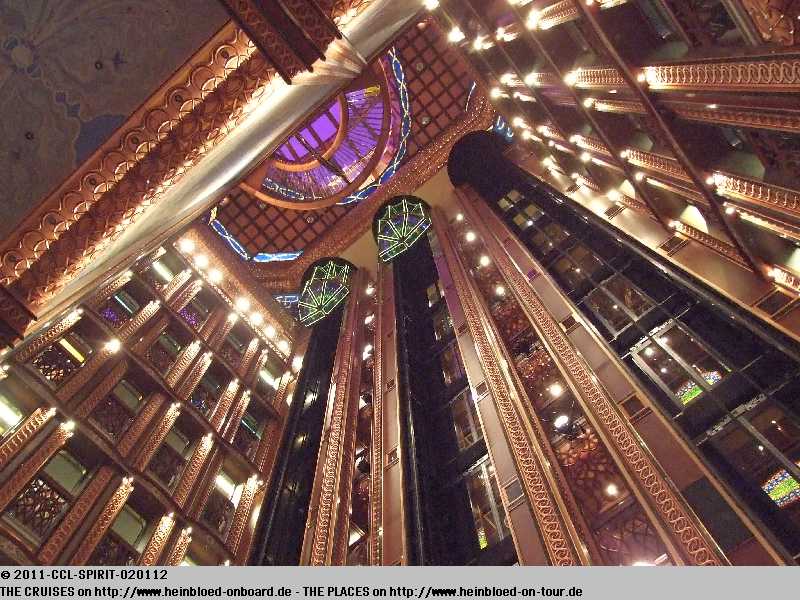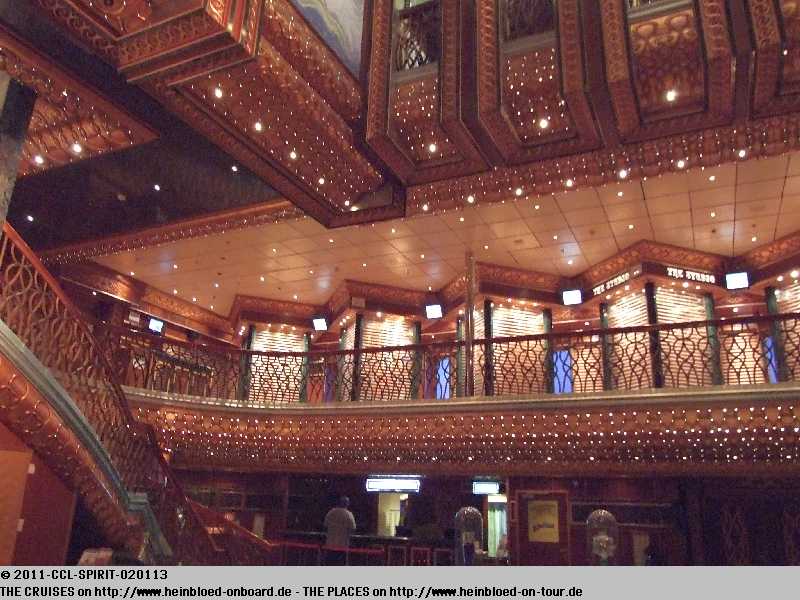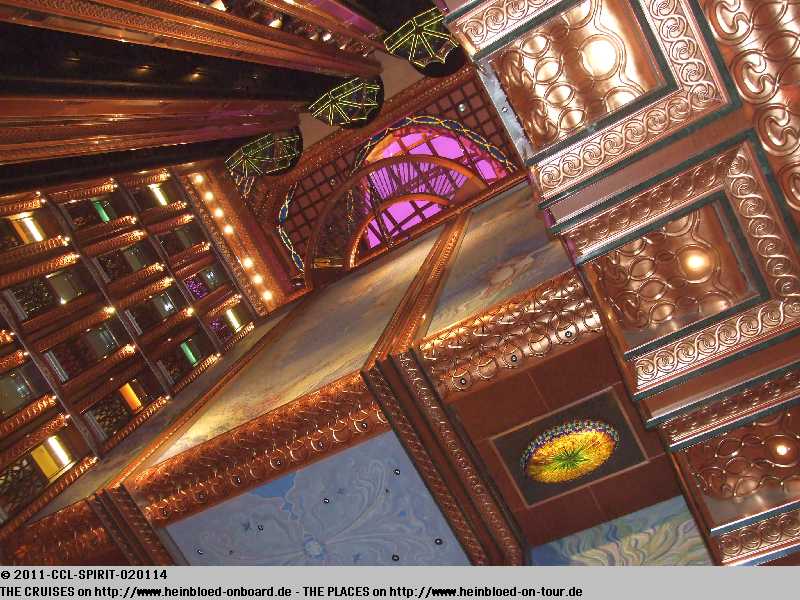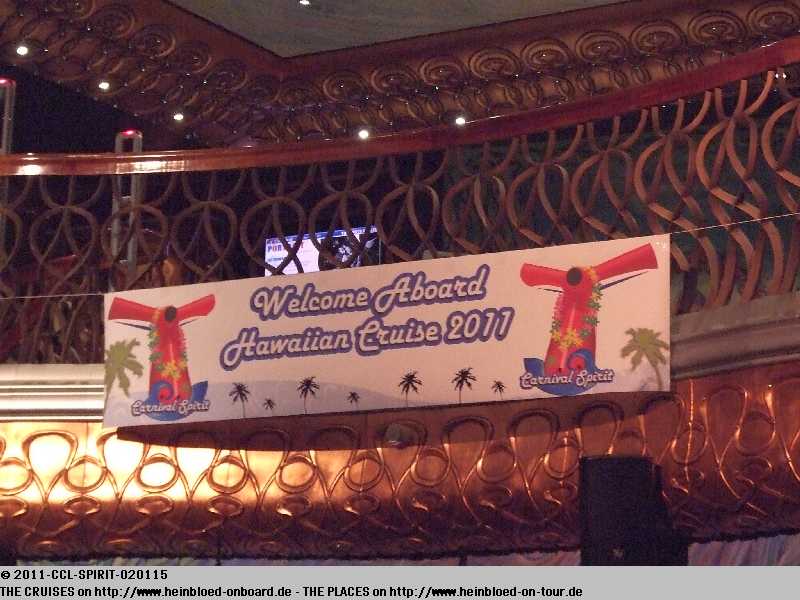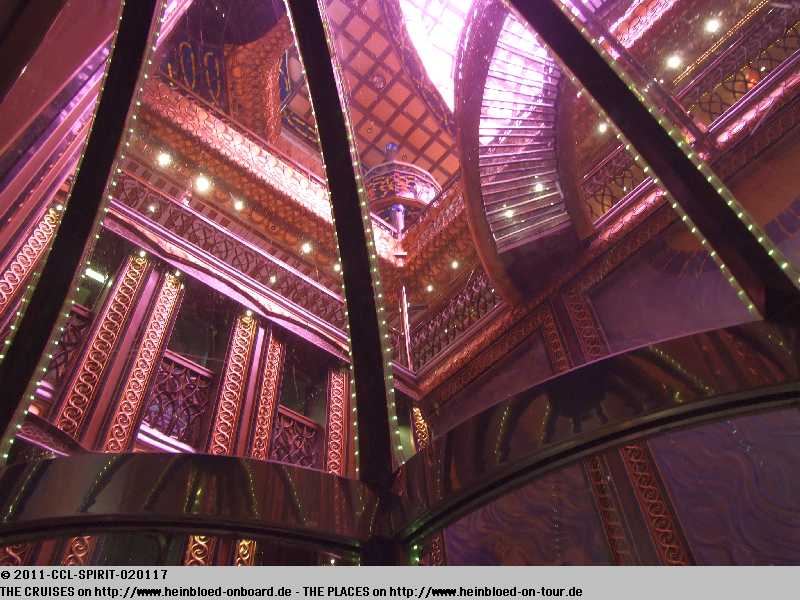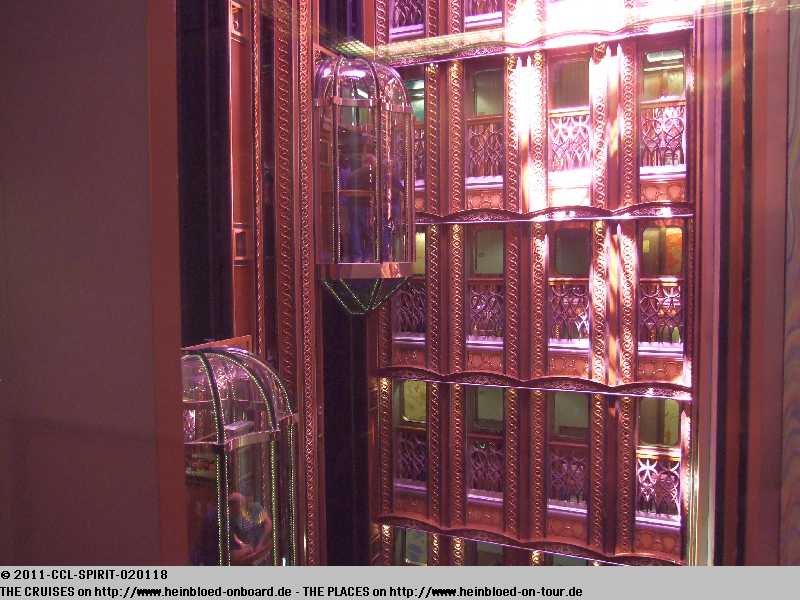 Etwas versteckt in der Ecke: die kleine Rezeption. Im Grunde genommen spiegelt das die Philosophie von Carnival wieder: wer Probleme hat, soll sich lange hier anstehen und vielleicht verschwinden sie ja von selbst, je länger man wartet. Ich habe in Problem ins Internet zu kommen. Angeblich würden wir nicht an Bord sein, da unsere Kontodaten nicht stimmen. Hier stellt man nur sicher, dass meine Daten zum Bezahlen richtig hinterlegt sind und delegiert das Problem dann an den Internet-Manager weiter. Hauptsache, dass die Stammdaten im Bezahlsystem richtig sind. Ich war allerdings höchst erstaunt, dass man sich an mich noch später erinnerte und mich dann während der Seenotrettungsübung fragte, ob mein Problem gelöst sei.

Somehow hidden in the corner: the little tiny reception desk. But this refelct the philosophy of Carnival: You should wait long in a line and maybe you give up as your problems solve themselves the longer you need to wait for an agent. I had the problem to access the internet. It looked like that we were not aboard as our account information were incorrect. Here they only made sure that my information for the payment were correct and delegated the problem to the Internet-Manager. It was only important that the master data in the payment system was properly maintained. I was very surprised that they remembered me later and asked during the life drill if my problem was solved so far.

The biggest nonsense. To lock and unlock the safe you need a credit card which you cannot place in the safe. So we had an old banking card with us. So if this card is stolen it would not be too bad. But you cannot hide the card in the cabin either.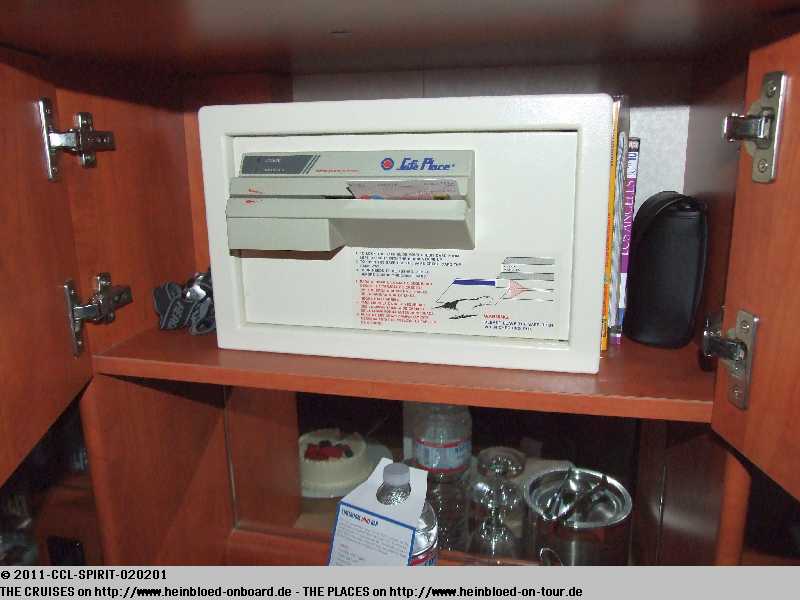 Der größte Blödsinn. Für das Öffnen und Schließen braucht man eine Kreditkarte, die man daher nicht einschließen kann. Wir haben eine alte EC-Karte mit. So wenn sie geklaut wird, ist es nicht schlimm. Nur in der Kabine kann man sie ja auch nicht verstecken...
Was die Platzverhältnisse in den Schränken betrifft: Hier hat man Platz für eine ganze Weltreise. So viel Platz hatten wir noch auf keinem Schiff.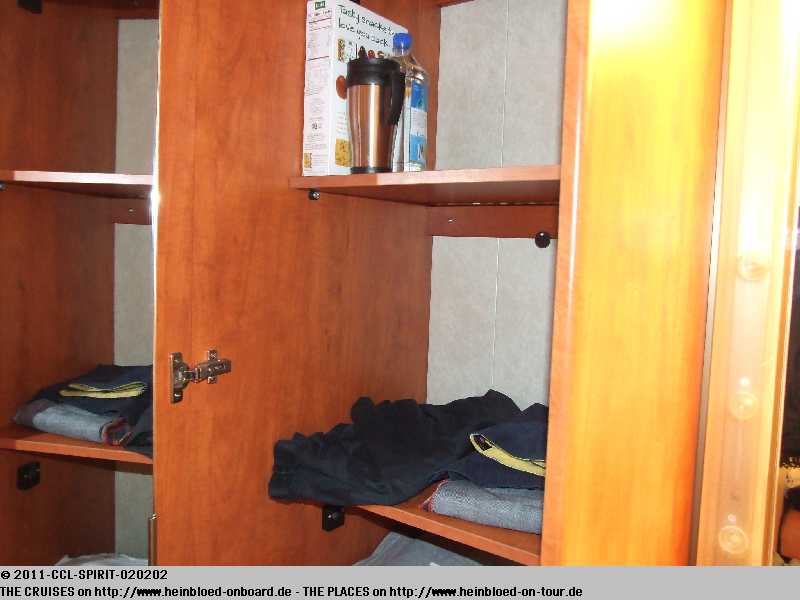 Regarding the space in the closets: you have space for a world voyage. We had no more space on any other cruise ship but here.

Bathrobe is available. But the system of the hangers was strange to us.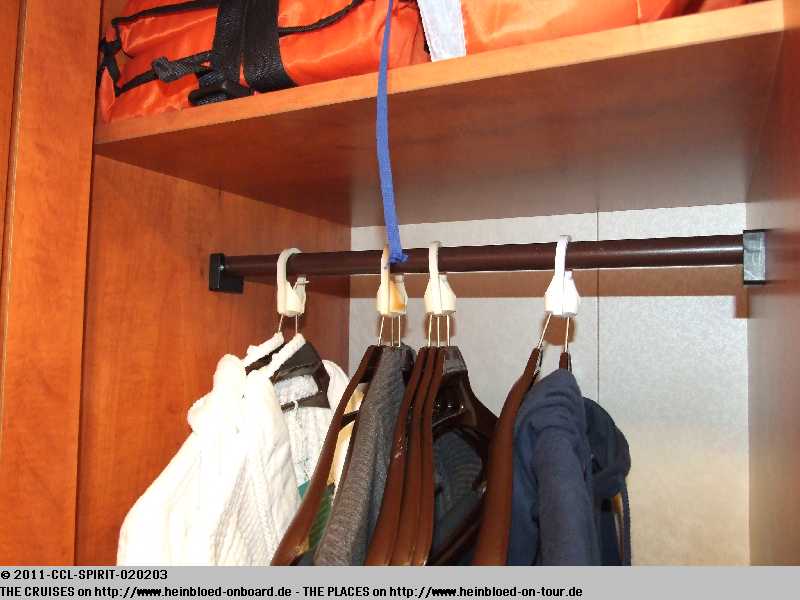 Bademantel ist da. Nur die Kleiderbügel sind ein wenig gewöhnungsbedürftig.
Im Bad gibt es einen Rasierstecker, der auch mit 220 V arbeitet.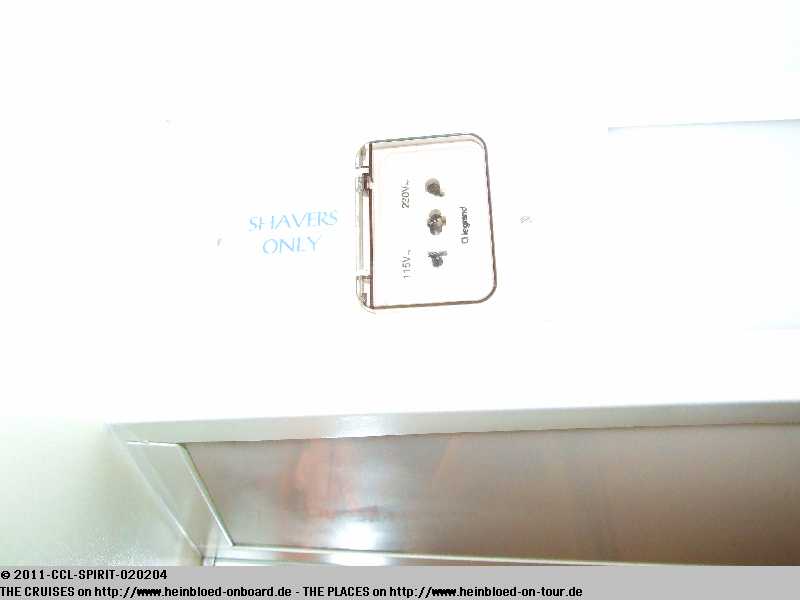 In the bathroom you have an oulet for shavers which works for 220 V as well.

By the way we had already a time adjustment. If you arrive at 22.00 hrs onboard you do not read the little tiny information in the daily program. Extra information like you have on other ships are not available. So we need to wait one hour longer before we could get something to eat. And this after we did not enough food last night.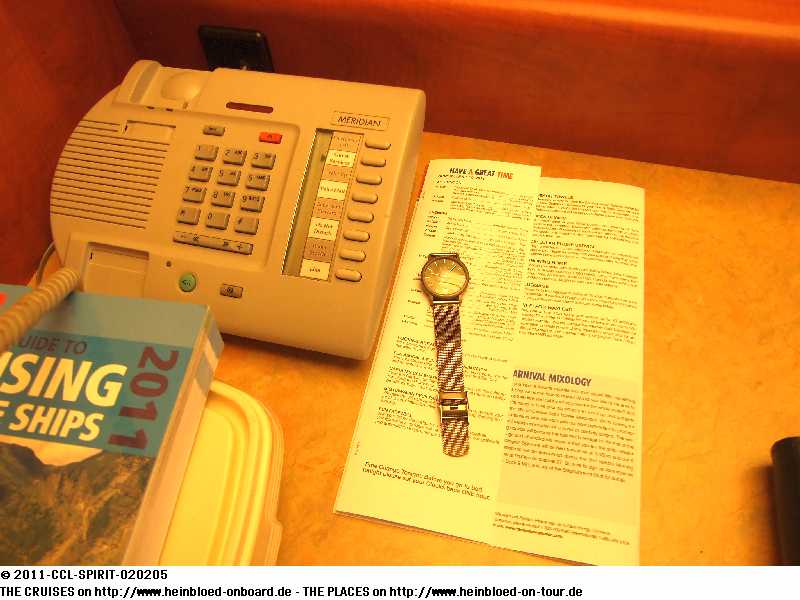 Übrigens hatten wir bereits die Zeitumstellung. Wenn man um 22.00 Uhr auf dem Schiff ist, liest man den Mini-Hinweis im Programm nicht. Extra Zettel, wie auf anderen Schiffen gibt es nicht. So müssen wir nochmals eine Stunde länger warten, bis dass wir etwas zu essen bekommen. Und das obwohl wir gestern abend nicht genügend zu essen bekommen haben.
Irgenwas weißes belegt die Stühle. Ob das das Meersalz ist??? Oder aus dem Schornstein???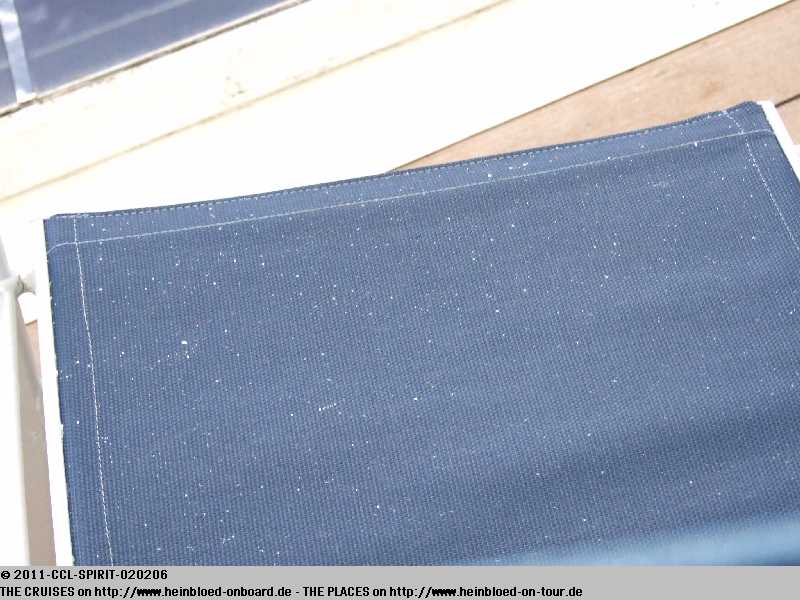 Something white on the chairs. Might be salt from the sea??? Or something from the funnel???

I choosed this location because I did not like to see down to a lifeboat.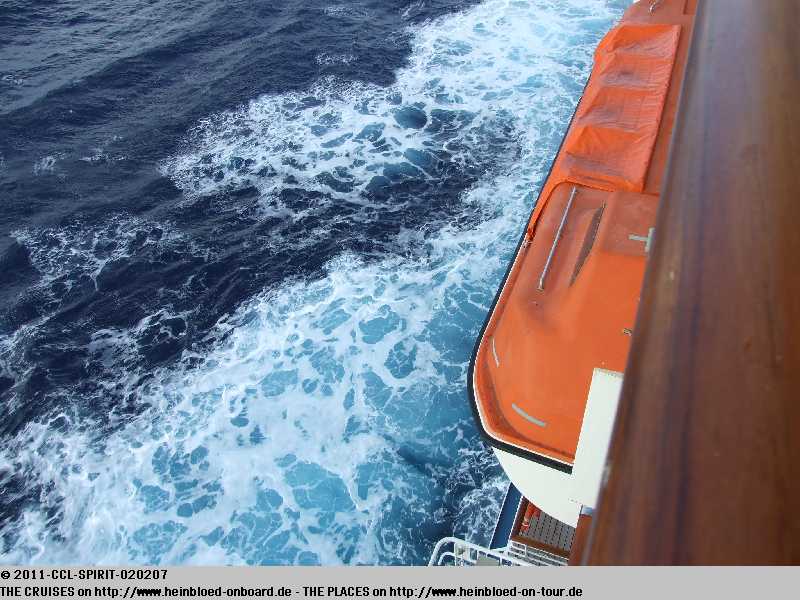 Ich hatte bewusst diese Lage gewählt, damit man nicht so auf ein Rettungsboot runterschaut.
Morgen findet Großputztag auf dem Balkon statt: wir sollen ihn vormittags nicht benutzen...

Tomorrow there will be a general cleaning on the balcony: we should not use it the next morning...

As Xiomara is very nice and fully satisfied Bruno's expectations regarding quality of tidiness we started the first round distribution of Mon Cherie (German chocoloate filled with cherry liquor). So we got our first smilie.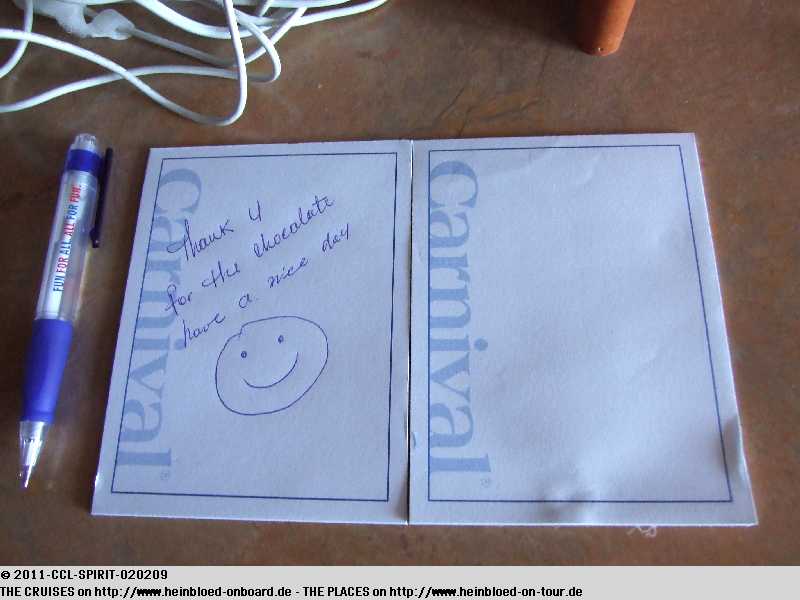 Da Xiomara erstens sehr nett ist und zweitens Brunos Qualitätsansprüchen bezüglich Sauberkeit betrifft, seinen Erwartungen entspricht, verteilen wir schon die ersten Runden Mon Cherie. Dafür bekommen wir auch schon einen netten Smilie.
Nur die Ansagen des Kapitäns werden nicht in die Kabinen übertragen - auch nicht über das Bordfernsehen. So bleibt uns nichts anderes übrig, als über die offene Tür den Ansagen zuzuhören. 30,4°N/121,5°W - eine andere Orientierung gibt es nicht - denn rund herum ist nur Wasser...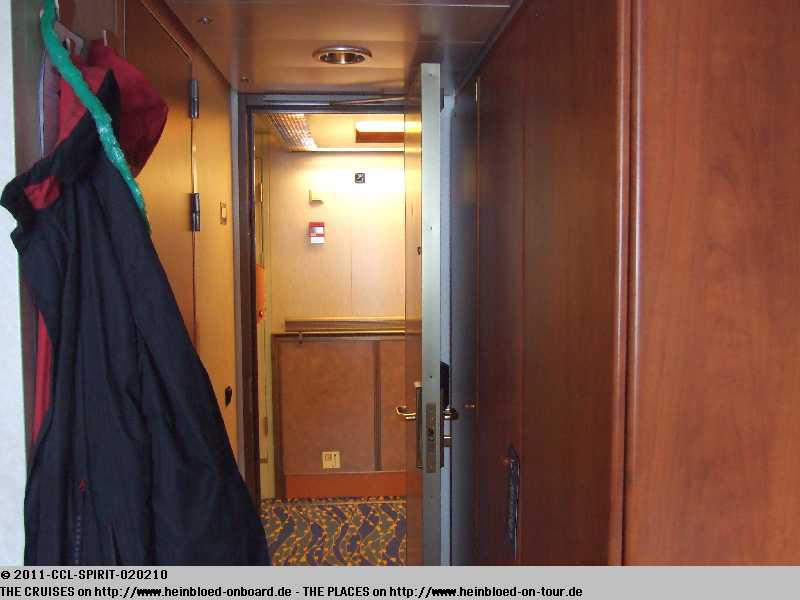 The announcements of the Captain were not transmitted into the cabins - nor via the bord TV either. So the only chance to listen to his announcements was to open the door. 30.4°N/121.5°W - another kind of orientation was not available. There was nothing around us but water...

The Captain was right: there is no more but water around us.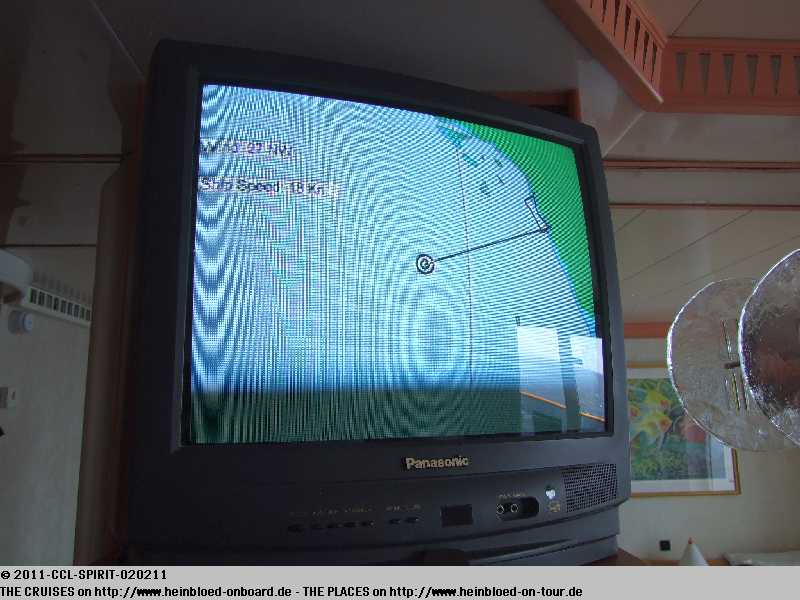 Es stimmt, was der Kapitän sagt: Rundum ist gar nichts außer Wasser.
Nun sehen wir unseren Balkon auch mal im Hellen.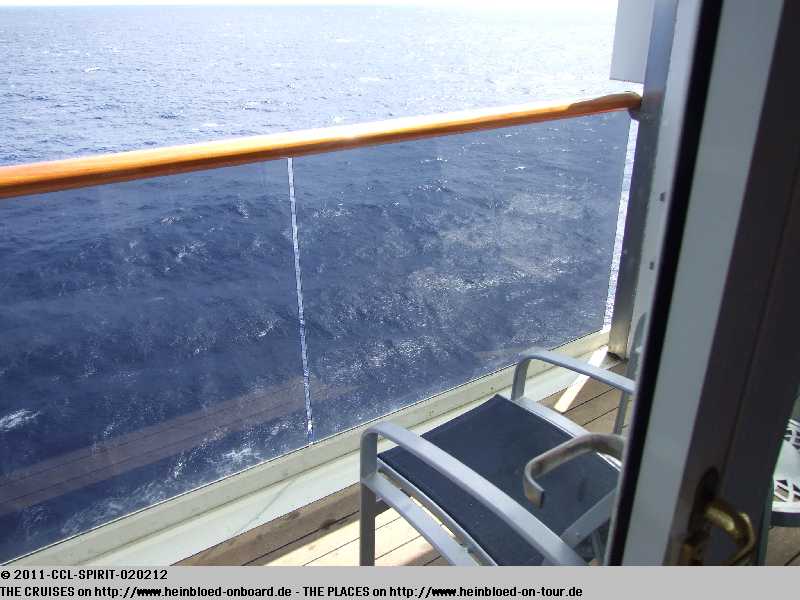 Now we saw our balcony during daylight.