Scroll down for English explanations - alternates with German explanations.

Nach 52 Meilen (84 km) sind wir in Hana angekommen.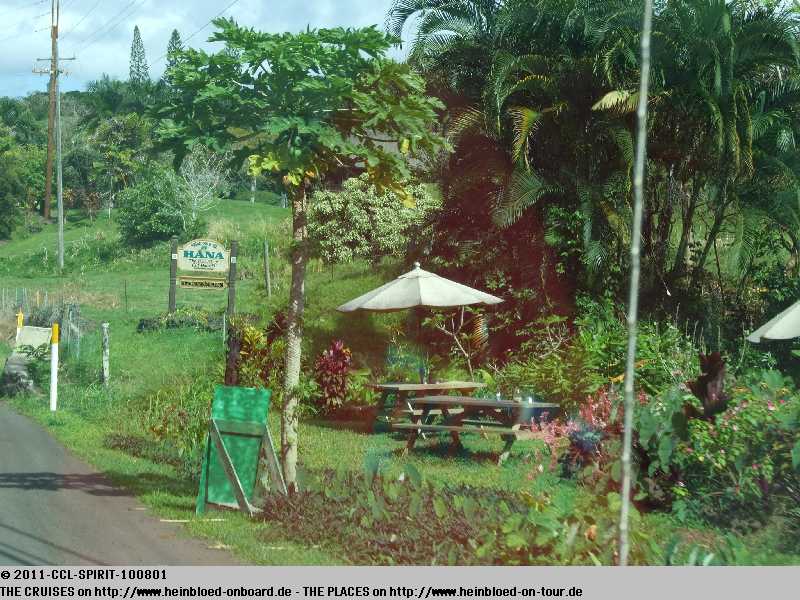 After 52 miles we arrived in Hana.

We thought about to stay overnight in Hana. But the Hotel Hana Maui which was mentioned in the German TV a night costs 340.00 USD. All other rooms which we could afford were already booked as it was spring break.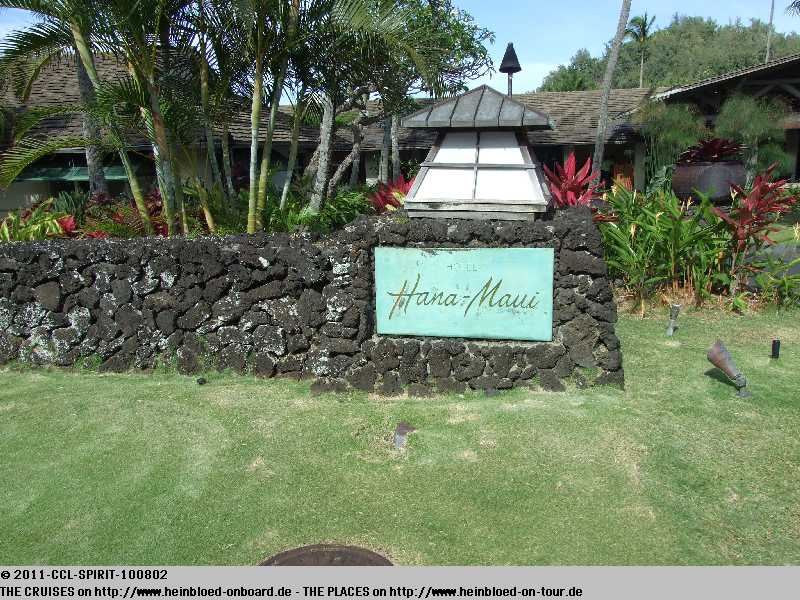 Wir hatten uns überlegt in Hana zu übernachten. Aber das im HR-Beitrag erwähnte
Hotel Hana Maui
kostet pro Zimmer 340,00 USD. Alle anderen Unterkünfte, die bezahlbar waren, waren bereits weg, da nämlich Spring Break war.
So gönnen wir uns eine Kaffeepause im
Hana Ranch Restaurant
, das zwar zum Hotel gehört, aber unserem Budget angemessen ist.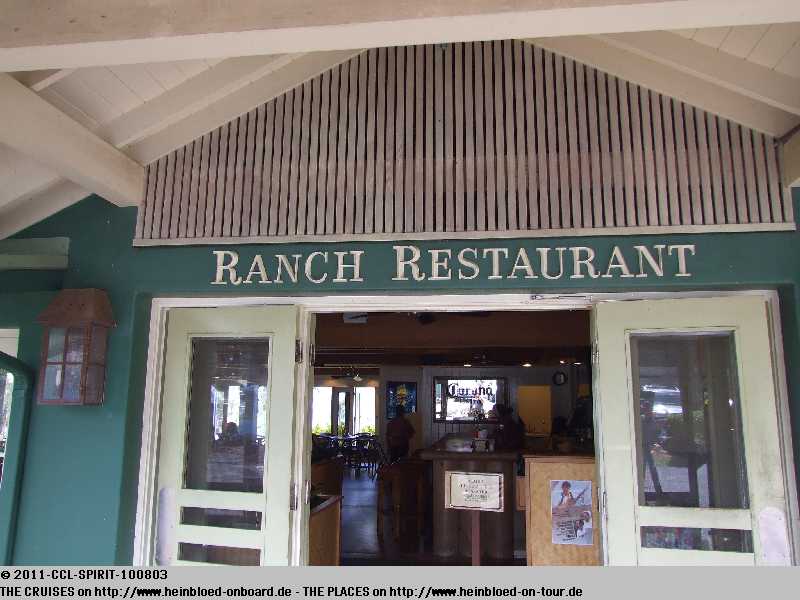 So we indulged us to have a coffee break at Hana Ranch Restaurant which is part of the hotel but fit to our budget.

Here you had to try the Macedamia-Nut-Cake. And not too sweet and the ice-cream was great too.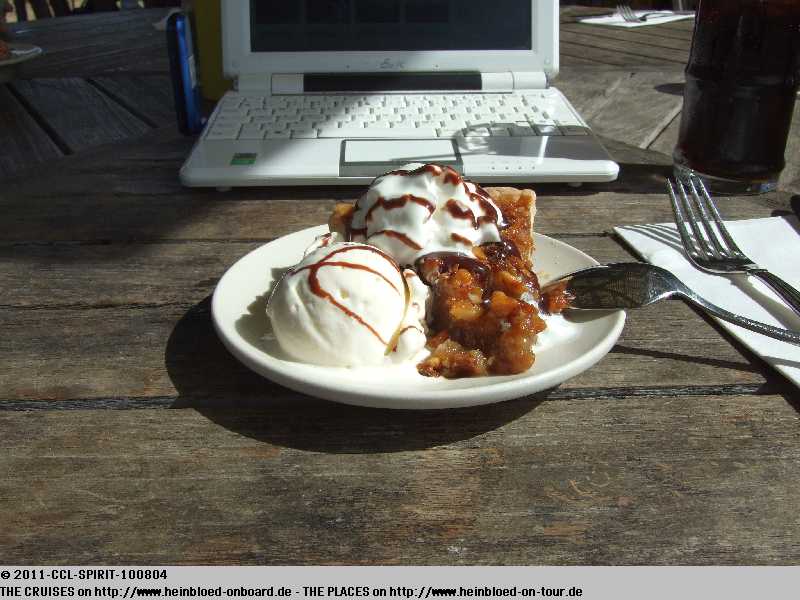 Dort muss ich unbedingt den Macedamia-Nuss-Kuchen probieren. Und nicht so amerikanisch süß - auch das Eis ist klasse.
Nichts tun macht auch müde...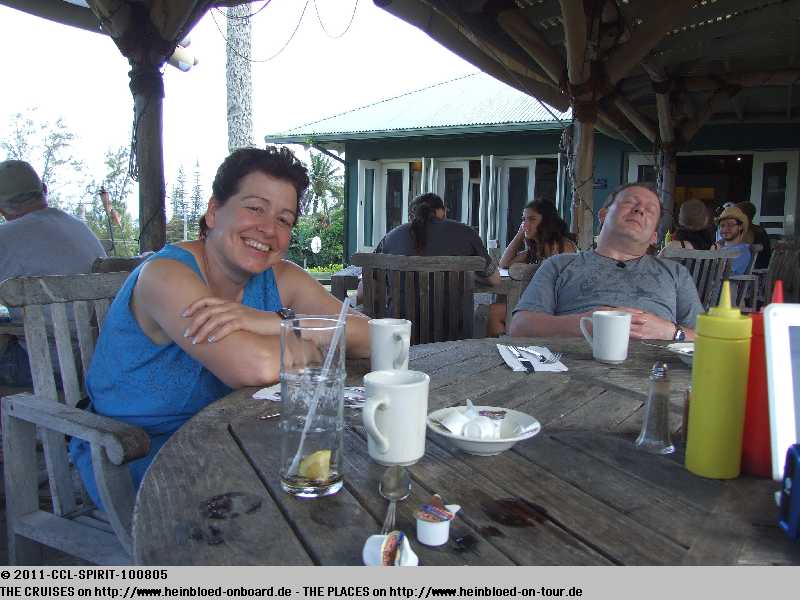 Doing nothing made tired...

Behind the crux there was the summit of the Haleakala - but everything under the clouds... My former boss recommended us to go around but we were told that the road was closed. So we need to return the same way.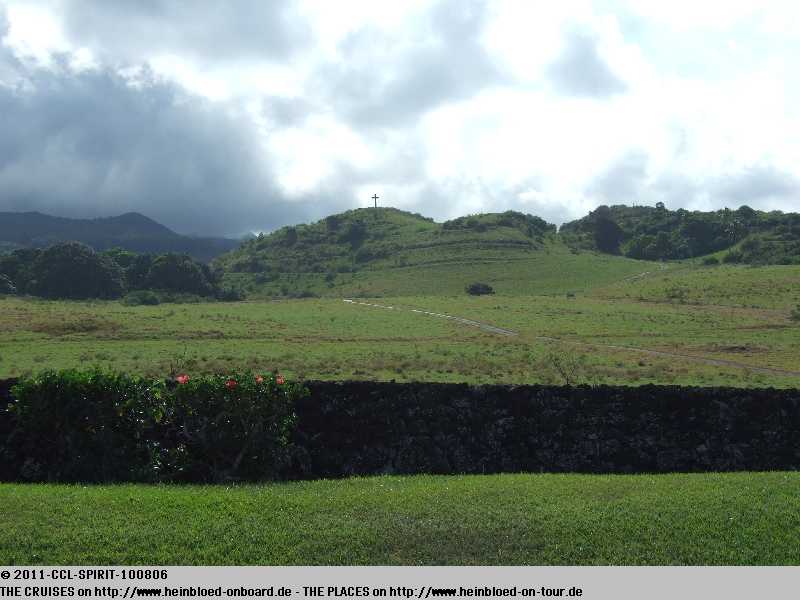 Hinter dem Kreuz ist der Gipfel des Haleakala - allerdings alles unter Wolken... Meine frühere Chefin hatte vorgeschlagen außen rum zu fahren, aber man teilt uns mit, dass die Straße gesperrt sei. Also müssen wir wieder den gleichen Weg zurück.
Hier ist ein schwarzer Strand in Hana.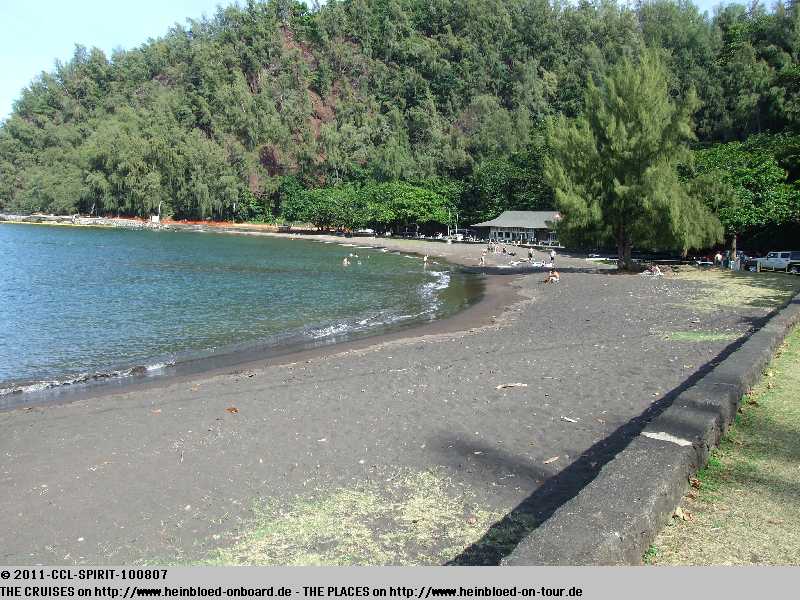 Here was a black beach in Hana.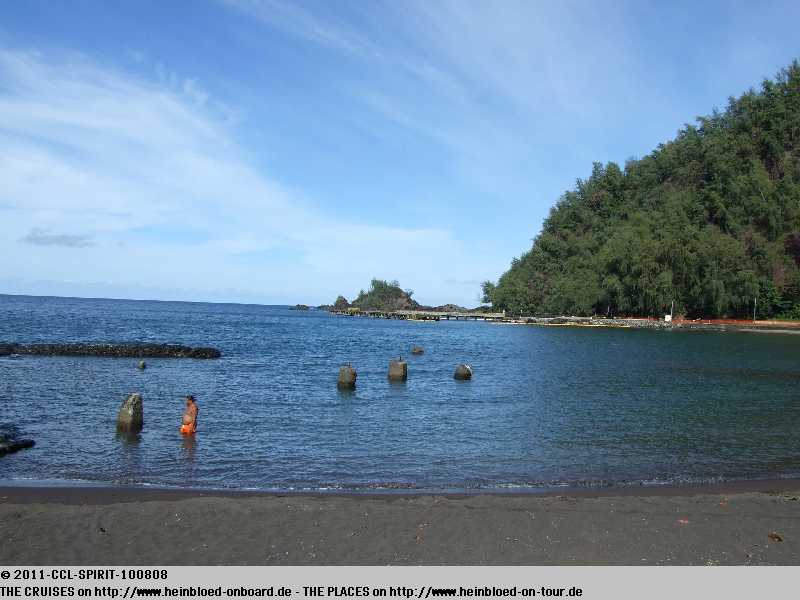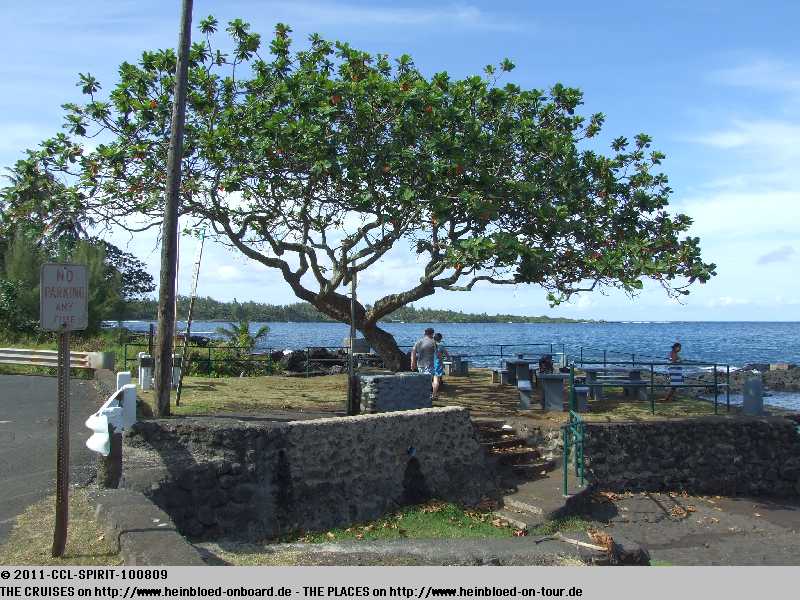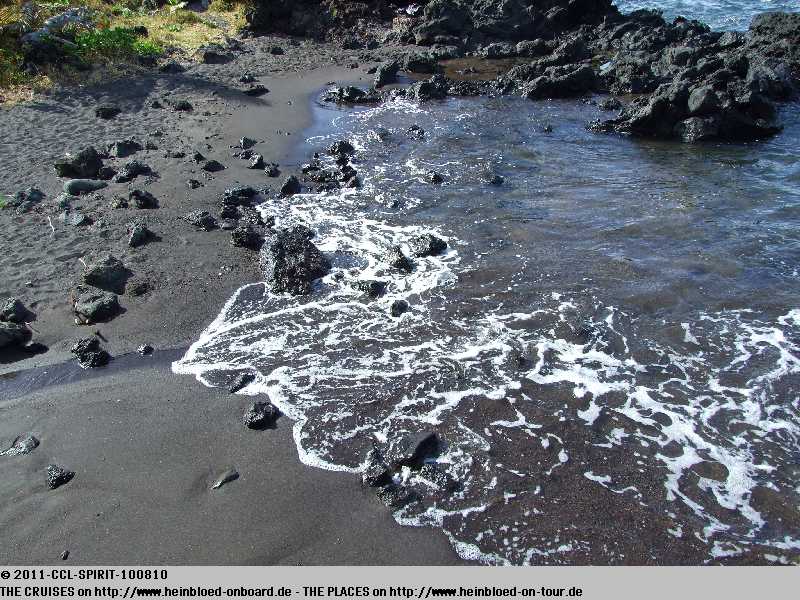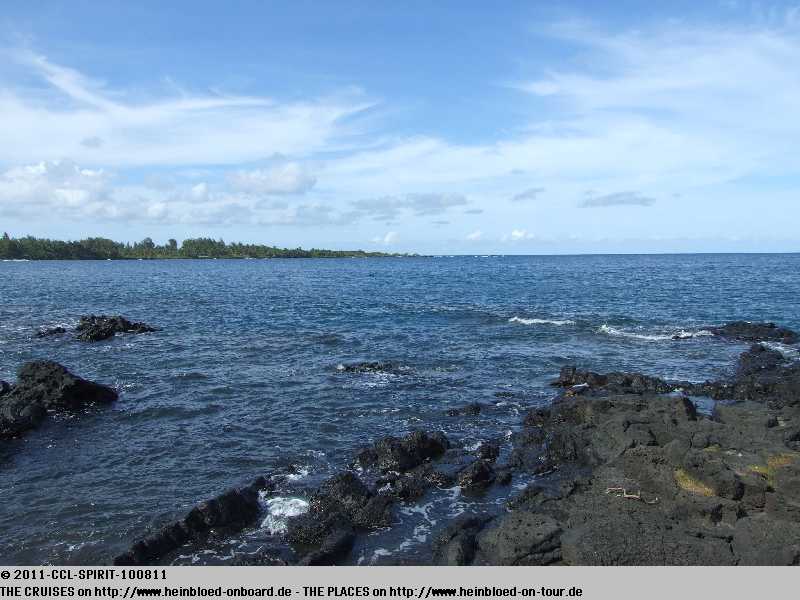 And although we had the same way back.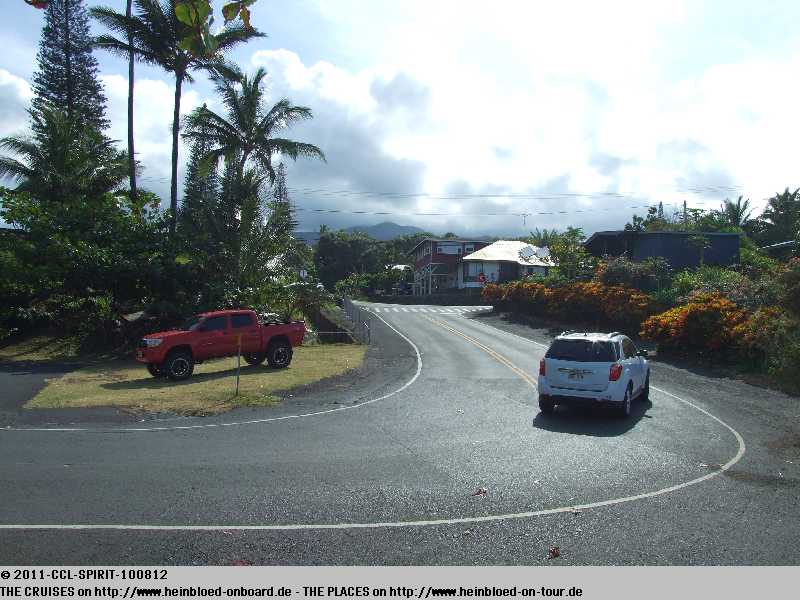 Und obwohl wir den gleichen Weg zurückfahren.
Es gibt immer wieder neues zu entdecken.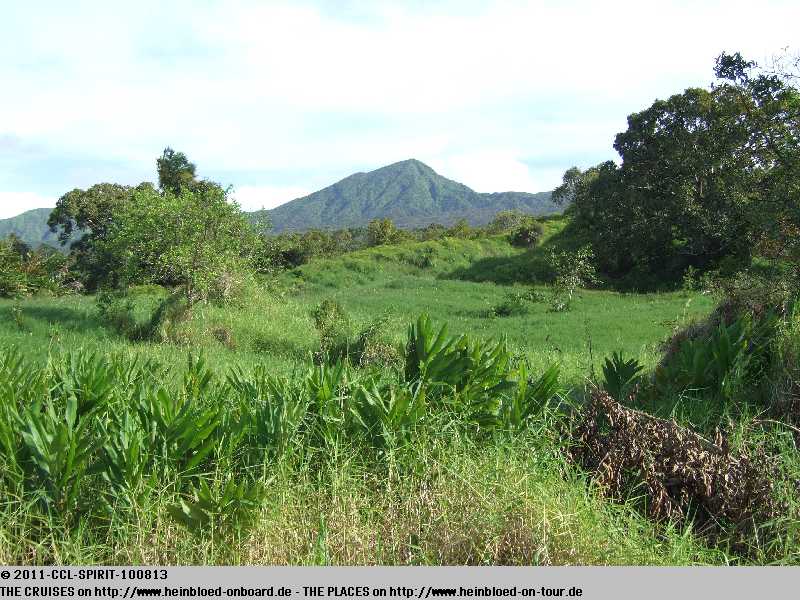 A lot of new things were to discover.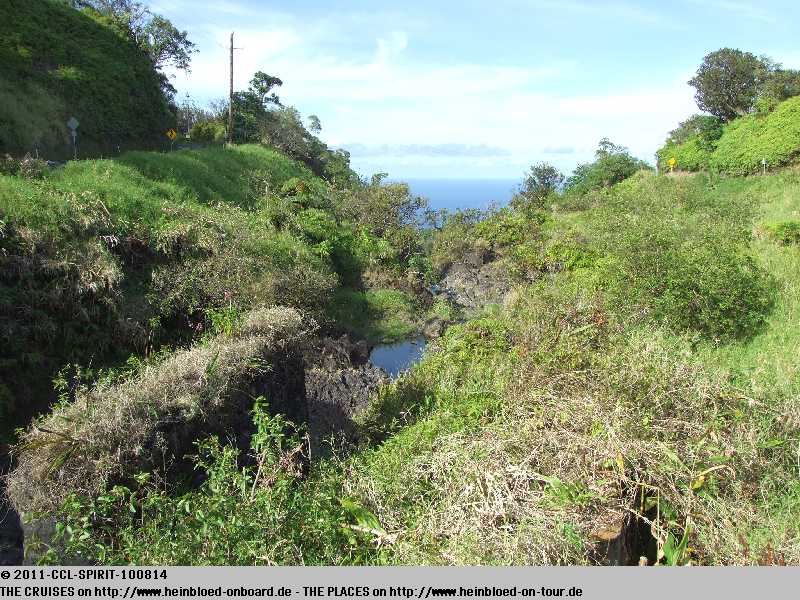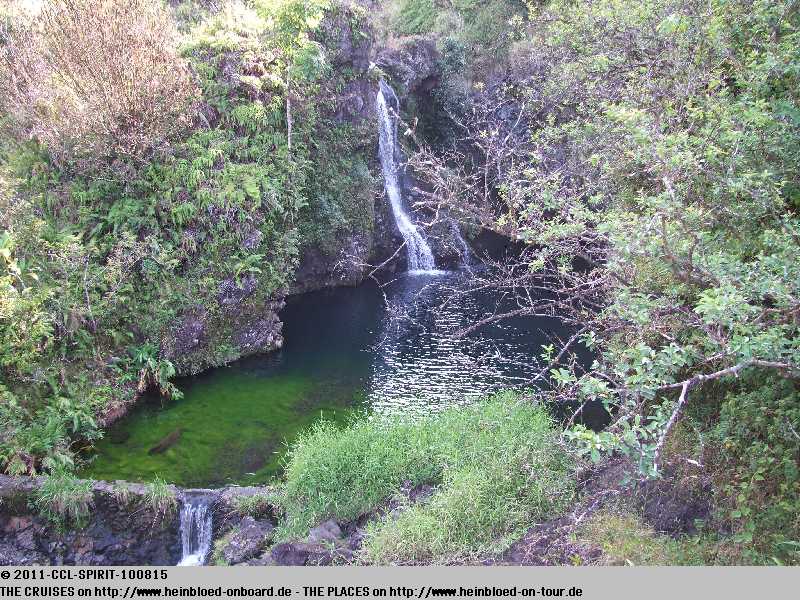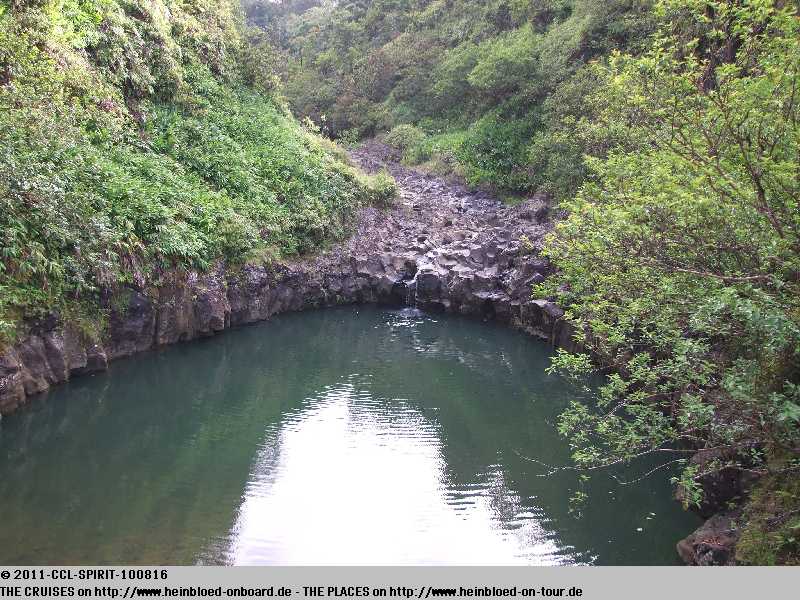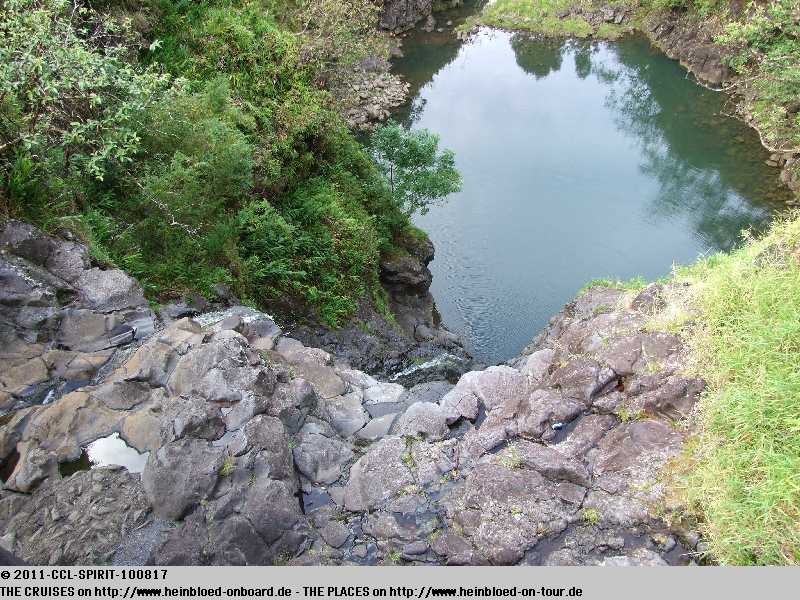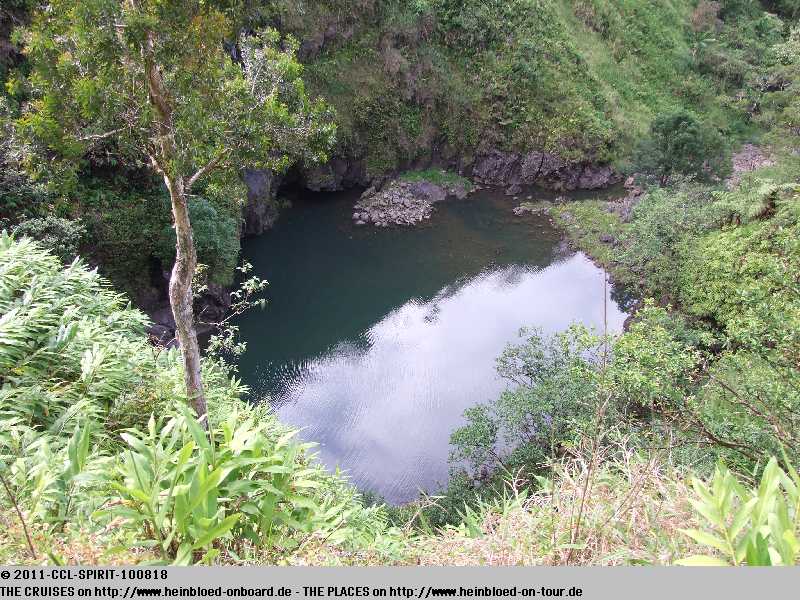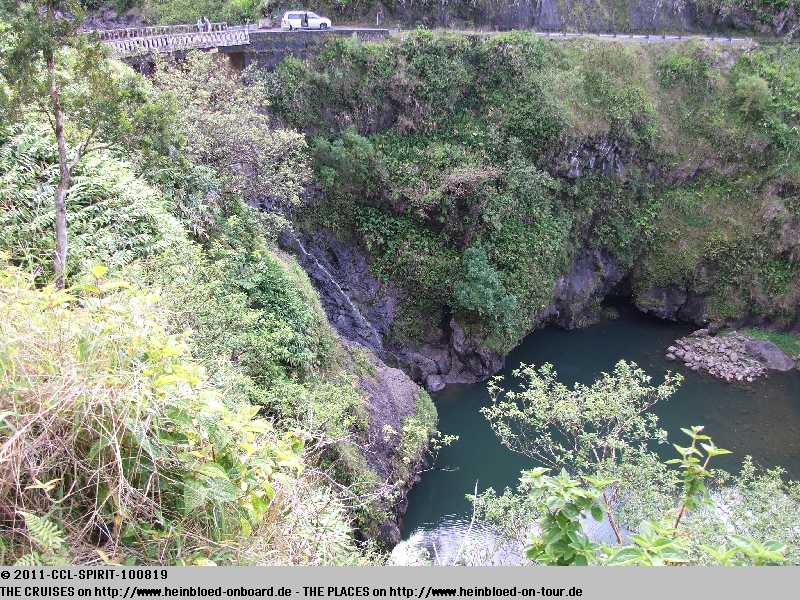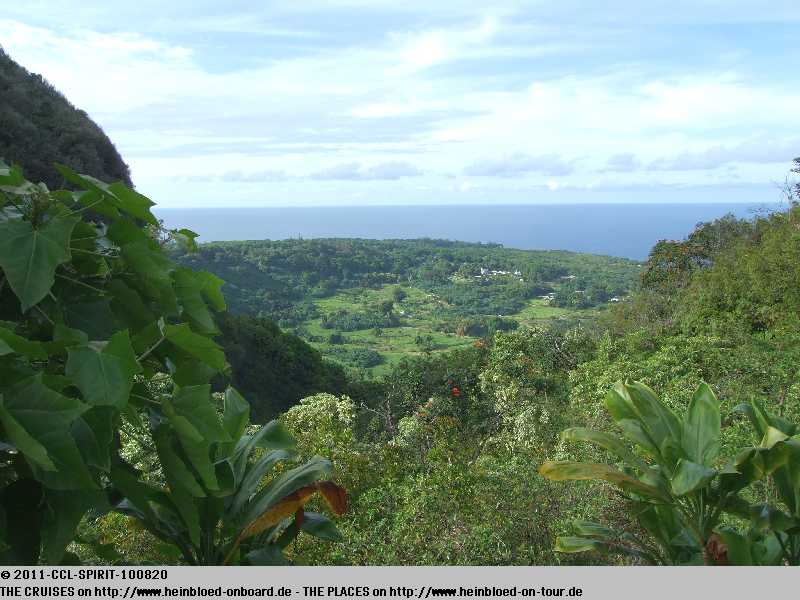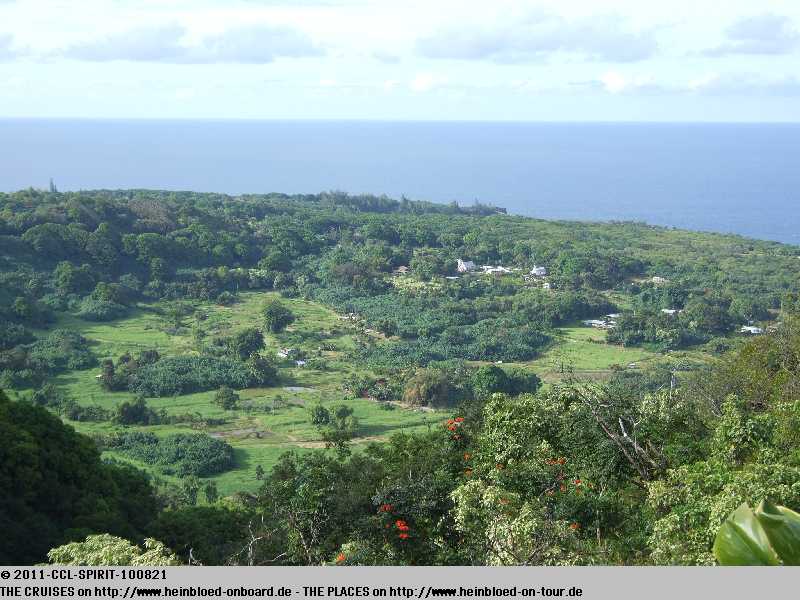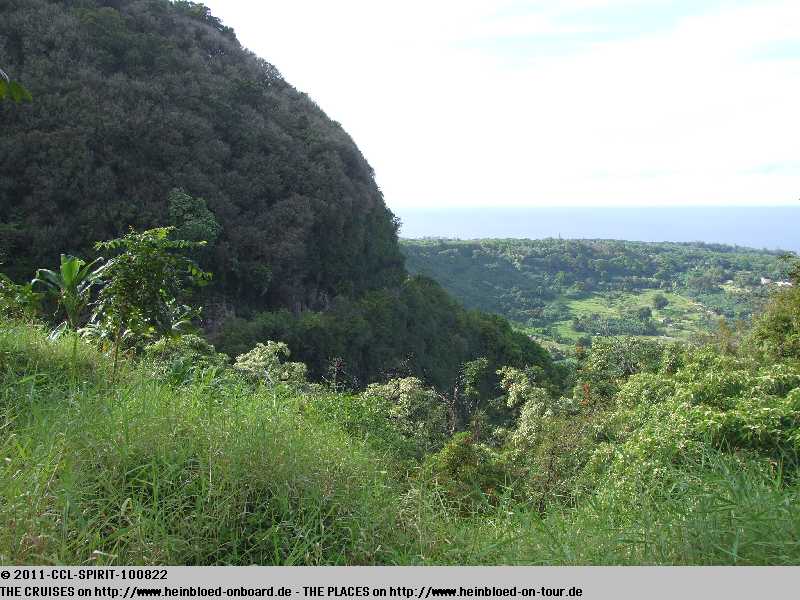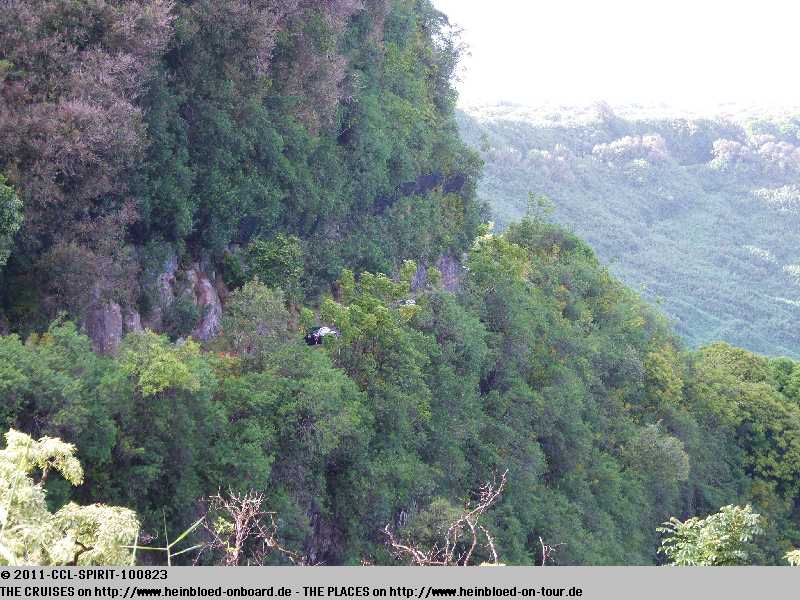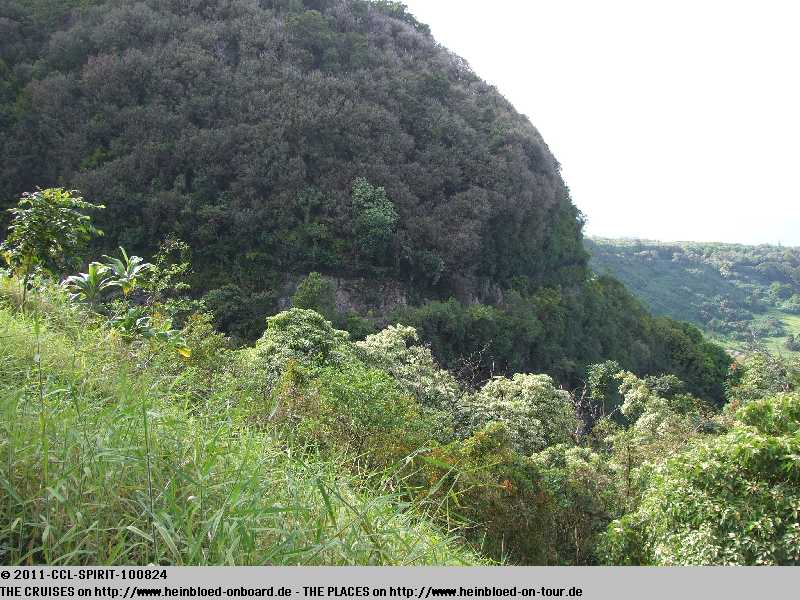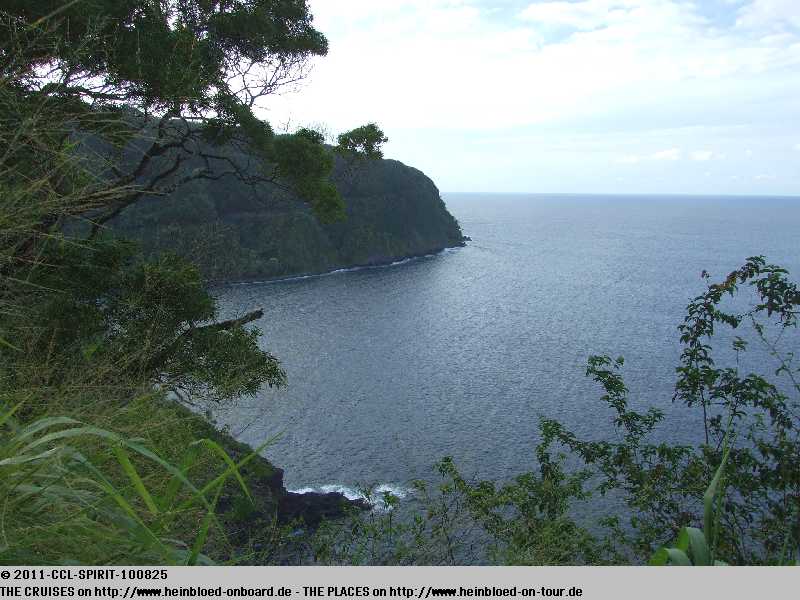 Bruno climbed on the wall to take pictures of the sea behind. But quickly he jumped back when he saw all the spiders... they were not mentioned before as part of the flora and fauna on Hawai'i. Michele forgot them.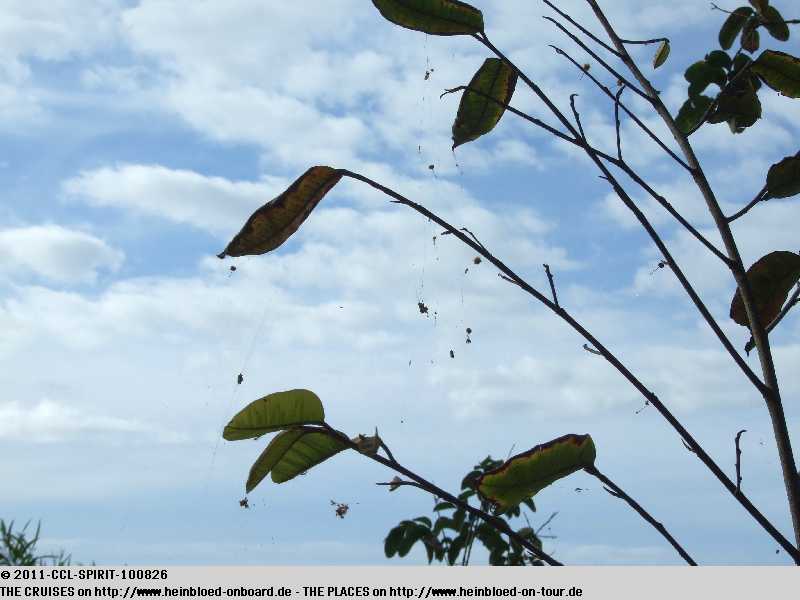 Bruno klettert auf einen Wall um dahinter das Meer zu fotografieren. Schnell springt er jedoch zurück, als er die ganzen Spinnen sieht... davon war nicht die Rede, als jemand die Flora und Fauna Hawai'is vorstellte. Das hatte Michele wohl vergessen.
Trotzdem lohnen sich nochmals verschiedene Halte auch auf dem Rückweg.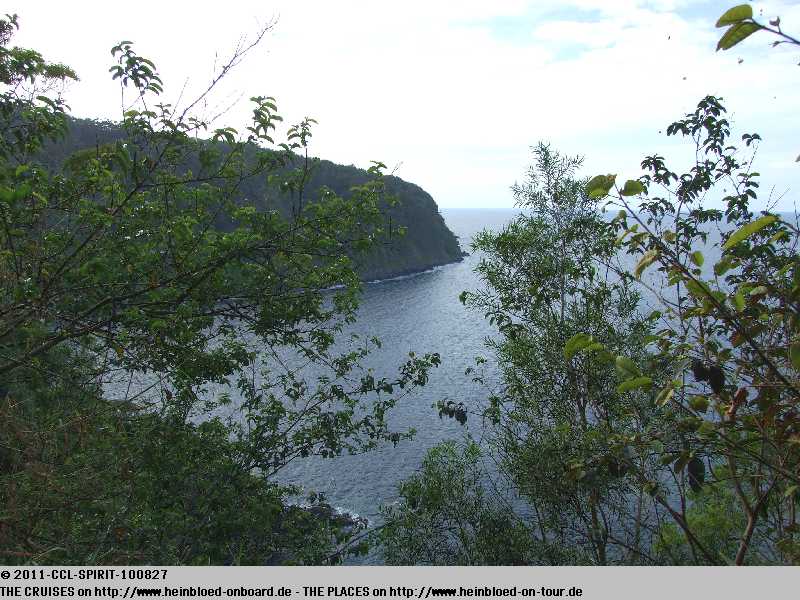 But anyway all additional stops on the return journey were worth.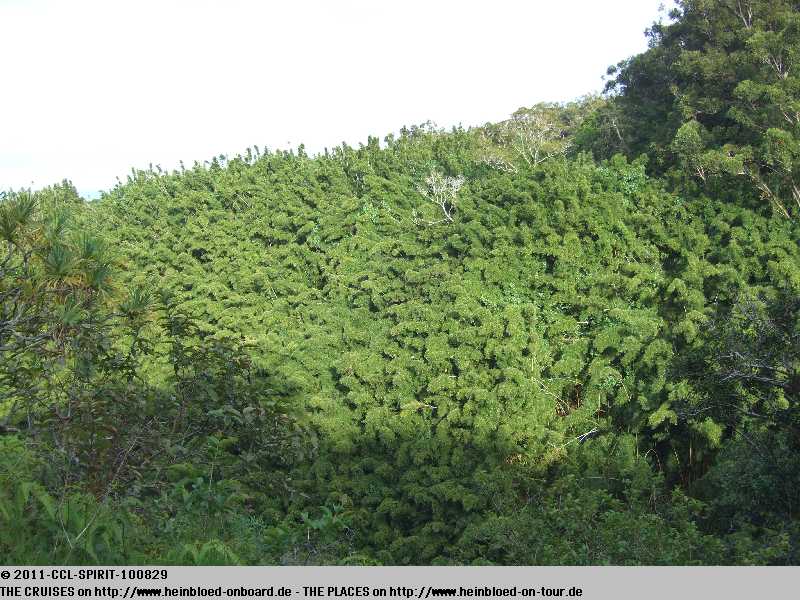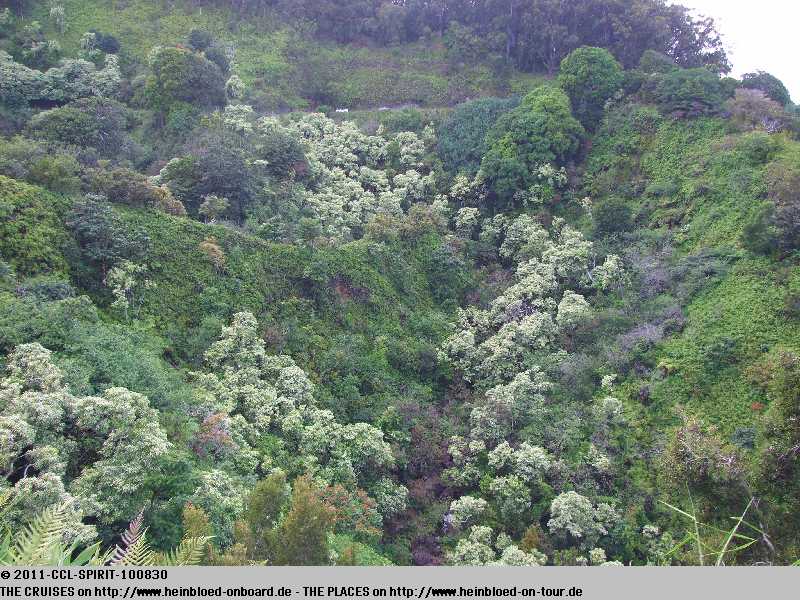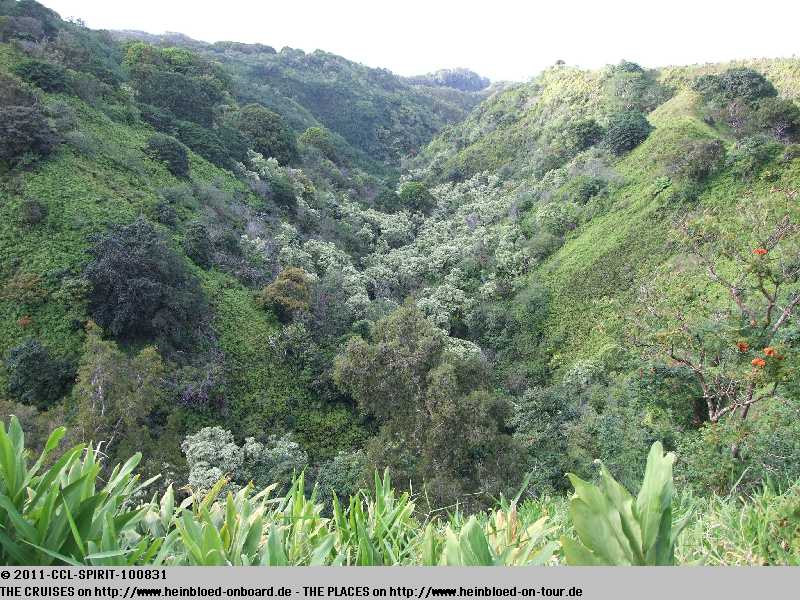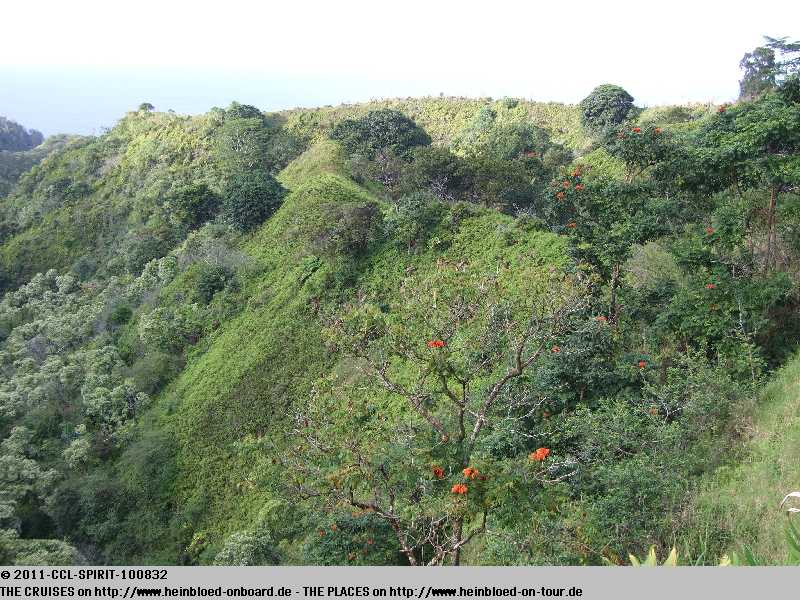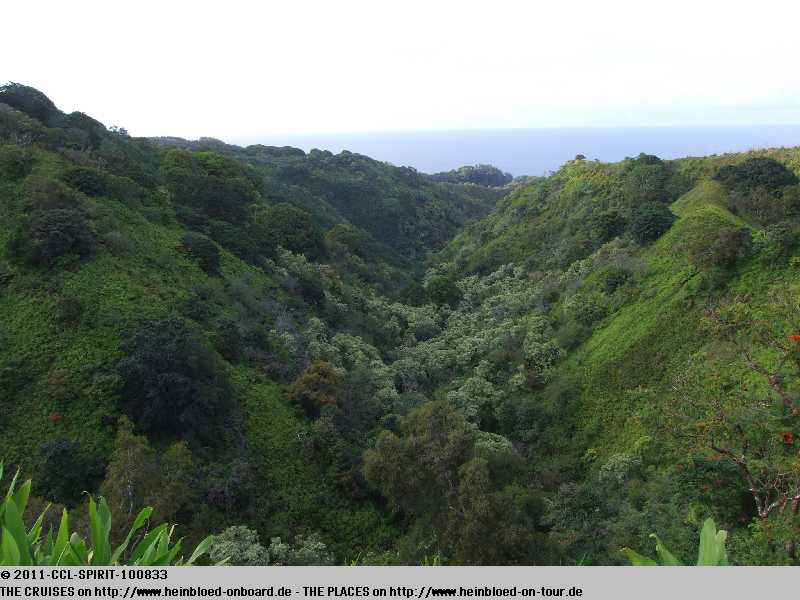 Especially a different green was glowing at the hillsides due to the low sun around sunset.

Vor allem mit dem niedrigeren Sonnenstand zum Sonnenuntergang hin leuchtet ein anderes Grün an den Hängen.
Heute Morgen haben wir hier noch einen Profi-Fotografen bemerkt mit einem meterlangen Objektiv. Anscheinend konnte er von hier aus ein schönes Bild vom Haleakala machen. Wir haben Pech: nun ist er hinter den Wolken. Hoffentlich bleibt es nicht so.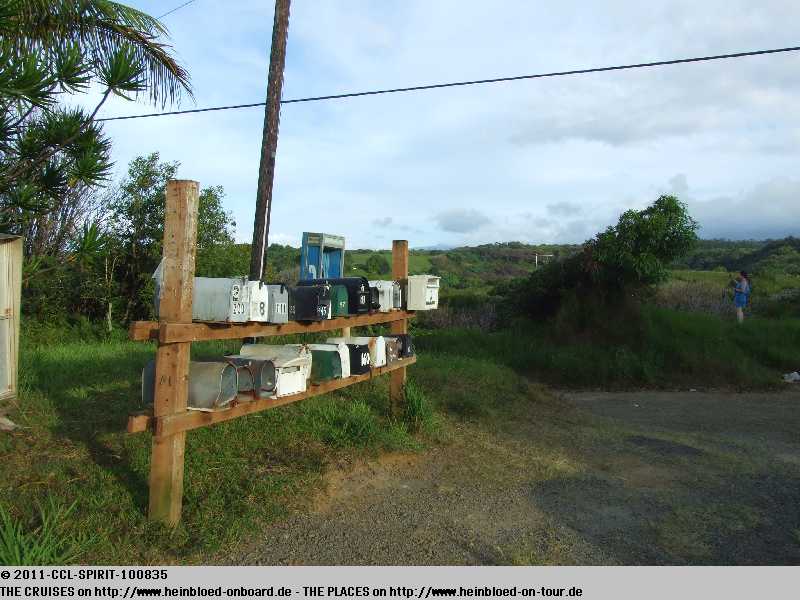 This morning we saw a professional photographer with a giant objective. Obviously it was possible to make a beautiful picture of the Haleakala. But we had unluck: now it was behind the clouds. We hope it would stay this way all the time.

Surprising to find telephone booth. Maybe I could find a closure from a can of Coke and make free phone-calls like in the movie "Wargames"...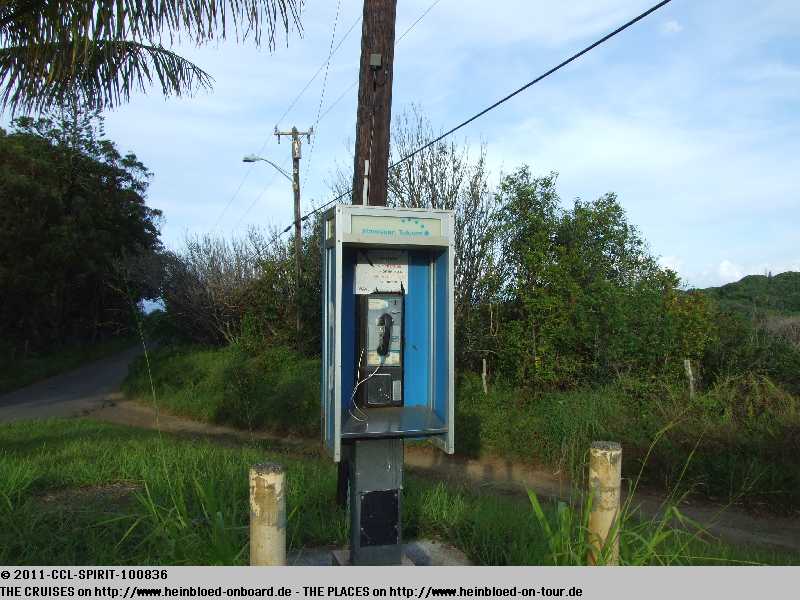 Dass man hier noch Telefonzellen findet. Ob ich hier in der Nähe einen Verschluss einer Cola-Dose finde und damit wie bei "Wargames-Kriegsspiele" auch kostenlos telefonieren kann???
Es geht so schnell... Bevor wir weiterfahren, ist der Haleakala doch wieder zu sehen.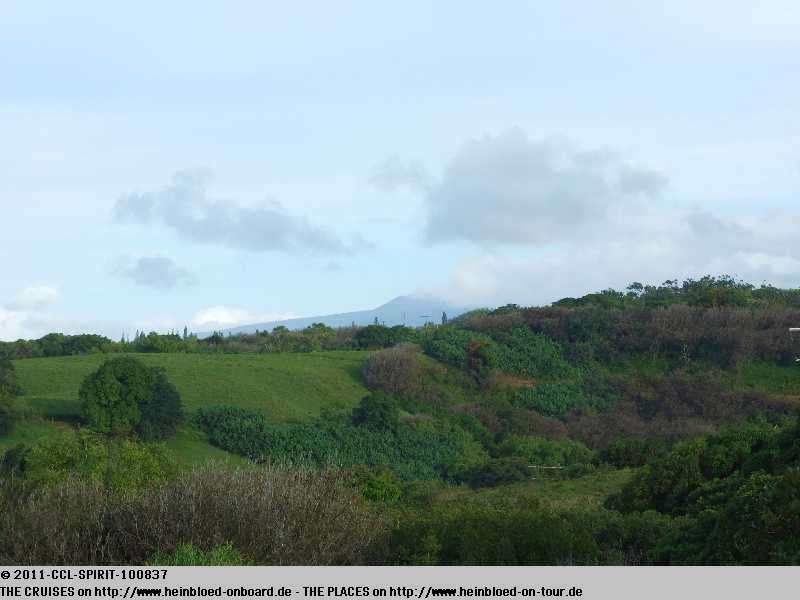 It went so quickly... Before we continued we could see the Haleakala again.

When we passed again in Paia, paiagirl (Frances) showed us another Bhuddist-Temple. From inside we could here the sound of Japanese drummers.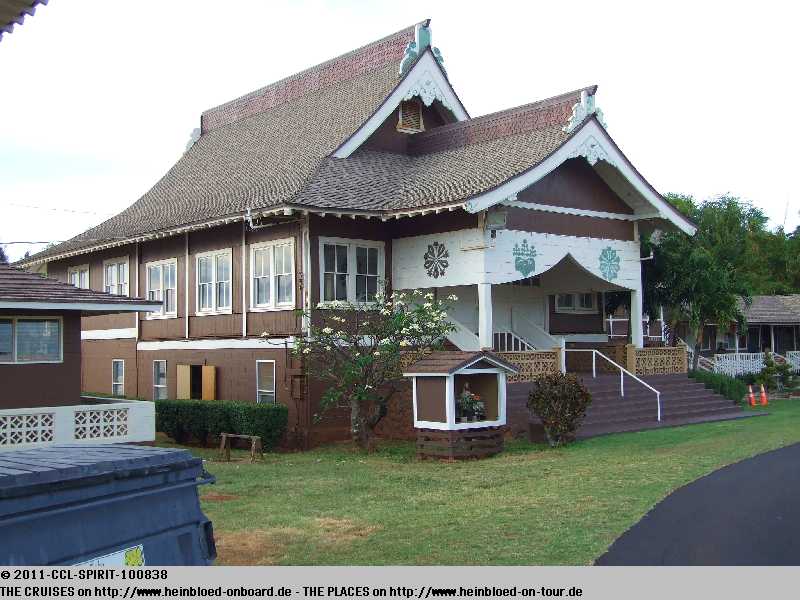 Als wir wieder in Paia durchfahren, zeigt uns paiagirl (Frances) noch einen Bhuddisten-Tempel. Von drinnen erklingen die Töne von japanischen Trommlern.
Wir wären gerne länger geblieben, aber wir wollten vor Dunkelheit am Hotel eintreffen.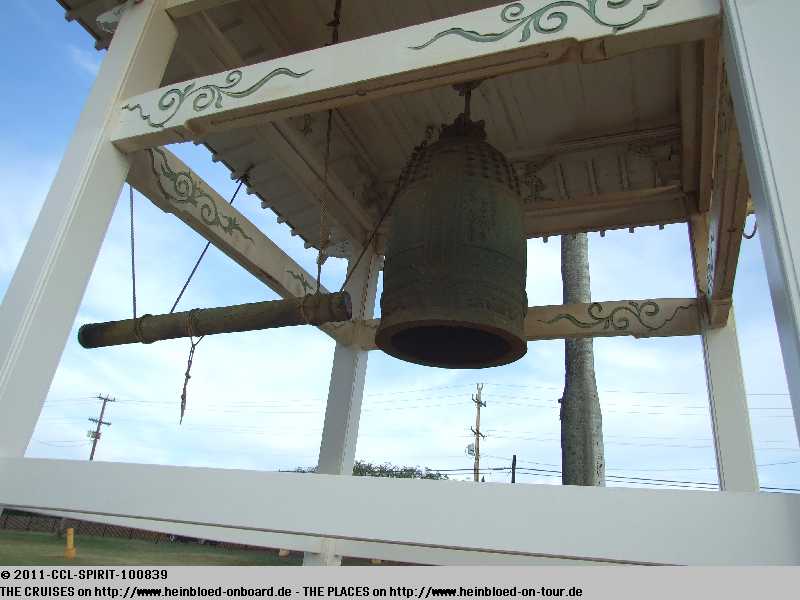 We really would love to stay longer here but we need to be at the hotel before sunset.

There was also a Japanese cemetery. I was very interested to read the tombstones. But as said before: our time was very limited.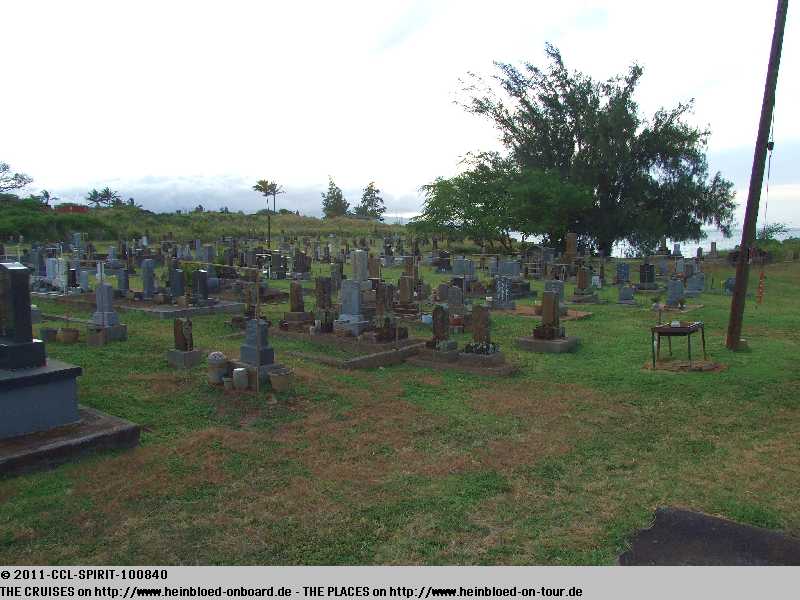 Es war nämlich auch ein japanischer Friedhof. Zu gerne hätte mir die Grabaufschriften angesehen. Aber wie gesagt: wir hatten wenig Zeit.