Scroll down for English explanations - alternates with German explanations.

Torsten hatte eigentlich gestern noch behauptet, dass Kona die Schönwetterseite sei und wir nichts zu befürchten hätten, aber das sieht mal gar nicht gut aus.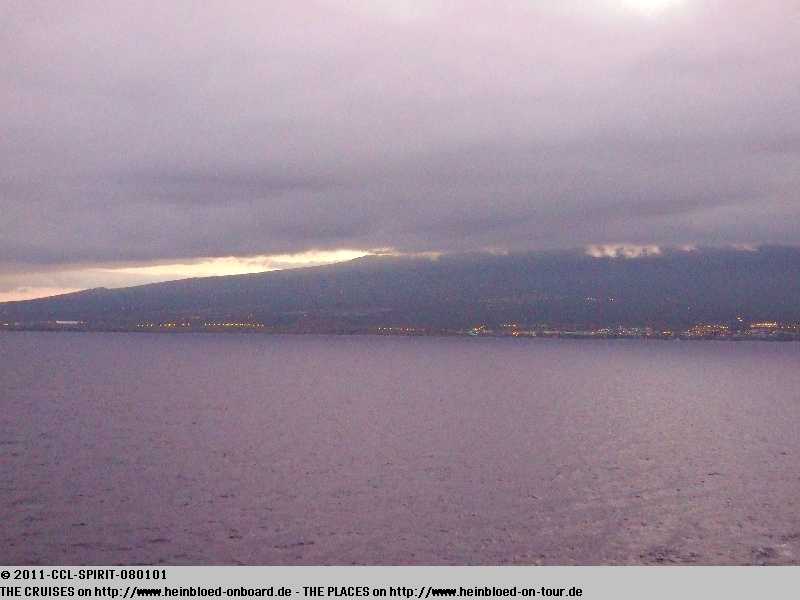 Torsten said yesterday that Kona was the nice-wetter-front and we must not fear but that did not look good to us.

A call with Franz tought us that the island has a micro-climate and that would not mean anything.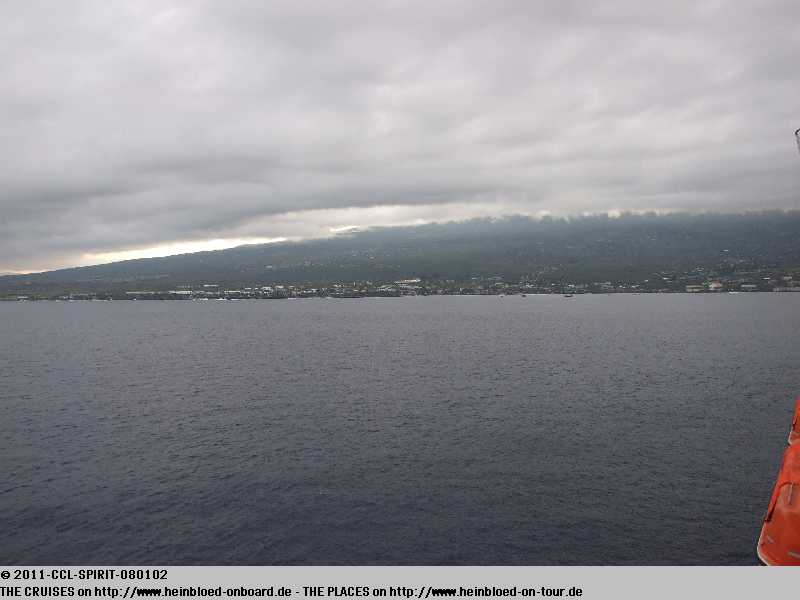 Ein kurzer Anruf bei Franz ergibt jedoch, dass es auf der Insel ein Mikroklima gibt und es nichts zu bedeuten hat.
Das kann sich minütlich ändern, je nach Höhe auch und man habe auch genügend Regenschirme im Fahrzeug. Also bloß keine Sorgen machen.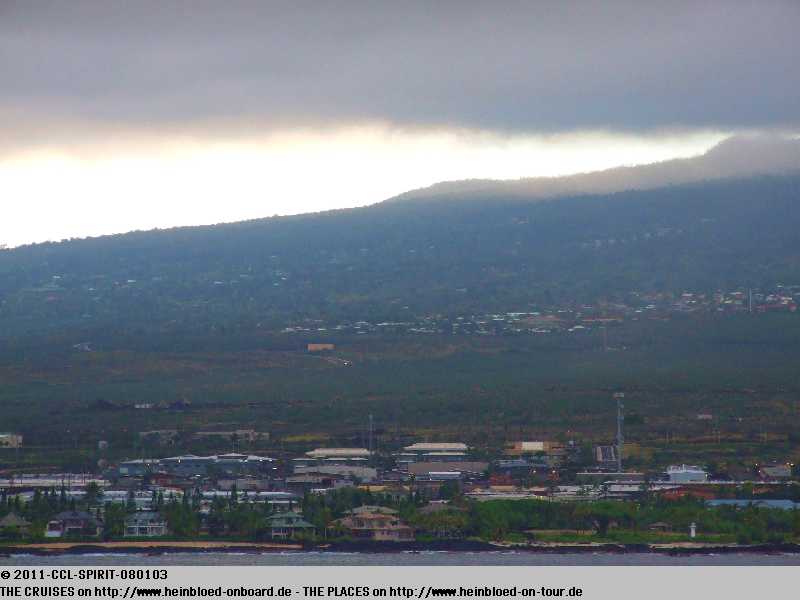 This might change from minute to minute depending to the l'altitude and you find umbrellas in the vehicle. So we should not worry too much.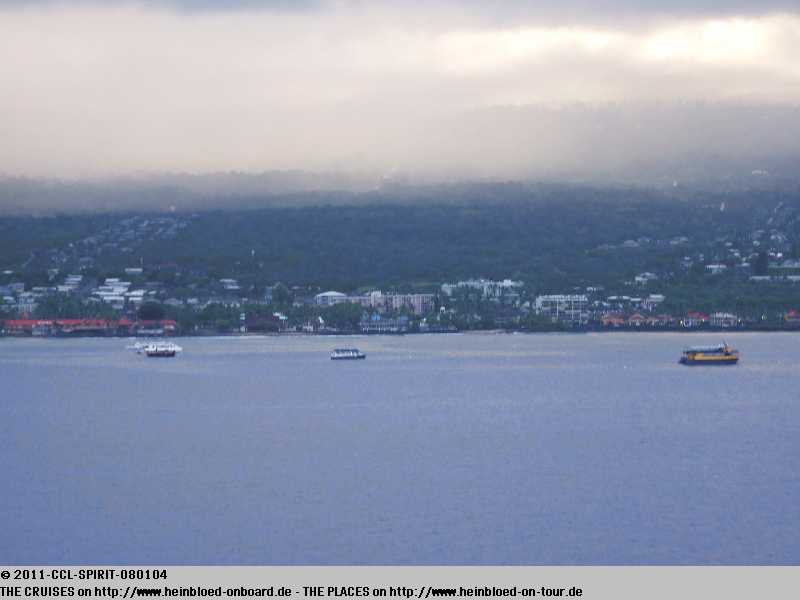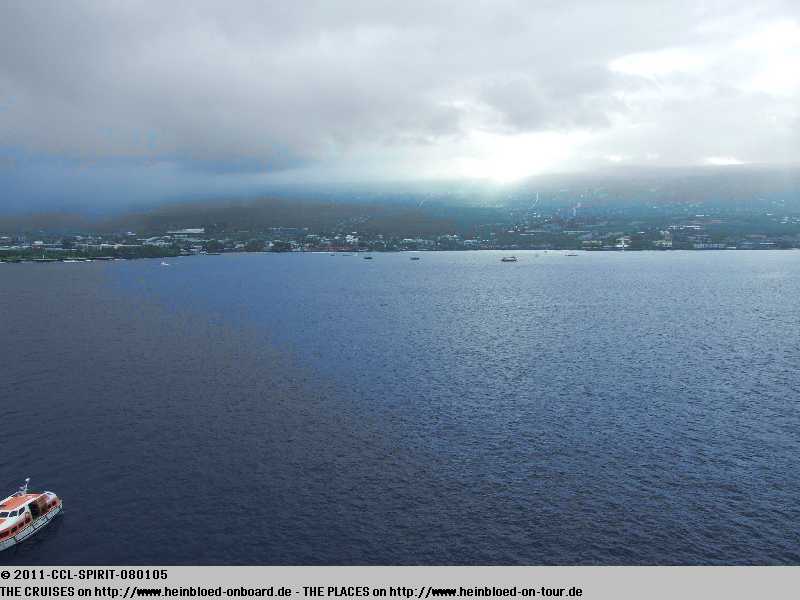 Bruno tried another muffin but claimed why I did not book Holland America... We missed the chance in San Diego to ask ZAANDAM if they could give us some muffins to make Bruno happy.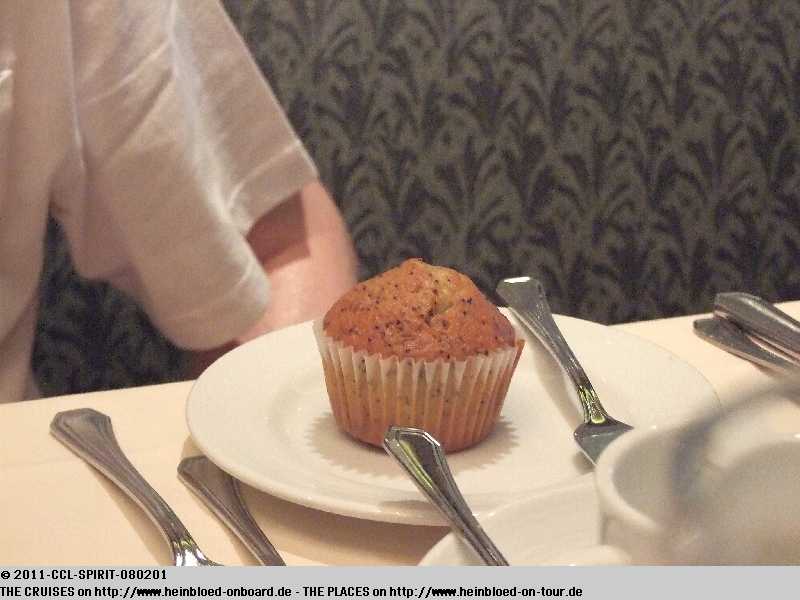 Bruno versucht sich an einem weiteren Muffin und protestiert, warum ich nicht doch Holland America gebucht habe... Wir haben ja nun die Chance verpasst, auf der ZAANDAM in San Diego nachzufragen, ob man uns freundlicherweise ein paar Muffins zur Verfügung stellen könnte, um Bruno glücklich zu machen...
Ich bekomme mein Omelette, allerding mit Käse, wie der Kellner im letzten Moment bemerkt und das obwohl ich ihn ohne Käse bestellt habe. Da er jedoch sehr freundlich ist und es ihm wohl auch sehr unangenehm ist, handhabe ich es so wie bei NCL: Ich lasse die Sache auf sich beruhen und kratze den Käse runter... So lange sie nett und freundlich und zuvorkommend sind, habe ich kein Problem damit, wenn nicht alles rundläuft...

I got my omelette but with cheese as the waiter saw the very last moment he served and although I ordered without cheese. As he was very friendly and he felt sorry for the mistake I took it very easy like with NCL: I did not claim and took off the cheese... As long as they were friendly and attentive I did not have any problems if anything went wrong.

At the fresh fruit release station we met a familiar face from the Chef's Table.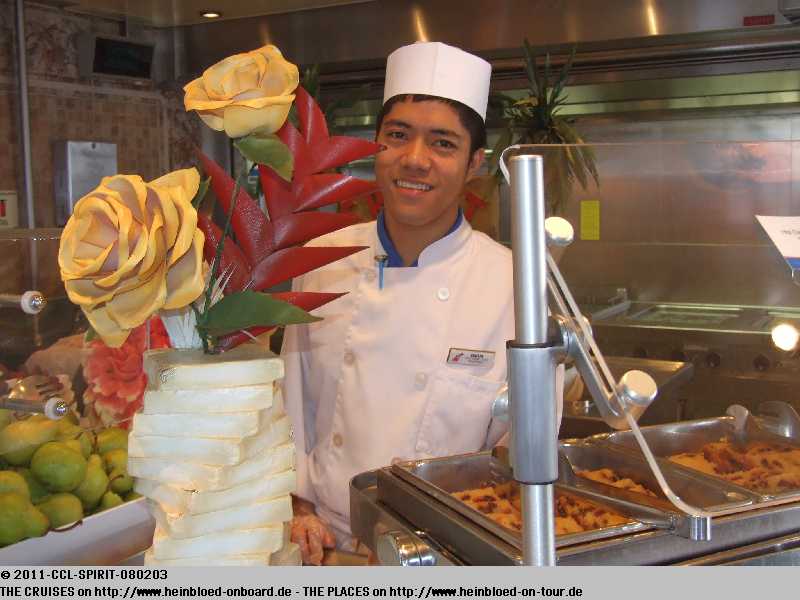 An der Obsttheke am offenen Deck treffen wir ein bekanntes Gesicht vom Chef's Table.
Die Tenderboote sind schon unterwegs.

The tender boats were already running.

The release of tender boat tickets was on the open stage on Deck 9.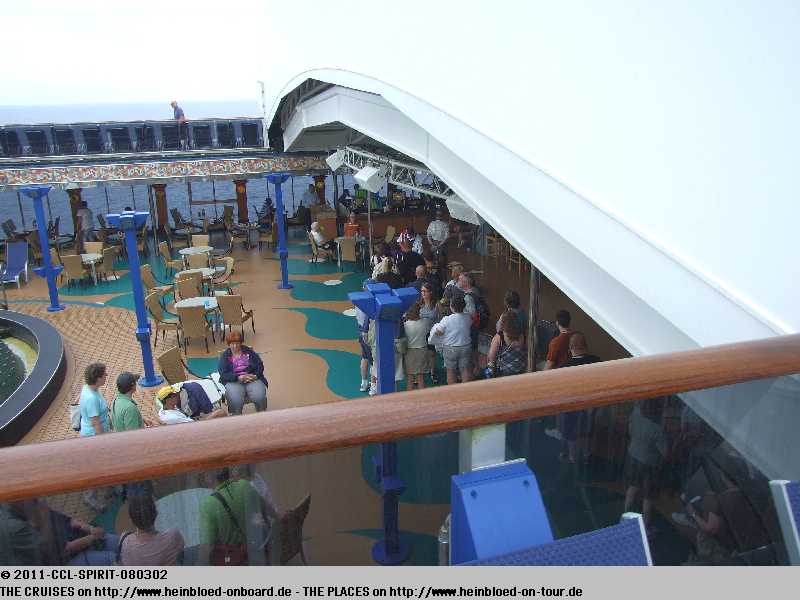 Die Ausgabe der Tenderboottickets erfolgt auf Deck 9 auf der offenen Bühne.
Es ist sehr gut organisiert. Man muss allerdings persönlich erscheinen.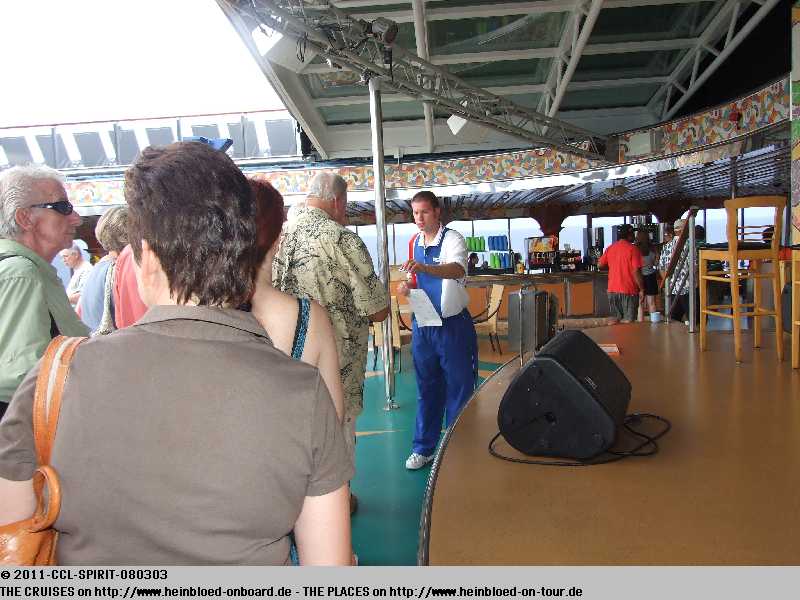 It was well organised. But you must show up personally.

You did not get any tender tickets but stickers which you need to wear. Until the announcement came you might stay at any place.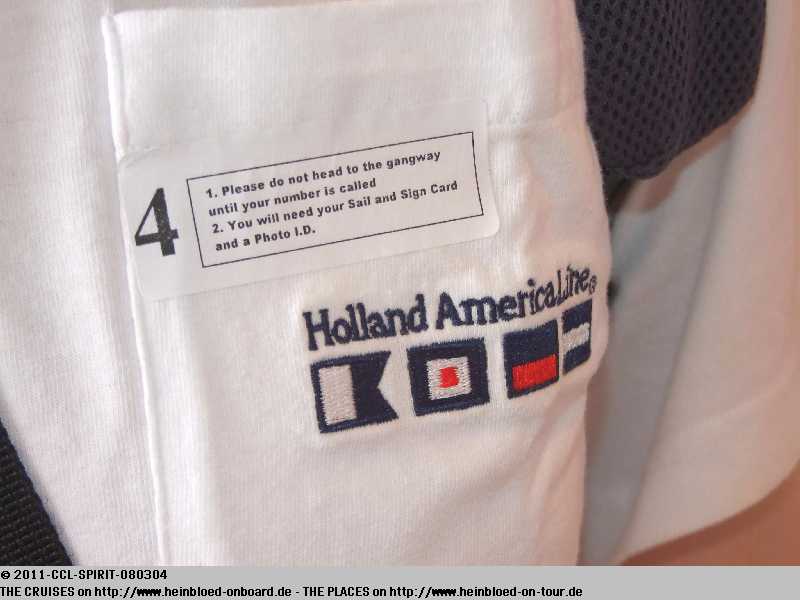 Man bekommt nämlich keine Tendertickets sondern Aufkleber, die man sichtbar tragen soll. Bis zum Ausruf darf man sich beliebig aufhalten.
Um 08.32 Uhr wird unsere Nummer ausgerufen. Torsten bat darum, dass die Tour bereits um 09.00 Uhr statt um 10.00 Uhr beginnt weil später die Stadt wegen einer Verstaltung abgesperrt wird und es nicht mehr so einfach ist, uns wieder zurückzubekommen. Aber das passt ja perfekt.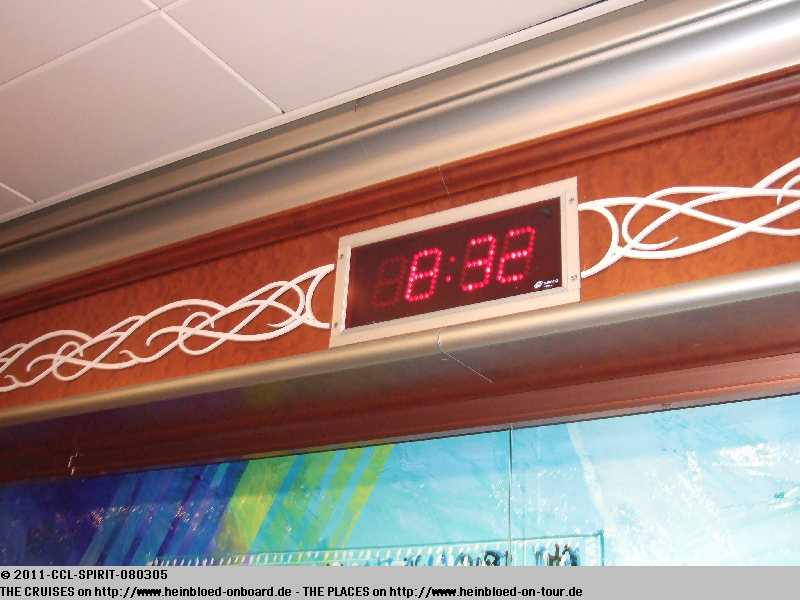 At 08.32 hrs they announced our number. Torsten asked us to start the tour already at 09.00 hrs instead of 10.00 hrs because they will close the city for an event and it might be difficult to get us back to the ship. But now it worked perfectly.

As Carnival was familiar with the situation as their guests took half of the self-service restaurants would be taken to the exit they kept containers ready to collect cups, glasses etc. And one container for agricultural product.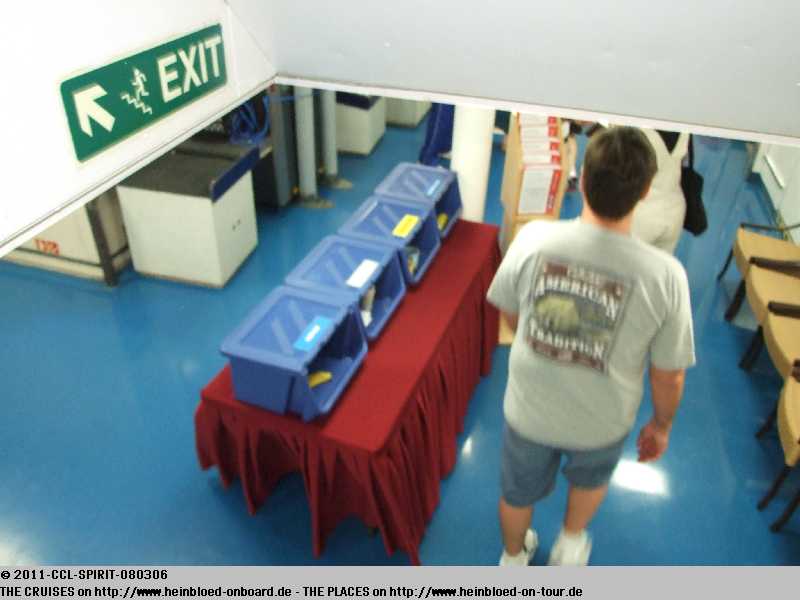 Da Carnival wohl gewohnt ist, dass alle irgendwie das halbe SB-Restaurant zum Ausgang tragen, stehen hier Behälter um die Tassen, Gläser usw. zurückgeben zu können. Ferner noch ein Behälter für landwirdschaftliche Produkte.
Hier und später nochmals direkt nach dem Ausstieg aus den Tenderbooten wird man hingewiesen: Es darf nichts an landwirschaftlichen Produkten an Land genommen werden. Aber daran halten sich nicht alle...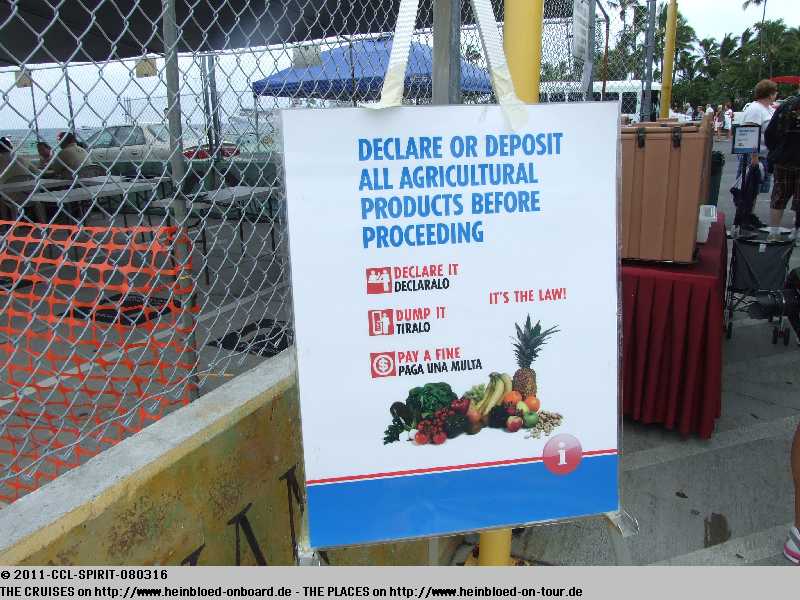 Here and later after leaving the tenders: they informed again: No agricultural products may be taken ashore. But not everybody attended to this...

Typical in America: Cross-Selling-actions. A key for a treasure which you can try with a certain tour operator to win something... And if you are there to try...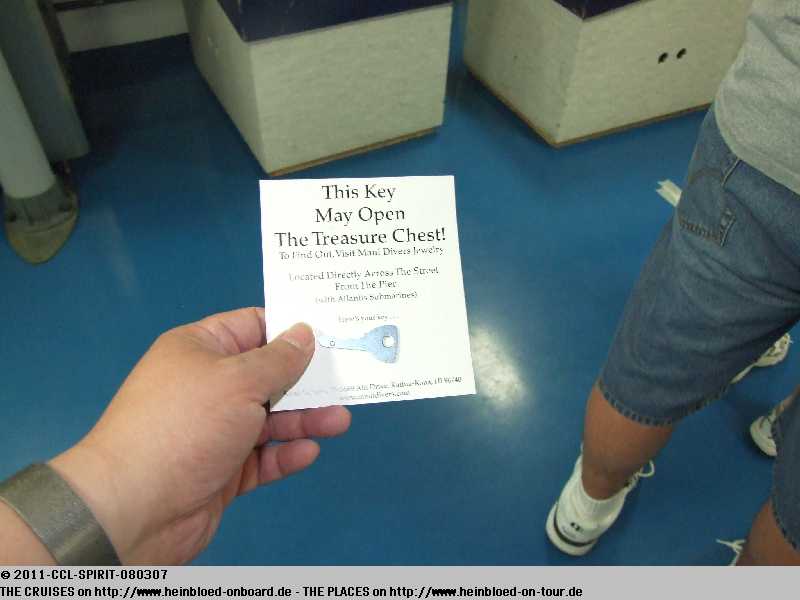 Typisch in Amerika: Cross-Selling-Aktionen. Ein Schlüssel für einen Schatz, den man bei einem bestimmten Touranbieter ausprobieren kann, um etwas zu gewinnen... Und wenn man schon mal da wäre...
Sonst gilt immer 17.30 Uhr, aber hier in Kona gilt 17.15 Uhr, weil ja getendert wird.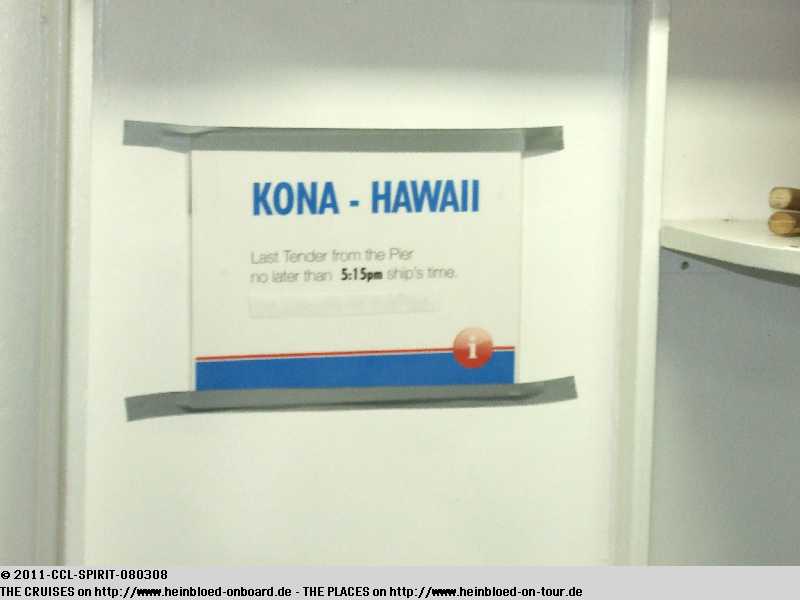 Normally you need to back at 17.30 hrs but as you tender in Kona you need to return at 17.15 hrs for the last tender.

Tendering went quite fast as they used two bridges.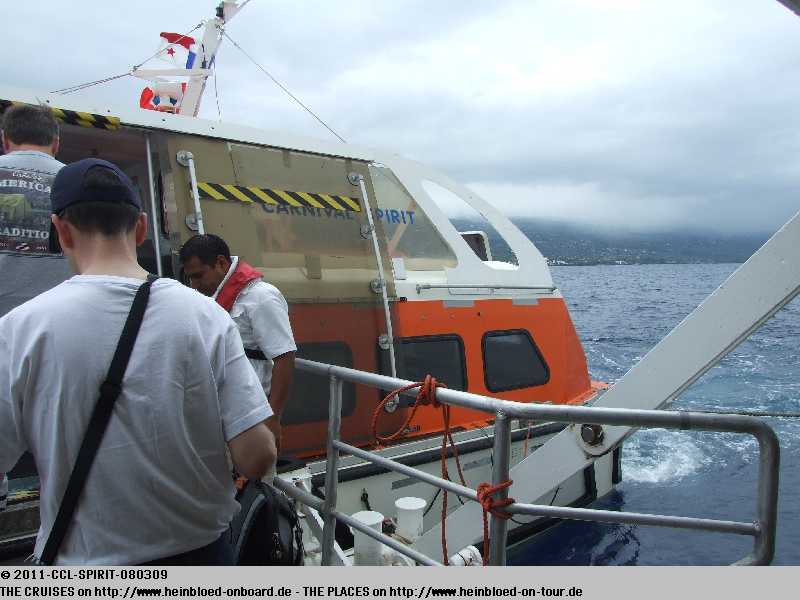 Das Tendern ging sehr zügig, da man mit zwei Brücken arbeitet.
Ungewöhnlich: die Luken blieben auf.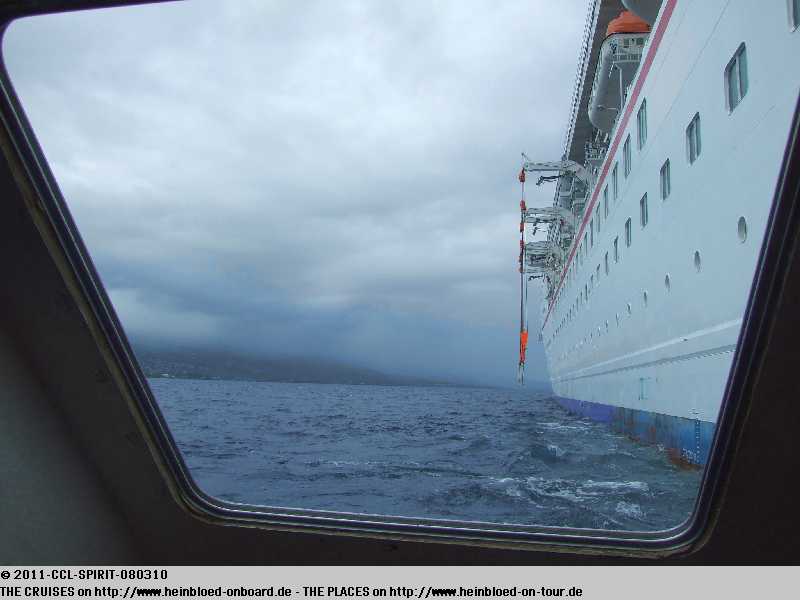 Unusually: the door remained open.

So Bruno moved to the wind-protected corner.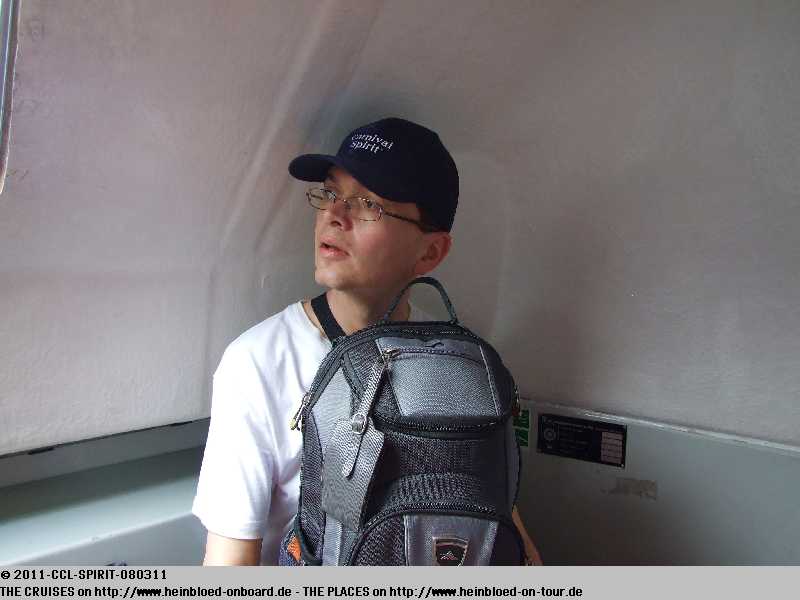 Daher zog sich Bruno in die windgeschützte Ecke zurück.
Und ich konnte schöne viele Bilder durch die offene Luke von der CARNIVAL SPIRIT machen...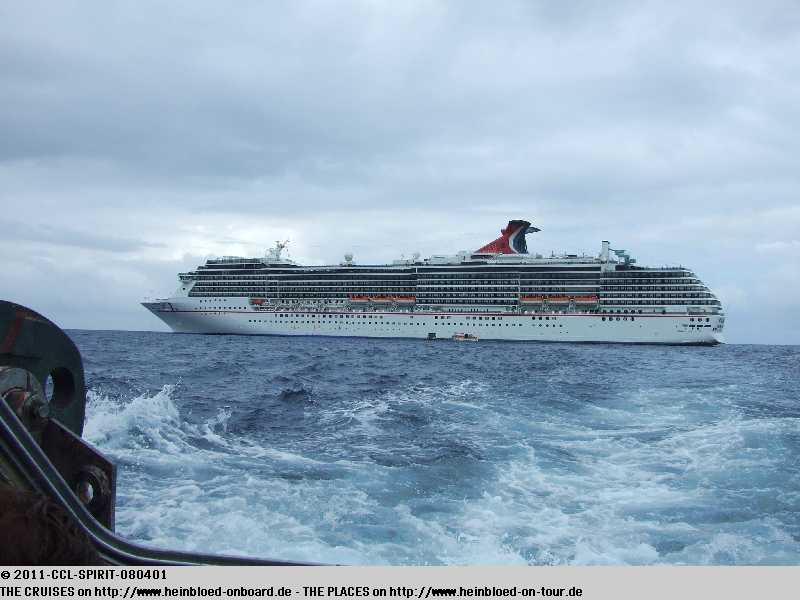 And I was able to take a lot of nice pictures of the CARNIVAL SPIRIT through the open door.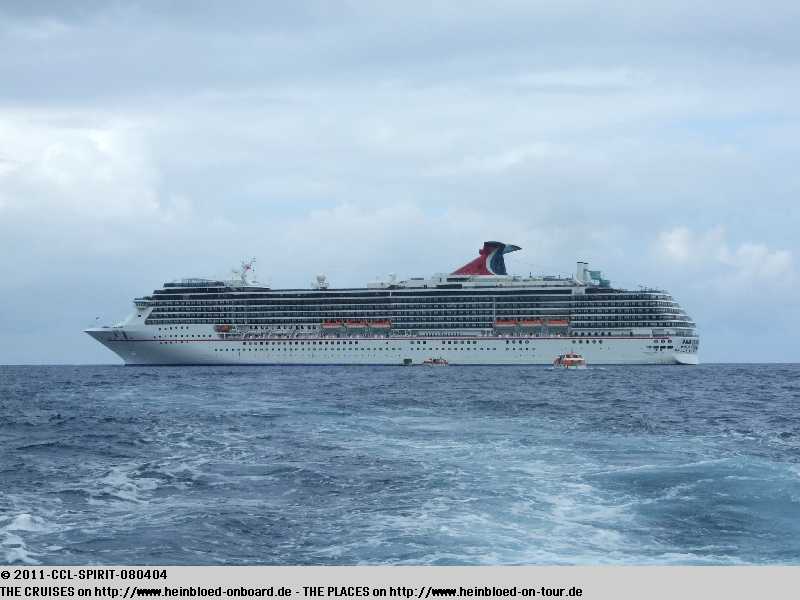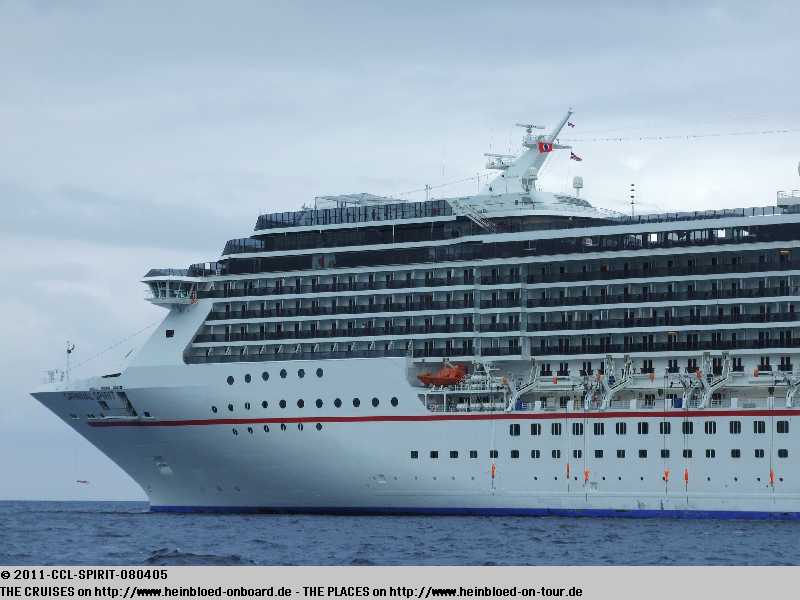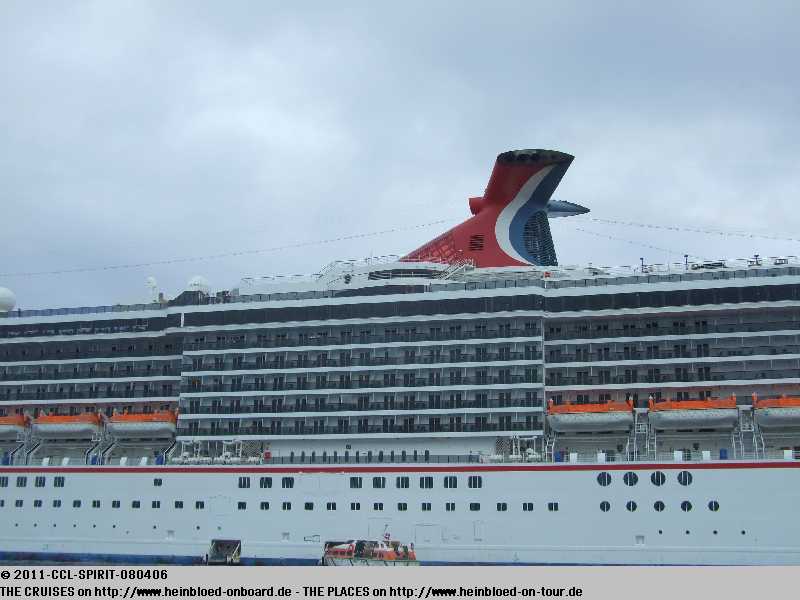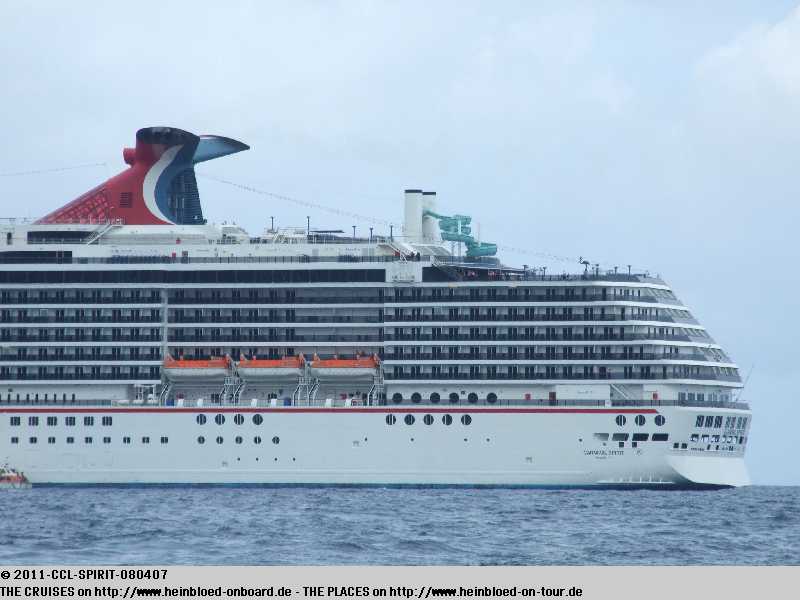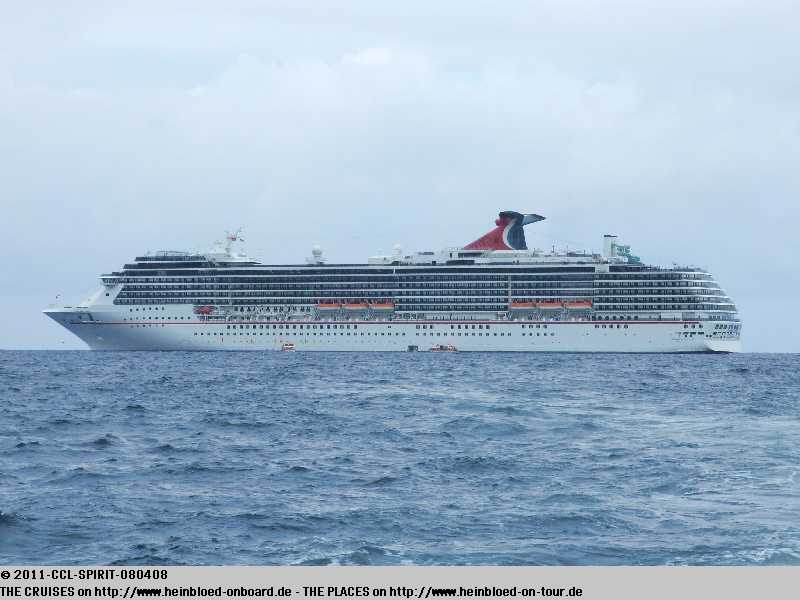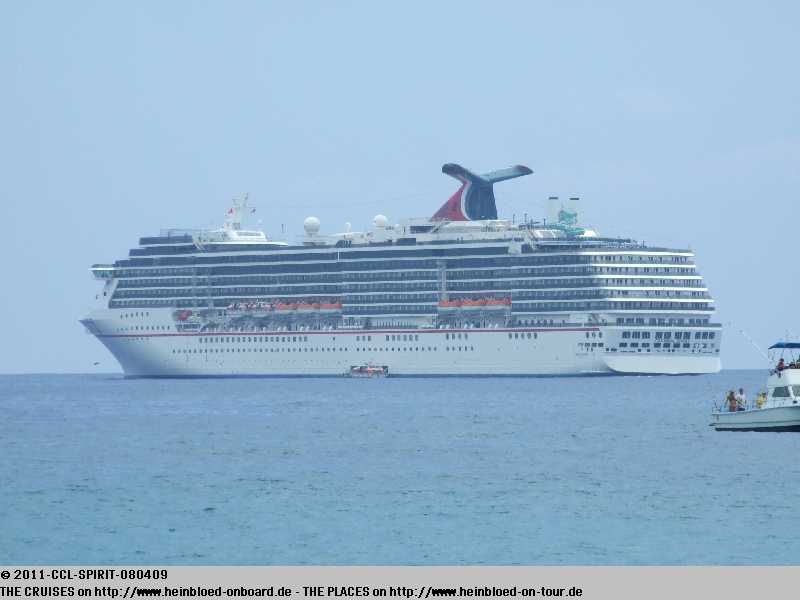 The transfer was very nice.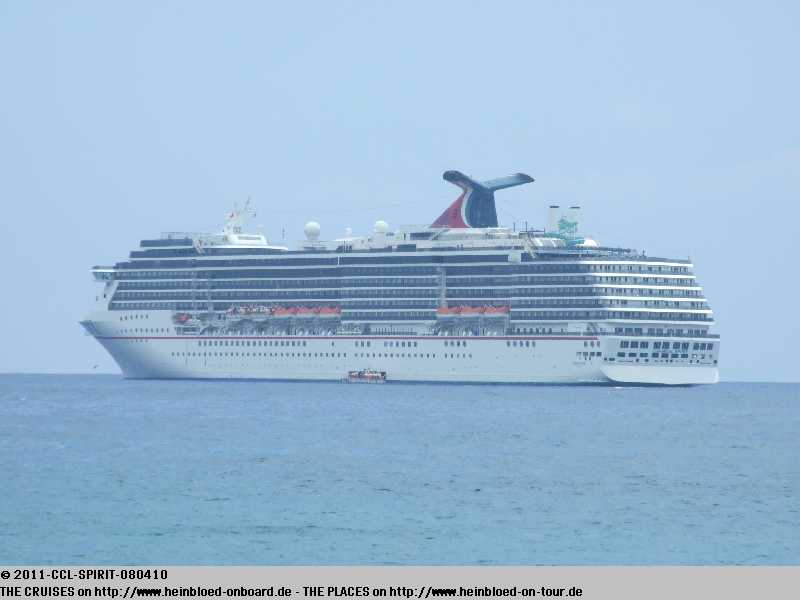 Die Überfahrt war in sofern echt schön.
Und nun waren wir auch schon in Kona.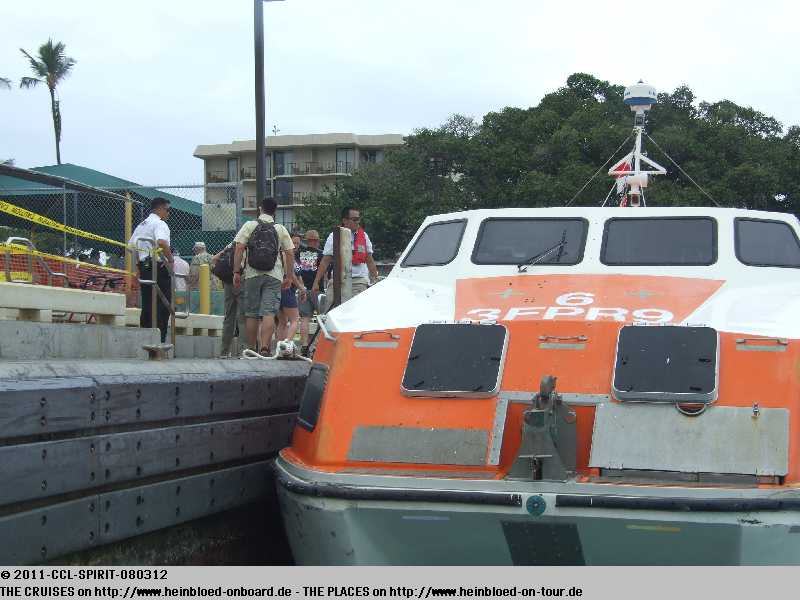 And now we arrived in Kona.

The high exit was somehow unusual.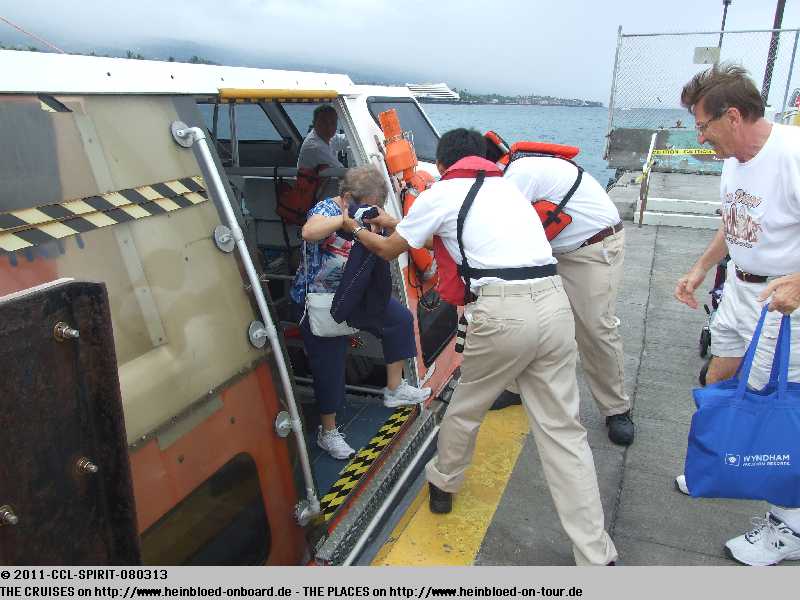 Ungewöhnlich hoch war jedoch der Ausstieg.
Aber sie haben jedem geholfen.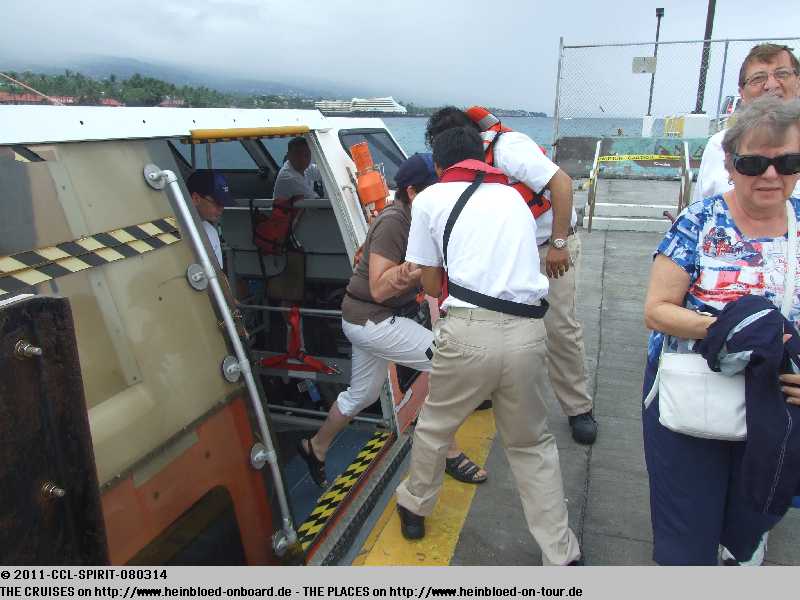 But they helped everyone.

Now the party was completely ashore.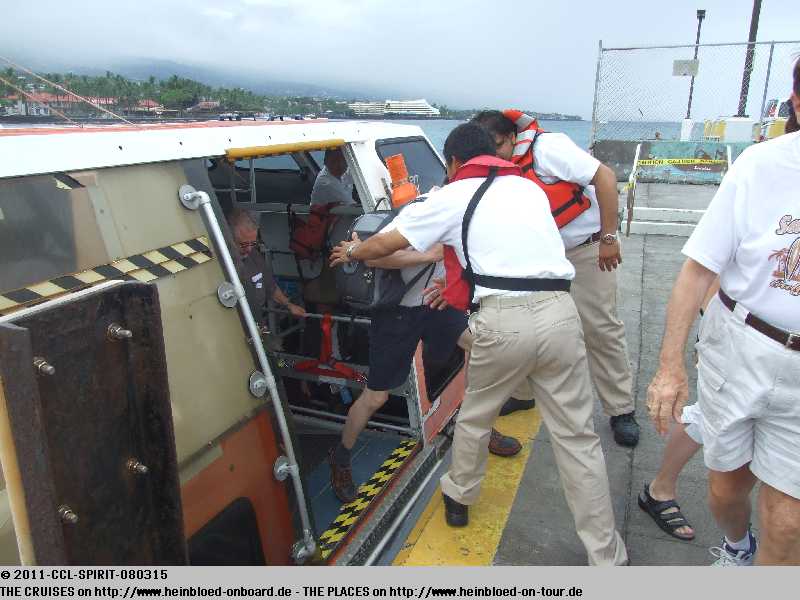 Nun ist die Gruppe zusammen an Land.