Scroll down for English explanations - alternates with German explanations.

Es gab also A, B, C, D, E, F, G x 6 Busse (je Konvoi) = 42 und H1-3 also 45 insgesamt. H3 war der allerletzte Bus: unser Bus.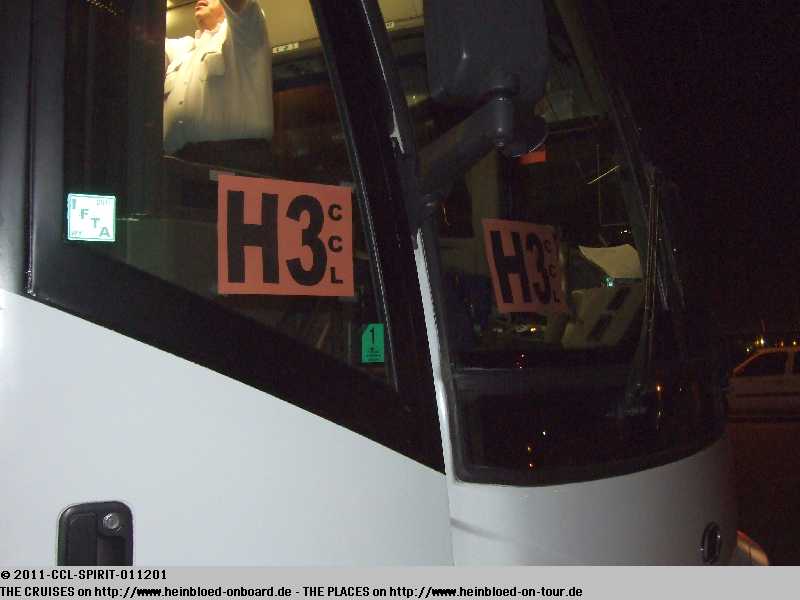 There were A, B, C, D, E, F, G x 6 busses (each convoi) = 42 and H1-3 so 45 in total. H3 was the very last bus: our bus.

Cruise Director Stu came in to welcome us and to let us know that there was nothing he can do but he will do his very best that we will have fun from the next day.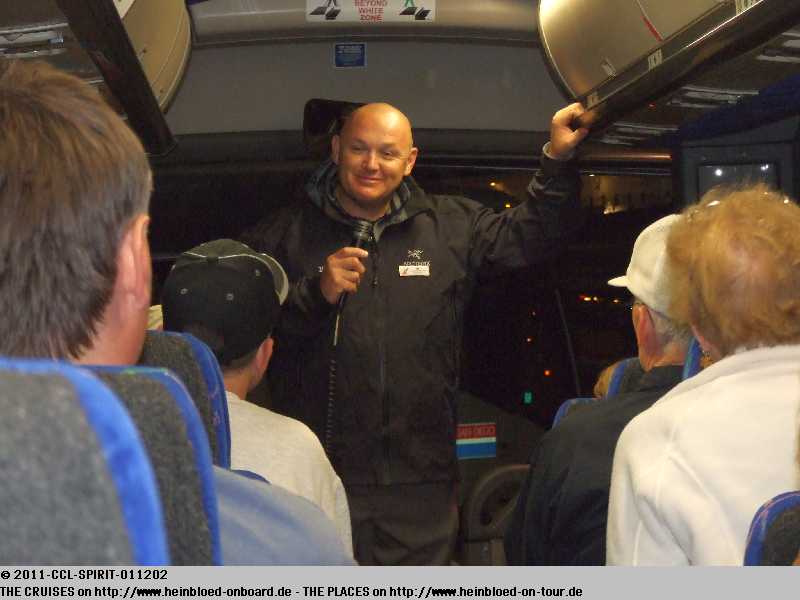 Cruise Director Stu kommt hinein, um uns zu begrüßen und mitzuteilen, dass er an der Situation nichts machen und dass er sein Bestes tut, damit wir ab morgen unseren Spaß haben würden.
Er teilt uns mit, dass das Empire Restaurant bereits geschlossen hat, aber dass wir bis spät in die Nacht im La Playa Grill essen könnten.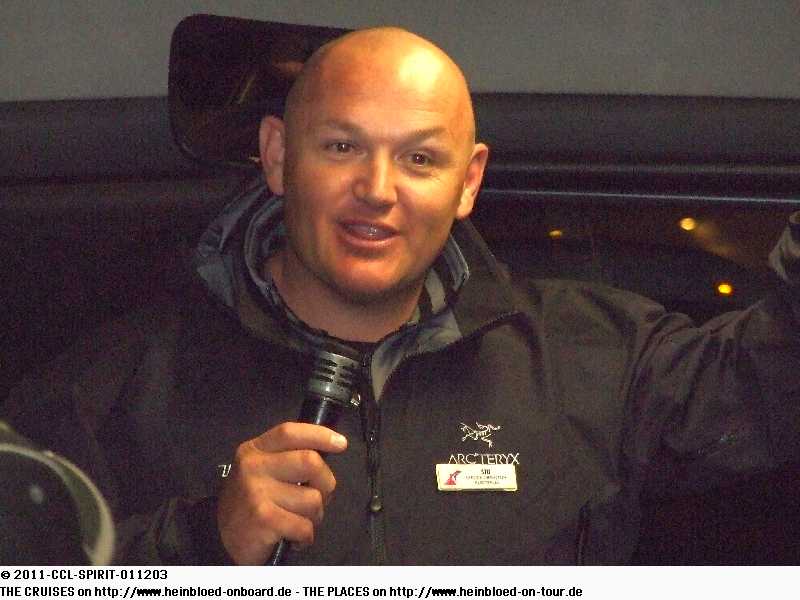 He told us that the Empire Restaurant was already closed and that we might get food until late night in La Playa Grill.

Around 22.00 hrs our bus moved forward to the cruise terminal and we were finally released. With a collar of plastic which does not deserve the name Lei we were welcomed.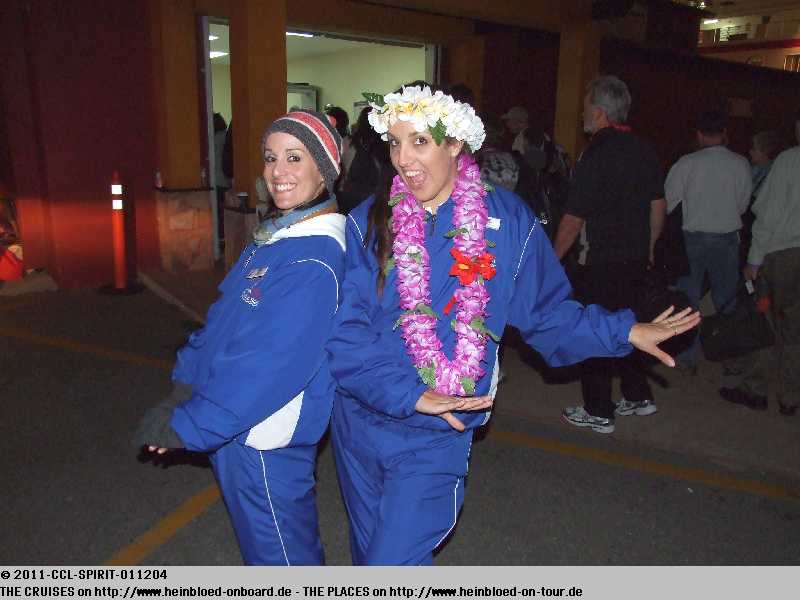 Gegen 22.00 Uhr zieht auch unser Bus vor und wir dürfen endlich aussteigen. Mit einem Plastik-Kranz, der den Namen Lei kaum verdient werden willkommen geheißen.
Endlich sehen wir unser Schiff aus der Nähe.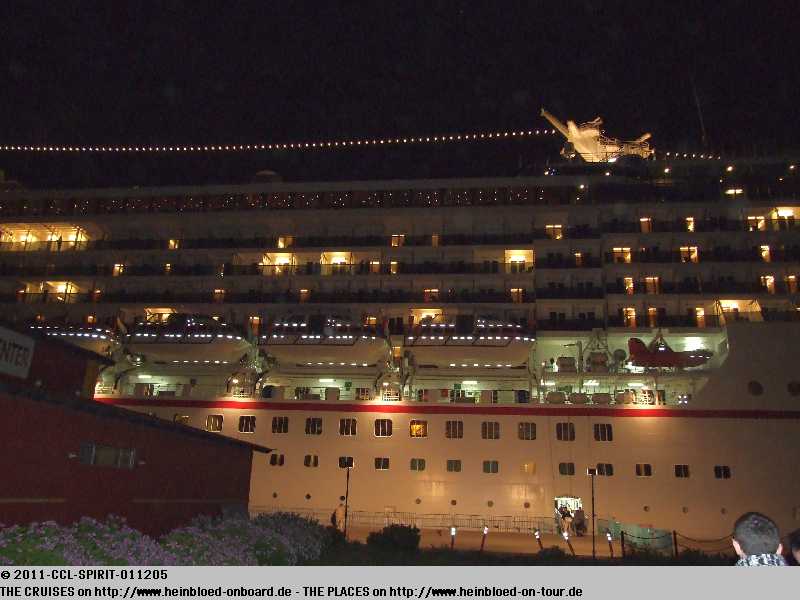 Finally we have saw our ship close by.

The entertainment group exercised some Hula-Dance and did their best to make the guests happy.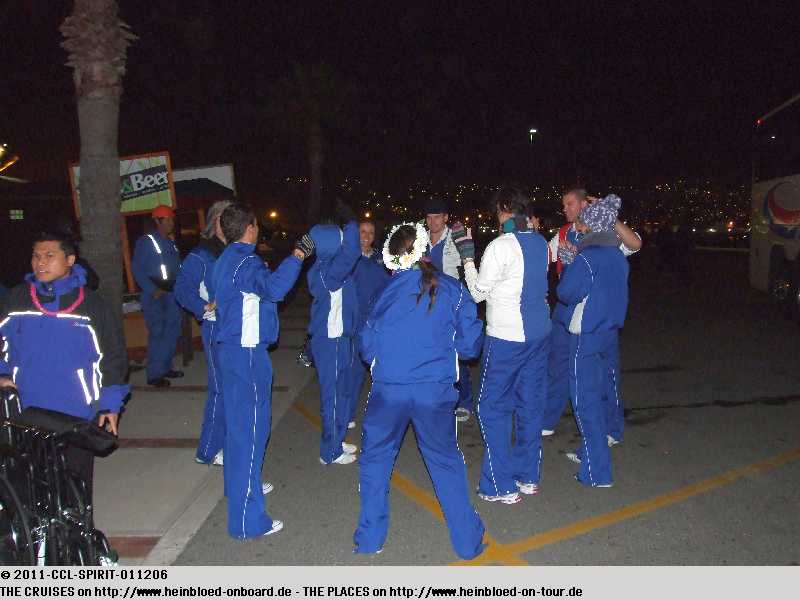 Die Entertainment-Gruppe übt ein wenig einen Hula-Tanz und versucht ihr bestes, um die Gäste aufzumuntern.
Aber ich habe die Nase voll und will nur noch an Bord.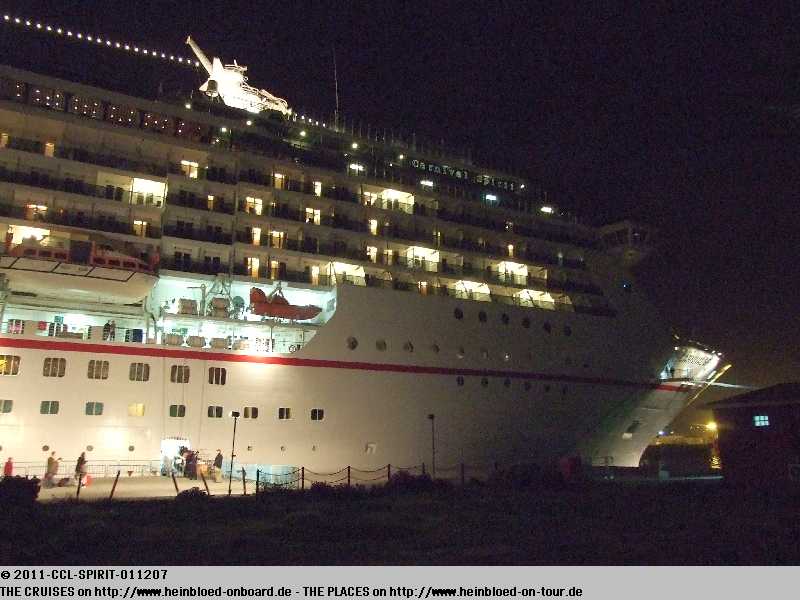 But I was nuts and wanted just to go on board.

And this should become seriously our home for twelve nights???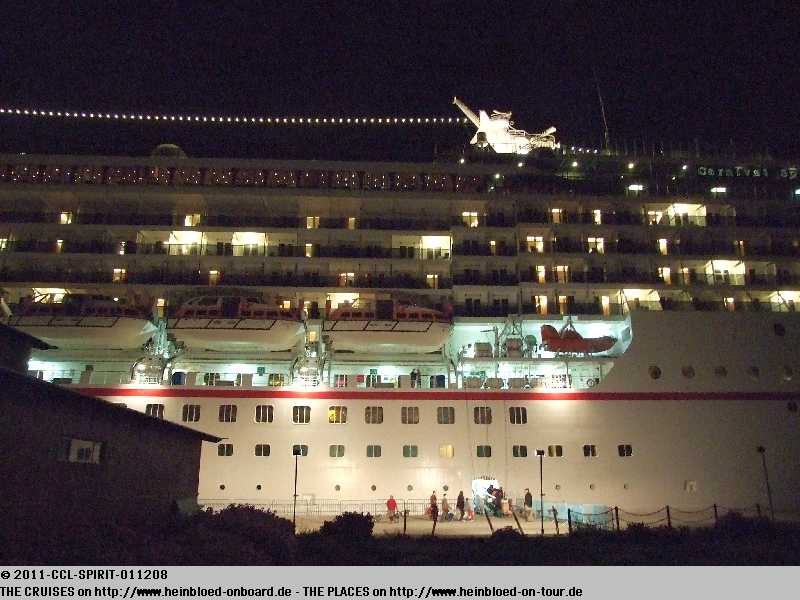 Und das soll wirklich unser zu Hause für die nächsten zwölf Nächte werden???
In San Diego wurden wir ja im Rahmen einer Beschäftigungstherapie durch die Gepäckdurchleuchtung geschleust, damit wir einen Bus besteigen...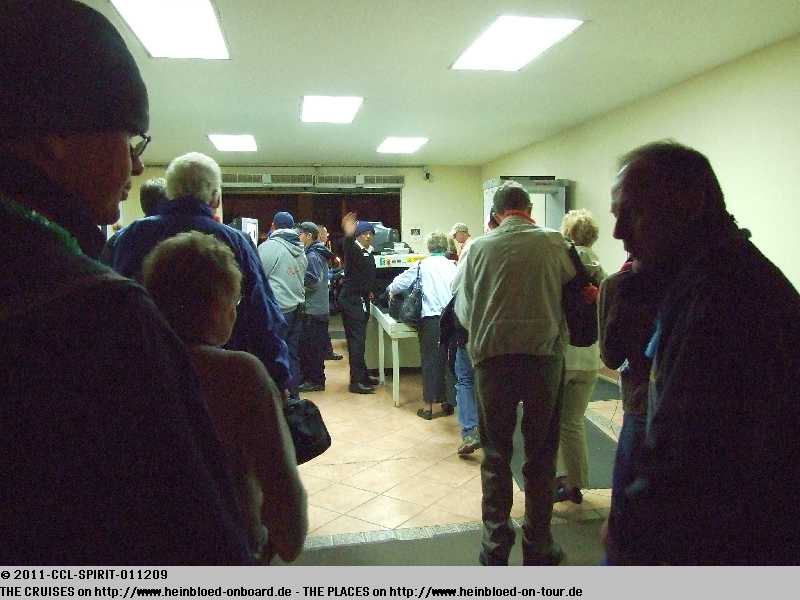 In San Diego they screened us to keep us busy for embarkation of a bus...

Unbelievable that we made it finally.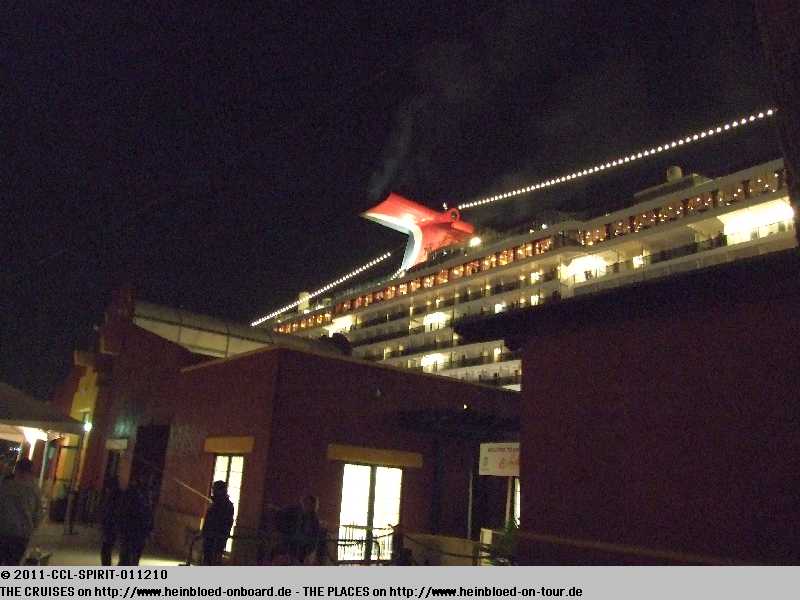 Kaum zu glauben, dass wir es fast geschafft haben.
Einschiffungsfotos gibt es nicht, weil die Fotografen schon längst alles abgebaut haben.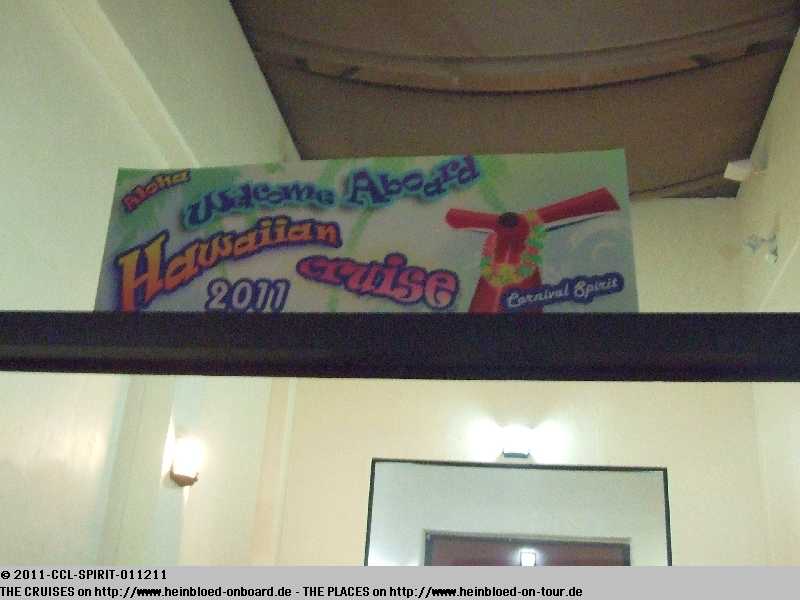 No embarkation photos. Everything was already closed.

As there was no IT-support in San Diego the photos for the cruise cards were taken here.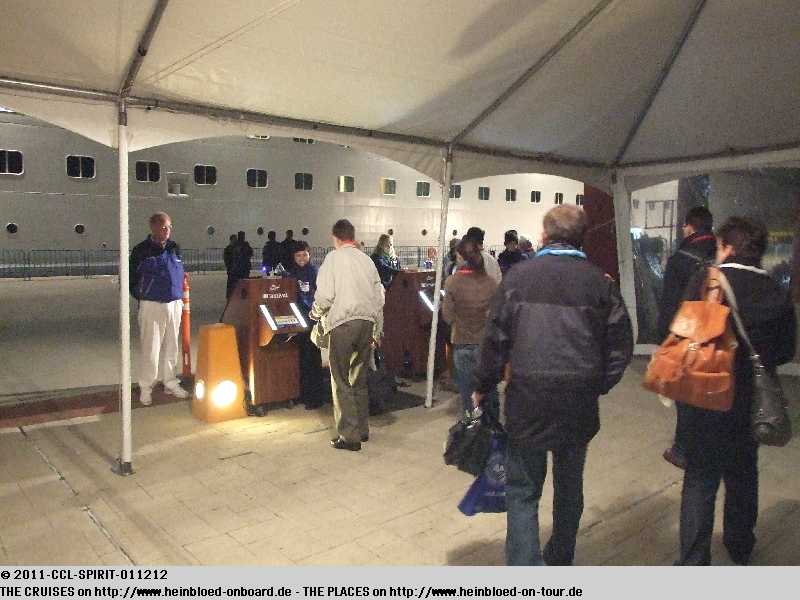 Da in San Diego ja nicht mit Hilfe der EDV eingeschifft wurde, entstehen erst hier die Bilder für die Bordkarte.
Nur noch wenige Meter trennen uns vom Schiff. Das "Welcome Home"-Schild so wie wir es von der CARNIVAL FASCINATION her kennen ist weg. Innen werden wir begrüßt und jemand fragt nochmals wegen des Essens am Telefon nach. Hier wird bestätigt, dass das Empire Restaurant doch noch für 30 Minuten Einlass gewährt. Darauf freue ich mich und wir machen uns auf dem Weg in die Kabine auf Deck 6.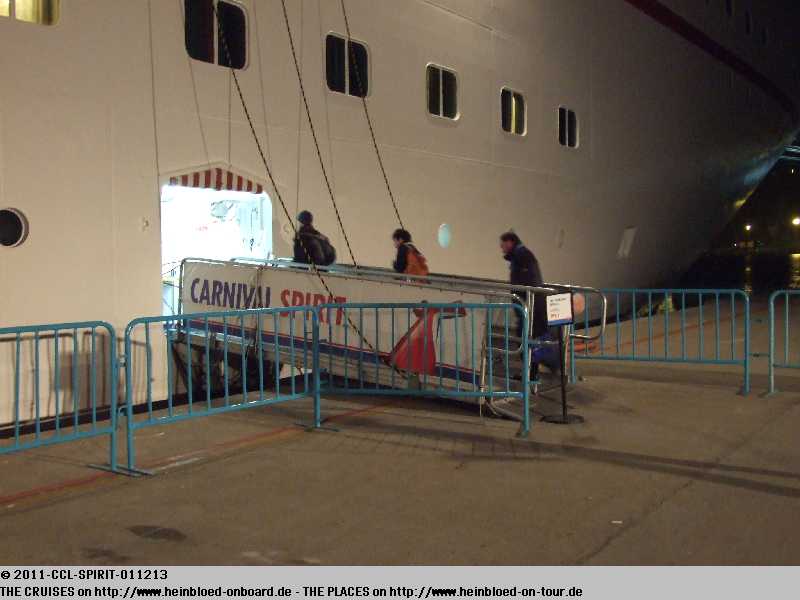 Few more yards to the ship. The "Welcome Home"-sign which we knew from CARNIVAL FASCINATION was missing. Inside we got a warm welcome and someone asked for us again regarding food. She confirmed that the Empire Restaurant was kept open for another 30 minutes. I was glad to hear this and we went to our cabin on deck 6.

Deck 6 = Empress-Deck. Sounds so low but as there were decks below Deck 1 which were named by letters.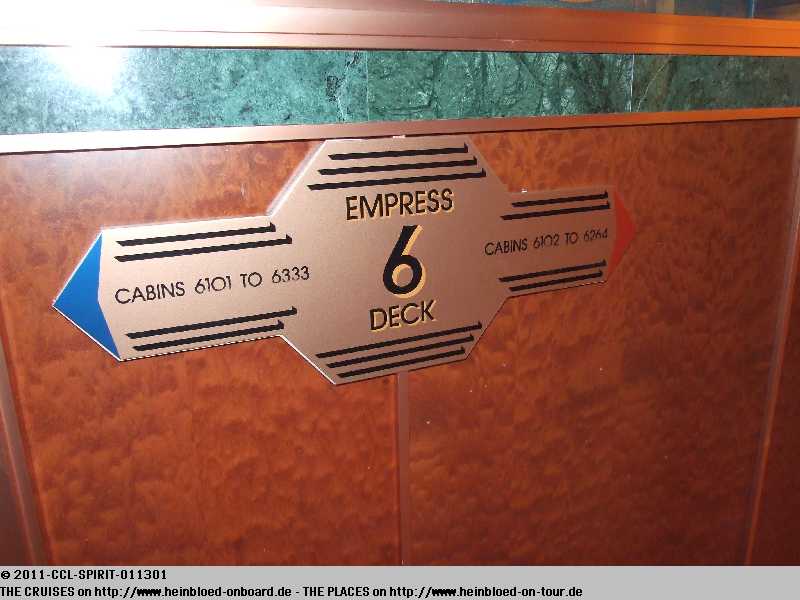 Deck 6 = Empress-Deck. Es klingt so niedrig, weil es noch unter Deck 1 die Decks gibt, die mit Buchstaben bezeichnet werden.
Es wirkt gar nicht so wie in ein Billig-Motel, wie damals auf der CARNIVAL FASCINATION. Ich bin positiv überrascht.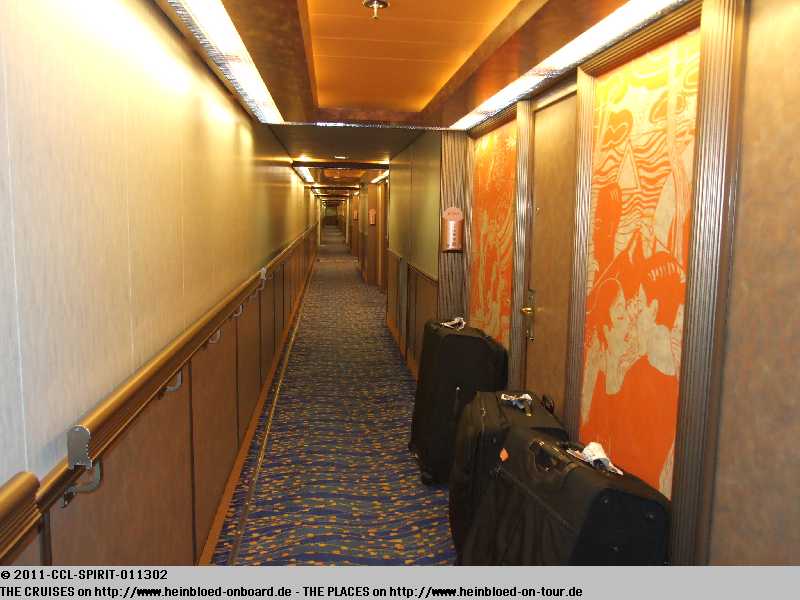 Did not appear to me like a cheap motel like then on CARNVIAL FASCINATION. I was positively surprised.

Our entire bags and our stewardess Xiomara (from Nicaragua) were waiting in front of our doors to welcome us.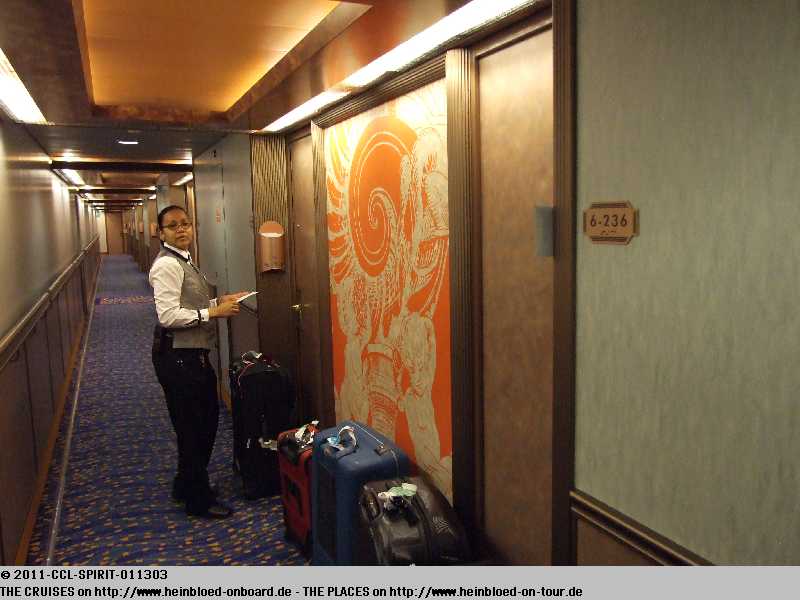 Unser Gepäck (alles vollzählig dieses Mal) und unsere Kabinenstewardess Xiomara (aus Nicaragua) stehen schon vor unserer Tür, um uns zu begrüßen.
Sie verteilt gerade nochmals Post.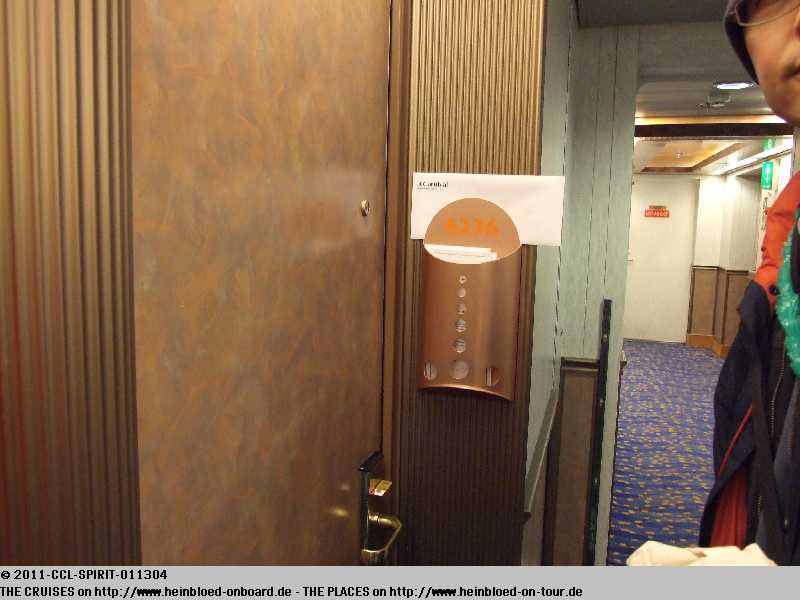 She was distributing mail.

Our gift orders were delivered. Worked properly.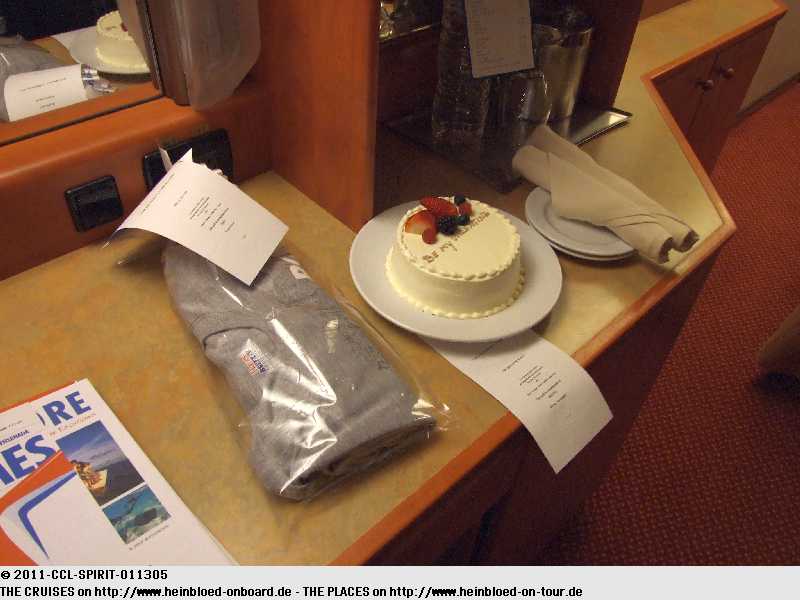 Die Geschenkbestellungen sind da. Das hat sehr gut geklappt.
Unsere Betten sind auseinander gestellt. Und sogar ein Handtuchtier gibt es bereits am Tag der Einschiffung.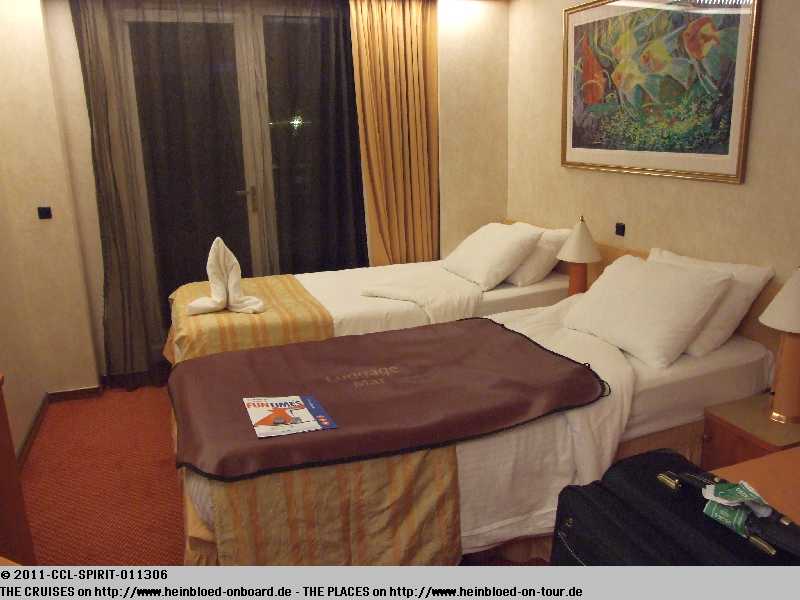 Our beds were seperated. And we got on the day of embarkation our first towel animal already.

Beach towels to let.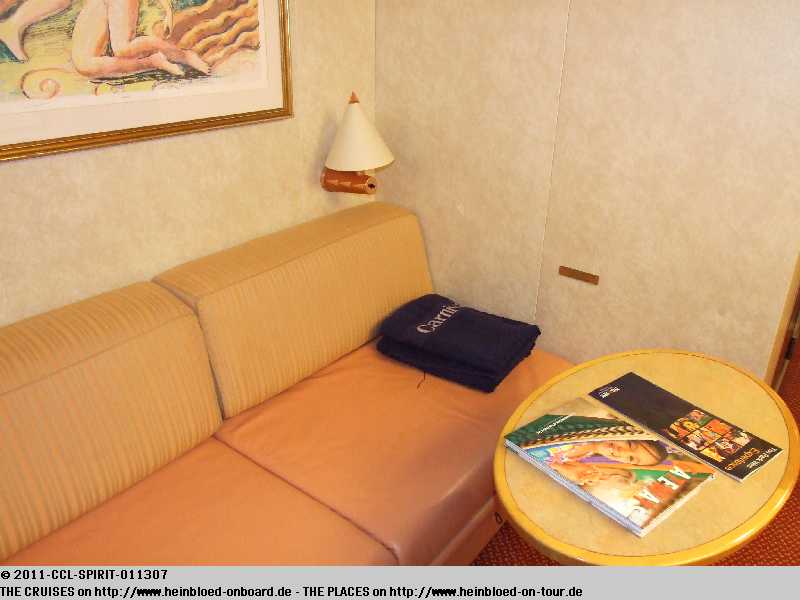 Strandtücher zum Ausleihen.
Und viel viel Platz.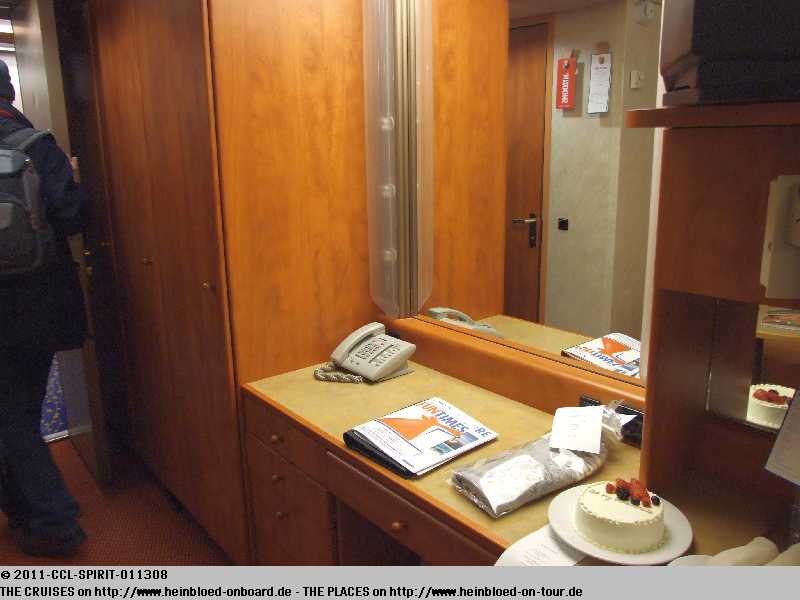 And space, space, space.

But the shower curtain... how much I hate them... but it was spacious so we had no dance every morning like on MSC MUSICA.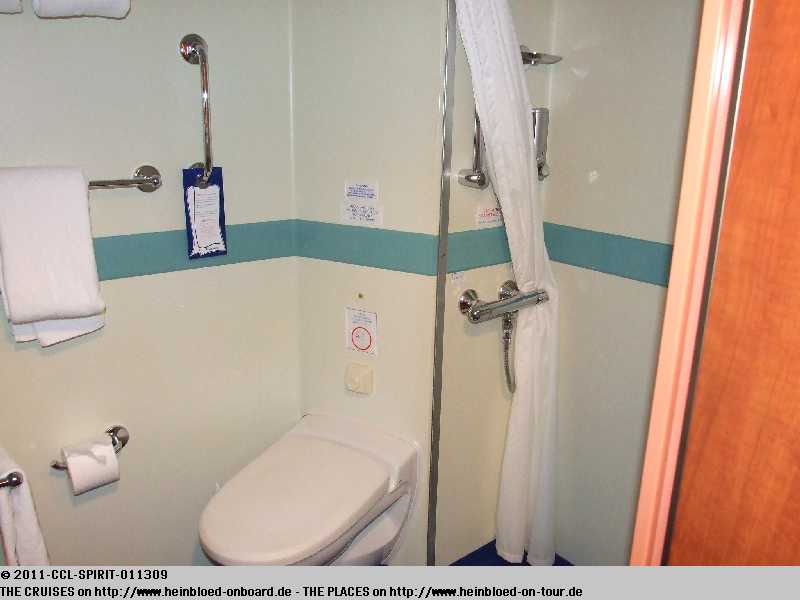 Nur der Duschvorhang... wie ich die Dinger hasse... aber es ist so großzügig, dass man nicht jeden Morgen mit denen tanzt wie auf der MSC MUSICA.
Ein Guss wie in einem Etap-Hotel... aber mit viel Stauraum.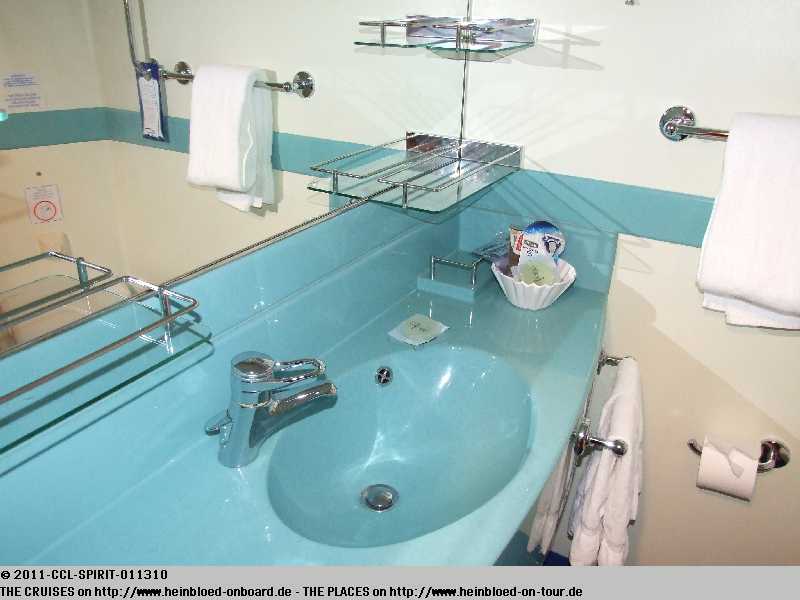 One pour like in the French low-budget hotels Etap... but with quite plenty stowage fascilities.

And many things to test which you can keep... Shavers (no shaving cream...), toothpaste, something agains heartburn, body lotion, soap...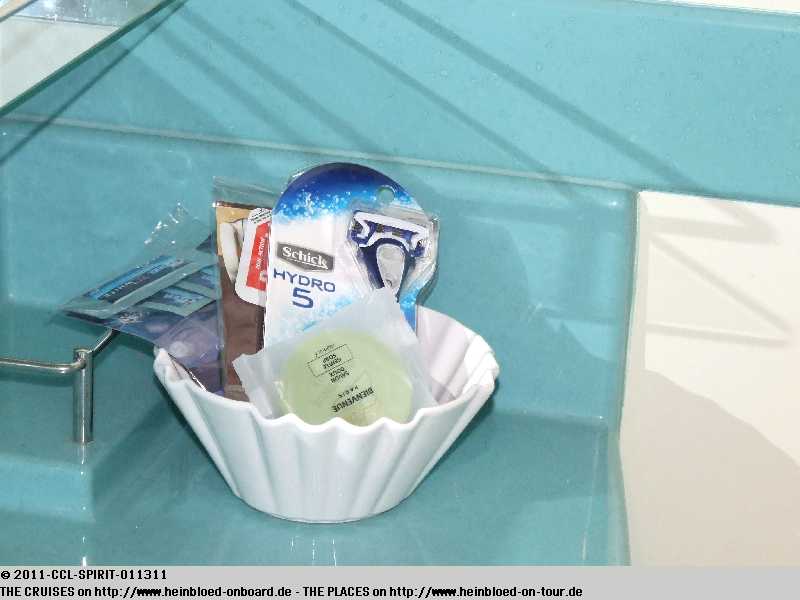 Und lauter Proben, die man alle behalten darf... Rasierer (ohne Rasiercreme...), Zahnpasta, Mittel gegen Sodbrennen, Körperlotion, Seife...
Auch den Sekt, den wir für Brunos Schwester bestellt haben ist da. Nur wird er nicht in einem Sektkühler serviert.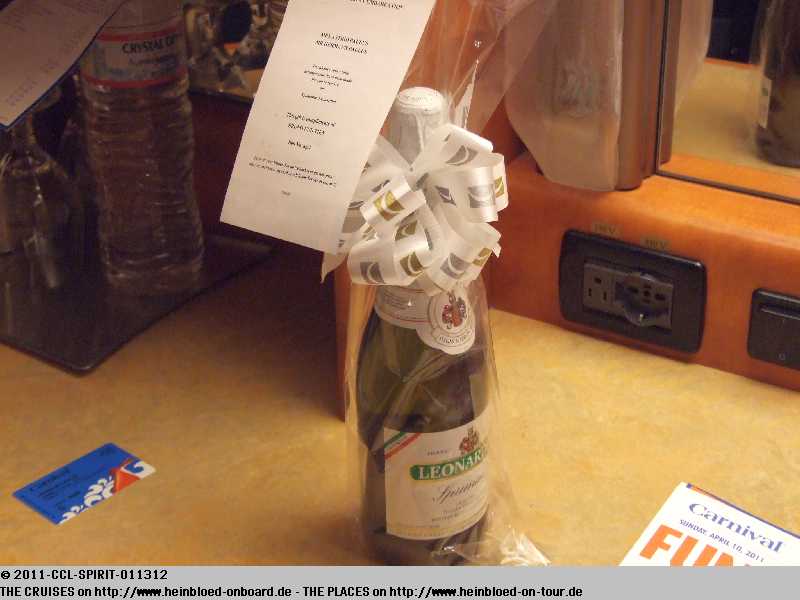 The champagne we ordered for Bruno's sister arrived as well but not served in a ice bucket.

And again so many letters: OBC because the price dropped after final payment (so we got 100 USD as OBC), our booking for the Chef's Table and the confirmation for the Meet & Greet with the other cruisecritic.com-Members.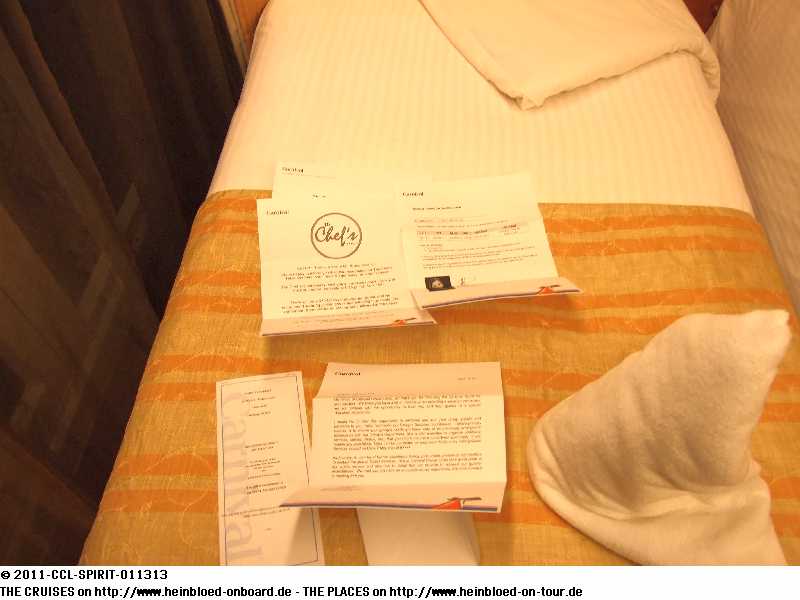 Und wieder viel Post: Bordguthaben, weil nach der Schlusszahlung die Preise gefallen sind (gibt es 100 USD als Bordguthaben zurück), die Buchung für den Chef's Table und die Bestätigung des Meet & Greet mit den anderen cruisecritic.com-Mitgliedern.
Später gibt es noch die 100 USD für Bruno als Carnival-Aktionär.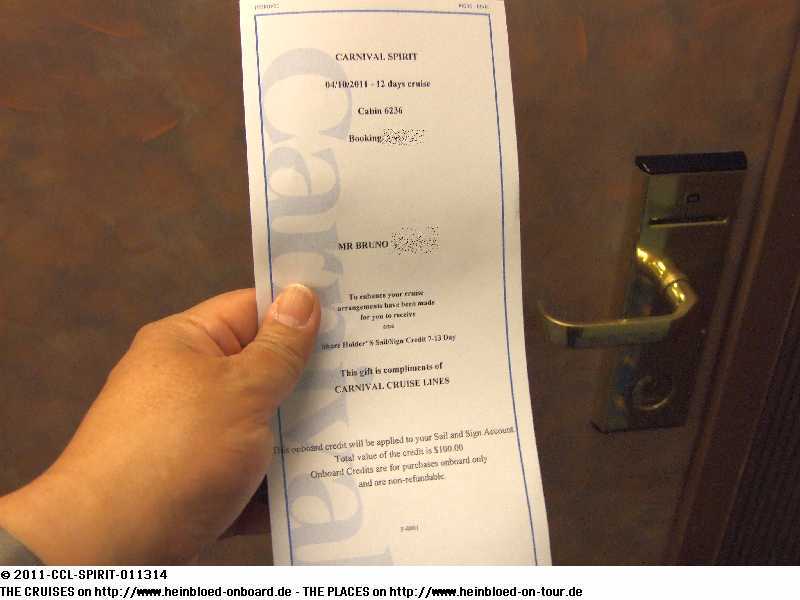 Later we got the 100 USD for Bruno as he is Carvnial share holder.

And a smal balcony which was not very interesting for us for tonigh.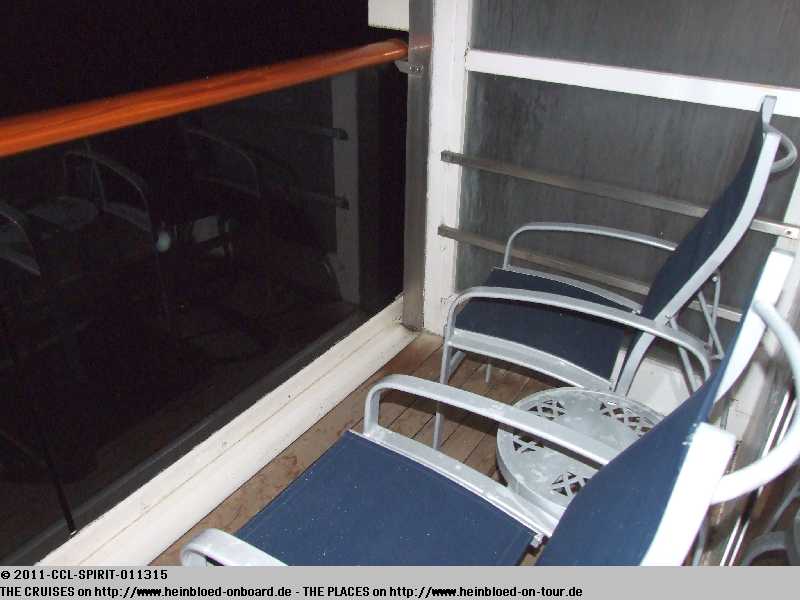 Und ein kleiner Balkon, der allerdings heute Abend nicht mehr unser Interesse findet.
Entgegen der Information im Douglas Ward: Es gibt doch eine 220-V-Steckdose.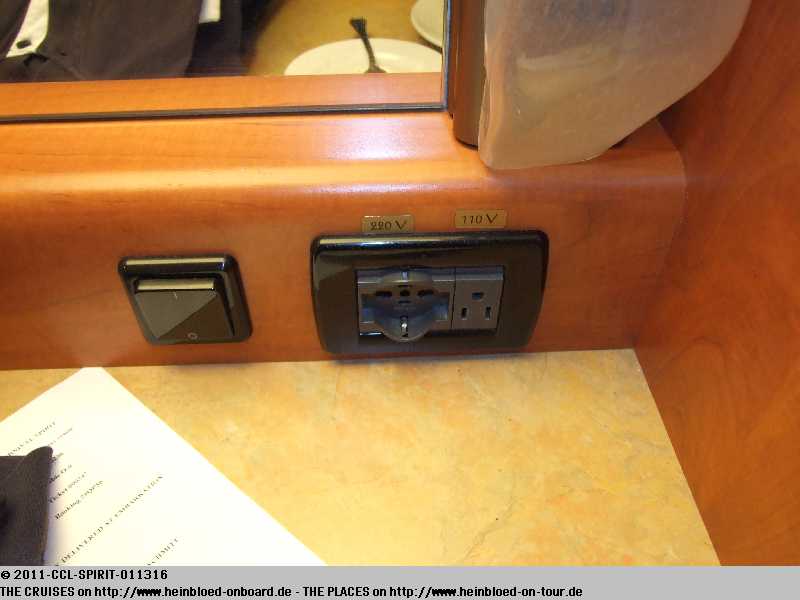 Contrary to the inforamtion in Douglas Ward's guide: There are 220-V-outlets in the cabins.

There was a bad surprise for us in the Empire Restaurant: one turned around her eyes and the other preferred to take care of guest with next days' arrangements instead of guests who have not had any food yet. When I explained that Dorothy called they just told that there was no Dorothy onboard. So when I asked for the Maître I was told that he had already off and will be available the next day.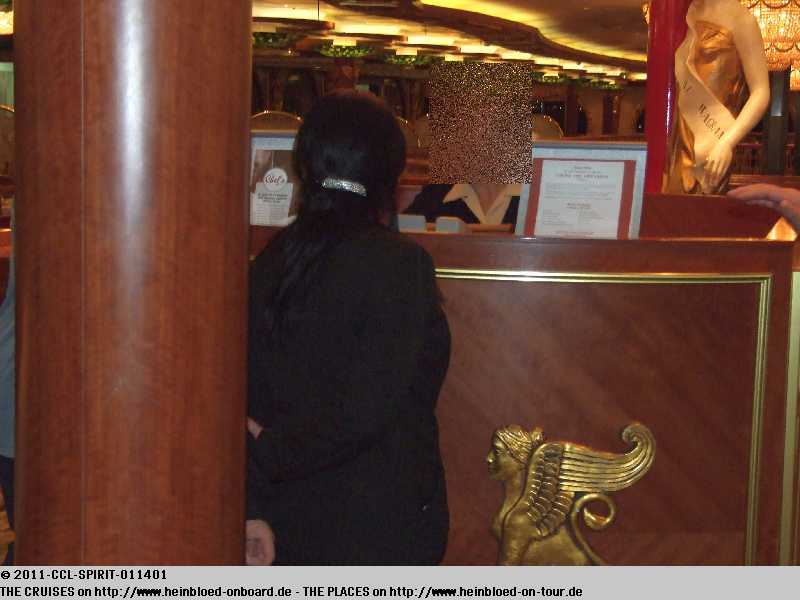 Im Emprire Restaurant erwartet uns eine böse Überraschung: die eine verdreht die Augen und die andere kümmert sich lieber um die Tischarrangements eines satt-gegessenen Gastes für die nächsten Tage. Als ich erkläre, dass Dorothy extra nachgefragt hätte, hieß es nur lapidar, dass man keine Dorothy kenne. Und als ich den Maître sprechen will, hieß es bloß, dass er schon Feierabend hätte und erst morgen zu sprechen sei.
Im La Playa Grill fängt der erste Eindruck an der Decke eigentlich ganz nett an.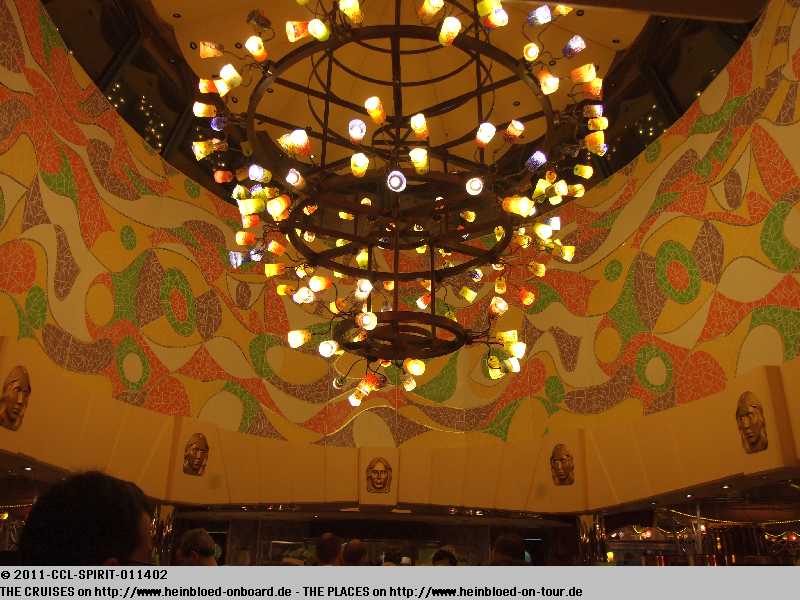 In La Playa Grill my very first impression of the ceiling was quite nice.

But then we saw all the long lines at the food release stations.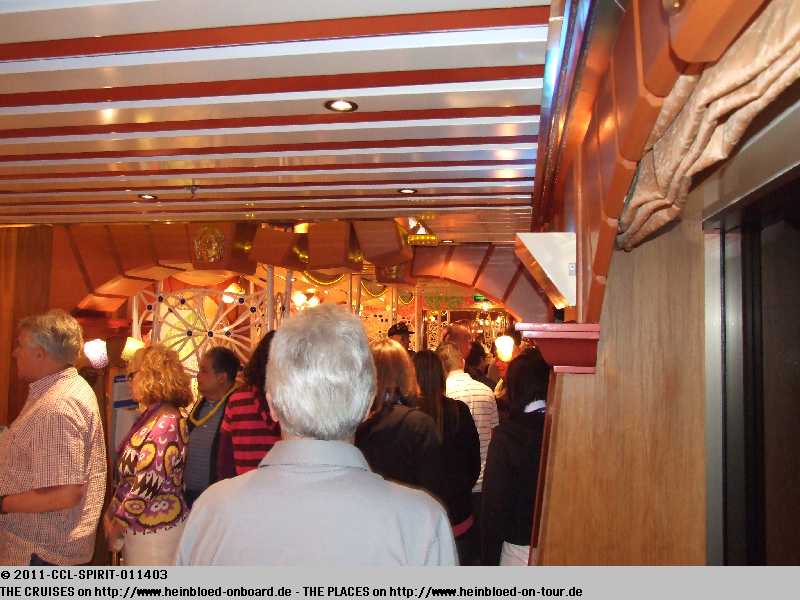 Dann erst sehen wir die ganzen Schlangen, die sich an der Essensausgabe gebildet haben.
Da ja alle noch kein warmes Dinner hatten, war allerdings der Schalter für Deli (= belegte Brote) kaum gefragt.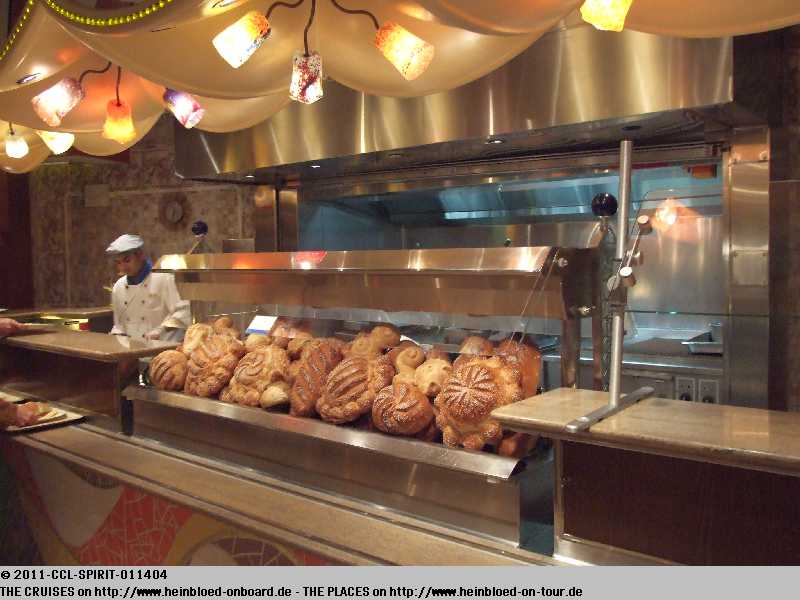 Most of the guests did not have any warm meal all the day so the station for Deli was not very busy.

They have trays.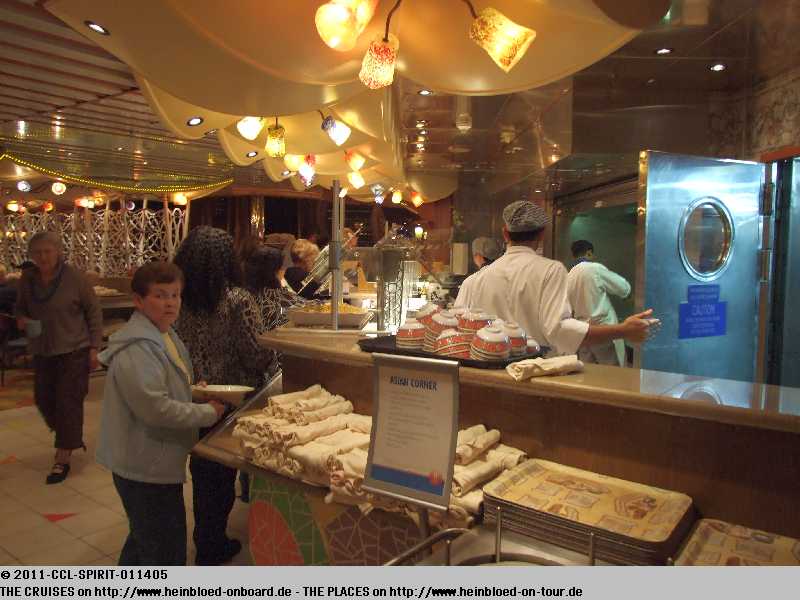 Es gibt Tabletts.
Aber die Schlangen sind endlos.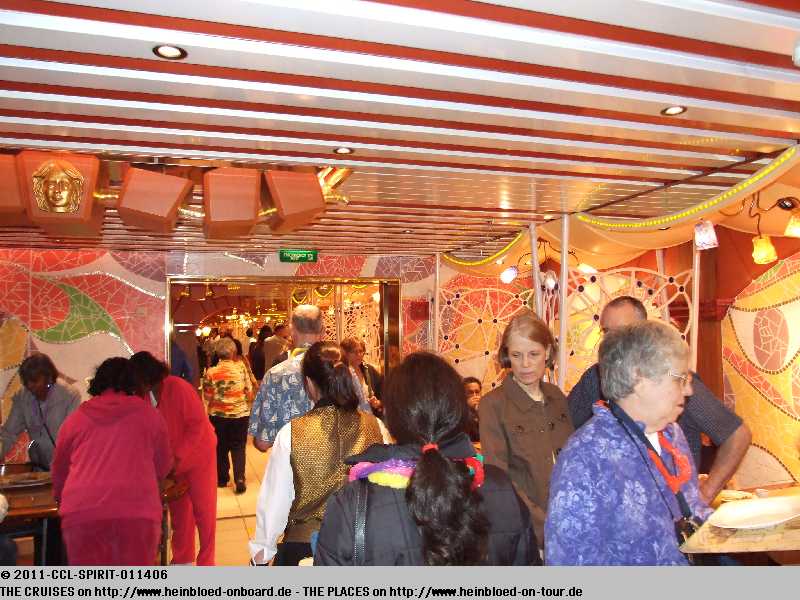 But the queues were endless.

In this corner you should get Pizza and Pasta all day and night.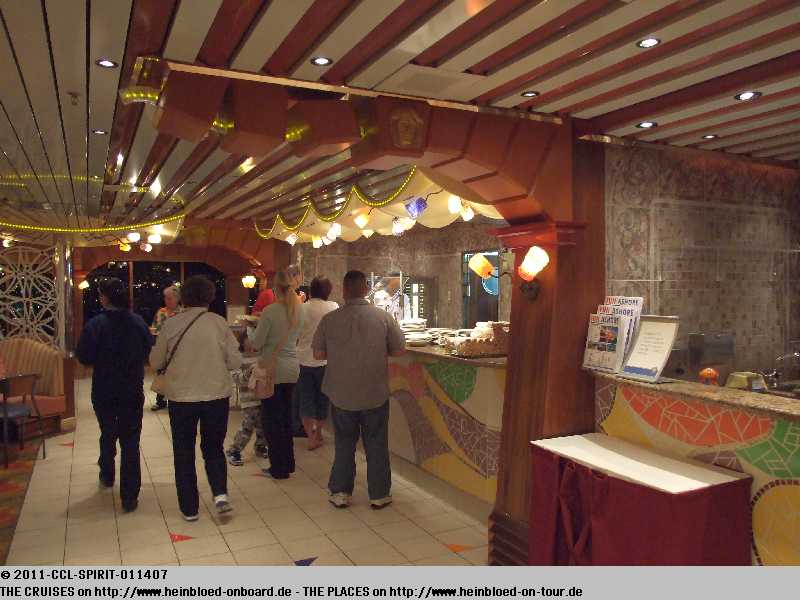 In der Ecke gibt es Pizza und Pasta rund um die Uhr.
Und eine Salat- bzw. Bar mit kalten Sachen.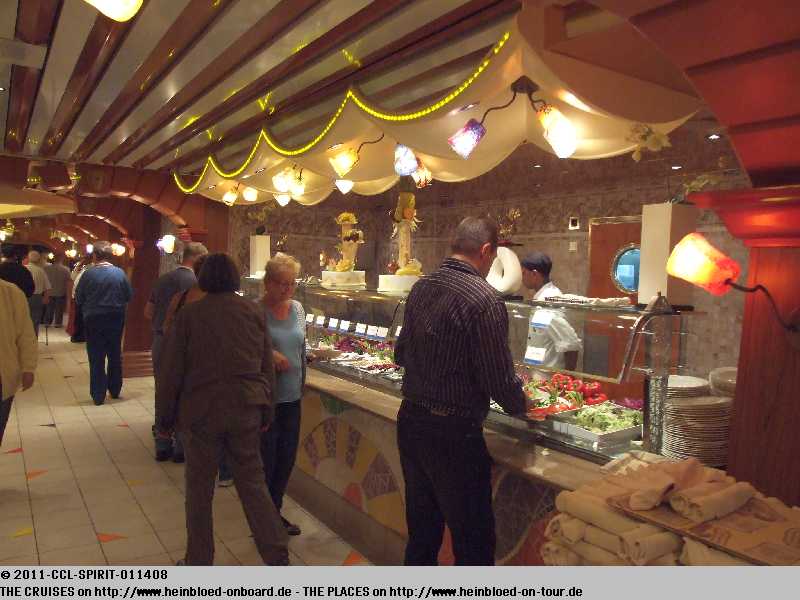 And a Salad and cold bar.

The cups reminded me very much to IKEA. They did not clean the tables with a wet fabric. The remained was just pushed with a used napkin on the floor.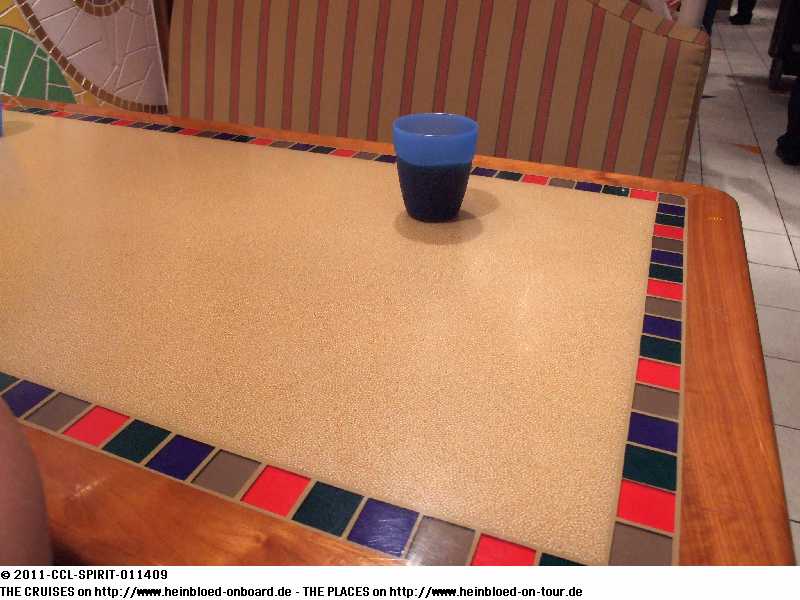 Die Becher erinnern an IKEA. Die Tische werden nicht feucht abgewischt. Der Rest wird einfach mit einer Serviette eines Gastes trocken auf die Erde gewischt.
Beim Asiaten finde ich etwas.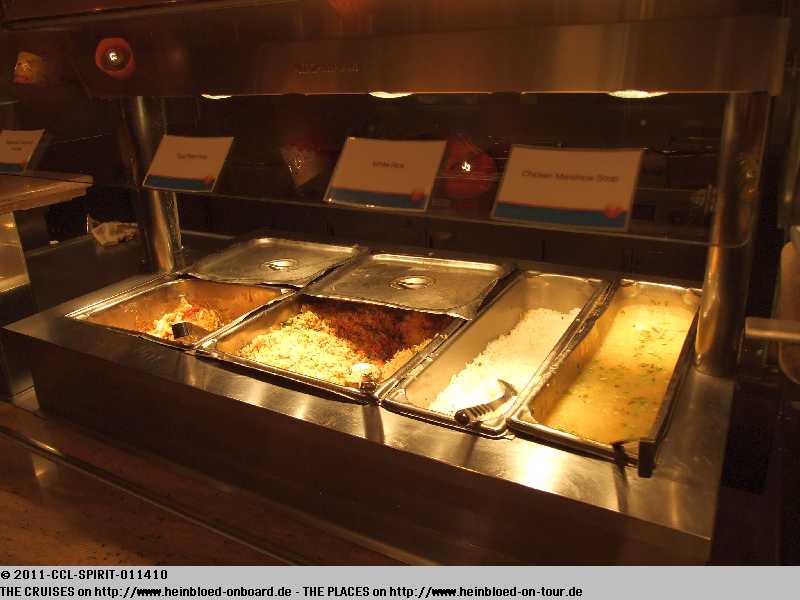 I found something with the Asian station.

Everything looked very yummy.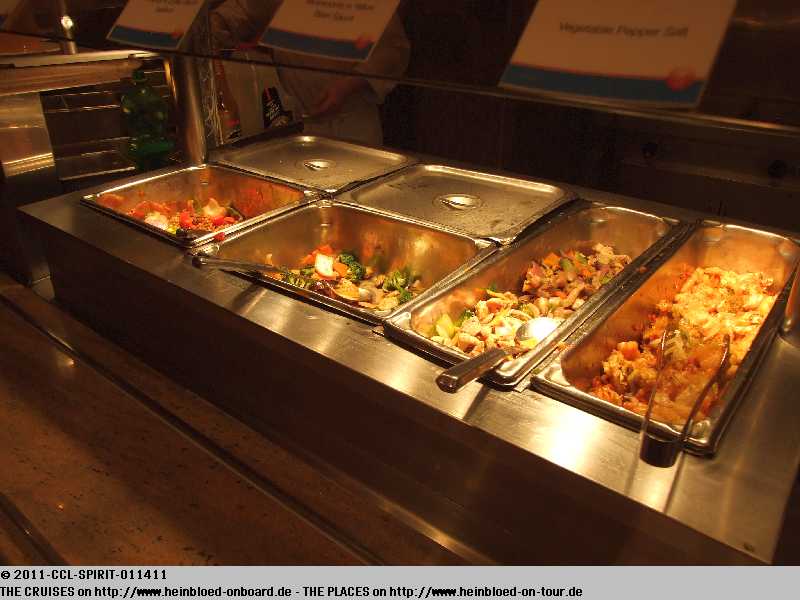 Alles sieht sehr lecker aus.
Nur als ich nach einer Schale Suppe und etwas Reis wiederkomme und Nachschlag haben will, haben die alles schon geschlossen.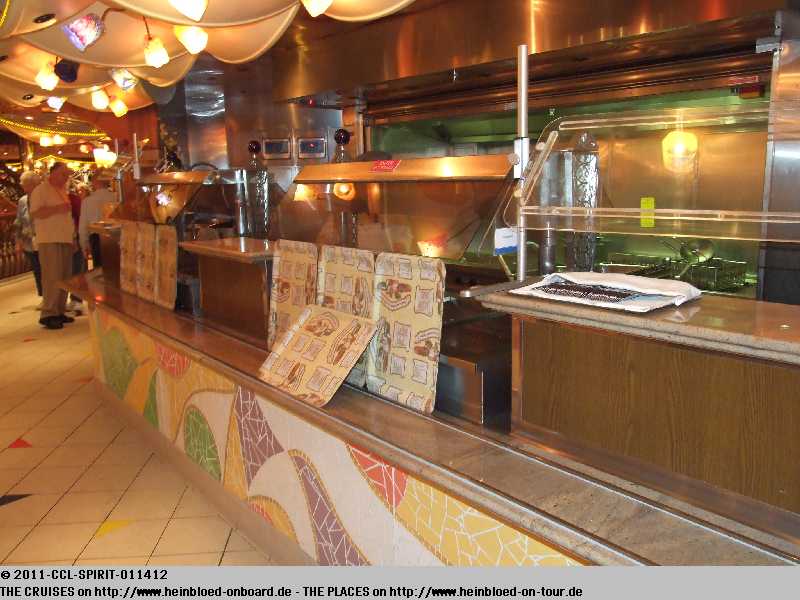 When I returned after a cup of soup and some rice I returned and wanted some more, but everything was closed already.

Everywhere. Even no cold dishes anymore.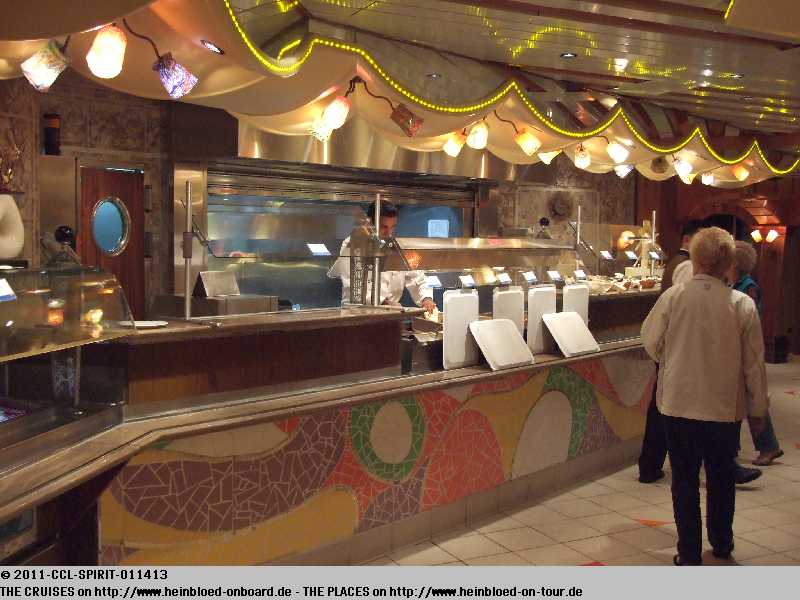 Überall. Auch kaltes gibt es nicht mehr.
Ein älteres Ehepaar, das etwas länger gebraucht hat, um den Weg nach oben zu finden, wird mitgeteilt, dass die Crew lange genug gewartet hätte und auch zu Bett müsste... Sie sollen sich mit Pizza oder einem Sandwich begnügen...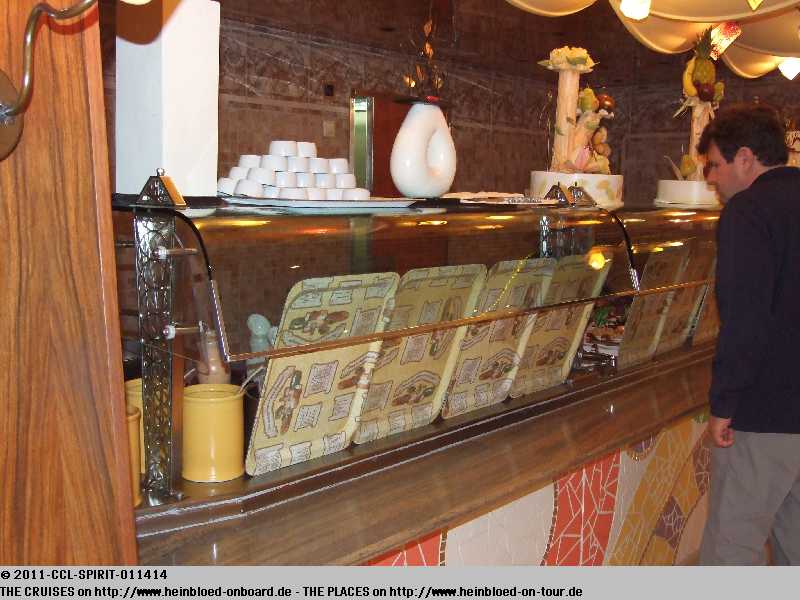 An older couple need a little longer to find the way to this place. They were told that the crew waited long enough and need some sleep... Pizza or a sandwich should be good enough for them...

I tried a piece of pizza... but after Da Michele in Naples and Baffeto in Rome it was hard to have any joy with this slice of pizza... Compared to this Pizza Hut is a true delicatessy...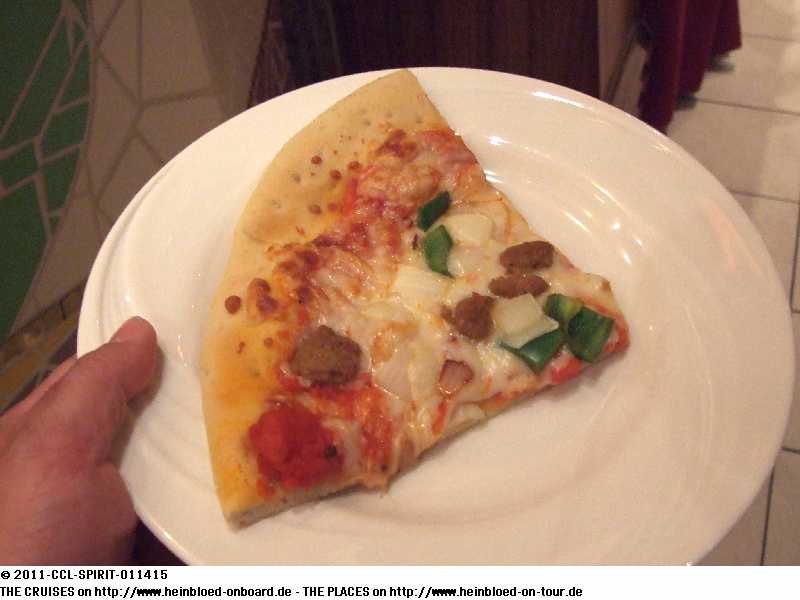 Ich probiere noch ein Stück Pizza... aber nach Da Michele in Neapel und Baffeto in Rom fällt mir der Genuss der Pizza sehr schwer... Pizza Hut ist dagegen eine Delikatesse...
Die Kellner weigern sich Soda-Pässe zu verkaufen. Man muss raus auf das offene Deck laufen, um sich einen Pass zu besorgen. Aber auch dabei habe ich eher den Eindruck, dass ich bloß das Personal störe.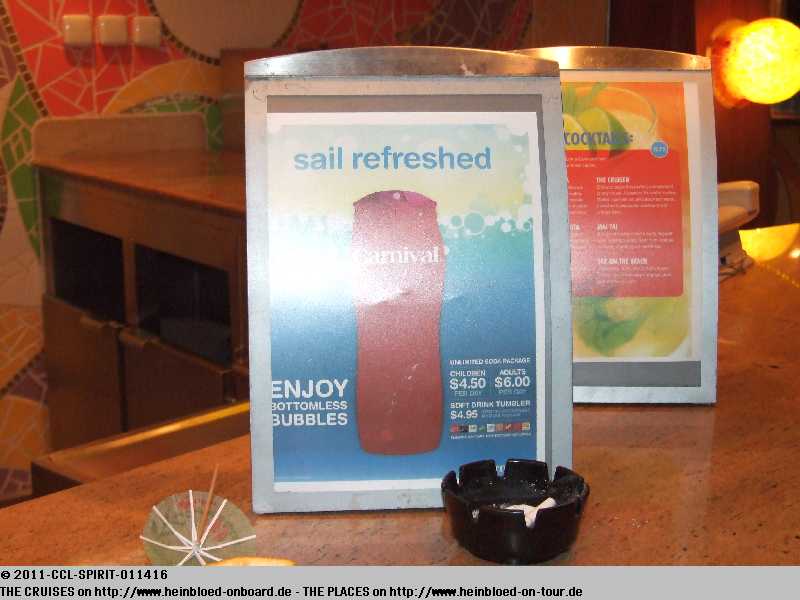 The waiter refused to sell soda-passes. You need to walk outside to the open deck to buy a pass. Here I had the same feeling to bother the crew.

For the first day it was enough. It cannot be so bad on PRIDE OF AMERICA like I feel now on CARNIVAL SPIRIT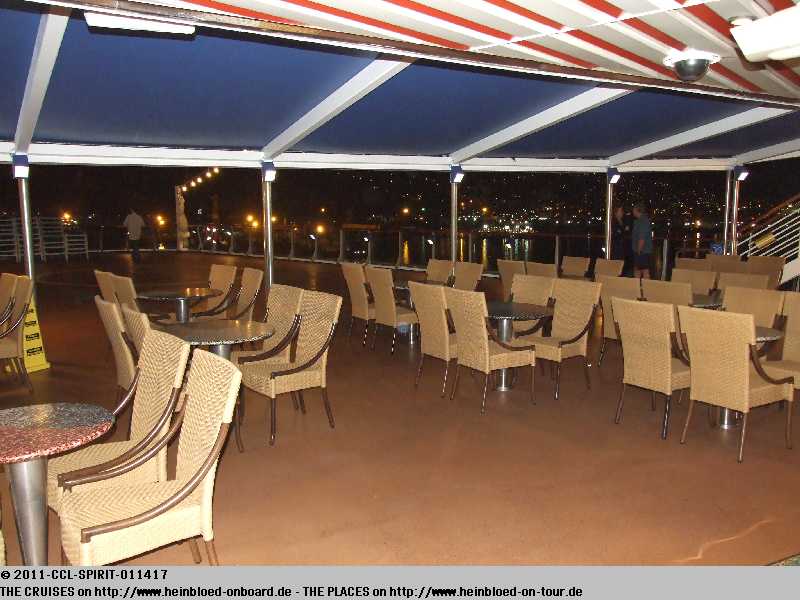 Für den ersten Tag reicht es. Auf der PRIDE OF AMERICA kann es gar nicht so schlimm sein, wie ich es derzeit auf der CARNIVAL SPIRIT empfinde.