Scroll down for English explanations - alternates with German explanations.

Ich werde wach, weil sich irgendwas unten tut...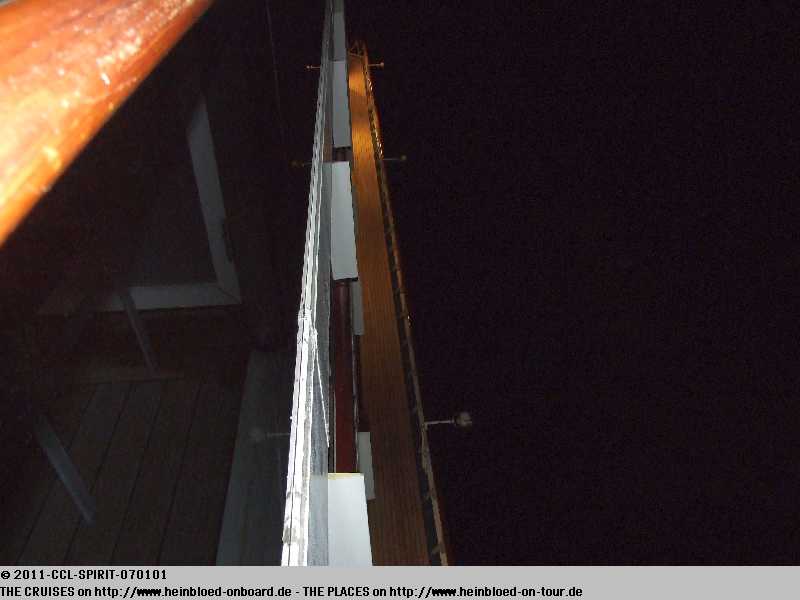 I woke up because I had the impression that something happened outside.

I imagined that the pilot came onboard... or was it just a strong wish???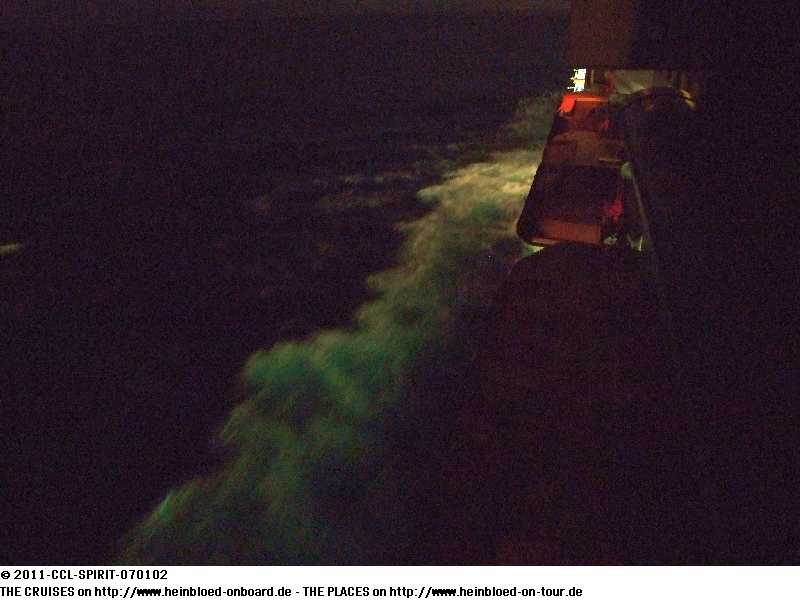 Ich bilde mir ein, dass der Lotse an Bord kommt... oder war es bloß Wunschdenken???
Nach fünf Seetagen: endlich Land in Sicht.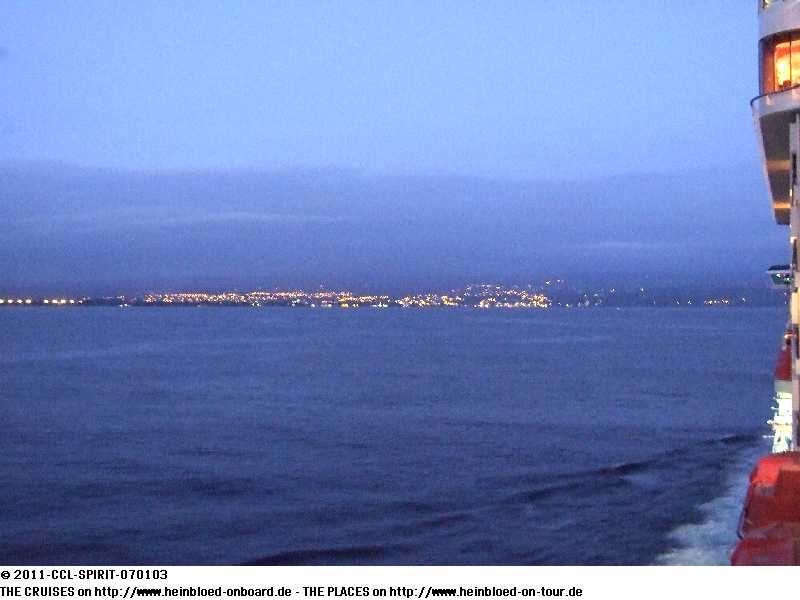 After five days at sea: finally land at sight.

But that did not look so good.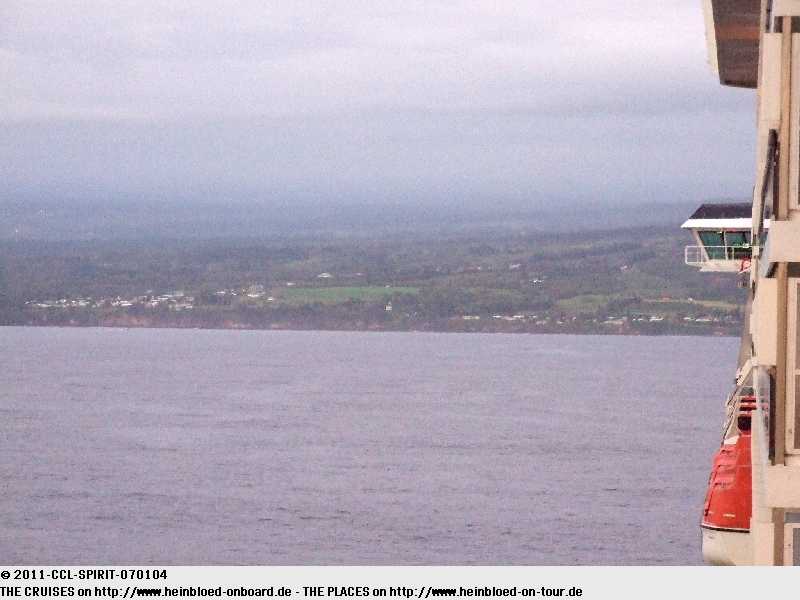 Es sieht aber nicht gut aus.
Michele hatte uns aber schon erklärt, dass Hilo der regenreichste Ort der ganzen USA ist.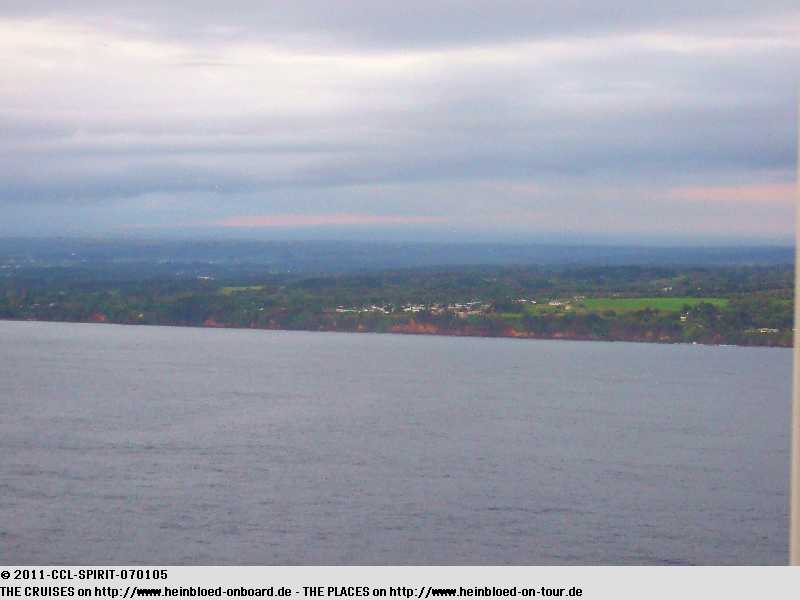 But Michele already explained that Hilo is the place with the most rain in the USA.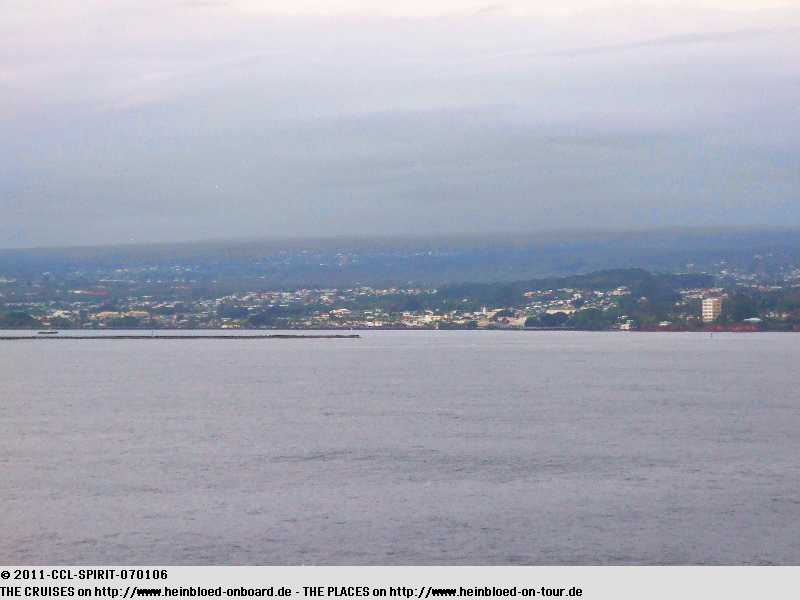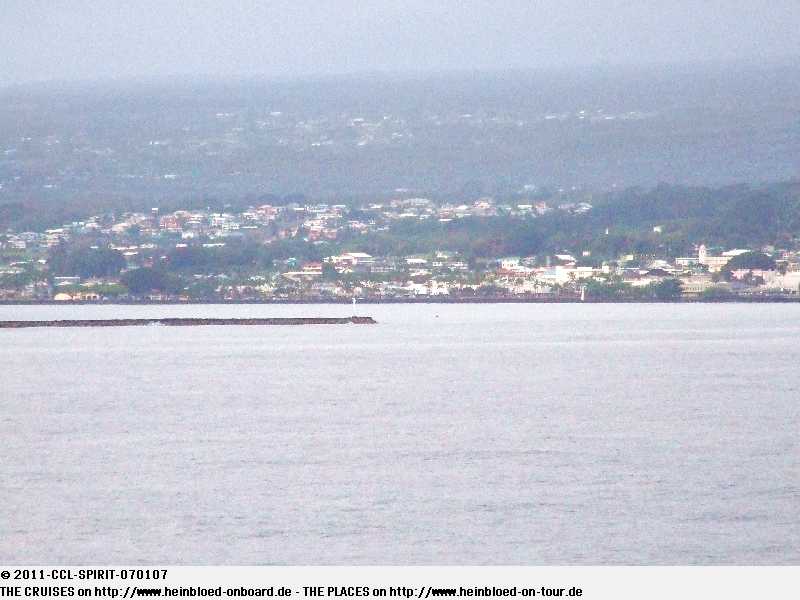 Very strange that the pilot wanted to leave us before we reached the port??? Or was not he yet on board???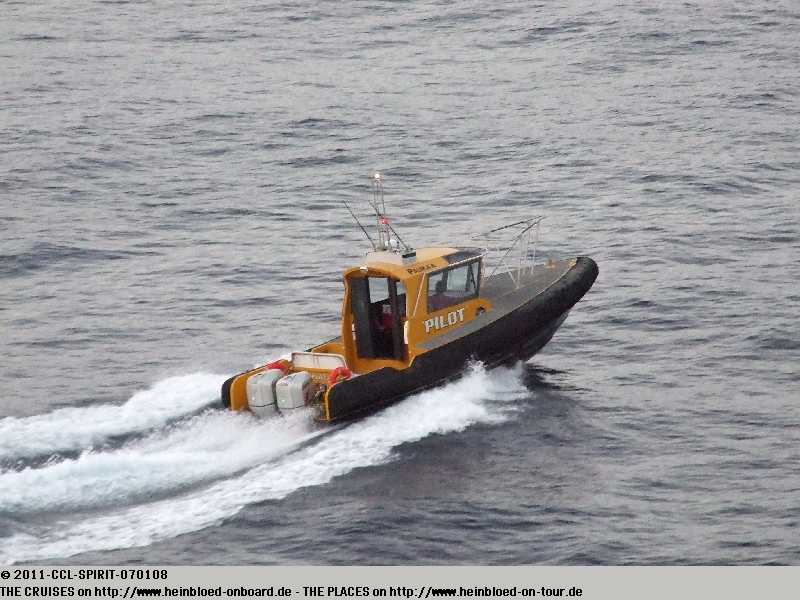 Komisch: hat der Pilot uns jetzt schon vor Erreichen des Hafens wieder verlassen??? Oder war der doch noch nicht an Bord???
Von Michele wussten wir schon, dass man in Hilo so einen Zickzack-Kurs um die Mole fahren muss.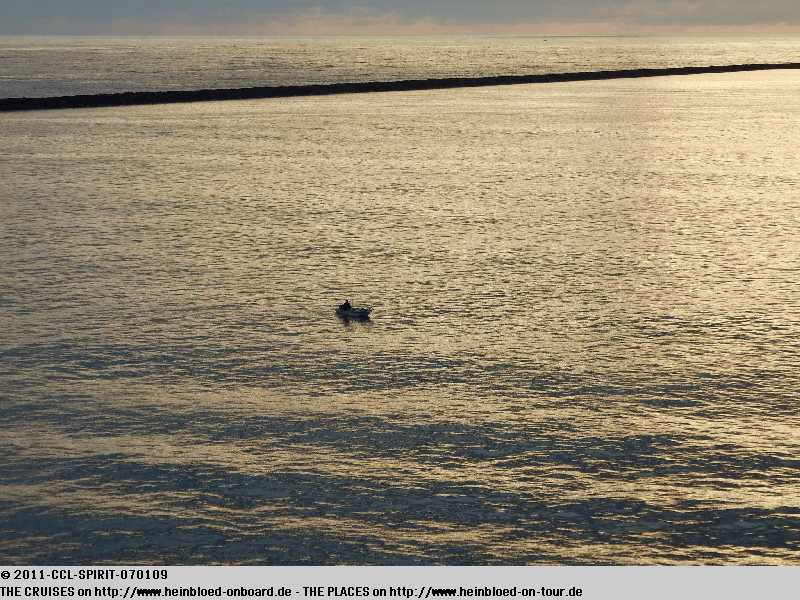 Michele told us already that you need to enter the port of Hilo in a zig-zag-course.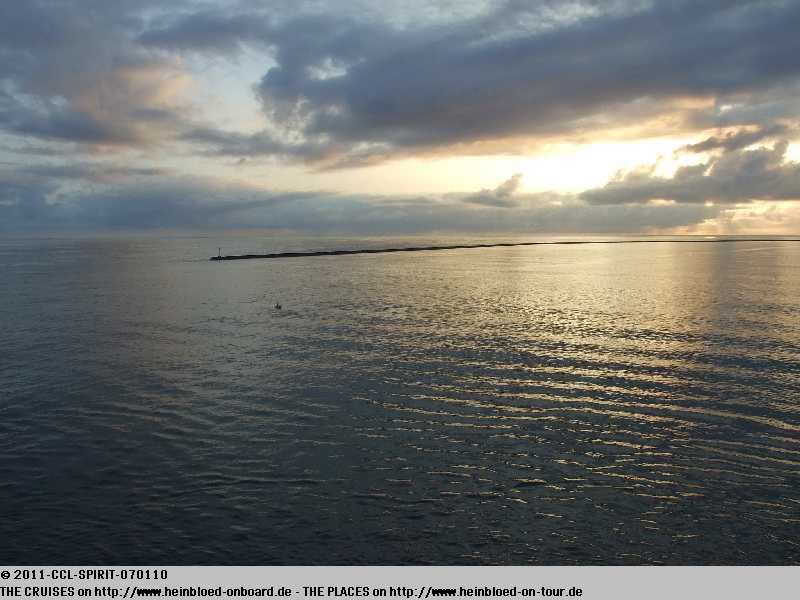 The last curve.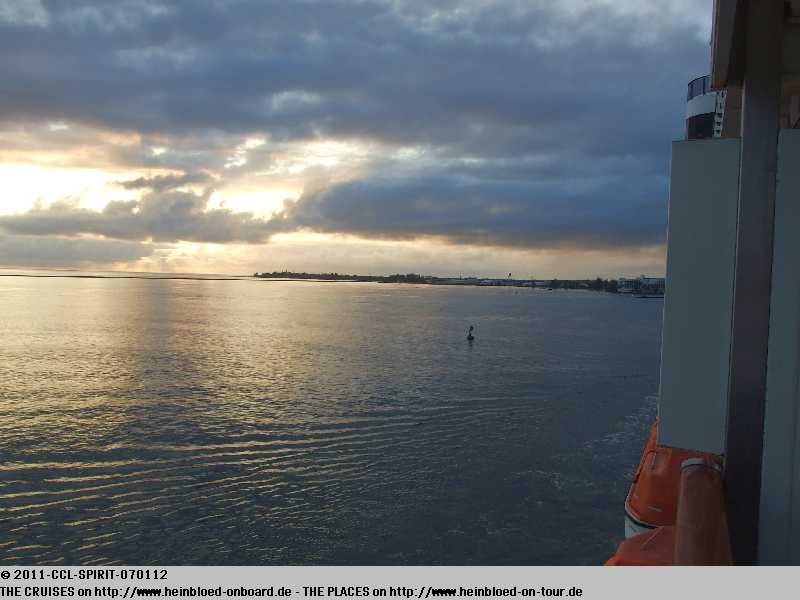 Die letzte Kurve.
Und hier scheint endlich unser Ziel zu sein.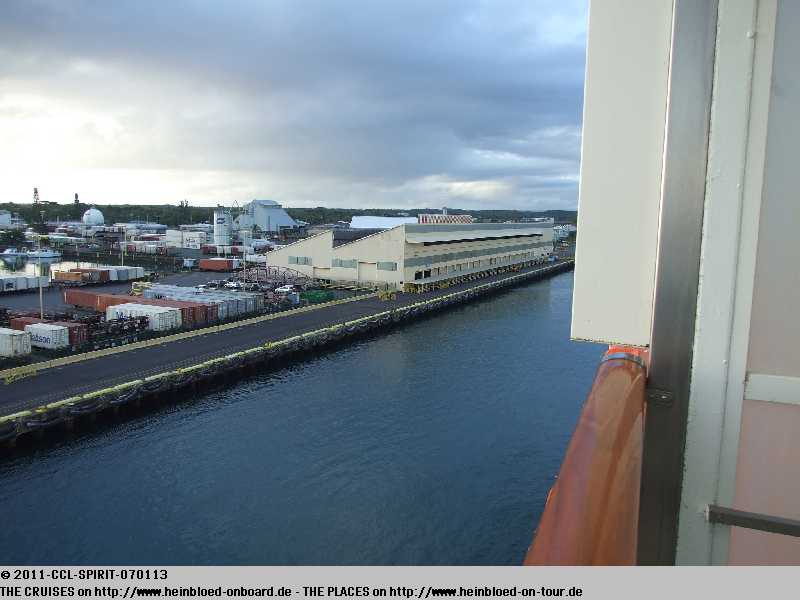 And obviously our final destination.

We arrived already at 07.00 hrs at the pier.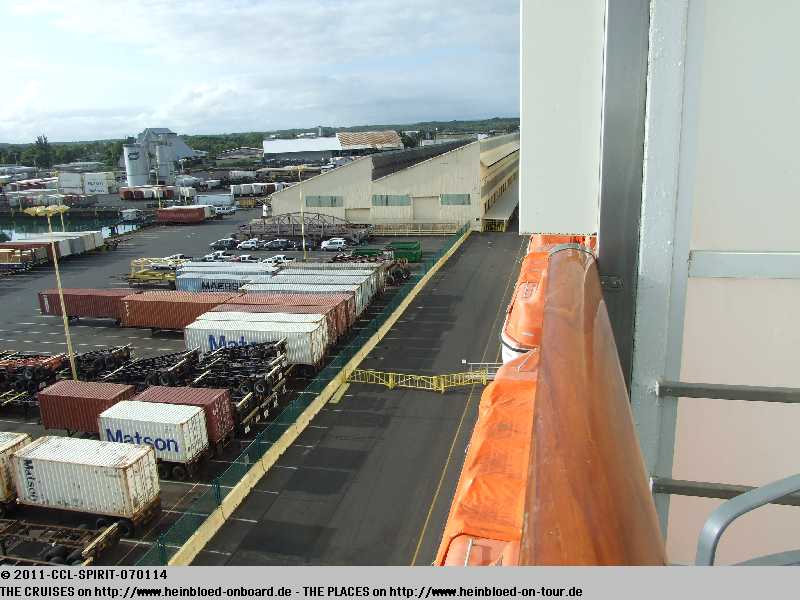 Wir kommen schon gegen 07.00 Uhr am Pier an.
Hier können wir uns wieder mit AT&T verbinden. Durch eine externe Zusatzstromversorgung können wir recht lange den Router auf dem Balkon nutzen. Leider nicht lange genug. Die Immigration beginnt schon früher und so werden unsere Pläne für das Frühstück umgekrempelt.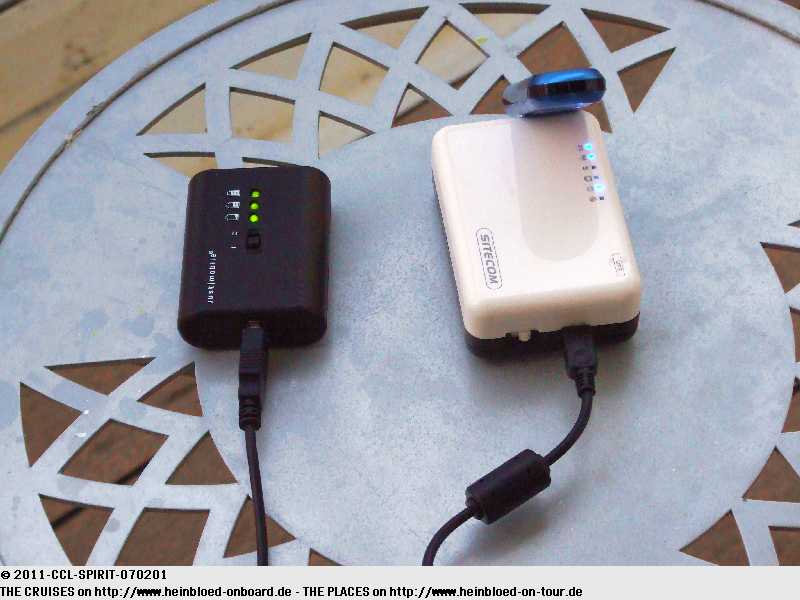 Here we could get connected with AT&T. Due to an external power supply which we added to the router we could use it quite a while. As the immigration started earlier our plans for breakfast were mixed up.

It went quite quickly: Quite fast one deck after the next was paged. We were only allowed to walk from the atrium through the casino to the Pharaoh's Palace. They installed a card reader at the entrance so they knew exactly which gueset saw already the immigration. At the entrance two from the crew made sure that your passport was open on the right page for the following two USCBP-agents who just need to have a short view. US-guests may make a turn left to the exit at the portside and leave the theatre. Foreigners like me were sent to the stage to have their "casting". USCBP opened three counters. They explained that ESTA did not work on ships so far so that I-94 W was still required. It took seconds only and we were allowed to leave the theater at the portside too. Chapeau - Hats off!!! As bad as the transfer from San Diego to Ensenada ran, as well the immigration ran here in Hilo.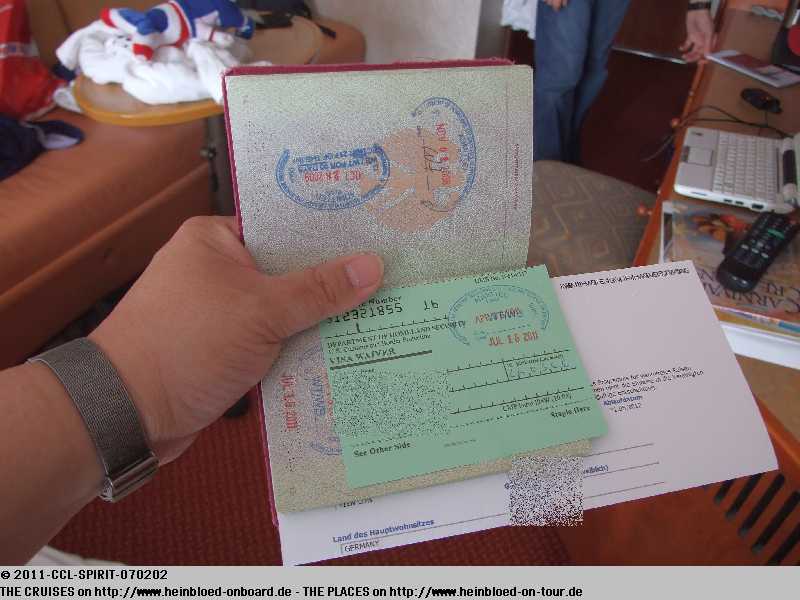 Es geht eigentlich sehr zügig: Sehr schnell wird ein Deck nach dem anderen aufgerufen. Wir dürfen nur vom Atrium in Richtung Casino zum Pharaoh's Palace gehen. Ein Lesegerät für die Bordkarten wird vor dem Theater aufgestellt. Und so wird genau erfasst, welcher Gast bereits in der Immigration war. Am Eingang stehen bereits zwei von der Crew bereit und schlagen einem den Pass so auf, dass zwei Meter dahinter die Beamten der USCBP draufschauen können. Die US-Bürger dürfen direkt links abbiegen und über den Ausgang am Backbord das Theater verlassen. Die Ausländer müssen auf der Bühne "vortanzen". Dort sind drei Schalter von USCBP aufgebaut und man erklärt uns, dass unsere ESTA-Anmeldung auf dem Schiff nicht geht und daher das I-94 W gebraucht wird. Das ganze dauert Sekunden: keine Erfassung von Fingerabdrücken oder kein Foto. Und danach dürfen wir sofort das Theater auch über den Ausgang am Backbord verlassen. Hut ab!!! So miserabel, wie der Transfer nach Ensenada lief, so gut lief die Immigration in Hilo.
Um 08.30 Uhr gehen wir zum Frühstück. Auf dem Weg zum La Playa Grill wird ausgerufen, dass alle verbliebenen Gäste sofort zum Theater sollen, weil die Immigration gleich schließen würde.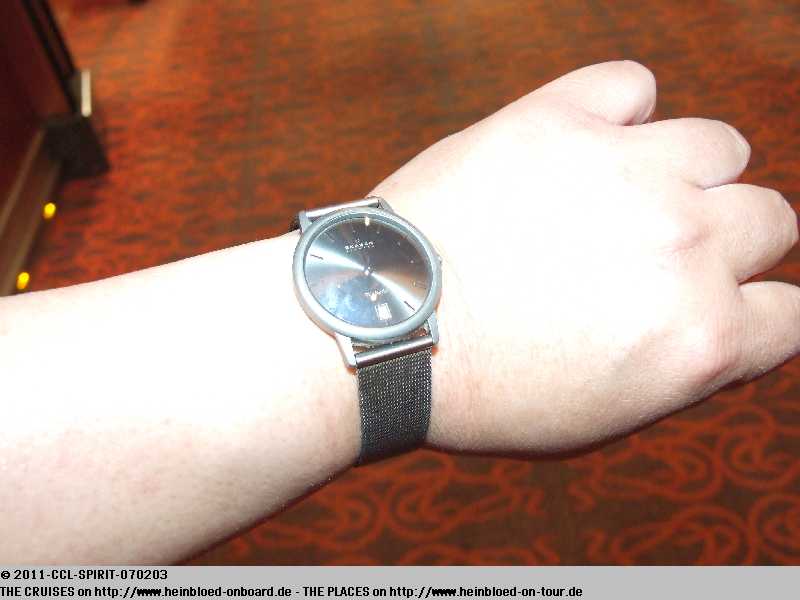 At 08.30 hrs we went for breakfast. On the way to La Playa Grill they paged that all remained guests should see immediately the theater as they want to finish the immigration.

They continued to transmit the announcement into the cabins what is normally reserved for emergencies only.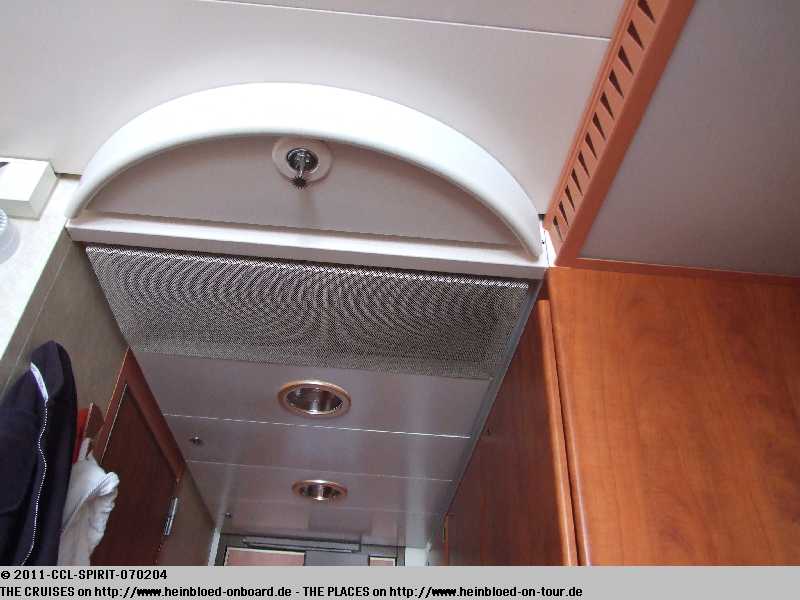 Es geht sogar soweit, dass verzweifelt die Ansagen auch in die Kabine übertragen werden, was ja nur bei einem Notfall erfolgt.
Im La Playa Grill ist nichts mehr los. Da im Minuten-Takt die Gruppe aus der Pfalz ausgerufen wird, werden wir mit unseren deutschen Pässen angestarrt. Am liebsten hätte ich jetzt ein T-Shirt mit dem Aufdruck: "Wir sind aus Deutschland und waren schon bei der Immigration und gehören NICHT zu der Gruppe aus der Pfalz, deren Mitglieder nicht verstehen, dass sie mit den Ausrufen gemeint sind und immer noch hier herumlaufen und erst frühstücken wollen. Es ist nun einmal typisch Deutsch unflexibel zu sein und weiterhin den bisherigen Anweisungen der Reiseleitung zu folgen erst um 09.15 Uhr bei der Immigration zu sein und weiterzufrühstücken, es sei denn, dass man zuvor eine schriftliche Zusicherung für eine Reisepreisminderung bekommt, weil man jetzt nicht weiterfrühstücken kann.". Wir sind verwundert: aber wie gesagt: selbst auf deutschsprachige Ansagen reagieren sie nicht und frühstücken weiter. Aber ich bin ja nicht deren Reiseleiter...

It was very calm in La Playa Grill. But they started to page every few minutes for the missing passengers who did not see the immigration. So with our German passports everybody was steering on us. I wished that we had t-shirts showing following: "Yes - we are from Germany but we went already to immigration and we are NO part of the group of 28 who do not understand that they are paged and continued to have their breakfast. It is typical German to be inflexible and to show up as advised at 09.15 hrs at the immigration unless we got a written notice and already a compensation plan if we could not finish our breakfast and had to see the immigration earlier." - We were surprised: as said: even to German announcements they did not react and continued to have their breakfast. But I am not their tour leader...

So we tried everything.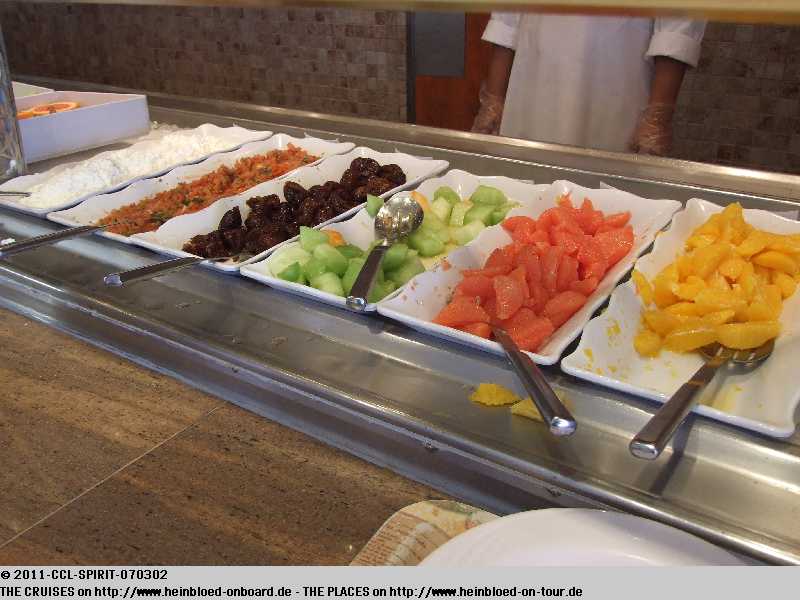 Also probieren wir mal alles aus.
Es gibt doch interessante Sachen, die es unten nicht gibt.

There were few things available here but not downstairs.

Even with the selection of the juices.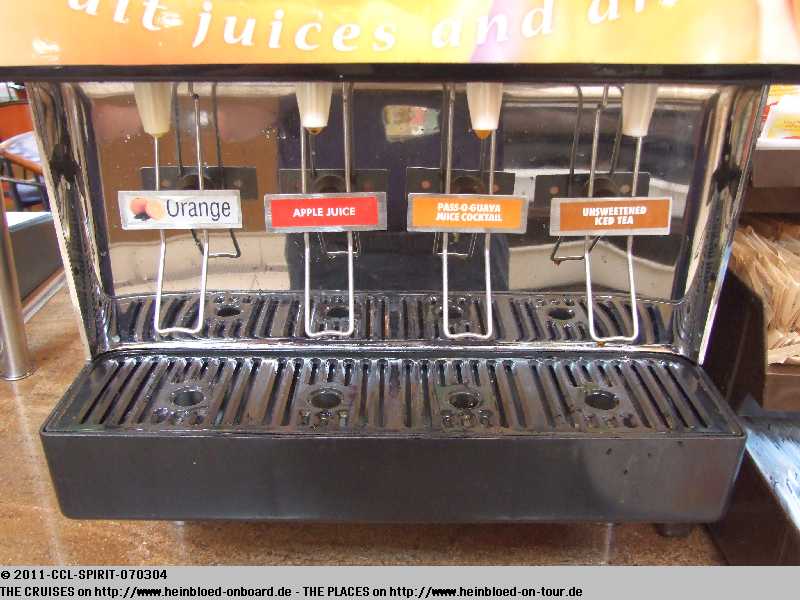 Auch bei der Saftauswahl.
Und vor allem der leckere Würstchen-Mix.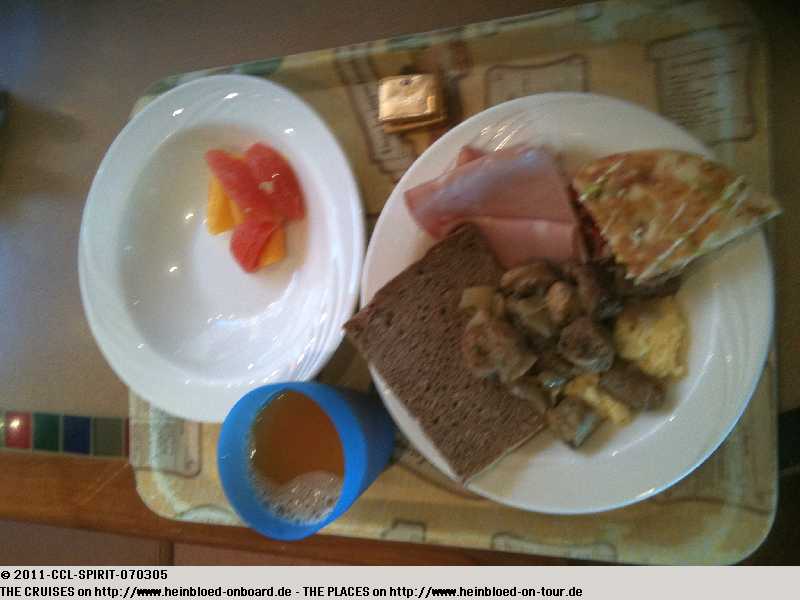 And especially the nice sausage-mix.

Signposting was a strength. In the stairways you find all information you need to get from the ship.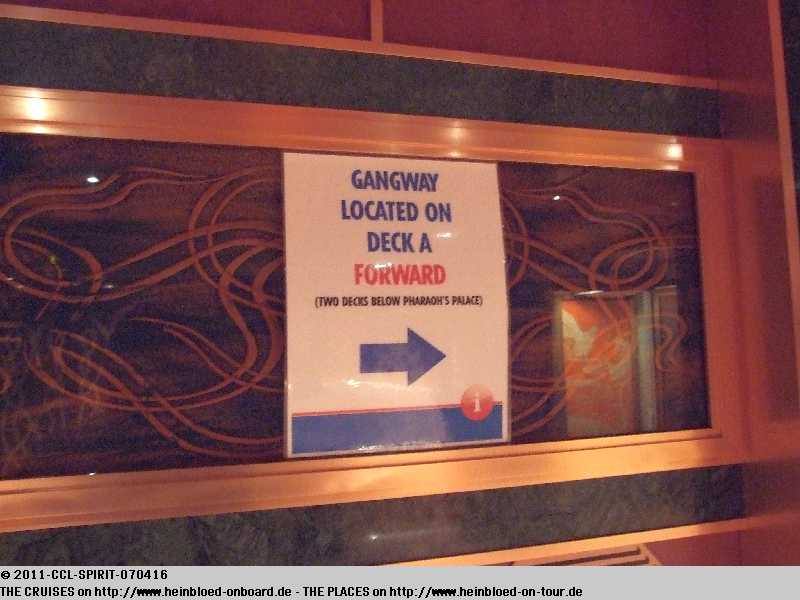 Von der Beschilderung ist es echt super. Im Treppenhaus findet man die Information, wie man von Bord kommt.
Aloha - willkommen in Hilo.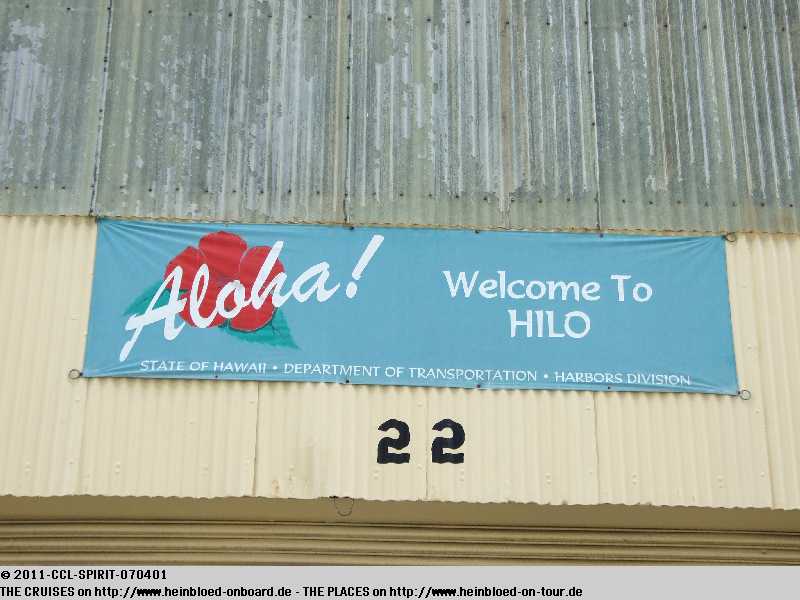 Aloha - welcome to Hilo.

To the right an information booth for all who had no idea what to do.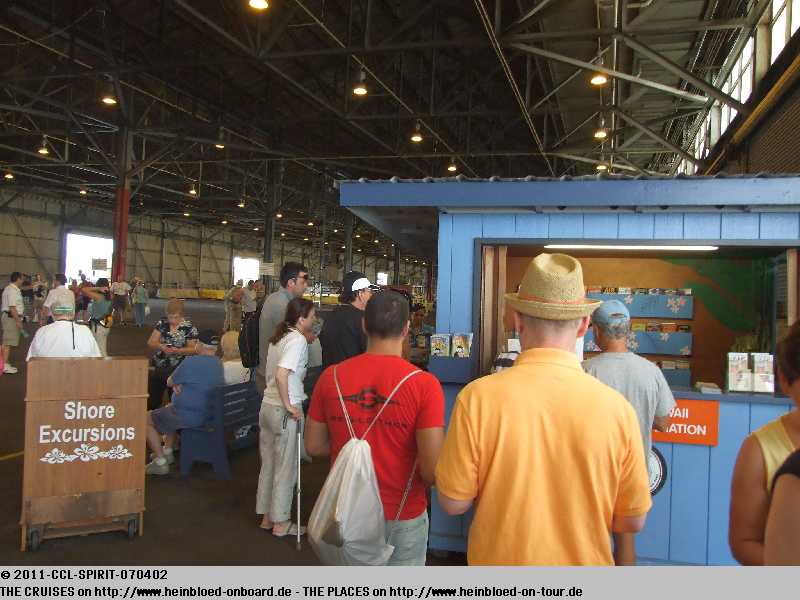 Rechts ein Informationsstand für alle Unentschlossenen.
Und ziemlich gut ausgeschildert.

And very well signposted.

This was the very first place we did not need to ask.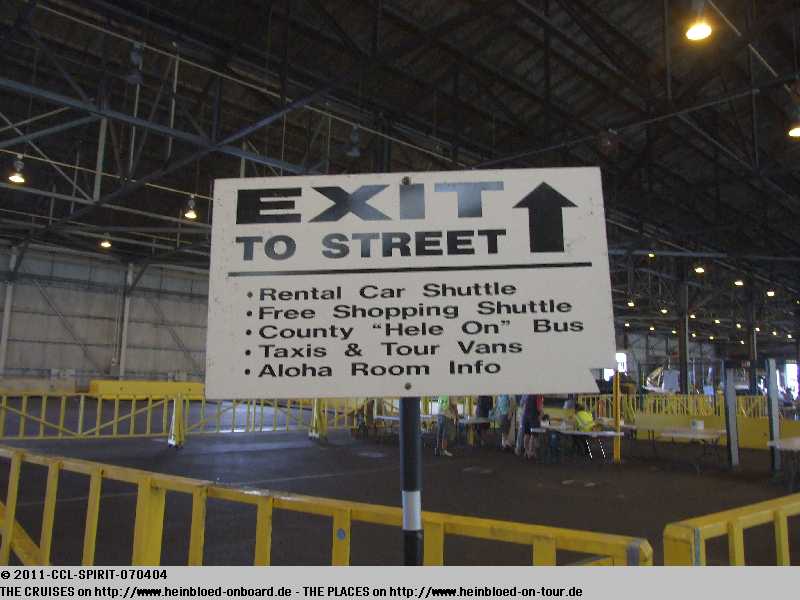 Es war der erste Ort, an dem wir nicht fragen mussten.
Und wir gucken, was wir ggfls. hier noch kaufen können, bevor wir wieder an Bord gehen.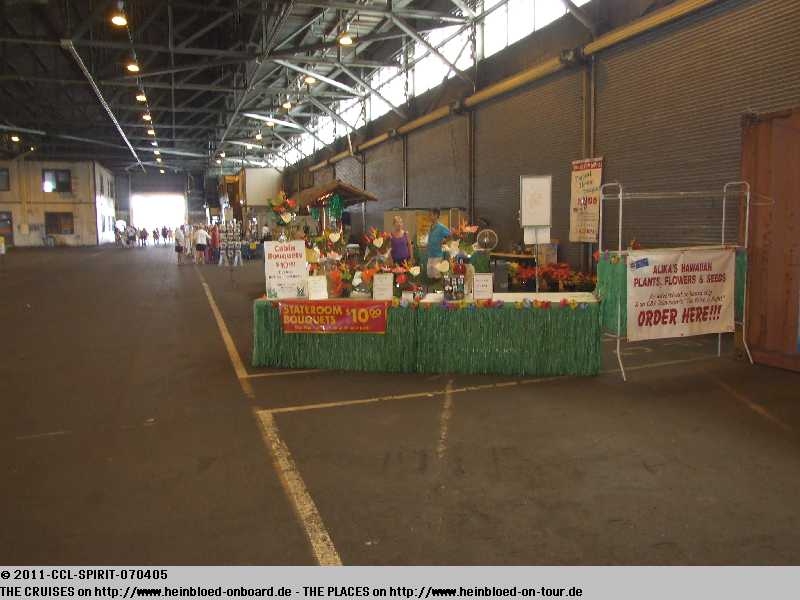 And we had a look what we might buy here before we return to the ship.

All car rentals were offering complimentary shuttles.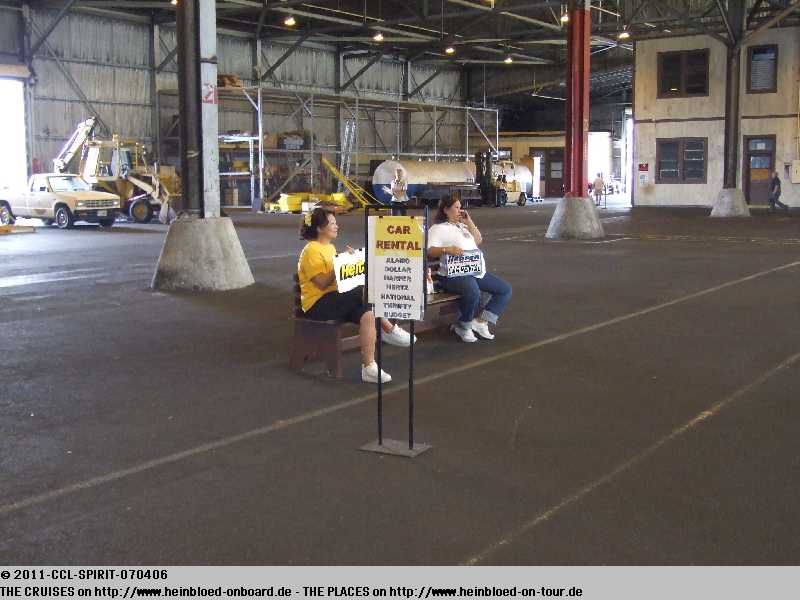 Alle Autovermietungen bieten kostenlose Shuttles an.
Hilo Hatties ist so die Hawai'ianische Ausgabe von Käthe Wohlfahrt. Alles was man als Souvenirs aus Hawai'i braucht findet man hier. Und sie bieten auch einen kostenlosen Shuttle an.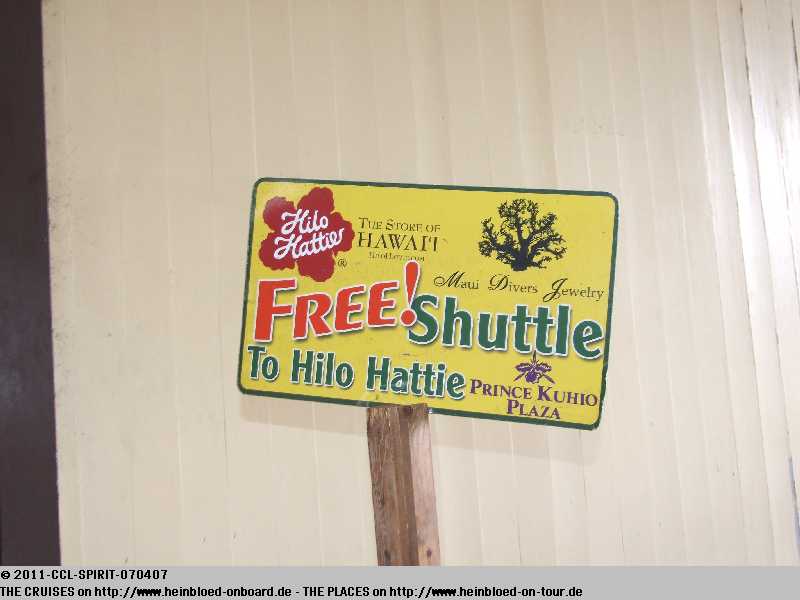 Hilo Hatties might be the Hawai'ian edition of Käthe Wohlfahrt in Germany. All you need as souvenirs from Hawai'i you get at one place. And they also offered a complimentary shuttle.

Even Wal-Mart was offering in every port a shuttle. But who is going on cruise to see the same stores like you are home??? I thought only the crew but I was really sursprised how many passengers went to Hawai'i to see a Wal-Mart which they also have at home... Unbelievable.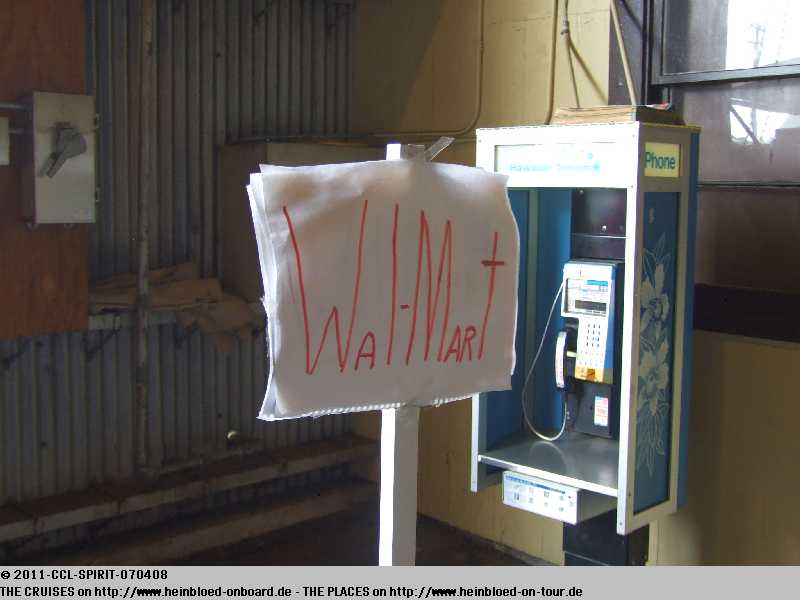 Sogar der Wal-Mart bietet an jedem Hafen einen Shuttle an. Wer geht eigentlich auf eine Kreuzfahrt, um die Läden aufzusuchen, die man auch zu Hause hat... Eigentlich bloß die Crew dachte ich, aber in der Tat fahren auch viele Passagiere nach Hawai'i um einen Wal-Mart zu besuchen, den sie zu Hause auch haben... Unglaublich...
Hier gibt es auch Shuttles zu den Anbietern, die nicht in den Hafen fahren dürfen.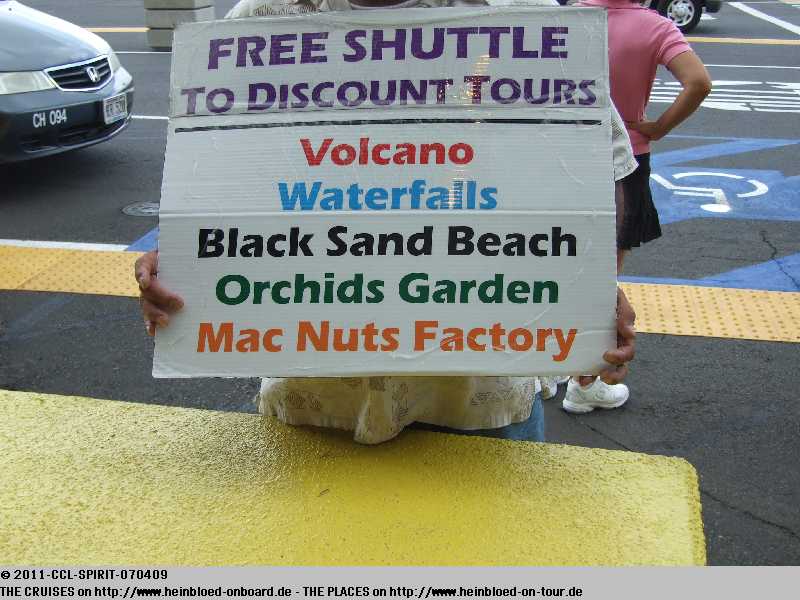 Here you get a shuttle to providers who were not allowed to enter the port.

Taxis were available in a sufficient number.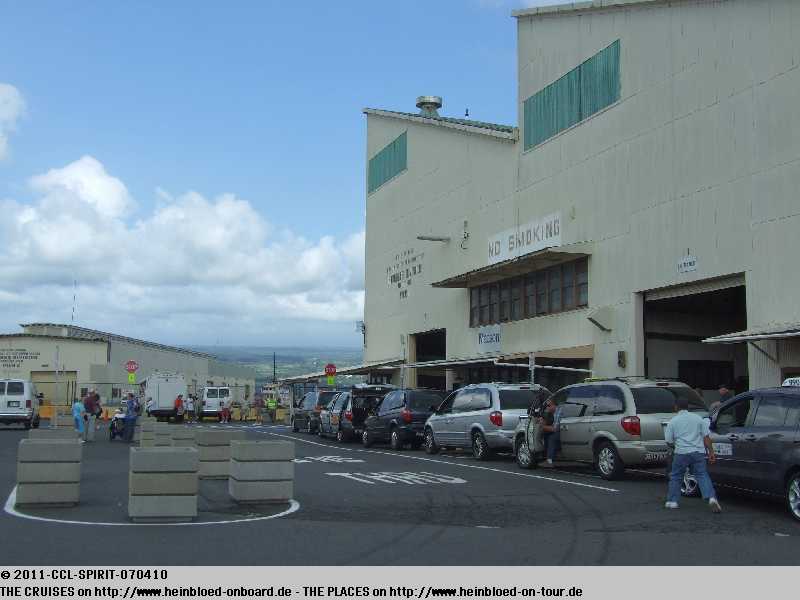 Taxis gibt es auch in ausreichender Anzahl.
Endlich mal wieder das Schiff von außen sehen.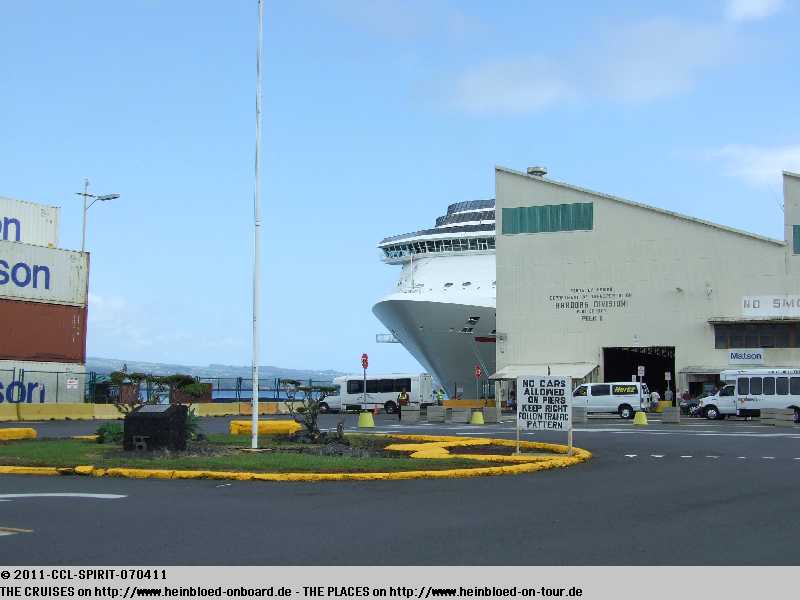 Finally having a view of the ship from outside again.

It was impressive.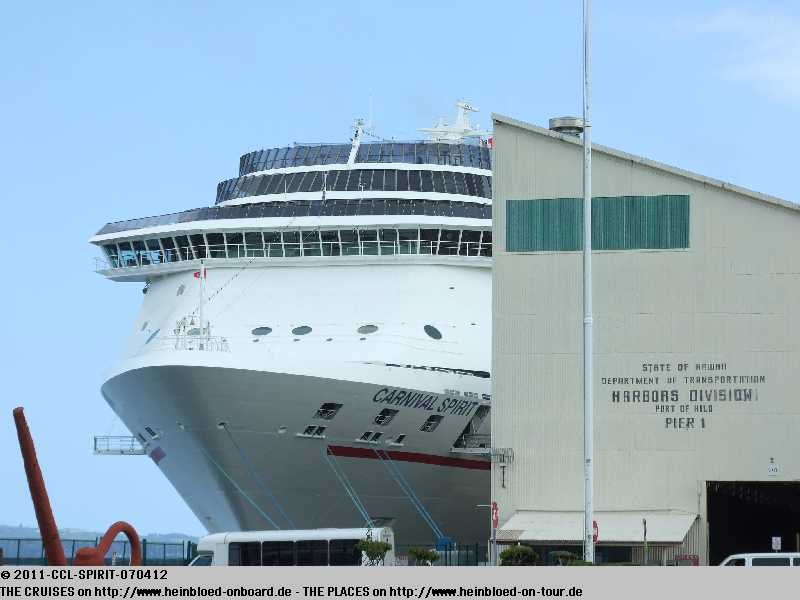 Ist schon beeindruckend.
Und alles gut ausgeschildert.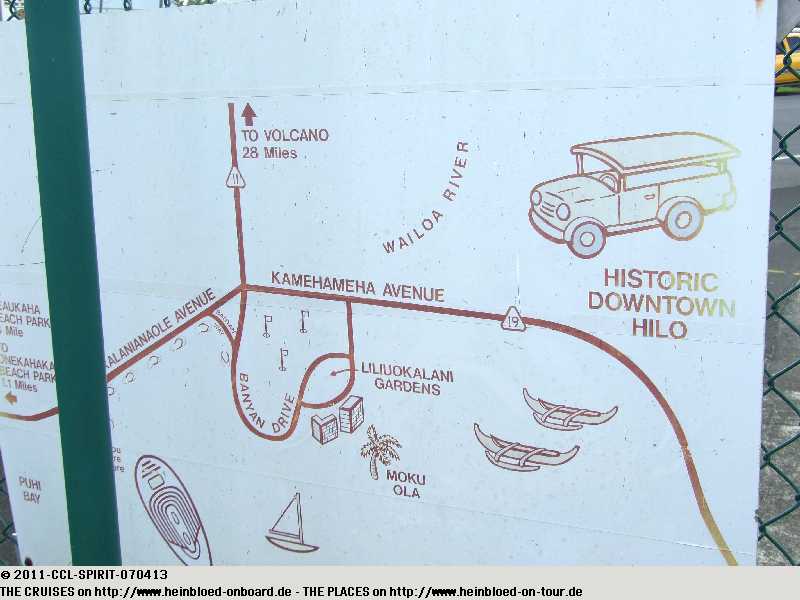 And everything was well signposted.

As our tour operator had no license to enter the port we need walk out to the supermarket.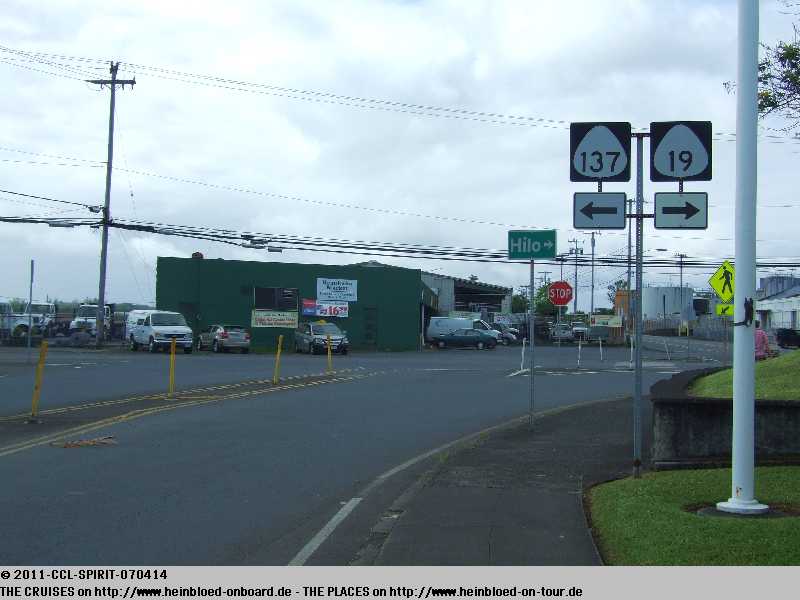 Da unser Touranbieter nicht in den Hafen reinfahren darf, müssen wir raus zu dem Supermarkt.
Und mit dem Blick auf das Schiff warten wir auf unser Fahrzeug.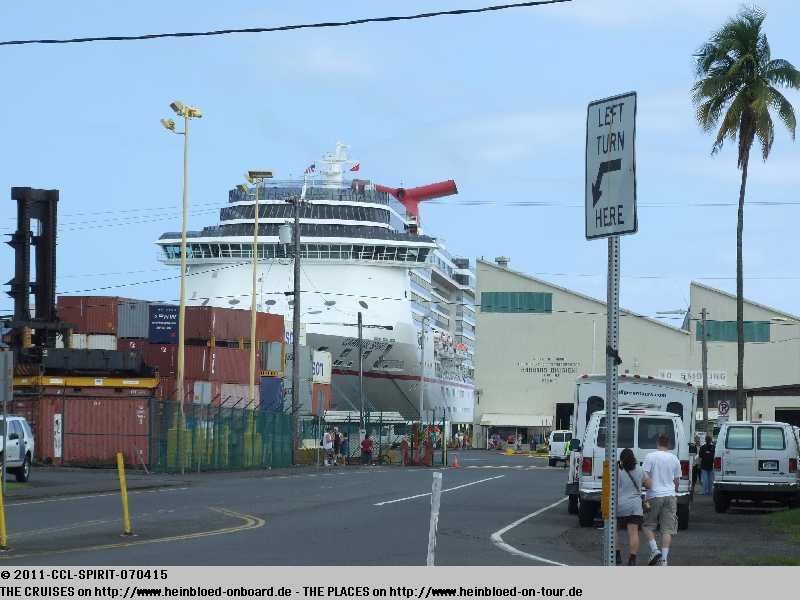 And with view to our ship we waited for our vehicle.