Scroll down for English explanations - alternates with German explanations.

Eine Kreuzfahrt fängt bei uns wie üblich bei Metro an. Wochen vorher wird geplant, wieviele Freunde besuchen wir und wieviele neue Freundschaften (Crew und Mitreisende) machen wir an Bord. Danach bestimmt sich der Umfang der Mitnahme der Schokolade, die wir an Bord verteilen. Da wir bislang nur vier Nächte auf der CARNIVAL FASCINATION 2008 unterwegs waren, ist die Wahrscheinlichkeit, dass ich mit "Willkommen zurück an Bord" begrüßt zu werden, recht gering.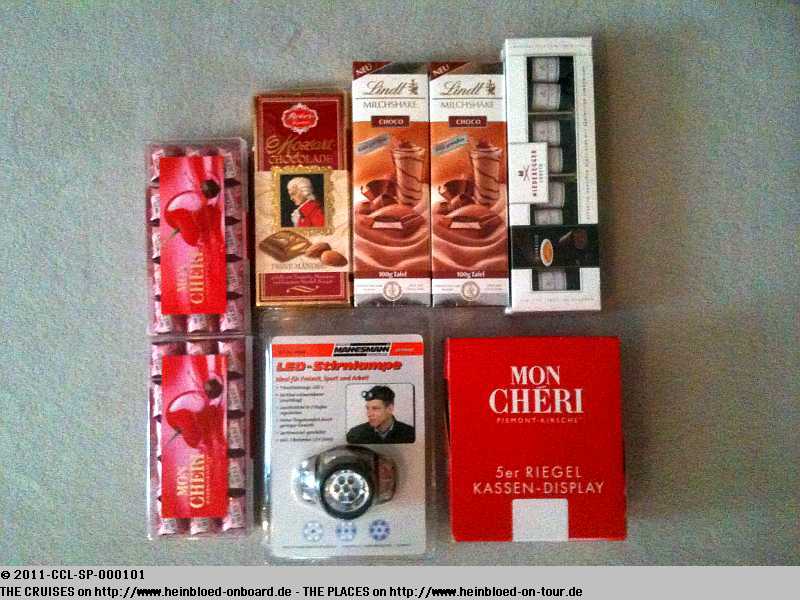 A cruise usually starts with a Cash and Carry-Market. Weeks we need to plan how many friends we will meet and how many new friends (Crew and cruise-mates) we will make on board. So we had to calculate the quantity of chocolate we need to carry with to distribute on board. As we were only four nights on board of CARNIVAL FASCINATION in 2008 the chance of being greeted "Welcome back aboard" should be quite low.

Extraordinary: The cruise starts in Ensenada (Mexico) and they are doing check-in in San Diego which makes our logistics much more simplier if you only need to arrange a voyage to San Diego.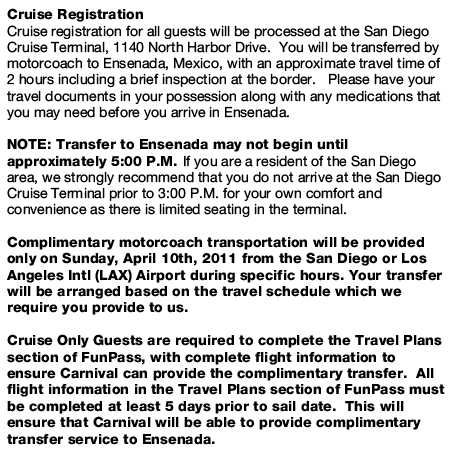 Ungewöhnlich hier: Die Kreuzfahrt startet ja in Ensenada (Mexiko) und man wird bereits in San Diego abgefertigt, was die Logistik stark vereinfacht, wenn man seine Anreise nur nach San Diego planen muss.
Noch besser: man muss eigentlich gar nicht bis San Diego fliegen, sondern nur bis Los Angeles. Auch von hier wird ein kostenloser Transfer angeboten. Da wir aber nach dem langen Flug keine Lust mehr haben, mehrere Stunden nochmals in einem Bus zu sitzen, entscheiden wir uns für Einschiffung in San Diego. Schade, dass diese Möglichkeit mit der Positionierung der CARNIVAL SPIRIT entfällt. Es war nämlich die günstige Möglichkeit intensiv eine Hawaii-Cruise zu machen.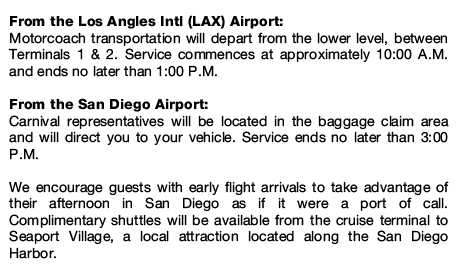 Much more better: you do not need to fly to San Diego - just Los Angeles. They offer from here complmentary transfers as well. After a long flight we did not want to stay for several hours in a coach so we decided to get there from San Diego. Unfortunately this kind of repositioning of CARNIVAL SPIRIT will not offered anymore. It was a very cheap way to make a very intensive cruise on Hawaii.

We flew by SWISS via Zurich to Los Angeles. Therefore I had enough mileage.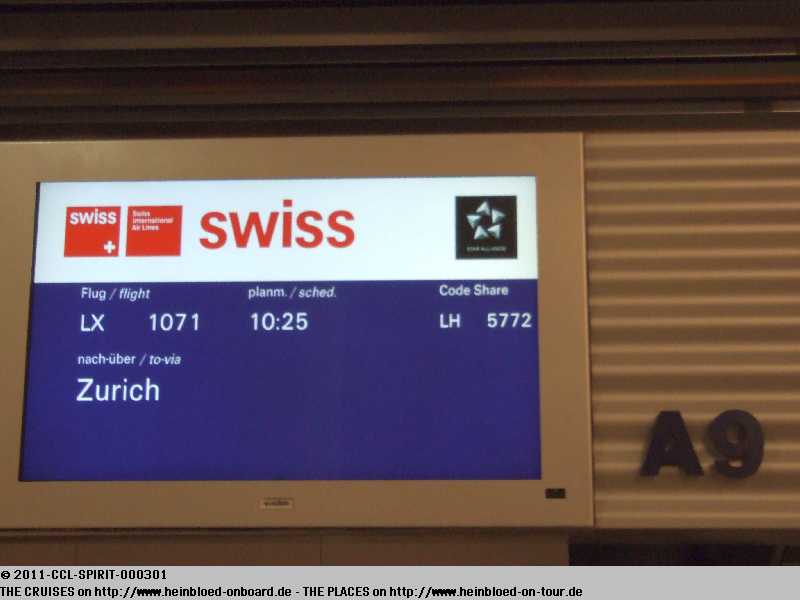 Mit SWISS geht es über Zürich nach Los Angeles. Dafür hat das Meilenkonto noch gereicht.
In Zürich nutzt Bruno die Chance einen "silbernen"
Blasercafé
zu probieren. Vor kurzem hatte ich auf einem Flug mit Edelweiss Air den Kaffee von denen entdeckt und obwohl ich selbst ja nicht der Kaffeetrinker bin, war ich über den Duft in der Kabine sehr angetan. In Deutschland haben wir uns den Kaffee dann bei
Merkel Kaffeegroßhandel
besorgt.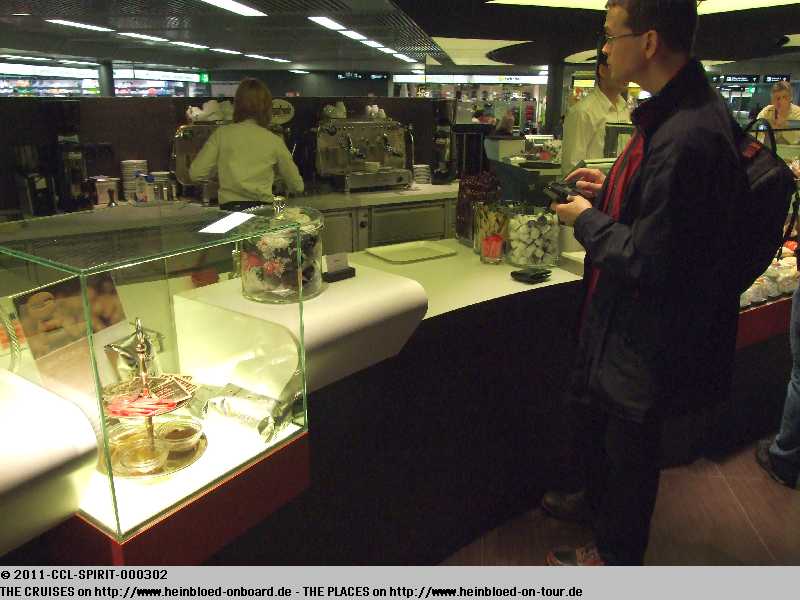 In Zurich Bruno used the chance to try the "silver" Blasercafé. I had the luck to make acquaintance of this coffee on a flight on Edelweiss Air and although I am not the coffee lover I was very much impressed by the smell of the coffee in the cabin. So we purchased in Germany this coffee from Merkel Kaffeegroßhandel.

Originally we planned to have the Blasercafé with us onboard and so we ordered an Aeropress. But it was too large for the baggage. So we had the Blaser instant coffee with us. Just in case even the purchased coffee on board would be as bad as with Princess... We have 5 consequetive days at sea and no chance to shop... So we had to make special arrangements.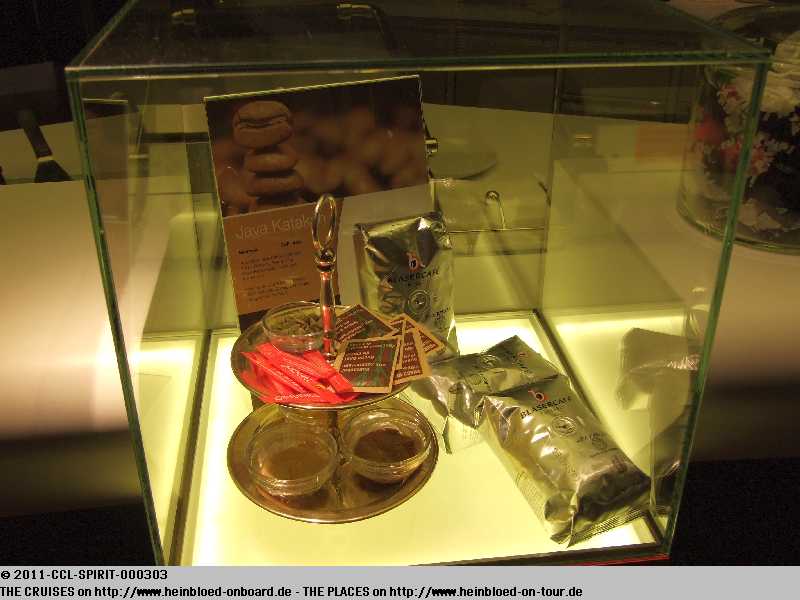 Eigentlich wollten wir den Blasercafé mit an Bord nehmen und haben eine Aeropress besorgt. Nur da war leider doch zu groß für das Gepäck. So kommt zumindest der lösliche Kaffee von Blasercafé mit. Nur für den Fall, dass selbst der gekaufte Kaffee an Bord genauso schlimm wird, wie bei Princess... Wir haben ja 5 Seetage hintereinander und können ja nicht shoppen gehen... Deswegen mussten wir hier besondere Vorsorge treffen.
Um 13.10 Uhr geht es nach Los Angeles weiter.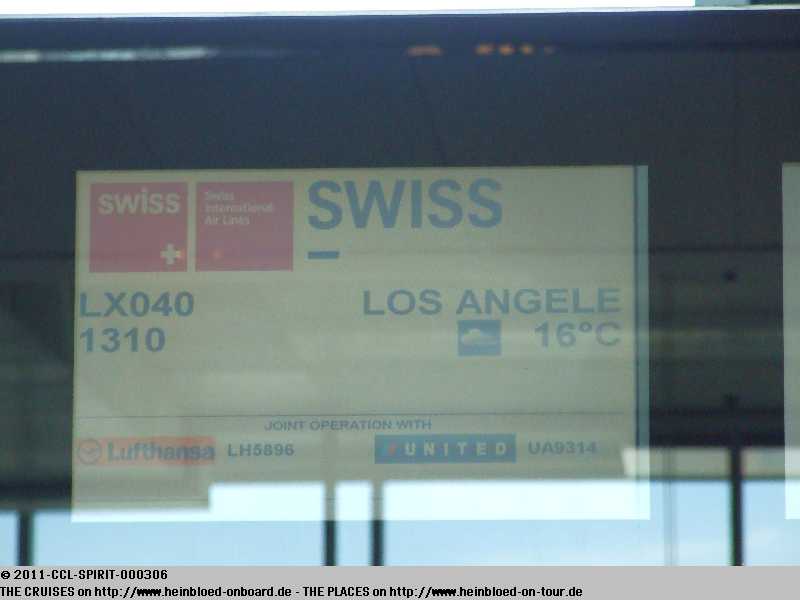 At 13.10 hrs we should continue towards Los Angeles.

The painting on the aircraft attracted our attention.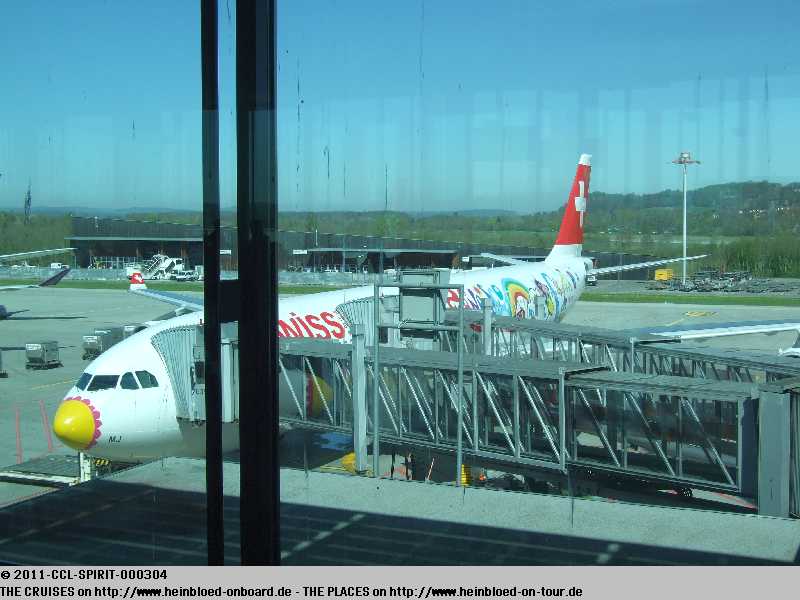 Die Bemalung des Flugzeuges fällt auf.
Auf dem Werbeplakat sehen wir, dass wir mit der Sonderbemalung San Francisco nach Los Angeles fliegen.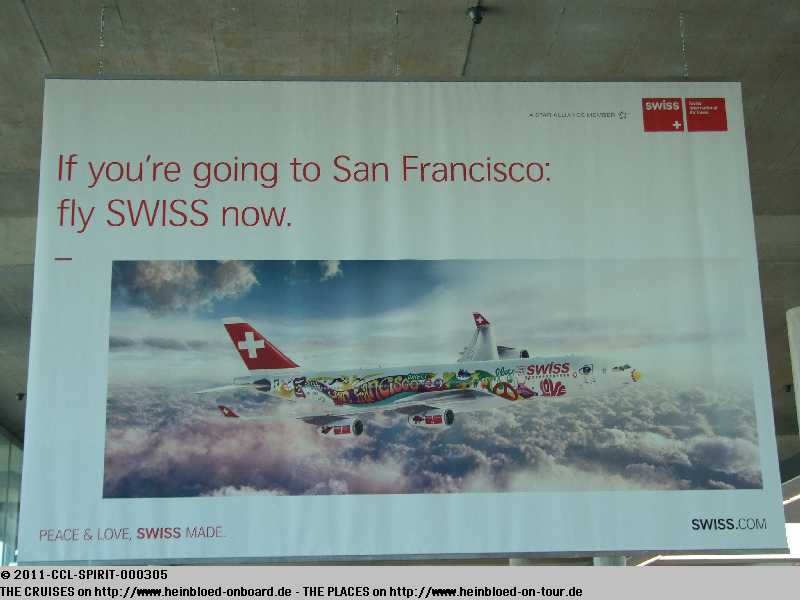 On this poster we saw that our flight to Los Angeles is made on the aircraft with the special pattern San Francisco.

We were flying Economy. Nothing special. Three times they had to reset the onboard entertainment. Everytime when your own movie was just near the end and most exciting. As normally when I am staying in the United States my bloodsugar-values increases I wanted to be well-prepared and ordered a Diabetic meal. So I had not to choose between Curry Chicken or Thai-Curry (vegetarian): I got some steaks...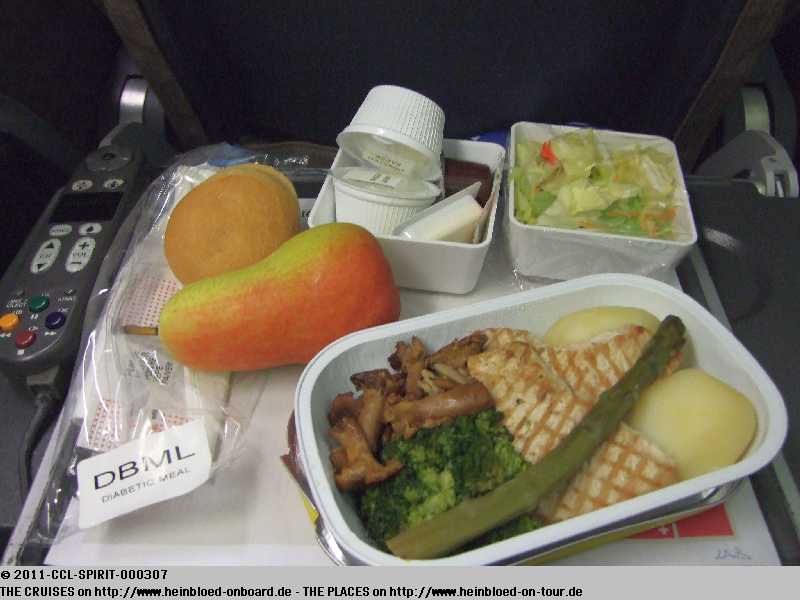 Wir fliegen Economy. Nichts aufregendes. Dreimal wird die Bordunterhaltung neu gestartet, und immer dann, wenn der eigene Film, den man gerade guckt kurz vor dem Ende ist und am spannendsten ist. Da in den USA meine Blutzuckerwerte immer hochsteigen, sorge ich mal präventiv vor und nehme eine Diabetikermahlzeit. Das erspart mir die Hauswahl zwischen Curry-Huhn und Thai-Curry (vegetarisch): Ich bekomme nähmlich Steaks...
SWISS ist leider nicht die "alte" Swissair, sondern Lufthansa Suisse: Deswegen sehnen wir den Zeiten der alten Swissair hinterher. Nur beim Pizzasnack und Eissnack haben sie vergessen, dass ich Diabetiker bin. Beim Sandwich zwischendurch bekomme ich allerdings auch da leckere Hähnchenbrust auf Vollkorn...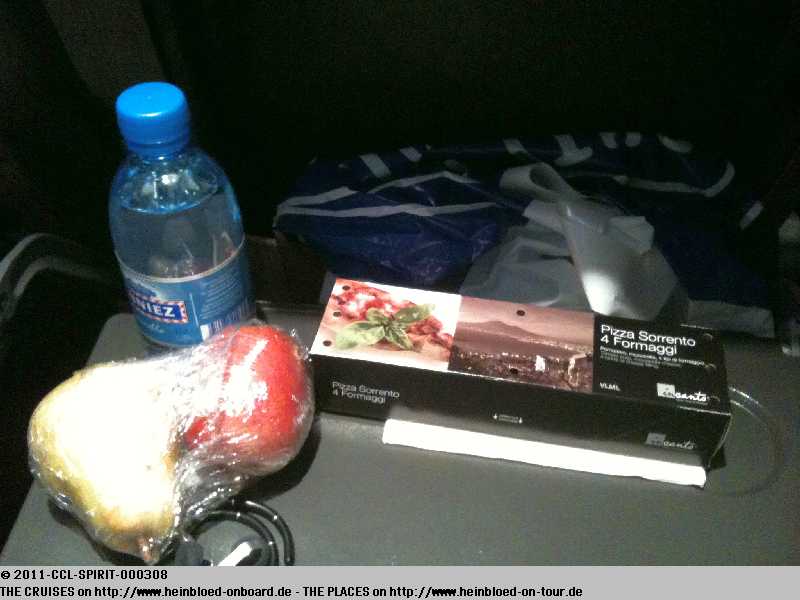 SWISS is no more the "old" Swissair but Lufthansa Suisse. So we deeply regret for the ancient times on Swissair. Only when we had the pizza and icecream snack they forgot that I ordered the special meal. I got a sandwich as well but with chicken breast on wholewheat roll...

This time our bags arrived completely and as very first in Los Angeles. As I booked the flights when I was still Senator (Star Alliance Gold) my status applied for this flight. We got on the flight an I-94 (no matter you had a visa or ESTA). But you do not need this form no longer for sure if you made an ESTA-registration. Immigration went very quickly. Only very few questions. But therefore the queue in front of the customs agents was quite long. Although we had a strong Western wind we arrived around 18.00 hrs at the car rental station.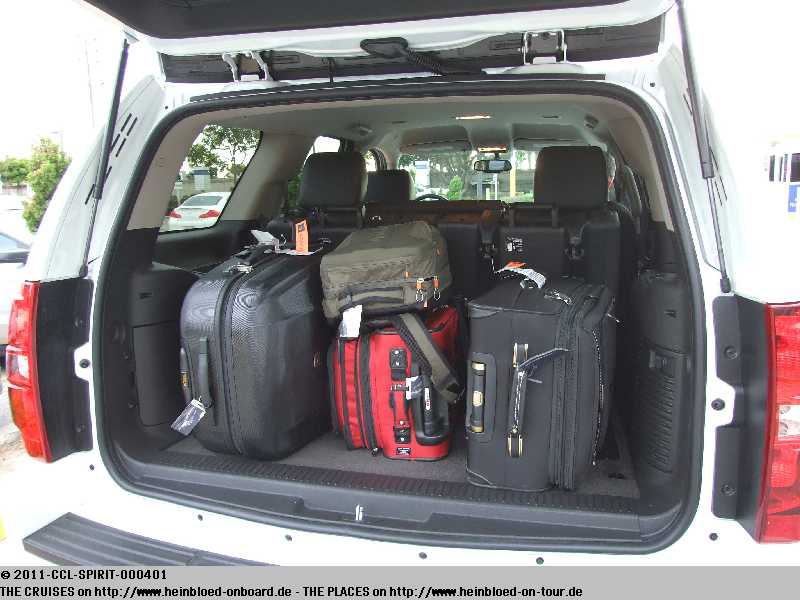 Unsere Koffer sind dieses Mal vollständig und als erste in Los Angeles herausgekommen. Da ich zu Zeiten gebucht hatte, als ich Senator bei Lufthansa war, galt wohl der Status noch. Im Flugzeug erhielten alle Fluggäste (egal ob mit Visum oder ESTA visumsfrei) den I-94 ausgeteilt. Aber dieses Formular wurde nun defitiv nicht mehr gebraucht, wenn man sich vorher über ESTA registriert hat. Die Passkontrolle ging sehr schnell. Kaum noch Fragen. Dafür war die Schlange vor dem Zoll recht lang. Wegen starker Westwinde waren wir trotzdem gegen 18.00 Uhr an der Autovermietung.
Dieses Mal hat
Alamo
den Zuschlag bekommen, weil sie nichts für den Einweg von Los Angeles nach San Diego berechnen. Mit dem Selbst-Check in geht es super und man kann sich dann innerhalb seiner Kategorie selbst den Wagen aussuchen. Bei uns wird es ein typisches amerikanisches "Kleinfahrzeug": Ein Chevrolet Hodge.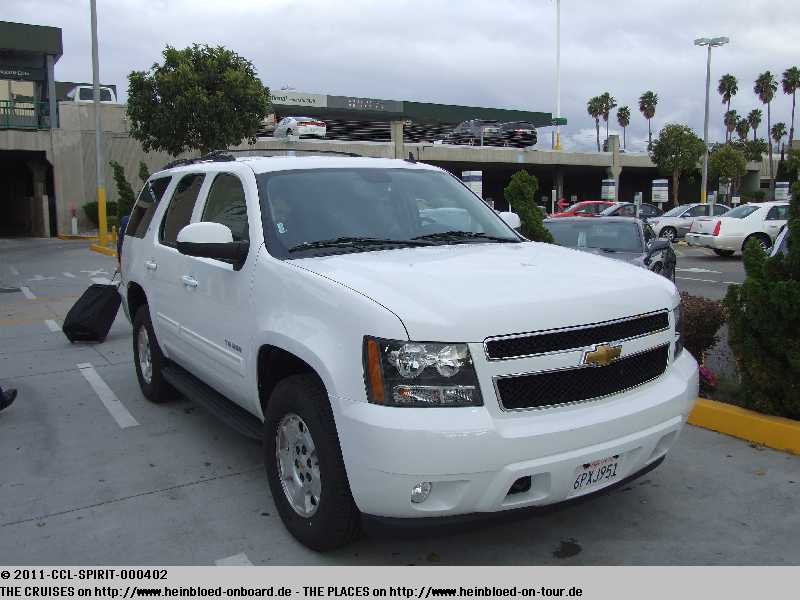 This time we booked with Alamo because there was no charge for the one-way from Los Angeles to San Diego. Using the Check-in-kiosk made everything super easy and you can choose the car yourself. We choosed a typical American "small" vehicle: A Chevrolet Hodge.

The ride to our hotel took few moments longer. Looked very harmless when we made the picture but it was quite busy. And you see the clouds. We had also a short shower on our way to the hotel. The song is not true: "It never rains in Southern California". I remember my very first time in Los Angeles 20 years ago a waiter told me: "You can be so lucky to see Los Angeles in rain as it is so rare..." (Ha ha ha!!!).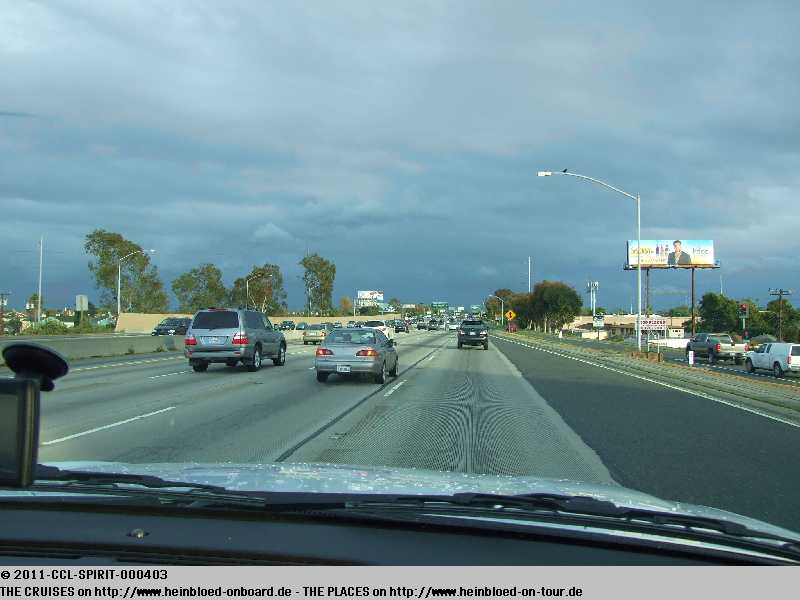 Die Fahrt zum Hotel dauerte ein paar Minuten länger: Das sieht im Moment harmlos aus, als wir das Bild machen, aber es war schon voll. Und man siehe die Bewölkung. Es gab zwischen durch auch mal einen Schauer. Von wegen "It never rains in Southern California". Bei meinem ersten Besuch in Los Angeles vor 20 Jahren meinte ein Kellner: "You can be so lucky to see Los Angeles in rain as it is so rare..." (Ha ha ha!!!).
Wir sind im
Residence Inn in Torrance
untergebracht. Ausschlaggebend war die Kompromisslage zu den Cruise Terminals in San Pedro und Long Beach, um meinen Shipspotting-Aktivitäten um 05.00 Uhr morgens nachzugehen und die Nähe zum Flughafen LAX, weil wir ja noch Brunos Schwester und Schwager mitten in der Nacht abholen müssen.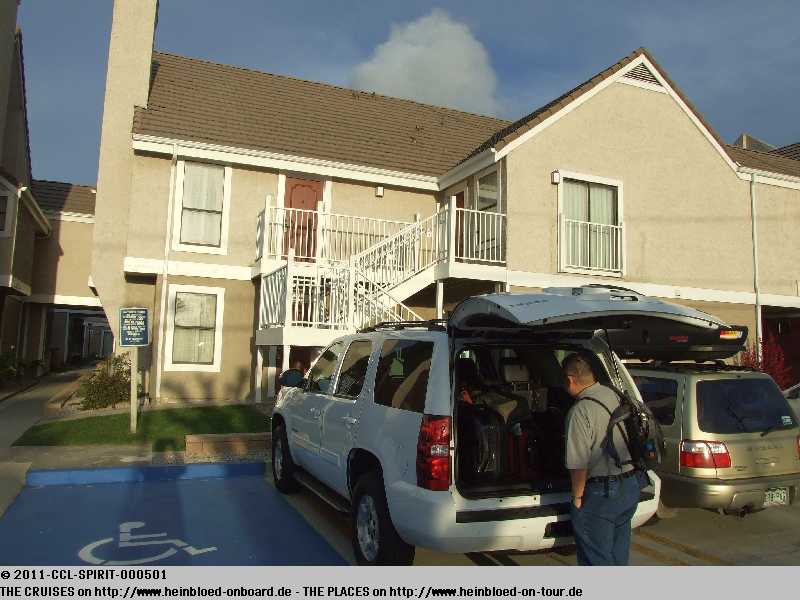 We booked at Residence Inn in Torrance. It was the compromise location between San Pedro Cruise Terminal, Long Beach Cruise Terminal to follow my shipspotting at 05.00 hrs in the morning and LAX airport because we need to pick-up Bruno's sister and in-law in the nighttime.

Fireplace...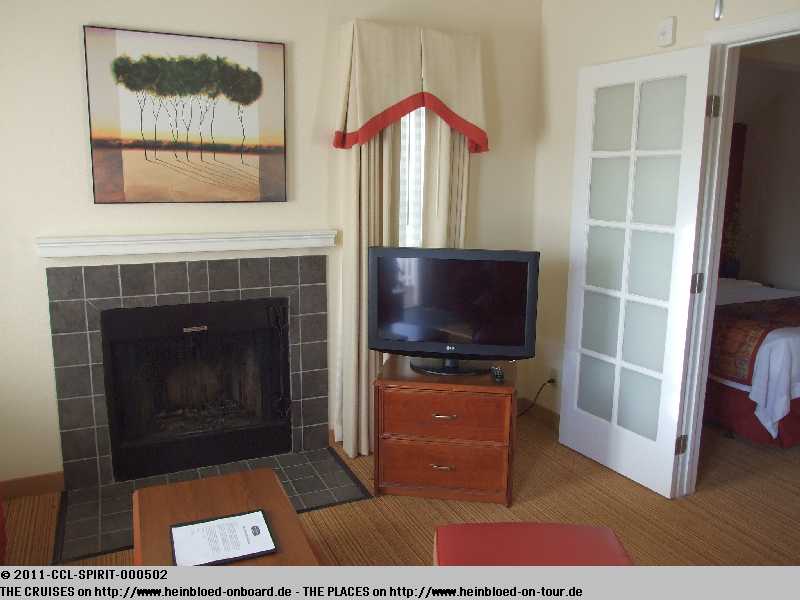 Kamin...
Wohnzimmer... mit zusätzlichem Sofabett...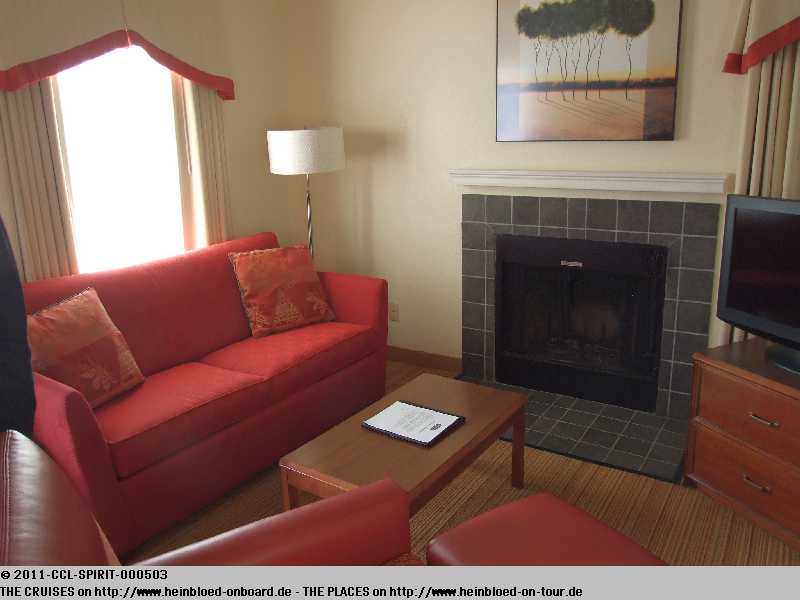 Living room... with additional sofabed...

Kitchen...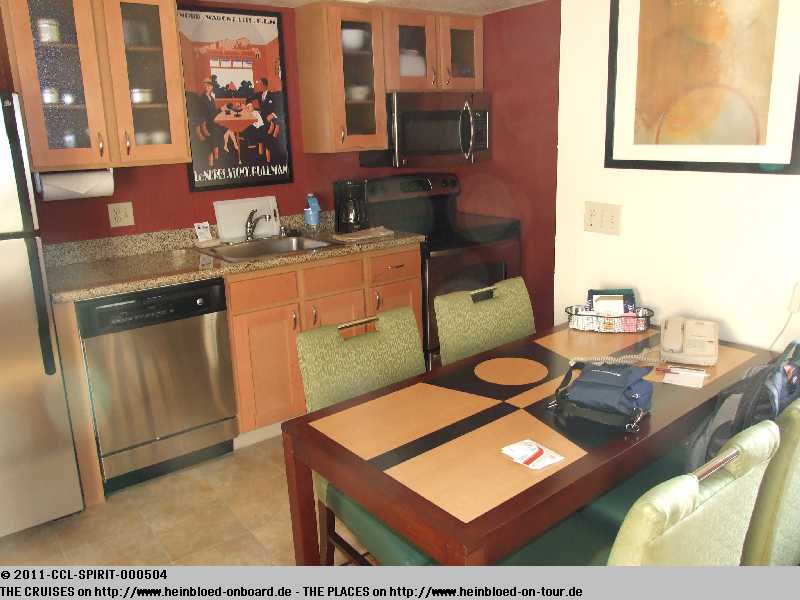 Küche...
Ein geschlossenes Schlafzimmer unten... allerdings nur mit einer Matratze und einer Decke, was zu einer längeren Diskussion an der Rezeption führte... bis dass wir eine zweite Decke bekamen... aber hinterher feststellten, dass im Wohnzimmerschrank eine zweite Decke für das Sofabett war... und die längere Diskussion uns sparen konnten...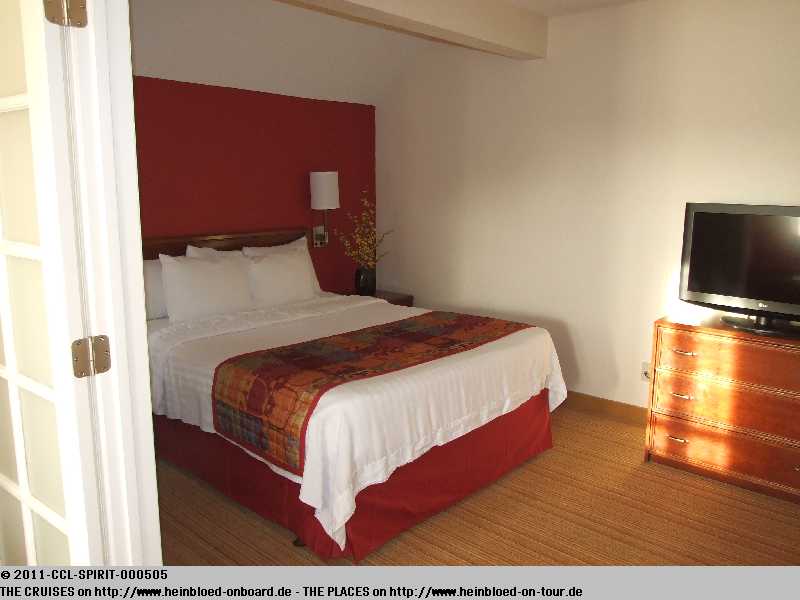 A closed bedroom downstairs... but only a queen size bed which occured a longer discussion with the reception to get a second bed... before we found out that there was a closet in the living room which had everything we needed as there was the equipement for the sofabed...

Working desk with complimentary LAN and WiFi.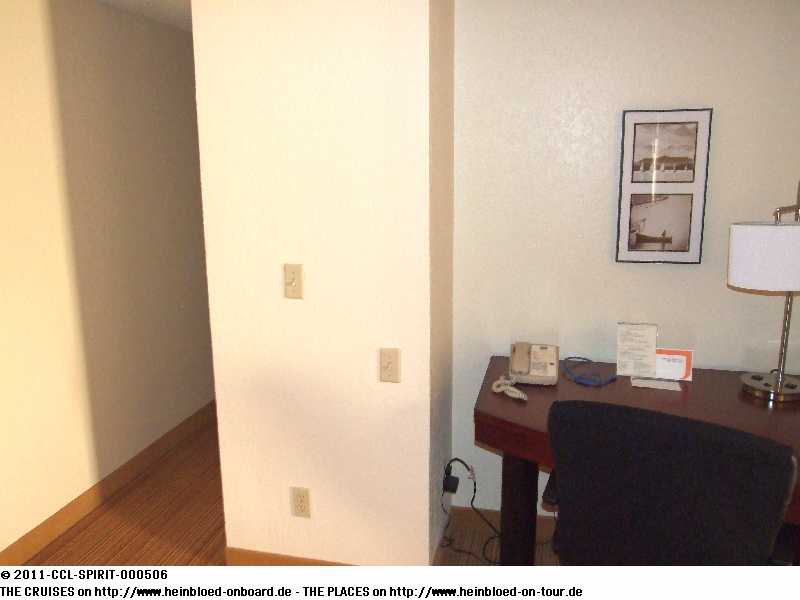 Schreibtisch mit kostenlosem LAN und WLAN...
und eigenem Badezimmer...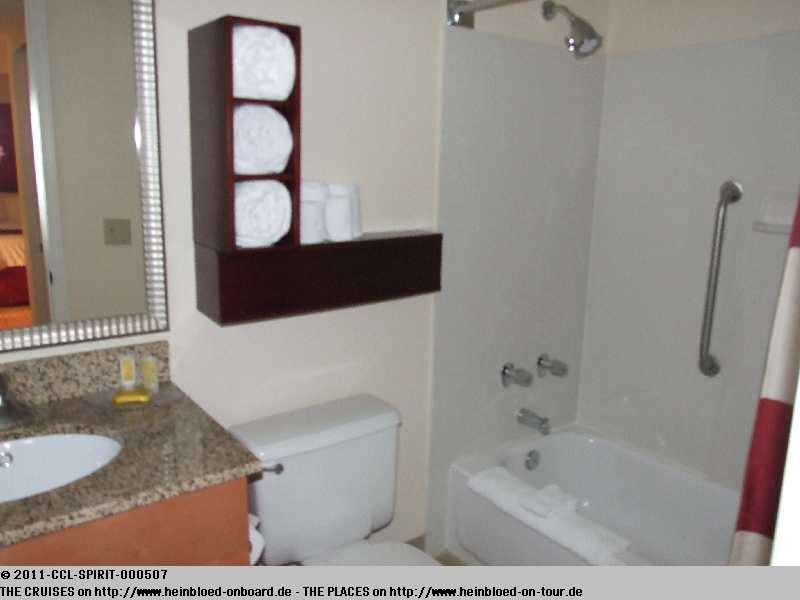 and seperate bathrooms...

and upstairs as loft with a second queen size bed and private bathroom. To get as soon as possible to the right time zone we went shopping with Eddie Bauer as there were not no many brances anymore in Germany and we got a 10-%-discount card with Macy's (Do not forget ID-card, passport, driving license) and for 80 USD we bought an AT&T USB-Stick as they did not sell any SIM-cards. So we booked 1 GB for 1 month for 50 USD as prepaid-data-package.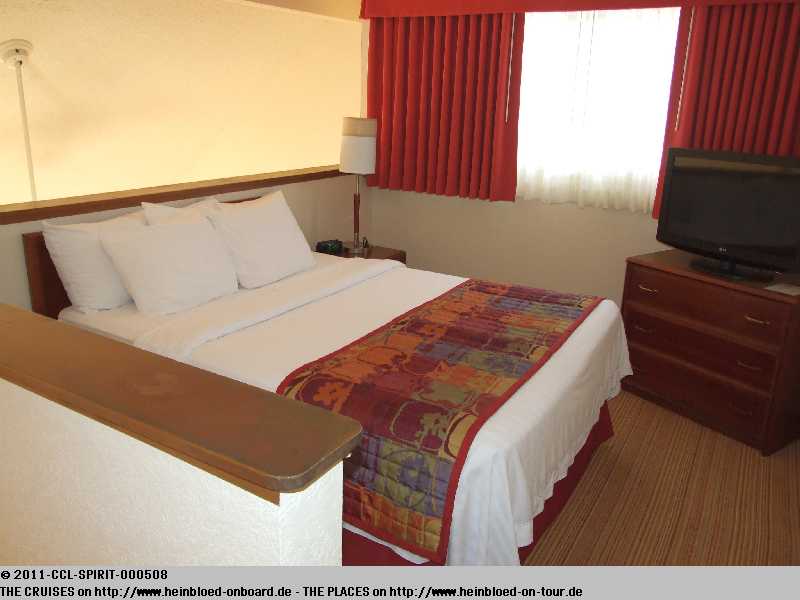 und oben nochmals als Loft offen ein zweites Doppelbett ebenfalls mit einem Bad. Damit wir möglichst schnell in die Zeitzone reinkommen, gehen wir bei Eddie Bauer shoppen, da es ihn in Deutschland kaum noch gibt, besorgen uns bei Macy's einen 10-Prozent-Rabattkarte für Ausländer (Führerschein, Personalausweis oder Pass nicht vergessen) und von AT&T für 80 USD einen USB-Stick, da keine SIM einzeln verkauft wird. Dazu buchen wir 1 GB für einen Monat für 50 USD als Prepaid-Datenpaket.
Brunos Schwester und Schwager kommen über San Francisco nach Los Angeles gegen Mitternacht an. So fahren wir nochmals nach LAX. Bevor es Facebook gab, wäre von dem Wahrzeichen so ein Foto entstanden... Wer kennt es nicht, wenn jedes Mal Jonathan und Jennifer Hart jemanden am Flughafen abholten...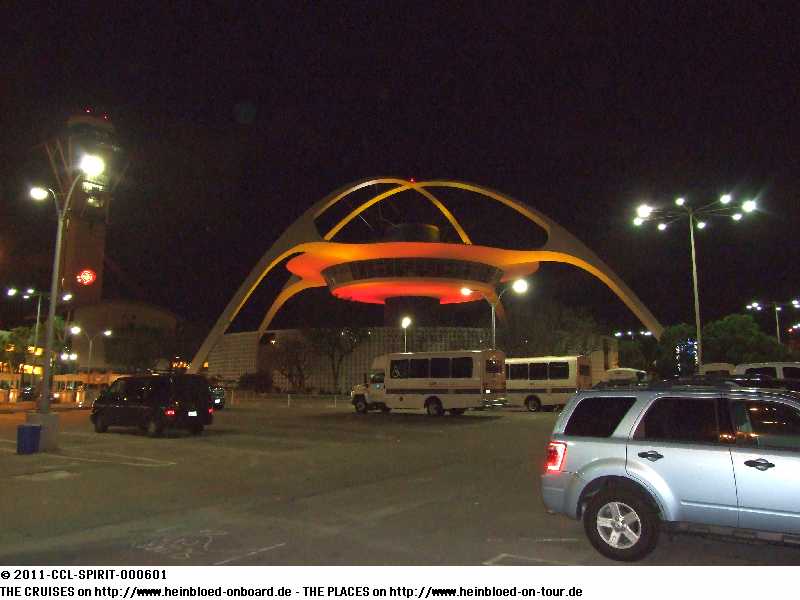 Bruno's sister and in-law arrived via San Francisco to Los Angeles around midnight. So we had to get to LAX. Before Facebook I would take such a picture... Who does not now this picture when everytime Jonathan and Jennifer Hart went to LAX to meet someone...

But on Facebook I found a former class-mate from elementary school who explained how to set the flash to make such pictures like this. Thanks again for such kind of advises. Looks much more better.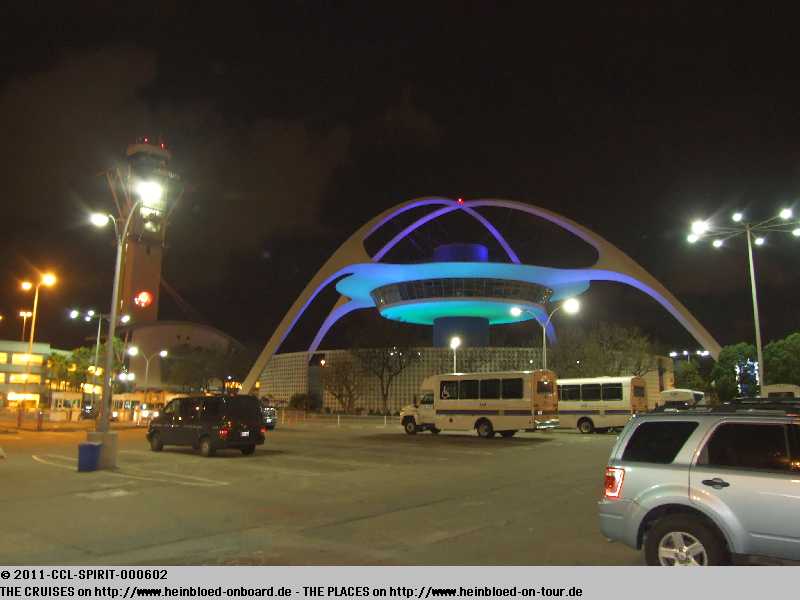 Ulrike, mit der ich gemeinsam auf der Grundschule, war, hat mir dann auf Facebook erklärt, wie ich meine Blitzeinstellung ändern muss, damit solche Bilder rauskommen. Und dafür mal vielen Dank. Das sieht wirklich besser aus.
Kaum zu glauben, dass um Mitternacht auf LAX immer noch so viel Betrieb ist.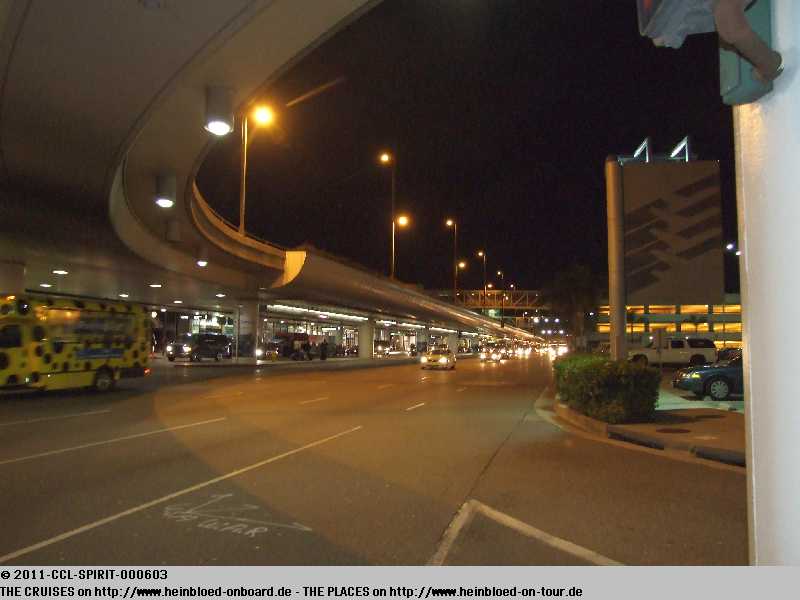 Hard to believe that it was so busy at LAX around midnight.

With a small delay we expected them at the baggage caroussel. Here you need quickly in the US: As they are accessible for everyone, everybody can wait at the carousel and grab a suitcase - guys from the street as well. So when ever you have an US-domestic transit you should be very fast from the the gate to the baggage claim area.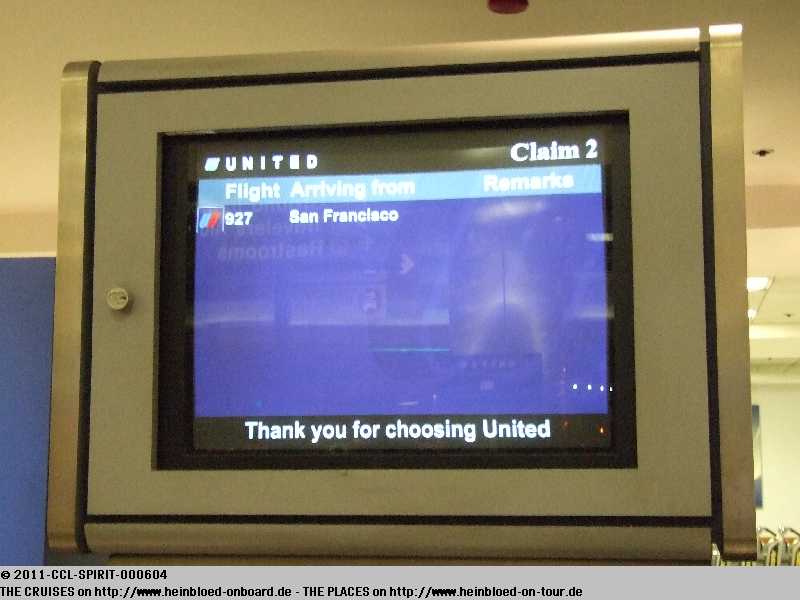 Mit etwas Verspätung erwarten wir sie am Gepäckband. Hier muss man in den USA immer schnell sein: Da sie ja öffentlich zugänglich sind, kann jeder schon am Band stehen und sich den Koffer wegschnappen, auch Leute von der Straße. Daher bei inneramerikanischem Transit sollte man möglichst schnell vom Gate zum Gepäckband laufen.
Und da sind sie Astrid und Hermann. Da es für uns innerlich 09.00 Uhr morgens ist, gehen wir noch mitten in der Nacht zum Shopping... Wasser und Snacks und mehr... inkl. Bio-Müsli für Bruno an Bord... wir können ja nicht innerhalb der ersten fünf Tage von Bord zum Shoppen...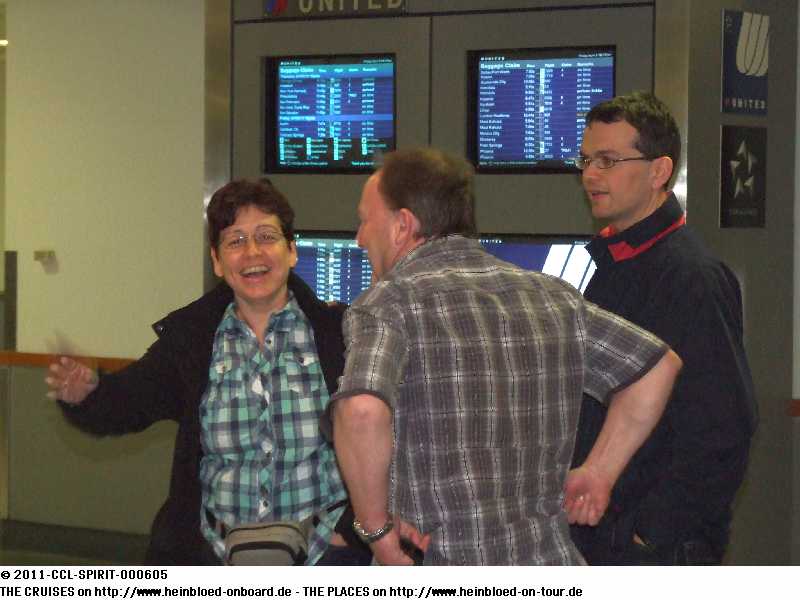 And there they were: Astrid and Hermann. As it was 09.00 hrs in the morning in our body we went shopping in the night... Some water and snacks as we cannot shopping for five days at sea.