Scroll down for English explanations - alternates with German explanations.

Da es eh nur noch im La Playa Grill etwas gab, gehen wir direkt dorthin. Dort sind wir positiv überrascht. Es gibt mittags dort z. T. sehr aufwändige Sachen (mit Blätterteig), die es bei anderen nur abends gibt. Auch habe ich die Chance wieder genutzt die chinesische Suppe der Woche... (egal - sie war lecker...) zu essen...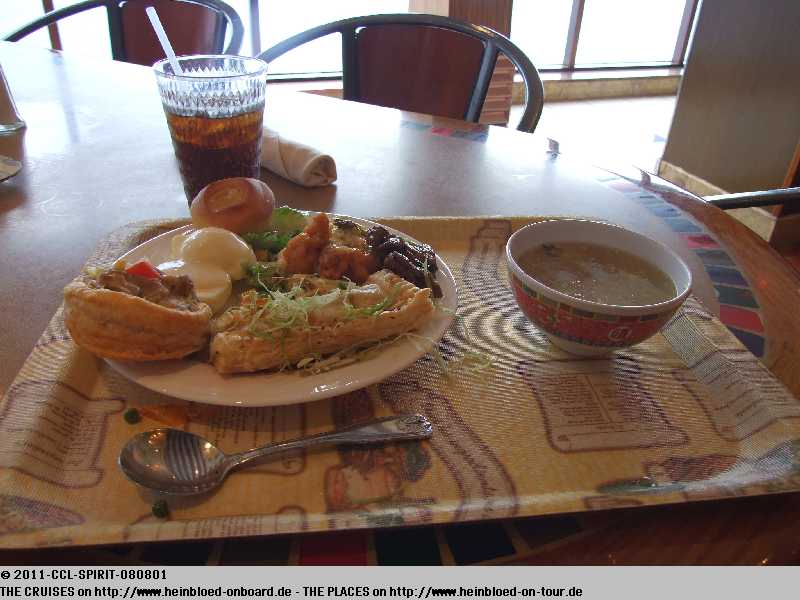 As anyway only La Playa Grill was open we went directly upstairs. We were nicely surprised. For lunch you had food which need some effort and extra work (like puff pastry) which you only get for dinner with others. But I was glad to have the Chinese soup again... even it was the same for the entire week... it was good...

Bruno wanted to try the softice too after other told him how good it was.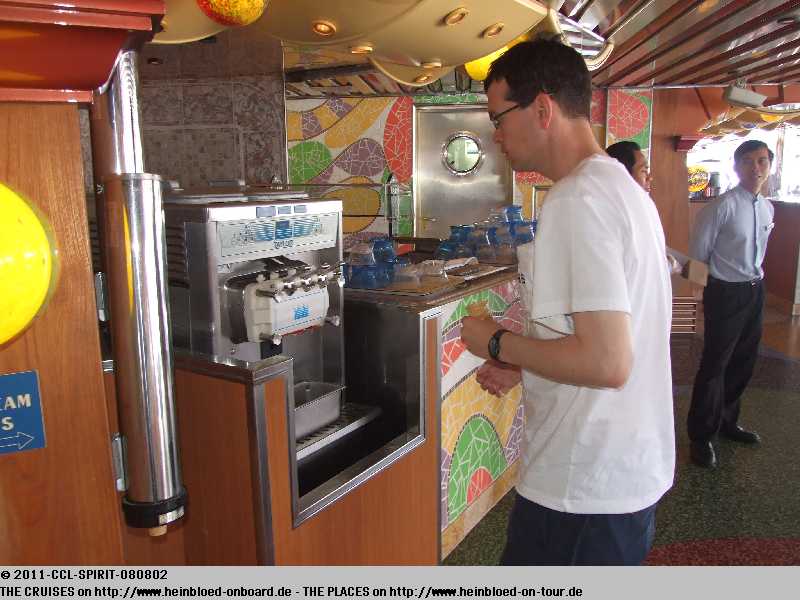 Bruno will endlich auch mal ein Softeis probieren, nach dem andere schon von dem Softeis geschwärmt hat.
Er ist überrascht, dass es nicht so süß ist.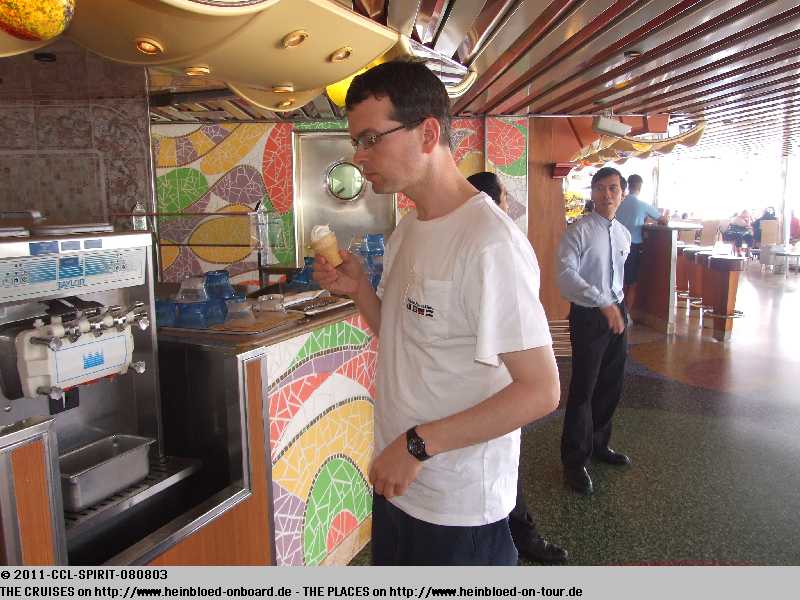 He was surprised that it was not so sweet.

Due to the next busy days we were happy to spend a little time on the ship. Bruno announced that the twister was open and so we both prepared to try it.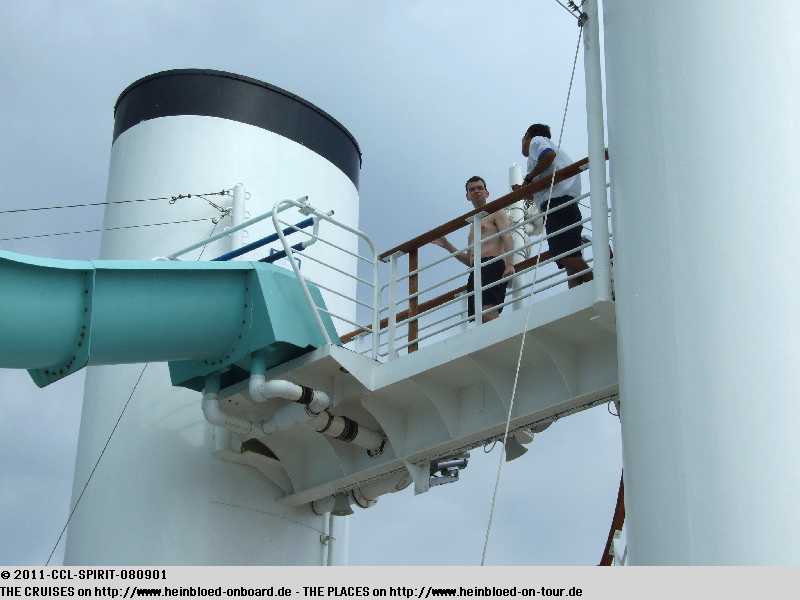 Wir sind angesichts der bevorstehenden Tage froh, etwas Zeit noch auf dem Schiff zu verbringen. Bruno meldet, dass die Rutsche offen ist und so machen wir uns beide dafür fertig.
Wirkt doch gar nicht so schwer...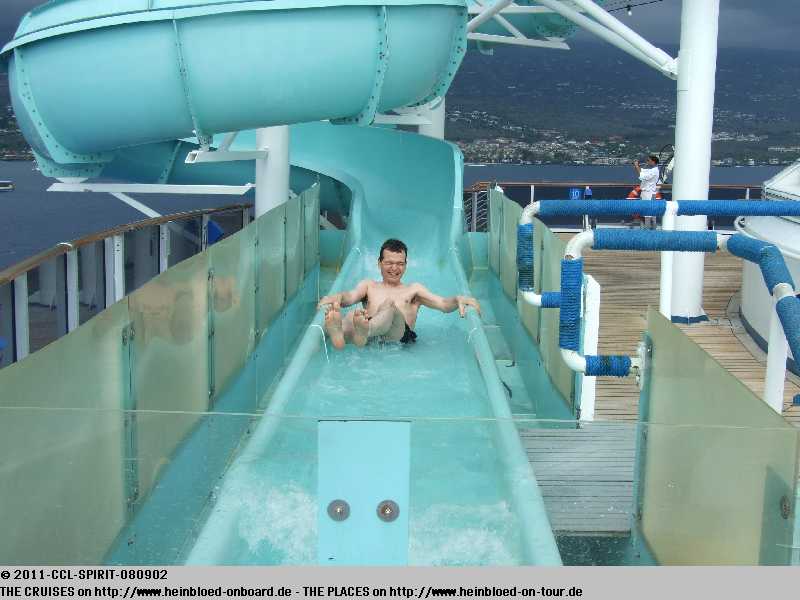 Did not look too difficult...

To make the ride more perfect he went to the top again...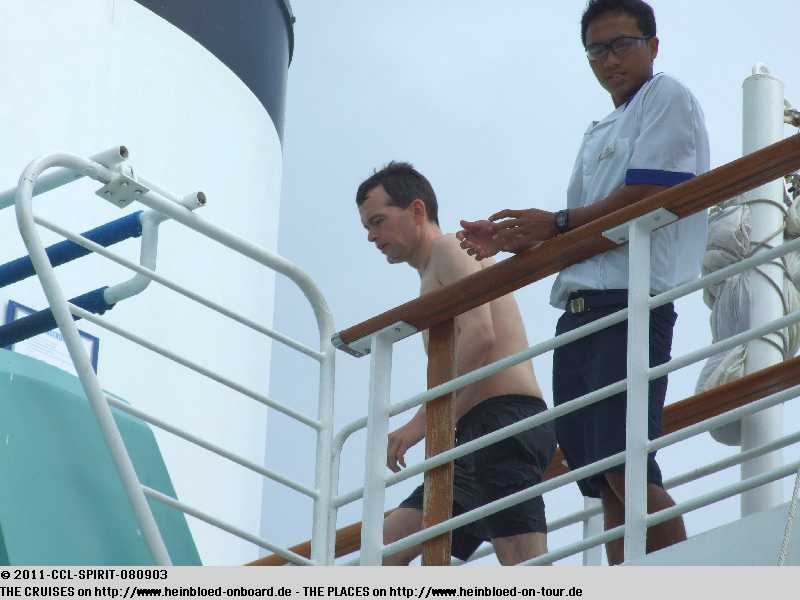 Und sofort geht es wieder rauf um es zu perfektionieren...
So kommt er optimiert unten an...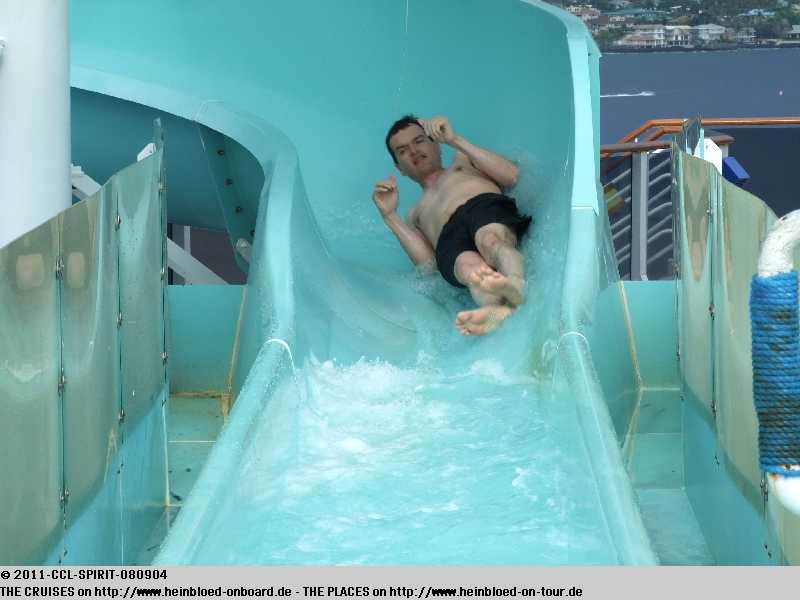 So he arrived well at the bottom...

And then I tried it.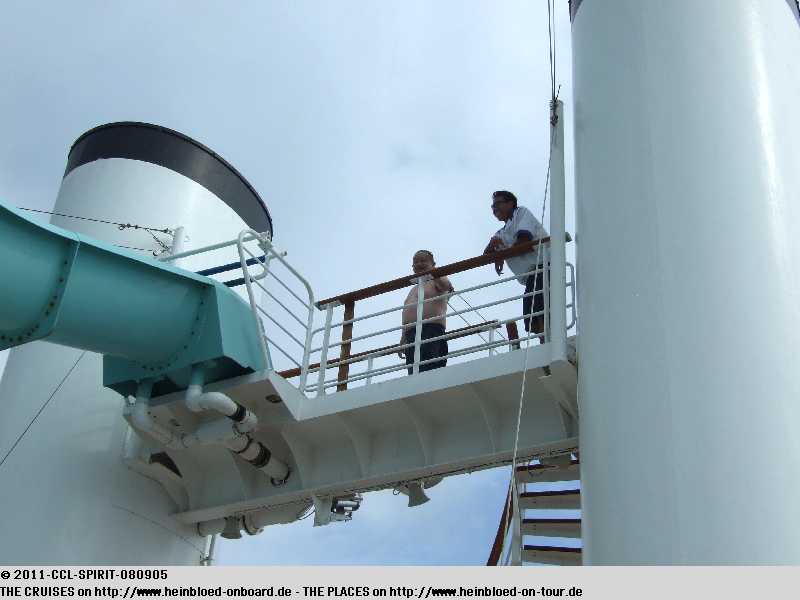 Danach versuche ich mich.
Allerdings habe ich die Unterwasserkamera mit.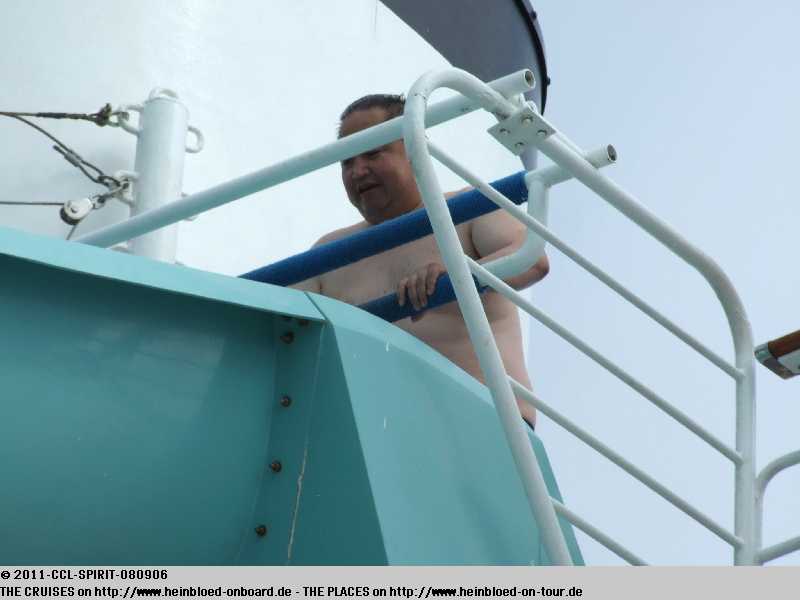 But I had our underwatercamera with us.

I could not make it as elegant as Bruno did. We triggered an avanlanche. So far the twister was only used by kids. When other adults saw us using it they came also to try it. Stu was right: who cared what other people thought... it was all about fun we had on the ship... Long lives the speedo!!!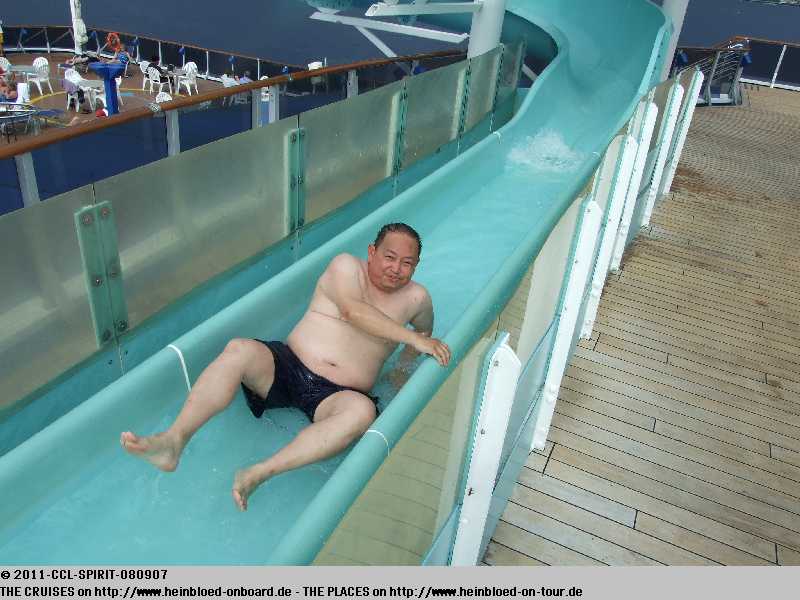 Ich kann es noch nicht so elegant wie Bruno. Mit dem Besuch lösen wir eine Lawine aus. Bisher wurde die Rutsche nur von Kindern genutzt. Als Erwachsene sehen, dass wir sie nutzen, kommen immer mehr, um sie auch auszuprobieren. Stu hat Recht: wen schert es, was andere denken... es geht um unseren Spaß, den wir an Bord haben... Hoch lebe der Speedo!!!
Bisher dachten wir immer, dass unser Bordprogramm defekt, aber da wir ja fünf Tage lang wirklich kein Land in der Nähe hatten, sah unser Bildschirm immer weiss aus...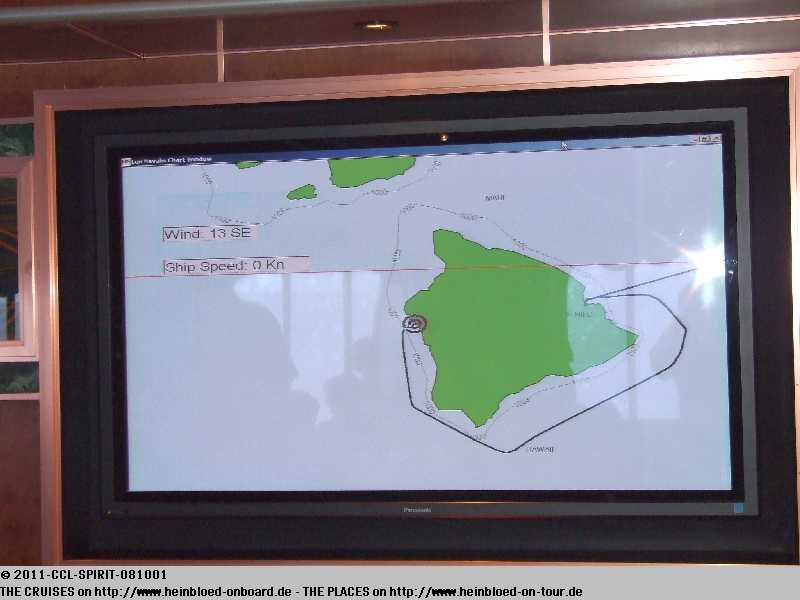 Until now we thought that our onboard TV was out of order as we had no land around for five days. So our screen looked all the time white...

This statue was formed by the workers of the Kvaerner-Masa shipyard.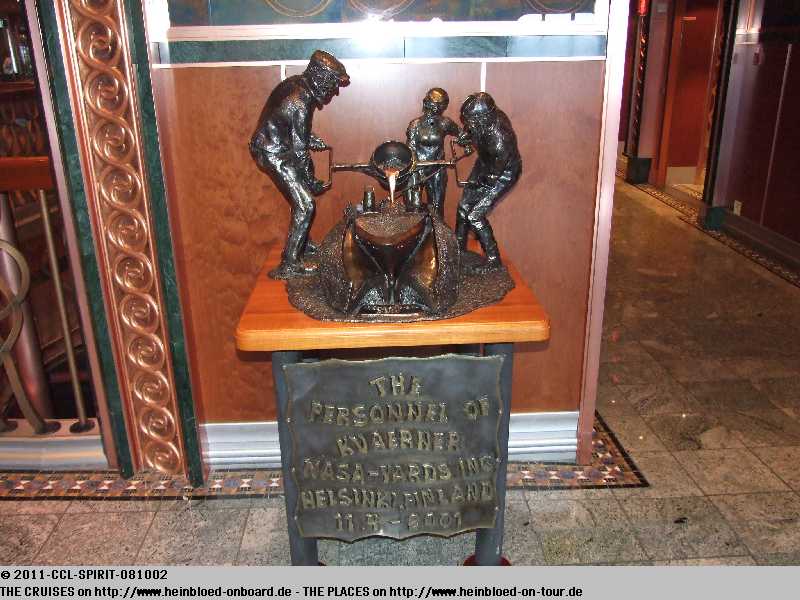 Die Arbeiter der Kvaerner-Masa Werft haben diese Statue wohl geformt.
Im Casino erwartet einen Ludwig XIV.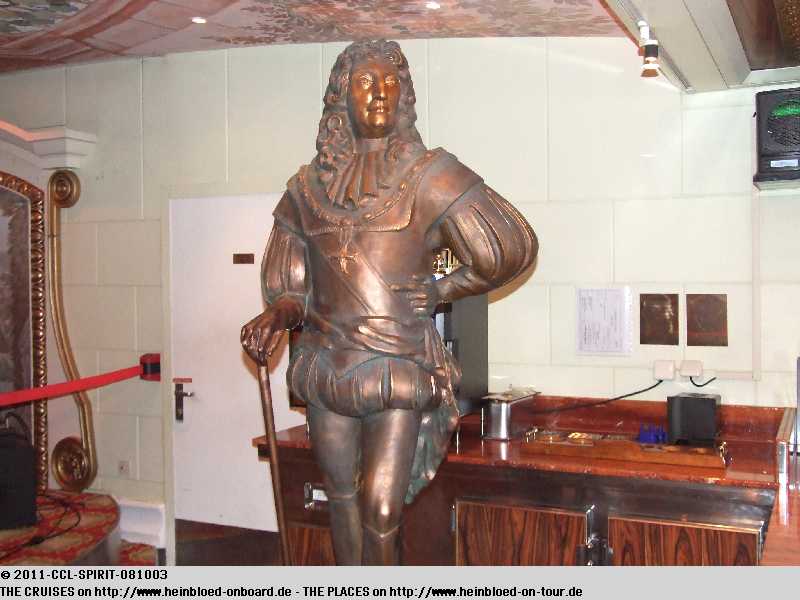 In the casino Louis XIV. expected us.

A section of the casino bar was reserved for non-smokers... Never have seen this before on another ship.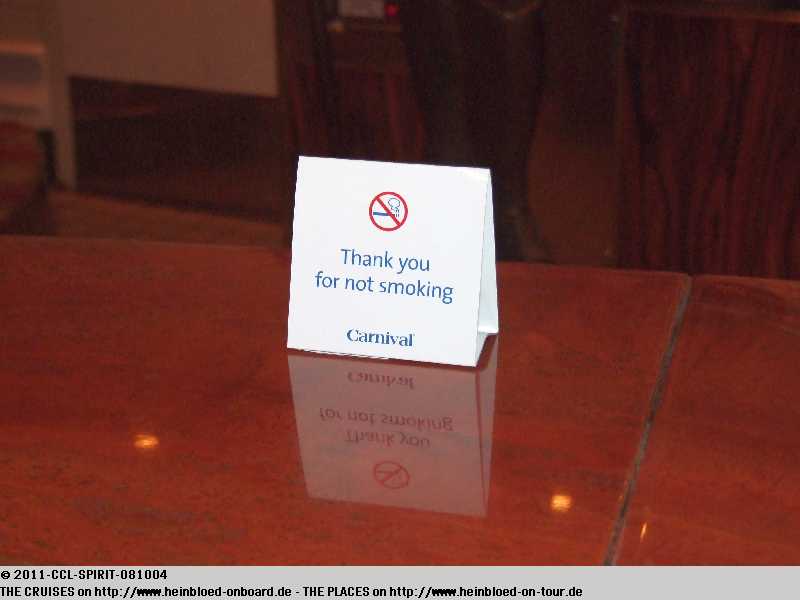 An der Casino-Bar ist abschnittsweise Rauchen verboten... Noch nie auf einem anderen Schiff gesehen.
Und einige Spielautomaten sind ebenfalls nur Nichtrauchern vorbehalten... auch noch nie auf einem anderen Schiff gesehen...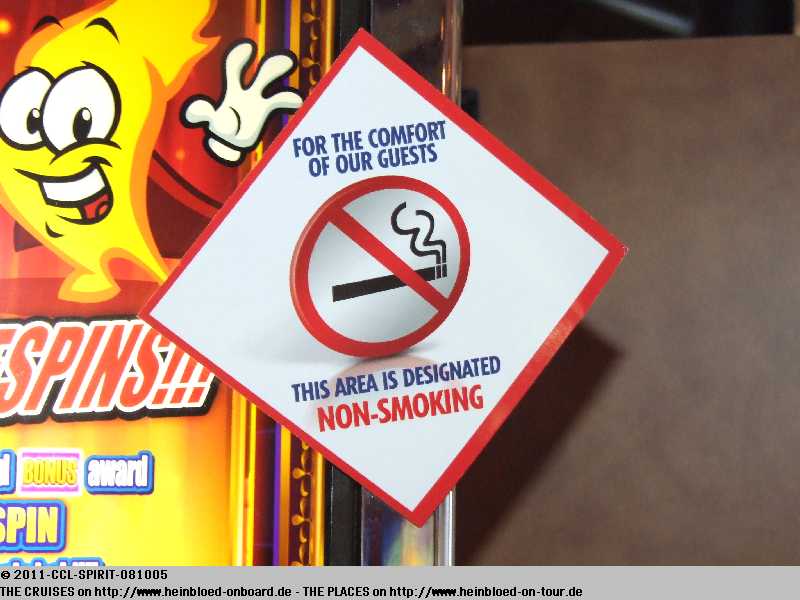 And some gambling machines were reserved for non-smokers... never have seen this before on another ship either...

I got some sushis before dinner. The selection was limited to three different ones and tasted very Americanized...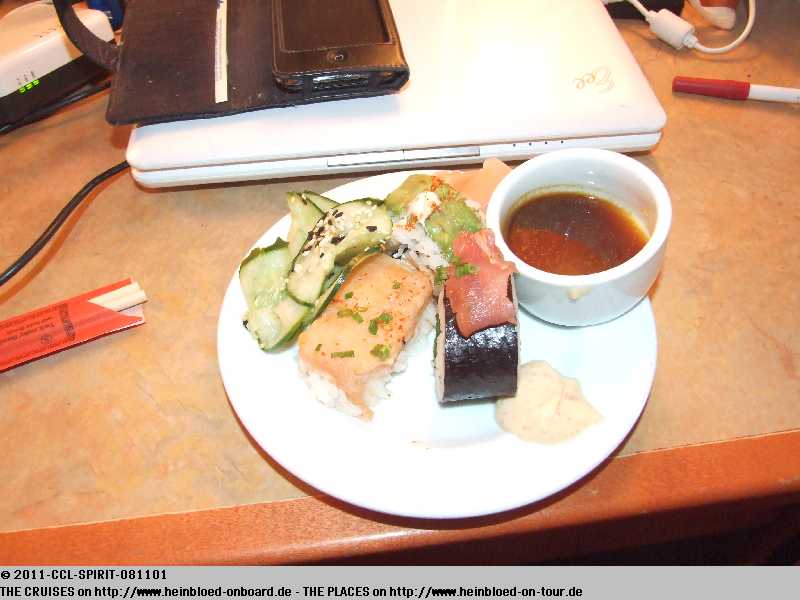 Ich gehe mir noch ein paar Sushis vor dem Abendessen holen. Die Auswahl beschränkt sich auf drei Sorten und schmecken sehr amerikanisiert...
Unsere schokoladenüberzogenen Peaberries legen wir zur öffentlichen Laibung in unserer Kabine aus.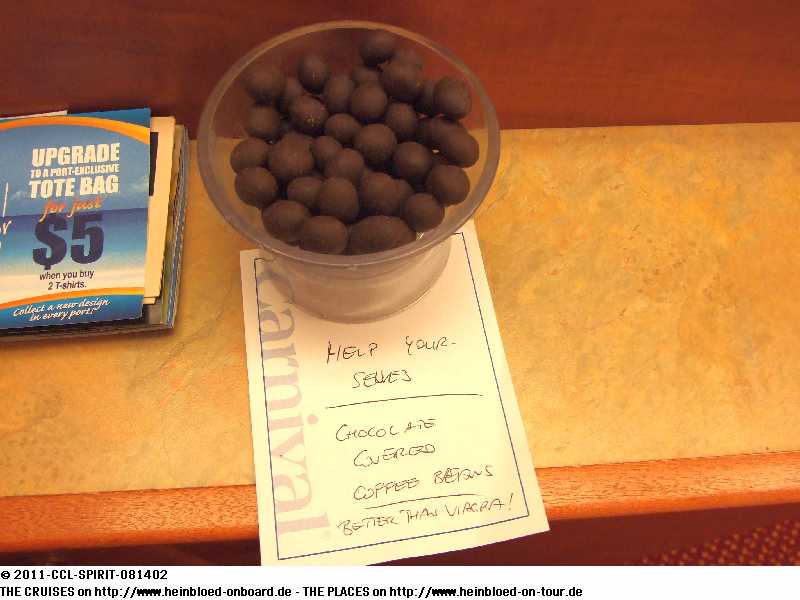 We offered our chocolate covered peaberries for public self-service in our cabin.

Indeed we found out that our cabin stewards liked them as much as we did...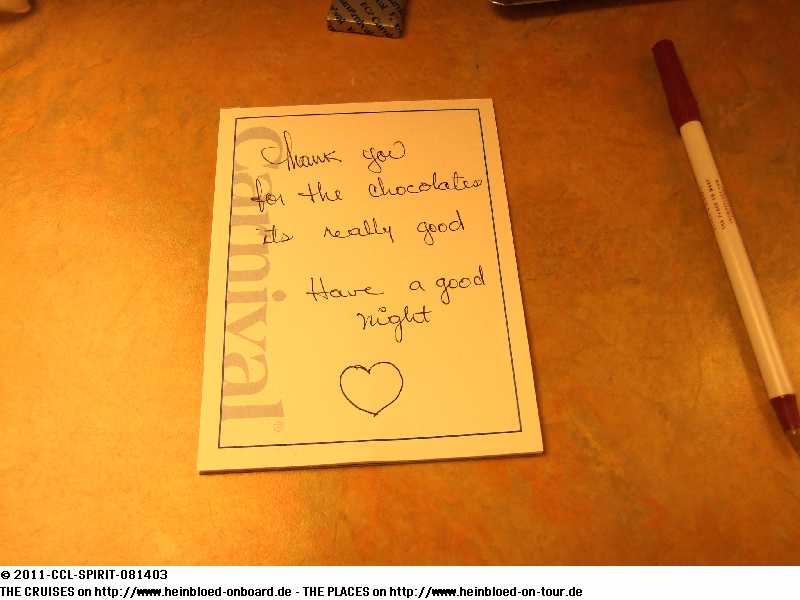 Tatsächlich stellen wir fest, dass unsere Kabinenstewards sie genauso gerne mögen wie wir...
Und vorab schon mal das Handtuchtier des Abends...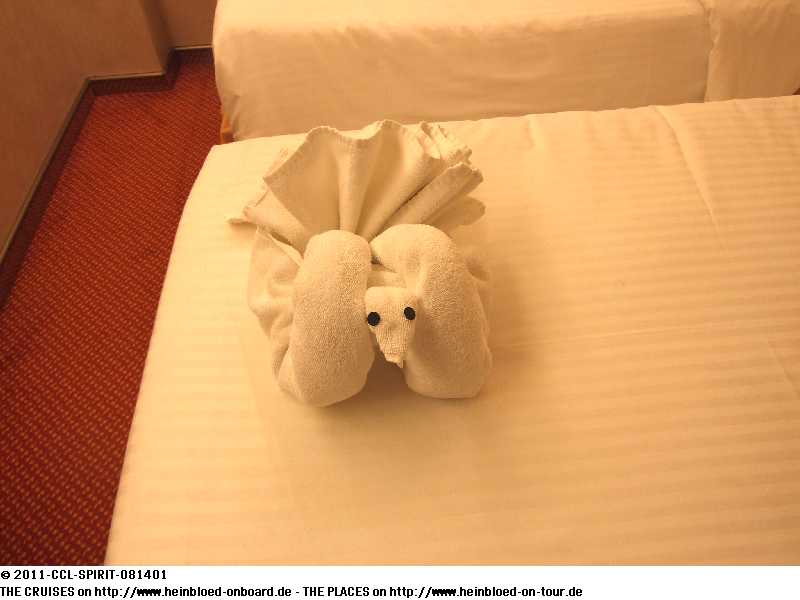 And now already the towel animal of the night...