Scroll down for English explanations - alternates with German explanations.

Während wir auf unsere Tour warten, sehen wir den Bus wohl für die Gruppe aus der Pfalz... Irgendwann haben sie wohl es geschafft, dass auch die letzten gemerkt haben, dass sie mit den Ausrufen gemeint waren... Andererseits: wenn wir pünktlich angelegt hätten, wäre die Rechnung ja aufgegangen.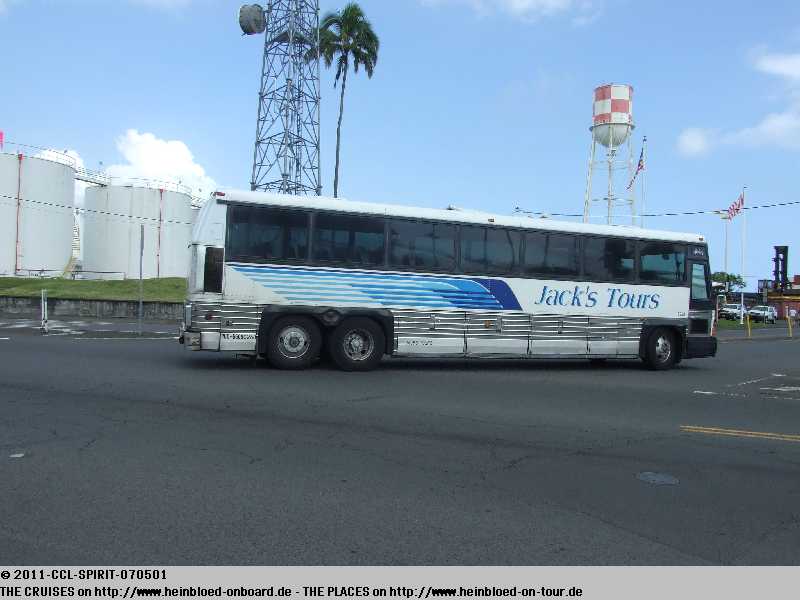 While we were waiting for our tour we saw the bus for the group of 28... Sometime they made it and the last from her group remarked that they were mentioned with the announcement... But: subject we would have berthed as scheduled their schedule would work perfectly.

We kept our tour operator informed that we will not be earlier but 09.30 hrs-10.00 hrs at the meeting. It did not make too much sense to call that we arrived already at the meeting point as TorTours is based in Kona and they had to leave already about three hours ago. TorTours stands for Torsten Andresen who has lived for many years here on Hawai'i.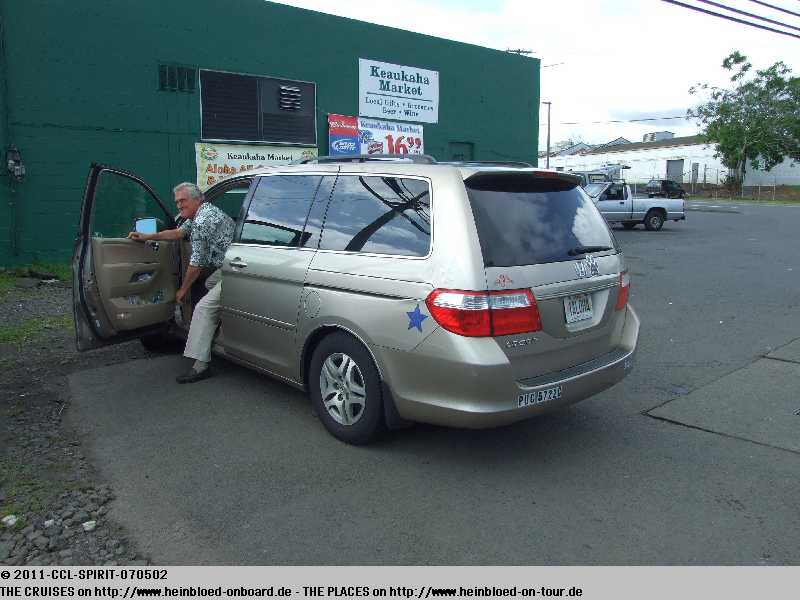 Wir hatten ja sicherheitshalber Bescheid gegeben, dass wir kaum vor 09.30-10.00 Uhr am Treffpunkt wären. Es brachte nichts mehr anzurufen, dass wir schon da sind, da die Firma
TorTours
in Kona ansässig sind und vor etwa drei Stunden schon losfahren mussten, um pünktlich hier zu sein. TorTours steht für Torsten Andresen, der seit vielen Jahren bereits hier auf Hawai'i lebt.
Ist das Kennzeichen nicht klasse??? Fühlt man sich sofort willkommen. Leider kein Lei... das wäre es eigentlich noch gewesen...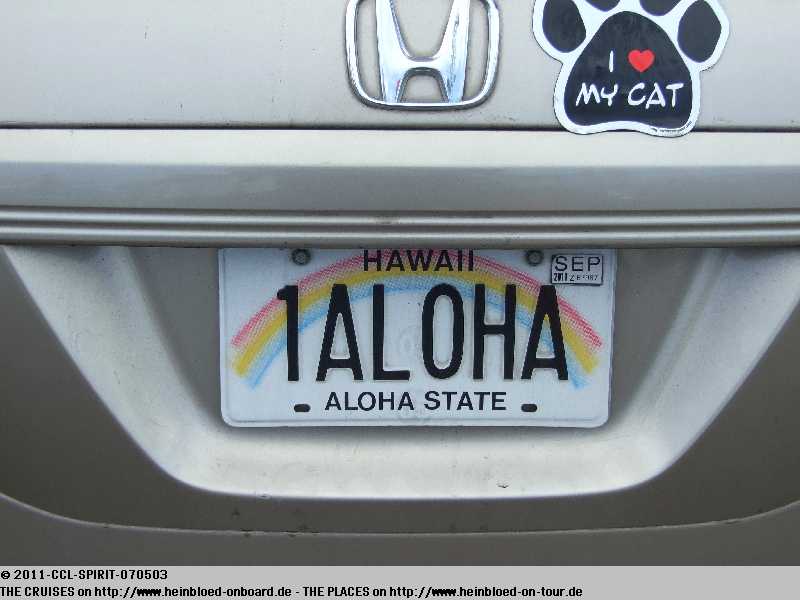 Look at the license plate... would not you feel immediately welcome. But no Lei... this might be perfect...

And as Michele described before: the most rainy place in the USA. But Torsten knew very well the conditions and calmed us down: There were umbrellas in the car.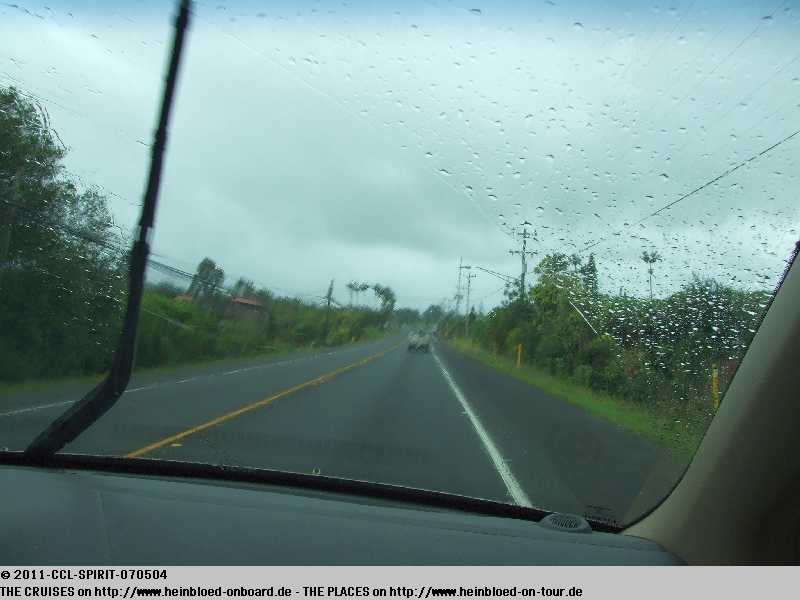 Und wie Michele bereits beschrieben hat: der regenreichste Ort der USA. Aber Torsten kennt die Verhältnisse gut und beruhigt uns: Es sind Regenschirme im Auto.
Es geht zunächst in den
Hawai'i Volcanoes National Park
.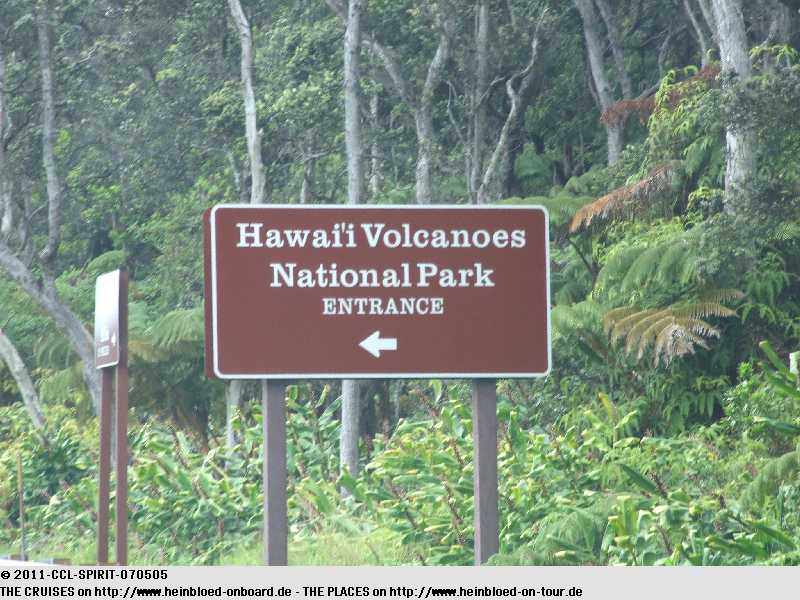 The first place to see: Hawai'i Volcanoes National Park

We had luck: it was National Park Weeks and so the admission was free of charge.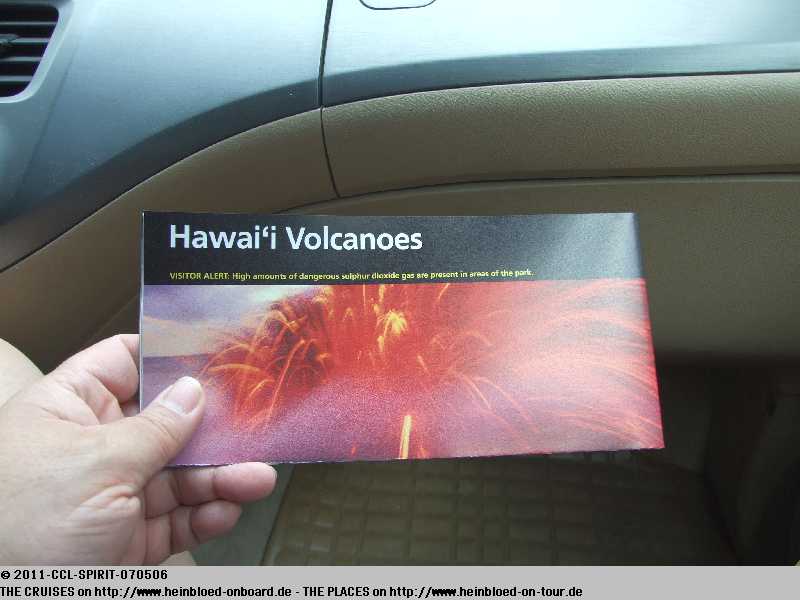 Wir haben Glück: Es ist National Park Wochen und somit der Eintritt kostenlos.
Übrigens: was wir erst am nächsten Tag erfahren: es gibt auch deutsche Einleger, die man auf Anfrage bekommt.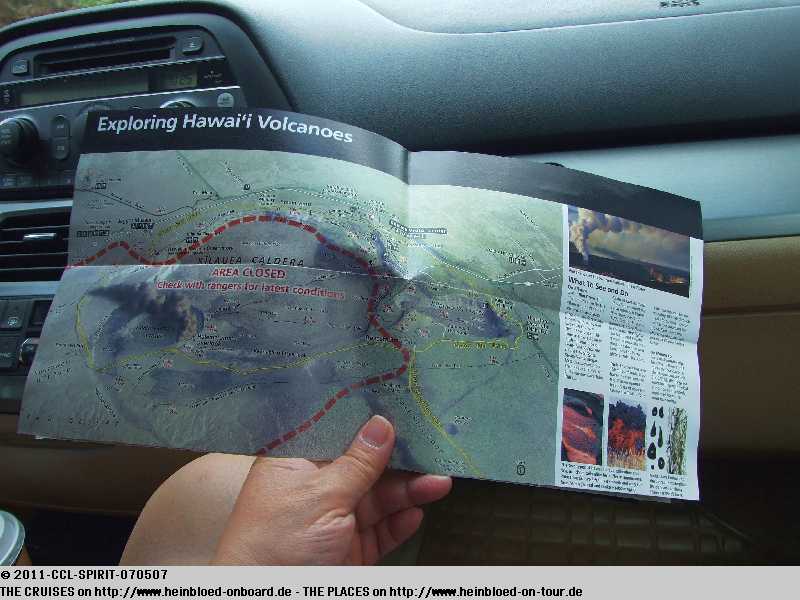 By the way: we learned the next day: you can ask for foreign language inlays incl. German.

Typical American: the infrastructure was perfectly designed for cars.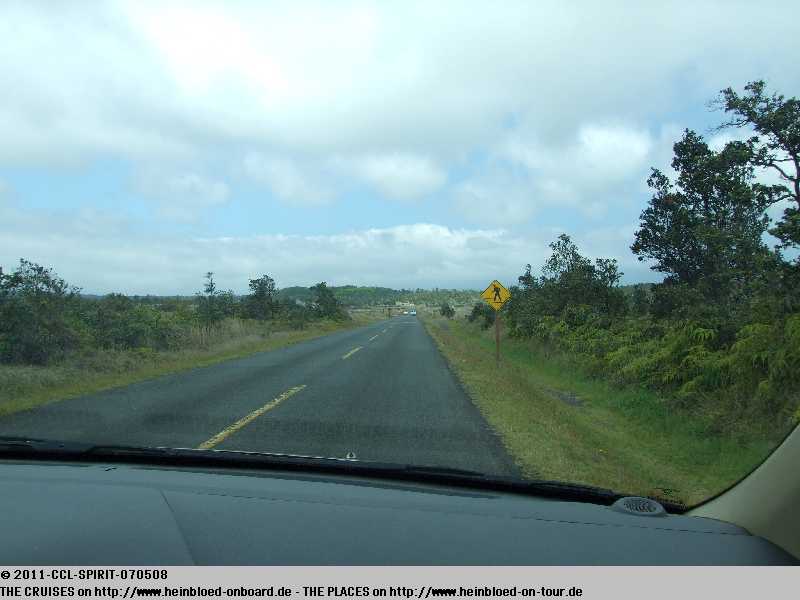 Typisch amerikanisch: die Infrastruktur ist für Autofahrer spitzenmäßig.
So kann man immer bequem die Natur erleben.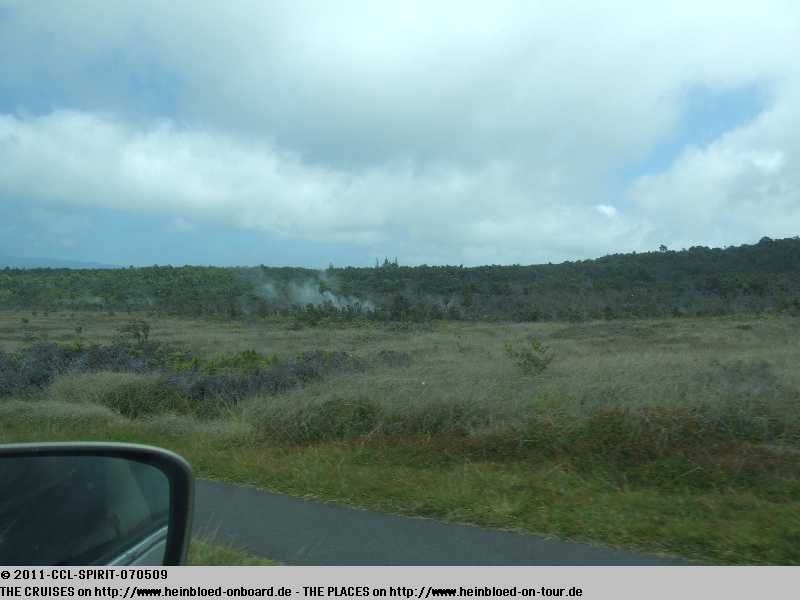 It was so comfortable to experience the nature.

We went first to Thomas A. Jaggar Museum one of the outlook points and visitor centers.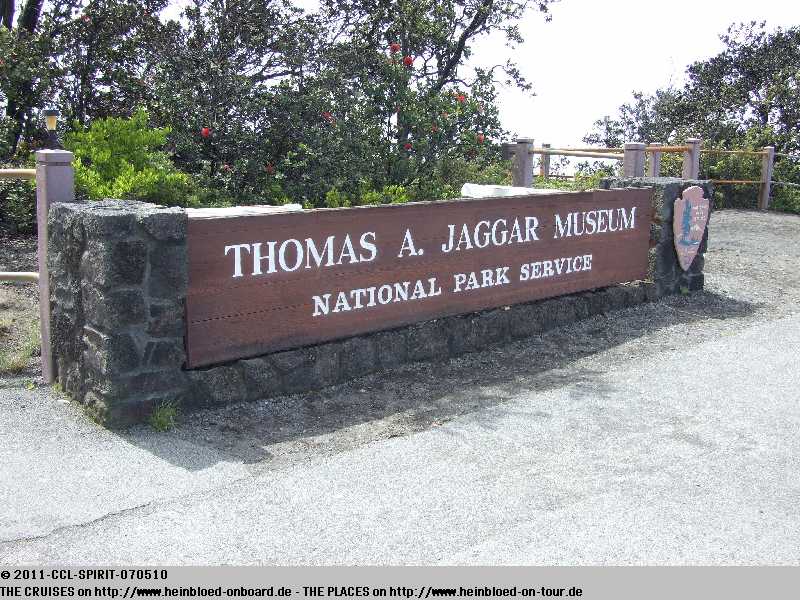 Wir fahren zunächst zum Thomas A. Jaggar Museum, einem der Aussichtspunkte und Besucherzentren.
Ich verspreche ja auch keine Nene (Hawai'i-Gans) zu füttern... ich wäre ja schon froh, wenn ich mal eine sehen würde...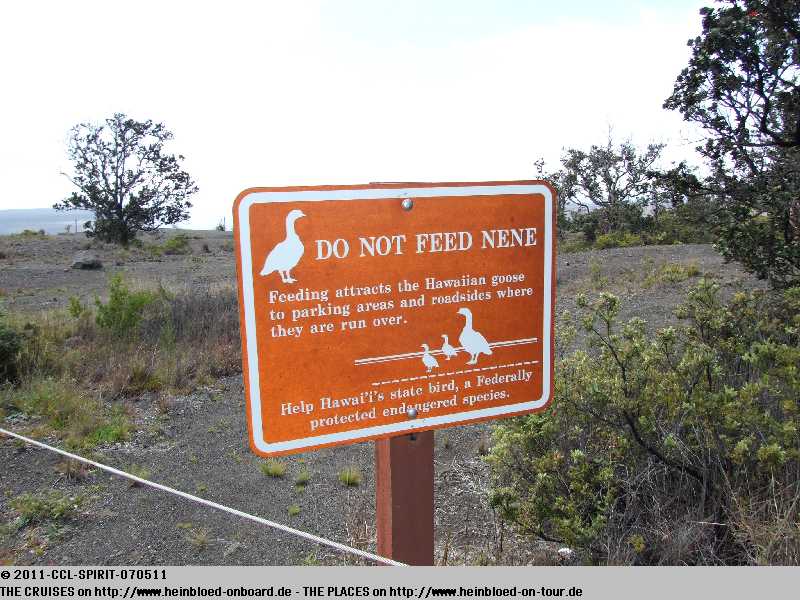 I promised not to feed a Nene (Hawai'i-goose)... I would just be happy to see one...

I could not remember all the names of the different vulcanos... Should be Mauna Kea.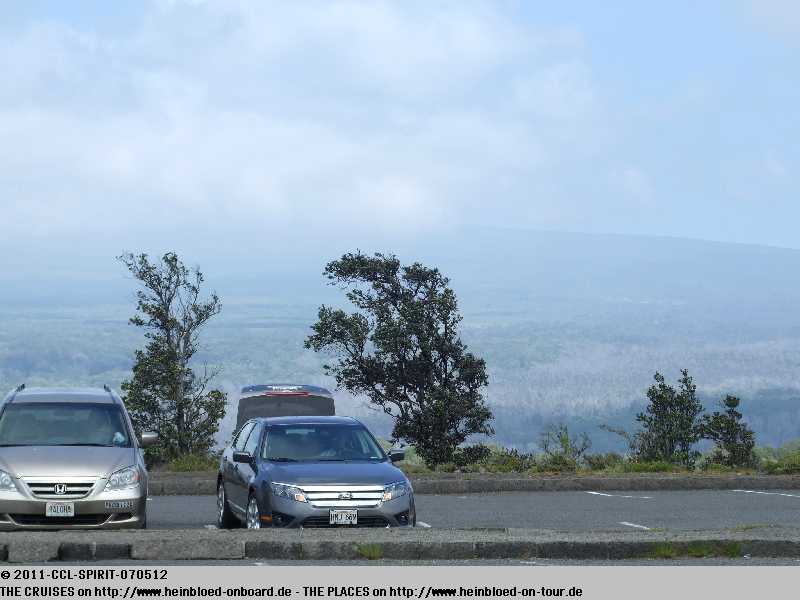 Die Namen der Vulkane rund um kann ich mir gar nicht merken... Es müsste der Mauna Kea sein.
Eine unwirkliche Landschaft.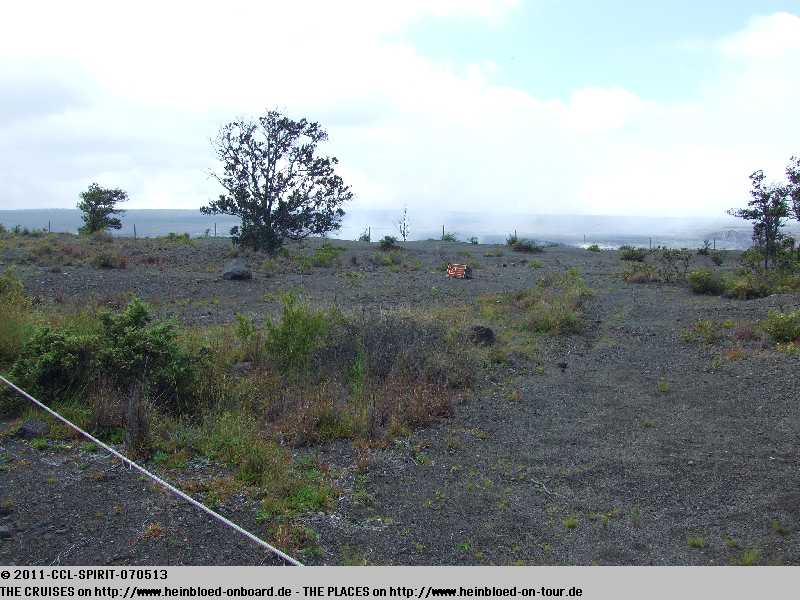 A unreal landscape.

The danger for the visitor was also occured by the steam out of the vulcano. So come areas were closed.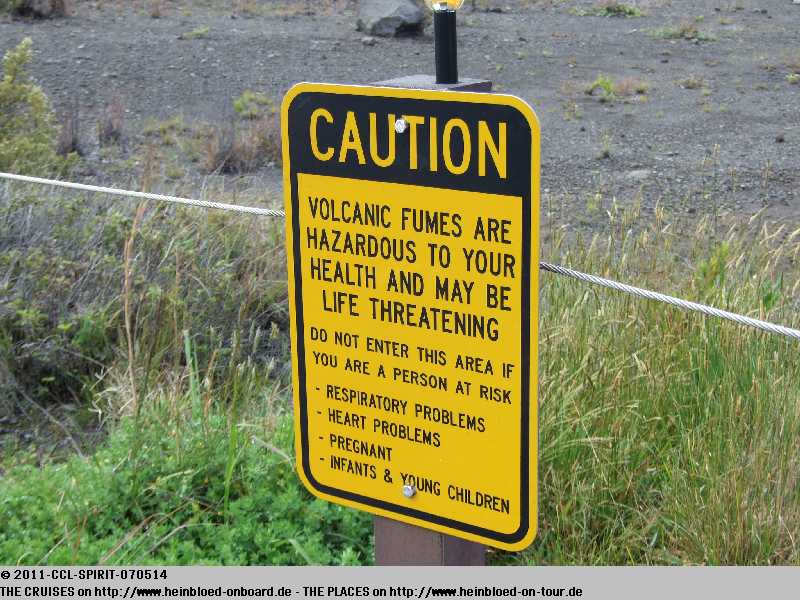 Die Gefahr für die Besucher ergibt sich auch aus den Vulkandämpfen. Deswegen sind auch Gebiete gesperrt.
Es war schon beeindruckend dieses Loch zu sehen...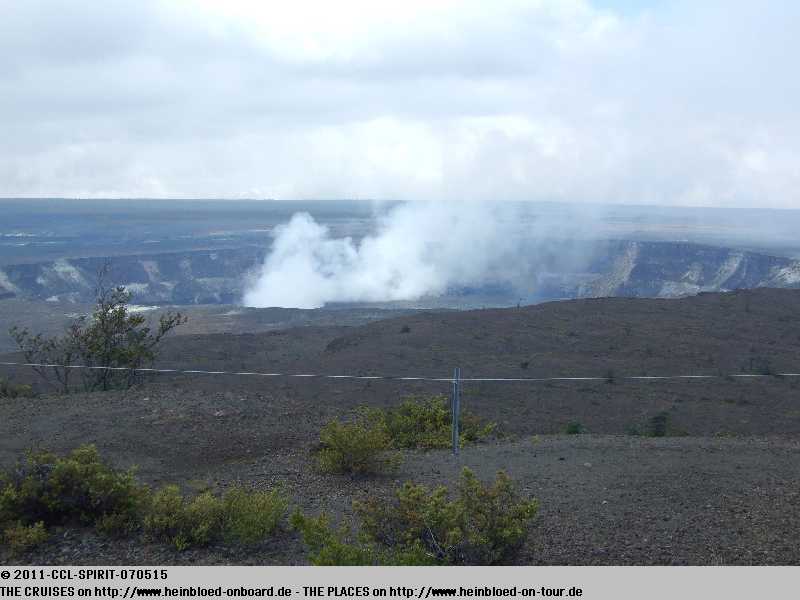 It was quite impressive to see this whole...

Torsten explained very well.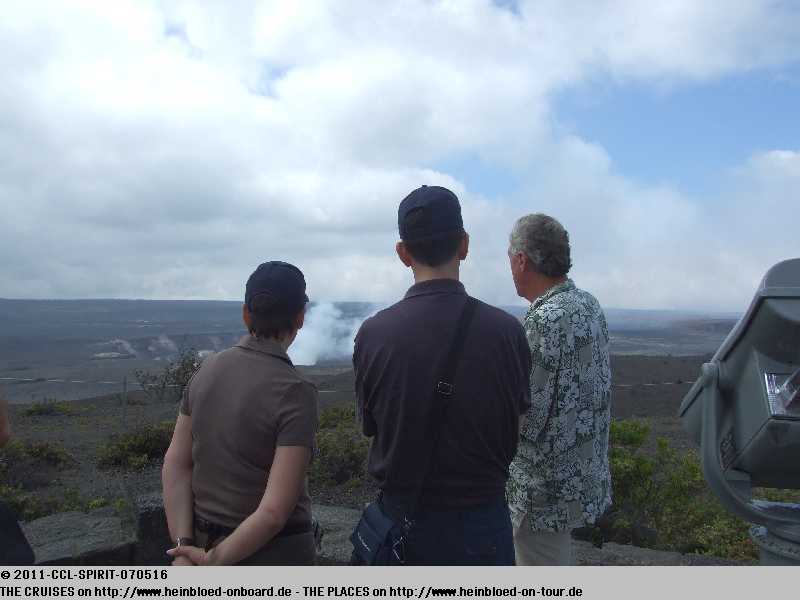 Torsten erklärt alles sehr gut.
Vor allem sehr lebendig und spannend: so dass man kaum zum Fragen kommt.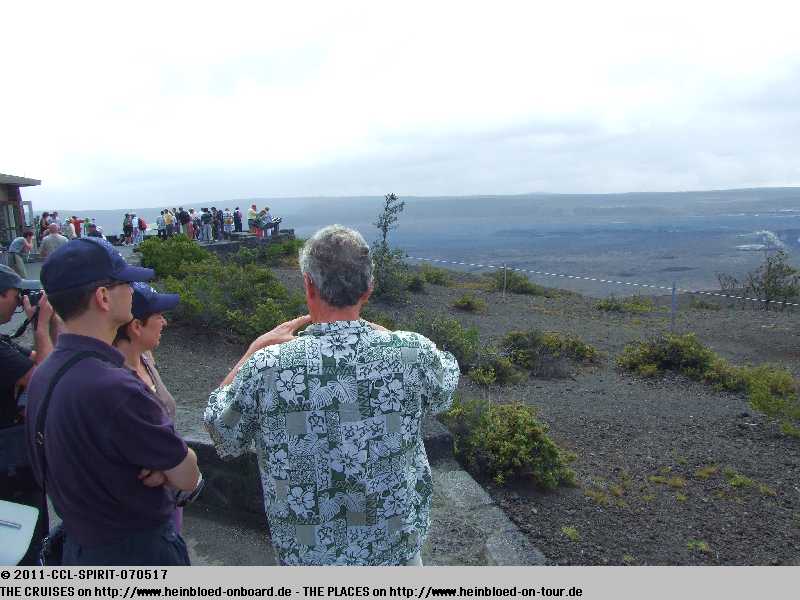 Especially in a very vivid and thrilling way so that you dislike to stop him to ask something.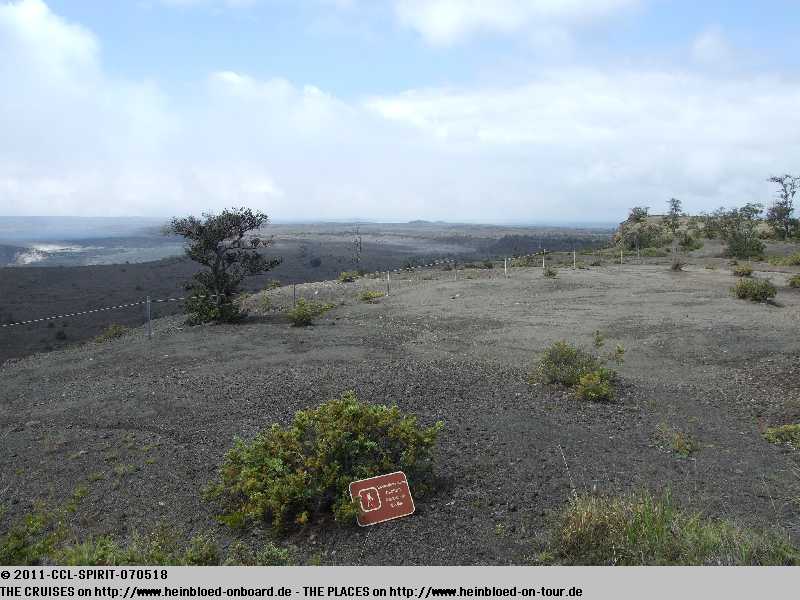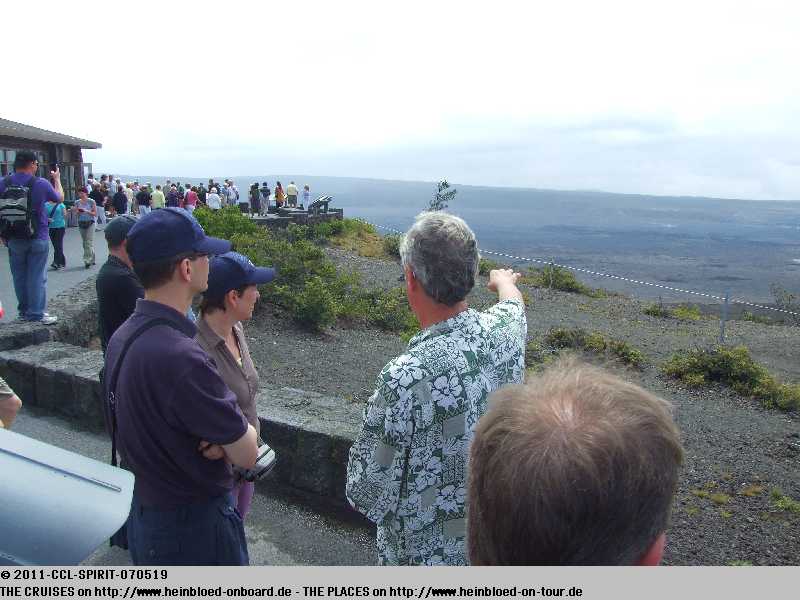 Subject you have good English skills you can follow the great explanations.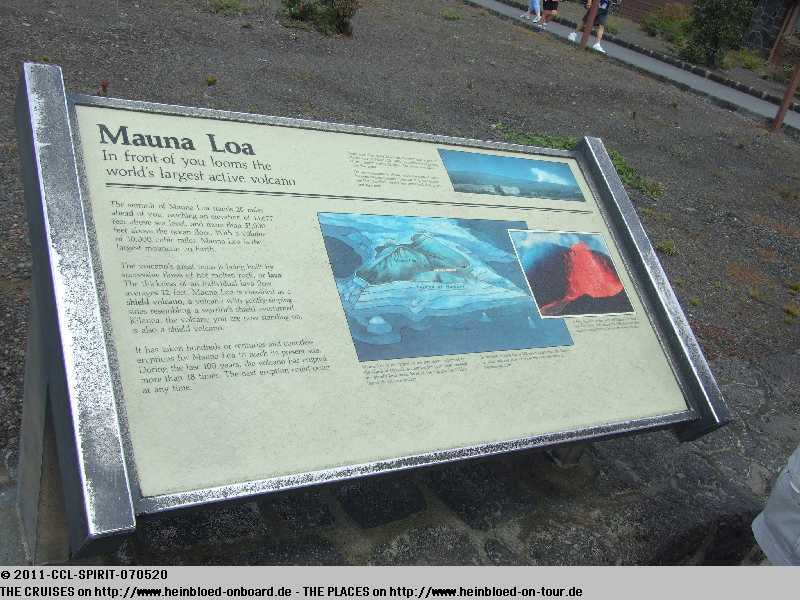 Wenn man gute Englisch-Kenntnisse hat, wird einem auch sehr gut alles erklärt.
Es ist alles amerikanisch perfekt.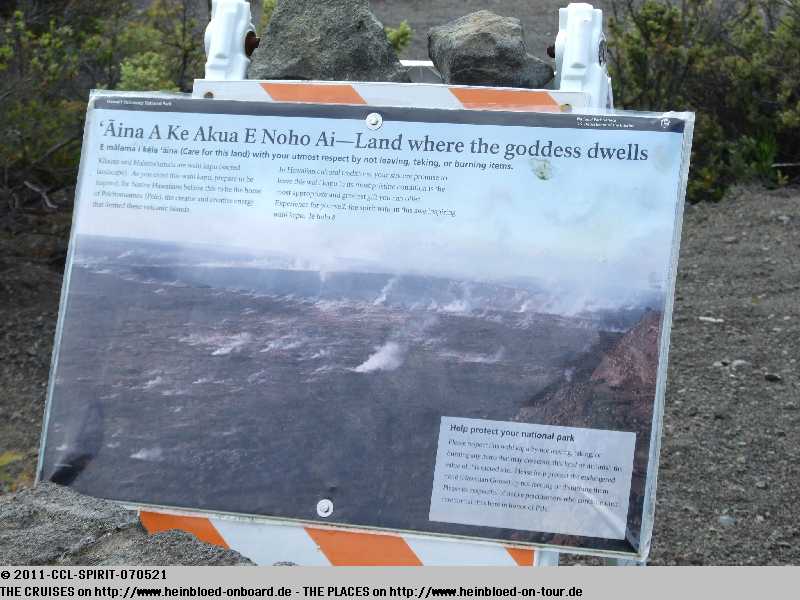 Everything was managed perfectly in the typical American way.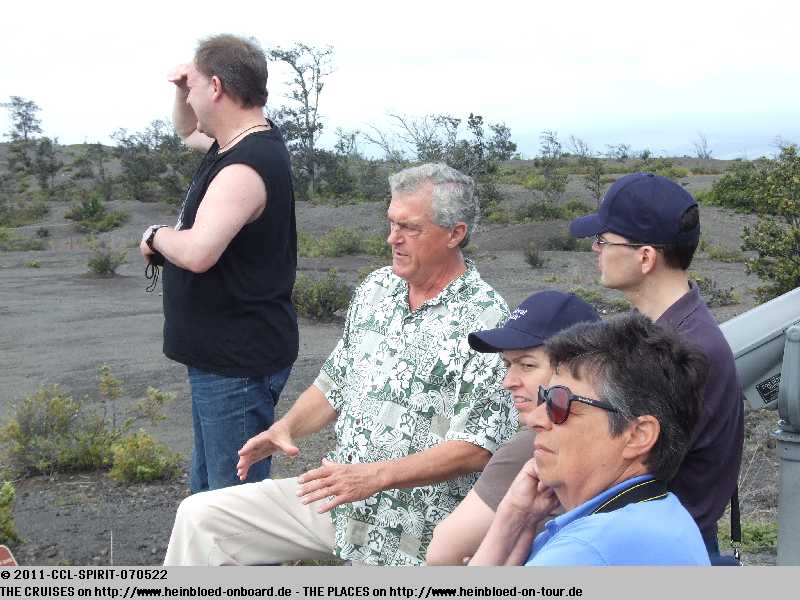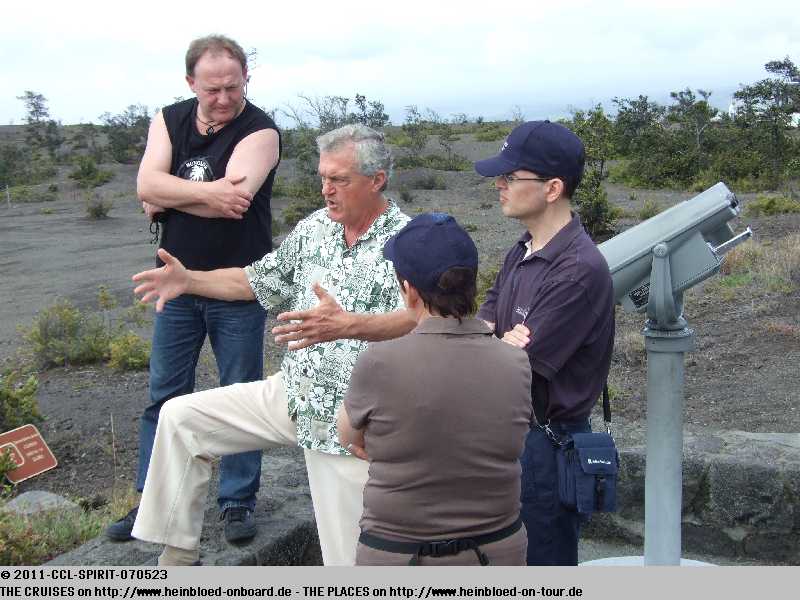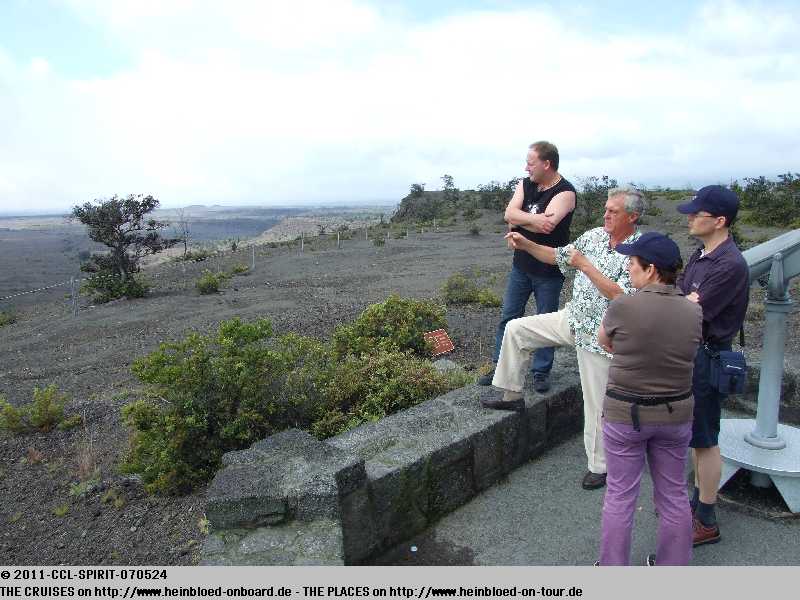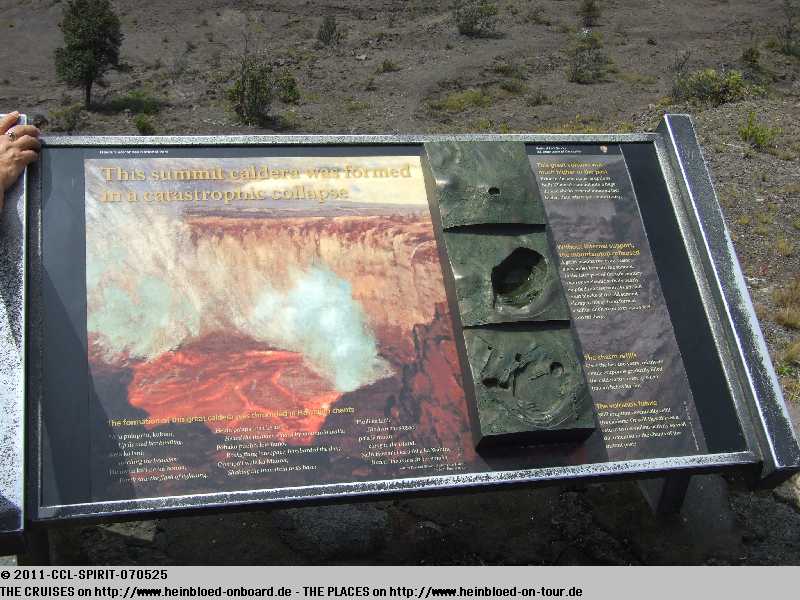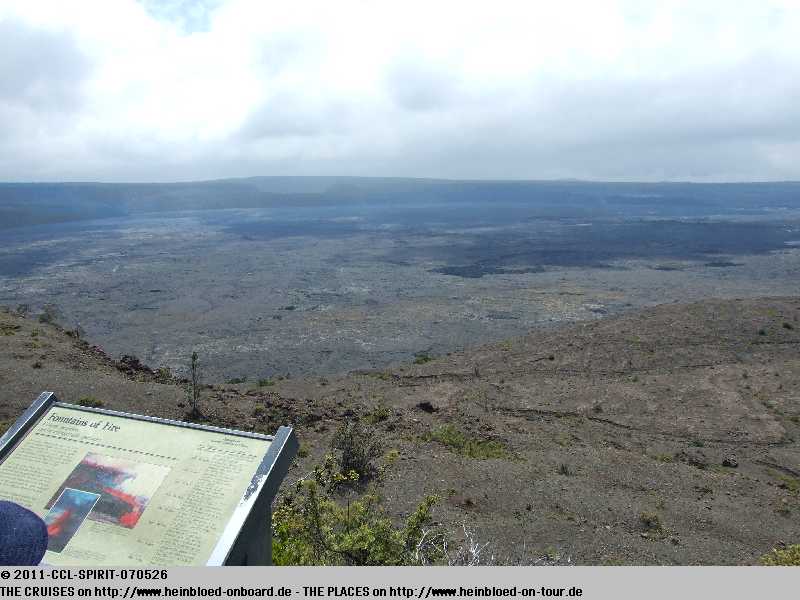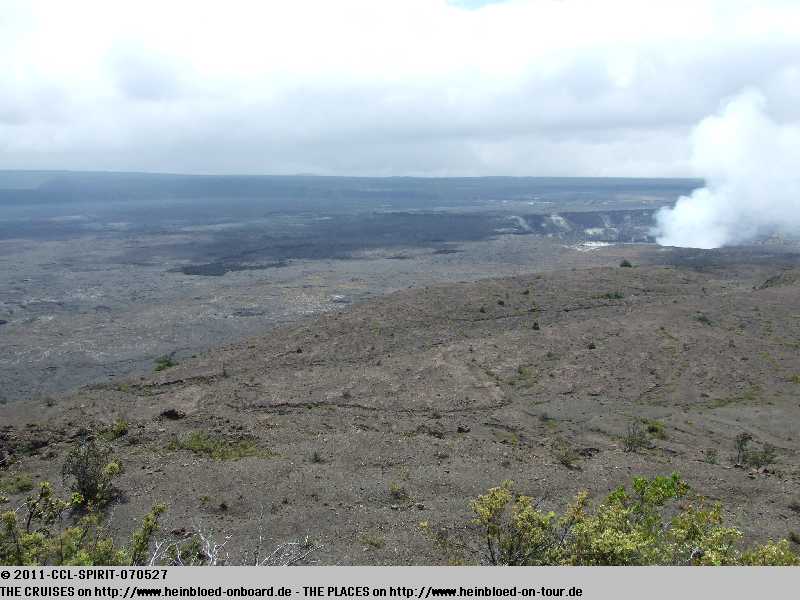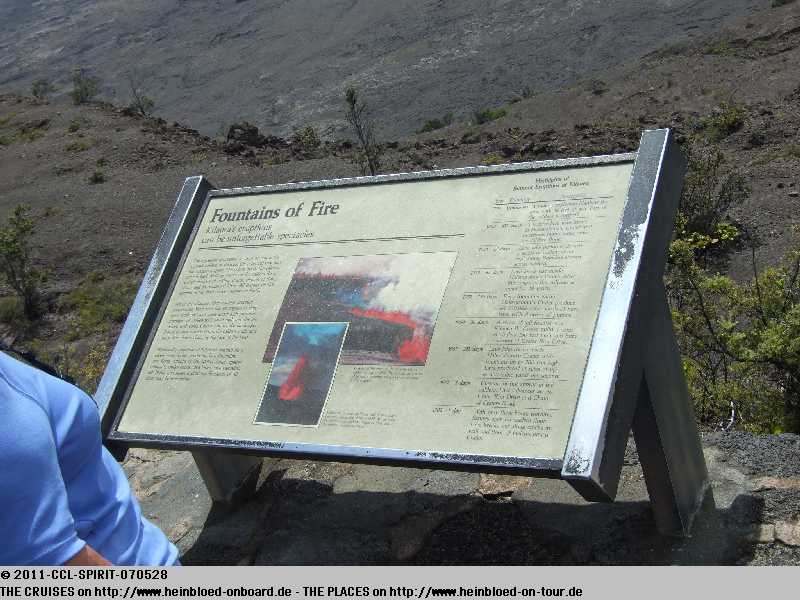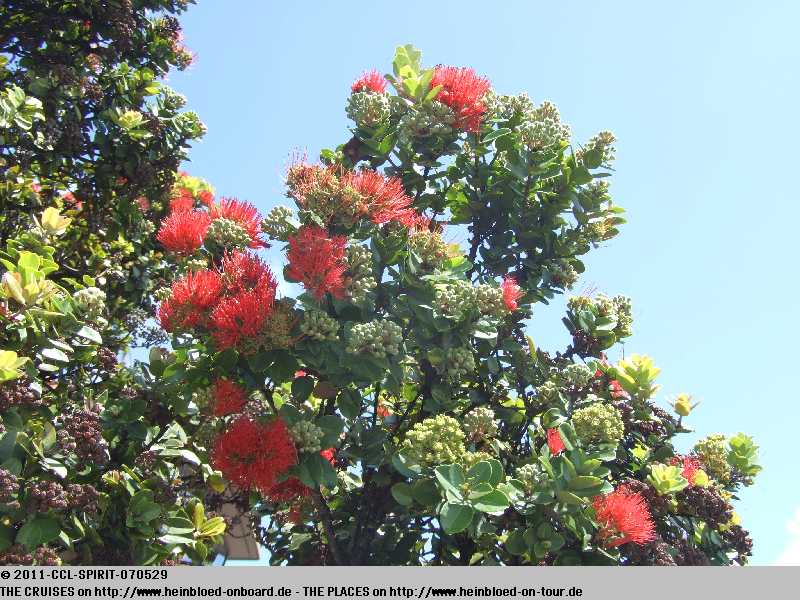 My excitement for vulcanoes is very limited.

Meine Begeisterung hält sich ja bei Vulkanen in Grenzen.
Aber Bruno ist sehr begeistert. Das nächste Mal in Hamburg, Kiel, Seattle, New York, Miami, Fort Lauderdale, Barcelona, Kopenhagen usw.: da muss er wieder mehrfach auf die Hafenrundfahrten, wenn ich zum Shipspotten will.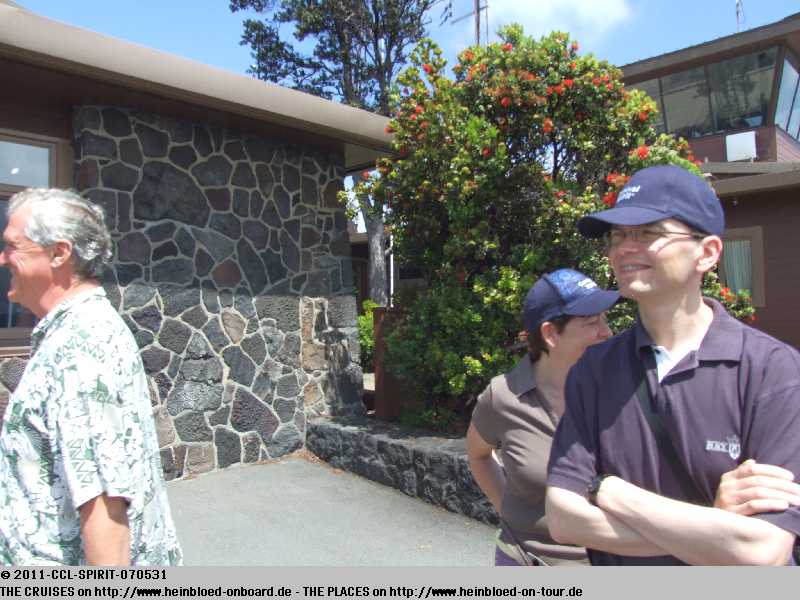 But Bruno was very excited. Next time in Hamburg, Kiel, Seattle, New York, Miami, Fort Lauderdale, Barcelona, Copenhagen etc: then he must get again multiple times on harbor cruise when I want to go shipspotting.

In the visitor center everything was explained well.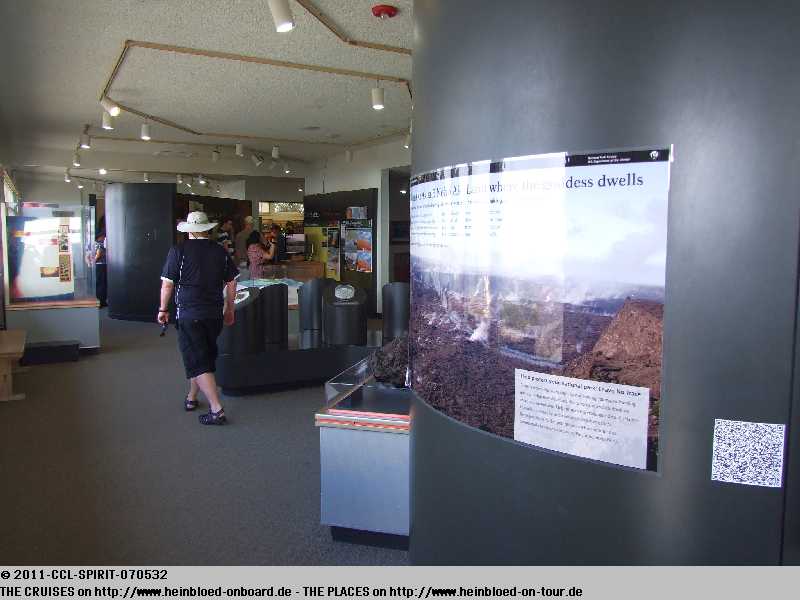 Im Besucherzentrum wird auch alles sehr gut erklärt.
Aber Torsten macht es persönlich.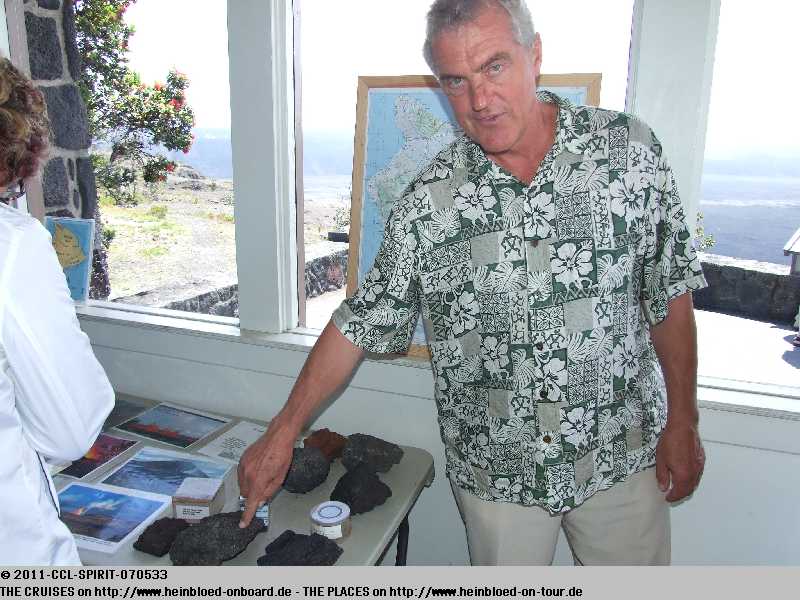 But Torsten did it personally.

So we only need to concentrate to the most important exhibit.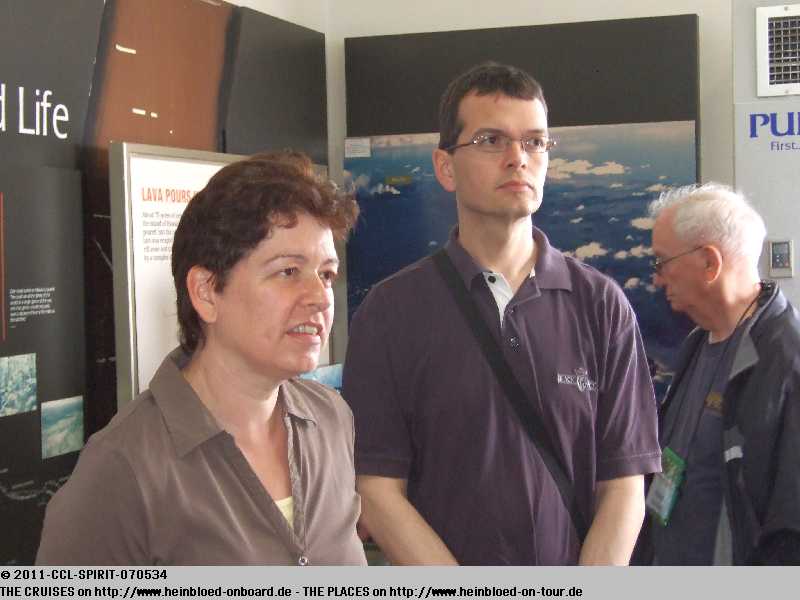 So brauchen wir uns nur auf die wichtigsten Exponate zu konzentrieren.
Und hier wird auch ständig alle Erdbewegungen gemessen. Seit dem Erdbeben in Japan am 11.03.2011 haben sich die Lavaaktivitäten verlagert.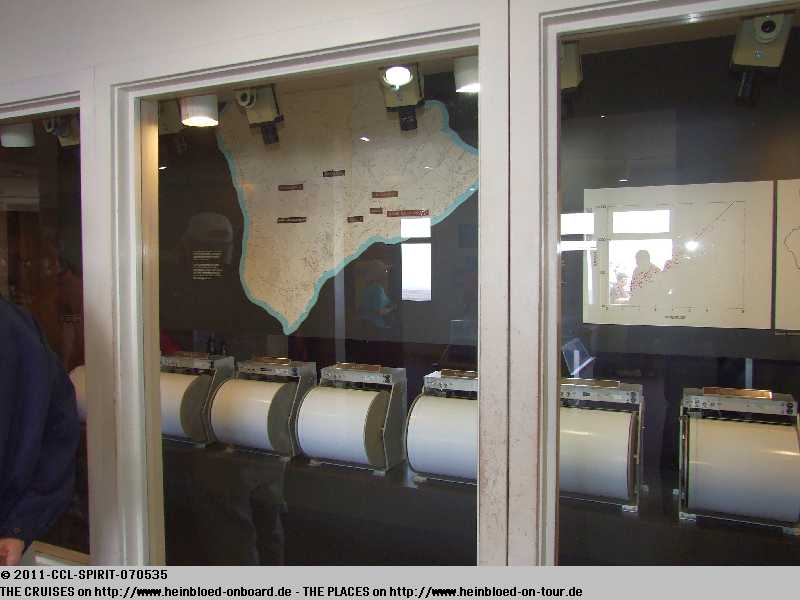 And here they seized all the time all movements on earth. Since the earthquake in Japan on March 11, 2011 the activities of the lava moved.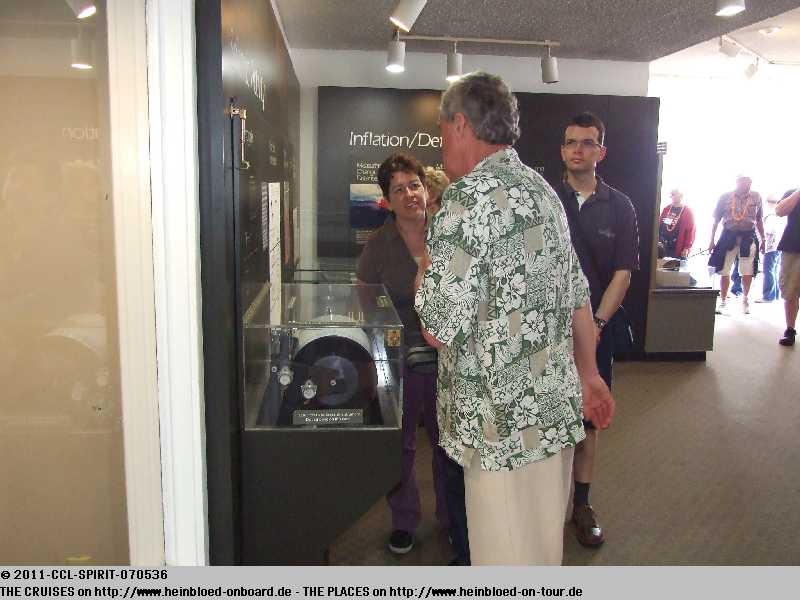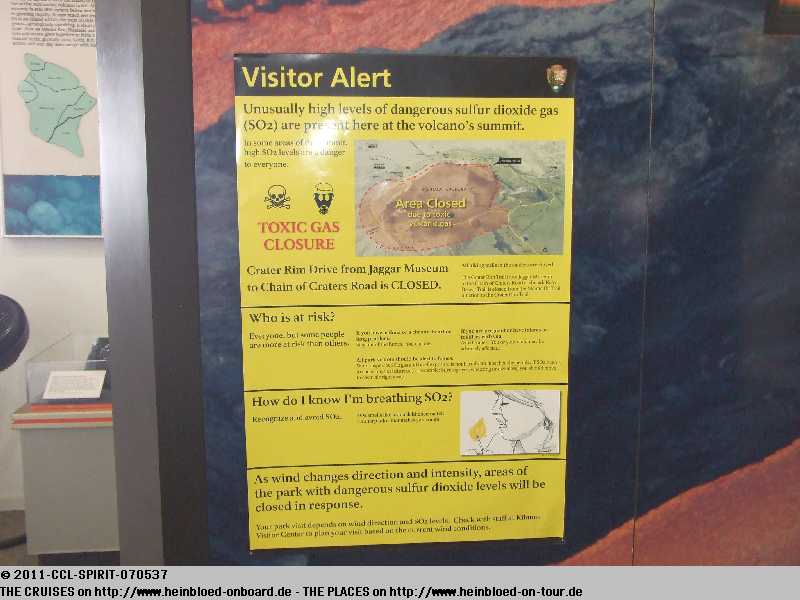 South of Hawai'i (Big Island) the next island Loihi was formed under the waterline. Torsten offered us already to pay a deposit for our tour on Loihi and to buy options for property on the real estate market - even the island will be ready to discover in few millions of years.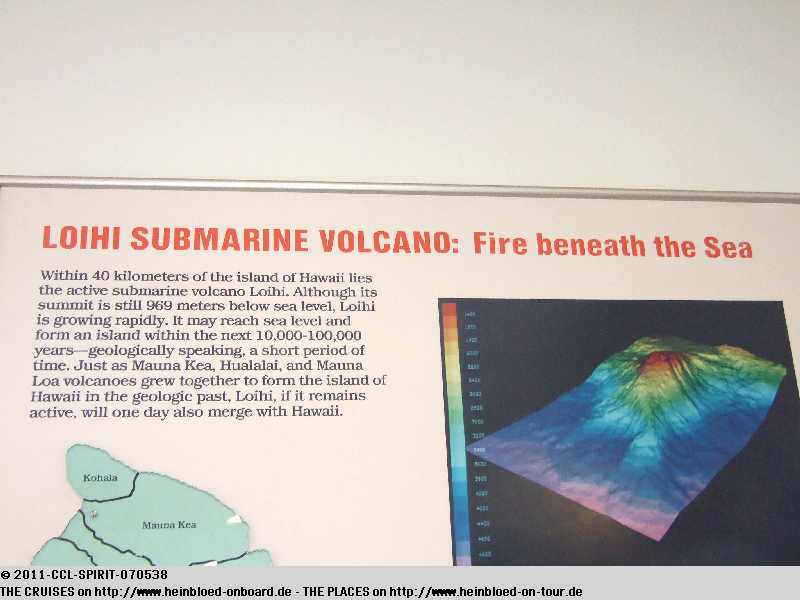 Südlich von Hawai'i (Big Island) entsteht bereits unterirdisch die nächste Insel: Loihi. Torsten erzählt uns bereits, dass man auf Touren bei ihm anzahlen kann und auch schon Optionen auf Grundstücke auf dem Markt sind. Auch wenn die Insel erst in ein paar Millionen Jahren bewohnbar sein wird...
Amerikanisch perfekt: alles was wir vor kurzem (März 2011) mit dem Lavaausstoss verpasst haben, konnten wir hier natürlich doch auf dem Bildschirm miterleben.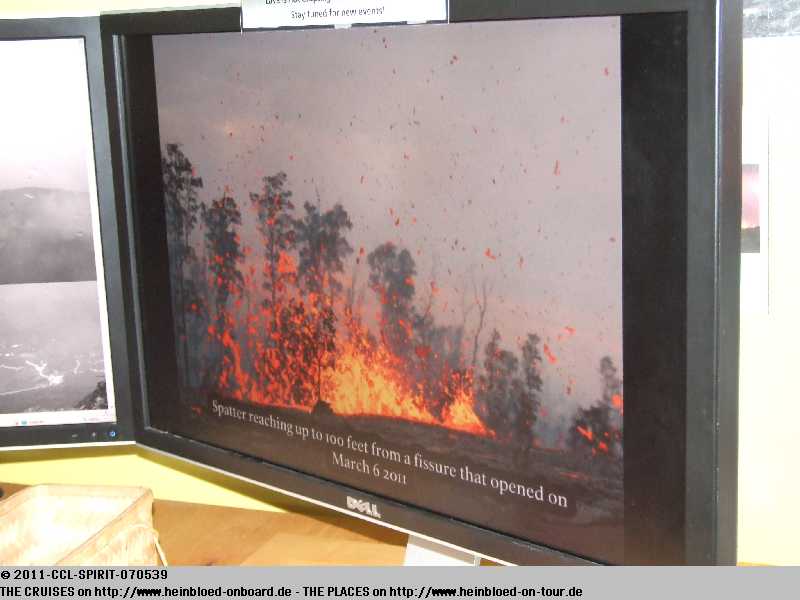 American perfectionism: all we missed recently with the release of lava (in March 2011) we could of course see and follow on the screens.

Interesting was also the comparison of the different heights of the famous vulcanoes.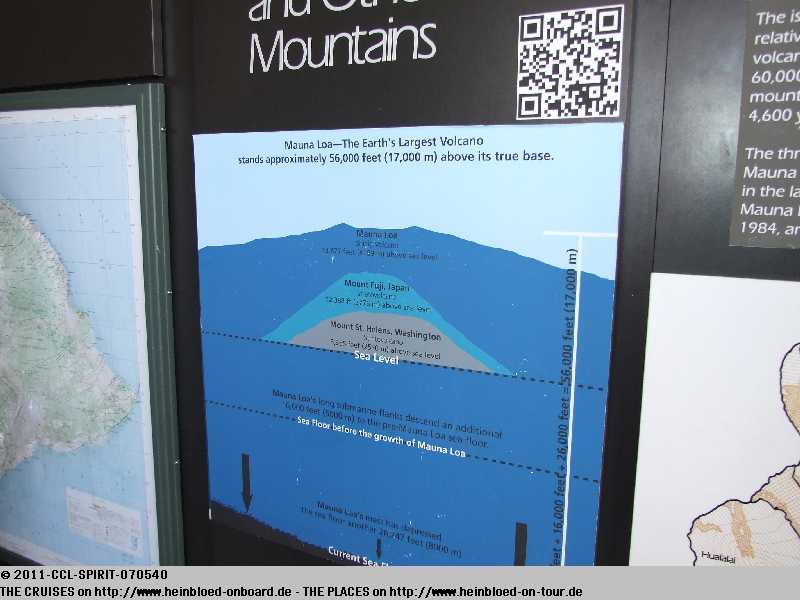 Interessant war der Vergleich der Vulkanhöhen mit anderen bekannten Vulkanen.
Und auch die Erläuterung vom Zusammenhang der Hawai'ianischen Inseln mit dem sog. Hot Spot (nein nicht von Telekom...).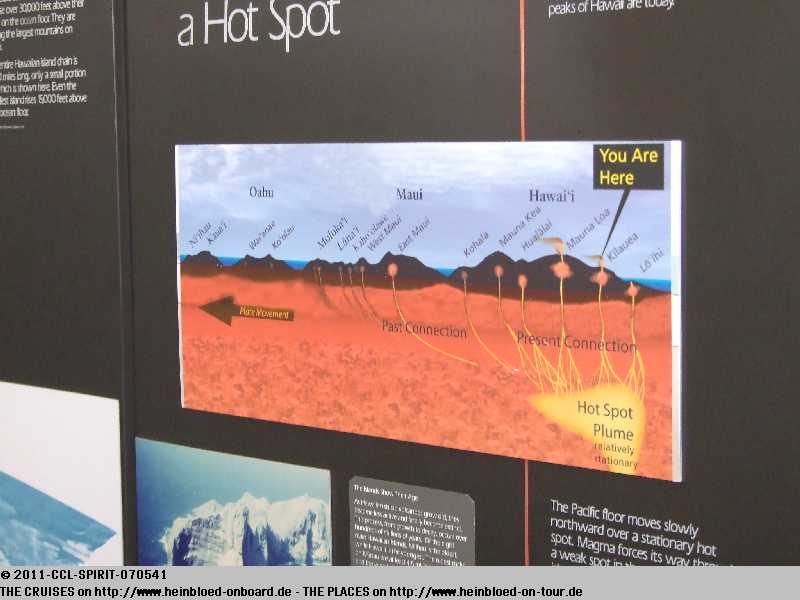 And also some explanations on the Hot Spot which connects the Hawai'ian islands.

Few explanations to the culture followed: Pelehonuamea was the Goddess of the vulcano. Everything out of the vulcano is hers. Michele told us already onboard that you should not take anything from the vulcano without leaving something here (balance of nature). So it should make you unlucky if you take something home. The administration of the National Park get always back packages containing rocks etc. and the request to return the contents to the vulcano to avoid further unluck.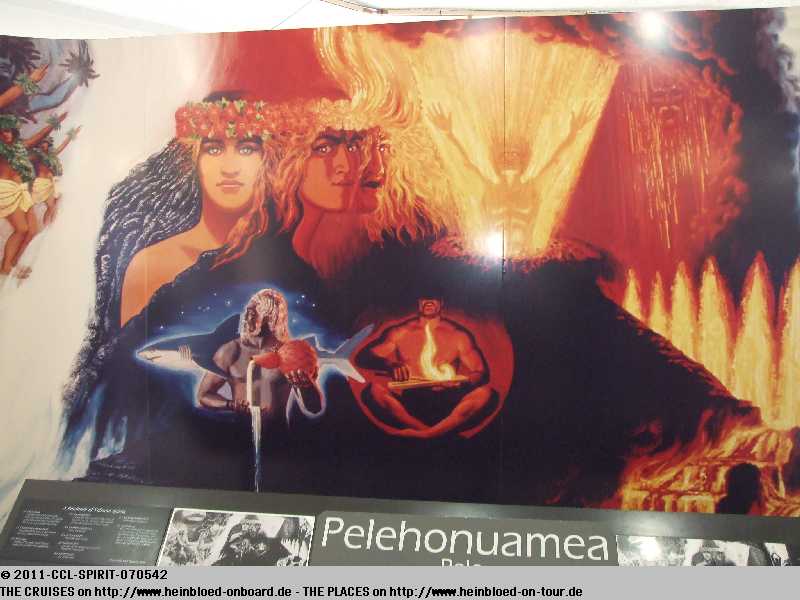 Es gibt auch Kulturerläuterungen: Pelehonuamea ist die Göttin des Vulkans. Alles am Vulkan gehört ihr. Michele hat uns schon an Bord erklärt, dass man nichts vom Vulkan mitnehmen sollte, wenn man nicht gleichzeitig etwas da lässt (Gleichgewicht der Natur). Es soll daher Unglück bringen, wenn man einfach etwas mit nach Hause nimmt. Die Nationalparkverwaltung bekommt wohl ständig Päckchen mit Steinen zurück, mit der Bitte den Inhalt wieder dem Vulkan zuzuführen, um das bestehende Unglück zu Hause abzuwenden.
Zwischenzeitlich ist auch die Gruppe aus der Pfalz eingetroffen. Sie hören bei uns zu und annektieren auch Torsten während wir bei der Einkaufspause sind. Aber solange unsere Tour sich dadurch nicht verzögert, ist es mir egal. Wir hatten ja auch schon erlebt, dass wir nicht weitergekommen sind, weil immer wieder die Chance genutzt wurde, nachzufragen aber keine Bereitschaft war für den deutschsprachigen Tourguide mitzubezahlen. Es wäre ja in diesem Fall nicht so, dass ich die Information, dass ich einen deutschsprachigen Fremdenführer habe, nicht frühzeitig weitergegeben hätte. Wir hätten uns ja auch die Kosten und Nutzung teilen können. Aber es kam ja kein Feedback zurück... Mehr als anbieten kann ich es nicht...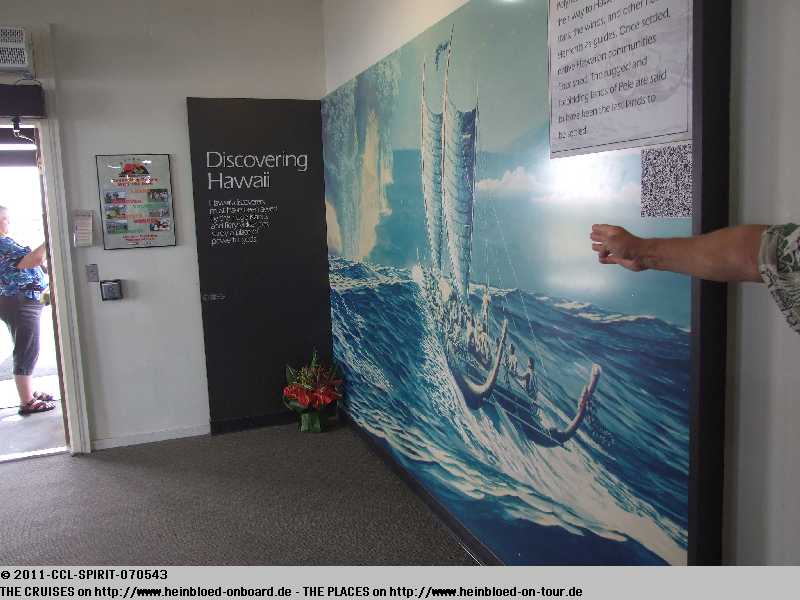 Meanwhile the German group arrived. They listened to Torsten's explanations and occupied him while we were shopping. As long as our tour was delayed I did not worry. We had once that we could not continue because other used and used the occassion to ask but were not willing to pay for their own tour guide. In this case it was not that I did not communicated very early that I had access to a German speaking tour guide. We could have shared the costs and use. But there was no feedback... I cannot do more but offering...