Scroll down for English explanations - alternates with German explanations.

Vom HR-Beitrag hatten wir schon vom
Kula Sandlewoods
Café erfahren. Aber wir wussten erst von deren Homepage, dass man auch Ferienhäuser mieten kann. Es war auf jeden um einiges günstiger als in Hana und vor allem wir sind in Kula direkt am Fuße des Haleakala. Das erleichtert die Logistik am nächsten Morgen. Durch den HR-Beitrag wollen wir unbdingt zum Sonnenaufgang am Haleakala. Deswegen waren unsere Blicke als vorhin der Berg hinter den Wolken lag nicht besonders optimistisch. Ursprünglich wollten wir woanders in Kula übernachten. Tripadvisor hin oder her: der Besitzer erinnerte mit seiner herb-charmanten Art an jemanden an Bord der CARNIVAL SPIRIT. Und so wie die Korrespondenz lief hatte ich kein Interesse gehabt, dass er nur ein Dollar an mir verdiente. Und die Gastwirte hier sind sehr nett und freundlich.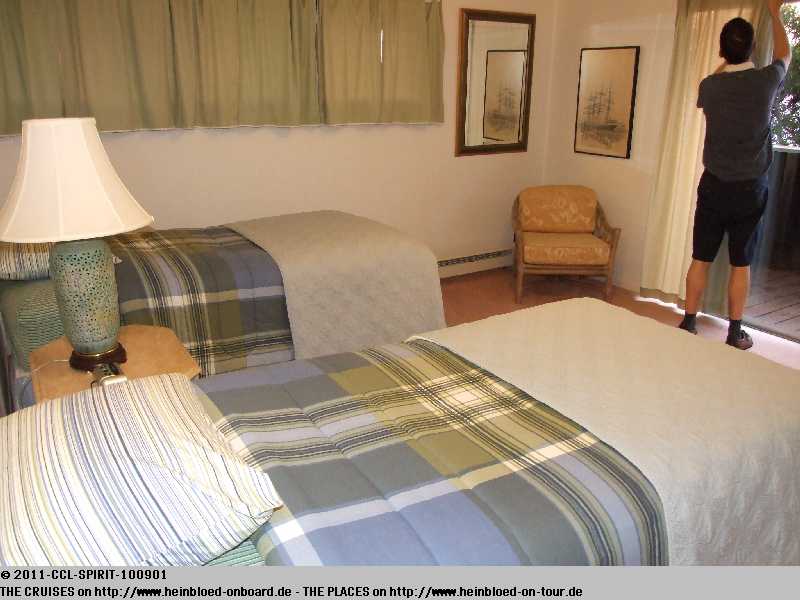 From the German TV we knew already of Kula Sandlewoods Café. From their website we also learned that they offer cottages. It was much cheaper than in Hana und we were at the foot of the Haleakala. This would make the logistics for the next morning much more easier. Due to the German TV-report we wanted to see the sunrise at the summit of the Haleakala. So when we saw the mountain in the clouds few hours ago we were not very optimistic. Originally we wanted to stay somewhere else overnight. Tripadvisor in or out: the owner there reminded me with his harsh-charming style to someone on board of CARNIVAL SPIRIT. And the way the correspondance worked forth and back I was not interested to spend there just one single of my Dollars. And here the owners were very nice and friendly.

But you need to know one thing: where you find the heating which we discovered the next morning. I could not sleep half of the night because the air to breath was too cold to me.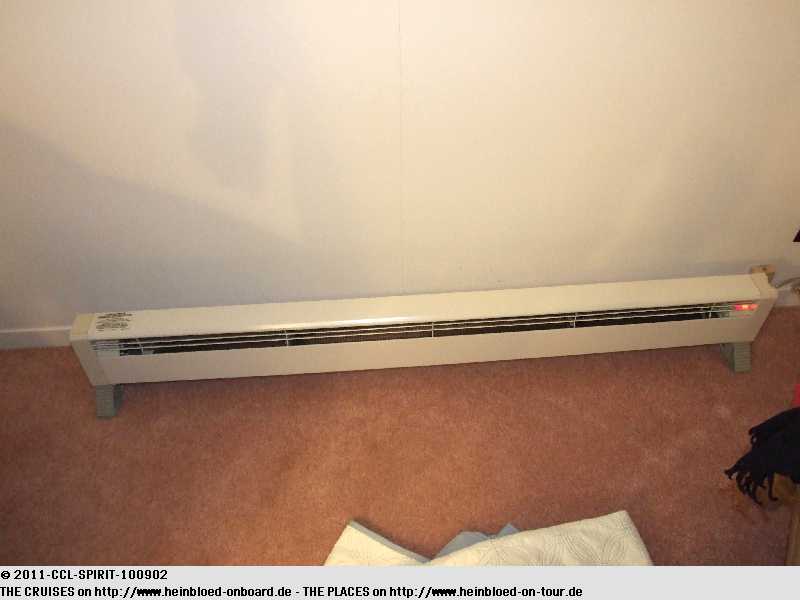 Einzig eine Sache sollte man wissen: wo die Heizung steht, die wir erst am nächsten Morgen entdecken, nachdem ich die halbe Nacht nicht schlafen konnte, weil die Atemluft mir zu kalt war.
Der Sonnenuntergang ist jedoch von der Terrasse einfach atemberaubend.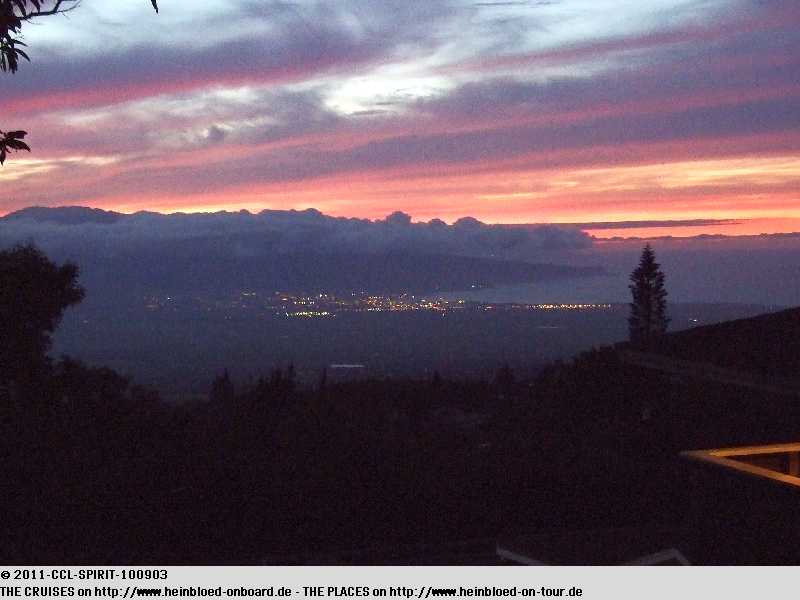 The sunset from the verandah was just breathtaking.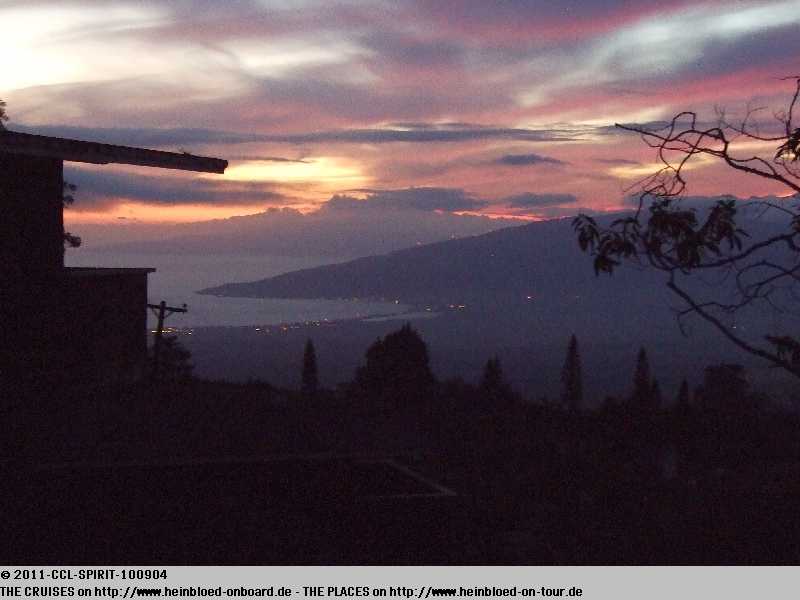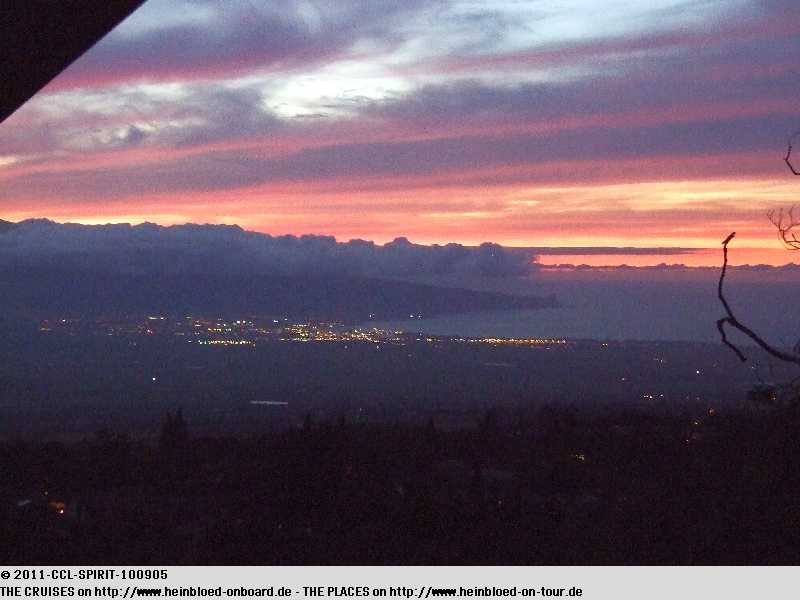 It was exactly how I imagined our overnight stay.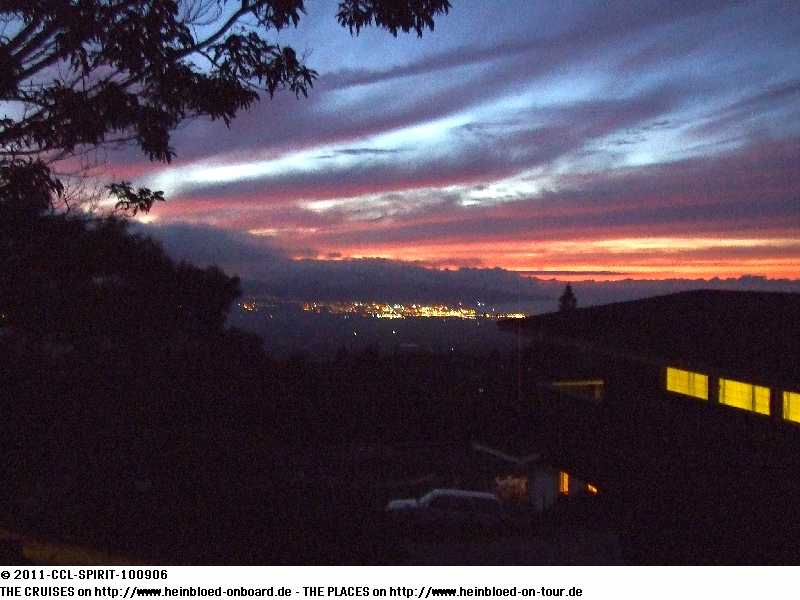 So habe ich mir die Übernachtung hier vorgestellt.
Kurz vor der Kreuzfahrt hat der
NCL Gift Shop
im Internet eröffnet. Endlich gab es schiffsunabhängige neutrale Logo-Artikel. Anfänglich gab es nur Polo-Shirts aus "Plastik" (Polyester) und daher war aus reiner Baumwolle nur das T-Shirt verfügbar. Da der Shop aber nicht mal in der Lage war, die verschiedenen Größen darzustellen und mit den unterschiedlichen Preisen, hat man einfach gesagt, dass meine Größe teurer sei und daher ich keinen Latitudes-Rabatt bekäme. Nachdem dann auch die zugesagte Lieferzeit auch nicht eingehalten wurde, gab es dann reichlich Ärger... Auf jeden typisch für paiagirl (Frances): alles war schon gewaschen und gebügelt, so dass ich die Sachen direkt anziehen konnte. Zum Trost für die verspätete Lieferung gab es ein paar Goodies... ausgerechnet NORWEGIAN EPIC...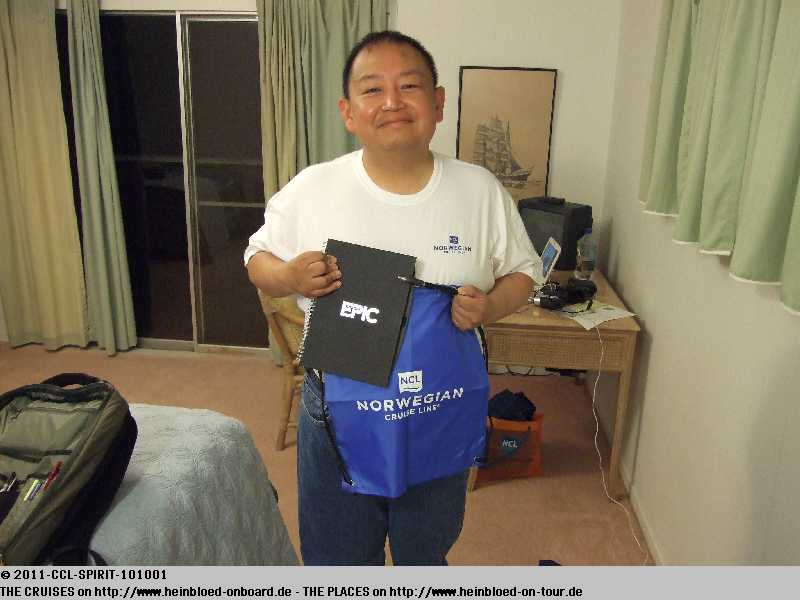 Just few days before the cruise started the NCL Gift Shop opened in the internet. Originally they had only "Plastic" (Polyester) polo-shirts and the only pure cotton were the t-shirts. The shop was unable to display the different sizes, colors and prices so they told me that my size was more expensive and so they will not give me the Latitudes-discount. As the confirmed delivery time was not kept they got some trouble... But typical for paiagirl (Frances): everything was washed and folded so I could wear the shirts immediately. As comfort for the late delivery I got some goodies... of all ships NORWEGIAN EPIC...

I was so kind and ordered a t-shirt for Bruno too...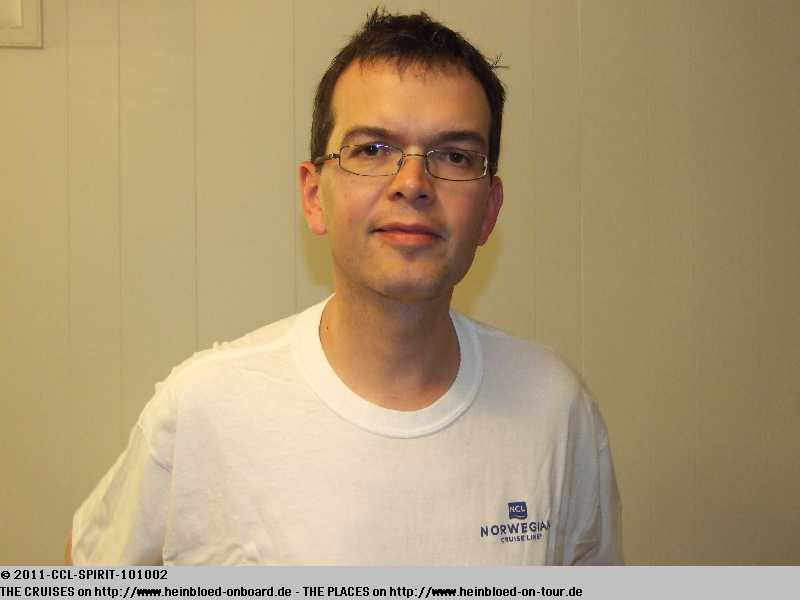 Ich war so nett und hatte Bruno ein T-Shirt mitbestellt...
Abends ging es dann ins Café 808 zum Abendessen. Da paiagirl (Frances) sich natürlich erkundigt hatte, wann die letzte Bestellung angenommen wird, mussten wir deswegen so früh auch hier sein. Denn hier ist die Welt noch in Ordnung, und nach 20.30 Uhr gibt es auch in Kula nichts mehr zu essen.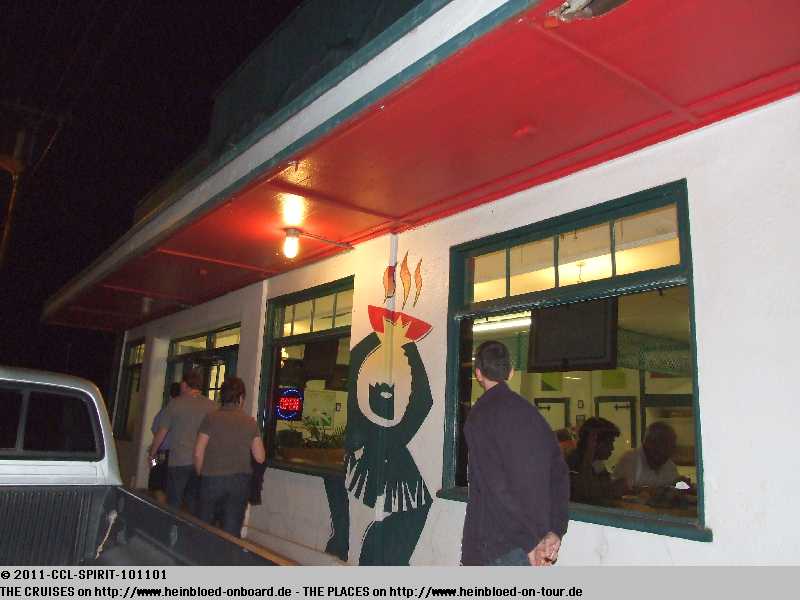 For dinner we went to Café 808. As paiagirl (Frances) already checked when the last orders should be accepted so we need to be here early enough before they close. Here it was heal world and so you do not get anything to eat after 20.30 hrs.

It was not a very charming place but paiagirl (Frances) wanted to take us to a place where many locals are going to have food. And before 20.00 hrs it could happen to us what happened to other: they eat outside in their cars on the parking... The food must be good...

Von einem charmanten Lokal konnte kaum die Rede sein, aber paiagirl (Frances) wollte mit uns dort hin, wo auch die Einheimischen essen gehen. Und vor 20.00 Uhr hätte es uns passieren können, was anderen passiert ist: sie essen draußen auf dem Parkplatz im Auto... Das Essen muss also gut sein...
paiagirl (Frances) drängelt immer, dass wir statt des Maccaronisalats unbedingt den gemischten Salat nehmen sollten. Alle sind begeistert.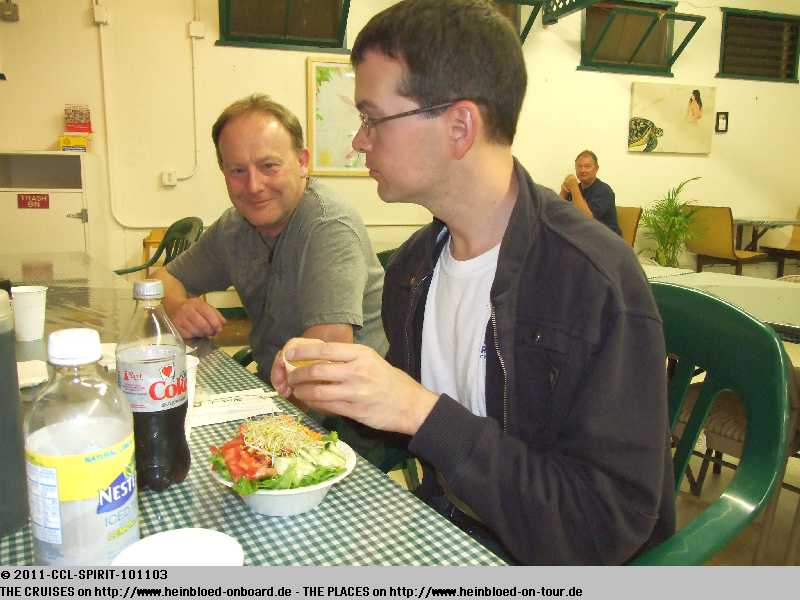 paiagirl (Frances) pushed us to have the tossed salad instead of the Maccaroni-Salad. Everybody was very exited.

They had a great Papaya-Seed-Dressing.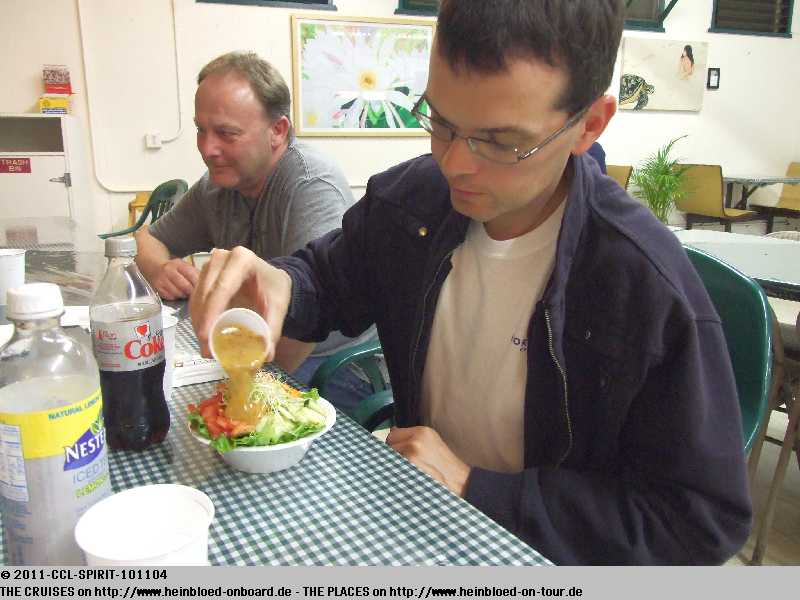 Es gibt einen tollen Papaya-Samen-Dressing.
Und für amerikanische Verhältnisse ungewöhnlich: frische Sprossen.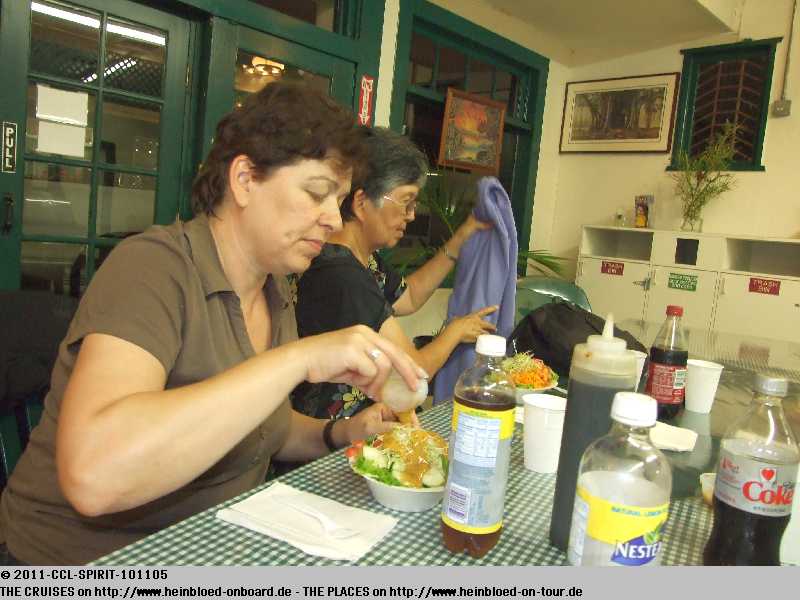 And quite unusual for America: fresh sprouts.

I tried a Hawai'ian dish: Loco Poco... what did not mean that it was Polynesian origin... 2 Burgers (no roll) with fried eggs and much much gravy and rice.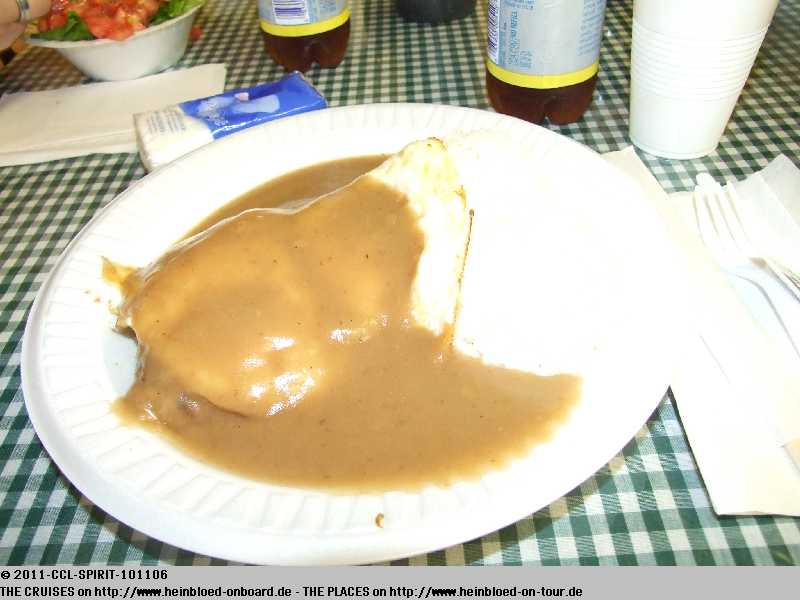 Ich probiere eine hawai'ianische Speise: Loco Poco... was aber nicht heiß, dass es polynesischer Abstammung ist... 2 Hamburger (ohne Brötchen) mit zwei Spiegeleiern und viel "Gravy" (amerikanische Einheitssauce, die zu allem Gebratenem kommt... - so ähnlich wie bei den Schwaben die Einheitssoße, die auf die Spätzle kommt... nur dicker und weniger gewürzt...) und Reis...
während Bruno Terriyaki-Hühnchen hat... Sehr gut, wie er sagt... nur da ja Hawai'i ein Schmelztiegel der pazifischen Region ist das bestimmt auch Bestandteil der heutigen hawai'ianischen Küche.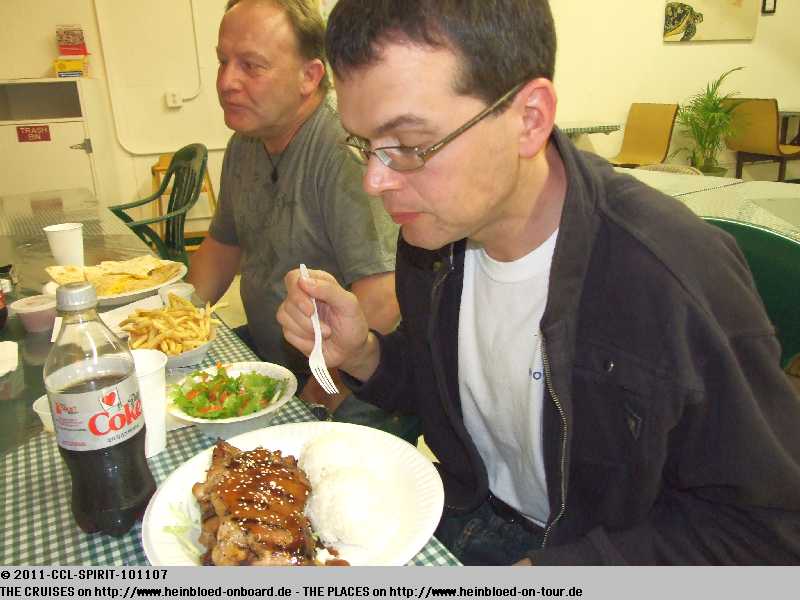 while Bruno had Terriyaki-Chicken... Very good he said... but as Hawai'i is a melting pot of the Pacific region it became part of the today's kitchen on Hawai'i.

I wanted to discover the secret of the Maccaroni-Salad... but it was a general noodle salad and the exchange to a tossed salad was just for health reason...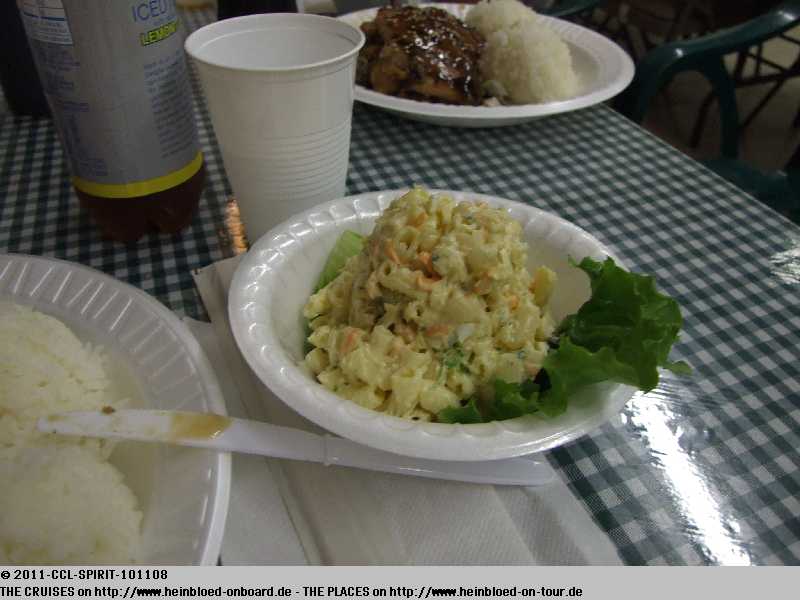 Ich wollte unbedingt das Geheimnis des Maccaroni-Salates lüften... aber es war ein ganz normaler Nudelsalat und der Tausch gegen den gemischten Salat diente der gesünderen Ernährung...
Und wer paiagirl (Frances) kennt und Wetten darauf abgeschlossen hat, dass sie Reis und Hühnchen hat, der hat gewonnen... Da wir bereits um 03.45 Uhr wieder aufstehen müssen, geht es auch direkt danach zurück ins Hotel und ins Bett...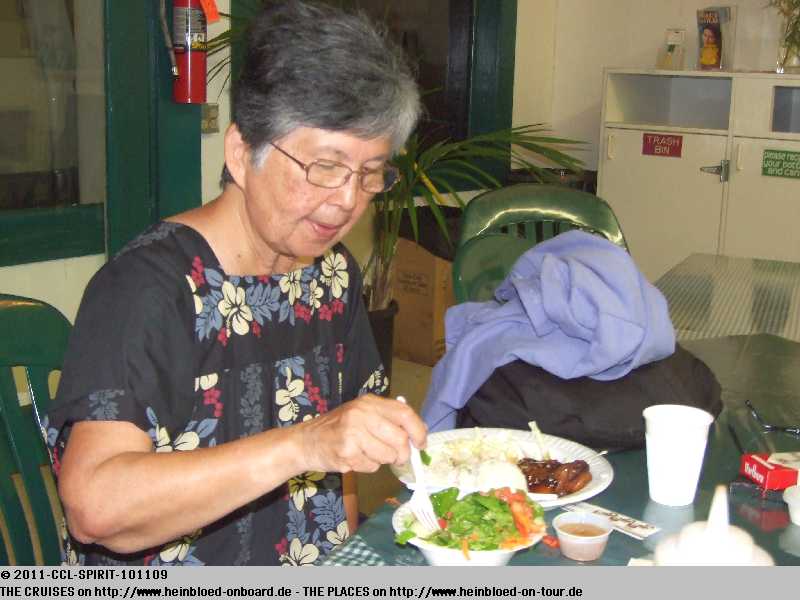 And who knew paiagirl (Frances) and bet that she had chicken and rice might have won... As we need to wake up at 03.45 hrs we went directly back to the hotel and to bed...