Scroll down for English explanations - alternates with German explanations.

Man muss ja auch einer Sache eine neue Chance geben. So lassen wir uns bewusst einen Tisch wieder bei Aleksandra geben. Sie war ja wirklich sehr nett und aufmerksam. Vielleicht hat sich die Situation ja gebessert. Und zu unserer Überraschung ja: Aleksandra hatte nun mehr Zeit für uns, weil alles geordneter lief.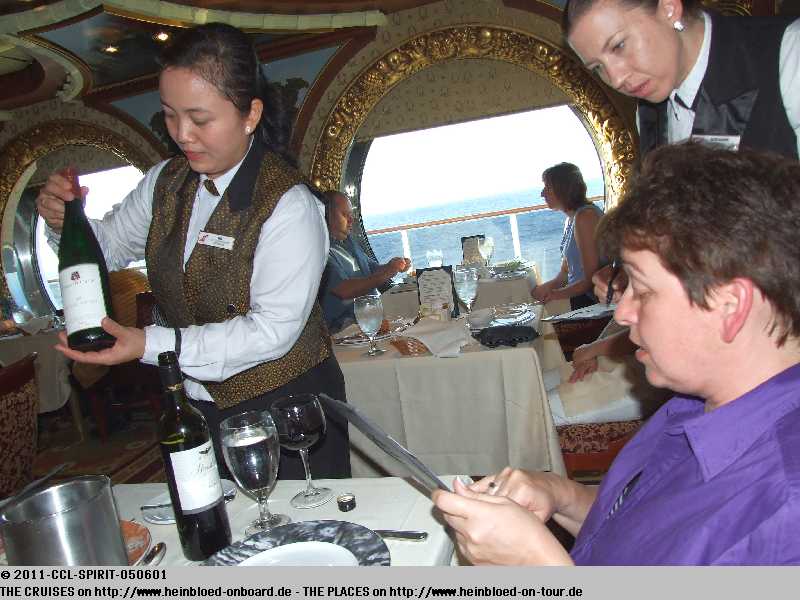 You need to give everything a second chance. So we asked again for a table with Aleksandra. She was very nice and attentive. Maybe the situation has been improved. And what a nice surprised: Aleksandra had now more time for us as everything ran in a better order.

It was nice to get pampered by her and her team again.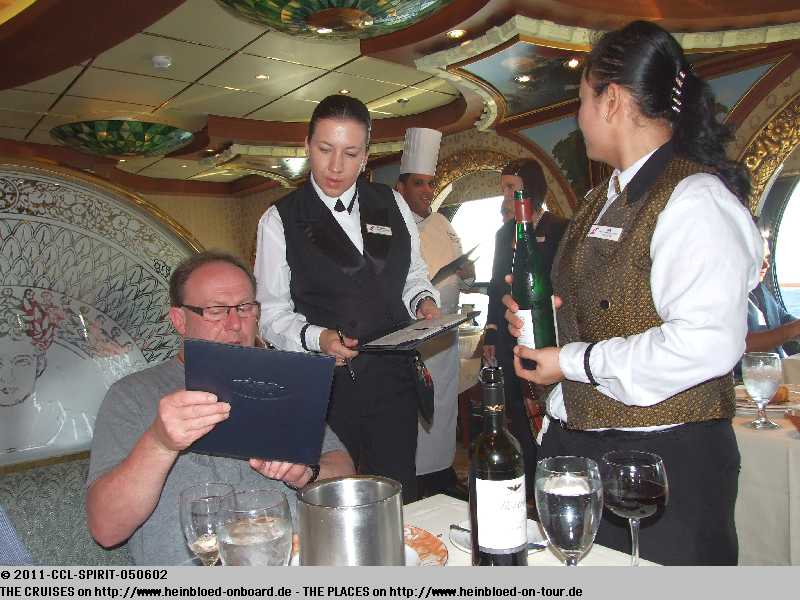 Es war schön sich wieder von ihr und ihrem Team verwöhnen zu lassen.
Zwischendurch kam Executive Chef Stanley vorbei, um sich für den morgigen Chef's Table zu erkundigen, ob irgendwelche Lebensmittel-allergien bestehen. Wäre es der passende Moment gewesen, um hinzuweisen, dass ich kein Brokkoli mag??? Ich lasse es. Er wird sich die Mühe geben, etwas tolles zu kochen und wenn Brokkoli Bestandteil der Mahlzeit ist, so kann ich es zumindest probieren.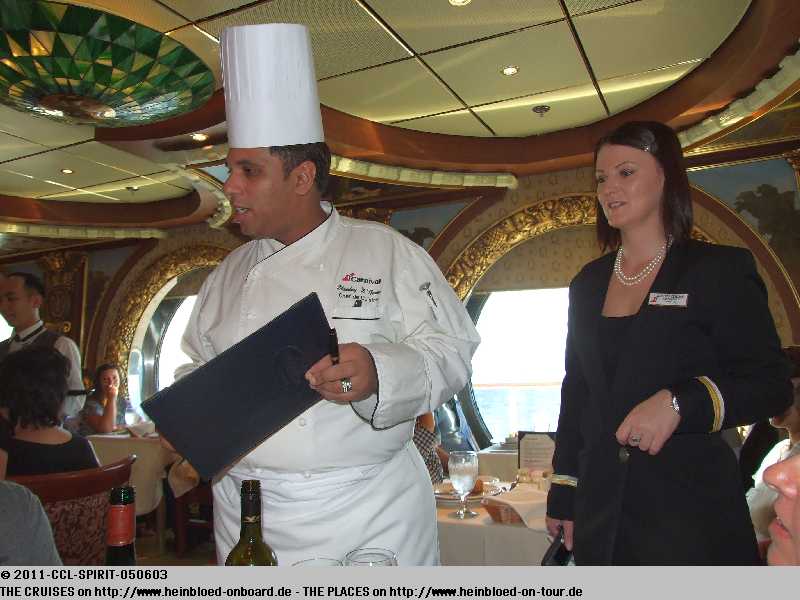 In the meantime Executive Chef Stanley came around to check for tomorrow's Chef's Table if anyone of us has any food allergies. Would this be the perfect moment to tell him that I hate broccoli??? I did not say it. He will do his very best to prepare something special for us and if broccoli is part of it I can try it.

Now I know how to get it upright if you do not have any viagra with you... mash potato... a little spoon under the baked cheese and it stayed upright...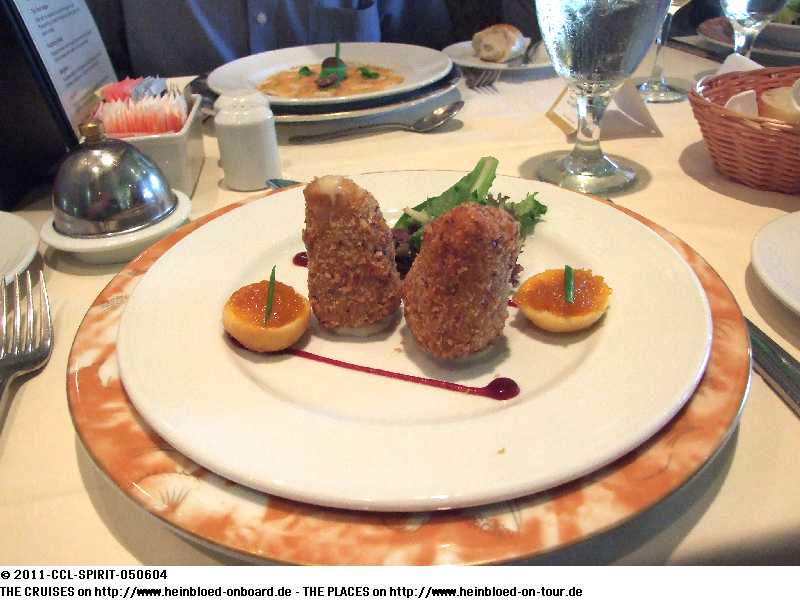 Nun weiss ich, wie man so etwas aufrecht bekommt, wenn man kein Viagra zur Hand hat... Mit Kartoffelpürree... Ein Löffelchen unter dem gebackenen Käse und dieser steht aufrecht...
Lachs-/Krabbencarpaccio und heute abend war gar kein Gala-Dinner...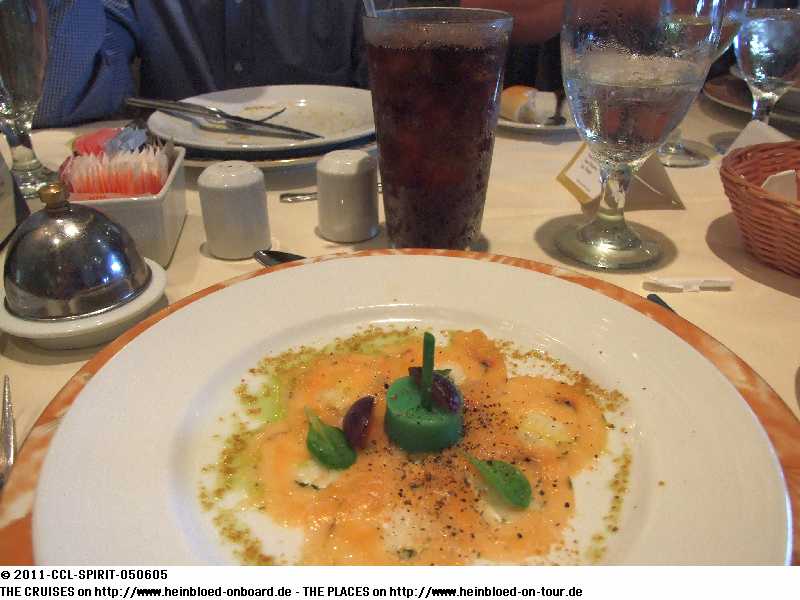 Salmon-/shrimpcarpaccio and tonight was no gala-dinner...

I liked it that salad dressing was always served in a little extra bowl.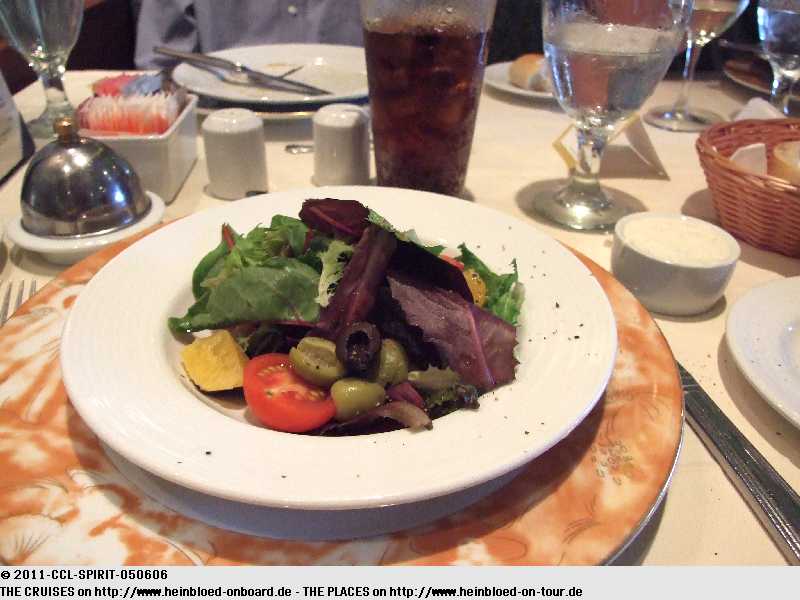 Schön ist eigentlich auch immer, dass der Salatdressing extra serviert wird.
War glaube ich Hühnchen...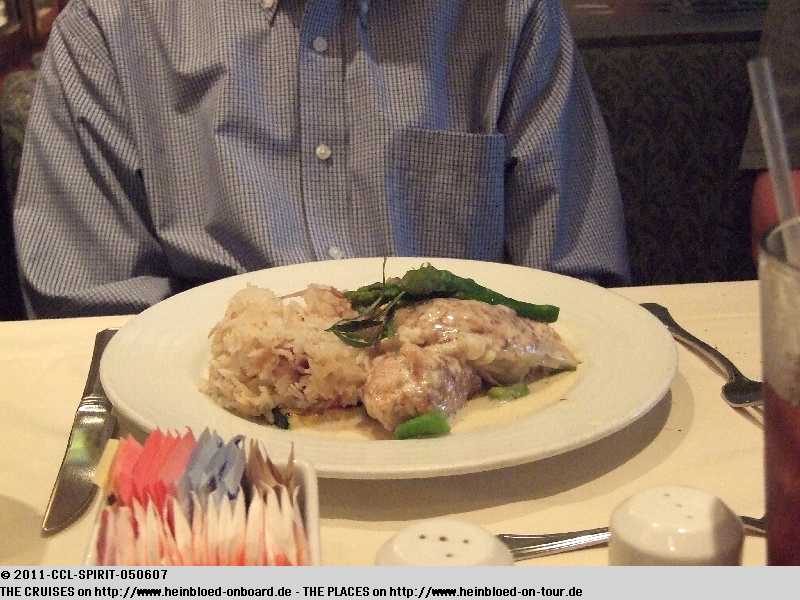 I think it was chicken...

Beef...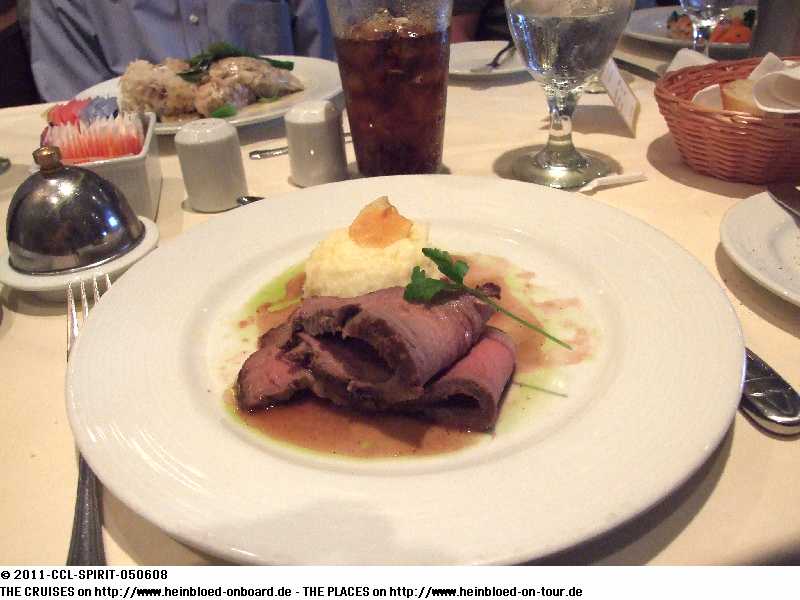 Rind...
Lachs...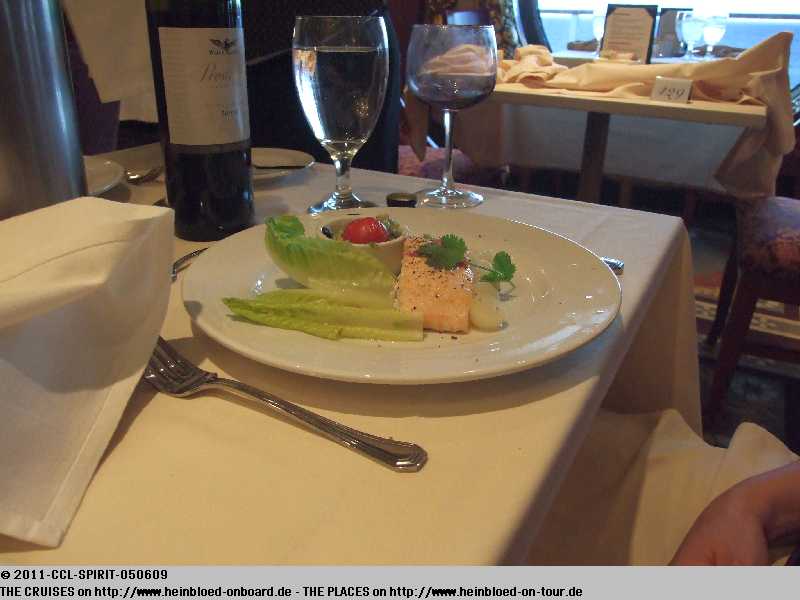 Salmon...

Yeah... you were on a FunShip...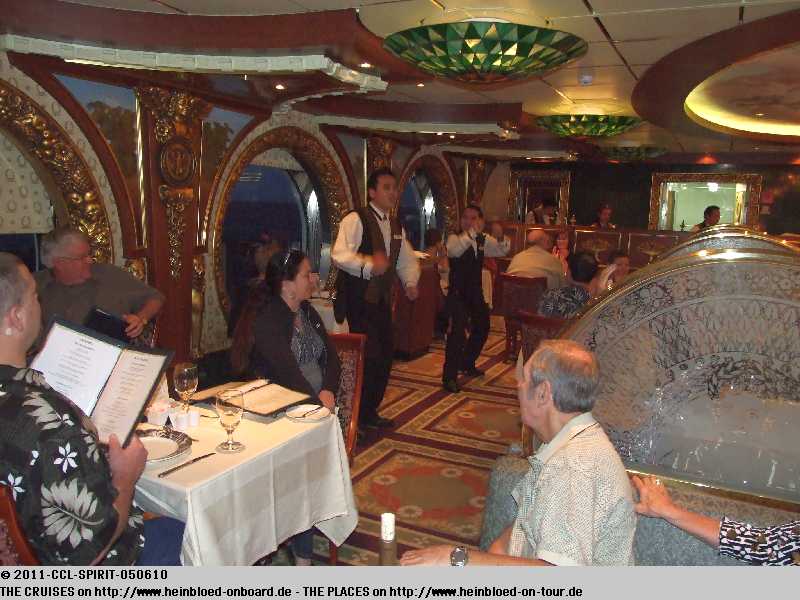 Tja... wir sind nun mal auf einem FunShip...
Wenn es dann Tanzeinlagen gab, dann aber richtig...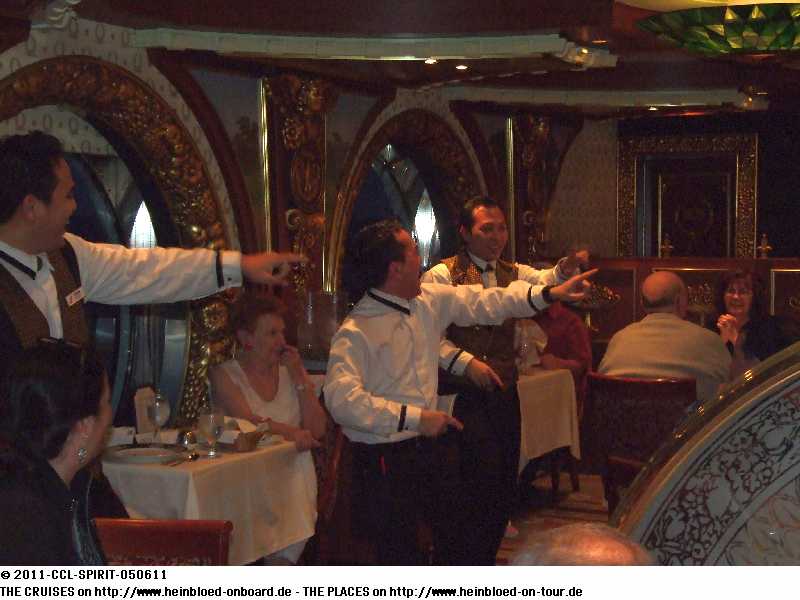 If they have dance acts then it should look professionally...

I kept already a single ready to put it into the waiter's brief... but then the music stopped...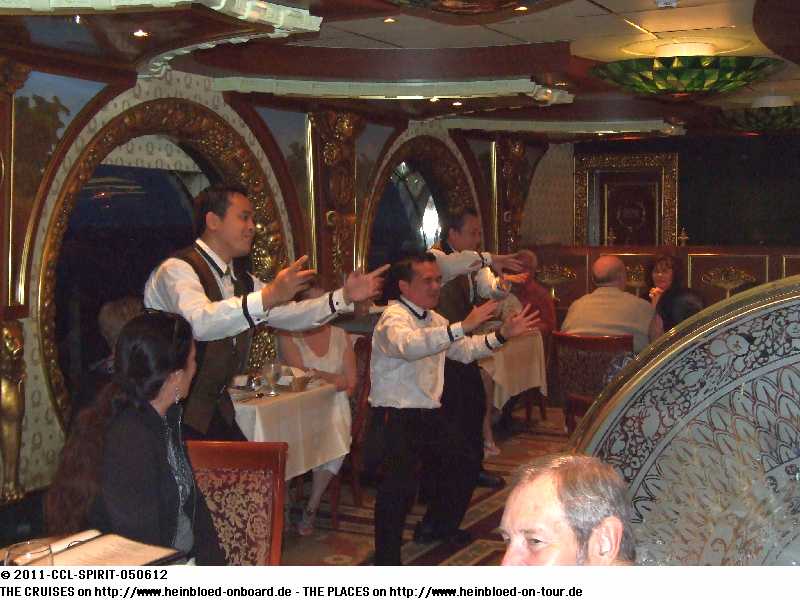 Ich hatte schon einen Dollarschein bereit gelegt, um in den Slip des Kellners reinzustecken... aber da war die Musik schon zu Ende...
Aber die Frauen wurden wohl ziemlich wild... ich bin mir nicht sicher, ob vom Nachbartisch eine Serviette durch die Luft flog oder es doch ein Damenschlüpfer war...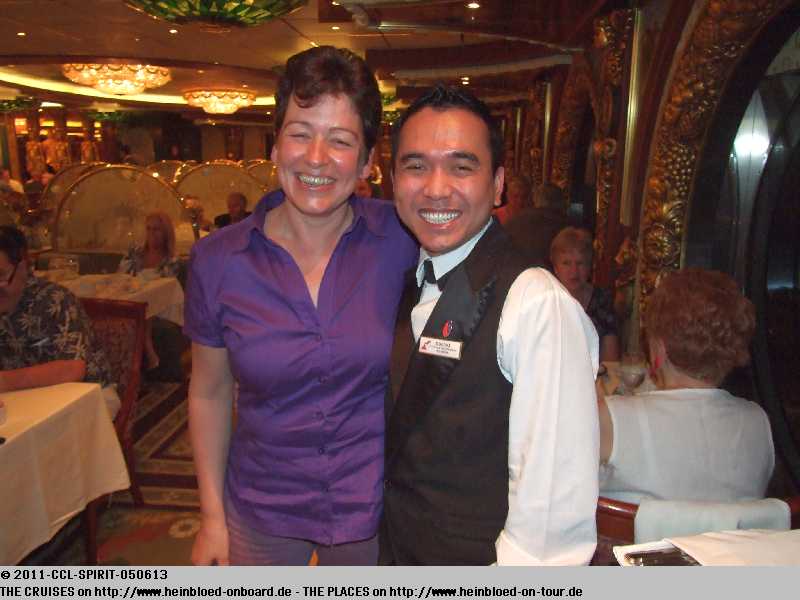 And the ladies became crazy... I am still not sure if I saw the night a napkin flying around or was it indeed some panties...

Well... the desserts were normally too American sweet. And sugar free does not mean fat free...

Naja... der Nachtisch ist bisweilen amerikanisch süß. Und zuckerfrei bedeutet nicht immer fettfrei...
Und hier sieht man wieder die Lust auf einen Vulkan...

And here you see the lust for a vulcano...

I tried the sugar free vanilla ice cream but I was missing the sugar free desserts of Holland America... The courses ahead could compete with others...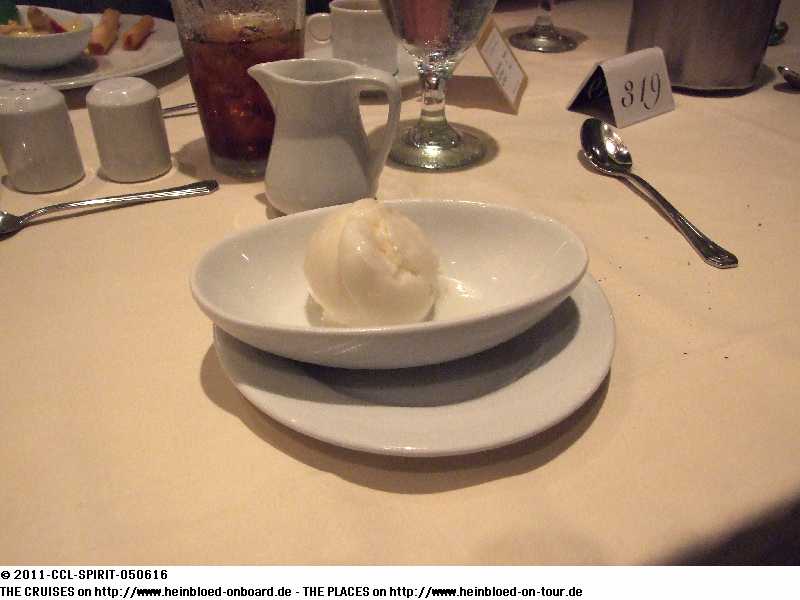 Ich hatte mich an dem zuckerfreien Vanilleeis probiert, aber ich vermisse die zuckerfreien Desserts von Holland America... Die Gänge davor konnten jedoch durchaus mithalten...
Bei der Show gibt es vorne immer zwei Aufpasser, die darauf achten, dass die Gänge freibleiben und man nicht fotografiert...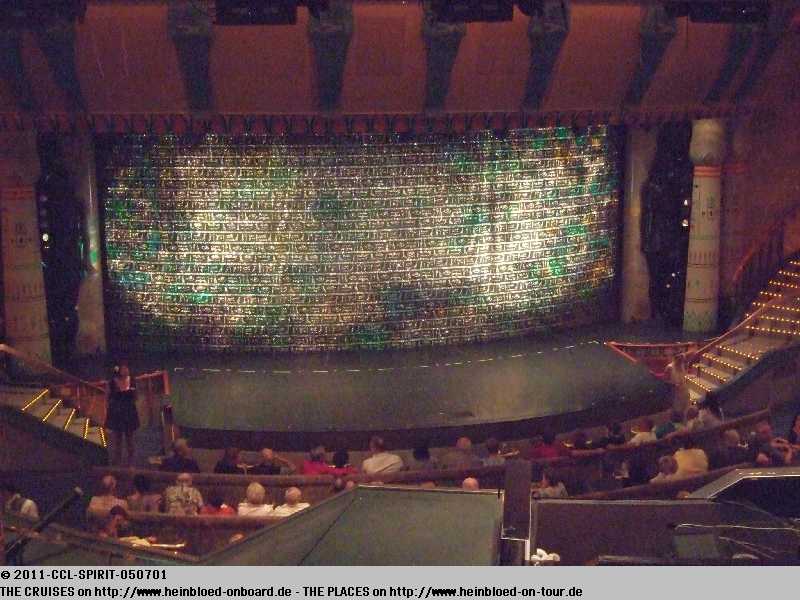 With the shows you have two guards who made sure that the aisles were kept free and none would take any pictures...

For my solace I got "The Way You Look Tonight".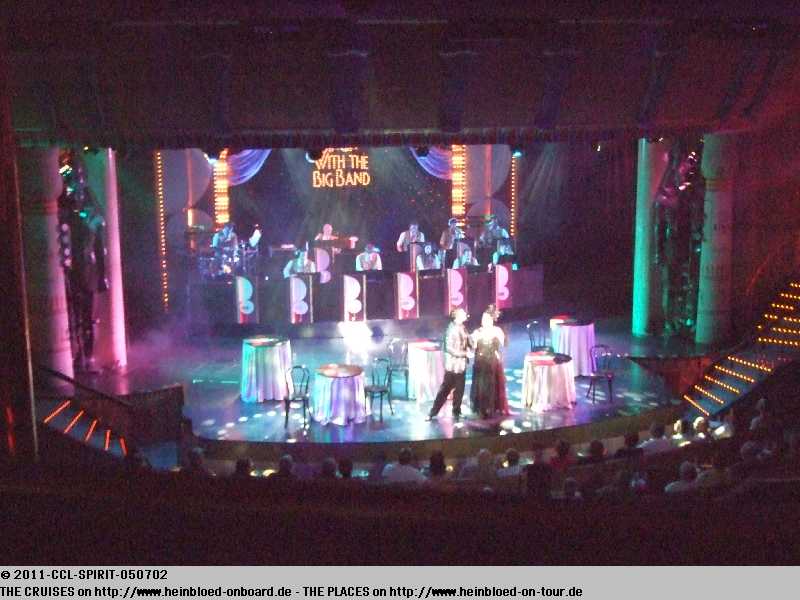 Zum Trost gab es für mich: "The Way You Look Tonight".
Nun war ich wieder wegen des Karaokes versöhnt.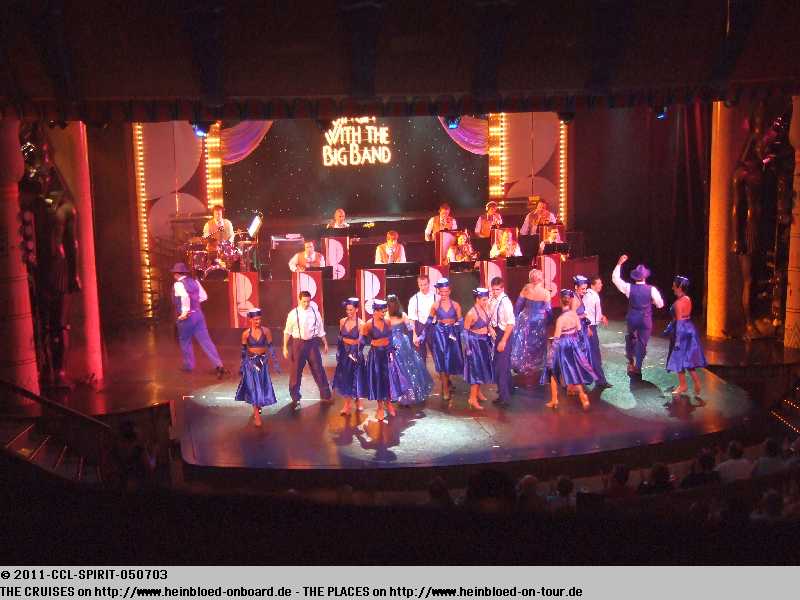 I was now reconciled because of my Karaoke experience.

We had Swing with the Big Band.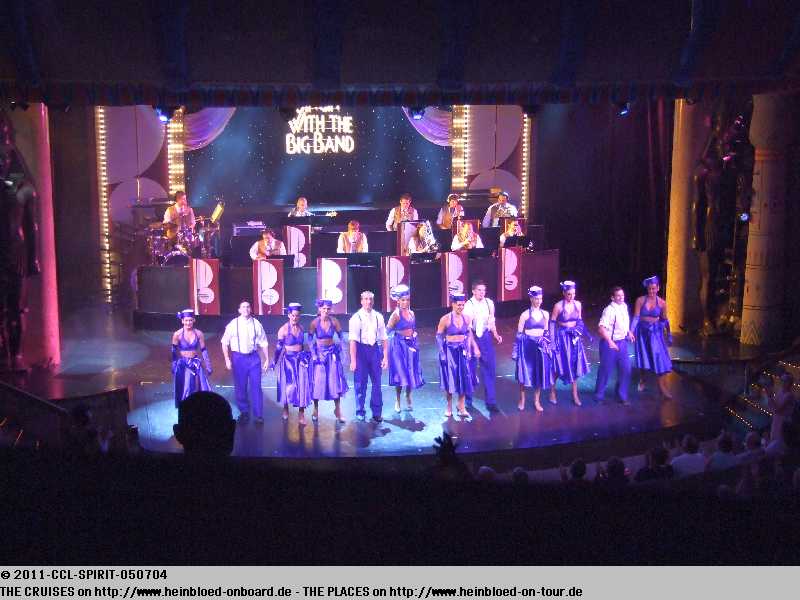 Es gab Swing with the Big Band.
Wieder wie bei den alten Römern: Brot und Spiele... und sehr gutes Brot und sehr gute Spiele...

It was like with the ancient Romans: Panum et circenses... bread and games... but very good bread and very good games...

Very good singers.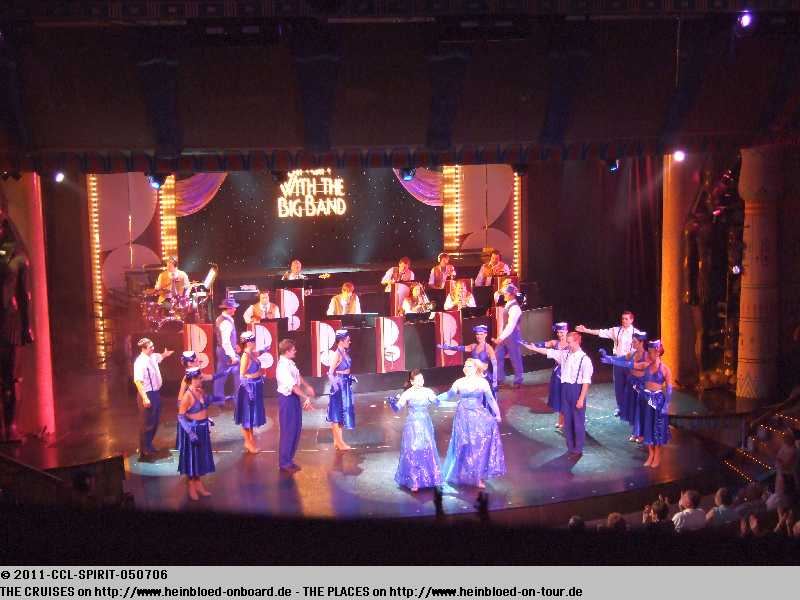 Sehr gute Sänger.
Sehr gutes Orchester.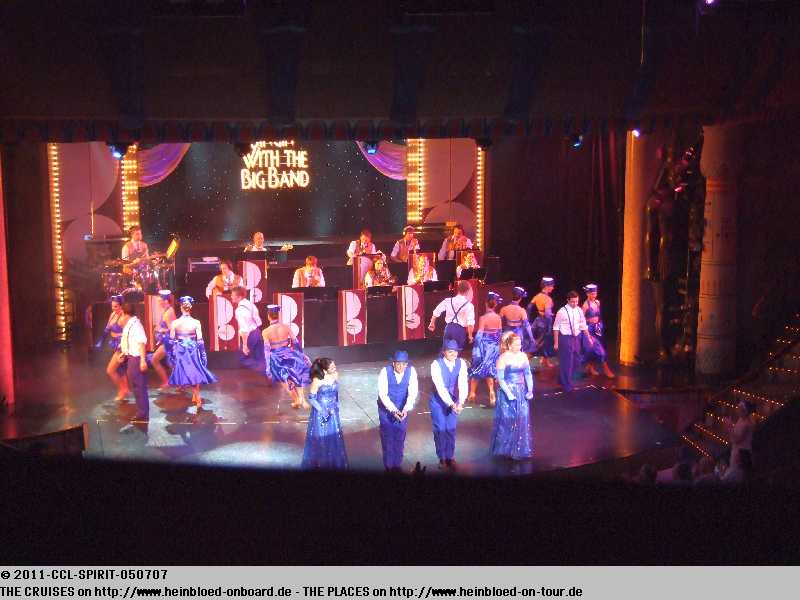 A very good orchestra.

Very good dancers. There not so many ships we experienced such a high-class occupation fo the performers.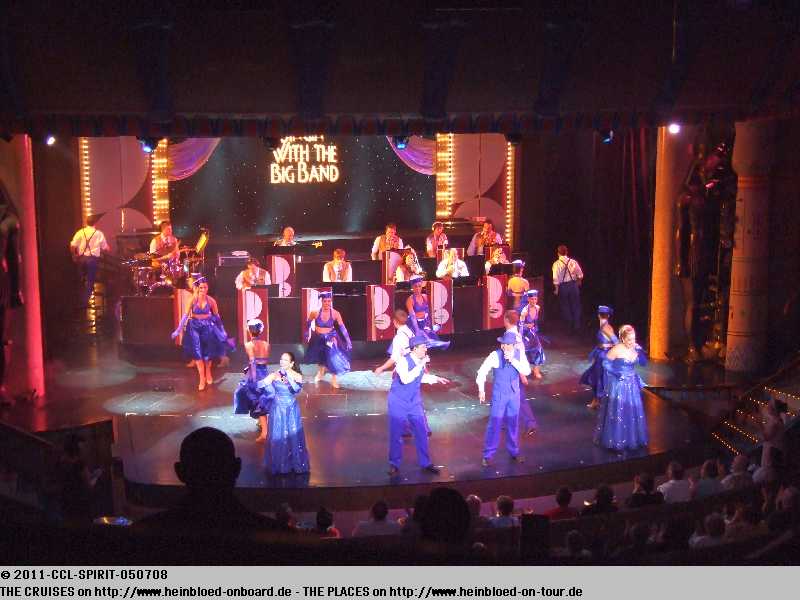 Sehr tolle Tänzer. Selten auf einem anderen Schiff in der hochklassigen Besetzung erlebt.
Wo übernachten eigentlichen die Handtuchtiere und werden die einfach zwischen den Kabinen rotiert???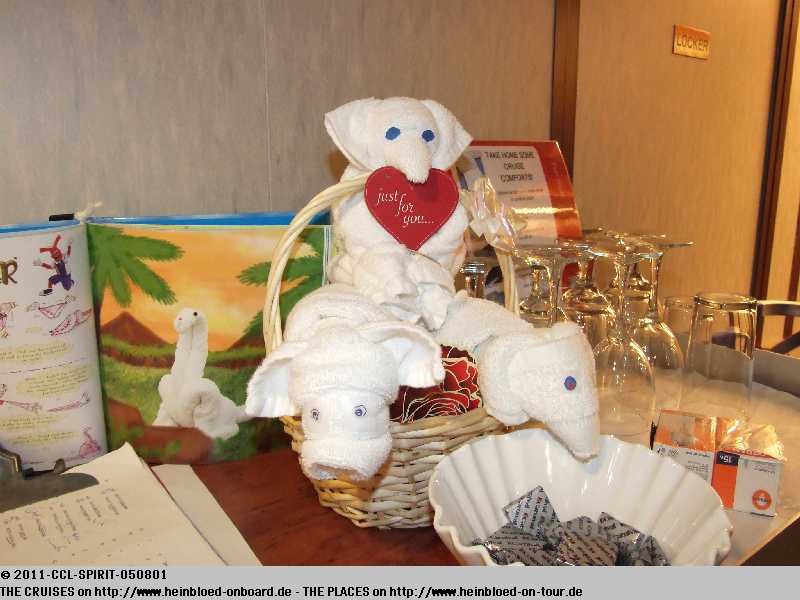 Where are all the towel animals staying overnight and do they rotate between the cabins???

For your home you can buy this book with all instructions.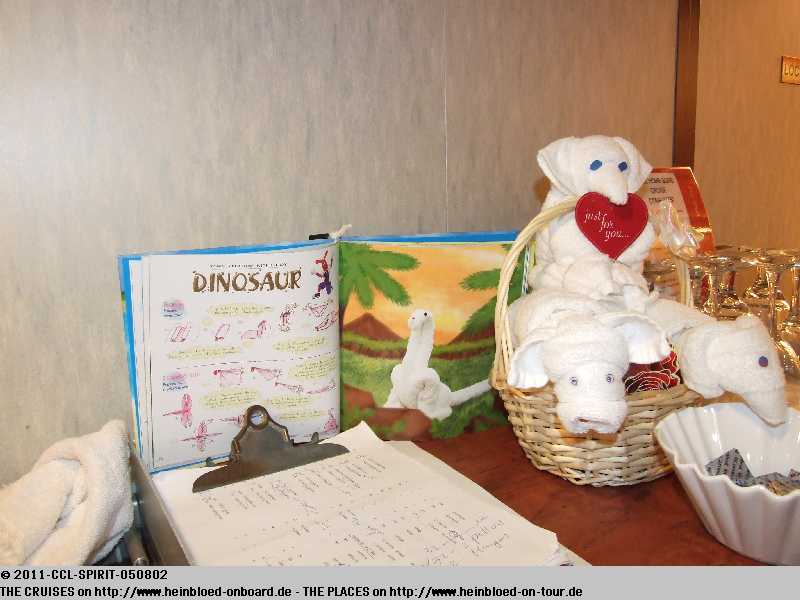 Für zu Hause gibt es das Buch mit den Anleitungen.
Küss den Frosch...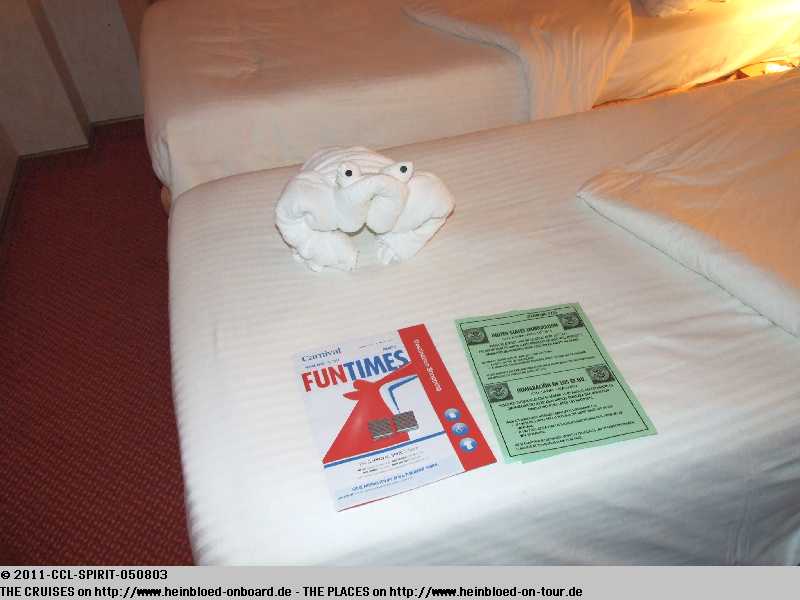 Kiss the frog...

Why should we need an I-94 W when we were registered with ESTA??? We were reentering the USA...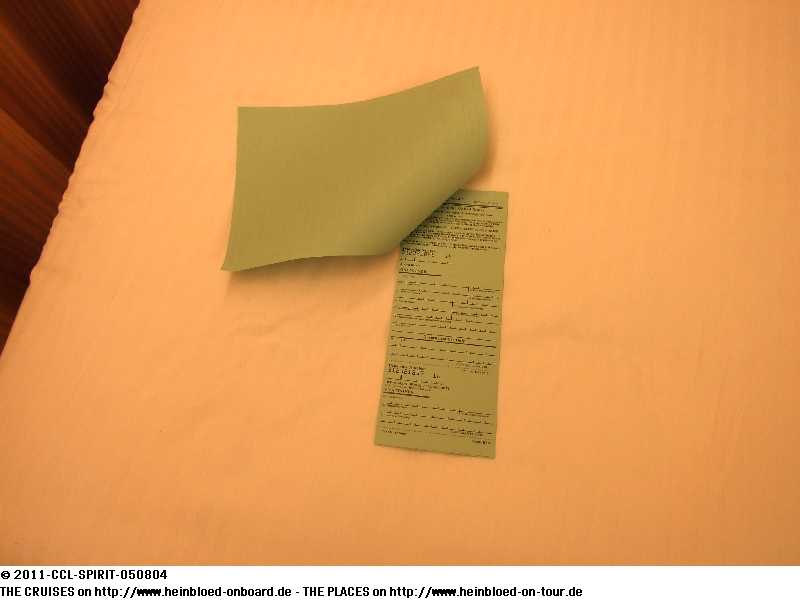 Wozu brauchen wir ein I-94 W noch, wenn wir ESTA gemacht haben??? Wir reisen ja wieder in die USA ein...