Scroll down for English explanations - alternates with German explanations.

Da wir während der Fahrt nur fotografieren dürfen, wenn wir halten, gibt es nicht allzuviele Bilder. Wir sind alle mit Vorder- und Rücklichtern an den Helmen ausgestattet und fahren in Formation. D. h. wir alle bilden quasi ein Fahrzeug im Verkehr.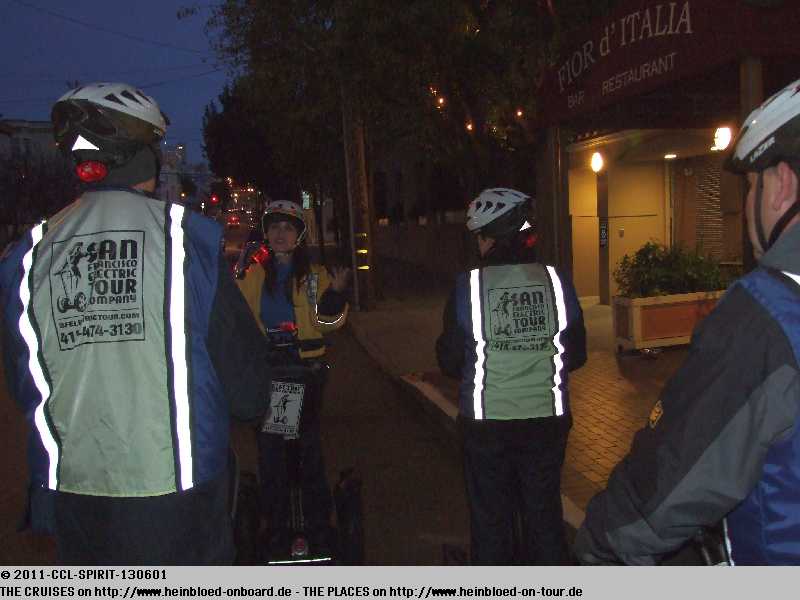 As we were only allowed to take pictures when we stoppe there were not so many pictures. We were equipped at the helmets with front- and backlights and drove information. I.e. we formed more or less one vehicle in the traffic.

As we were connected by radio we could hear very well the explanations and instructions. In North Beach we had the 1st stop.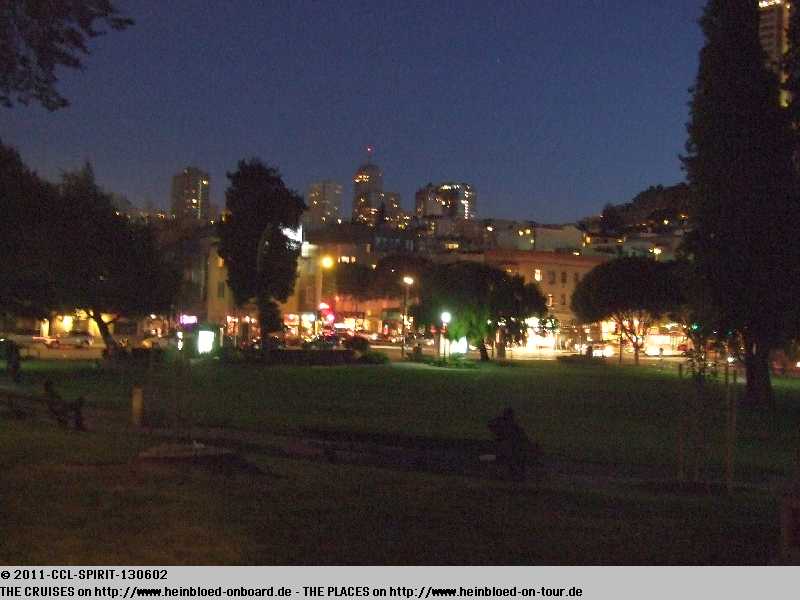 Da wir mit Funk miteinander verbunden sind, hören wir sehr gut die Erläuterungen und Anweisungen. In North Beach ist der 1. Halt.
Dort waren wir vorhin schon mit Vikki und Dianne aber das macht nichts. So im Dunkeln wirkt es wieder anders. Nur als wir einen Kaffee in einem Café kaufen wollen, werden wir gebeten, dass wir draußen warten sollen, um den Dinner-Betrieb nicht zu stören.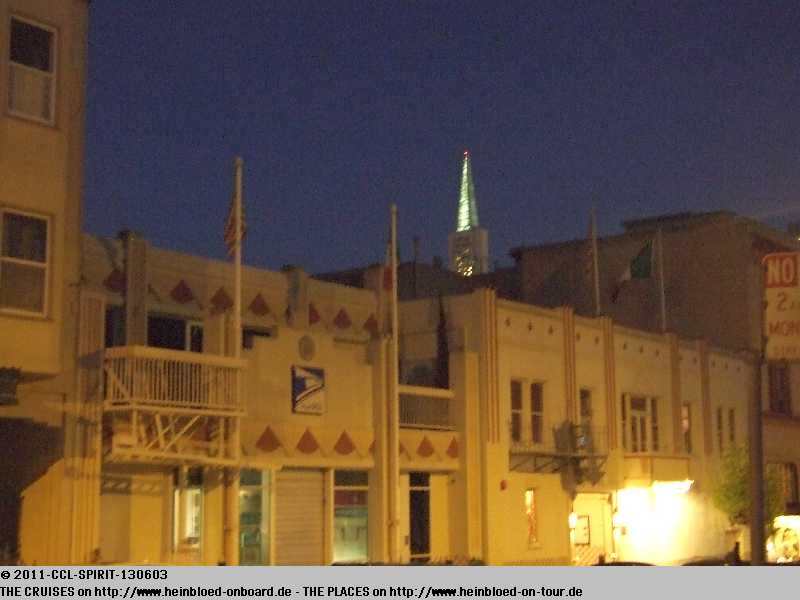 We have been here already with Vikki and Dianne but we did not mind. But it appeared totally different in the darkness. When we wanted to buy a coffee in a café but they asked us to wait outside so we should not bother the dinner-service.

No wonder... we looked made the appearance like trash collectors...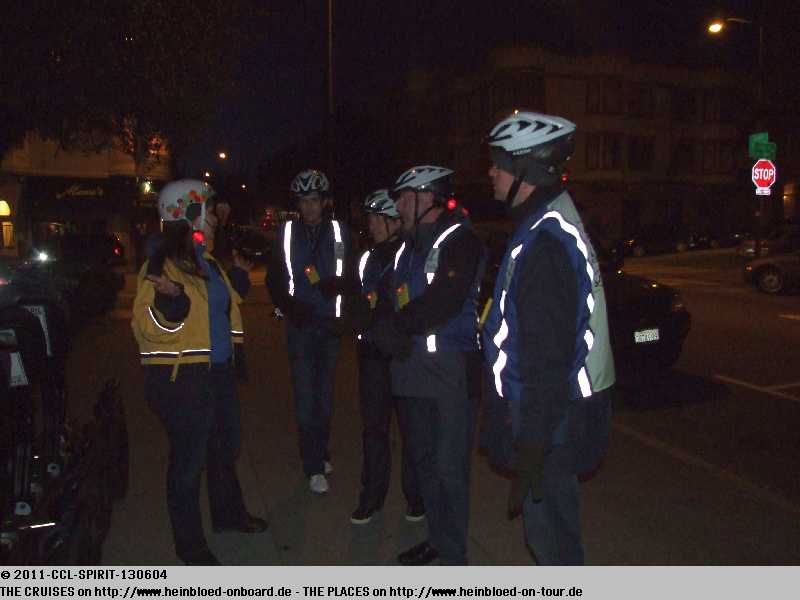 Ist ja auch kein Wunder... Gewisse Ähnlichkeiten zu den Müllmännern dürften wir haben...
Nochmals kommen wir bei Tony vorbei.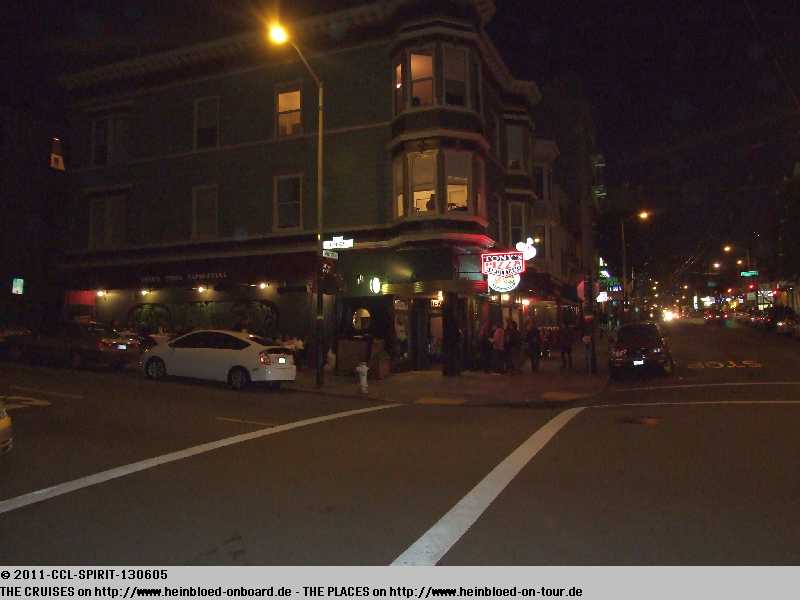 So we passed again with Tony.

Let us continue to Fisherman's Wharf.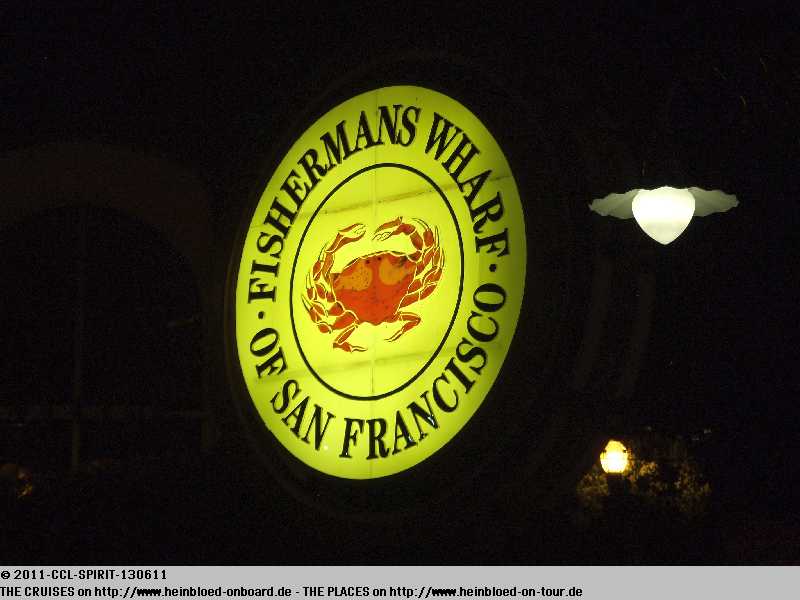 Weiter geht es nach Fisherman's Wharf.
Aber im Dunkeln ist es nicht das Gleiche, wie im Hellen.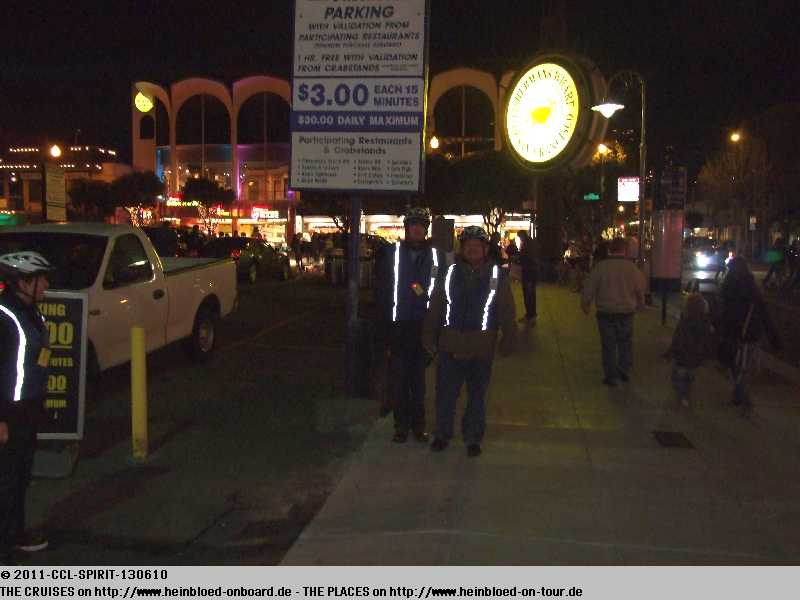 But again not the same in the darkness like at daylight.

With us we had José from Mexico in our group.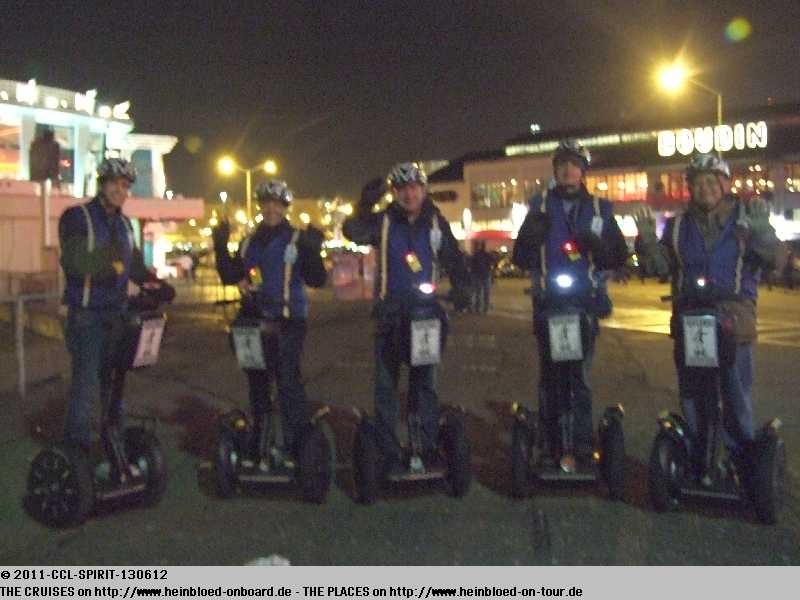 Mit uns war noch José aus Mexiko bei uns in der Gruppe.
In sofern war es eine nette kleine Truppe.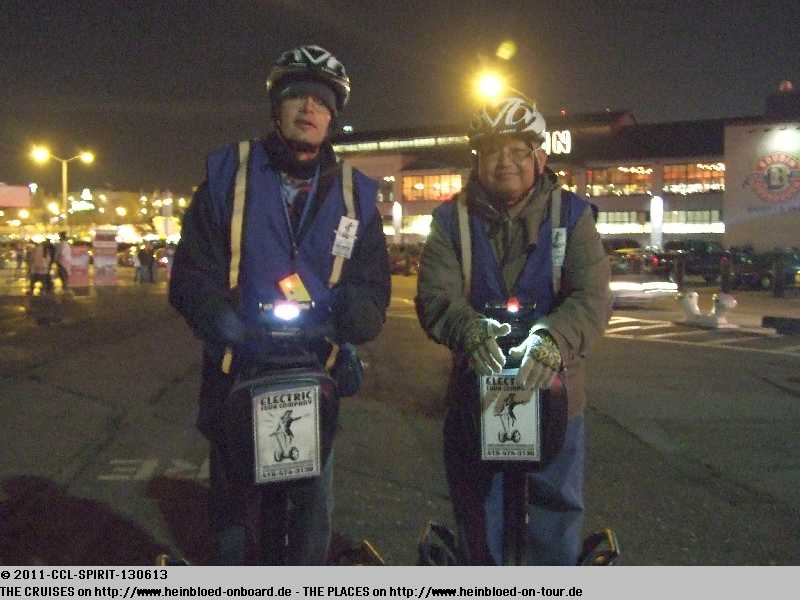 So it was a nice little party.

So having some fried fish or something else standing around was not attractive to us. Although we had a little time: it was cold, we were hungry and not interested to stand so we asked to return to the origin of the tour. José also should leave the next day very early and so he apprecited to return soon to his hotel.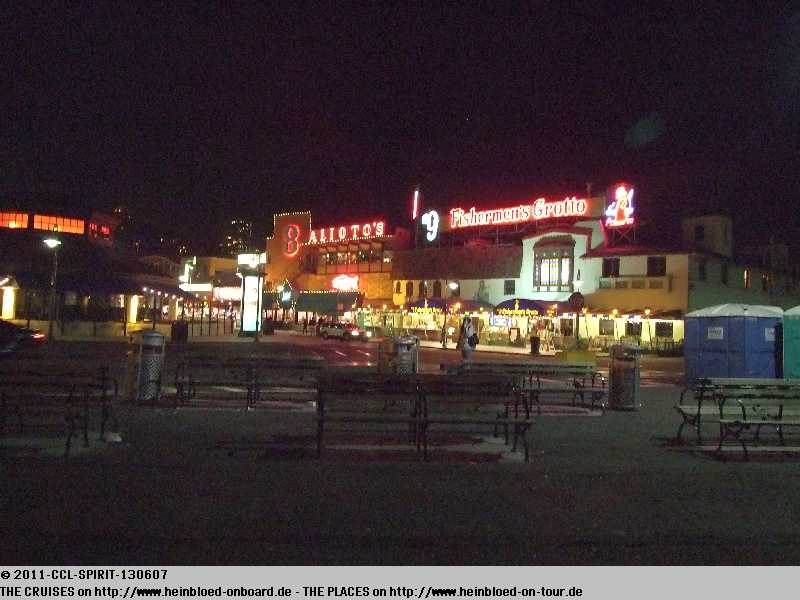 So im Stehen hier einen Backfisch oder ähnliches zu essen hatten wir keine Lust. Obwohl noch ein wenig Zeit war: Es war kalt, wir hatten Hunger, und auf einen Stehimbiss keine Lust, so baten wir darum, dass wir direkt zum Ausgangspunkt zurückfahren. José fliegt auch am nächsten Tag sehr früh ab, und war nicht undankbar, auch schnell in sein Hotel zurückzukommen.
So bekommen wir noch ein Zertifikat.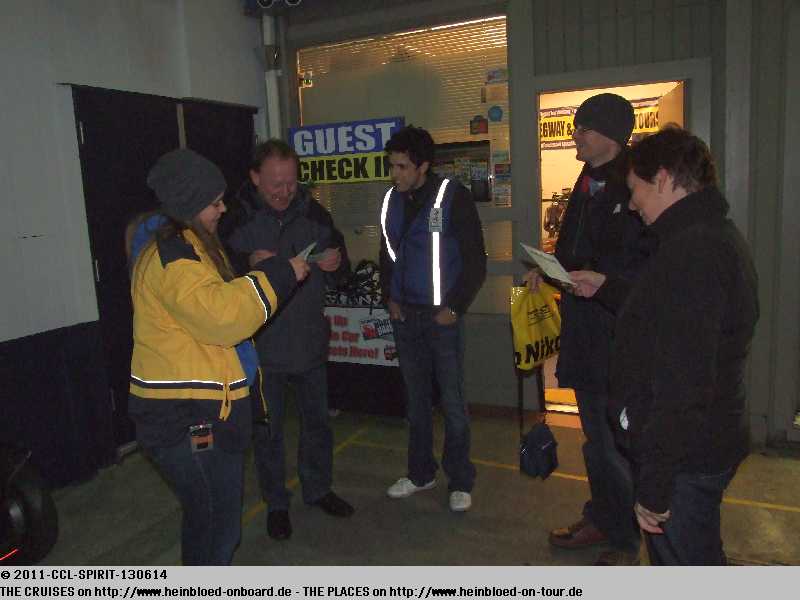 So we receive an certificate.

So we had something nice for the wall and a pin.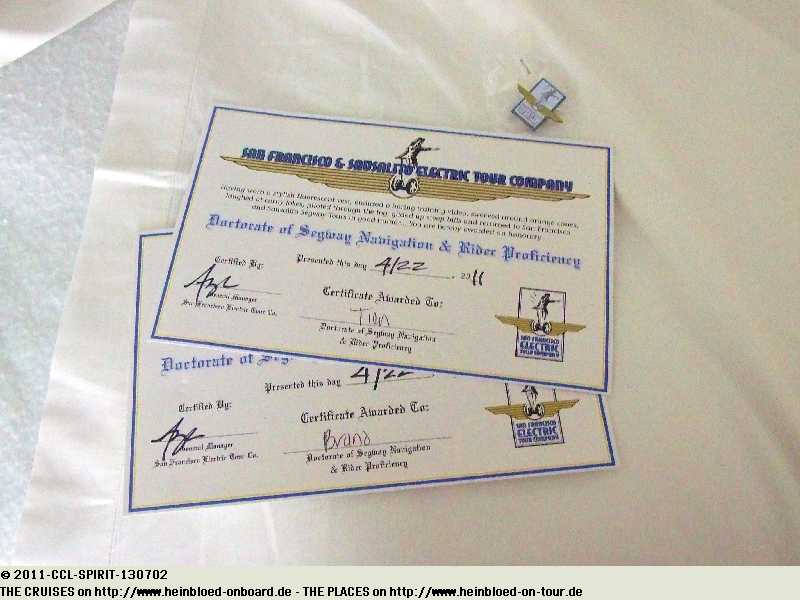 Und haben also etwas nettes für die Wand und eine Nadel.
Das ist übrigens Kirsten - eine sehr nette Tourleiterin.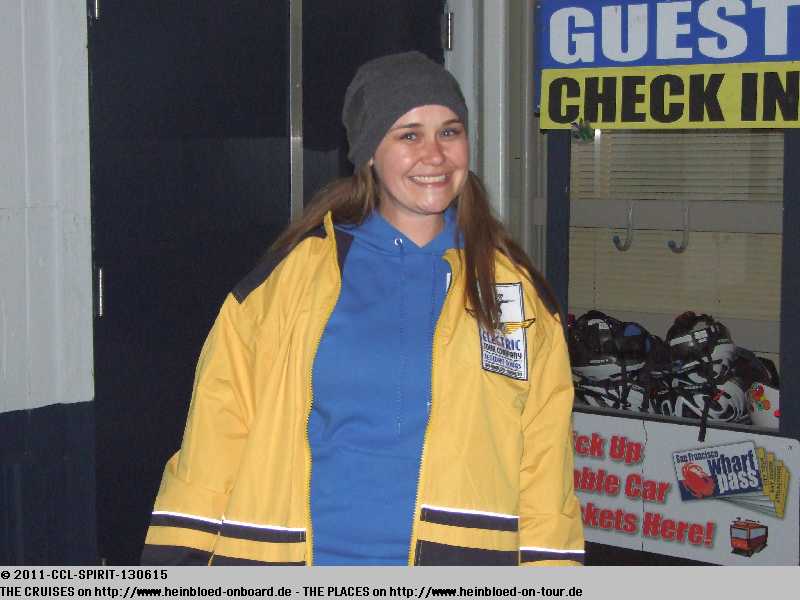 By the way that was Kirsten - a very nice tour guide.

Between the one tour and the other we had short break. Originally we only wanted to buy a storage chip but the vendor was too god. And now I am owner of few new lenses. Like a wide angle-lense which I can screw on my objective. How great it would be to have it few days ago in San Pedro when I was angry because I could took pictures of the full length of the ship. For this voyage I do not need it anymore but for the next time... Because it was a true bargain - or not (Addendum: with Amazon in Germany I would pay the same). But the vendor was right what I was wishing and so it was right that he got my money. Hope that the ships fit now completely. As I started to play with the different lenses do not wonder that the corner did not appear well. I was still experimenting...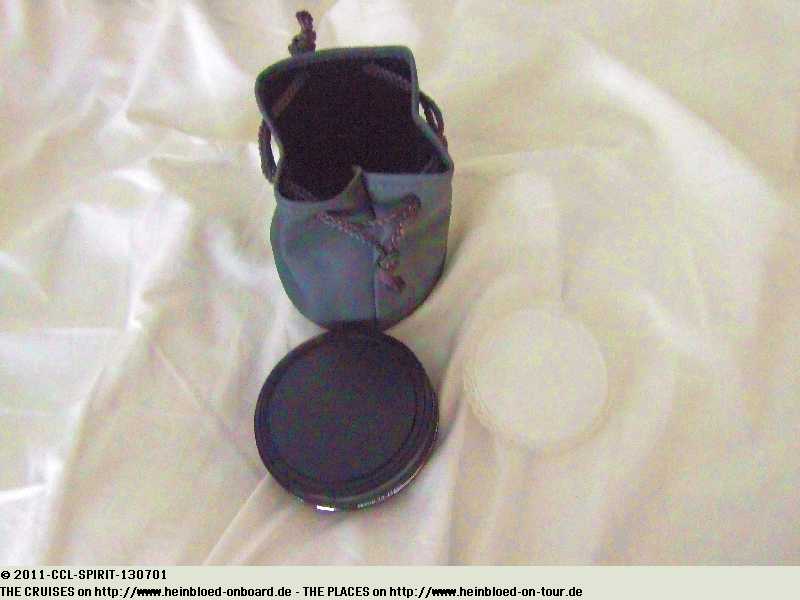 Zwischen der einen Tour und der anderen Tour hatten wir eine kleine Pause. Eigentlich wollten wir nur einen Speicherchip kaufen, aber der Verkäufer war zu gut. Nun bin ich noch Besitzer von ein paar Linsen. U. a. eine Weitwinkel-Linse, die ich vor mein Objektiv schrauben kann. Wie gut hätte ich sie vor Tagen noch in San Pedro brauchen können, als ich mich geärgert hatte, dass ich die Schiffe nicht in voller Länge fotografieren konnte. Nun brauche ich sie für diese Reise nicht mehr, aber für das nächste Mal... Zumal es ein echtes Schnäppchen war - oder auch nicht (Nachträglich: bei Amazon in Deutschland hätte ich genauso viel bezahlt). Aber der Verkäufer hat meine Wünsche richtig erraten und so ist es in Ordnung, dass er auch das Geld dafür bekommt. Wehe die Schiffe gehen immer noch nicht komplett drauf... Da ich anfange noch mit ein paar anderen Linsen zu spielen, also nicht wundern, dass an den Ecken die Bilder so komisch sind. Ich experimentiere noch...
Bei Tony haben wir echt Pech. Min. 45 Minuten Wartezeit. So gehen wir in den erstbesten Laden direkt daneben, weil wir Hunger haben. Kein echtes Mittagessen und die Segway-Tour machen hungrig.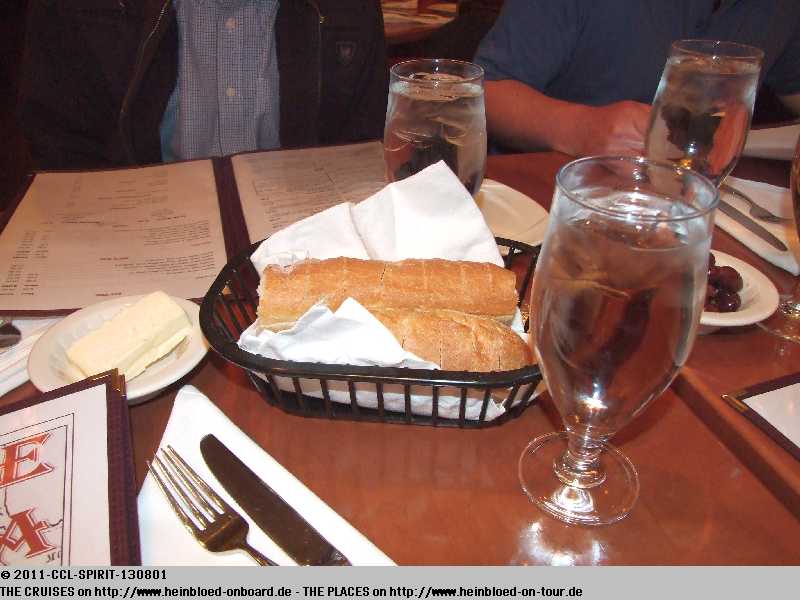 With Tony we did not have luck. Min. 45 minutes waittime. So we went to the first available next place because we were hungry. No true lunch and the Segway-tour made us hungry.

But this was a true Italian for American... But you need to do this once in your lifetime to discuss the differences.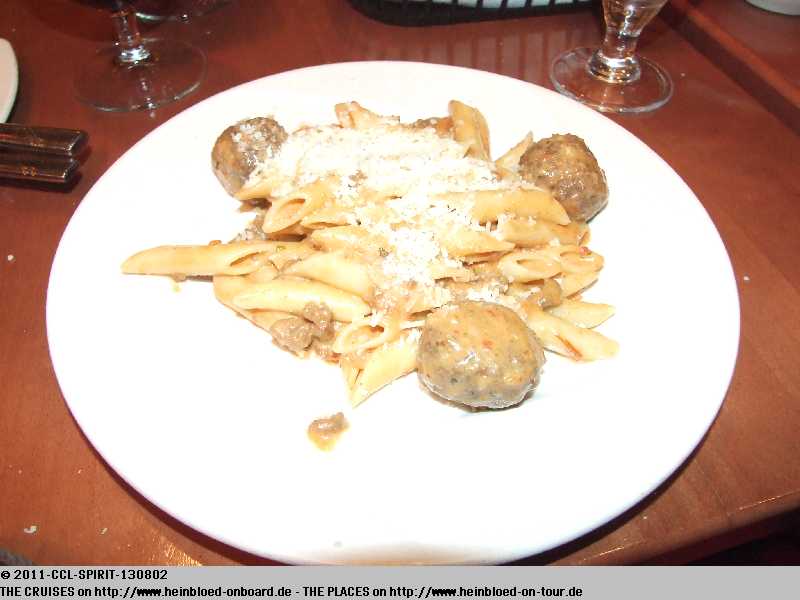 Aber es war dann ein echter Italiener für Amerikaner... Auch das muss man einmal mitgemacht haben, damit man mitreden kann.
In sofern kommen wir garantiert wieder, um Tony auszuprobieren. Und dann buchen wir sie im Paket mit Dianne und Vikki, die es auch als Dinner-Begleitung gibt. Bis dahin sind wir eher noch bei Baffeto in Rom und Da Michele in Neapel.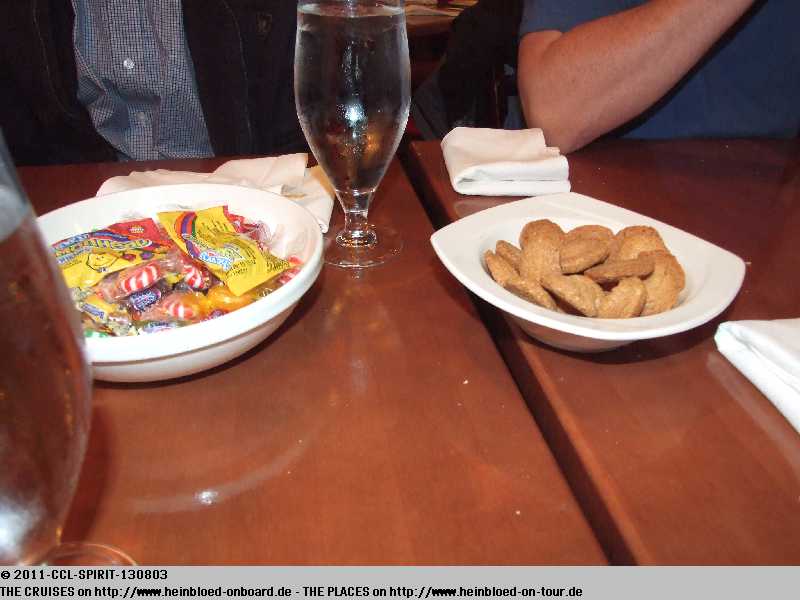 So we had good reasons to come back again and try Tony. But then we will book him as package with Dianne and Vikki whom you also can book as dinner-company. So we had to stay with Baffeto in Rome and Da Michele in Naples.