Scroll down for English explanations - alternates with German explanations.

Entlang der Beachparks geht unsere Fahrt weiter.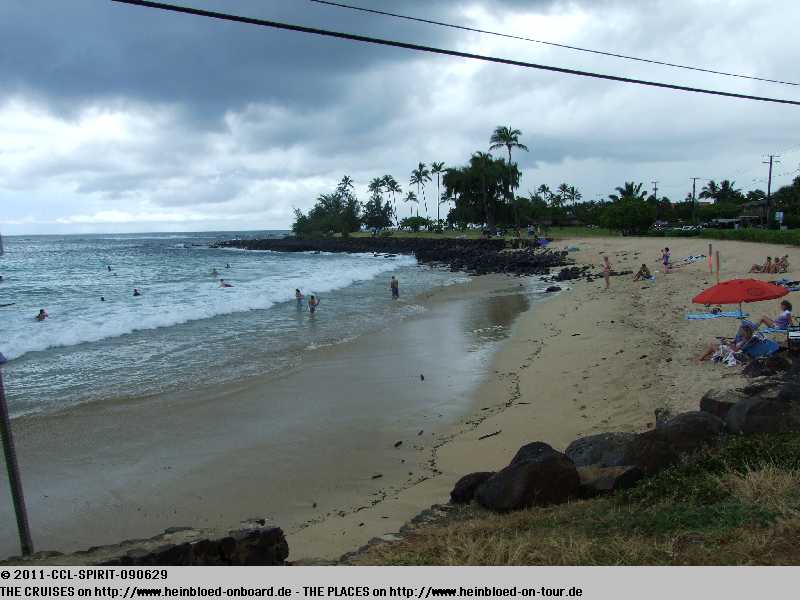 We continued our tour alongside the beachparks.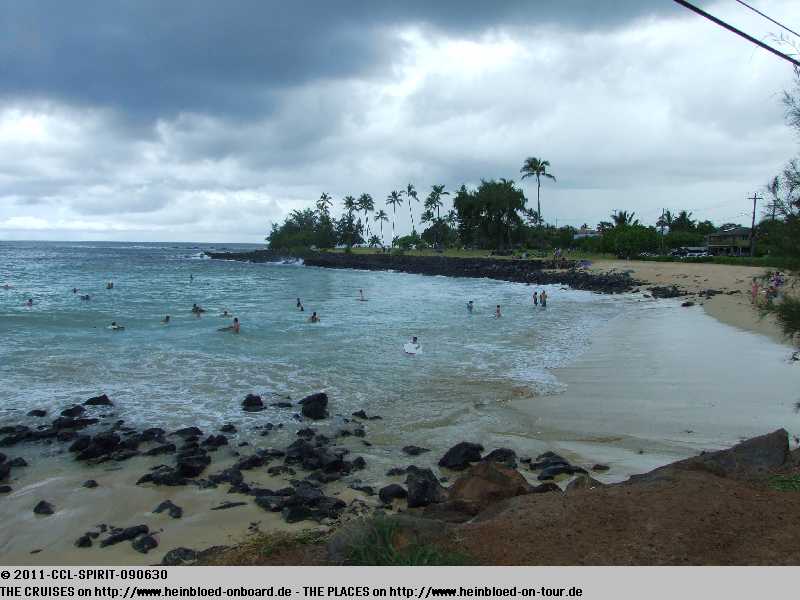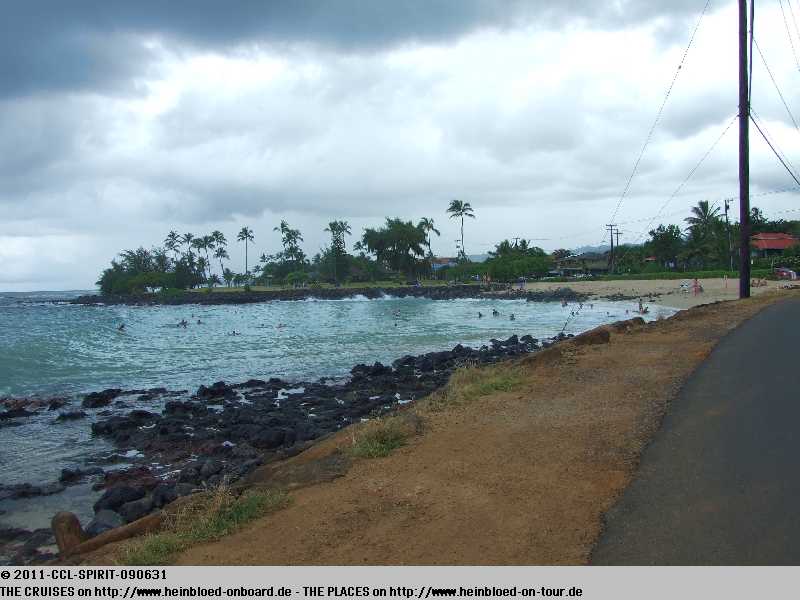 Somehow we had the impression to get lost. But as long as Charlotte knew where to go it was fine with us. We requested a shopping occassion: we would like to buy something made of Noni and some Macedamia-Nut-Oil. Charlotte included our request in her plans.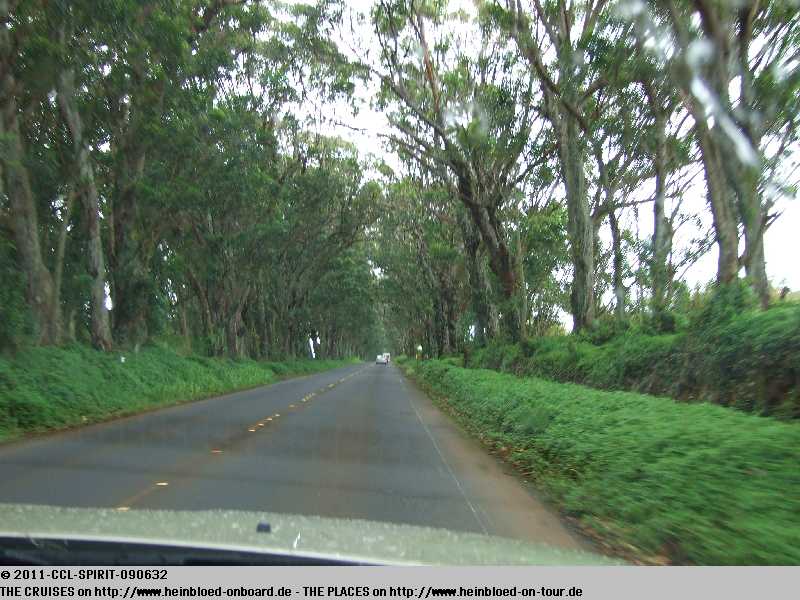 Irgendwie haben wir komplett die Orientierung verloren. Egal: Hauptsache Charlotte weiss, wo es lang geht. Wir haben einen Shopping-Wunsch geäußert: wir würden gerne etwas mit Noni kaufen und auch Macadamia-Nuss-Öl. Diese Wünsche baut Charlotte in ihre Tour ein.
Ist die Aussicht nicht phantastisch?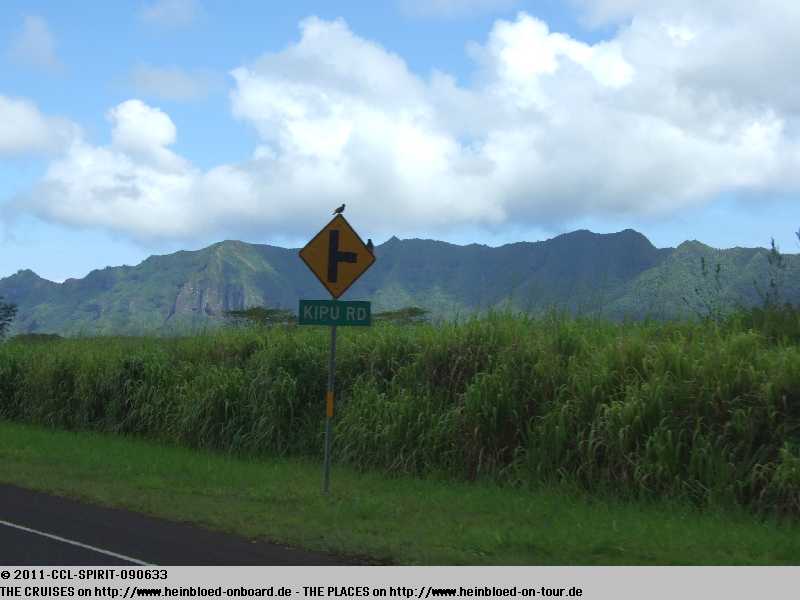 Was this view not phantastic?

We saw this already this morning but from the other side.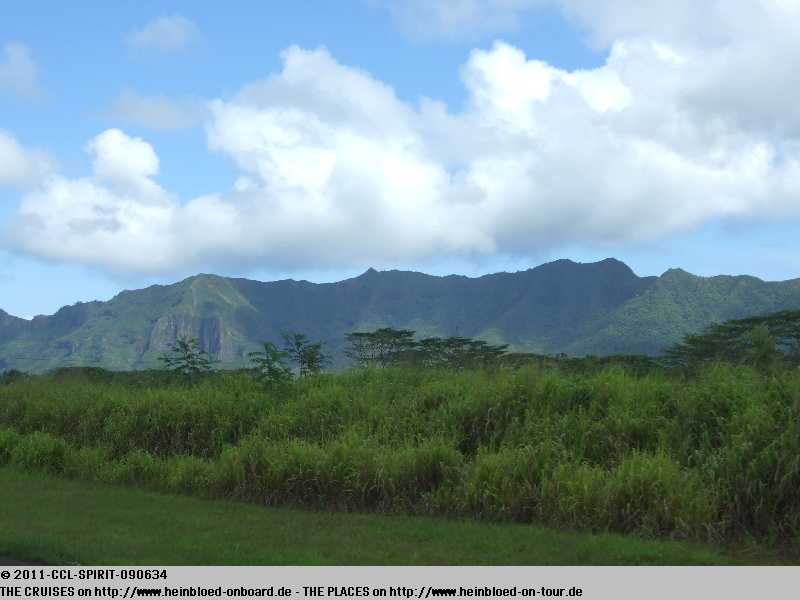 Dabei haben wir das heute Morgen schon gesehen, bloß jetzt von der anderen Seite.
Charlotte bringt uns zu einem Einkaufszentrum.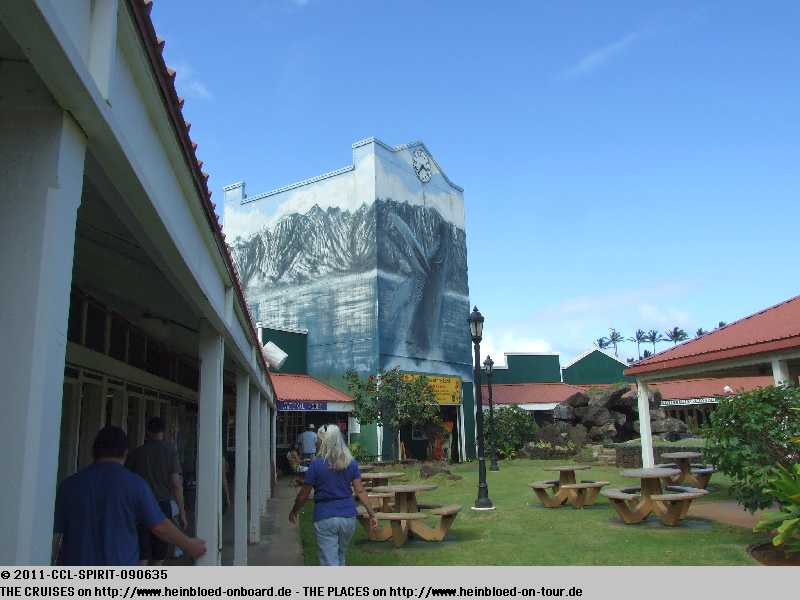 Charlotte took us to a shopping center.

With Papaya's Natural Foods we were finally successful.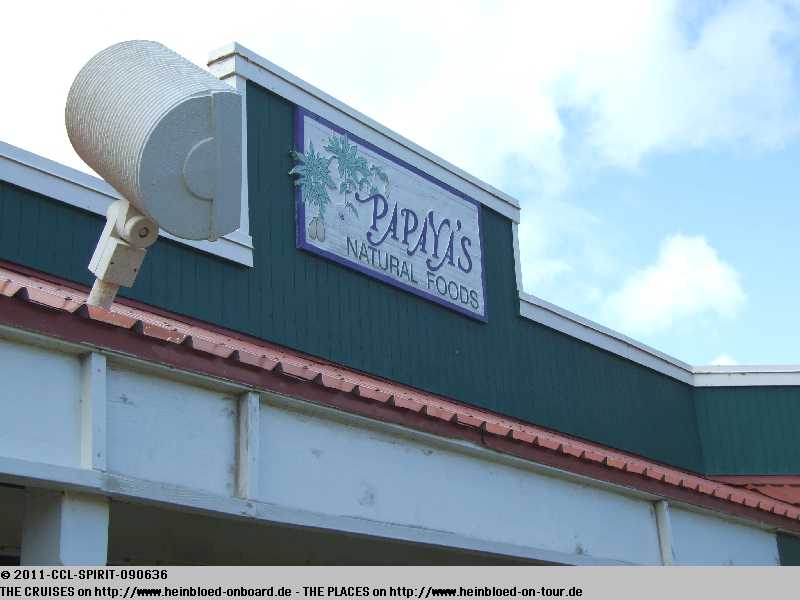 Im
Papaya's Natural Foods
werden wir fündig.

Zwar leider nicht den Noni als konzentriertem Saft, aber schon mal als Lotionen. Fangen wir mal klein an. Wir wollen ja nicht hoffen, dass wir uns wie Franz ein Bein brechen und zunächst nur so kleine Wunden haben, dass die Lotionen reichen.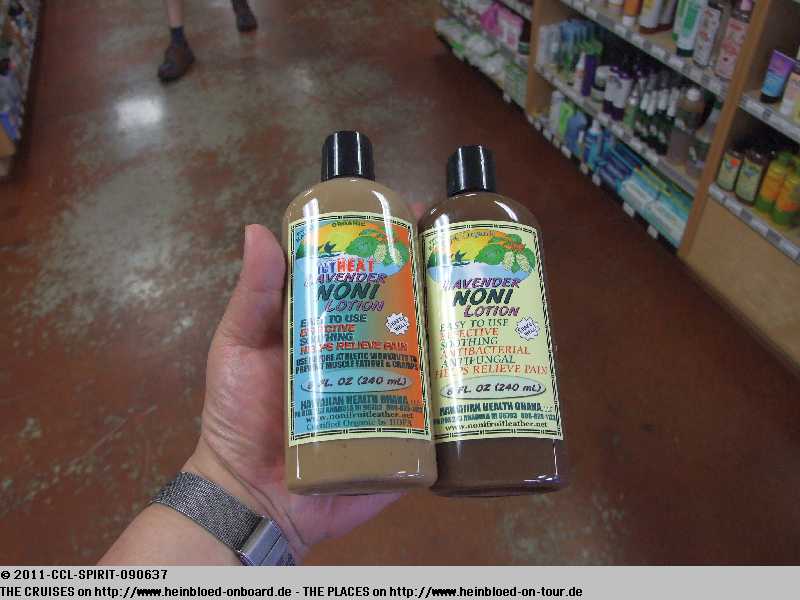 But not the concentrated juice of Noni but as lotion. Let us start with a soft solution. We do not expect to break a leg like Franz so we might have small wounds only and the lotion will be fine.

Furthermore we found the Macedamia Nut Oil which was unknown with ABC Store (Hawai'in store chain selling Hawai'ian stuff)... So we could see that the gentlemen did not cook. So we need a woman who cooked and immediately understood our needs.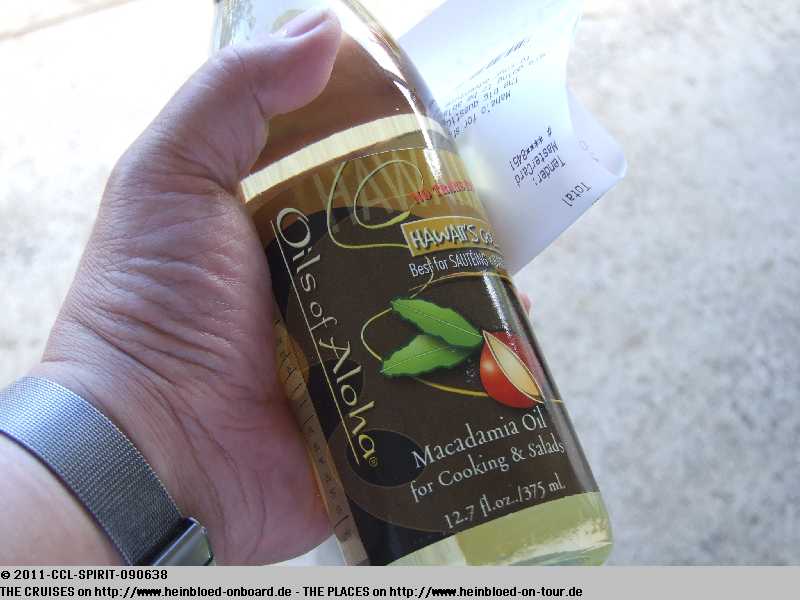 Ferner finden wir noch das Macedamia Nuss Öl, das nicht mal in einem ABC Store (Hawai'ianische Ladenkette mit allem möglichen aus Hawai'i)... Daran merkt man, dass die Herren nicht kochen. Dafür braucht man eine Frau, die kocht, und sofort versteht, was wir wollen.
Wir suchen noch die Toiletten auf und lernen ein wenig Hawai'ianisch...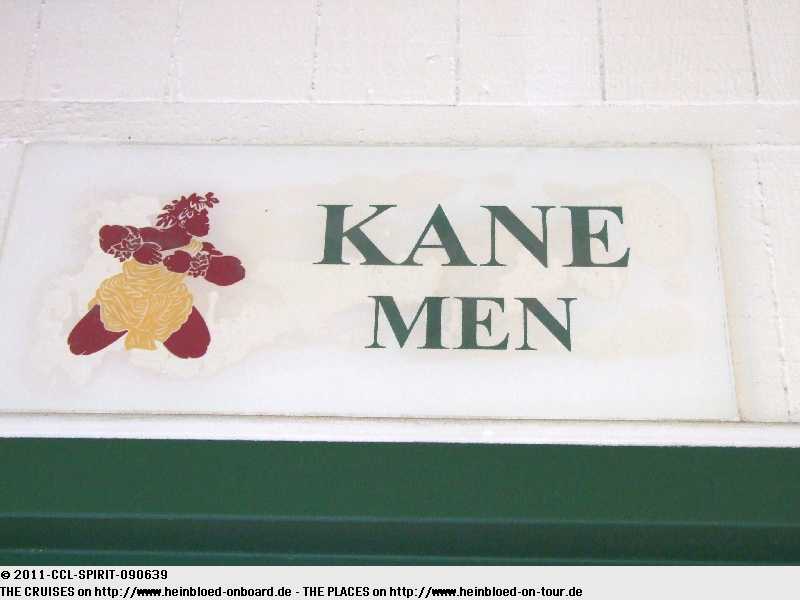 We saw the restrooms and learned a little Hawai'in language...

"My wahine had the fish and it was good as always" - sound well...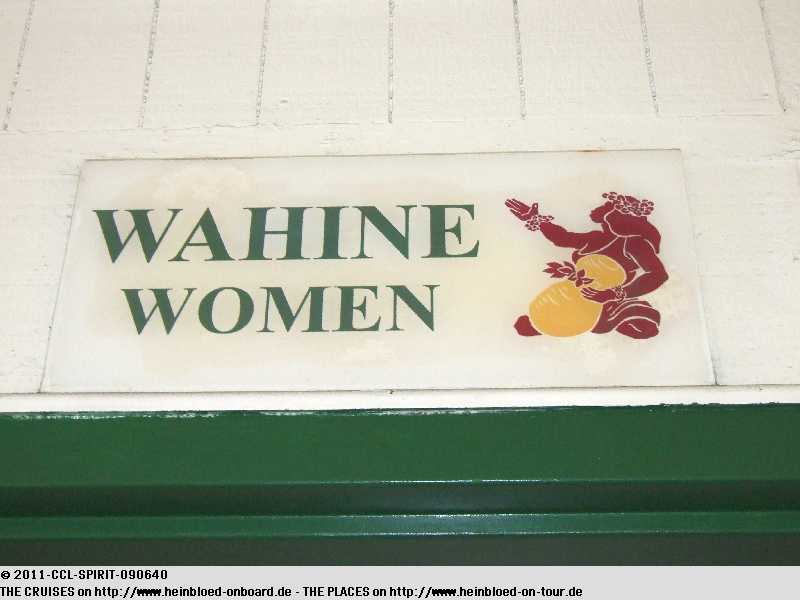 "Meine Wahine hatte Fisch und der war wie immer gut" - klingt auch gut...
Am Schluss ging es noch zum
Wailue River State Park
, um dort nochmals einen Wasserfall und die Flusslandschaft zu sehen.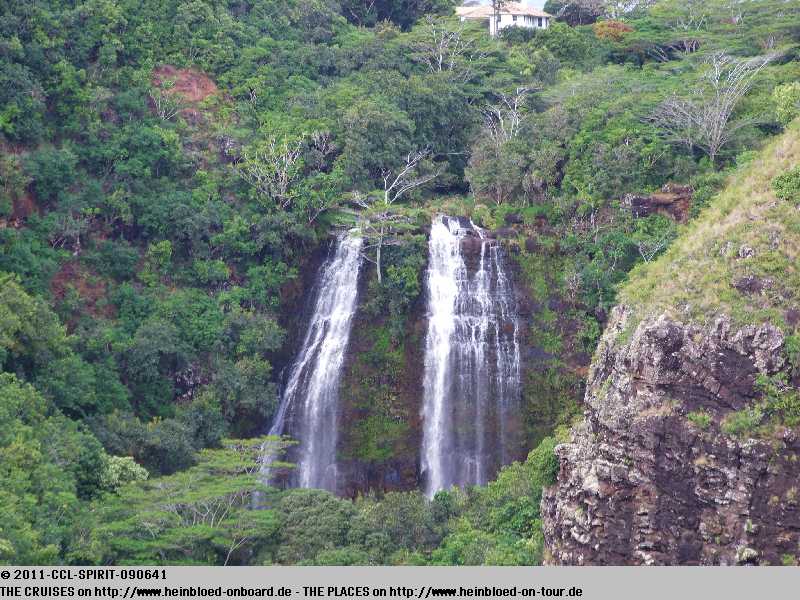 Finally we went to Wailue River State Park to see the waterfalls and the river landscape.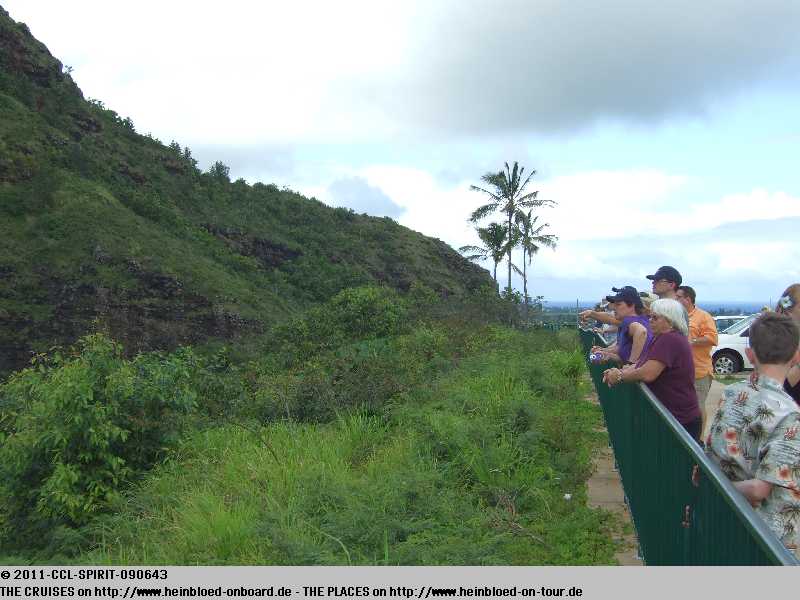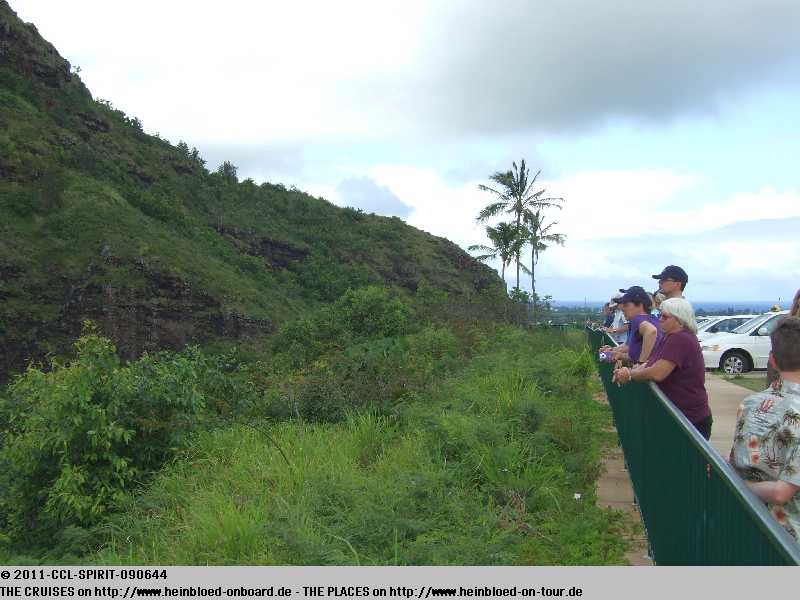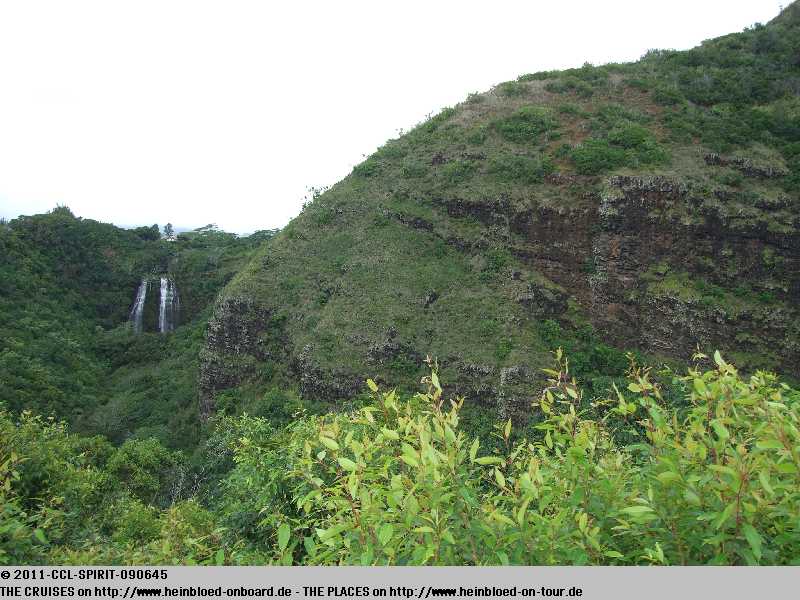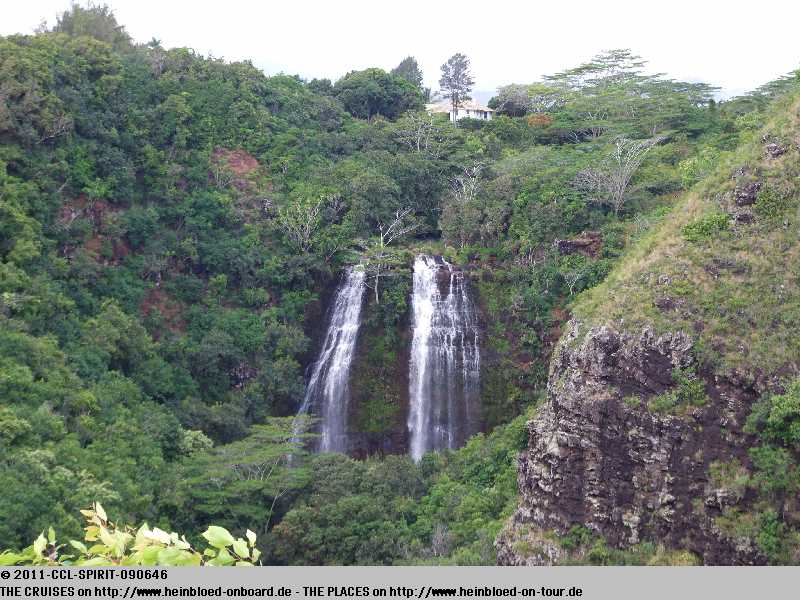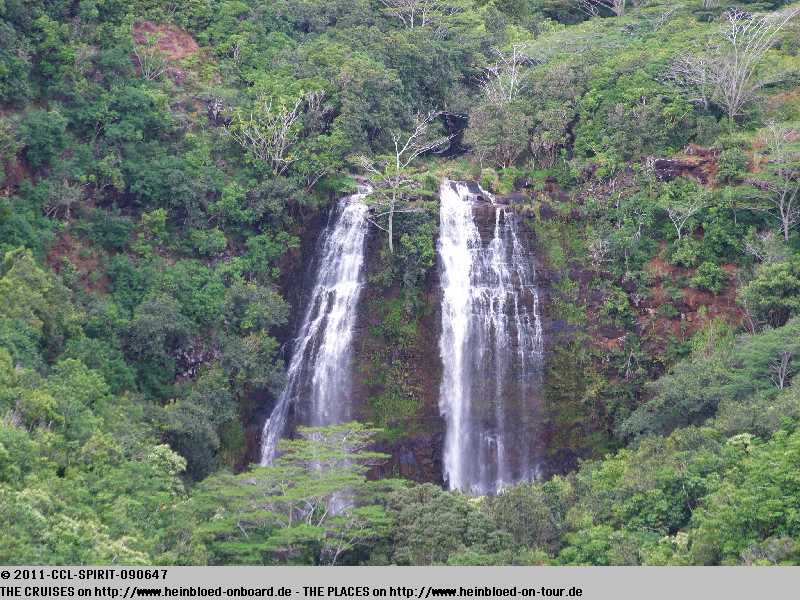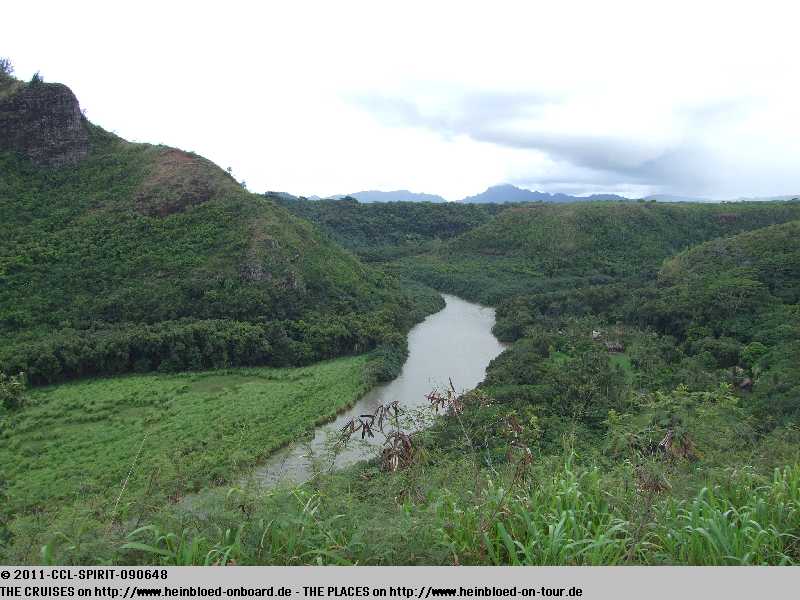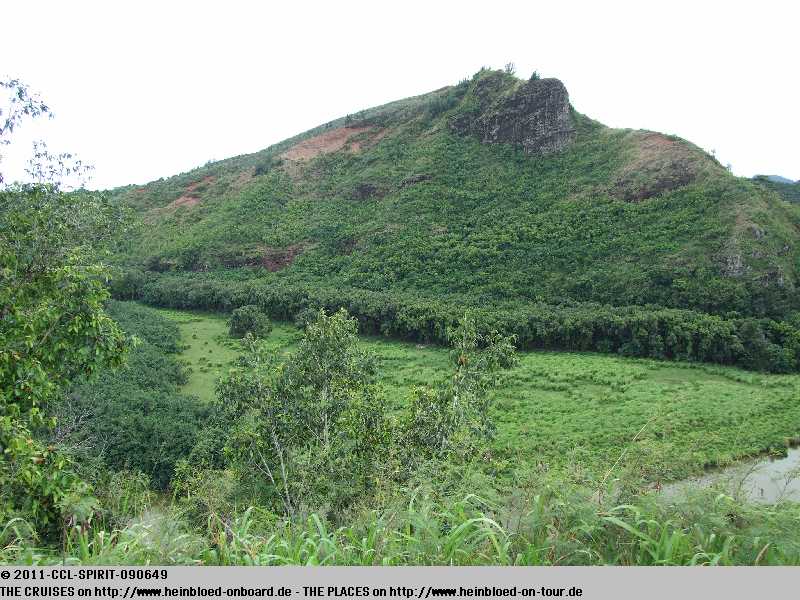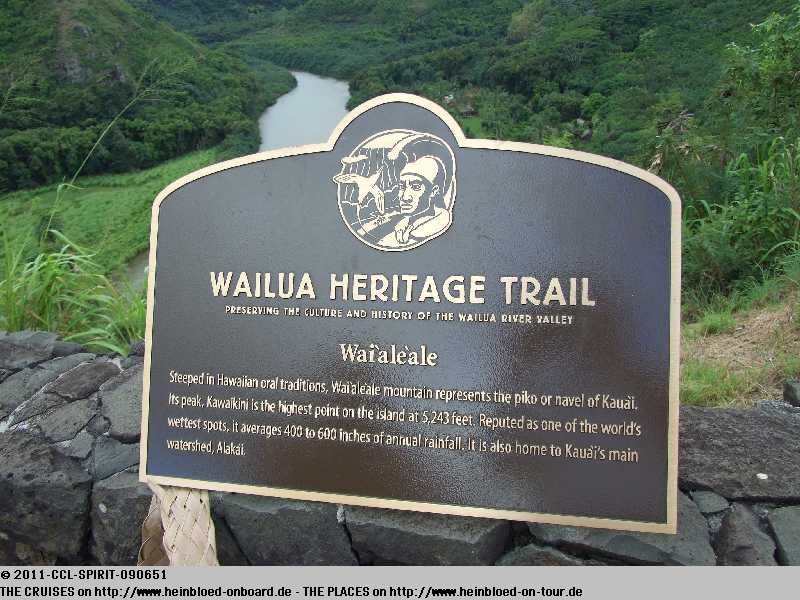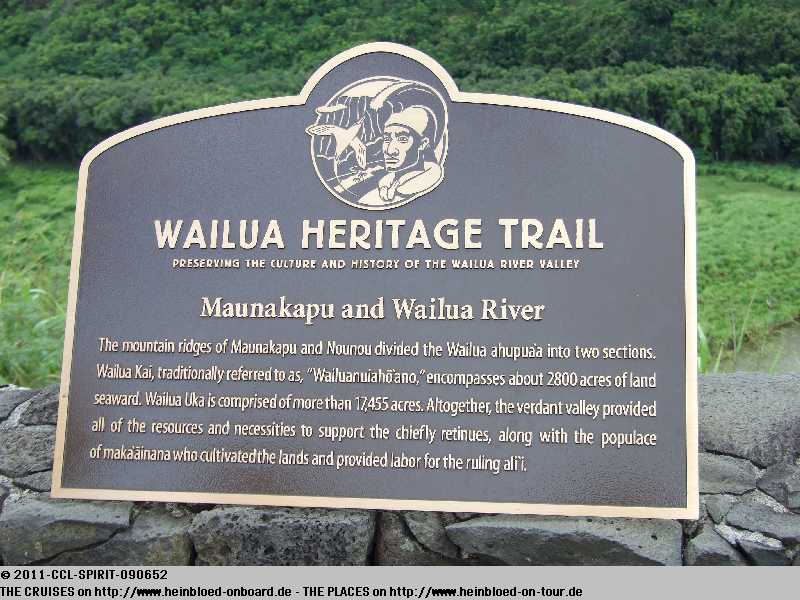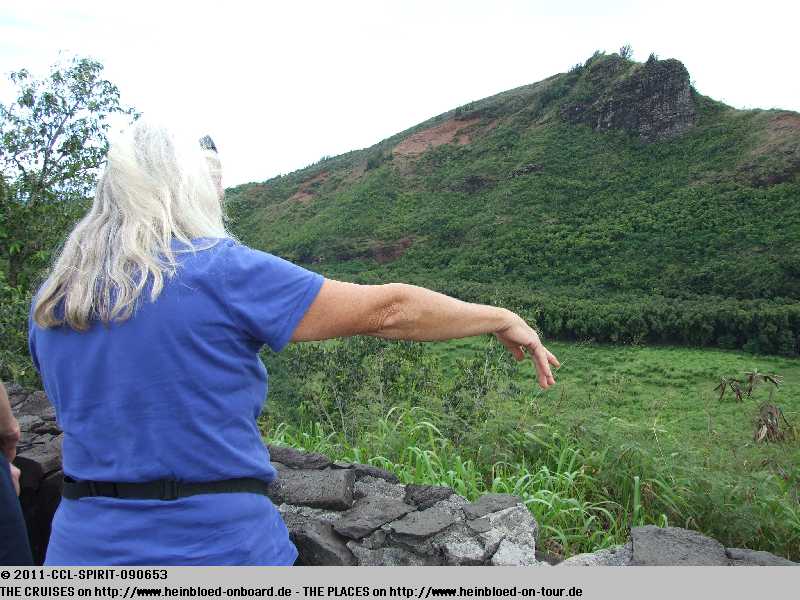 Generally I need to say: from the place with my lowest expectations I was surprised the most. But only because we had Charlotte who helped us to discover all the things we saw with a lot of fun.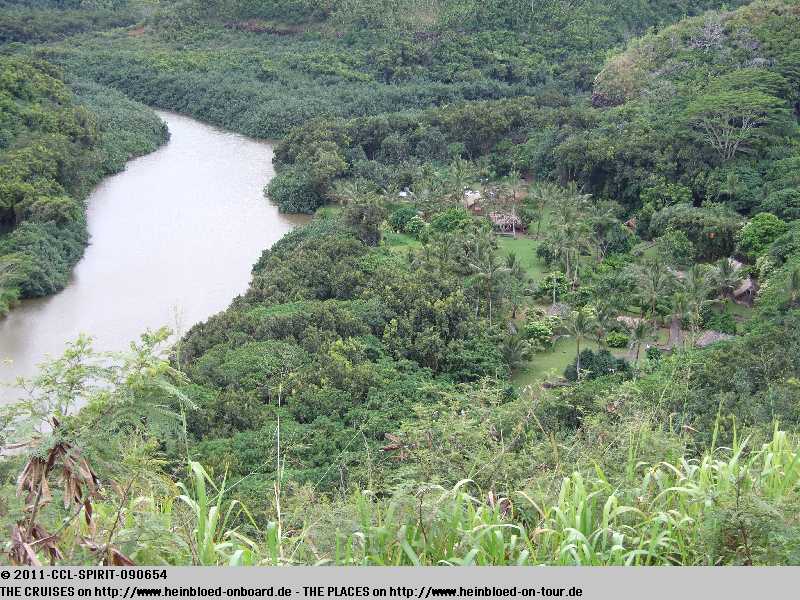 Insgesamt muss ich persönlich sagen: vom Ort mit den niedrigsten Erwartungen wurde ich am meisten positiv überrascht. Das lag aber vor allem an Charlotte, mit der es sehr viel Spaß gemacht das auch alles zu entdecken.
Unterwegs merkt Charlotte, dass irgendwie der Verkehr stockt und wir vermutlich nicht schaffen würden, rechtzeitig auf dem Schiff zurück zu sein. Deswegen setzt sie uns direkt am Hafen ab und bringt danach erst den Wagen zu Alamo zurück. Das ist Kundenservice. Die Schlange vor der Sicherheitskontrolle ist so lang, dass wir es auch nicht schaffen würden, schnell noch ein paar Mon Cheris für Charlotte runterzuholen. Deswegen bleibt uns nur übrig wiederzukommen und mit Charlotte noch den Rest der Insel zu erkunden.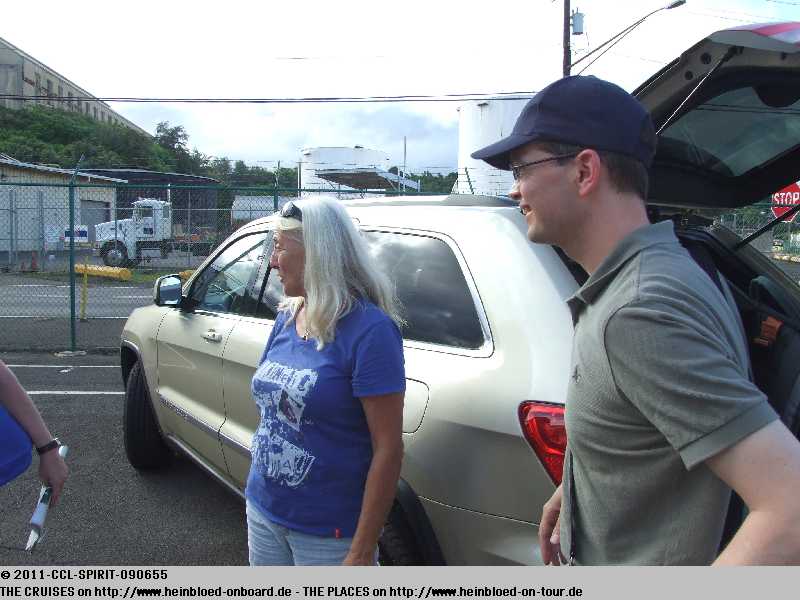 On the way back to the ship Charlotte saw that there was a certain kind of traffic congestion and we cannot make it to the airport before we return to the ship. So she gave us a lift to the port and took our car back to Alamo. True customer service. The line at the security screening was very long so we had no chance to get Charlotte some Mon Cheries from the ship. So our only chance is to return to this place and meet Charlotte again to see the rest of the island.

At the end we remarked the combination (we learned that Hawai'i is very proud to have different roots) of Rhineland and Hawai'i: we have never been bid farewell with so much cordiality. I guess the lyrics of the song contain: "Aloha oe": "Aloha oe, aloha oe - Thou charming one who dwells among the bowers - One fond embrace, before I now depart - Until we meet again". I can only repeat: "Until we meet again". Next time we need to make a stop at Coco Palms Resort. Until then we need to see the Elvis movie "Blue Hawai'i" that we remember well the places and can discuss...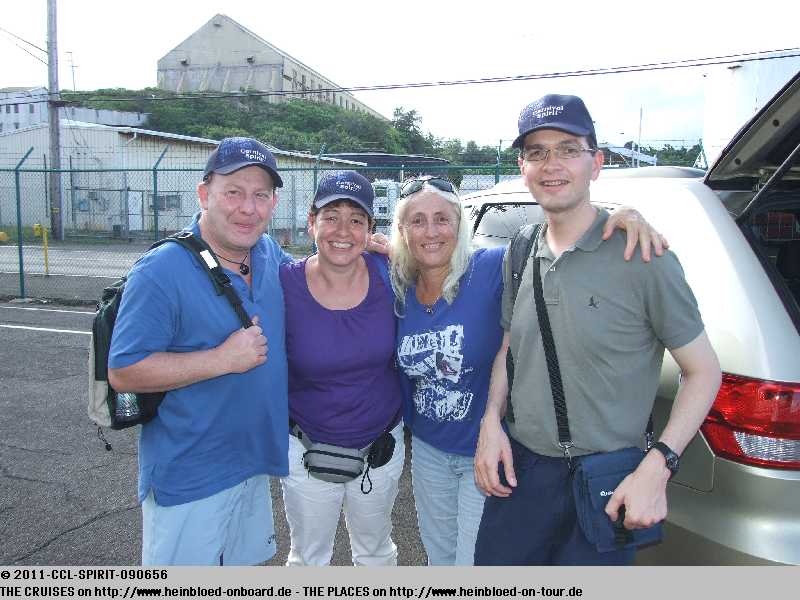 Am Schluss merkt man die Kombination (wir haben gelernt, dass man auf Hawai'i sehr stolz ist, unterschiedliche Wurzeln zu haben) von Rheinisch-Bergisch-Märkisch und Hawai'ianisch: mit so viel Herzlichkeit sind wir noch nie verabschiedet worden. Heißt es nicht im Text von "Aloha oe": "Aloha oe, aloha oe - Thou charming one who dwells among the bowers - One fond embrace, before I now depart - Until we meet again". Den letzten Teil kann ich nur besonders unterstreichen: "Until we meet again" - Bis dass wir uns mal wiedersehen. Und das nächste müssen wir unbedingt einen Stop am
Coco Palms Resort
machen. Bis dahin gucken wir uns nochmals den Elvis Film "Blue Hawai'i" an und können dann hoffentlich mitreden...