Scroll down for English explanations - alternates with German explanations.

Flower Power in Südkalifornien.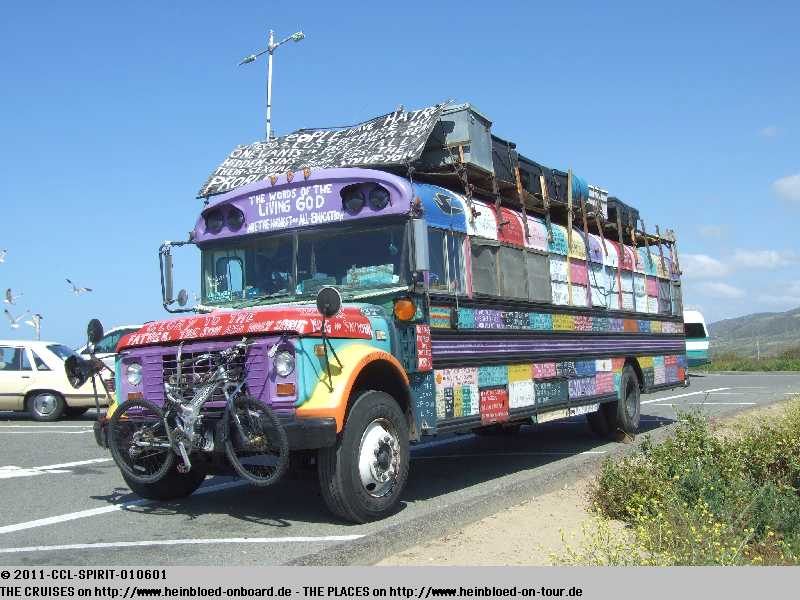 Flower Power in Southern California.

On the way to San Diego I discovered this bus on a parking. Taking pictures costed me a donation.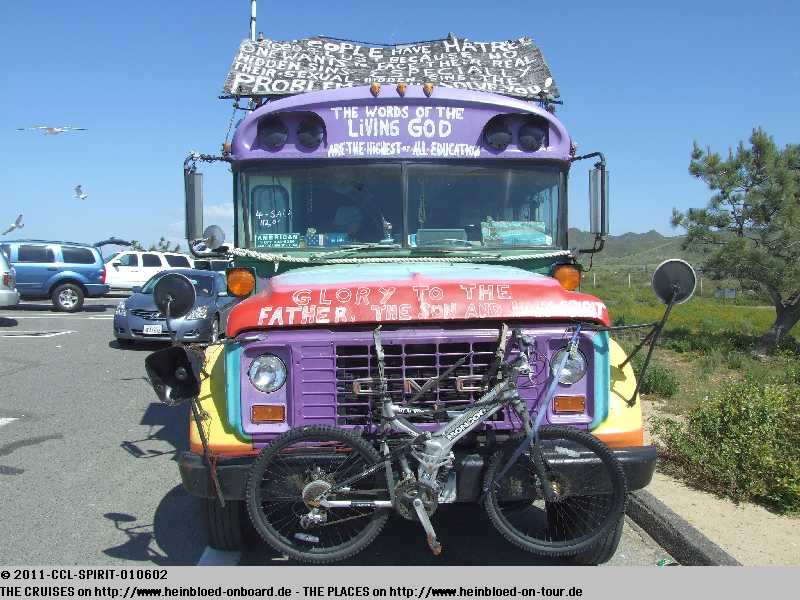 Auf dem Weg nach San Diego entdecke ich auf dem Parkplatz diesen Bus. Ihn zu fotografieren kostet mich eine Spende.
Es ist ein schöner Aussichtspunkt an der Interstate 5, der allerdings so wirkt wie bei "Die Vögel" von Alfred Hitchcock.

One of the nicest viewing points along the I-5 which made to me more the impression to be part of "The Birds" by Alfred Hitchcock.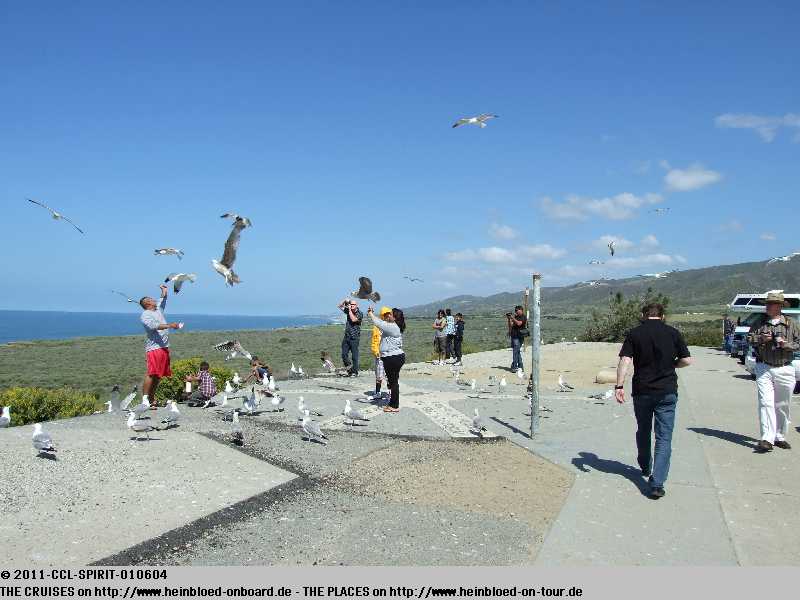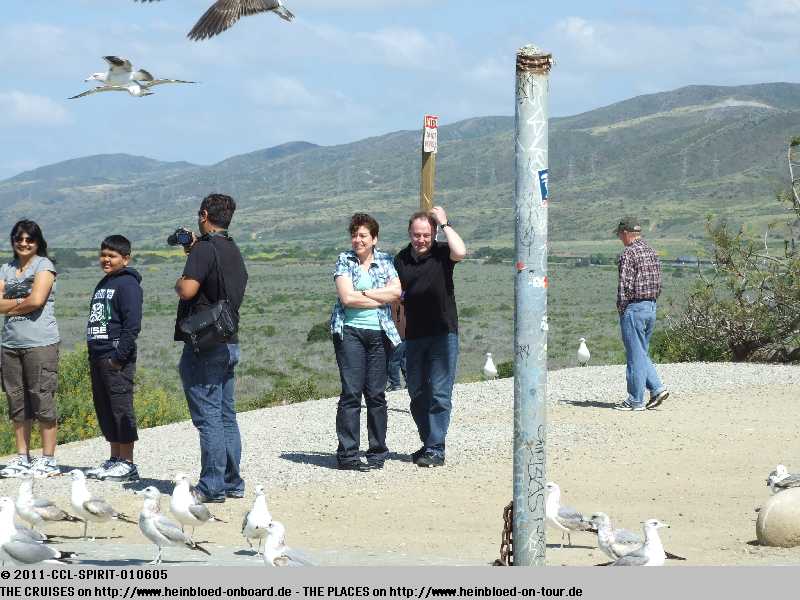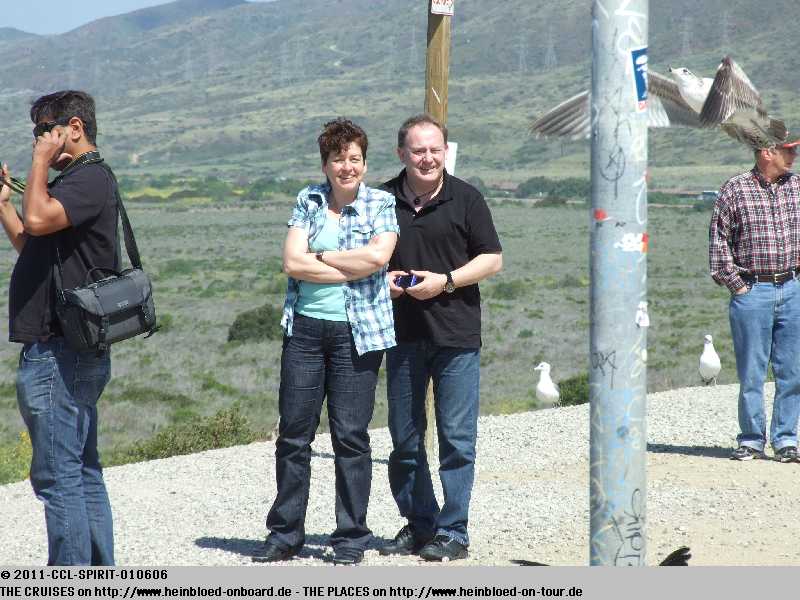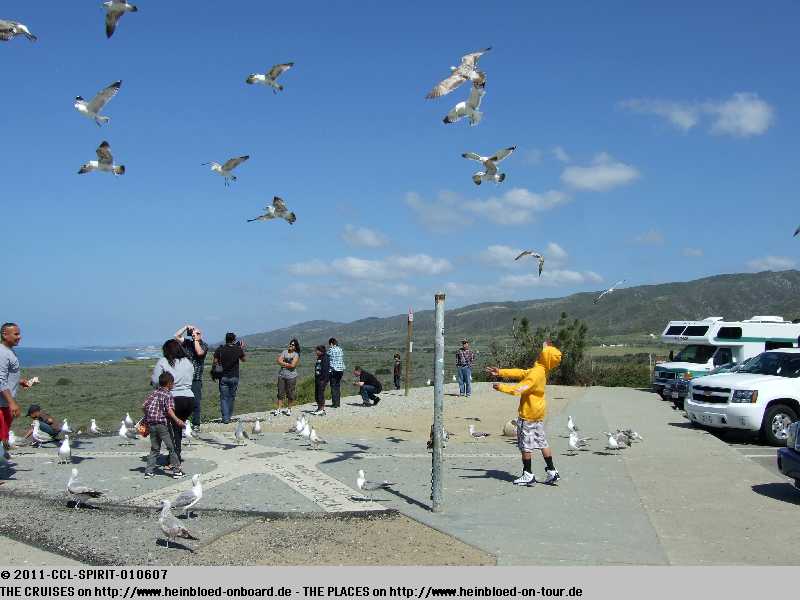 When we arrived around 11.30 hrs San Diego CARNIVAL SPIRIT just left San Diego.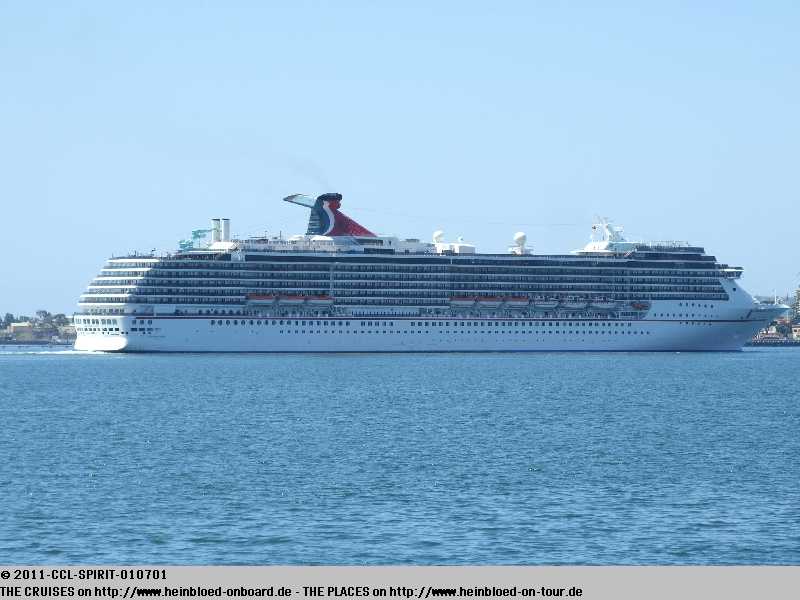 Als wir gegen 11.30 Uhr San Diego erreichen, verlässt die CARNIVAL SPIRIT gerade San Diego.
Das Schiff fährt nach Ensenada vor, um uns dort aufzunehmen.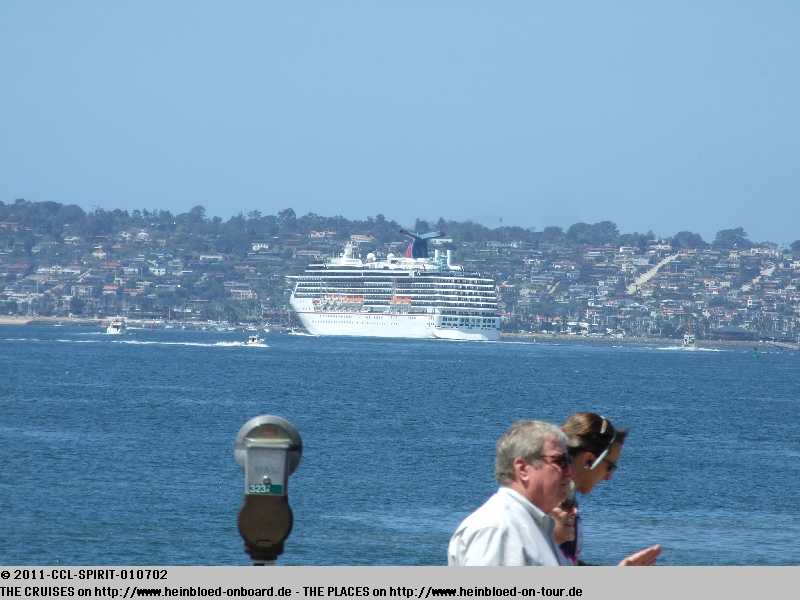 The ship moved to Ensenada to collect us there.

Now we wanted to clear the trunk. So we wanted to drop-off bags. In San Diego there were no porters available who took over the bags. So we had to carry all bags ourselves into the cruise terminal.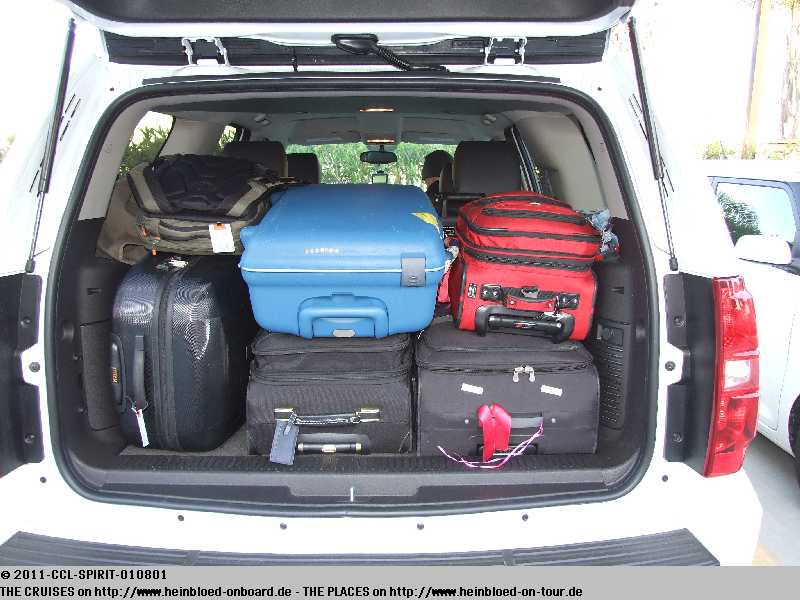 Nun wird der Kofferraum leergemacht. Wir wollen unser Gepäck loswerden. In San Diego stehen jedoch keine Gepäckträger bereit, die einem das Gepäck abnehmen. So müssen wir unser Gepäck selbst in das Cruise Terminal nehmen.
So ist das unser erster Eindruck vom Cruise Terminal in San Diego.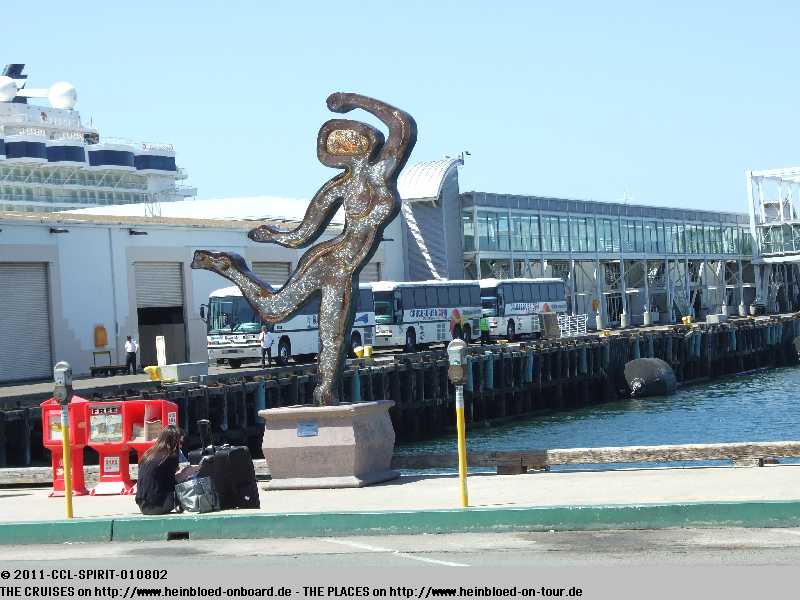 That was our first impression of the Cruise Terminal in San Diego.

There was a Celebrity-ship in town.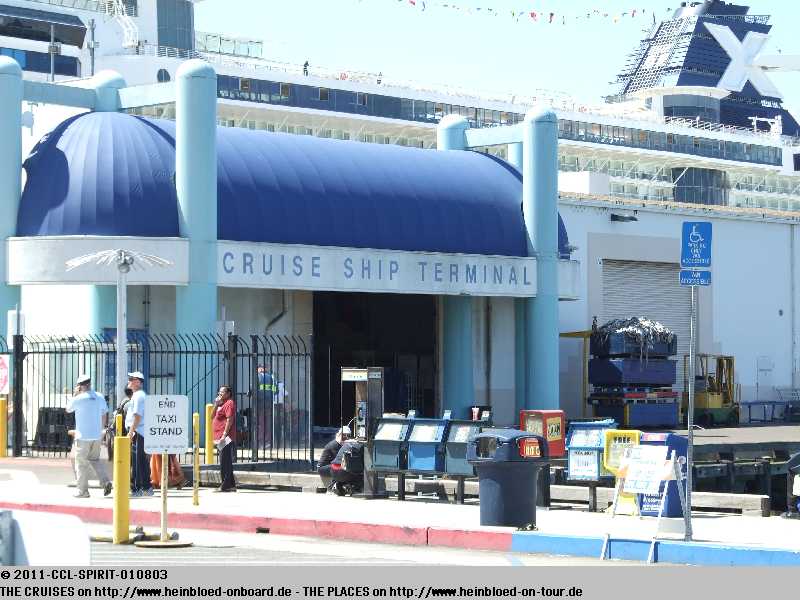 Hier liegt ja noch ein Celebrity-Schiff.
Schön für Shipspotters wie mich.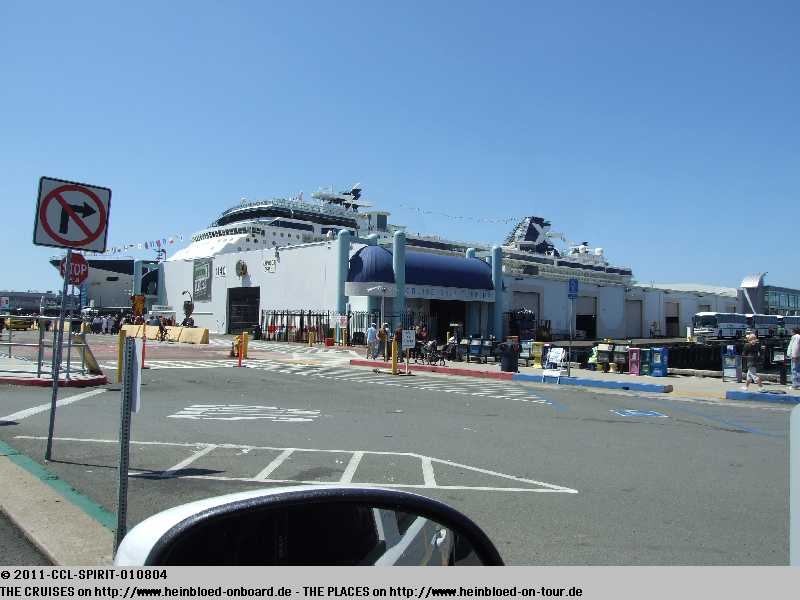 Nice for shipspotters like me.

As there were three ports in town it was not so easy to find a parking. So we parked at the USS Midway.

Da drei Schiffe in der Stadt liegen, ist es nicht so einfach einen Parkplatz zu finden. So parken wir an der USS Midway.
Kenne ich auch nur vom Film. Deswegen kann ich leider keine emotionale Bindung aufbauen. Das ändert sich jedoch später in Honolulu.

I only knew her from the movie. So I had no emotional relation to her. But later it changed in Honolulu.

I think it must be very nice to enter San Diego by ship and see the skyline.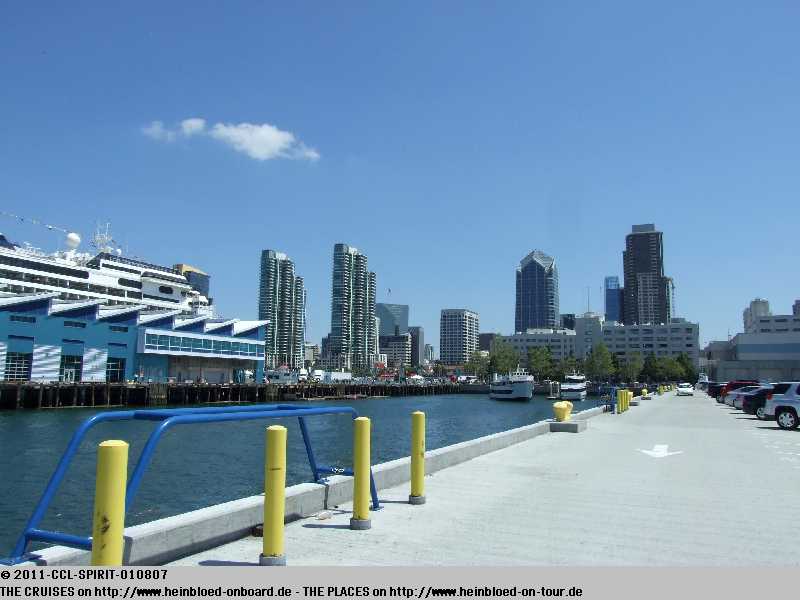 Es ist aber bestimmt schön, wenn man in San Diego auf einem Schiff einläuft mit der Skyline.
Von Freunden hatten wir den Tipp bekommen, das nächste Mal im Holiday Inn zu wohnen, das direkt gegenüber vom Cruise Terminal liegt.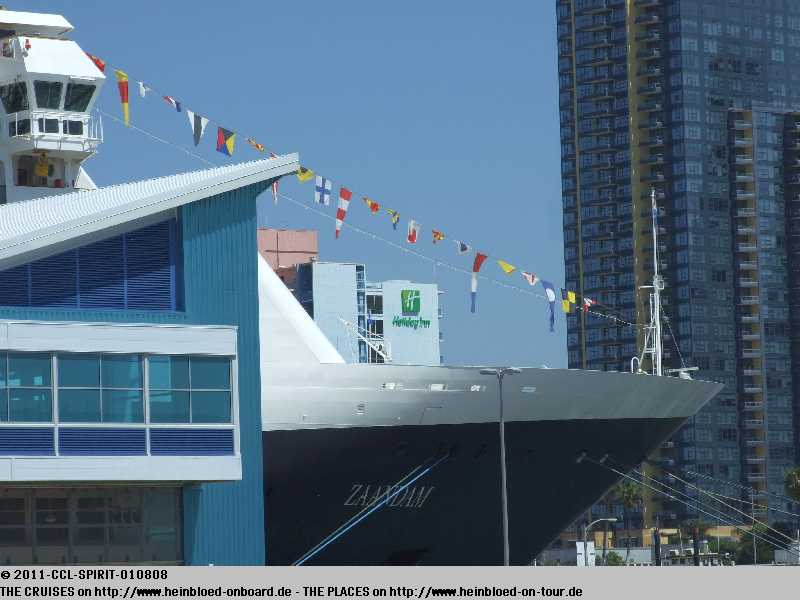 Friends recommended us to stay next time at the Holiday Inn as it is adjustant to the Cruise Terminal.

How nice the ships berthed to take pictures of them.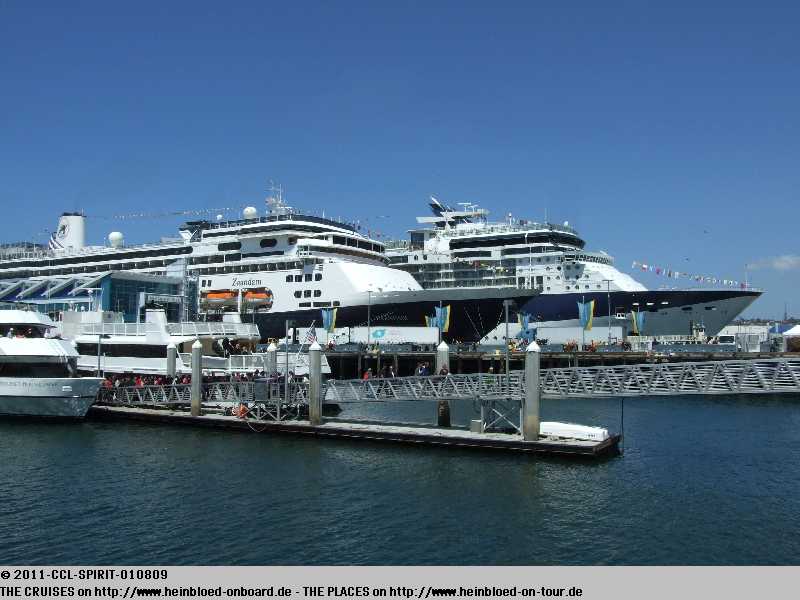 Schön wie hier die Schiffe nebeneinander zum Fotografieren liegen.
Und so nah am Leben an der Promenade.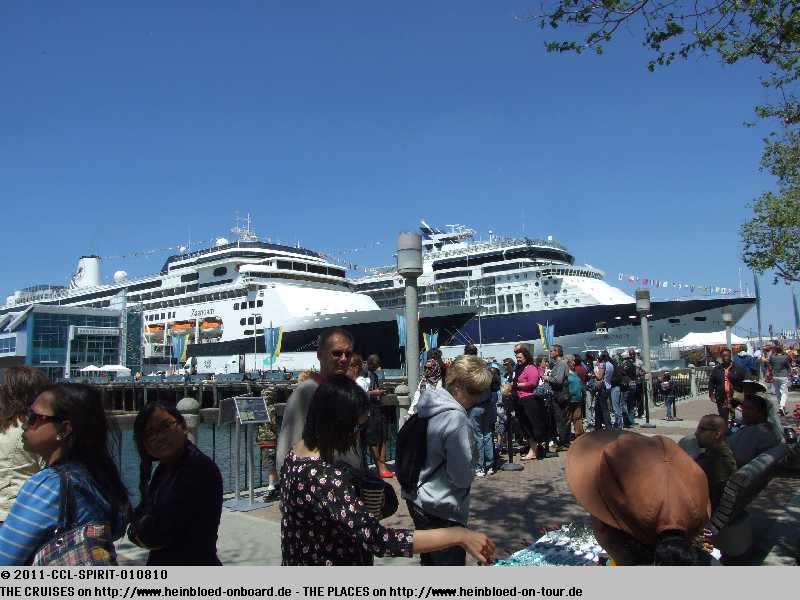 And so close to the life at the promenade.

For your GPS: 1140 N. Harbor Drive.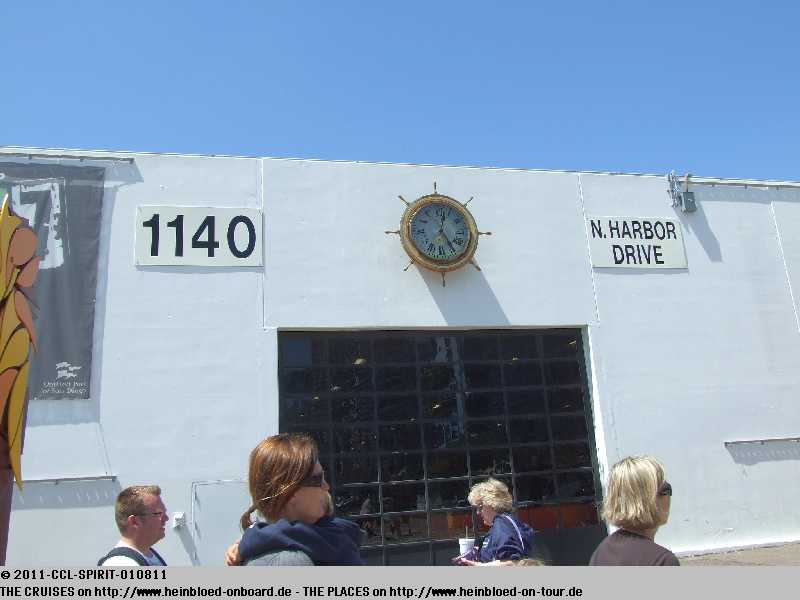 Für das Navi: 1140 N. Harbor Drive.
Bei der Sonne war natürlich die halbe Stadt auf den Beinen.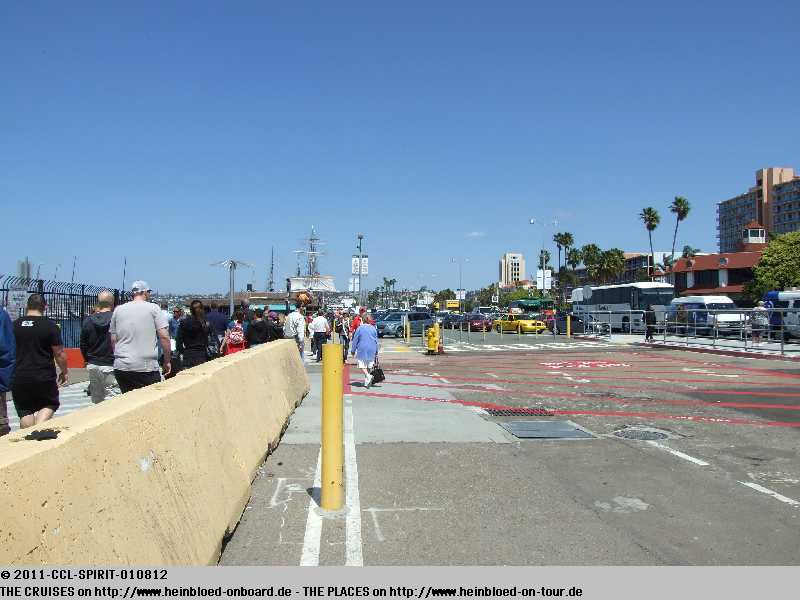 As nice as the sun shined I guess half of the town was walking here.

We had an appointment at Anthony's Fish Grotto.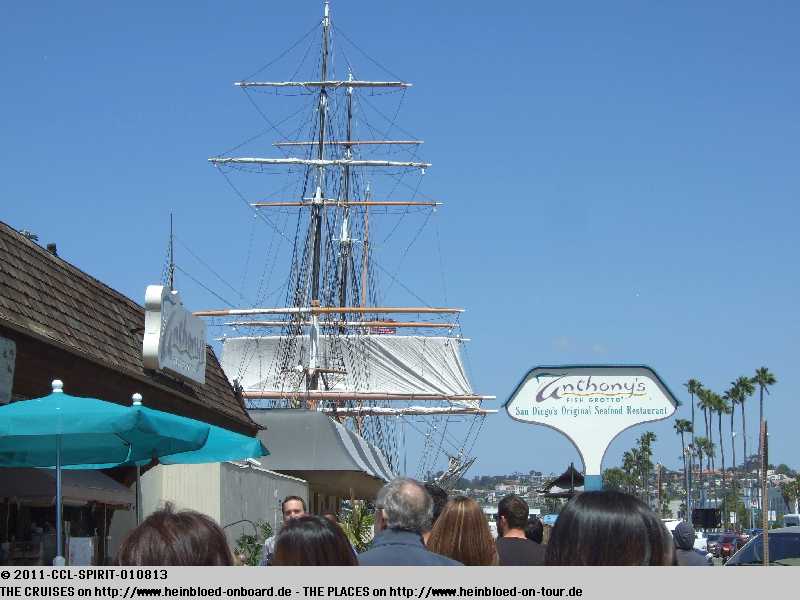 Wir sind in
Anthony's Fish Grotto
verabredet.
Neben fangfischem Fisch bietet es einen wunderbaren Ausblick auf die Bucht.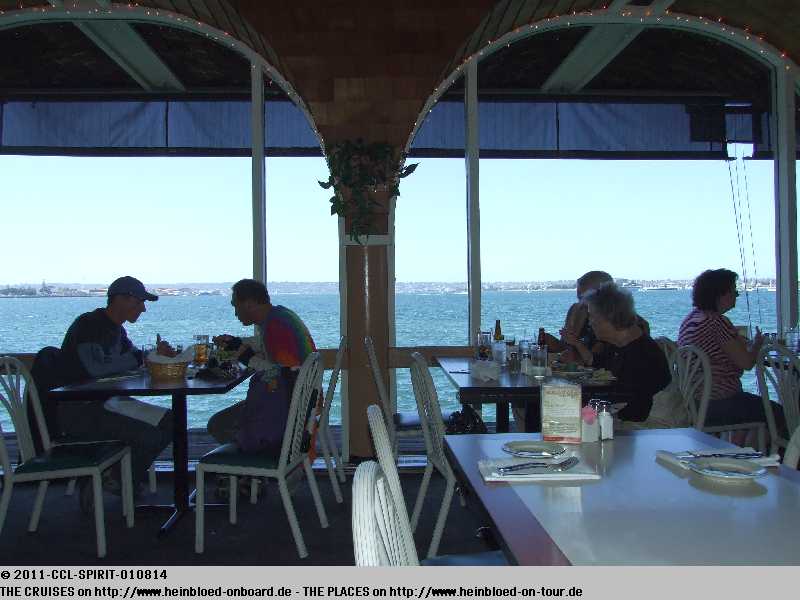 Beside fresh fish they offered a wonderful view to the bay.

We only took a fish sandwich. We could wait to start eating when we arrived in Ensenada.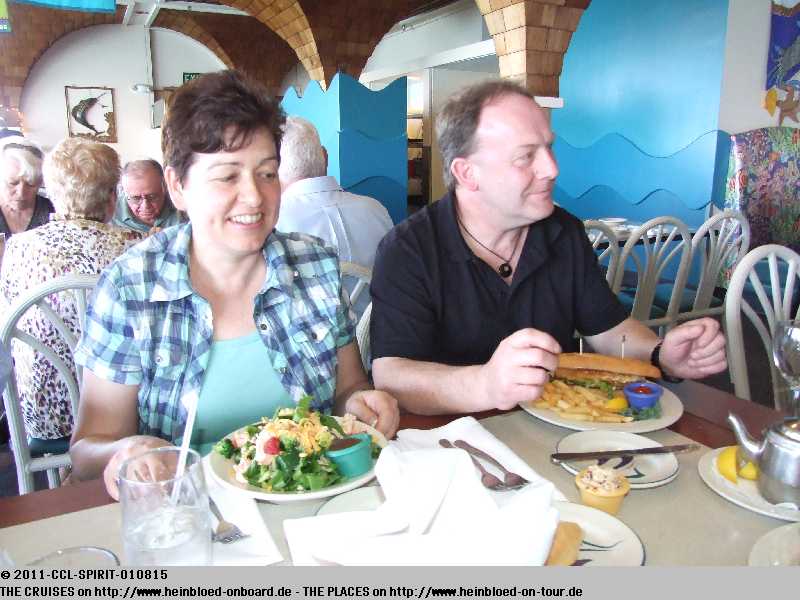 Wir nehmen nur ein Fischbrötchen zu uns. Mit dem Essen können wir ja noch an Bord richtig loslegen, wenn wir in Ensenada ankommen.
Es war der leckerste und saftigste Kabeljau, den ich im Leben hatte. Ich hatte allerdings nur den Fisch gegessen. Auf das Brötchen hatte ich keine Lust.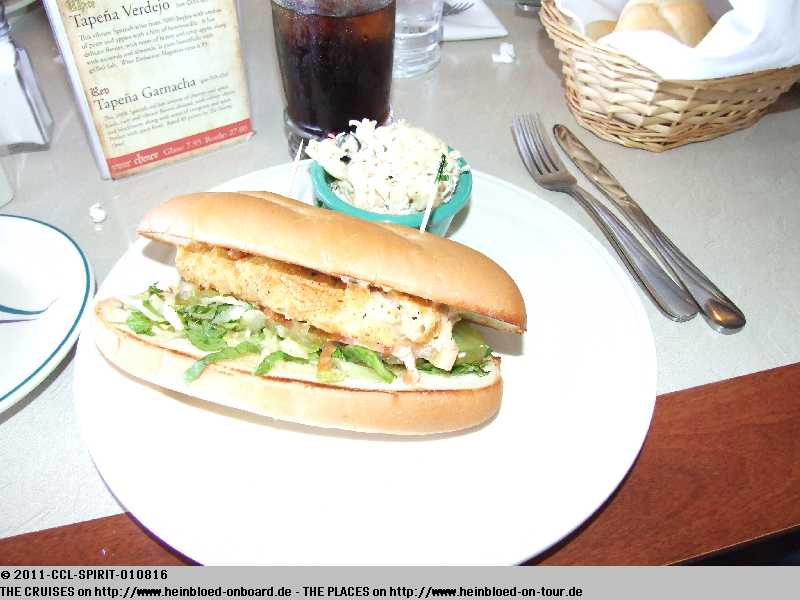 It was the very best and most juicy cod I ever had in my life. I only ate the fish. Somehow I did not want to have the roll.

In front of us somebody thanked for the support of Japan.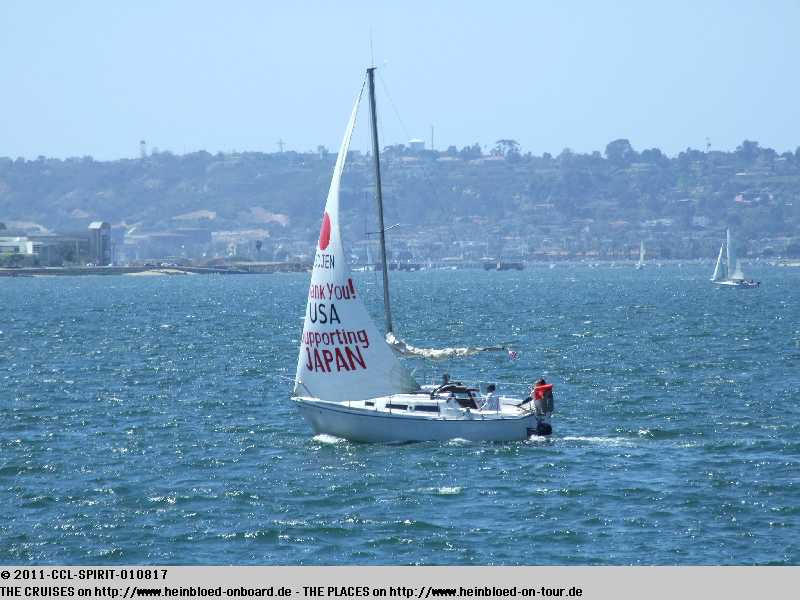 Vor uns bedankt sich jemand für die Japan-Hilfe bei den Amerikanern.
Und direkt am Restaurant wären wir per Boot zu einer Rundfahrt abgeholt worden, wenn der Motor wieder in Ordnung gewesen wäre.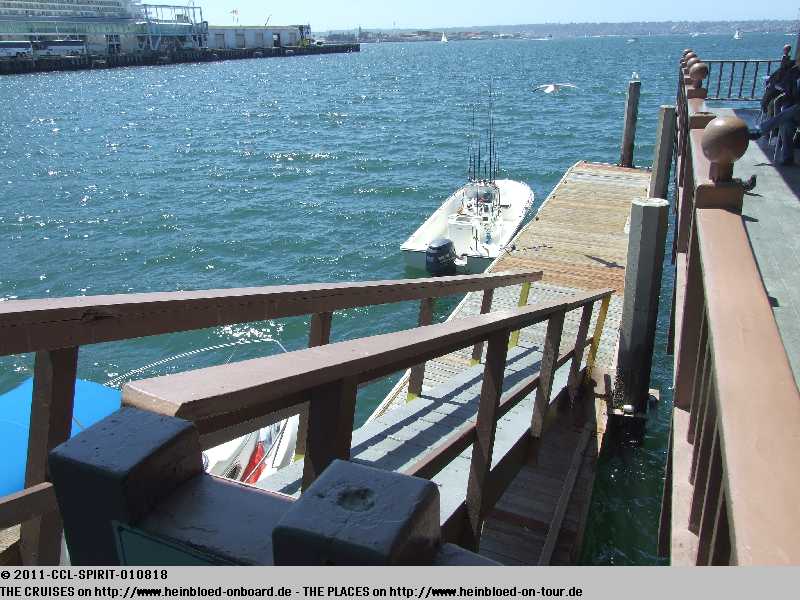 And just next to the restaurant we would have been picked-up for a short cruise if the engine would have been repaired.

Even it did not work out with the cruise we were happy to see again KenSanDiego from cruisecritic.com whom we know from NORWEGIAN JADE in January 2011.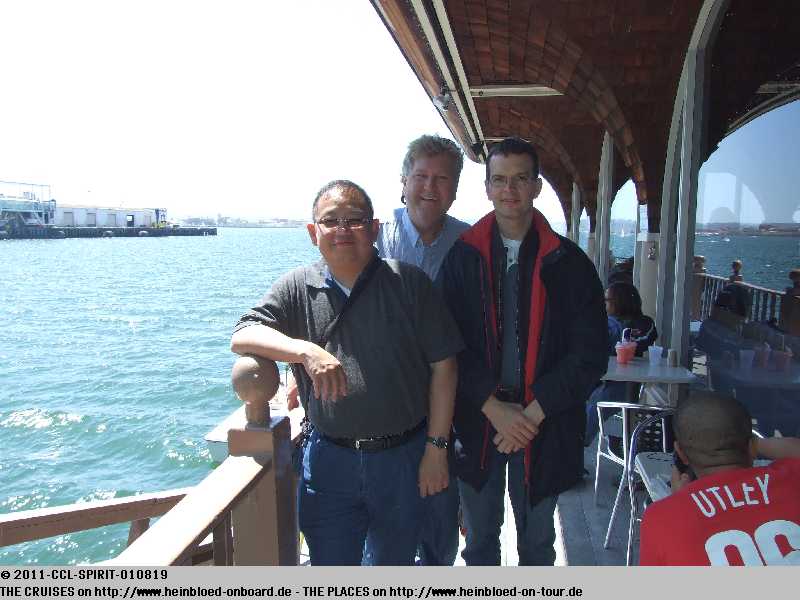 Auch wenn es jetzt mit der Bootsfahrt nicht geklappt hat, freuen wir uns riesig KenSanDiego aus dem cruisecritic.com-Forum wiederzusehen, den wir von der NORWEGIAN JADE im Januar 2011 her kennen.
Für Brunos Schwester Astrid und Schwager Hermann gibt es zum Trost das Foto. Und wir werden damit vertröstet, dass wir wieder ab San Diego fahren sollen, um die Bootstour nachzuholen.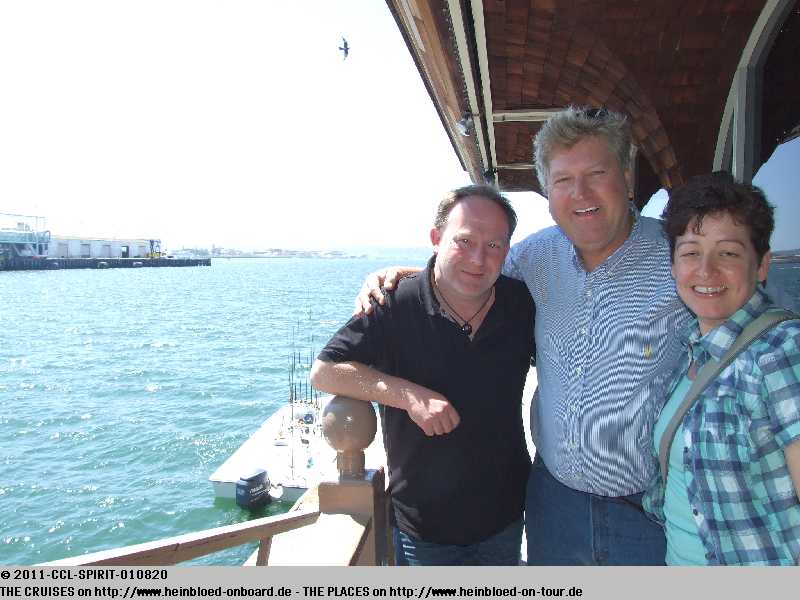 For Bruno's siter Astrid and brother-in-law Hermann we had only this picture for memories. So we were invited to start a cruise out of San Diego and have the bay cruise then.

So we had a great group shot...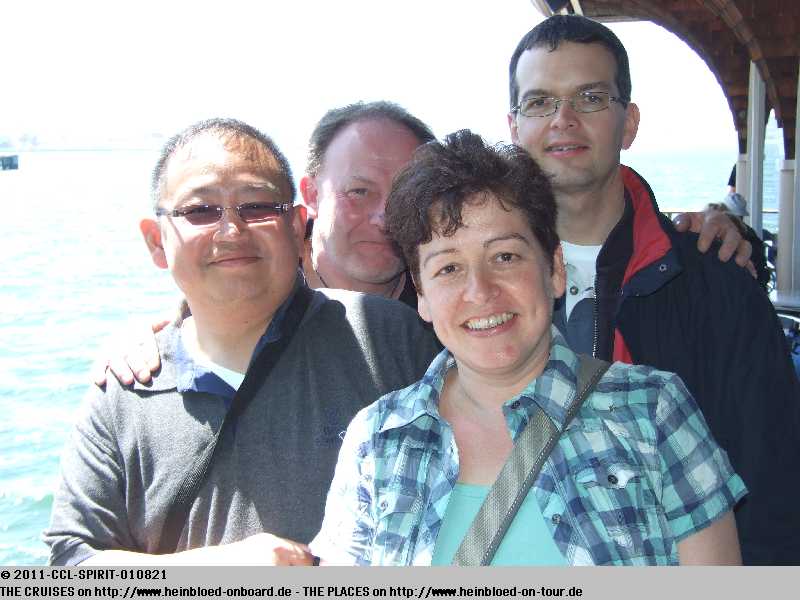 So gibt es doch mal ein Gruppenbild von uns...
und ein exklusives Abschiedsbild mit Brunos Schwester Astrid.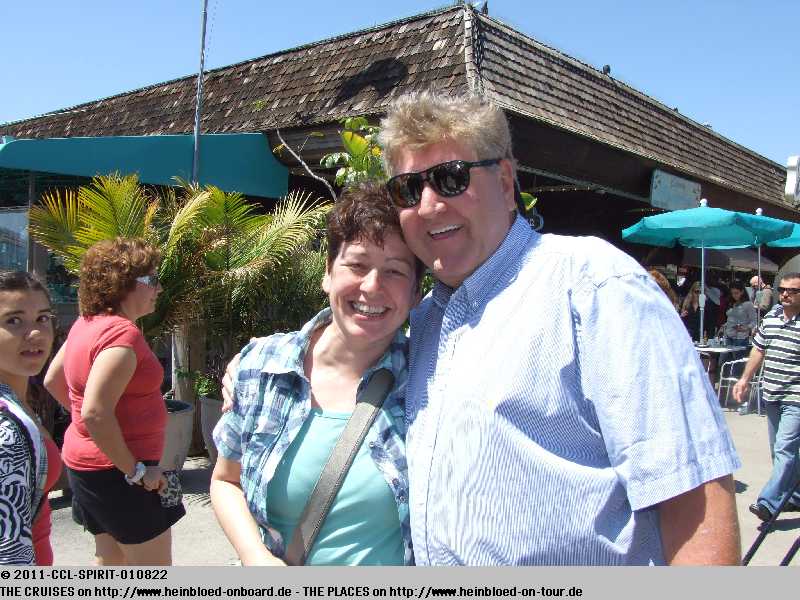 and an exclusive farewell-photo just with Bruno's sister Astrid.