Scroll down for English explanations - alternates with German explanations.

Ich hatte bewusst die Nacht nochmals darüber geschlafen, aber mich doch dazu entschlossen dem Hoteldirektor einen Brief zu schreiben. Leider hatte ich keinen USB-Stick mit. Zunächst hieß es, dass ich oben den Drucker im Internet-Café nutzen müsste. Dass ich nicht 50 US-Cent pro Seite ausgeben wollte, um dem Hoteldirektor zu schreiben, sah man auch ein. Da aber Carnival ausdrücklich den Einsatz von fremden USB-Sticks an deren Rechnern untersagt und sie aber auch keinen firmeneigenen USB-Stick (wie bei Holland America oder Royal Caribbean) hatte, überträgt sie kurzerhand meinen Brief auf ihren Privatrechner und druckt ihn dann für den Hoteldirektor aus. Es war wirklich nach den letzten Ereignissen der erste Höhepunkt an Bord, den ich erlebe, auch wenn es mir lieber gewesen wäre, die Bekanntschaft von Stefania lieber unter anderen Umständen gemacht zu haben. Übrigens habe ich sie auch zum Lachen gebracht: Weil wir ja auf der NORWEGIAN JADE so viel mit unserer Rumänian-Gang (Viele Grüße an alle!!!) zu tun hatten, fiel mir in diesem Augenblick das rumänische Wort für Danke ein: Multumesc. Kommt ja vielleicht auch nicht so häufig vor, dass ein Gast sich die Mühe macht, die Länder auf dem Namensschild zu lesen und sich in deren Landessprache zu bedanken - oder??? Ich denke, dass es eine einfache Art der Wertschätzung des Menschen gegenüber ist und ein Zeichen, dass man ihn nicht nur als Bediensteten wahrgenommen hat.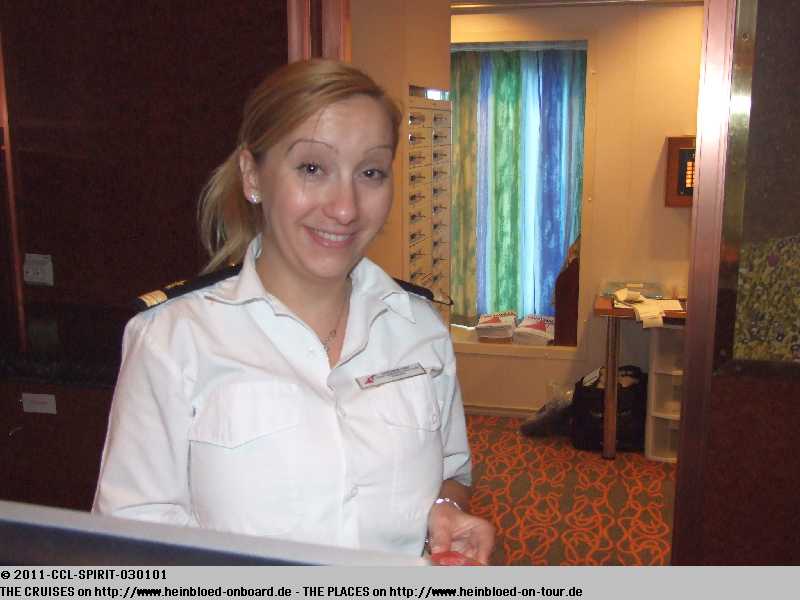 I decided conciously to sleep another night before I decided to write the Hotel Director a letter. But unfortunately I had no USB-stick with me. First I was told to use the printer in the internet-café. But I had no intention to write the Hotel Director and pay 50 Cent per page for the printing out the letter. She agreed. As Carnival does not allow the use of foreign USB-Sticks on their computer and she had no company owned USB-stick (like with Holland America or Royal Caribbean), she just transferred my letter to her personal PC and made a print for the Hotel Director. After the last incidents it was the first highlight on board which I experienced even I wished I made the acquaintance of Stefania under other circumstances. Because we had a close realationship to our Romania-gang (many greetings to everyone!!!) I remembered in this moment the Romanian word for thank you: Multumesc. Maybe it is not so frequent that a guest read the countries of origin on the name tags and to thank in their language - or??? I think it is a very easy way to appreciate the man/woman and it is an easy way to show that you notice him/her not just as a crew member.

It was not so windy outside to close the promenade but it was only closed for cleaning.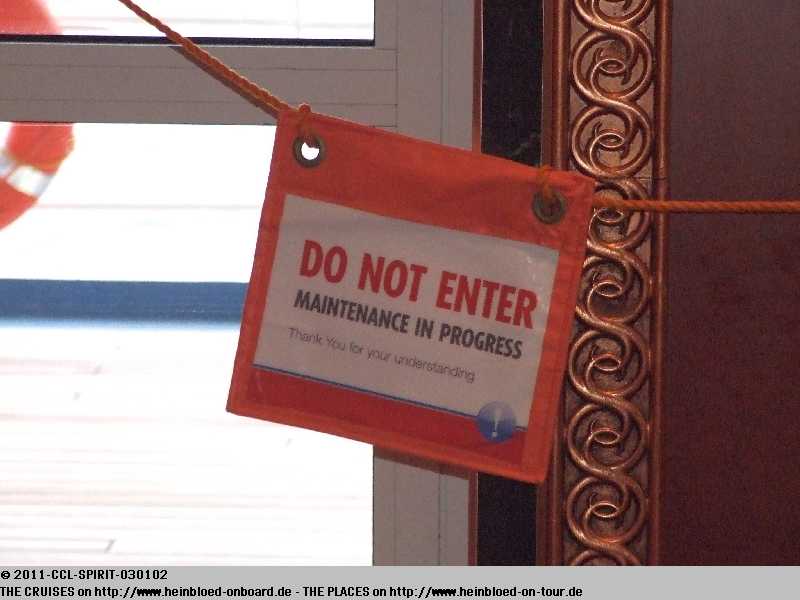 So stürmisch ist es doch gar nicht, dass man die Promenade sperren muss, aber es sind nur Reinigungsarbeiten.
Zur Öffnung des Restaurants bildet sich eine lange Schlange.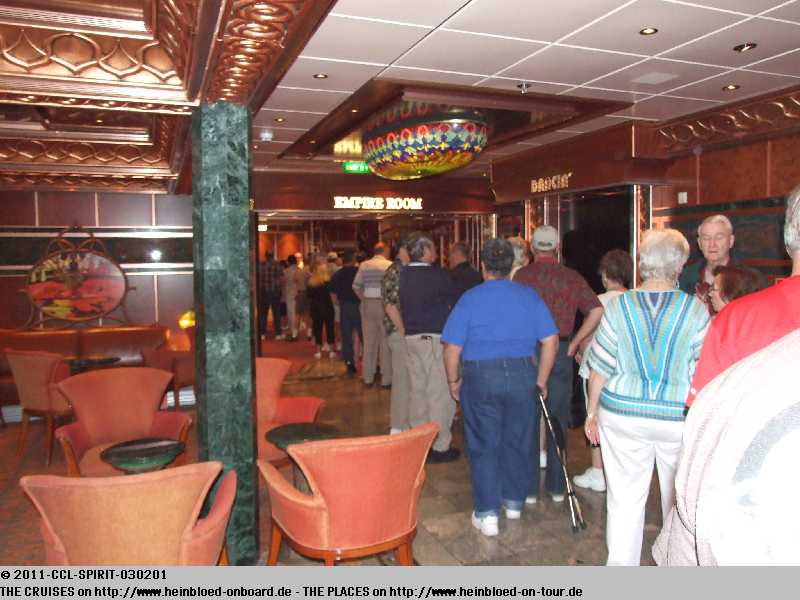 A long line was formed before the restaurant opened.

Never saw it before on any other ships: They had alcohol for breakfast. Who like to have a Bloody Mary... Cheers...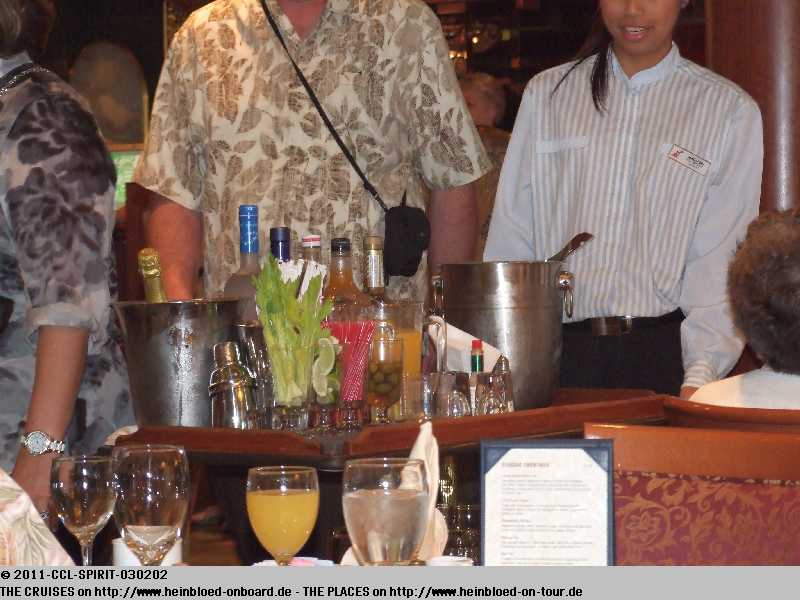 Bisher noch auf keinem anderen Schiff gesehen: Es gibt schon Alkohol zum Frühstück. Wer Lust auf eine Bloody Mary hat... Cheers...
Die Puddingteilchen sind sehr lecker...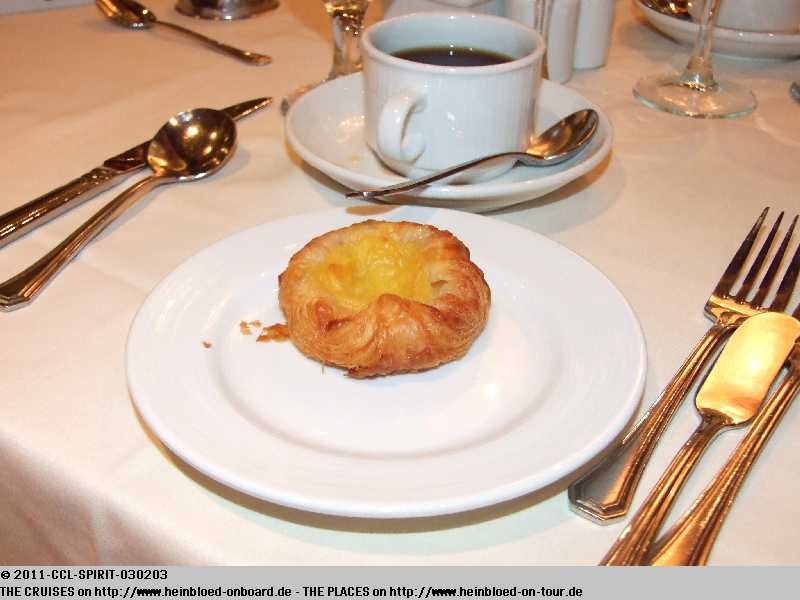 The cheese pastries were very yummy...

Bruno were unlucky: because I was not willing to pay 1.000 USD more per person to get his Holland America muffins he need to accept this muffin but it did not satisfy his quality standards.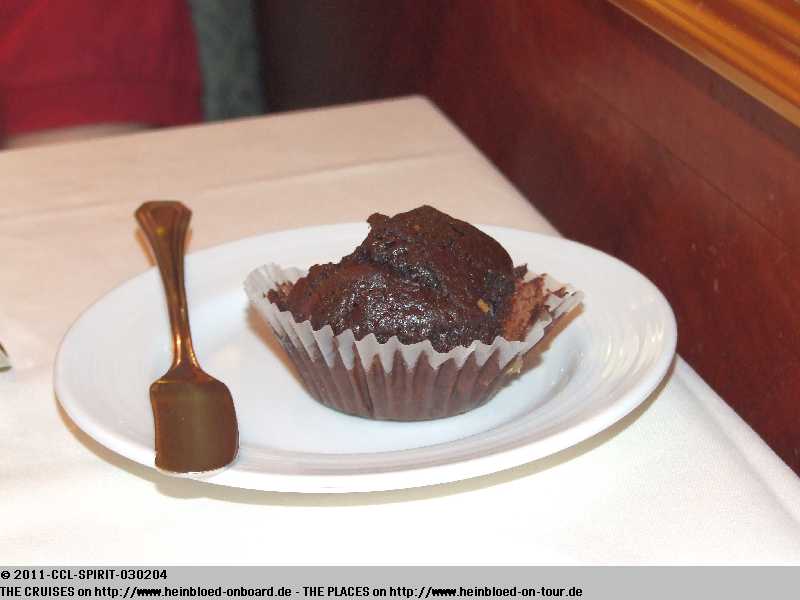 Bruno hat Pech: weil ich zu geizig war 1.000 USD pro Person mehr auszugeben, damit er wieder seine Holland America Muffins bekommt, muss er sich mit diesem Muffin begnügen, der allerdings seinen Qualitätsansprüchen nicht gerecht wird.
Heute Morgen hatte ich ein Glas Eistee bestellt. Der lässt sich allerdings sehr viel Zeit...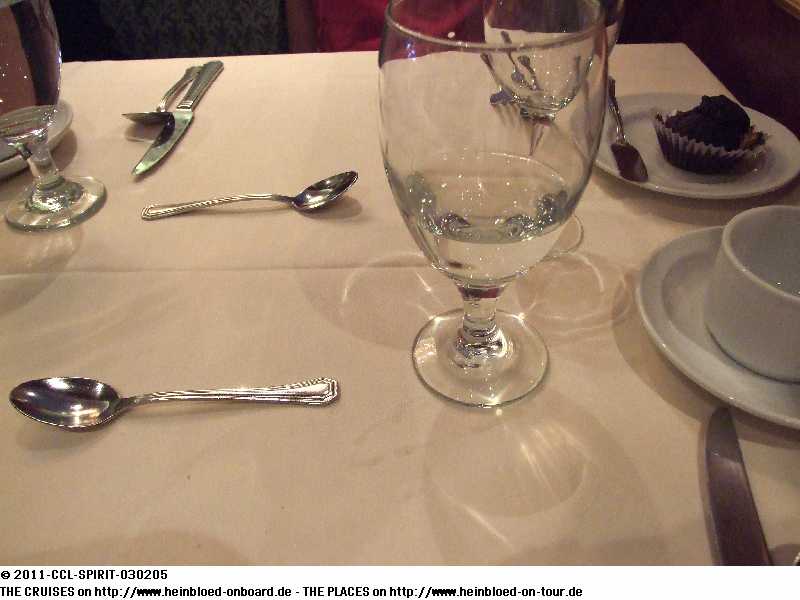 This morning I ordered an iced tea. But this took a long long long while...

That was how the orange- and grapefruitslices looked like if I did not touch it before. Something I will request in future with NCL...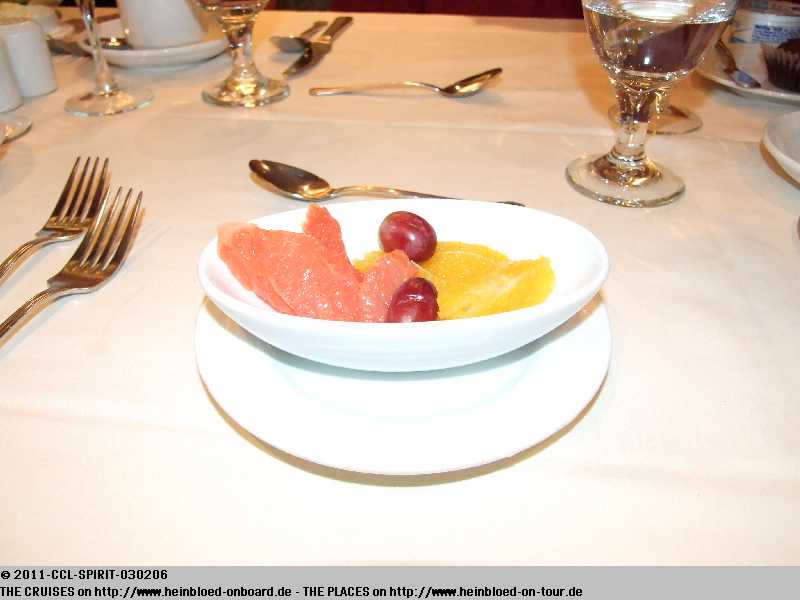 So sehen die Orangen- und Grapefruitstücke aus, wenn ich noch nichts davon gegessen habe. Das wird übrigens etwas sein, was ich künftig bei NCL anfragen werde...
Bruno bekommt seine Melonen wieder erst auf nochmalige Anfrage. Irgendwie läuft heute Morgen auch nichts mehr, sobald der Hauptkellner mal nicht in der Nähe ist.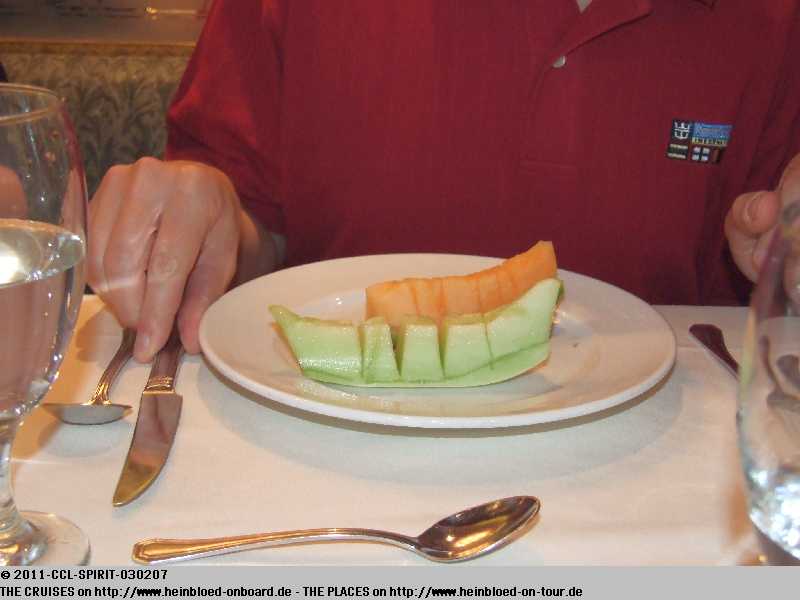 Bruno got his melons only after he repeated his request. Somehow it did not work when there was no head waiter around.

That he was not around us was because of a special request: There was nothing for the European taste: and no cold cuts. Cheese was only available for dinner as dessert. Only salmon. Our main waiter Dandy made it somehow possible to get a cheese plate for Hermann. So it was our mistake that it did not work with the others while he was not available.

Dass er nicht in der Nähe war, lag an einem Sonderwunsch: Es gibt nichts für den europäischen Geschmack: Wurst gar nicht. Käse nur abends als Dessert. Einzig allein Lachs. Unser Hauptkellner Dandy hat jedoch irgendwie es schon geschafft, an eine Käseplatte für Hermann heranzukommen. Deswegen sind wir es selbst Schuld, dass der Rest ohne seine Anwesenheit nicht so lief.
Als ich nochmals anfrage bekomme ich meinen Eistee.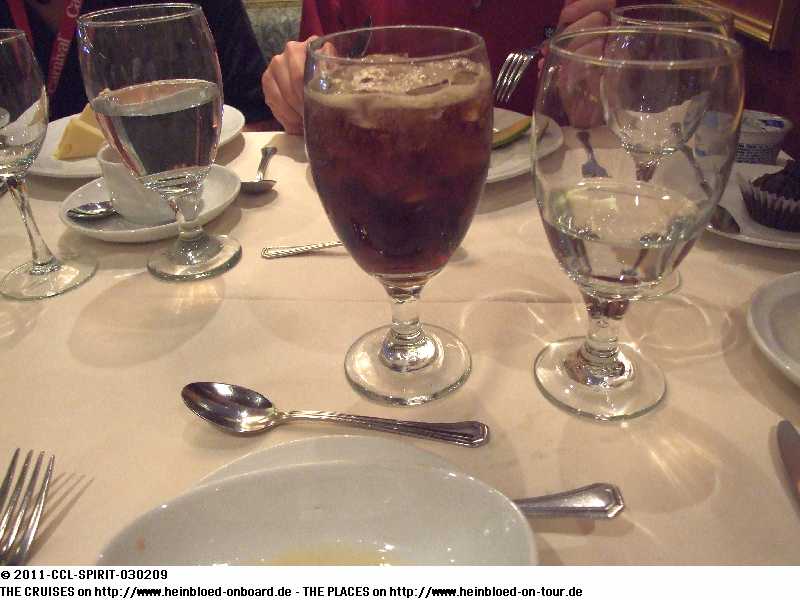 When I requested again I got finally my iced tea.

Do not order a plain omelette. It will occur some irritation...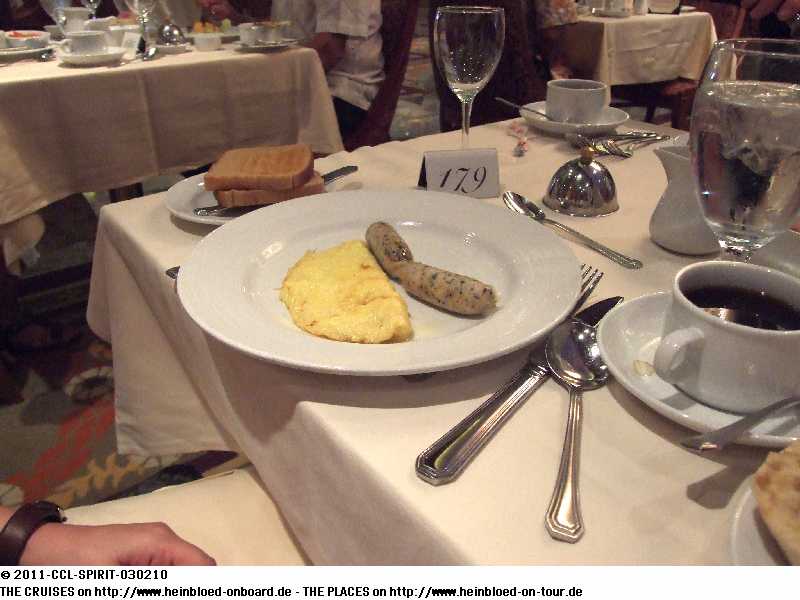 Sich ein Naturomelette zu bestellen, führt immer zu etwas Irritierung...
Ich bekomme meine Egg Benedicts. Nicht ganz so gut, wie bei NCL aber besser als bei Princess...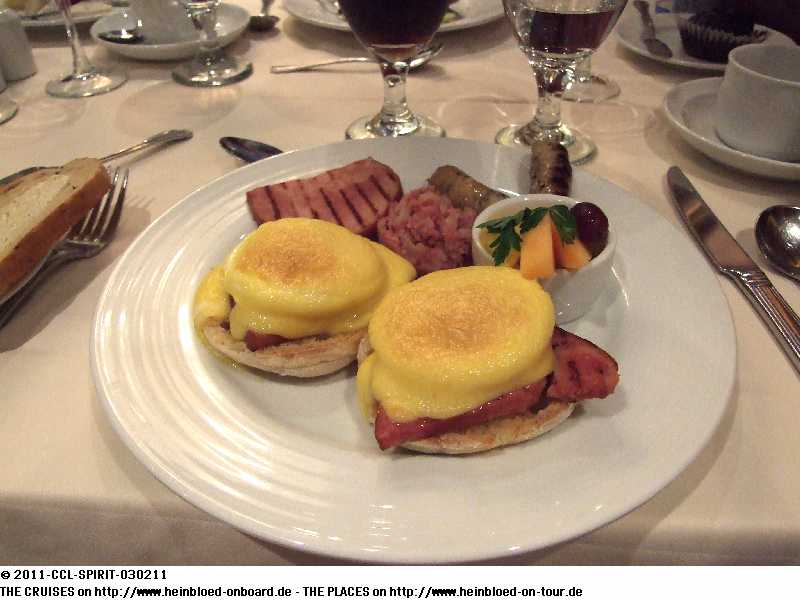 I got my egg benedicts. Not as good as with NCL but better than Princess...

Sometime the cranberry-juice came which you normally would expect at the beginning of a breakfast. But they were still exercising... And I was trying to train my brain that I should not expect the same service level which I know from NCL... even not for such basics... I need to learn to be thankful to get a cranberry-juice and should train my stomach that the sequence when you get something should not play a big role as long as you get anything. But it was an improvement compared to the day before: then we had no chance to ask.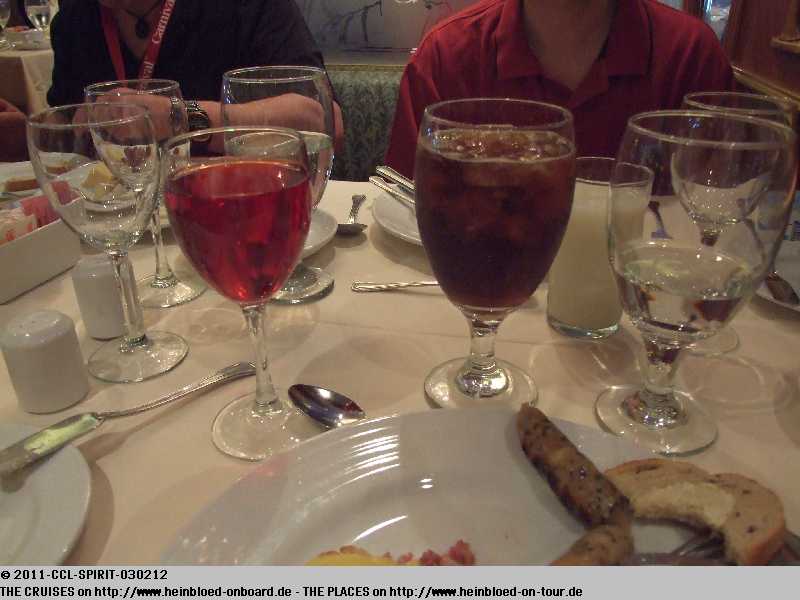 Irgendwann kommt auch der Cranberry-Juice, den man ja normalerweise am Anfang des Frühstücks erwartet. Aber sie üben ja noch... Und ich versuche mein Gehirn daran zu gewöhnen, dass ich nicht den gleichen Servicestandard erwarten darf, wie bei NCL... Selbst nicht bei Basics... Ich muss lernen, dass ich dankbar sein, wenn ich überhaupt einen Cranberry-Juice kriege und meinem Magen die Reihenfolge egal sein sollte, wann ich was kriege, solange ich etwas kriege. Es ist ja schon eine Steigerung zu gestern Morgen: Da gab es ja nicht mal die Möglichkeiten nachzufragen...
Bruno hatte ja sein Frühstückscereal bestellt. Das Glas Milch kam schon sehr viele Minuten eher... Wir haben den Eindruck, dass wohl am Nachbartisch jemand ein Glas Milch vermisst: Denn dass man Milch im Glas für ein Frühstückscereal serviert ist doch eher ungewöhnlich, zumal die Milch nicht unbedingt nach Milch aussieht...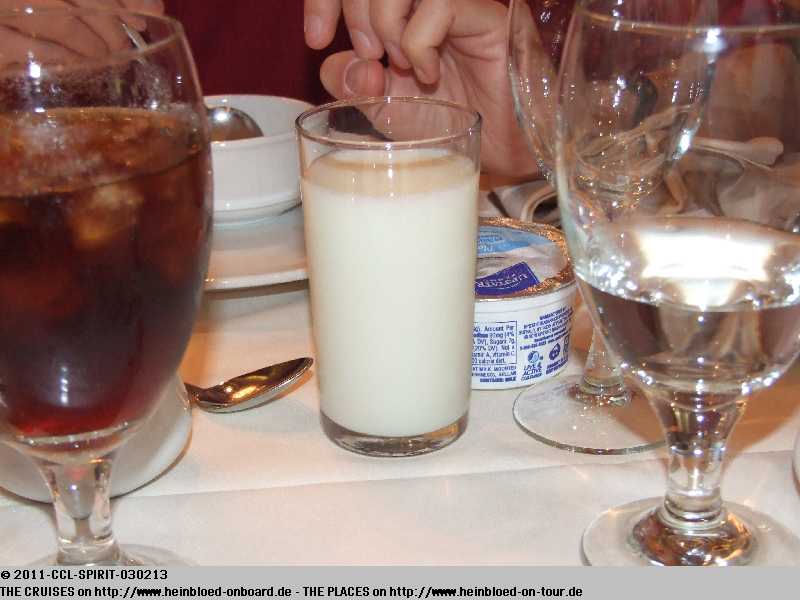 Bruno ordered his breakfast cereal. The glass of milk came many minutes earlier... We had the impression that the table next to us was missing some milk. Serving milk in a glas for breakfast cereals looked unusual to us especially as the milk did not look like milk...

With an additional request Bruno got finally his breakfast cereals and the milk he ordered in a small pot. Nobody saw that Bruno had an empty place all the time. With NCL they have Assistant Maître D' around who have the order to keep their eyes open and to check and to intervene. Here you need to intervene yourself as there were obviously no Assistent Maître D' available.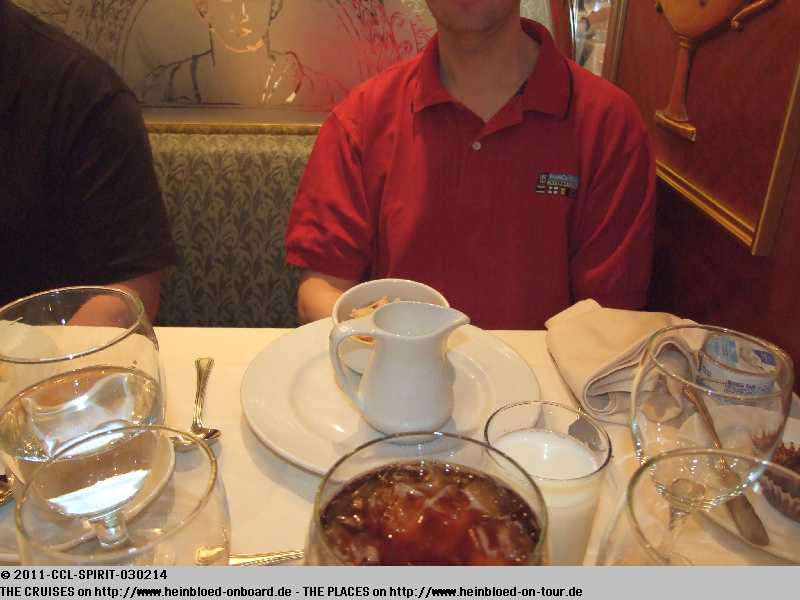 Auf weitere Nachfrage bekommt Bruno auch sein Frühstückscereal und die Milch hierfür steht in einem Kännchen bereit. Dass Bruno einen leeren Platz hatte, fiel niemanden auf. Bei NCL gibt es ja zumindest Assistant Maiître D', deren Aufgabe es ist, überall mal zu gucken und nachzufragen, und ggfls. einzugreifen. Hier müssen wir selbst eingreifen, weil es offensichtlich keine Assistent Maître D' gibt.
Dandy - der extra für Hermann die Käseplatte besorgt hat. Von uns hat er für die Extrameile ein paar Mon Cheries bekommen. Als wir ihn am nächsten Tag treffen, meinte er, dass er seiner Frau damit eine große Freude gemacht hat und er selbst nur eines sich behalten hat. Dafür bekommt er Nachschlag.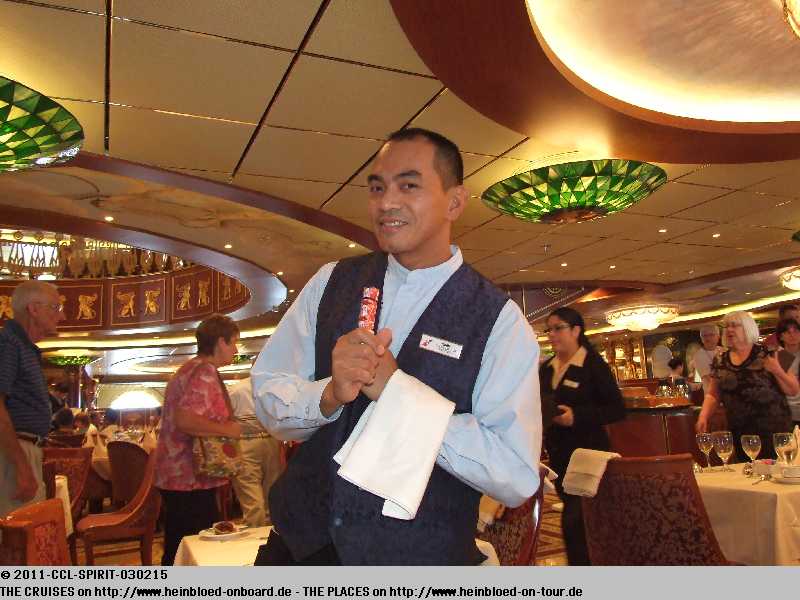 Dandy - who arranged especially for Hermann a cheese plate. For this extra mile he got some Mon Cheries. When we met him the next day he told us that he pleased his wife and kept only one for himself. So he got more from us.

For Aleksandra we had some Mon Cherie too because she walked last night the xtra mile for me and had to work for three to please us.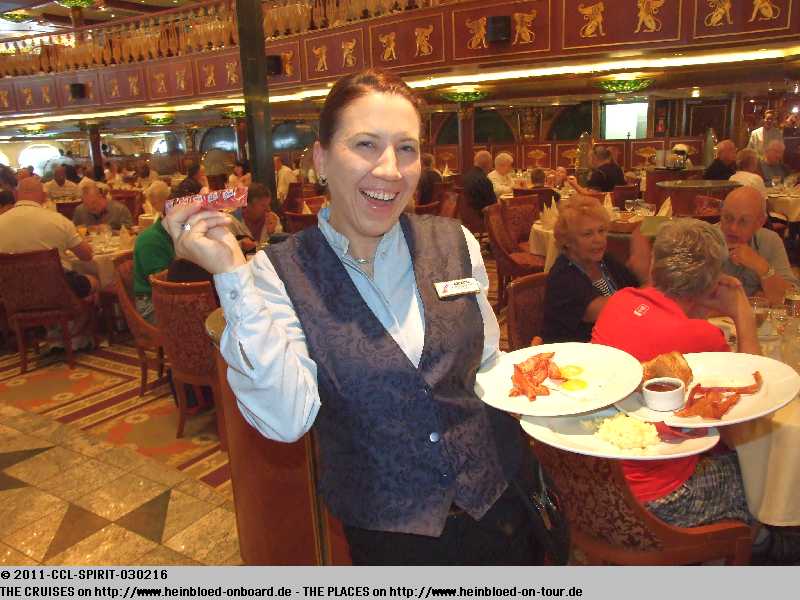 Auch für Aleksandra gibt es Mon Cherie, weil sie gestern für mich die Extrameile gelaufen ist und gestern für drei gearbeitet hat, damit es uns geht.
Vor unserer Kabine werden wir immer freundlich gegrüßt. Es stellt sich aber heraus, dass es Xiamaras totgeschwiegener Assistent Purnawirawan ist, der sich mit ihr um unsere Kabinen kümmert. Wieso kann er nicht einfach I Gede oder so etwas heißen, was wir uns viel einfacher merken können. Er ist übrigens einer der wenigen, die als erster grüßen, wenn überhaupt gegrüßt wird. Ich kann vom Heck zum Bug zehn Crew-Mitglieder (egal ob mit oder ohne Streifen!!!): zu 99% bin ich der erste der grüßt und zu gefühlten 33% bekomme ich auch einen Gruß erwidert. Eine Quote, die ich ja von NCL überhaupt nicht gewohnt bin.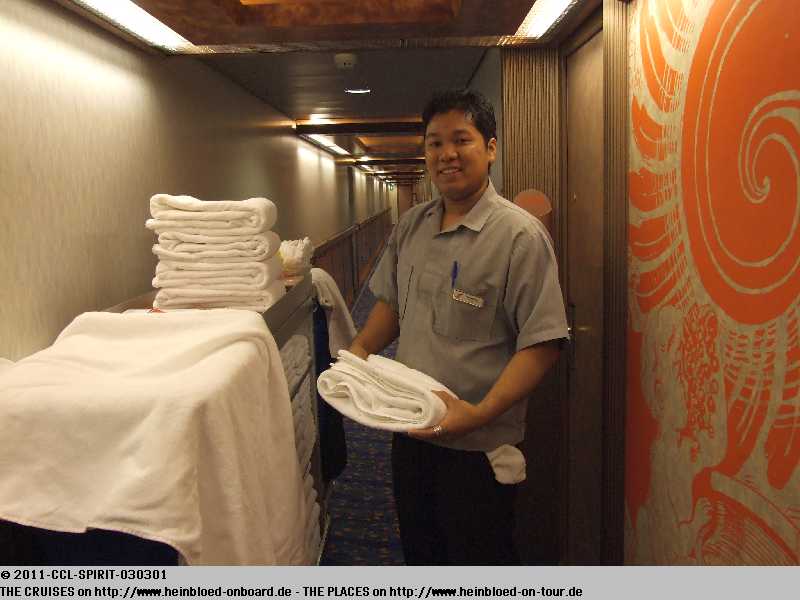 Someone always greeted us very friendly in front of our cabin. We learned that Xiamara had an unmentioned assistant Purnawirawan who took also care of our cabin. Why cannot he calls himself I Gede or something simple we could easily remember. He was one of the few crew members who greeted first if they greeted. You can walk from the bow to the aft and greet ten crew-members (no matter with stripes or without!!!): 99% I am the first who greets and let me say I get a response of 33% who replied to my greeting. A quota I never experienced on NCL.

We just arrived on the ship and should already start to buy souvenirs from the cabin...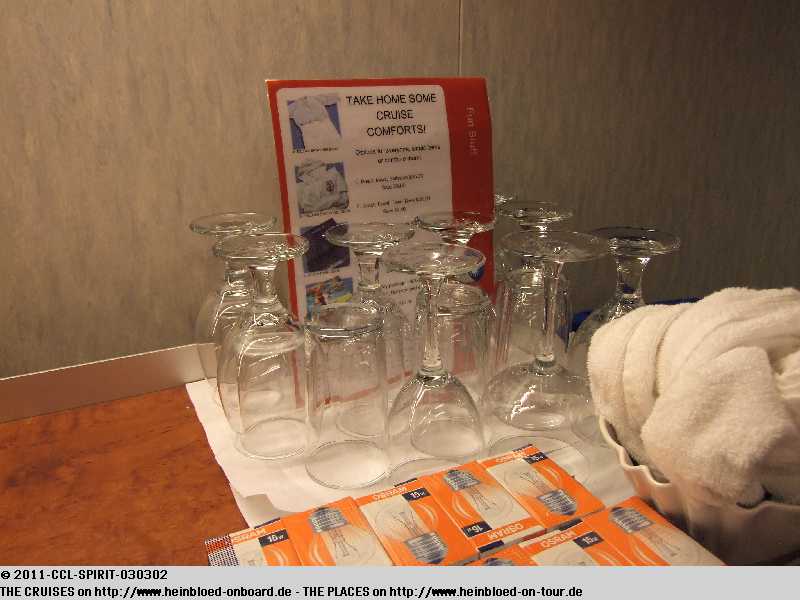 Kaum sind wir an Bord, schon sollen wir die Souvenirs aus der Kabine kaufen...
Bei NCL sollen wir uns ja an Bord wie zu Hause fühlen... Hier bei Carnival sollen wir uns zu Hause wie bei Carnival fühlen...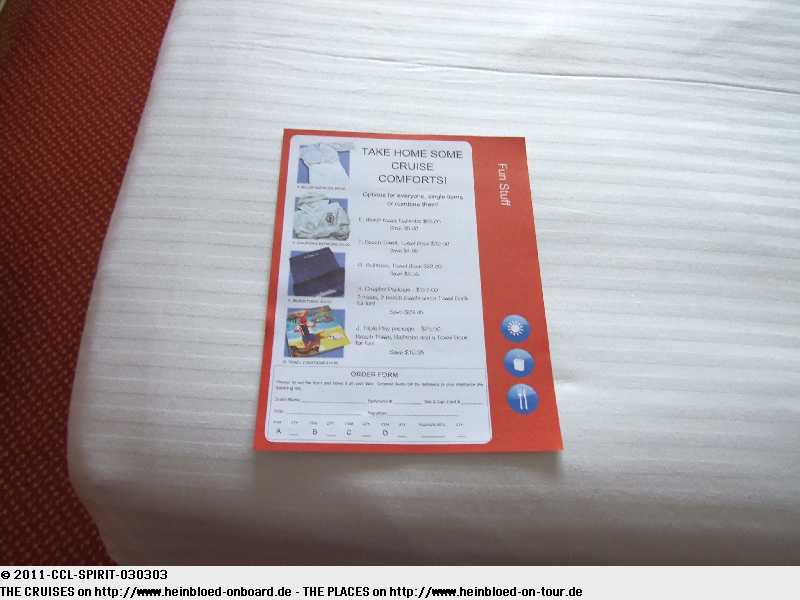 With NCL you should feel home when we are onboard... With Carnival you should feel like with Carnvial when you are home...

We wanted to do some laundry and asked on which day we can use the laundry bag offer. When we were told anyday we started to fold everything as small as possible: 1 bag for 15.00 USD or 5 bags for 50.00 USD. If we completed our laundry until 10.00 hrs we would get it back the same day.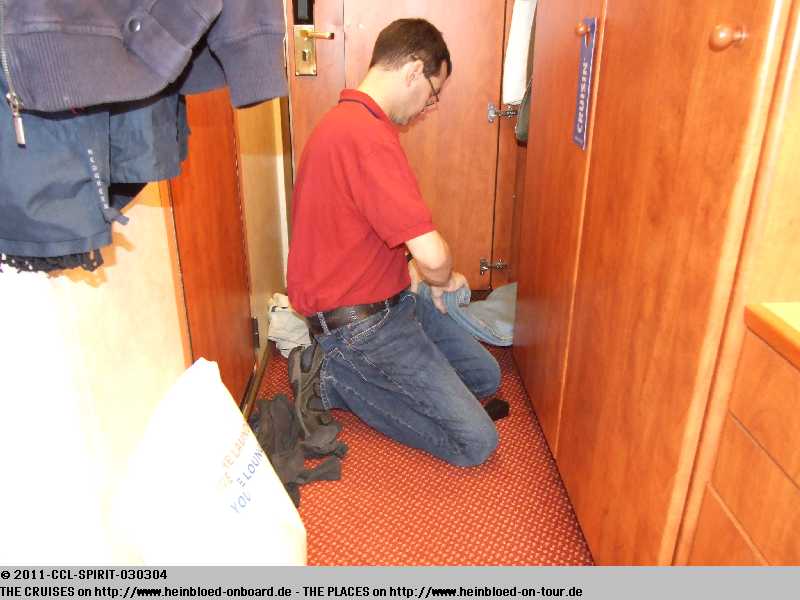 Wir wollen Wäsche waschen und fragen nach, an welchen Tagen wir die Wäschebeutelangebote wahrnehmen können. Als wir die Mitteilung bekommen jeden Tag, fangen wir an unsere Sachen möglichst klein zu falten: 1 Beutel für 15,00 USD oder 5 Beutel für 50,00 USD. Wenn wir bis 10.00 Uhr fertig werden, kommt es noch am gleichen Tag zurück.
Alles wird gezählt.

We counted everything.

With the help of the tape we could fill up the bags very easily.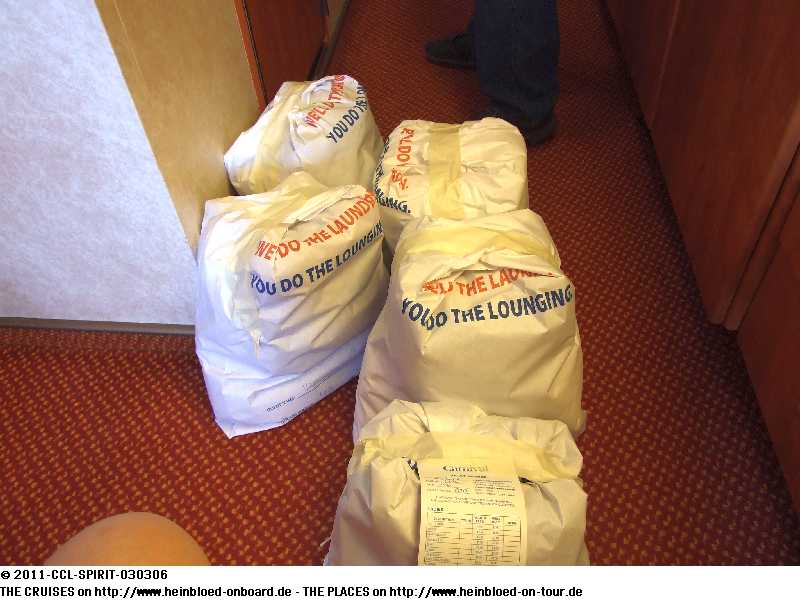 Mit Hilfe des Klebebands können wir die Beutel sehr gut füllen.
Gestern wurde ja die Reinigung unseres Balkons angekündigt. In der Segelschule habe ich ja schon das Mann über Bord-Manöver gelernt, aber Frau über Bord??? Sind wir so schwierige Gäste, dass sie ausgerechnet wegen uns über die Railing springen will???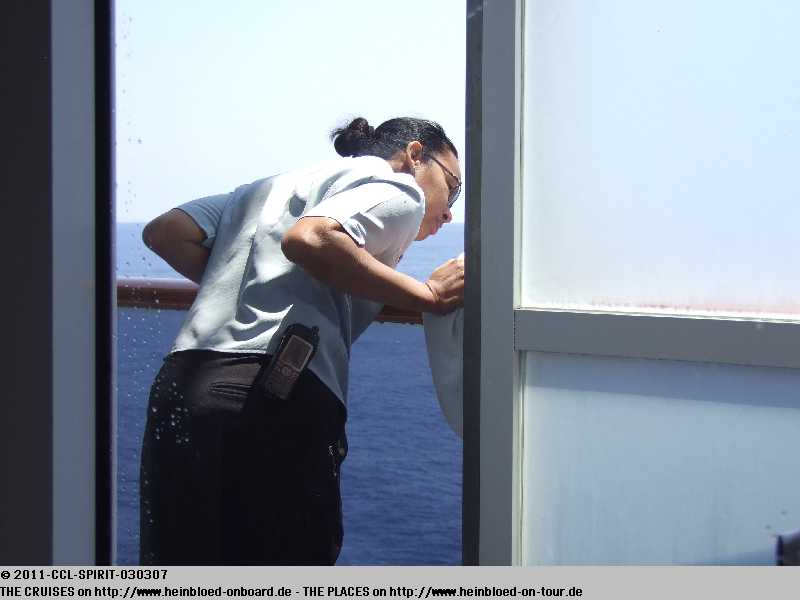 Last day the announced the cleaning of our balconies. I learned in the yachting lessons how a man overboard manoeuvre works but how does a woman overboard manoevre works??? Have we been so difficult that she had reasons to jump over the rails???

I was trying to position like a "nude act"... Bruno said I should not be worry as you cannot see anything from outside... but Xiomara's reaction looked totally different...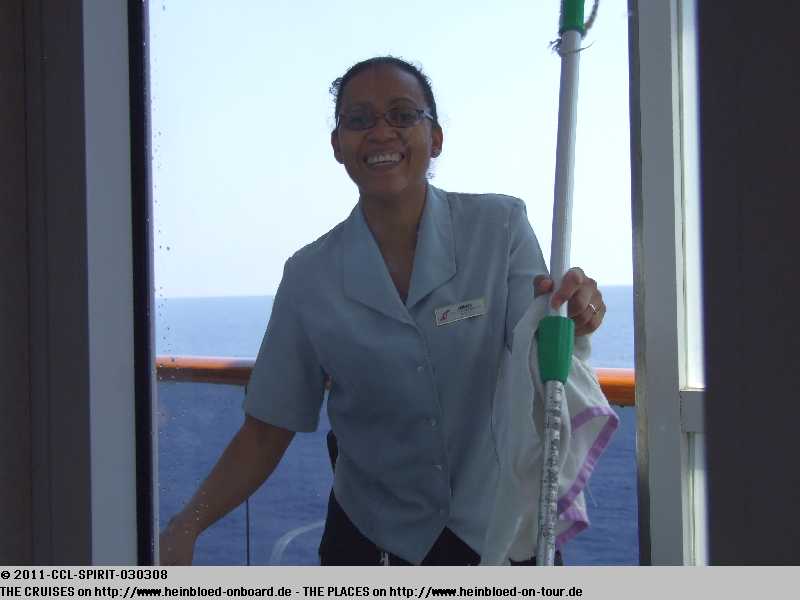 Ich bin eigentlich gerade dabei auf meinem Bett als "Akt-Modell" zu positionieren... Bruno meint, dass man von außen nichts sieht... aber die Reaktion von Xiomara sagt wohl etwas anderes...
Auch bei Purnawirawan habe ich den Eindruck, dass die Fenster doch beidseitig durchsichtig bin... Wie Unrecht Bruno hat... Übrigens bekomme ich ein paar Tage später heraus, dass er auch ein I Gede oder ähnliches ist...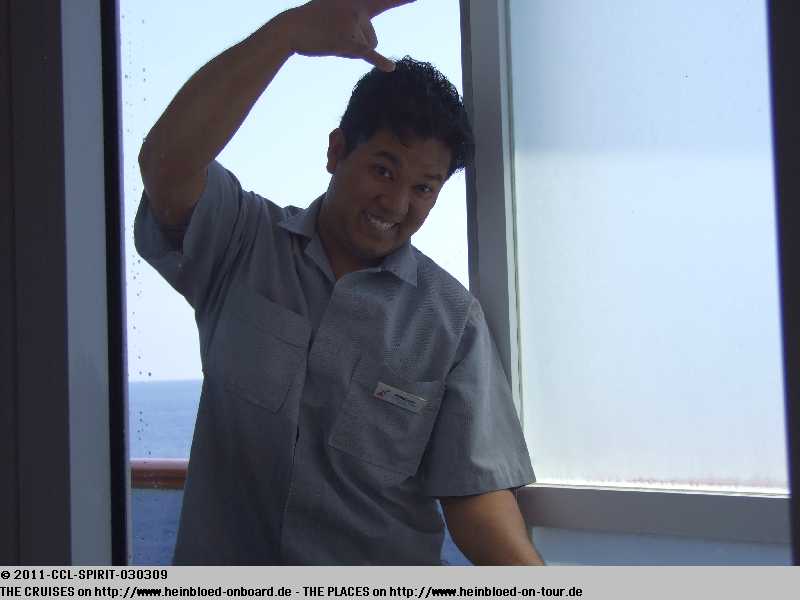 Also when Purnawirawan came I had the impression that the windows were transparent from both sides... How wrong Bruno was... Later I found out that he is also an I Gede or something like this.

Bruno shouted out loud about the show just happened at our balcony door...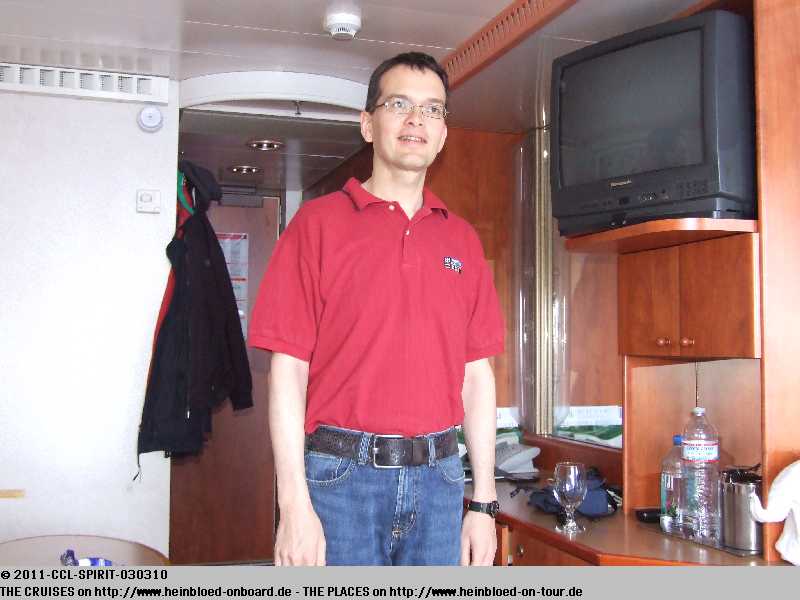 Bruno lacht sich darüber kaputt, welche Show gerade an unserer Balkontür stattfindet...
Jetzt mal wieder ganz im Ernst: wenn die beiden nicht wären, die wirklich jedes Mal immer freundlich sind und unsere Kabine in einem tadellosen Zustand halten würden, dann wären wir vermutlich schon über die Railing gesprungen...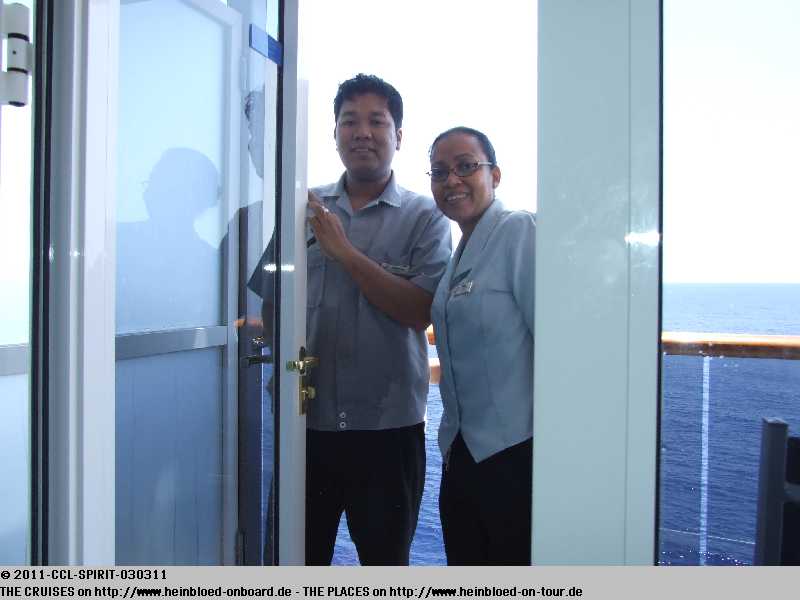 Let us become serious: if we would not have those two who were everytime we saw them extremely friendly and kept our cabin in a great condition we might have jumped over the rail...

The Silent (= Pacific) Ocean like his original name.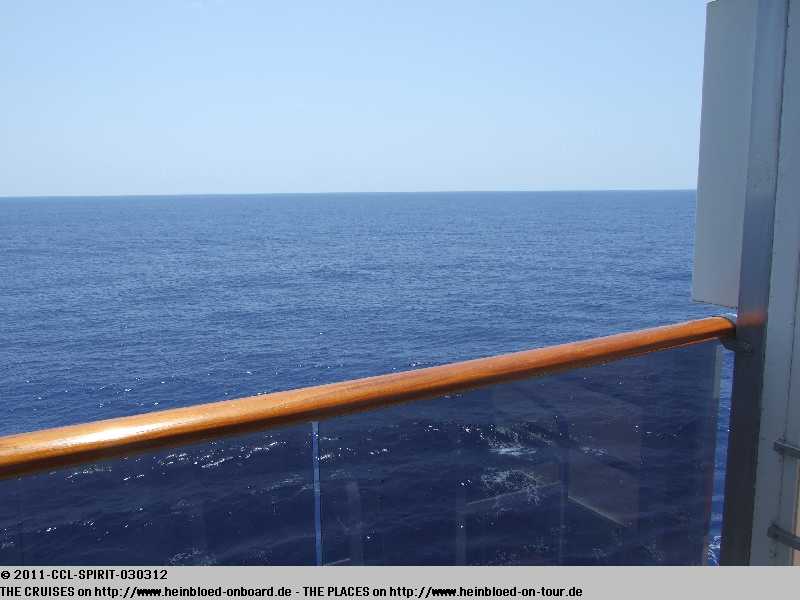 Der Stille Ozean im wahrsten Sinne des Wortes.
Doch wir können uns über die Lage unserer Kabine nicht beklagen.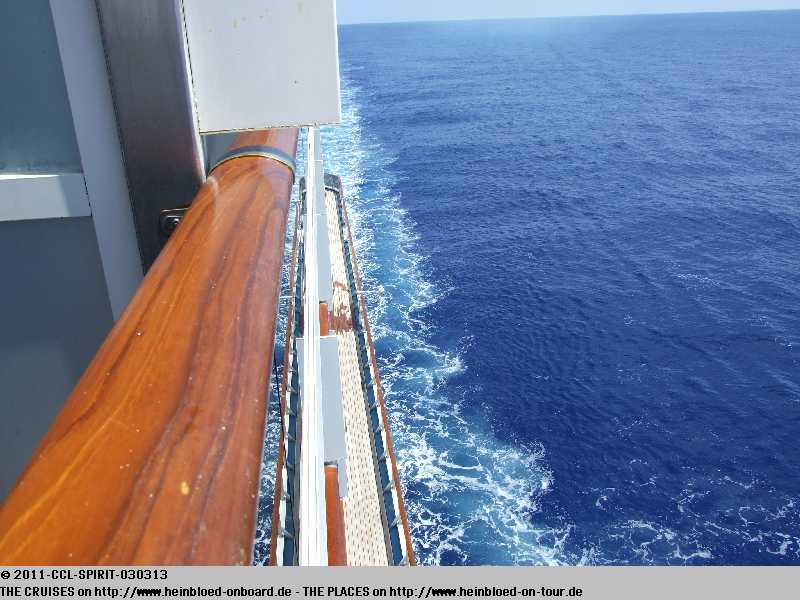 We had a great cabin location and no reason to claim.

The life boats were only to the front. We had none below of us.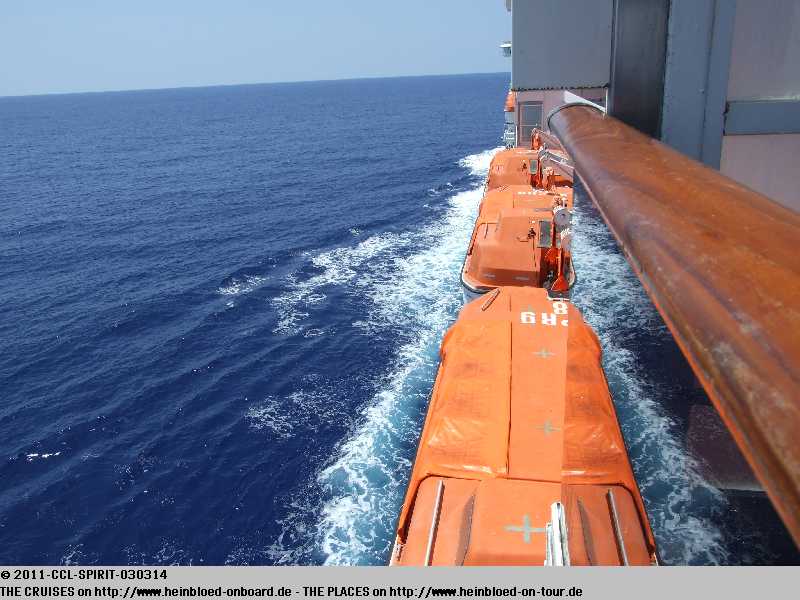 Die Rettungsboote sind nur nach vorne hin. Bei uns hängt nichts darunter.
Allerdings werden wir das nächste Mal meine alten Knie- und Schienbeinschützer vom Volleyball mitbringen: Man knallt doch öfters schmerzhaft dagegen, als einem lieb ist.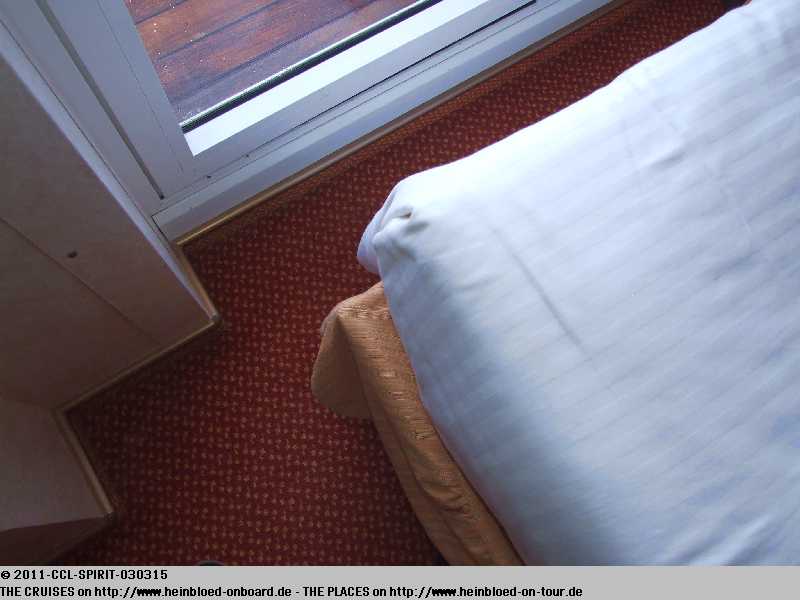 But next time I will have my knee and shinbone protectors from Volleyball with me: You hit very painful and more frequently than we ever expected.

This was really one of the very few single signs of wear we could find in our cabin.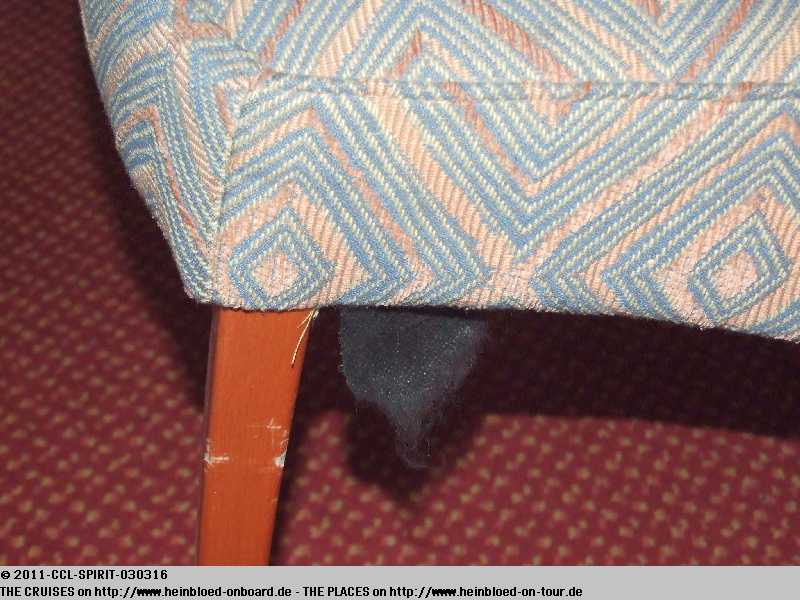 Einer wirklich der wenigen Abnutzungserscheinungen in der Kabine.
Die Bärentatsenaufkleber weisen wohl auf den Handlungsbedarf beim nächsten Trockenwerftaufenthalt hin. Wir sollten paiagirl (Frances) bitten, uns welche zu besorgen, damit wir die Crew unterstützen könnten und weitere Bärentatsen aufkleben, damit die Werft es einfacher hat. Übrigens je nach Seegang fängt der Fernseher schon mal laut an zu schwingen...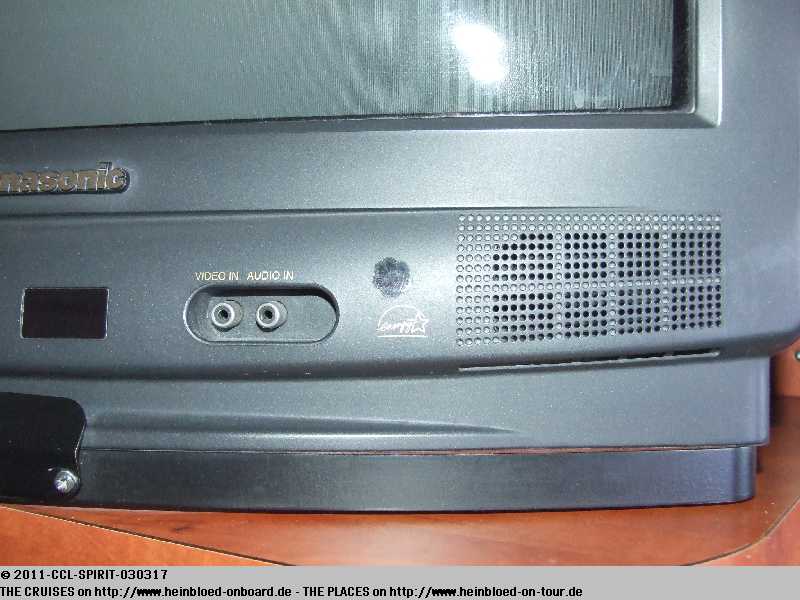 The stickers of the paw of a bear showed where action is required during the next drydock stay. We should ask paiagirl (Frances) to get some to support the crew and place the stickers to ease the life of the drydock. By the way: the TV-set was swinging in relation to the sea movement... and very noisy...

But we did not want to find out what we already knew and did not look further... Ximara and Purnawirawan kept everything well under their control.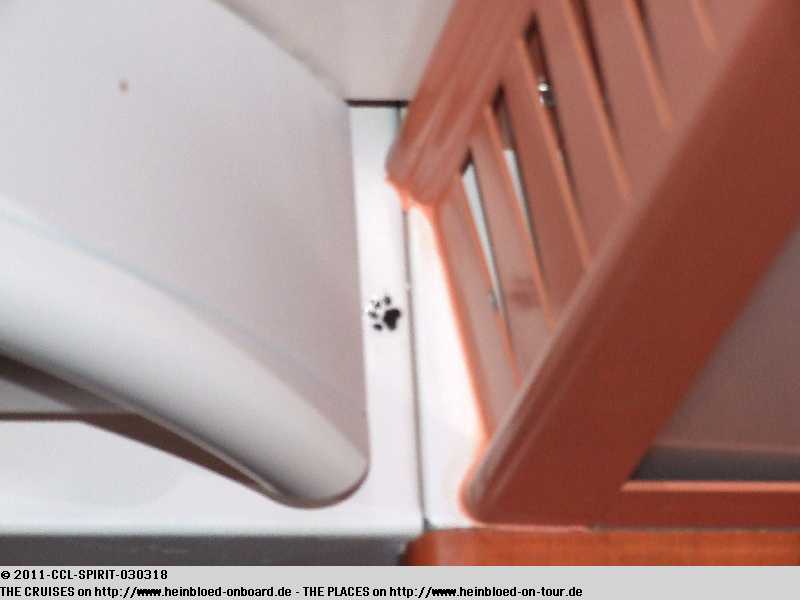 Aber wir wollen eigentlich nicht herausfinden, was schon herausgefunden wurde und suchen jetzt mal nicht weiter... Xiomara und Purnawirawan haben alles ziemlich gut unter Kontrolle.