Scroll down for English explanations - alternates with German explanations.

Morgens ging es erst nach San Pedro.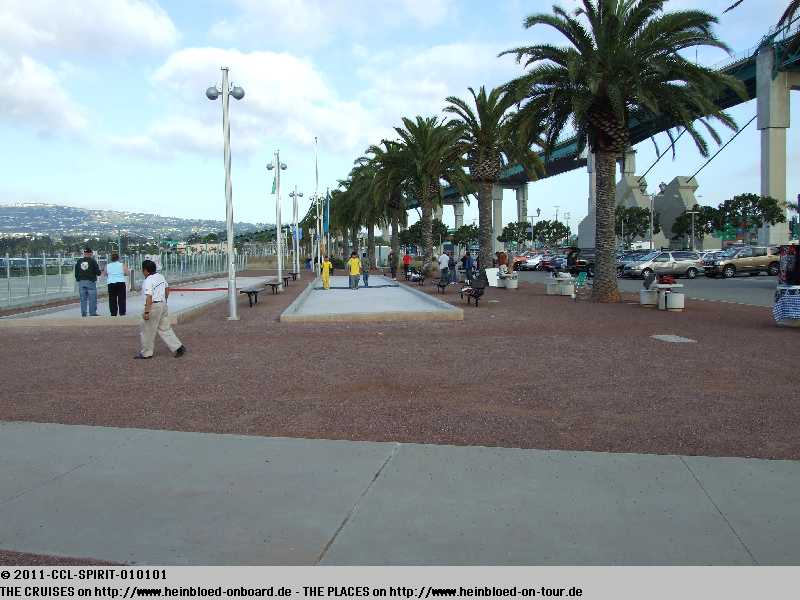 In the morning we went to San Pedro.

Was like in France when they played Boule.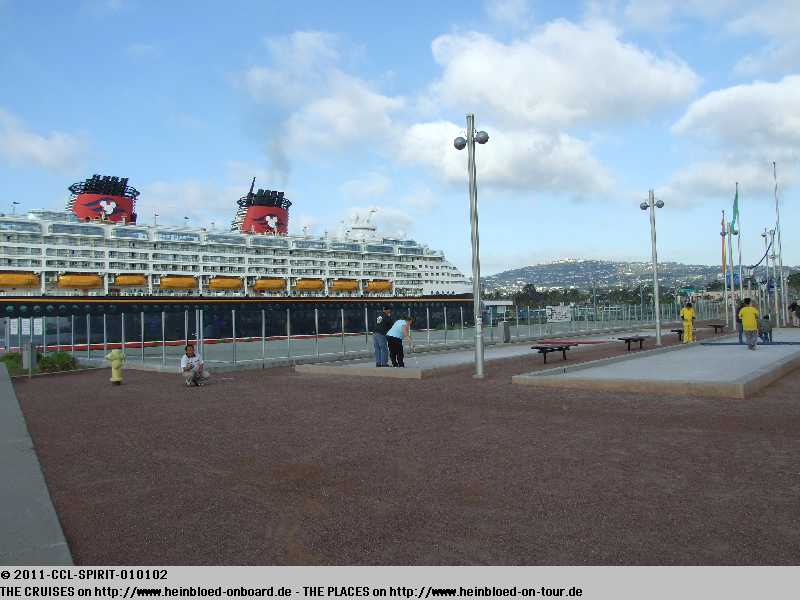 Hier war es fast wie in Frankreich, wenn dort Boule gespielt wird.
Bei
Grinder
ging es zum Frühstück.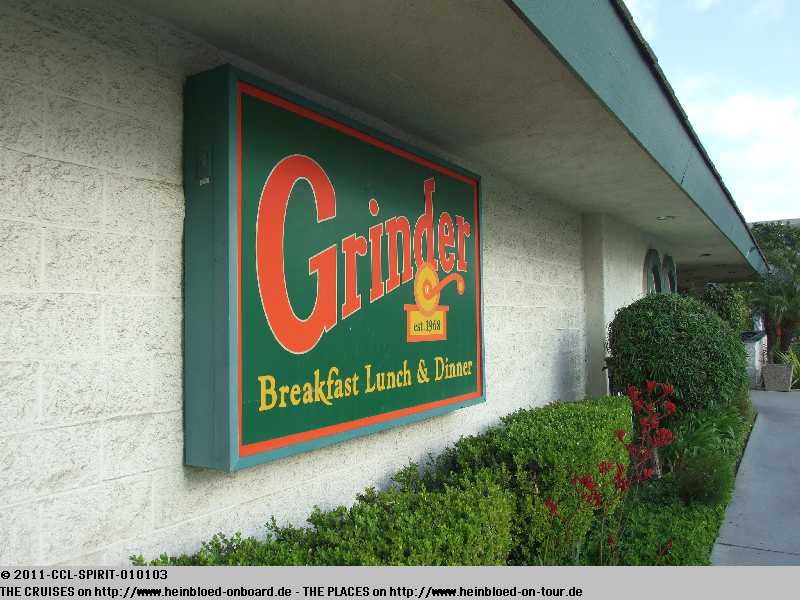 We went to Grinder to have breakfast.

Very nice place... but a little too cool for our taste...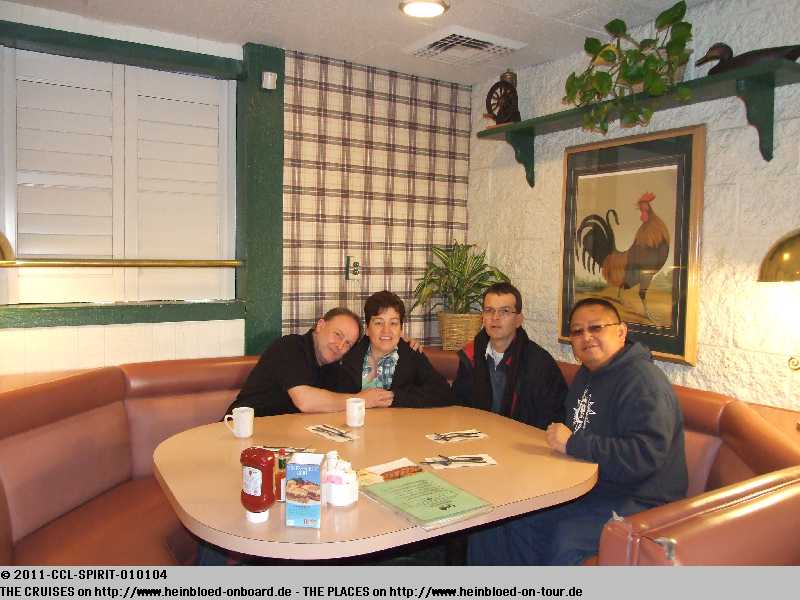 Sehr nettes Lokal... leider nur ein wenig zu sehr runtergekühlt...
Brunos Schwester Astrid versucht sich an einem Egg Benedigt und ein paar Pfannkuchen... Leider hat sie das DOLLAR vergessen... so fallen die Pfannkuchen als Beilage etwas größer aus...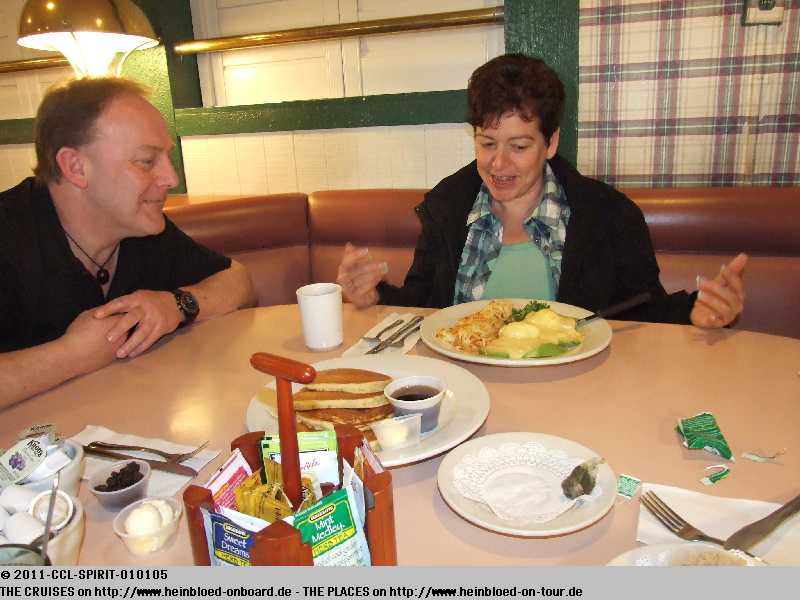 Bruno's sister Astrid tried some Egg Benedicts and wanted to have some pancakes as side order... Unfortunately she forgot to mention DOLLAR... so the pancakes were a little larger for a side order...

I took also a full mounty. Chicken cutlet with gravy is definately not available on the ship...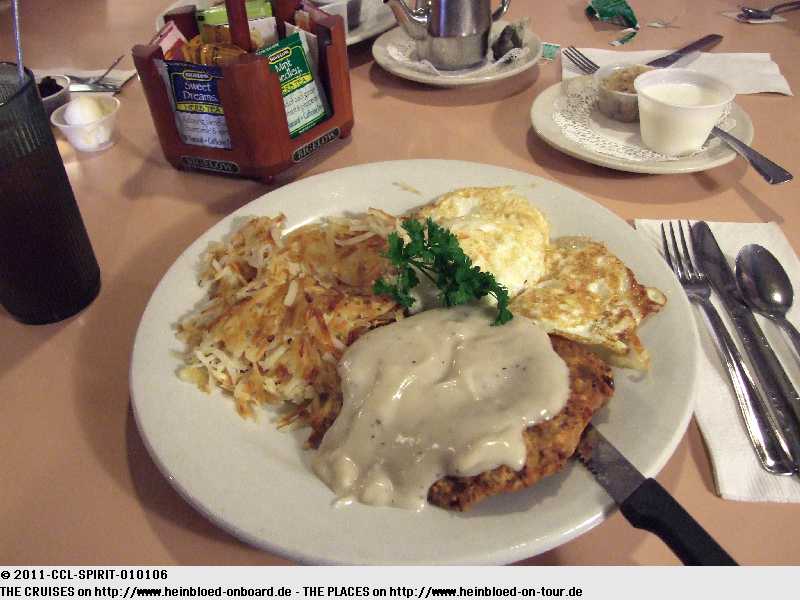 Ich nehme auch die volle Dröhnung. Denn Hähnchenschnitzel mit Gravy gibt es nicht an Bord...
Ihr Mann Hermann nimmt nur einen Bagel mit Frischkäse... oder auch zwei...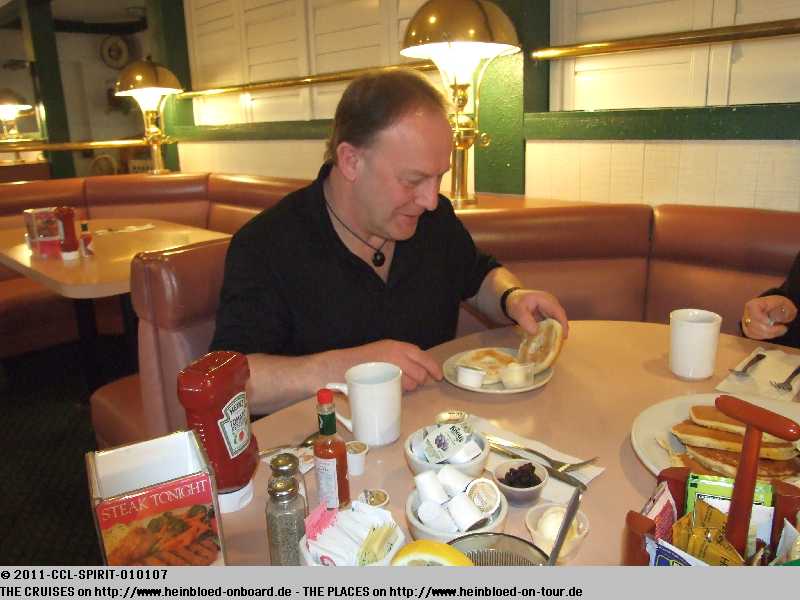 Her husband Hermann just a bagel with some cream cheese... or two...

And Bruno tried some Oatmeat to be well prepared for the tons of food on the ship later. I hate it...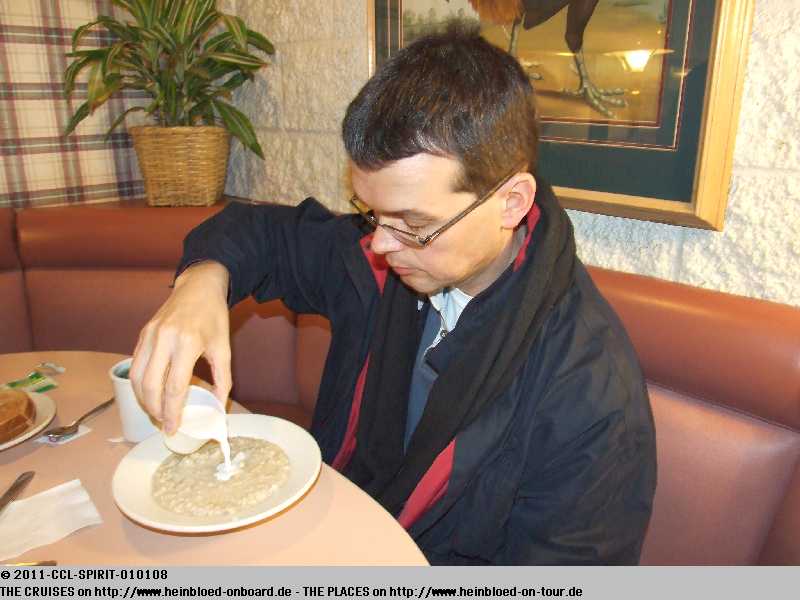 Und Bruno versucht sich am Oatmeat und beugt der Völlerei auf dem Schiff hinterher vor. Igitt...
Wir laufen noch ein wenig über den San Pedro Fischmarkt.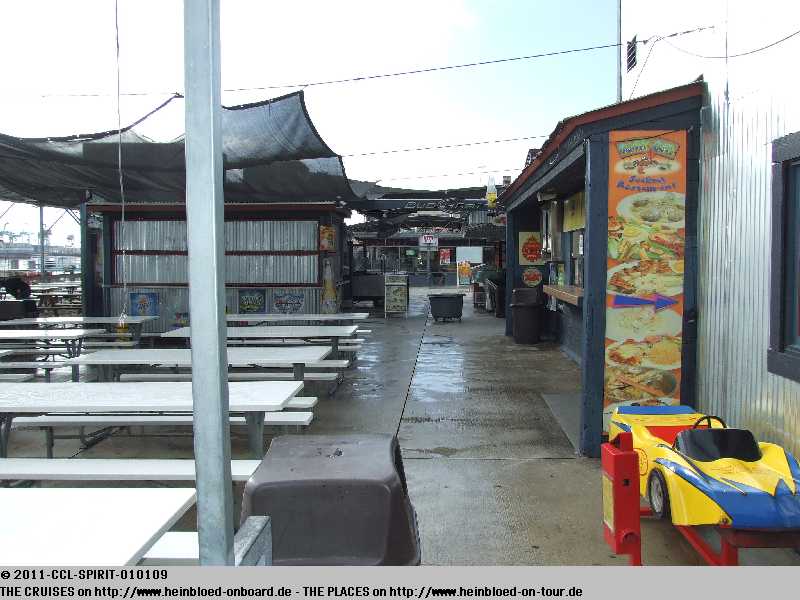 We walked along the San Pedro Fish Market.

The fish restaurants just started to prepare the presentation of their catches.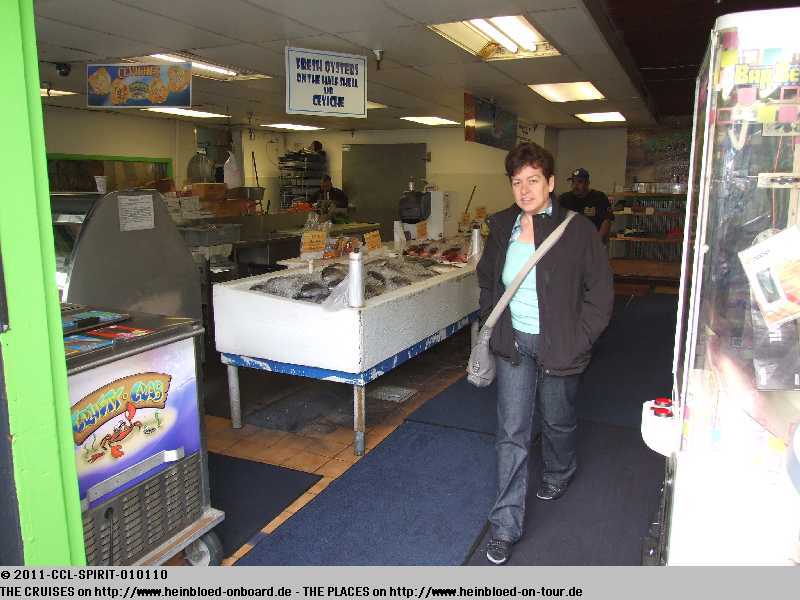 Die Fischläden bauen ihre fangfrischen Waren auf.
Da Sonntag ist, kann man kaum glauben, dass hier nachher alles übervoll sein wird.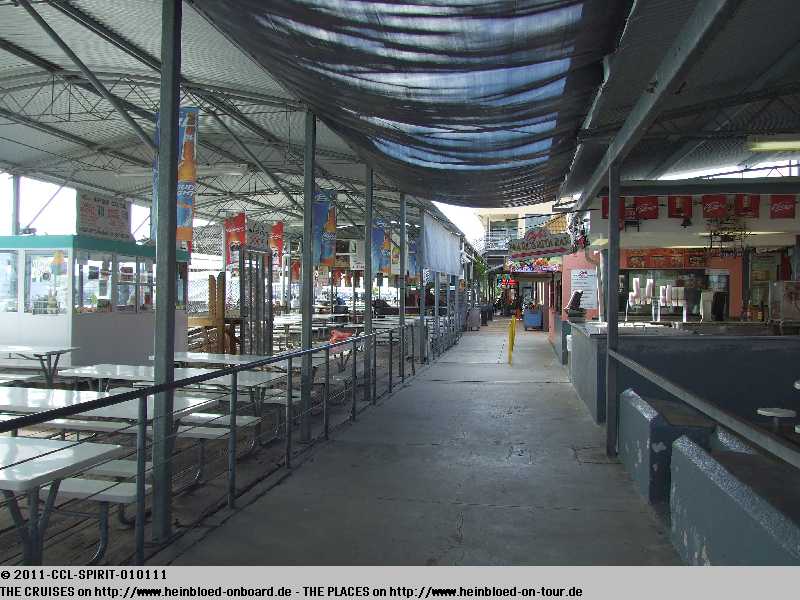 As it was Sunday you cannot picture it how overcrowded it will be here later the day.

A very nice wall painting on Los Angeles you can find on the parking.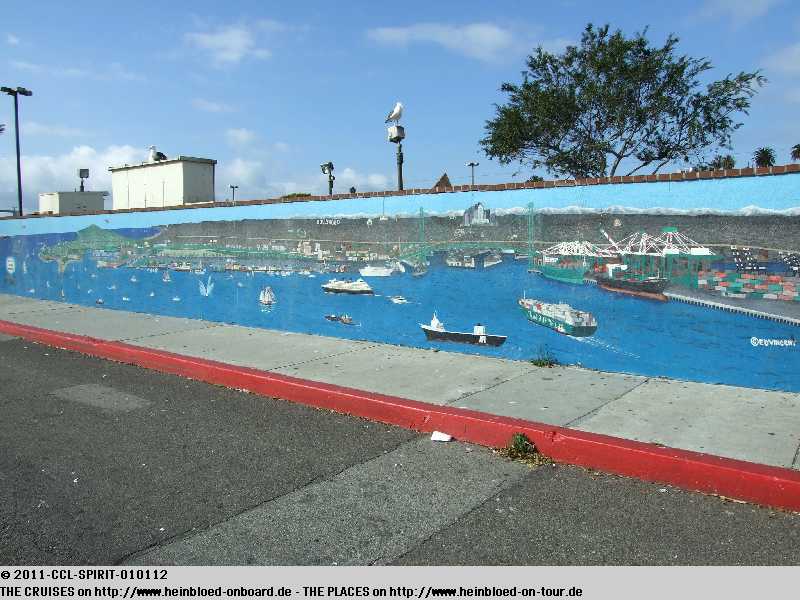 Eine schöne Wandmalerei von Los Angeles findet man auf dem Parkplatz.
Wir fahren weiter Richtung Long Beach.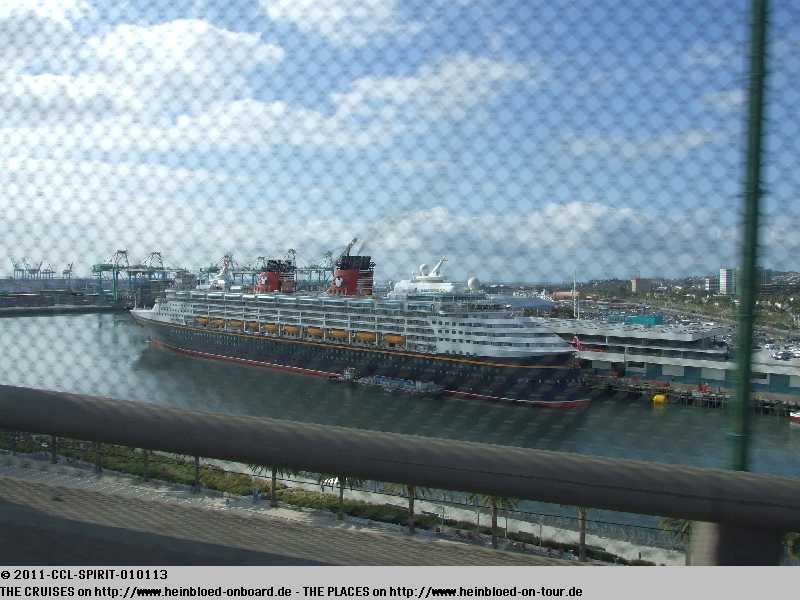 We were heading forward to Long Beach.

What a shame that the bridge is all fenced because of the many suicide-candidates.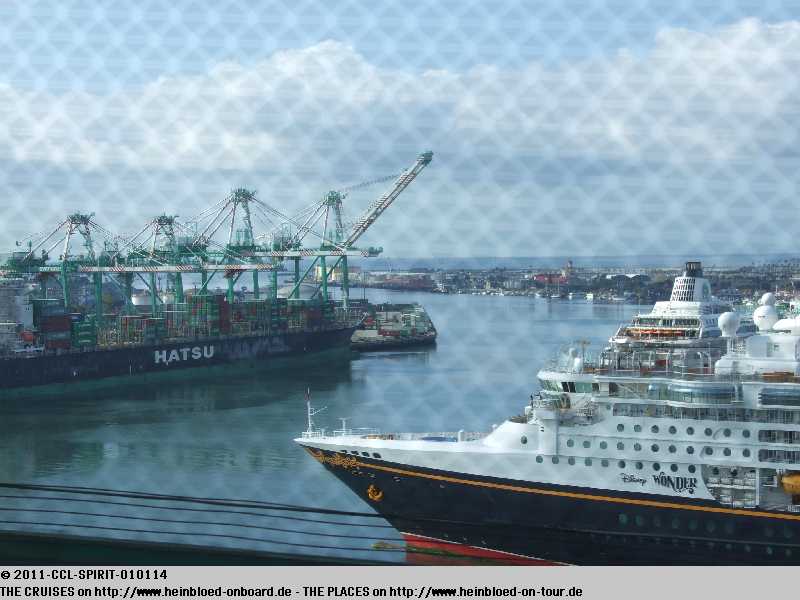 Schade, dass die Brücke wegen der Selbstmordgefährdeten voll eingezäunt ist.
Sonst hätte man einen tollen Blick auf den Hafen.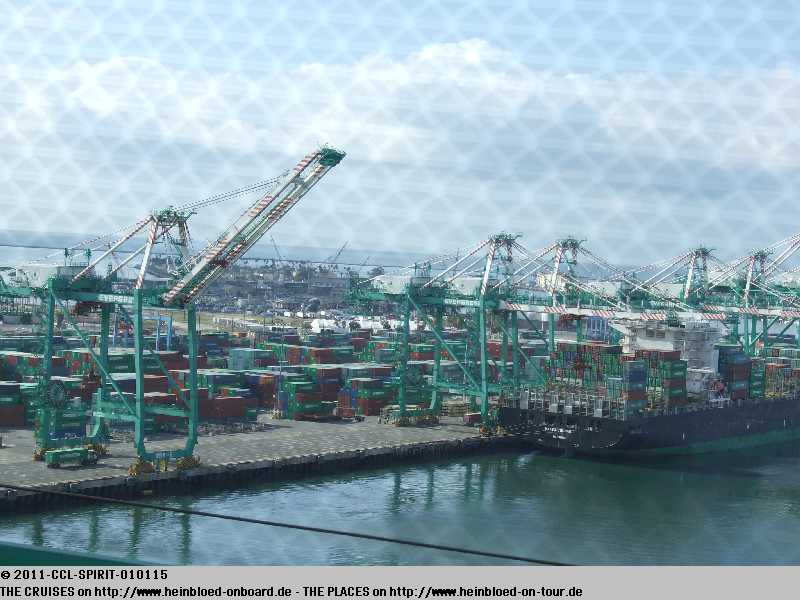 Otherwise you would have a great view over the port.

By the way: it was no accident that we went to San Pedro.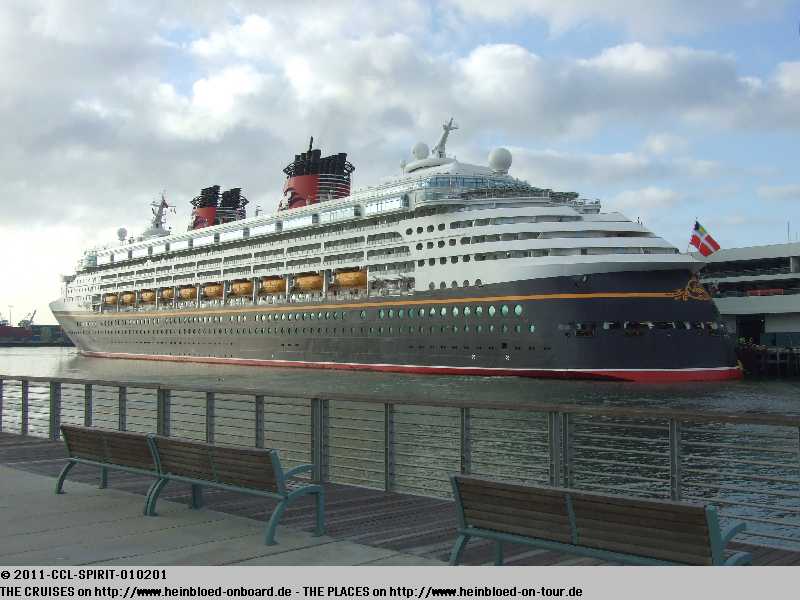 Dass wir in San Pedro waren, war natürlich kein Zufall.
Die DISNEY WONDER lag im Hafen.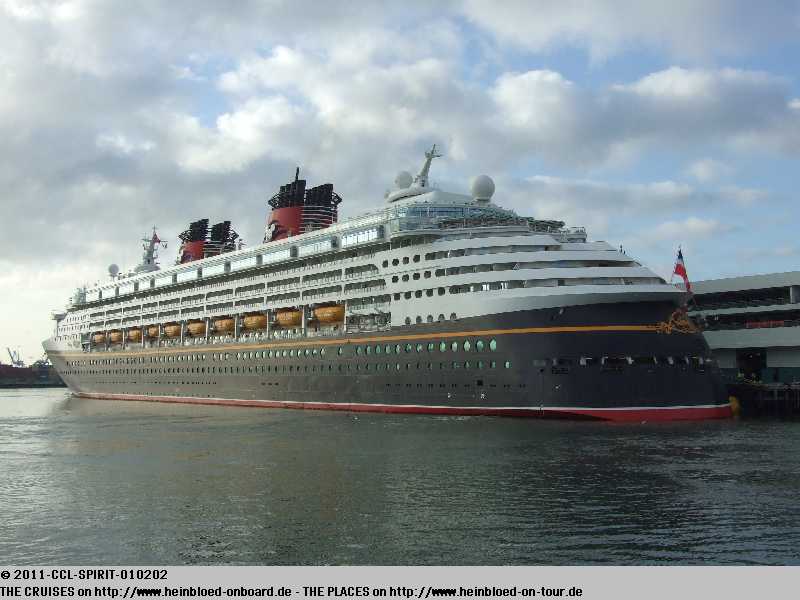 DISNEY WONDER was in port.

She arrived already at 05.00 hrs. But this was even for my taste too early to see her arrival.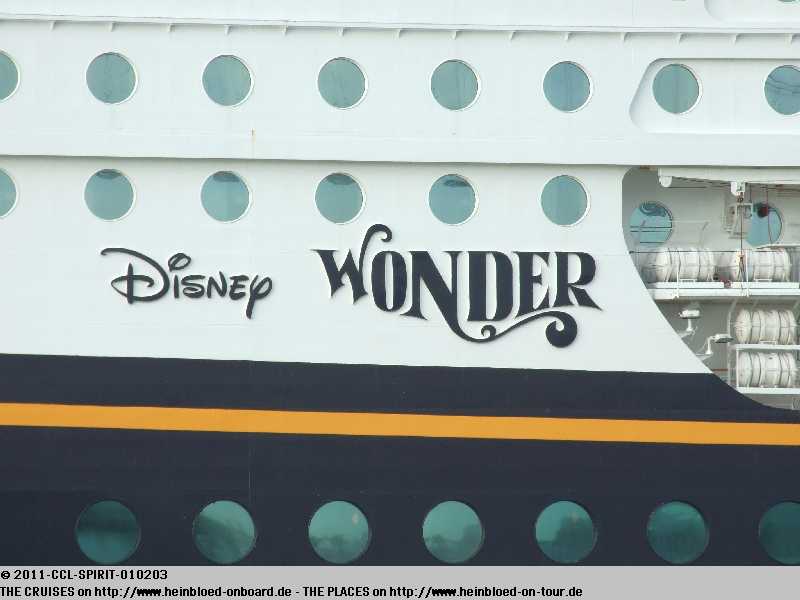 Sie war bereits um 05.00 Uhr eingelaufen. Aber das war selbst mir zu früh, um sie beim Einlaufen zu beobachten.
So gibt es nur Bilder später, als sie schon festgemacht hat.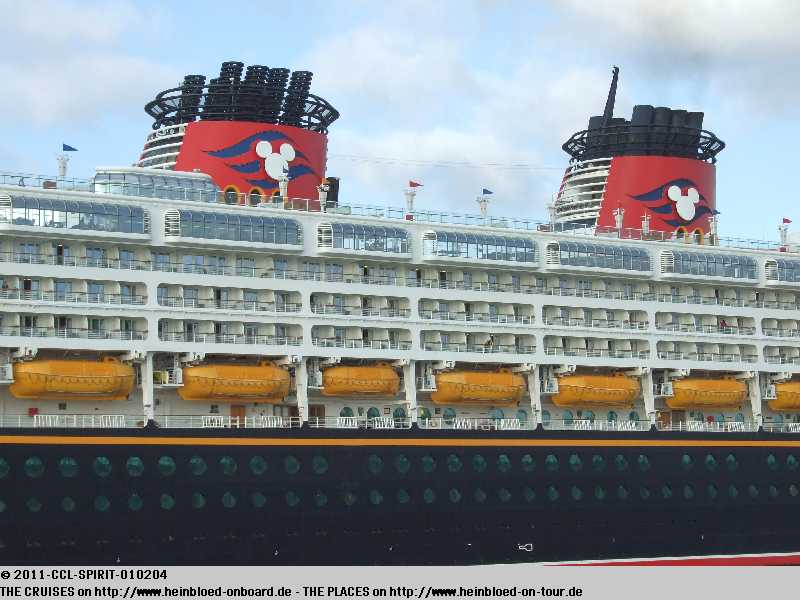 So there are only pictures when she already berthed.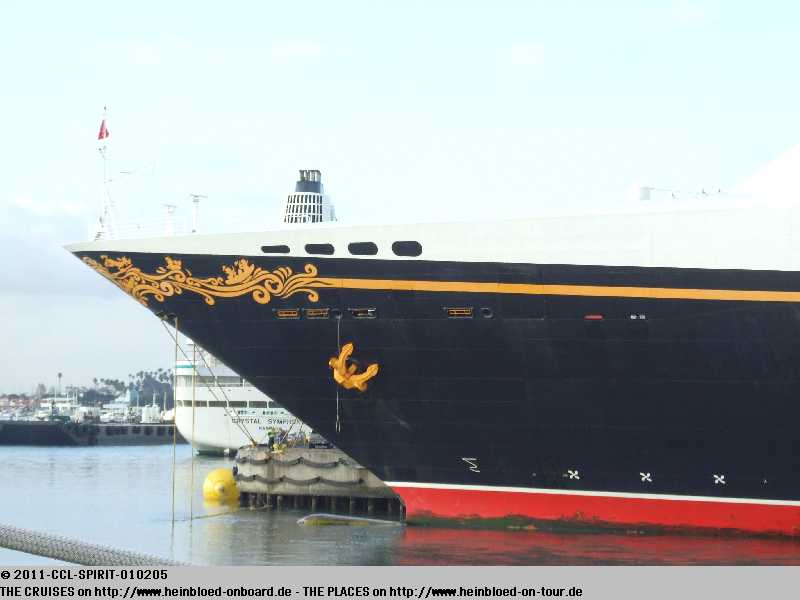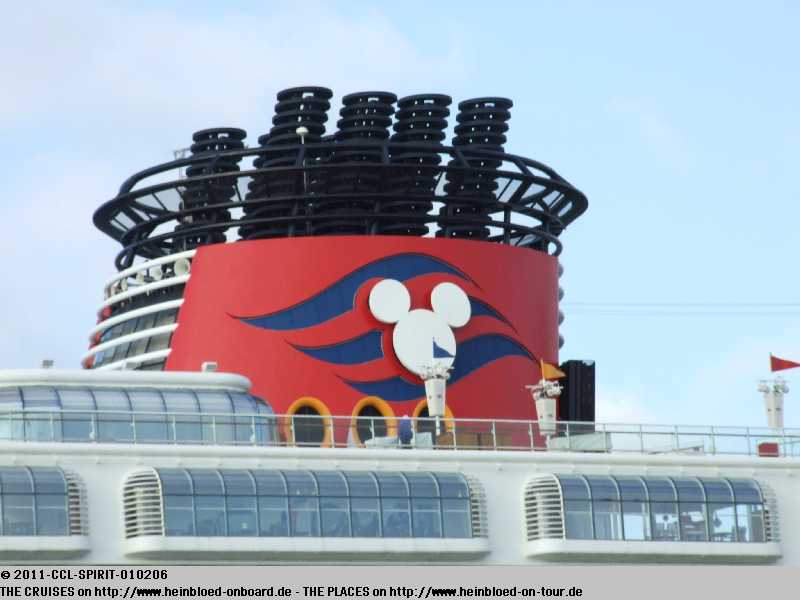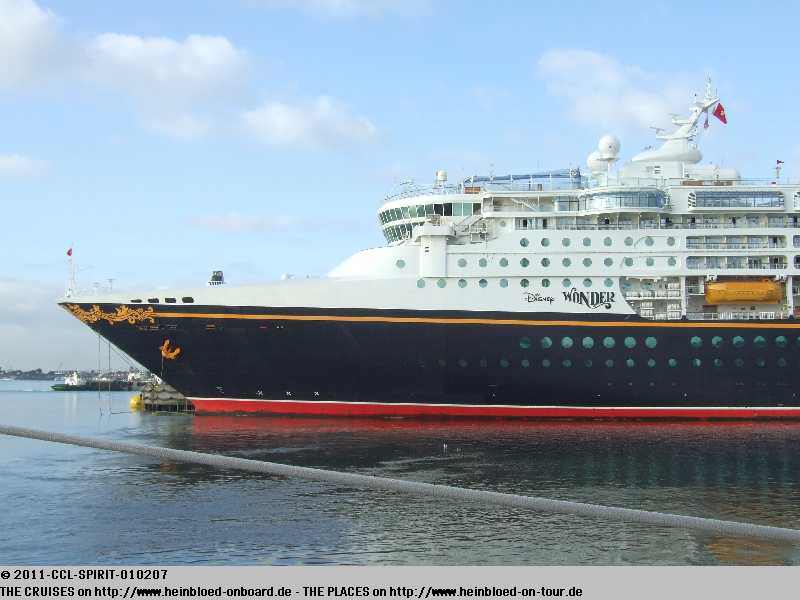 Desweiteren lag noch die CRYSTAL SERENITY im Hafen, aber da ich sie zuletzt in Civitavecchia gesehen hatte, bestand auch keine Notwendigkeit hier früh zu erscheinen.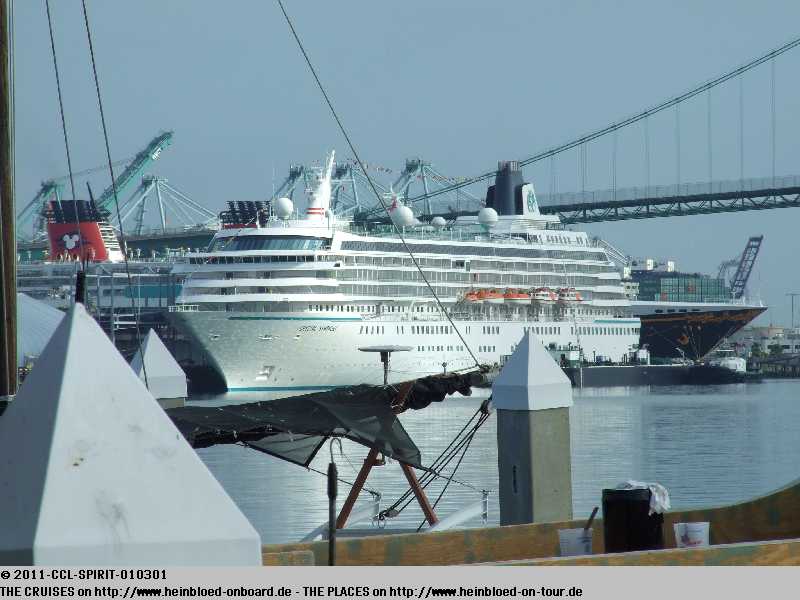 Another ship was in town CRYSTAL SERENITY but as we saw her recently in Civitavecchia there was no reason either to show up so early.

After crossing of the Vicent Thomas Bridge we arrived in Long Beach.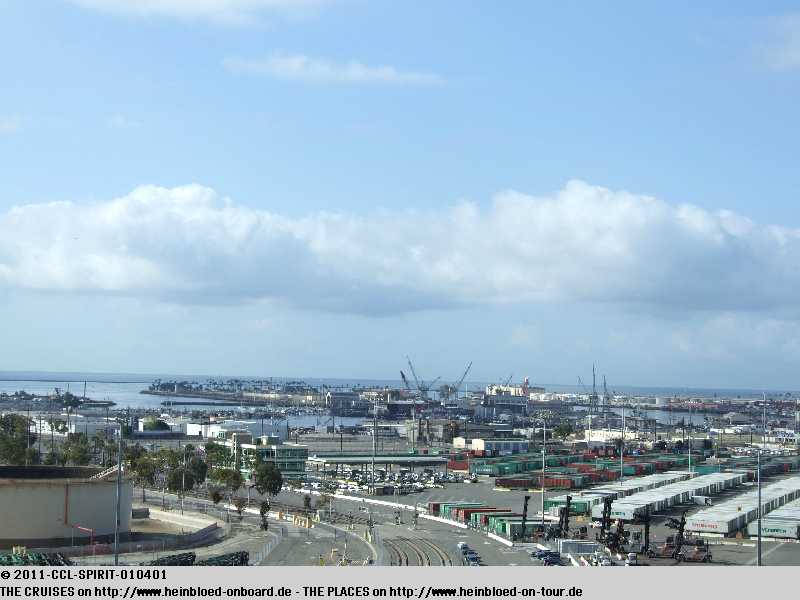 Nach dem wir die Vincen Thomas Bridge überquert haben, erreichen wir Long Beach.
Wir halten kurz, damit diejenigen, die noch niemals hier waren, ein paar Bilder von der QUEEN MARY und einem Zeppelin machen können. Ich war ja erst vor einigen Jahren hier.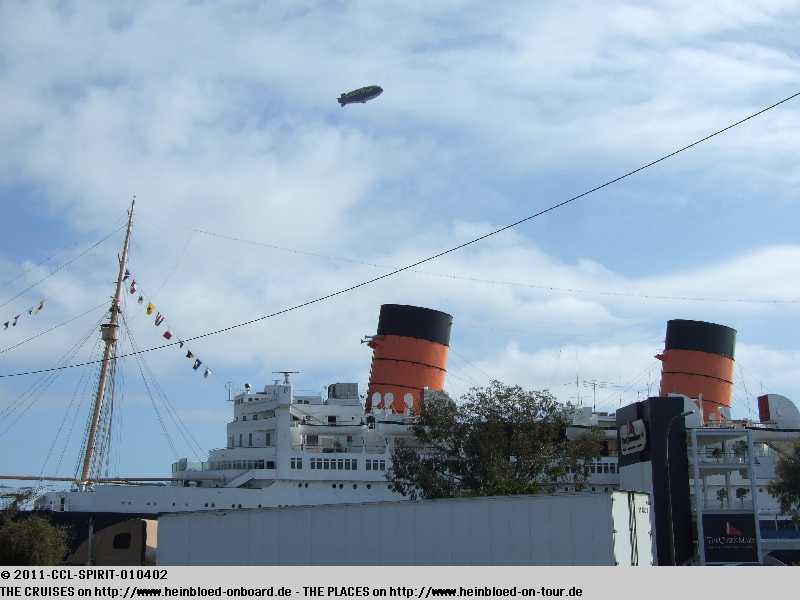 We stopped for a moment to let those who have never been here taking some shots of QUEEN MARY and the zeppelin. I was just few years ago here.

So I used the time to walk over to the cruise terminal.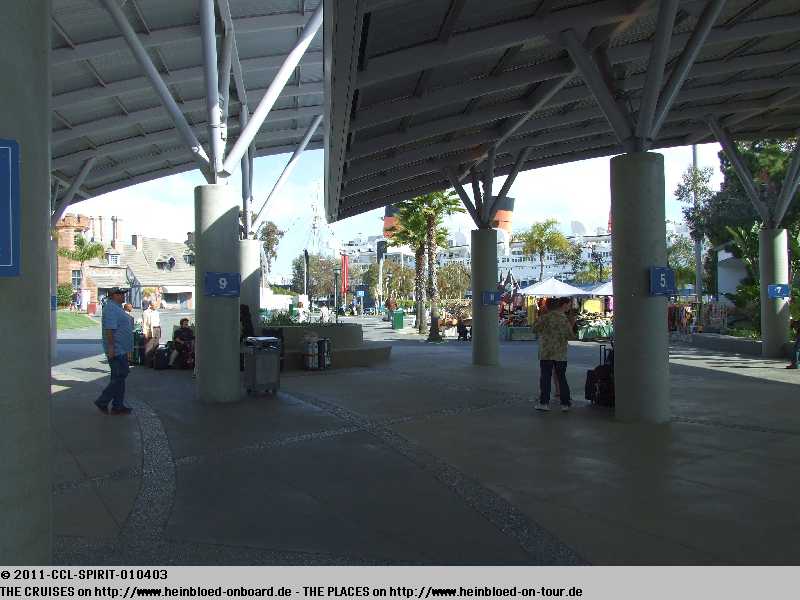 Deswegen nutze ich die Zeit, um mal schnell zum Cruise Terminal zu laufen.
Wow - sogar einen eigene Abfertigung für die VIP-Gäste bietet Carnival hier an.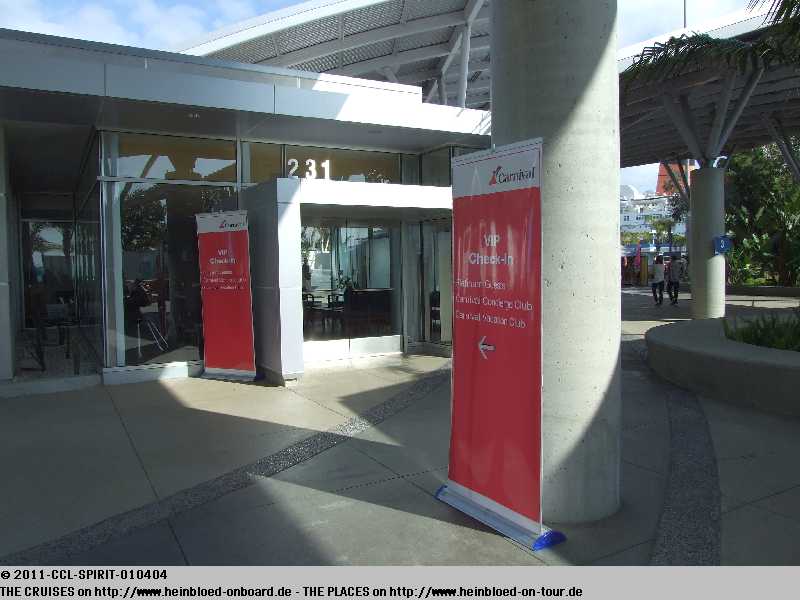 Wow - Carnival even has a separate check-in area for their VIP-guests.

Ahh, she is sailing again: CARNIVAL SPLENDOR. You better read with John Heald what happened here before.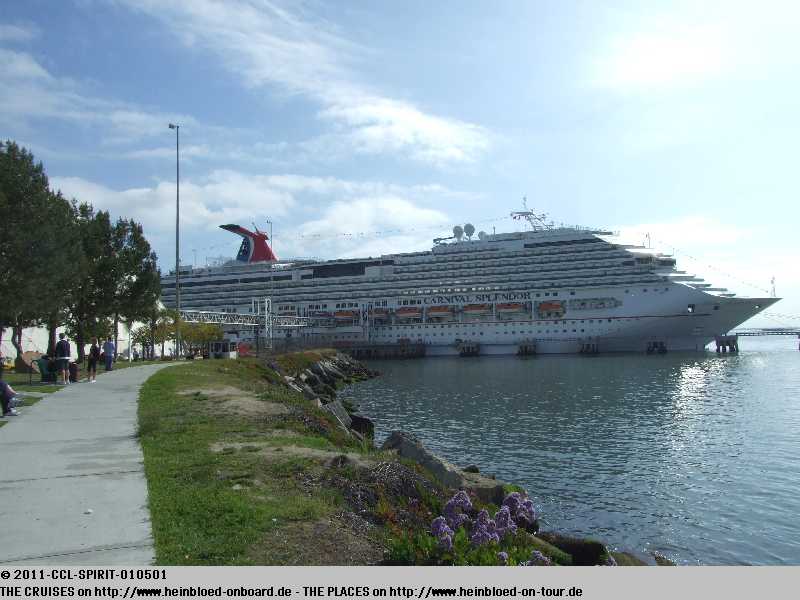 Aha, sie ist also wieder in Fahrt: CARNIVAL SPLENDOR. Was damals passiert ist, liest man besten bei
John Heald
nach.