Scroll down for English explanations - alternates with German explanations.

Irgendwie ist die Luftfeuchtigkeit in Honolulu anders als auf den anderen Inseln. Ständig beschlägt die Linse.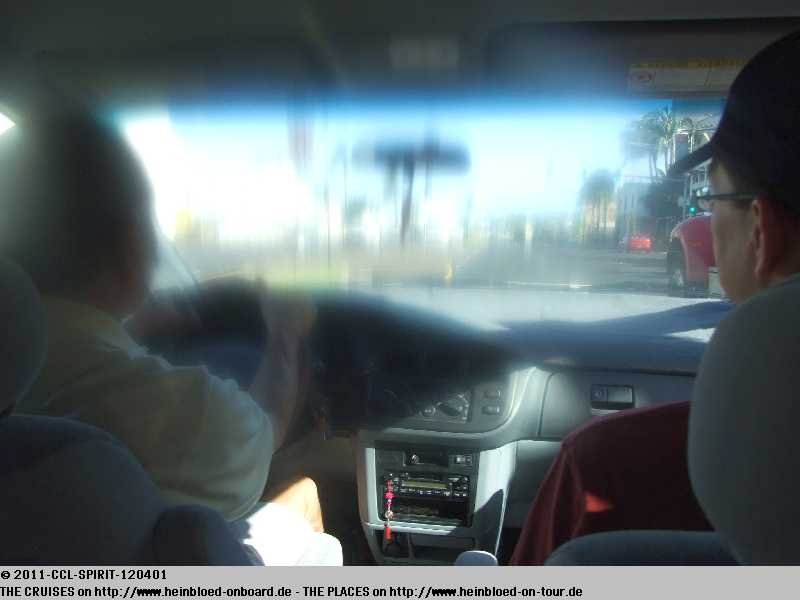 Somehow the humidity in Honolulu was different to the other islands. The lense fogged up all the time.

Or it was the air-condition of the car. But later it happened again and again outside the car all the time.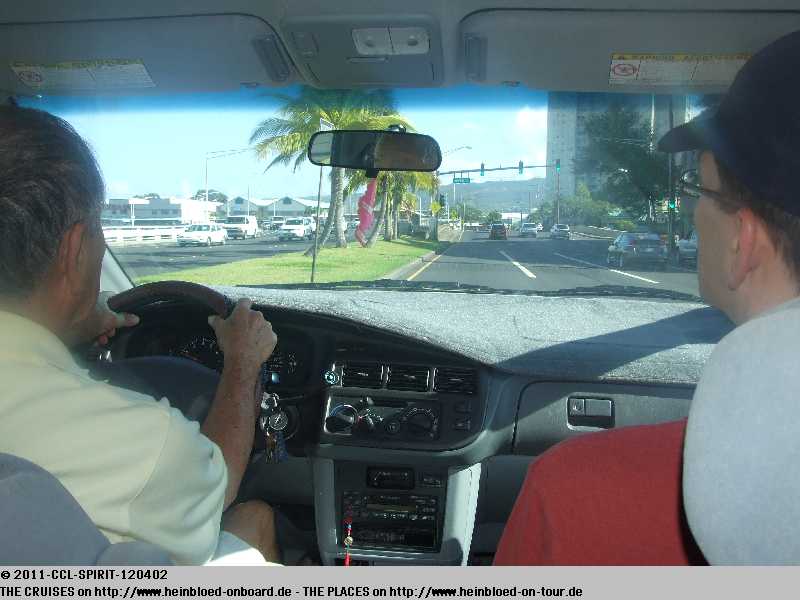 Oder die Klimaanlage im Auto war falsch eingestellt. Aber später passierte es außerhalb des Autos immer wieder.
Die gute paiagirl (Frances) hat sich bereits um 07.00 Uhr morgens in Pearl Harbor angestellt, damit wir die Tickets für 09.30 Uhr bekommen. Nur 50 Tickets je Zeitfenster (alle 15 Minuten bis 15.00 Uhr) sind für Individualbesucher vorgesehen. Der Rest geht über die Touranbieter.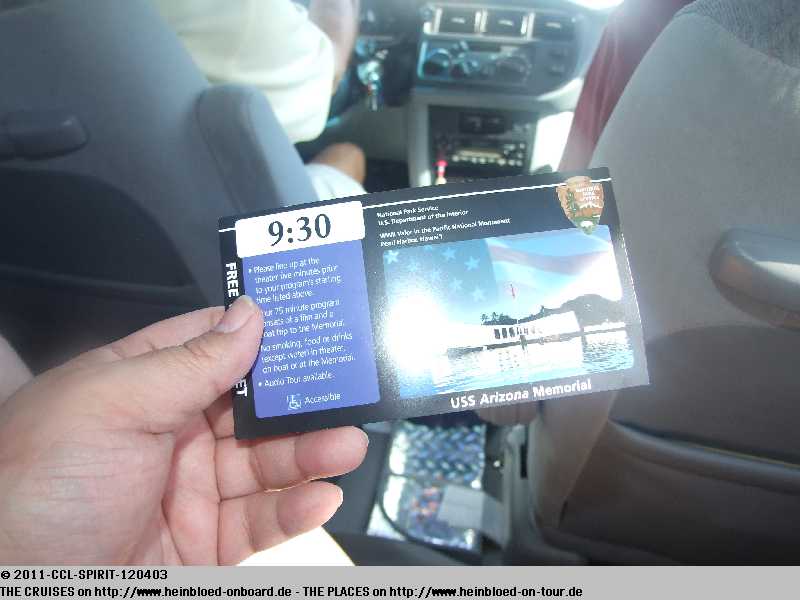 The brave paiagirl (Frances) queued up already at 07.00 hrs in the morning in Pearl Harbor to get tickets for us for 09.30 hrs. Only 50 tickets per time frame (every 15 minutes until 15.00 hrs) were reserved for individual visitors. The other tickets were for tour operators.

We arrived at Pearl Harbor or officially: World War II - Valor in the Pacific.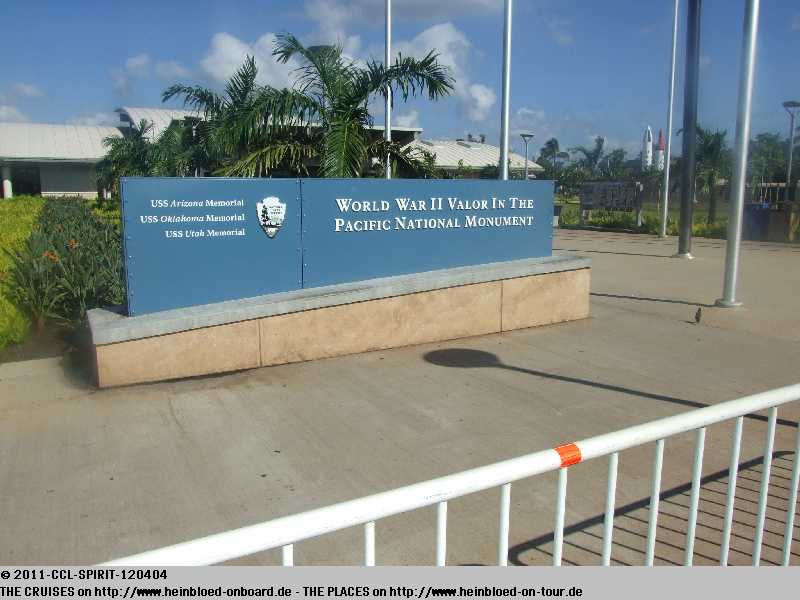 Wir sind an der Gedenkstätte Pearl Harbor angekommen, oder der offizielle Name:
2. Weltkrieg - Tapferkeit im Pazifik
.
Das ist übrigens Shigi, Schwager von paiagirl (Frances). Drei aus der Verwandtschaft haben angeboten, uns herumzufahren. Die Wahl fiel jedoch auf Shigi, damit wir uns die Miete des Vans sparen können.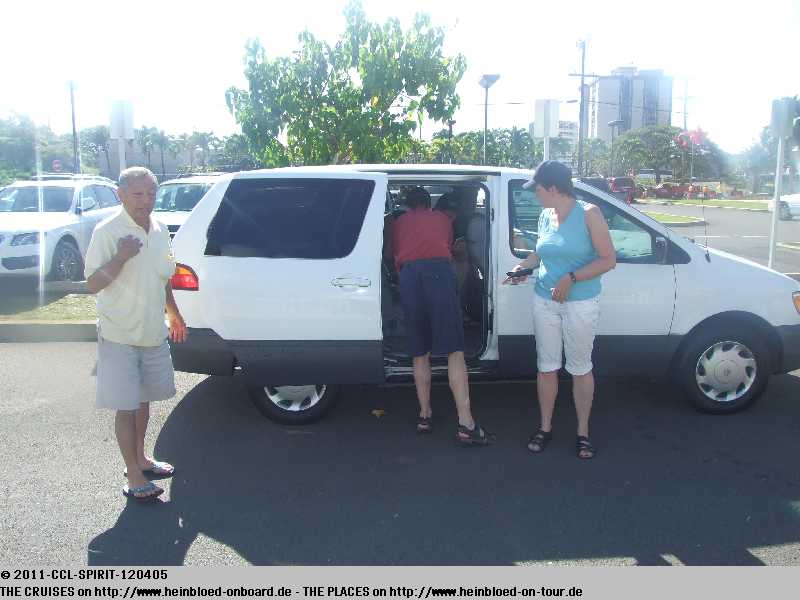 By the way I would like to introduce paiagirl's (Frances) brother-in-law Shigi. Three of her relatives offered to show us around. But Shigi had to do it finally because we could save the money for the van rental.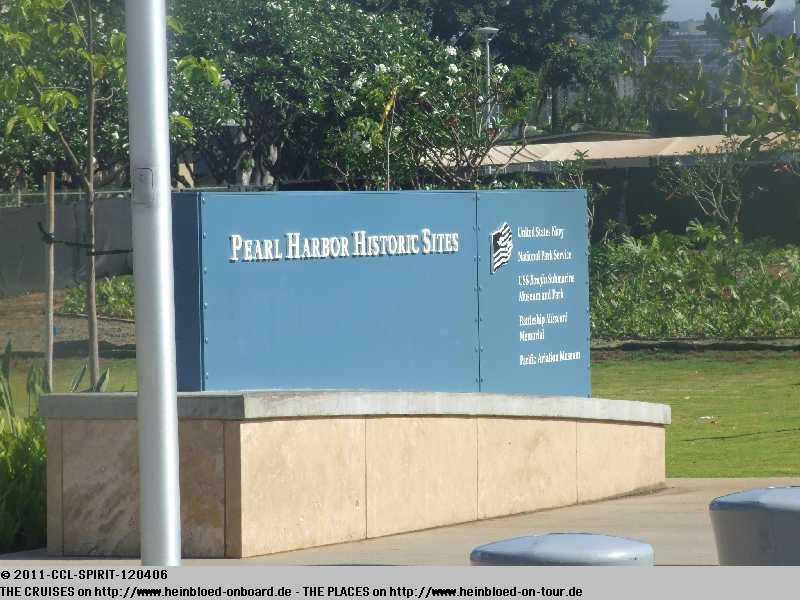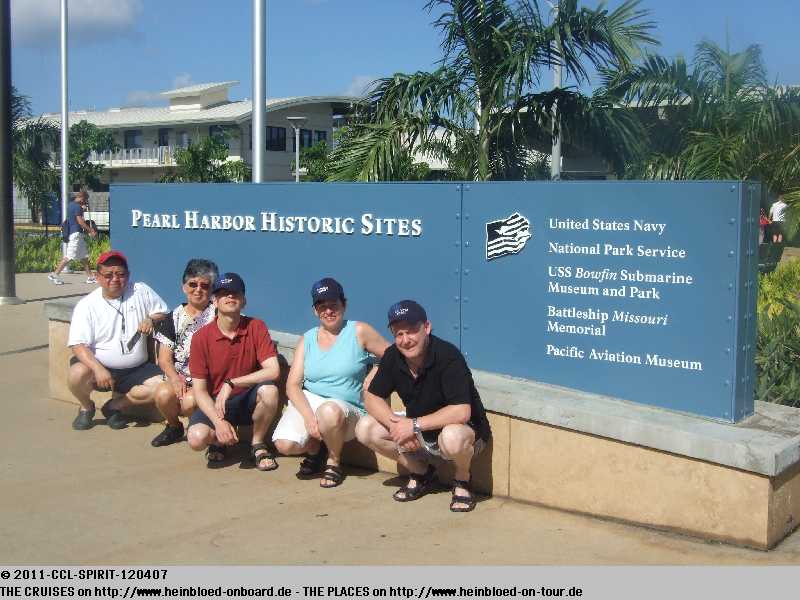 Here you got an overview of all activities.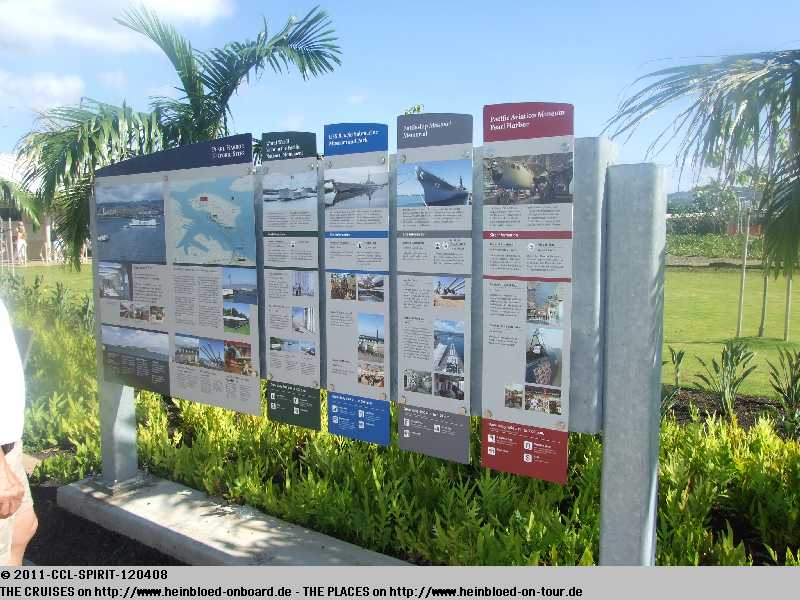 Hier gibt es eine Übersicht der Aktivitäten vor Ort.
Es ist übrigens einer der wenigen Einrichtungen der Nationalparkverwaltung, die kostenlos besucht werden können.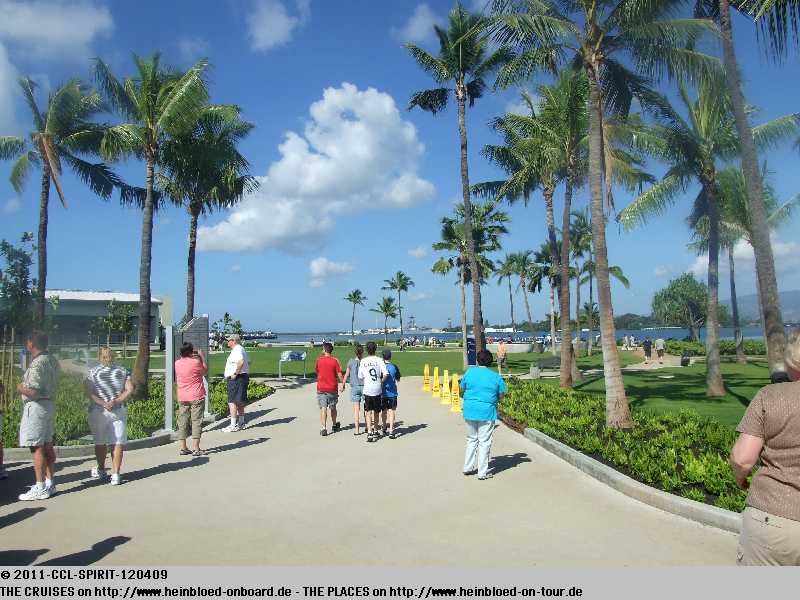 It was one of the few venues of the National Park Administration where you do not need to pay for the visit.

Unbelieveable what this might have to do with the atttack of Pearl Harbor.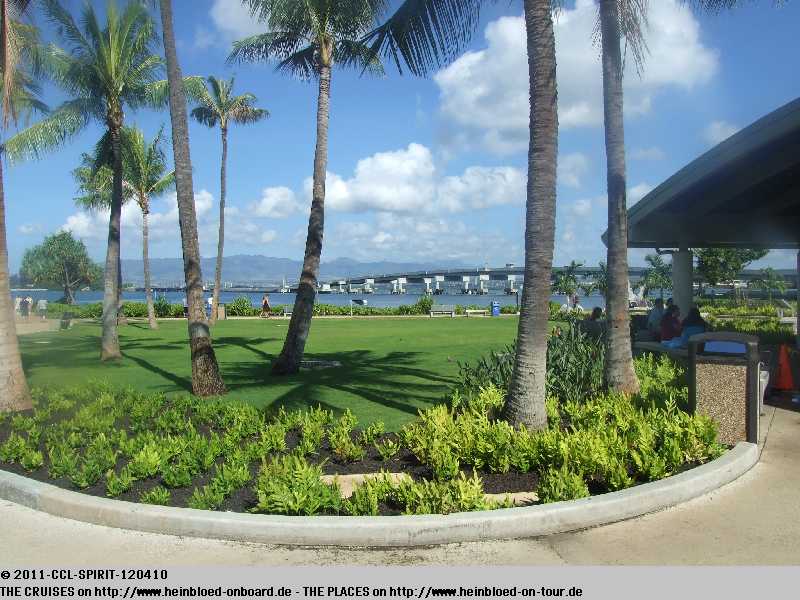 Kaum zu glauben, was das alles mit dem Angriff auf Pearl Harbor zu tun hat.
Für 7,50 USD bekommt man einen Audioführer, der auch Deutsch anbietet. Und wieder beschlägt die Linse. Zunächst wird ein 23-minütiger Film gezeigt, der eben um 09.30 Uhr beginnt und einige Erläuterungen zum Park gibt und die Zusammenhänge erläutert.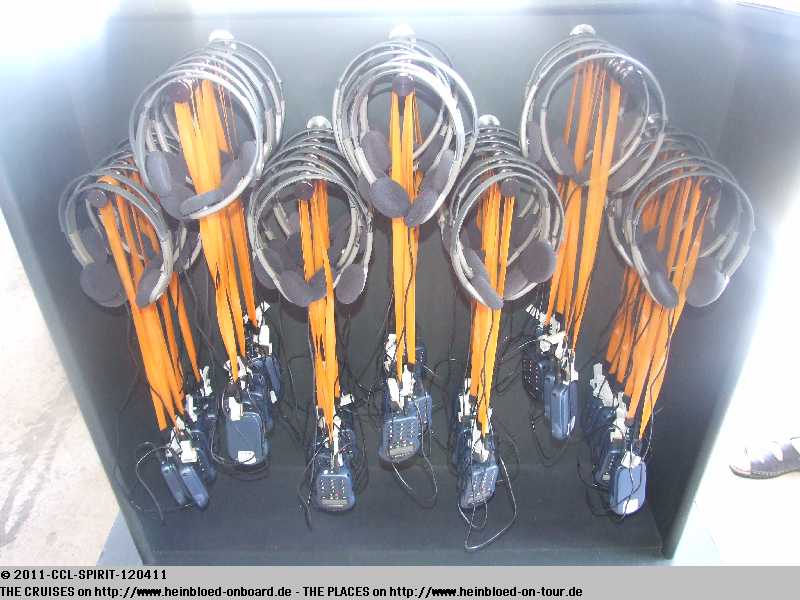 For 7.50 USD you got an audio-guide which also was available in German. And again it fogged up my lense. First you got a 23-minutes movie to see which started at 09.30 hrs. So you get some explanations on the park and on the historical background.

After the presentation we continued by boat to the memorial of USS ARIZONA.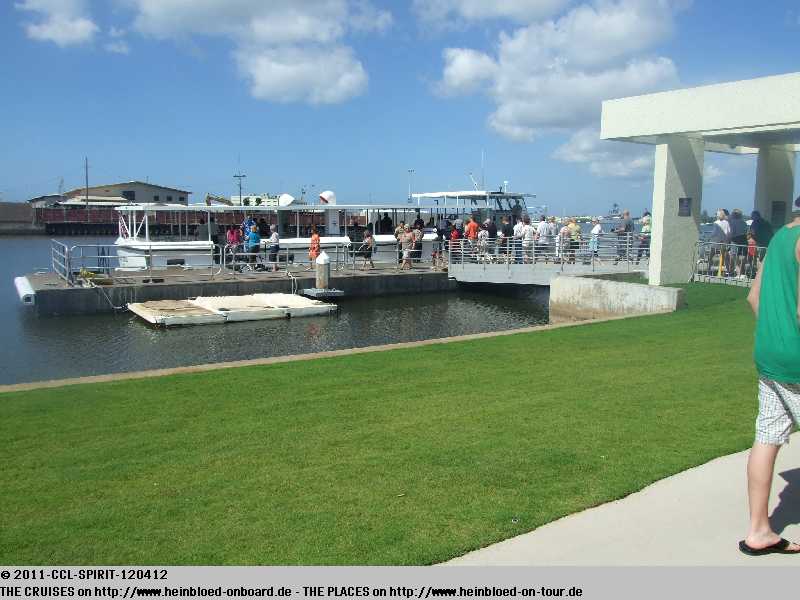 Nach der Vorführung geht es mit Booten weiter zum Denkmal der USS ARIZONA.
Als am 07.12.1941 die japanischen Truppen Pearl Harbor angriffen wurde quasi die gesamte Flotte zerstört. Drei Schiffe konnten nicht wieder aufgerichtet werden und bilden die Grabkammern für die Gefallenen USS UTAH, USS OAKLAHOMA und USS ARIZONA. Nur für die USS ARIZONA wird dieser Shuttle angeboten.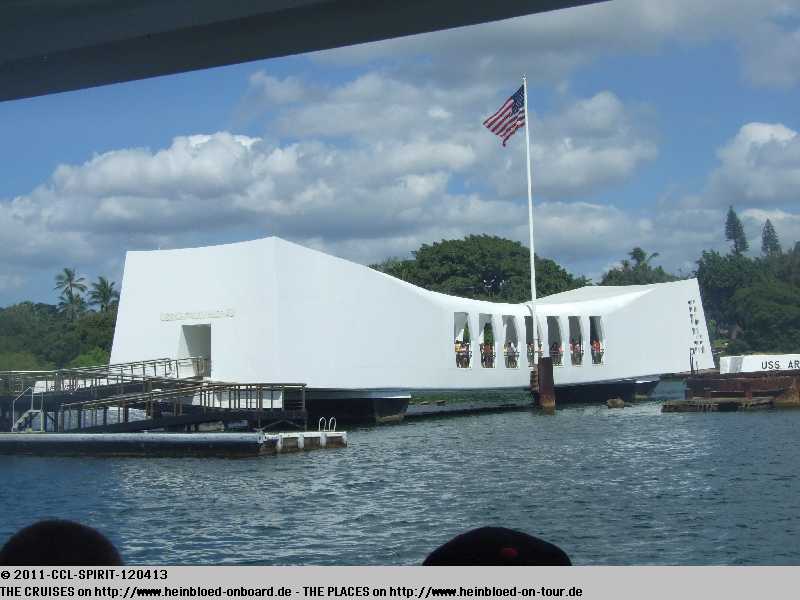 On December 07, 1941 Japanese troops attacked Pearl Harbor and destroyed mostly the whole fleet. Three ships were not reinstalled and were the tombs for the dead soldiers: USS UTAH, USS OAKLAHOMA and USS ARIZONA. But only for USS ARIZONA they offered this shuttle.

It was a perfect sequence: i. e. every 15 minutes (2 auditoria - one started 00 and 30 past the hour and the other 15 and 45 with their shows) they took and re-took the visitors to the memorial.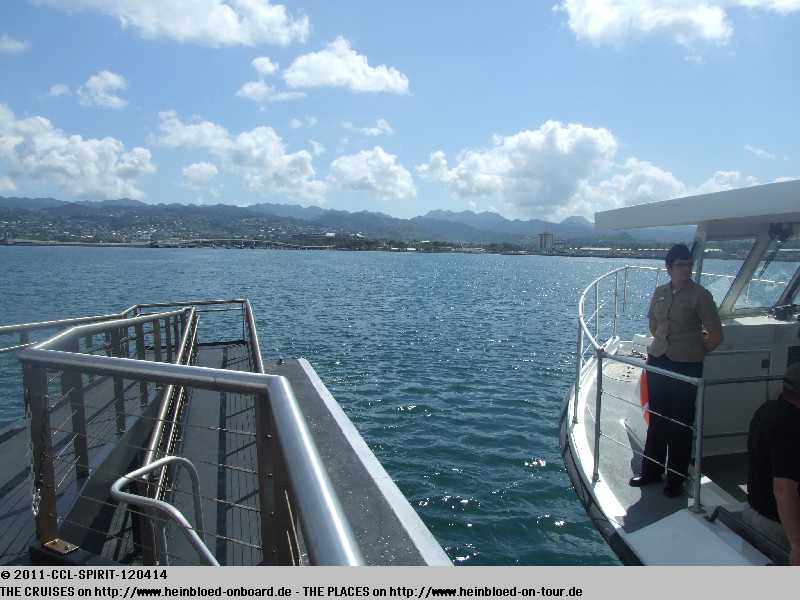 Es war perfekt getaktet, d. h. immer im 15-Minuten Abstand (2 Kinos, die jeweils auf 00 und 30 bzw. 15 und 45 die Vorführungen starten) die Besucher zum Mahnmal und wieder zurück bringen.
Es war auch so gehalten, dass immer ein Kinosaal voll bzw. eine Schiffsladung Besucher sich auf dem Mahnmal aufhielt und genauso lange brauchte man, um sich alles anzugucken.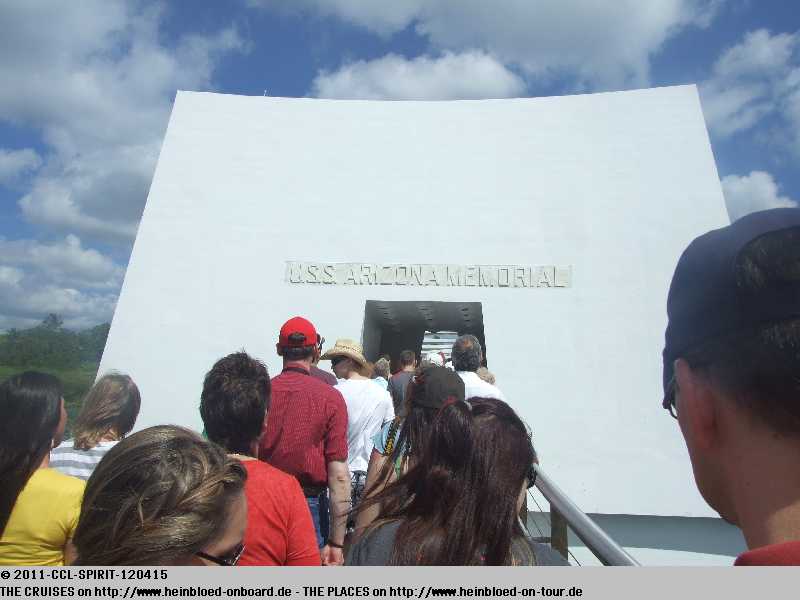 It was kept in a way that one full auditorium or one full shipload of visitors could stay on the memorial and need exactly the same time to see everything.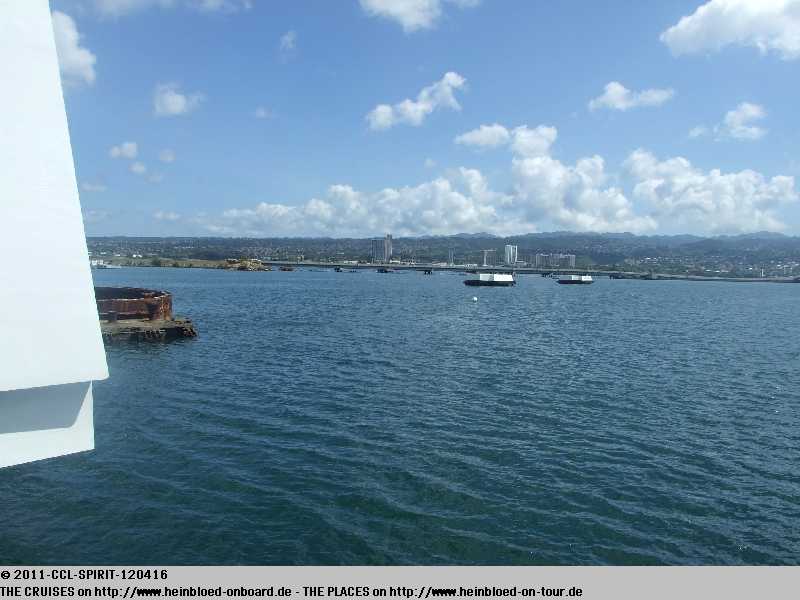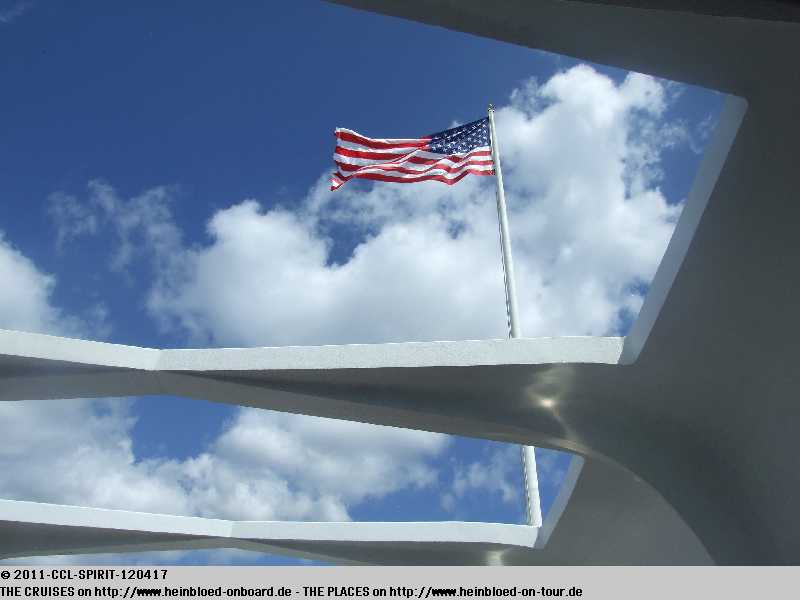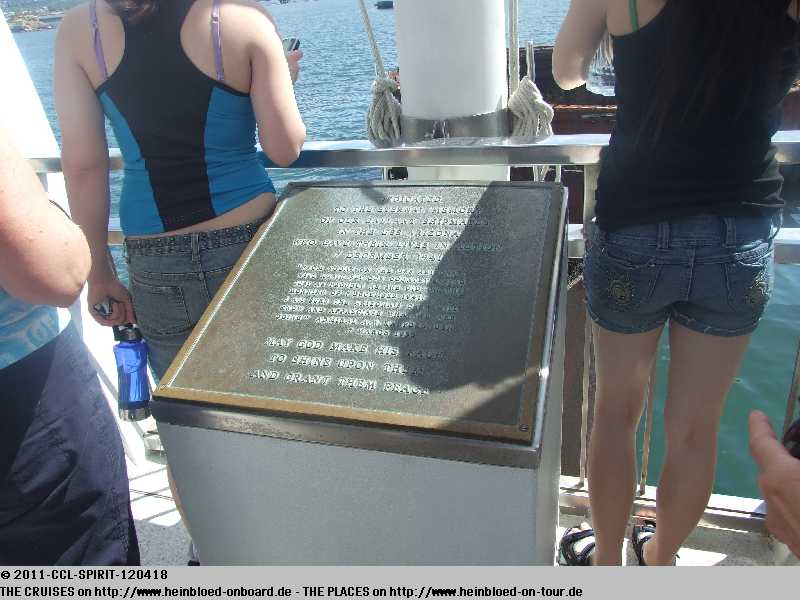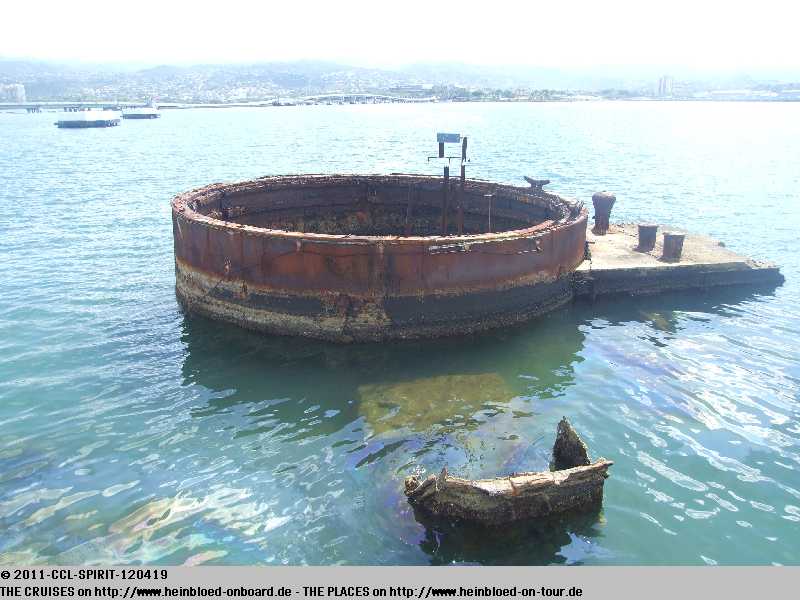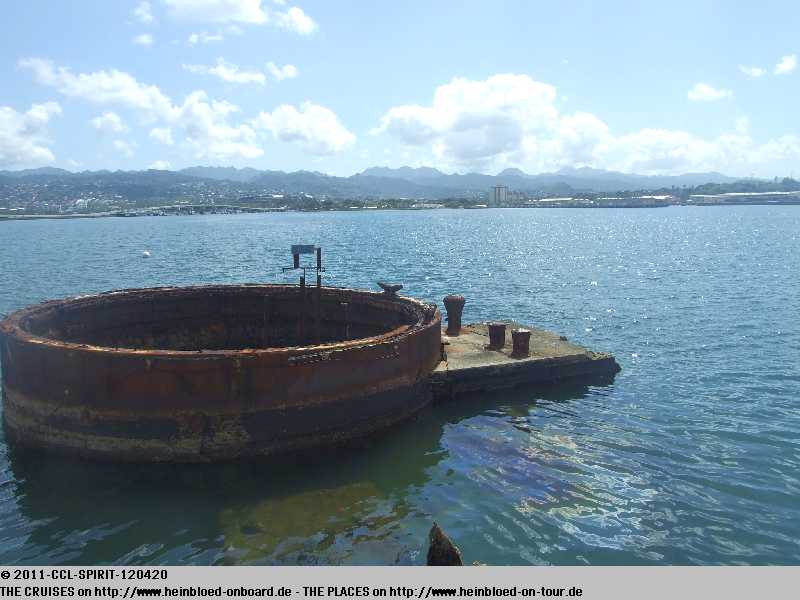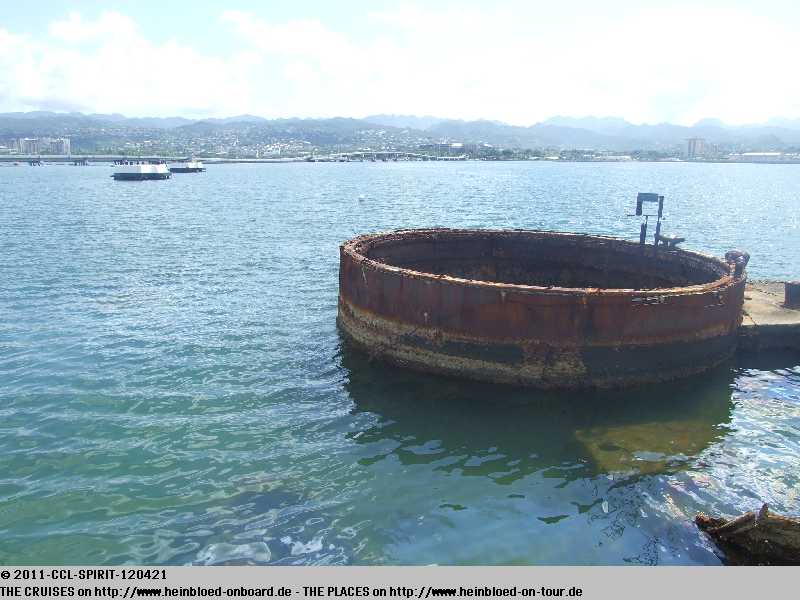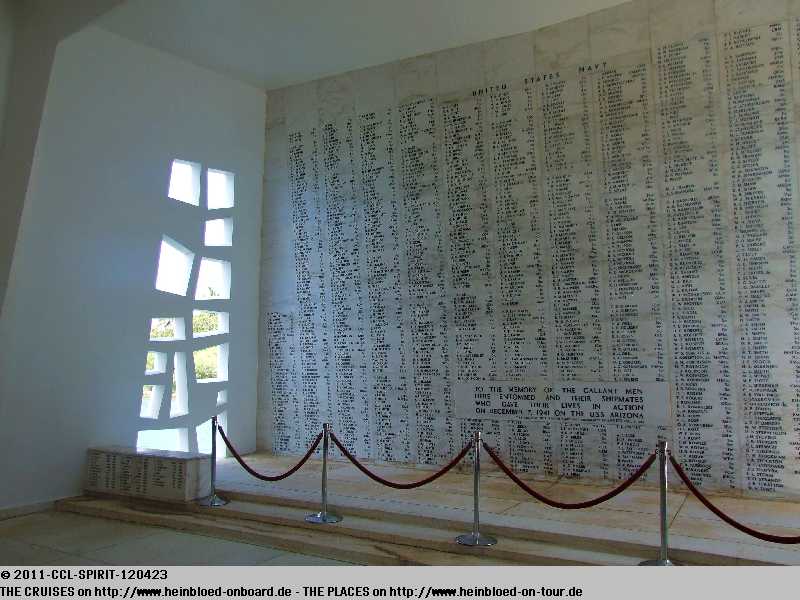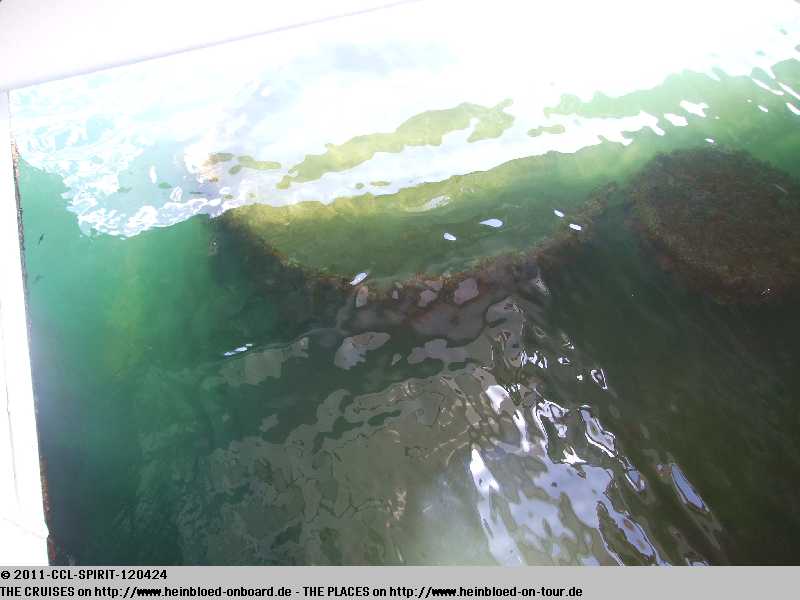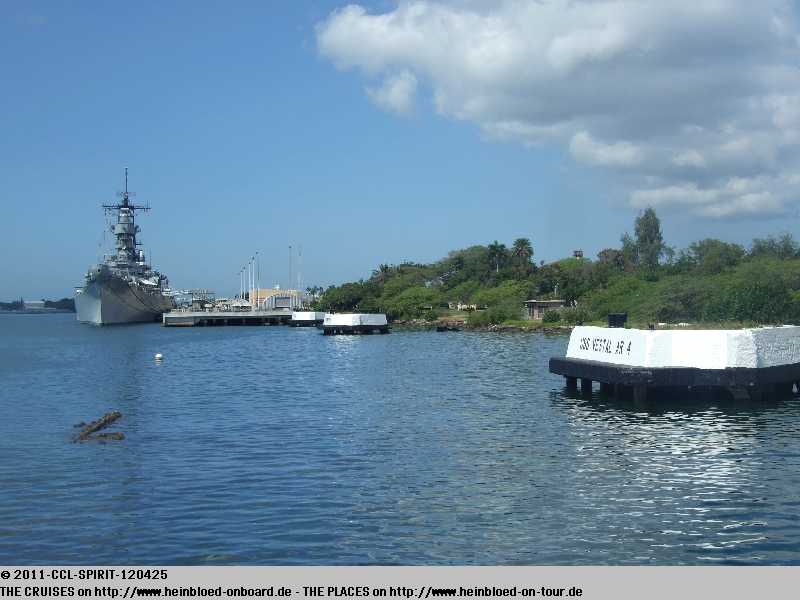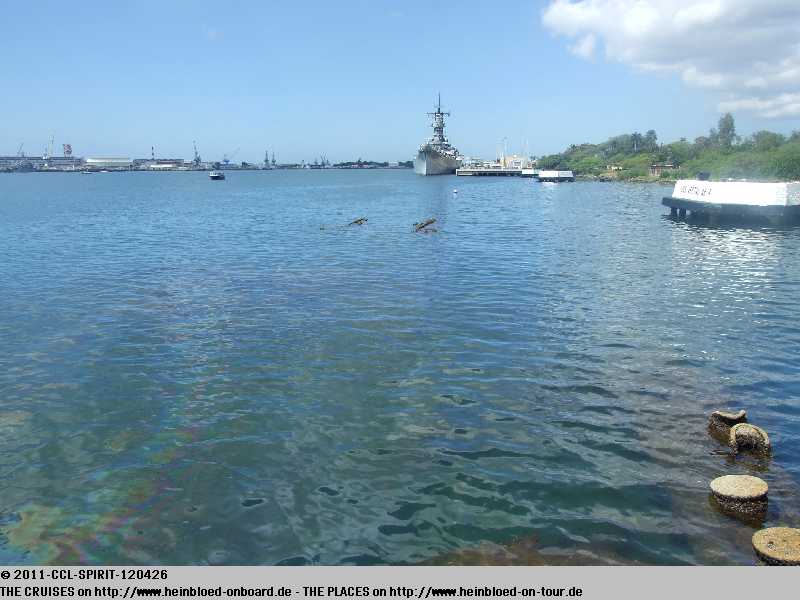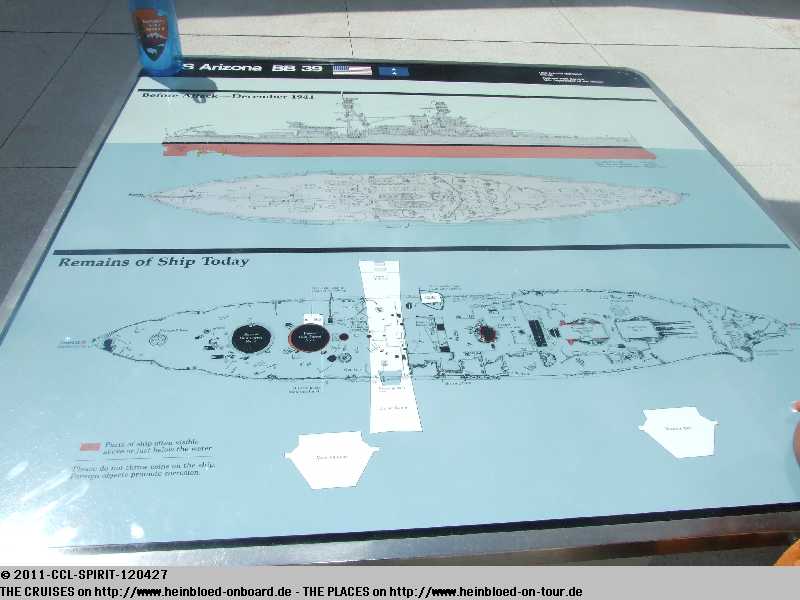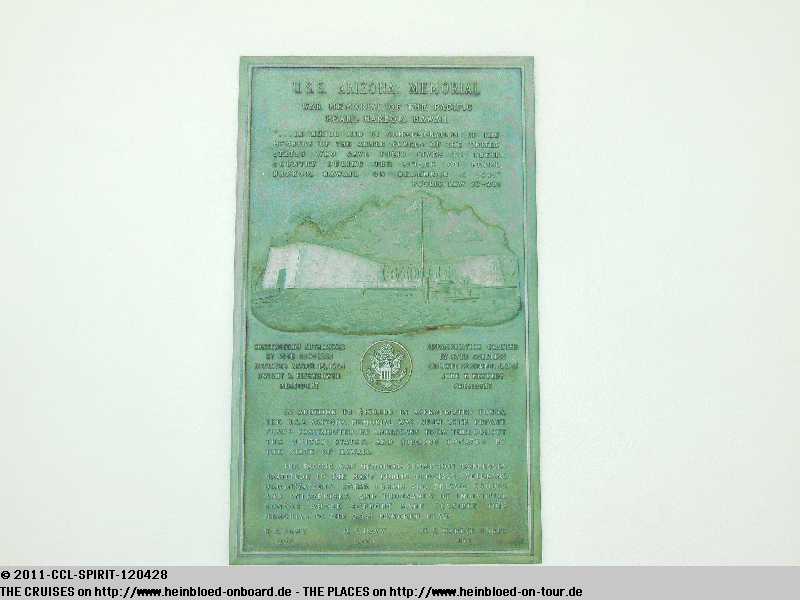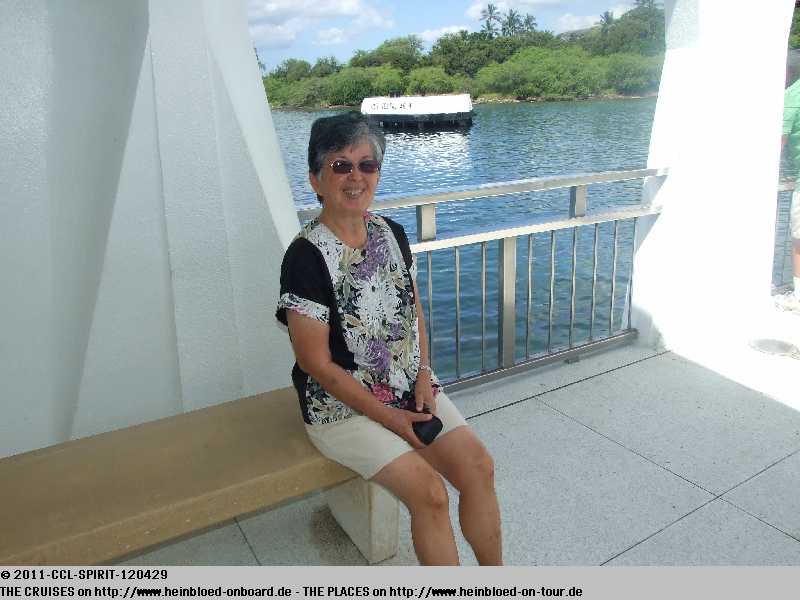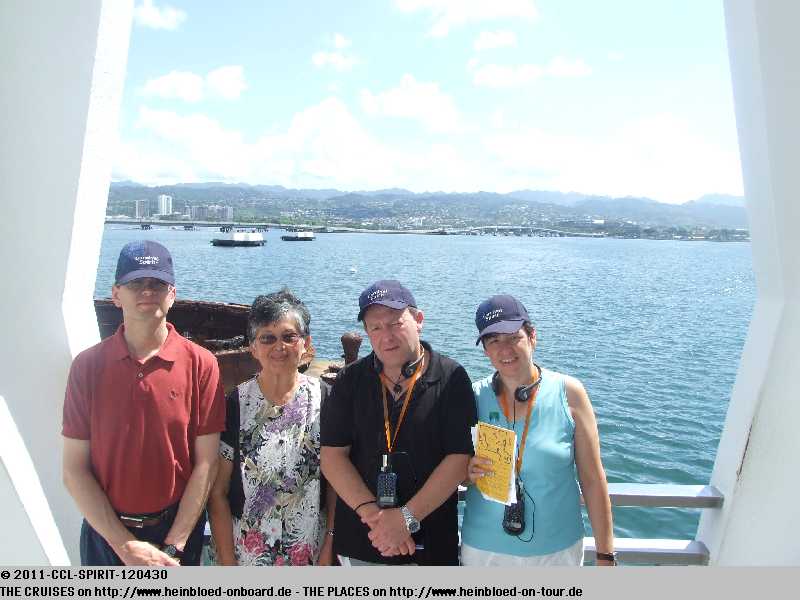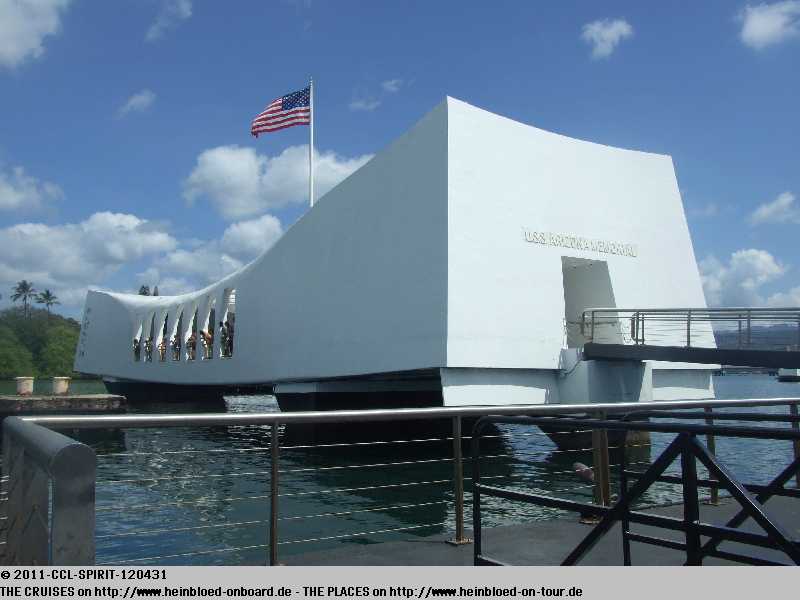 Who could afford booked a private tour. They berthed in between.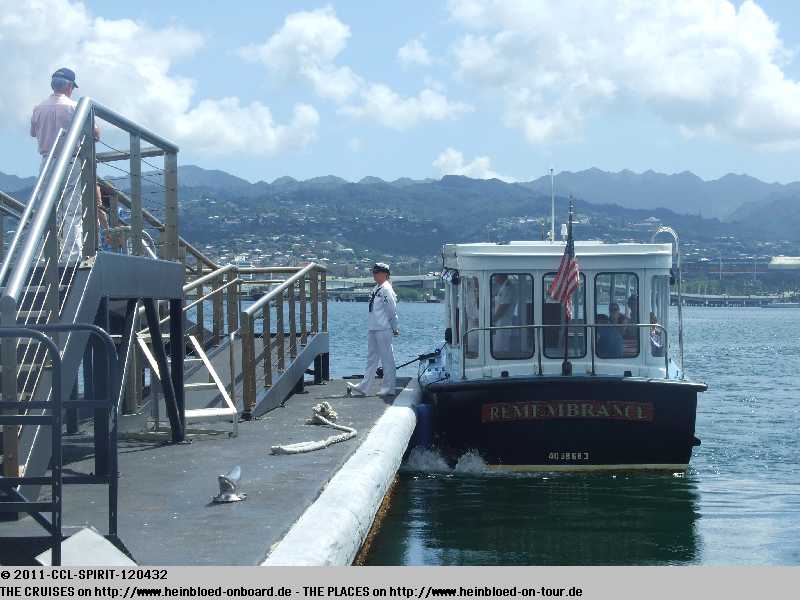 Wer es sich leisten konnte, konnte auch Privatführungen buchen. Die legten zwischendurch auch an.
Die Fahrt zurück war wirklich schön.

The boatride back was also very nice.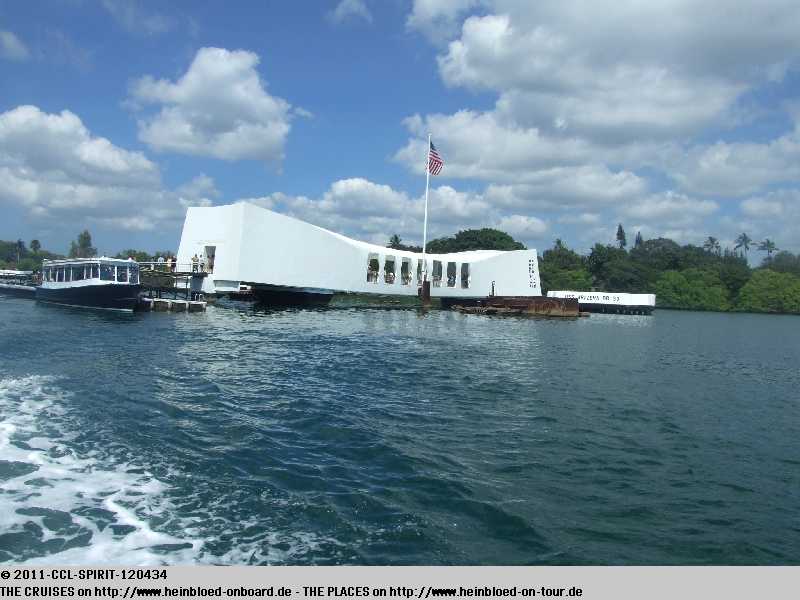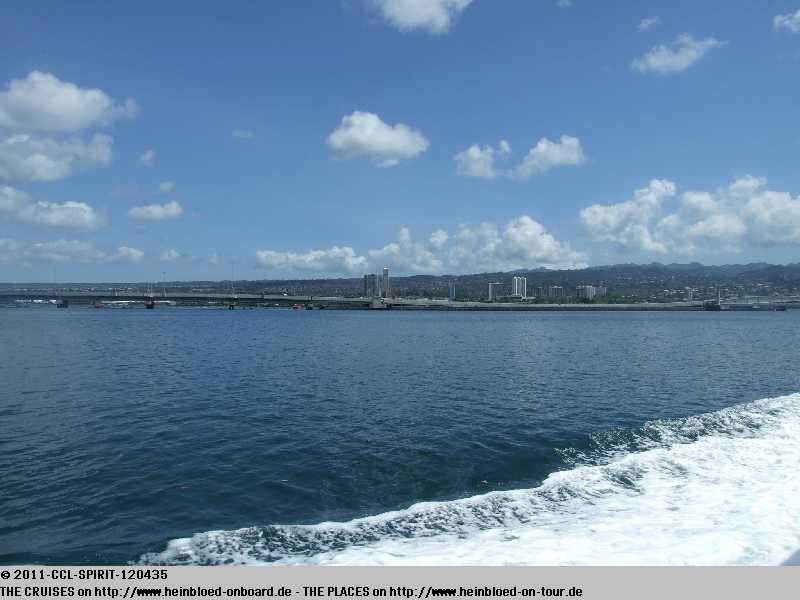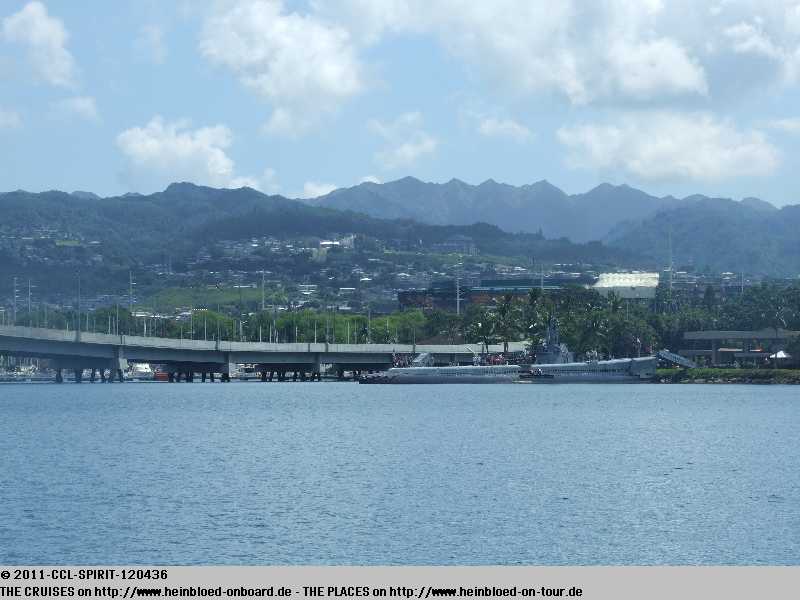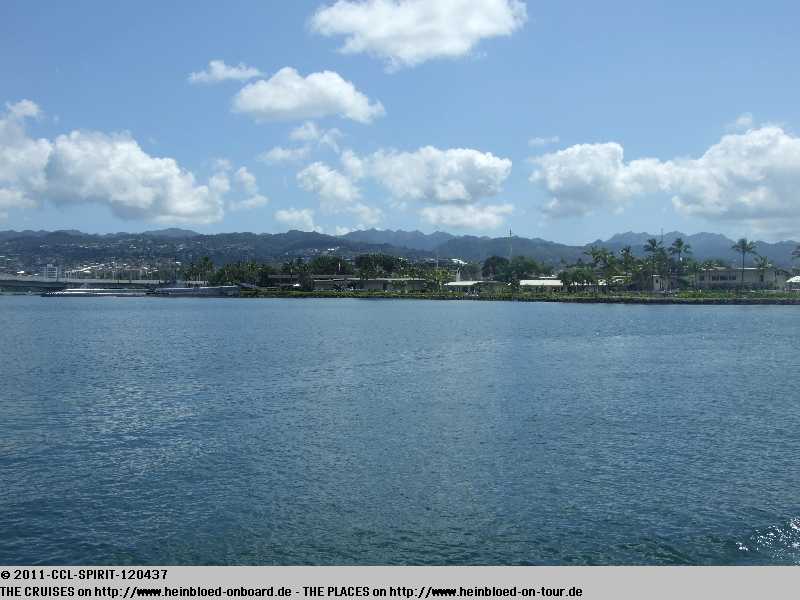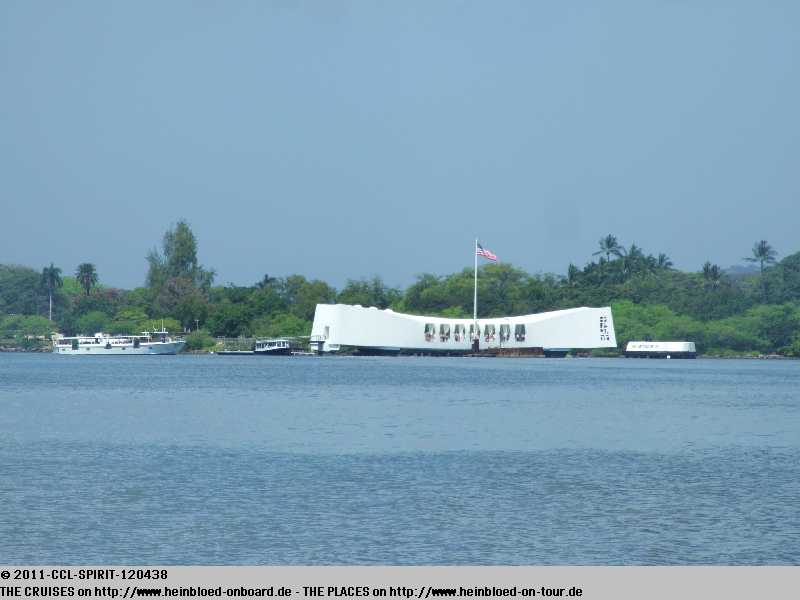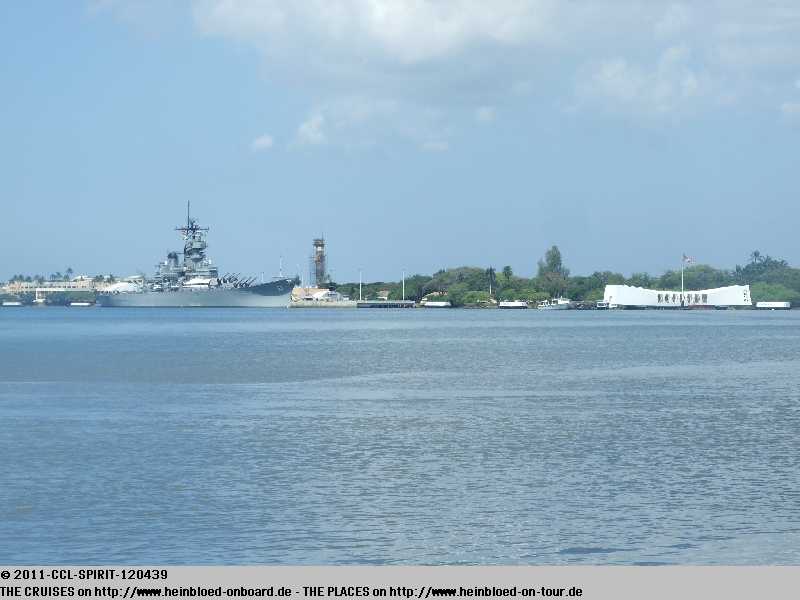 Actually I wanted to have a translation of the brochure but the queue was endless as it was spring break. Waiting upto two hours was quite "normal". So we were very thankful that paiagirl (Frances) went here already this morning. Shigi went home as he lived only few minutes away. For him it must the same like for me the Brandenburg Gate in Berlin temporary.

Eigentlich wollte ich mir wieder eine Übersetzung für die Broschüre holen, aber die Schlangen sind endlos, weil Spring Break ist. Wartezeiten bis zu zwei Stunden sind wohl "normal". Deswegen waren wir auch paiagirl (Frances) sehr dankbar, dass sie für uns morgens schon hier war. Shigi ist kurz nach Hause gefahren, da er direkt nur wenige Minuten entfernt wohnt. Für ihn war es vermutlich so, wie für mich zeitweise Berlin und das Brandenburger Tor.