Scroll down for English explanations - alternates with German explanations.

Was mich besonders imponiert hat, war der nette Umgang unserer beiden Kabinenstewards untereinander.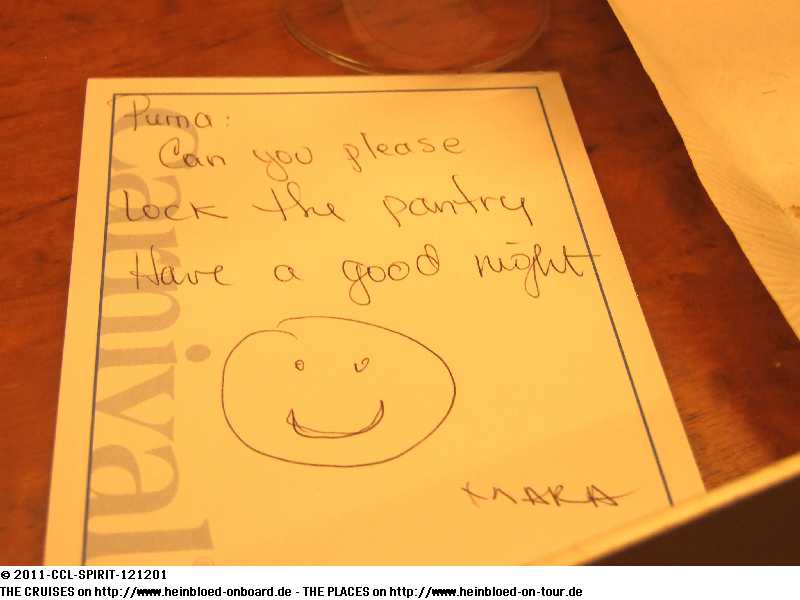 I was much impressed on the way our two cabin stewards treated eachother.

As we had no more occassion to see them both again we appreciated very much this "towel animal" and the personal note. No idea if only we got this animal or all other guests as well. I thing they were nice to all guests. We prepared something for them in the morning already as we have not seen them. Finally we were with friends with them and not just paying guests on a cruise ship.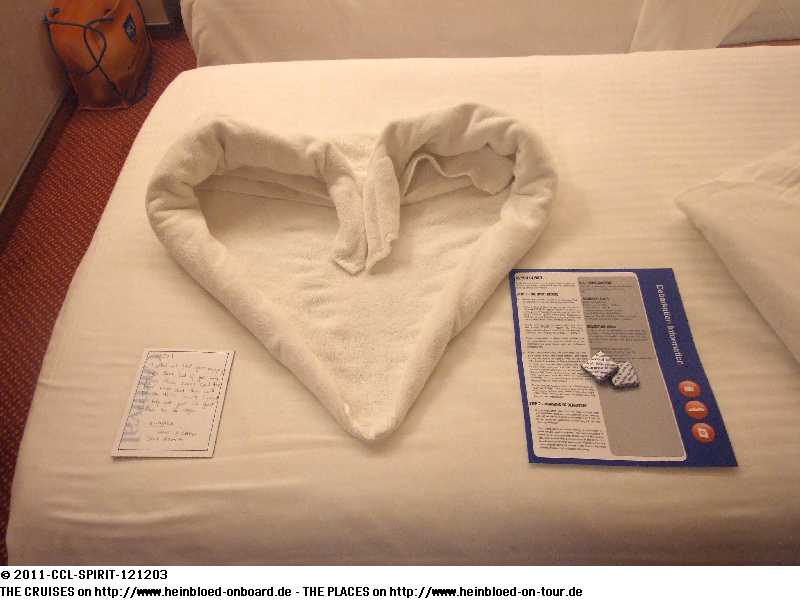 Da wir keine Gelegenheit mehr hatten, beide nochmals zu sehen, haben wir uns über dieses "Handtuchtier" und die persönliche Nachricht sehr gefreut. Ob nur wir das Handtuchtier bekommen haben oder auch alle anderen spielt keine Rolle. Ich denke mal, dass sie zu allen Gästen gleich nett waren. Wir hatten morgens bereits nochmals etwas für sie vorbereitet, nachdem wir sie morgens nicht gesehen hatten. Am Schluss waren wir bei Freunden unterwegs und nicht nur zahlende Gäste eines Kreuzfahrtschiffes.
Es gab noch einen Umschlag für den Maître. Anfangs hat es ja geholpert, aber eigentlich müssen wir ja anerkennen, dass unsere Sonderwünsche erfüllt wurden. Die ganzen Sachen rund um den Serviceablauf sind eher struktureller Natur, so dass wir doch den Umschlag für den Maître gefüllt haben und auch gab noch nochmals Mon Cheris für die Restaurant Hostessen... Nun können Sie eine Party feiern...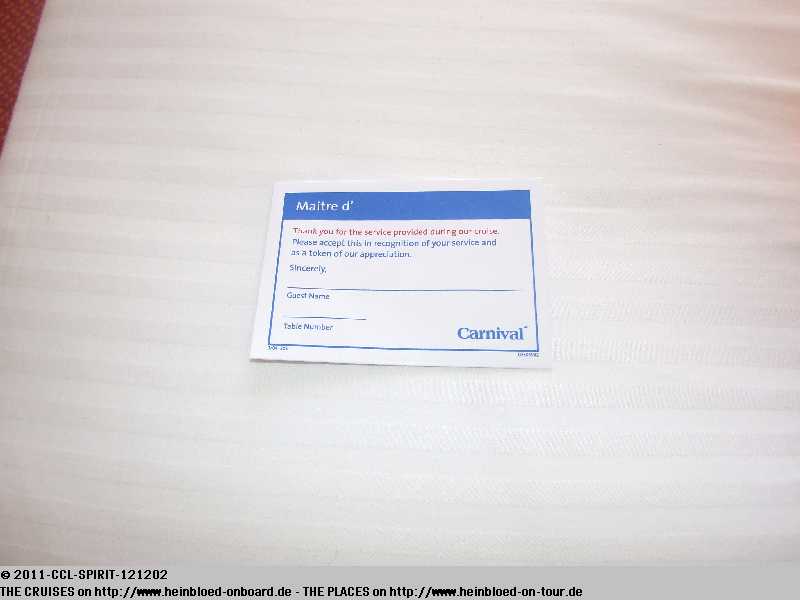 There was an enveloppe for the Maître. At the beginning it was not round but we need to honor that they took care of our special requests. The points we mentioned about the service was more general nature so that we filled the enveloppe for our Maître and all our Mon Cheris we left to our restaurant hostesses... Now they can celebrate a party...

Actually I did not want to return to the restaurant at 19.15 hrs.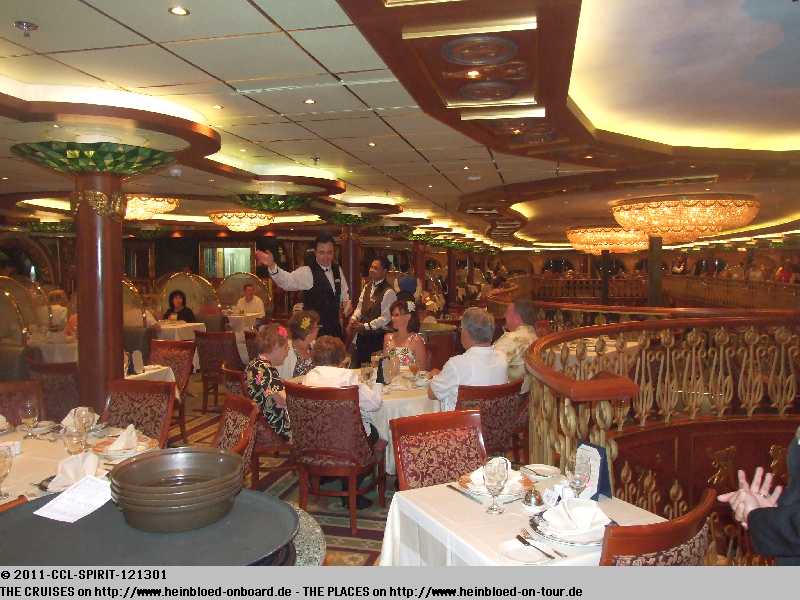 Eigentlich wollte ich ja nicht mehr um 19.15 Uhr unten sein.
Aber wir kommen noch gerade rechtzeitig, als sie auf John Denvers "Leaving on a jetplane"... natürlich Funship zum Abschied singen.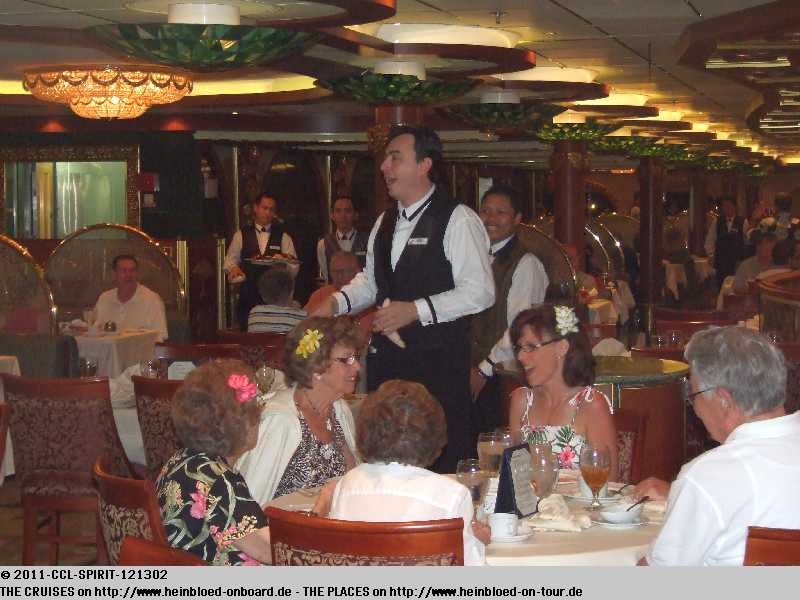 But we came right on time when they sang on John Denver's "Leaving on a jetplane"... of course FunShip to say farewell.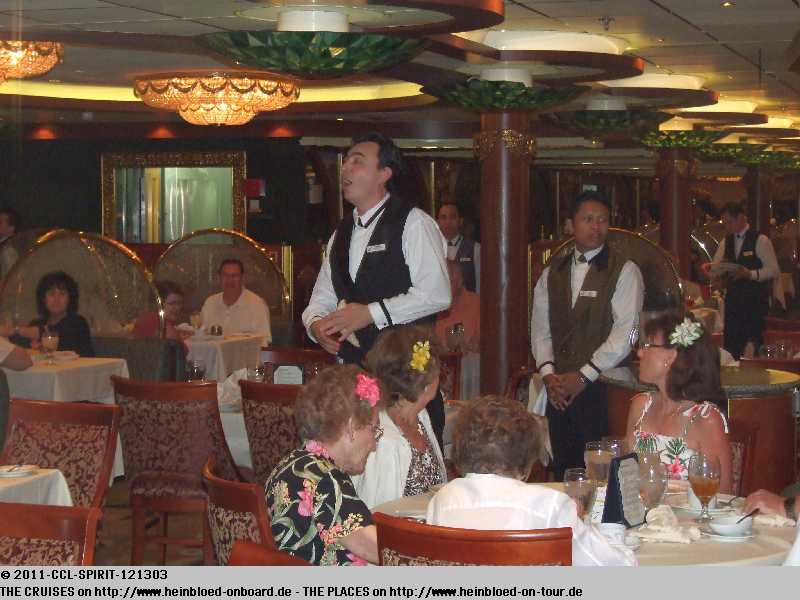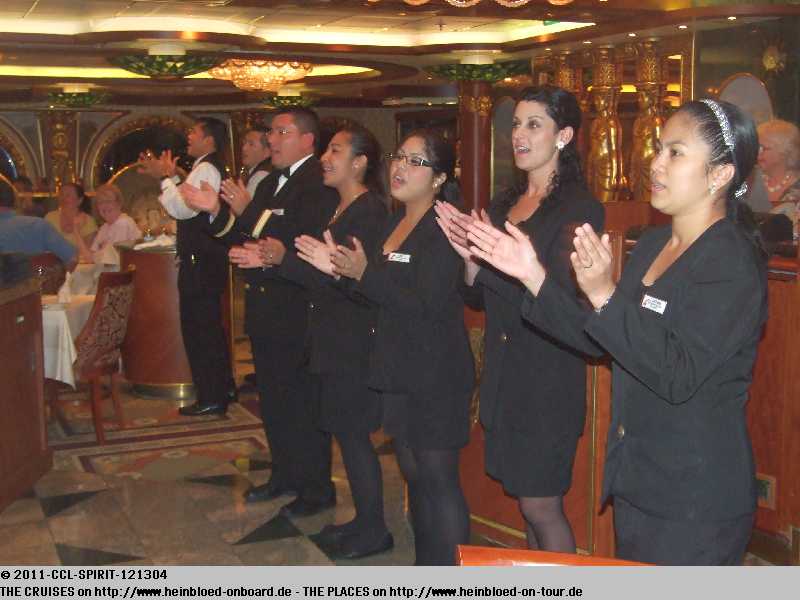 There were a lot of reasons to return again with Carnival.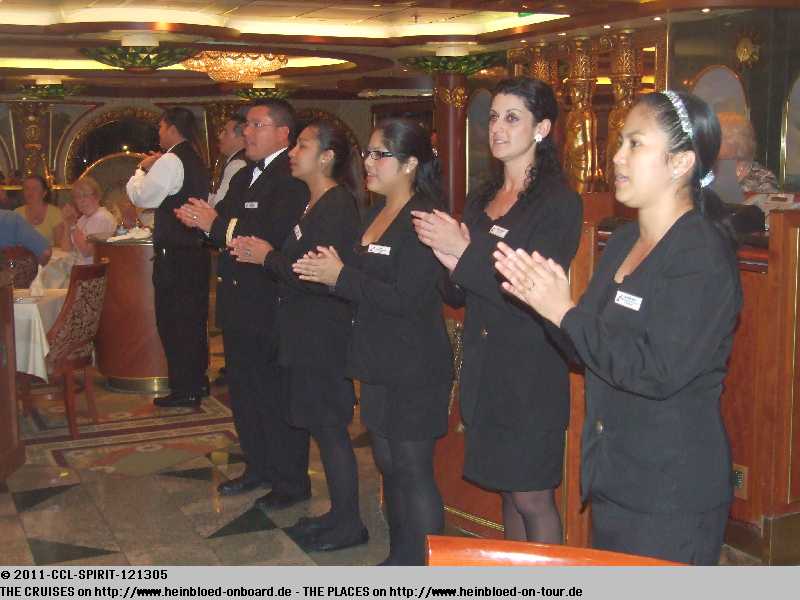 Es gibt ja doch eine Menge Gründe wieder mit Carnival zu buchen.
Zum Schluss der Reise denke ich bekommen wir den schönsten Tisch.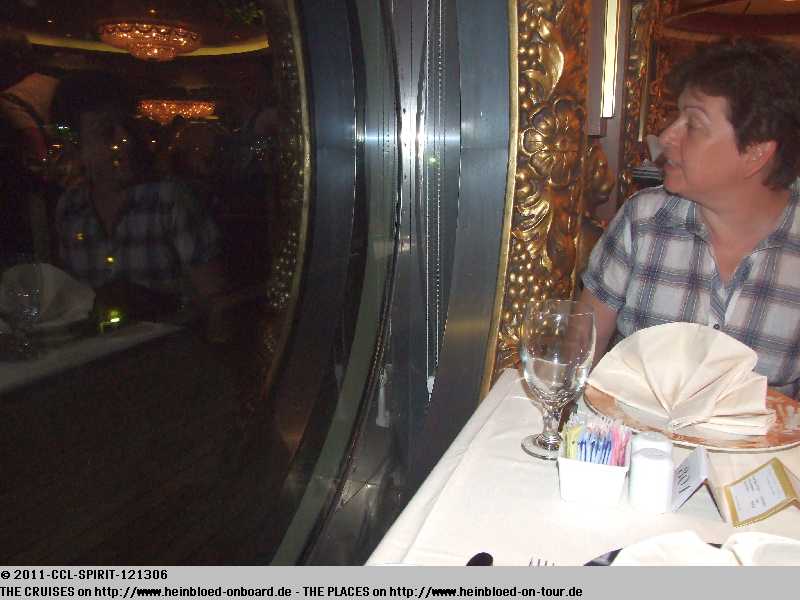 I thought with the end of the cruise we got the most nicest table.

With a direct view to the Aloha Tower...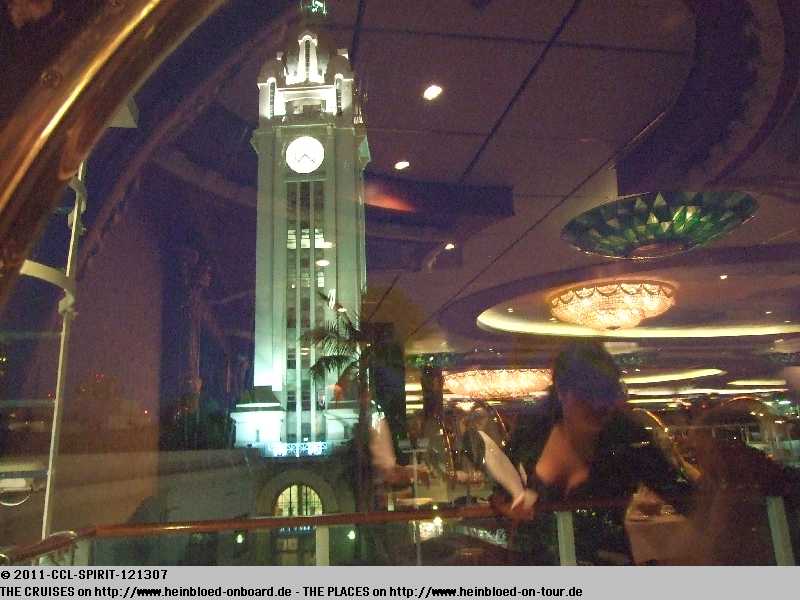 Mit direktem Blick zum Aloha Tower...
Und so schließt sich der Kreis... eine leere Butterglocke...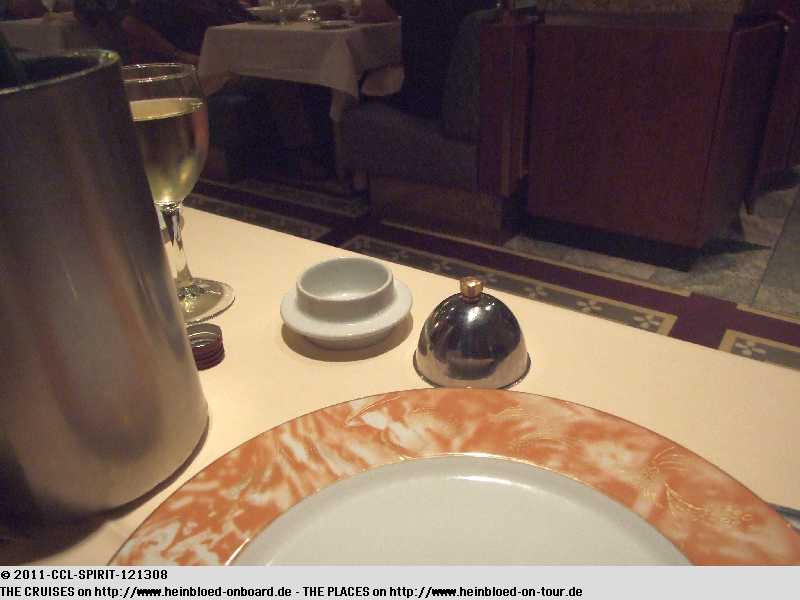 So the circle was closed... an empty butter cover...

And again a great meal...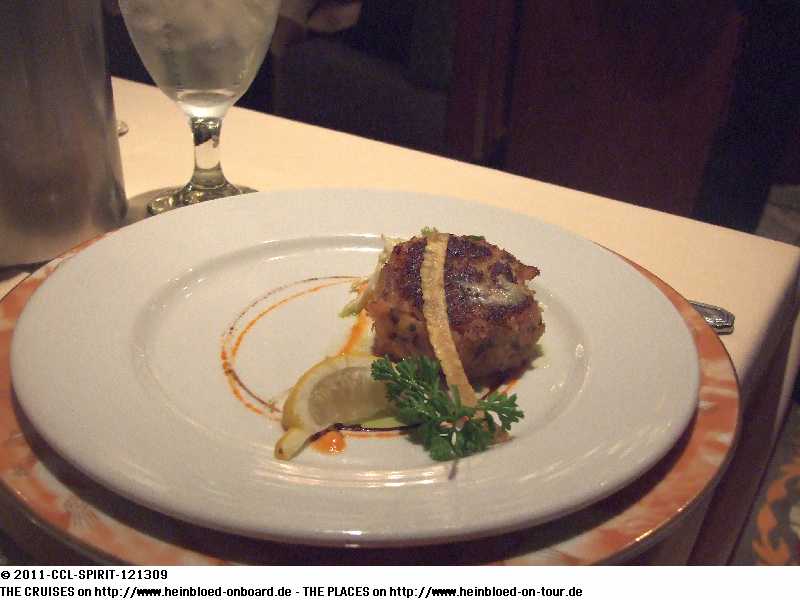 Und wieder tolles Essen...
Und wenn wir am nächsten Morgen nochmals frühstücken würden, würde ich diesen Früchtekeller in den Kühlschrank stellen lassen. Übrigens bat ein Nachbartisch darum, dass sie morgens gerne auch so einen Teller hätten. Wir retten die Situation in dem wir erklären, dass es unsere Reste vom Abendessen sind...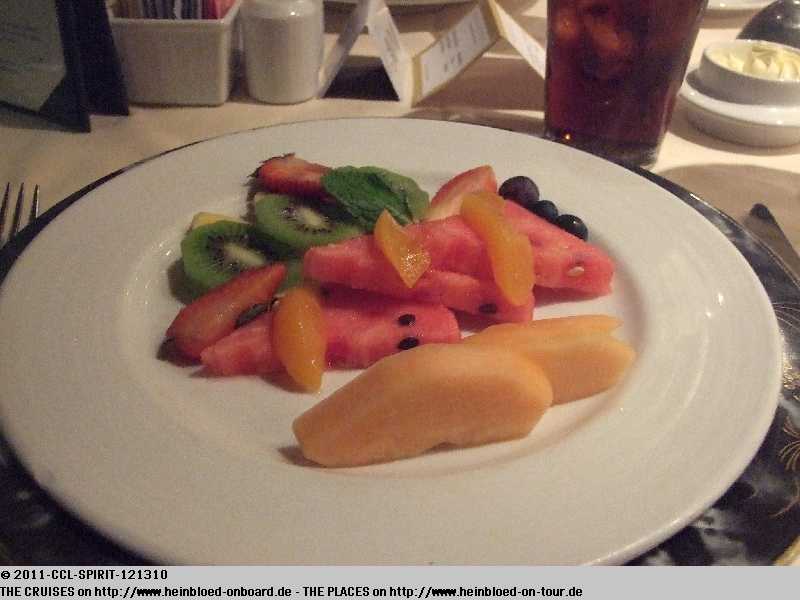 If we would have again breakfast here I would ask again to keep a fruit plate for me. By the way once another table requested the same fruit plate in morning. But we rescued the situation by telling that these were our left-overs from the dinner...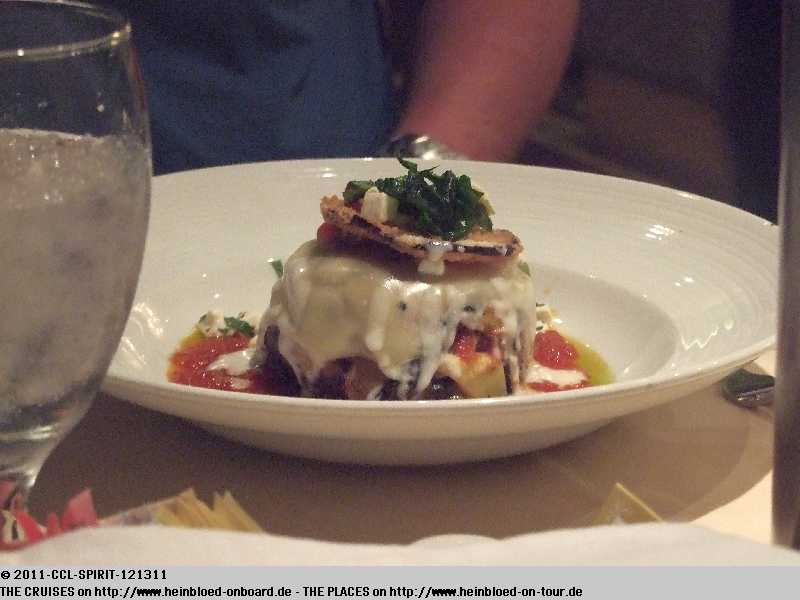 Only I had unluck... Kau'ai was four days ahead... so it might be better to see a KFC. With the beverage waiter I had unluck. After I had my very last Diet Coke on board I let a message forwarded to the waiter: he should ask other beverage waiters how we tipped them for serving Diet Coke from the soda pass.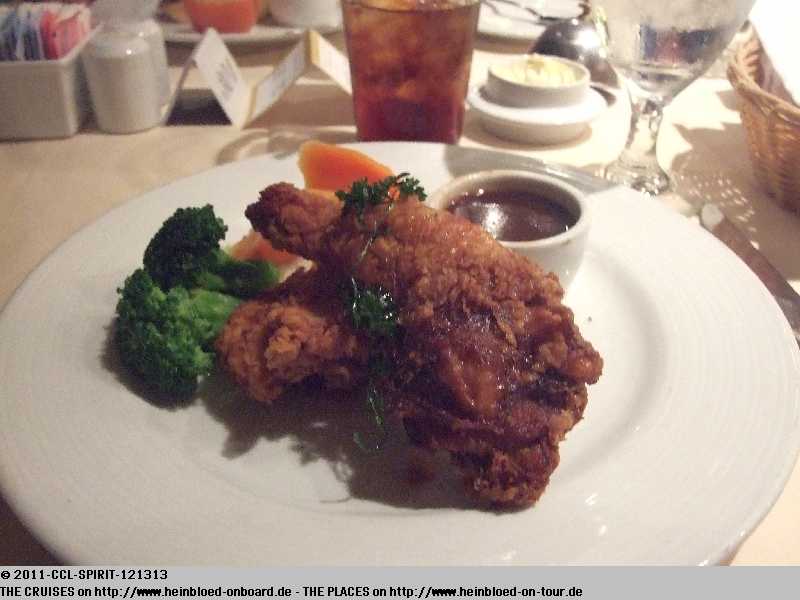 Nur ich hatte Pech... Kau'ai war ja schon vier Tage her... deswegen wäre es vielleicht doch sinnvoller gewesen zu Kentucky Fried Chicken zu gehen. Auch beim Weinkellner hatte ich wieder Pech. Nach dem ich das letzte Glas Cola Light der Reise getrunken hatte, ließ ich ihm ausrichten, er möchte doch mal sich bei den anderen Weinkellnern erkundigen, warum sie trotz eines Soda-Passes Trinkgeld bekommen haben.
Bruno nimmt die geeiste Cappucino-Torte, die richtig gut war.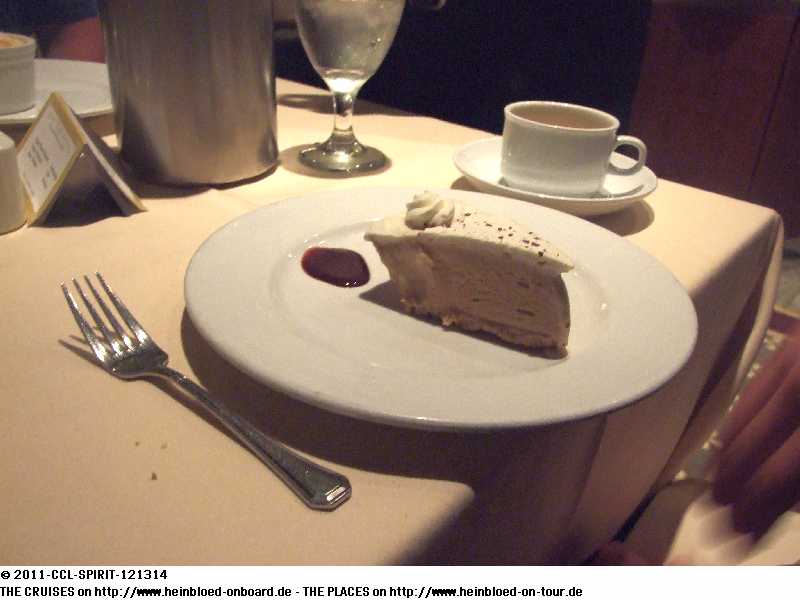 Bruno took the iced cappucino cake which was very good.

I had unluck with the soufflé...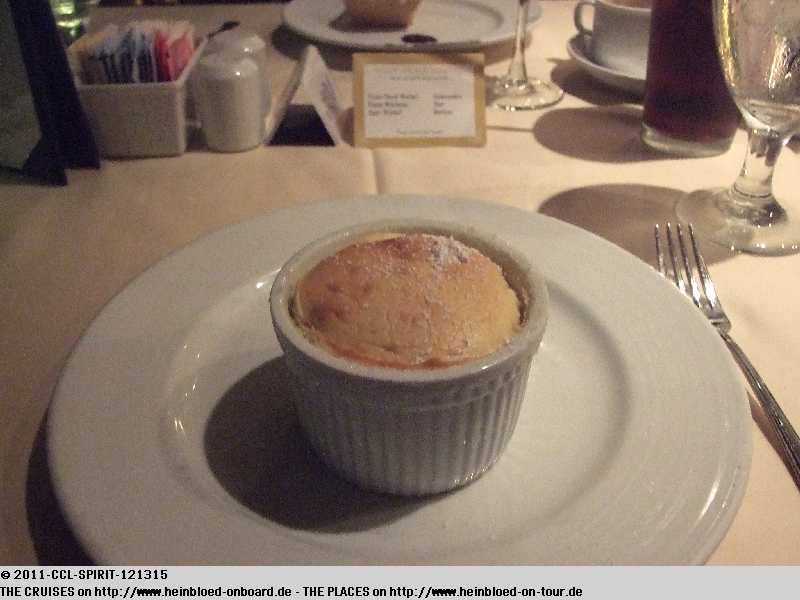 Mit dem Soufflé hatte ich wieder Pech...
denn der ist bei NCL eindeutig besser... Aber ich bekomme sofort auch eine geeiste Cappucino-Torte nachgeliefert.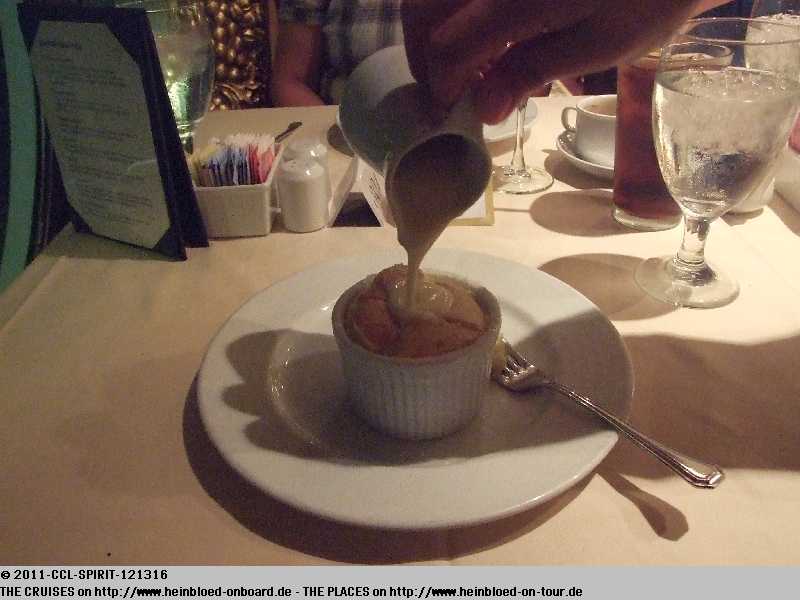 but it was much better with NCL... But I got an iced cappucino cake delivered.

We went again trough the ship. The casino was closed because on Hawai'i gambling is probibited.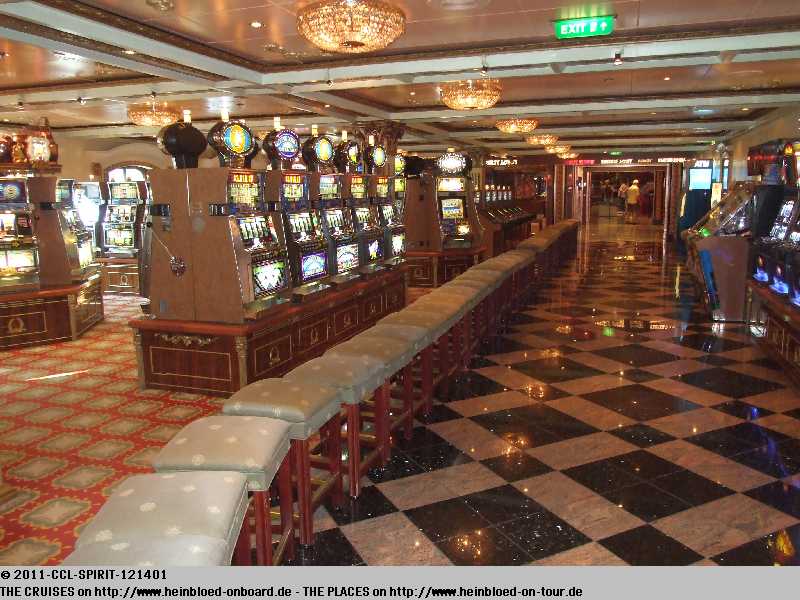 Wir gehen nochmals durch das Schiff. Das Casino ist geschlossen, weil wir auf Hawai'i sind und Glückspiel hier nicht erlaubt ist.
Nochmals durch die leeren Gänge im La Playa Grill.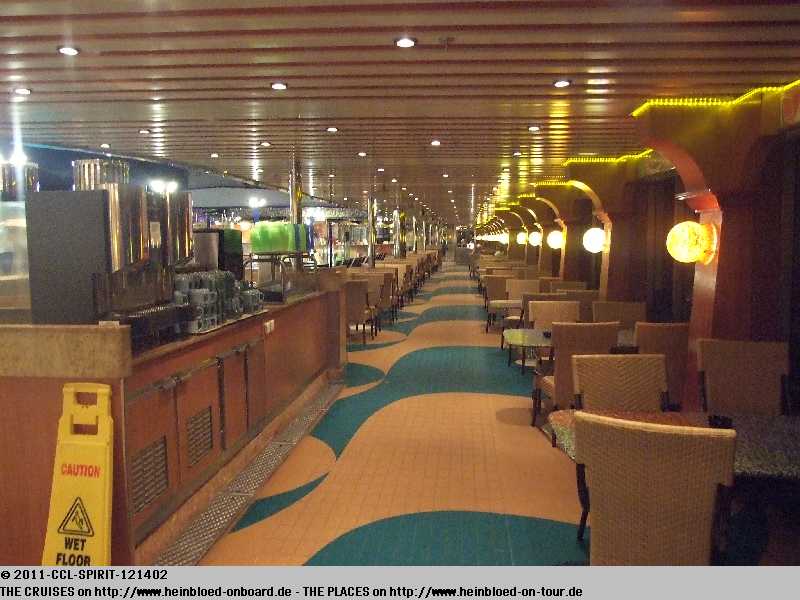 Again through the empty aisles of La Playa Grill

To the open deck again.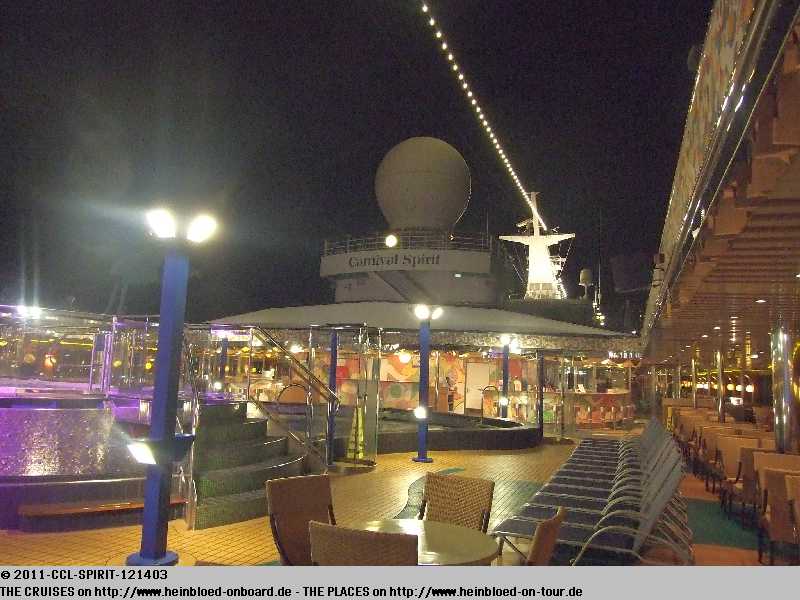 Rauf auf das offene Deck.
Und nochmals einen Blick rüber zum Aloha-Tower: Aloha oe - until we meet again.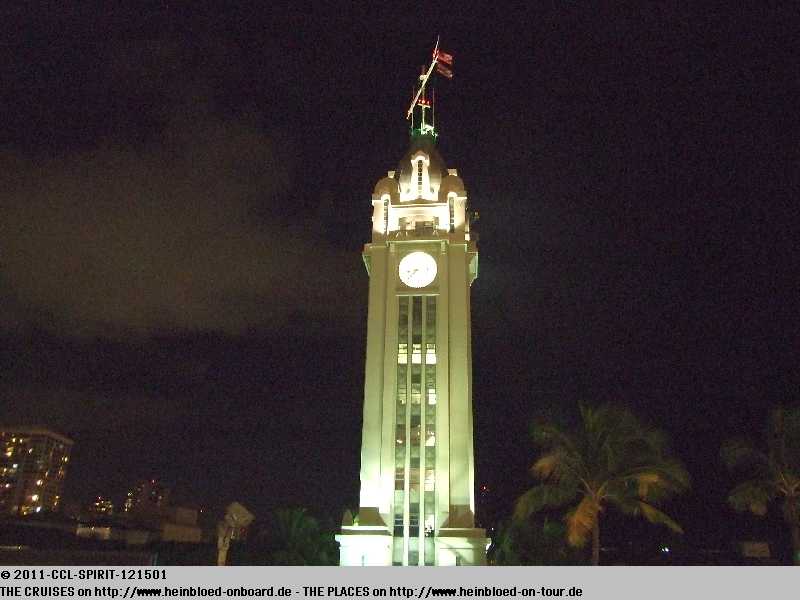 And one more time a view to the Aloha Tower: Aloha oe - until we meet again.