Scroll down for English explanations - alternates with German explanations.

Bruno wollte die Zeit nutzen, um nochmals Bilder von seiner Position weiter oben zu machen. Wir hatten es ja nicht eilig und kamen ja eh nicht weg, bevor nicht die anderen weggefahren sind. So entstehen noch diese Bilder: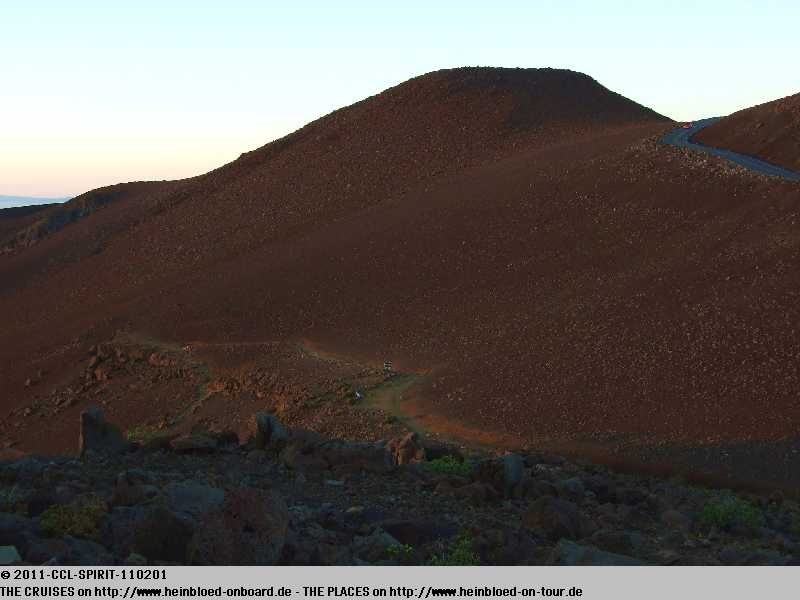 Bruno wanted to use the time to take additional pictures from his previous location at the top. We were not in hurry as we could not leave anyway before all others had left. So following pictures were taken: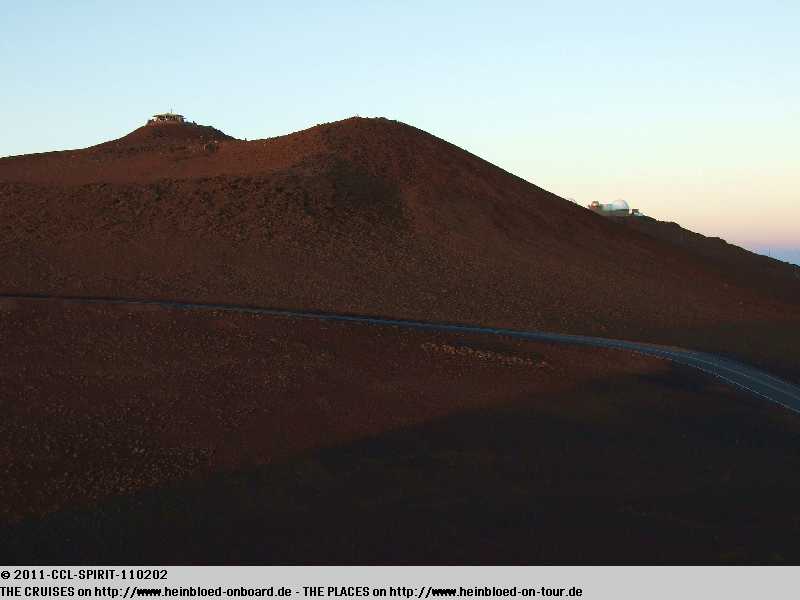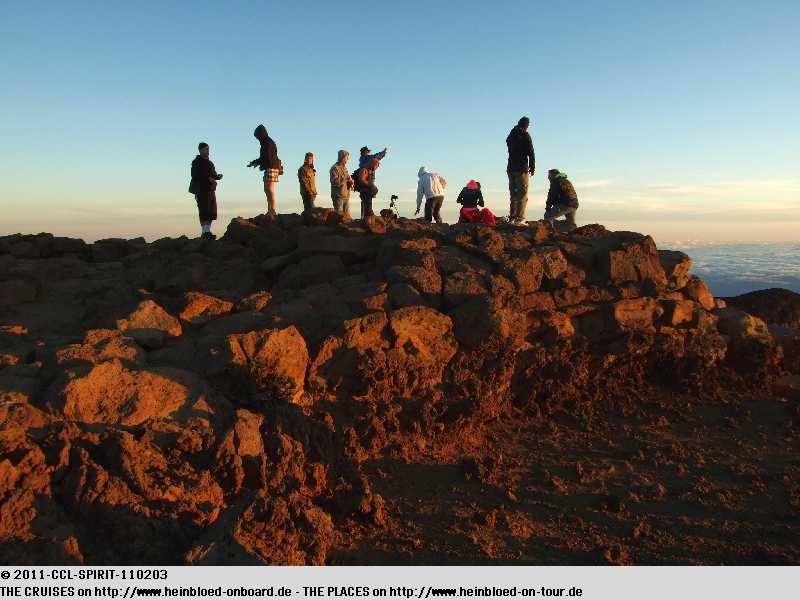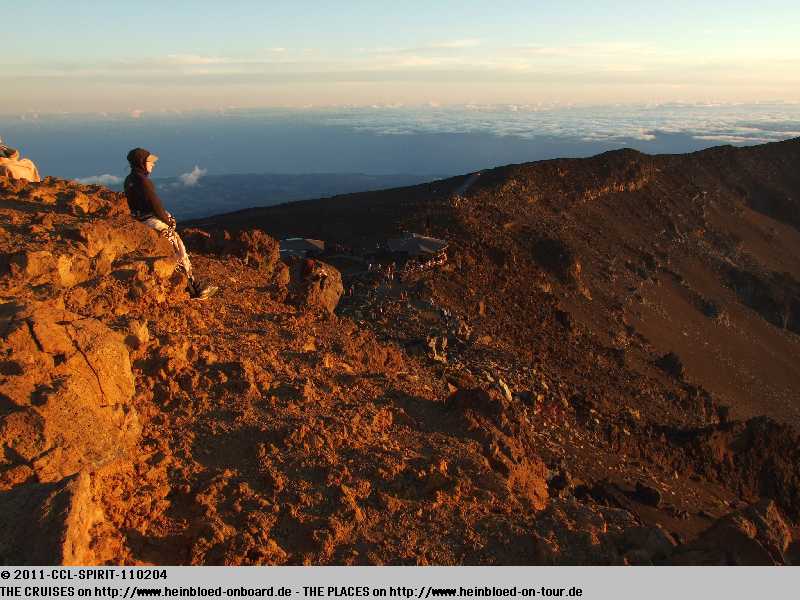 Maybe I should better went more to the top like Bruno.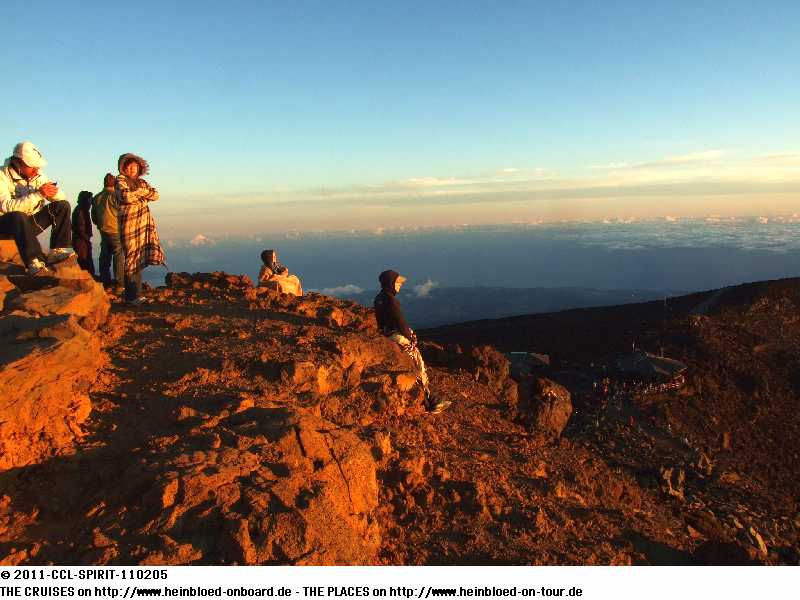 Vielleicht hätte ich ja doch mit weiter nach oben gehen sollen.
Vom Besucherzentrum aus kann man jetzt die Sonne schon in voller Größe sehen. Es ist die gleiche Sonne, die wir auch in Deutschland sehen, aber wir sind ja geographisch näher an der Sonne dran und das macht vielleicht den feinen Unterschied aus.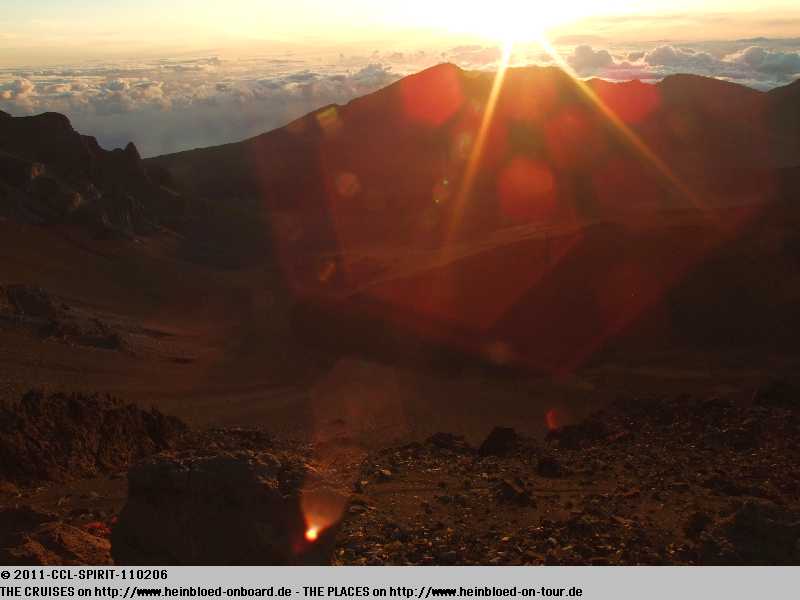 From the visitor center you could see the sun in her full size. It is the same sun like we see in Germany but as we were geographically closer to the sun there was a small difference to experience.

In Germany it's quite normal that friends are visiting each other. But Hawai'ian hospitality means that you bring of your friends of your friend with you incl. their annex.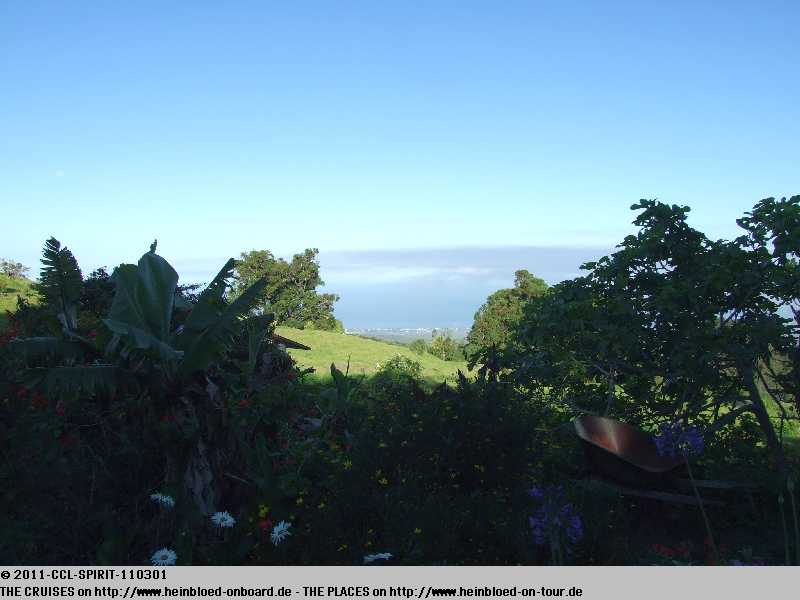 Nun ist es in Deutschland sicherlich nichts ungewöhnliches, wenn Freunde einander besuchen. Zu der hawai'ianischen Gastfreundschaft ist es jedoch so, dass die Freude ihre Freunde mitbringen und die wiederum ihren Anhang.
Aber eine Einladung ins Paradies konnten wir quasi nicht ausschlagen.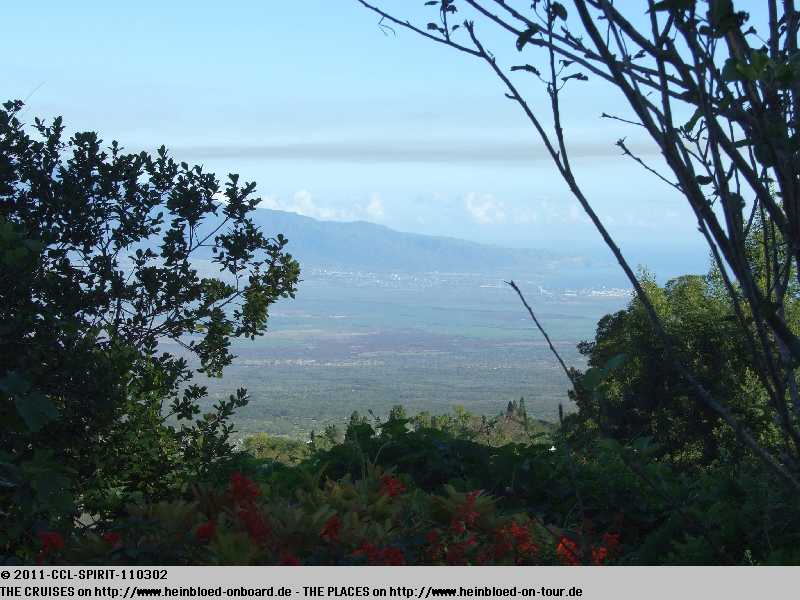 But we just could not reject an invitation to the paradise.

paiagirl (Frances) tried to explain with words how nice their friends live.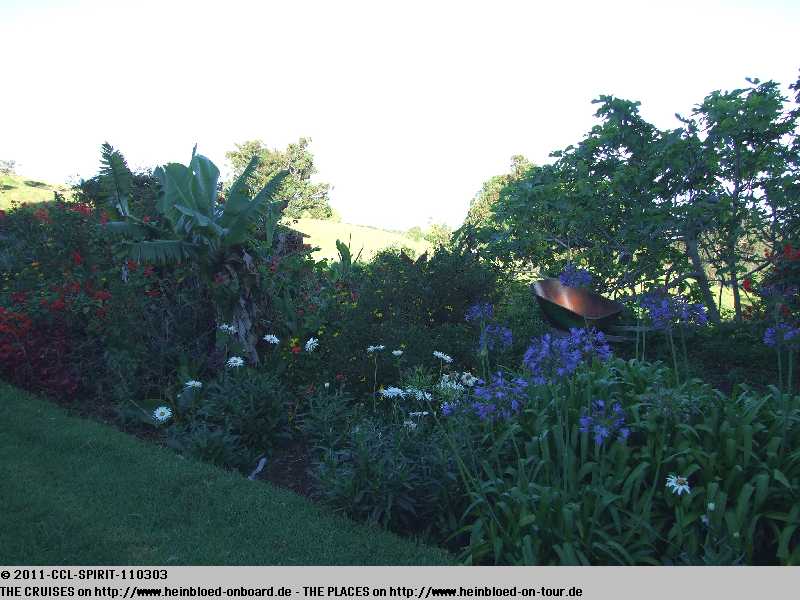 paiagirl (Frances) hatte uns mit Worten beschrieben, wie schön ihre Freunde wohnen.
Sie hatte auch erwähnt, dass sie unsere CARNIVAL SPIRIT hat einlaufen sehen.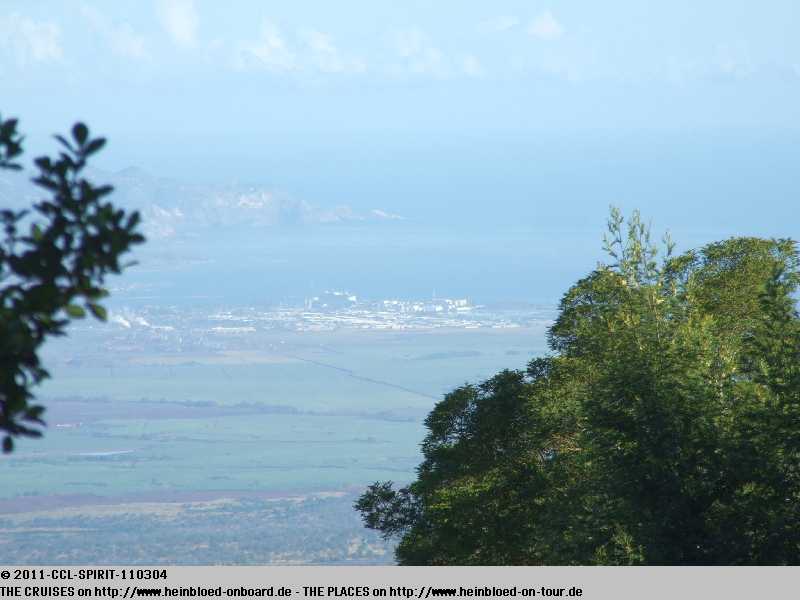 She mentioned that she saw CARNIVAL SPIRIT arriving last morning.

A little difficult to identify because of the fume - but it was indeed our ship in the background.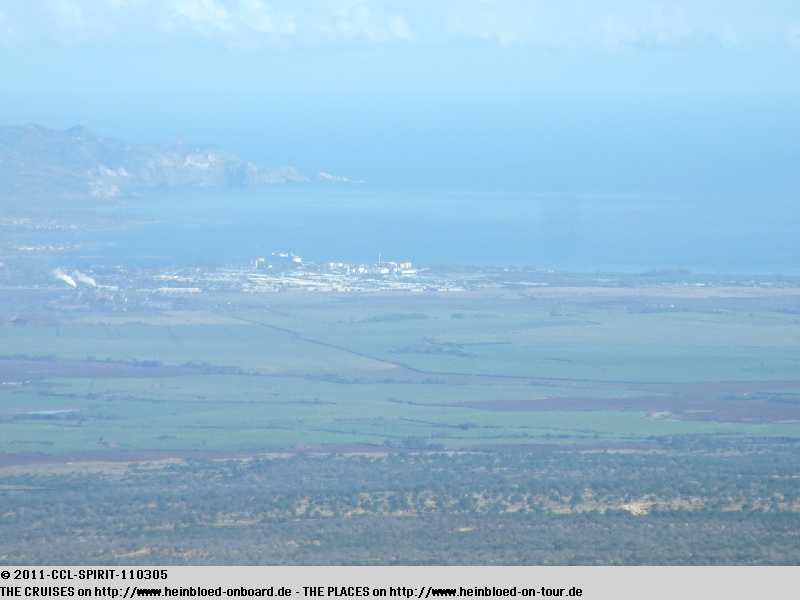 O.K. Hier im Dunst sieht man es nicht. Aber es war tatsächlich unser Schiff zu erkennen.
Was sie vergessen hat zu erwähnen, war die Herzlichkeit ihrer Freunde Josephine und Howard, die uns traf. Wir wurden aufgenommen, als ob wir sie selbst schon seit vielen Jahren kennen würden.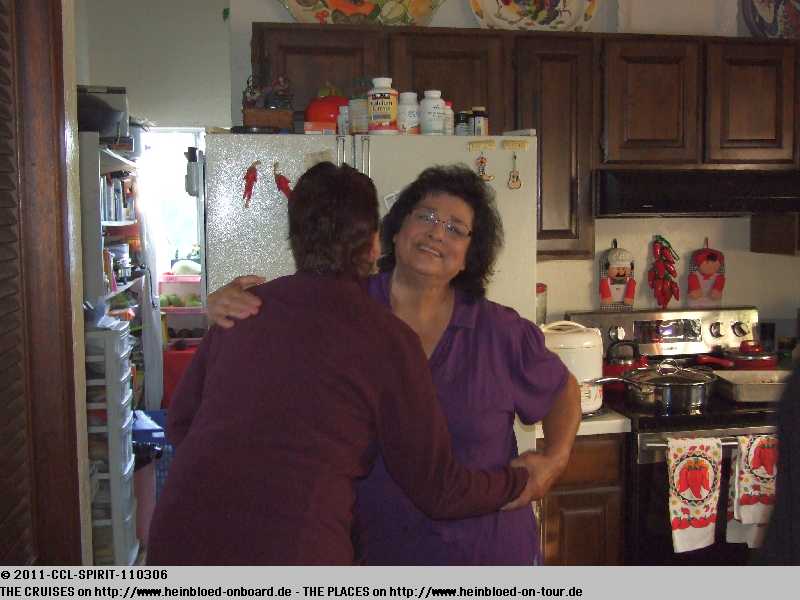 She forgot to mention the cordiality of her friends Josephine and Howard which hit us. We were accepted like long-term friends they knew for many many years.

And when paiagirl (Frances) showed us her guest room we knew that she was treated like a Queen and she had the room with a view to the port.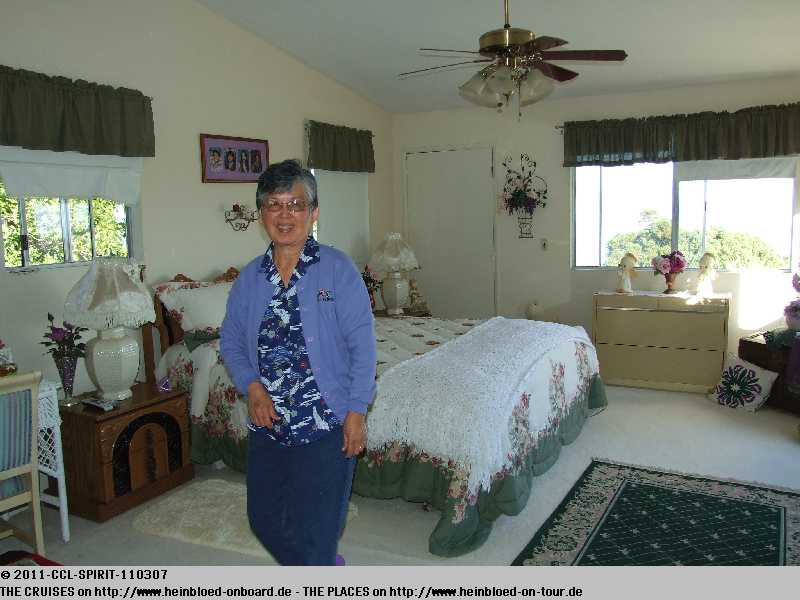 Und als paiagirl (Frances) uns ihr Gästezimmer zeigte, war klar, dass hier der Gast König ist und sie das Zimmer mit der Aussicht zum Hafen bekommen hat.
Gemeinsam bereiten sie für uns Frühstück vor.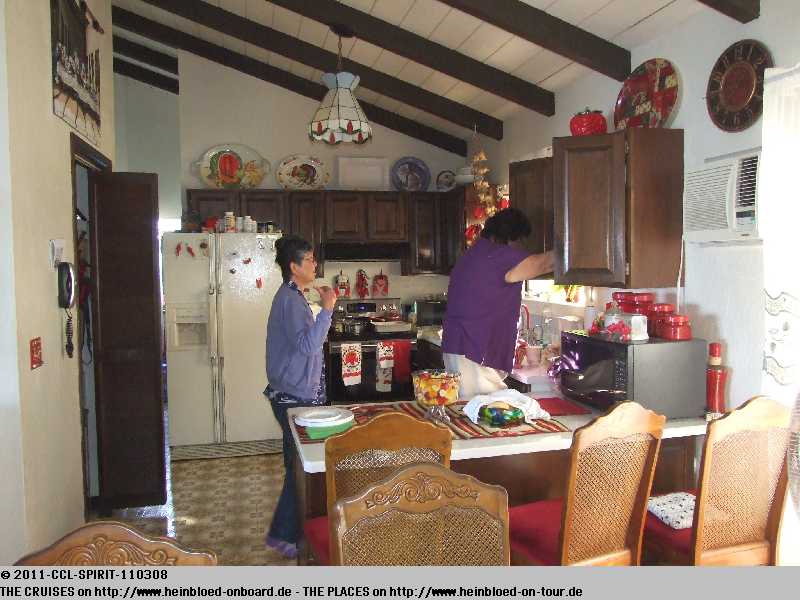 Together they prepared the breakfast for us.

We had fresh fried eggs, country potatoes, fruit salad, banana bread and biscuits... all self-made.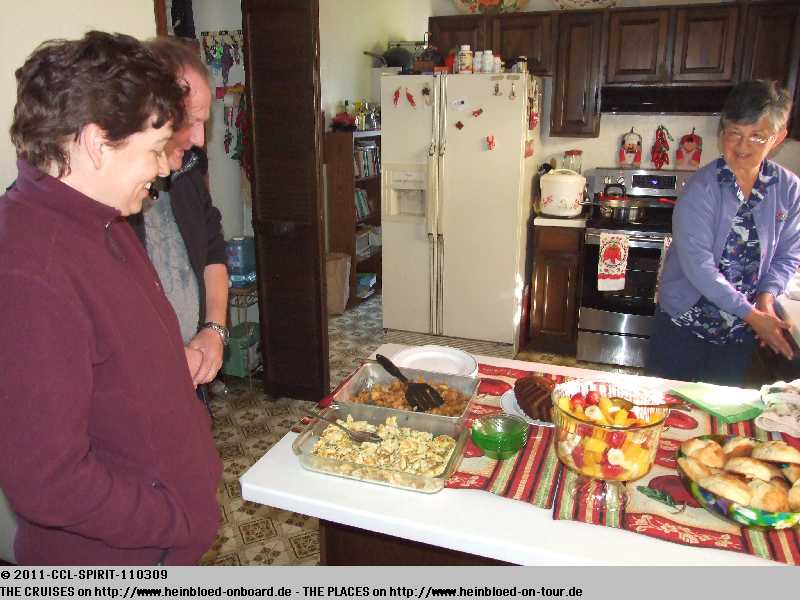 Es gab frische Rühreier, Bratkartoffeln, Obstsalat, Bananenbrot und Biscuits... alles selbstgemacht.
Bevor wir essen gibt es wie in einem christlichen amerikanischen Haus üblich ein kurzes Tischgebet in dem wir und unsere Weiterreise einbezogen wurden.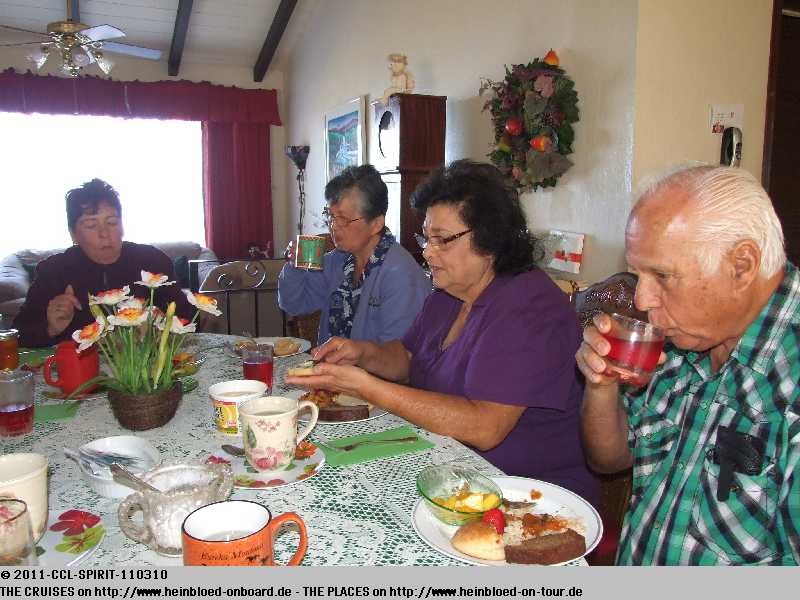 Before we started to eat it was like in a typical Christian American house that you have a short prayer which included the wishes for us and our journey.

It was very nice to have breakfast in such a round. Hopefully they would come to Europe and give us a chance to repay.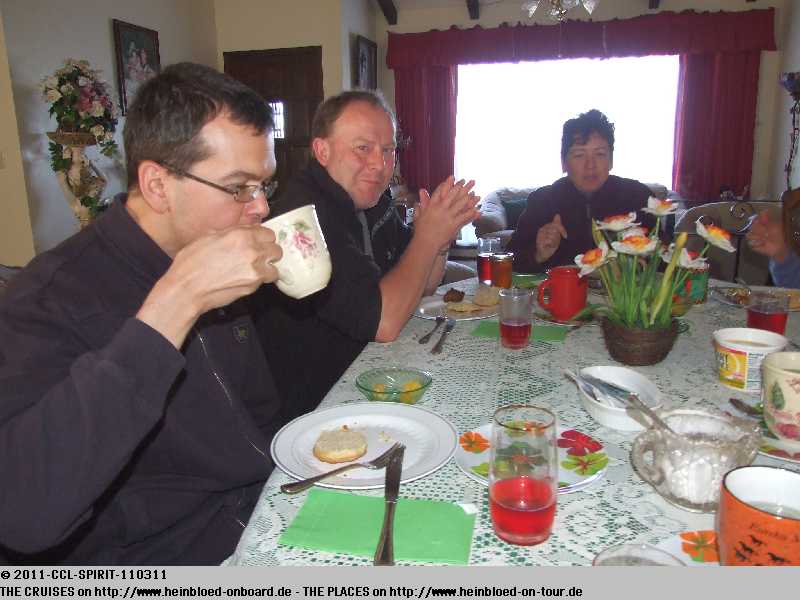 Es war schön in so einer Runde zu frühstücken. Hoffentlich kommen sie bald nach Europa, damit wir uns revanchieren können.
Zwischenzeitlich liegt auch der Garten in der Sonne.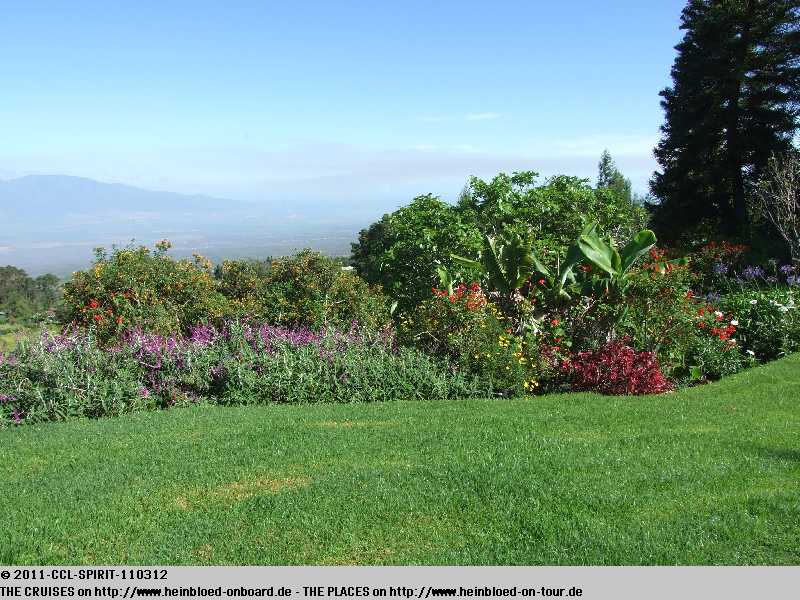 Meanwhile the sun illuminated the garden.

So we could see then how many different flowers were rising here.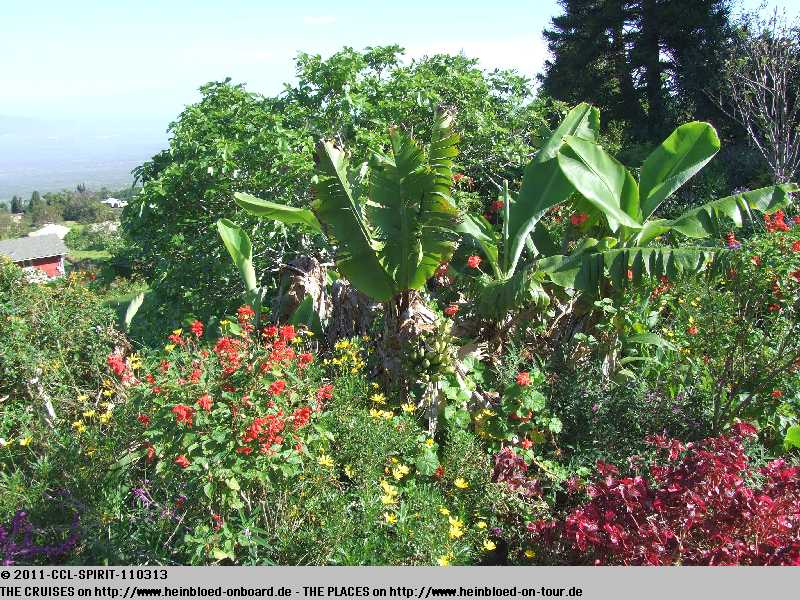 So können wir erst die Vielfalt der Blumen sehen, die hier wachsen.
Sogar die Schmetterlinge fühlen sich hier wohl.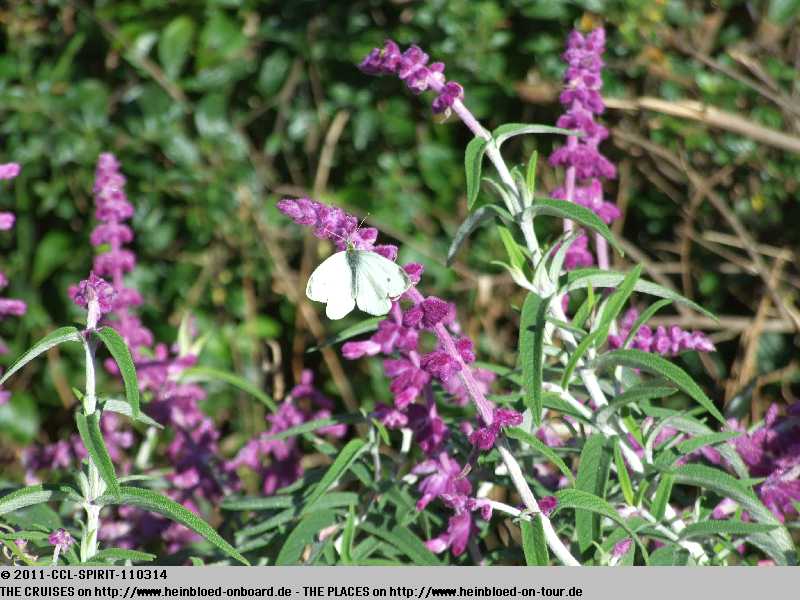 Even the butterflies liked it here.

Now we can only agree when paiagirl (Frances) said before that she had breakfast with their friends Josephine and Howard in paradise.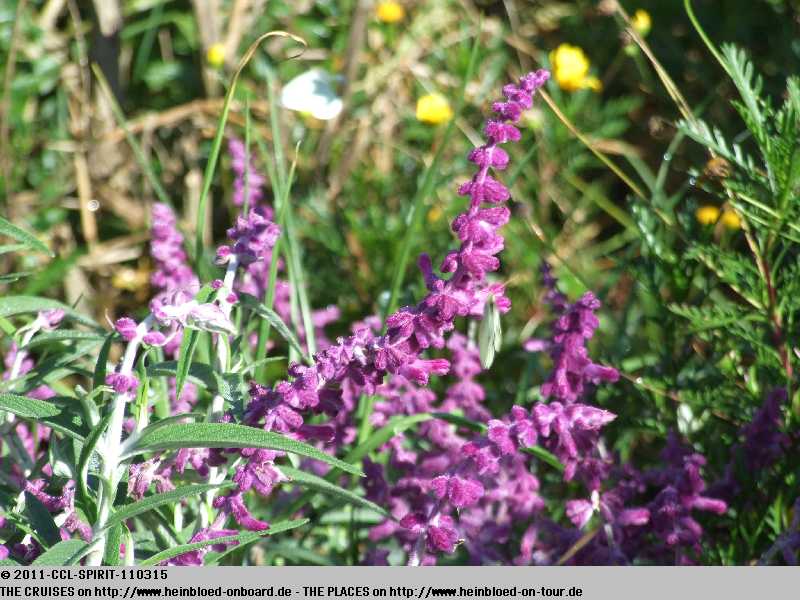 Wenn paiagirl (Frances) immer behauptet hat, dass sie im Paradies bei ihren Freunden Josephine und Howard wohnt, so können wir da nur zustimmen.
So entstehen erste Pläne in Kula einen Altersruhesitz zu kaufen...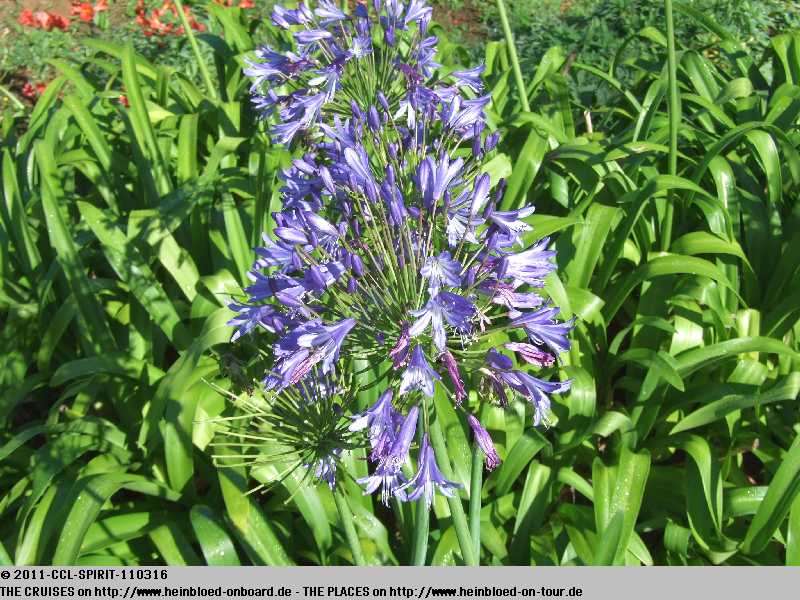 So first plans for the set up of the retirement residence in Kula were created...

Saying good-bye to us was the feeling like the banishment from paradise.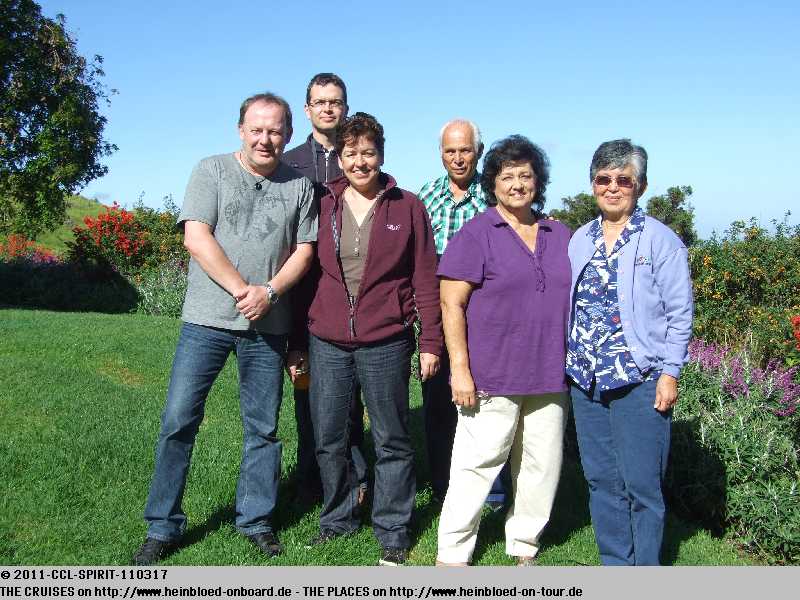 Den Abschied empfinde ich wie die Vertreibung aus dem Paradies.
Aber wir wollen ja noch mehr von Maui sehen.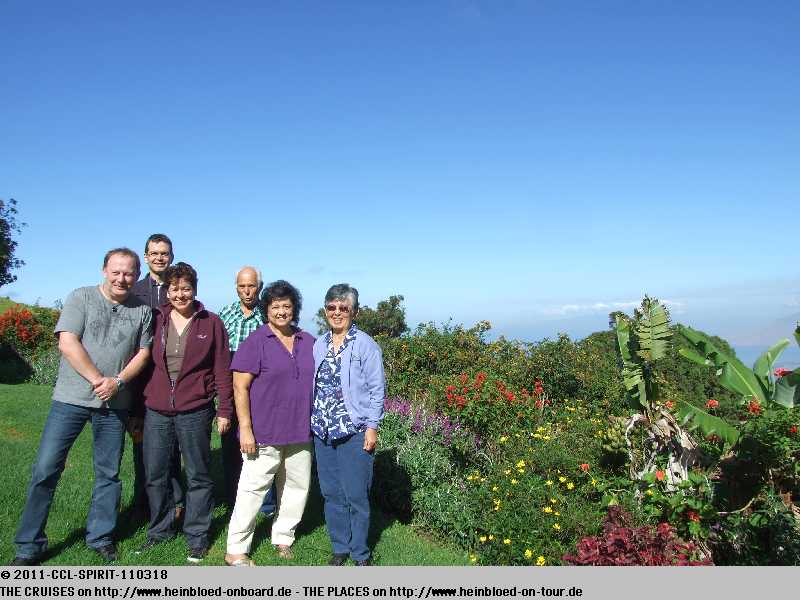 But we wanted to see more of Maui.

Michele told us that we should best get to Lahaina to find a possibility to go whale watching. That was on the other part of the island.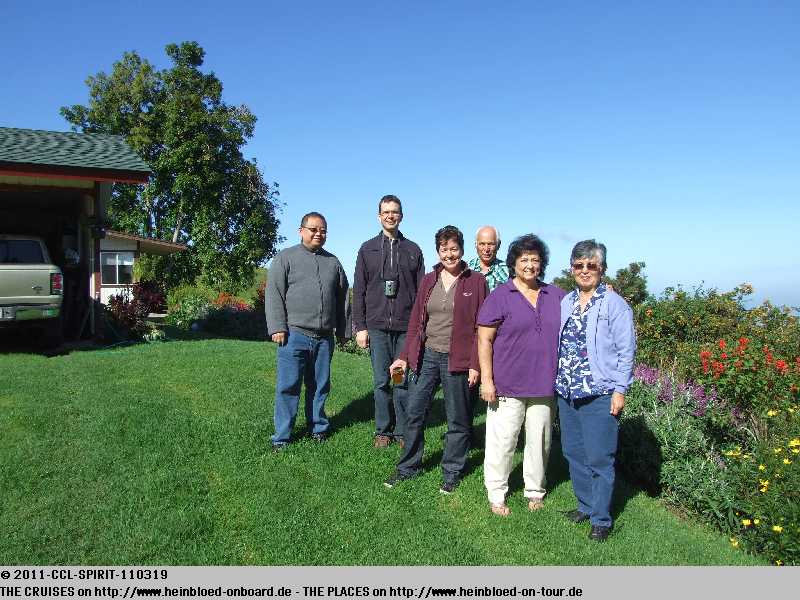 Michele hatte ja uns gesagt, dass wir am besten nach Lahaina fahren sollen, um dort eine Möglichkeit zu finden, ggfls. Wale gucken zu fahren. Das liegt ja quasi auf der anderen Seite der Insel.
So fahren wir zunächst einmal zurück zum Hotel um zu duschen und zu packen.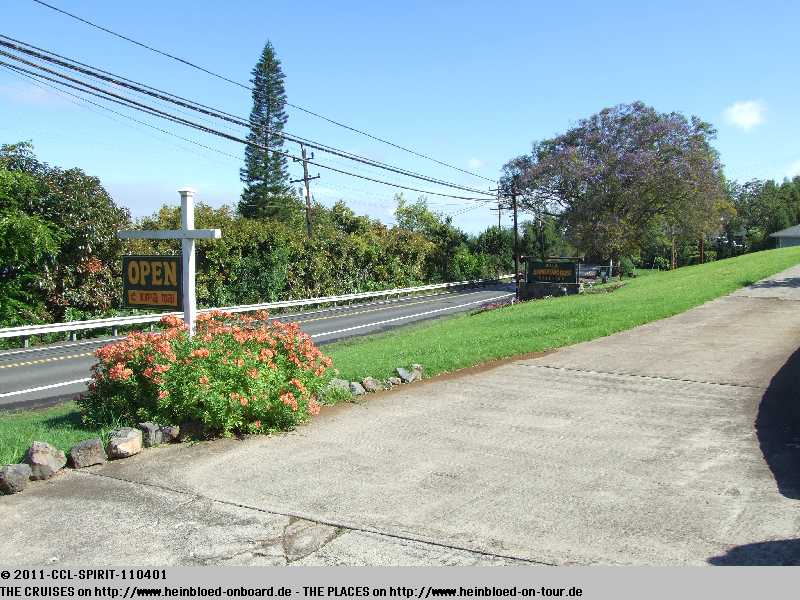 So we first went back to the hotel and took a shower and packed.

When we arrived it was totally empty. I guess the peak-time was when the people got down from the sunrise and returned.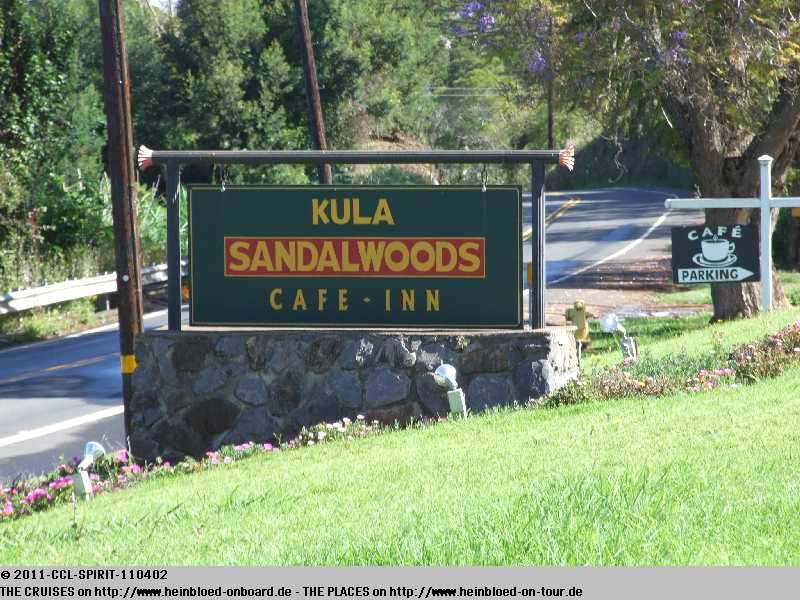 Als wir kommen, ist das Café menschenleer. Es lebt wohl von den Sonnenaufgangsbesuchern, die zurück fahren.
Wir waren ja noch voll vom Frühstück, aber nach dem HR-Beitrag zufolge, soll es hier die besten Macademia-Nuss-Pfannkuchen geben. Als wir das erwähnen machen die Wirtsleute uns einen, den wir gemeinsam probieren. Der Hessische Rundfunk hat Recht!!!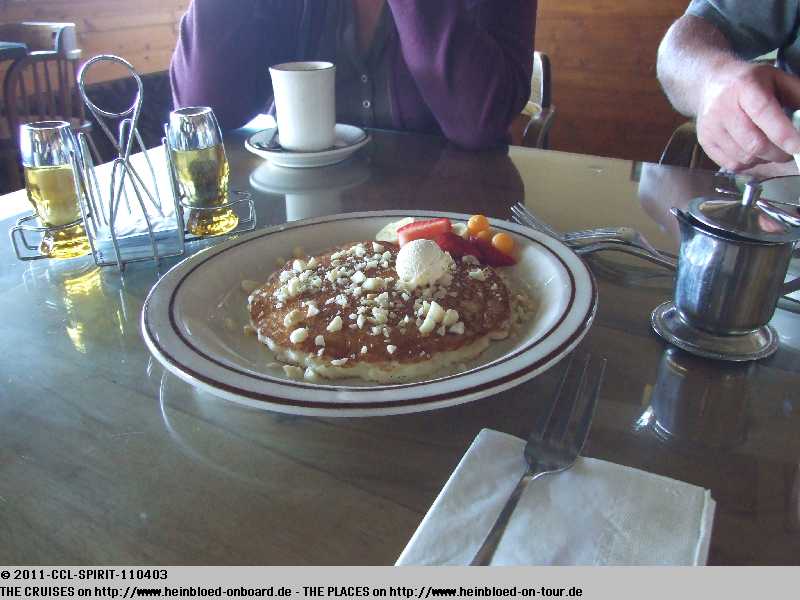 We were still full from the breakfast but according to German TV we should get here the very best Macademia-Nut-Pancakes. When we mentioned it they made us one so each of us was able to try. And the German TV was right!!!

That was how our cottages looked like.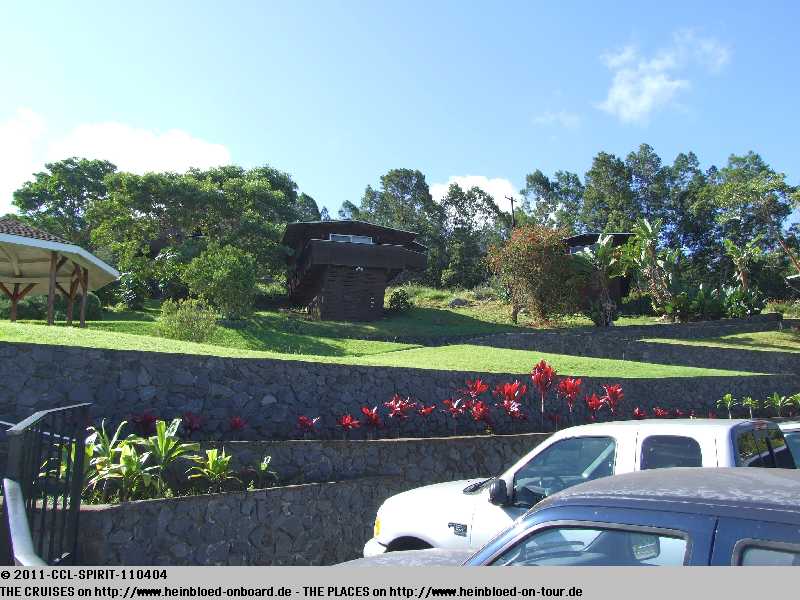 So sehen unsere Hütten aus.
Mit einem tollen Blick von der eigenen Terrasse.

With a spectacular view from your own terrace.

It was really lovely here.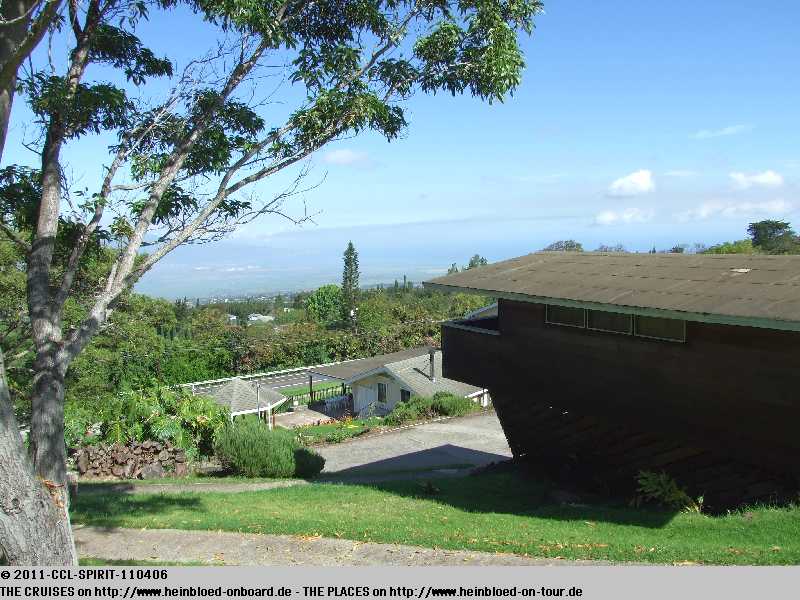 Es ist wirklich schön hier.
Insgesamt viele Gründe um wieder mal nach Kula zu kommen.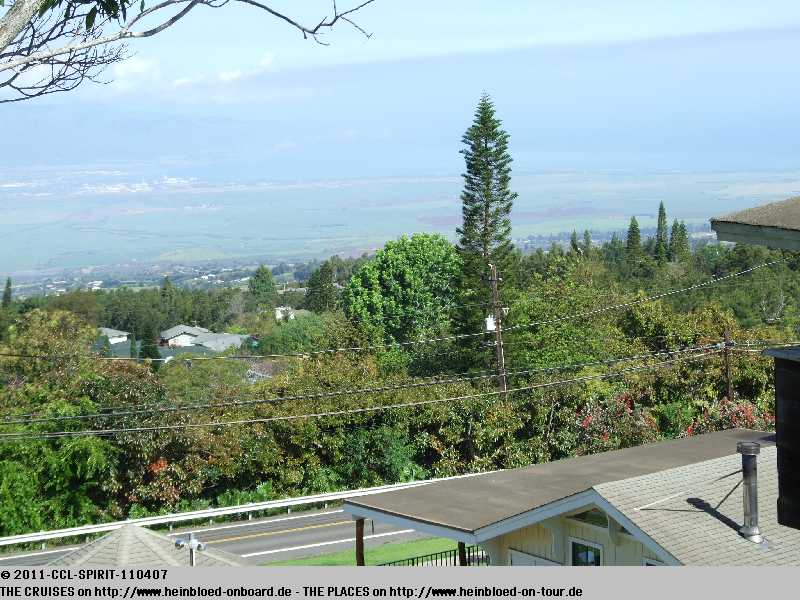 In total there were many reasons to return to Kula one day.