Scroll down for English explanations - alternates with German explanations.

Da wir Torsten gegenüber erklärt haben, dass Bruno ein ausgesprochener Kaffeefan ist, ging es zur
Bayview Farm
.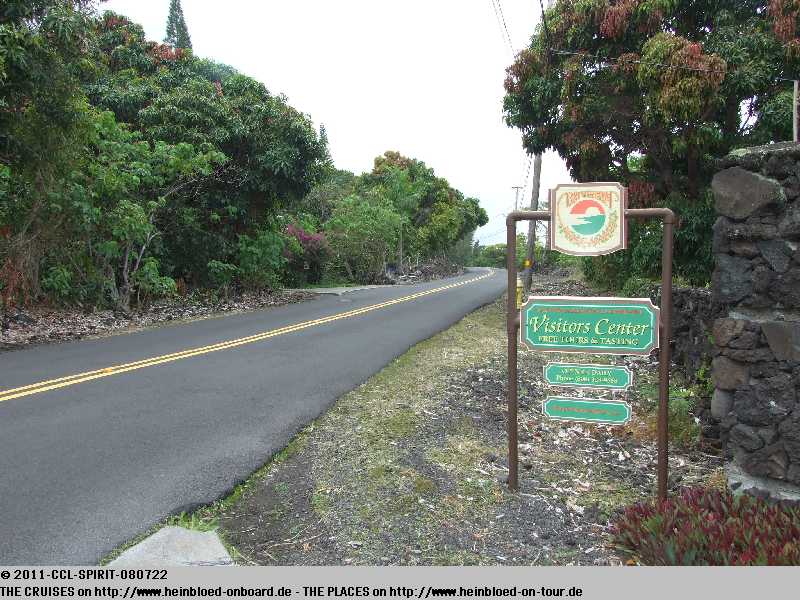 As we explained Torsten that Bruno is an extreme coffee-freak we had to make a stop at Bayview Farm.

In this building you get free coffee to taste.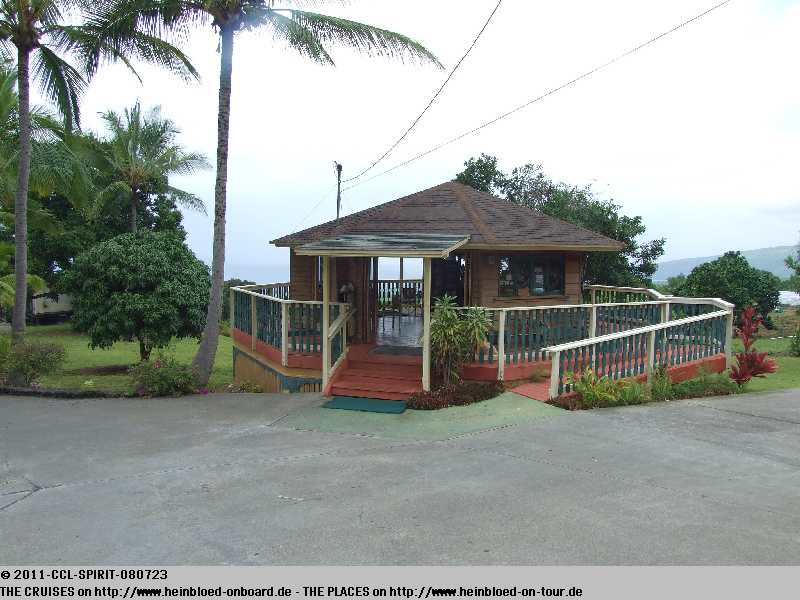 In diesem Pavillon gibt es einen Kaffeeausschank.
Franz erklärt uns die unterschiedlichen (Kaffee-)Kirschsorten.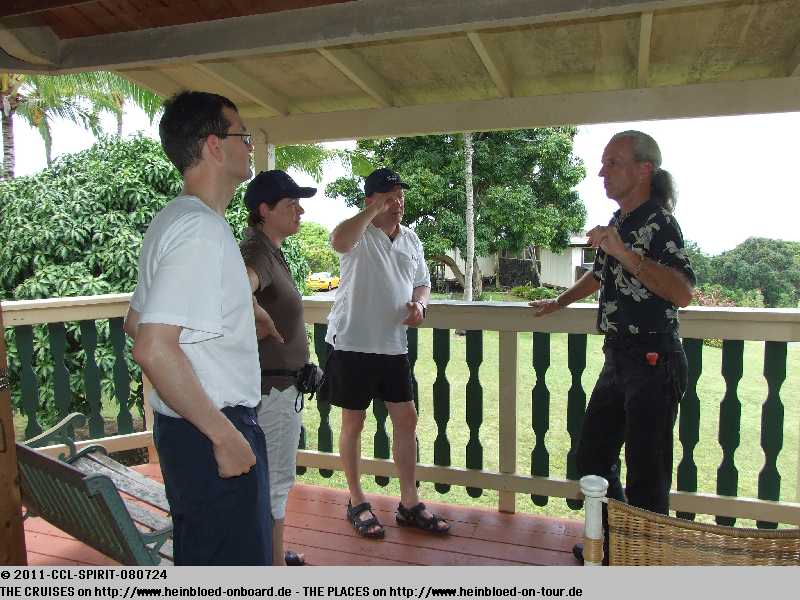 Franz explained the different coffee cherries.

It was Torsten's former employer.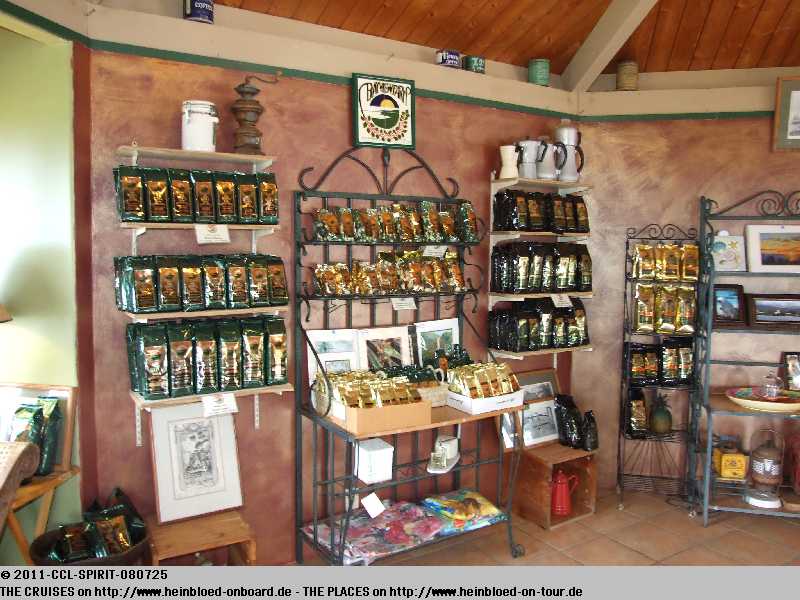 Das war wohl mal ein früherer Arbeitgeber von Torsten.
Daher legt er für die Qualität des Kaffees seine Hand ins Feuer... vielmehr Franz' Hand, da ja Torsten heute gar nicht da ist...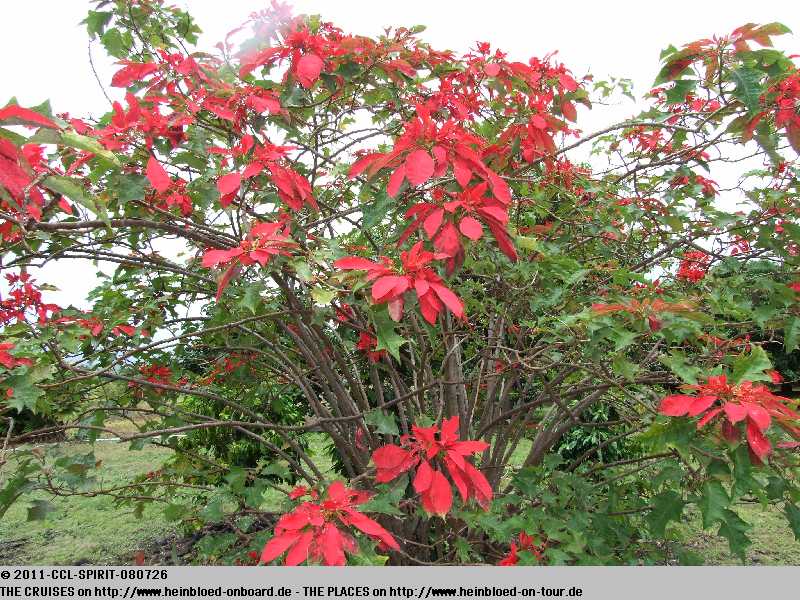 So he was convinced that the quality of coffee would satisfy us.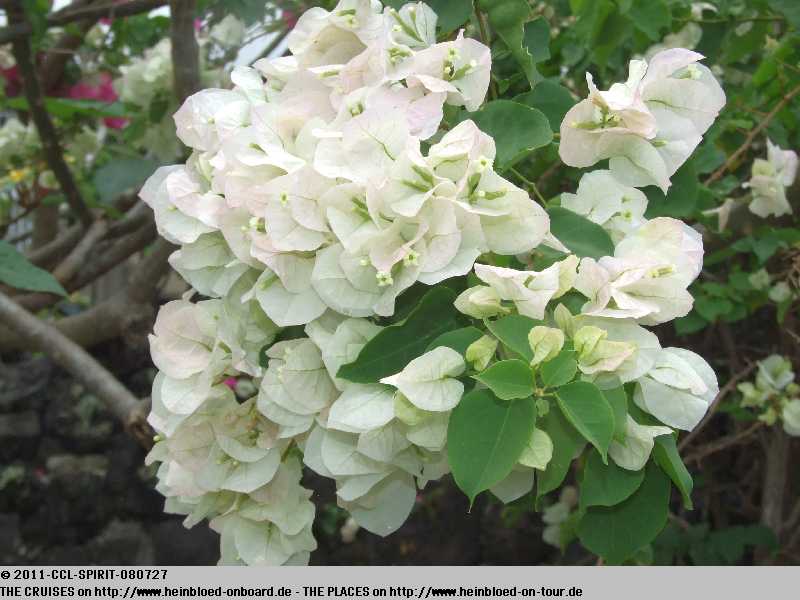 Chickens were growing...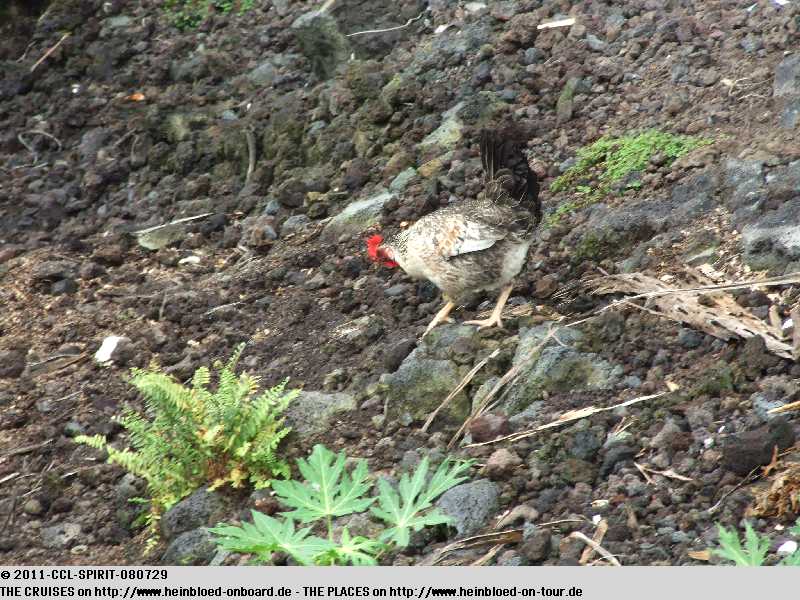 Es wachsen Hühnchen...
Papayas...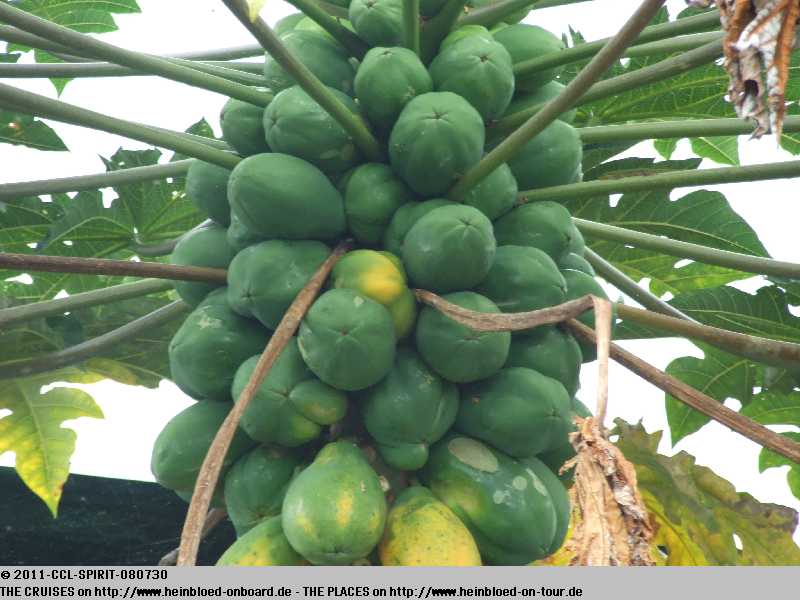 Papayas...

And Franz explained the different steps from the harvest to the roasting.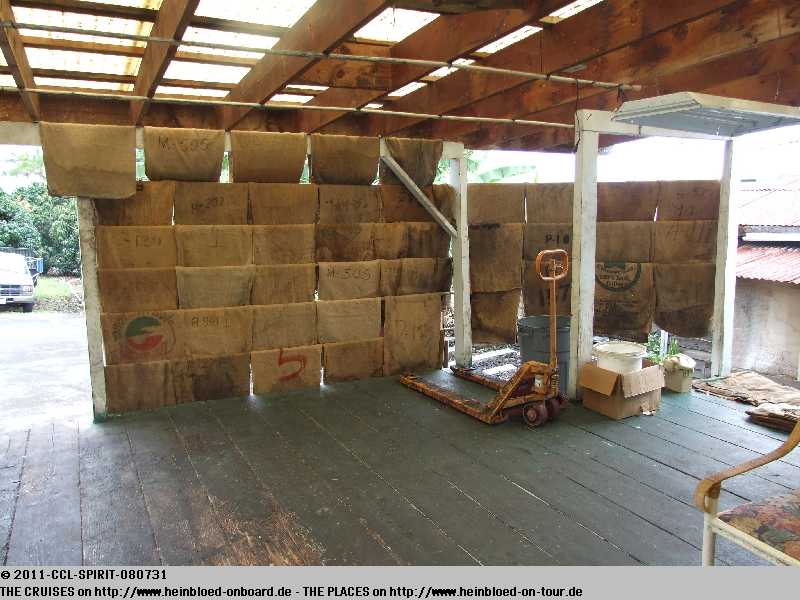 Und Franz erklärt uns die Schritte von der Ernte bis zur Röstung.
Leider wird sonntags nicht gearbeitet.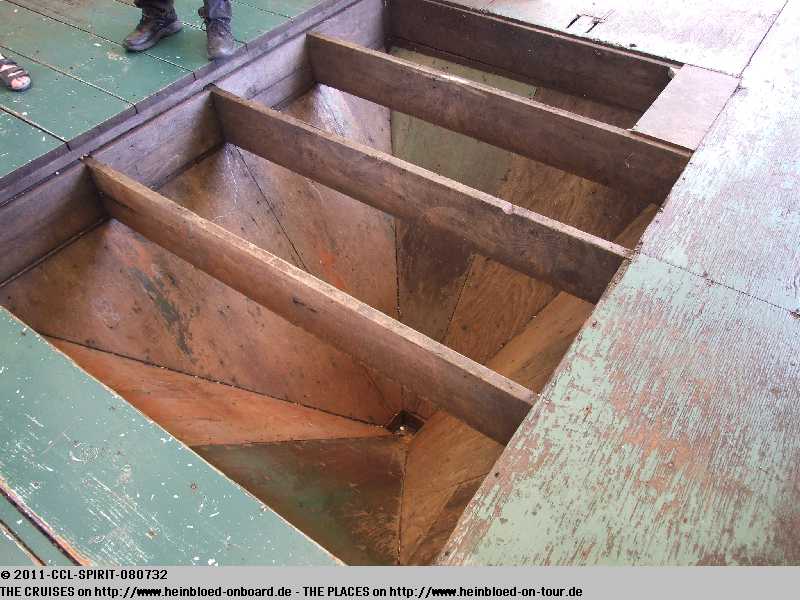 But they did not work on Sunday.

So Franz explained what a peaberry is: a single coffee cherry which has not splitted.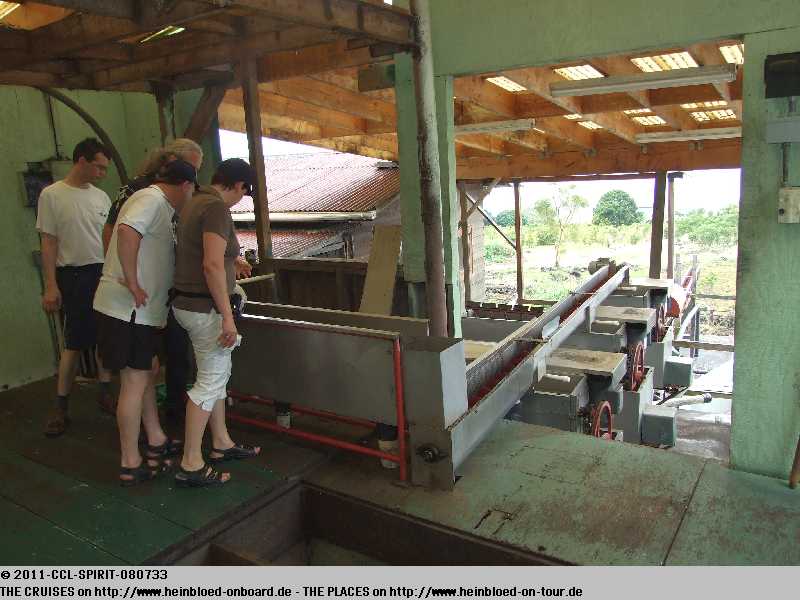 Dabei hat Franz erklärt, was Peaberry ist: eine einzelne Kaffeekirsche, die sich nicht gespaltet hat. Auf Deutsch Perlbohne.
Damit hat er Bruno natürlich einen Floh ins Ohr gesetzt, aber leider bietet Bayview Farm nur Peaberry mit Schokoumhüllung an. Leider jedoch nicht als Kaffee selbst. Und der Kaffee, den Torsten mitgebracht hatte war schon ein Extra Fancy und damit kein Peaberry...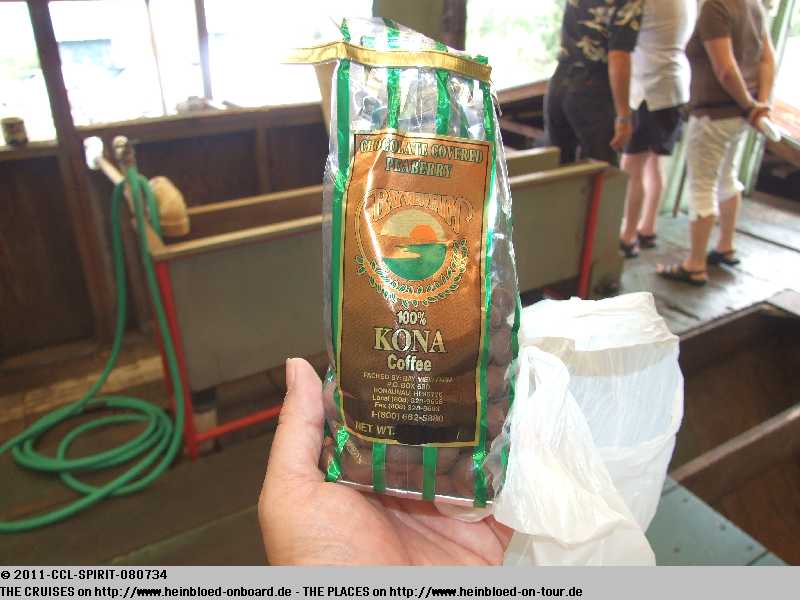 So Franz but a bee in Bruno's bonnet but Bayview only sold chocolate covered peaperries but no coffee. And the coffee Torsten got for us was extra fancy and no peaberry.

That was a mango tree.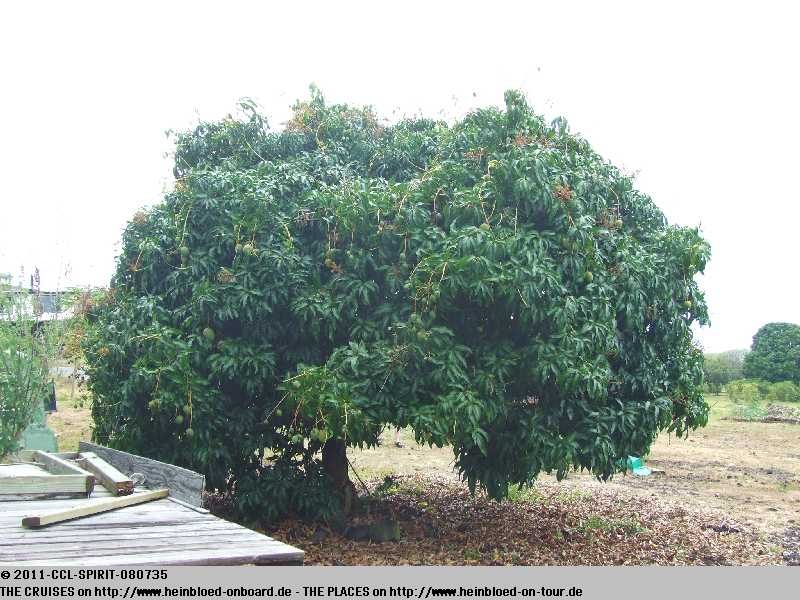 Das ist übrigens ein Mangobaum.
Ist in sofern interessant, weil ich sie bisher nur aus dem KaDeWe Berlin kannte...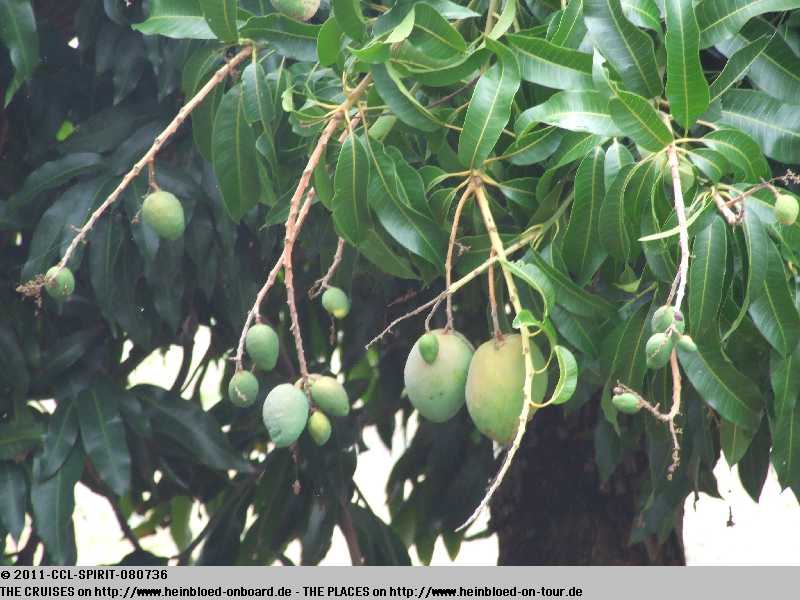 So far it was interesting as I know them only from a high-class department store in Berlin, Germany...

We continued to the next coffee house which can also visited by bus loads as it was spacious enough.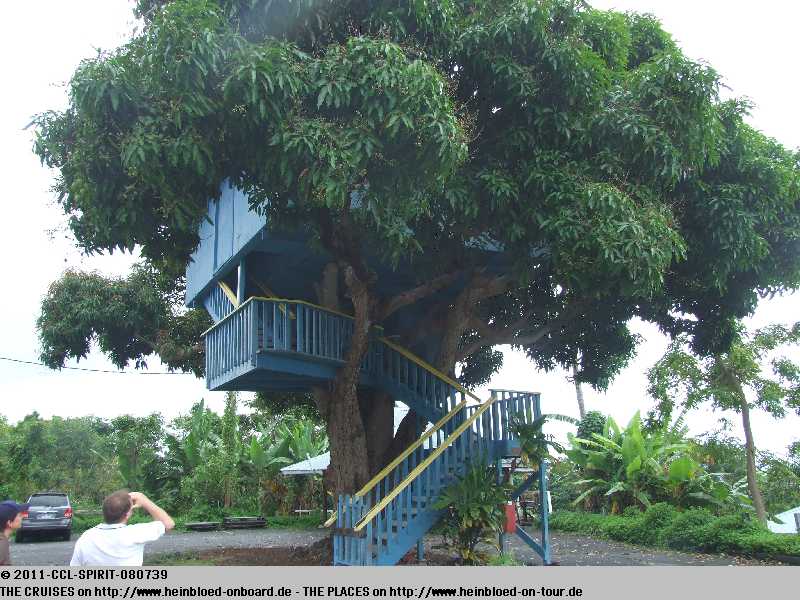 Weiter geht es zum nächsten Kaffeehaus, der aufgrund der Platzverhältnisse auch von Bussen angefahren werden kann.
Zunächst gilt jedoch das Interesse nur dem Baumhaus, die auch als Ferienhäuser zur Verfügung stehen.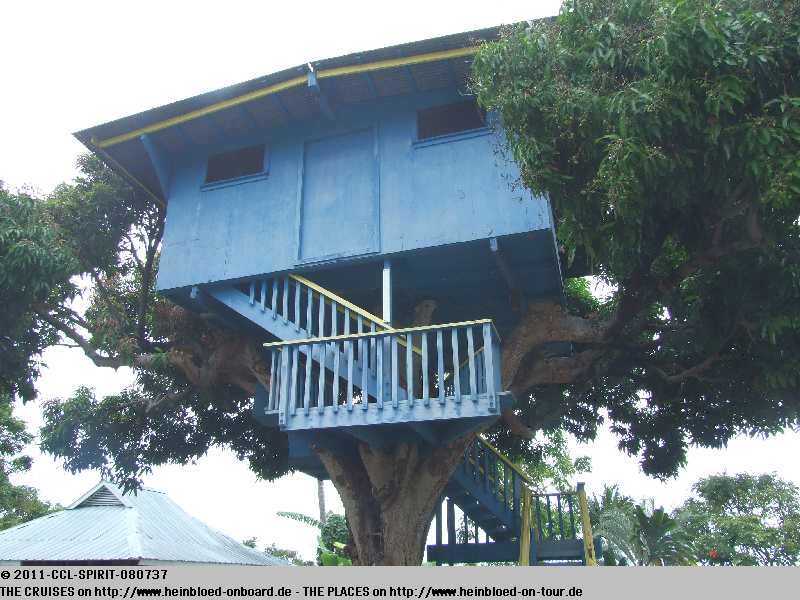 The original interest was dedicated to this tree house which you also can rent for your vacations.

At Royal Kona Coffee we made another stop so Bruno can try a peaberry coffee.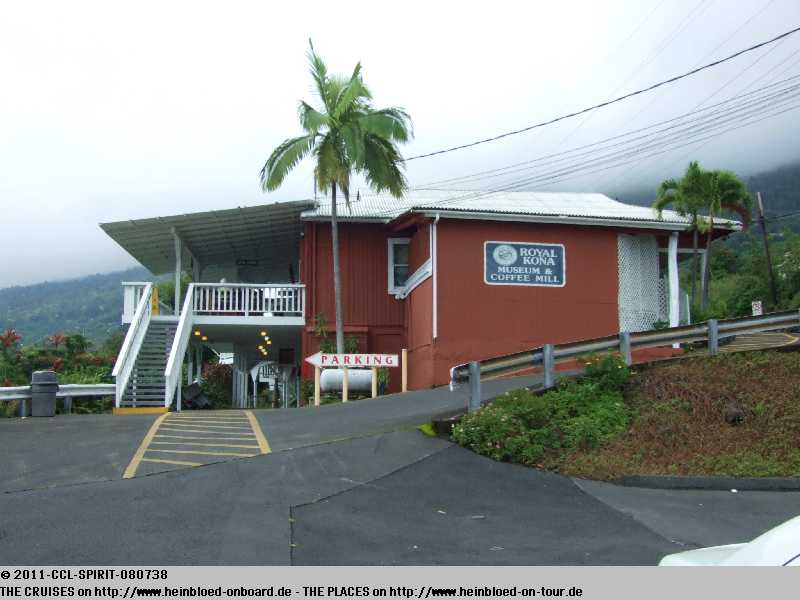 Bei
Royal Kona Coffee
machen wir einen Halt, damit Bruno doch mal eine Peaberry Kaffee probieren kann.
Außerdem gibt es noch eine schöne Aussicht.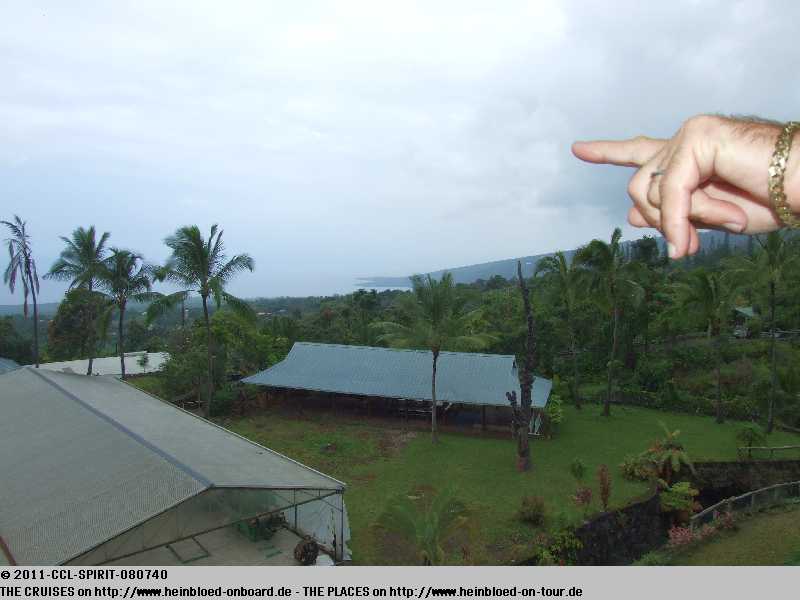 And we had a nice view over the bay.

The peaberry Bruno tried here was roasted too dark. So we did not purchase more coffee.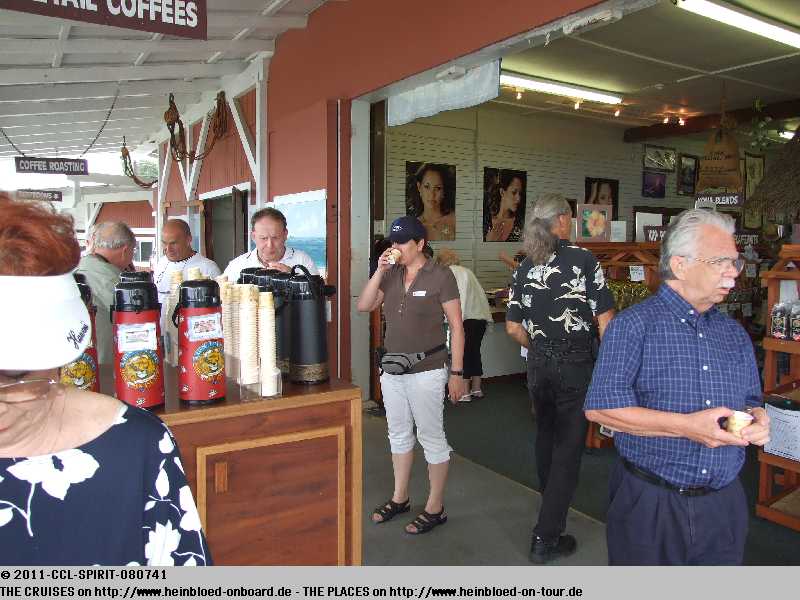 Der Peaberry hier ist Bruno zu stark gebrannt. Daher kommt nicht zu einem weiteren Kaffekauf.
In den USA sind viele, die aus Deutschland eingewandert sind. So wird man auch wie hier von Auswanderern angesprochen, wenn sie jemanden Deutsch sprechen hören.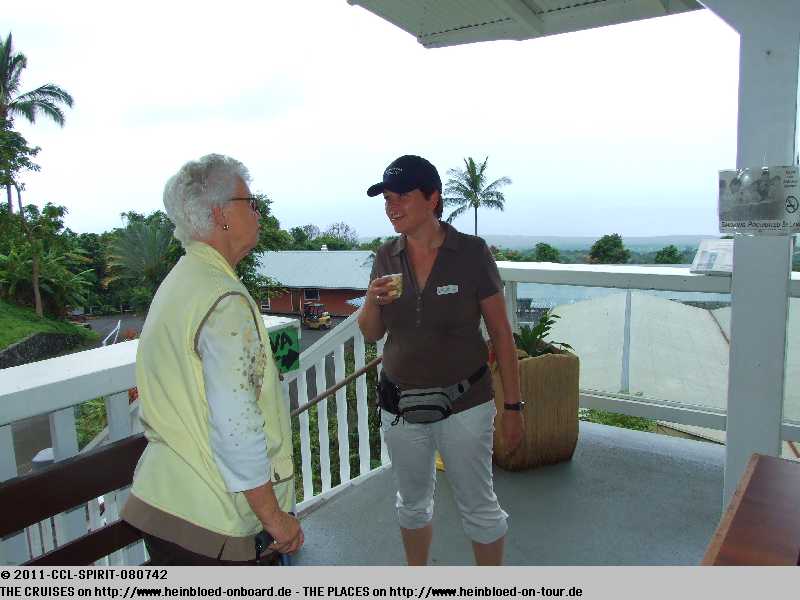 In the USA you find many immigrants from Germany. So it was no wonder if someone started to talk with you if they hear Germans speaking.

On the outward journey I discoverd the general store: Oshima Store. It was a typical US general store which had everything. So we did not need to check the crowede stores in Kona where we should find all other guests from the ship and anyway the city should be crowded because of the open-air-market.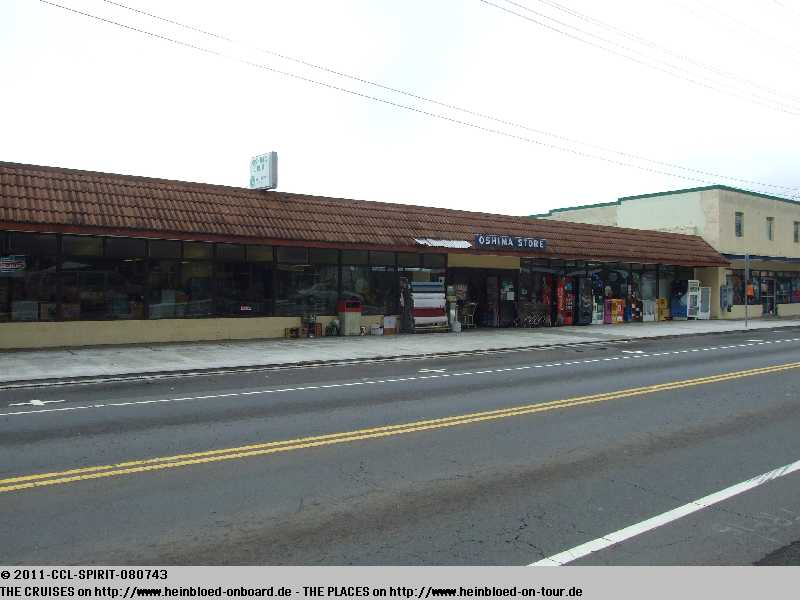 Auf der Hinfahrt hatte ich einen Krämerladen entdeckt: Oshima Store. Es ist ein klassicher US-Gemischtwarenladen, der so ziemlich alles führt. Das erspart uns das Gedränge später in Kona, wo ja auch alle vom Schiff einkaufen und die Stadt eh voll ist, weil gleich Freiluftmarkt ist.
Die Uferstraße war nämlich zwischenzeitlich gesperrt worden, aber Franz bringt uns so nah wie möglich, bevor wir uns von ihm verabschieden und uns für die interessante Tour bedanken. Irgendwie sind hier alle überrascht, dass wir nicht nach deutschen Maßstäben die Trinkgelder geben, sondern nach amerikanischen: Leute von Welt oder dumme Touristen??? Egal - wir haben es eben honoriert, dass wir sehr viel von Land und Leute mitbekommen haben und gerne eines Tages wiederkommen.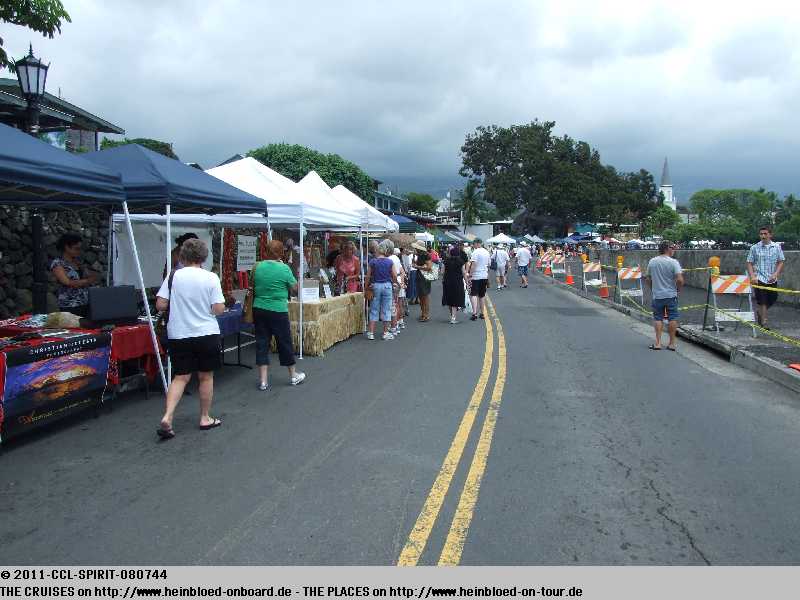 The promenade was closed meanwhile but Franz took us as close as possible before we said good-bye and thanked him for the interesting tour. Everybody was so surprised that we did not tip like in Germany but like in the USA: Cosmopolitans or just stupid tourists??? No idea - we only honoured that we saw a lot of the country and the people and we would like to return in the future.

According to Torsten's information we should check around the church.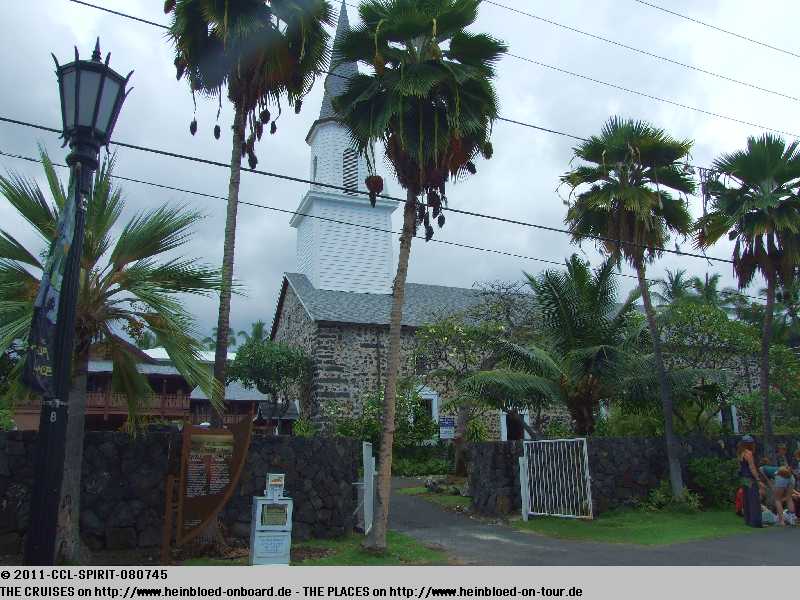 Nach Angaben von Torsten sollen wir die Kirche suchen.
Hier gegenüber ist der alte Königspalast...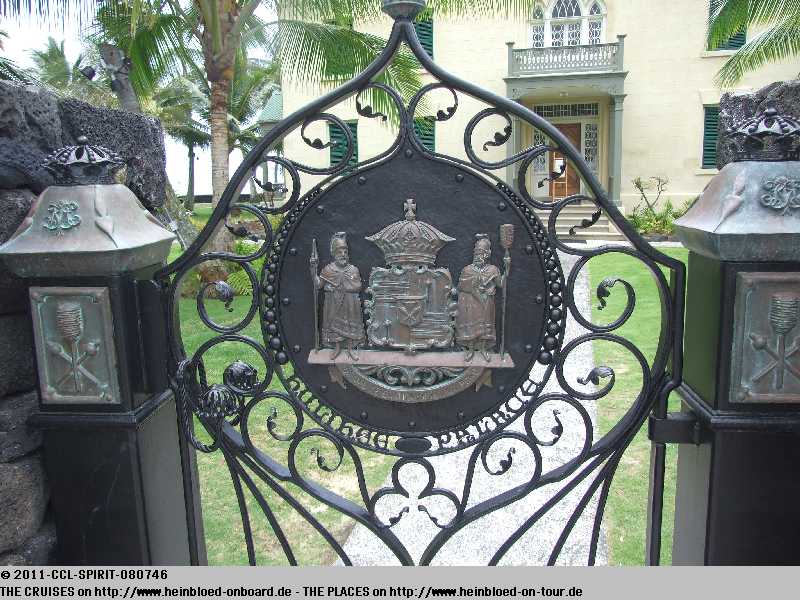 Here opposite it was the Royal Palace...

For Hawai'ian dimensions it might be a palace...

Für hawai'ianische Verhältnisse mag es vielleicht ein Palast sein...
Wir suchen Macedamianüsse. Auf Empfehlung von Torsten besuchen wir diesen Stand von Diane und machen einen riesiegen Fehler: wir erwähnen, dass wir auf Empfehlung von Torsten kommen.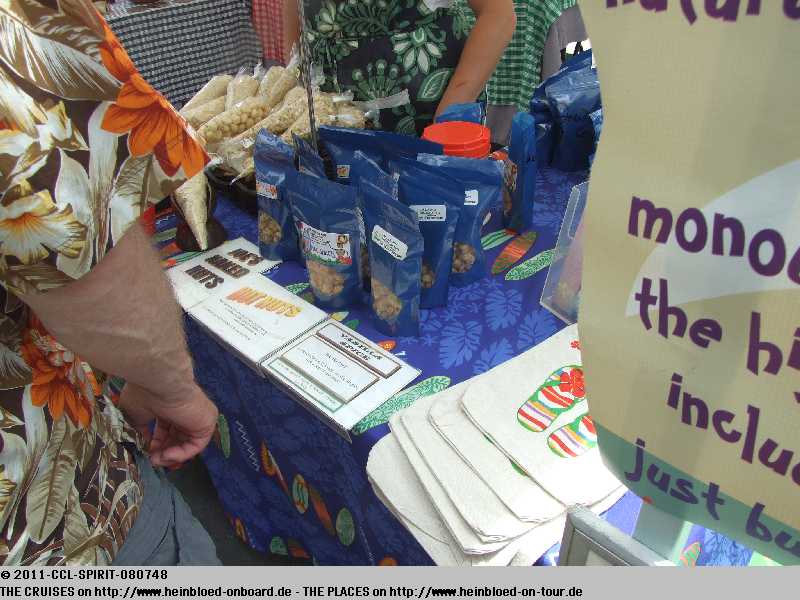 We were looking for macedemia nuts. Due to Torsten's recommendation we visited Diane's stand and we made a big mistake: we mentioned that we came due to Torsten's recommendation.

We had to try with Diana of Joe's Nuts all sorts which Torsten liked before we could for ourselves. But we must admit that Torsten had a good taste... but the Curry-Cocunut were great too... Diane was a little disappointed that we did not see her already this morning and was angry on Torsten... but when we explained that we were on tour with Franz and we got the information on her sales stand the day before, her world became back to normal.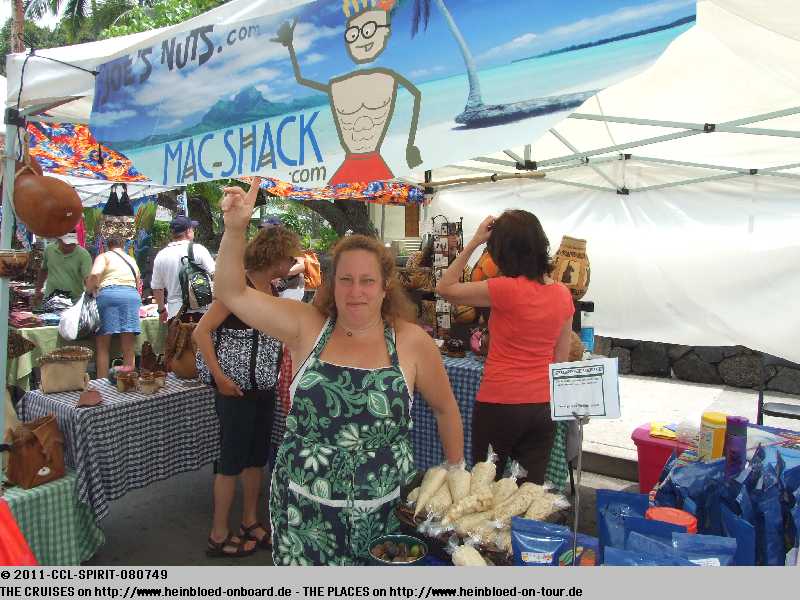 Wir müssen dann bei Diane von
Joe's Nuts
erst Mal die Sorten durchprobieren, die Torsten mag, bevor wir eigene Anfragen stellen dürfen. Allerdings müssen wir zugeben, dass Torsten einen guten Geschmack hat... aber die Curry-Coconut sind auch sehr gut... Diane war allerdings enttäuscht, dass wir morgens nicht schon mal vorbeigeschaut haben und ist Torsten deswegen böse... aber als wir erklären, dass wir mit Franz unterwegs waren und wir die Informationen über ihren Verkaufsstand schon gestern bekommen haben, war die Welt wieder in Ordnung.
Da es heiß und drückend geworden ist, wollen wir wieder zurück auf das Boot. So ein Bad im Meer wäre auch nett, aber wir haben alles an Bord.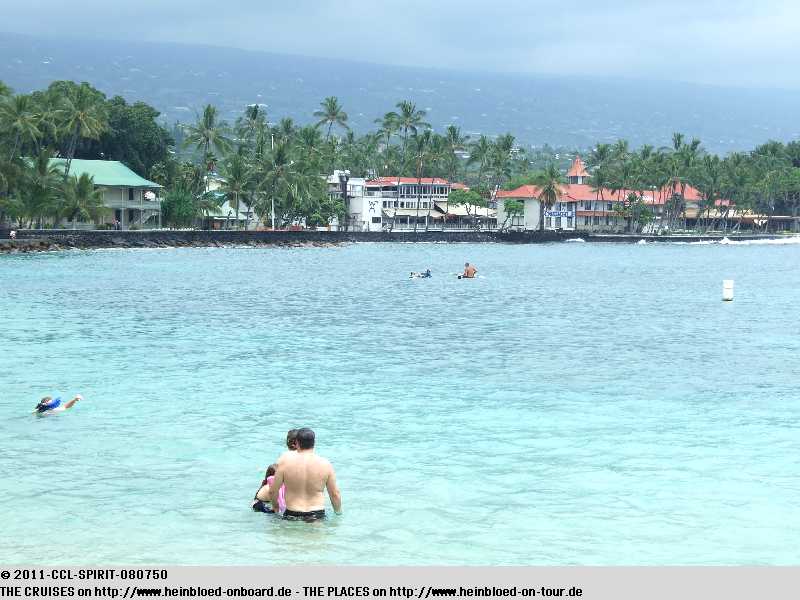 As it became too hot and humid we wanted to return to the the ship. Such a bath in the sea might be very nice but all we needed were left on the ship.

We drank something at the tenderstation before we returned to our CARNIVAL SPIRIT.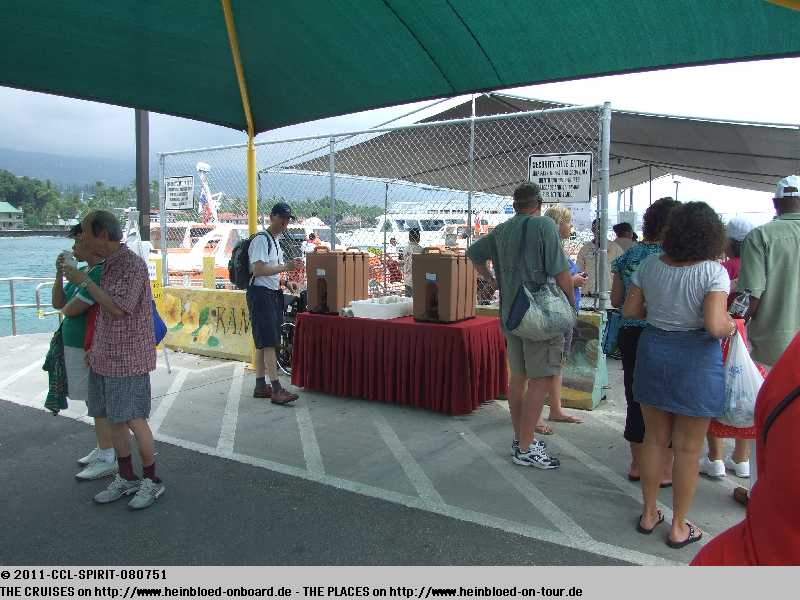 An der Tenderbootstation holen wir uns zunächst etwas zu trinken bevor es zurück geht auf unsere CARNIVAL SPIRIT.