Scroll down for English explanations - alternates with German explanations.

Bruno hat sein Zugluftproblem sehr prakmatisch mitlerweile gelöst: Es wurde eine Mauer in der Kabine gebaut. So zog es nicht so direkt auf das Gesicht, wenn man im Bett lag.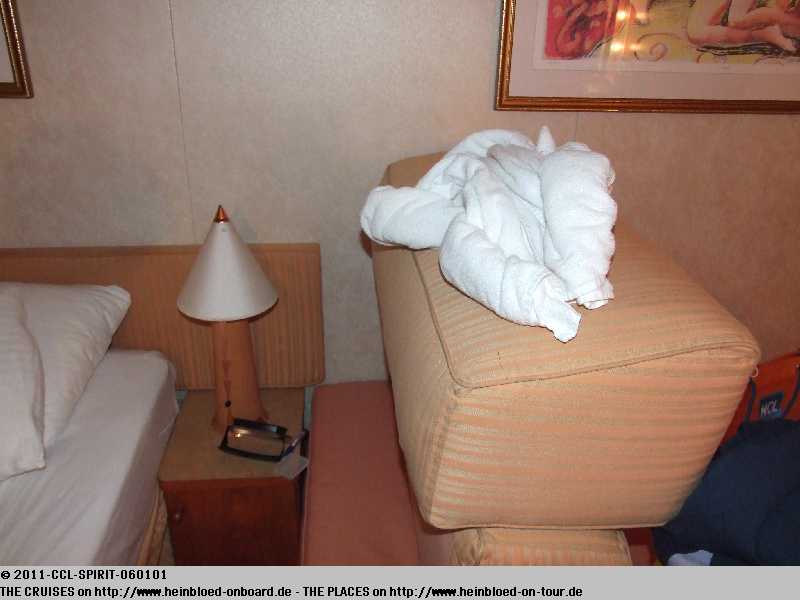 Bruno solved his problems with the breezy air circulation in the cabin: He built a wall in the cabin. So the air did not circulate on his face when he was in his bed.

Did they start to clean the balconies so early??? Rain drops???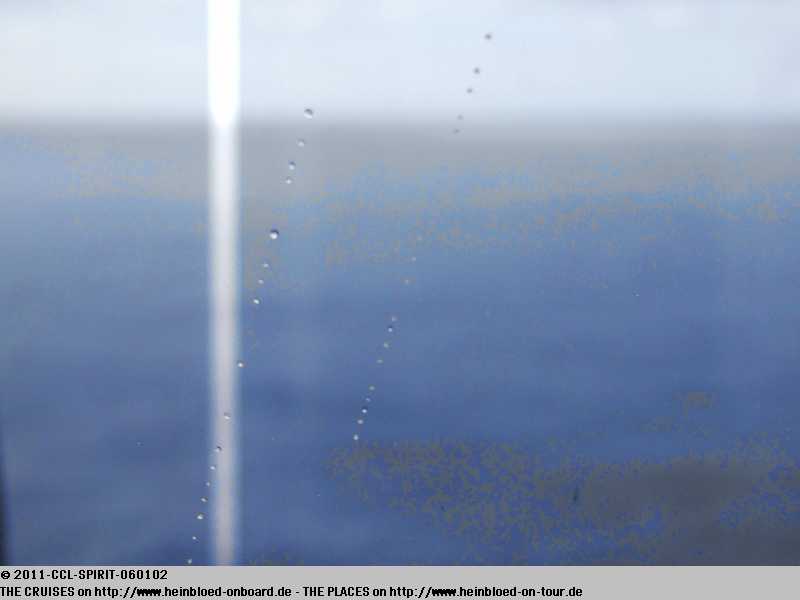 Fangen die schon so früh an, die Balkone zu reinigen??? Regentropfen???
Es schauert tatsächlich...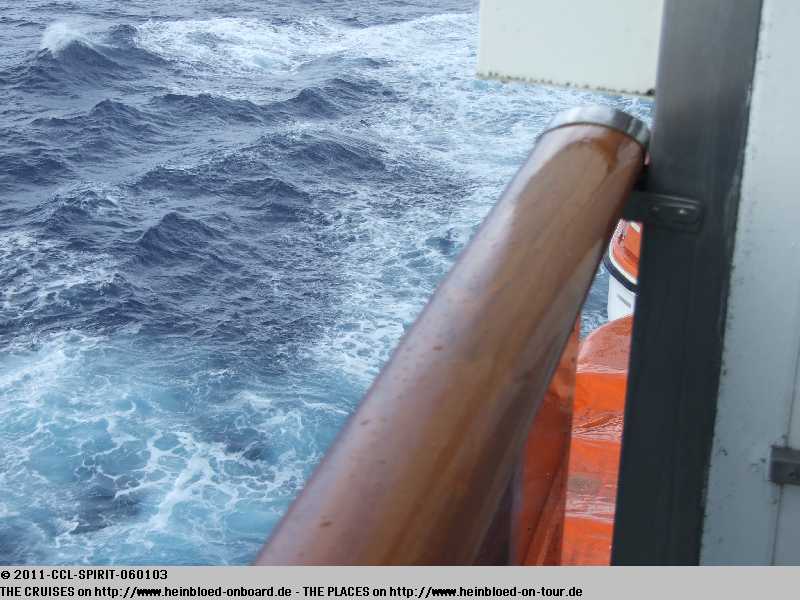 We really had showers...

That did not look well. What a shame for the last day at sea.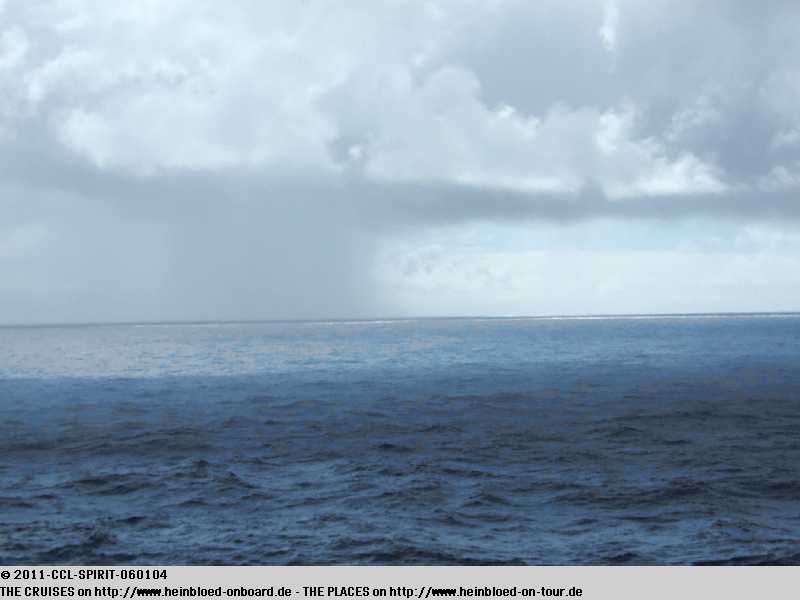 Das sah gar nicht gut aus. Schade um den letzten Seetag.
Die Informationen zur US-Immigration in Hilo folgen. Die Reihenfolge ist wohl ausgelost worden: Wir sind als 4. (von 6) Decks daran. So melden wir sicherheitshalber unserem Touranbieter in Hilo, dass man wohl nicht vor 09.30 Uhr mit uns rechnen sollte.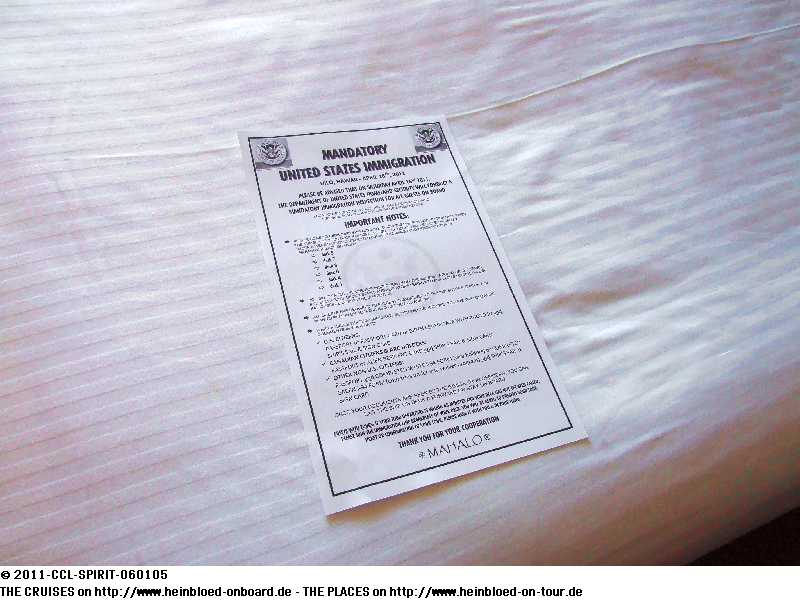 The information on US-immigration in Hilo followed. The order was drawn: we are the 4th (of 6) deck to go. So we told our tour operator in Hilo that they should not expect us before 09.30 hrs.

In advance our tonight's towel animal.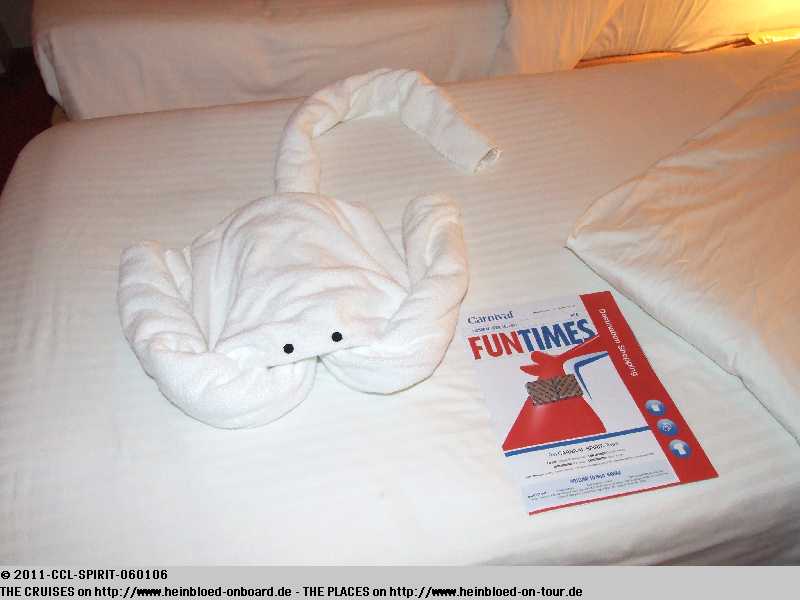 Vorab auch schon das Handtuchtier der heutigen Nacht.
Interessehalber gucken wir uns auch im La Playa Grill um, um zu sehen was es hier gibt.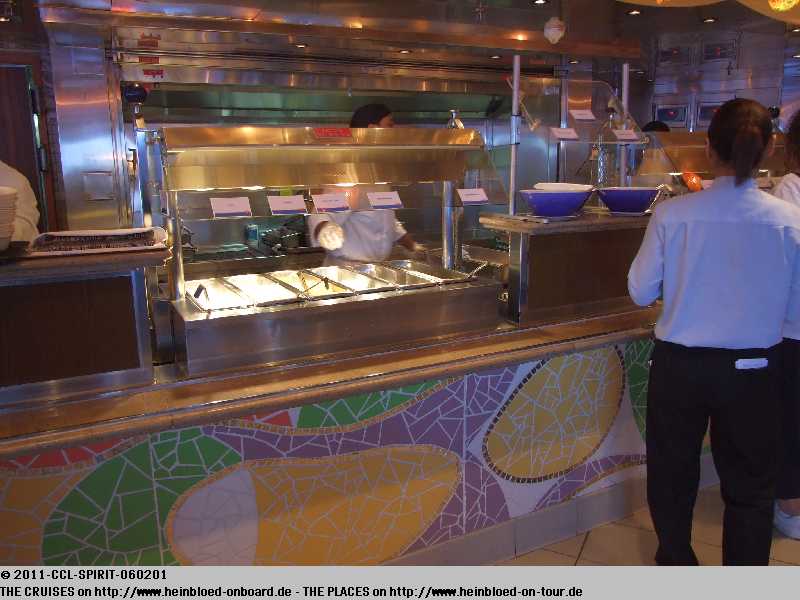 We were curious to see La Playa Grill's offer in the morning.

The offer upstairs was much more versatile than in the Empire Main Dining Room.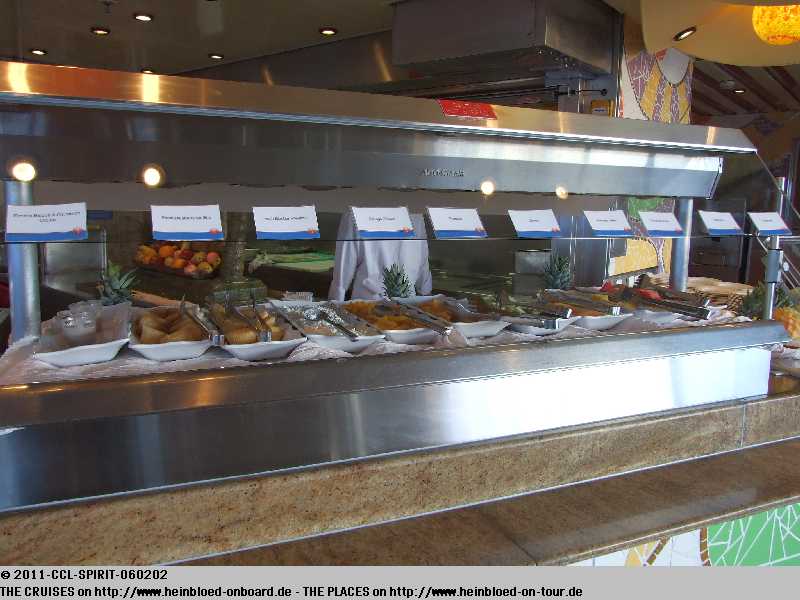 Das Angebot oben ist eigentlich vielfäliger als im Empire Main Dining Room.
Heute ist es aber wieder besonders voll, weil es eben draußen regnet und wieder alle innen sitzen.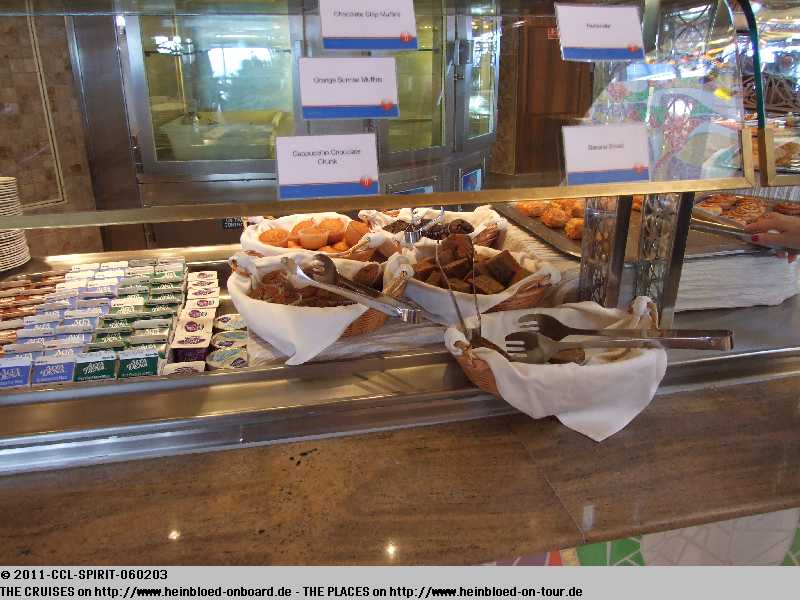 This morning it was very crowded as it was raining outside and everyone was sitting indoor.

They had also a dark rye-bread but like more those you might know from your last Scandianvia vacation or IKEA.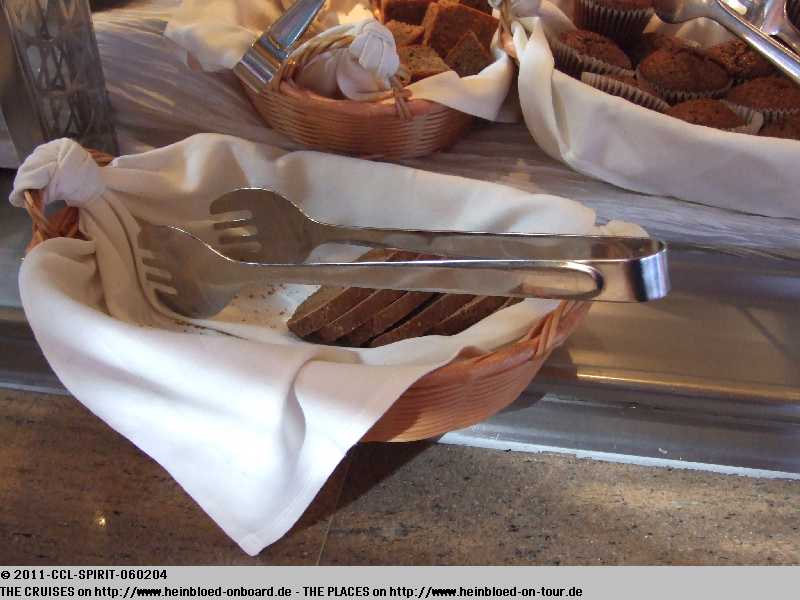 Es gibt sogar dunkles Roggenbrot, allerdings so wie man es vom letzten Skandinavien-Urlaub oder IKEA es her kennt.
Eine Veranstaltung für deutschsprachige Gäste gibt es nicht. Wenn man also weitere Deutsche kennenlernen will: einfach sich an die Käse- und Wursttheke stellen. Hier trifft man immer fast alle Deutschen.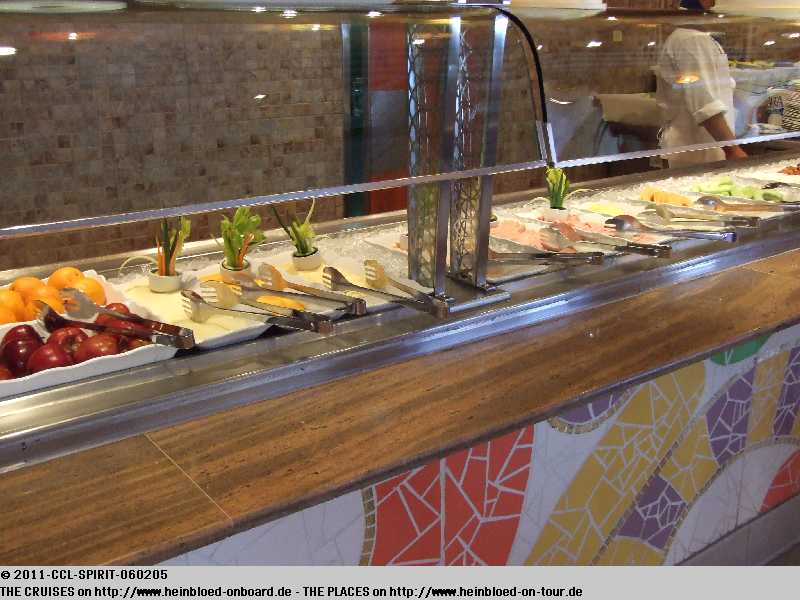 There was no event for German speaking guests. But if you want to make further German cruise-mates it is quite simple to do: just see the cheese and cold cut buffet station. Here you meet them all.

We went again to the Empire and continued our Danish testings.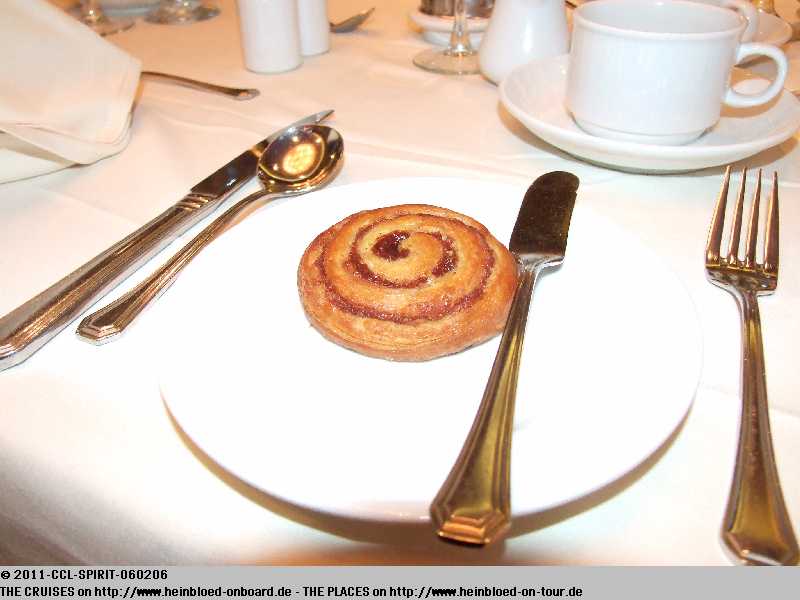 Wir gehen wieder ins Empire, und testen weiter das Frühstücksgebäck durch.
Bruno bestellt sich sein Obst.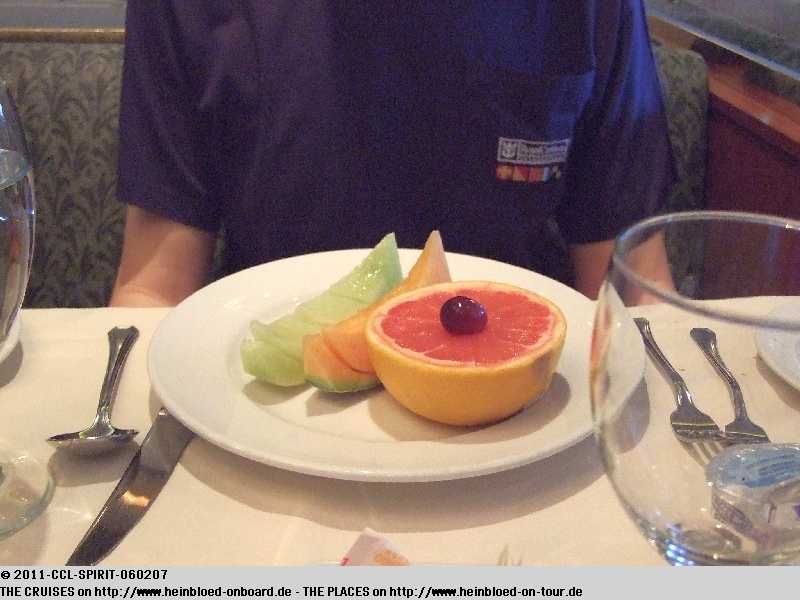 Bruno ordered his fruits.

Then we were notified that they prepared a fruit plate for me which was double of the quantity you normally get with your dinner.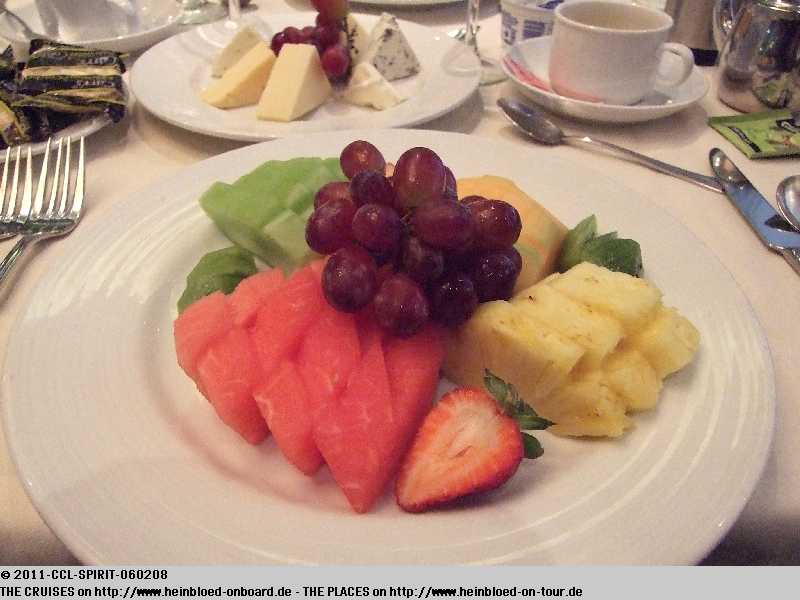 Dann bekommen wir aber die Mitteilung, dass man einen Früchteteller für mich vorbereitet hat, der aber doppelt so groß ausfällt, die der abends...
Ferner hat man uns noch eine Käseplatte vorbereitet, wobei die eigentlich ja gar nicht für Bruno und mich war.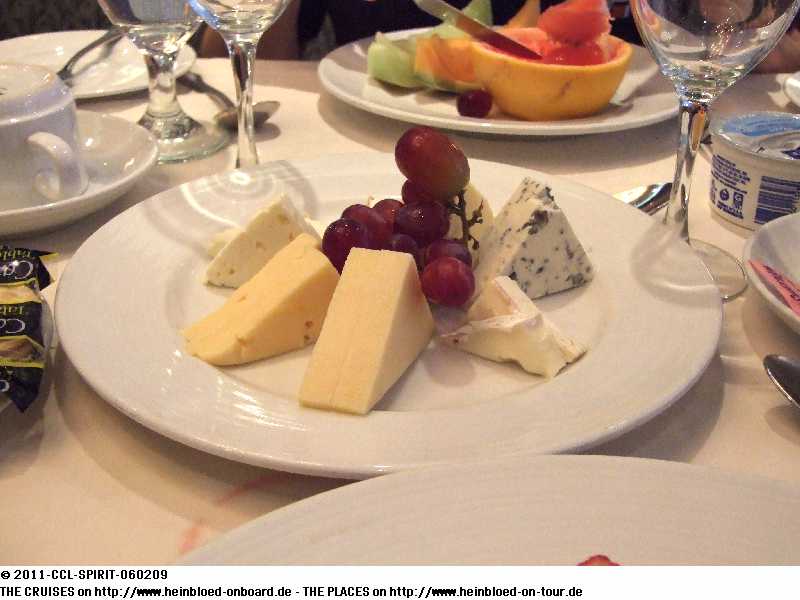 Furthermore a cheese plate was already prepared although the one before we had was neither for Bruno nor for me.

But we learned it after we placed already our regular breakfast order.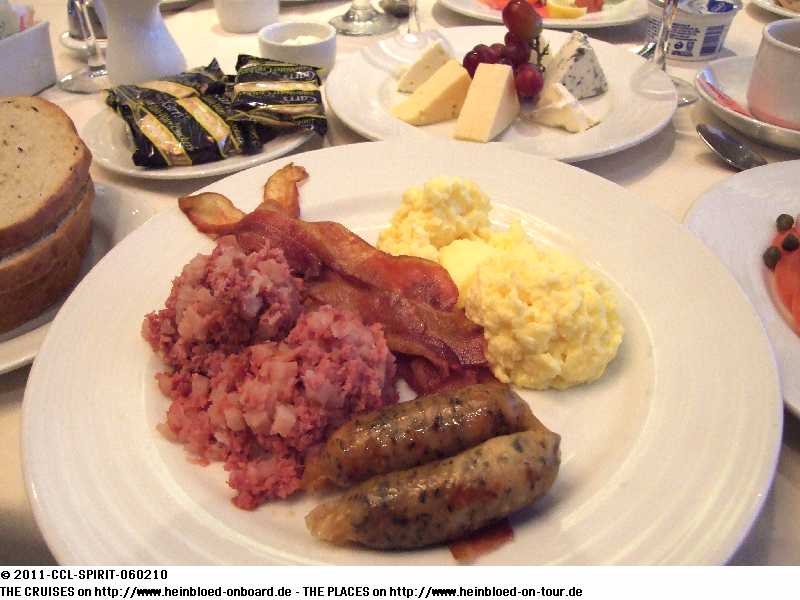 Aber das hatten wir erfahren, als wir schon das reguläre Frühstück bestellt hatten.
Und ich hatte ausgerechnet etwas mehr bestellt, was natürlich schon sehr peinlich war.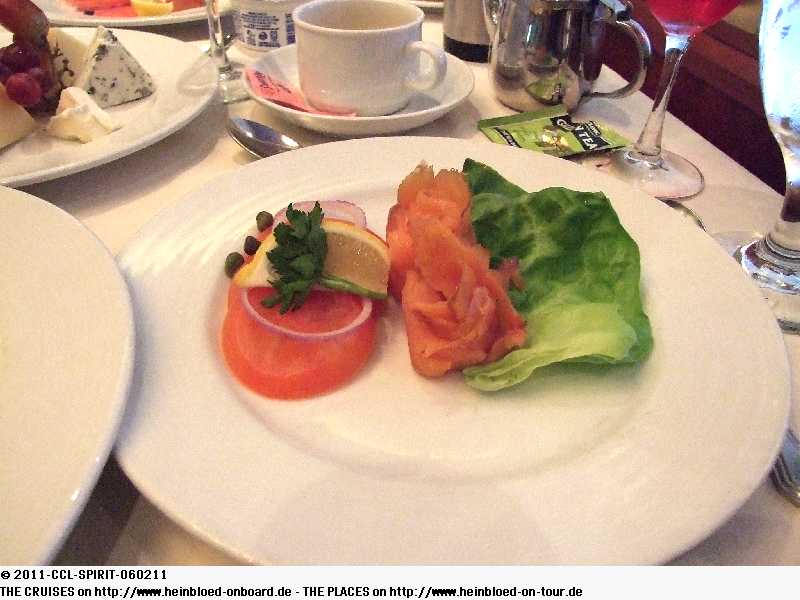 It was embarrassing this morning because I already ordered a little more.

Outside the sun was shining and I would like to close Stu's list and to use the twister.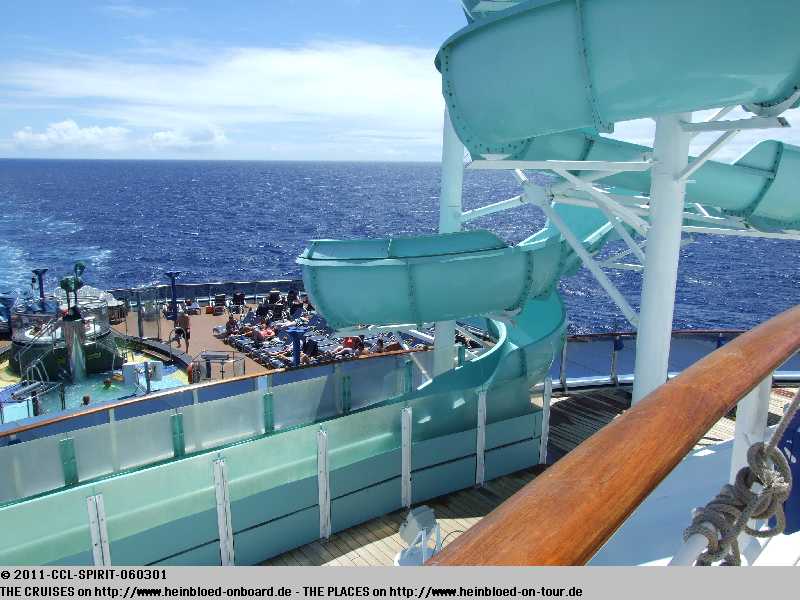 Draußen scheint die Sonne und ich will Stus Liste abarbeiten und noch auf die Rutsche gehen.
Aber leider ist sie wegen starken Windes aus Sicherheitsgründen geschlossen.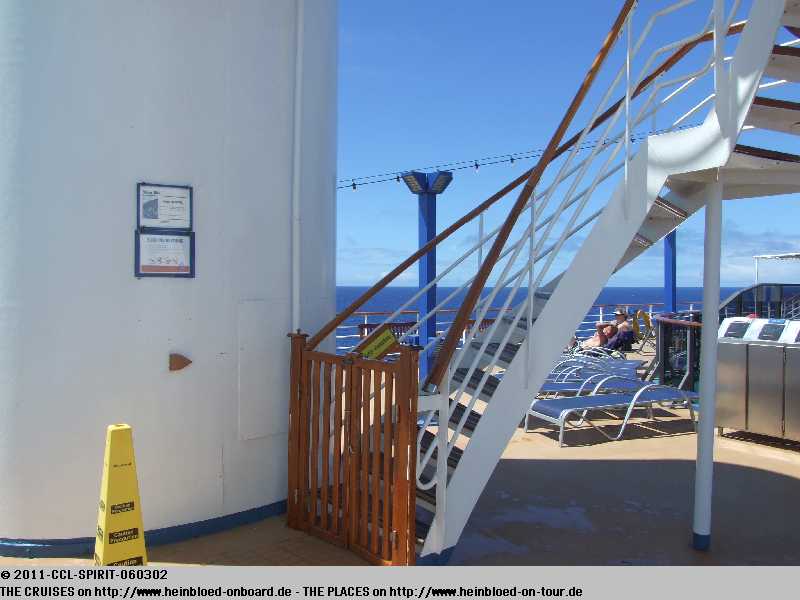 Unfortunately she was closed for security reasons due to strong winds.

I was not interested to see the baby-pool either.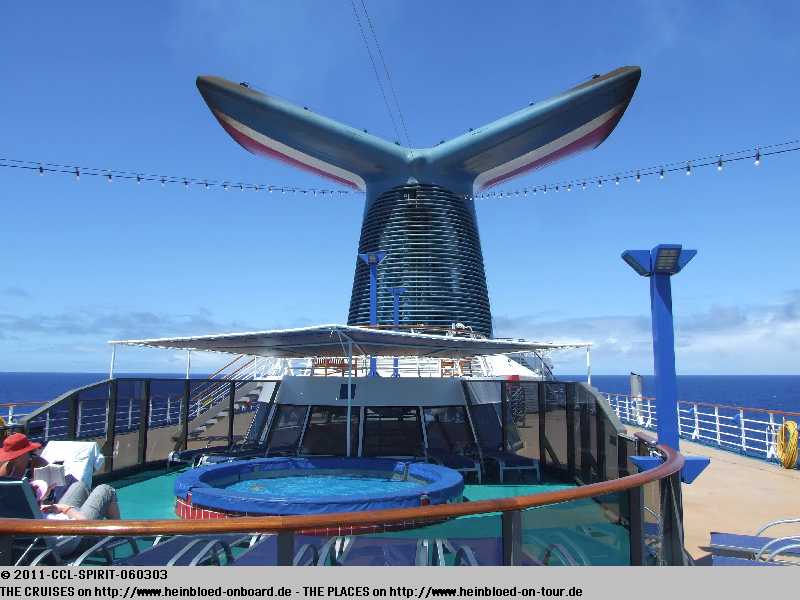 Zum Baby-Planschpool will ich doch nicht.
Man gar nicht verstehen, dass man nicht auf die Rutsche darf.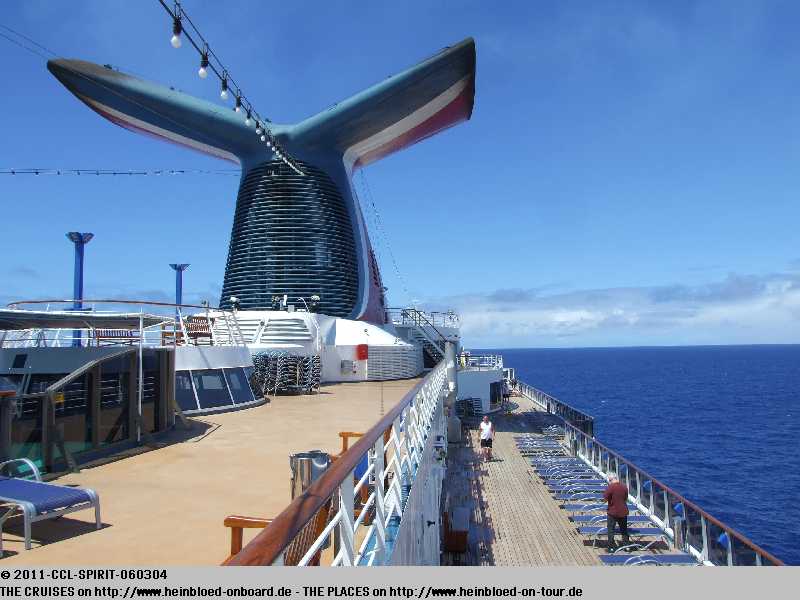 I could not understand why the twister should not be used.

So I went disappointed back to my cabin and changed the clothes.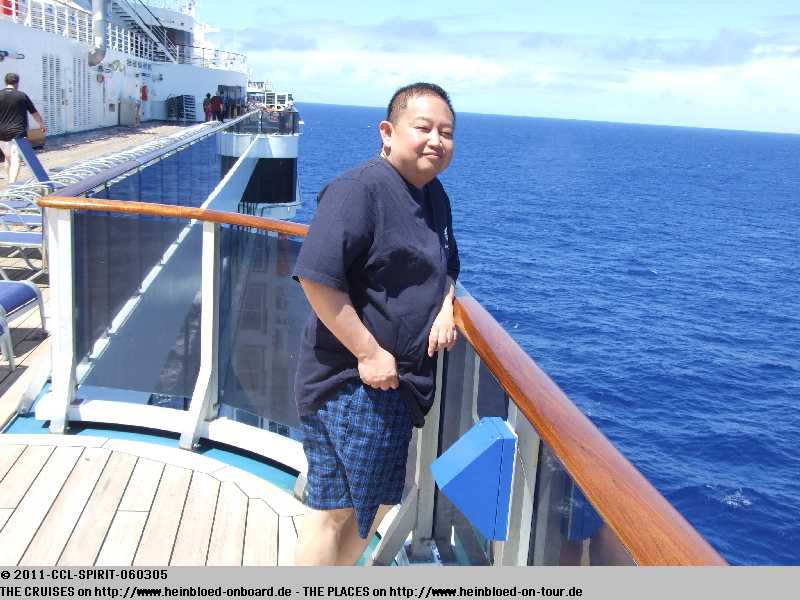 Also gehe ich enttäuscht wieder zurück in die Kabine und ziehe mich um.
An der Kaffeebar kaufe ich einen Öko-Eistee...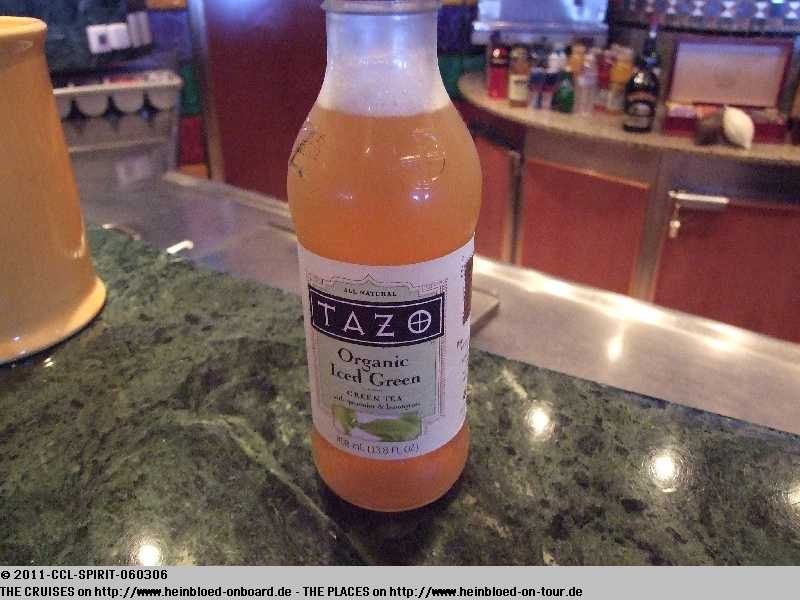 I bought an organic green ice tea at the coffee bar...

In the Club Cool ballroom dancing lesson was still running.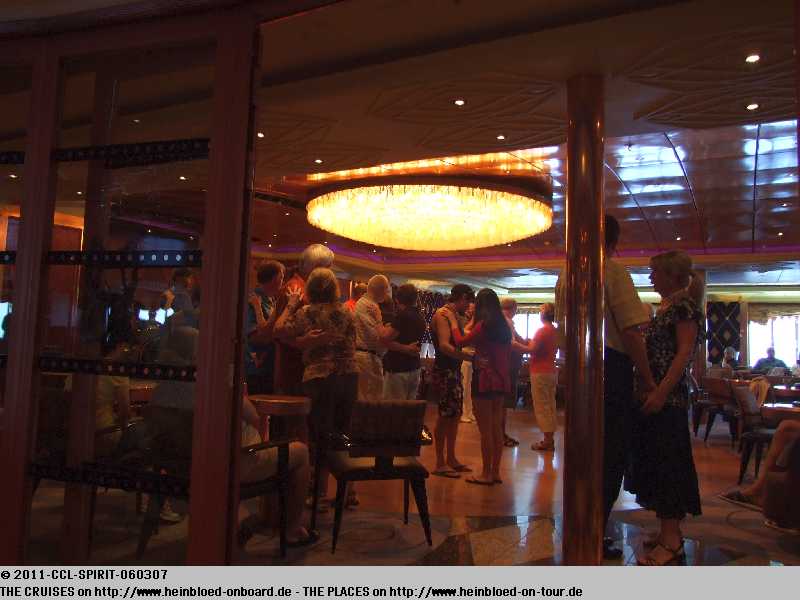 Im Club Cool findet immer noch der Gesellschaftstanzkurs statt.
Ich will jedoch zu Stus Frage und Antwortstunde. Nur die Barhocker sind leider die unbequemsten, die ich kenne. Nichts zum Abstützen meiner kurzen Beine und irgendwie nicht genug Auflagefläche für den Hintern.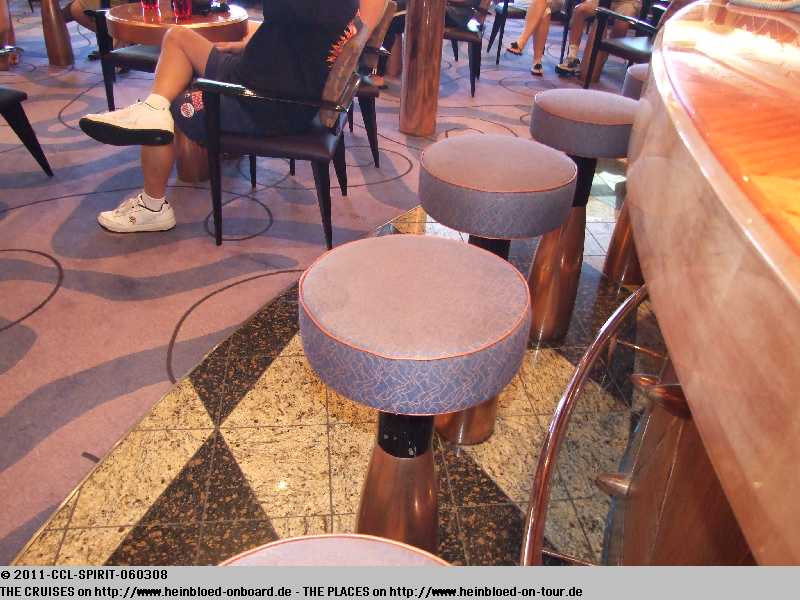 I wanted to attend Stu's Question and Answer-Hour. But the bar stools were the most uncomfortable I ever experienced. Nothing to hold my short legs and not enough seating for the butt.

The charity walk for St. Jude (a chldren research hospital) was postponed. As Stu need to go there immediately thereafter he was already dressed appropiately. My question was: if we might see him on rollerskates like on his picture on John Heald's blog. He said no and that he could not remember this picture.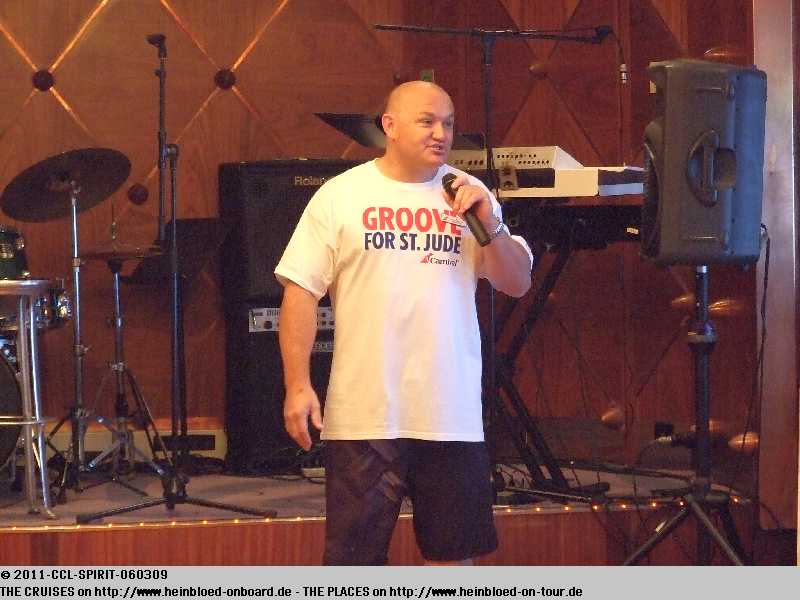 Der Wohltätigkeitslauf für
St. Jude (ein Kinderforschungskrankenhaus)
ist verschoben. Da Stu direkt im Anschluss direkt dahin muss, ist er bereits dafür angezogen. Meine Frage an ihn: ob wir ihn mit Rollschuhen so wie in diesem
Beitrag von John Heald
zu sehen bekommen??? Er verneint das und erzählt, dass er sich gar nicht an das Bild erinnert...
Ansonsten beantwortet er alle Fragen: auch schon zum Australien-Einsatz der CARNIVAL SPIRIT. Auf den Einsatz in seiner Heimat freut er sich. So beschreibt er eine "Erkundungsreise" bei P&O Australia und die Lieblingstätigkeit des gemeinen australischen Cruisers: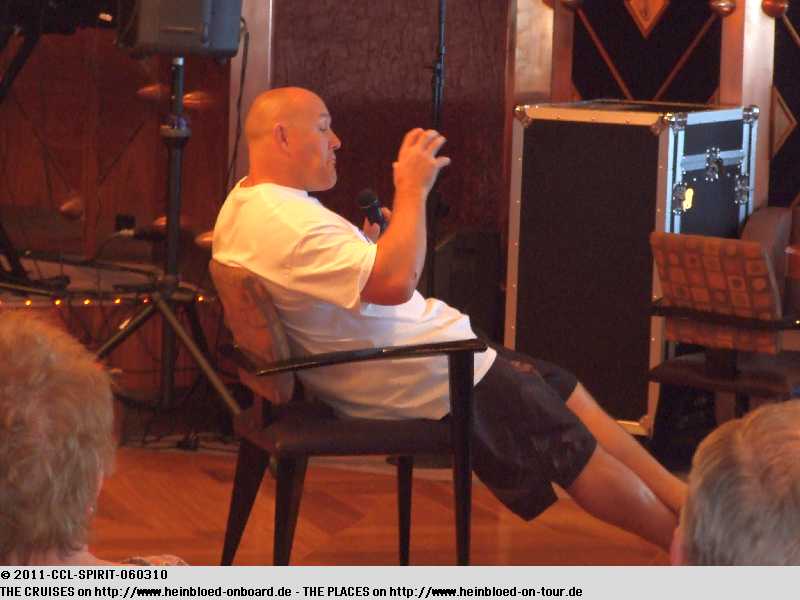 He answered to all questions: as well to those which are related to the new Australia-deployment of the CARNIVAL SPIRIT. He was looking forward to his work at home. So he described a "research"-cruise on P&O Australia and the favourite activity of an ordinary Australian.

No idea if I really would like to book an Australian cruise under this circumstances. Maybe Holland America would be better...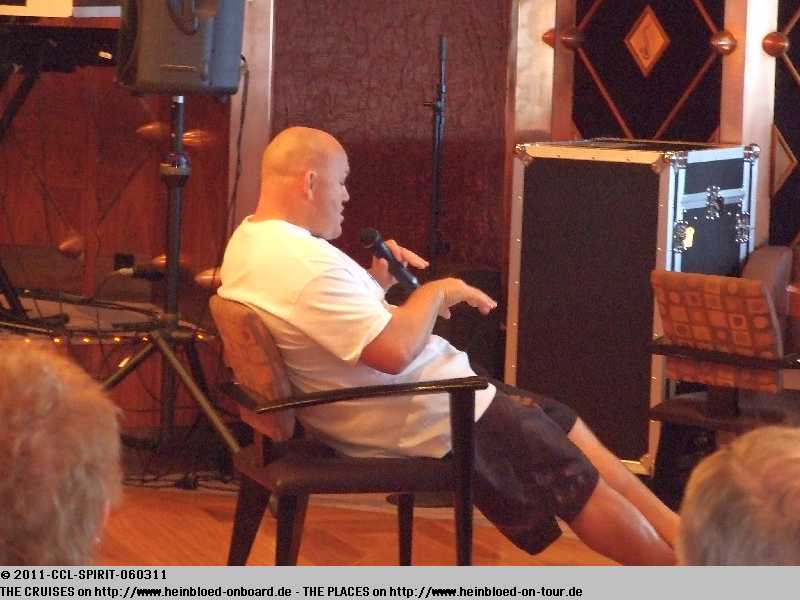 Ob ich unter diesen Umständen unbedingt eine australische Cruise buchen möchte, weiss ich noch nicht. Vielleicht dann lieber doch Holland America Line...
Bruno hat 10 USD für das T-Shirt gespendet und ich folge seinem Beispiel.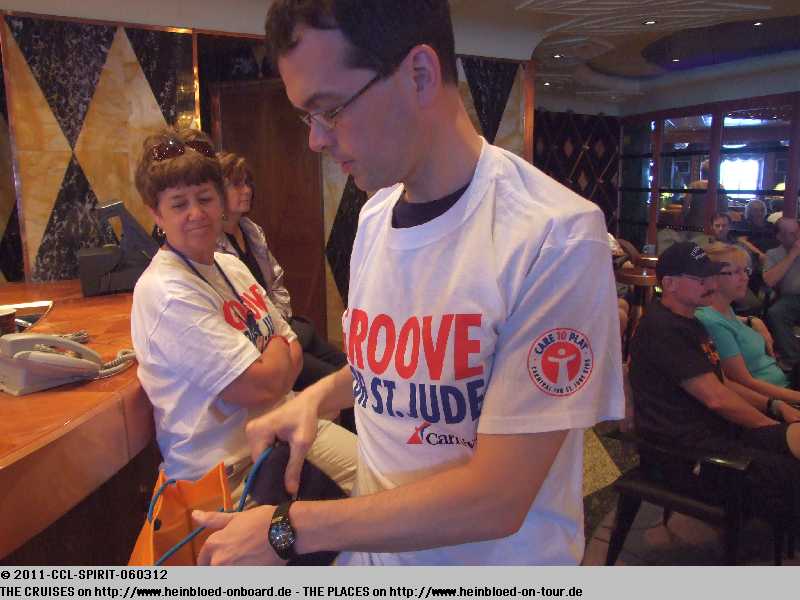 Bruno donated 10 USD for the t-shirt and I followed suit his ide.

We waived to walk ourselves.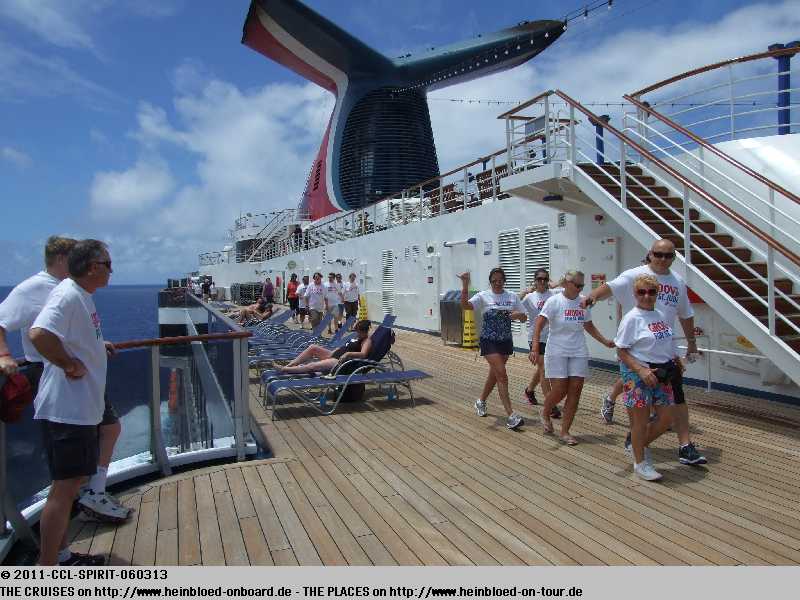 Nur auf das Laufen verzichten wir.
Stu gönnen wir auch eine Tafel Schoki, die er teilt. Er hat mir zwar erklärt, wer die junge Dame ist, aber ich habe es mir nicht gemerkt... Ich werde älter...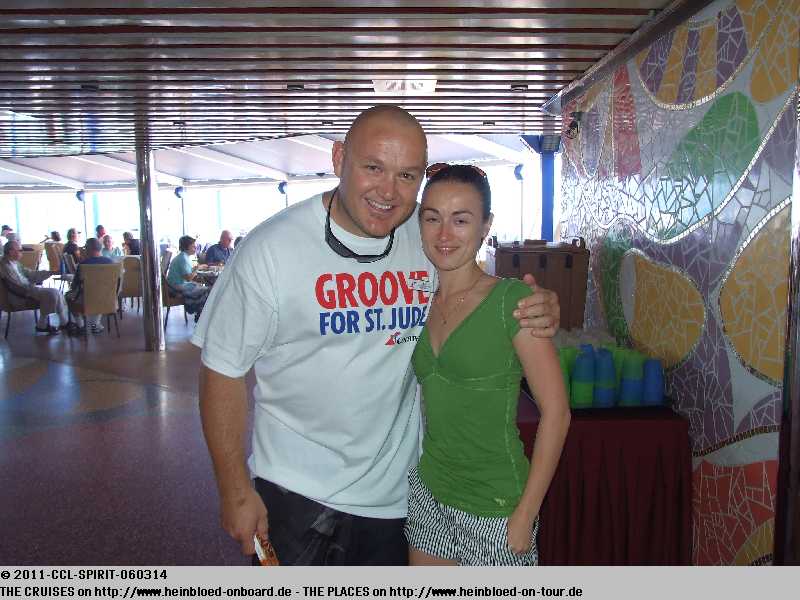 We gave Stu some chocolate which he shared. He explained who the young lady was but I did not remember... I am getting old...