Scroll down for English explanations - alternates with German explanations.

Zurück geht es an einem Bhuddistentempel vorbei.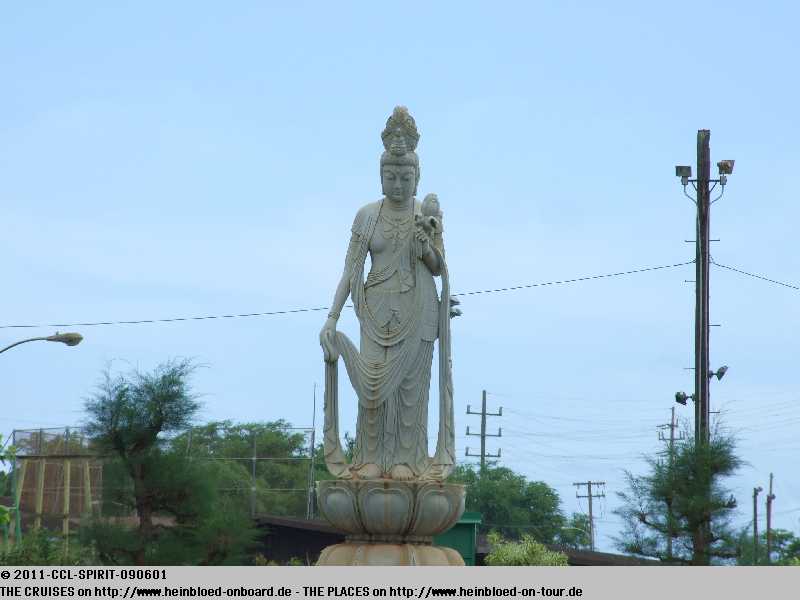 When we returned we passed a temple of Bhuddists.

Hawai'i is a melting pot for all world religions.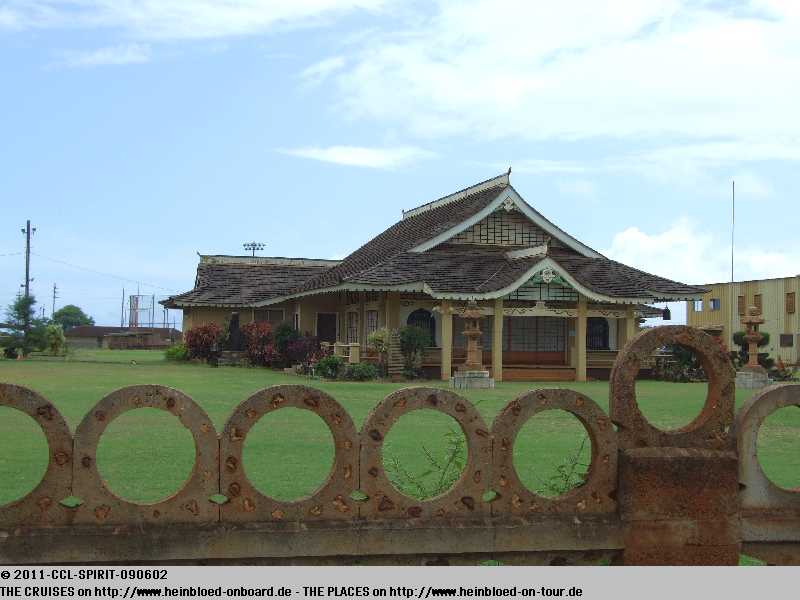 Schließlich ist Hawai'i ein Sammelpunkt der Weltreligiionen.
Eine ehemalige Zuckerrohrplantage hat auf Kaffee umgestellt.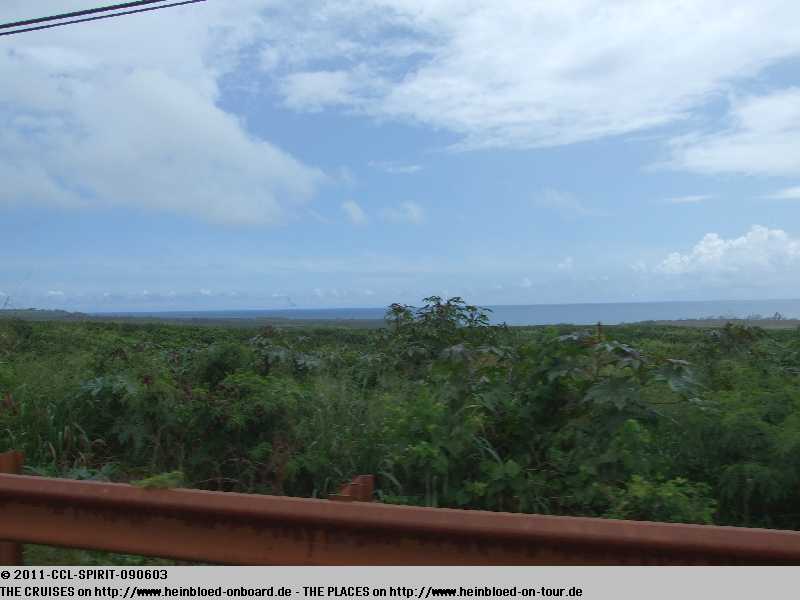 A former sugarcane plantation changed his business to coffee.

We went to Kauai Coffee which is not sold globally like the Kona-Coffee. It was to cover a niche market. Charlotte explained that you need to check to get 100% Kona-Coffee if Kona-Coffee is mentioned on the wrapping. Kona-Coffee is sold as such even there is only 10% inside. We knew this already from Torsten and Franz but they assured that they only recommend companies which offer 100% Kona-Coffee inside.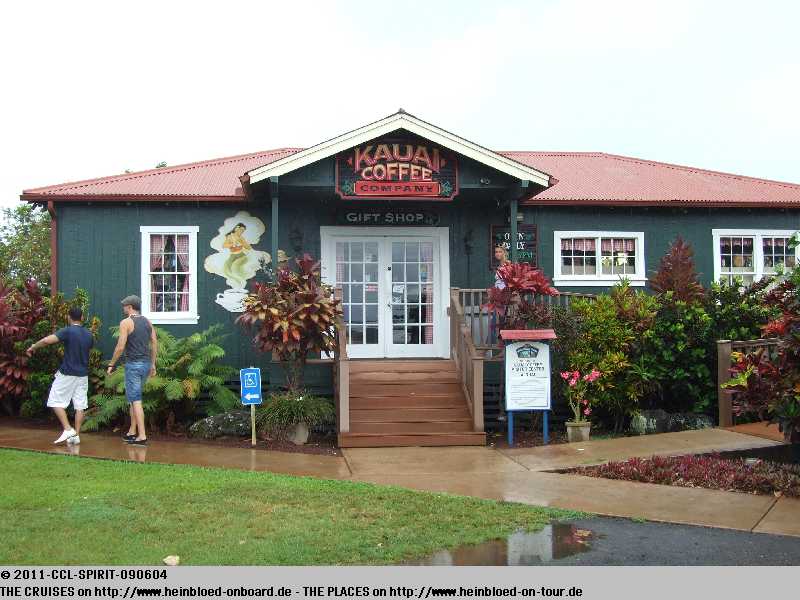 Wir fahren zu
Kauai Coffee
, der weltweit nicht so vermarktet wird, wie Kona Kaffee. Es wird ein gewisser Nischenmarkt abgedeckt. Zumal Charlotte erklärt, dass man beim Kona Kaffee aufpassen muss, dass auch 100% Kona Kaffee drin sein sollte. Kona Kaffee wird nämlich als solcher bezeichnet, wenn auch nur ein 10%-iger Anteil darin enthalten ist. Auch Torsten und Franz hatten uns das davor schon mal erklärt und daher die ihre Hände ins Feuer gelegt, dass es sich bei den von ihnen empfohlenen Produkten und FIrmen um 100% Kona-Kaffee handelt.
Nun sehen wir endlich mal einen Kaffeestrauch, der zum Bedauern von Charlotte gerade nicht blüht.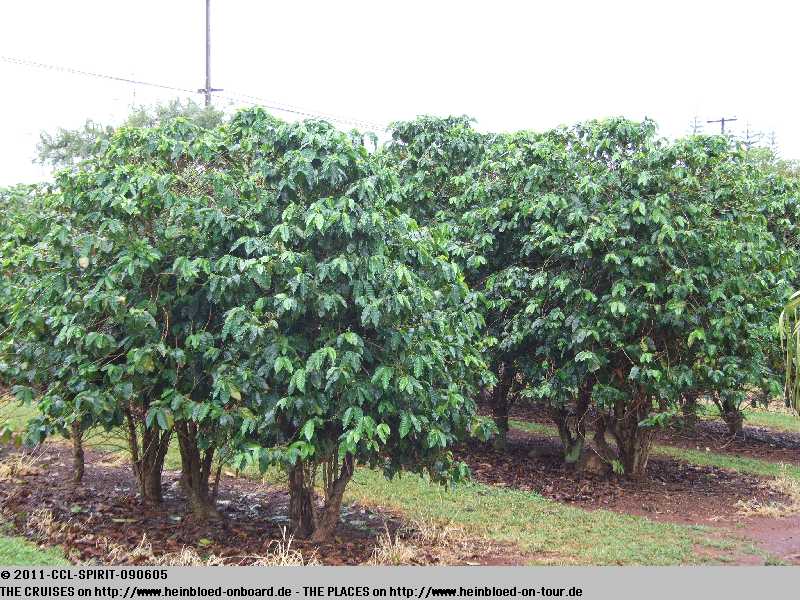 Now we saw a coffee plant which had no blossoms - Charlotte deeply regretted.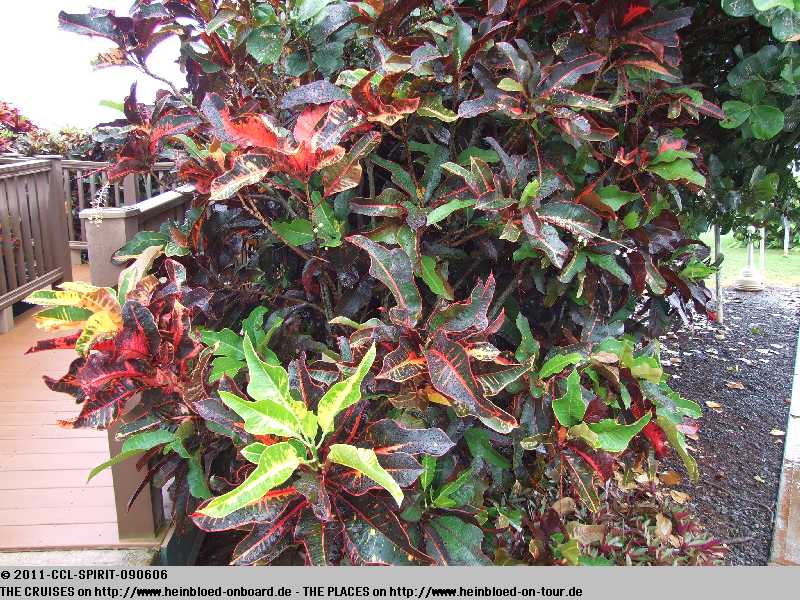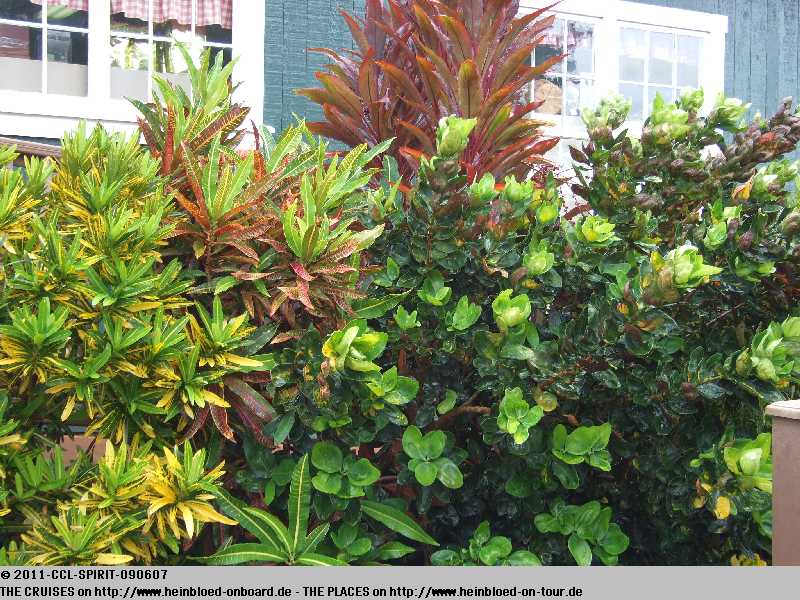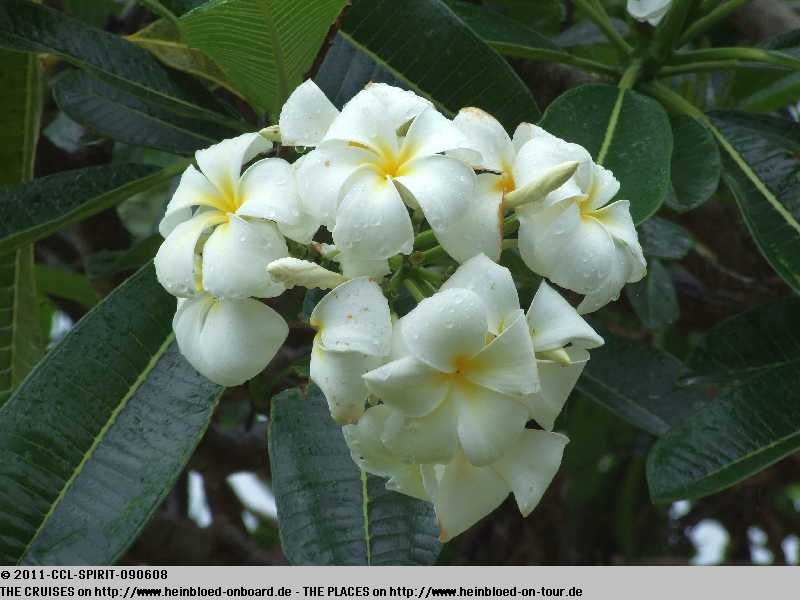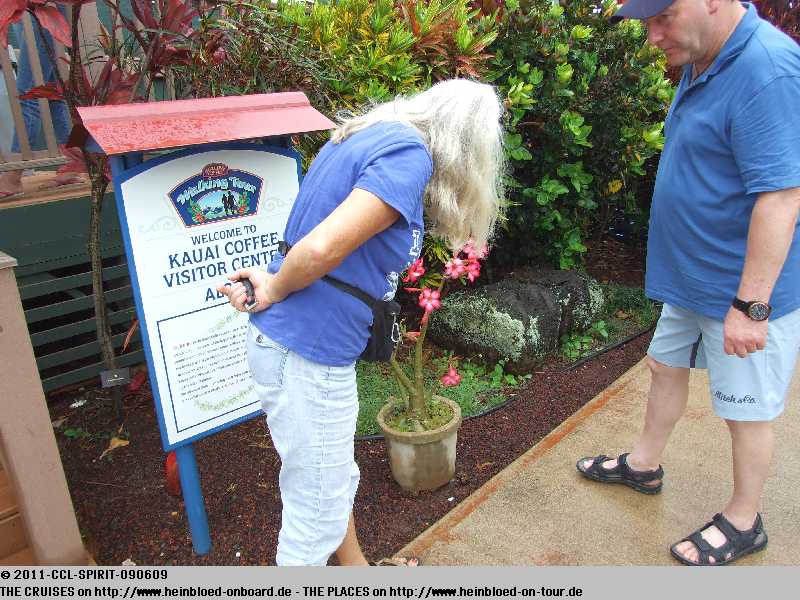 But before we get the first coffee all plants along the way were well explained.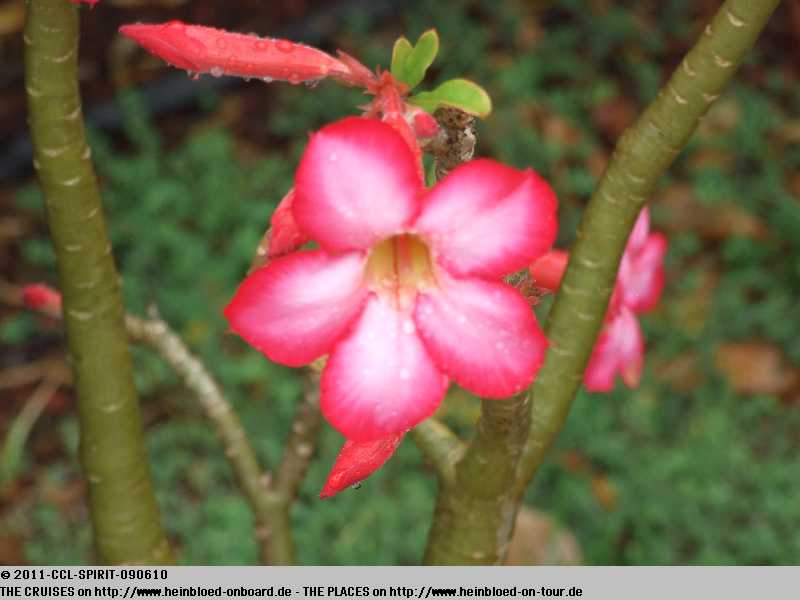 Aber bevor wir überhaupt wieder zum Kaffee kommen: es werden uns erst mal alle Planzen auf dem Weg zum Eingang erklärt.
Hier im Innenhof durfte man auch alle Kaffeesorten probieren.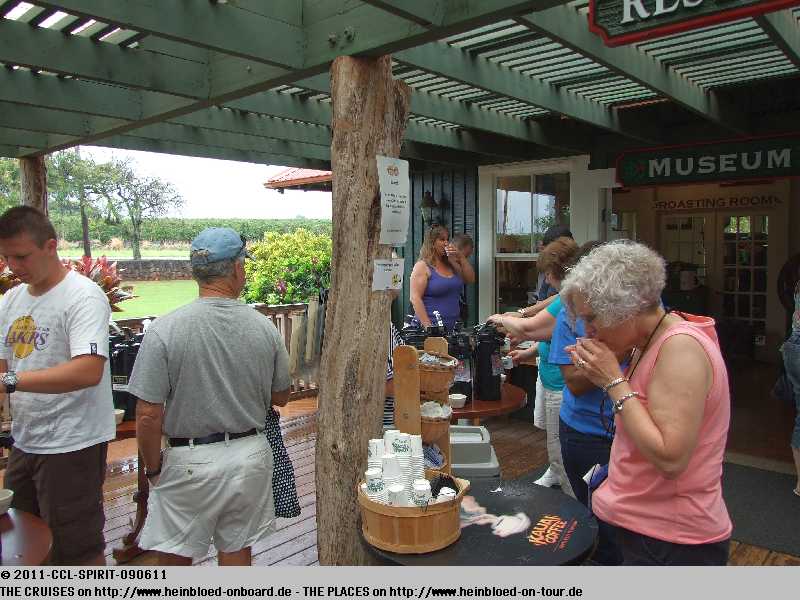 Here in the inner court you may try all sorts of coffee.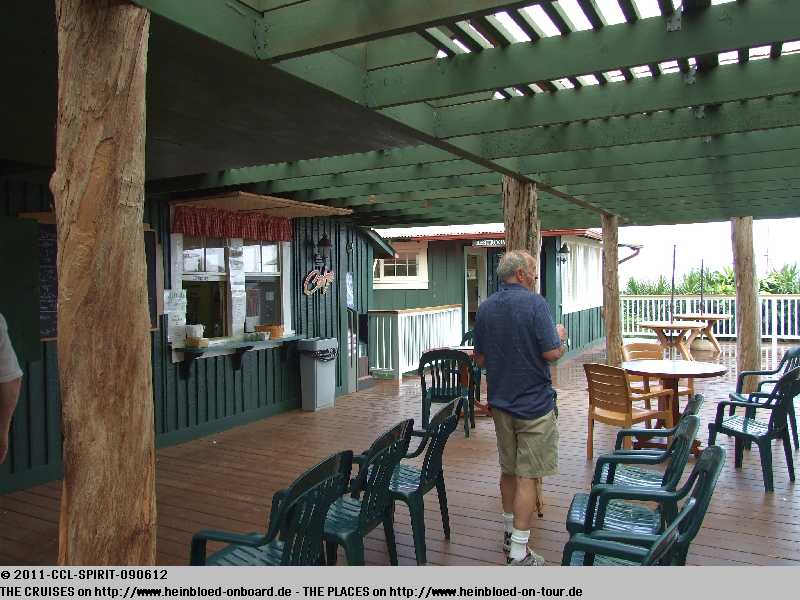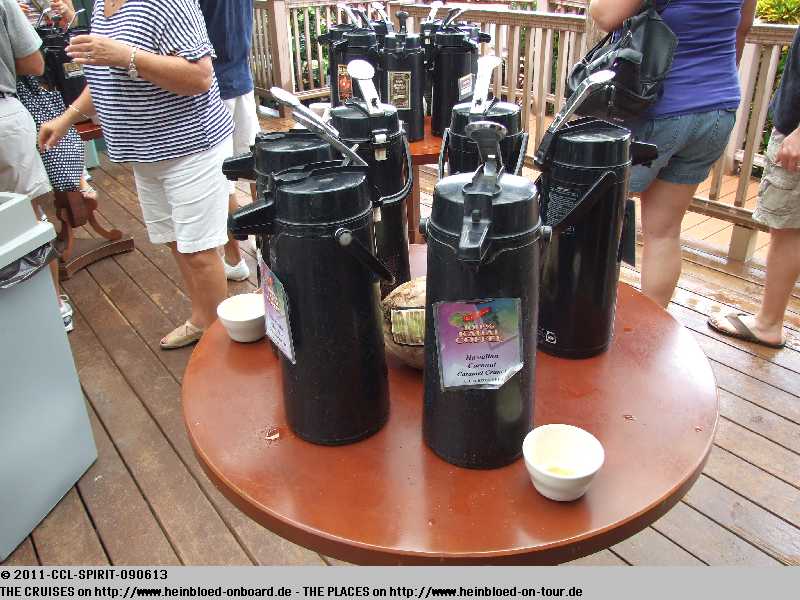 And in the rear building you can see some exhibits.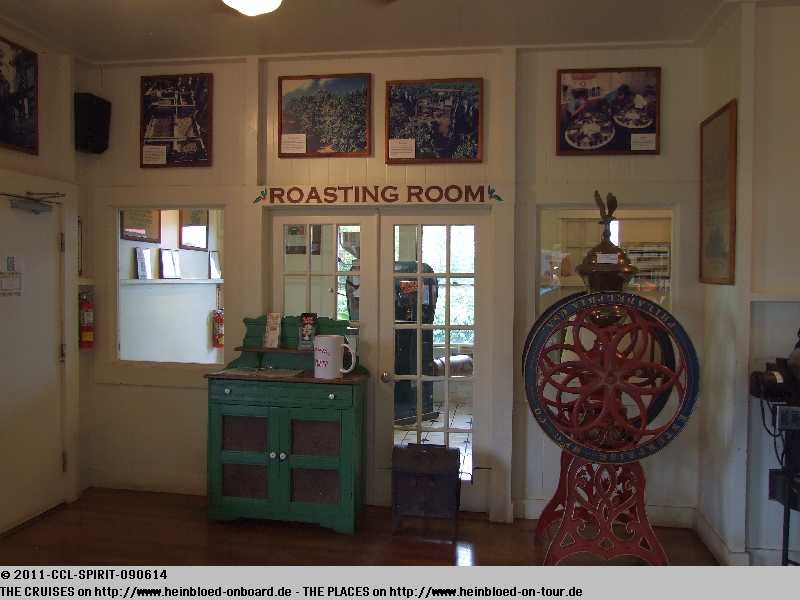 Und im hinteren Gebäude konnte man auch ein paar Exponate sehen.
Insgesamt fühlten wir uns hier wohler.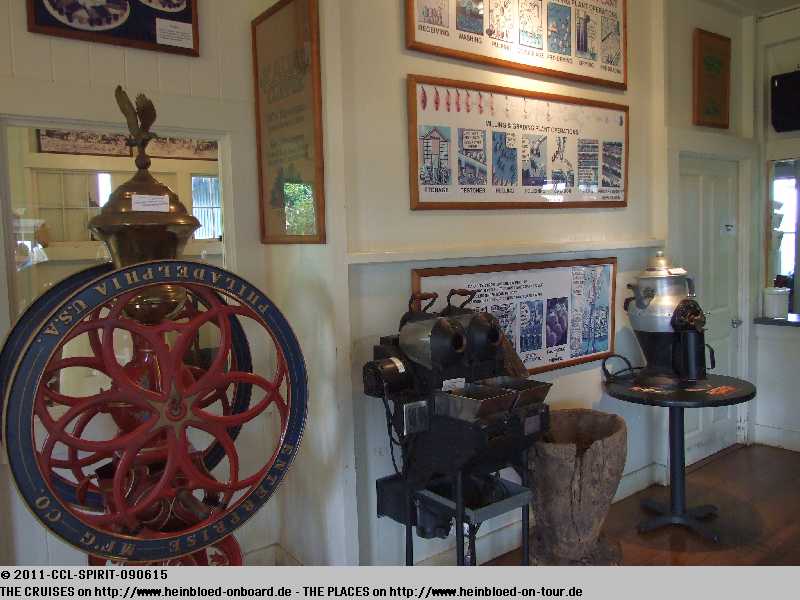 Generally it felt here much more nicer.

But Bruno tested a peaberry-coffee which was not so strongly roasted and which he liked... a half pound was only 20 USD...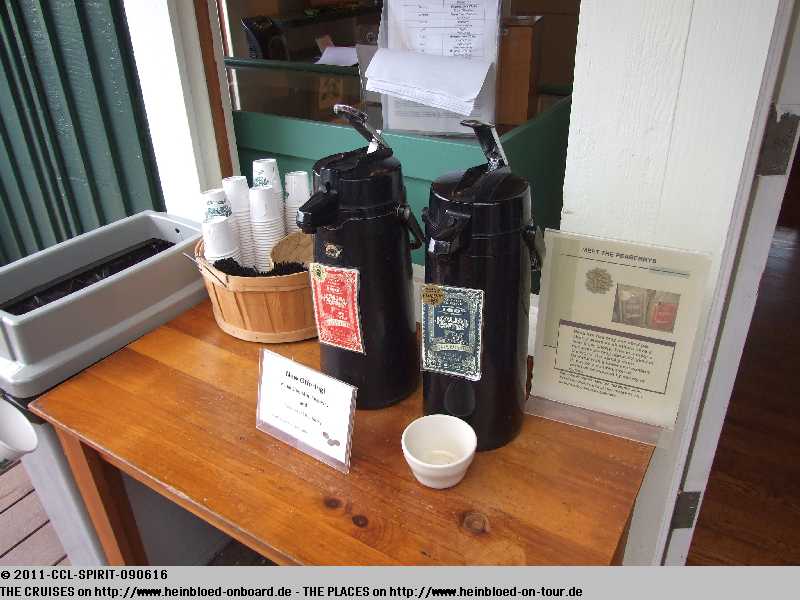 Auch hat Bruno hier einen Peaberry-Kaffee probiert, der nicht so stark durchgeröstet war und daher ihm sehr gut schmeckte... Kostete das halbe Pfund auch nur 20 USD...
Ich gönne mir einen Iced Coffee, der jedoch auf einem Kaffee gemacht wurde, der so stark durchgeröstet war, dass mir der Atem wegblieb und einen Hot Dog, der mir zu salzig war...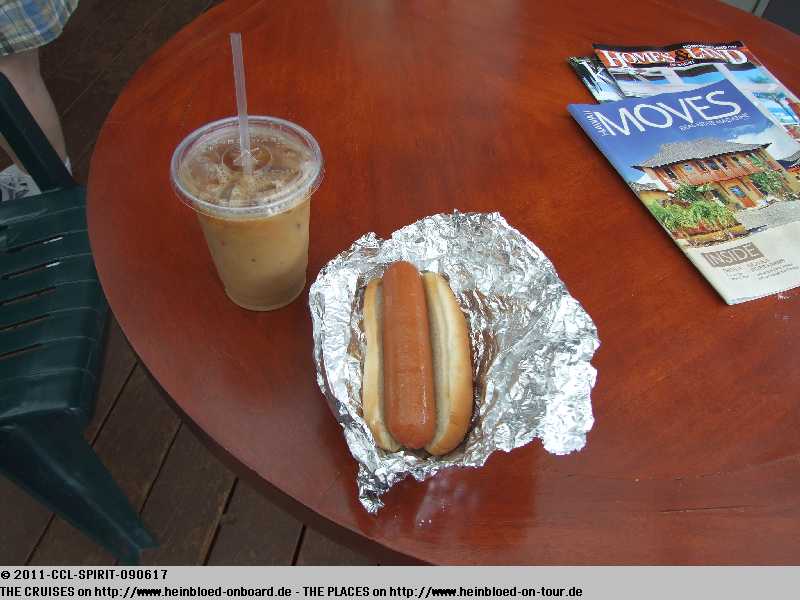 I indulged myself with an iced coffee which was made of a coffee which was very strongly roasted so I could not breath and a hot dog which was too salty...

It was like with wine... Maybe Mosel- or Pallentine-wine were more famous. But we are from Bergstrasse (the ancient Roman Mountain Road) who do not sell their wine internationally but just locally. And it is the same with the coffee on Hawai'i. The big coffee companies are not very much interested in Hawai'i because you do not produce the low-value-mass-coffee and especially not on Kau'ai.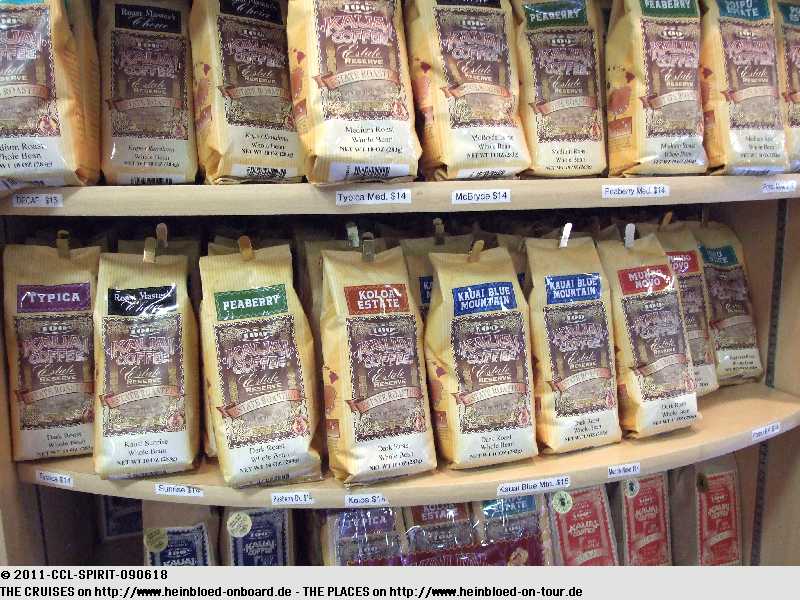 Es ist vermutlich wo wie beim Wein... Der Mosel- oder der Pfälzer Wein mag zwar bekannter sein. Aber wir sind von der Hessischen Bergstraße, die es gar nicht zur internationalen Vermarktung schaffen, weil die Mengen so gering und gut sind, dass man alles im eigenen Anbaugebiet verkaufen kann. Und so ähnlich verhält es sich mit dem Kaffee auf Hawai'i. Die großen Kaffekonzerne haben kein großes Interesse, weil keine Billig-Massensorten produziert werden können und schon gar nicht auf Kau'ai.
Weiter geht es zu einem weiteren Denkmal von einem Haiwai'inischen König. Aber deren Namen kann ich mir nicht merken. Ich bin schon froh, dass ich mir Kamehameha kann.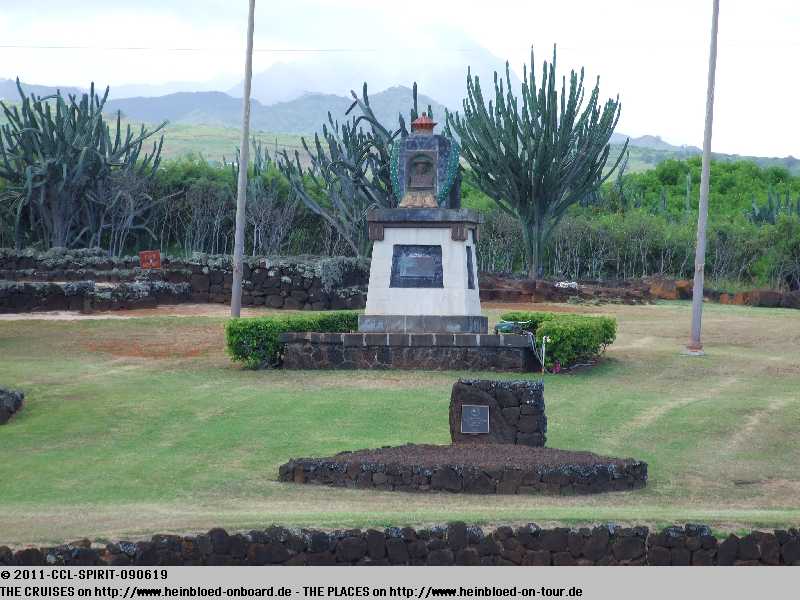 We moved to the memory dedicated to one of the Hawai'in Kings. But I could not remember all their names. I was already happy to remember Kamehameha.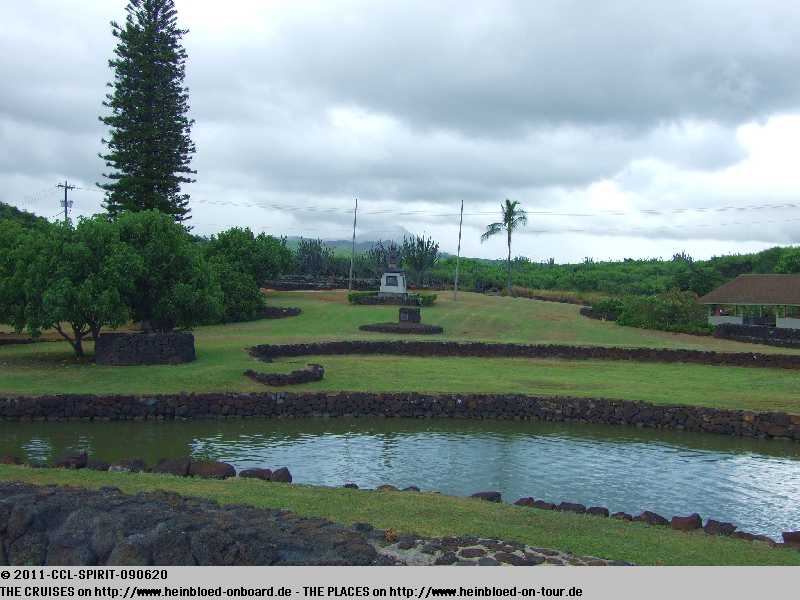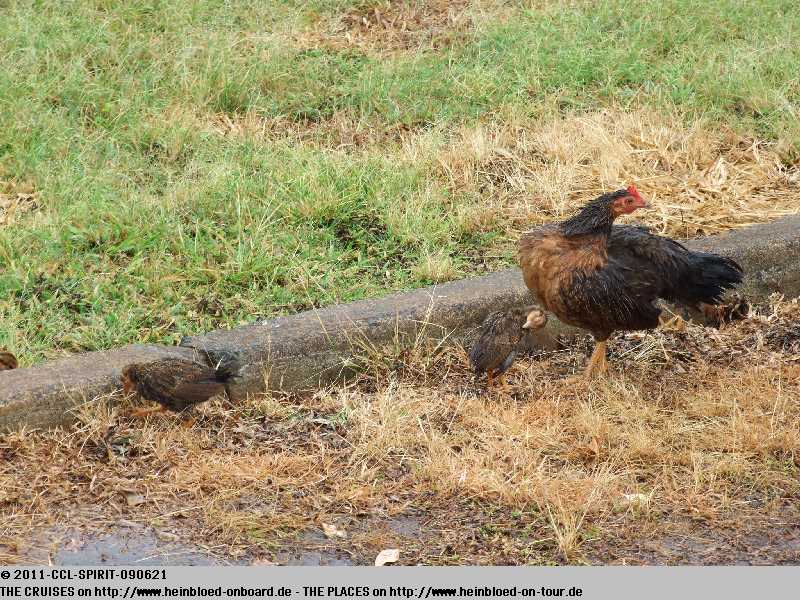 We continued to a place Michele put already to my list: Spouting Horn Blowhole.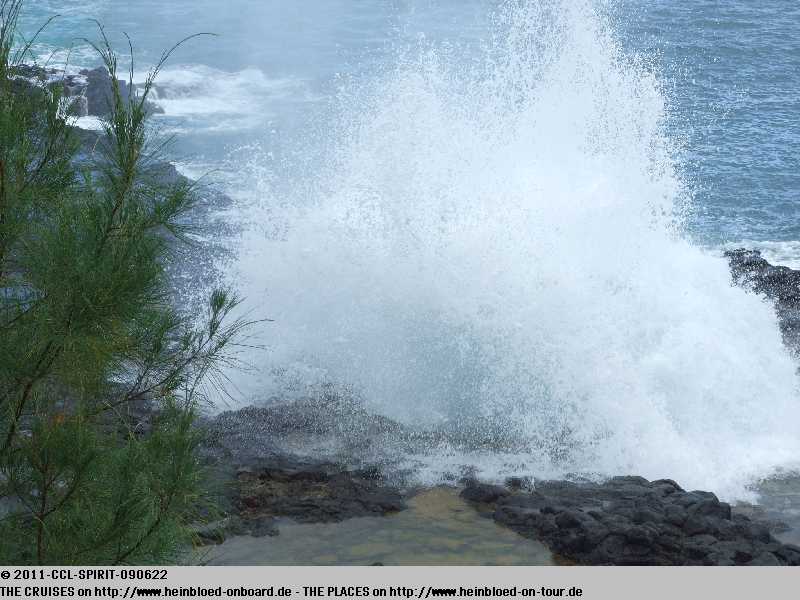 Es geht weiter zu einem Ort, der auch bei Michele auf der Liste stand: Spouting Horn Blowhole.
Hier wird eben durch alte Lavahöhlen Wasser vom Meer durchgedrückt, so dass je nach Kraft solche Fontänen entstehen.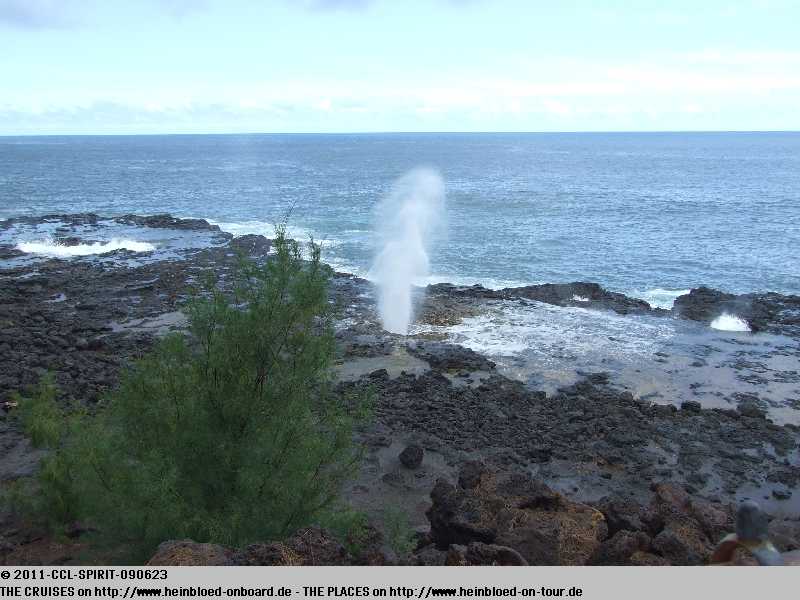 Here the water was pressed by the pressure of the sea through former lava holes so you had the fountains when there was enough force.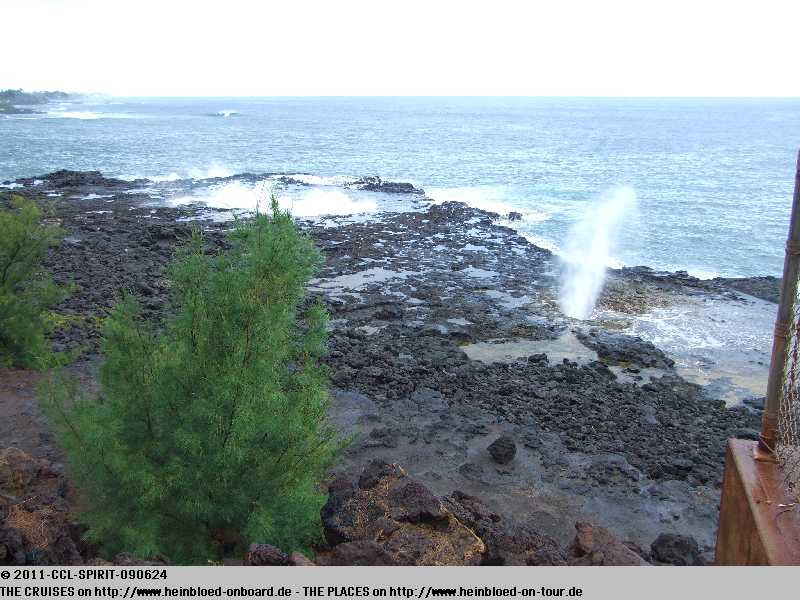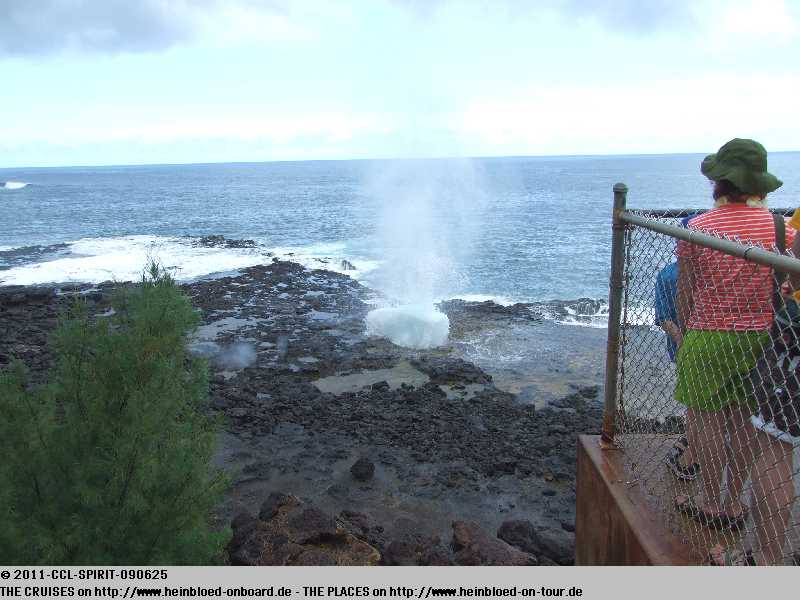 Everywhere the wild chickens...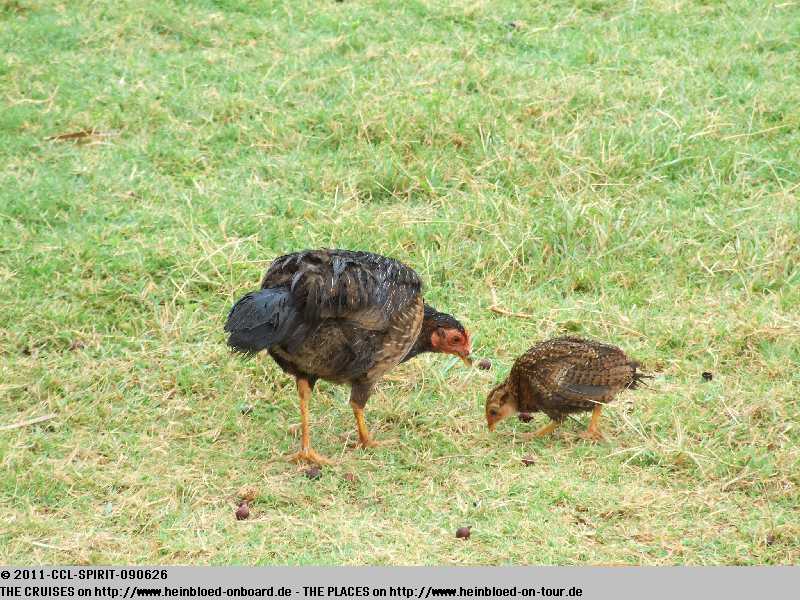 Und auch hier liefen überall die Wildhühner herum.
Hier bieten auch einige hawai'ianische Schmuckhändler ihre Waren an.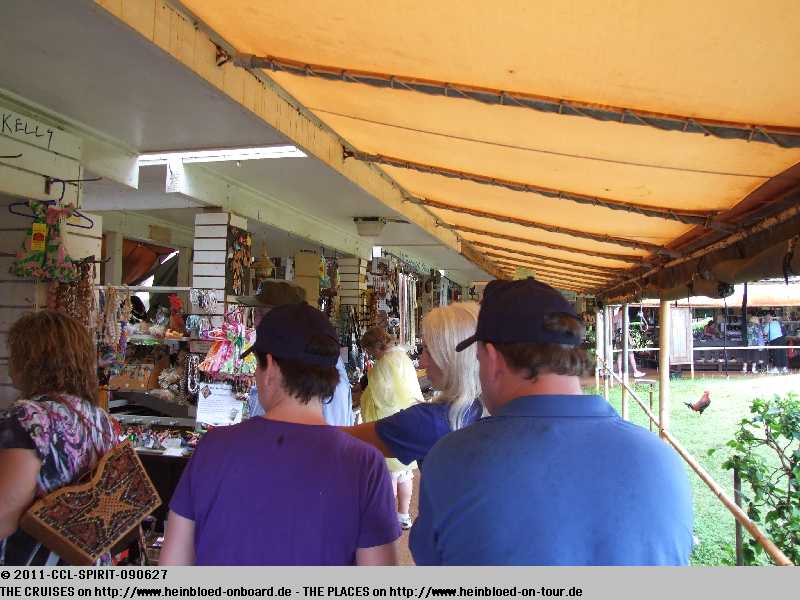 Some local Hawai'in dealers were offering their handicrafted jeweleries.