Scroll down for English explanations - alternates with German explanations.

Nach dem wir gestern quasi unser Hotel nur gesehen haben, um unser Gepäck loszuwerden, haben wir nach dem Aufstehen gesehen, was wir durch unser Fenster sehen.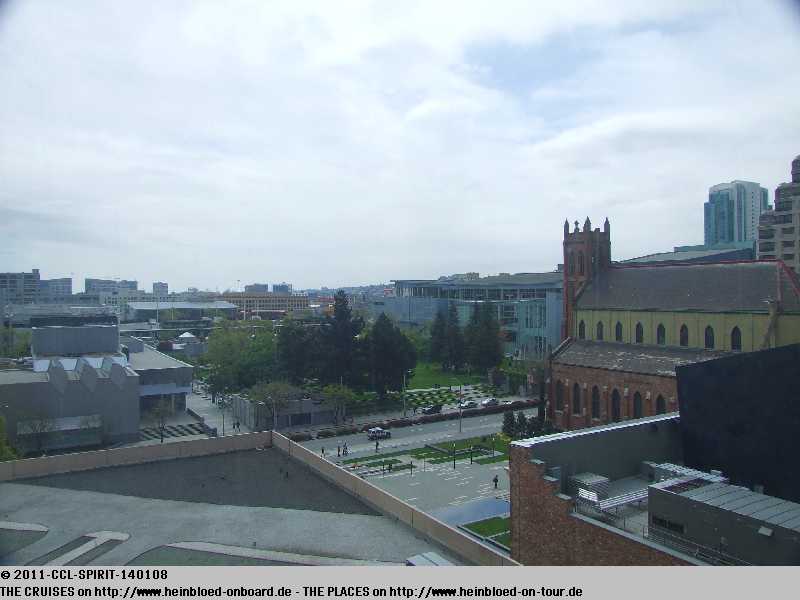 After we saw our hotel just for a drop-off of our bags we saw after waking-up how the area around looked like outside of window.

To the front the 3rd Street looked like this.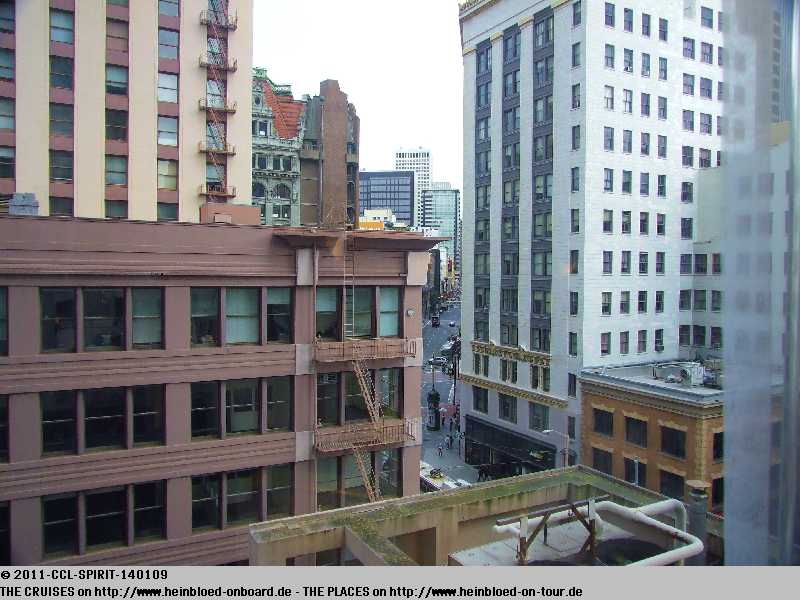 Vorne sieht es so aus in der 3rd Street.
Und in der Lobby steht das wunderschöne Blumenarrangement.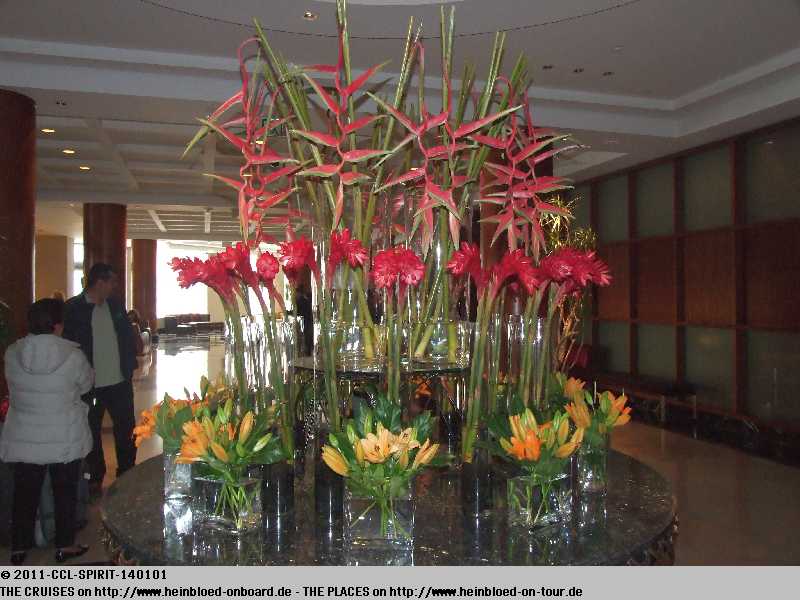 And in the lobby there was the beautiful flower arrangement.

Only few yards and you arrived at Market Street - the main road in the city center of San Franciso. From here you had historical tramcars going directly to the Ferry Building, Embacedero and to Fisherman's Wharf. It looked like Milan, Italy???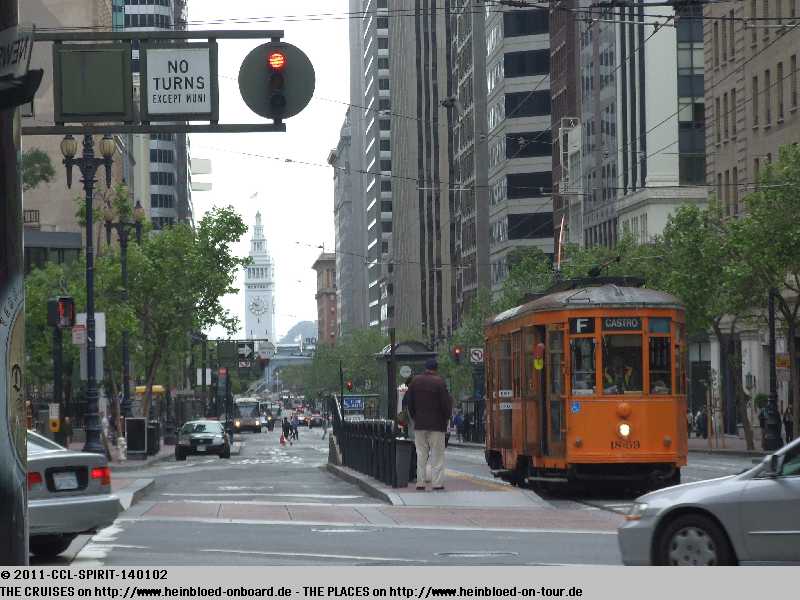 Wenige Meter und wir sind direkt auf der Market Street - der Hauptachse in der Innenstadt in San Francisco. Von hier fahren hier historische Straßenbahnen direkt zum Fährturm, Embacedero und nach Fischerman's Wharf. Erinnert die Bahn nicht an Mailand???
Hier wird der Erdbeben-Opfer des großen Erdbebens gedacht.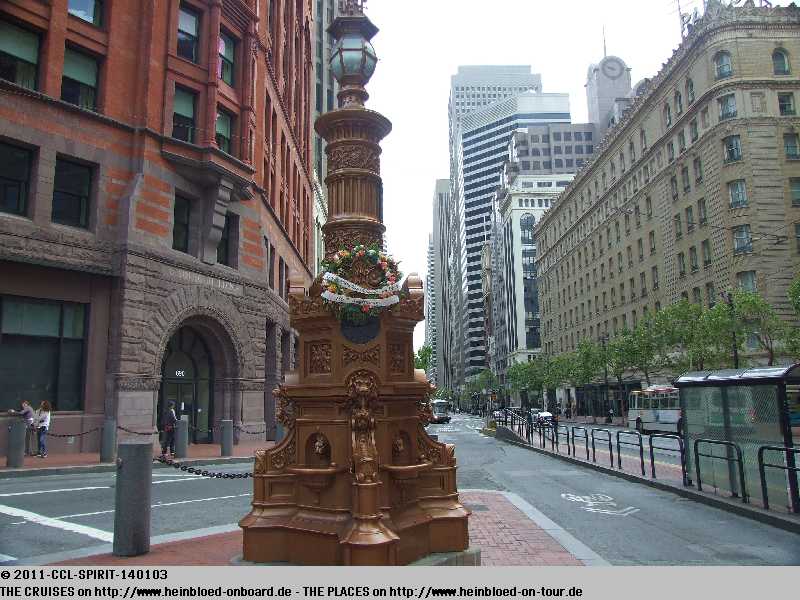 Here they remembered the victims of the big earthquake.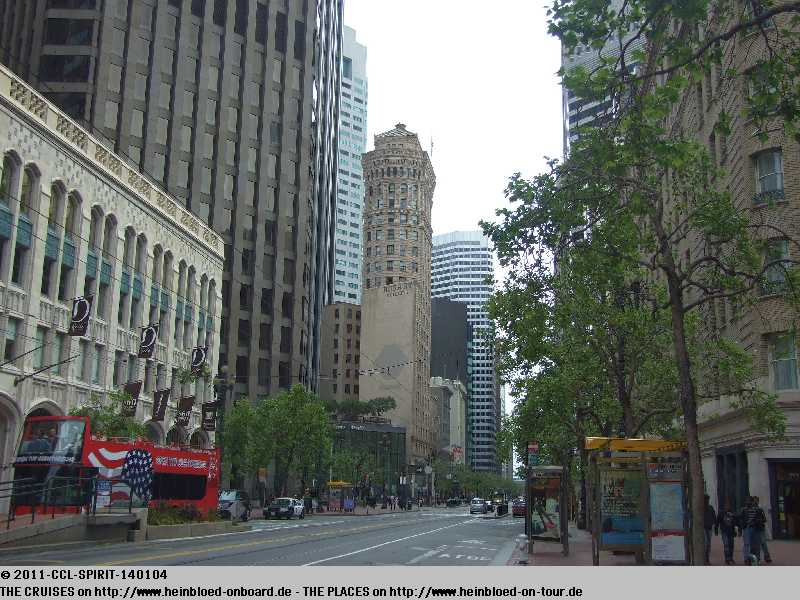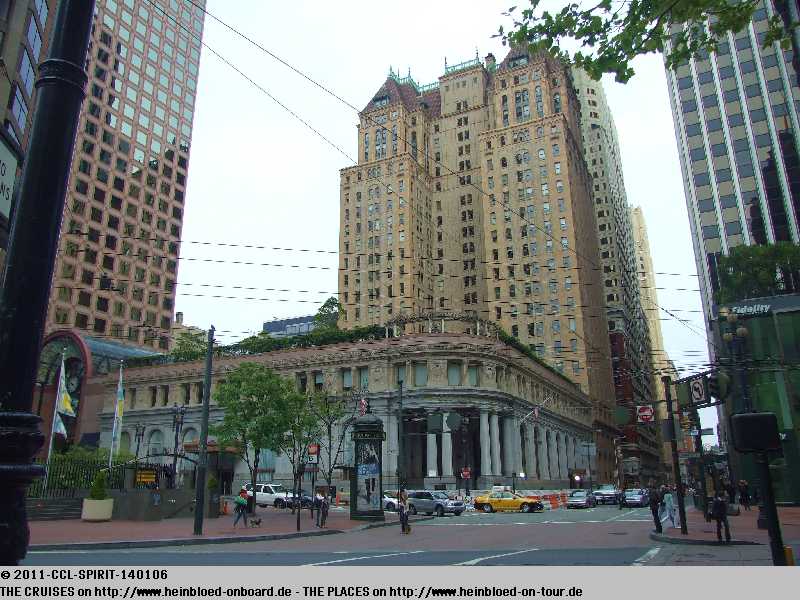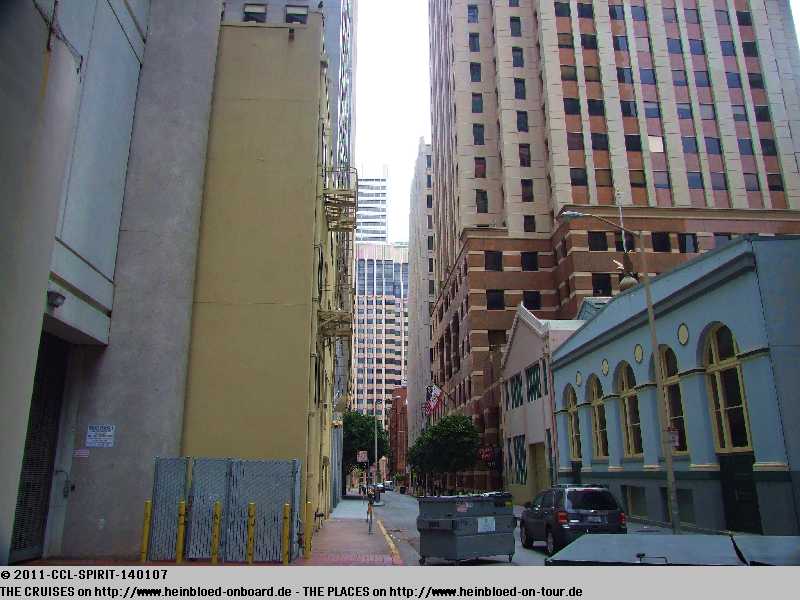 We knew Kruizer (Judie and her friend Jeanne) from OCEAN PRINCESS and cruisecritic.com. They live on the other side of the Bay and followed our invitation to have brunch together.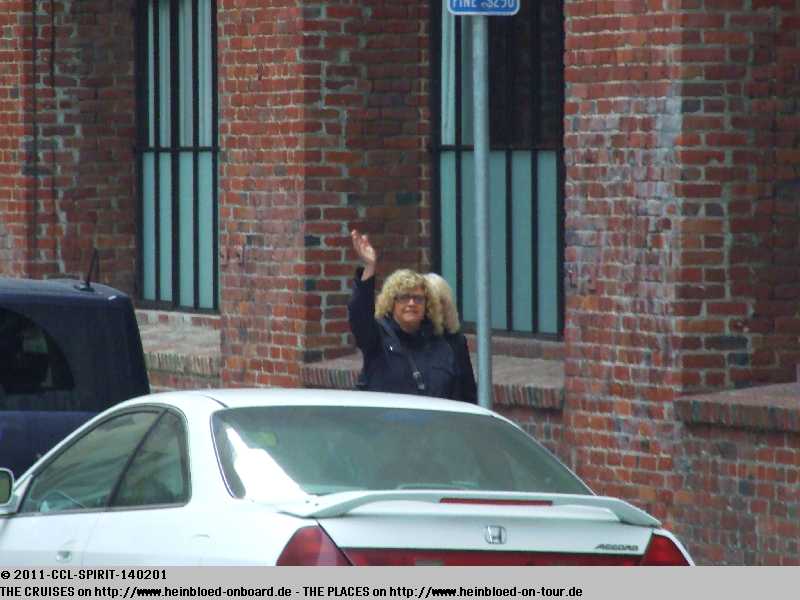 Von der OCEAN PRINCESS kennen wir Kruizer (Judie und ihre Freundin Jeanne) aus cruisecritic.com. Sie leben auf der anderen Seite der Bucht und sind unserer Einladung zum Brunch gefolgt.
Schließlich mussten sie schon früh aufstehen, um um 10.00 Uhr hin zu sein und wegen unserer Zeitumstellung ist das ja doch wie ein sehr frühes Frühstück.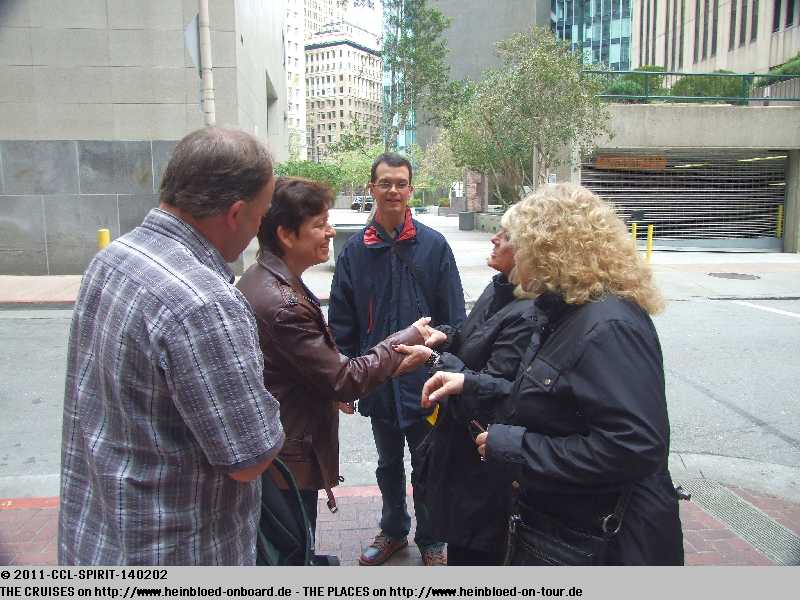 But they need to wake up early to be at 10.00 hrs here and due to our time change it was like an early breakfast with us.

We were looking forward to meet both of them after a short time. That is a read advantage of Facebook: you still keep an eye on them and participate to their lives. So coming back again and contact them it's much more easier.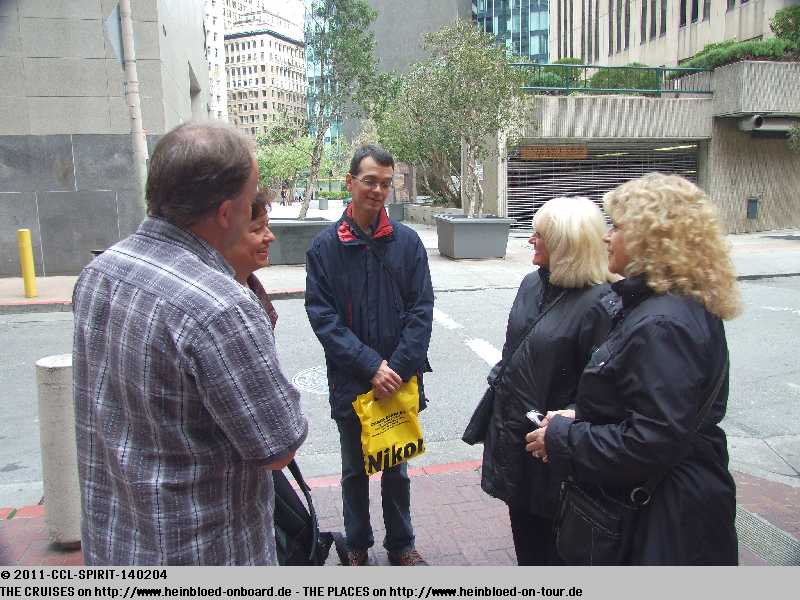 Wir freuen uns sehr nach so kurzer Zeit beide wiederzutreffen. Das ist zum Beispiel einer der Vorteile von Facebook: man verliert sich nicht aus den Augen und nimmt an deren Leben teil. So fällt die erneute Kontaktaufnahme ziemlich einfach.
Praktischerweise sind wir in einem Restaurant verabredet, der in der Nähe unseres Hotels liegt:
Yank Sing
. Es ist ein Dim-Sum-Restaurant. Da es bereits um 15.00 Uhr wieder schließt spricht vieles für das Restaurant, auch wenn es nicht in Chinatown liegt.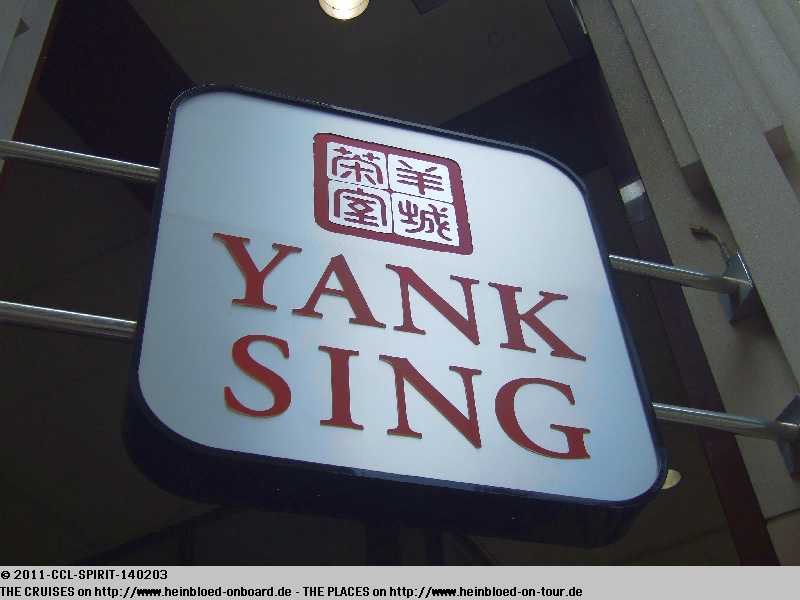 To ease everything we were appointed at a restaurant close to our hotel: Yank Sing. It's a Dim-Sum-Restaurant. As it closes at 15.00 hrs it seemed to be good although it is not in China-Town.

In this restaurant you do not order from the munu but from the trolley and you just see if you like it or not.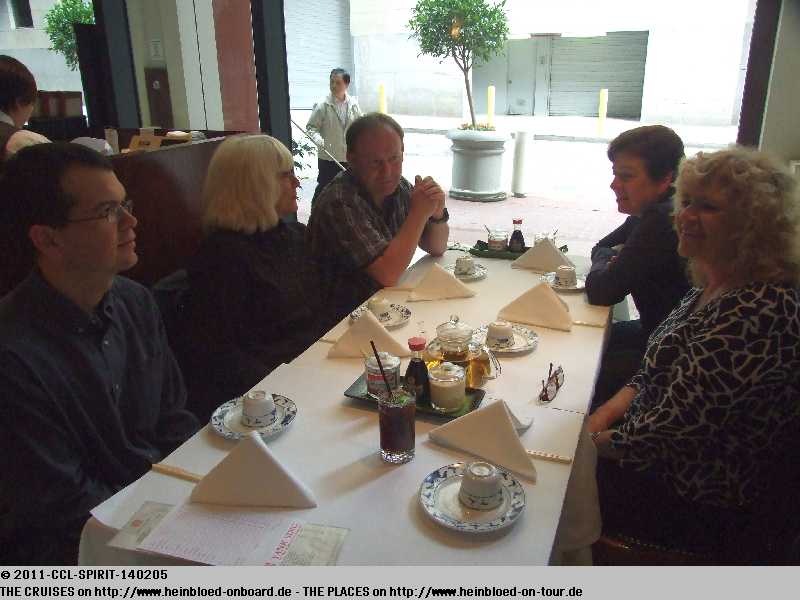 Im Restaurant bestellt man auch hier nicht à la carte, sondern es kommt alles auf Wagen vorgefahren und man guckt sich an, was man will.
So ist es ein perfektes Brunch für uns alle.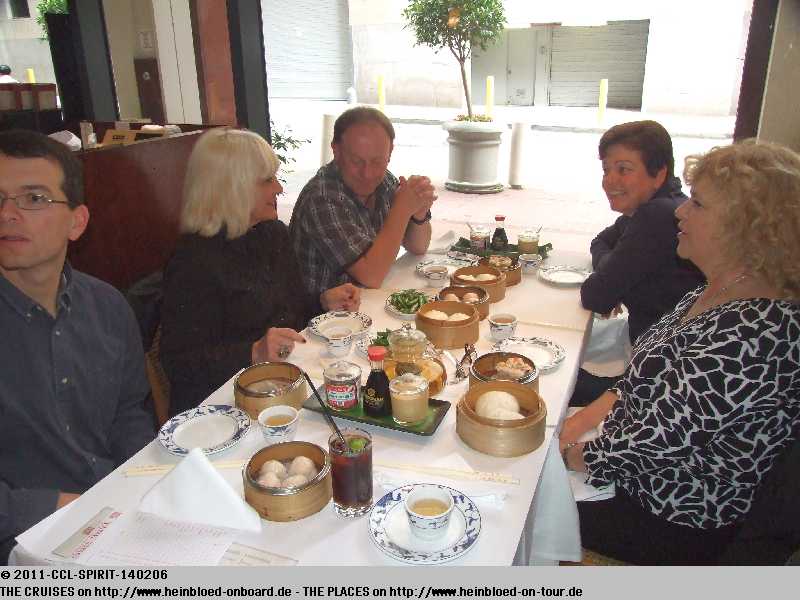 So it was a perfect lunch for all of us.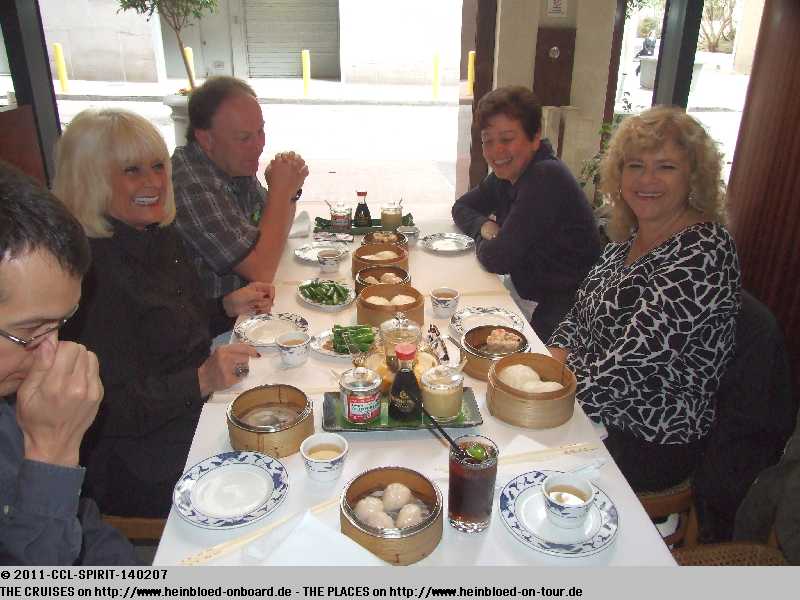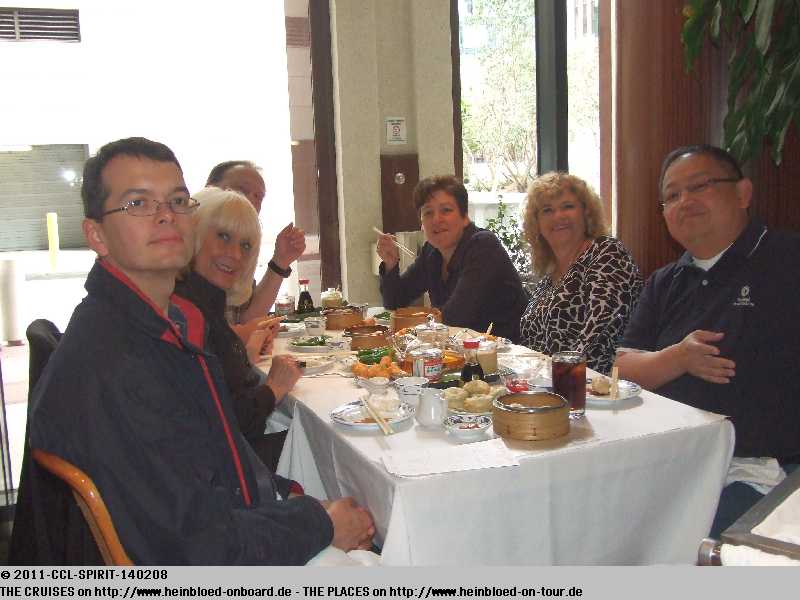 When the Peking-Duck came we were really just one step before explosion. As we should fly around 14.00 hrs and Bruno's sister and in-law around 19.00 hrs we suggested to withdraw the round so they could see a little bit more of San Francisco. For Bruno and me this would not make too much more sense.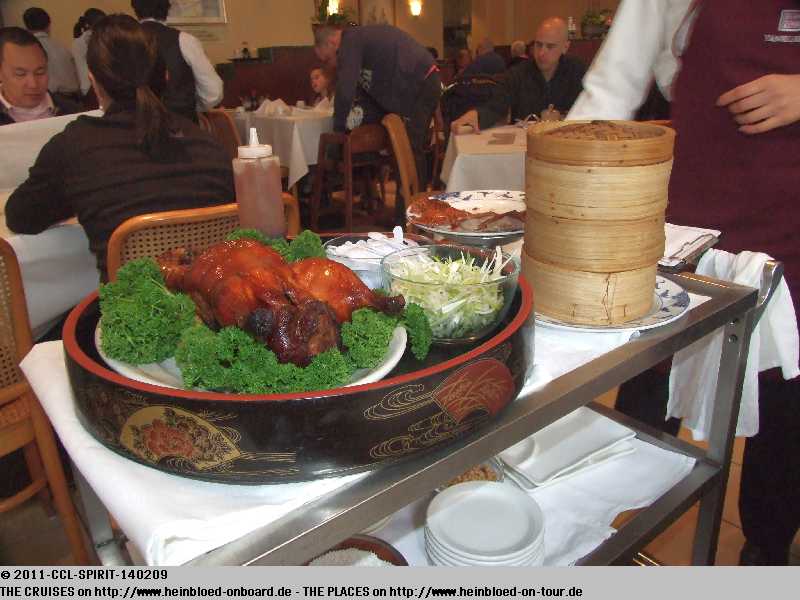 Als die Peking-Ente kommt, sind wir allerdings kurz vor dem Platzen. Da wir bereits gegen 14.00 Uhr abfliegen und Brunos Schwester und Schwager erst gegen 19.00 Uhr, schlagen wir vor, die Runde aufzulösen, damit sie noch etwas von San Francisco sehen können. Für Bruno und mich lohnt es sich nicht mehr.
So ziehen wir nochmals auf einen Becher Kaffee los, um nochmals über unsere Kreuzfahrt-Pläne auszutauschen.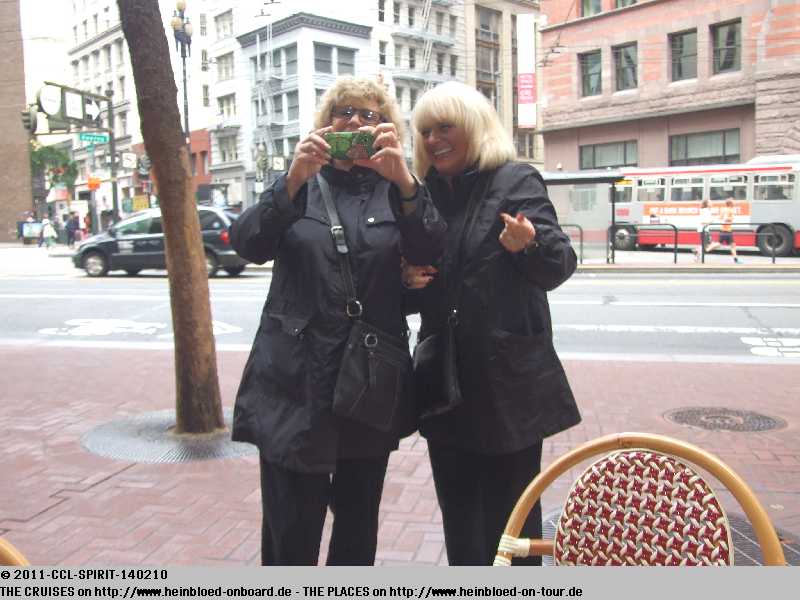 So we went again for a cup of coffee to exchange our current cruise plans.

But unfortunately our time was gone and we need to get to the airport and so we said bye-bye from Kruizer (Judie and Jeannie) and hoped to meet them again someday on a ship again.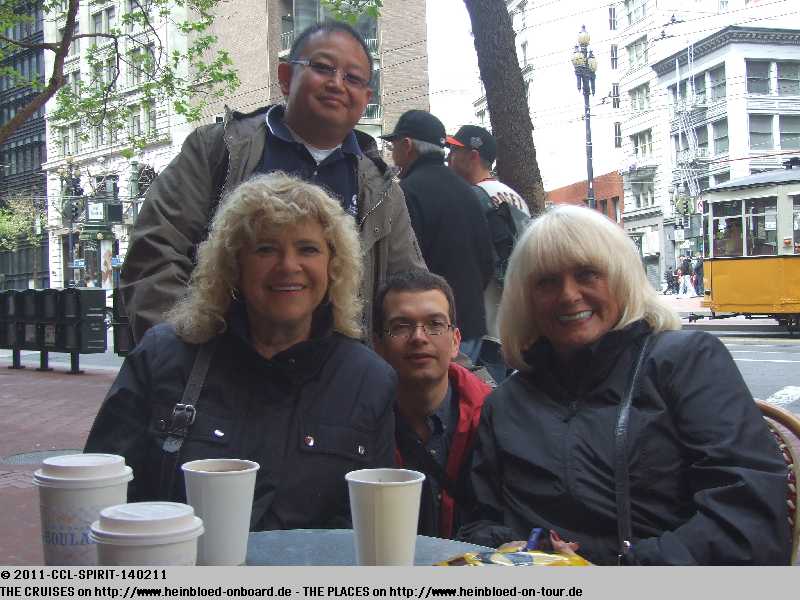 Aber leider geht dann unsere Zeit vorbei, und wir müssen zum Flughafen und so verabschieden wir uns von Kruizer (Judie und Jeanne) und hoffen sie mal irgendwann wieder auf einem Schiff zu treffen.