Scroll down for English explanations - alternates with German explanations.

Auf dem Weg nach Lahaina fahren wir zunächst am Cruise Terminal vorbei. Dort bringen wir erst mal die Koffer an Bord. Wenn wir später wieder kommen und alle kommen an Bord kann es ja etwas länger dauern. Direkt an der Hafenzufahrt ist Mercedes-Benz. Brunos Schwester Astrid arbeitet dort.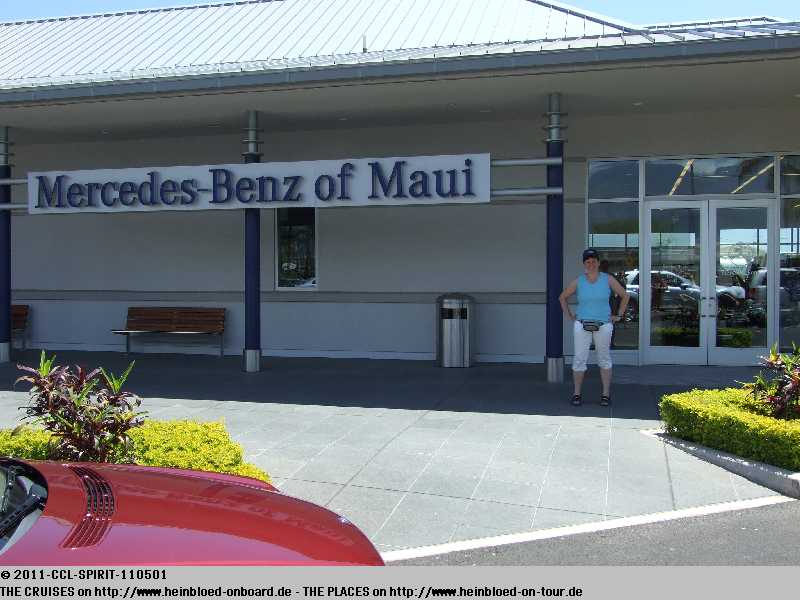 On the way to Lahaina we first went to the cruise terminal. Here we got the bags back on the ship. We thought it would be easier than later when everybody was returning and it might take longer. Just at the port access there was a Mercedes-Benz-branch. Bruno's sister Astrid was working with them.

She used the occasion to ask for her transfer.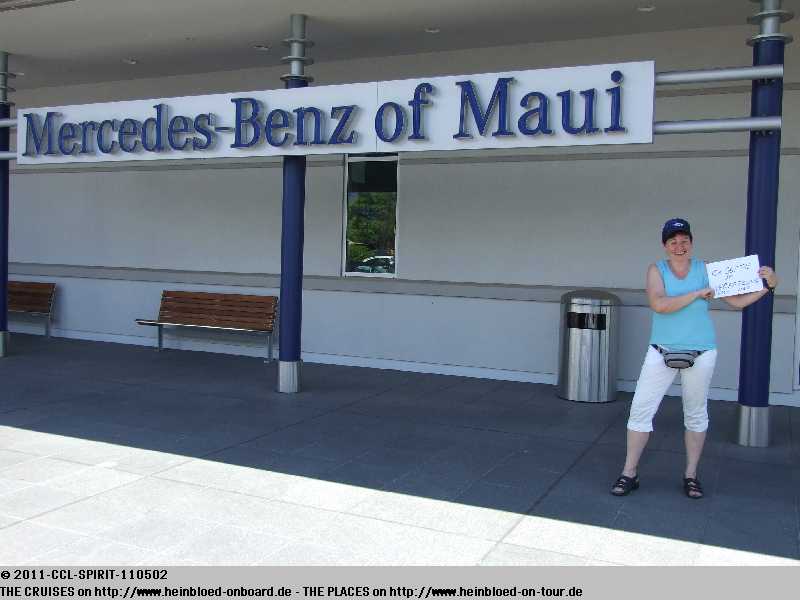 Sie nutzt die Gelegenheit, um ihre Versetzung zu bitten.
In Lahaina soll es ja die Möglichkeit geben, Wale zu beobachten. Unterwegs gibt es einen Aussichtspunkt, der auch Informationen für Walbeobachter hat.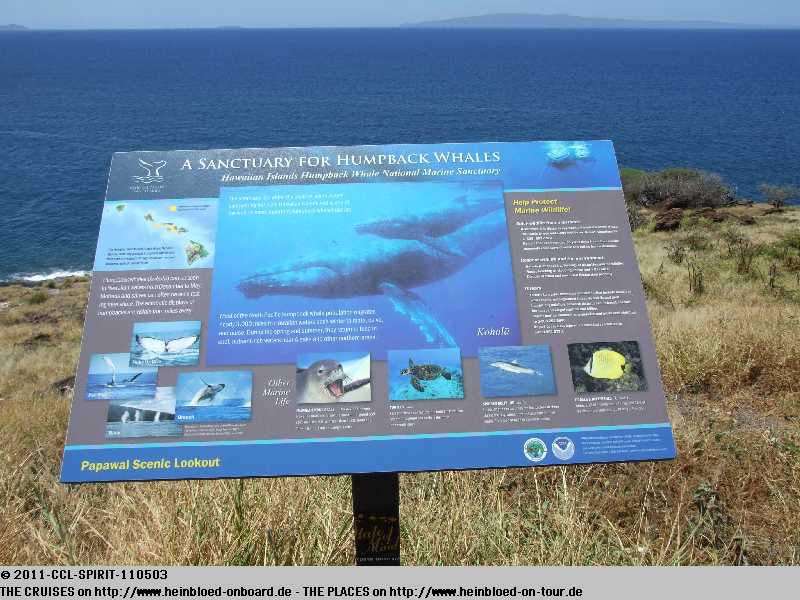 In Lahaina there should be opportunities to watch whales. On the way was already an outlook point who offered information for whale watchers.

There was a stand of whale conservationists.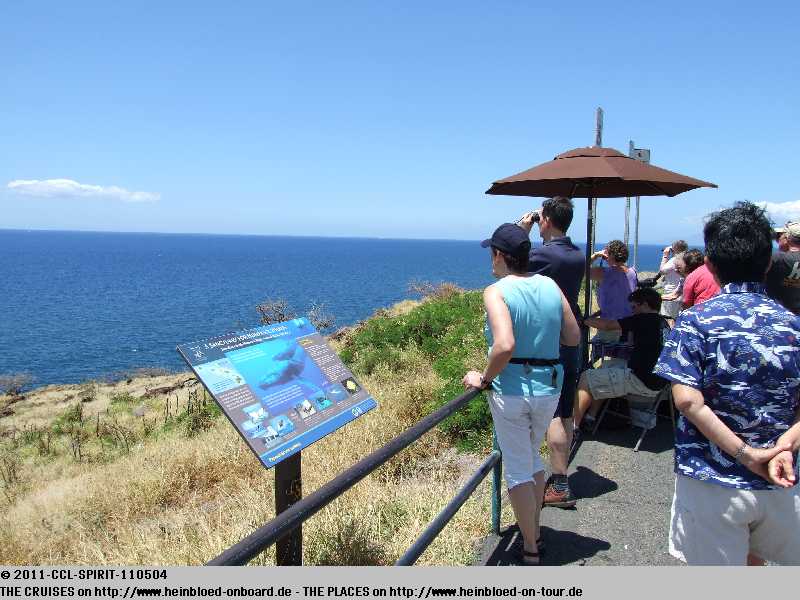 Hier gibt es einen Stand von Naturschützern.
Sie verleihen Ferngläser und zeigen einem, in welchem Bereich man gucken muss, um einen Wal zu entdecken... Und in der Tat werden die Flossen von Walen gesichtet.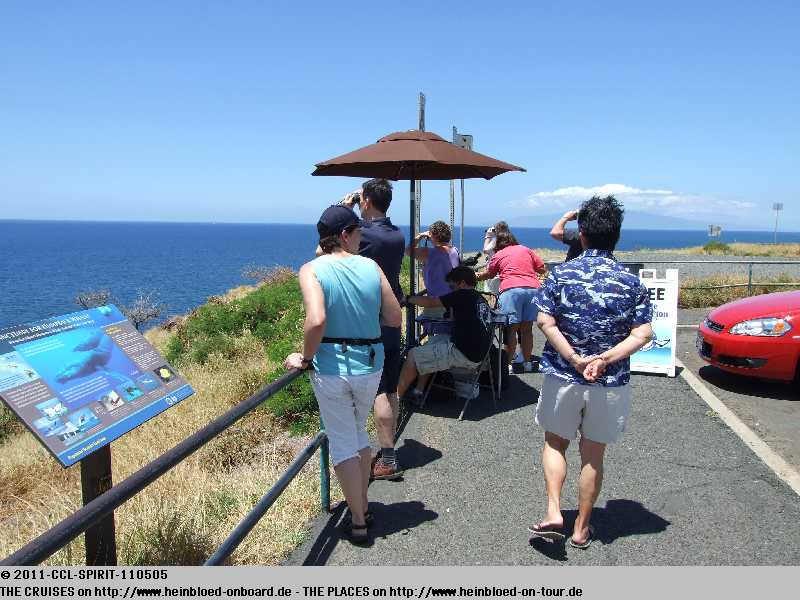 You could get a binocular and information to which direction you should look to discover a whale... And indeed we could see some fins of a whale.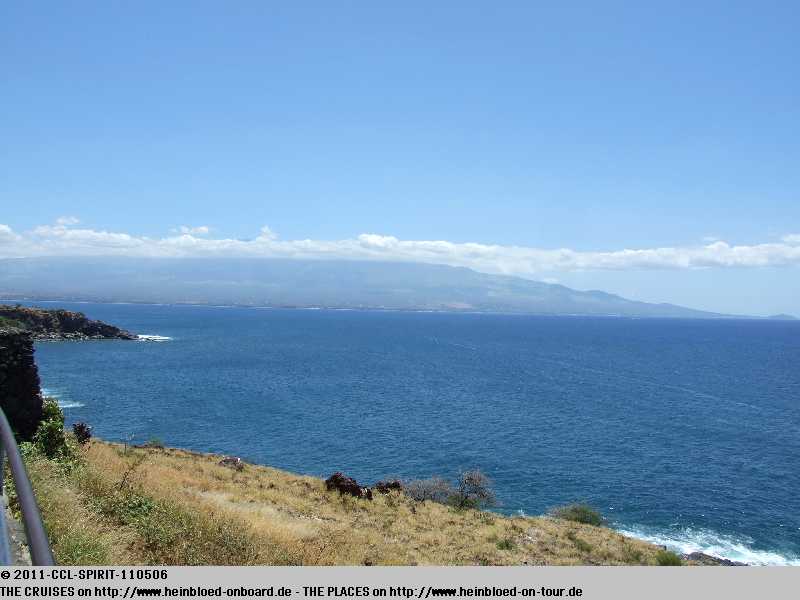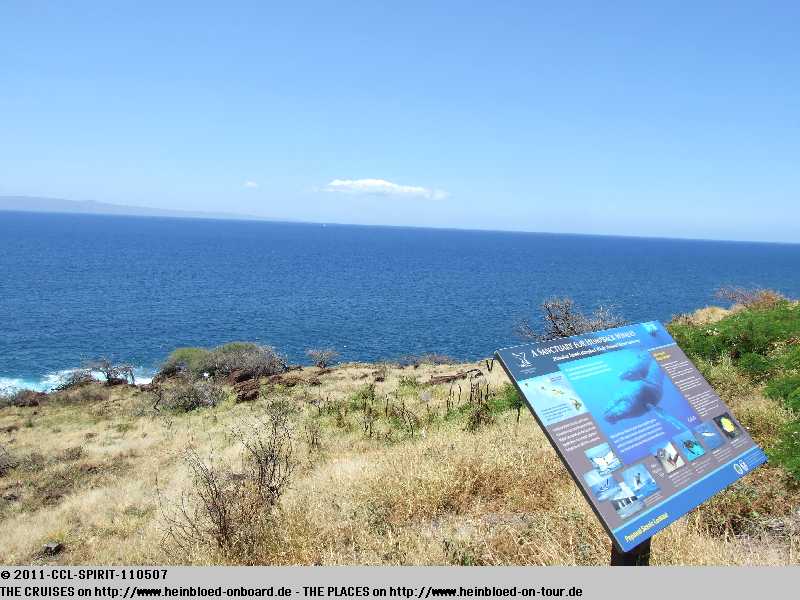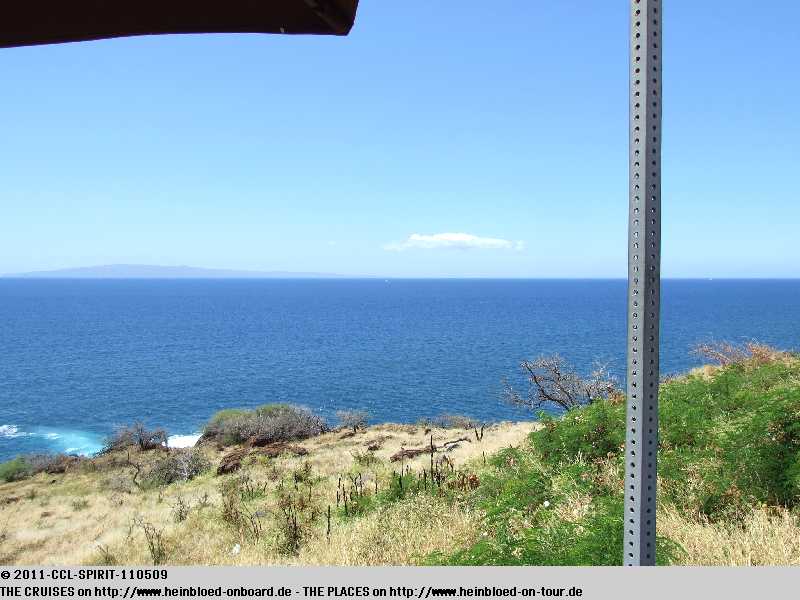 When we arrived in Lahaina we asked Snorkel Bob if there were any availability of whale watching tours. But the season was already over and so the offer was very limited and even a private charter was not possible anymore. The next public tour was so late that we could not make it to the ship. Snorkeling tours were only offered from the ships. Snorkeling from the beach was only available 45 minutes northbound.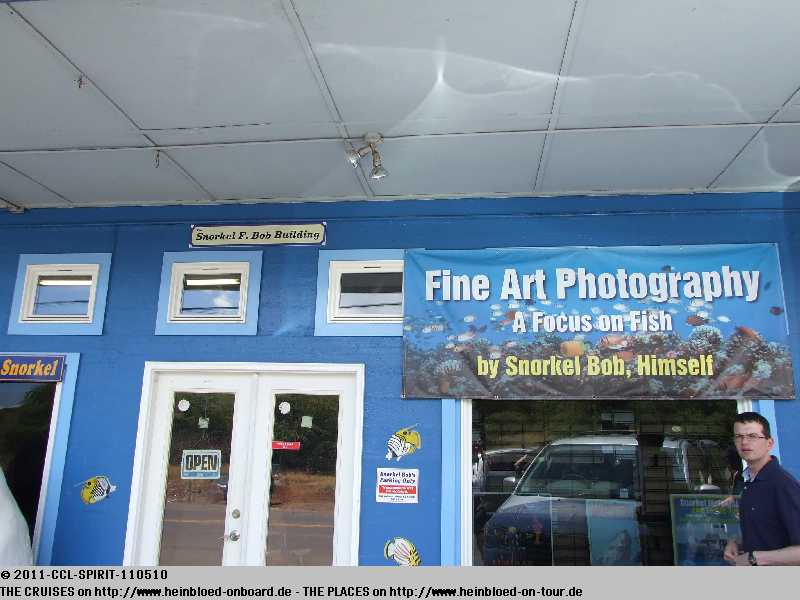 Als wir in Lahaina ankommen, fragen wir bei
Snorkel Bob
nach, ob es vielleicht irgendwo noch Walbeobachtungsfahrten gibt. Da jedoch bereits Saisonende ist, ist das Angebot stark eingeschränkt und auch eine private Fahrt ist nicht mehr möglich. Die nächste öffentliche Fahrt ist leider so spät, dass wir nicht mehr rechtzeitig am Schiff wären. Schnorcheltouren werden hier nur vom Schiff aus angeboten. Schnorcheln am Strand gibt es weitere 45 Minuten nördlich.
Man schlägt uns vor, dass wir nach Kaanapali fahren sollen, weil es dort schöne Strände gibt. Bruno und seine Schwester und sein Schwager setzen wir am Marriott ab. Dort bekommen für 19,00 USD pro Person Sonnenschirm und Sonnenliegen. Ich fahre mit paiagirl (Frances) zum Mittagessen, weil ich gerne Fotoabzüge für die Crew machen will. Danach holen wir sie wieder ab. Sie erzählen, dass Bruno auf eine Schildkröte getreten ist, die daraufhin auftauchte, um nachzusehen, wer sie da gestört hat... Der Weg zurück führt uns entlang des Meeres.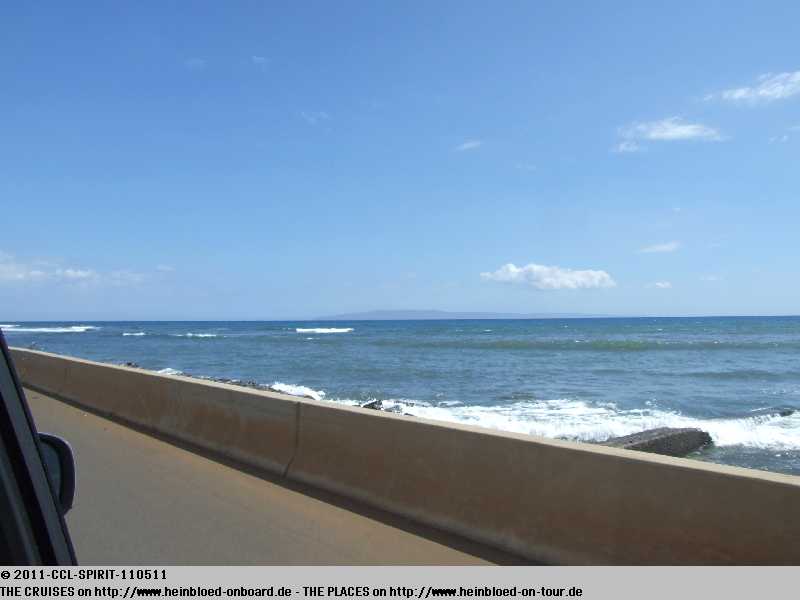 They proposed us to go to Kaanapali because there were nice beaches. Bruno and his sister and his in-law got a lift to the Marriott. For 19.00 USD per person they got a parasol and a deckchair. I went with paiagirl (Frances) for lunch because I wanted to let some prints made for the crew. Then we got them back. They told that Bruno stepped on a turtle who showed up and wanted to know who disturbed her... The way back was all along the seaside.

So now I had on the co-driver's side the view from one beach park to the next one.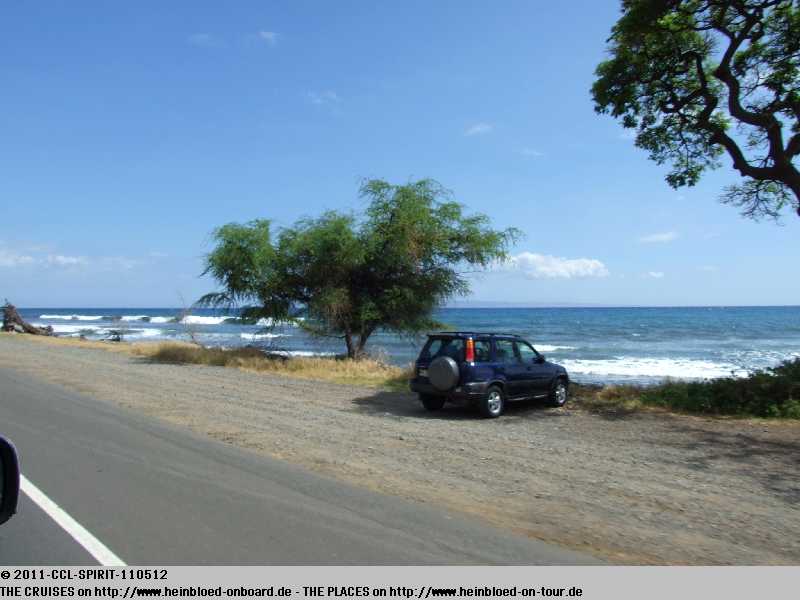 So habe ich jetzt auf meiner Beifahrerseite Blick von einem Beach Park nach dem den anderen.
Für diejenigen, die nicht die 19,00 USD ausgeben möchten. Denn Privatstrände auf Hawai'i gibt es nicht.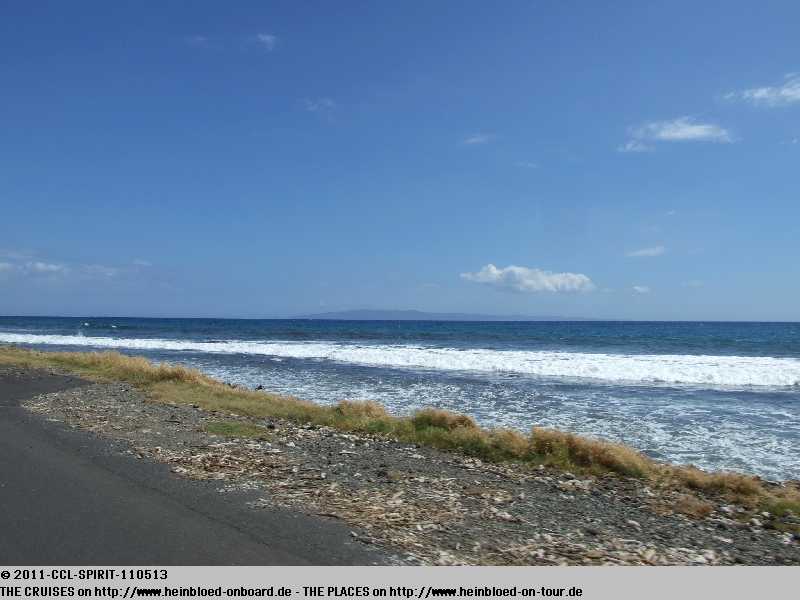 For those who did not like to spend 19.00 USD. There are not private beaches on Hawai'i.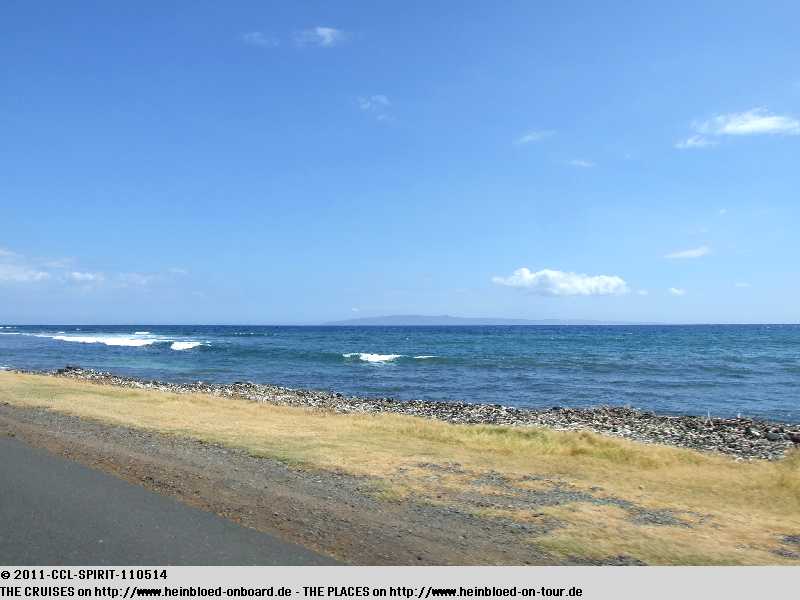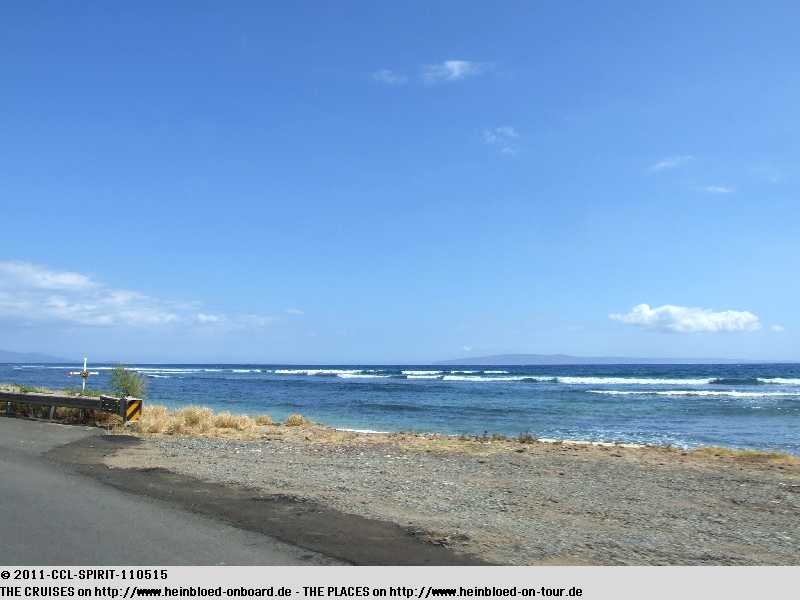 We were wondering why some cruisers left the ship with their deckchairs but now we understood.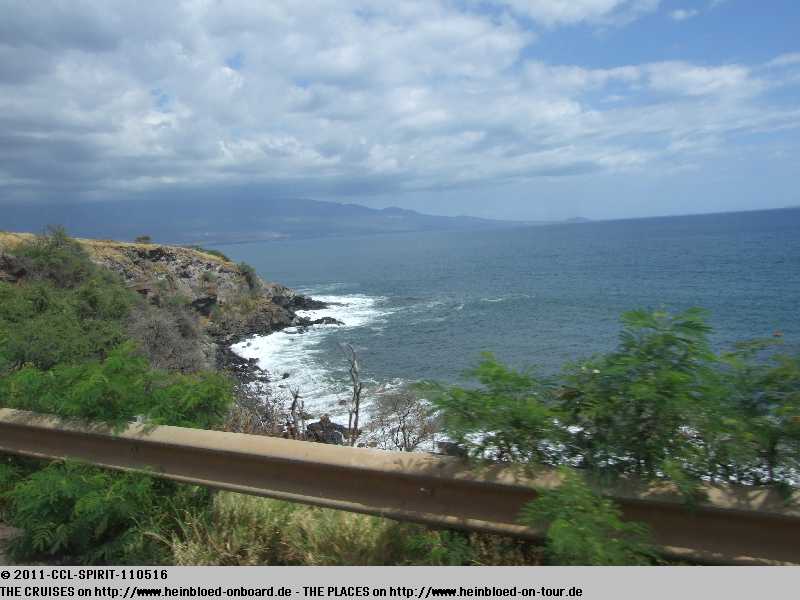 Wir haben uns immer ein wenig gewundert, dass manche auch mit Liegestühlen von Bord gegangen sind, aber nun verstehen wir es auch.
Kurz vor Kahului sehen wir auch unsere CARNIVAL SPIRIT wieder im Hafen liegen.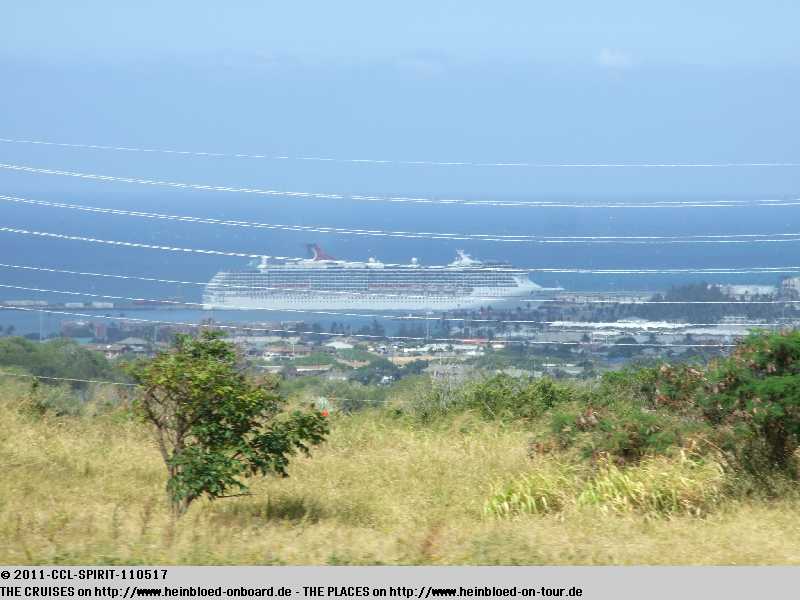 Before we arrived in Kahului we saw already our CARNIVAL SPIRIT in the port.

paiagirl (Frances) would fly from here to Honolulu and wanted to get some specialties from Maui from Homemaid Bakery.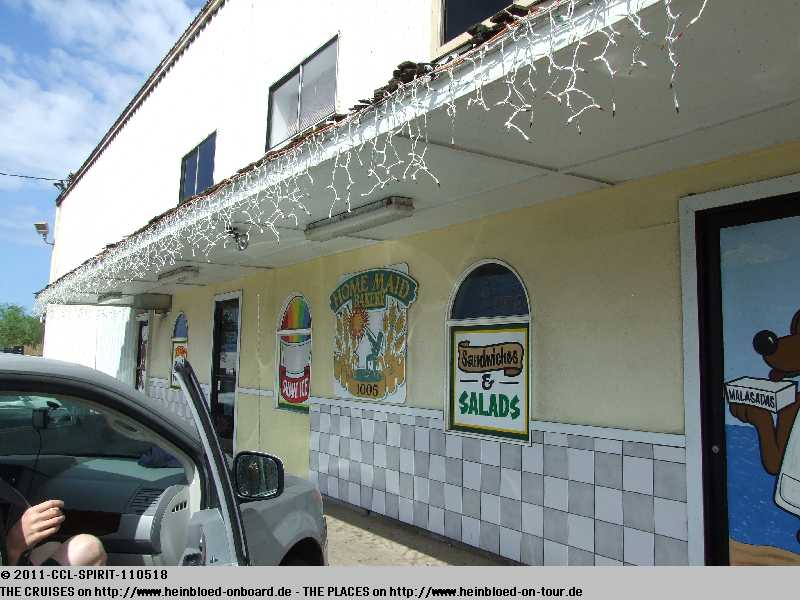 paiagirl (Frances) fliegt gleich ja von hier aus nach Honolulu weiter und möchte ihrer Verwandtschaft dort ein paar Spezialitäten aus Maui von der
Homemaid Bakery
mitbringen.
Leider habe ich wieder Pech: Malasadas habe ich schon keine auf dem Freiluftmarkt in Kona bekommen und hier bin ich zu spät oder zu früh: wie man es nimmt. Also ein Grund wieder zu kommen.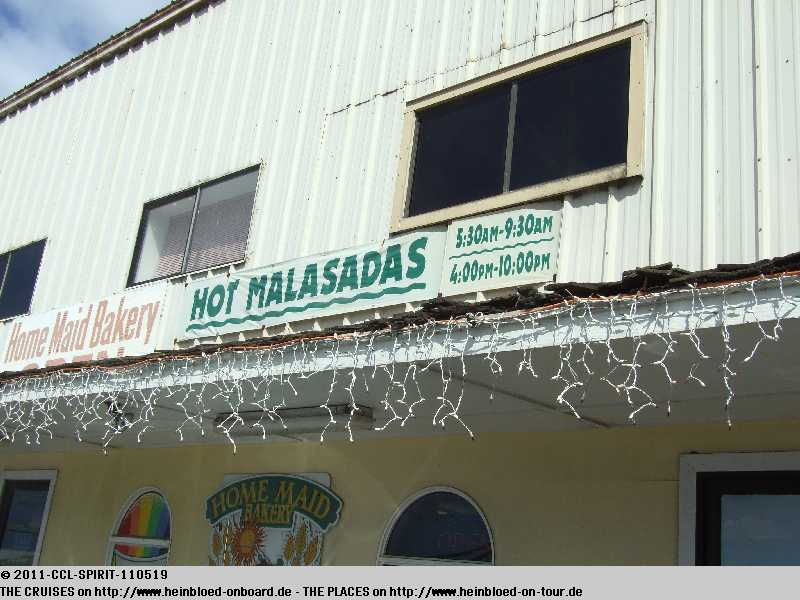 But I had again unluck: On the open-air-market I did not get any Malasadas and here I was again too early or too late: however you see it. So a good reason to come back.

So long I thought that "Long Johns" stood for men's long underwear. But now I saw that they call Eclairs by the same name...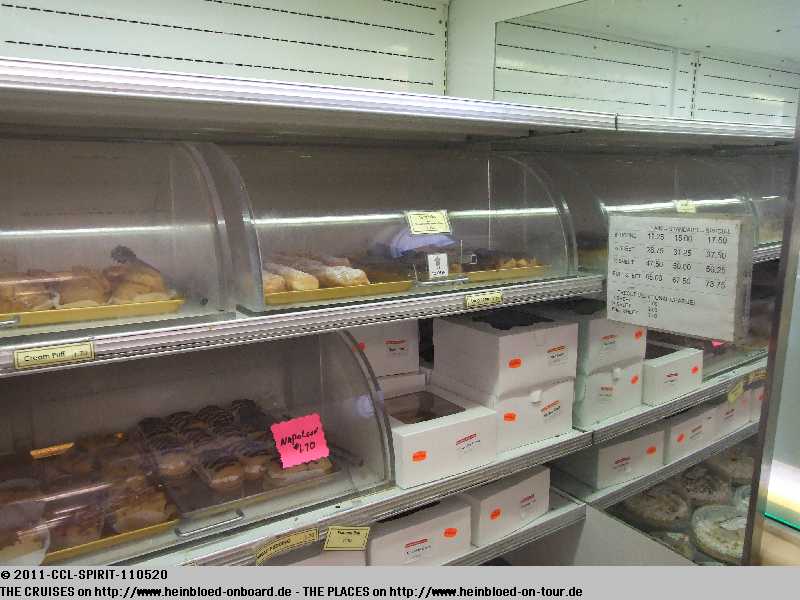 Bislang dachte ich immer, dass "Long Johns" ausschließlich für lange Unterhosen steht. Aber jetzt sehe, dass auch Eclairs genauso genannt werden...
Wir setzten paiagirl (Frances) am Flughafen ab, weil ihr Flug nach Honolulu gleich geht. So fahren wir noch kurz einkaufen und tanken, bevor wir den Wagen bei Alamo zurückbringen. Im Gegensatz zu den Fluggästen erfoglt die Abfahrt des Shuttles zum Schiff vor dem Grundstück an einem Hydranten...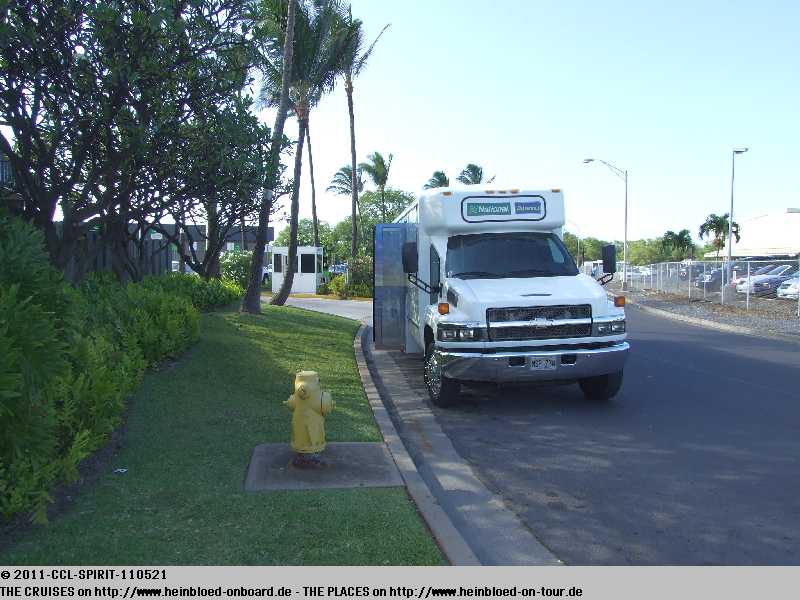 We gave paiagirl (Frances) a lift to the airport terminal because her Honolulu-bound flight should leave soon. So we went for shopping and filling before we returned the car with Alamo. Contrary the air passengers the departure for the cruise-passengers was in front of their yard at the fire hydrant...

Reason for the purchase was the first investment for Bruno's sister's estate as their retirement place on Maui. So they had already a mailbox which can be used as replacement for the daughter whom they took care of all the years and who will marry soon. Most of the other guests need to see one more time if there was really someone carrying a mailbox on board. But for us Germans this was a quite exotic souvenir...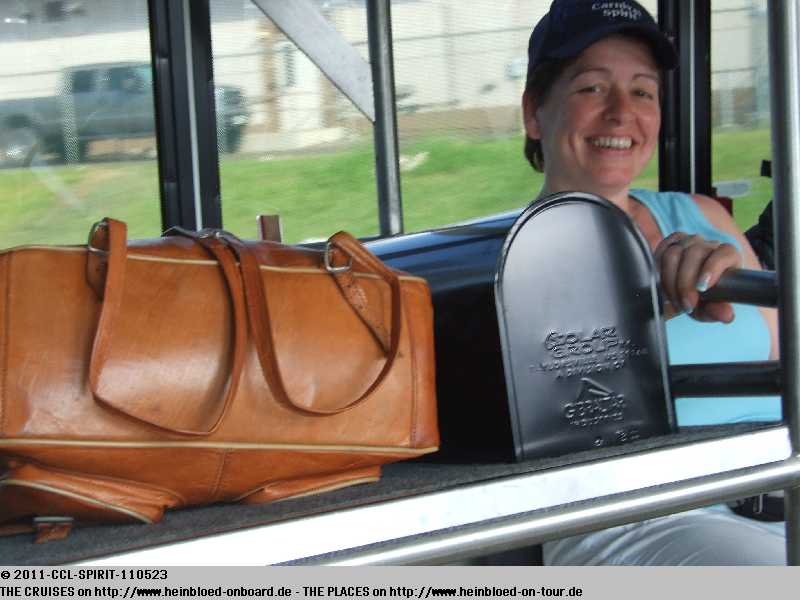 Grund für den Einkauf war die Erstinvestions von Brunos Schwester in ein Grundstück für den Altersruhesitz auf Maui. So hat man schon mal einen Briefkasten, der gleichzeitig als Tochterersatz zu Hause dienen soll, da sie in Kürze unter die Haube kommt. Die meisten müssen zwei Mal gucken, ob tatsächlich jemand einen US-Briefkasten an Bord schleppt. Aber für uns Deutsche ist das ja nun doch ein exotisches Mitbringsel...