Scroll down for English explanations - alternates with German explanations.

Auf dem Weg zurück nach Hilo machen wir einen kurzen Halt in Akazuka Orchid Garden.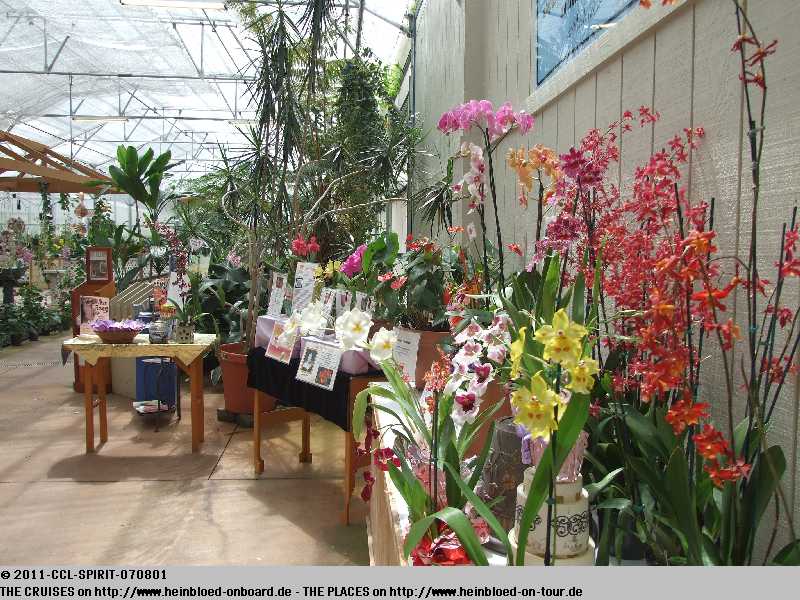 On the way back to Hilo we made a short break at Akazuka Orchid Garden.

Torsten showed us the flowers which we can take complimentary to decorate our hair. To avoid any chances to blackmail me I did not take: no flowers in the hair = no photos = no possibilites to blackmail...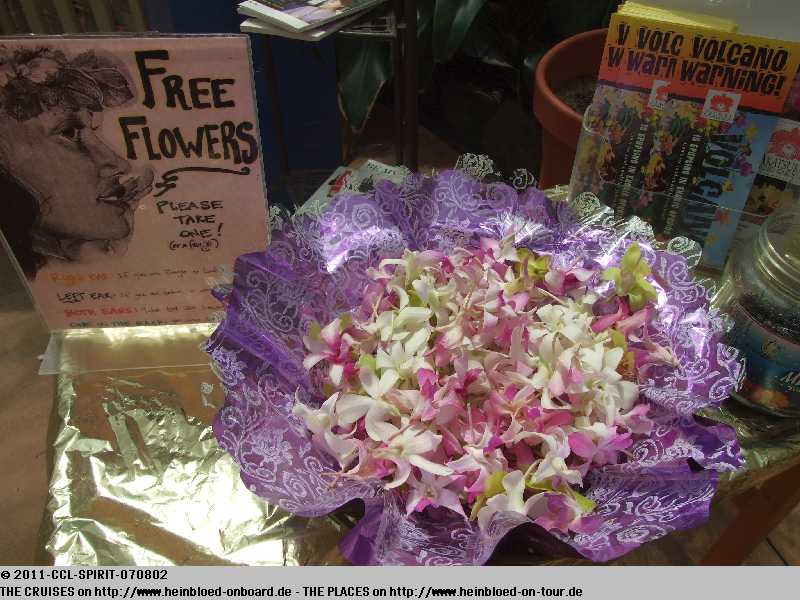 Torsten macht uns darauf aufmerksam, dass wir uns zunächst einmal selbst kostenlos schmücken dürfen. Um Erpressungsversuche zu vermeiden, unterlasse ich es: keine Blumen im Haar = keine Fotos = keine Erpressungsmöglichkeiten...
Ist eine Mischung aus Gärtnerei, Verkaufsstelle und Souvenirshop und natürlich öffentliche Toilette...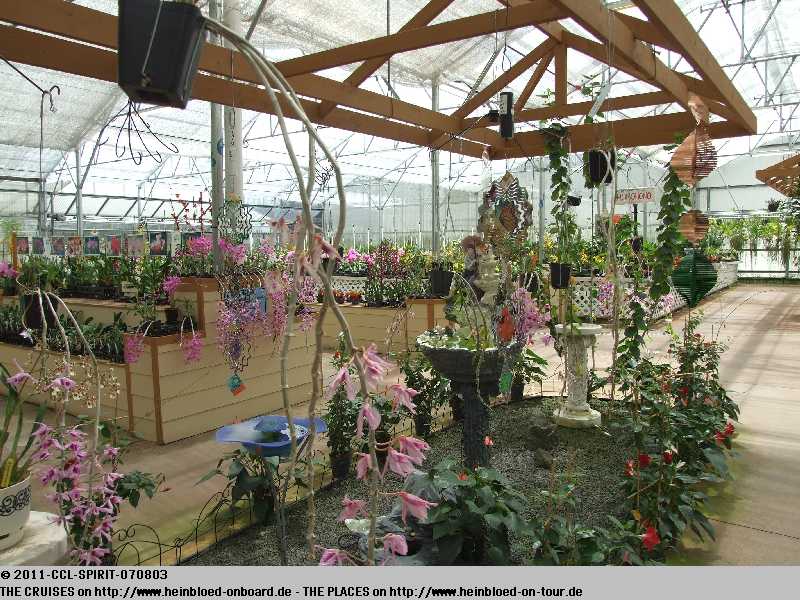 It was a mixture of nursery, point of sales and souvenir store and of course a public toilet...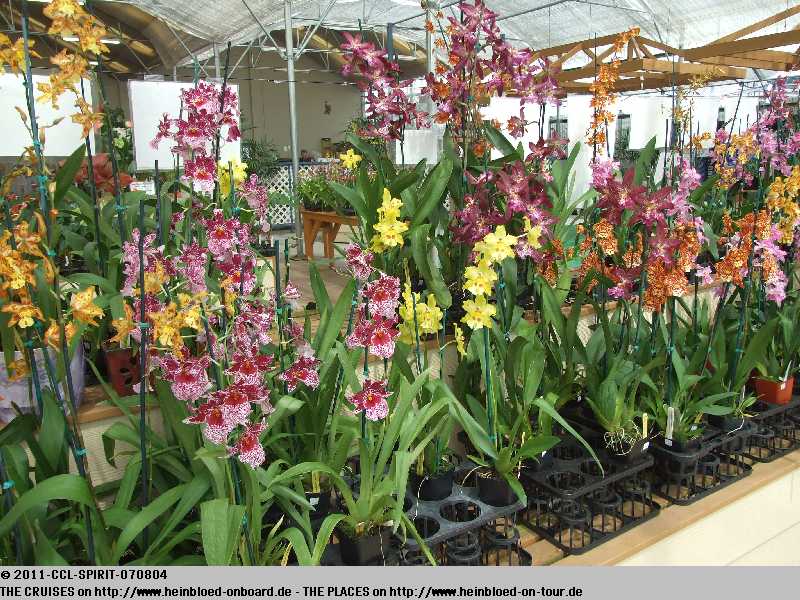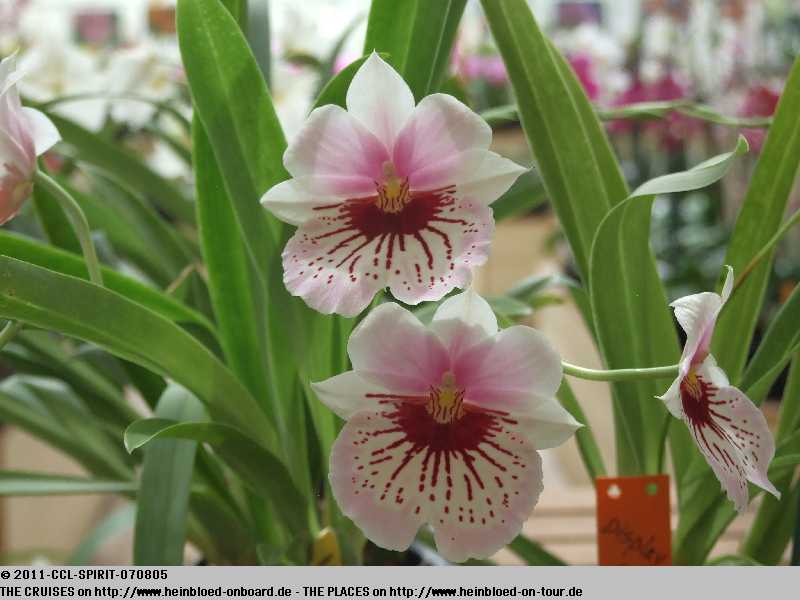 I discovered many many blossoms which I have never seen before in Germany.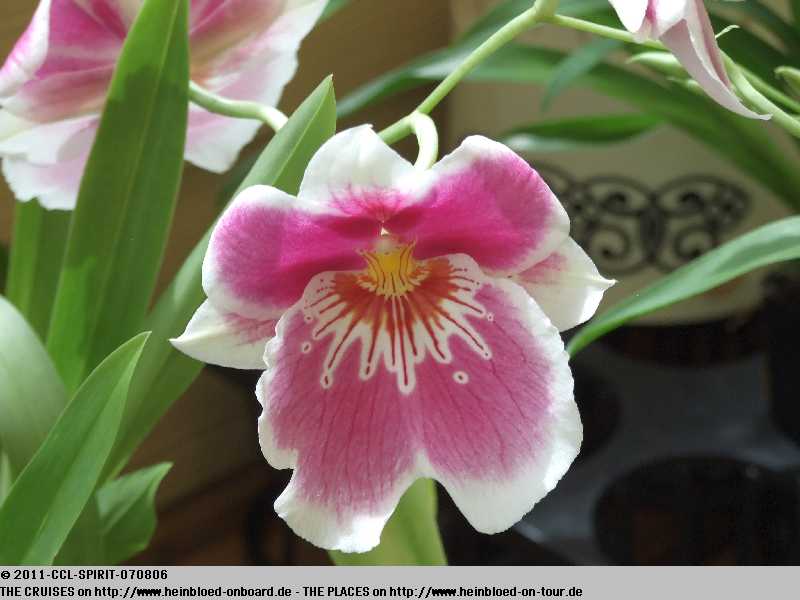 Ich entdecke jedoch viele Blüten, von denen ich meine, dass ich sie in Deutschland noch nie gesehen habe.
Der Aufschrift auf den Getränkeautomaten entnehme ich jedoch, dass das Geschäft dafür schon viele Deutsche gesehen hat...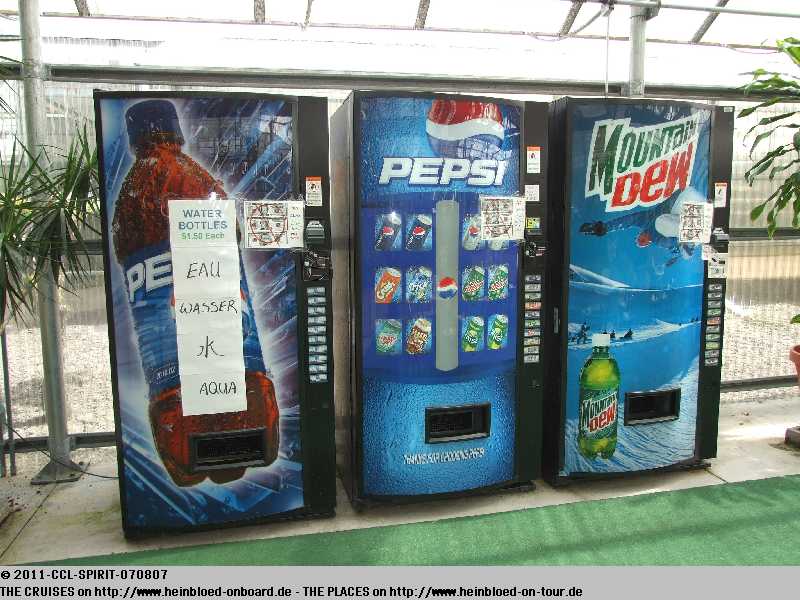 Checking the vending machines I would say that many Germans went already to this place...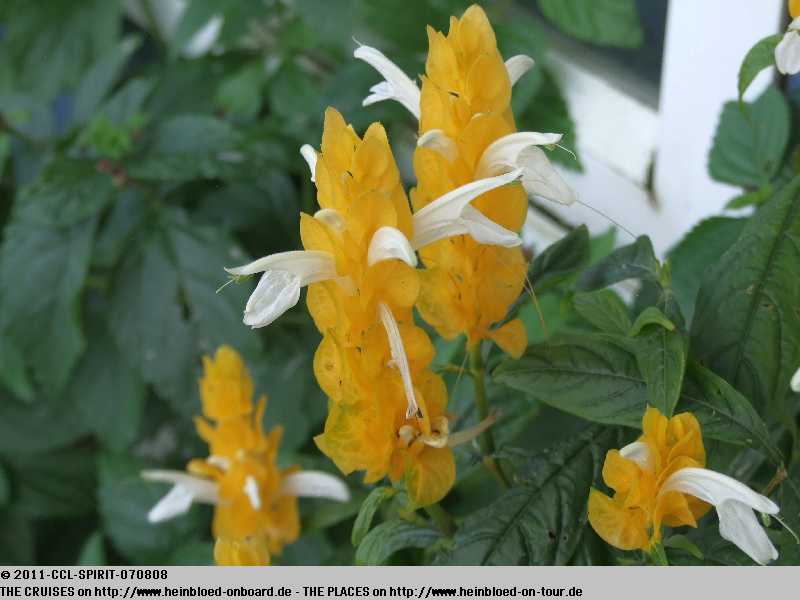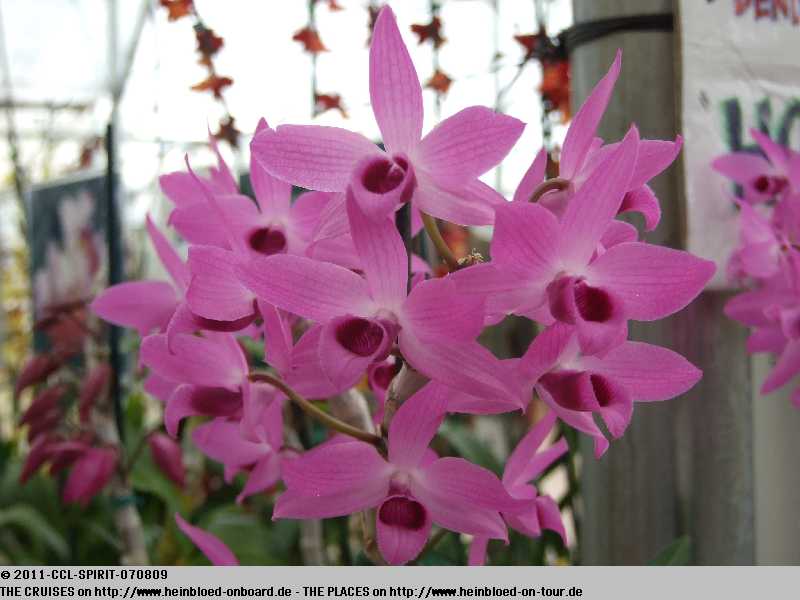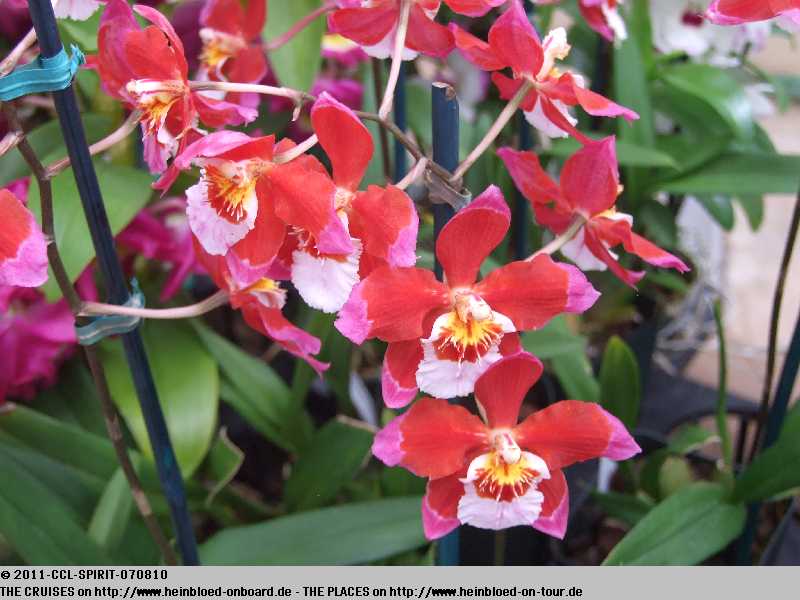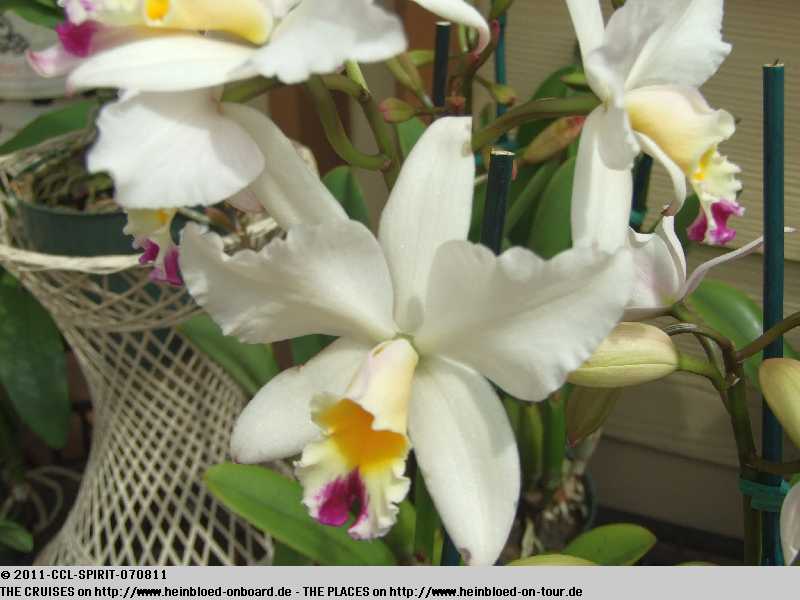 After so many black and dark around the vulcano this visit was just nice and colorful and a great treatment after the depression which I got from so many black lava...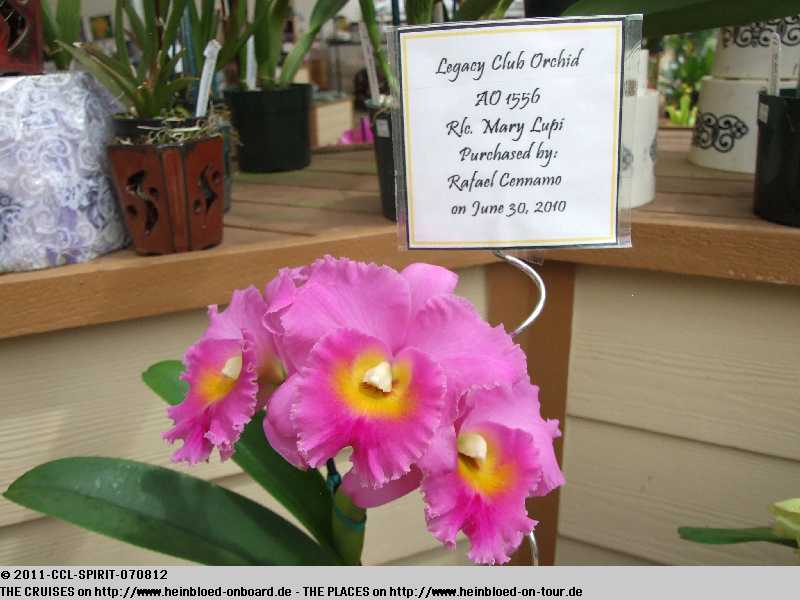 Nach dem vielen Schwarz rund um den Vulkan war dieser Besuch einfach schön bunt und brachte mich wieder von meinen Depressionen nach dem vielen schwarzen Lava weg...
Gemäß US-Bestimmungen darf von Bord keine landwirtschaftlichen Produkte an Land nehmen. Es steht unter Strafe. Daher haben wir auch nichts mit. Torsten wollte uns eigentlich kurz an einem Bioladen absetzen, damit wir uns etwas zu essen kaufen können. Aber wenn er erzählt, fällt es einem schon schwer ihn zu unterbrechen. Als ich dann jedoch diesen Verkaufswagen entdecke, bitte ich ihn doch mal uns kurz hier abzusetzen. Von paiagirl (Frances) wusste ich, dass das hawai'ianische Wort ono für lecker steht.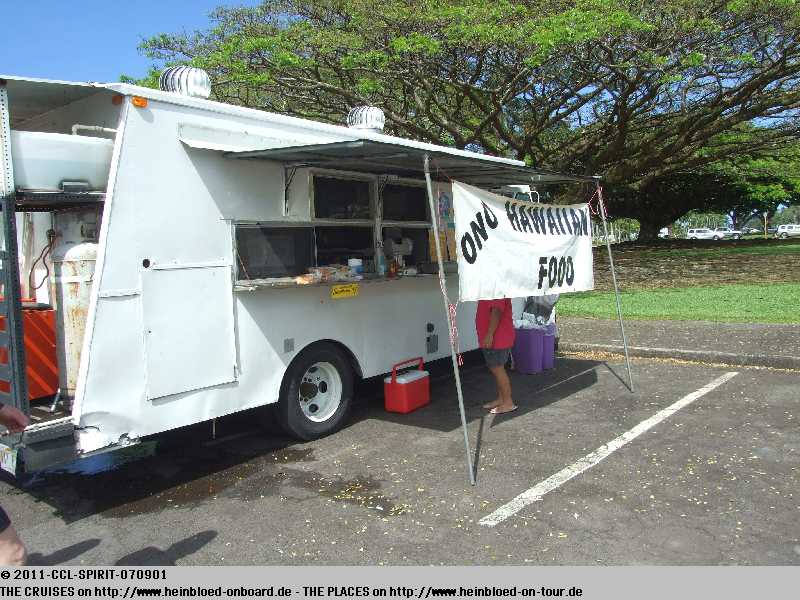 According to US-law you are not allowed to take any agriculture products from the ship to the shore. It is under penalty. So we did not have anything with us. Torsten wanted to stop a an organic food shop so we could buy somehting. But when he was narrating it was difficult to suspend him. When I saw this food outlet I asked him to stop. paiagirl (Frances) told me that "ono" is the Hawai'ian expression for yummy.

But unfortunately we did not understand anything on the menu.

Leider verstehen wir so gut wie überhaupt nichts von der Speisekarte.
Wir wissen nur, dass wohl auch die lokalen VIPs gerne hier essen.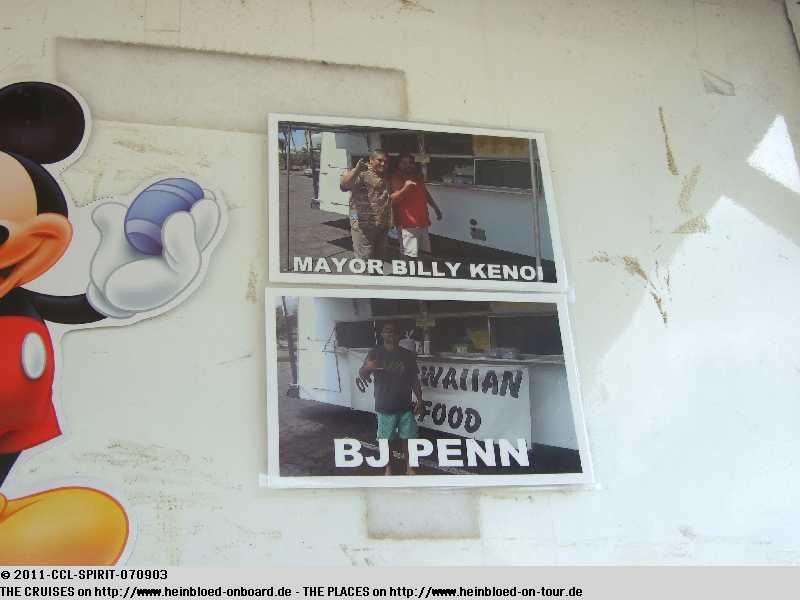 All we knew was that local VIPs like obviously to eat here.

But we had unluck: it was only one portion of Kalua pig and one portion of smoked pork left. And according to their own schedule: they should close in two hours. When she learned that we are from Germany and were the very first time on Hawai'i she insisted us to share the left-overs and not to pay for it. She added some Haupia: the Hawai'in dessert made of coconut milk.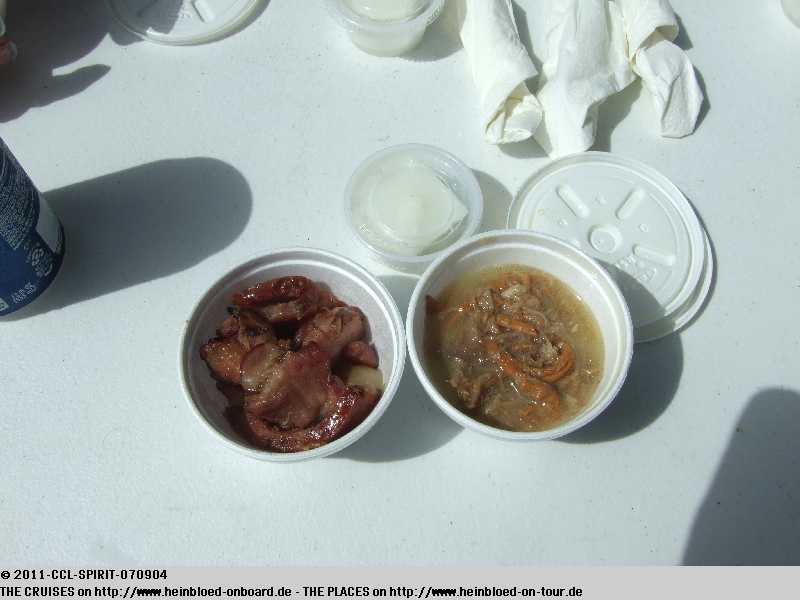 Wir haben eh Pech: es ist nur noch eine Portion Kalua Schwein und eine Portion geräuchertes Schwein da. Und das obwohl der Laden offiziell erst in zwei Stunden schließt. Als sie erfährt, dass wir aus Deutschland kommen und zum ersten Mal auf Hawai'i sind, besteht sie darauf, dass wir die letzten Reste uns teilen und dafür nichts zahlen. Hinzu gibt es noch Haupia: das hawai'ianische Dessert aus Kokosmilch.
So probieren sie doch noch alles: Das Kalua Schwein ist einfach köstlich. Das Rezept für das geräucherte Schwein müssen sie bei einem chinesischen Einwanderer aus Kanton geklaut haben... Schmeckt wie zu Hause... und das Haupia... lecker...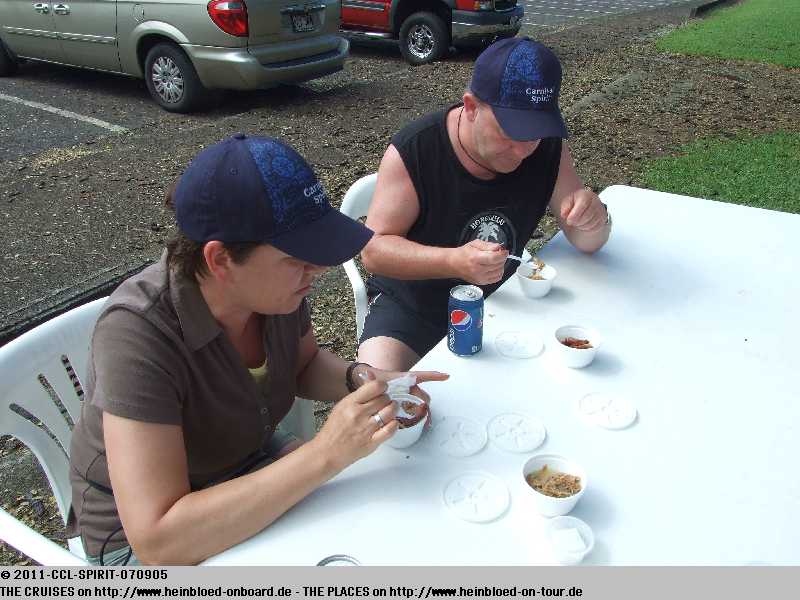 So they tried everything finally: The Kalua pig was delicious. The recipe for the roasted pork must be stolen from a Chinese immigrant from Canton... tasted like home... and Haupia... yummy...

By the way: may I introduce Lisa who welcomed cordially us foreigners. She said no foreigner should leave the island without testing her food. Mahalo Lisa!!! It was really "ono".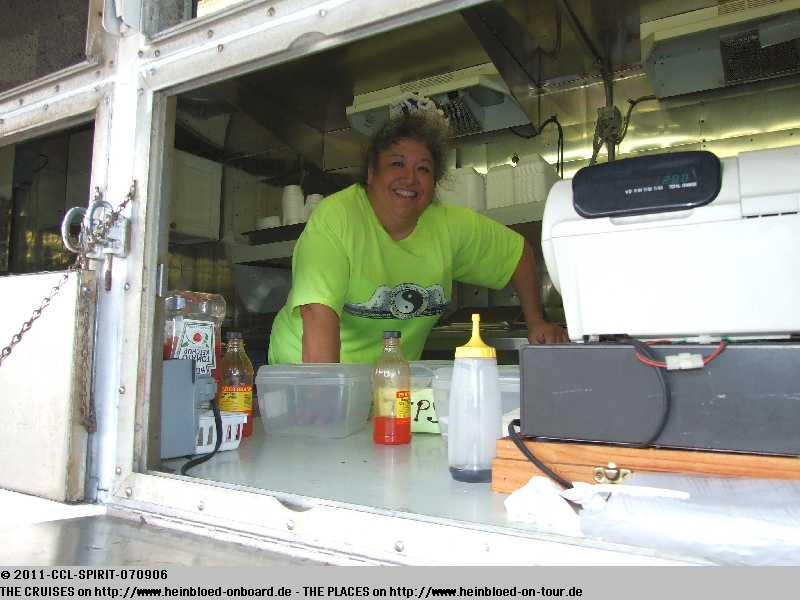 Das ist übrigens Lisa, die wie gesagt, uns so herzlich als Gäste aufgenommen hat: Sie meinte nur, dass kein ausländischer Erstbesucher die Insel verlassen darf, ohne mal ihr Essen probiert zu haben. Mahalo Lisa!!! Es war wirklich "ono".
Torsten hatte von uns die Anweisung, dass er die Tour so gestalten soll, dass wir Grund hätten wiederzukommen. Ursprünglich war vorgesehen, den Rainbow-Wasserfall in der Stadt Hilo sich anzugucken, aber Torsten meinte, dass der Akala-Wasserfall der schönere sei. Dieser steht unter der Verwaltung der
Hawai'i's State Park
. Der Besuch ist kostenpflichtig.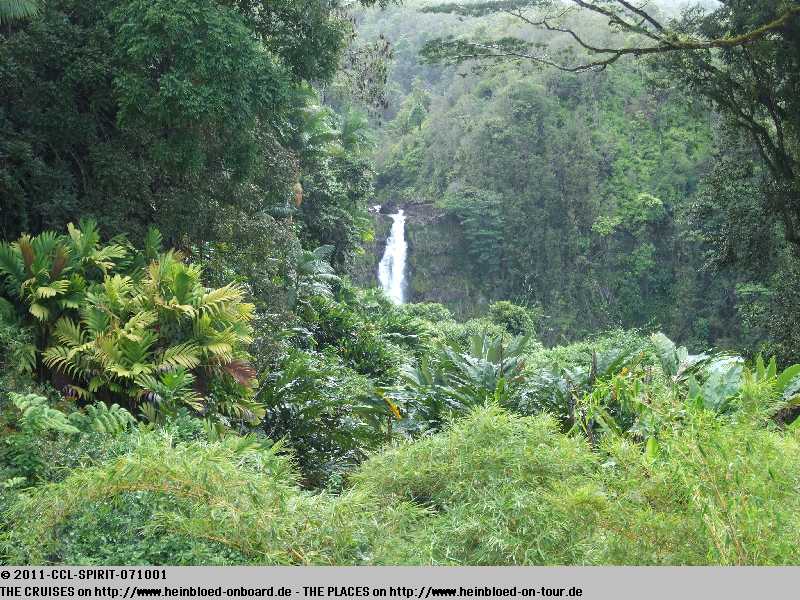 Torsten had the instruction to create the tour with all highlights that we would return one day. Originally it was planned to see the Rainbow-Falls in the city of Hilo but Torsten said that the Akala-Falls should be the nicer one. This was under the administration of Hawai'i's State Park. So you had to pay for the admission.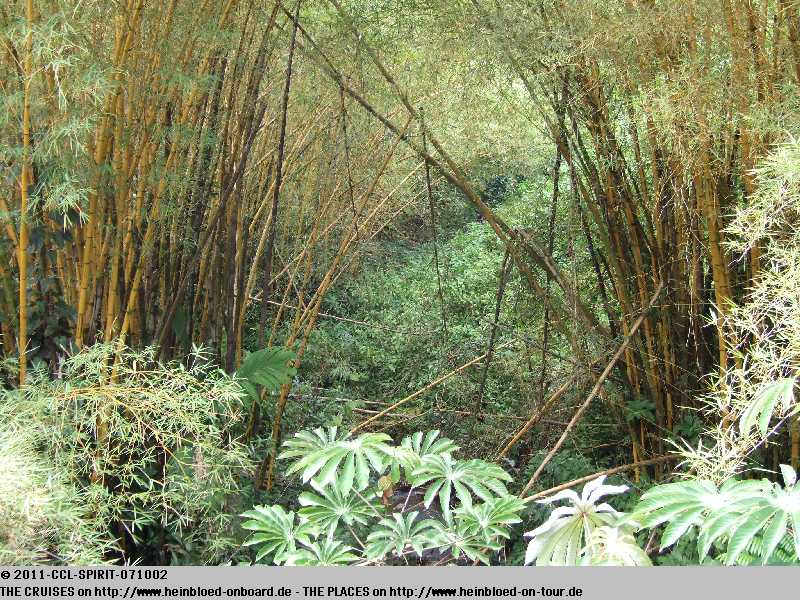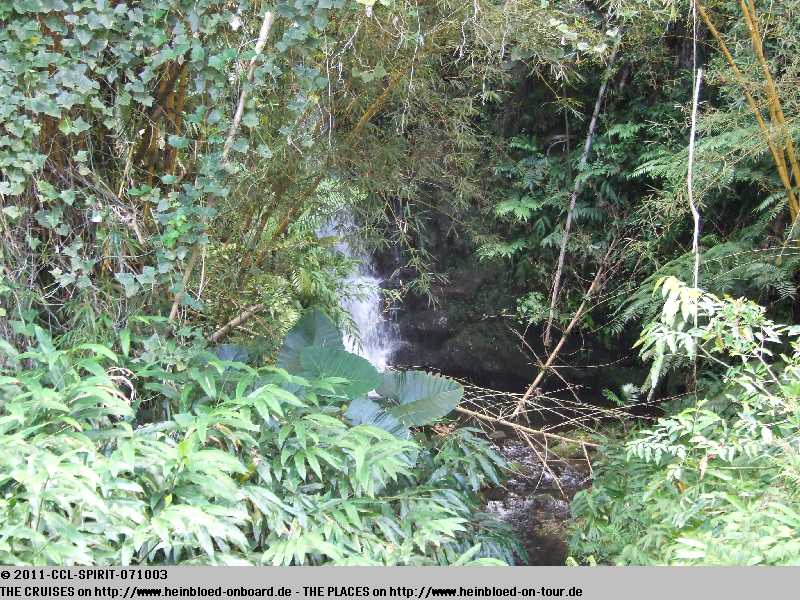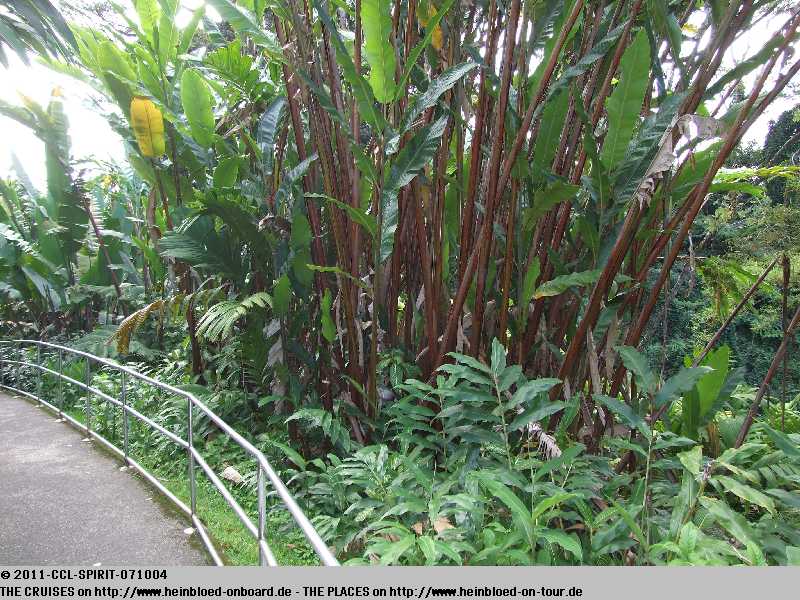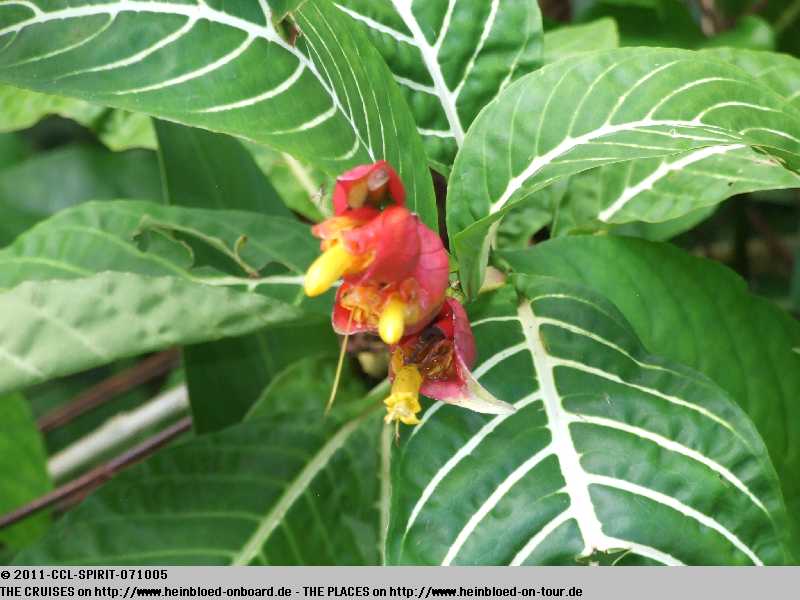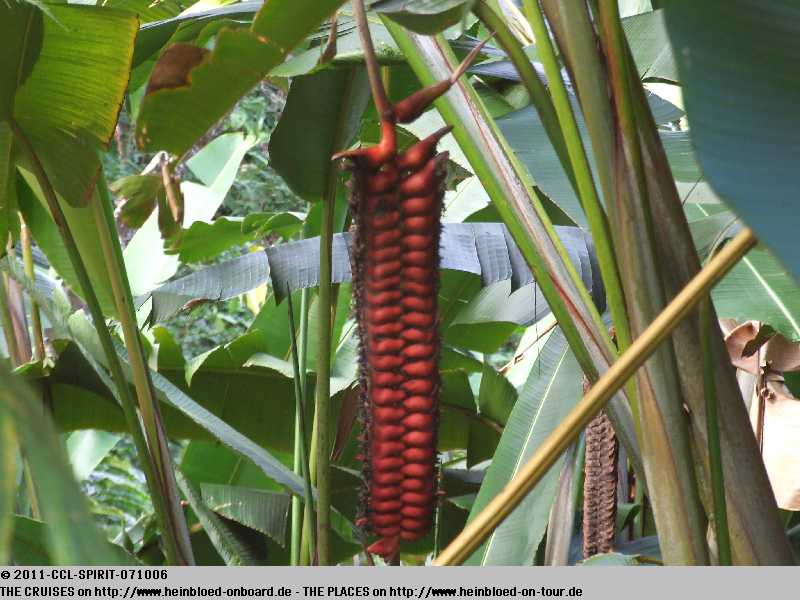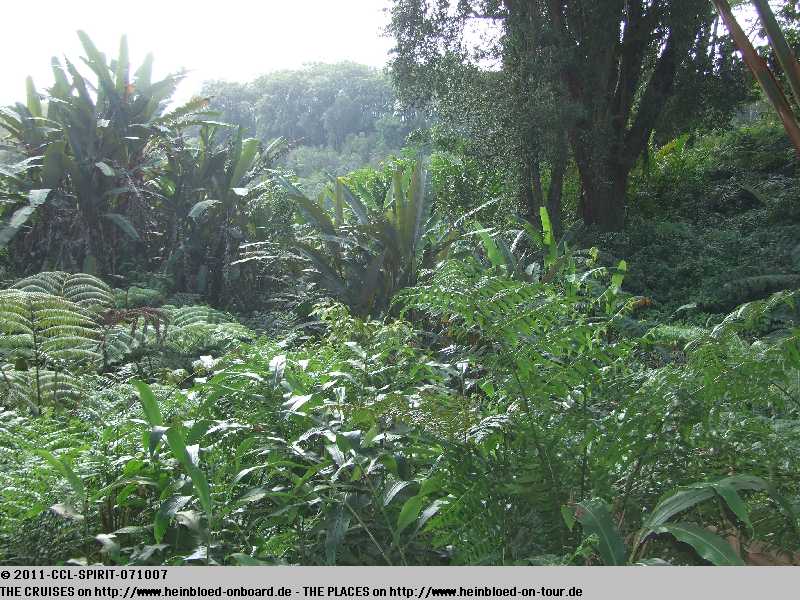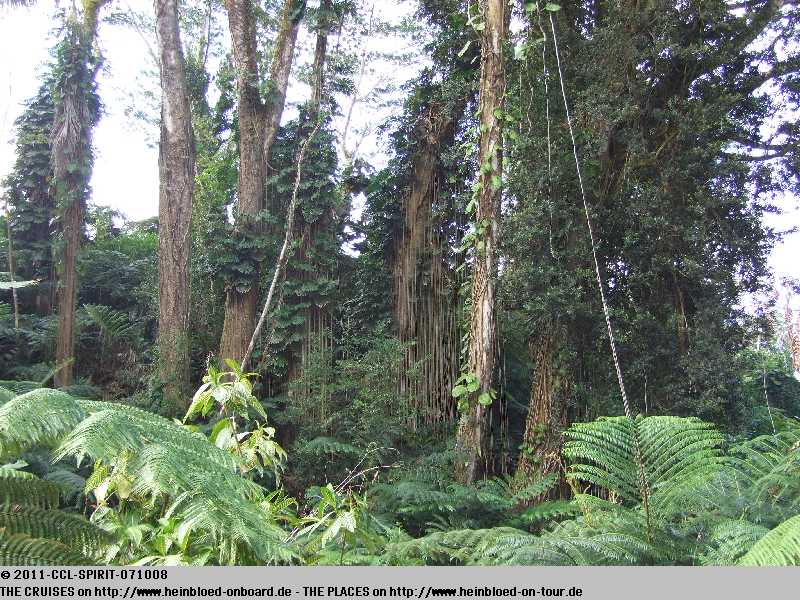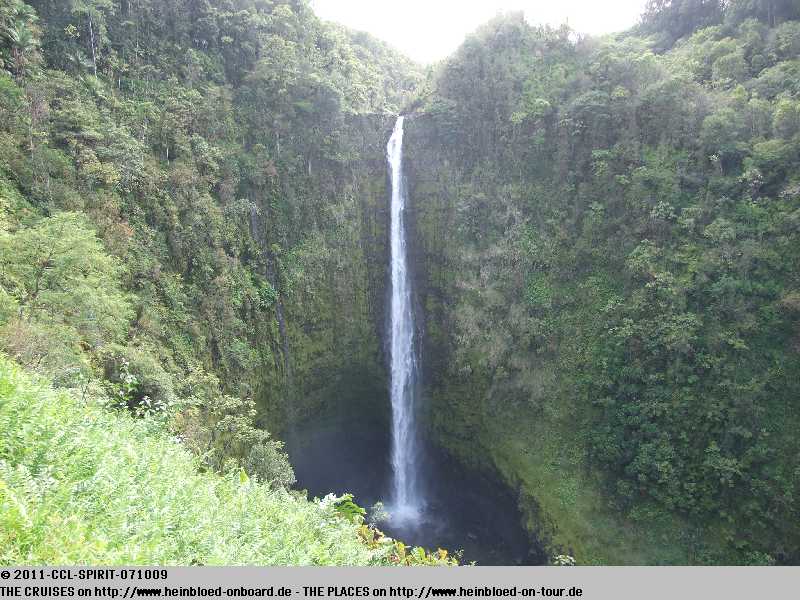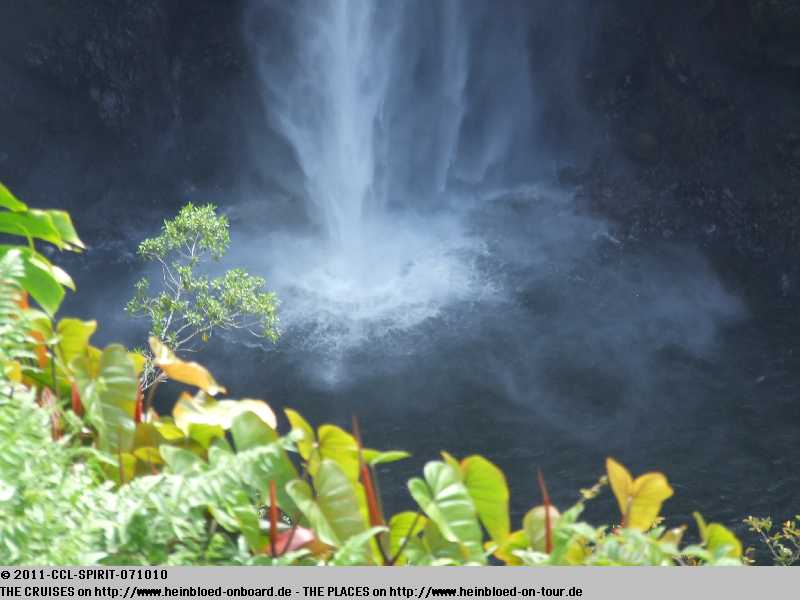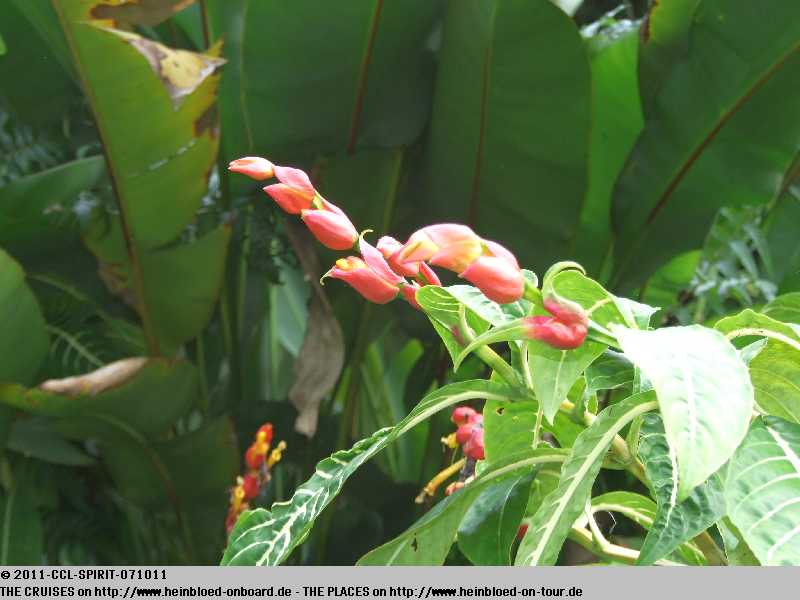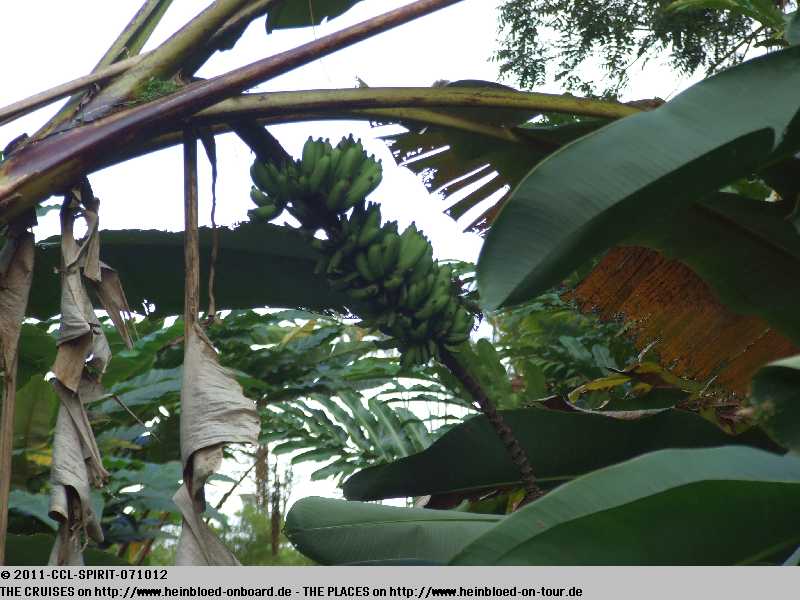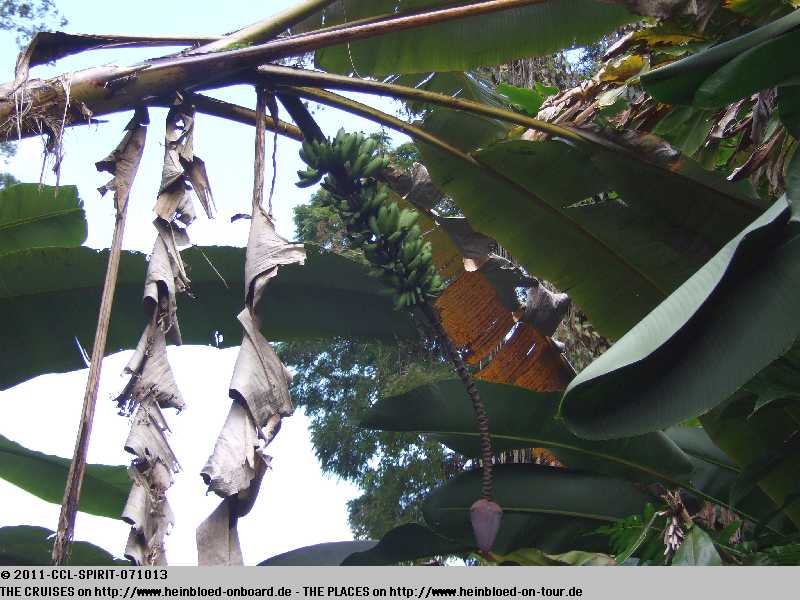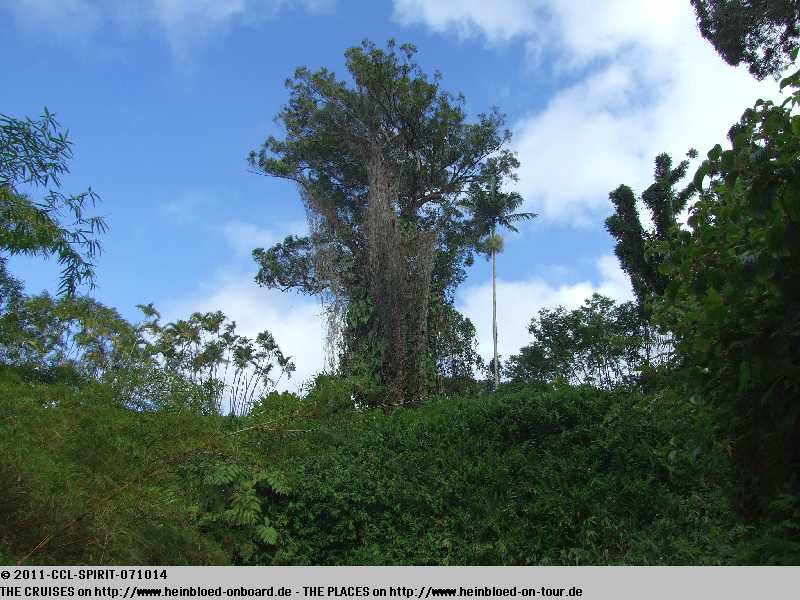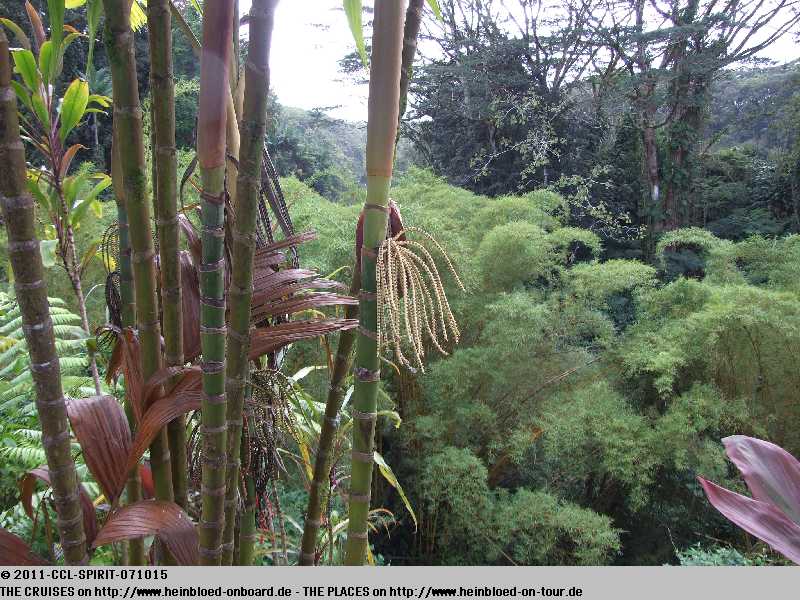 Even it was only a very short visit. The pictures speak their own language and it was worth to see.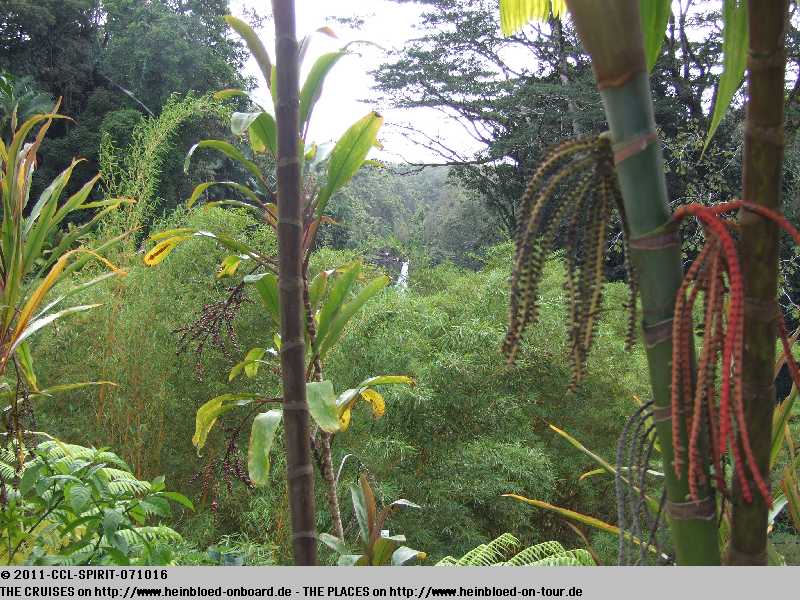 Auch wenn es nur ein kurzer Besuch war. Die Bilder sprechen für sich und es lohnt sich.