Scroll down for English explanations - alternates with German explanations.

Als wir nach dem Mittagessen sehen, dass die ersten Busse wohl schon Richtung Ensenada bereitstehen, beschließen wir doch den Wagen zum Flughafen zurückzubringen.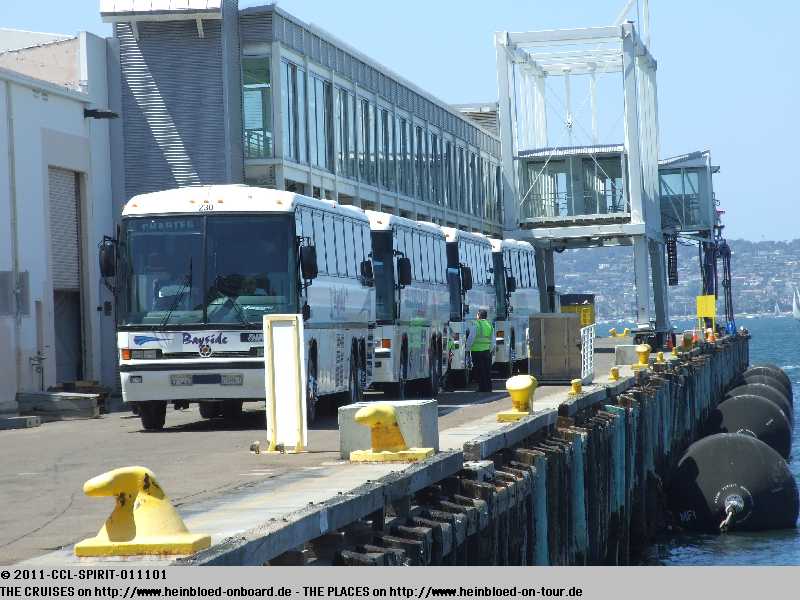 We we saw that after lunch that the first busses were already available for Ensenada we decided to return our car to the airport.

With the help of our GPS we found the next gas station. What seemed to be new in the USA: you need to enter the ZIP code if you want to pay at the pump. Somehow it did not work with a German postal code. So you need to tell inside how much you like to fill. So even you tell them 100 USD to authorize for filling the car completely the pump will only charge the actual amount. The receipt will be released at the pump.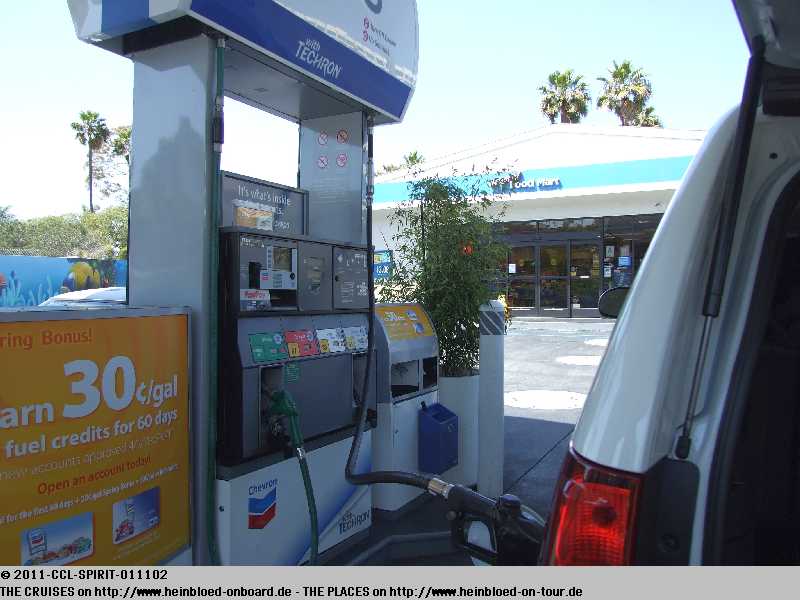 Mit Hilfe unseres Navis finden wir die nächste Tankstelle. Was jetzt wohl neu in den USA ist: es wird eine ZIP-Codeabfrage beim Bezahlen an der Zapfsäule gemacht. Die klappt irgendwie mit einer deutschen PLZ nicht mehr. So muss man drinnen einen Betrag vorgeben. Es ist nicht weiter schlimm wenn man sich für einen vollen Tank 100 USD authorisieren lässt. Hinterher wird an der Säule nur das abgerechnet, was tatsächlich in den Tank ging. Der Beleg erscheint an der Tanksäule.
Alamo bietet keinen Shuttle zum Cruise Terminal an. Dort haben wir nur die Busse von Avis und Thrifty gesehen. Aber da war der Einweg ziemlich teuer. So lassen wir uns zum Flughafen fahren.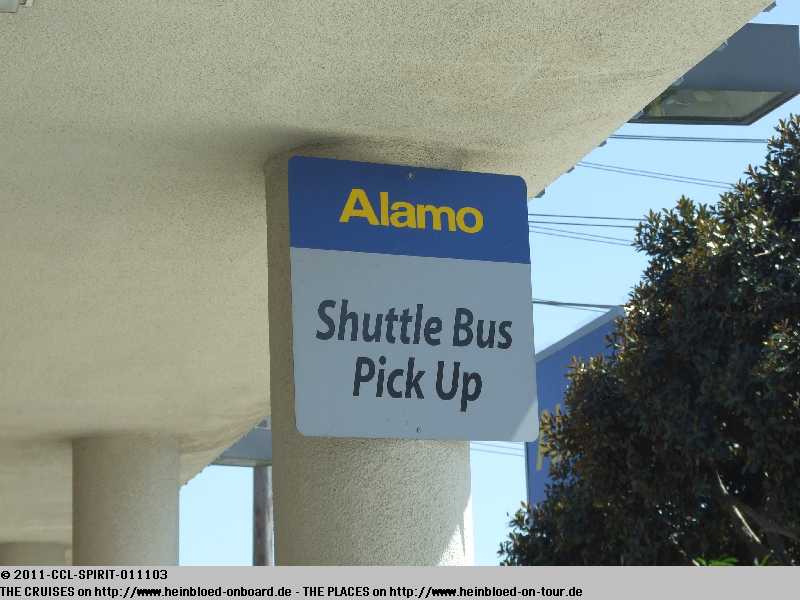 Alamo did not offer to the cruise terminal. But we saw shuttles from Avis and Thrifty. But the one-ways were quite expensive with them. So we asked for a transfer to the airport.

At the rear of the Terminal you find a bus and a baggage truck. We need to tell them when we will arrive in San Diego to use this service. We mentioned an United-Flight which arrived around 14.30 hrs. For 15.00 hrs the last ride was scheduled.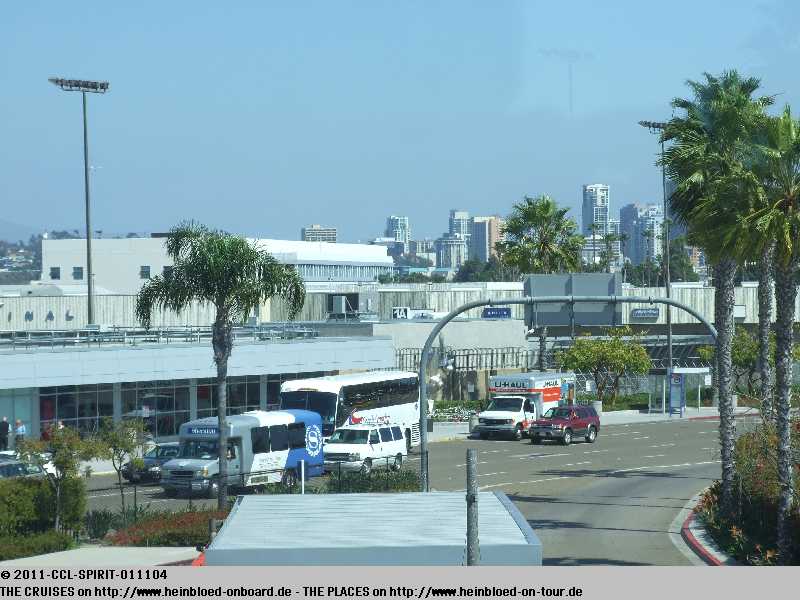 Hinten am Terminal 1 steht noch ein Bus und ein Gepäck LKW. Wir mussten angeben, wann wir in San Diego landen, um diesen Dienst in Anspruch zu nehmen. Wir haben einfach einen Flug von United angegeben, der gegen 14.30 Uhr landet. Denn um 15.00 Uhr sollte der letzte Bus fahren.
Schon am Gepäckband im Terminal 1 stand eine Dame von Carnival mit Gepäckwagen bereit, die uns freundlich begrüßte und nach unserem Gepäck fragte. Als wir ihr erklären, dass wir schon alles im Cruise Terminal haben, schickt sie uns weiter zum Bus.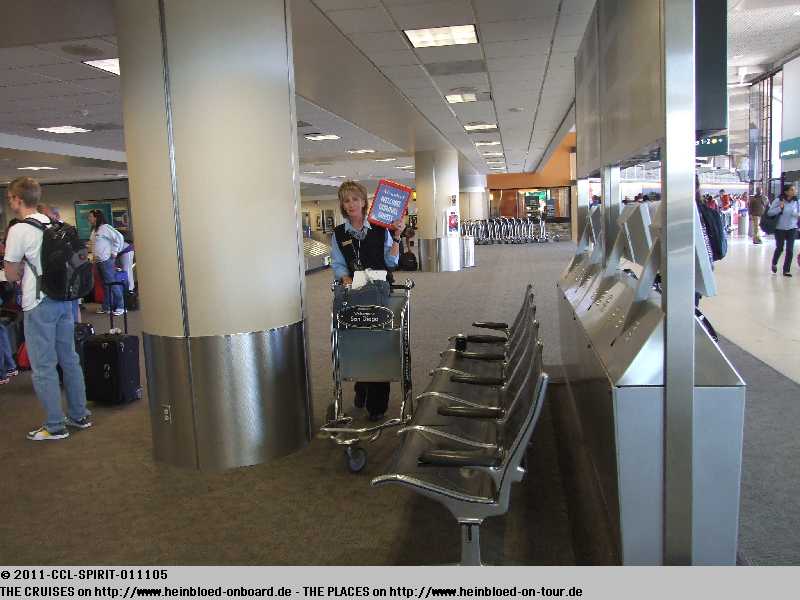 At the baggage claim area in Terminal 1 one agent from Carnival was waiting with a baggage cart. She welcomed us very friendly and asked for our bags. When we explained that our bags were already in the Cruise Terminal she sent us forward to our bus.

Another friendly agent from Carnival waited here and told us to wait for another bus and we should just sit here and enjoy the sun until the bus arrived.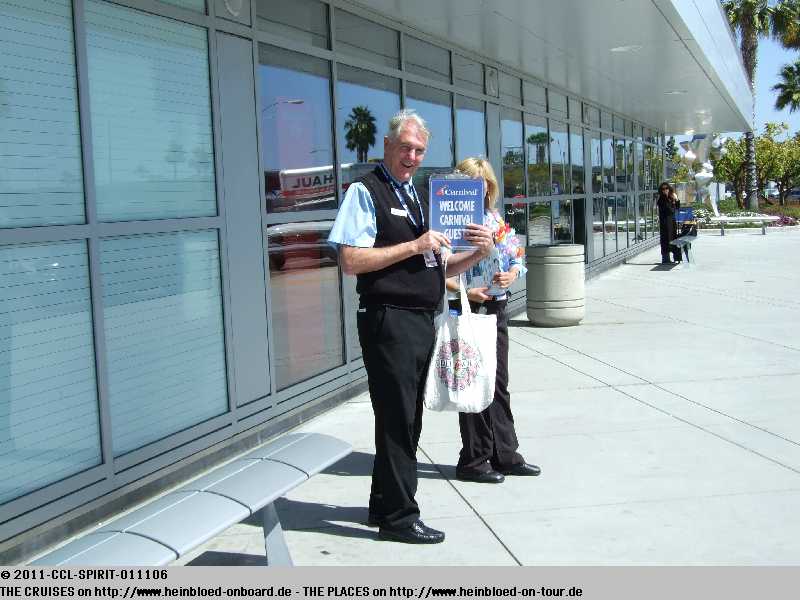 Hier steht ein weiterer freundlicher Herr von Carnival, der uns sagt, dass wir noch auf einen neuen Bus warten und wir einfach uns hinsetzen und die Sonne genießen sollten, bis dass der Bus käme.
Angesichts der kalten Temperaturen in Los Angeles machen wir das natürlich besonders gern.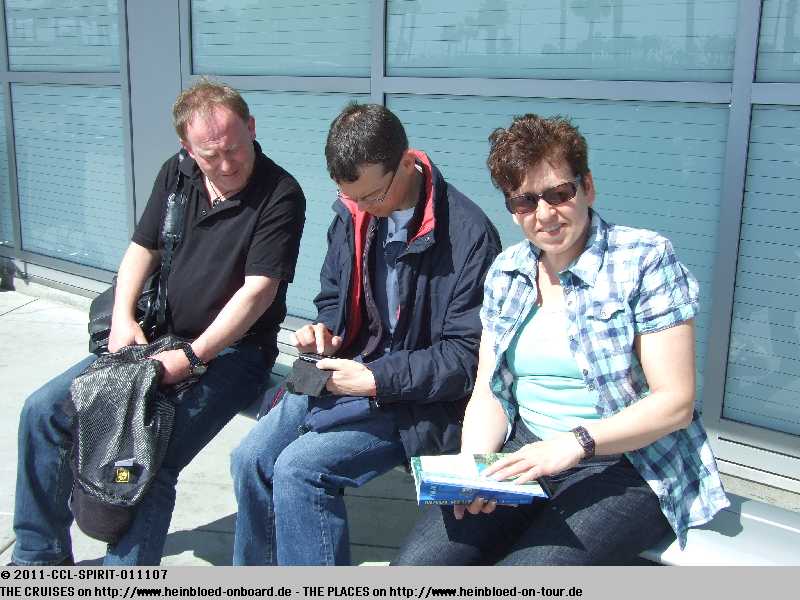 As it was so cold in Los Angeles we really like the idea to enjoy the warm sunshine.

As announced the last bus arrived at 15.00 hrs and took us and all Carnival-agents to the Cruise Terminal. Only one agent stayed at the airport for any emergencies.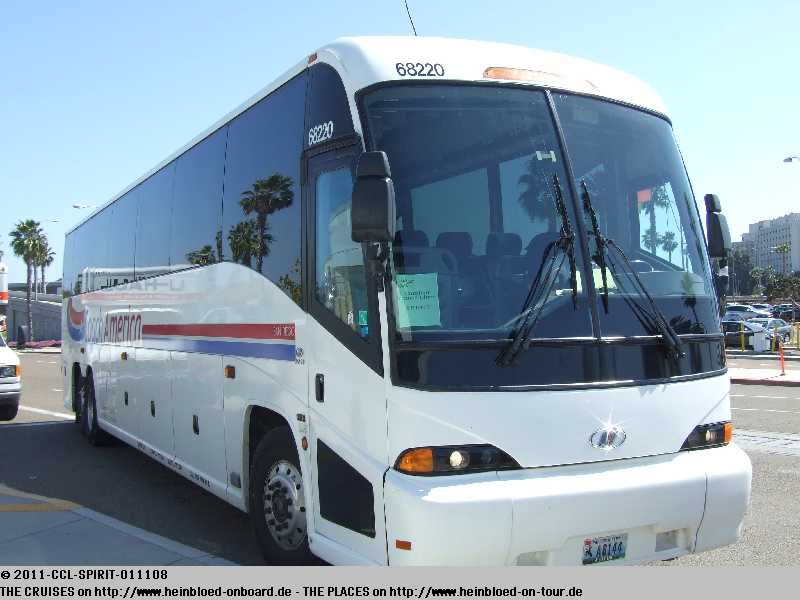 Wie angekündigt kommt gegen 15.00 Uhr der letzte Bus, der uns und alle Carnvial-Angestellten zum Cruise Terminal fährt. Nur einer muss als Notfall-Ansprechpartner am Flughafen verbleiben.
So können wir vorne sitzen und die Aussicht genießen.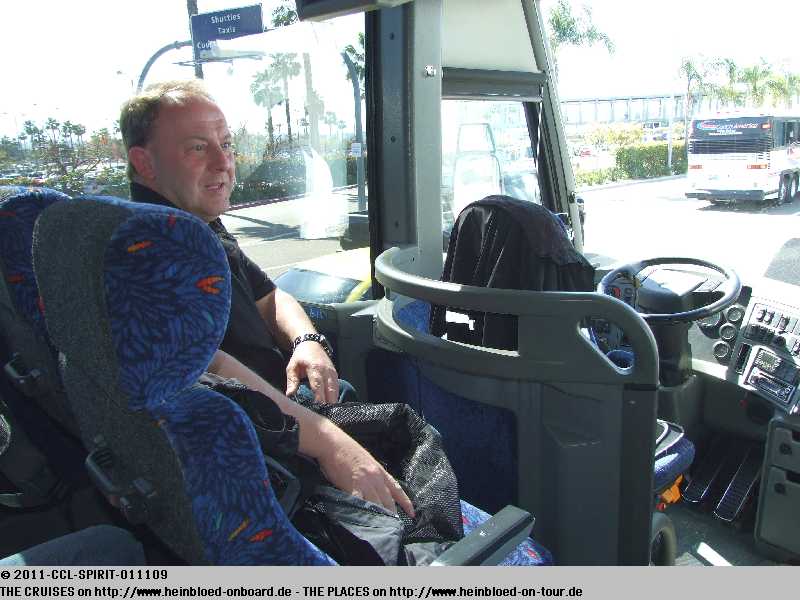 So we could sit in the front and enjoyed the view.

The airport in San Diego is not so far away from the Cruise Terminal. It was less than ten minutes by bus.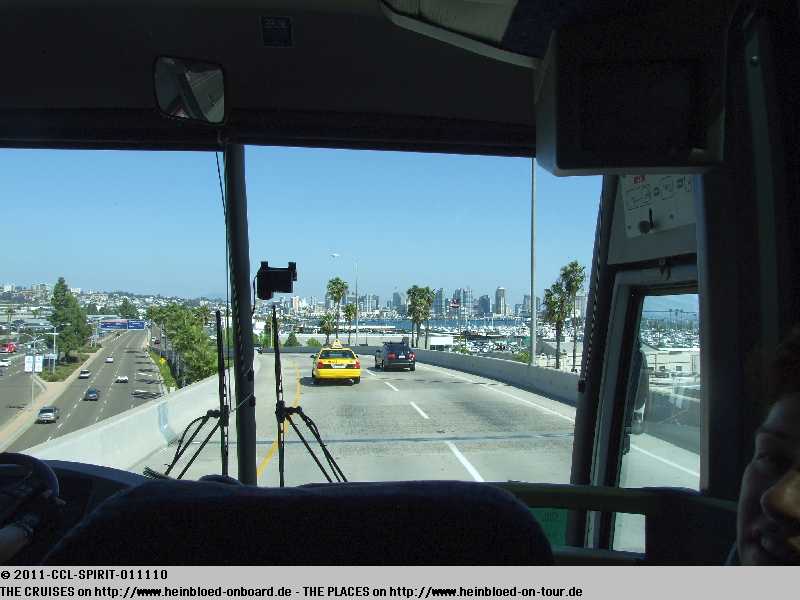 Der Flughafen in San Diego ist nicht weit vom Cruise Terminal. Nicht mal zehn Minuten mit dem Bus.
Er darf auch direkt auf das Hafengelände fahren, so dass wir nicht mehr wie heute Morgen kontrolliert werden, als wir das Gepäck aufgeben wollten.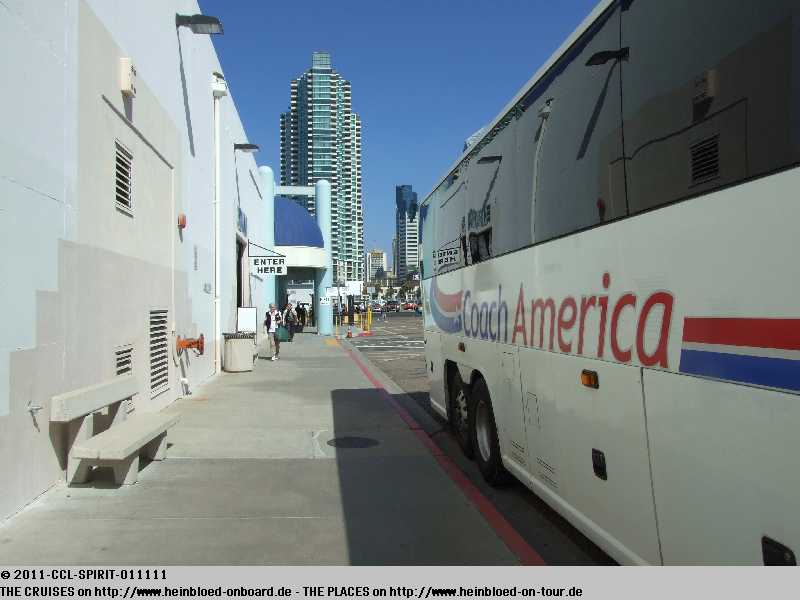 The bus was allowed to enter the port area so we were not checked so strictly again like we were when we delivered the baggage.

Everything was well signposted. You could not make anything wrong if you just knew the name of your ship.

Alles ist gut markiert. Man kann eigentlich nichts verkehrt machen, wenn man den Namen seines Schiffes kennt.
Hier in der ersten Halle warten wir nur wenige Minuten. Irgendwann werden wir weitergeschoben und so muss die Dame das Band öffnen. Nach uns ist keiner mehr. Brunos Schwester Astrid ist gerade zur Toilette. Sie drängelt und ich meine, dass wir es nicht eilig haben. Sie drängelt weiter. Erst als ich sie frage, ob ich jetzt extra auf die Damentoilette soll, um Astrid herauszuholen, hört sie auf zu drängeln.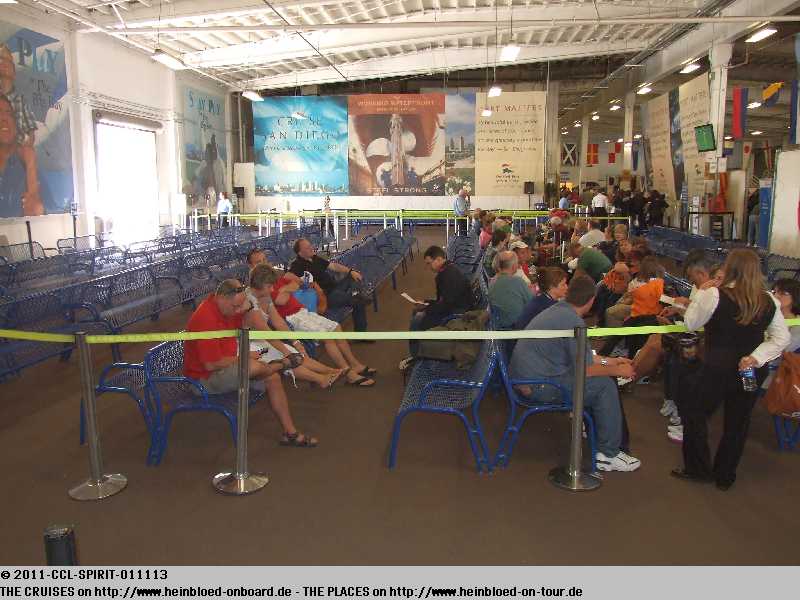 Here in the first hall we only waited for few minutes. Sometime we were pushed forward and so an agent need to open the shutoff device. There were none behind us. Bruno's sister Astrid just saw the restrooms. She made pressure and I said that we were in no hurry. She made more pressure. When I asked if I should go now to the ladies' room to get out Astrid she stopped to make any pressure.

Now the next lady started to make pressure to keep us moving us to the next hall for baggage screening. Again we need to move to the next hall with a giant queue. As we did not need wheelchair assistance or were VIP we need to follow the giang queue which moved very slowly because only 16 counters (2 of them reserved for VIP and 2 of them reserved for Special Assistance) were available. Not all counters were occupied but few were double occupied.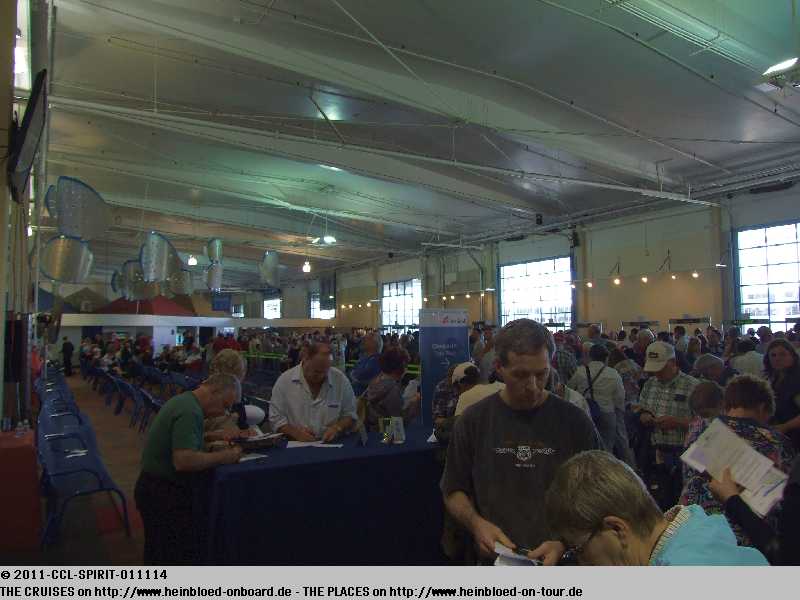 Nun die Dame hat gedrängelt, damit wir dann in der nächsten Halle wieder lange anstanden um das Gepäck zu durchleuchten. Danach ging es in die nächste Halle in eine Riesenschlange. Da wir weder Rollstuhlfahrer noch VIP sind, müssen wir in die Endlosschlange, die sich nur sehr langsam bewegt, weil nur 16 Schalter (davon 2 für VIP und 2 für Special Assistance) zur Verfügung stehen, von denen nicht alle besetzt sind. Ein Schalter kann wohl doppelt besetzt werden.
Das Schiff ist weg, daher gibt es keiner Unterstützung von Bordseite: weder Computer für den Check-in noch Personal für Erfrischungen, Behinderte oder Supervisor für den Check-In. Alles erfolgt steinzeitlich: Passagierlisten und Kreditkartenanträge auf Papier. Hier gibt es einen Brief von unserem Hotel Director, der uns jetzt informiert, dass wir uns etwas zu Essen besorgen sollen und deswegen ein Shuttle zum Seaview Center bereitsteht, der jedoch um diese Zeit nicht mehr fährt.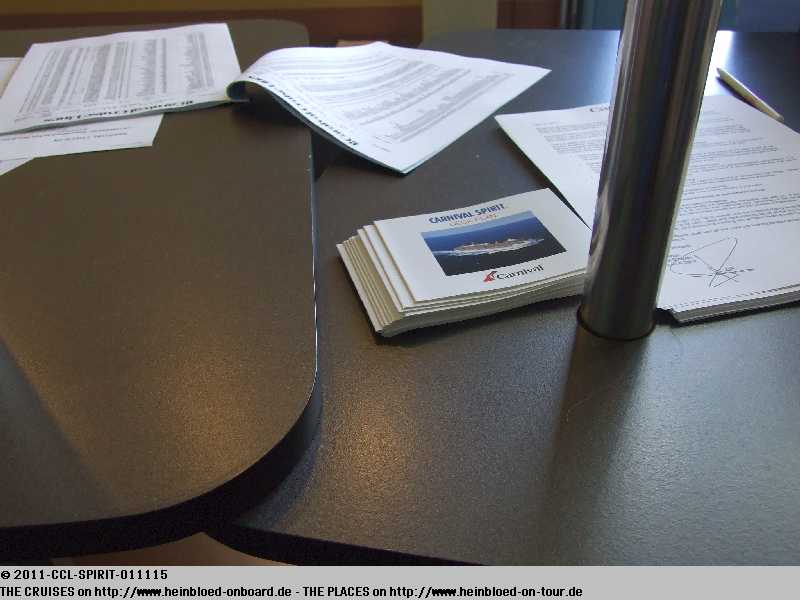 As the ship was gone there was no support from the shipside: no computer for the check-in and no supervisor or and any other crew-members for mobility reduced guests or refreshments. It was like stoneage: Passenger lists and credi card applications on paper. Here we got a letter from our hotel director who informed us know that we should buy somehting to eat and therefore they offered a shuttle to the Seaview Center. But at this time the service was already suspended.

We got embarkation no. 15, the very last number.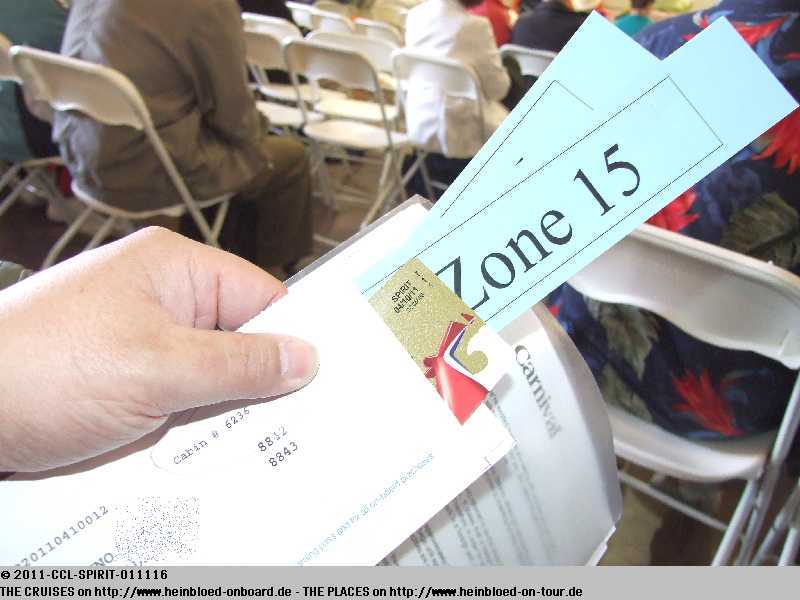 Wir bekommen die Einschiffungsnummer 15, die allerletzte Nummer.
Als wir uns endlich setzen durften wurde gerade erst 12 aufgerufen. Noch sitzen wir in der Zone mit den weißen Stühlen. Also die Anzahl der Wartenden weniger wird, sollen wir uns umsetzen, damit sie es einfacher haben.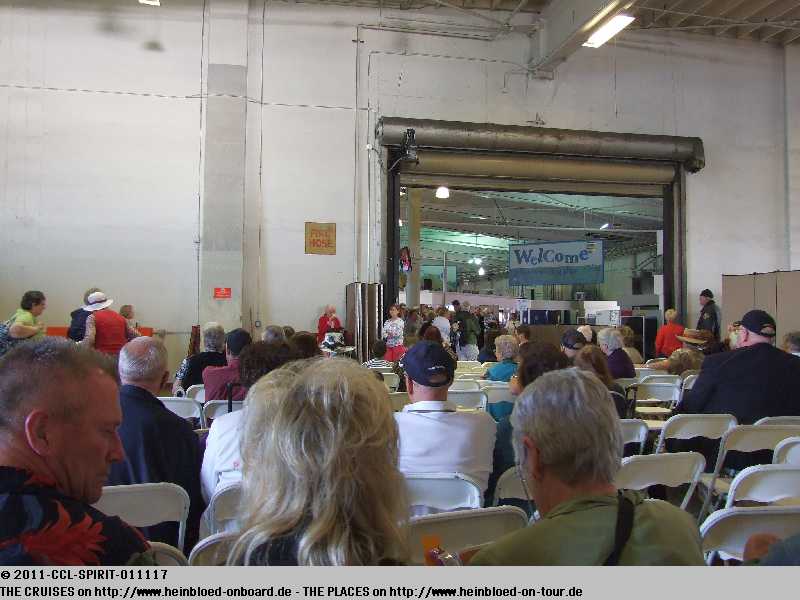 When we were finally allowed to sit they paged No. 12. We sat in the zone of the white chairs. When most left they asked us to move to the other places so they might have it easier.

As I had anyway the very last number I did not see any need to stand and wait before anyone moves. At the exit it was the first time they offered some water!!!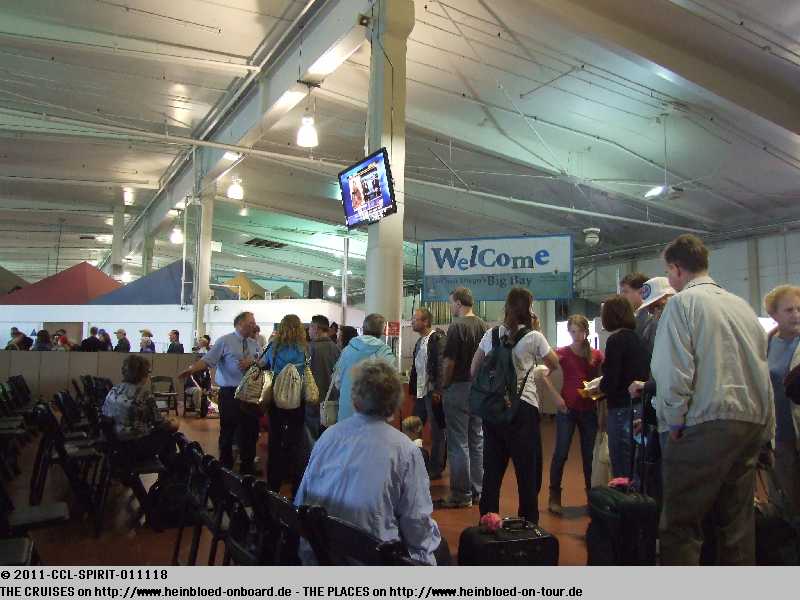 Da ich eh die allerletzte Nummer habe, fehlt mir die Notwendigkeit mit anzustellen, bevor die Schlange sich in Bewegung setzt. Aus Ausgang wird uns nach drei Stunden Wartezeit erstmals Wasser angeboten!!!
Den Bus haben wir fast für uns alle, so dass wir uns ausbreiten dürfen.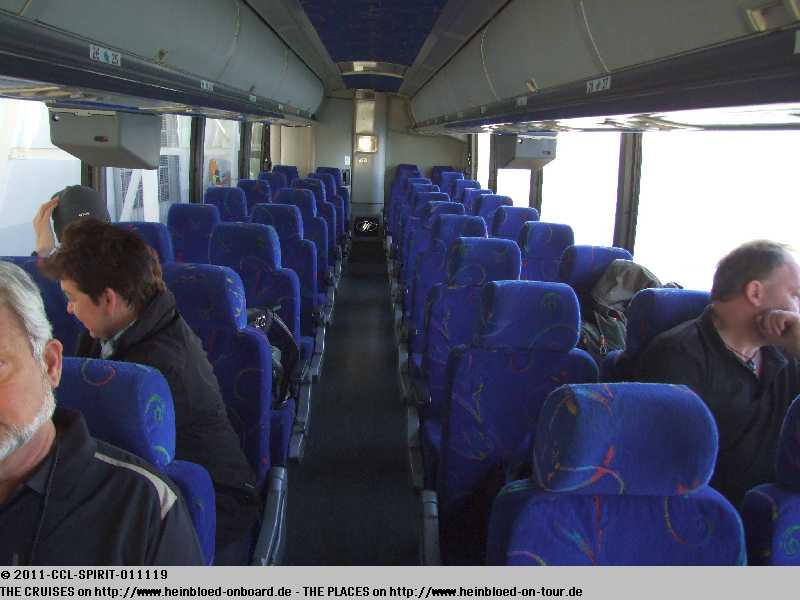 We had this bus just for us so we could spread out.

Economy Class, but for two hours it would work. But our driver advised that we get a great compensation: one of the nicest scenic ride alongside of the Mexican coast.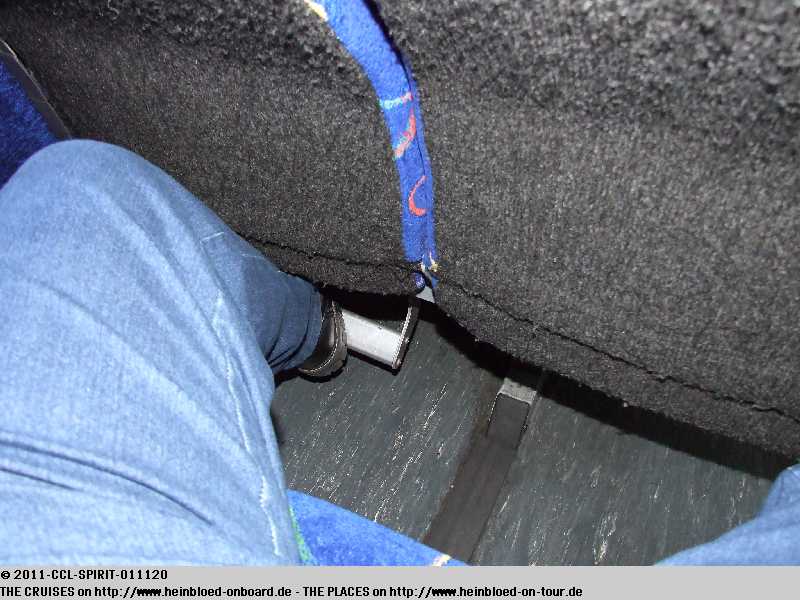 Economy Class, aber für zwei Stunden wird es ja gehen. Aber unser Fahrer meinte, dass er uns ja mit der schönsten Fahrt entlang der mexikanischen Küste entschädigen würde.
Im Bus erfahren wir, dass wir nicht losfahren können, weil sich zwei Fluggäste verspätet haben und wir noch auf sie warten müssen. Da wir aber nur im Konvoi fahren dürfen, darf kein Bus eher losfahren sondern insgesamt müssen drei Busse auf die zwei Gäste warten. Uns wird als Entschädigung ein OBC angeboten, der allerdings nicht kommt.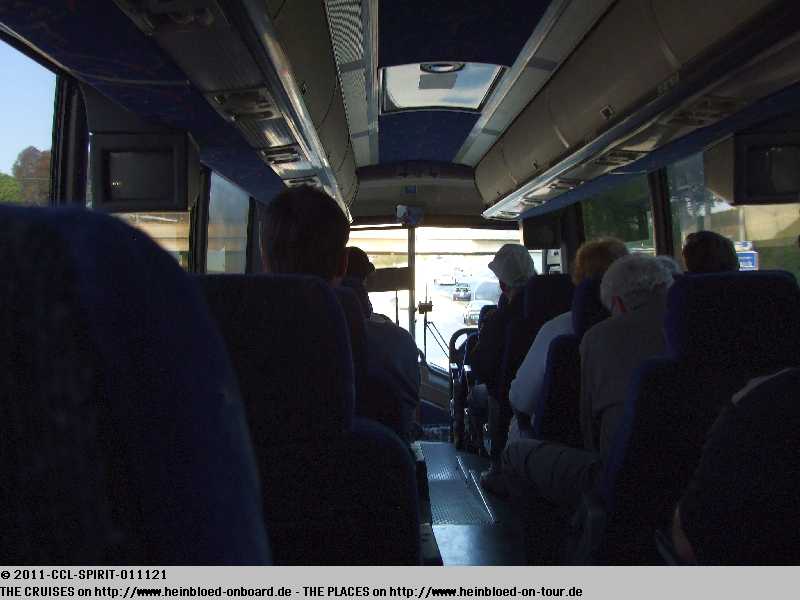 In the bus we learned that we cannot start because two air-passengers were late and we need to wait for them. As we were only allowed to leave as a convoi none of our busses here were allowed to leave and had to wait for the two guests. As compensation they advised an OBC which never came.

We arrived at the border towards Tijuana around 19.00 hrs. Everything reminded me to the former West-/East-German border in Helmstedt/Marienborn (Checkpoint Alpha).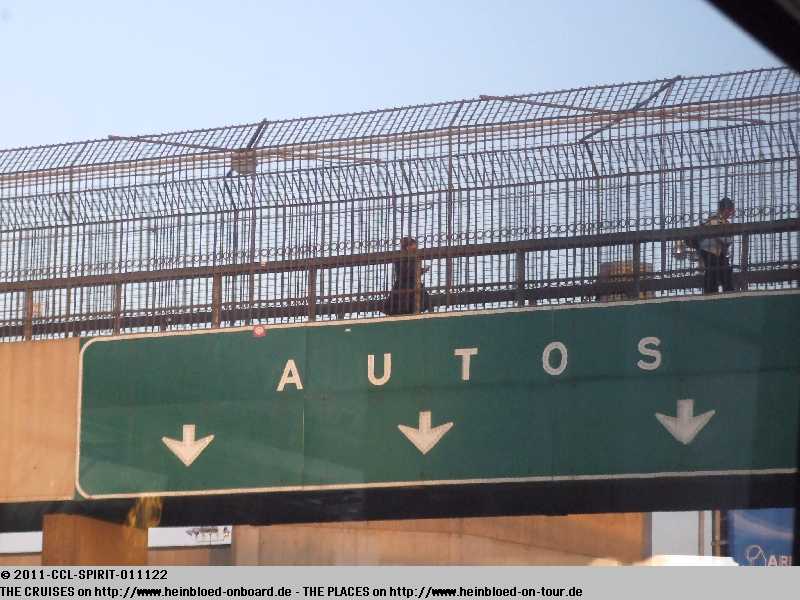 An der Grenze zu Tijuana kommen wir gegen 19.00 Uhr an. Alles erinnert ein wenig an Helmstedt/Marienborn.
Irgendwann gehen langsam die Lichter an.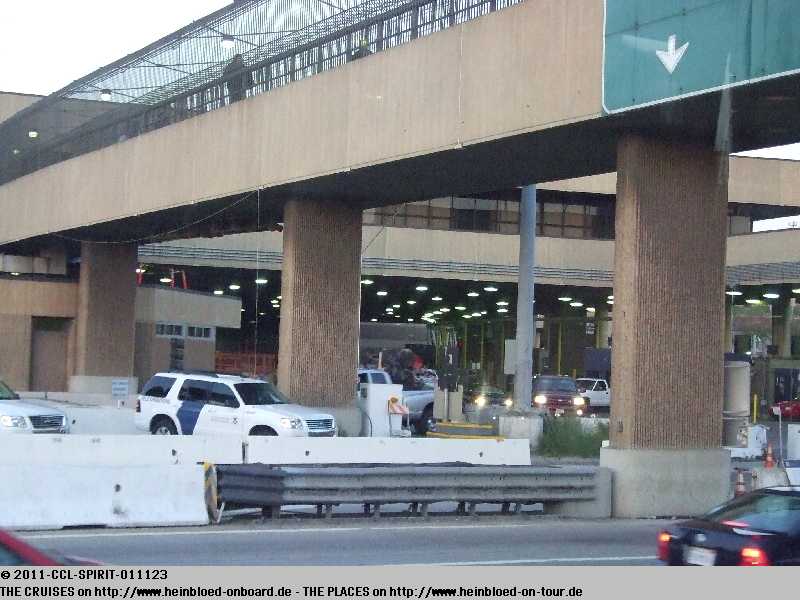 Sometime the lights were turned on.

Last chance for a U-Turn to the USA...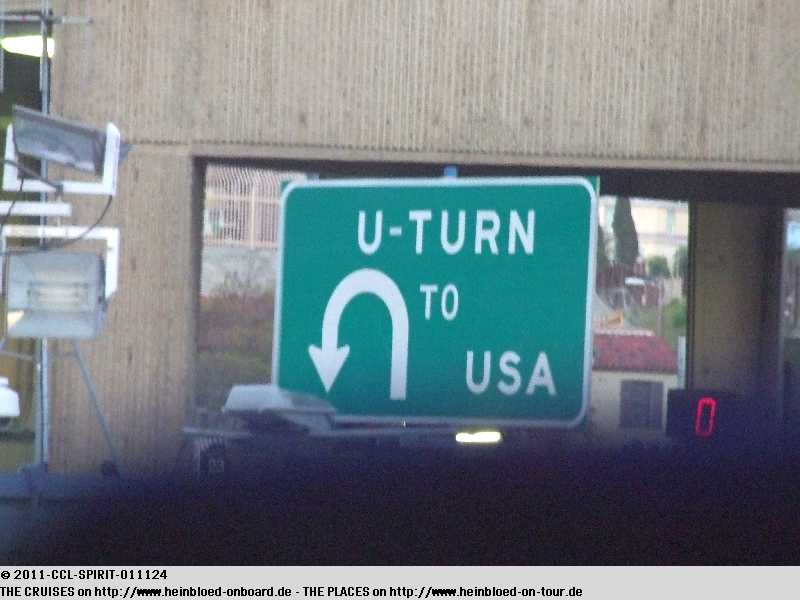 Die letzte Chance in die USA zurückzukehren...
Endlich in Mexiko.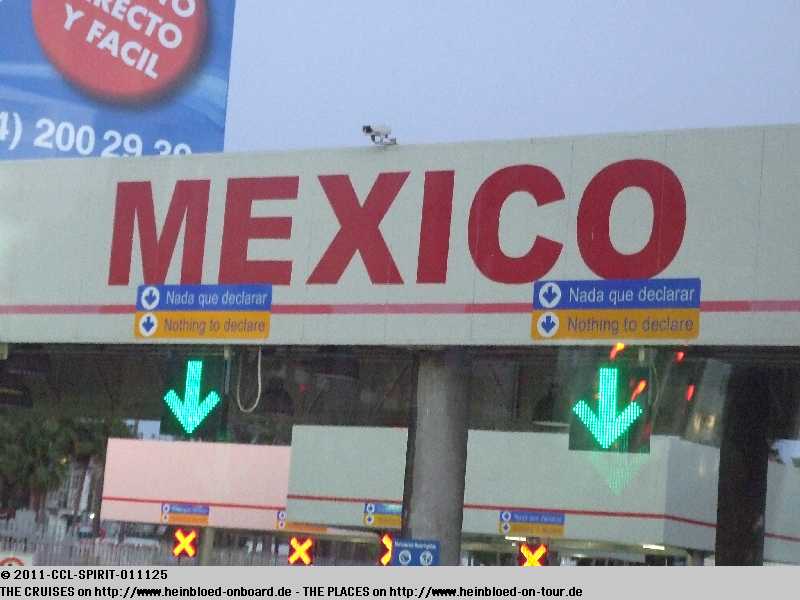 Finally in Mexico.

Meanwhile everything was dark.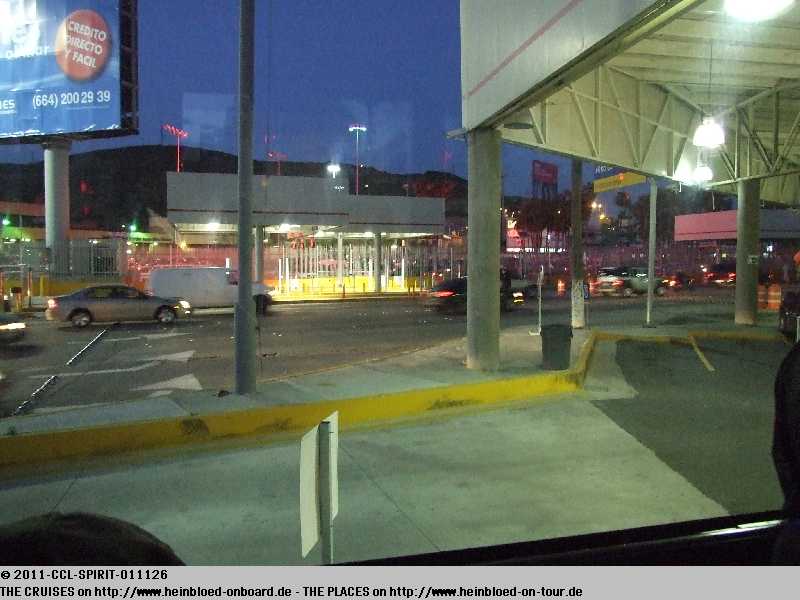 Mitlerweile ist alles dunkel.
Da wohl das individuale Licht über den Sitzen bei keinem funktioniert, wird es eine ziemlich Fahrt im Dunkeln. Von der Steilküste, die wir langfahren sehen wir nichts. Von anderen erfahren wir am nächsten Tag, dass es z. T. so steil runterging, dass einigen während der Fahrt wohl schlecht geworden ist, die tagsüber gefahren sind.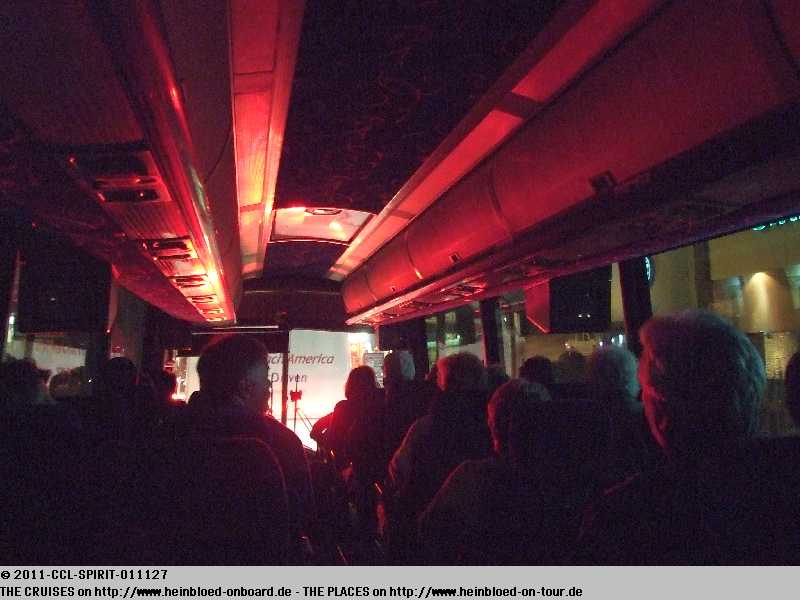 As the individual lights above the seats did not work with anyone of us it was a quite dark journey. We did not see anything from the cliff line. The next days we learned that it was so steep that some did not feel comfortable when they saw it during the daylight.

Sometime we reached the port of Ensenada.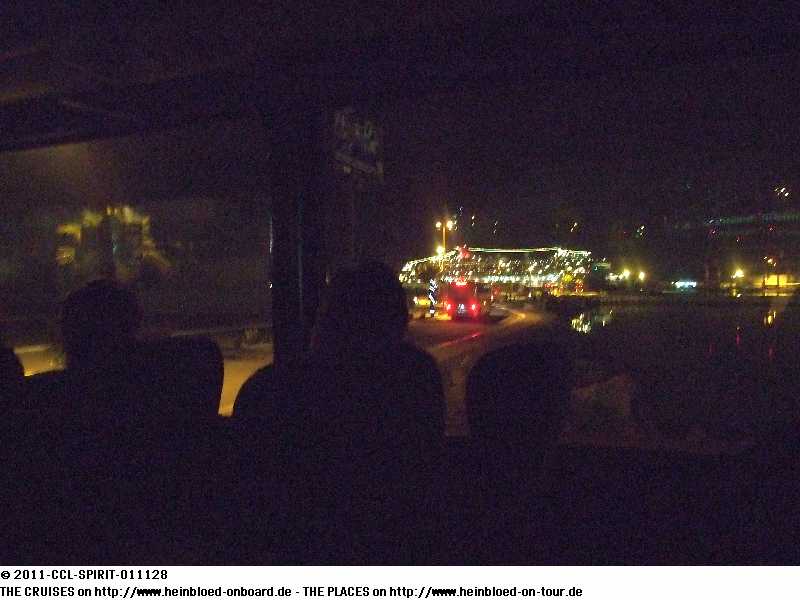 Irgendwann erreichen wir doch mal den Hafen von Ensenada.
Aber vor uns sind an der Hafeneinfahrt noch sechs bis acht Busse, die ja z. T. eine Stunde vor uns San Diego verlassen haben.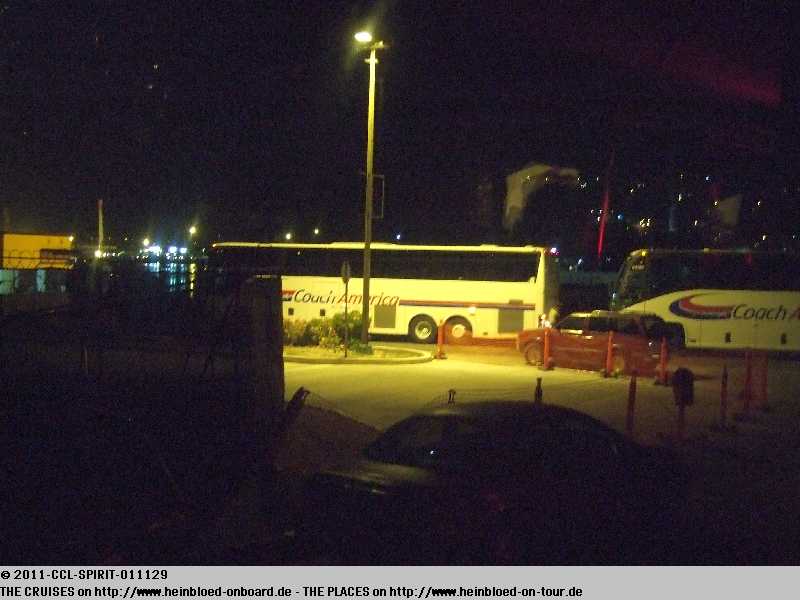 But at the entrance of the port there were still six to eight buses which left San Diego one hour earlier.

We were parked in front of the ship like in a bus terminal.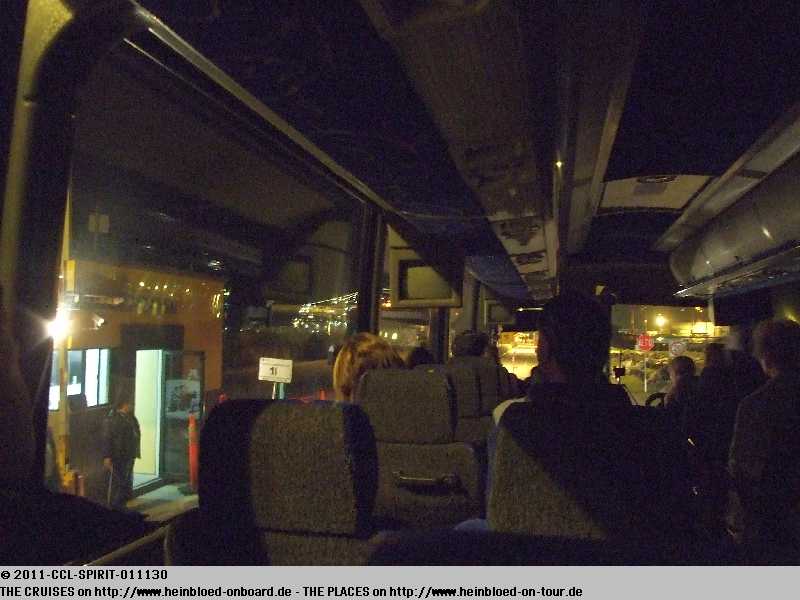 Wir werden wie im Busbahnhof vor dem Schiff platziert.
Es ist 21.30 Uhr als der Motor abgestellt wird. In diesem Moment schließen die Bedienrestaurants und vor 30 Minuten hätten wir ablegen sollen. Das fängt ja schon gut an.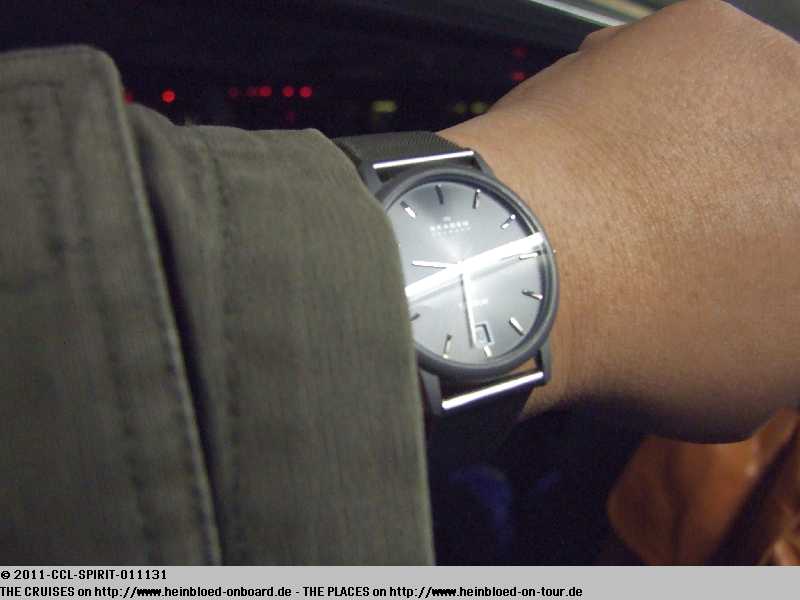 It was 21.30 hrs when the engine was turned off. In this moments all service restaurants were closed and 30 minutes ago we should have set sail. What a great start.

We were not allowed to leave the bus because each bus will be directed to the front of the cruise terminal one after the other.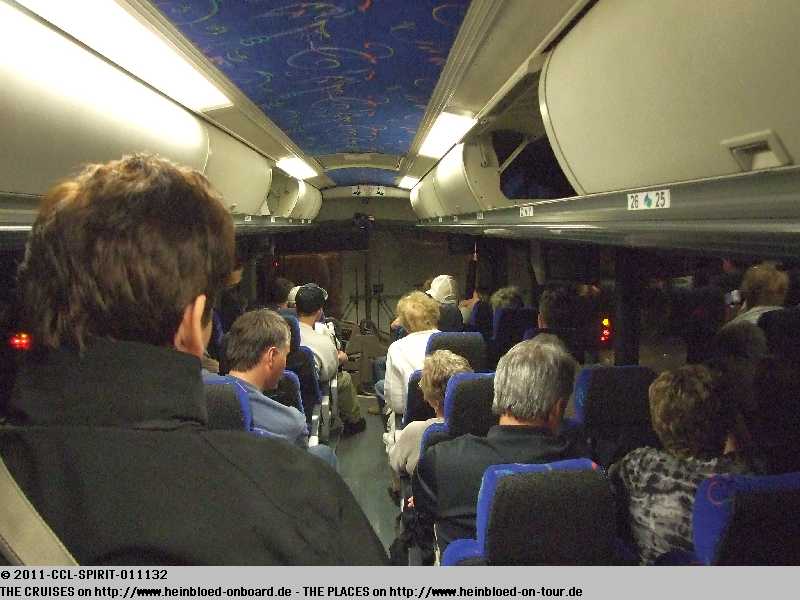 Wir dürfen nicht aussteigen, weil die Busse einzeln vor das Cruise Terminal vorgezogen werden.
Dann kommt ein mexikanischer Grenzbeamter rein, dem wir unsere Transitvisa zeigen sollen. Nur keiner von uns hat eins bekommen. Darum hat man sich an der Grenze nicht gekümmert. Ich sehe schon uns nach Tijuana zurückfahren, um einen Stempel zu holen...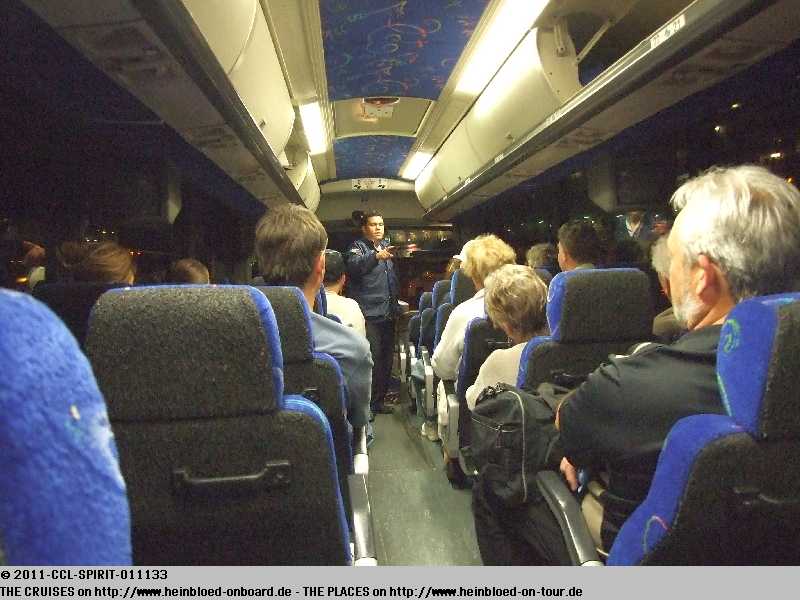 Then a Mexican immigration officer came in and asked to show him our Mexican Transit Visas. None of us got any. None took care at the border. I expected that we need to return to Tijuana to get a stamp...

We were only famished, tired and we were not allowed to leave the bus.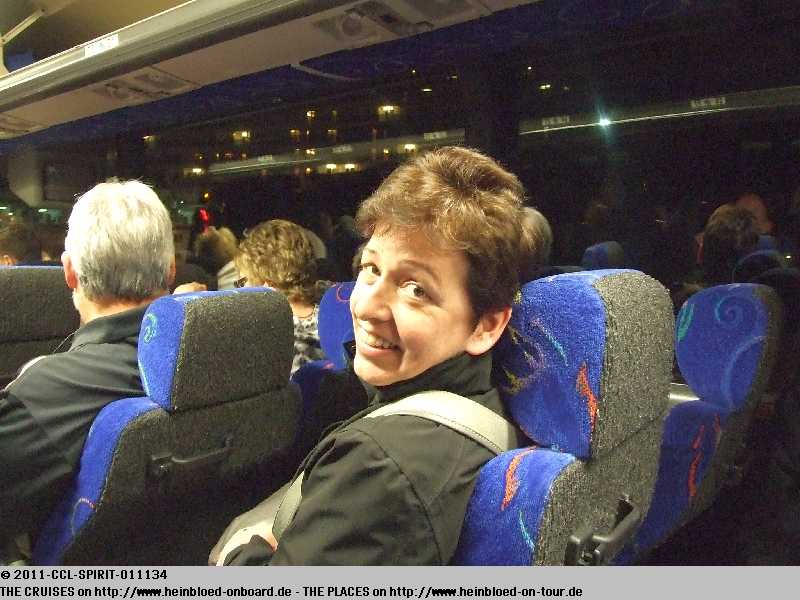 Wir sind eigentlich verhungert und müde und dürfen immer noch nicht raus.