Scroll down for English explanations - alternates with German explanations.

Nach der Studio-Tour geht es weiter mit den Fahrgeschäften und Shows.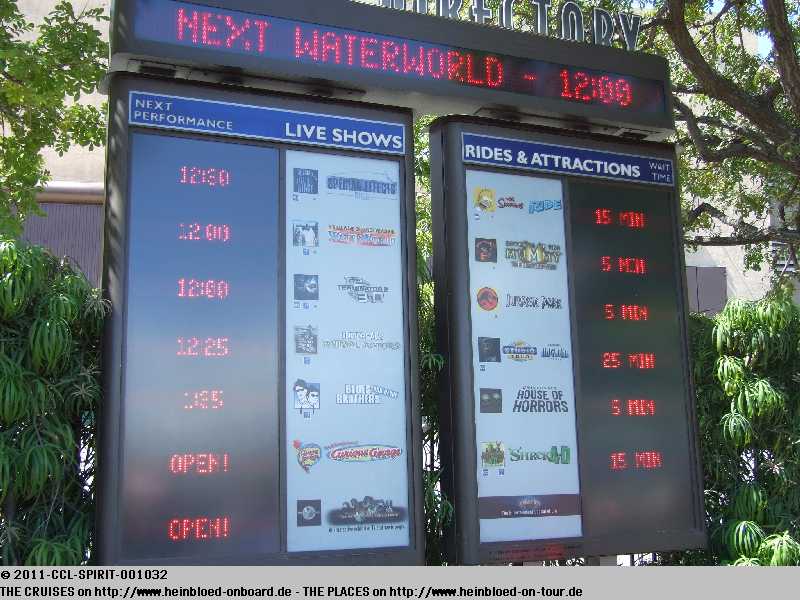 After the studio-tours you had the rides and the shows.

It was quite nice and many things reminded me when I was young...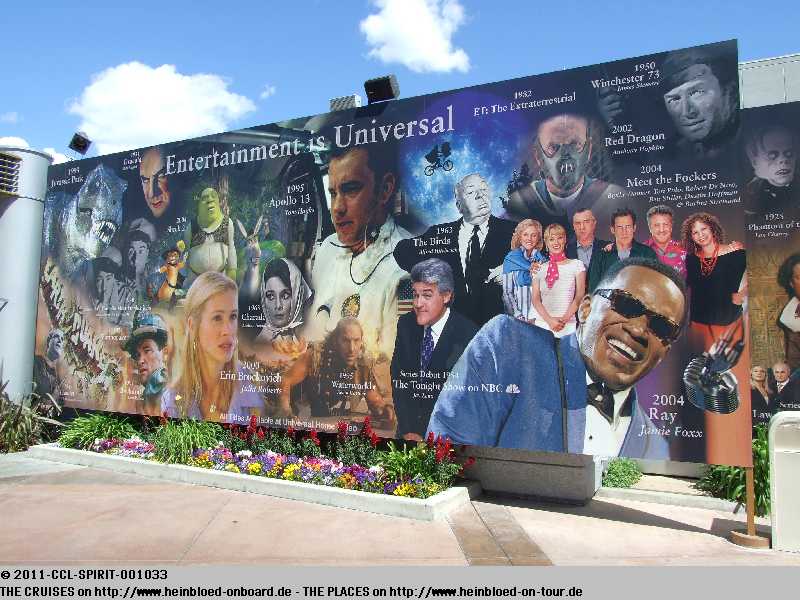 Was sehr schön ist, man wird ja immer an seine eigene Jugend erinnert...
Was witzig ist: Facebook versucht jedes der Gesichter zu markieren...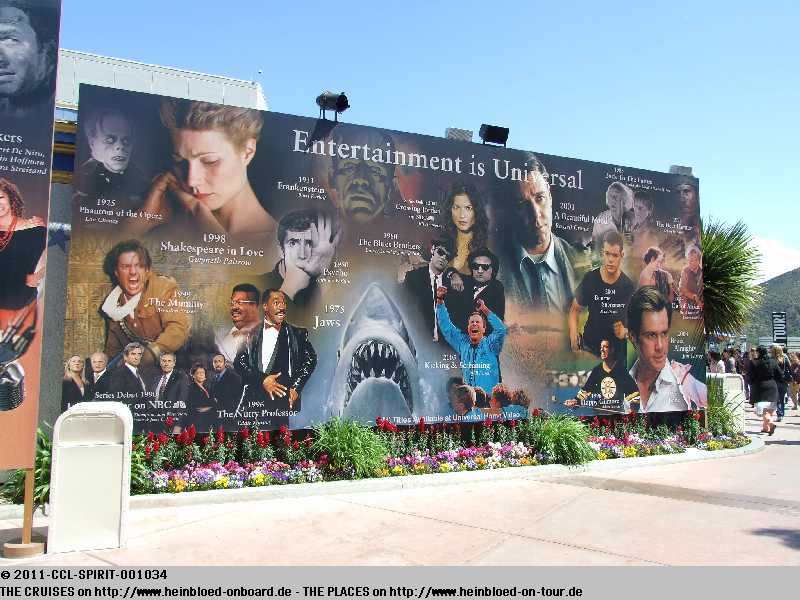 It was quite funny to see later on Facebook that he tried to identify each single face to tag...

Marilyn Monroe... then in "The Seven Year Itch".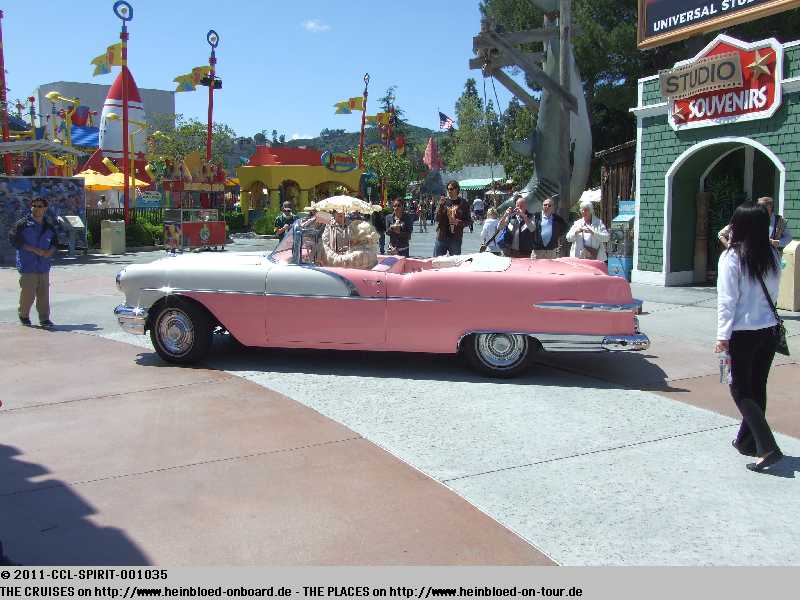 Marilyn Monroe... damals noch in "Das verflixte 7. Jahr".
Brunos Schwager Hermann nutzt die Chance aus, als Brunos Schwester Astrid kurz unterwegs ist, sich mit ihr einzulassen...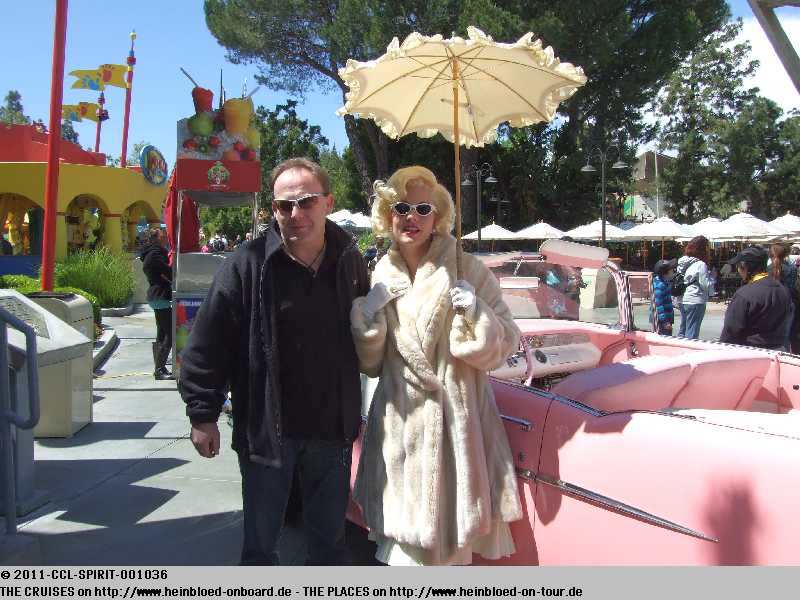 Bruno's brother-in-law Hermann took the chance when Bruno's sister Astrid left us for a couple of minutes to meet her...

But it was really too cold to stay outside a very long time.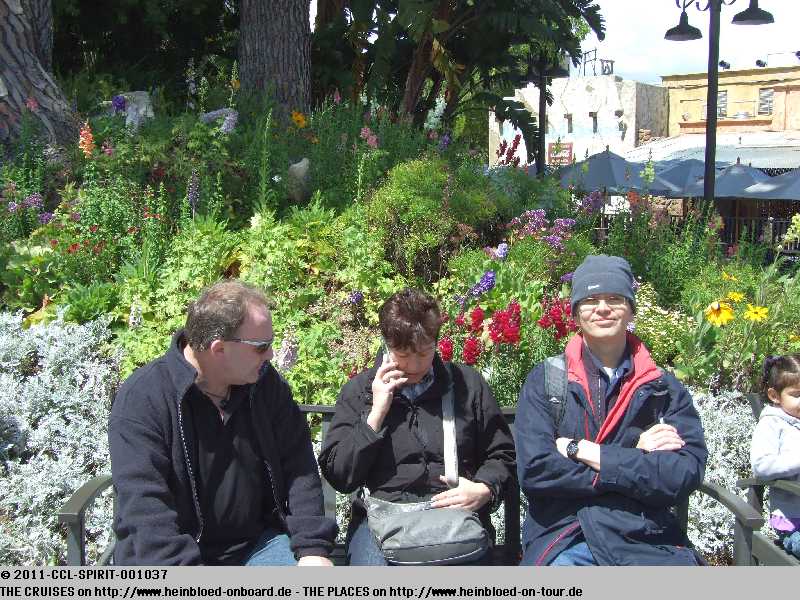 Leider ist es zu kalt, um lange draußen sitzen zu bleiben.
Aber es ist wirklich sehr sehr schön...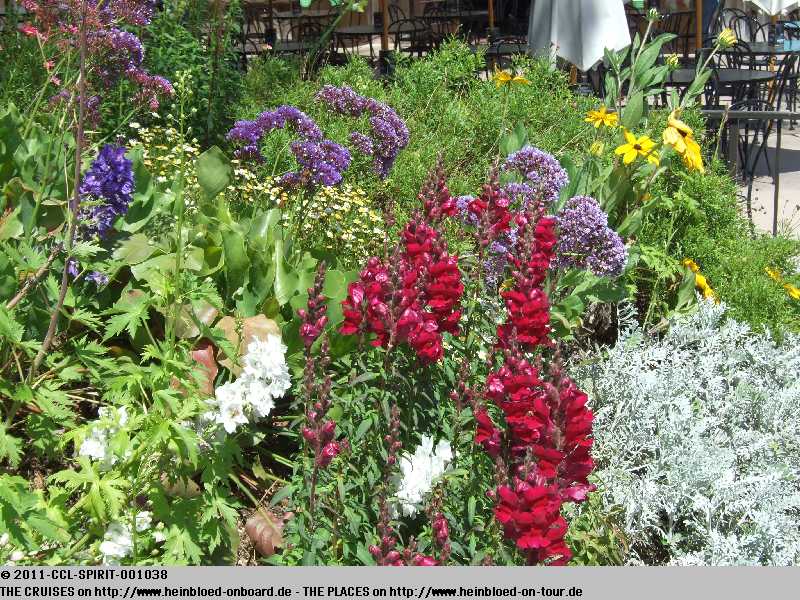 Anyhow it was beautiful here...

I did not like too much Shrek in 4D...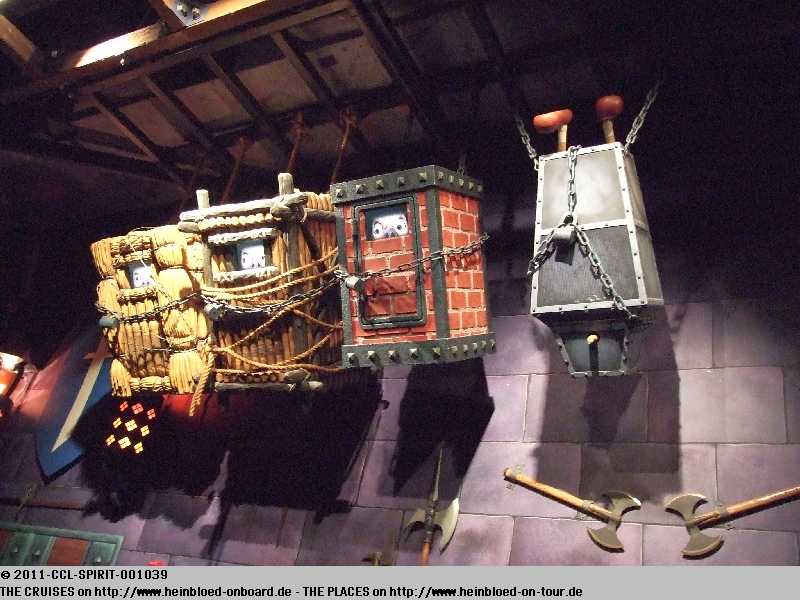 Shrek in 4D hat mich nicht so vom Hocker gehauen...
Es fehlten mir ein paar Highlights, die wir von der MSC FANTASIA her kannten.

I missed some highlights we knew from MSC FANTASIA.

The haunches of dinosaurs was somehow funny with the Flintstones...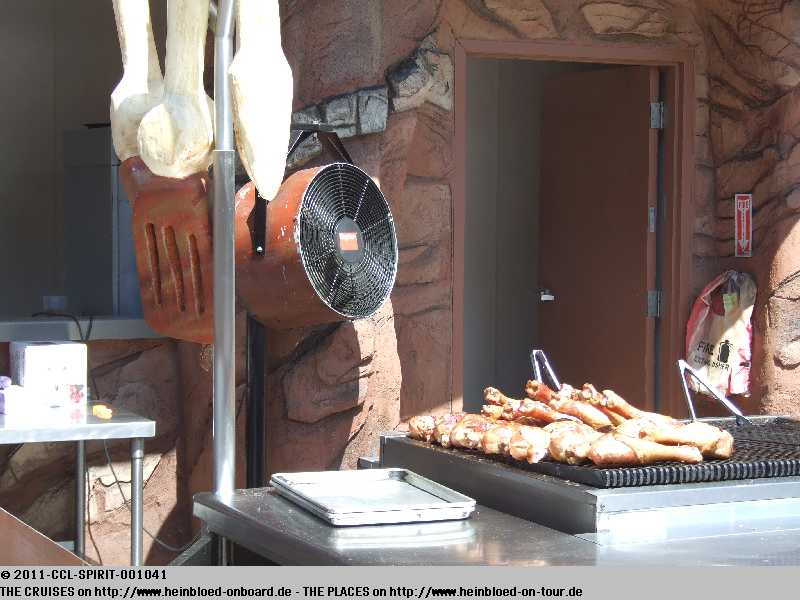 Die Dinokeulen bei den Feuersteins fand ich noch witzig...
Obwohl ich persönlich die Simpsons nicht mag... das war der Höhepunkt des Tages...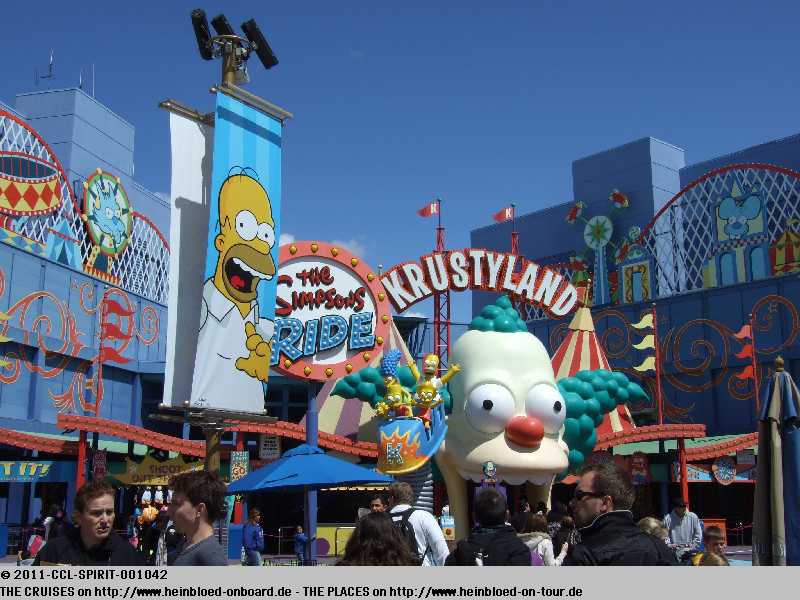 Although I do not like the Simpsons too much... that was the highlight of the day...

Jurassic Park - in a different way...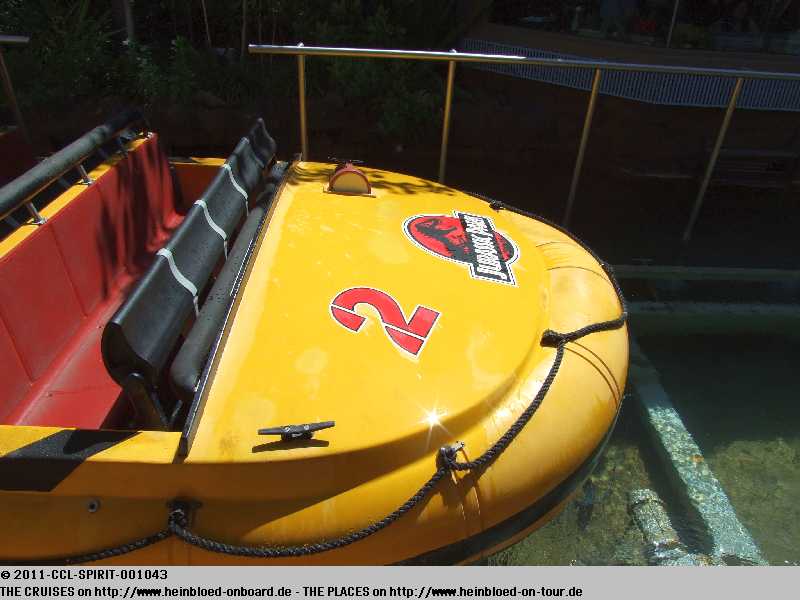 Jurassic Park - mal anders...
von der Wasserseite aus...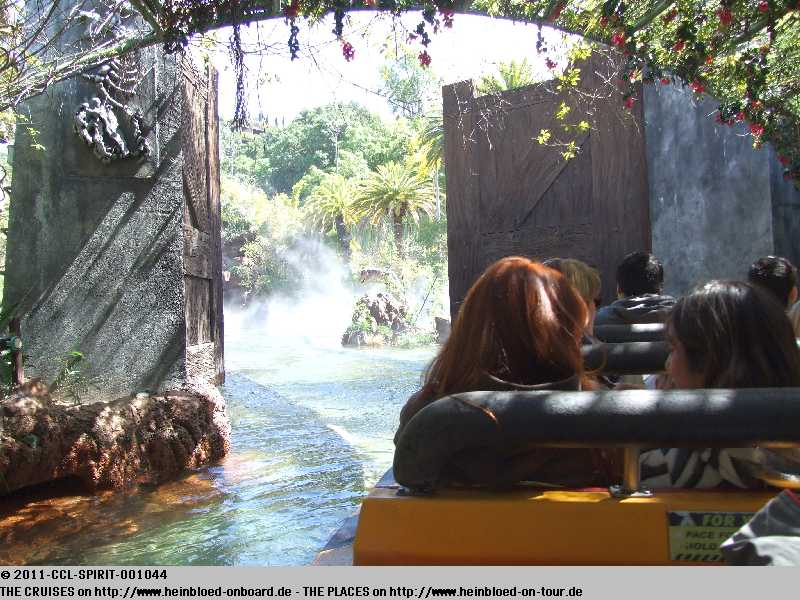 from the waterside...

A lot to see...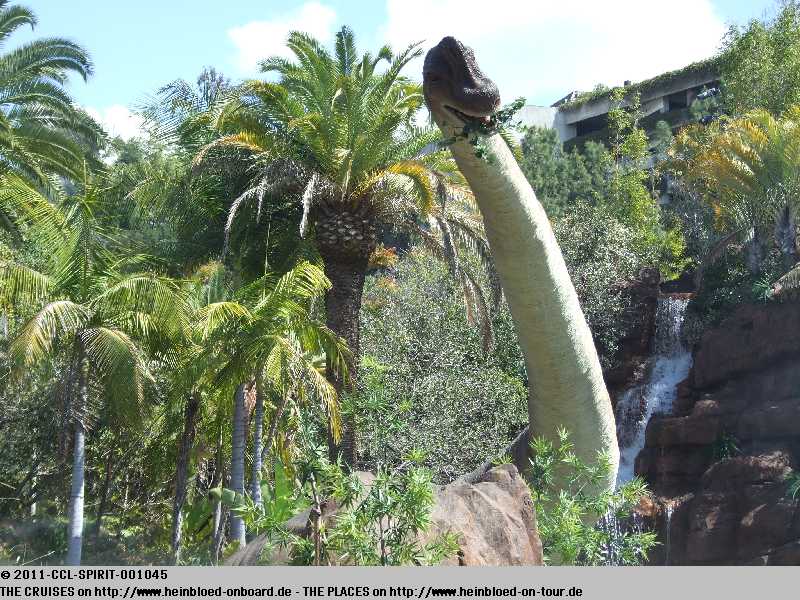 Man hatte immer was zu gucken...
So schnell konnte man gar nicht alle Details sehen...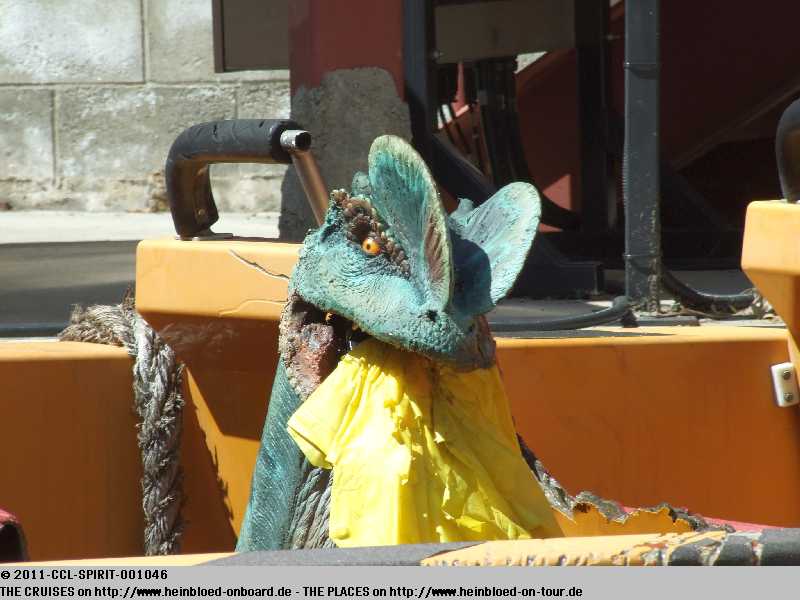 You were not able to see all details so quickly...

Bruno and Astrid obviously liked the ride...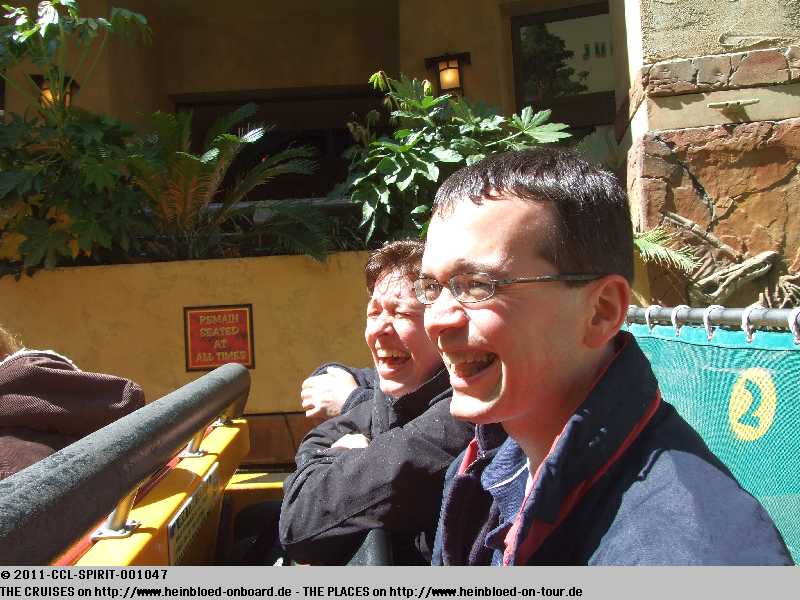 Bruno und Astrid scheint die Fahrt auch gefallen zu haben...
Hier muss man immer aufpassen, was die Dinos noch so anstellen...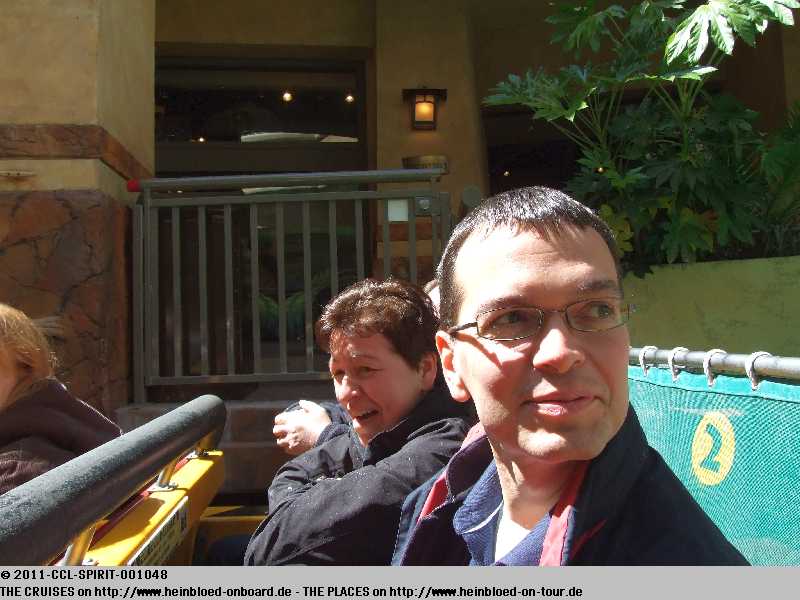 You need to pay special attention what the dinosaurs were doing...

You better keep always an eye on them.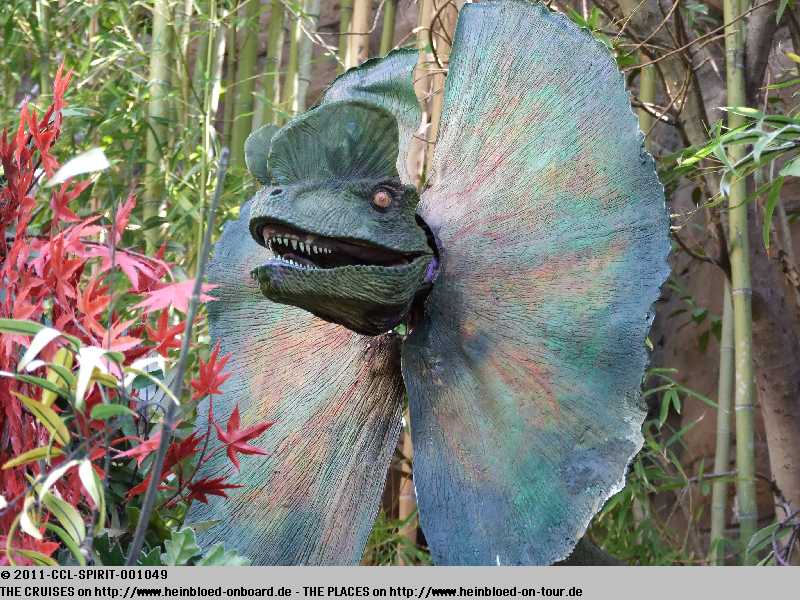 Man darf sie nicht aus den Augen lassen...
Da nun doch sich der Jetlag bemerkmar macht, fahren wir zurück. Vorbei kommen wir an den berühmten Straßennamen, die jeder aus den Filmen her kennt.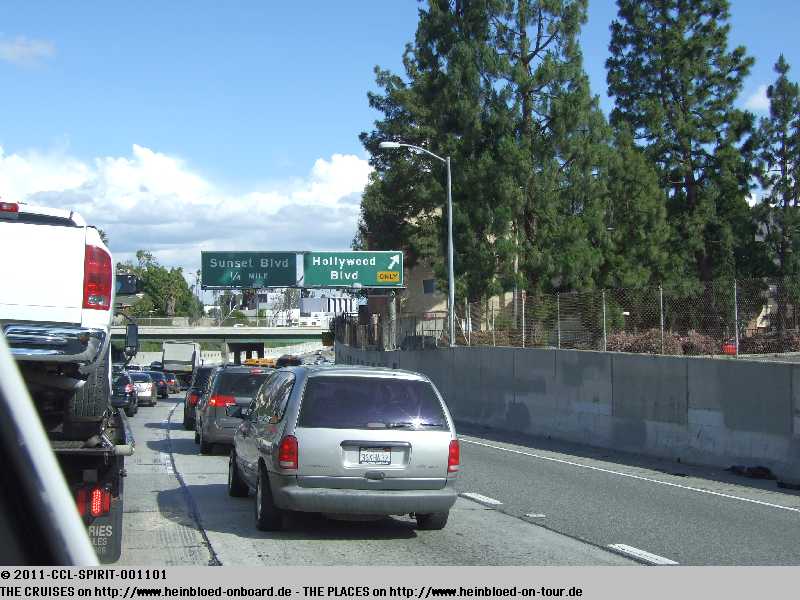 As we can feel the jetlag now we decided to return. We passed the names of the famous streets everybody knows from the movies.

Texting while you are driving costs 158 USD if you are caught...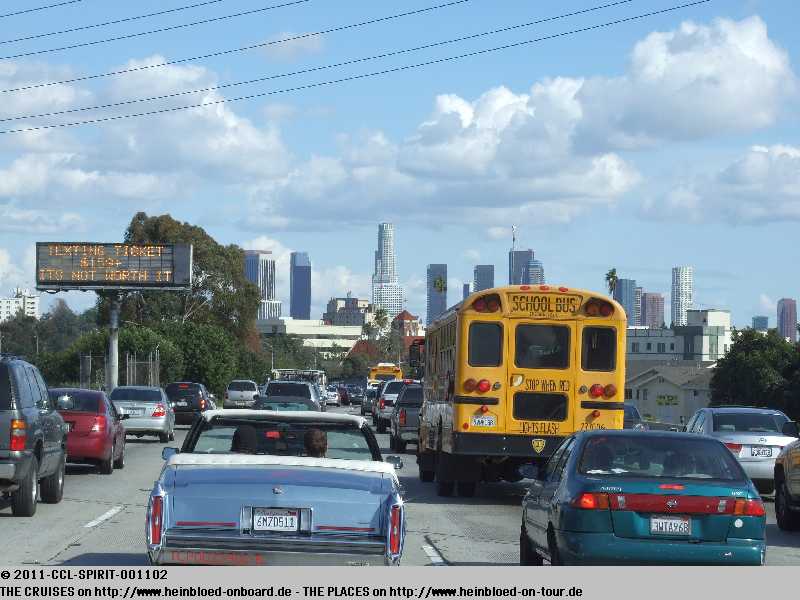 SMS-Schreiben während der Fahrt kostet 158 USD, wenn man erwischt wird...
Man muss sich voll konzentrieren...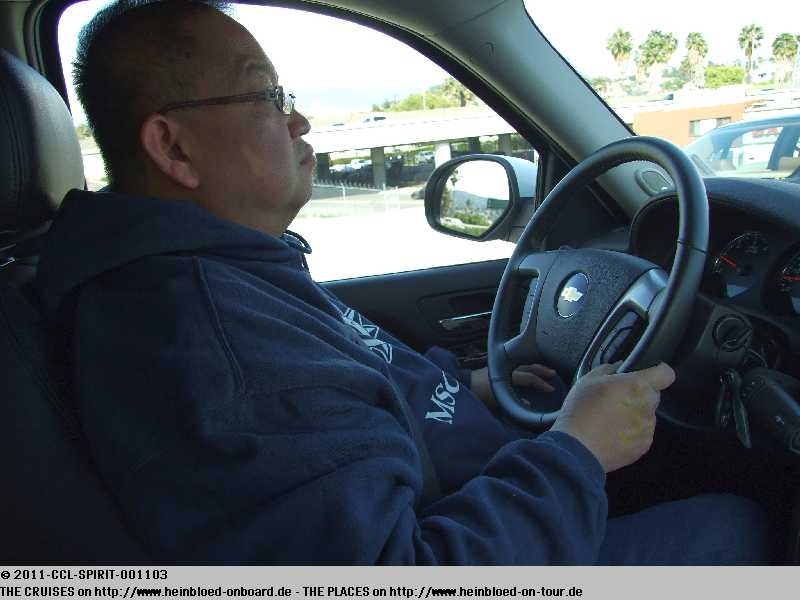 You need full concentration...

But through Downtown it went very quickly...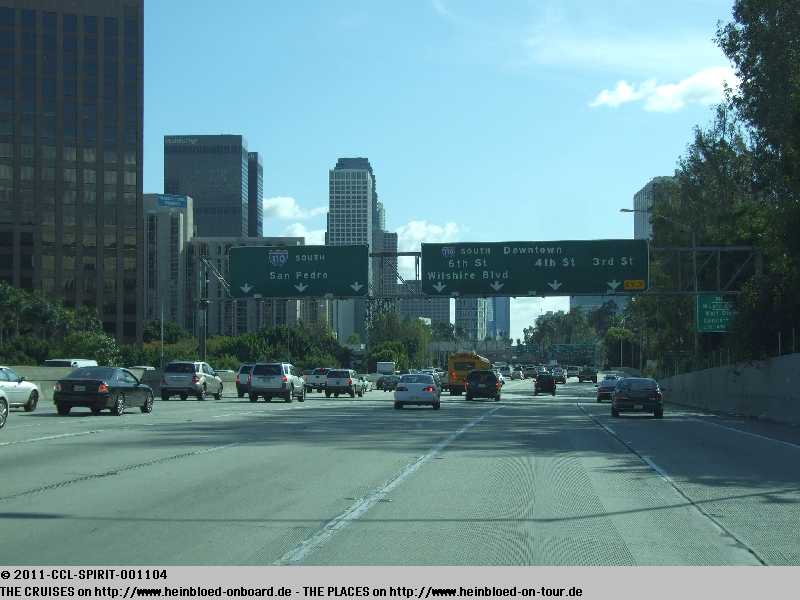 Durch Downtown geht es doch sehr zügig...
Und als wir endlich die HOV-Spur (Carpool - Spuren mit einer Mindestbesetzung im Auto) erwischen geht es ja doch sehr schnell...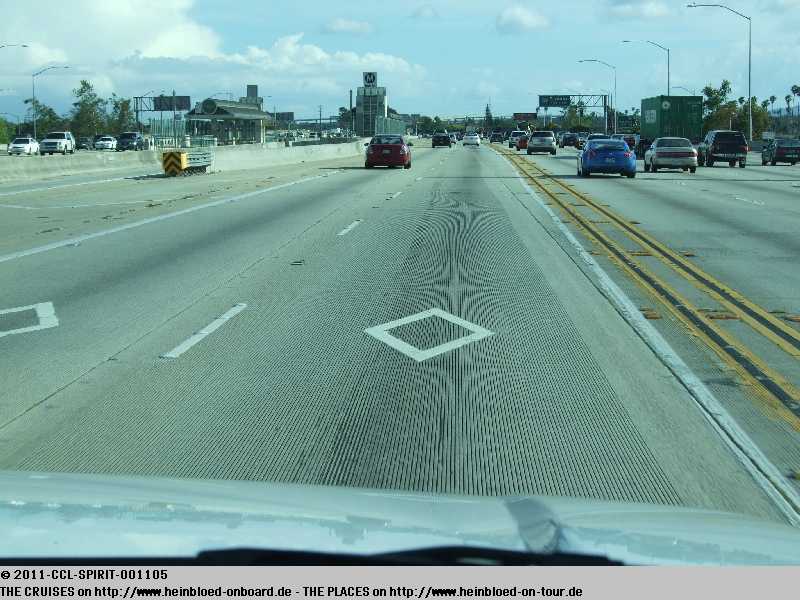 When we finally reached the HOV-Lane (Carpool - High Occupancy Vehicle) it went very fast...

Only if you need to leave it was always somehow crowded and difficult to change six lanes... We went quickly to Best Buy, Macy's and Vitamin Word to stock our inventory.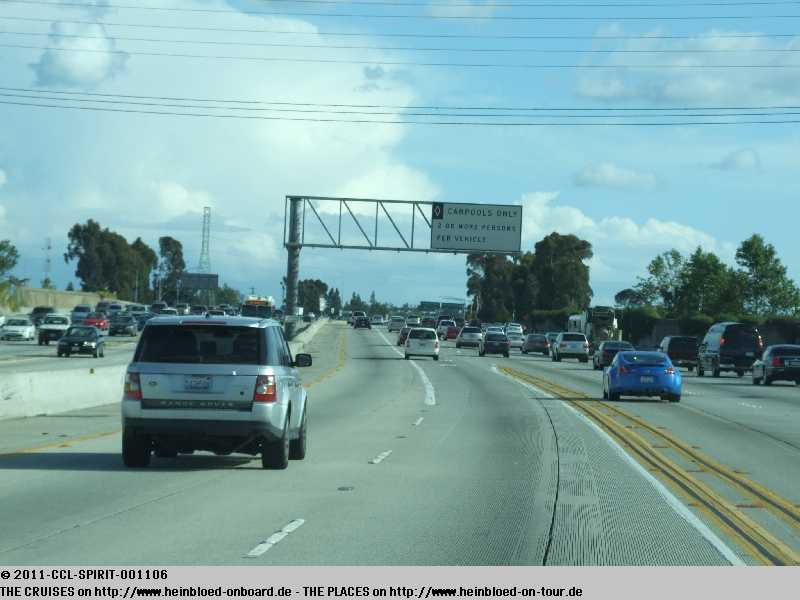 Nur, wenn man wieder raus will, gibt es immer Gewusel, wenn man 6 Spuren wechseln muss... Wir fahren schnell bei Best Buy, Macy's und Vitamin World vorbei, um unsere Vorräte aufzufüllen.
Allerdings müssen wir schon bald zurück, weil paiagirl (Frances und Eddie aus crusecritic.com) kommen. Noch nie waren wir gemeinsam auf Kreuzfahrt, aber es immer wieder eine Freude sie irgendwo auf der Welt zu treffen.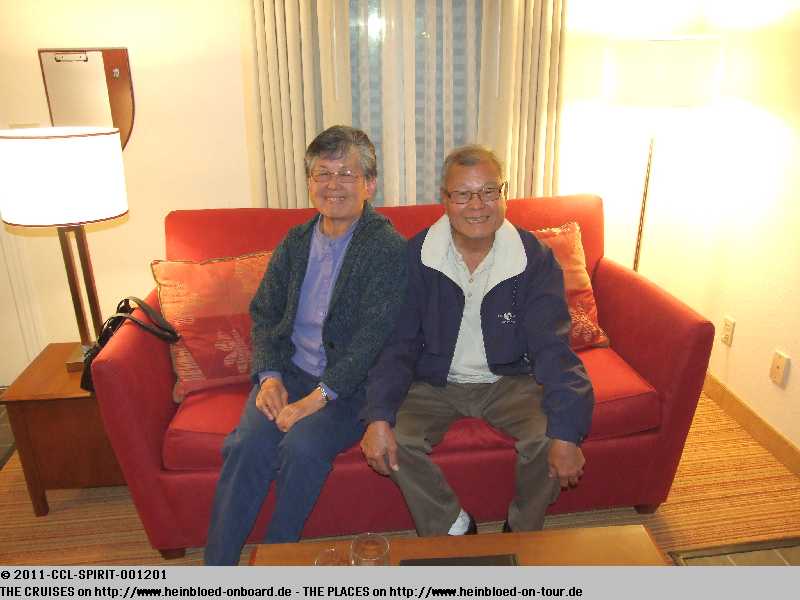 But we must quickly return because paiagirl (Frances and Eddie from cruisecritic.com) should come. We never have been on the same cruise but it is always a pleasure to meet them somewhere in the world.

We invited them to the Curry House for dinner.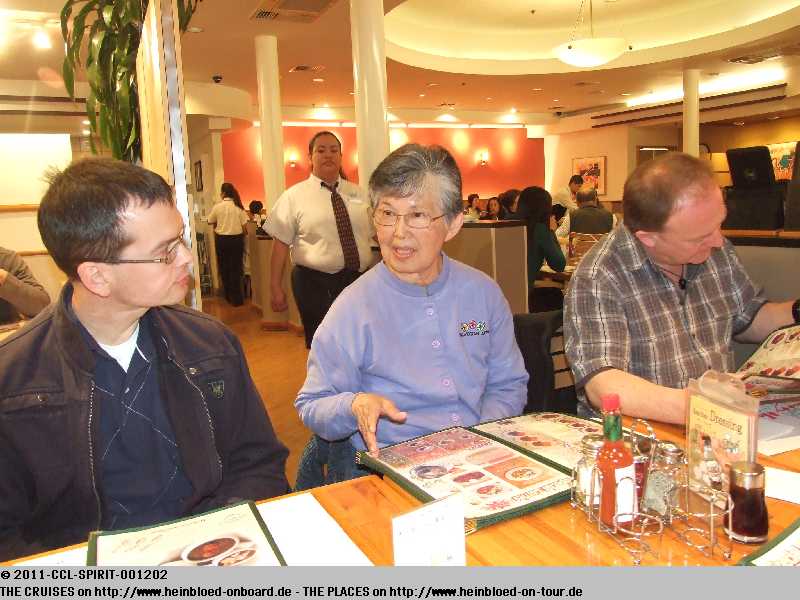 Wir laden sie ins
Curry House
zum Essen ein.
Übrigens sehr authentisch japanisch... am Telefon wurde mein deutscher Akzent von einer spanisch sprechenden Mitarbeiterin als Japanisch erkannt und ich wurde an einen japanisch sprechenden Mitarbeiter weiterverbunden, der wiederum kein Wort Englisch sprach. Ein gutes Zeichen.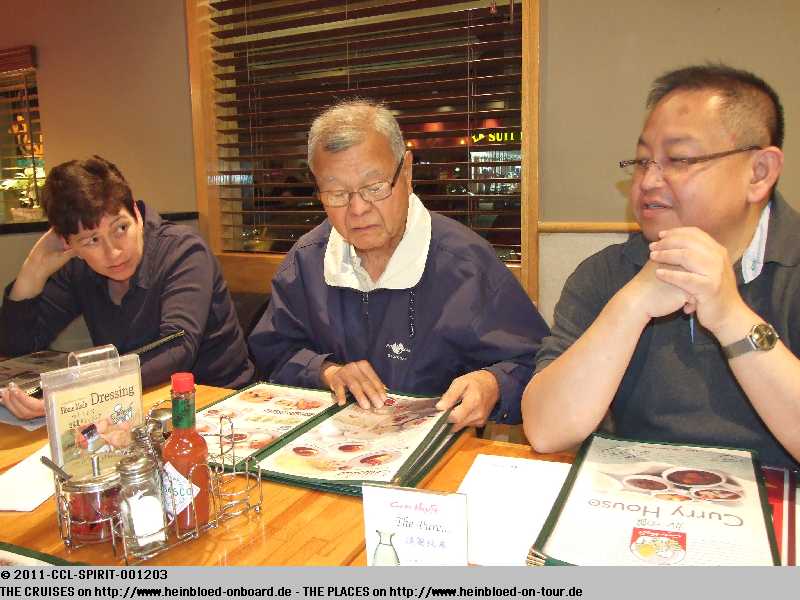 By the way very authentic Japanese... my German accent was identified by a Spanish speaking employee as Japanese and so I was redirected to a Japanese speaking employeee who did not speak one word English. A good sign.

I got everything I would also get in Tokyo. But only in XXL...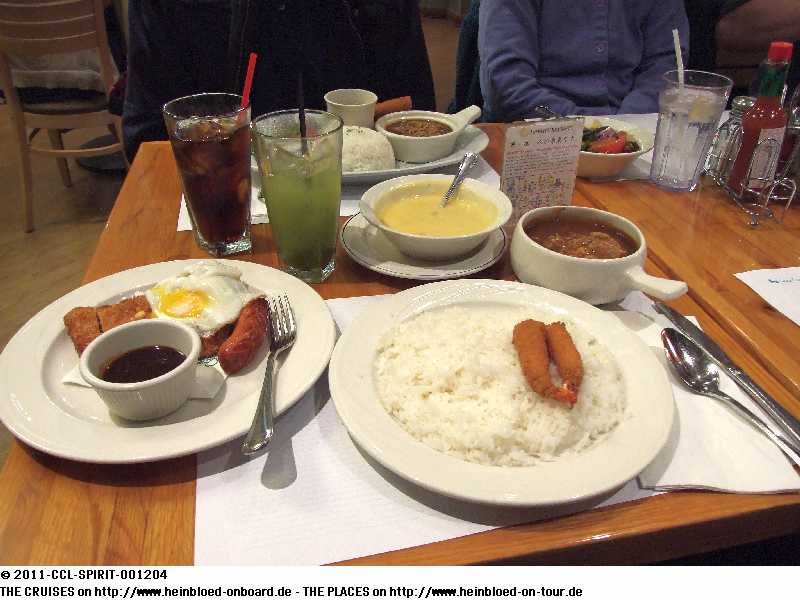 Ich bekomme alles, was ich in Tokyo auch bekomme. Nur alles in XXL...
Damit wir schnell ins Bett können verabschieden sich paiagirl (Frances und Eddie) von uns... für 24 Stunden... Denn morgen fahren wir zu ihnen.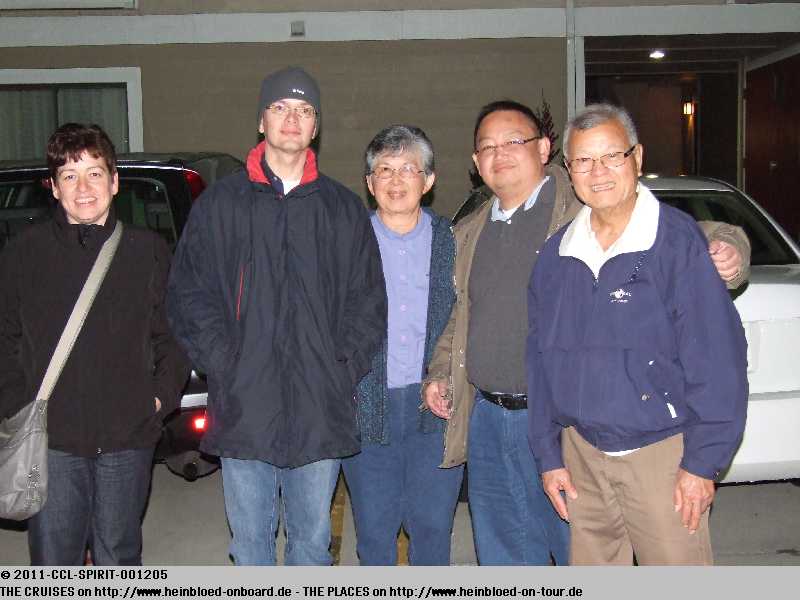 So we could get to bed soon paiagirl (Frances and Eddie) said quickly bye-bye... for the next 24 hours... then we will go for their place.