Scroll down for English explanations - alternates with German explanations.

Wenn Gabriella Dienst hat, ist meine Getränkeversorgung sichergestellt. Den Service liebe ich und trotz Soda-Pass ist es mir immer etwas Trinkgeld Wert. Schade, dass sie abends nur unten arbeitet. Dann müsste ich nicht verdursten.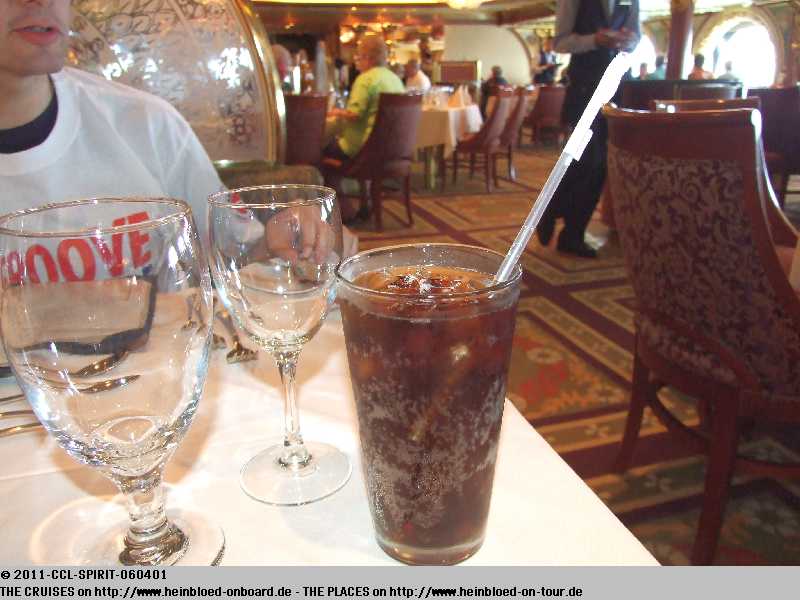 When Gabrielle was on duty I did not need to worry about my supply of beverages. I love her service and even I had a soda-pass I always gave her tips. What a shame that she works downstairs during the dinner. So I would not need to die on thirst.

Chilled cucumber shoup but there is one season inside I did not like too much.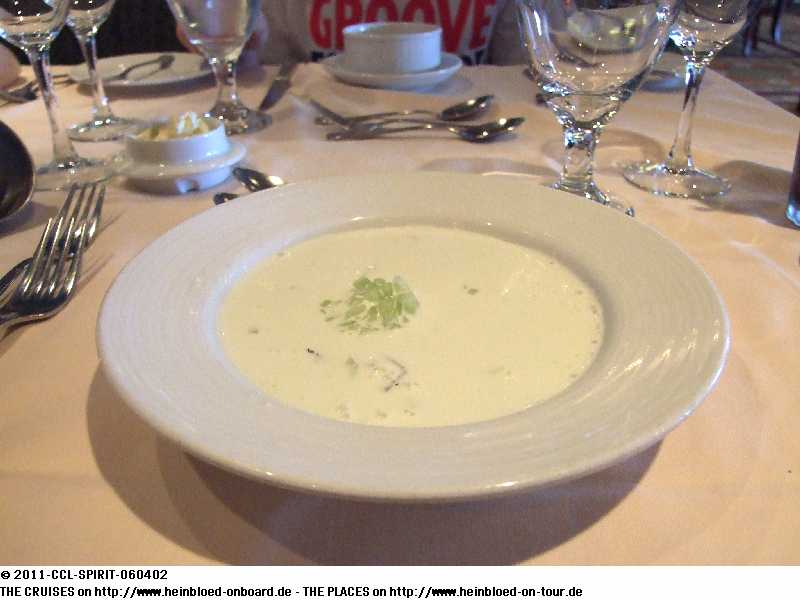 Gurkenkaltschale, aber leider ist ein Gewürz darin, dass ich nicht so mag.
Bruno hat ausnahmsweise auch Suppe und die muss er nicht nachwürzen...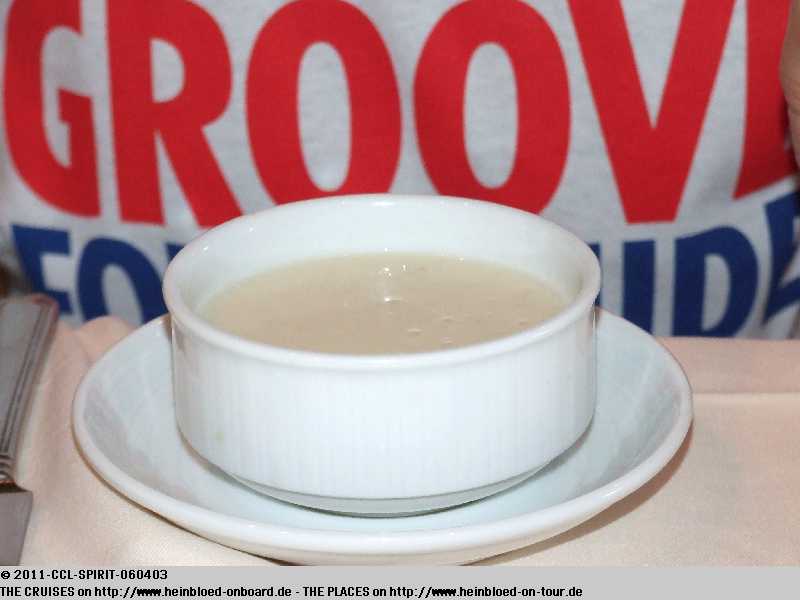 Bruno had by exception soup as well and no reason for additional seasonings...

For lunch the menu of the Empire is really good.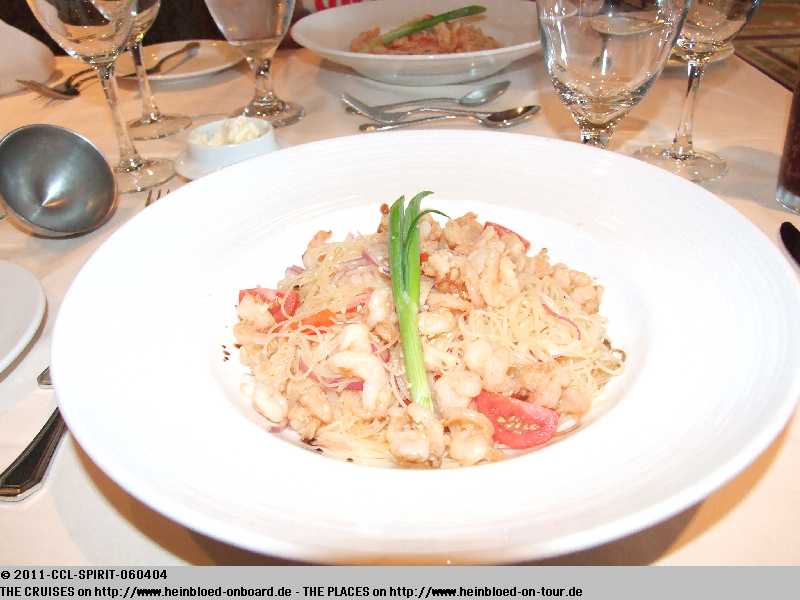 Mittags ist die Karte im Empire echt gut.
Da wieder mal niemand vorbeikommt, damit wir noch einen Kaffee bestellen können, gehen wir wieder in die Kaffeebar. Dort werden wir durch Candeehs freundliche Art entschädigt, und sie erklärt uns, was andere Gäste ihr schon beigebracht haben: "Ich liebe dich!"...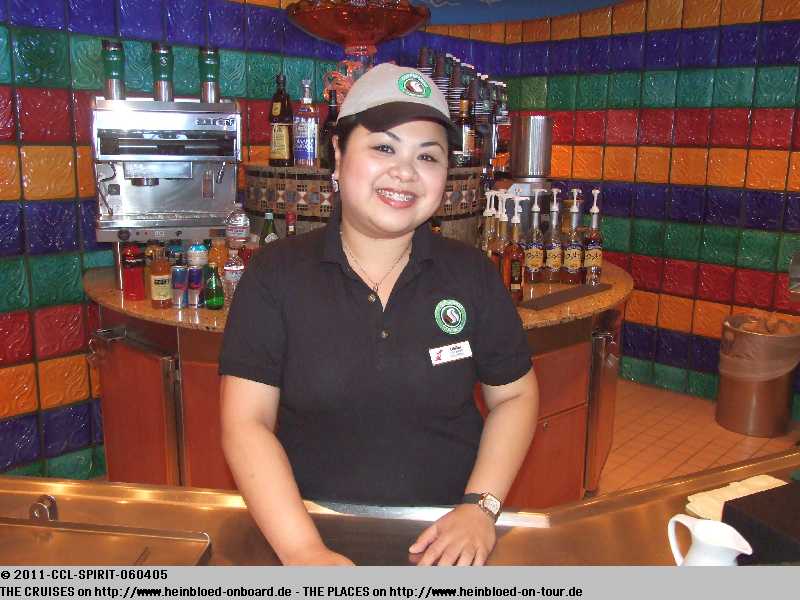 As again none showed up to order a coffee we went to the coffee bar. There we got compensated by Candeeh's friendly way and she explained what other guests taught her already in German: "Ich liebe dich" (I love you)...

We went directly to Michele who introduced the lifes of whales and dolphins.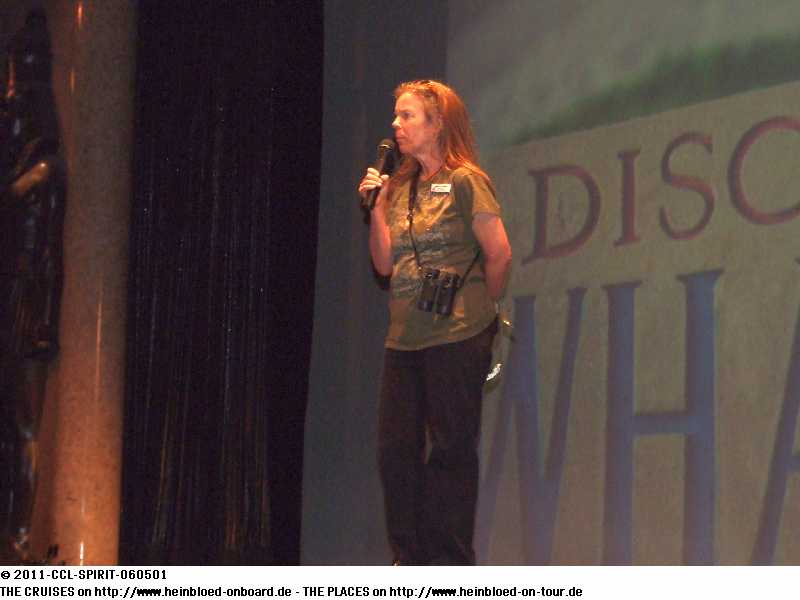 Es geht direkt zu Michele, die heute Wale und Delfine vorstellt.
Wie immer erstklassig.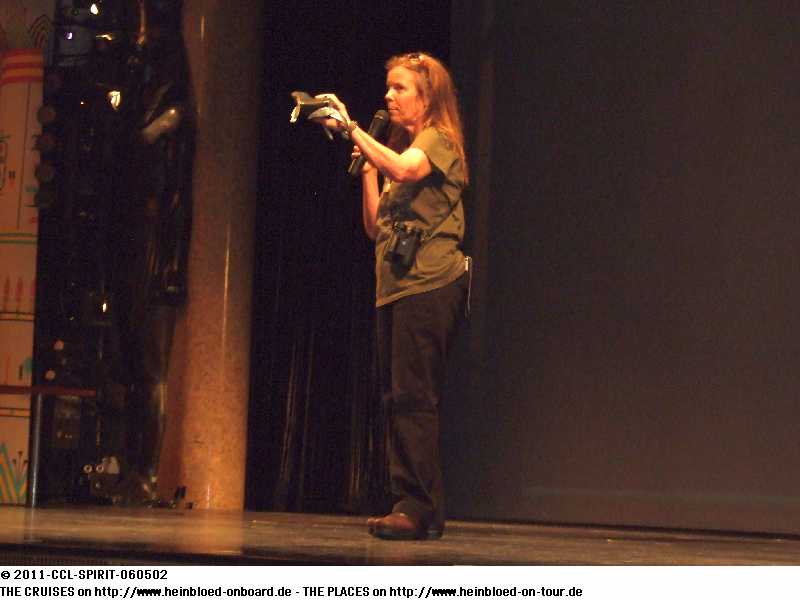 Like usually high-class.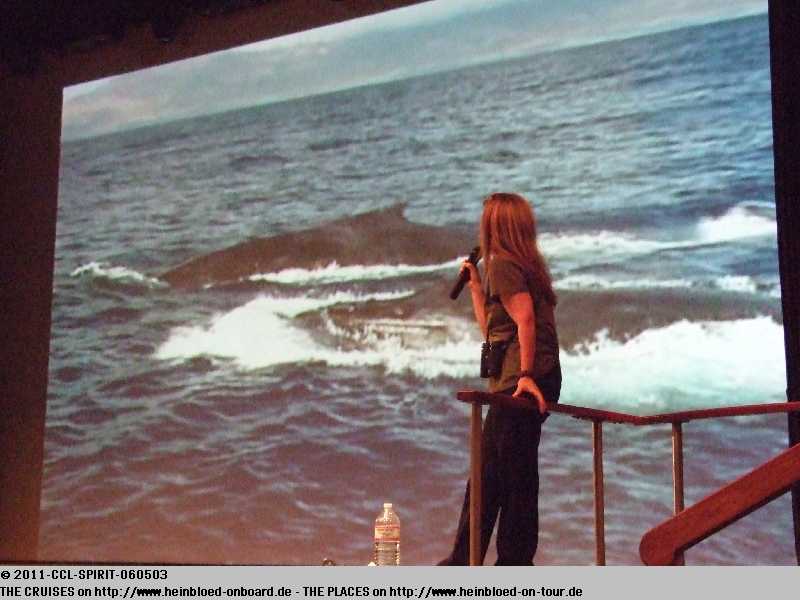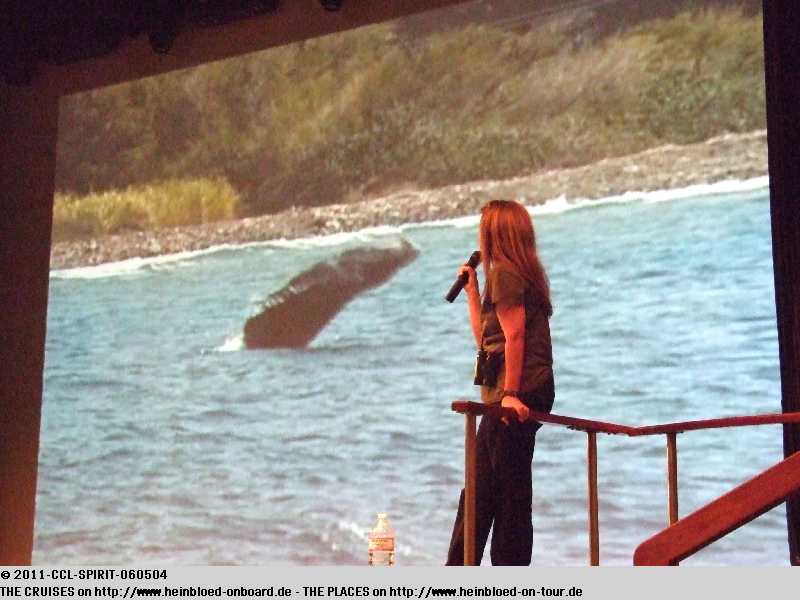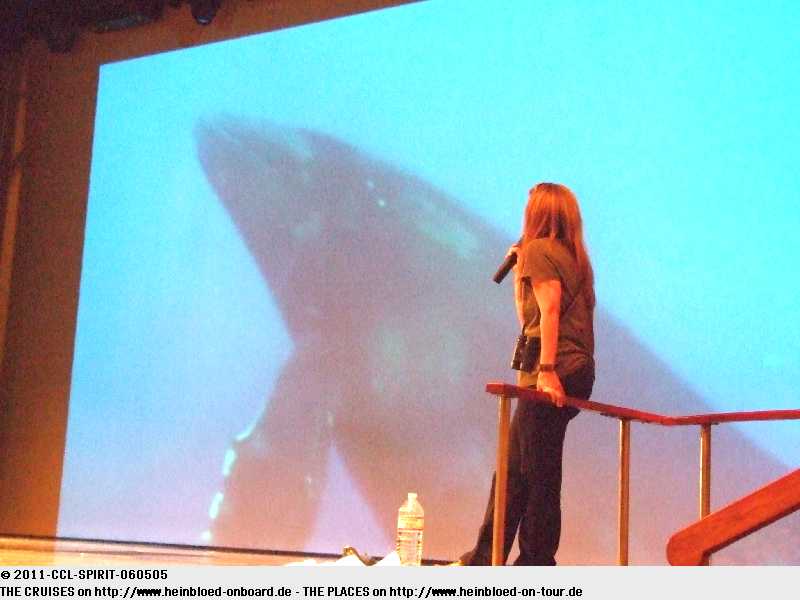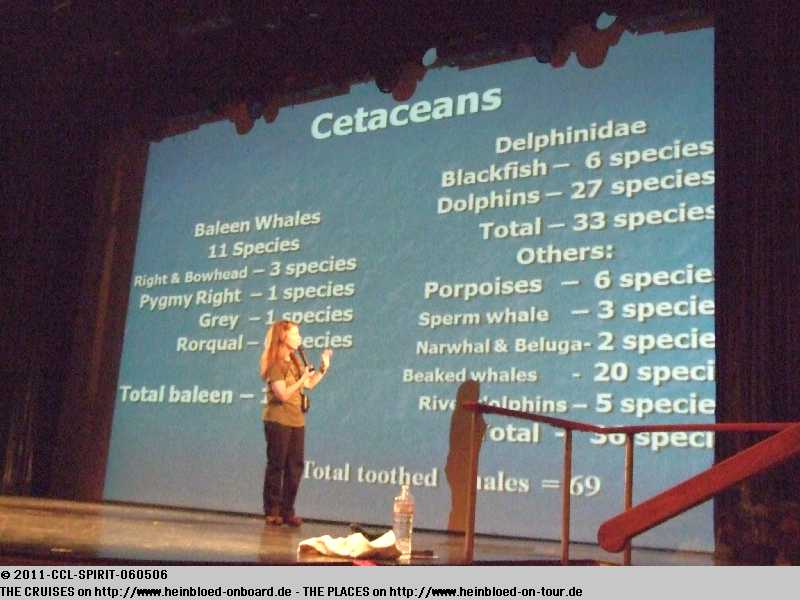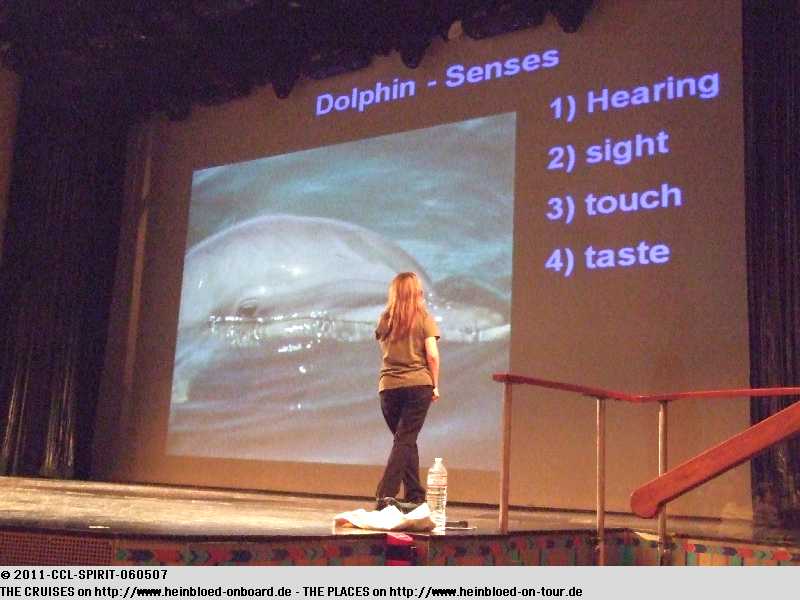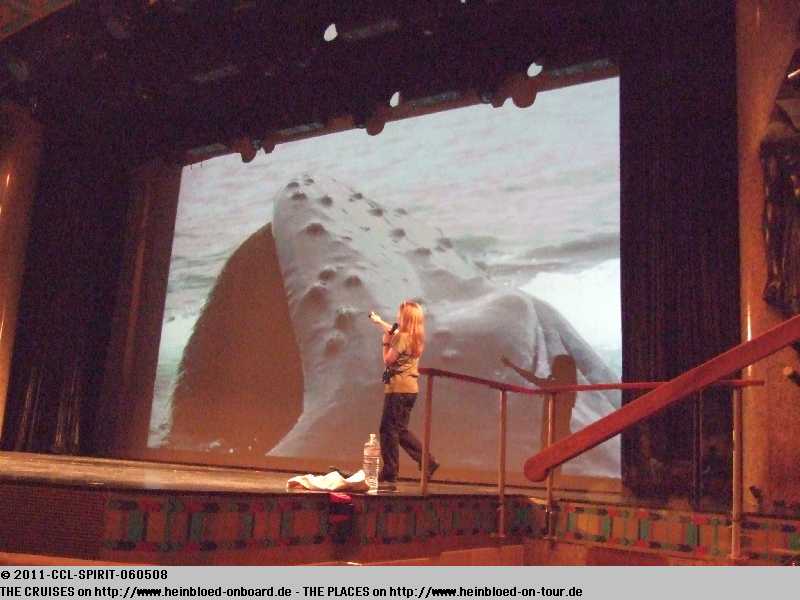 Although it was no sales event for shore excursions we asked if you might have real chances to see whales.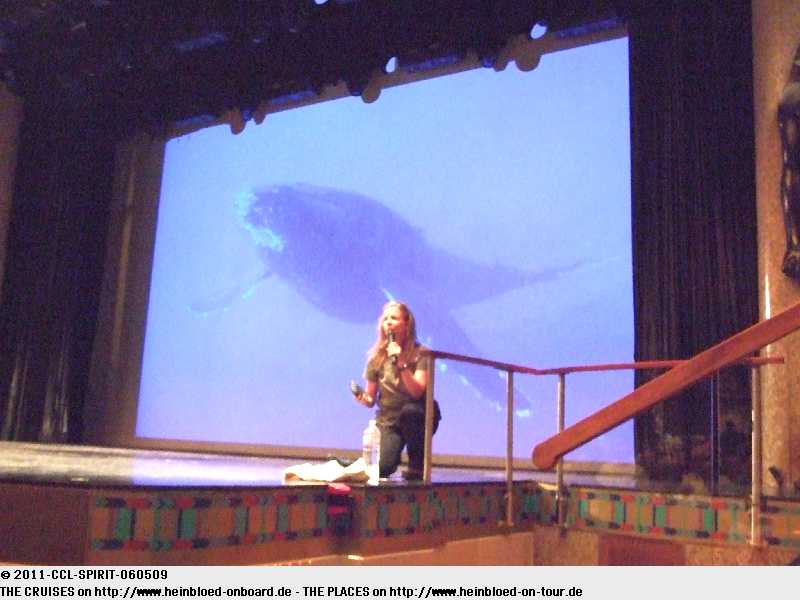 Obwohl es gar keine Verkaufsveranstaltung für Ausflüge ist, fragen wir an, ob man denn noch reale Chancen hat, Wale zu sehen.
Sie erklärt uns, dass jetzt schon das Ende der Walsaison auf Hawai'i ist und die höchsten Chancen in Lahaina auf Maui bestehen würden, aber man bräuchte schon ein schnelles Boot, weil nur noch wenige da wären, denen man schnell hinterher fahren müsste. Die Frau ist der beste Future Cruise Consultant für eine Alaska-Cruise mit Carnival.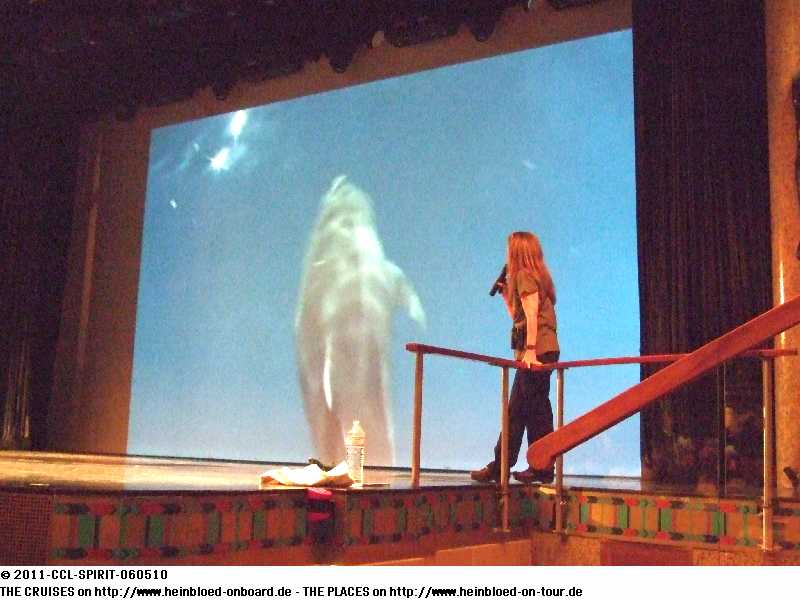 She explained that it was already end of the whale season on Hawai'i and the best chance would be in Lahaina on Maui subject you get a fast boat. As there were not so many whaes anymore you need a fast one to follow. She was the very best future-cruise-consultant to book an Alaska-cruise with Carnival.

Sorry but I could not ignore it... so I bought myself a FunShip Freddy... unbelieveable.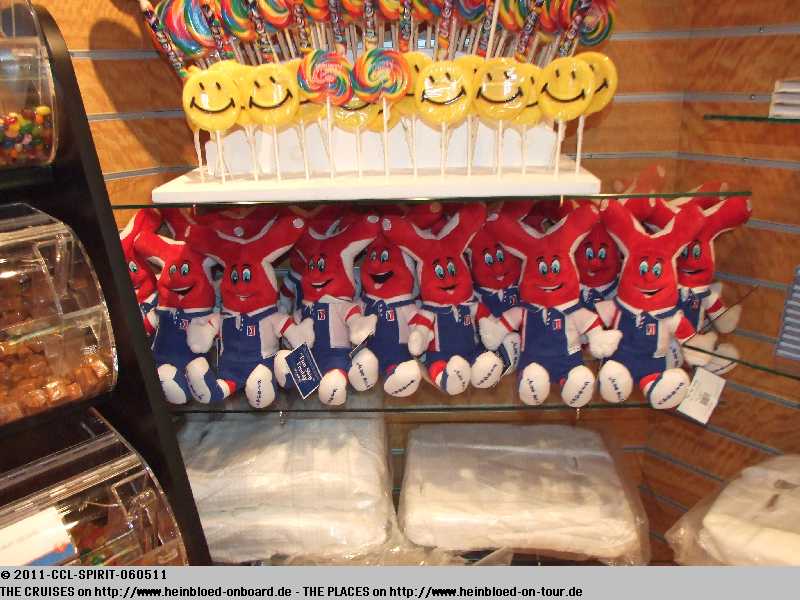 Irgendwie habe ich es nicht geschafft... und mir doch einen FuSship Freddy gekauft... Kaum zu glauben...
Ärgerlich: es ist schönstes Wetter: aber das offene Deck ist für Reinigungsarbeiten geschlossen. Wieso arbeiten die eigentlich nicht nachts, wie bei anderen, um solche Arbeiten zu machen???

Somehow angry: it was nice weather: but the open deck was closed for cleaning. I was wondering why other do such works in the nighttime???

The band invited for a Jazz-session in a lounge... but days at sea made so tired... You were always busy...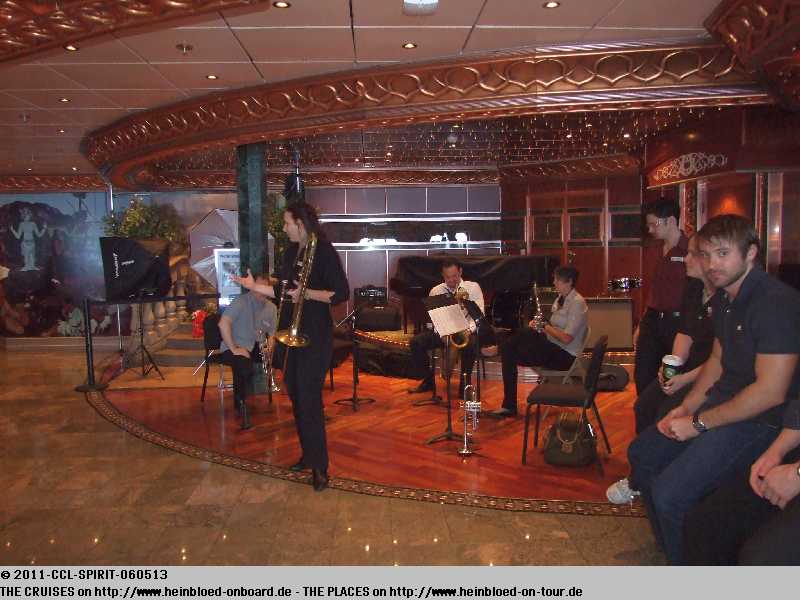 Das Orchester lädt in einer Lounge zu einer Jazz-Session ein... aber Seetage machen müde... Man hat immer so viel zu tun...
Im Fernsehen wird für die DVD geworben...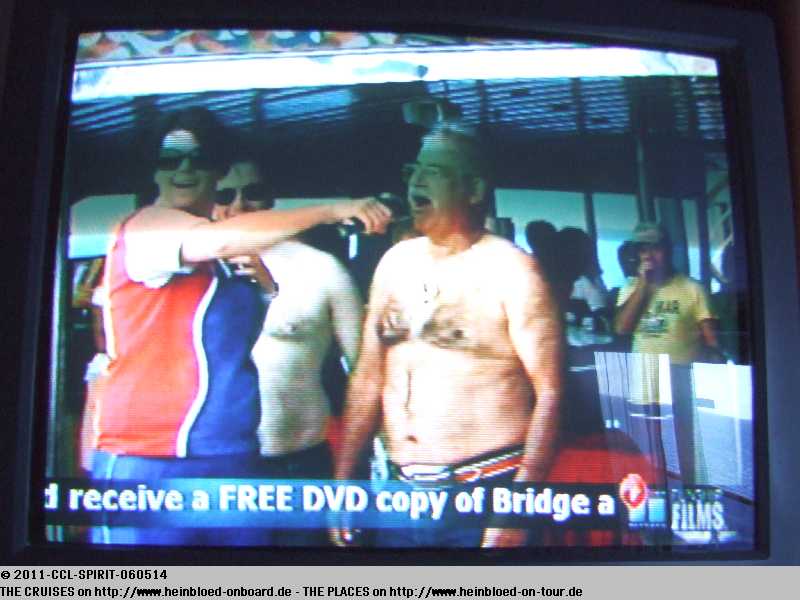 On TV they advertised for the DVD...

So we obviously had luck that we did not notice this event...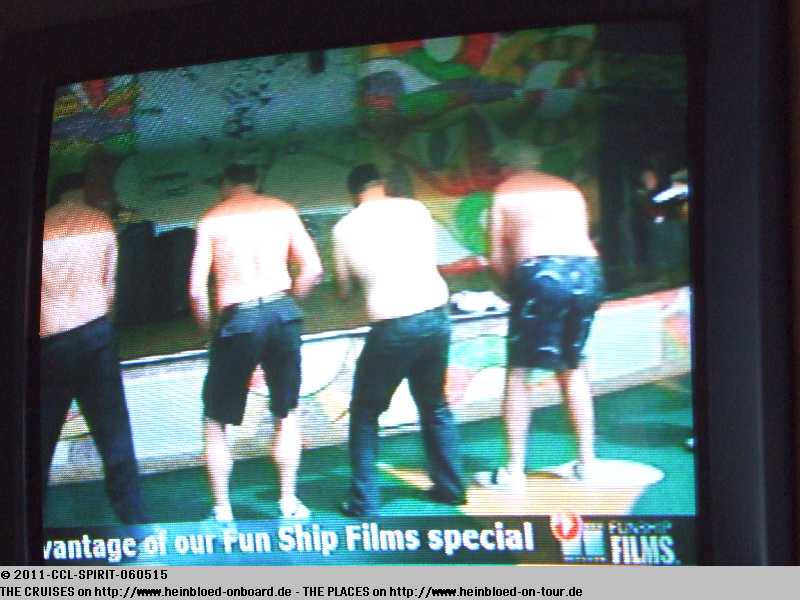 Da haben wir wohl Glück, dass wir das gar nicht mitbekommen haben...
Heute ist Hawai'i-Party angesagt.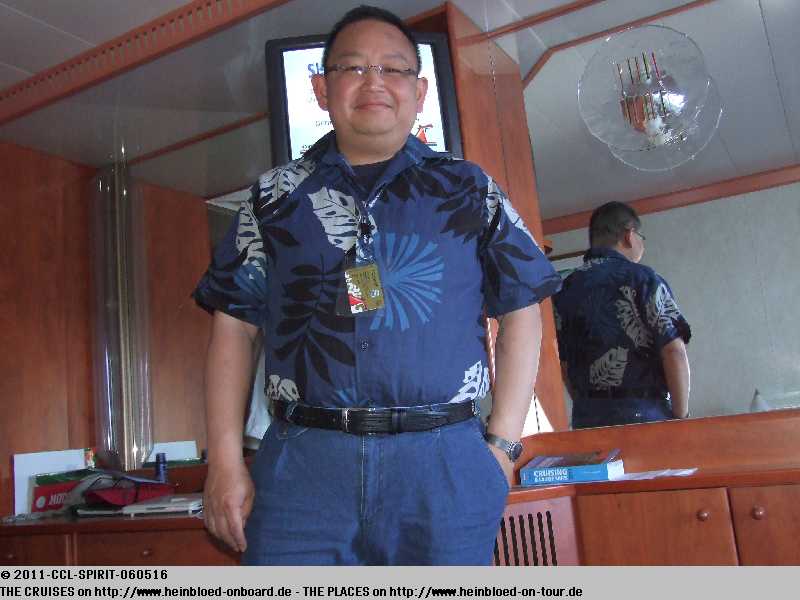 Today there was a Hawai'i-Party announced.

As you can see: dress code was with Carnival a faux-pas-word.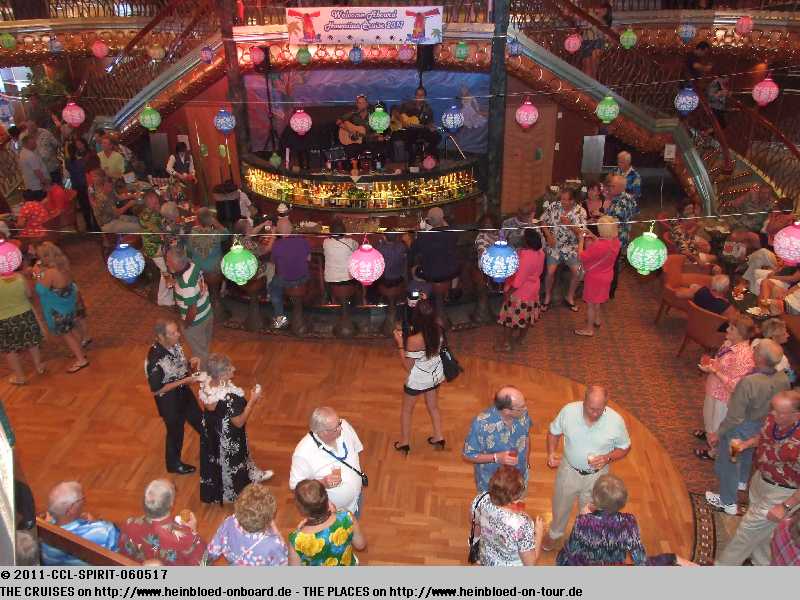 Aber wie man sieht: Kleiderordnung ist eigentlich bei Carnival auch ein Unwort.
Jeder bekommt kostenlose Drinks - egal mit passendem Hawai'i-Hemd oder nicht.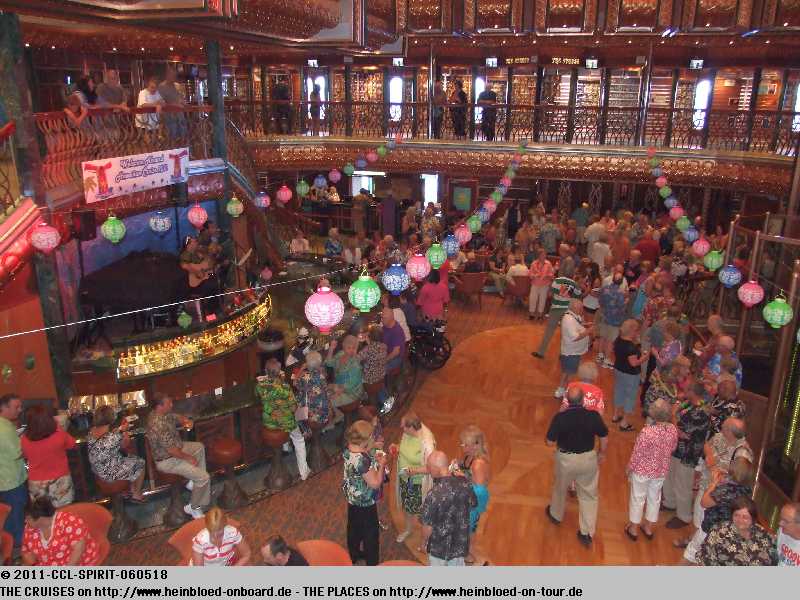 Each of us got free drinks - no matter you had a Hawai'i-shirt or not.

Because we had the open seating we could attend both parties...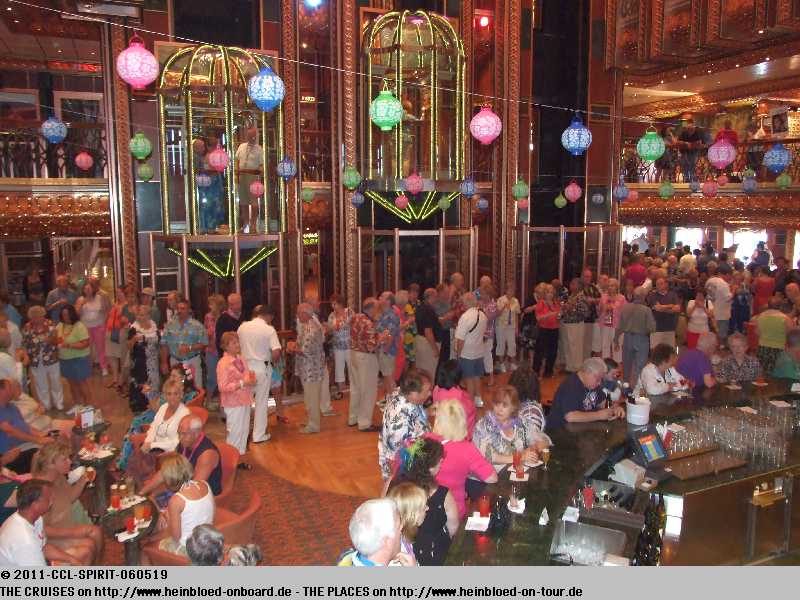 Das Gute bei der offenen Sitzung: wir können zu beiden Parties...
Leider kein Fruitpunch, sondern Pink Lemonade... aber sie perlt nicht... schade...

But no fruitpunch but pink lemonade... so no bubbles... what a shame...

In the afternoon the weather was nice again.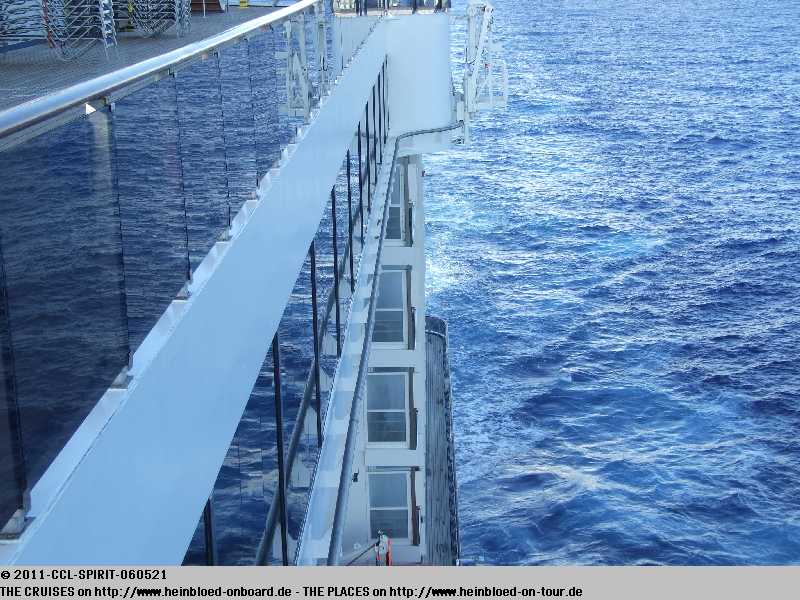 Nachmittags ist alles wieder schön.
Schön warm. Deswegen sind auch gar nicht mal so viele bei der Party, sondern nutzen auf den offenen Decks den letzten Seetag aus.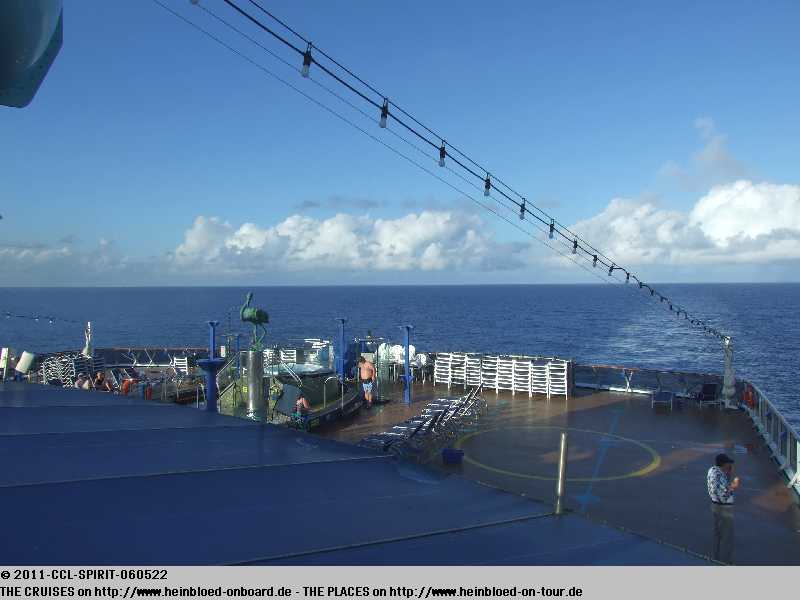 Very warm. So there were not so many at the party but used the open decks on the last day at day.

They cleared the aft for the night.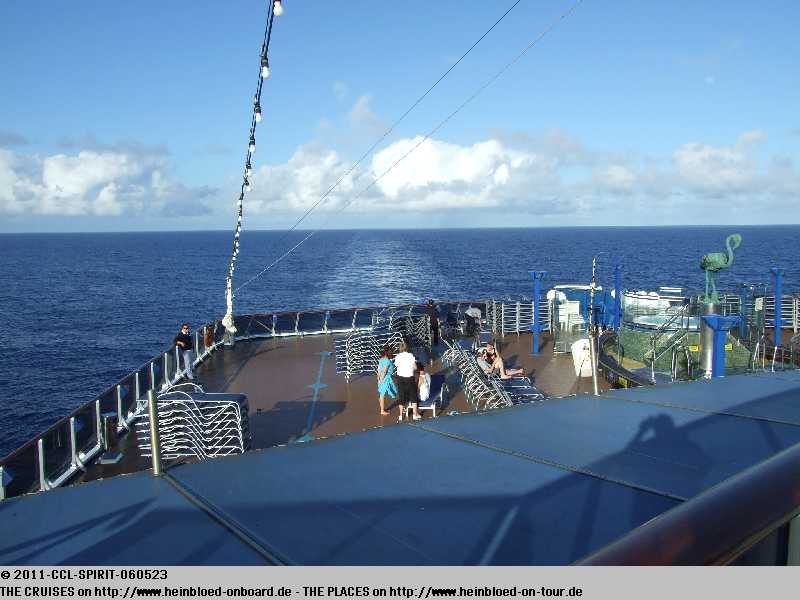 Am Heck wird aber schon alles zusammengestellt.
Irgendwie ist das Glasdach schon beeindruckend.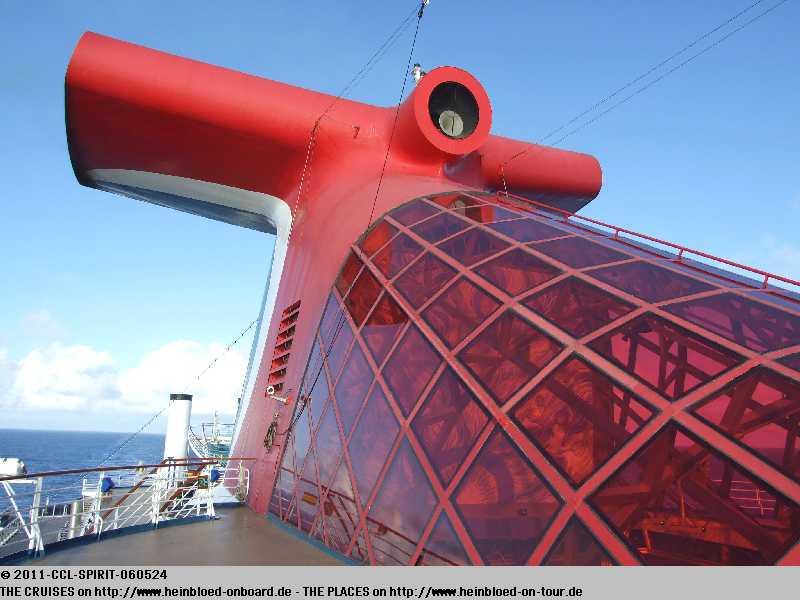 Somehow the glass funnel construction was very impressive.

And what was located here under was impressive too: we booked again Nouveau Steakhouse.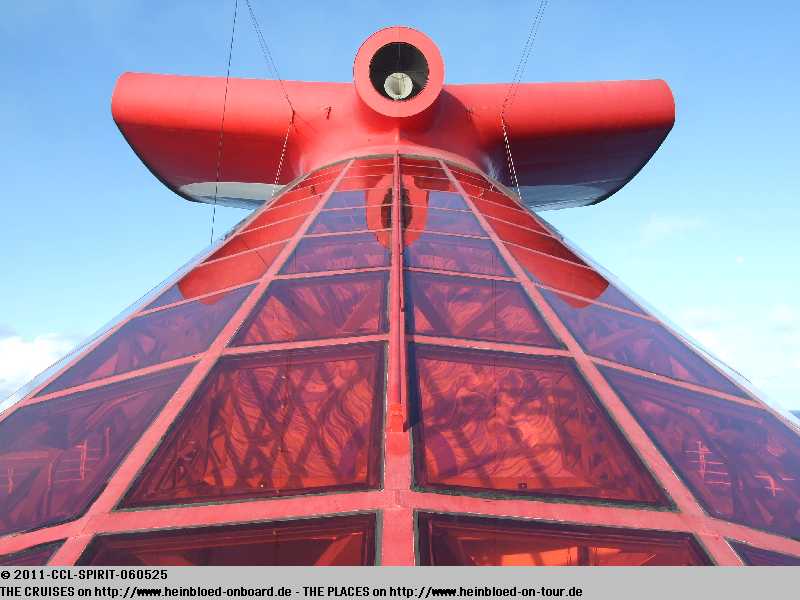 Und was darunter liegt auch: wir haben nochmals das Nouveau Steakhouse gebucht.