Scroll down for English explanations - alternates with German explanations.

Wir gehen in Pharao's Palace.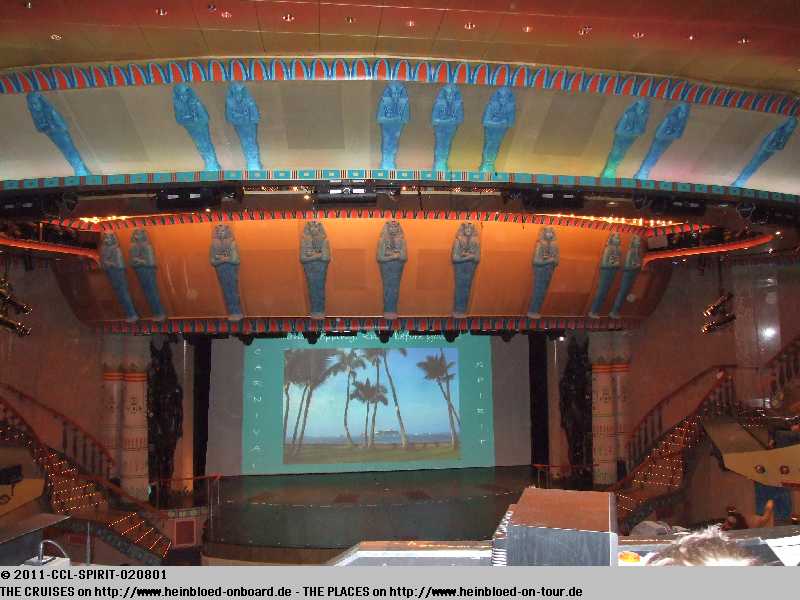 We went to Pharao's Palace.

Michele was the naturalist and introduced the islands.

Michele ist Biologin und stellt die Inseln vor.
Das Gute: sie berichtet sehr neutral über die Inseln ohne den Versuch, irgendwelche Schiffsausflüge zu verkaufen.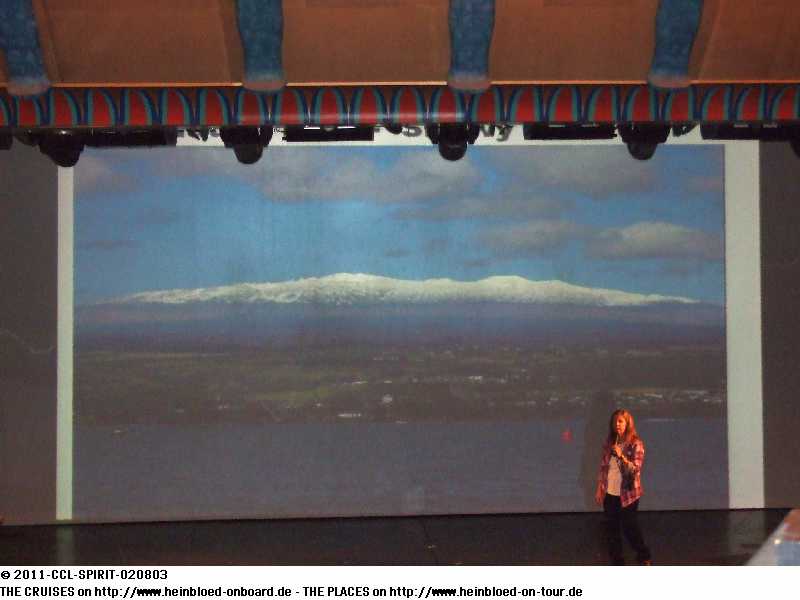 The good thing: she told us very neutral of the islands without trying to sell any shore excursions.

Today she introduced roughly all islands and told about the nature-historical background.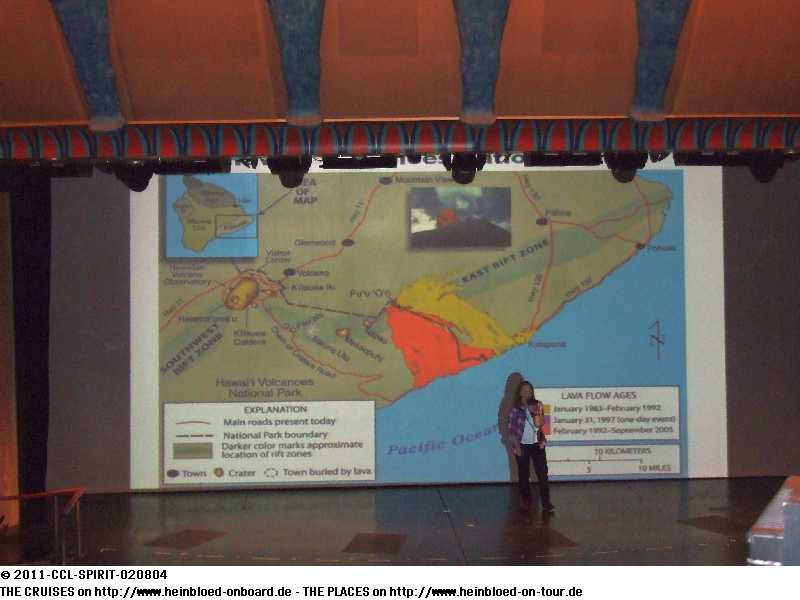 Heute stellt sie grob alle Inseln vor und gibt eher so einen natur-historischen Hintergrund.
Wegen des Ausflugsverkauf verweist sie auf eine Veranstatlung von Stu. Von ihr bekommen wir auch Tipps, in welchen Orten man wie auf öffentliche Verkehrsmittel zurückgreifen kann.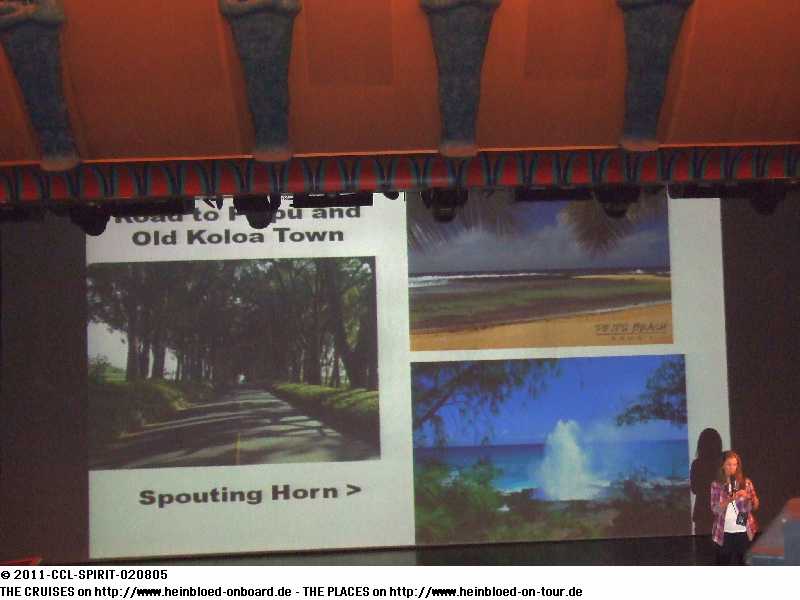 For whose who very interested to book a shore excursion she referred to Stu's events. She gave us also advises where we can move by public transport.

We all were very exited because not all events were a sales-event to make money. I had to leave at 15.00 hrs as I had an appointment with henry from a German cruisers-forum.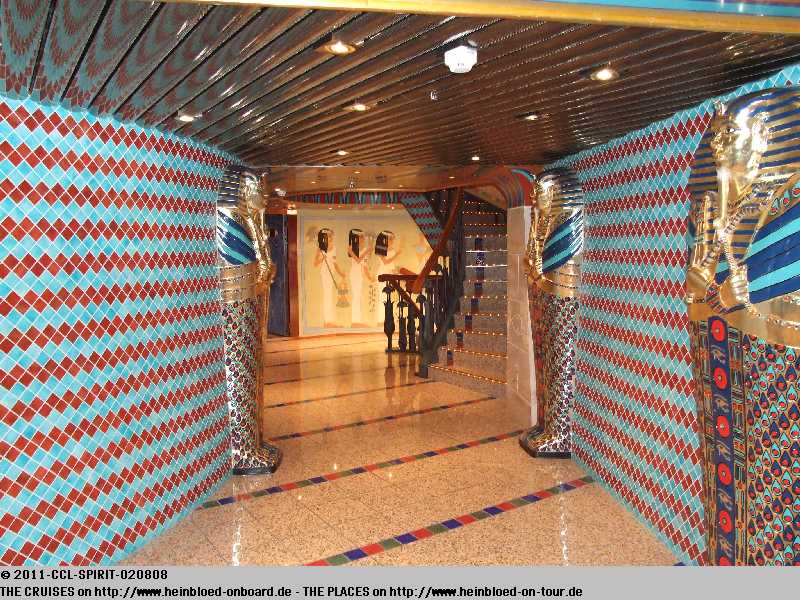 Auf jeden Fall sind wir alle recht begeistert, dass nicht jede Veranstaltung in einer reinen Verkaufsveranstaltung ausartet. Ich gehe jedoch bereits kurz vor 15.00 Uhr, da ich mich mit henry aus dem kreuzfahrtentreff.de-Forum verabredet habe.
Wasserspiele gibt es auch hier an Bord.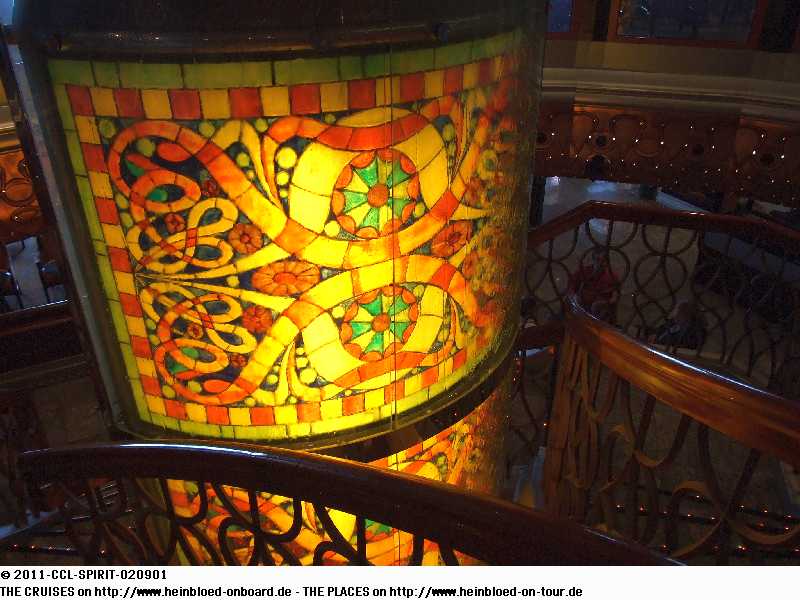 Some waterplay was also available.

At the bar in the atrium I met henry. He came with a group to this ship.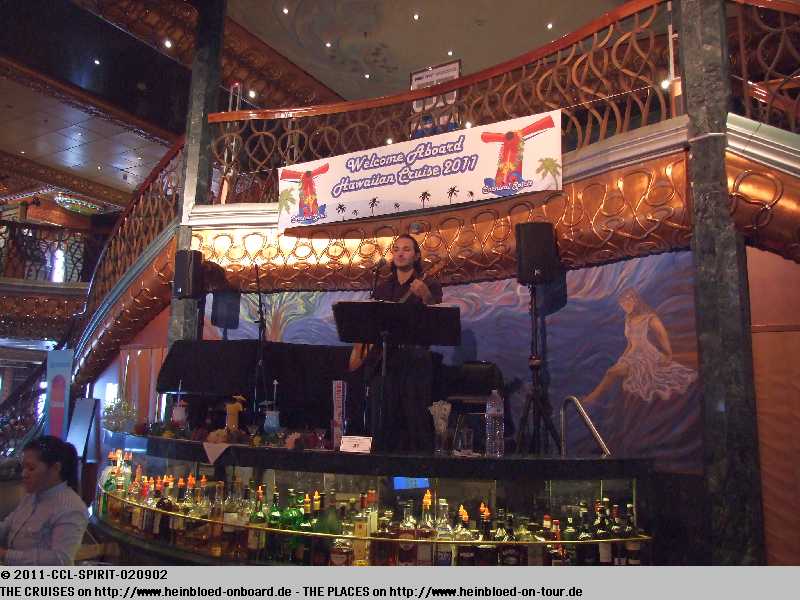 An der Atrium-Bar habe ich mich mit henry veraberedet, der im Rahmen einer Gruppenreise hier an Bord ist.
Auf dem Weg zurück in die Kabine komme ich an der Artist's Lobby vorbei. Dort ist gerade Teezeit. Ganz in britischer Tradition gibt es sogar Scones... aber so etwas genieße ich lieber auf einem Schiff mit britischer Historie.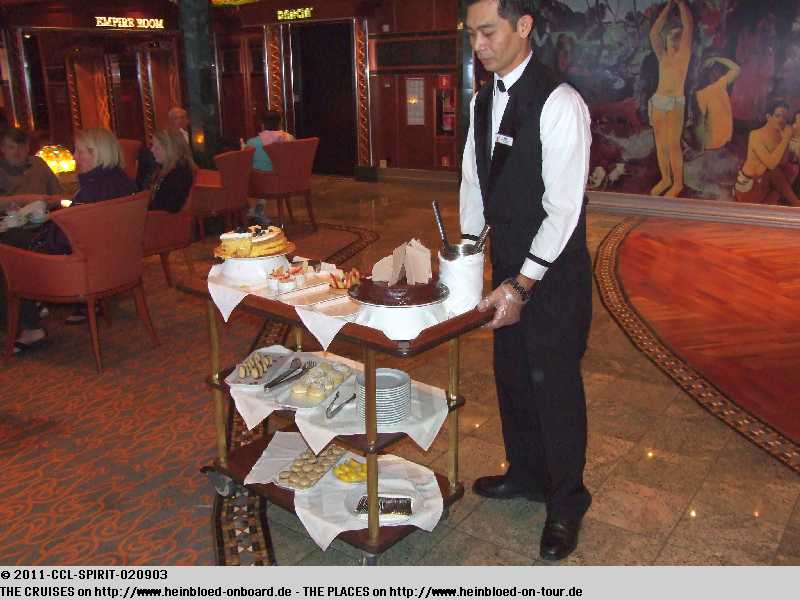 On the way back to our cabin I passed the Artist's lobby. It was tea-time. In typical British tradition scones were served... but I preferred to have them on a ship with a British history.

They made everywhere advertising for the Nouveau Steakhouse. The fun is available for a cover charge of 30.00 USD.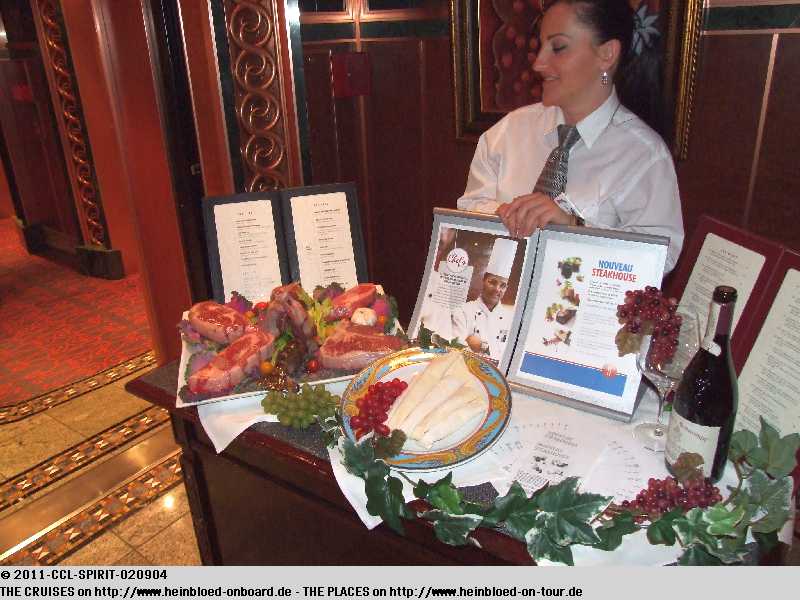 Überall wird Werbung für das Nouveau Steakhouse gemacht. Der Spaß kostet 30,00 USD Zuzahlung.
Wir gehen noch ein wenig rum. Im Atrium wird auch live musiziert.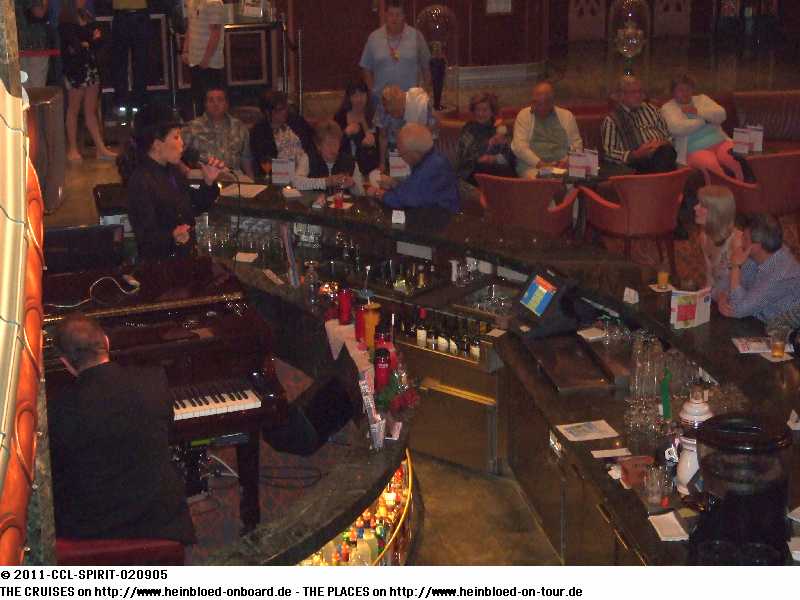 We walked a little around. In the atrium they offered live music.

In the shop you could feel a certain reservation. You need to wait a couple of minutes before someone showed up and gave you the attention you deserved. To unpack and set the decoration was more important than serving a guest...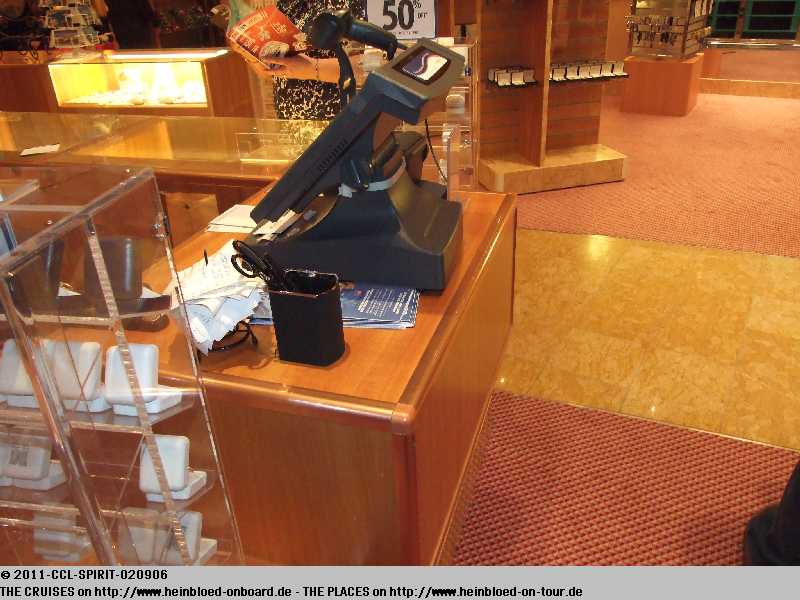 Im Shop fällt auch eine gewisse Zurückhaltung auf. Man muss schon ein paar Minuten an der Kasse warten, bis dass jemand kommtt und einem die notwendige Aufmerksamkeit schenkt. Auspacken und aufbauen ist nun einmal wichtiger als den Gast bedienen...
Das Atrium hat es uns angetan.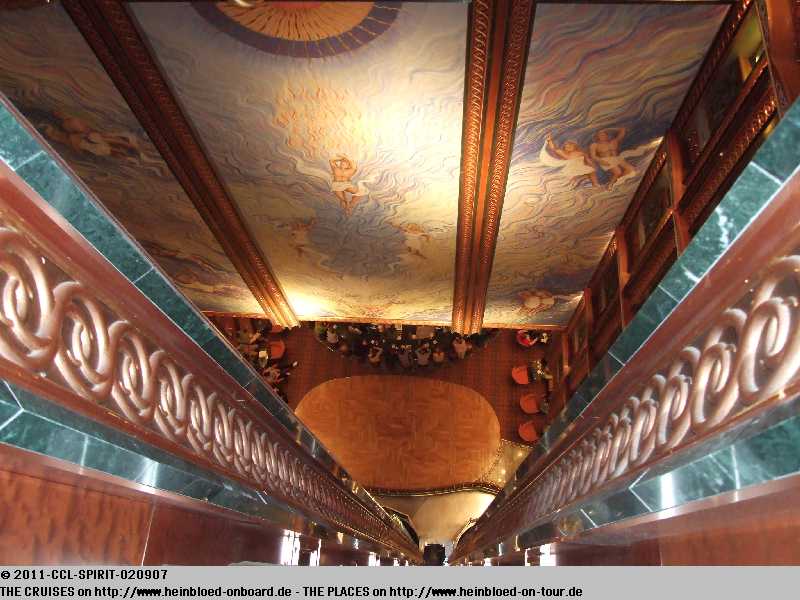 The atrium impressed us very much.

And here you find the Nouveau Steakhouse for which we made a reservation for the next Wednesday.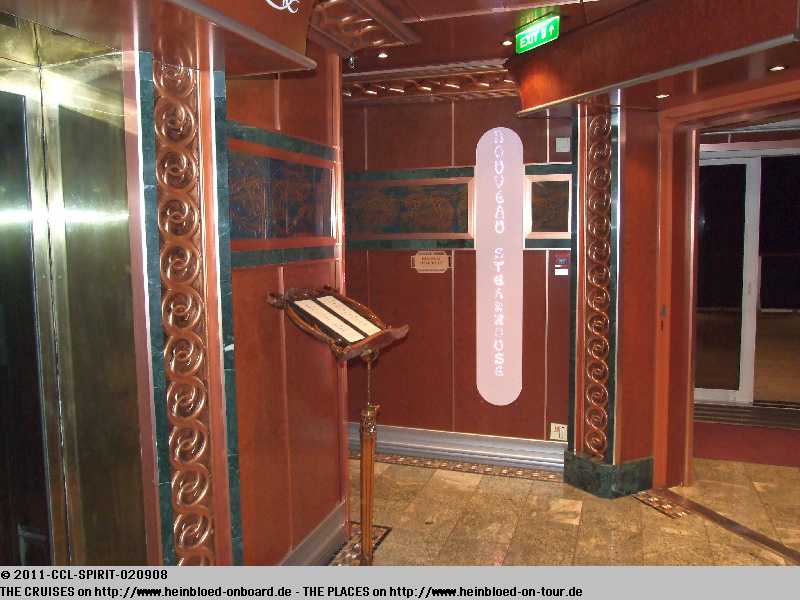 Und dort ist auch das Nouveau Steakhouse, in dem wir für Mittwoch eine Reservierung haben.
Sieht auch klasse aus.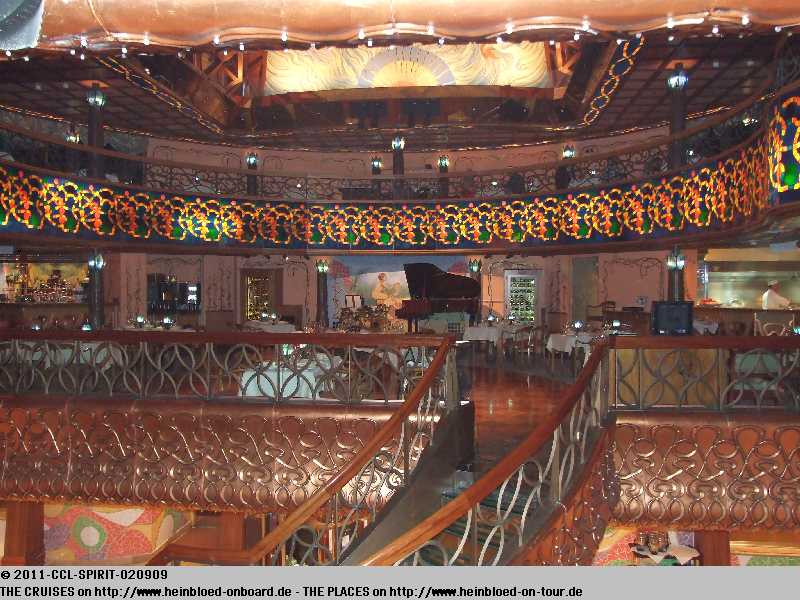 Looked great.

Was located just under the funnel construction.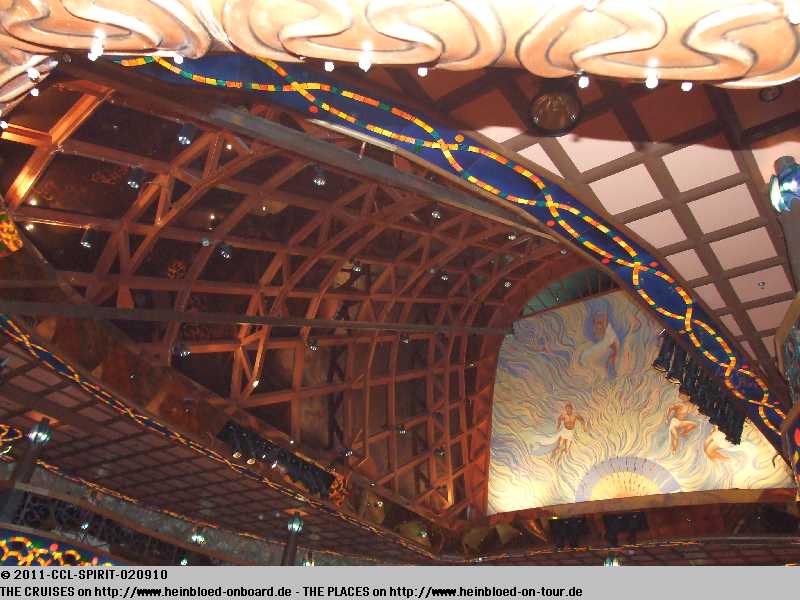 Liegt ja direkt unterhalb des Schornsteinaufbaus.
Wir gehen zum Dinner. Da wir flexible Tischzeit haben, brauchen wir uns nicht an der rechten Schlange für die feste Tischzeit anzustellen. Reservierungen werden nicht angenommen. Man kommt einfach und wartet. Ob es Pager gibt, finden wir zumindest heute Abend nicht heraus.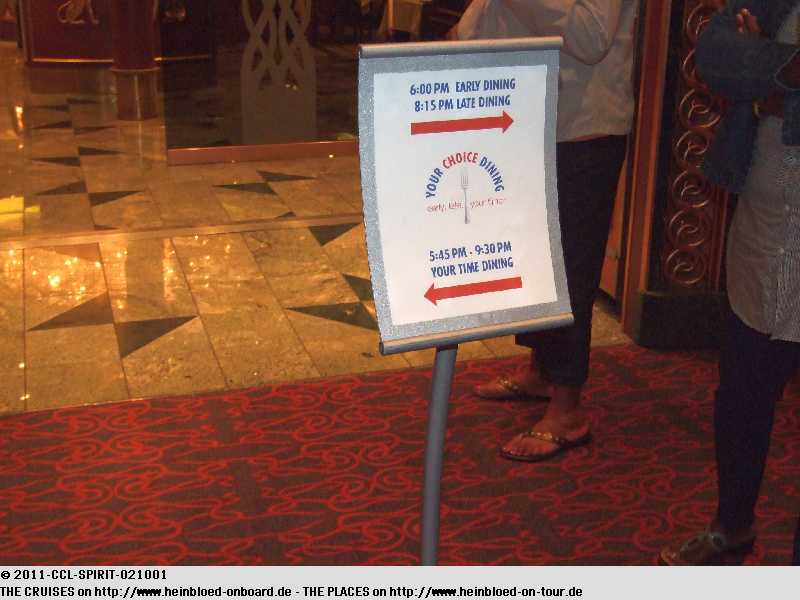 We went for dinner. As we had flexible dining we did not need to queue up to the right line. No reservations. You just come and see. If any pagers were available we did not see this day.

At the reception you need to tell them your cabin numbers. For one of the cabins they kept five coupons for wine ready which were handed over.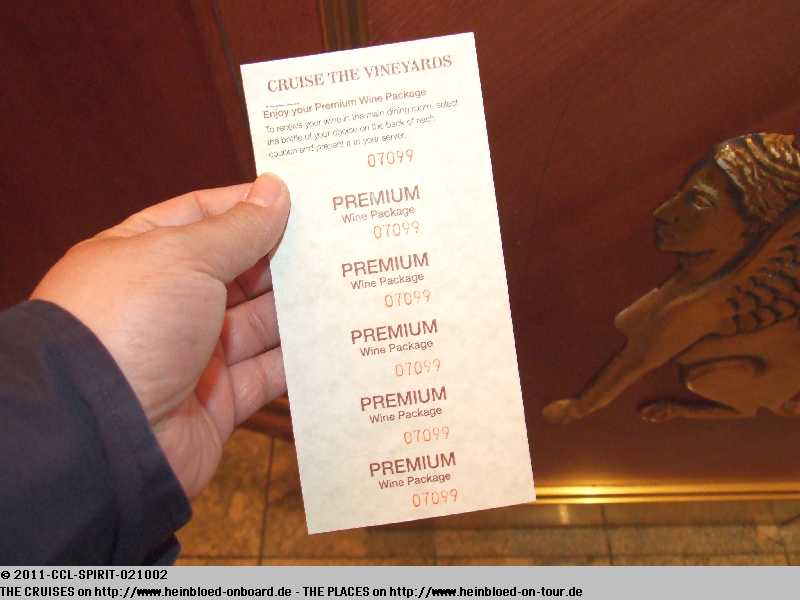 Am Empfang müssen wir beide Kabinennummern nennen. Für eine der Kabinennummern sind 5 Wein-Coupons hinterlegt worden, die sofort übergeben werden.
Astrid und Hermann bekommen auf Nachfrage deutschsprachige Speisekarten.

Astrid and Hermann got a German menu on request.

Bread, butter...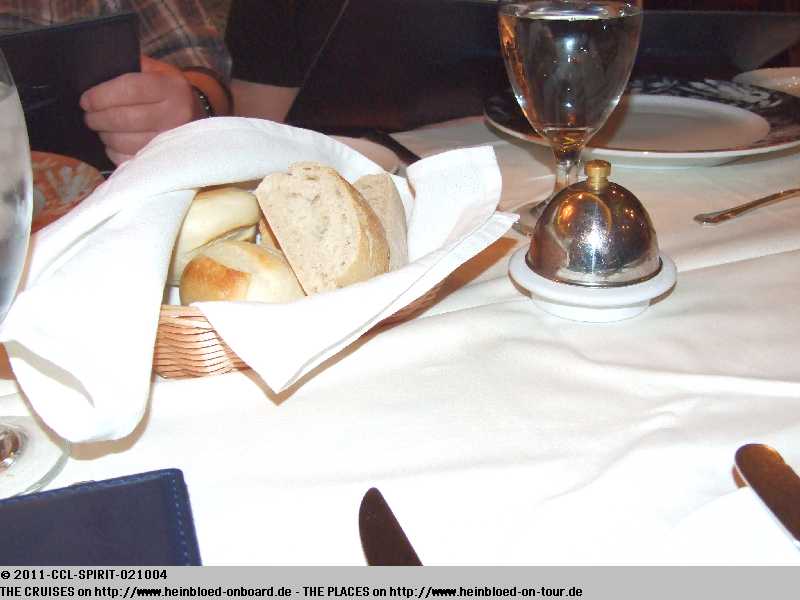 Brot, Butter...
Elegante Platztteller...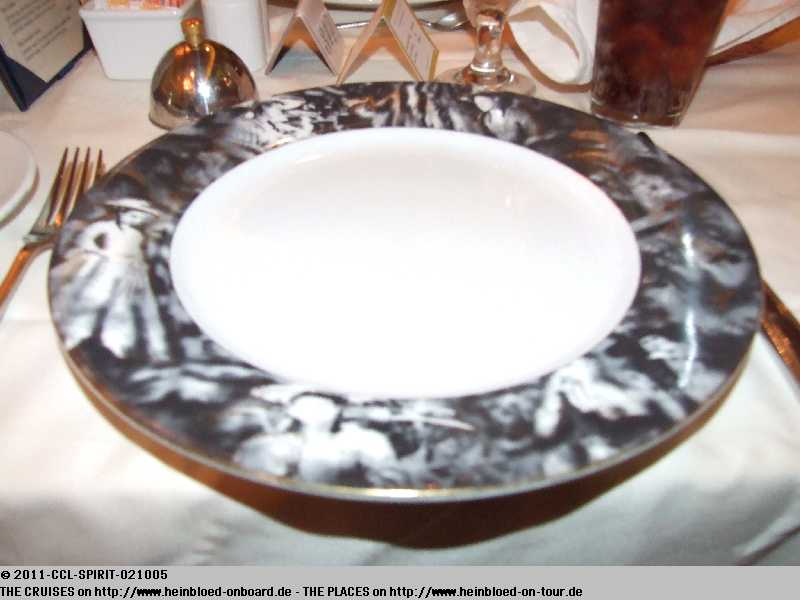 Elegant unterplate...

We remembered from CARNIVAL FASCINATION an occupation of two. Here all stations had an occupation of three. This should promise a high grade of service - or do they have to care of more tables now???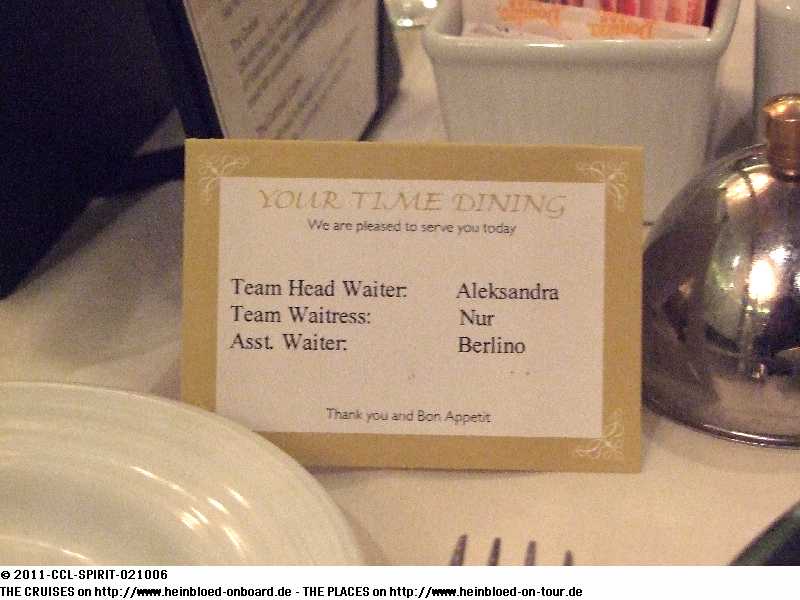 Wir haben bislang eine Doppelbesetzung von der CARNIVAL FASCINATION in Erinnerung. Hier sind alle Stationen dreifach besetzt. Das müsste doch einen hohen Servicegrad versprechen - oder sind dafür die Sektoren größer zugeschnitten.
Die Suppen kommen.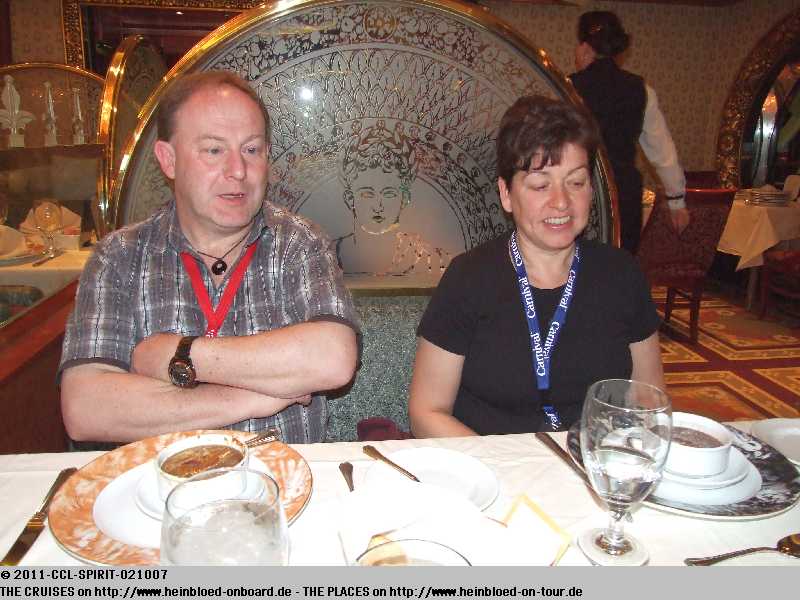 The soups came.

Somehow I was missing the last kick. None showed up with a pepper mill.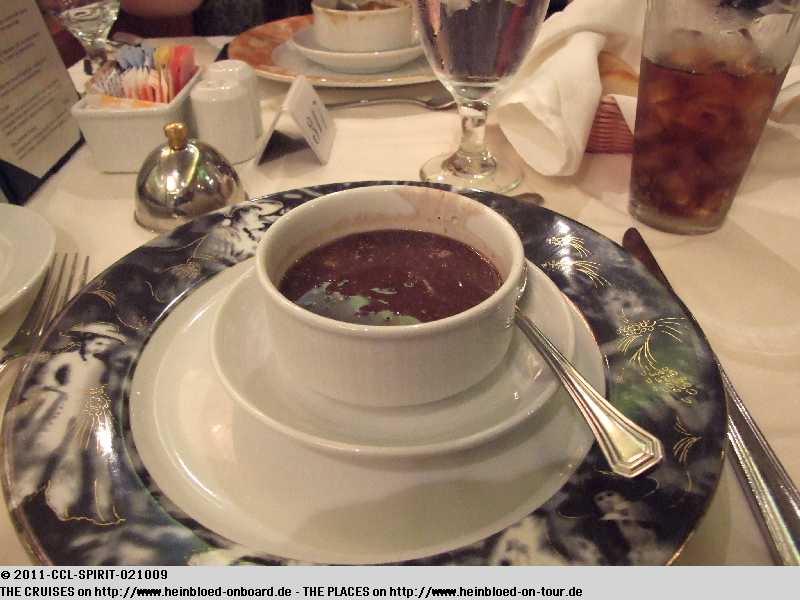 Mir fehlt wieder der letzte Pepp. Aber es kommt niemand mit einer Pfeffermühle vorbei.
Bruno hat Sushi.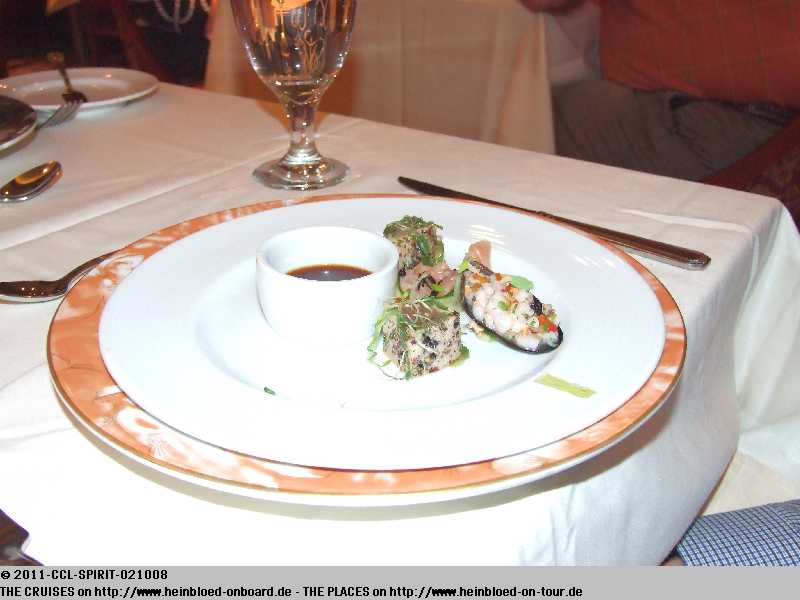 Bruno had sushi.

The wine list was on the reverse side of the coupons and here they arrived. Left overs will be stored for the next meal of course. Somehow the correct serving of wine was not trained yet - I have no other explaination why the waiter was not facing us but something far far away. Maybe love was in the air???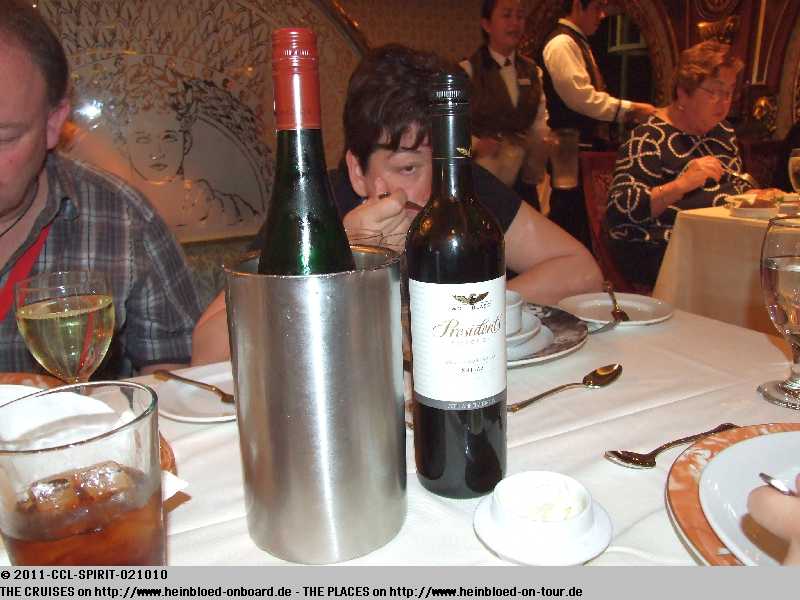 Die Weine stehen auf der Rückseite der Coupons und kommen. Reste werden selbstverständlich für das nächste Essen aufbewahrt. Irgendwie scheint das Kapitel, wie man einen Wein korrekt serviert noch nicht dran gewesen zu sein - anders kann ich mir ein Hans-guckt-in-die-Luft-Verhalten nicht erklären. Sind die Liebeshormone durcheinander???
Es kommen Schinken und Melone.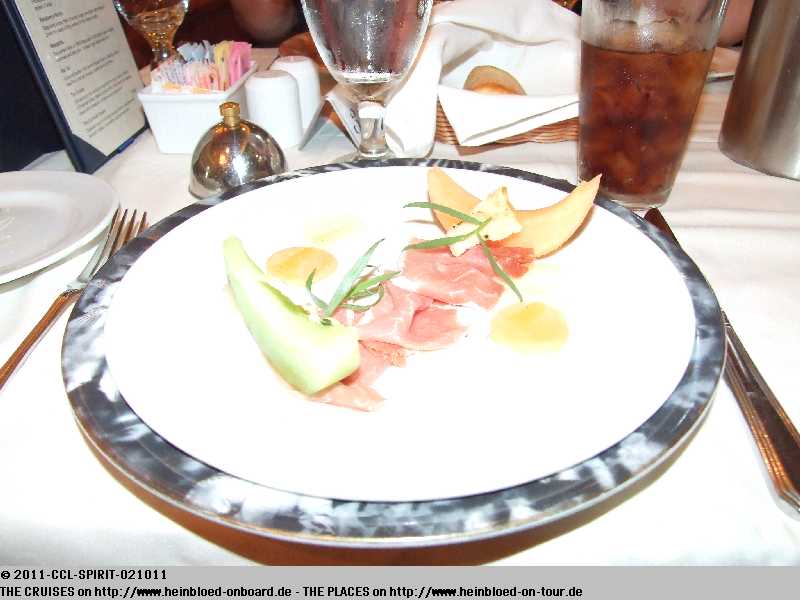 The ham and melon came.

For the salads you had a choice of multiple dressings which was served in an extra container.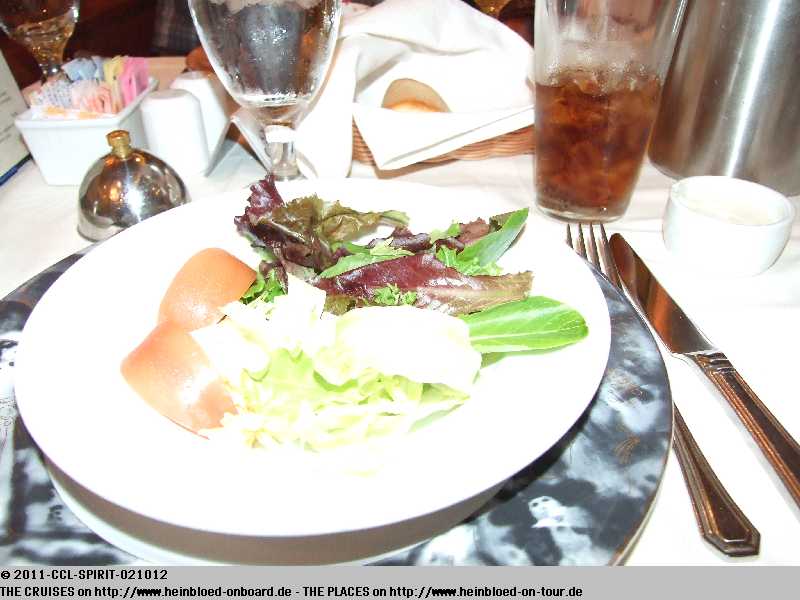 Für die Salate stehen mehrere Dressings zur Verfügung und der Dressing kommt immer extra.
"Meine Frau hatte Fisch..."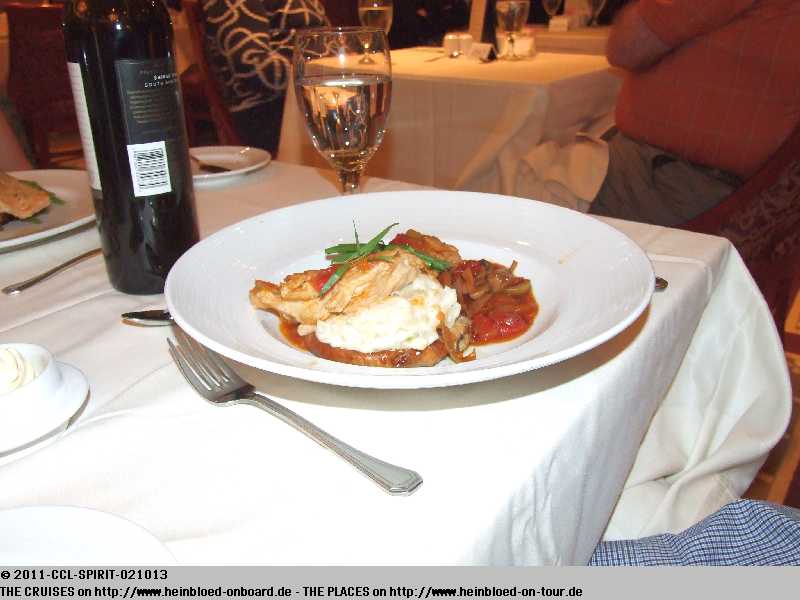 "My wife had the fish..." (Running gag from MSC MUSICA. Another cruiser's wife had every night the fish and it was good.)

Astrid and Hermann were somehow satisfied.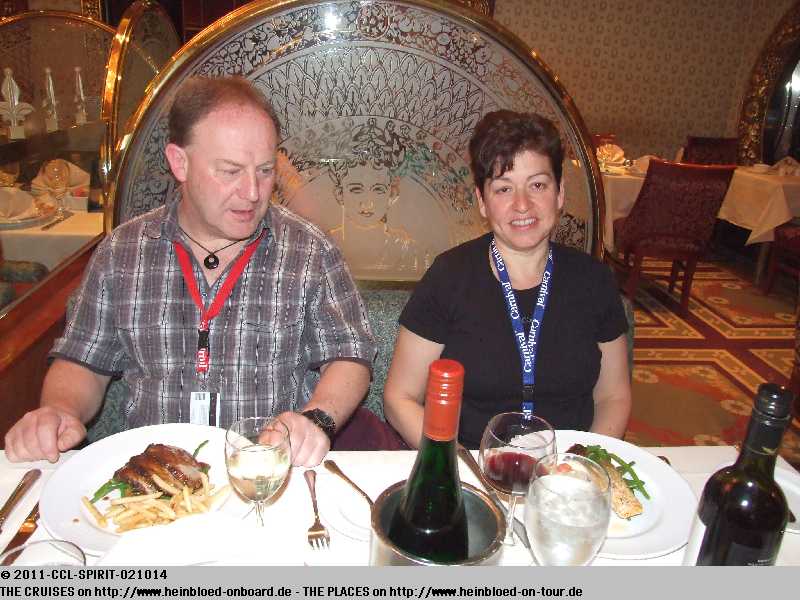 Astrid und Hermann sind auch wohl zufrieden.
Nur ich habe Pech: da mir nichts zusagt, bestelle ich das täglich-verfügbare Steak. Ich hatte eher den Eindruck, dass es mehr vom Dinosaurier oder Elefant gewesen wäre. Auf jeden Fall habe ich bislang diesen Teil des Rindes noch nicht identifiziert... Eher wie so ein Riesen-Minuten-Steak von Wal-Mart... Keine Ahnung...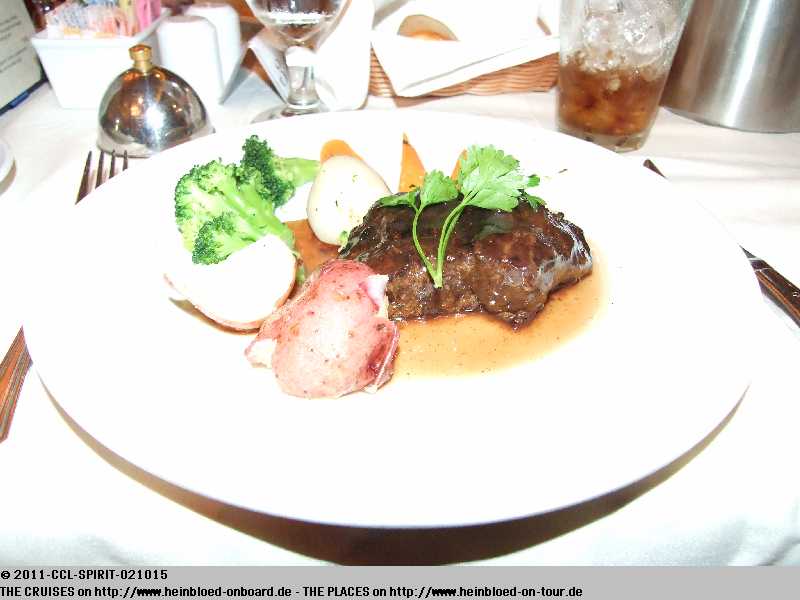 I was somehow unlucky: there was nothing I was interested to - so I ordered the steak which was all-time available. But I had the impression it was part of a dinosaur or an elephant. Somehow I did not identify this part of the beef... It was more like a giant minute-steak which you normally get as special offer with Wal-Mart... No idea...

It worked with the 2nd time... The first one was a medium-well instead of medium-rare. It was also a question of seasoning. But you could feel that the experience of Aleksandra was missing: It was more important to deliver the cups but to get me a pepper mill which I requested before my steak would become cold.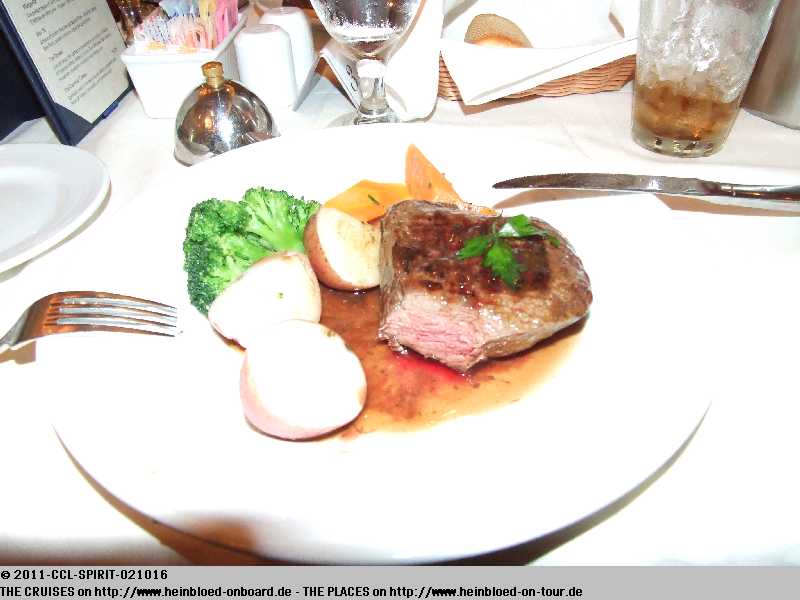 Aber beim 2. Versuch hat es geklappt... Zunächst kommt eines statt medium-rare in medium-well. Es war nur noch ein Geschmackproblem. Aber man merkte, dass Alexandras Erfahrung in diesem Moment fehlte: Es war jetzt wichtiger sich um die leeren Tassen zu kümmern, als zunächst einmal die Pfeffermühle zu holen, die ich angefragt habe, bevor mein Steak noch weiter kalt wird.
Man merkt so gewisse Schwächen im Servicekonzept. Ob das an der 2-er oder 3-er-Belegung liegt, vermag ich noch nicht zu beurteilen. Aber während Aleksandra für drei Personen arbeitet, räumt der Rest den Tisch schon mal ab, obwohl zwei am Tisch noch mit dem Hauptgang beschäftigt sind.

You could feel the weakness of the service conception. I was not sure if this might be because of a team of 2 or team of 3 occuption of the service stations. Although Aleksandra worked for three the others started to clear the table although two were still eating their main course.

When Aleksandra was not present I was even unable to place an order for another Diet Coke. I got the explanation that the bar waiter is in charge for my request and they will forward my request to him.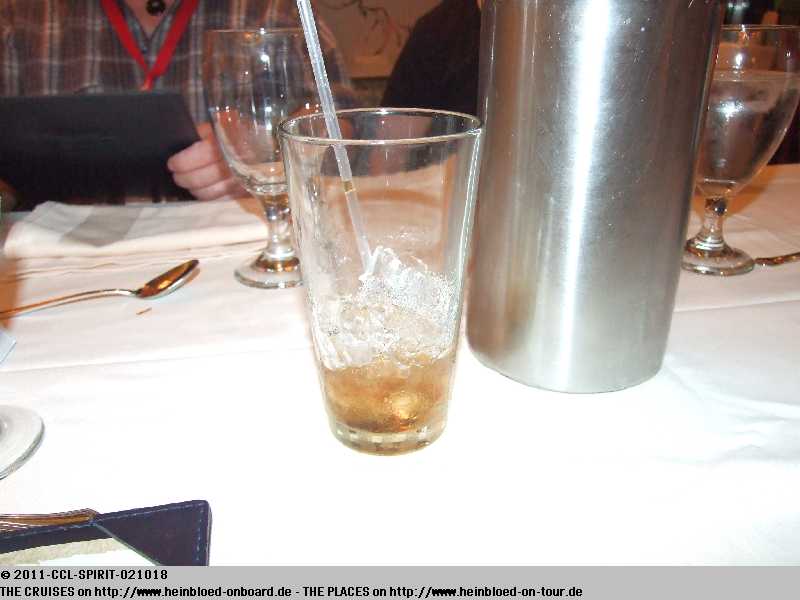 Wenn Aleksandra nicht präsent ist, gelingt es nicht einmal eine Bestellung für ein zweites Glas Cola Light zu platzieren. Die Erklärung kommt, dass hierfür der Barkellner zuständig sei und man meinen Wunsch weitergeben würde.
Immerhin gibt es bei Carnival Espresso, Cappucino und Kaffee zum Essen umsonst. Für Cappucino und Espresso müssen wir ja bei NCL wieder bezahlen...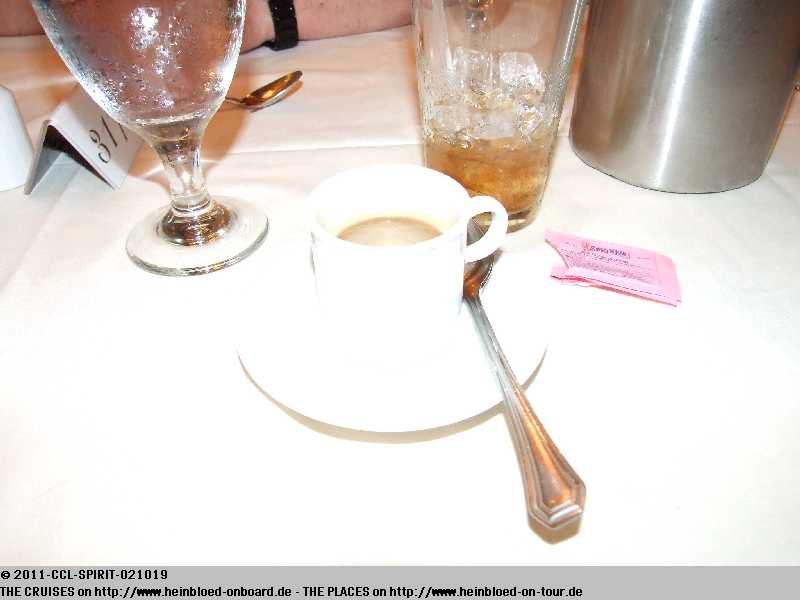 But you got with Carnival your espresso, cappucino or coffee for free. For cappucino and espresso we need to pay extra on NCL...

The melting chocolate cake was part of the all-time offer.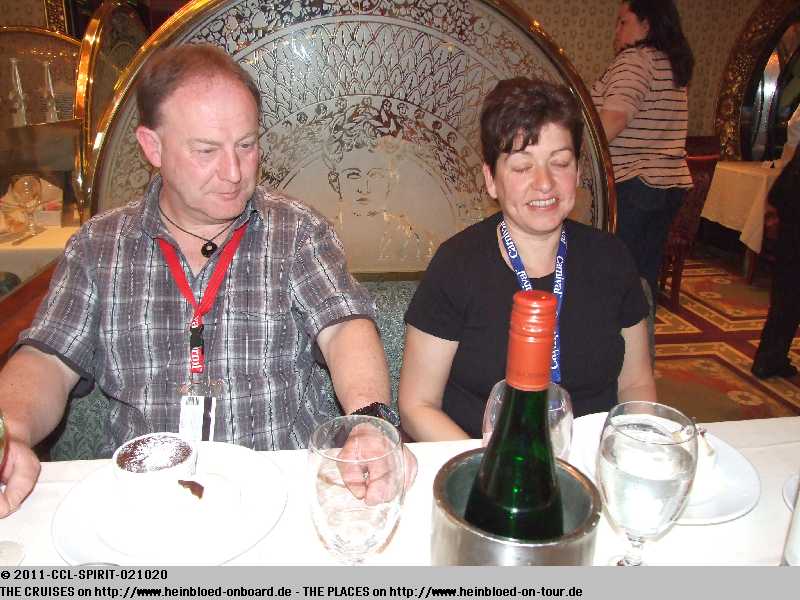 Der Schokoladenkuchen ist Teil des täglichen Angebotes.
Bruno versucht sich am Kuchen.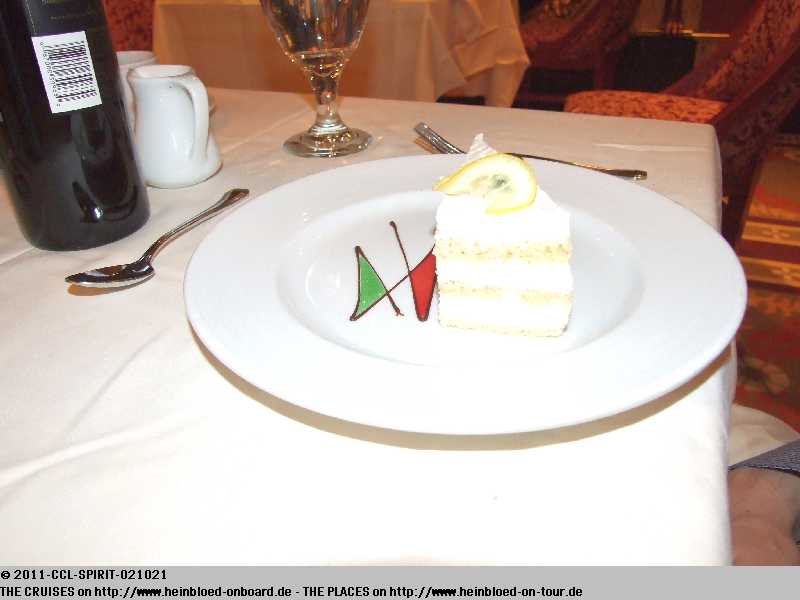 Bruno tried the cake.

And I asked Alexandra for something special: Instead of a dessert I would like to have some more of the garnish from the ham which was very tasty. I hesitated to ask her. It was like on COSTA CLASSICA: But she had to work for three and I felt so sorry for her.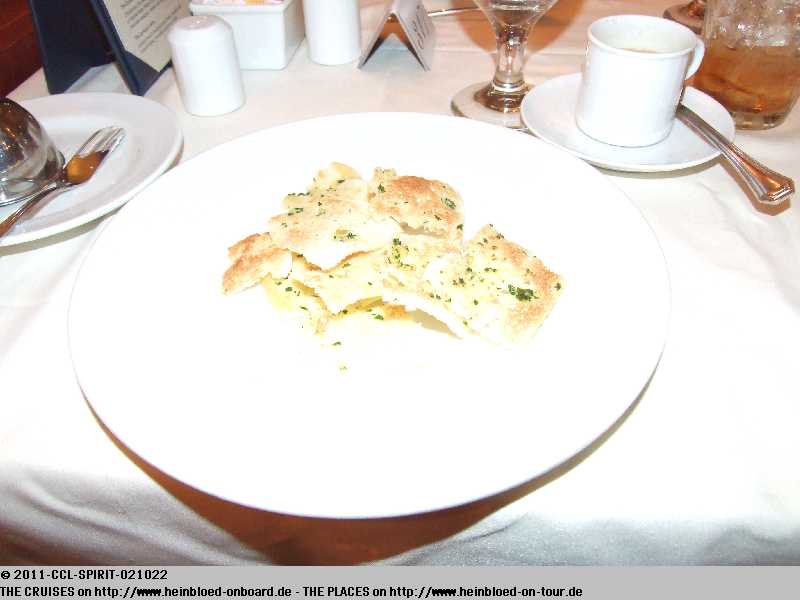 Und ich habe Alexandra um einen Extra-Wunsch gebeten: Statt eines Desserts wollte ich lieber noch ein wenig von der Garnierung vom Schinken, die richtig lecker war. Sie habe ich mich getraut zu fragen. Es war so wie damals auf der COSTA CLASSICA: Nur sie musste ja sogar für drei arbeiten und konnte einem wirklich leid tun.
Hermann probiert auch davon...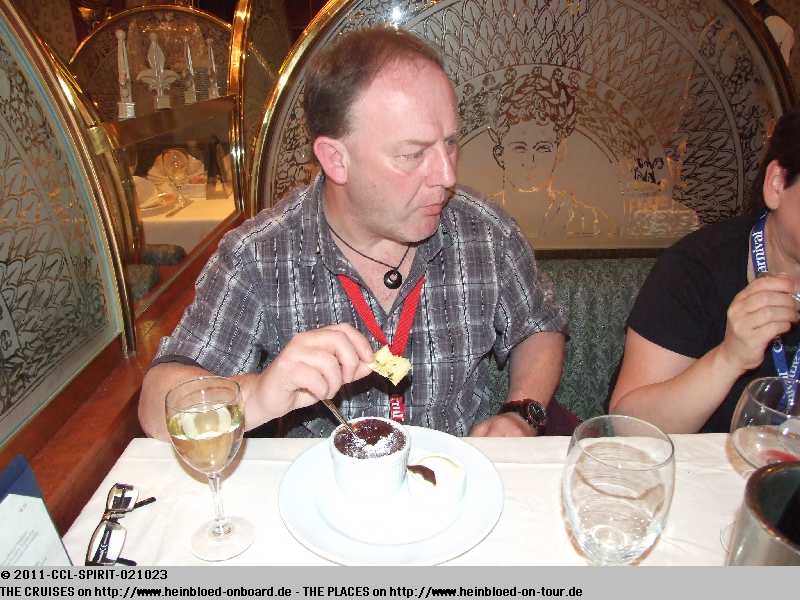 Hermann tried as well...

Astrid stayed with her chocolate...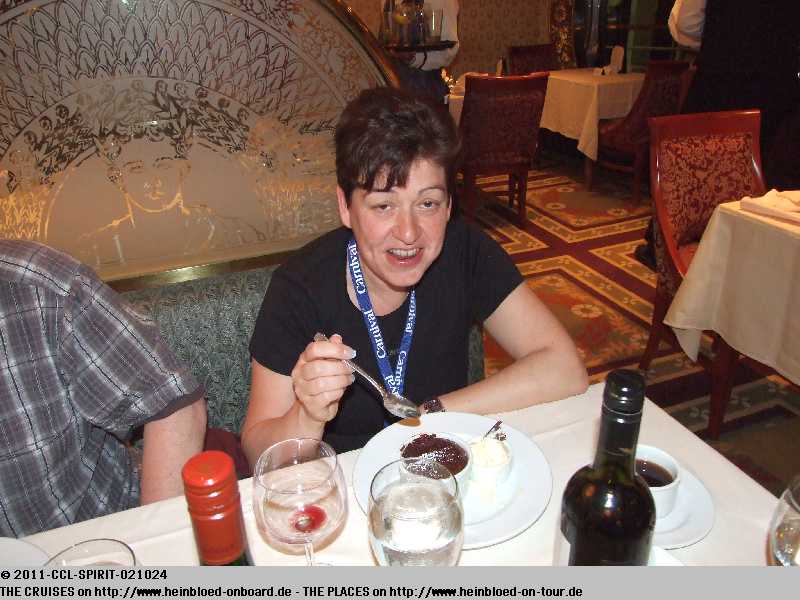 Astrid bleibt bei ihrer Schokolade...
Irgendwann kommt der Barkellner und räumt mein Glas ab. Dass ich eine neue Cola light wollte, war wohl nicht entsprechend kommuniziert worden. Aber ich gebe für heute auf. Ein Tag später spreche ich mit dem Hoteldirektor und dem Guest Relation Manager hierüber: Ihre Kommentare: "Your Time Dining haben wir erst vor einem Jahr eingeführt. Wir üben noch und haben unseren Stil noch nicht gefunden...". Wie wäre es mal mit einer Kreuzfahrt mit NCL??? Es schadet bestimmt nichts, sich mal beim Konkurrenten, der es schon seit Jahren praktiziert, zu informieren und daraus neue und bessere Ideen zu entwickeln...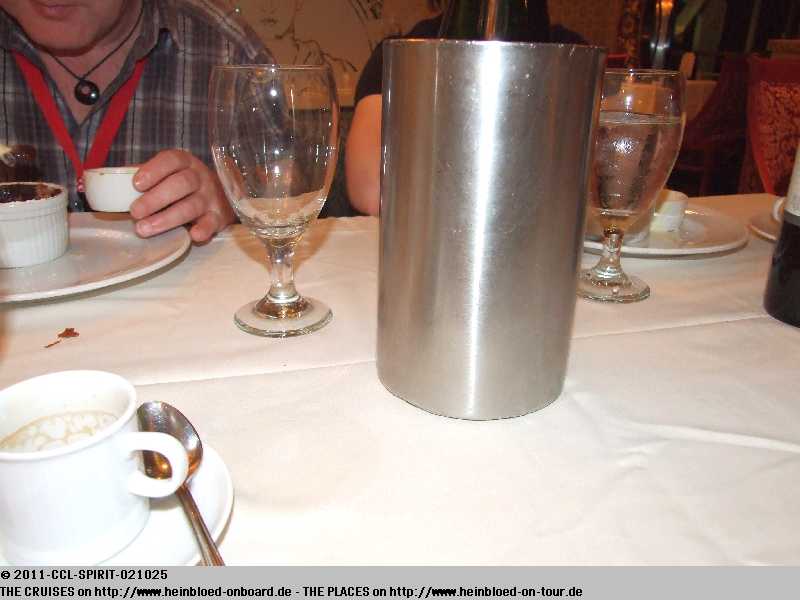 Sometime the bar waiter came and cleared my glass. He had no information that I asked for another Diet Coke. But I gave up. One day later I had a discussion with the Hotel Director and the Guest Relation Manager: Their comments: "Your Time Dining has been introduced for one year. We are still exercising and have not found our style so far...". How about a cruise on NCL??? It would not hurt to have a look and get some information from the competitor which offered it for many years and to develop new own ideas...

With tired faces and digesting the last impressions we left the restaurant. One of the ship's doctor was waiting for an elevator and said that we might not having fun because it was so silent. He said that he wanted to do something to improve our feelings and took out his harmonica and started during our ride in the elevator...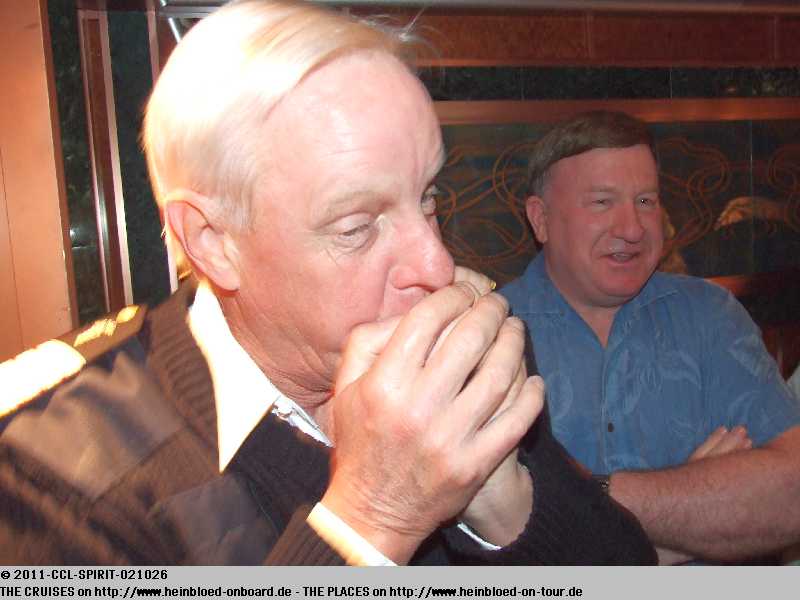 Mit müden Gesichtern und die Ereignisse verdauernd kommen wir aus dem Restaurant. Der Schiffsarzt steht vor dem Fahrstuhl und meint, dass wir wohl keinen Spaß hätten, weil wir uns anschweigen. Dagegen müsste er doch etwas unternehmen und holt seine Mundharmonika raus und spielt für uns etwas während der Fahrt mit dem Fahrstuhl...