Scroll down for English explanations - alternates with German explanations.

Wir gehen weiter das Schiff entdecken... Eine gläserne Freitreppe vom Deck 9 nach Deck 10...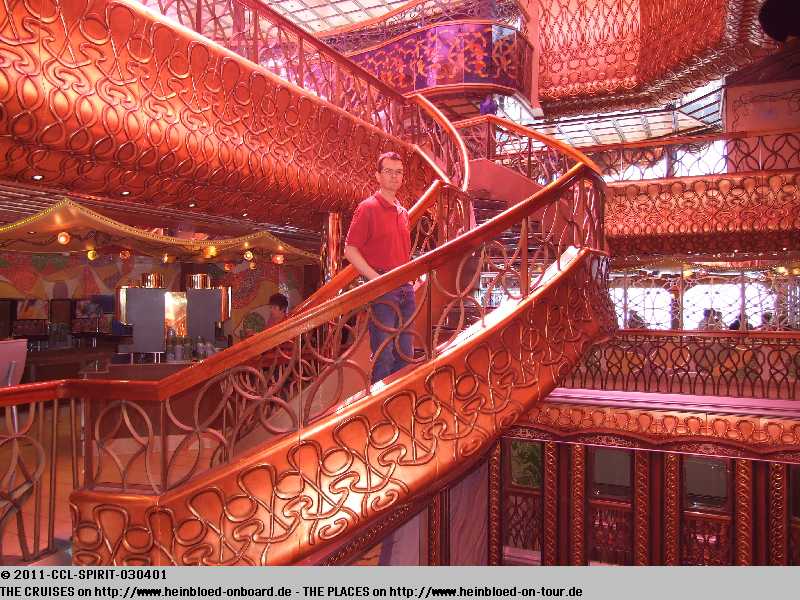 We continued to discover the ship... a glass perron from Deck 9 to Deck 10...

Like in the Grand Canyon... so nothing for me...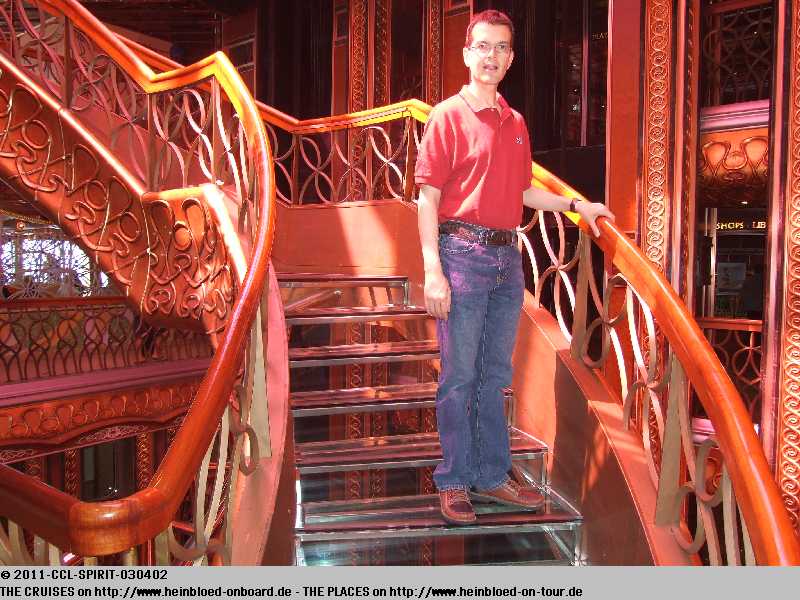 Wie am Grand Canyon... also nichts für mich...
Ich ziehe den Fahrstuhl vor...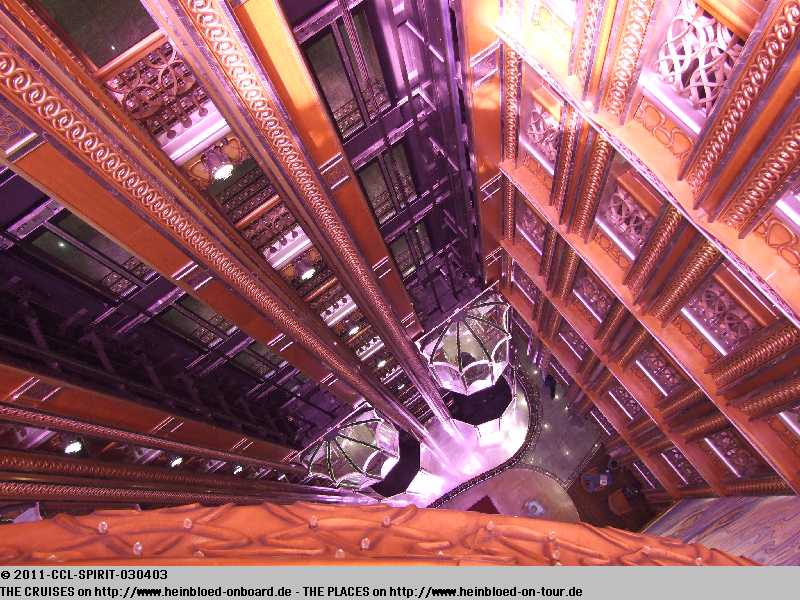 I preferred to use the elevator...

It was very impressive... Our last ship with such a great atrium was the CELEBRITY EQUINOX last year.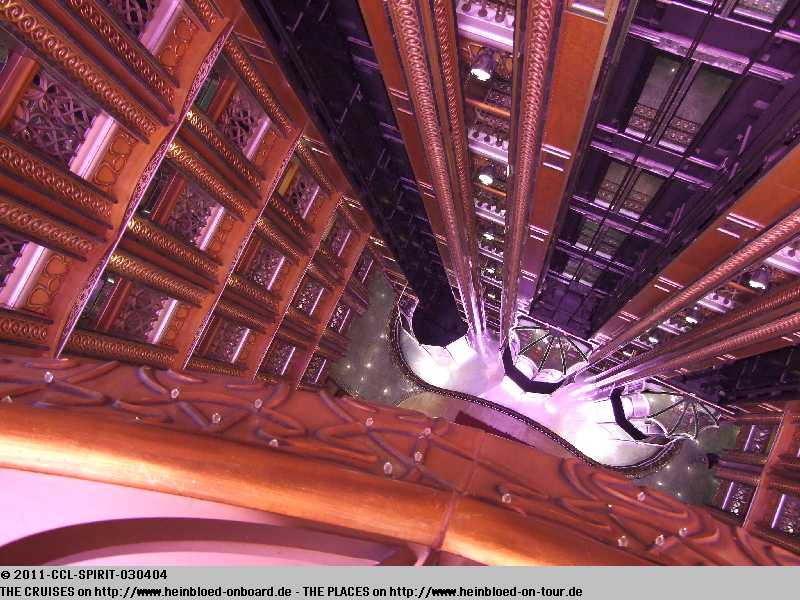 Das ist schon sehr beeindruckend... Unser letztes Schiff mit einem entsprechendem Atrium war ja die CELEBRITY EQUINOX letztes Jahr.
Draußen werden schöne frische Früchte angeboten.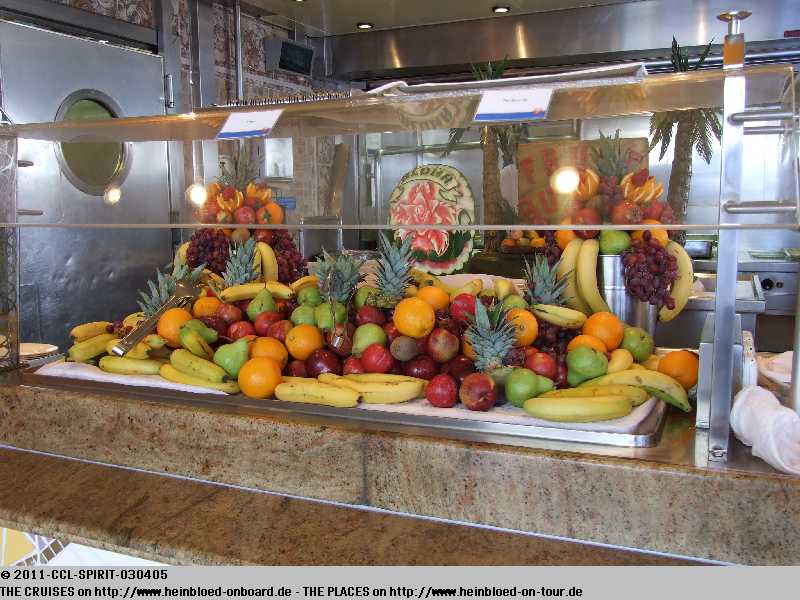 Outside they offered nice fresh fruits.

And important for American: if the fruits themselves are not sweet enought you can add more sweet sauces on top...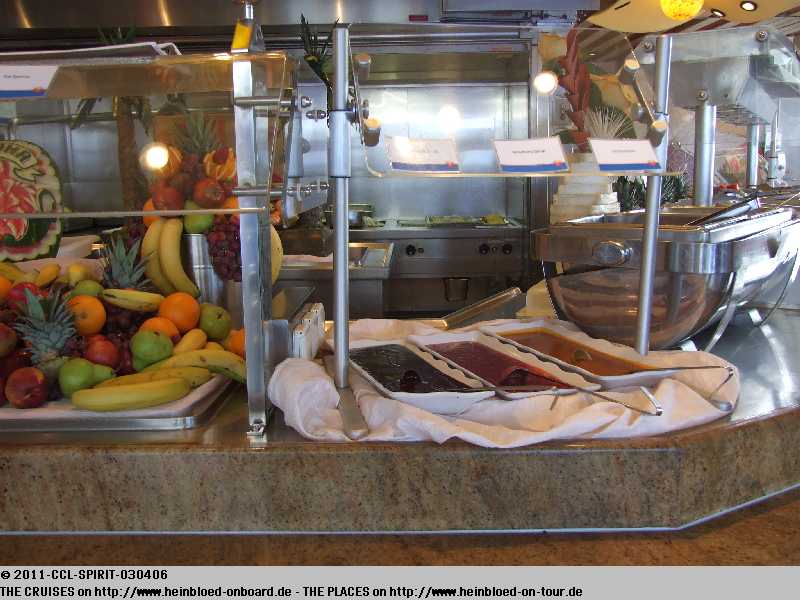 Und für die Amerikaner sehr wichtig: wenn die eigene Süße der Früchte nicht reicht: es gibt ja noch Sachen zum draufhauen...
Überhaupt haben wir den Eindruck, dass von der Qualität und von der Quantität das Essensangebot besser ist als bei Royal Caribbean und NCL.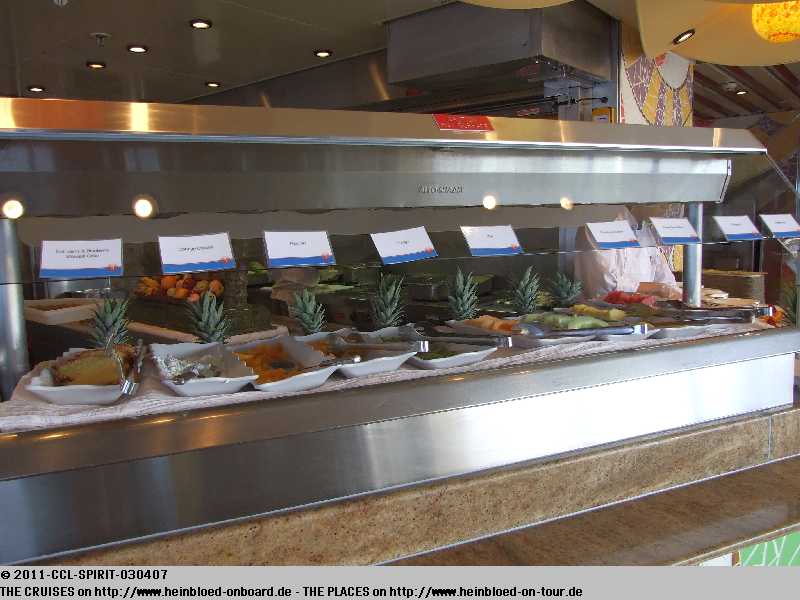 Generally we had the impression that quality and quantity of the food offer were much better than on Royal Caribbean or NCL.

Here everything was freshly cut.

Hier wird alles frisch aufgeschnitten.
Wir ziehen weiter über die offenen Decks.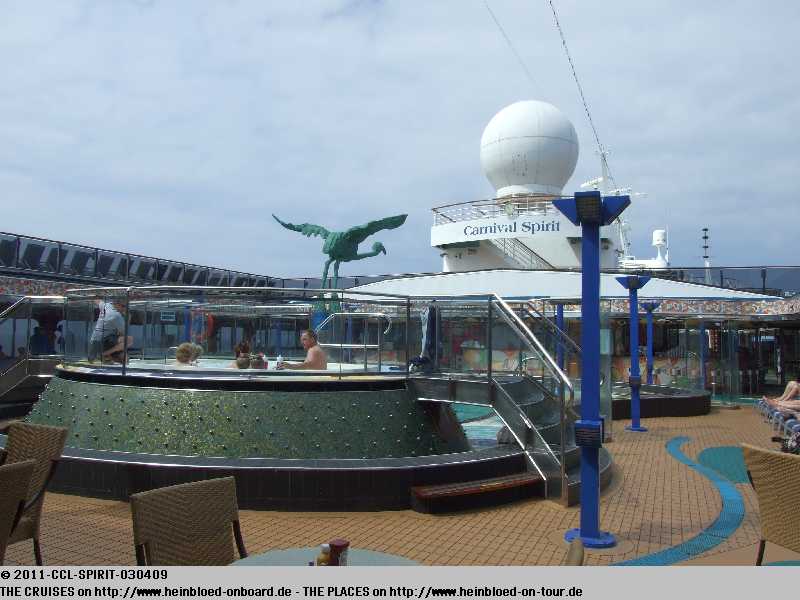 We continued to see the open decks.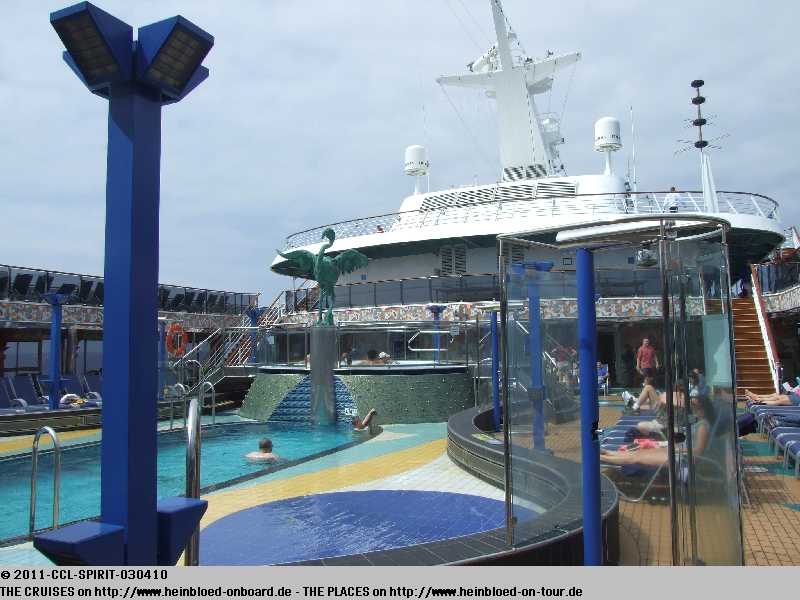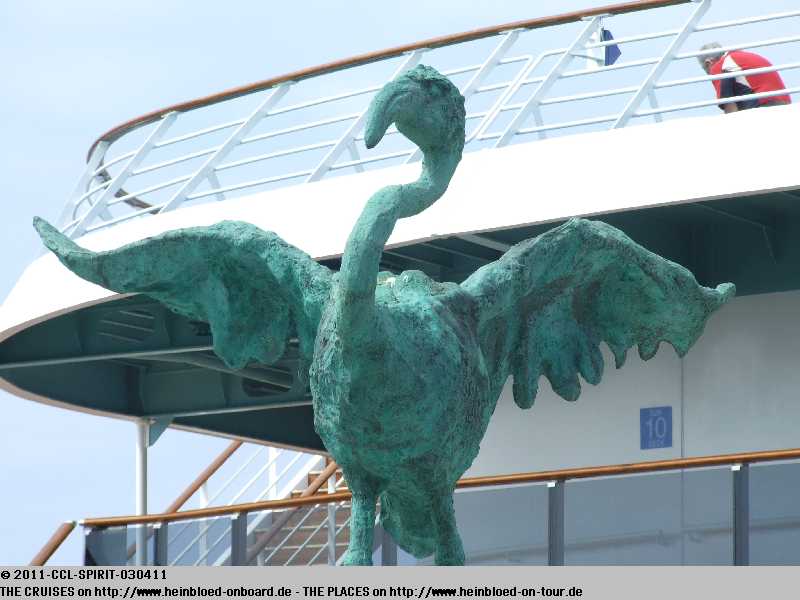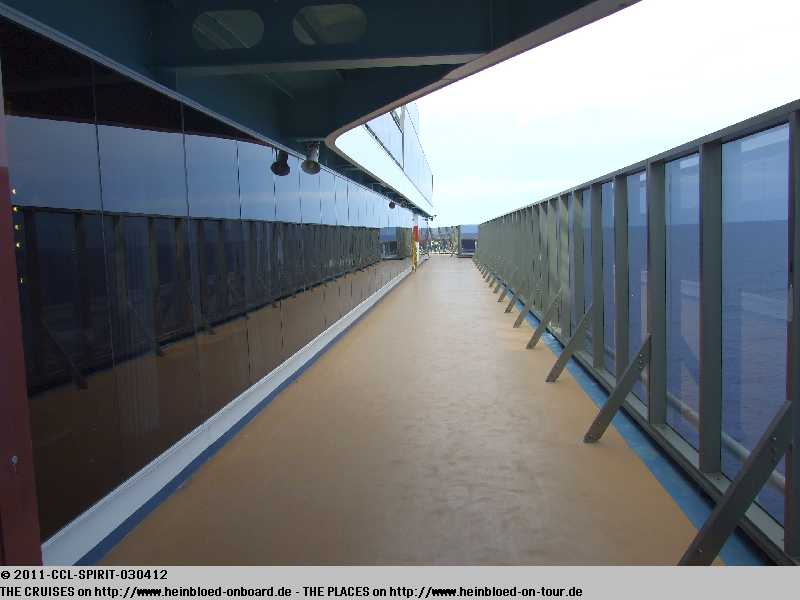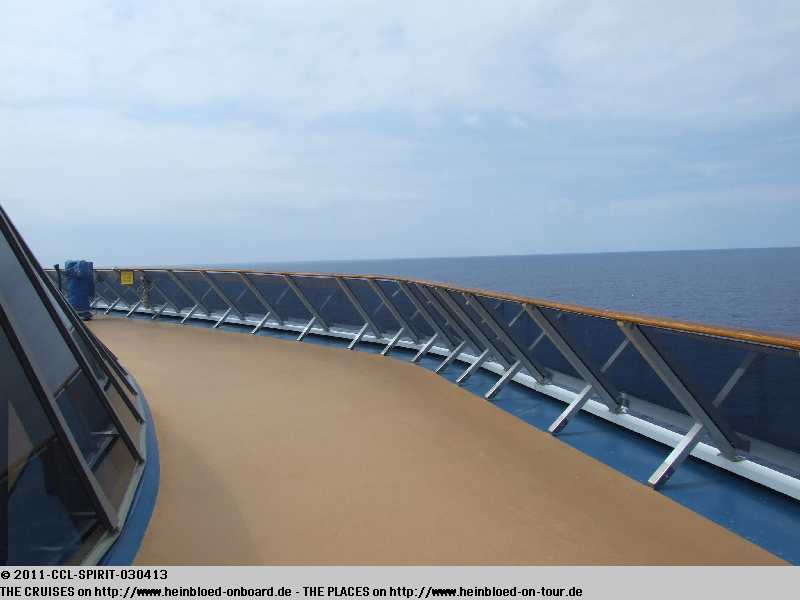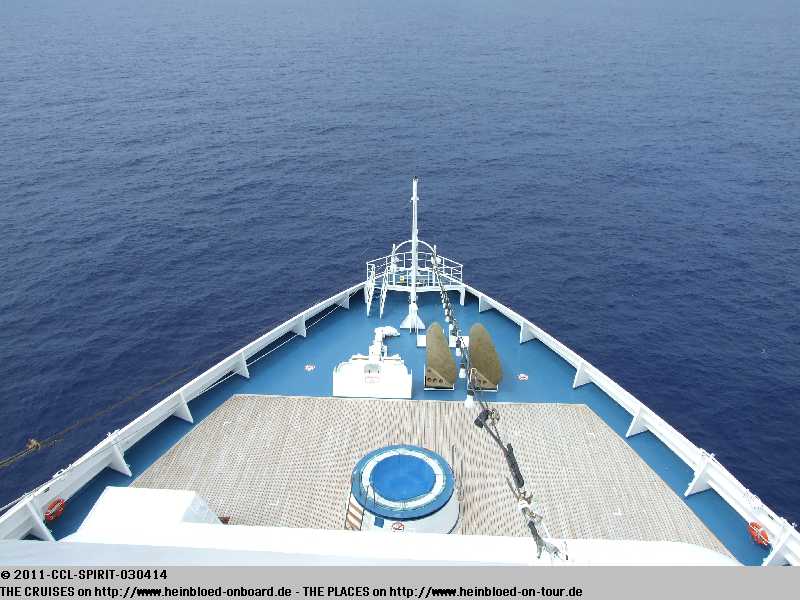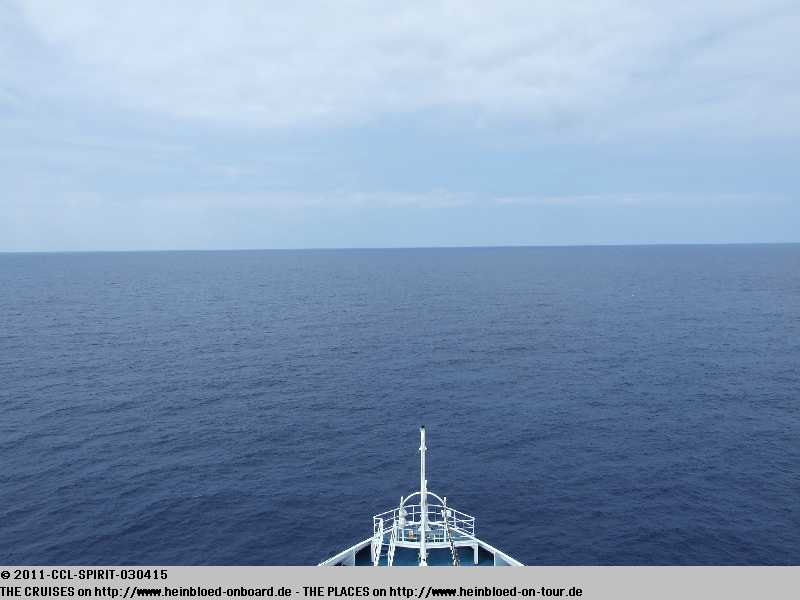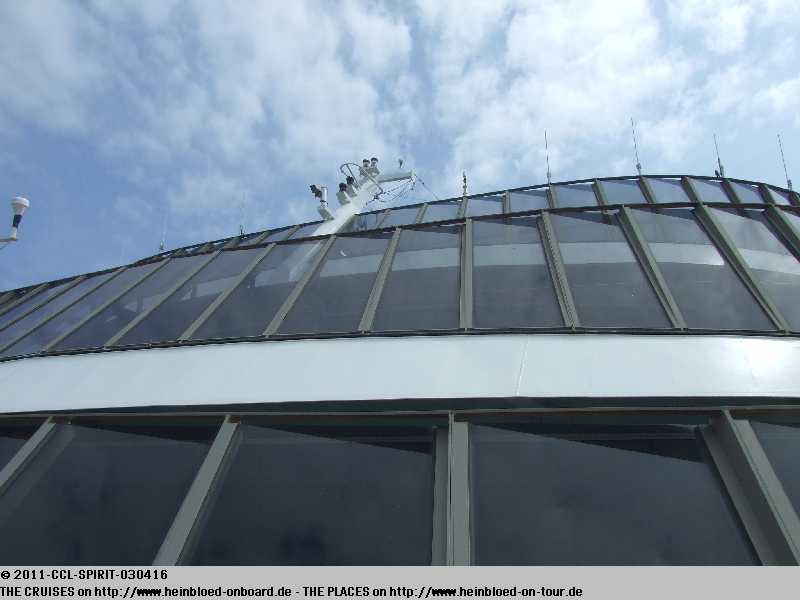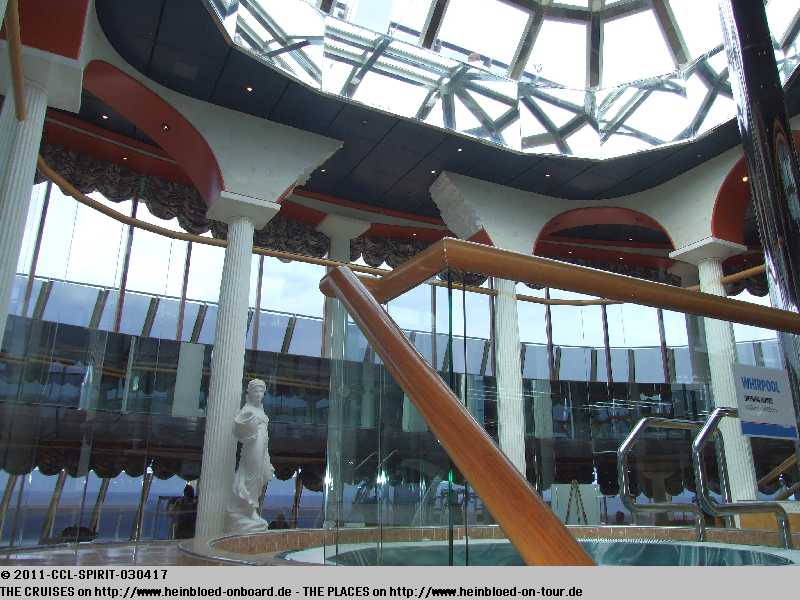 Bruno showed me the gym.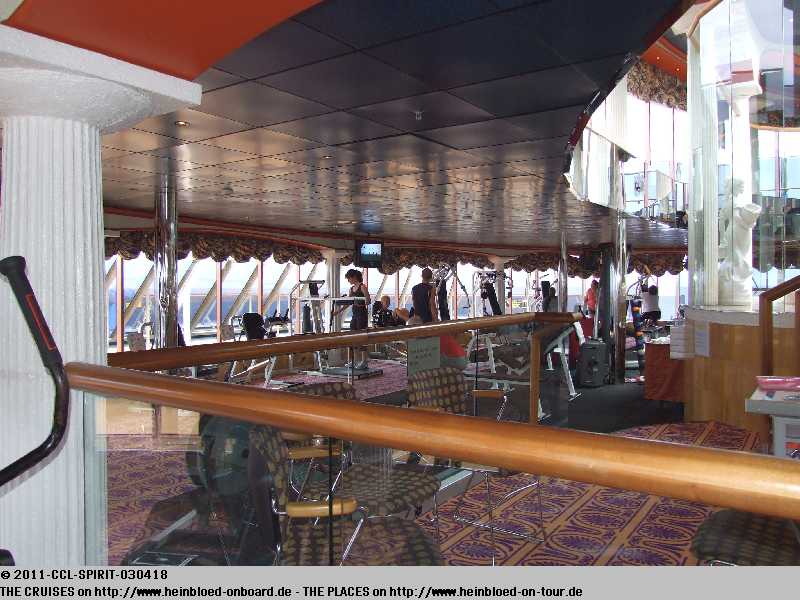 Bruno zeigt mir das Fitness-Studio.
Leider ist er sehr enttäuscht, da viele Geräte nicht in Ordnung sind oder außer Betrieb sind.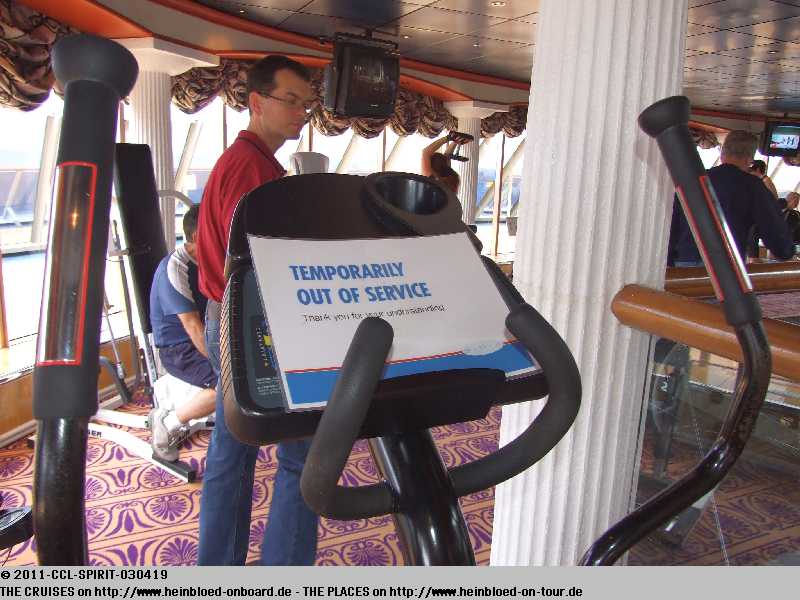 Unfortunately he was very disappointed as many many instruments were not working properly or out of order.

So everything was quickly occupied because it is quite small. You cannot find a quick overview on vacancies because it is set like a gallery.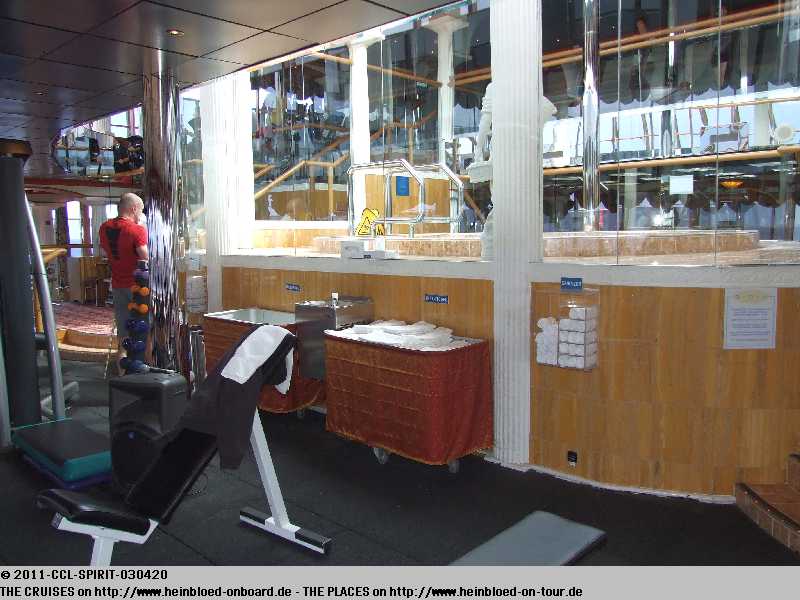 So ist es ziemlich voll, weil es ziemlich klein ist. Man kann sich auch nicht einen schnellen Überblick über das Angebot schaffen, weil es gallerieartig angelegt ist.
Leider gibt es auch morgens oftmals Probleme auf dem offenen Deck. Ständig geraten die Spaziergänger und Jogger aneinander und setzen sich lautstark auseinander. Insbesondere nimmt die Schiffsführung keine Rücksicht auf die Bedürfnisse der Gäste: während der typischen Jogging-Zeiten werden kurzerhand Decks geschlossen, um sauberzumachen. So müssen die Jogger, die schon keinen Platz im Fitnessstudio auf den Laufbändern haben nochmals ausweichen, was wiederum zu neuen Ärger mit den Spaziergängern führt.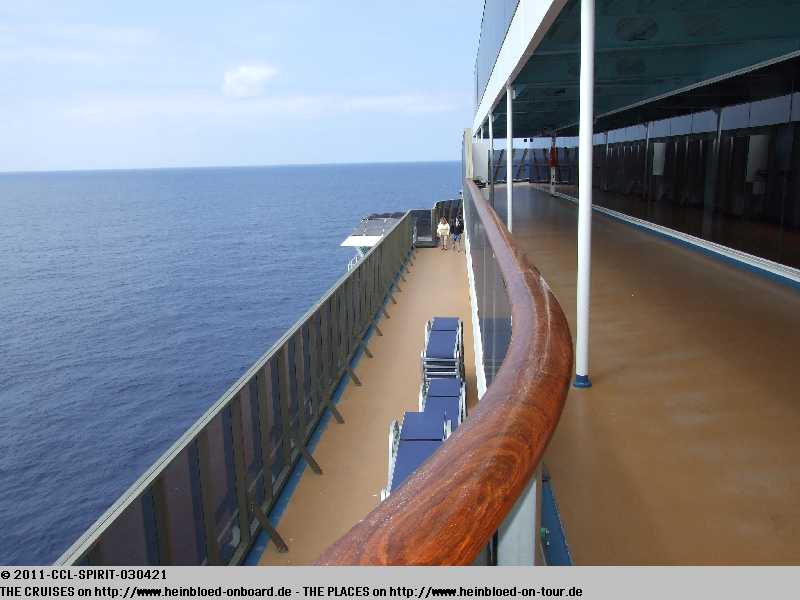 Unfortunately they had every morning trouble on the open decks. Walkers and joggers clashed all the time and it occured vocal debates. Especially the ship's management did not take any care of the passenger's need: at typical time when all the joggers are around they closed the decks to clean. So all joggers who cannot find any treadmills in the gym which were not out of order got the anger of the walkers.

When they closed everything all joggers retrieved to this place but all tubes they need to clean other decks were placed here all over it was more like a hurdle race. Bruno never experienced this before on another ship.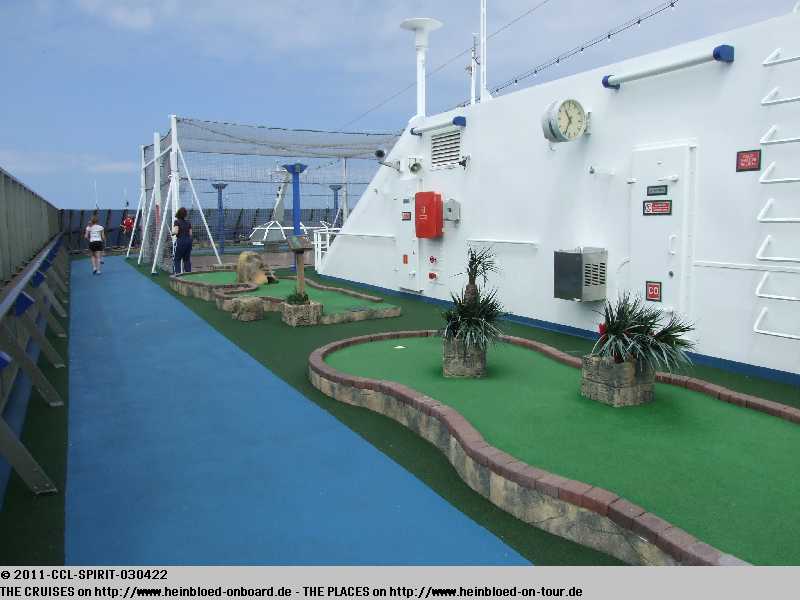 Als mal alles abgesperrt war, haben sich die Jogger hierher zurückgezogen, aber hierüber werden die Schläuche zum Reinigen der anderen Decks gezogen, so dass es eher ein Hürdenlauf war. So etwas hat Bruno noch auf keinem anderen Schiff erlebt.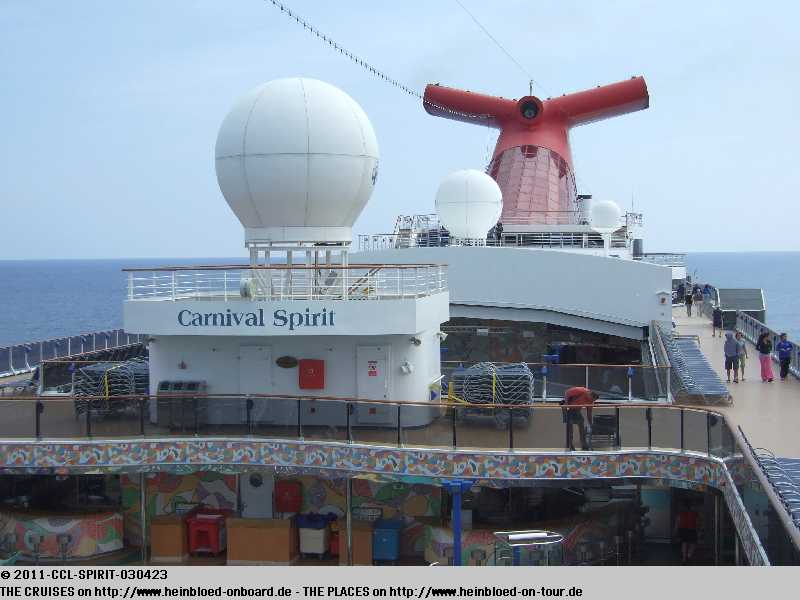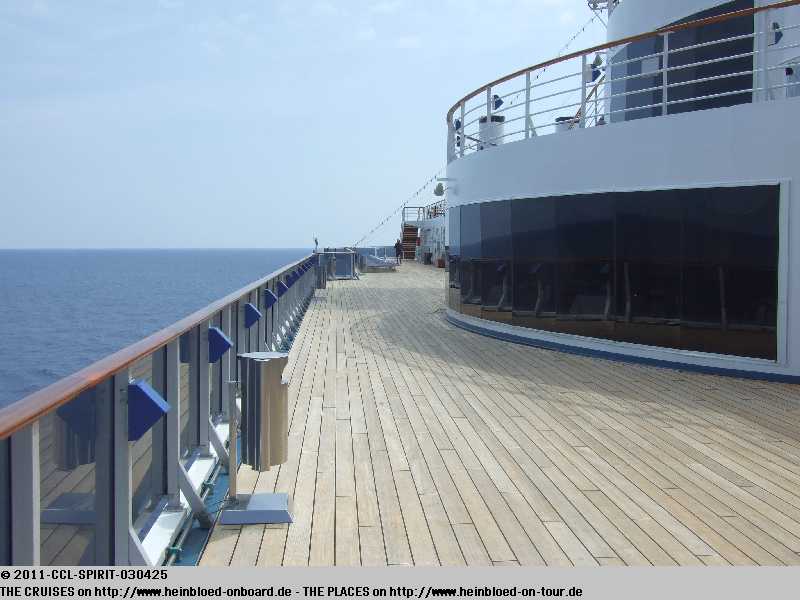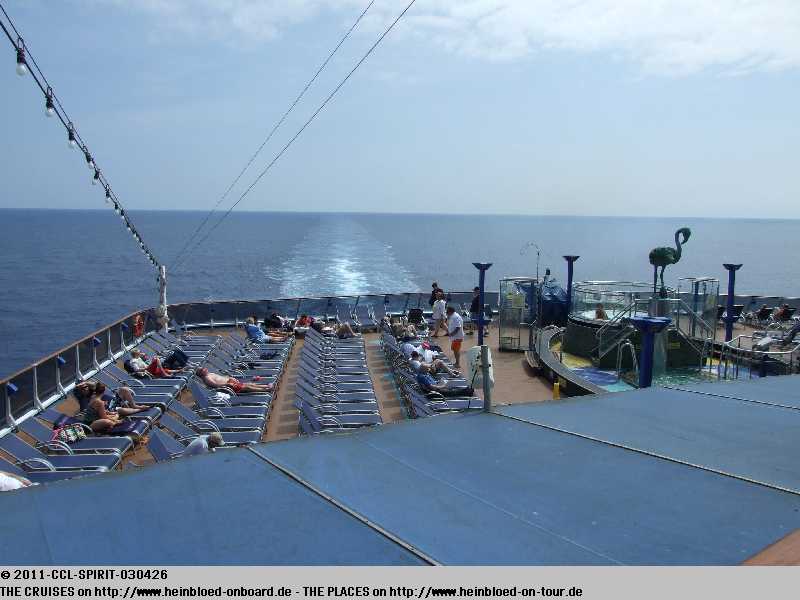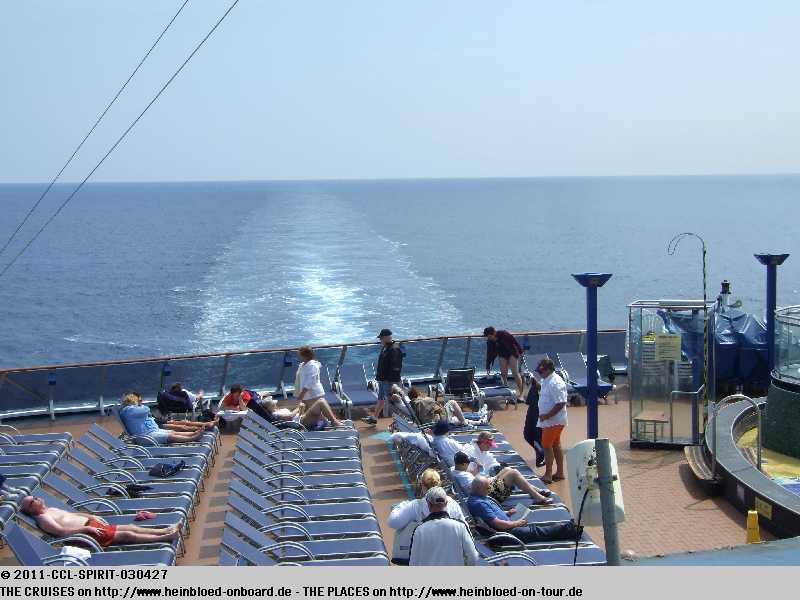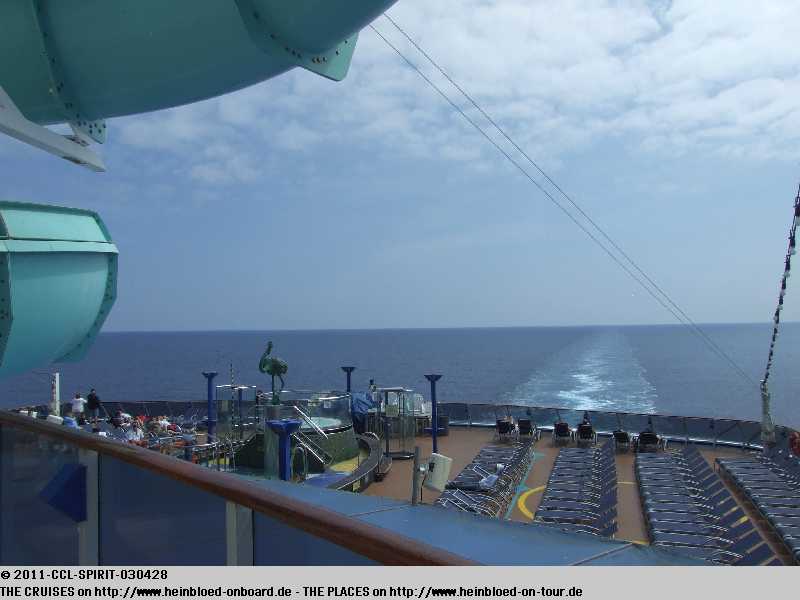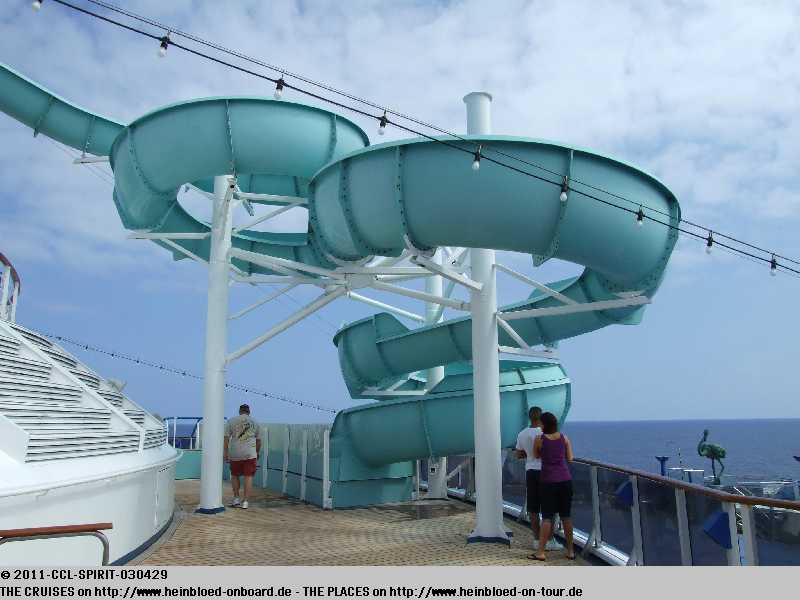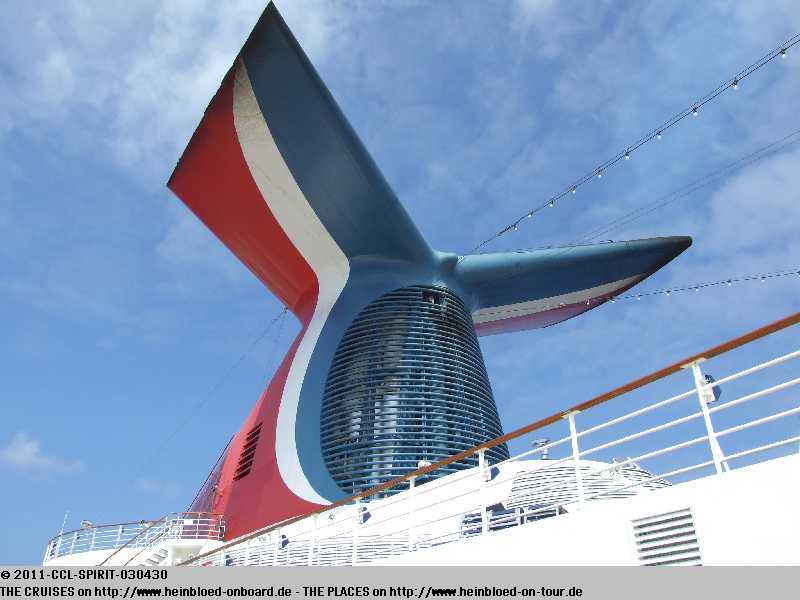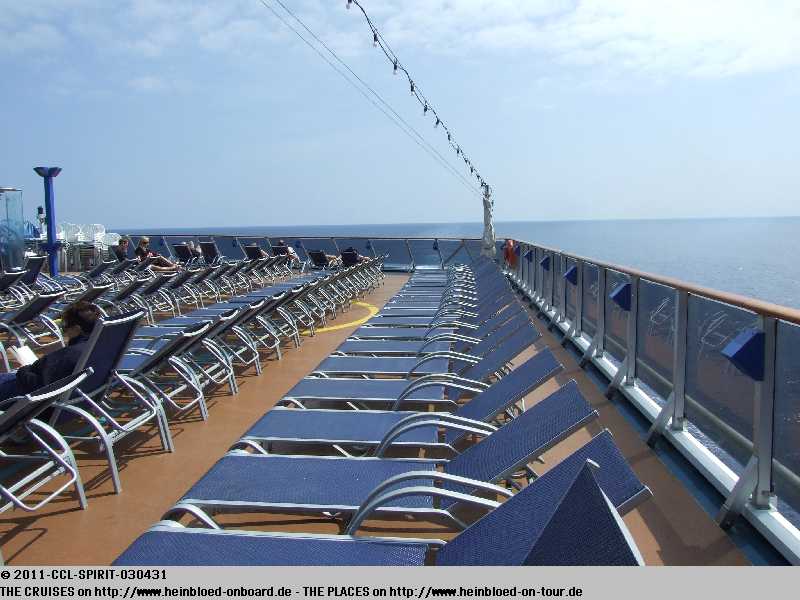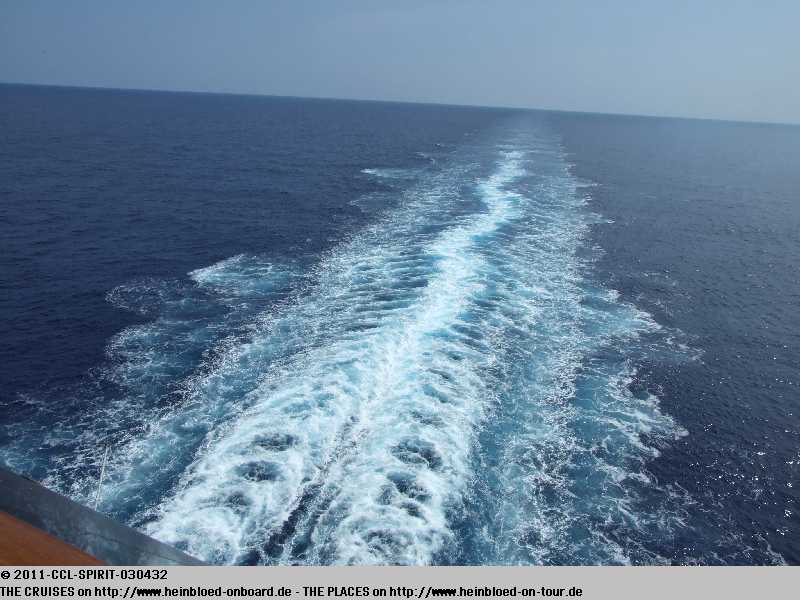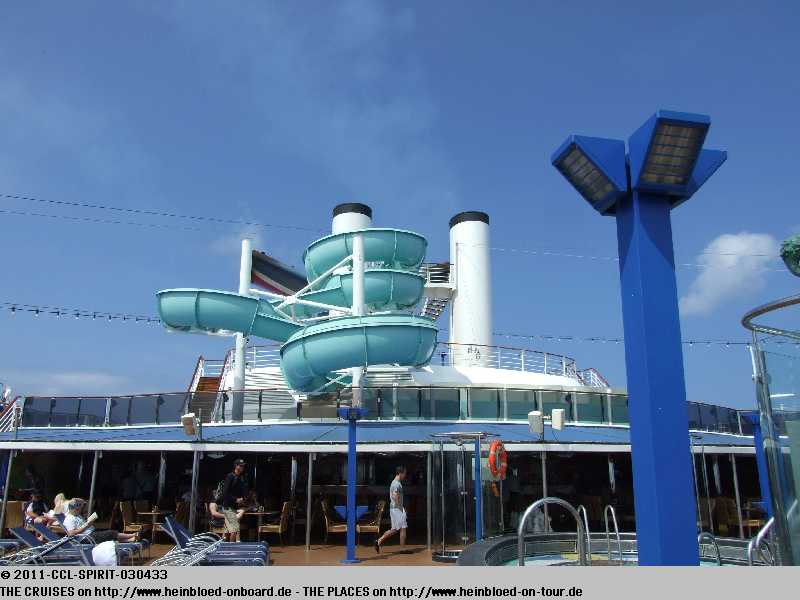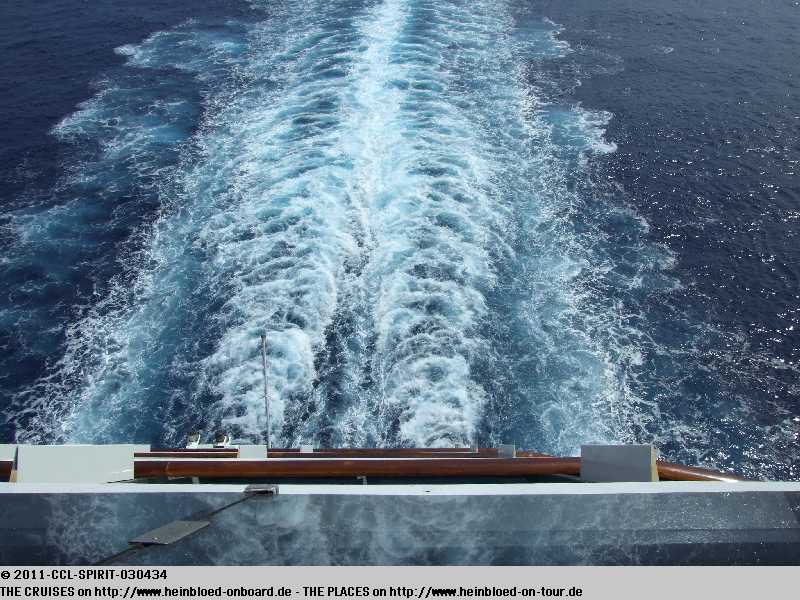 So sah ich heute aus und wurde prompt für einen Pool-Boy gehalten...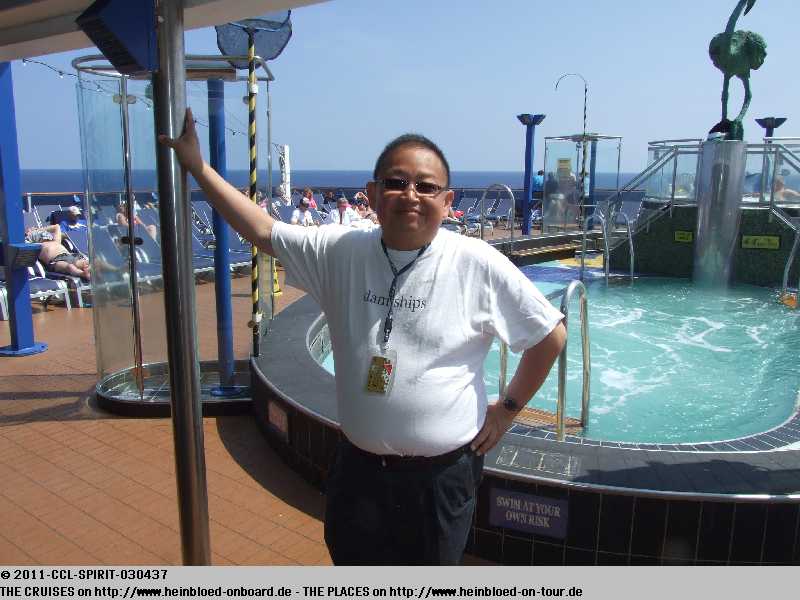 That I looked today and I was promptly accepted as a pool-boy...

A lady at the whirlpool had no towel and asked me to get her a towel. I explained that she had a towel in her cabin. She urgently need one and so I got her cruise card to get her a towel. I was too lazy to get down from Deck 9 to Deck 1. So I walked to the towel release and signed for a towel on her card. So if she would not return the towel they would charge her one towel on her account. When I returned with the towel she planned to send the security for me. Obviously she noticed that his was not Holland America and I might no be pool-boy...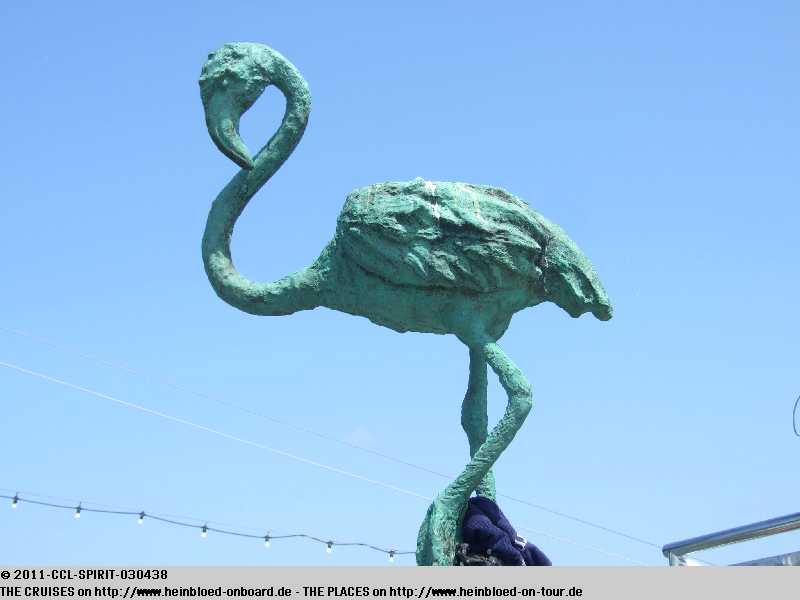 Eine Dame im Whirlpool hatte kein Handtuch und bat mich ihr ein Handtuch zu holen. Ich erkläre ihr, dass sie ein Handtuch auf der Kabine hat. Sie braucht dringendst eines und gibt mir ihre Karte, damit ich ihr das Handtuch aus der Kabine hole. Allerdings war es mir zu blöd von Deck 9 nach Deck 1 zu fahren. Also laufe ich nur zur Handtuchausgabe und lasse ein Handtuch auf ihre Karte aufschreiben. Wenn sie sie nicht zurückbringt ist es ihre Sache und ihr Konto wird mit einem Handtuch belastet. Als ich gerade zurückkomme, meinte sie, dass sie mich schon durch die Security suchen lassen wollte. Ihr ist wohl hinterher aufgefallen, dass sie nicht mit Holland America unterwegs und ich daher kein Poolboy bin...
Die Ausstellung der Pizza ist um 90°C um die Ecke versetzt.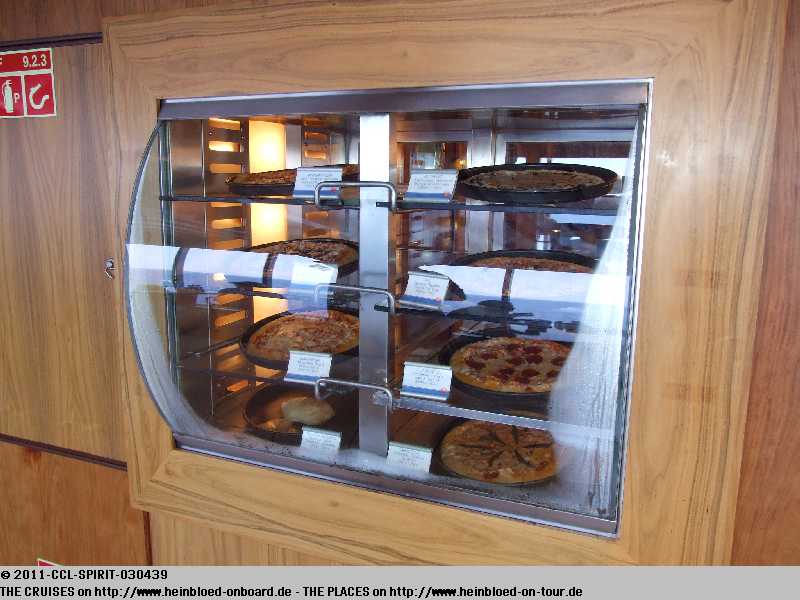 The display of the pizza was set 90° around the corner.

Just next was the coffee bar.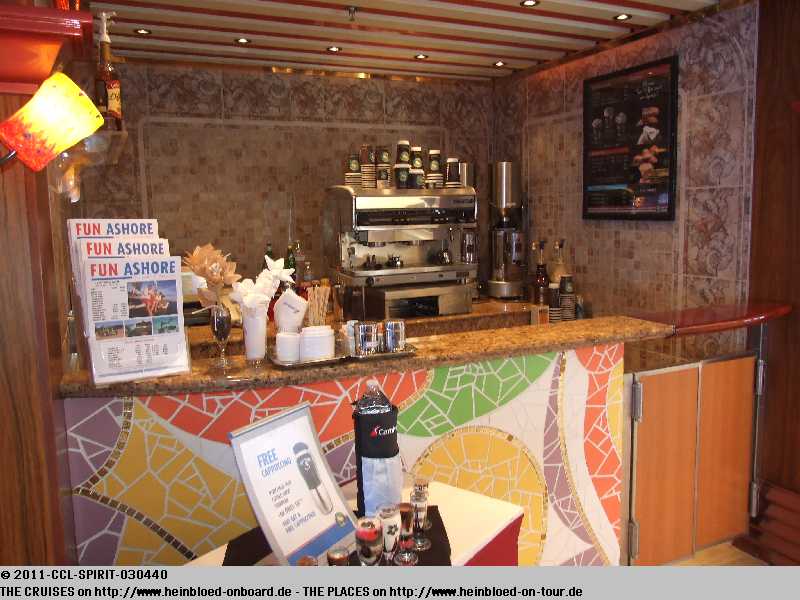 Direkt daneben ist die Kaffeebar.
Es ist hier eine kostenpflichtige Bar, die es auch nochmals unten gibt.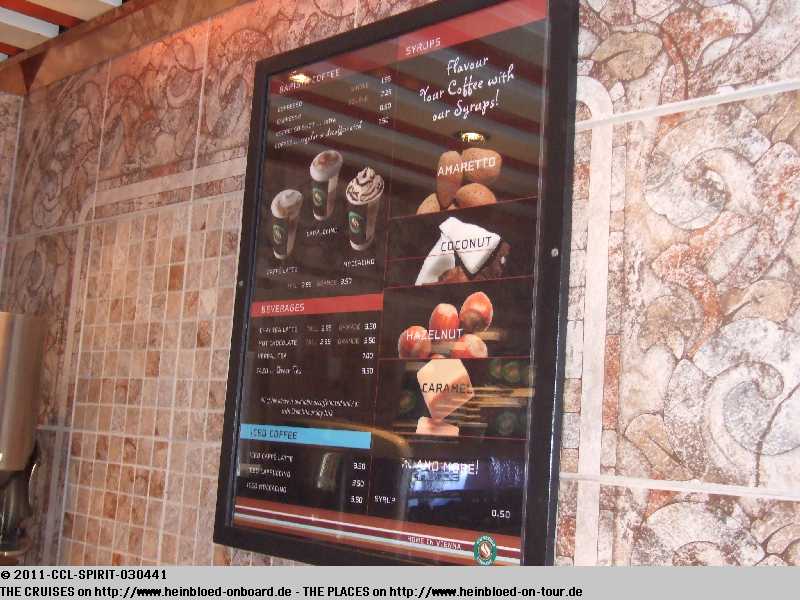 It was a bar to charge like they had downstairs too.

Before Bruno was looking forward for a double espresso but he found out that the coffee they used had too much acid and Bruno did not bear it.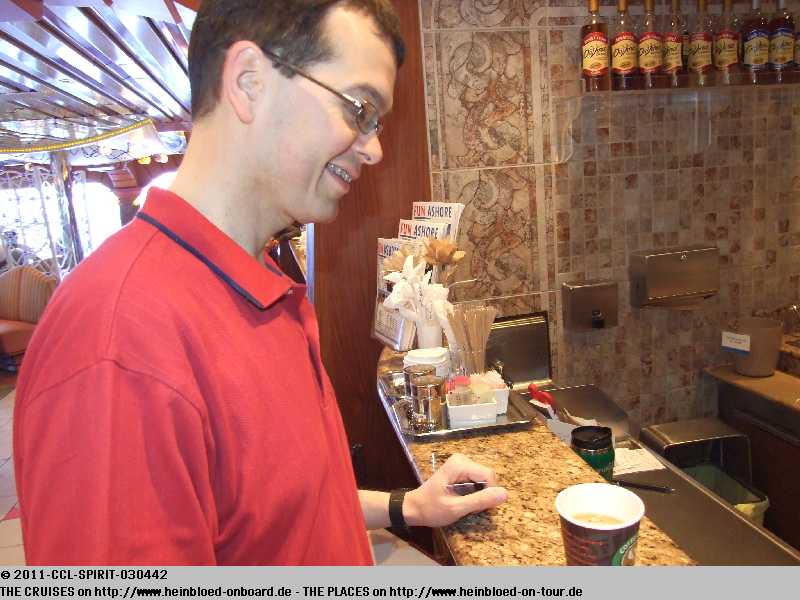 Zunächst hat sich Bruno auf einen schönen doppelten Espresso gefreut, aber leider stellt sich heraus, dass der eingesetzte Kaffee zuviel Säure hat und Bruno ihn nicht verträgt.
Mir ist es eh egal, da ich in der Regel ja eh meine Eis-Kaffee-Sorten trinke...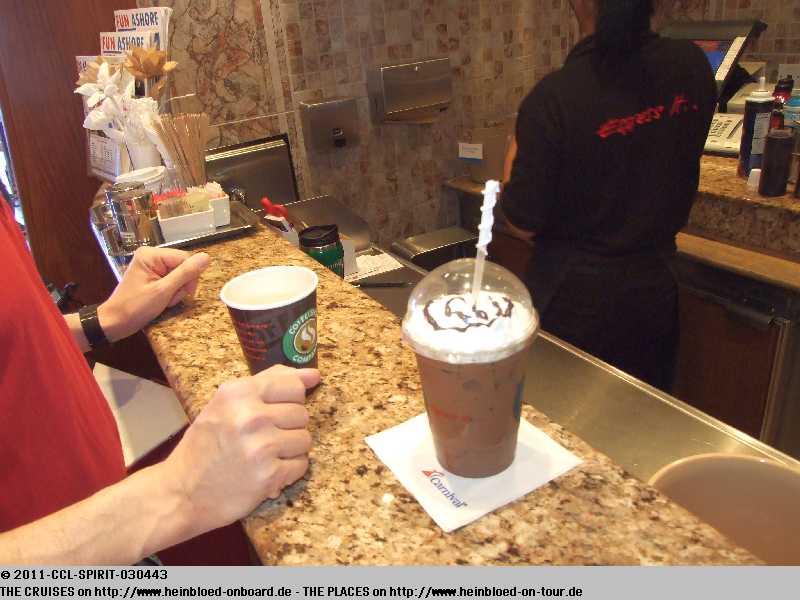 I did not care too much as I am usually have my iced coffee drink...

But I only asked for half of the whipped cream and half of the chocolate sauce...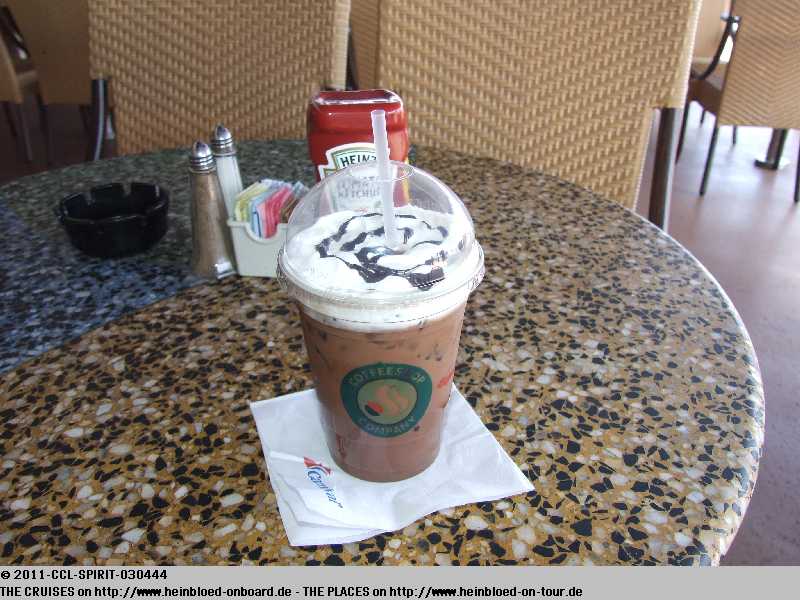 Ich habe aber bloß die halbe Sahne und die halbe Schokosauce genommen...
Ich weiss, dass bei diesem Anblick gerade jemand in Deutschland in Ohnmacht gefallen ist...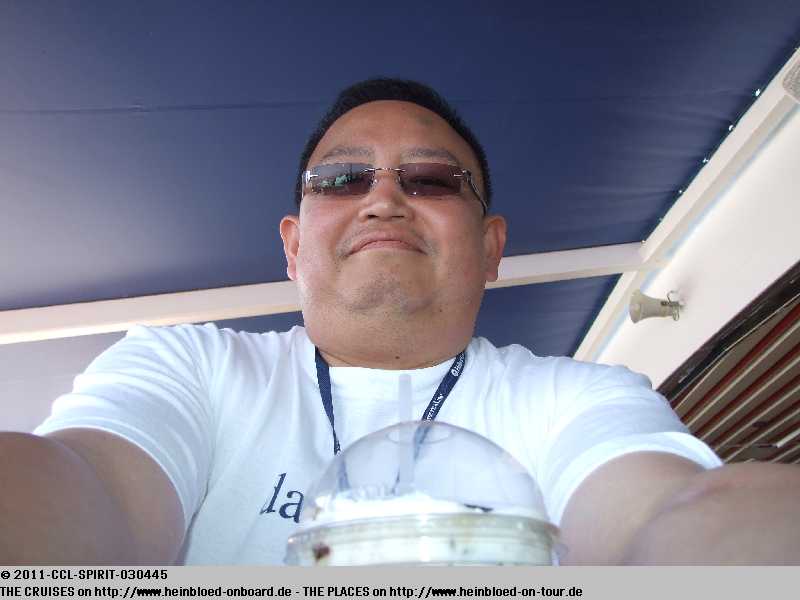 I know that in this moment someone faint in Germany when he sees this picture...