Scroll down for English explanations - alternates with German explanations.

Der Tag nach dem Gespräch beginnt. Meine Tasse fehlt...

The day after the meeting began. My cup was missing...

but we had this morning a very attentive waiter: before we could place our orders I had already a cup and my green tea.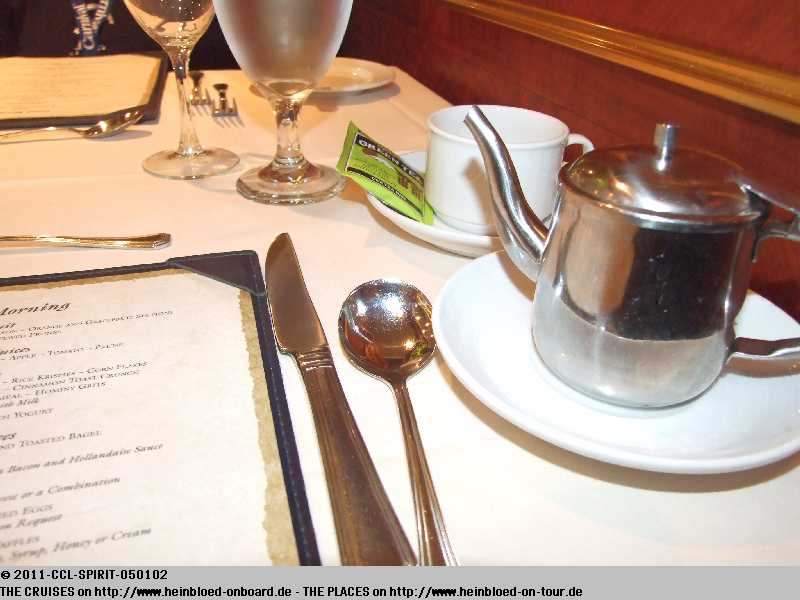 aber wir haben heute Morgen extrem aufmerksame Kellner: Noch bevor wir die Bestellung aufgeben können, habe ich eine Tasse und meinen grünen Tee.
Und auch der Saft ist bereits mit dem Tee da. Es geht doch... Aber warum denn nur auf Anfrage??? Sollte das nicht Standard sein, dass die Getränke als erstes kommen???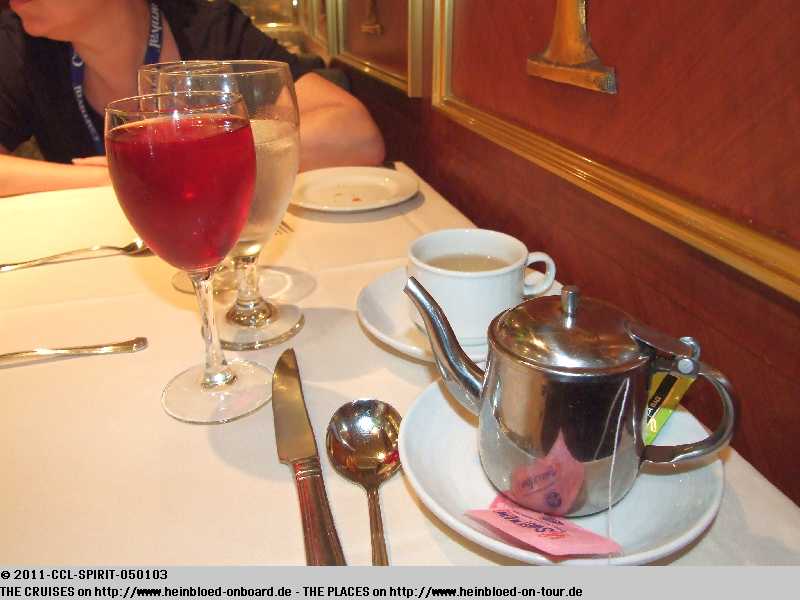 And the juice arrived with the tea. It worked... But why only on request??? Should this be standard to have the beverages for breakfast come first???

The discussion with the Hotel Director occured at least that we did not have rotten bananas anymore.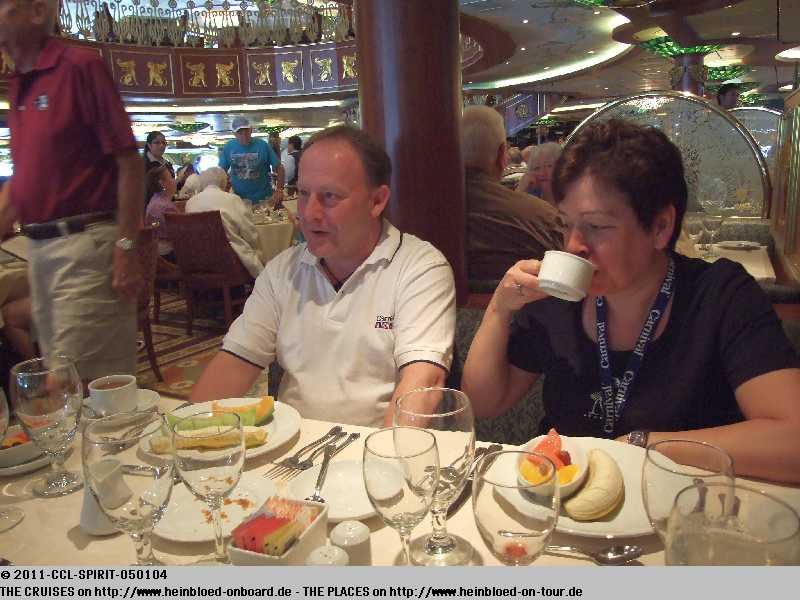 Das Gespräch mit dem Hoteldirektor hat zumindest bewirkt, dass es keine überreifen Bananen mehr gibt.
Es werden jedoch Container von Miami aus nach Honolulu verschickt, um das Schiff dort neu zu beladen.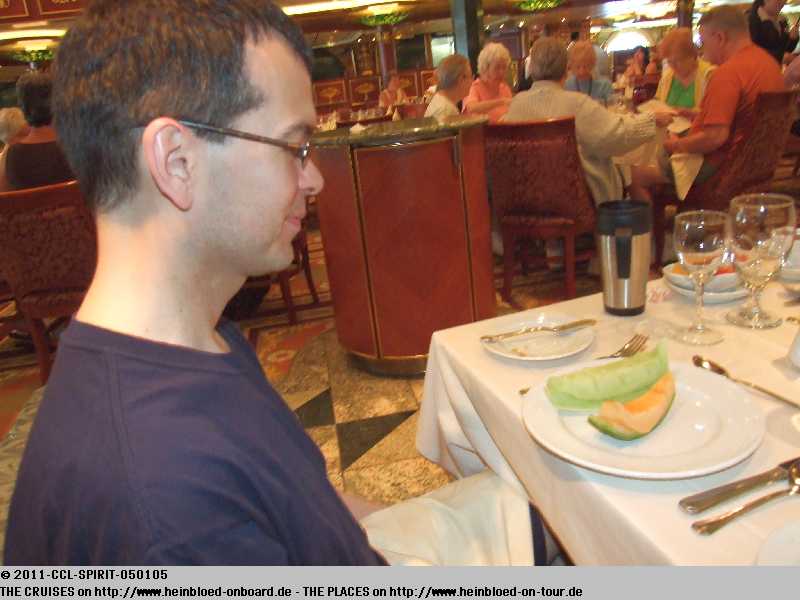 They send containers from Miami to Honolulu to supply the ship.

I got then the fruit cocktail. Just missed the cottage cheese and the strawberry garnish and I would feel like with NCL.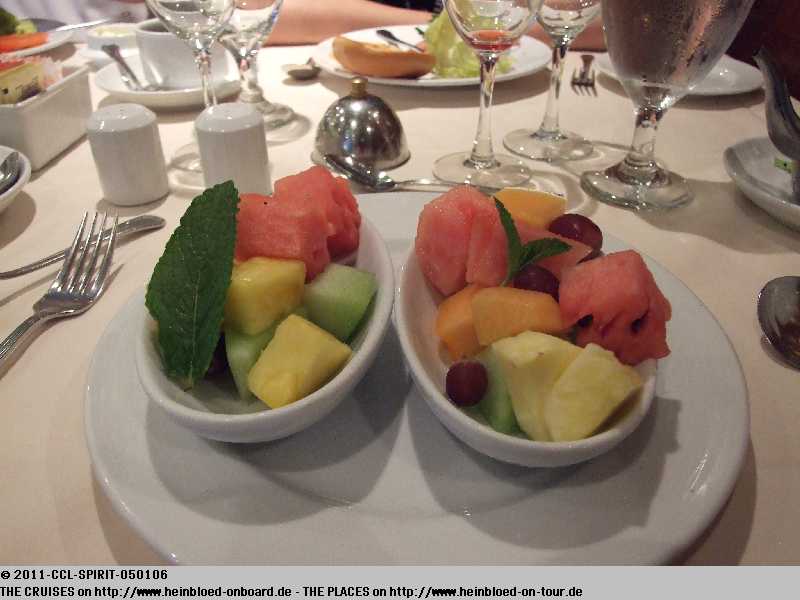 Ich bekam dann tatsächlich den Früchtecocktail. Fehlte bloß noch der Hüttenkäse und die Erdbeergarnitur und ich hätte mich wie bei NCL gefühlt.
Auch die Antipasti-Platte kam und so hatte ich tatsächlich Wurst und Käse zum Frühstück ohne nach oben gehen zu müssen.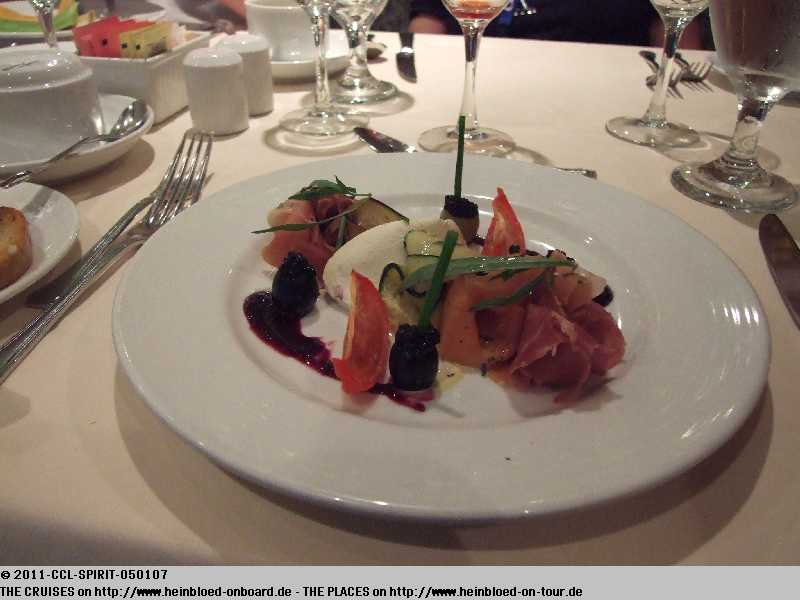 My antipasti-plate arrived and so I had cold cut and cheese without the need to walk upstairs.

Especially the rye-bread (incl. caraway) was really tasty. I only knew it from the Jewish delis in New York. It tastes like Germany... but it was an option if you do not want to have all the time Toast, Bagel and Muffin.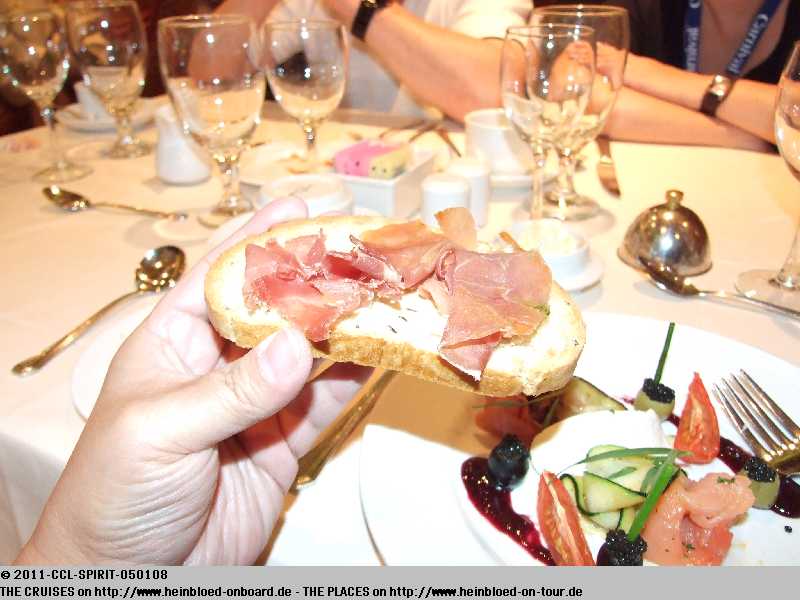 Vor allem das Roggenbrot (mit Kümmel) ist richtig lecker. Ich kenne es nur von den jüdischen New Yorker Delis. Es schmeckt nach Deutschland... zumindest eine alternative, wenn man nicht immer Toast, Bagel oder Muffin essen wollte.
Und Bruno freut sich über die perfekte Form seines Spiegeleis: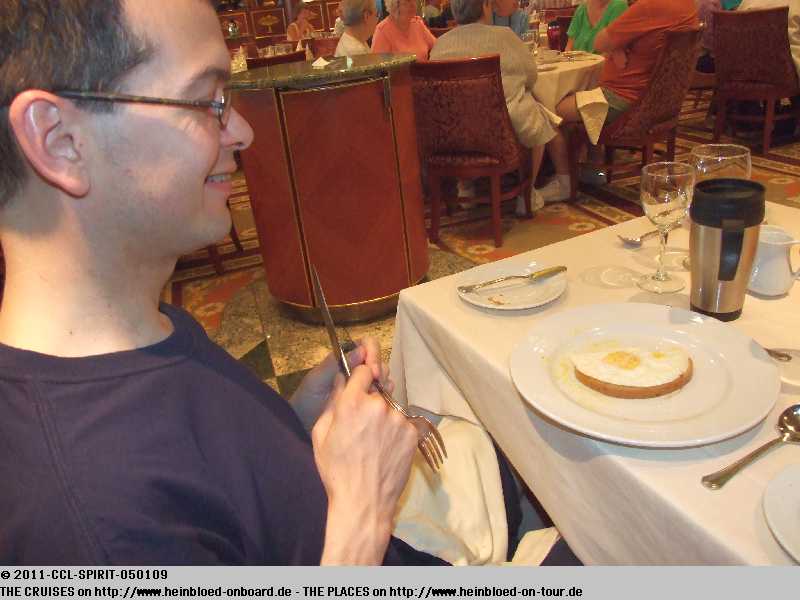 And Bruno was very much excited that the his fried egg had a perfect shape:

same shape to cover the slice of rye-bread... A perferct service.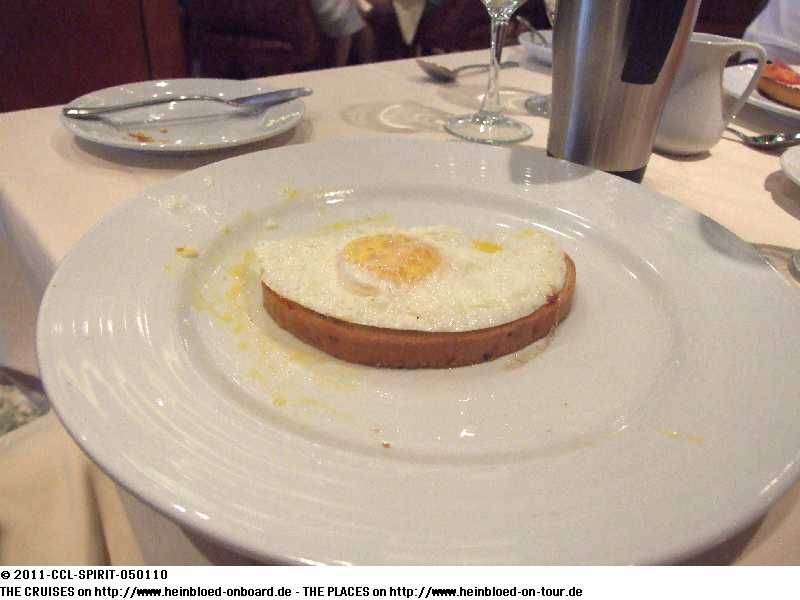 absolut deckungsgleich zur Scheibe Roggenbrot... Ein perfekter Service.
Am letzten Seetag steht für einen halben Tag der Balkon nicht zur Verfügung: Reinigungsarbeiten... Andere Gesellschaften hätten diese Arbeit eher auf den 1. Tag an Land verlegt, wenn eh fast alle Gäste von Bord sind und es die wenigsten gestört hätte. Aber hier bucht man einen Balkon und man kann ihn teilweise nicht nutzen.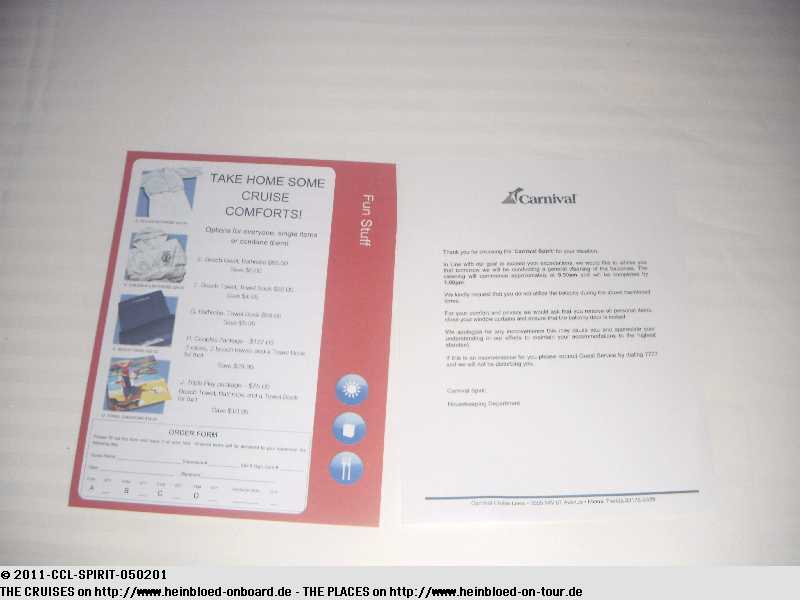 On the last day at sea you cannot use for a half day your balcony: cleaning... other companies would move such works on the 1st day ashore as nearly all guests will be ashore and there will not be so many to bother. So you book here a balcony and cannot use it.

The chairs were nice as you can recline them quite well to lay down a little.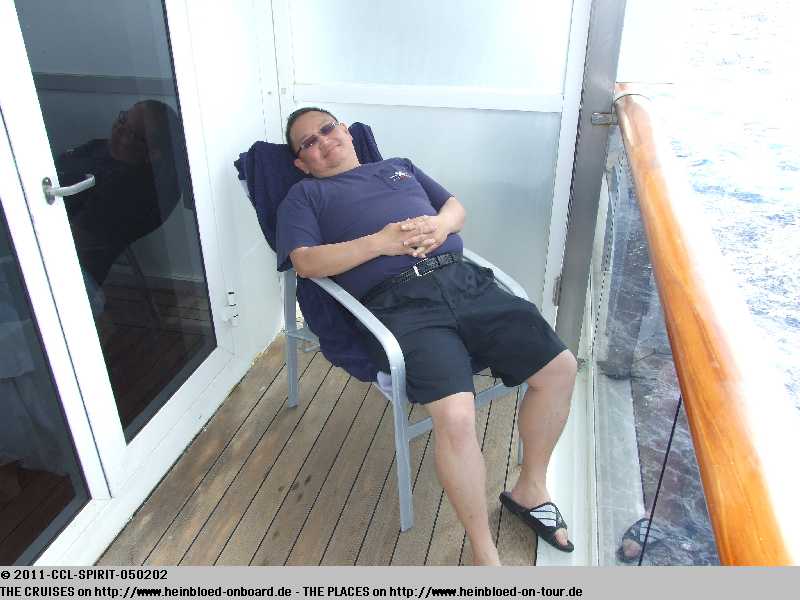 Die Stühle sind schön, weil sie sehr weit nach hinten verstellbar sind.
Stu hat ja gesagt, dass man mal alles machen sollte, was man zu Hause eher nicht macht...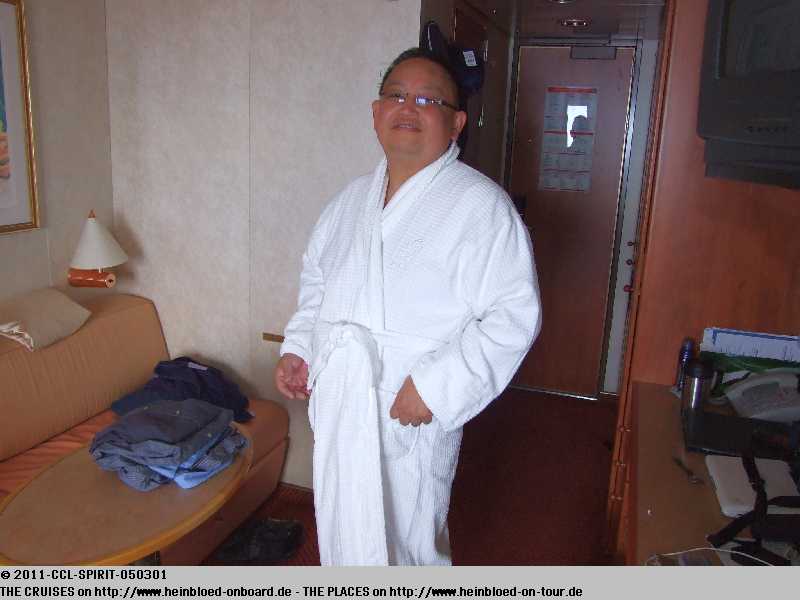 Stu said we should try everything we normally would not do when we are home...

One of the things he mentioned was to show up at the pools with speedo and to see what would happen.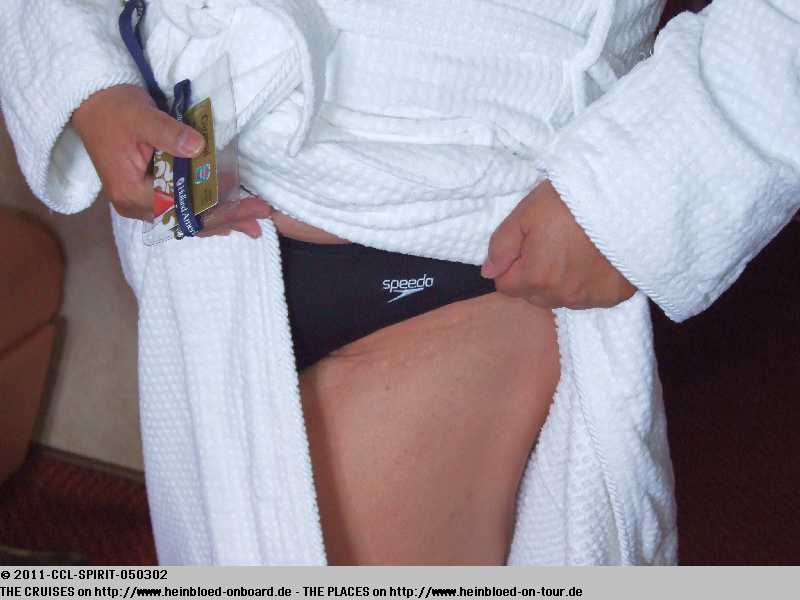 Eine der Punkte war ja, mit kurzen Badehosen mal den Pool aufzusuchen und zu sehen was passiert.
Das nutze ich aber, um zu testen, ob die ausgetauschte Unterwasserkamera nun besser ist.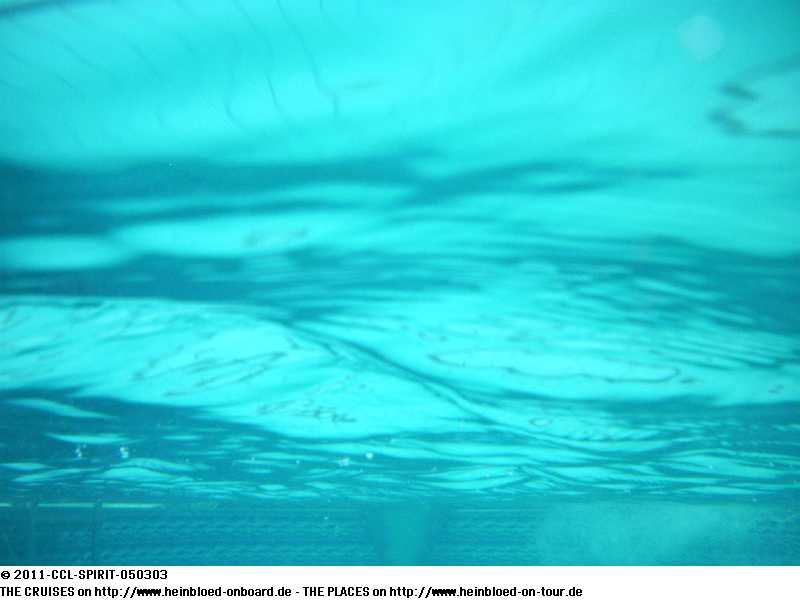 I used the occassion to test if the new underwater-camera was better now.

It was very nice of Olympus Germany to exchange the US-camera.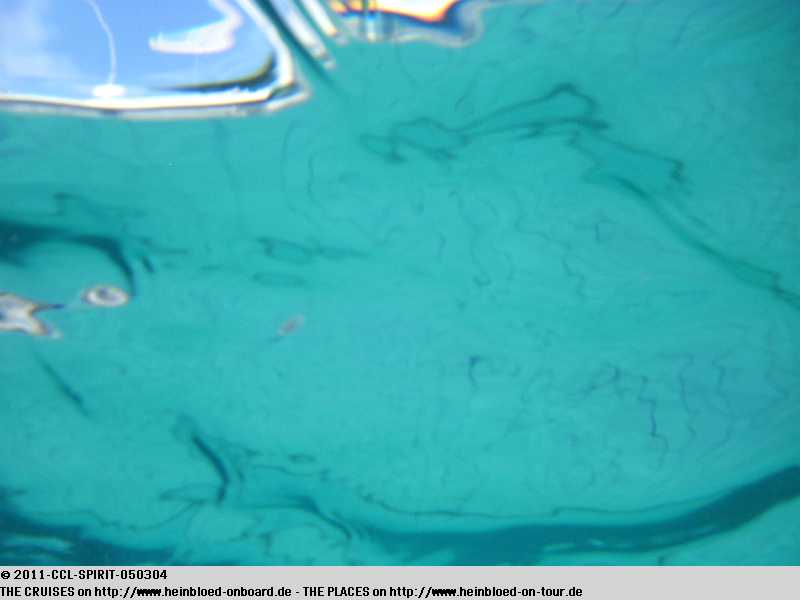 Das war doch sehr nett von Olympus Deutschland die US-Kamera auszutauschen.
Sie funktioniert anscheinend einwandfrei.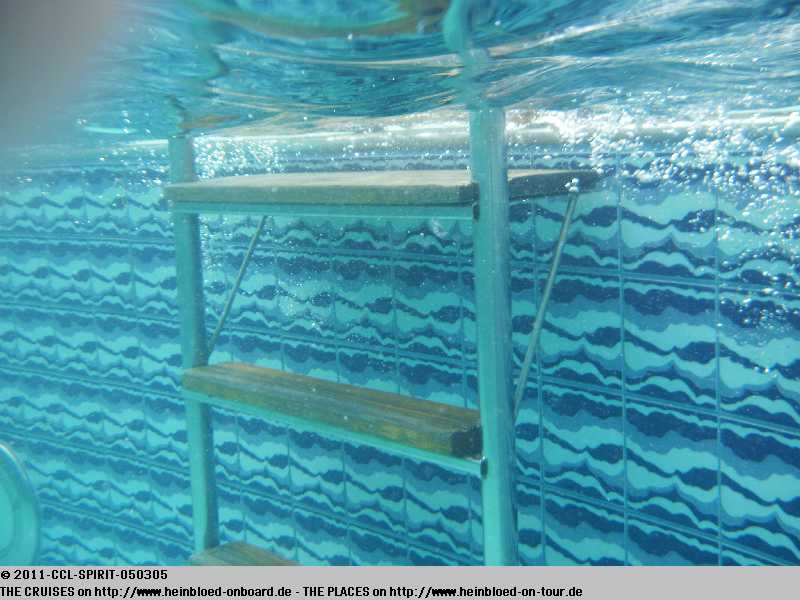 She worked properly.

You can see everything very good. Hope we will go for snorkeling.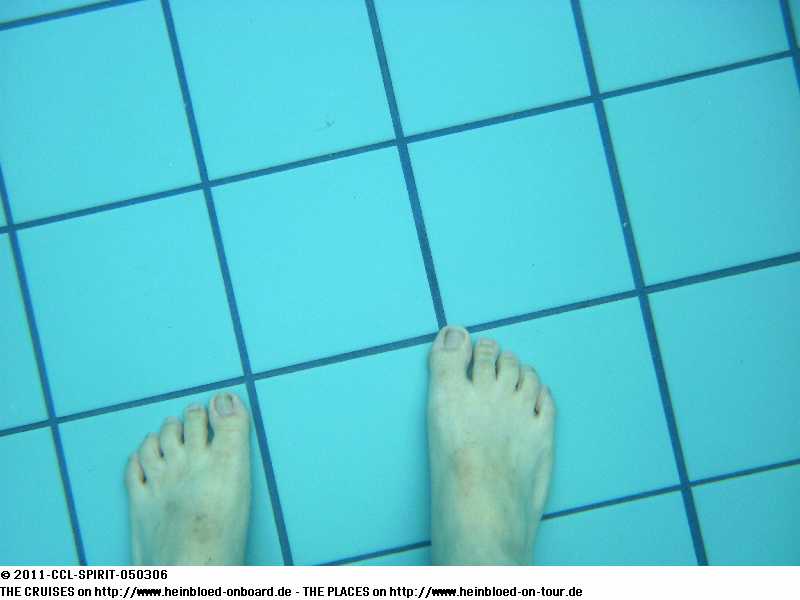 Man kann gut alles sehen. Hoffen wir, dass wir noch zum Snorcheln kommen.
Aber im Wasser merkt man erst, wie es an Bord schwankt.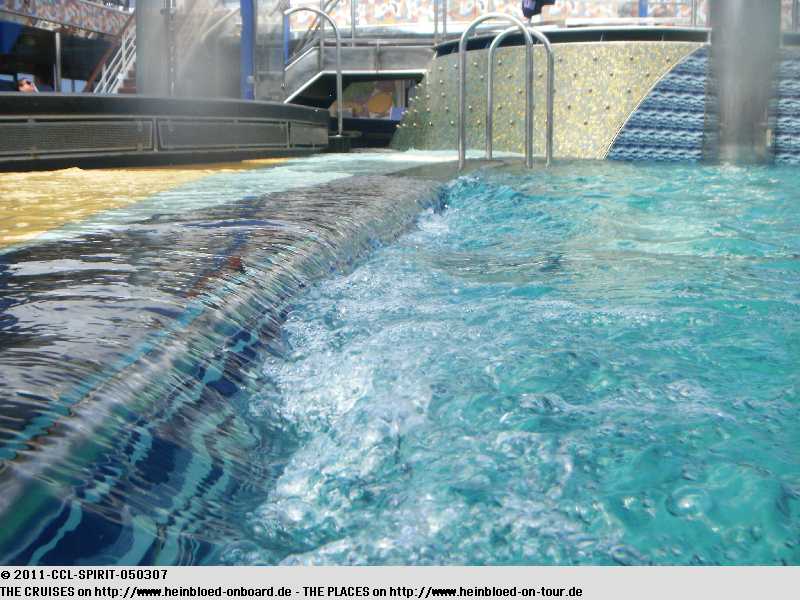 But you saw how the ship moved once you were yourself in the pool.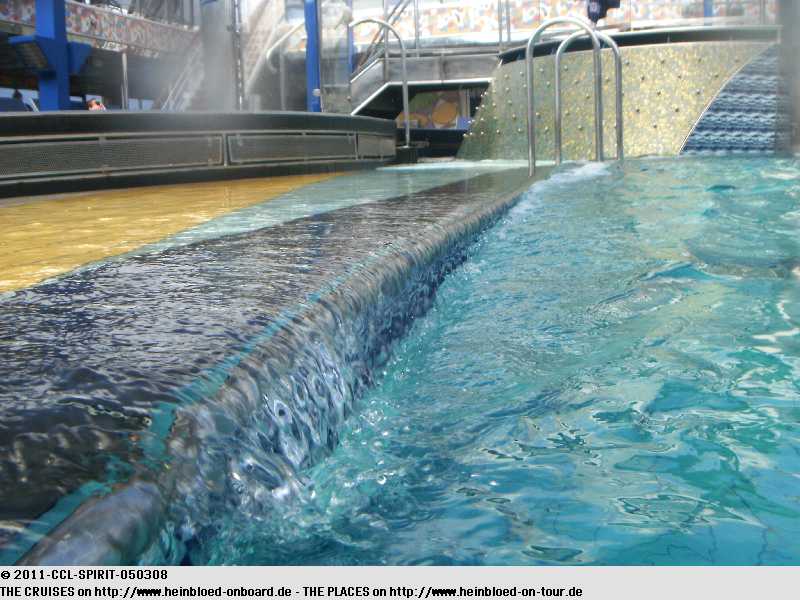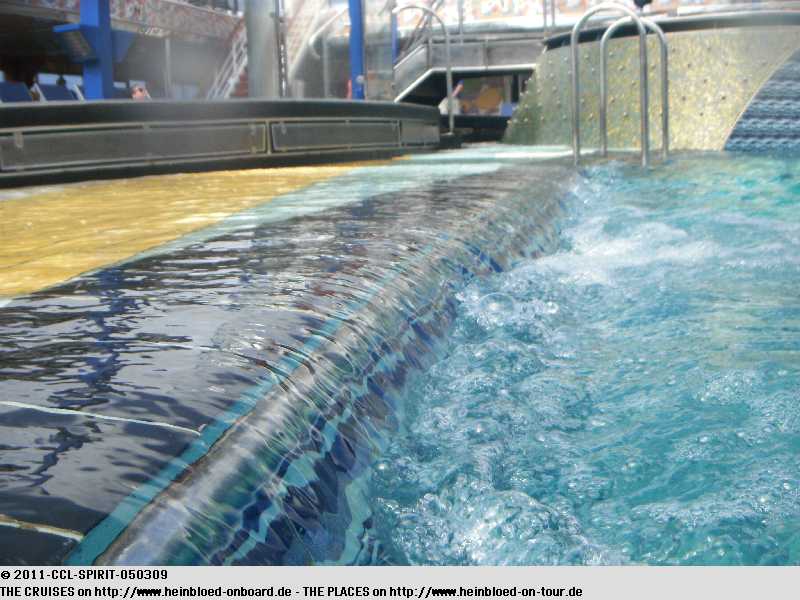 I asked someone to take a picture of me.

Ich lasse mich fotografieren.
Bruno, der das Ganze aus der Ferne beobachtet, merkt schon, dass die Speedo für Unruhe bei manchen sorgt...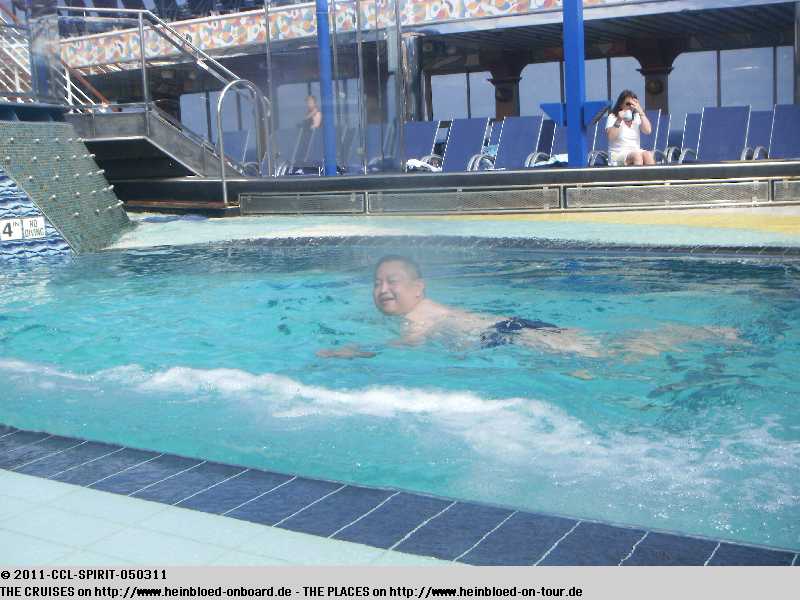 Bruno observed everything from a distance and remarked that the speedo made some guests somehow nervous...

I wanted to see the sauna or steamroom. You get a key for the lockers at the spa. You can use it free of charge.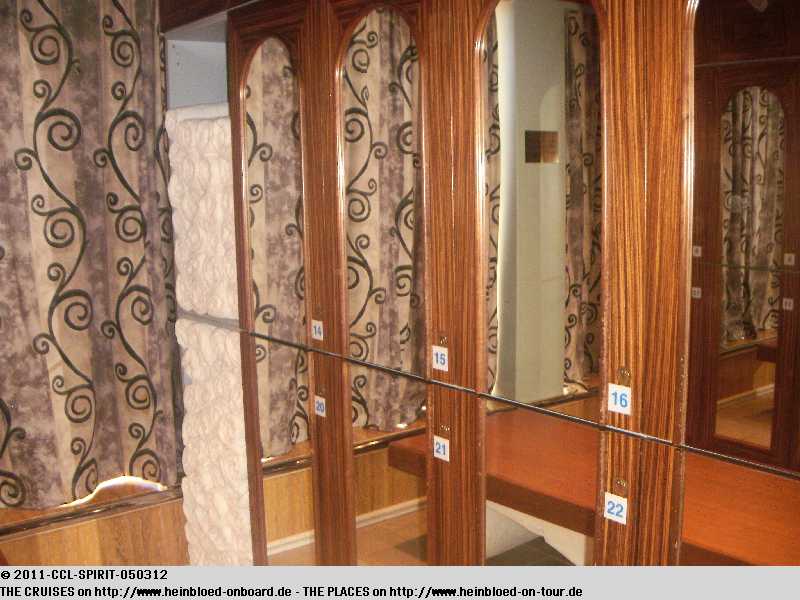 Ich wollte noch ein wenig in die Sauna bzw. ins Dampfbad. Am Spa bekommt man Schlüssel für die Umkleidekabinen. Man kann alles kostenlos nutzen.
Allerdings die Sauna ist schon so verrottet, dass das Aufgusswasser unten am Heizgerät rauskommt. Und das Dampfbad hat leider nicht mal einen Schlauch, um die Bänke abzuspritzen. Lange hält man es nicht aus.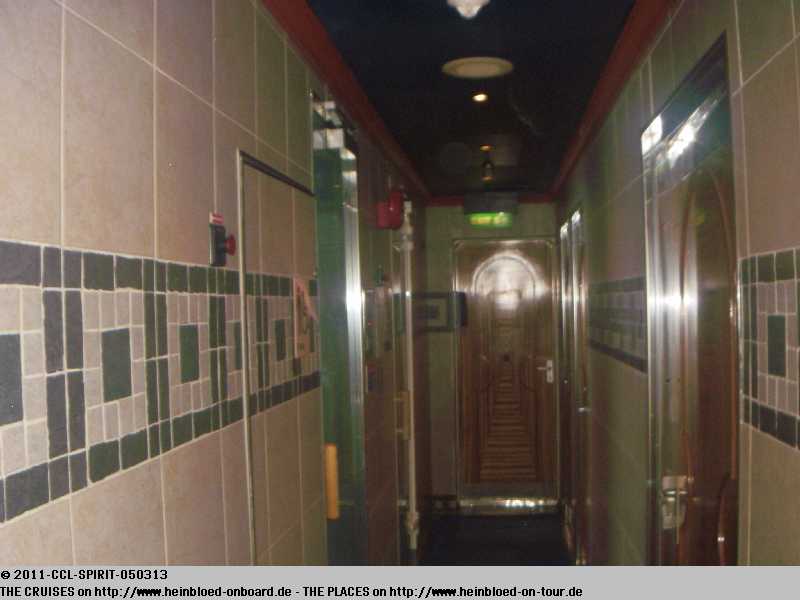 Somehow the sauna was already rotten so the water for an extraction just left at the bottom of the heater. And in the steambath there was not a tube to sprinkle and clean the benches. It was impossible to stay very long.

Nice were the shower cabins with the wall shower installations. It was not a spa-landscape with many options to relax and recover like we knew from other ships.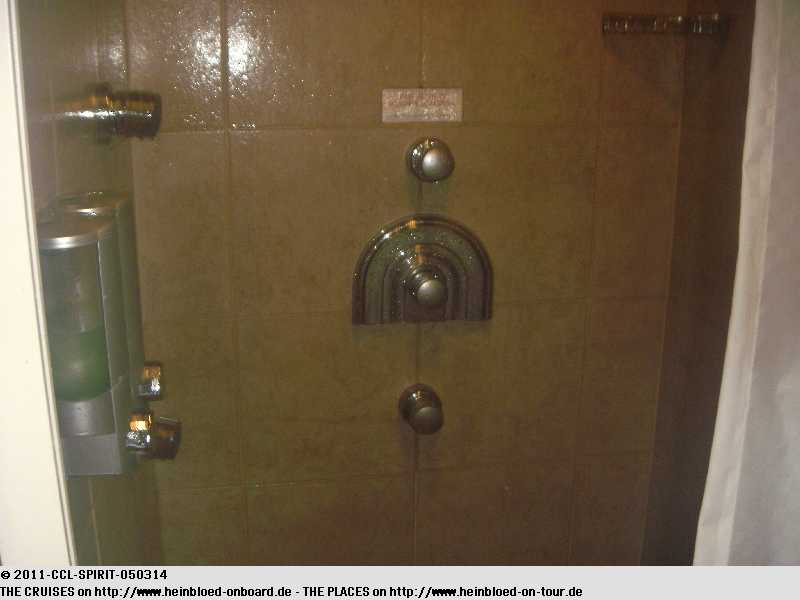 Schön sind allerdings die Duschkabinen mit den Seitenduschen. Es ist eben keine Spa-Landschaft mit schönen Möglichkeiten sich zu entspannen und erholen, wie wir es von den anderen Schiffen her kennen.
Die günstigste Art sich massieren zu lassen sind die Deckmassagen: 10 Minuten 15,00 USD und jede weitere Minute 1,00 USD.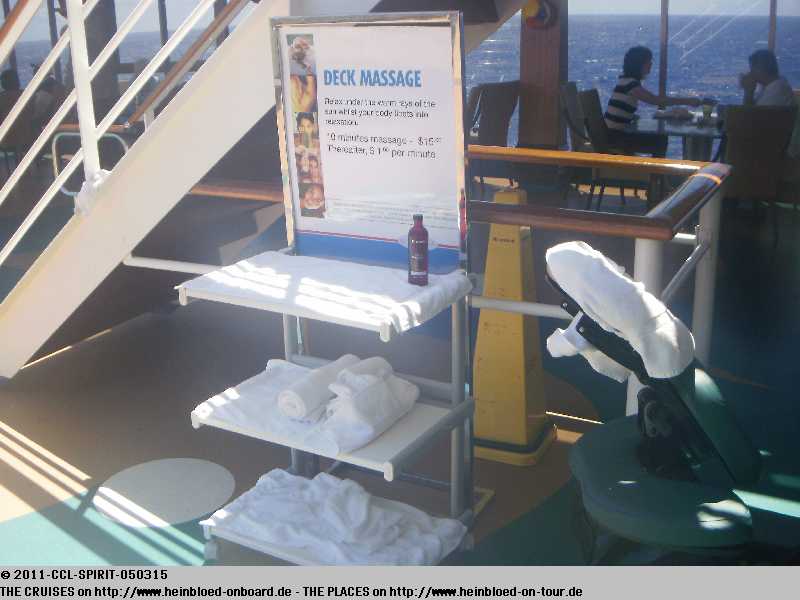 The cheaper way to have a message were the deck massages: 15.00 USD for 10 minutes and 1.00 USD per minute thereafter.

I allow me a treatment of 25 minutes and I felt great thereafter...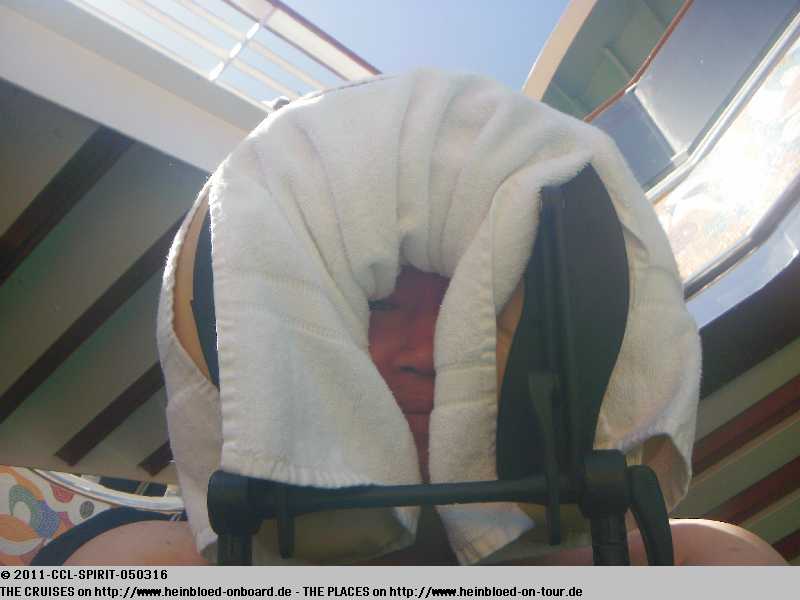 25 Minuten gönne ich mir und ich fühle mich gut danach...
Zwischendurch geht es noch zum Bügeln... und wie üblich trifft man dort die Engländer... wie damals auf der QUEEN VICTORIA...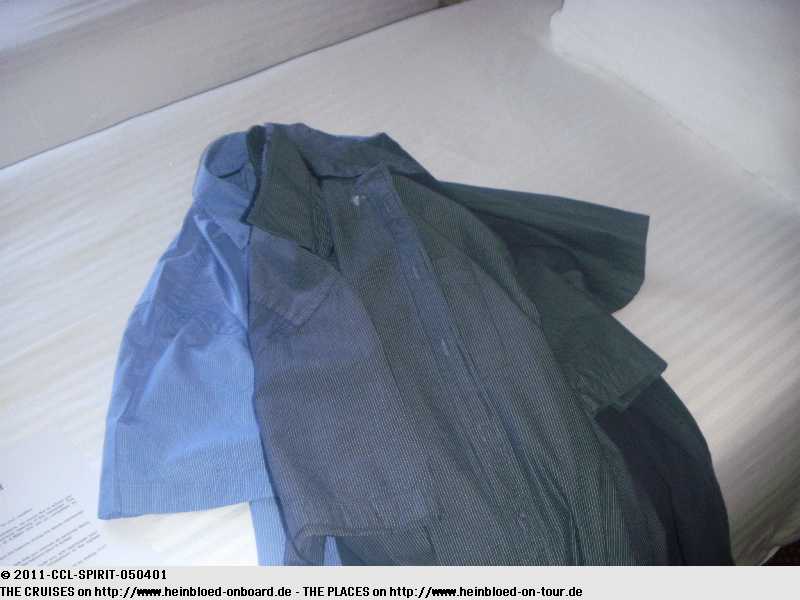 In the meantime I went for ironing the shirts... and as usual you find here the Englishmen... like then on QUEEN VICTORIA...

All we could do was enjoying the ship and we did.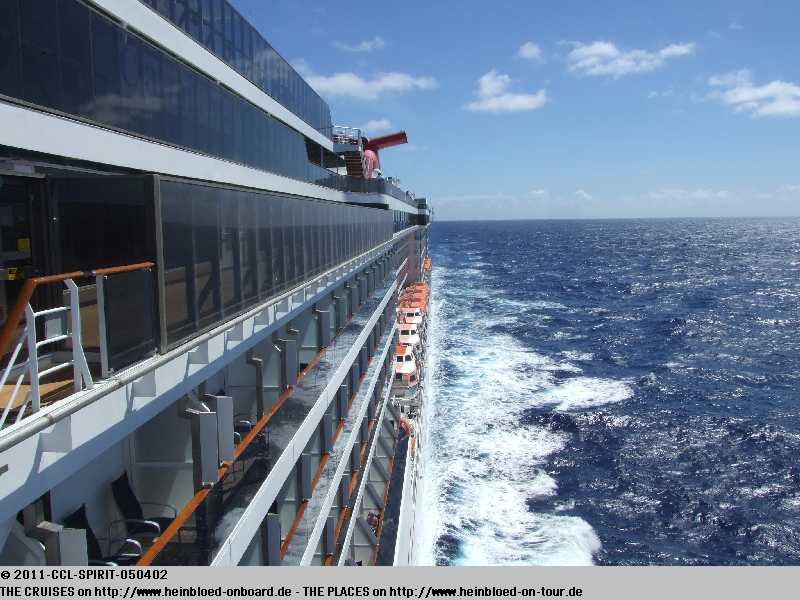 Ansonsten genießen wir das Schiff.
Bis auf den Spa-Bereich und das SB-Restaurant ist es wirklich schön hier.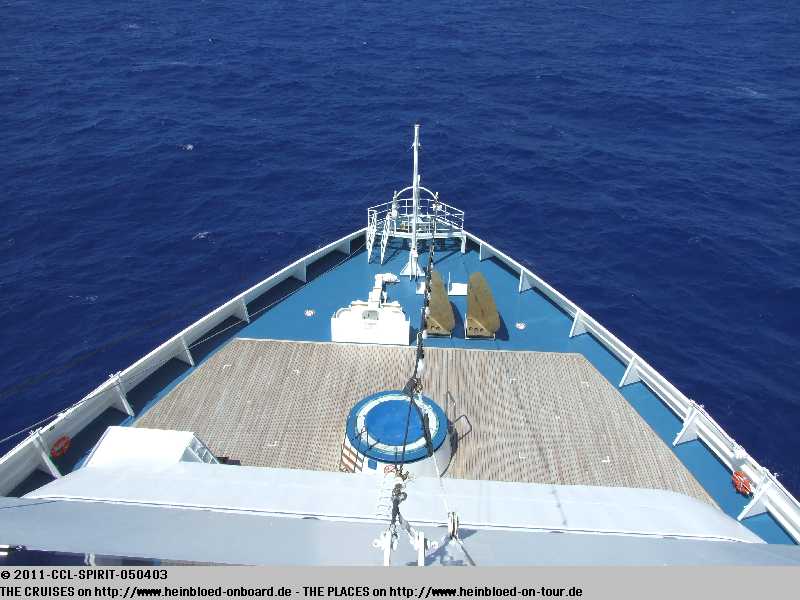 With the exception of the Spa-area and the buffet-restaurant it was really nice here.

The weather was acting as expected so the mood on the ship was very good.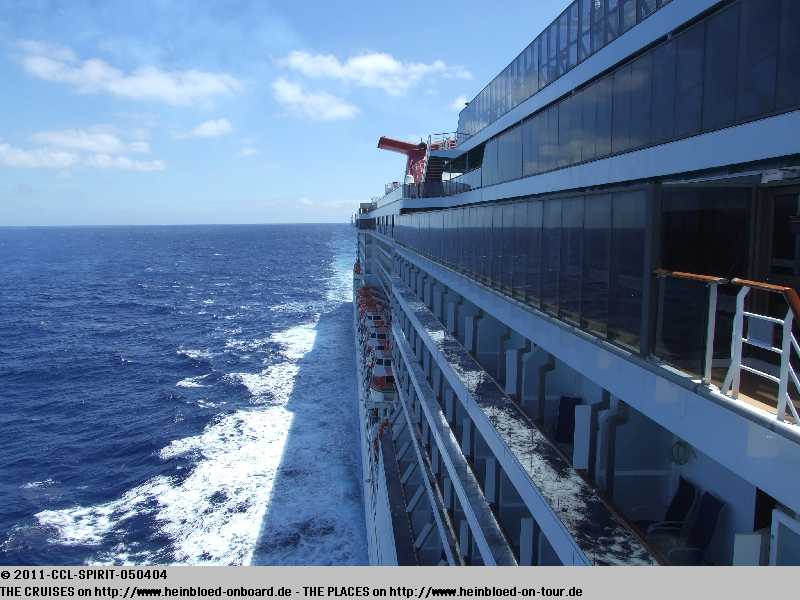 Das Wetter spielt entsprechend mit. So ist die Stimmung an Bord sehr gut.
Und im Atrium werden die Cocktails vorgestellt.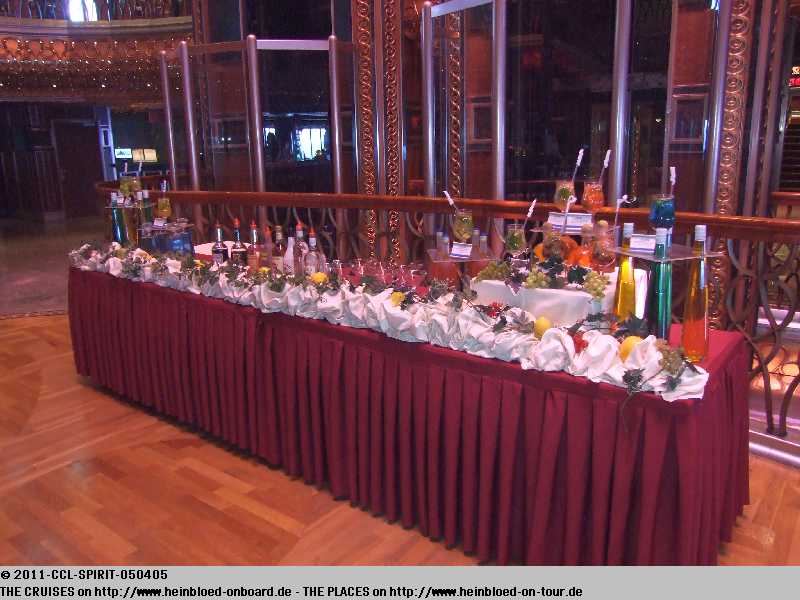 And in the atrium they presented the cocktails.

And by exception went to La Playa Grill to have food. But as outdoor-seating was possible indoor it was quite empty. And again we found out: they offered every day something different... and better than some others...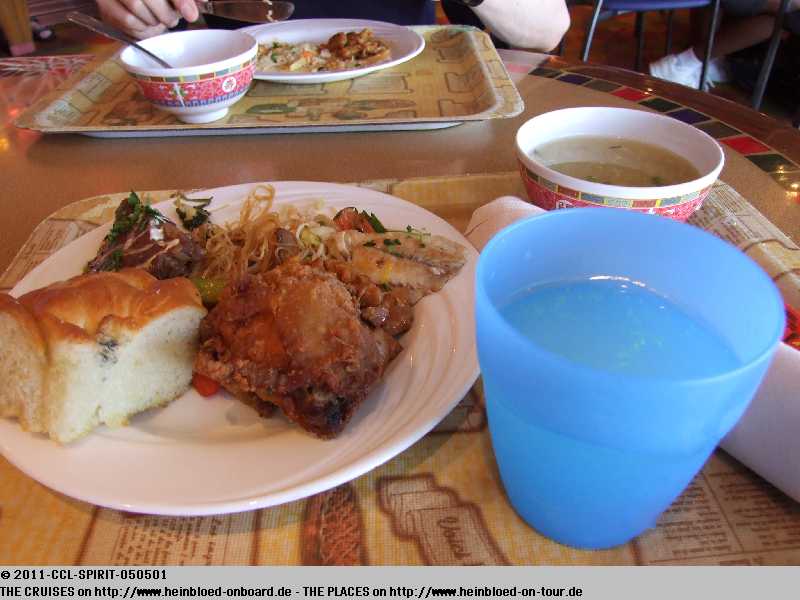 Und ausnahmsweise gehen wir mal in den La Playa Grill essen. Weil man eben nun auch draußen sitzen kann, ist es innen ziemlich leer. Auch hier stellen wir fest: es wird täglich etwas neues angeboten... besser als bei manch anderen...