Scroll down for English explanations - alternates with German explanations.

Wir fahren wieder zurück nach Hilo zum Schiff... eigentlich wirkt das wie Mittlerer Westen mit Meer im Hintergrund.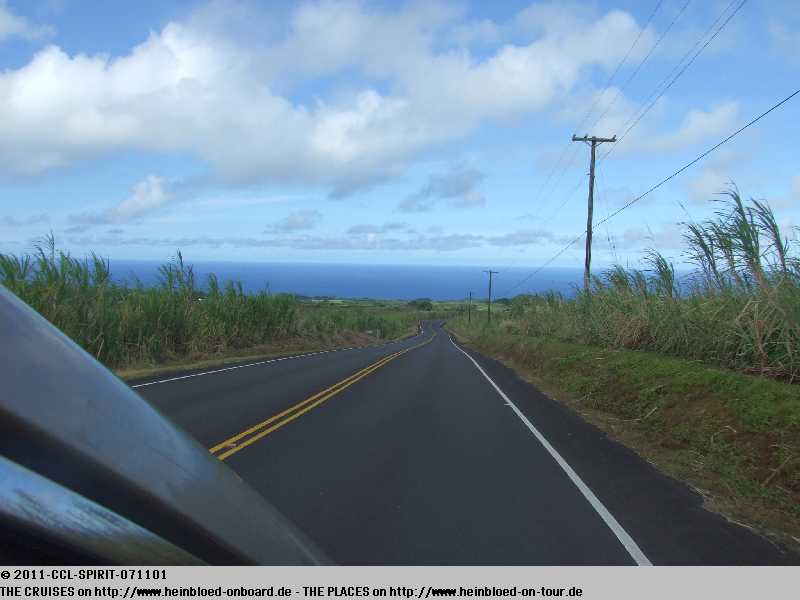 We returned back to Hilo to our ship... it looked like in the Midwest with some sea in the background.

Our way back took us through the village Honomu.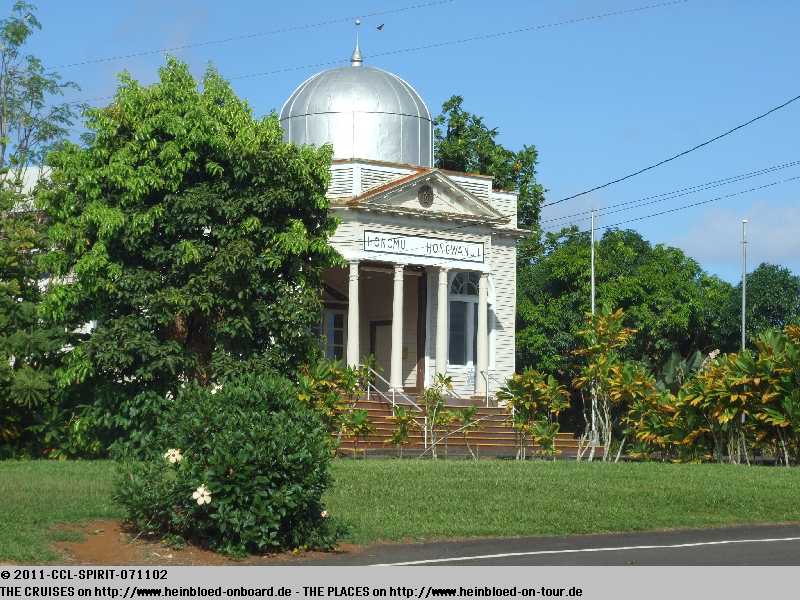 Die Rückfahrt führt uns wieder durch das Dorf Honomu.
Es ist hier, als ob die Zeit stehen geblieben wäre.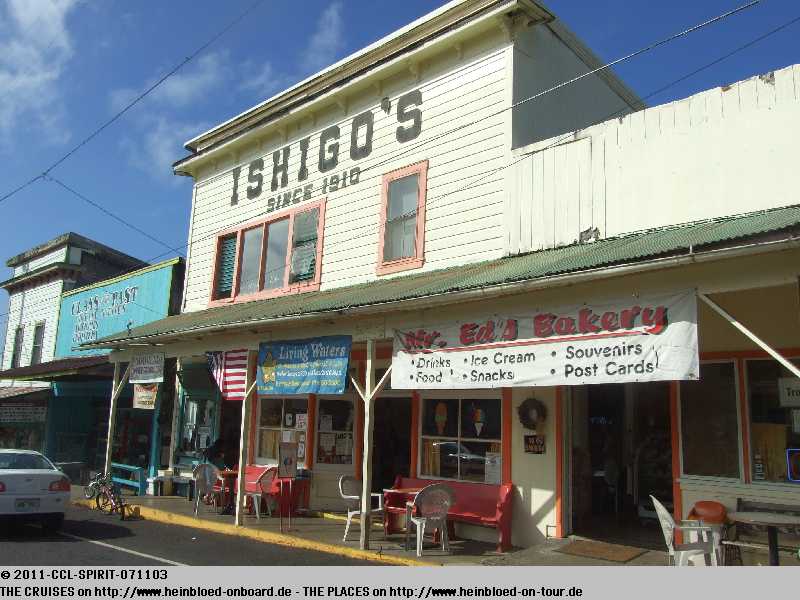 Looked like that time stood still.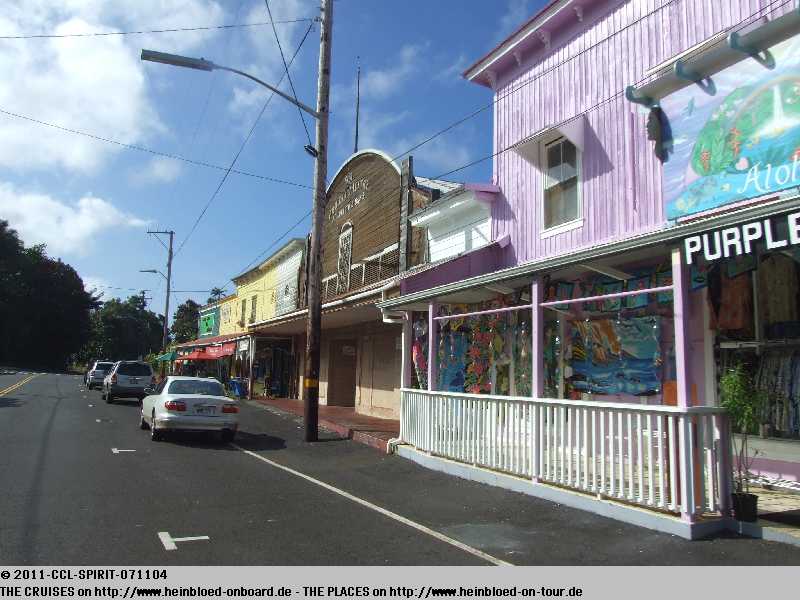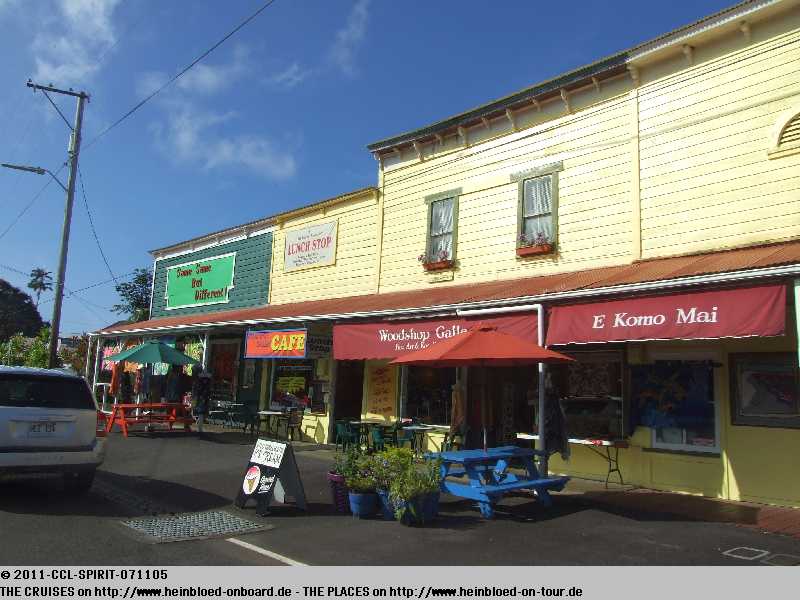 A cemetery with an oceanview and nobody can enjoy. But it would be a nice place to be burried here.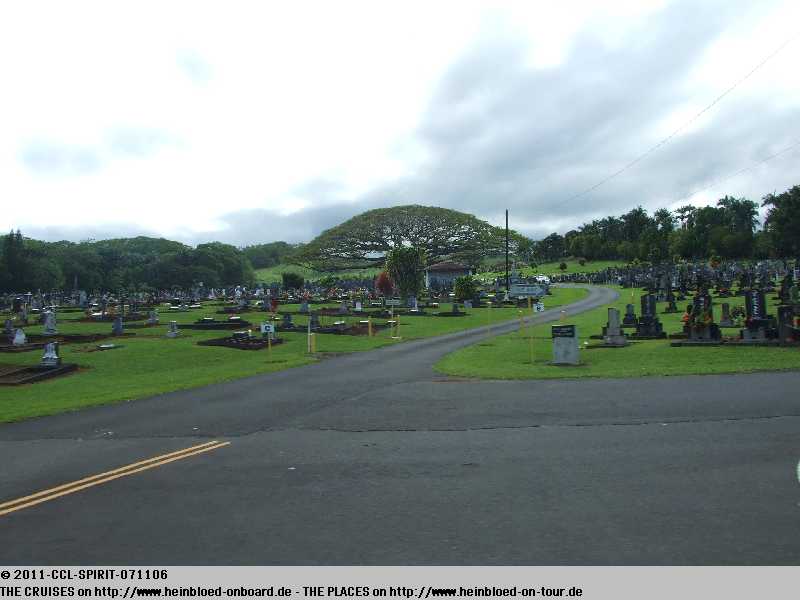 Der Friedhof mit dem Ausblick zum Meer, den keiner mehr genießen kann. Aber eine schöne Alternative wäre es schon hier begraben zu sein.
Wir halten an einem Rastplatz um nochmals die Bucht zu sehen.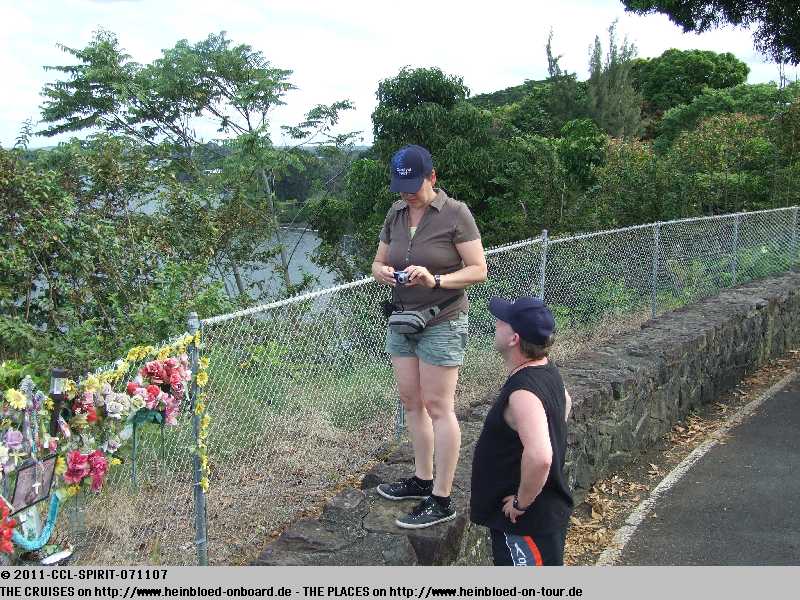 We stopped at a parking to see the bay again.

There we need to be back later.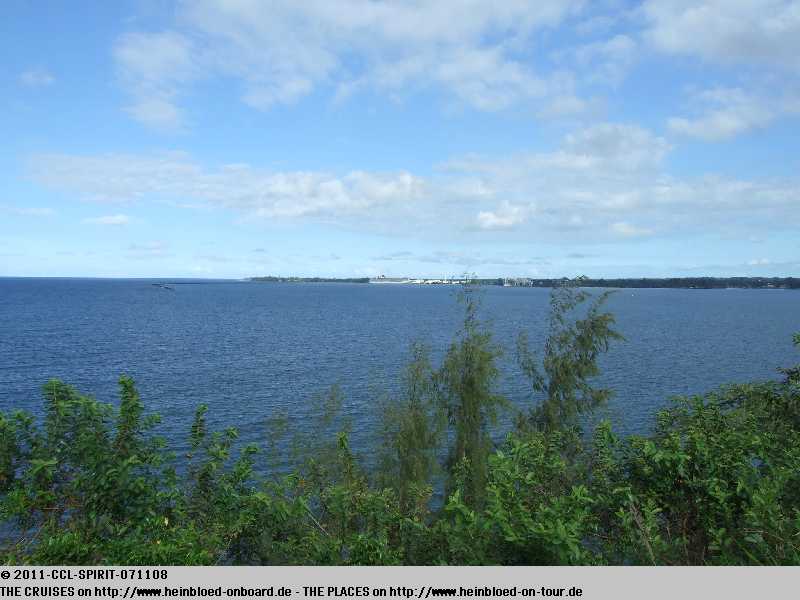 Da hinten müssen wir wieder zurück.
Dort liegt unser Schiff.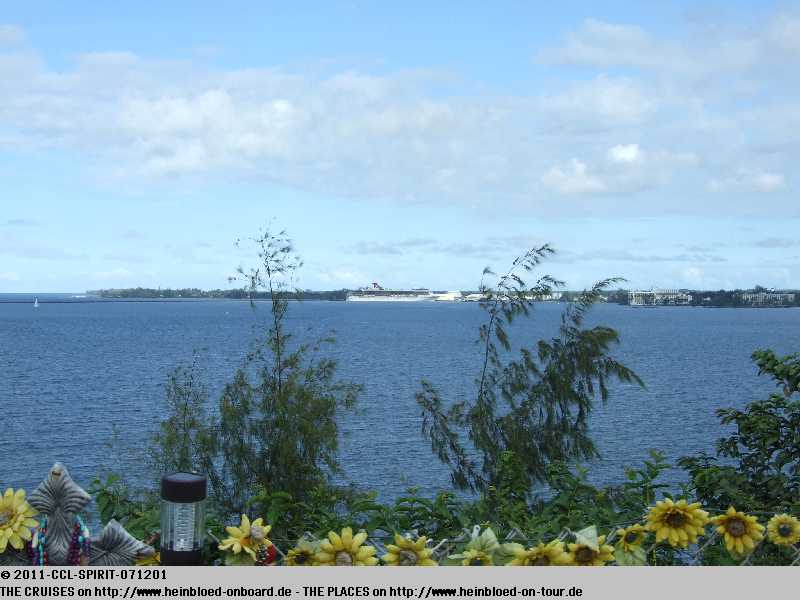 Our ship was there.

CARNIVAL SPIRIT. What a shame she will be moved to Australia in 2012. Somehow we started to like her...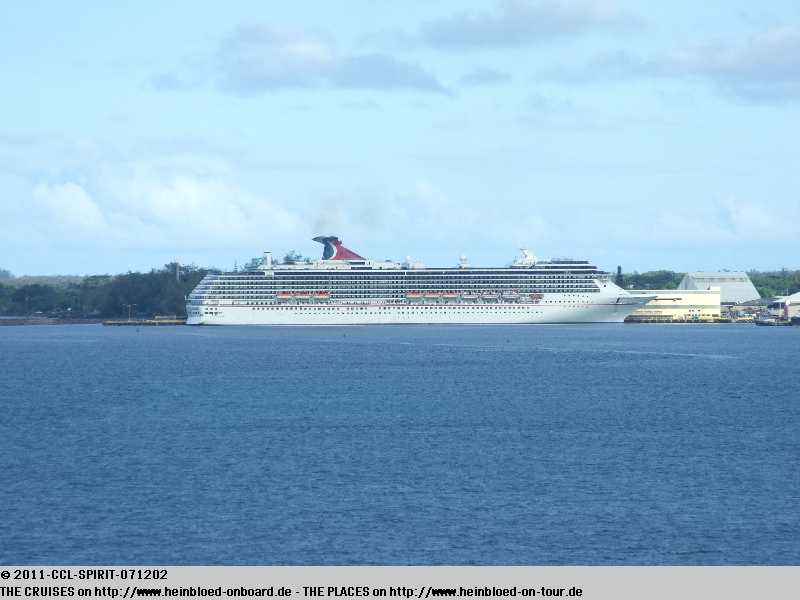 Die CARNIVAL SPIRIT. Schade, dass sie 2012 nach Australien geht. Irgendwie haben sie doch ins Herz geschlossen...
Wir fahren nach Hilo, weil wir ja noch Torsten bezahlen müssen und suchen einen Geldautomaten. Aber hier ist es eher so, wie in jeder anderen amerikanischen Kleinstadt irgendwo im Mittleren Westen.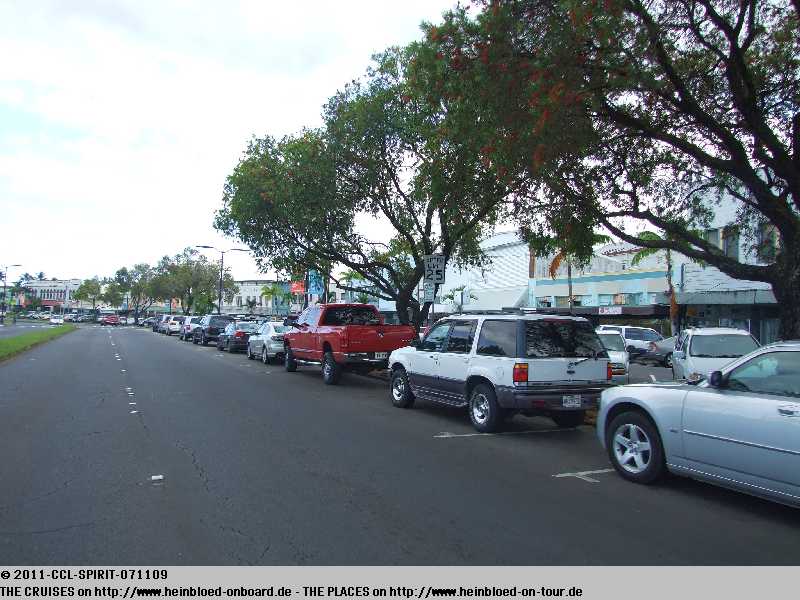 We went to Hilo and were looking for an ATM as we had to pay Torsten. It looked like any other American little town somewhere in the Midwest.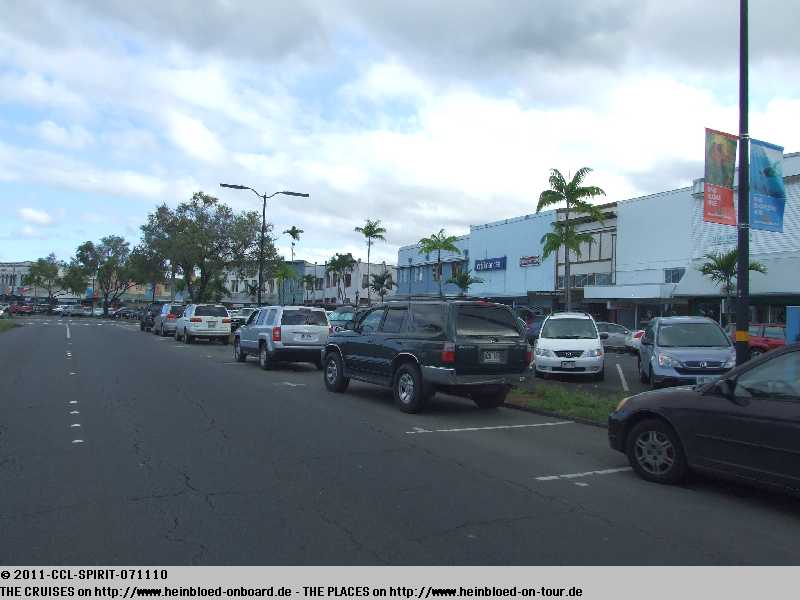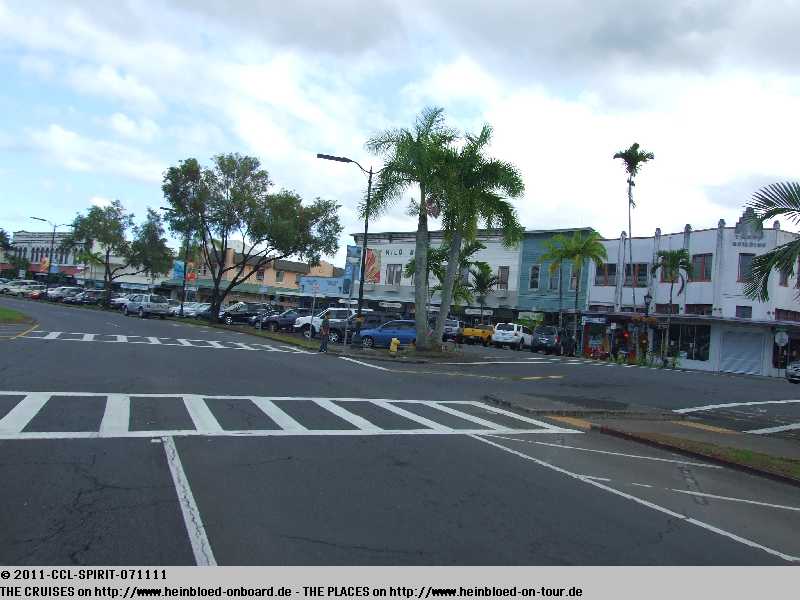 Torsten delivered us right on time for our sailing. We said good-bye until the next day. But he told us that he had another tour and so his friend Franz will expect us in Kona. I bought his wife Sabine some German magazines so it was no problem to ask for a favour to make some print-outs of my letter to the crew members. Even I was not the vulcano-friend: Torsten narrated so great that I had my fun as well. Whenever we will be in Hilo he would be our first choice when we need a tour guide. After the day I was quite happy that we did not share Torsten with the other group. He was able to include our wishes and as mini-group we saw much more for slightly more than a ship's shore excursion.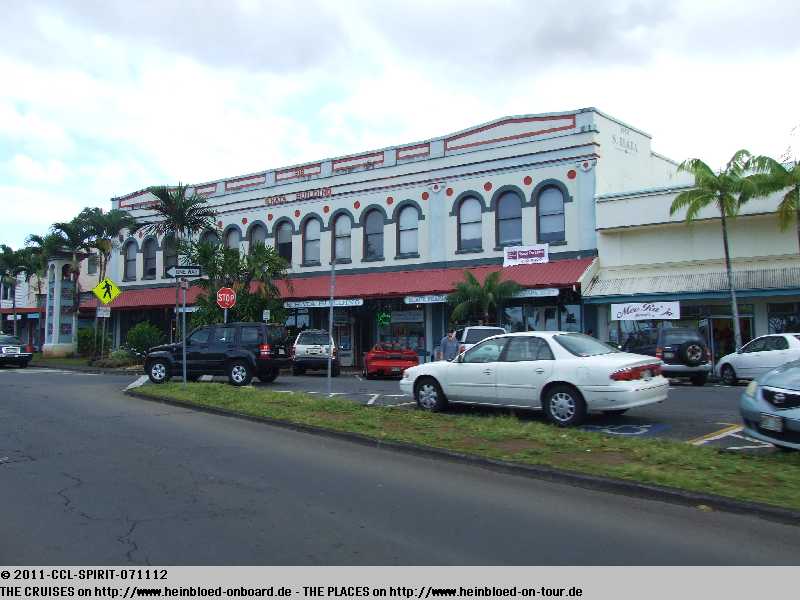 Torsten setzt uns rechtzeiig am Schiff ab. Wir verabschieden uns bis morgen. Aber er teilt uns mit, dass er morgen eine andere Tour hat und uns daher sein Freund Franz in Kona erwarten wird. Da ich seiner Frau Sabine die mehr oder minder aktuelle Ausgabe von der Brigitte und Für Sie mitgebracht habe, ist es auch kein Problem für mich einen Brief mehrfach auszudrucken, der für die Crew bestimmt ist. Auch wenn man wie ich nicht der Vulkan-Enthusiast bin: Torsten erzählt so toll, dass es auch mir sehr viel Spaß gemacht hat. Sollten wir mal wieder in Hilo sein, wird er sicherlich unsere 1. Wahl sein, wenn wir wieder einen deutschsprachigen Fremdenführer brauchen. Im Nachhinein war ich doch sehr froh, dass wir uns mit der Gruppe aus der Pfalz Torsten nicht geteilt haben. So konnte Torsten sehr gut auf unsere Wünsche eingehen und wir haben mit der Mini-Gruppe sehr viel mehr gesehen als erhofft. Vor allem es hat nur die Kleinigkeit mehr gekostet in einer Mini-Gruppe auf Deutsch die Insel zu erkunden, als der Schiffsausflug.
Da das Schiff günstig für uns zum Pier liegt, mache ich ein paar Aufnahmen von Bruno und seiner Schwester Astrid und ihrem Mann Hermann, damit wir hinterher zeigen können, wo unsere Kabinen lagen.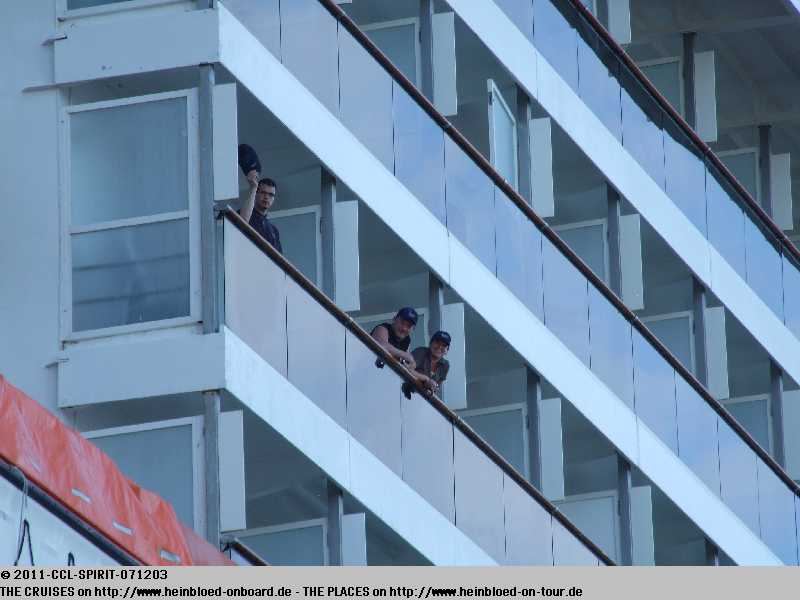 As the ship was placed well to the pier I took some pictures of Bruno and his sister and her husband Hermann to see later where our cabins were located.

Generally you need to say that we had a great location and beside really few little things we were very satisfied. It is very rare to have so much cabin for so little money.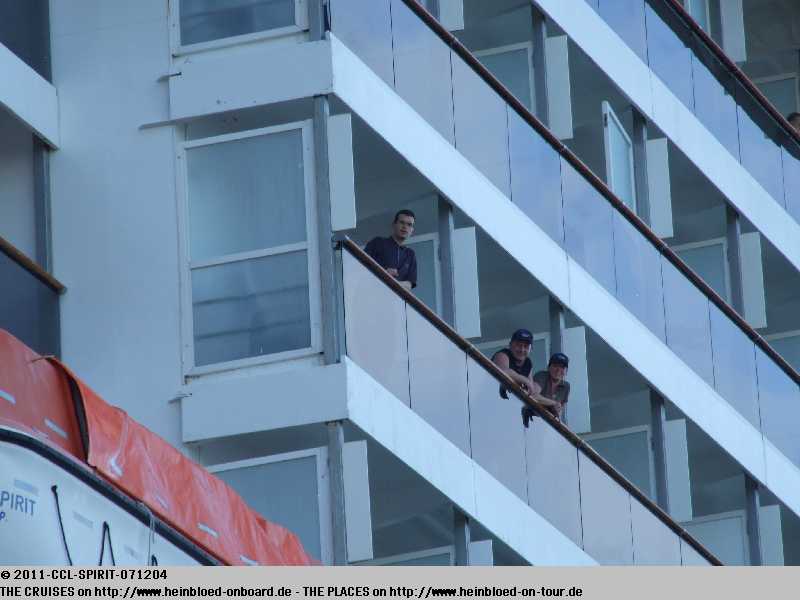 Insgesamt muss man aber sagen, dass sie eine sehr gute Lage hatte und bis auf Kleinigkeiten waren wir mit ihr sehr zufrieden. Selten gab es soviel Kabine für so wenig Geld.
Die Ausfahrt in Hilo ist die schönste auf dieser Reise, weil wir entlang der Wohngebiete fahren. Es ist so schön, wie in Rotterdam, Amsterdam oder Hamburg, weil man uns zuwinken kann und uns "Aloha" zuruft.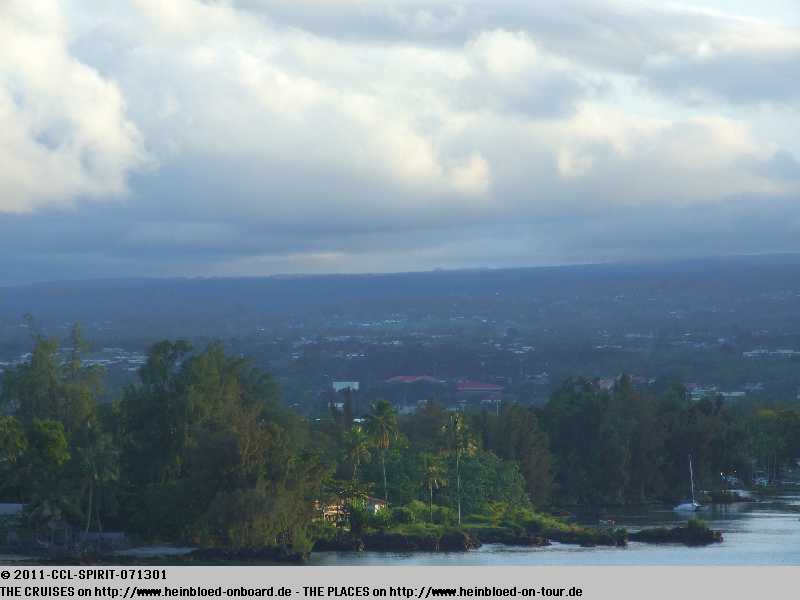 The most beautiful exit we experienced on this cruise because we set sail along side of residential area. It was as nice as in Rotterdam, Amsterdam or Hamburg because they waived and shouted "Aloha".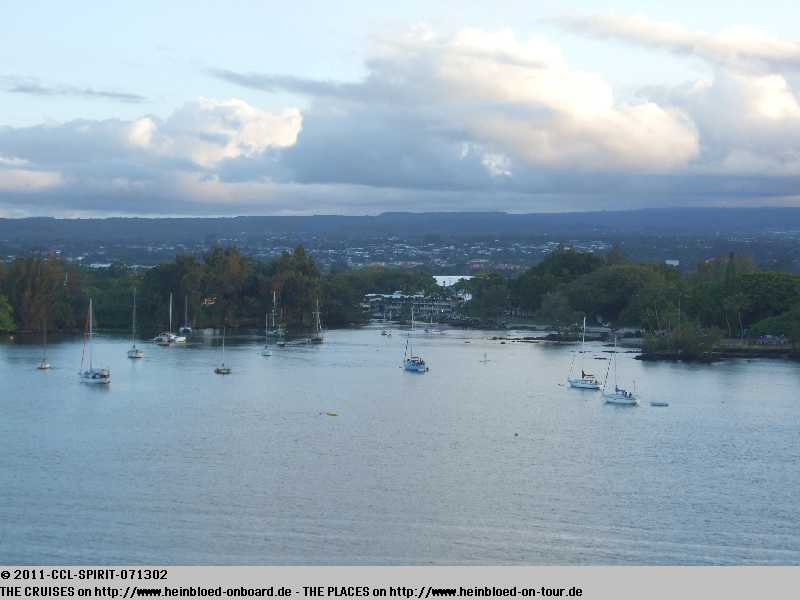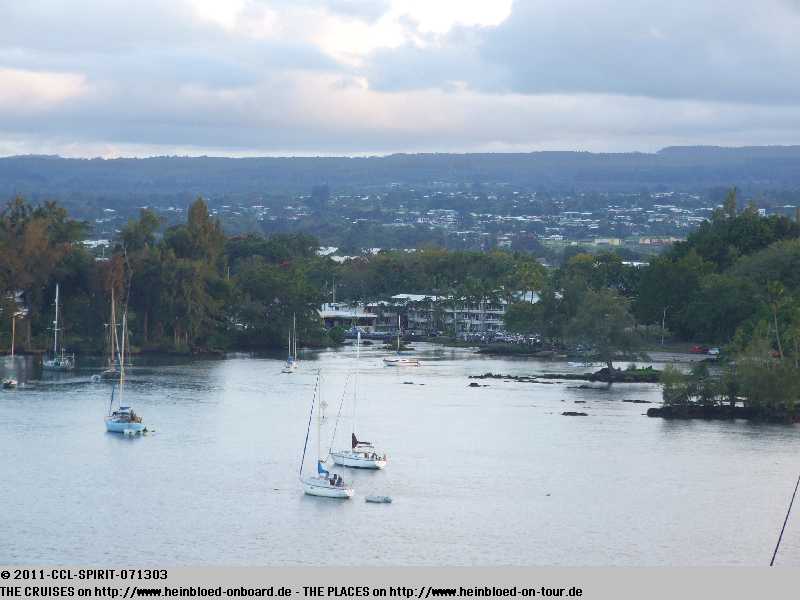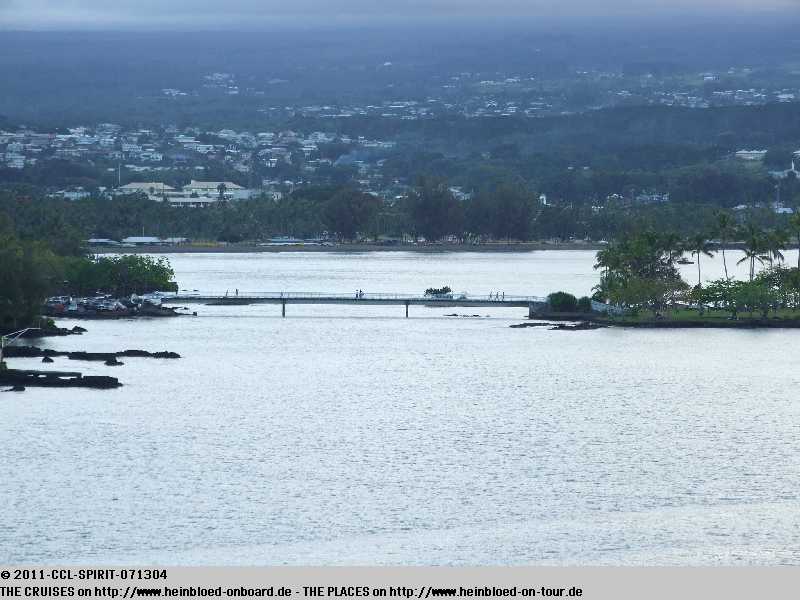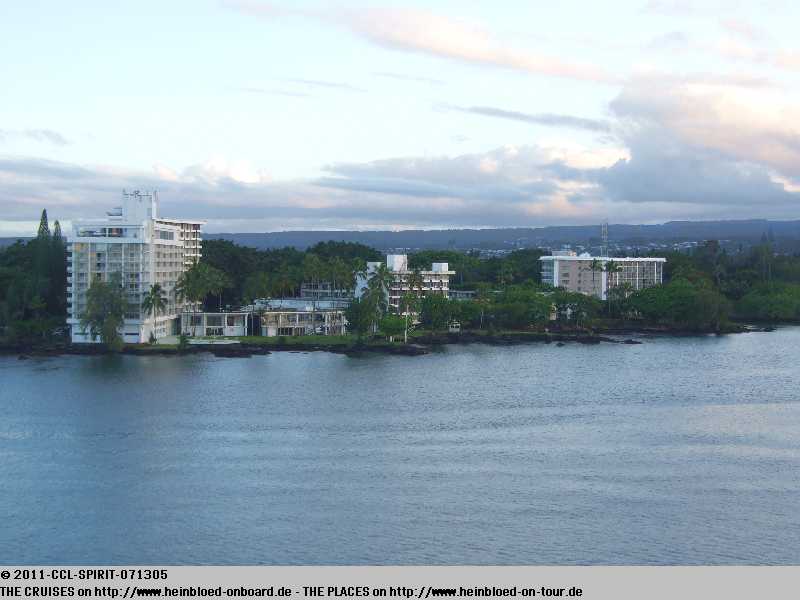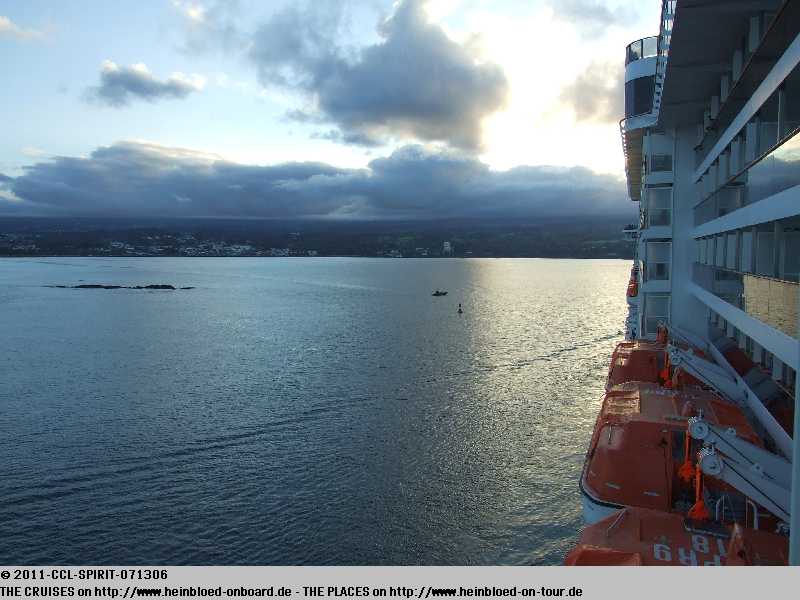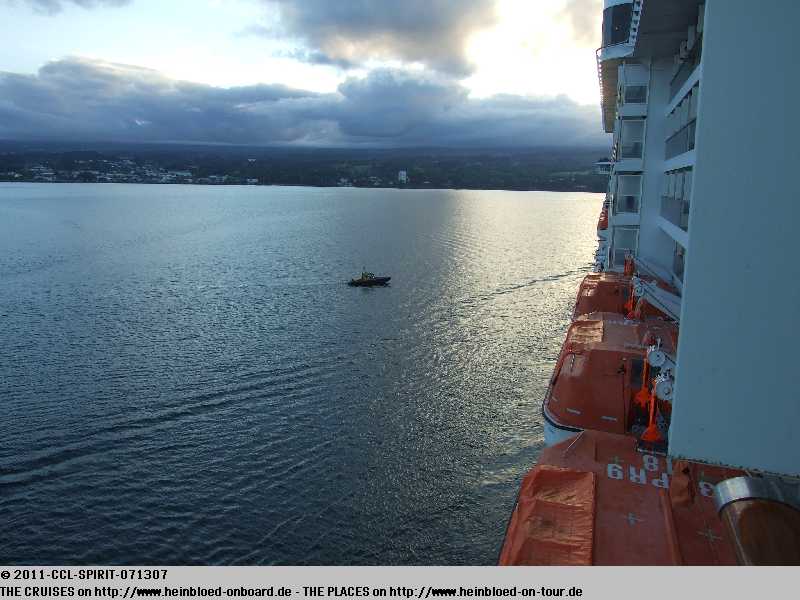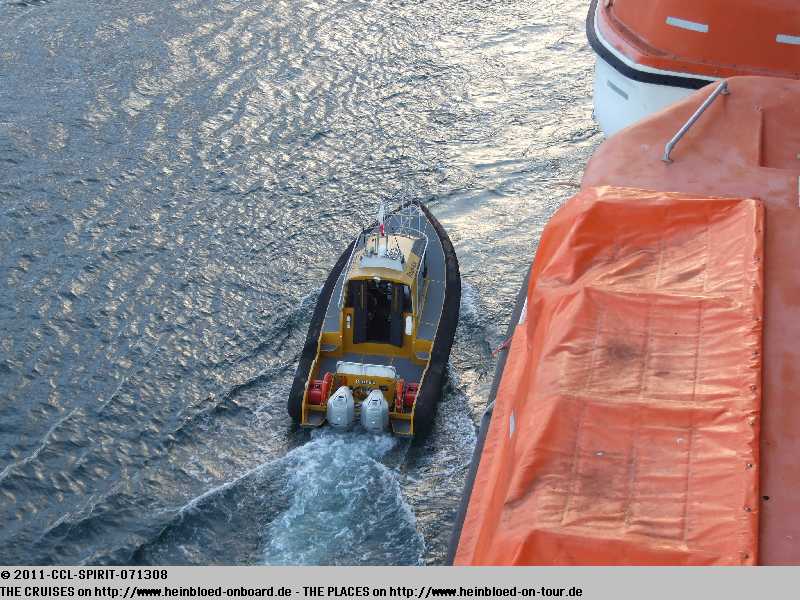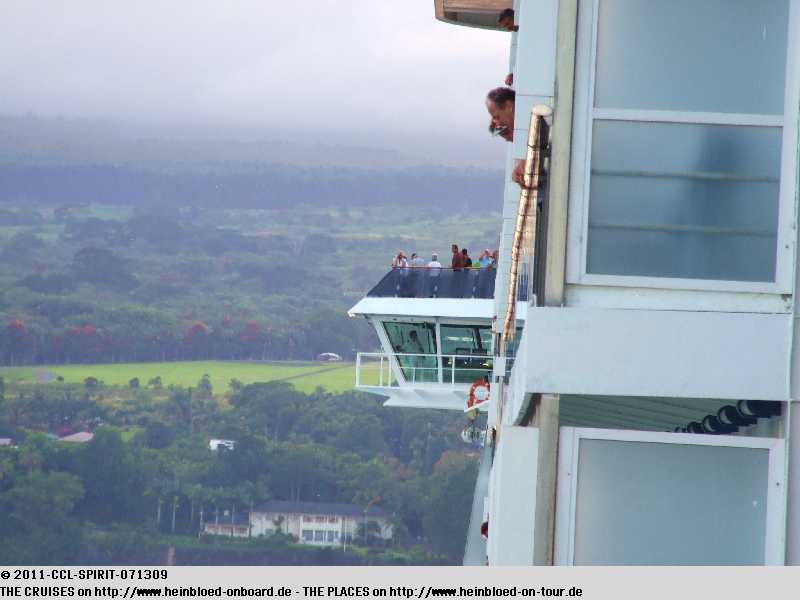 A very nice stay in Hilo ended.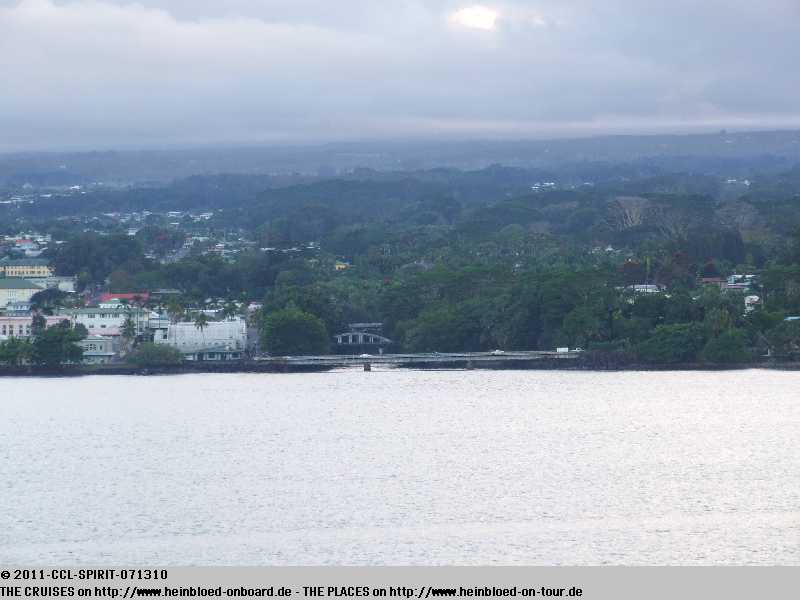 Ein wirklich schöner Aufenthalt in Hilo geht zu Ende.
Auch wenn es der regenreichste Ort der USA ist: es war trotzdem sehr schön hier. Und Torsten hat uns die Gegend sehr gut näher gebracht: Mahalo!!!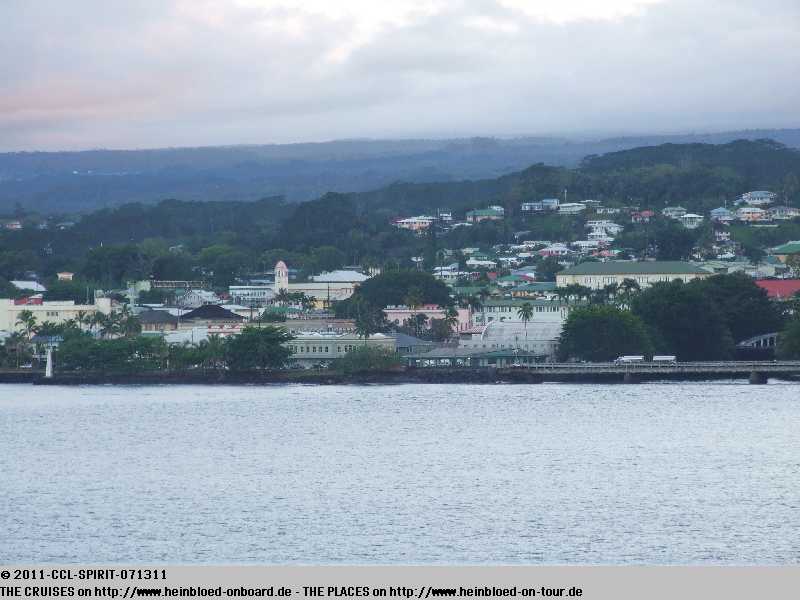 Even it was the most rainy place in the US: it was very nice here. And Torsten made us the area very familiar to us: Mahalo!!!

The good thing with flexible dining: we could show up whenever we like. Some were travelling far away to make acquaintance of new things - other to feel like home. Some even order the Mosel-whitewine which you can get home around the corner.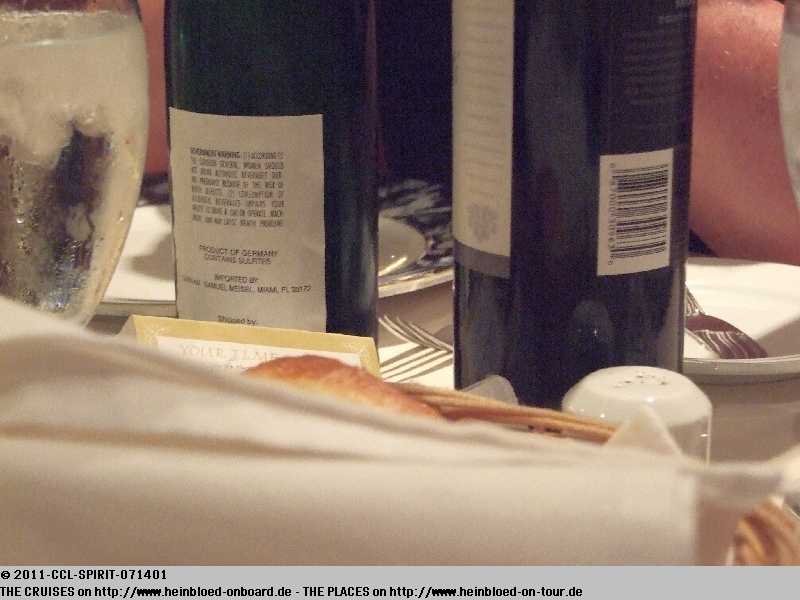 Das gute bei flexibler Tischzeit: wir können kommen, wann wir Lust haben. Manche fahren weit weg, um neue Sachen kennen zu lernen und andere, damit man sich zu Hause fühlt. Wer nun mag, soll seinen Mosel-Riesling trinken, den er auch zu Hause bekommen würde.
Zum dritten Mal gibt es endlich eine richtig leckere Suppe: die Rinderbrühe.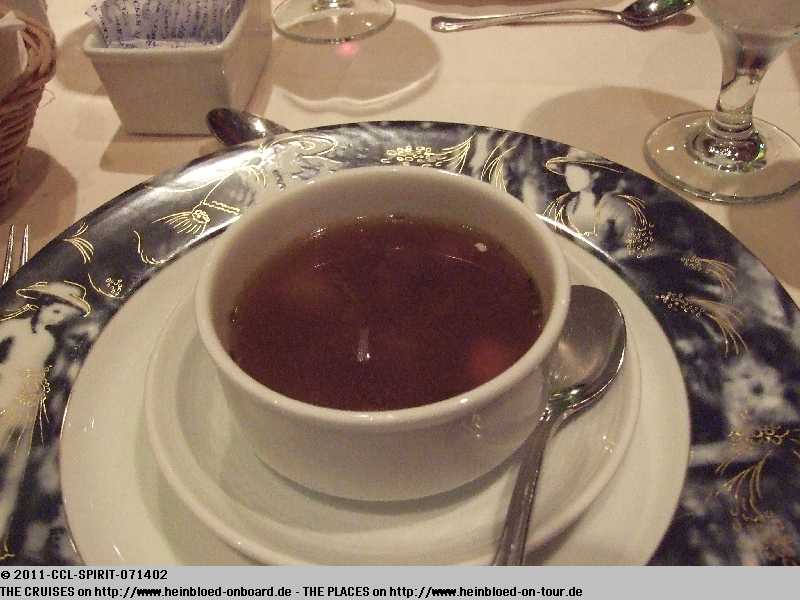 The third time we got a soup which was yummy: the beef broth.

First we were asked why we did not come for breakfast... and we learned that they set up a subscription for our fruit plates and they missed us. Carina was afraid that we were not allowed to re-enter to the USA and so that was the reason why did not come. Such charming treatment was great to us.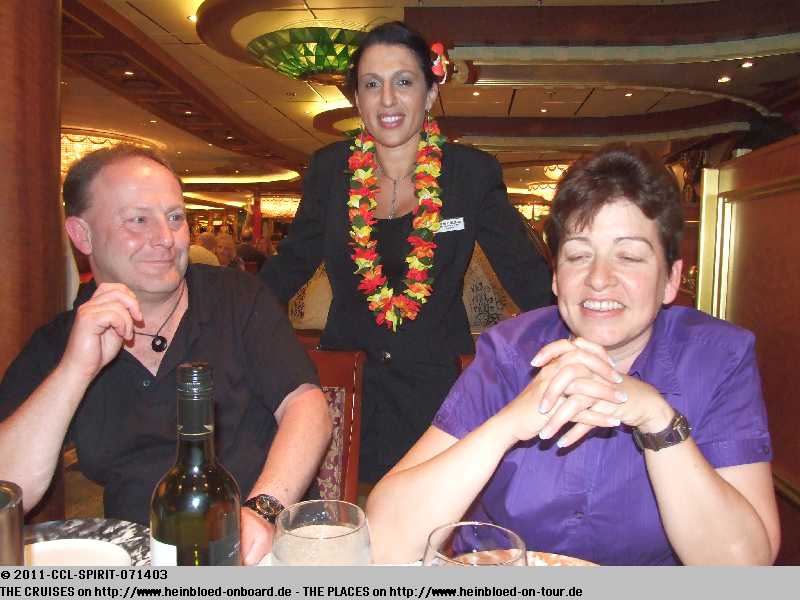 Zunächst einmal werden wir gefragt, warum wir nicht zum Frühstück gekommen sind... und dabei erfahren wir, dass bereits für uns ein Abo auf die Früchteplatte angelegt wurde und man uns vermisst hat. Carina hatte sich schon Sorgen gemacht, ob uns vielleicht die Wiedereinreise in die USA verweigert worden sei und wir deswegen nicht mehr gekommen sind. Ihre charmante Art tut uns sehr gut.
Das sind die besten XXL-Chicken-Nuckets, die ich je hatte... bloß werden sie als Salat-Gang eingentlich geführt...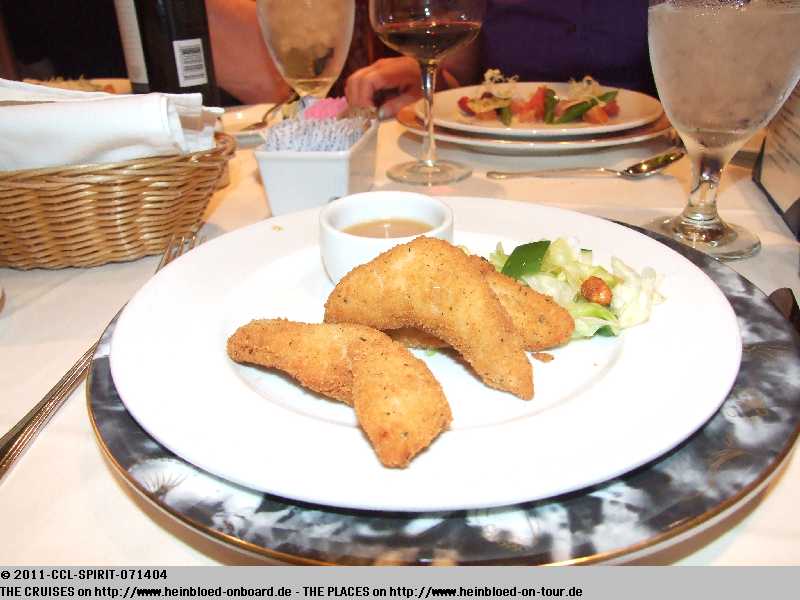 Those were the best XXL-chicken nuggets which I ever had... but they were part of the salad-course...

A wine cooler for the white wine you got only on request.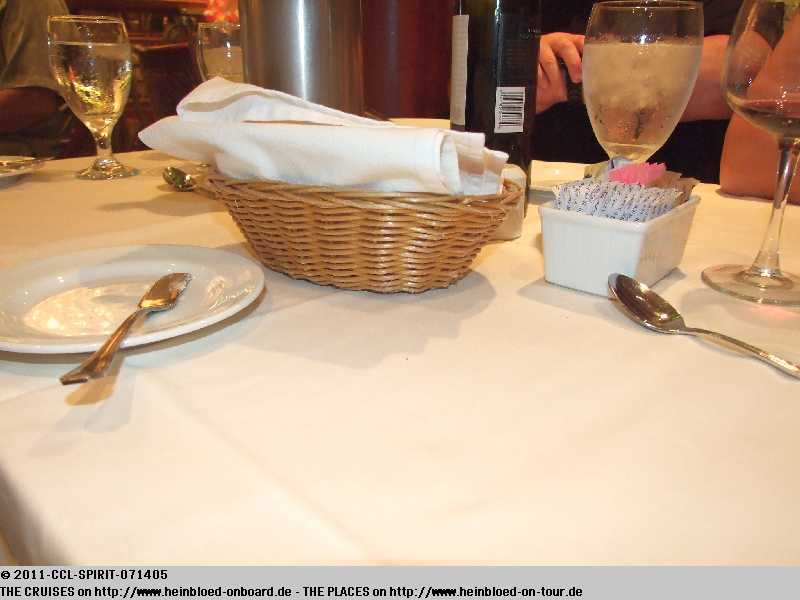 Einen Weinkühler für den Weißwein gibt es erst auf Anfrage.
Der Hauptgang mit den Shrimps war auch klasse.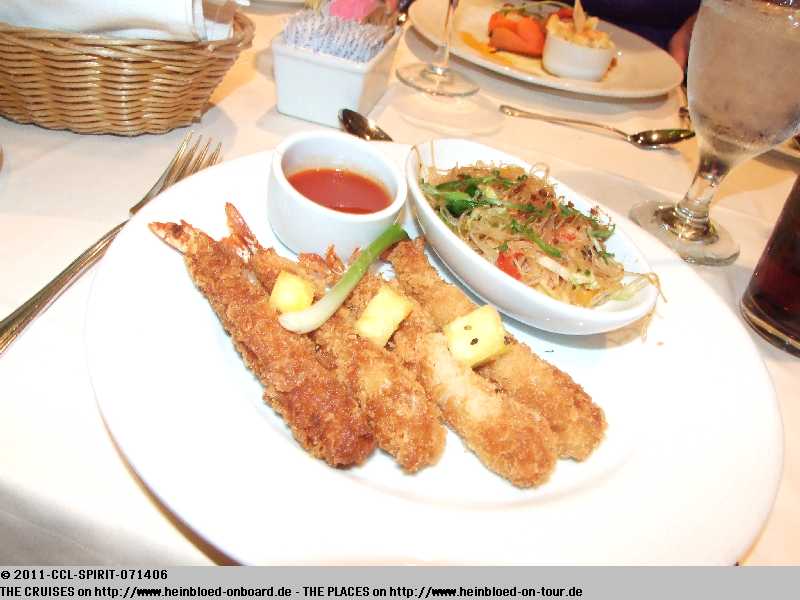 The main course with the shrimps was great.

While all other took the Creme Caramel...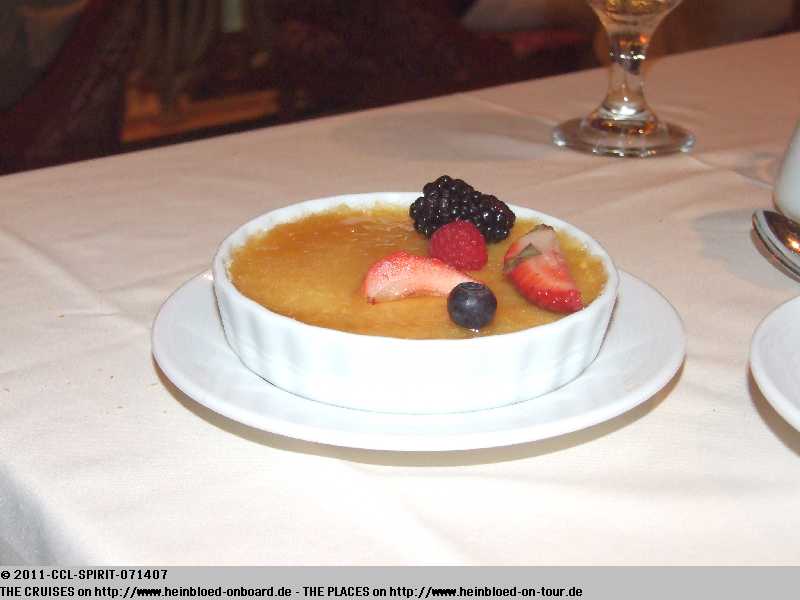 Während sich die anderen auf die Creme Caramel stürzen,
teste ich die Sorbets.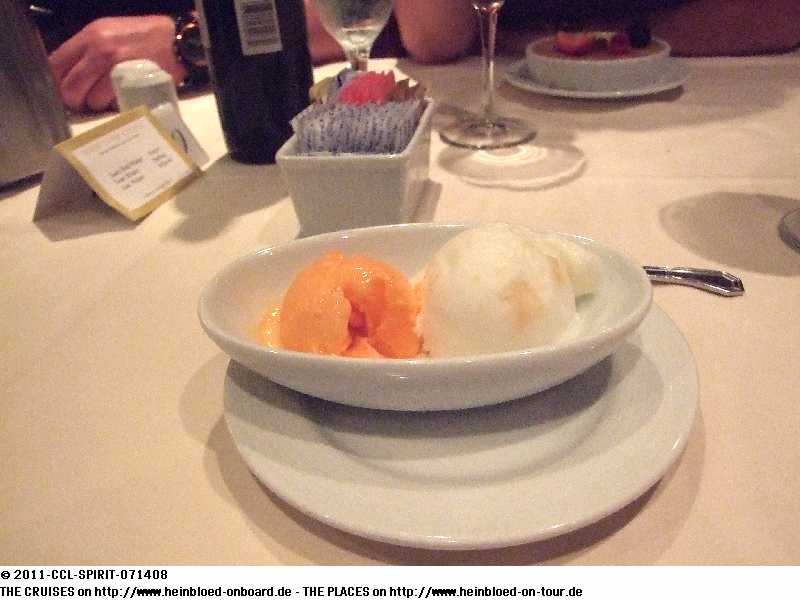 I tested the sherbet.

Next to us Love Cruzn (Andrea and John from CA) were having dinner.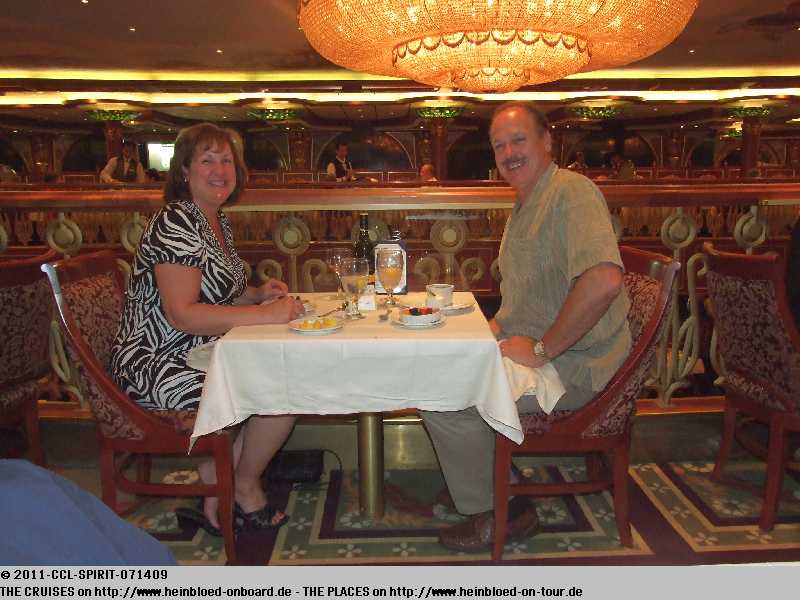 Am Nachbartisch sitzen Love Cruzn (Andrea und John aus Kalifornien).
Irgendwie hat sich die Stimmung im Restaurant schlagartig geändert: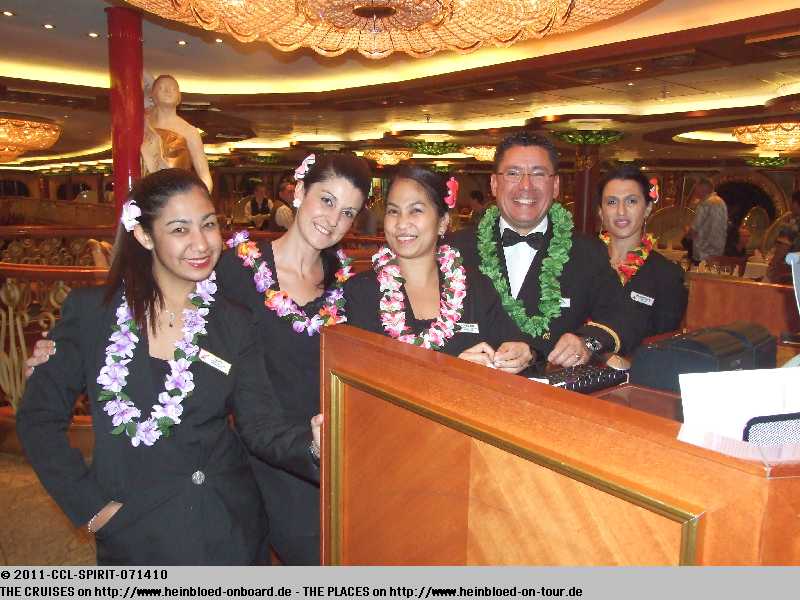 Somehow the atmosphere in the restaurant changed:

All the leis and maybe a walk ashore after five days at sea were good for everyone: everyone look more happy and nicer.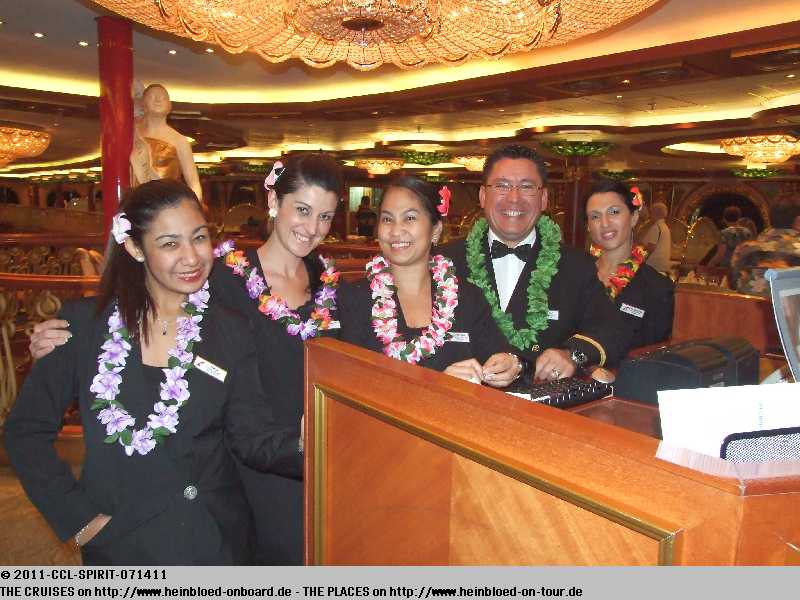 Die Leis und möglicherweise ein Landgang nach fünf Seetagen tat allen gut: alle sind viel fröhlicher und netter.
In der Kabine liegen die Zollformulare. Ich hatte ja eigentlich befürchtet, dass wir alle mit Gepäck durch den US-Zoll in Hilo mussten. Aber man soll nur das aufschreiben, was man an Bord gekauft hat und die Karte in eine Box neben der Rezeption werfen.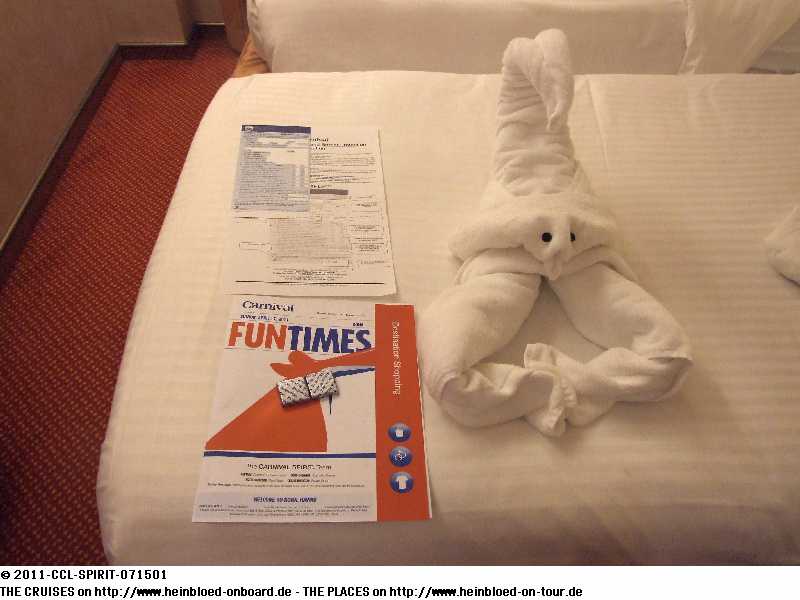 In the cabin we had the customs declaration forms. I was afraid that we had to show up with all our baggage in a customs hall in Hilo. But you only need to list the goods you bought on board and you had to drop the form in a box next to the reception.

In the bathroom we had new tasters... Good Night... But... there was also a downer: Due to the earthquake in Japan the lavaflow was diverted from surface channels to subterrestrial channels directly into the sea. So Captain Volpi told us that he cancelled the scenic cruise for this night alongside the coast as there would not be anything to see. He sent a helicopter to check the situation if there would be anything to see and asked locals. But Torsten told us already that there will be no chance to see anything. What a pity. One more reason to return.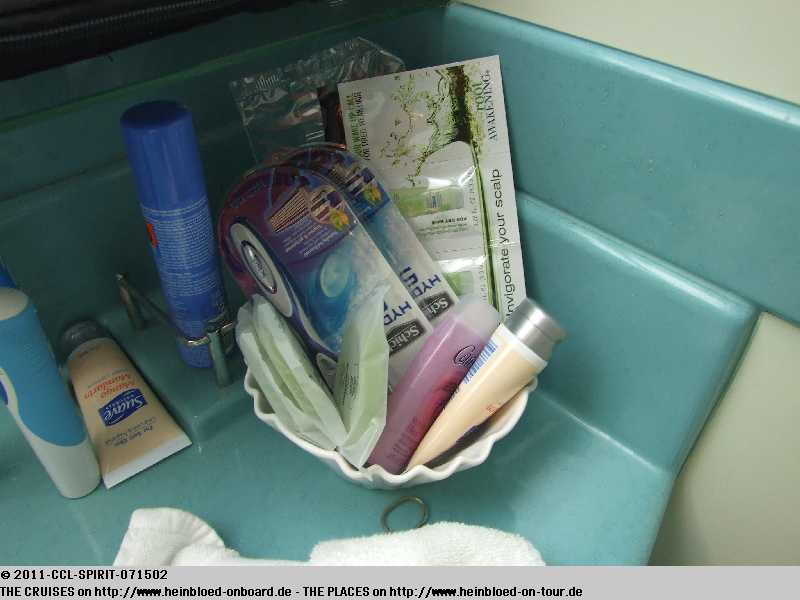 Und im Bad warten jede Menge neuer Proben auf uns... Gute Nacht... Ach so... einen Wermutstropfen gab es doch noch: Durch das Erdbeben in Japan tritt der Lavastrom nicht mehr aus oberirdischen Kanälen aus, sondern fließt nur noch unterirdisch direkt ins Meer ab. Daher hat Kapitän Volpi uns mitgeteilt, dass die Fahrt nahe an der Küste nachts entfällt, weil es leider nichts zu sehen gibt. Er hätte extra einen Hubschrauberpiloten beauftragt zu prüfen, ob es etwas zu sehen gäbe und auch ein Einheimische befragt. Von Torsten wussten wir ja schon, dass es leider nichts mehr zu sehen gibt. Schade. Ein Grund mehr wiederzukommen.