Scroll down for English explanations - alternates with German explanations.

Als wir um 04.30 Uhr zum Parkplatz laufen, sehen wir Feuer. paiagirl (Frances) erklärt, dass hier Zuckerrohr abgebrannt wird. Es ist allerdings viel zu kalt, um das Stativ auszupacken und aufzubauen.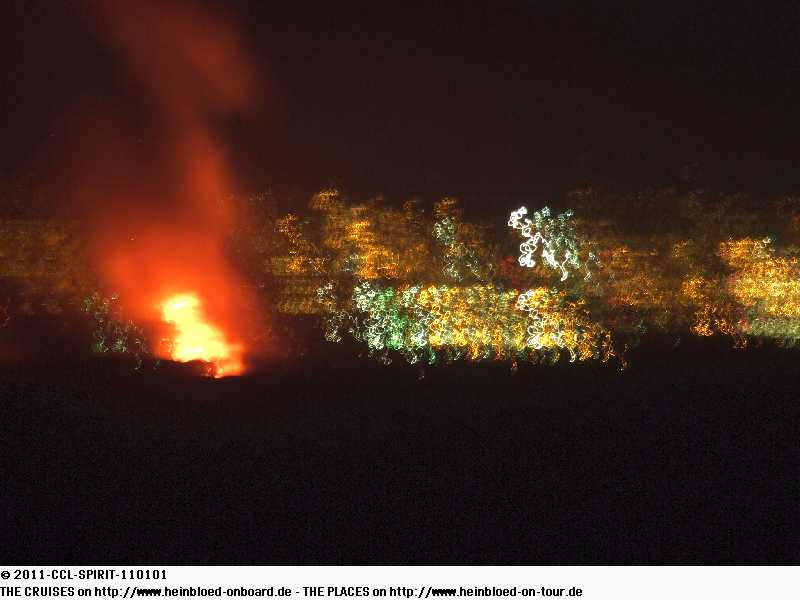 When we walked at 04.30 hrs to the parking we saw a fire. paiagirl (Frances) explained that they burn the sugare cane. It was too cold to unpack the tripod and to set for usage.

Having clear full moon it took 45 minutes to get to the visitors center of the Haleakala-National Park. But today we were lucky again although we had already a new week. Still free admission. Originally it was planned to stay overnight onboard of the ship and we booked originally Surf Taxi Maui. For 300.00 USD we would got a transfer from the ship and back. Other offered us the tour for 550.00 USD and were offended when we said no to their offer. But when we moved our overnight stay to Kula and mentioned that we have a rental car Steven explained that we should drive ourselves and save the money as the road is in a great condition and well maintained. I love this kind of advises and will definately book him for the next time.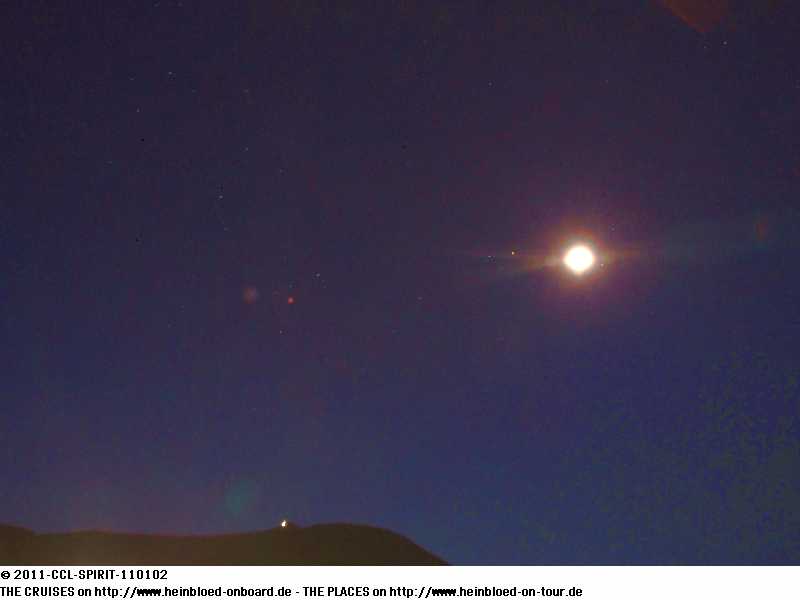 Bei klarem Vollmond fahren wir die 45 Minuten hoch zum Besucherzentrum des
Haleakala-Nationalparks
. Auch heute haben wir Glück, obwohl bereits die neue Woche ist, ist immer noch freier Eintritt. Ursprünglich war mal geplant, dass wir auf dem Schiff übernachten und zu diesem Zweck hatten wir
Surf Taxi Maui
gebucht. Für 300,00 USD wären wir am Schiff abgeholt worden und zurückgebracht worden. Andere haben uns die Tour für 550,00 USD angeboten und waren beleidigt, als ich das Angebot abgelehnt hatte. Als wir jedoch unsere Übernachtung nach Kula verlegt hatten und erwähnten, dass wir einen Mietwagen hatten, hat uns jedoch Steven von Surf Taxi Maui erklärt, dass man die Straße sehr gut ausgebaut hätte und wir sehr gut selbst fahren könnten, wenn wir einen Mietwagen hätten und wir sollten uns das Geld sparen. So etwas finde ich klasse und werde ihn mir für das nächste Mal vormerken.
Als wir gegen 05.15 Uhr oben ankommen, ist der Parkplatz schon komplett voll. Die Ranger bemühen sich aber jeden irgendwie noch dazwischenzuquetschen, damit jeder hier bleiben kann.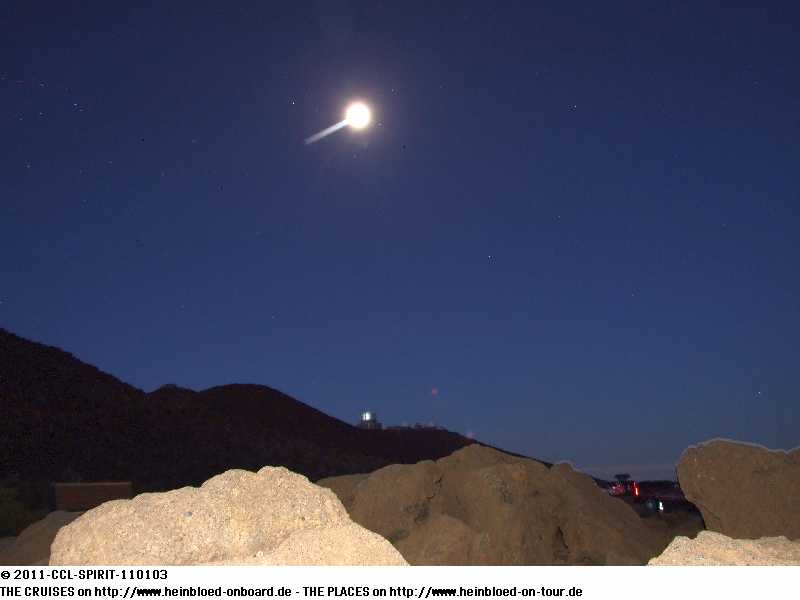 When we arrived around 05.15 hrs at the top the parking was already full. The ranger did their best that everybody could stay.

Welcome to the Haleakala at 9,740' sea-level.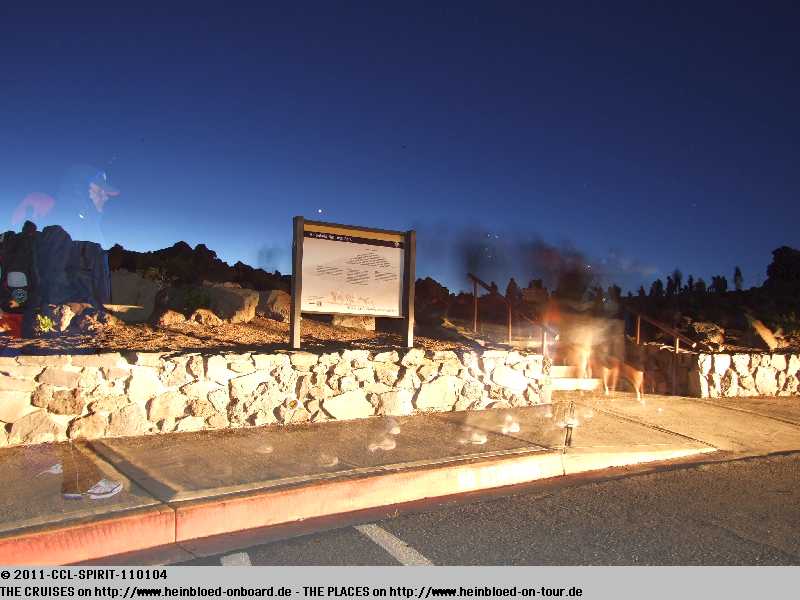 Willkommen auf dem Haleakala auf Höhe 2.969 m ü. N.N.
Viele kommen vom Schiff und sind einfach zu erkennen: zu dünne Kleidung oder sie haben die blauen Carnival-Badetücher um den Körper gewickelt.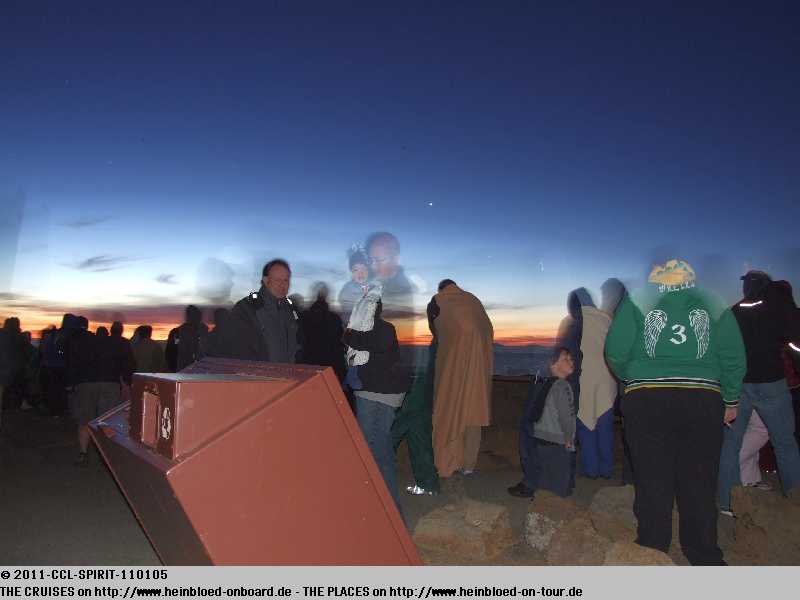 Many came from the ship and were easy to identify: to thin clothes or they wrapped the blue beach blankets from Carnival around their bodies.

It was really like described on German TV.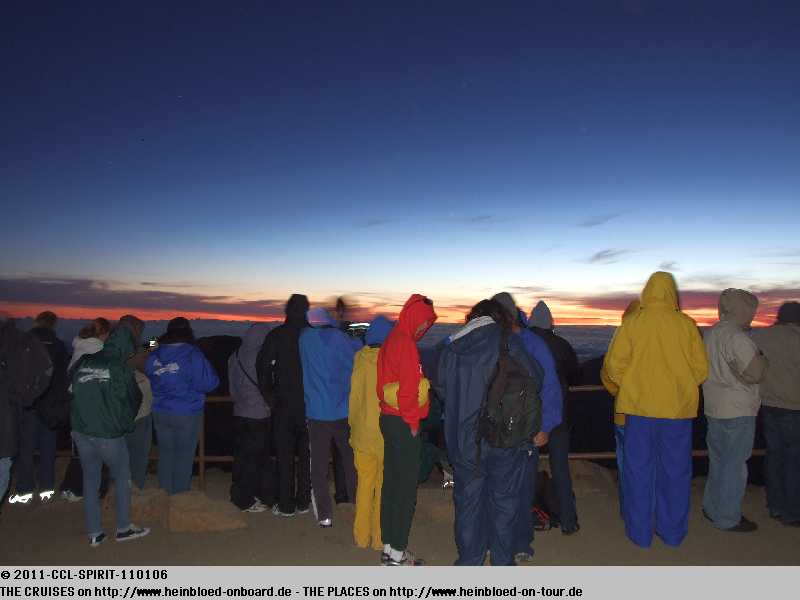 Es war aber wirklich so, wie im HR-Beitrag beschrieben.
Ein Grund, warum wir einen ganzen Koffer mit von Bord genommen haben: wir hatten unsere Winterausrüstung mit. Meine Handschuhe, die ich in Lerwick auf den Shetland-Inseln gekauft habe und die nur Königin Elisabeth II. und ich tragen...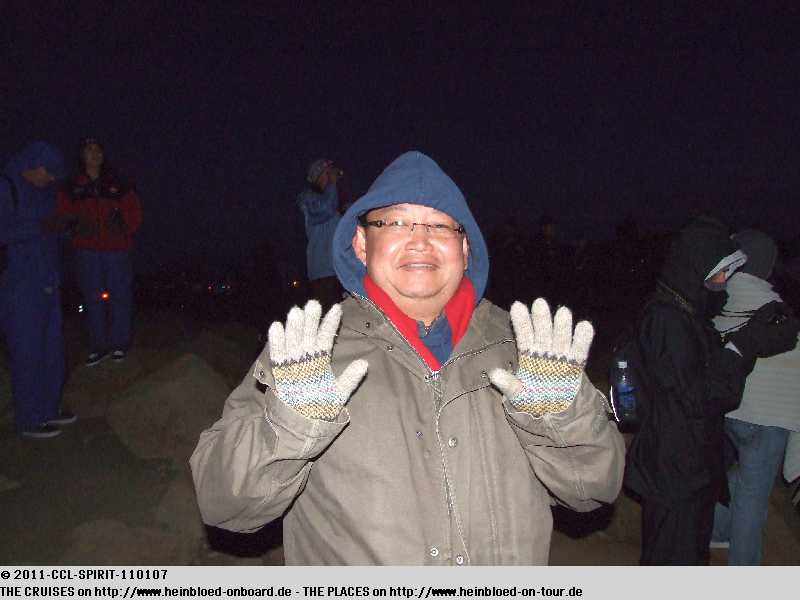 One reason why we had one suitcase with us when we left the ship: we had our winter equipment with us. My gloves which I bought in Lerwick on Shetland Island and which are only worn by Queen Elizabeth II. and me...

Steven recommended it and it was good that he did.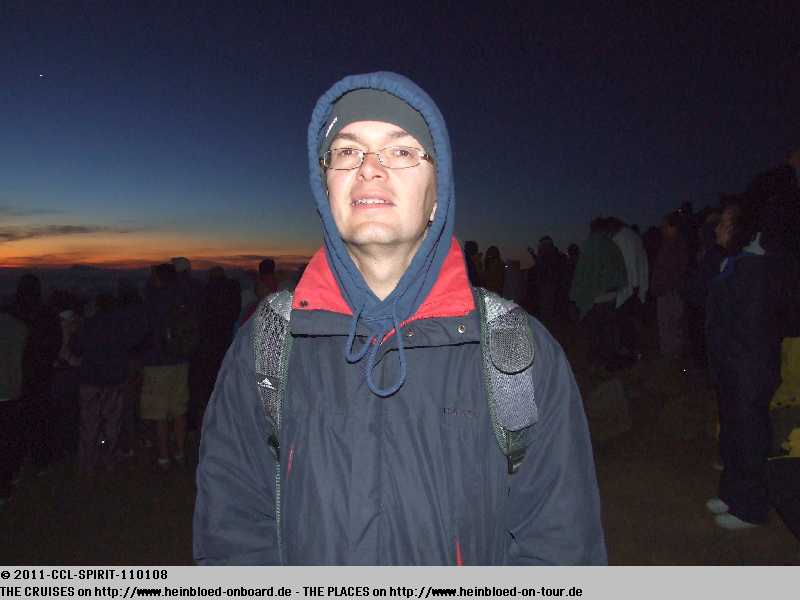 Steven hatte uns das ausdrücklich empfohlen und es war gut so.
Bruno klettert weiter hoch. Die Rangerin sagt aber ausdrücklich, dass man schon bis oben hin muss, weil man unterwegs nichts vom Sonnenaufgang sehen würde.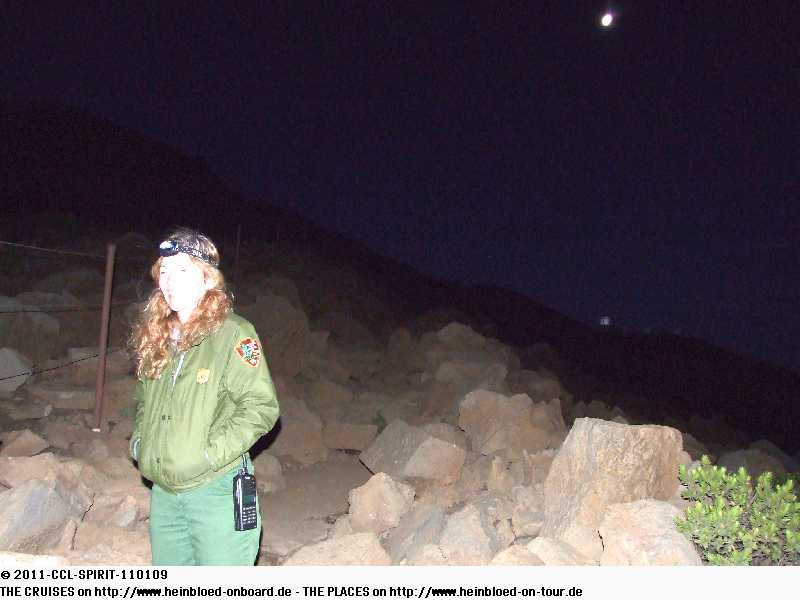 Bruno climbed to the top. But the rangerin told that you need to make it to the top as between here and there the sunrise would not be visible.

I stayed here down under and shared the collective feeling.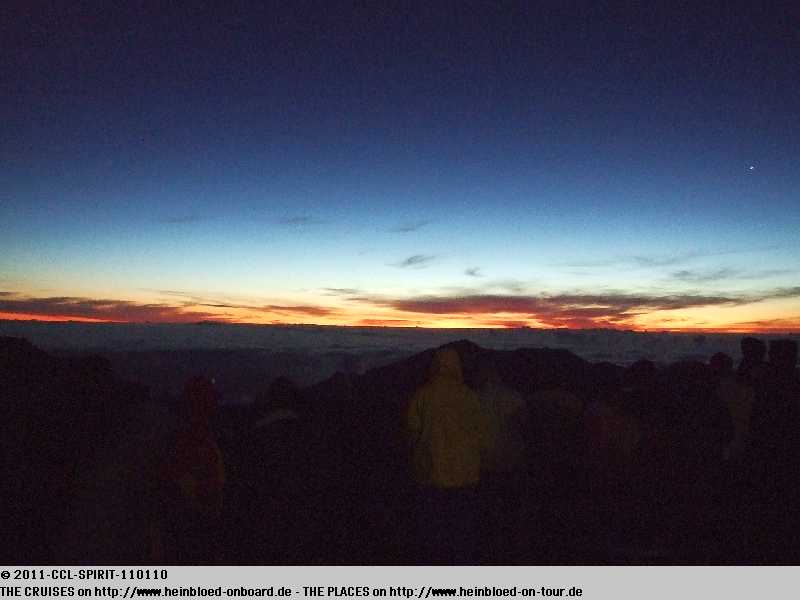 Ich bleibe einfach unten stehen und teile das Kollektivgefühl.
Wo die anderen abgeblieben sind, entzieht sich komplett meinen Kenntnissen.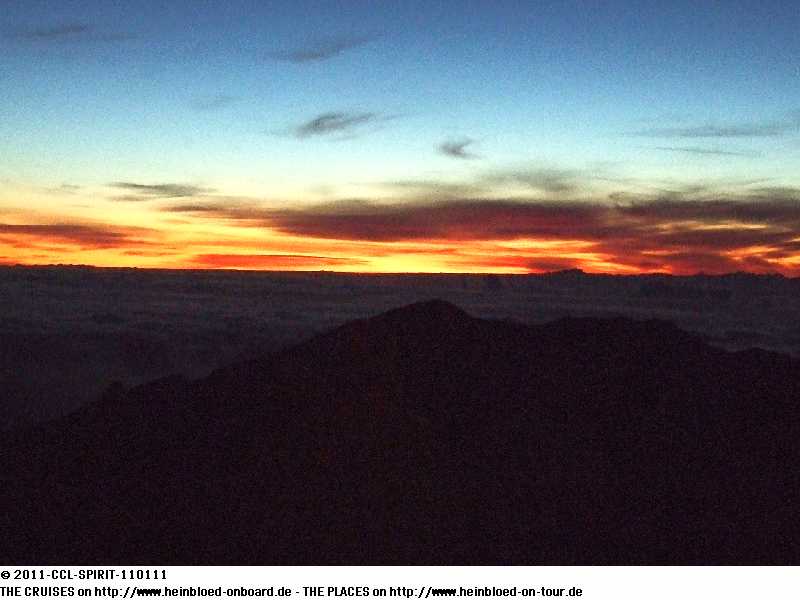 I had no idea where all the others stayed.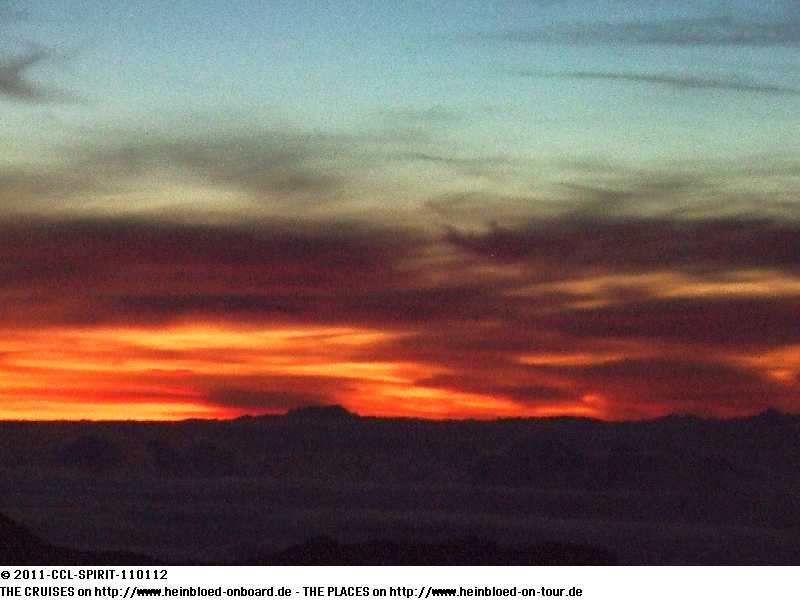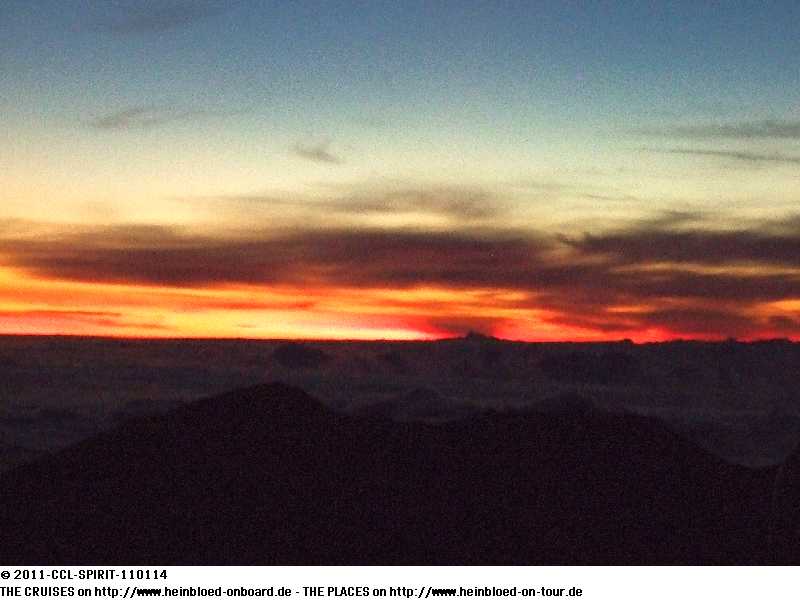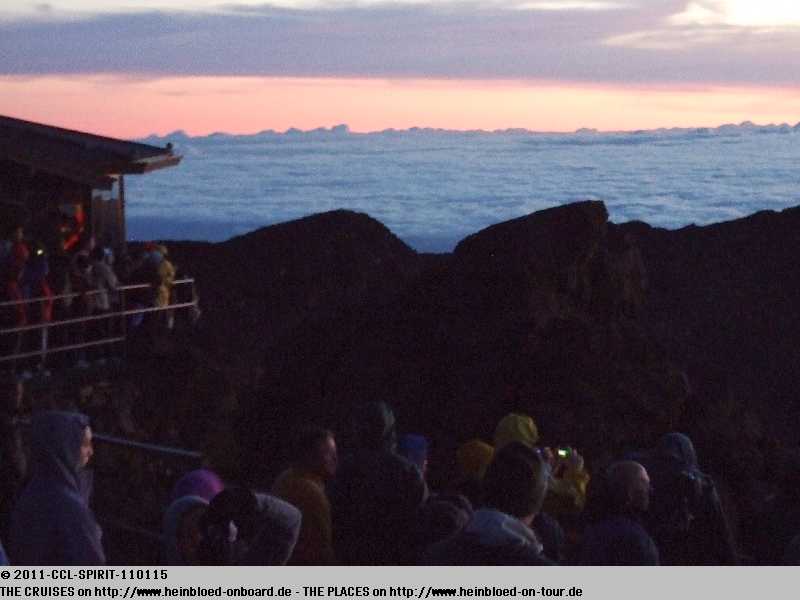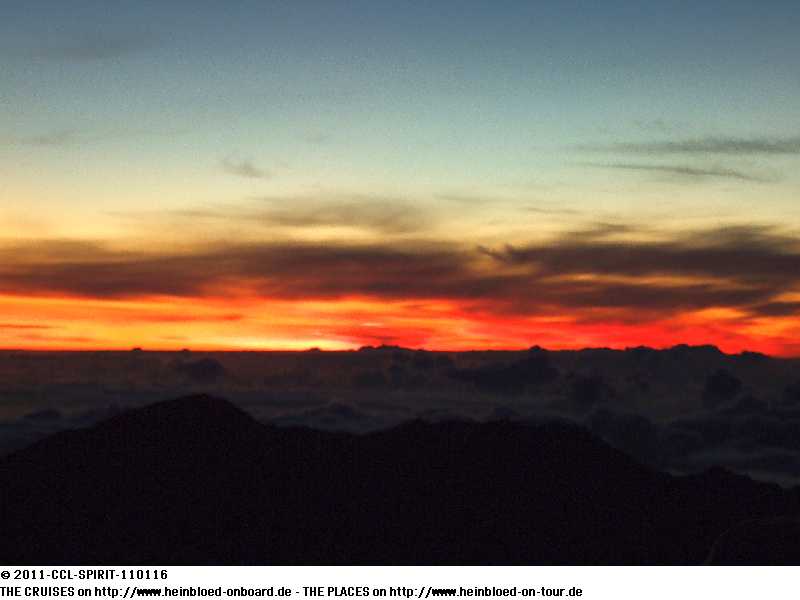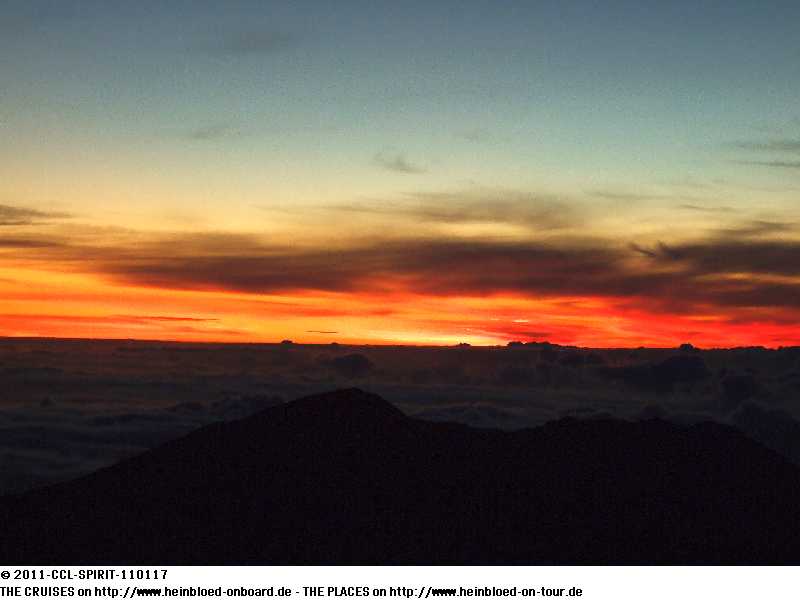 No idea if it might Bruno who was standing on the top.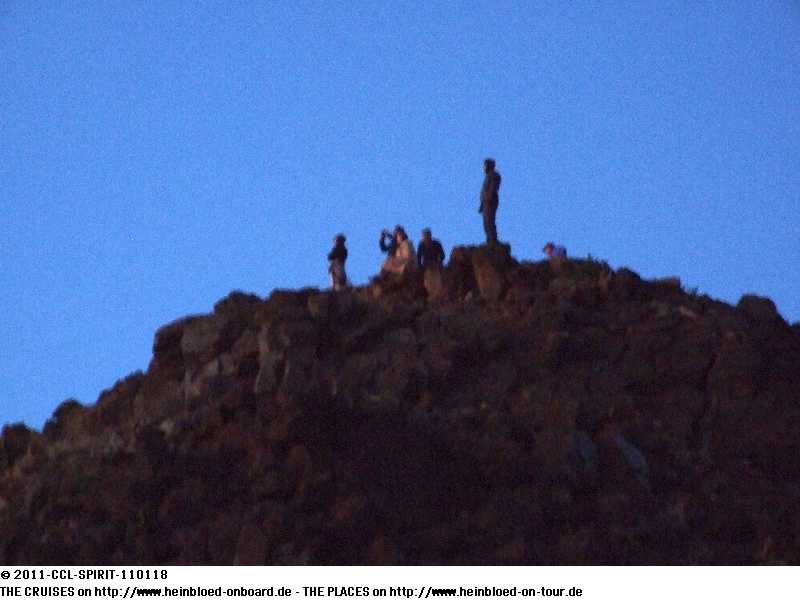 Keine Ahnung, ob es Bruno ist, der oben steht.
Irgendwann tauchen 15 der 28 von der Pfälzer Gruppe auf. Als sie weiter nach oben klettern wollen, teilt die Rangerin ihnen mit, dass sie es nicht mehr machen sollten, da sie defintiv den Sonnenaufgang verpassen würden.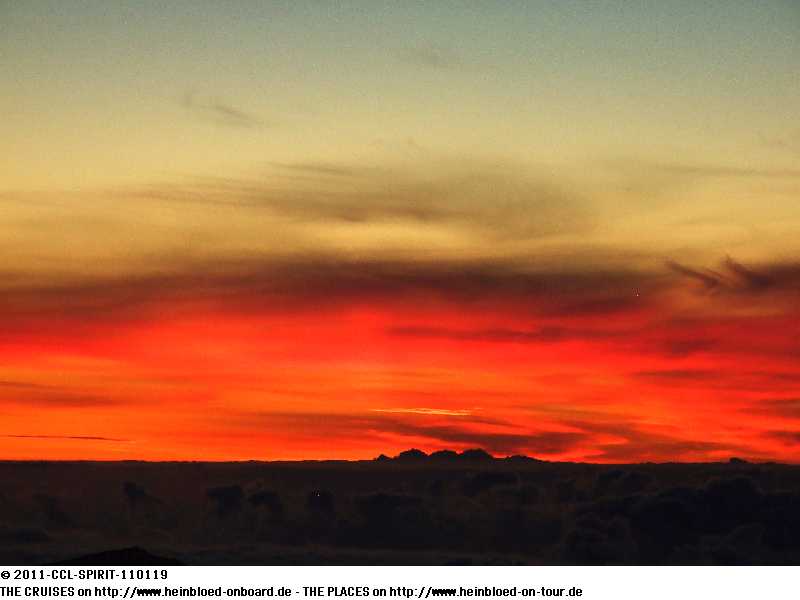 Sometime 15 of 28 from the German group appeared. When they wanted to climb higher the rangerin told them that they should not do it as they would miss the sunrise for sure.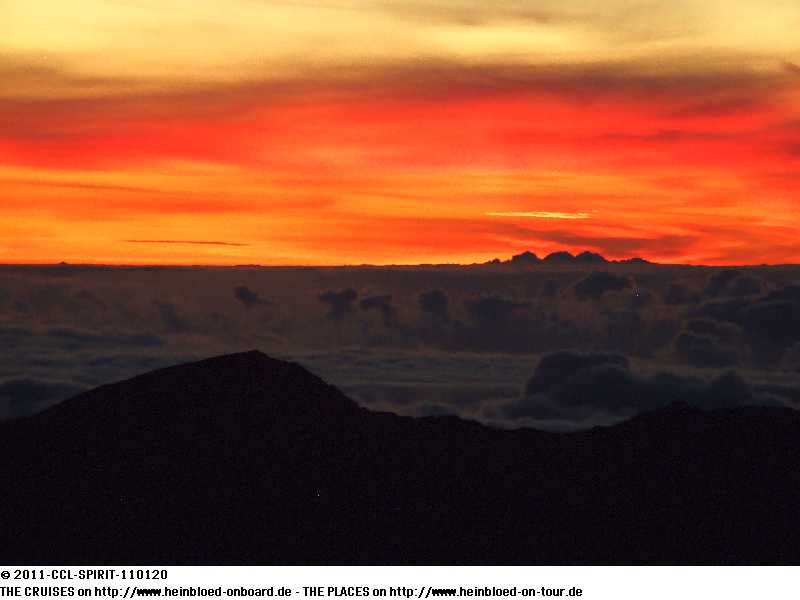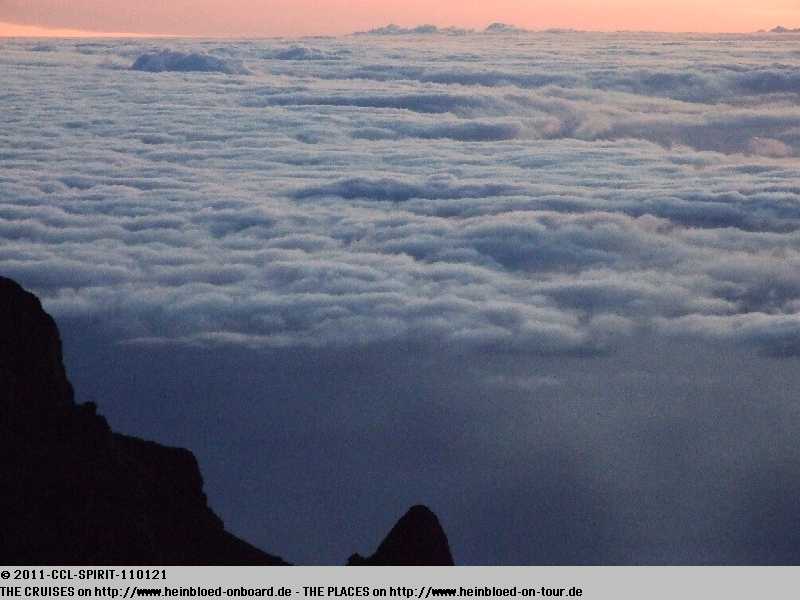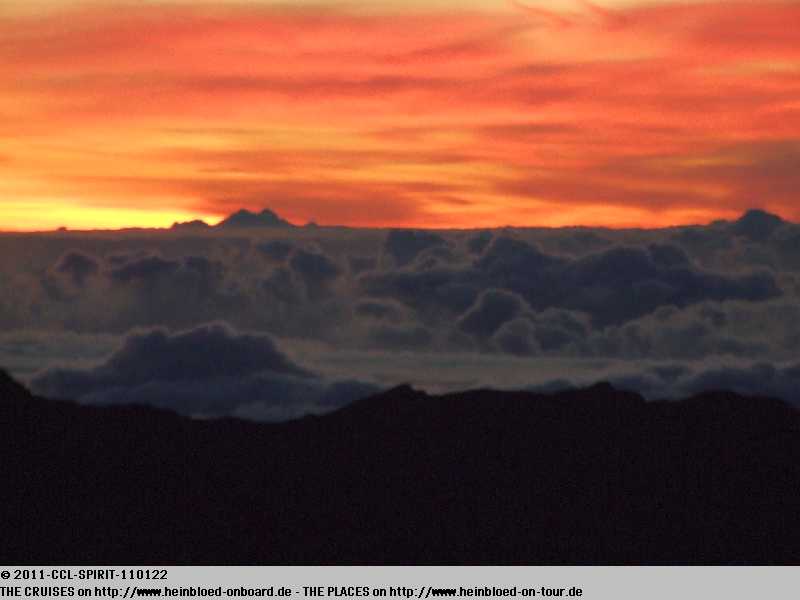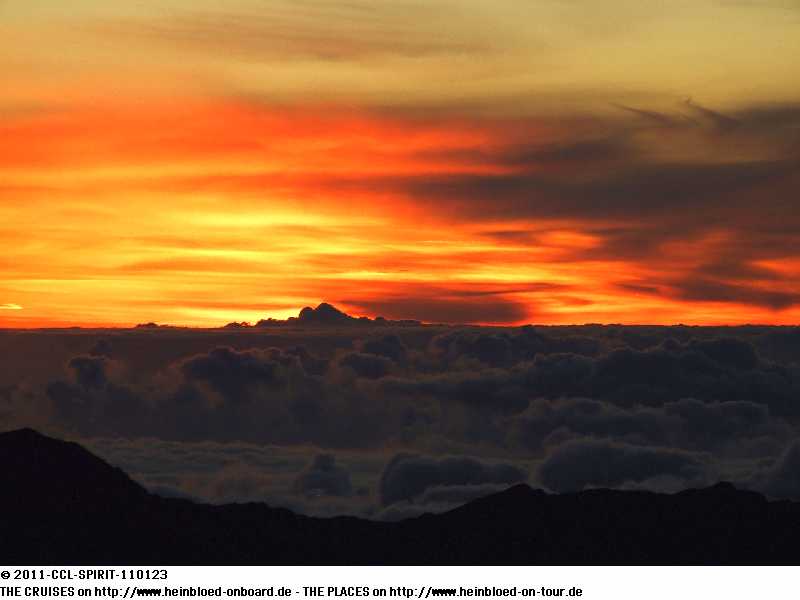 Sometime one thought that the first sunshine was appearing and started to applaude...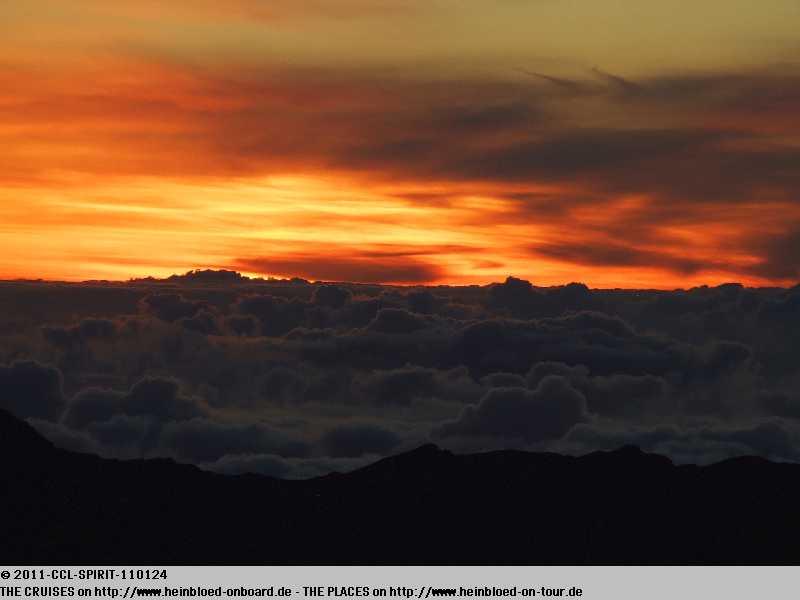 Irgendwann meint einer den ersten Sonnenstrahl erkannt zu haben und fängt an zu applaudieren...
und wird aber im nächsten Moment von allen anderen ausgebuht...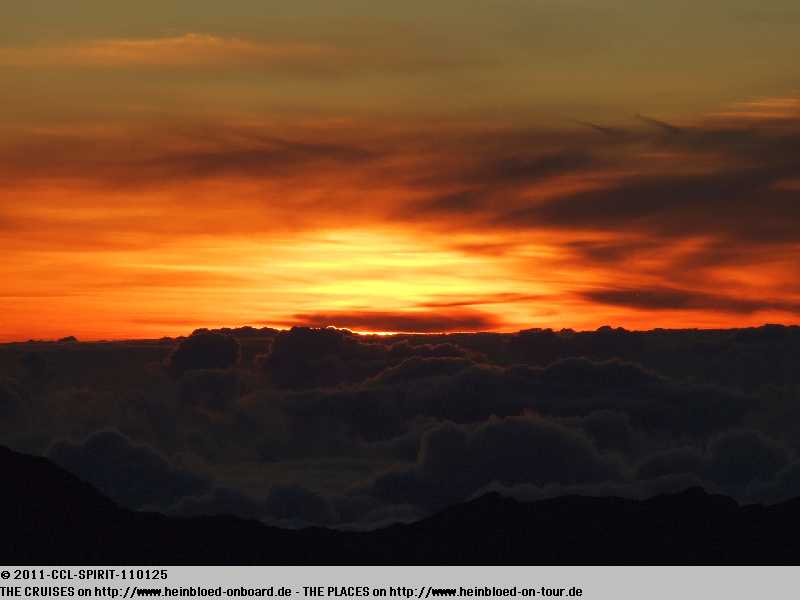 and everyone was booing at this moment...

When the vocalist came to welcome on Hawai'ian language the first sunshines it became mystic, magic and silent...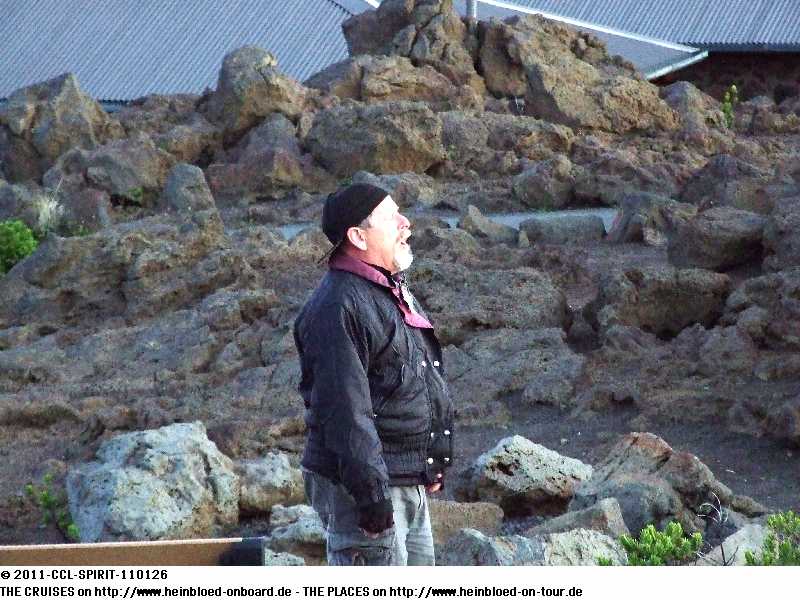 Erst wenn der Sänger kommt, um die ersten Sonnenstrahlen auf hawai'ianisch anzusingen und willkommen zu heißen, wird es mystisch, magisch und still...
Von Sekunde zu Sekunde ändert sich alles rundum.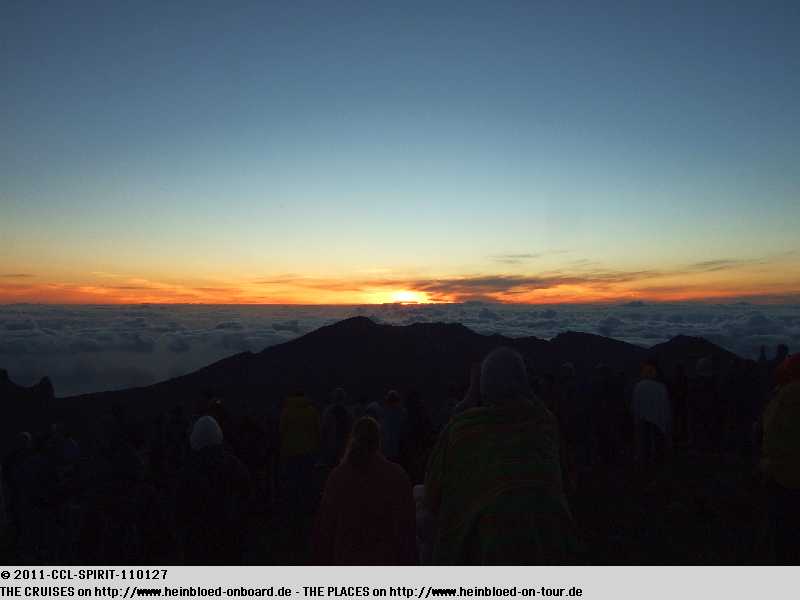 From second to second everything changed around.

Indeed I did not know where to look.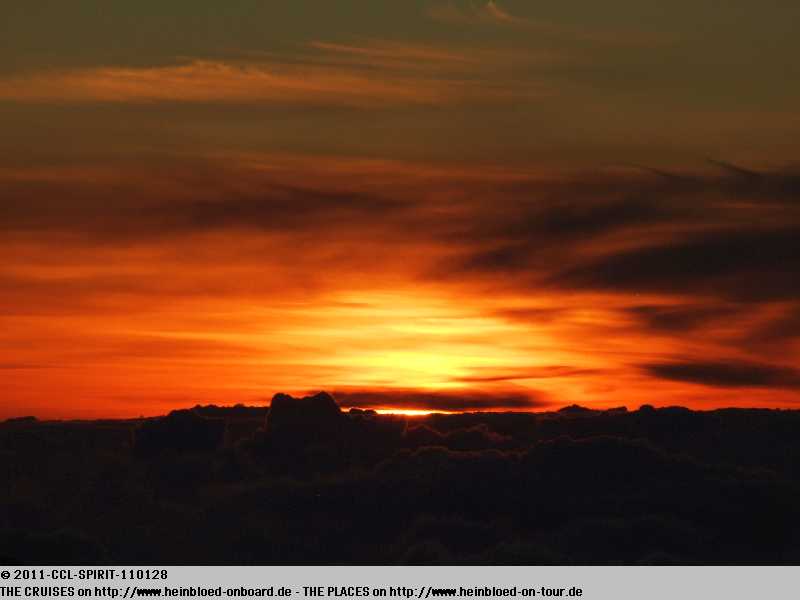 In der Tat, weiss man nicht mehr, wohin man gucken soll.
Und der Gesang zieht einen in seinen Bann.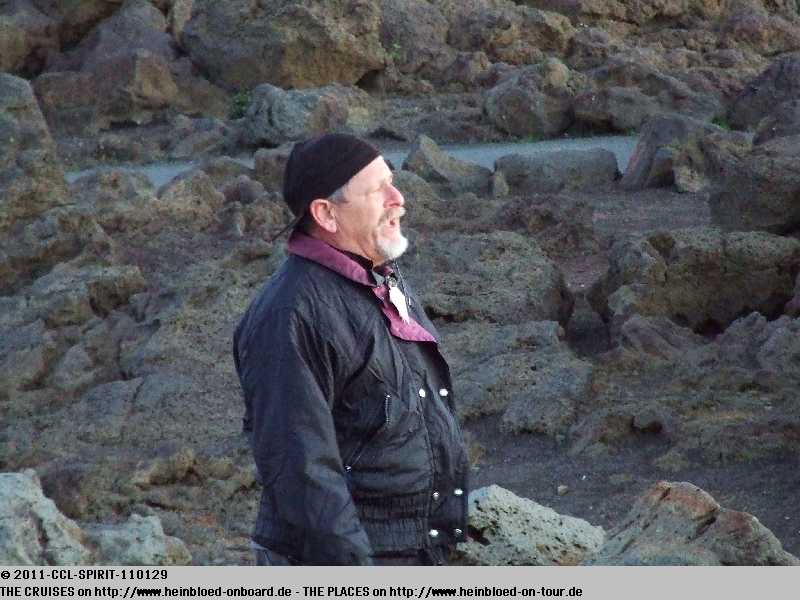 The song was fascinating.

When the song stopped it was much more lighter. It went very quickly. As fast the sun appeared as fast everybody packed and left immediately.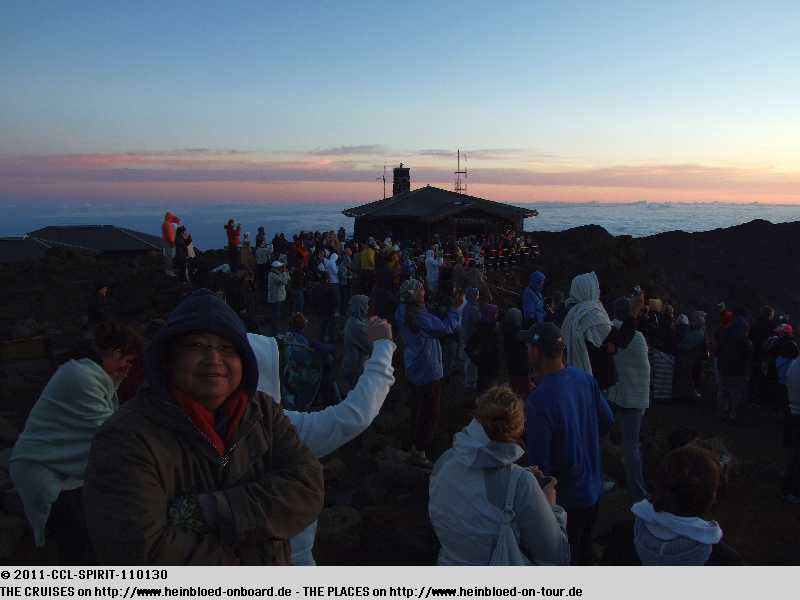 Als der Gesang aufhört, ist es bereits einiges heller. Es geht recht schnell. So schnell wie die Sonne auftaucht ist, so schnell packen alle zusammen und fahren sofort.
Wir können eh nicht los, da wir eingeparkt sind und so bleiben wir noch eine ganze Weile, bis dass die Sonne vollständig da ist.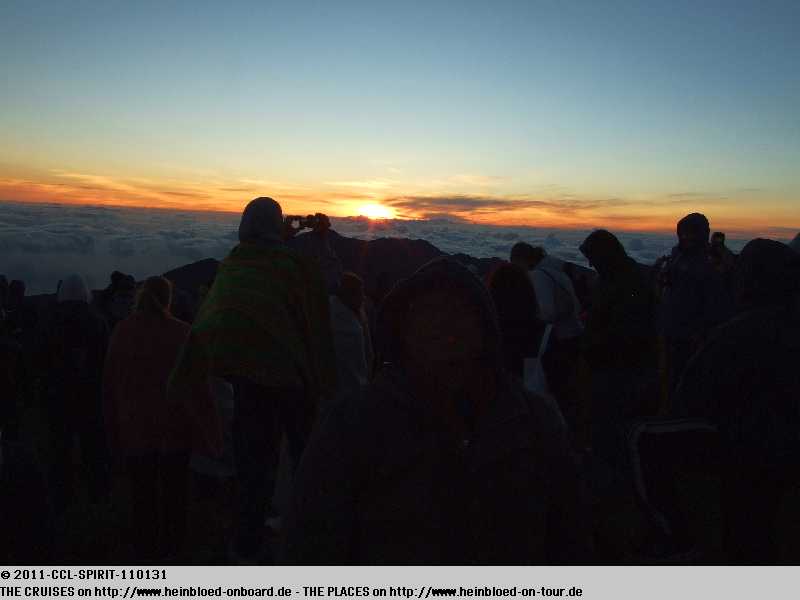 It was anyway impossible for us leave as other parked us with their cars and so we stayed a while until the full sun appeared.