Scroll down for English explanations - alternates with German explanations.

Wir fahren zunächst einmal zu Alamo. Über Torsten und einer weiteren Ecke bekamen wir ein Angebot, das ich allerdings inkl. Mietwagen ziemlich hoch fand. Nach wir wir um ein neues Angebot ohne Mietwagen gebeten haben, haben wir die Anmietung selbst in die Hand genommen.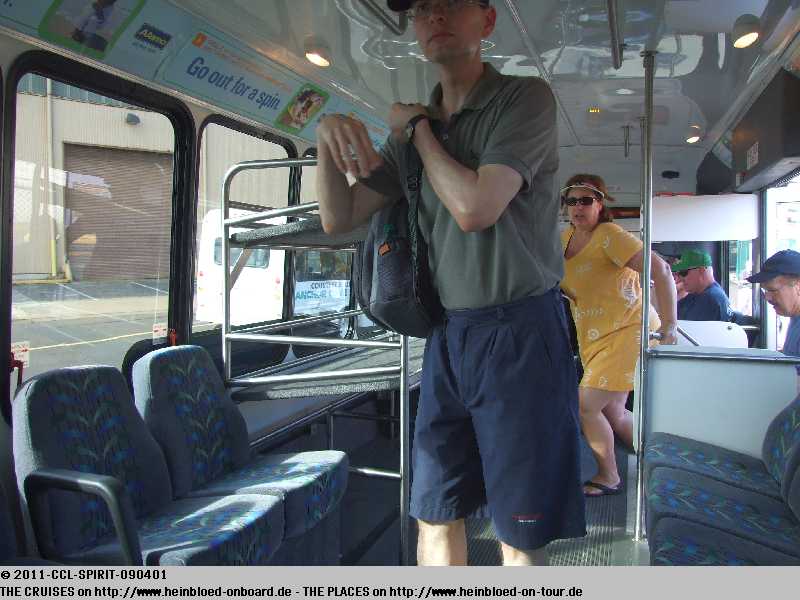 We went first to Alamo. Through Torsten and another "corner" we got a quotation which was quite high incl. car rental. After we asked for a new quotation without car rental we arranged the car ourselves.

Love Cruzn (Andrea and John from CA) went with us to the car rental location. By accident the cruise terminal in all of our ports was just around the corner of the airport. So normally you had everywhere a car rental station which offered a complimentary shuttle.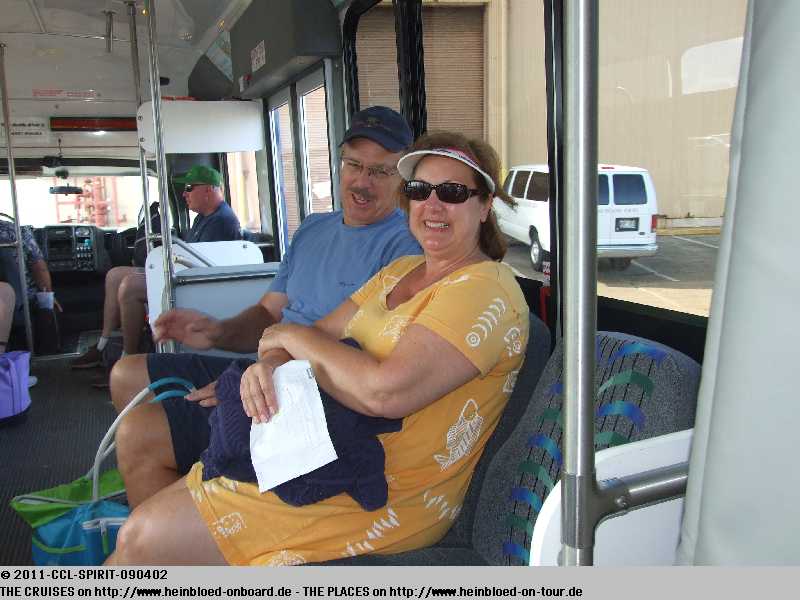 Auch Love Cruzn (Andrea und John aus Kalifornien) fahren mit uns zur Autovermietung. An jedem Hafen ist zufällig der Cruise Terminal immer um die Ecke vom Flughafen... Zufall oder nicht. Überall gibt es daher eine Autovermietung, die auch einen kostenlosen Shuttle anbietet.
Ist aber äußerst praktisch für uns.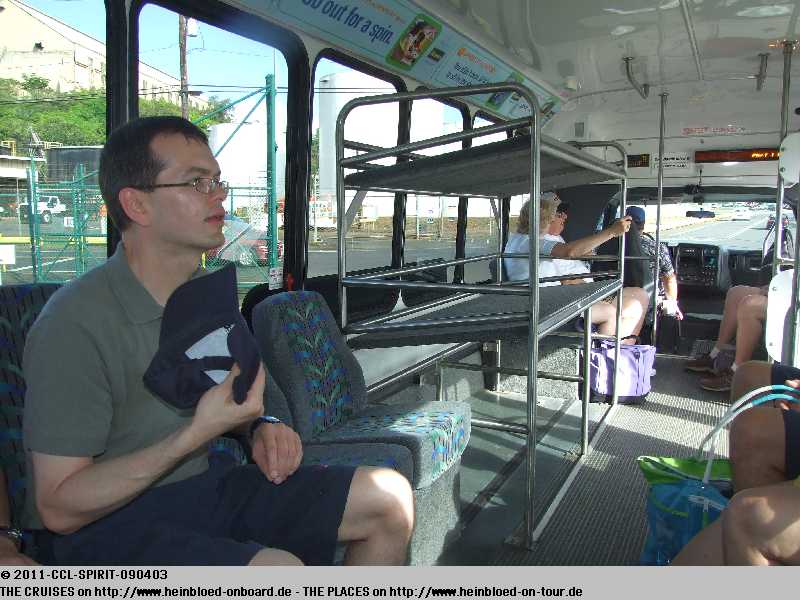 It was very practical for us.

So we met right on time with Alomo our tour guide Charlotte Lydgate. Best way to contact her is via Facebook or you ask me for her e-mail-address. She totally did not meet my expectations... Torsten's "corner" wanted to make sure that she should get her commission so she has never given us her e-mail-address until the very last minute. So we never could discuss what we would like to see. So I thought it might be an 89-years-old lady with a bunn and metal-rimmed glasses who was still using pencil and paper to write in old German letters or got a Olympia mechanical typewriter in her dowry when she emmigrated from Germany to the USA to survive as secretary. I had no other explaination for myself why she had no e-mail-address... To my surprise someone very vivid came whom I liked from the very first minute. She spoke in a way I was familiar with as we both raised in a range of 30 miles around Cologne.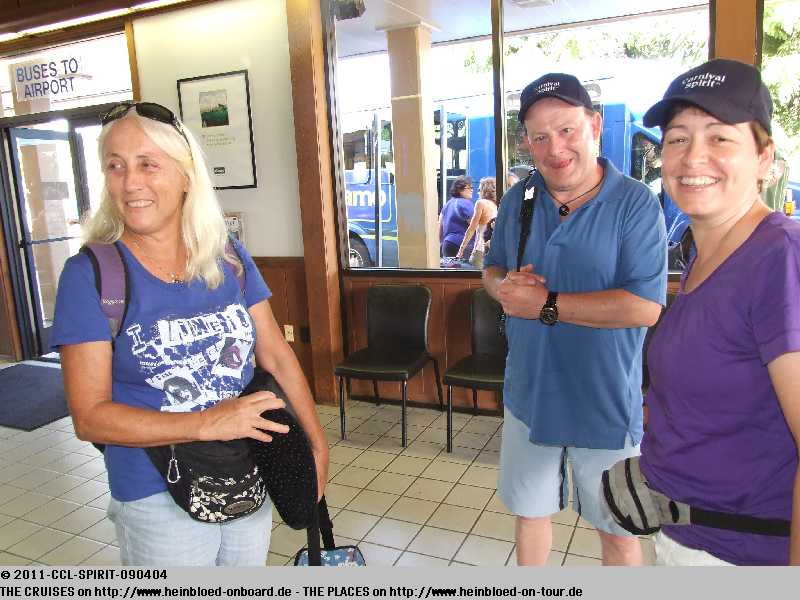 So treffen wir pünktlich bei Alamo auch auf Charlotte Lydgate, die man am besten über
Facebook
erreicht bzw. deren E-Mail-Anschrift bei mir erfragen kann. Auf jeden Fall entsprach sie nicht meinen Vorstellungen. Torstens "Ecke" hatte wohl aus Sorge, dass wir ihre Kommission nicht zahlen, erst in letzter Minute die Kontaktdaten von Charlotte herausgerückt. Bis dahin konnten wir auch nicht direkt klären, was wir gerne sehen wollten. Also habe ich wohl angenommen, dass es sich um eine 89-jährige ältere Dame mit einem Dutt und Nickelbrille, die zu Hause entweder noch mit Papier und Bleistift Sütterlin schreibt oder eine alte Olympia nutzt, die sie bei der Emmigration in die USA in ihrer Mitgiftkommode mithatte, um evtl. als Sekretärin durchs Leben zu kommen. Anders konnte ich mir die Aussage nicht erklären, dass sie angeblich keine E-Mail hätte... Zu meiner Überraschung kam jedoch jemand total Quietsch-Fideles, mit der ich mich von erster Minute gut verstand, da sie aus Solingen stammt und ich ja in Mönchengladbach aufgewachsen bin. Daher sprach sie eine Sprache, die mir durchaus ein Gefühl der Heimat vermittelte und sie war gut drauf.
Da ich mich in Los Angeles in den Self-Check-In-Kiosk von Alamo "verliebt" hatte, bleibe ich auch dieses Mal dabei. Bevor ich die Anmietung beendet habe, konnten wir Charlottes Führerschein noch einlesen und sie als Fahrerin registrieren. Sie ist wohl häufiger Kunde bei Alamo, da ihre Daten bereits alle vorlagen. Was sehr nett war: sie hat mir sofort angeboten, die Fahrerei zu übernehmen, damit ich mich auf die Landschaft konzentrieren konnte.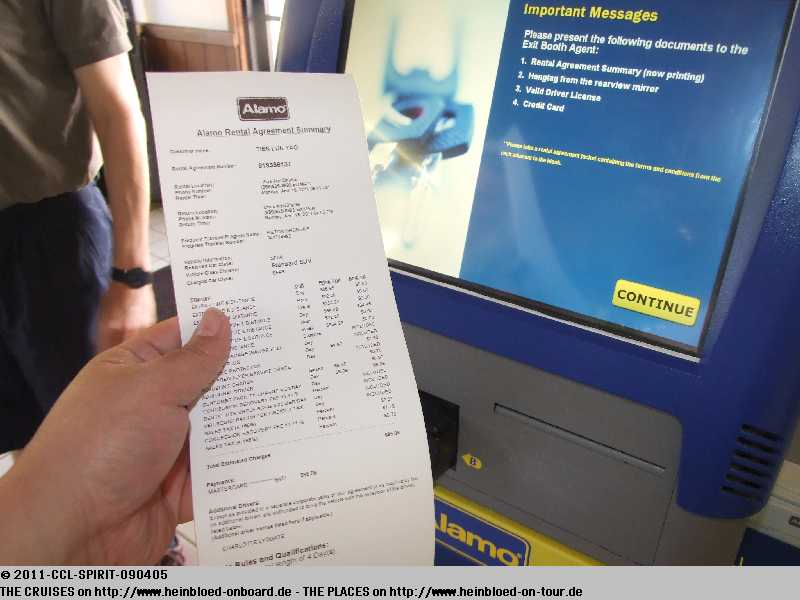 As I felt "love" in Los Angeles with the Alamo self-service-check-in-kiosk I stayed with her. Before I finished the rental we could add Charlotte's driving license and registered her as second driver. What was very nice: she offered me to drive so I could concentrate to enjoy the landscape.

Outside you found the vehicles which you can choose yourself.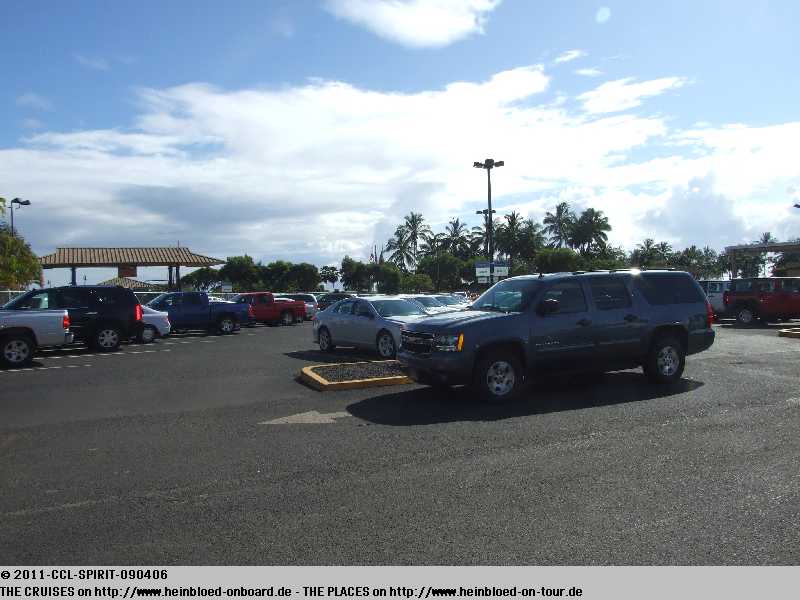 Draußen standen die Fahrzeuge zur Selbstauswahl bereit.
Wir nehmen einen Jeep...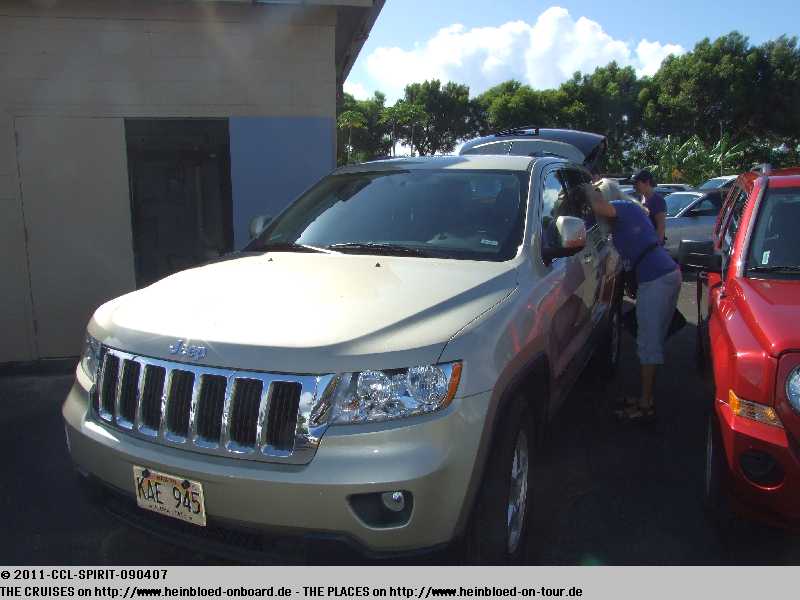 We took a jeep...

... full leather equipment...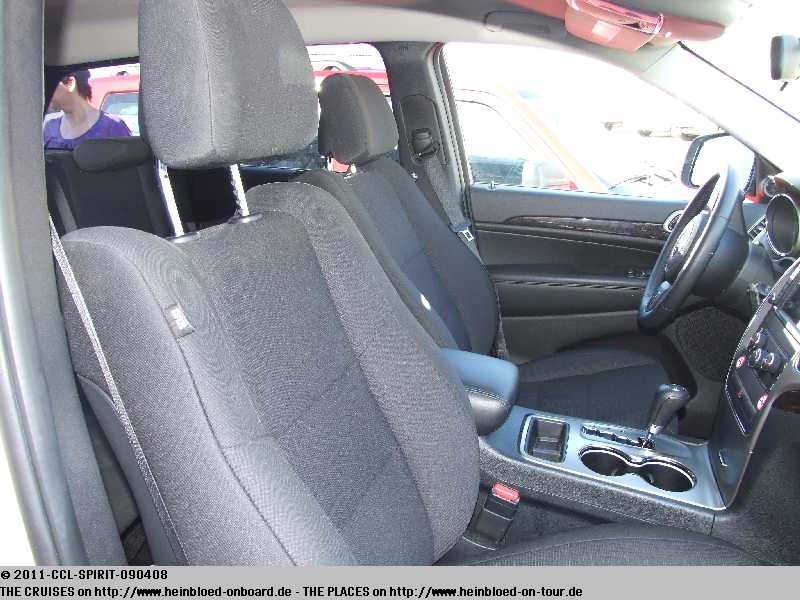 ... mit Volllederausstattung...
Auf jeden Fall fuhren wir zunächst mal wieder dem Alamo-Shuttle hinterher...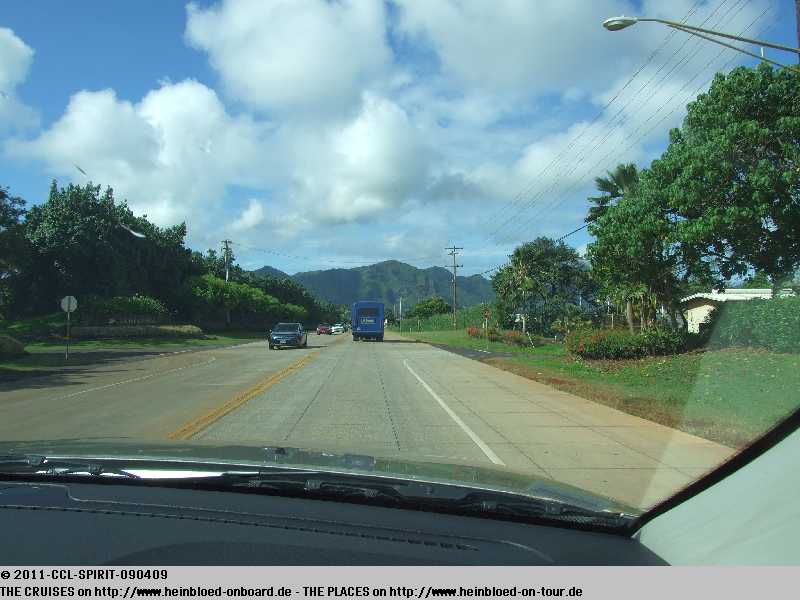 At first we drove behind the Alamo-Shuttle...

... to get back to the port which already had better times once tons of sugarcane were the big business.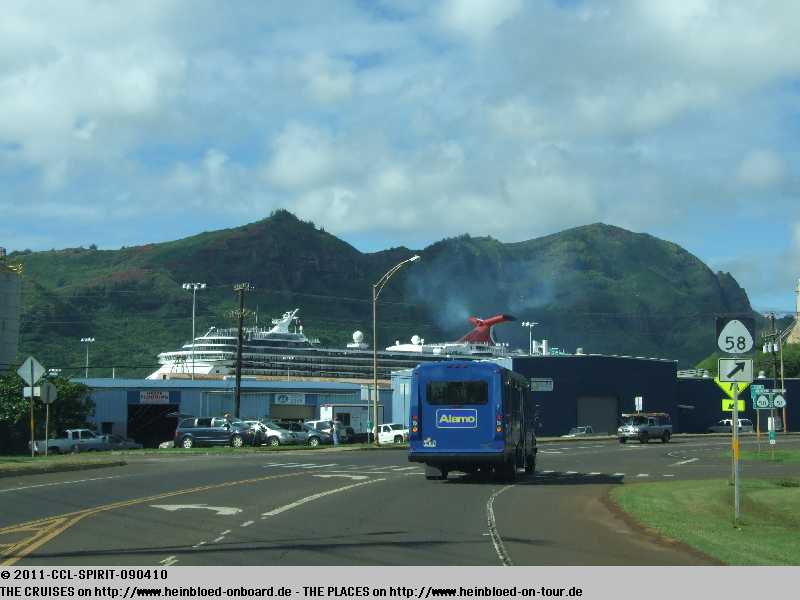 ... um wieder am Hafen vorbeizufahren, der auch schon seine bessere Zeiten hinter sich hatte, als noch das große Geschäft mit Zuckerrohr gemacht wurde.
Mit dem ersten Aussichtspunkt hat sie schon mal voll ins Schwarze besser ins Grüne getroffen...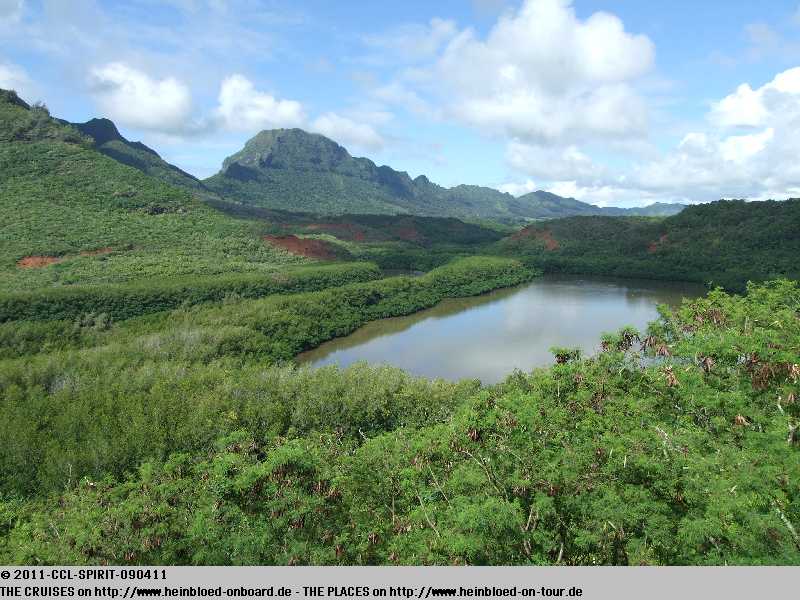 With the first outlook point she hit already the bull's eye...

As I tended to speak someone to death Charlotte should accept this as compliment that I was standing there with an open mouth and unable to say anything.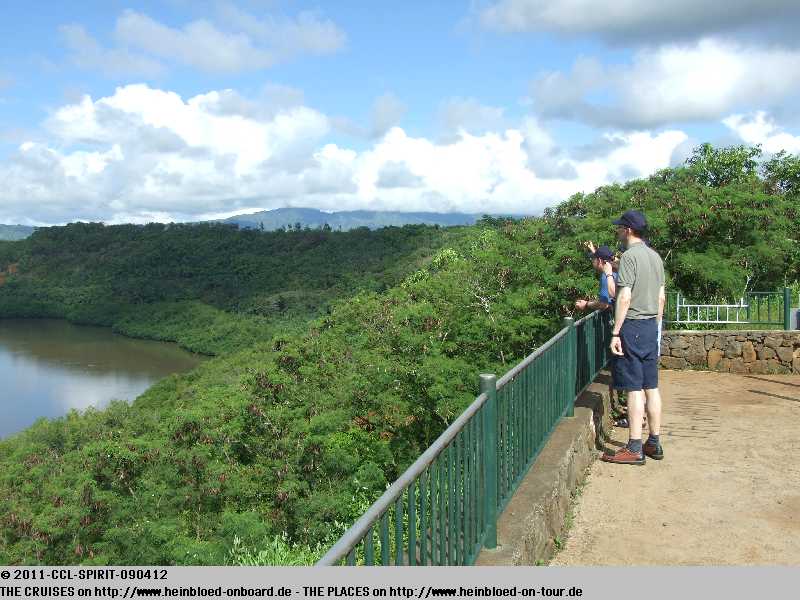 Da ich dazu neige, jemanden zu Tode zu quatschen, sollte Charlotte das als Kompliment verstehen, dass man hier nur mit offenem Mund staunen konnte.
Wir waren schon nach wenigen Minuten angetan und konnten uns kaum vorstellen, dass der Tag noch besser werden sollte.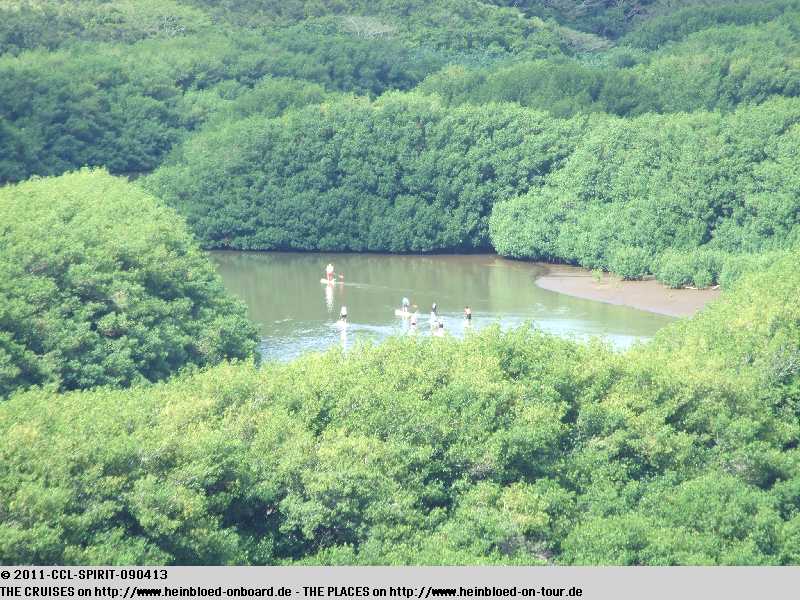 We were after few minutes so touched and could not imagine that the day would become better than now.