Scroll down for English explanations - alternates with German explanations.

Man muss schon sagen, dass wir für zwölf Nächte sehr günstig weggekommen sind. Nur gab es ja keinen kostenpflichtigen Spa und leider nur ein Zuzahlrestaurant. Sonst wäre es vermutlich mehr geworden. Dadurch, dass ich die AT&T-Karte hatte, ist es bei einem Pass geblieben. Gegen 04.00 Uhr war unsere Rechnung noch nicht da, so dass ich nochmals zur Rezeption gegangen bin. Dort freue ich mich sehr, dass Stefania Dienst hat und mich verabschiedet.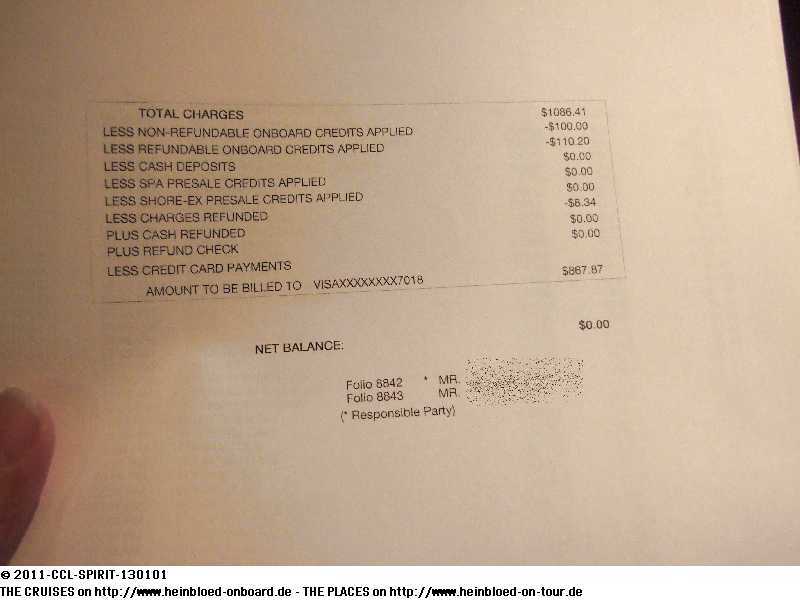 You must say that for twelve nights it was quite reasonable. But we did not have a spa on fee and there was only one alternative dining venue. Otherwise it might have been more. As we had the AT&T-card we had only one pass. Around 04.00 hrs our final invoice has not arrived so I went to the reception again. So I was quite happy to see Stefania again as she was on duty.

A last view to our macedamia-nuts which we got from Diane last weekend.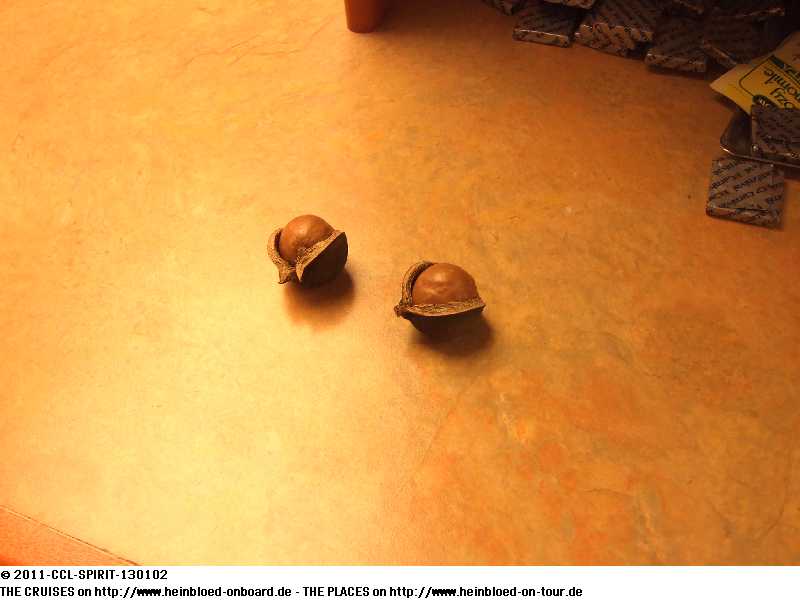 Noch ein letzter Blick auf unsere Macedamia-Nüsse, die wir letztes Wochenende von Diane bekommen haben.
04.55 Uhr - das war es.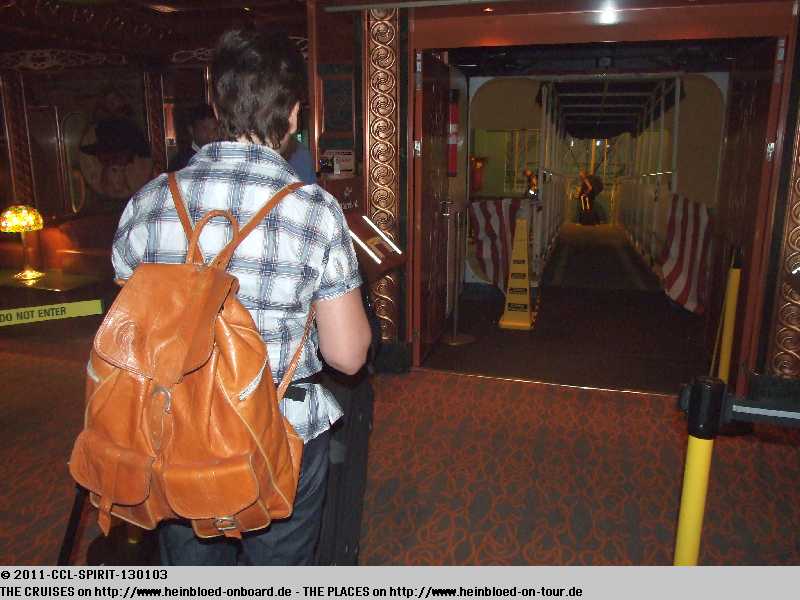 04.55 hrs - that is it.

A very last view back. It was not true that you cannot leave the ship after 05.00 hrs.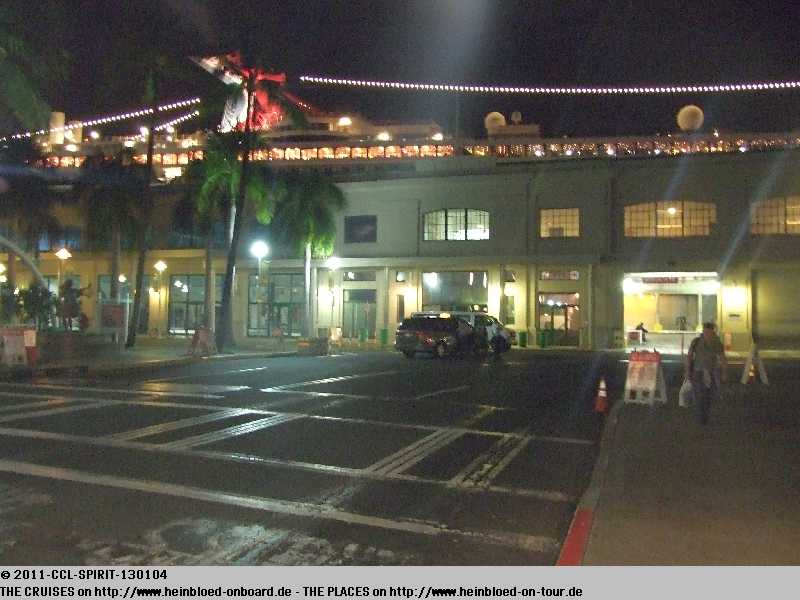 Noch ein letzter Blick zurück. Es stimmte übrigens nicht, dass man nach 05.00 Uhr das Schiff nicht mehr verlassen durfte.
So warten wir auf unser Fahrzeug von
Honolulu Airport Shuttle
.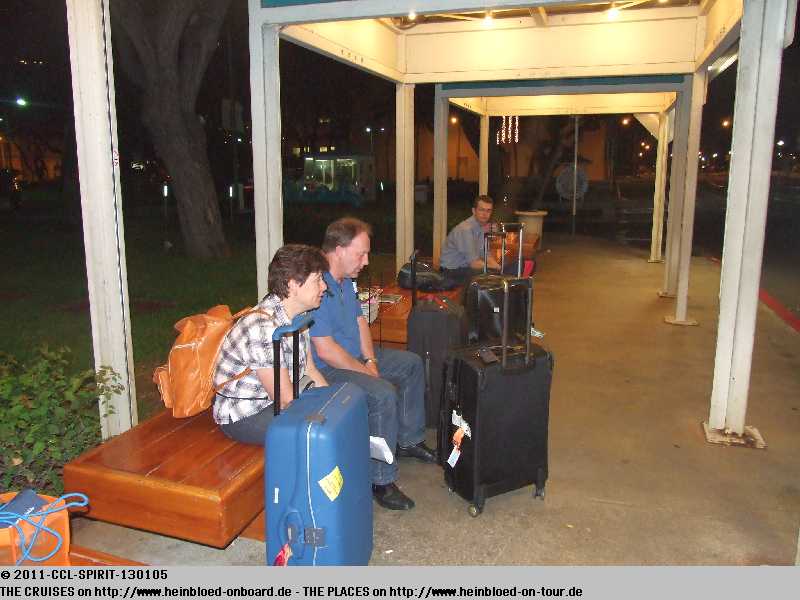 So we waited for our vehicle from Honolulu Airport Shuttle.

We were surprised that a van arrived as we booked a private transfer.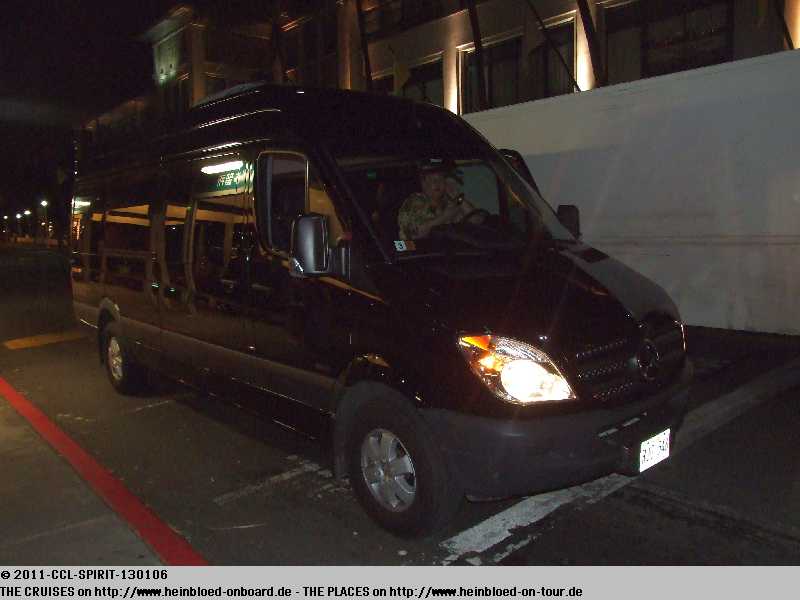 Über den Bus waren wir etwas überrascht, da ich einen Privattransfer gebucht habe.
Vielleicht hätte ich nachfragen sollen, was sie unter Privattransfer verstehen - vielleicht, dass man nicht den Linienbus nehmen muss. Es hätten eigentlich 8 Gäste sein sollen. Gegen 05.15 Uhr kommen noch zufällig jimmer627 (Jimmy und Lana aus Illinois), die wir aus dem cruisecritic.com Roll-Call kennen. Sie sind anscheinend doch noch nach 05.00 Uhr von Bord gekommen. Weitere Gäste kommen nicht, also fahren wir los. Ich hatte dann auch keine Lust an dem Morgen mich mit dem Taxiunternehmen auseinander zu setzen und habe es sein lassen. Nur werde ich es mir beim nächsten Mal genau überlegen, ob ich sie nochmals buchen werde. Andererseits muss ich Logistiker sagen: ich bin zur vereinbarten Zeit abgeholt worden und in einem guten Zustand rechtzeitig zum Flughafen gebracht worden. Alles andere sollte mir egal sein. Warum also an sie höhere Ansprüche stellen, als an sich selbst.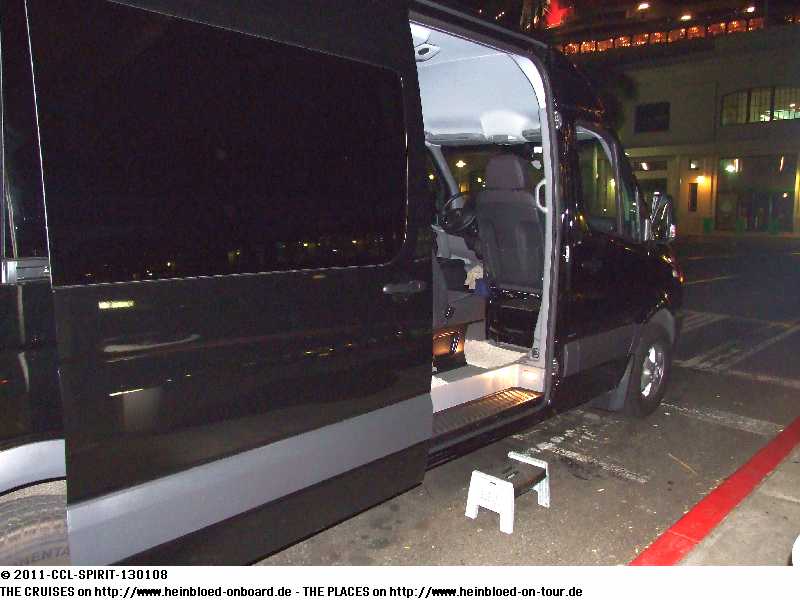 Maybe I should have asked what private transfer means - maybe just that you must not take the public bus. It should be 8 passengers. Around 05.15 hrs jimmy627 (Jimmy and Lana from IL), whom we new from the cruisecritic.com-roll-call. Obviously they could get from the ship after 05.00 hrs. Further guests did not came so we started. I did not like to call the taxi company and have a battle with them. But I will remember this in case I need to book a transfer again. But as Logistics man we were collected at the agreed time and we were taken in a good shape to the airport. So why asking for more if you would not ask for yourself.

One Hawai'i there is something special: for all mainland-bound flights you need to go through the agriculture check before you can check-in. It apply only to the checked baggage.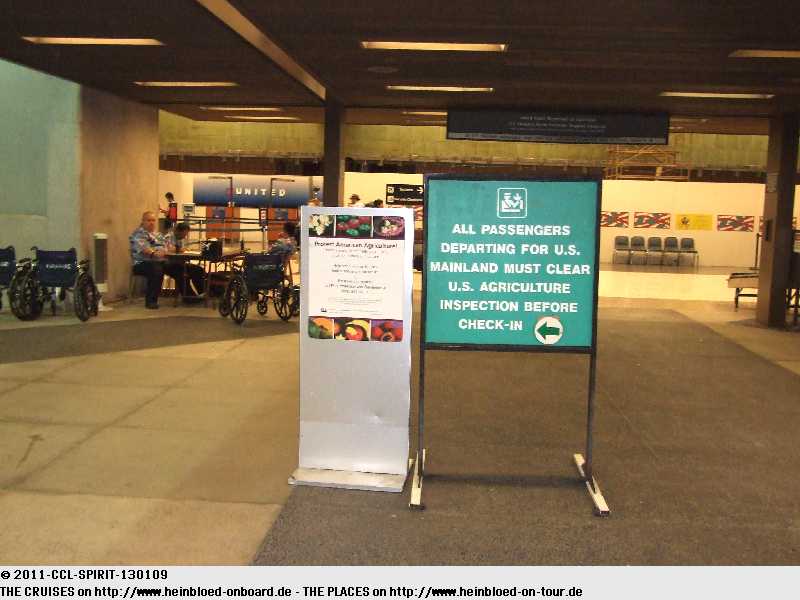 Auf Hawai'i gibt es eine Besonderheit. Bei allen Flügen, die zum Festland gehen, muss man durch die Landwirtschaftskontrolle, bevor man das Gepäck abgeben darf. Das gilt nur für das aufgegebene Gepäck.
Uns erwartet paiagirl (Frances), deren Flug um 06.45 Uhr nach Los Angeles geht.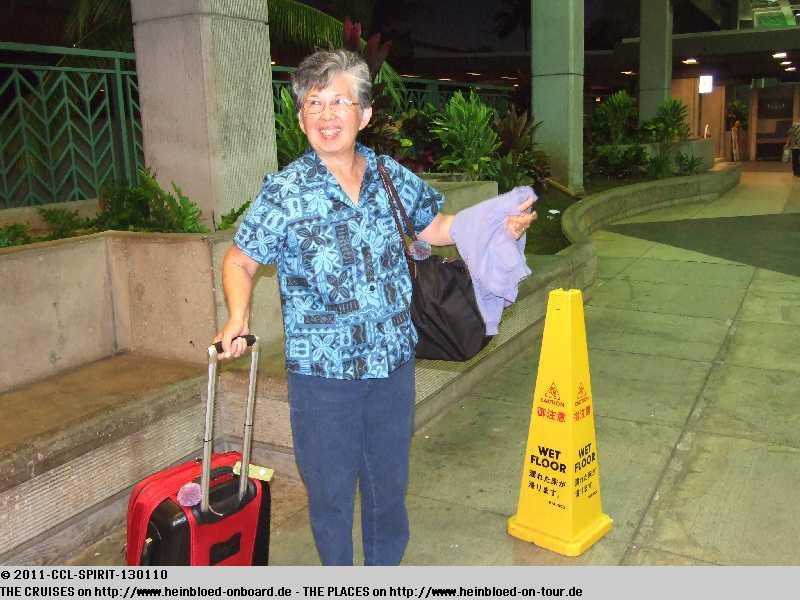 paiagirl (Frances) was expecting us. Her flight should leave 06.45 hrs for Los Angeles.

But we were flying by United Airlines to San Francisco. The flight was only 5.00 USD plus many many miles. Additonally we afforded to pay for using the Premium Line for 29.00 USD so we could use the check-in for First and Business Class. That saved us a lot of time to queue.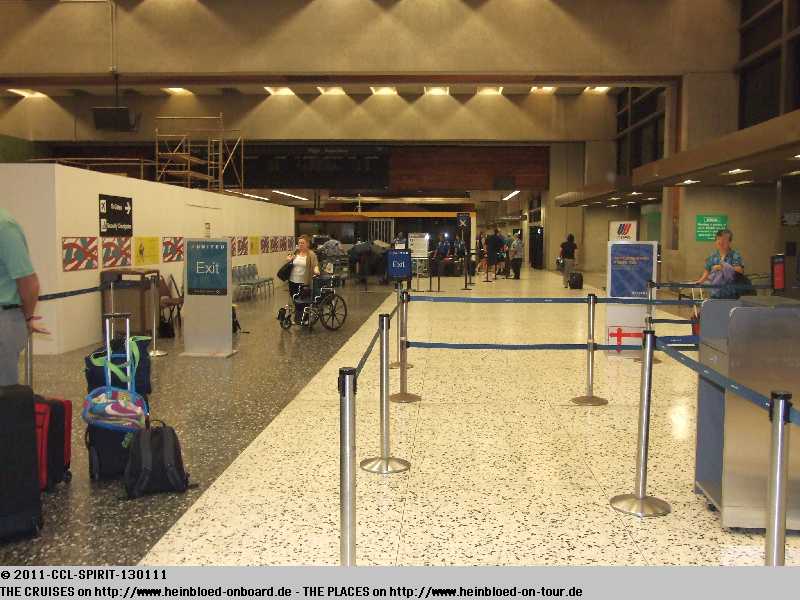 Bis San Francisco fliegen mir mit United Airlines. Der Flug hat bloß 5,00 USD zzgl. jeder Menge Meilen gekostet. Zusätzlich gönnen wir uns die Premium Line für 29,00 USD, so dass wir bei der First und Business Class unser Gepäck aufgeben können. Das spart eine Menge Zeit für das Anstehen.
Da wir uns weniger als 24 Stunden in San Francisco aufhalten wird unser Gepäck bereits bis Frankfurt abgefertigt. Ein Priority-Label wollte man uns nicht geben, weil wir nur auf dem 2. Teil einen Anspruch darauf haben.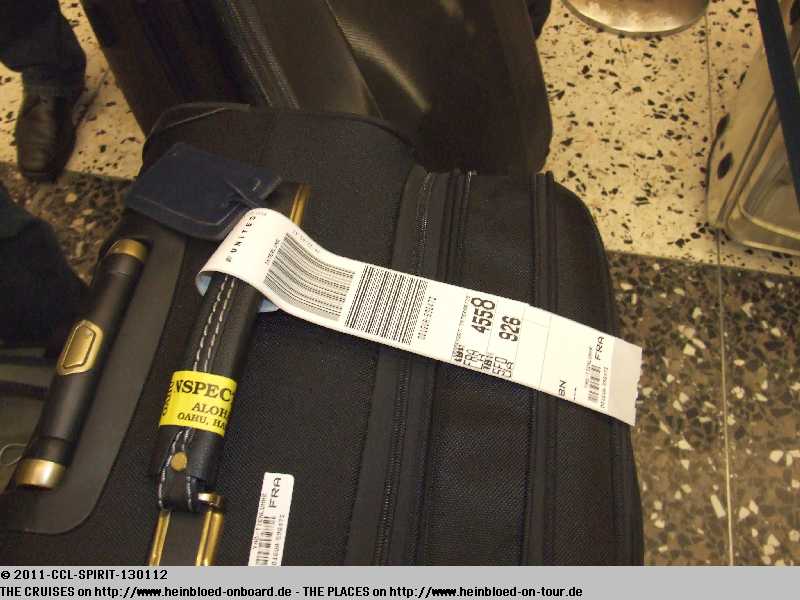 As we stayed less than 24 hours in San Fracisco our bags could be through-checked to Frankfurt. As we had only priority on the second lag of our voyage they did not want to tag it accordingly.

At this airport the terminals were connected outdoor.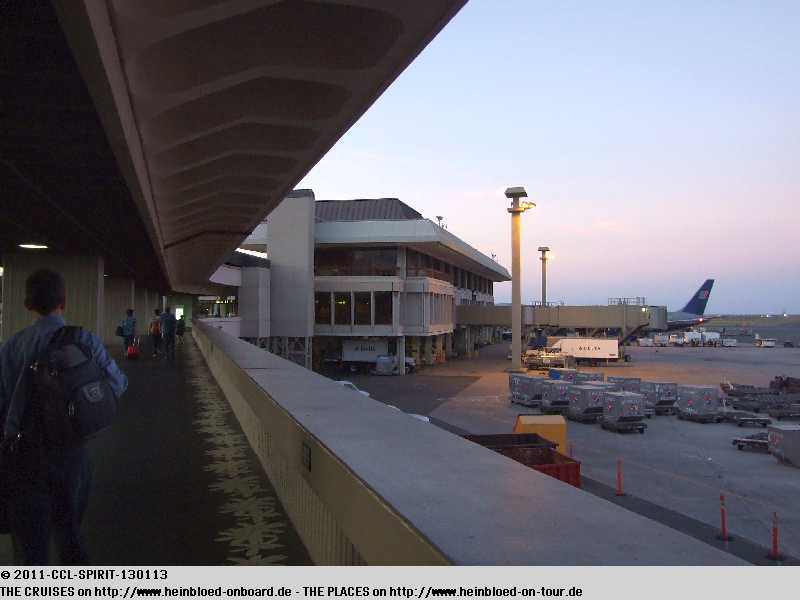 Bei dem Flughafen sind die Terminals außen miteinander verbunden.
Die direkten Zufahrten vor die Gates stammen aus Zeiten, als es eine andere Welt in den USA war.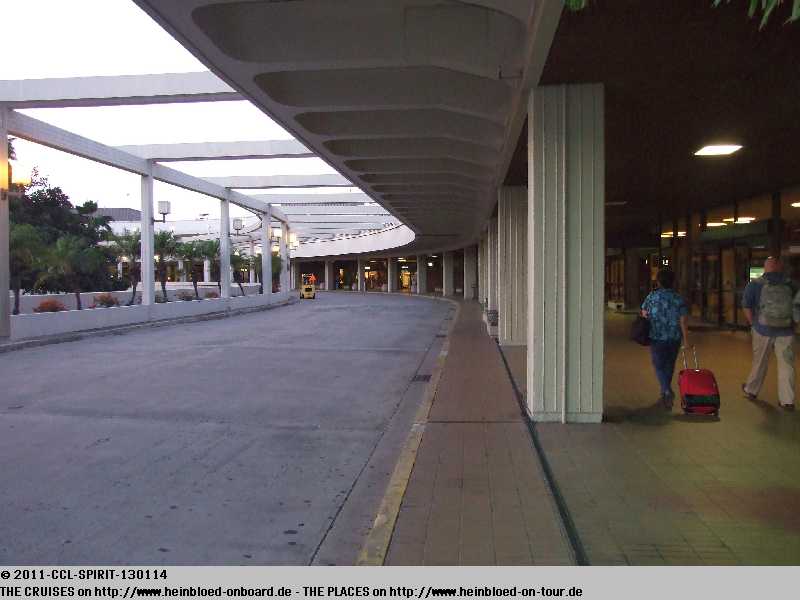 The direct access ways to the gates were left over from a time as there was another world in the US.

It was time to say paiagirl (Frances).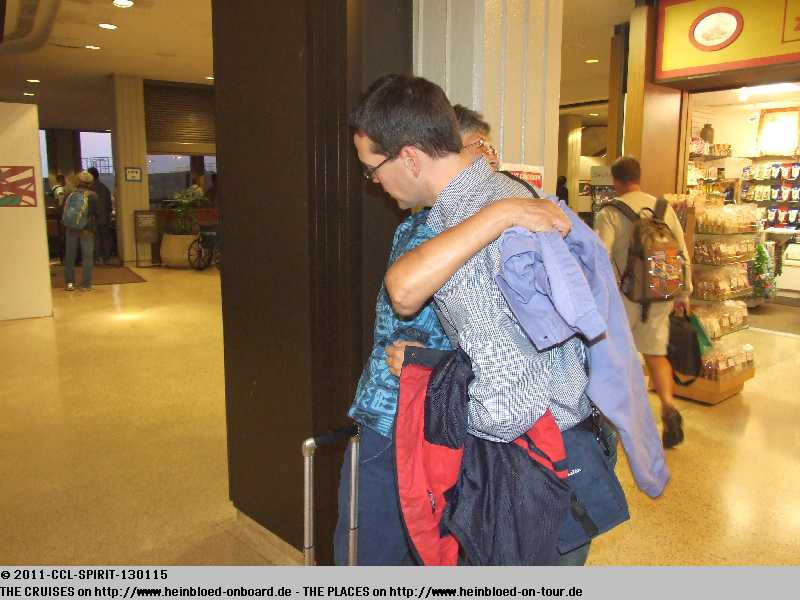 Der Abschied von paiagirl (Frances) nahte.
Aber wir sind ja im September 2011 in Amsterdam und werden sie über Brüssel nach Brügge bringen. Sie ist eh auf einer Transatlantik, da schadet es ja nichts, wenn sie Übernacht mit uns in Brüssel verbringt.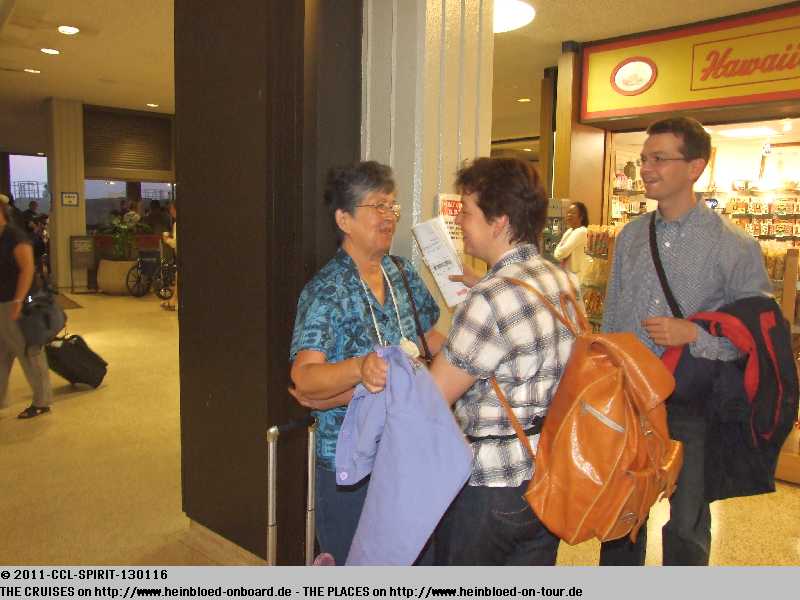 But we are again together in September 2011 in Amsterdam and will take them via Brussels to Brugge. She is on a transatlanctic anyway. So it does not matter to stay one night ashore in Brussels with us.

So who wants to have some Macedemia Nuts and enjoy her hospitality in the US: Still looking for guides for September 2011 in Luebeck, Germany, Copenhagen, Denmark and Lisbon, Portugal... Who goes on NORWEGIAN SUN towards Iceland in September 2012, NORWEGIAN JADE towards Israel in December 2012 or NORWEGIAN SPIRIT towards Canaries in January 2013 can make her acquaintance...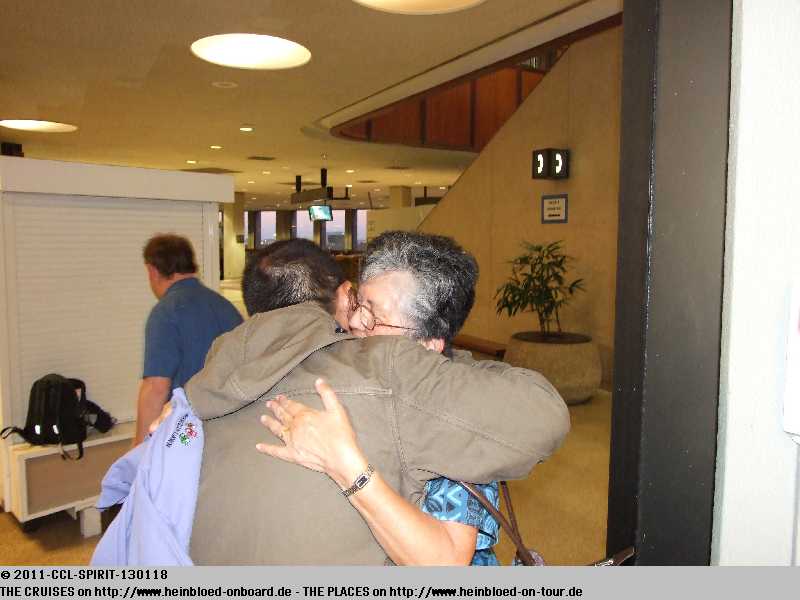 Also wer Macedamia-Nüsse und ihre Gastfreundschaft in den USA genießen will: Es werden noch Betreuer für September 2011 in Lübeck, Kopenhagen und Lissabon gesucht... Auch wer September 2012 mit auf die NORWEGIAN SUN nach Island, Dezember 2012 auf die NORWEGIAN JADE nach Israel und Januar 2013 auf die NORWEGIAN SPIRIT zu den Kanaren mitkommt, kann sie gerne kennenlernen...
Für uns geht es aber nach San Francisco.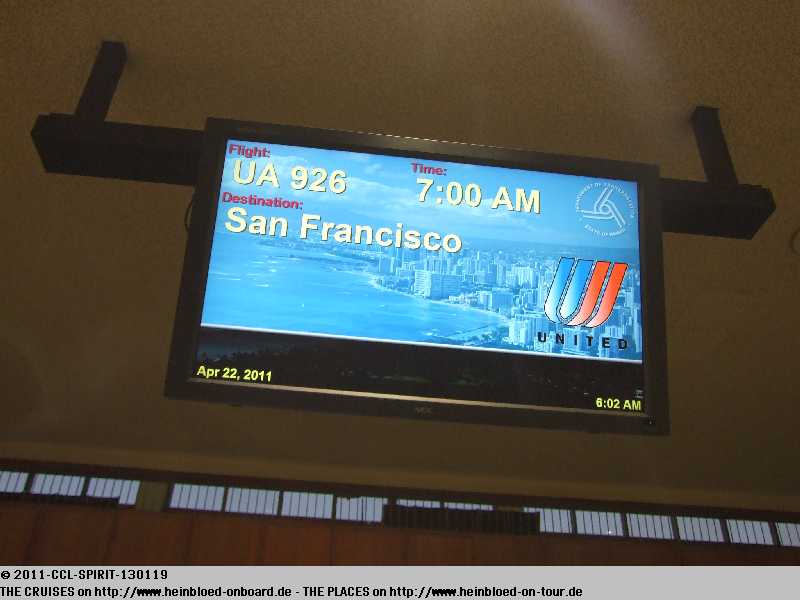 But for us we went to San Francisco.

For 59.00 USD we preferred to sit in Economy Plus.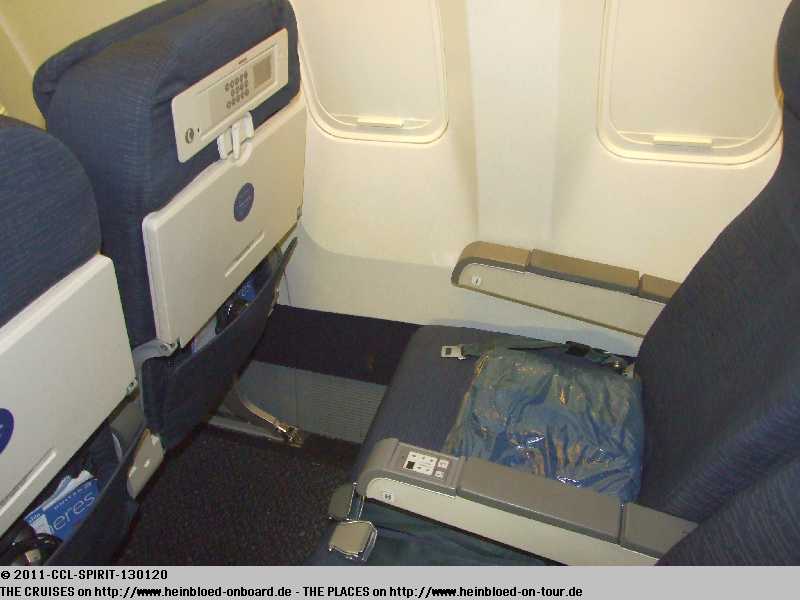 Für 59,00 USD mehr sitzen wir in Economy Plus.
Das bedeutet bis zu 13 cm mehr Beinfreiheit.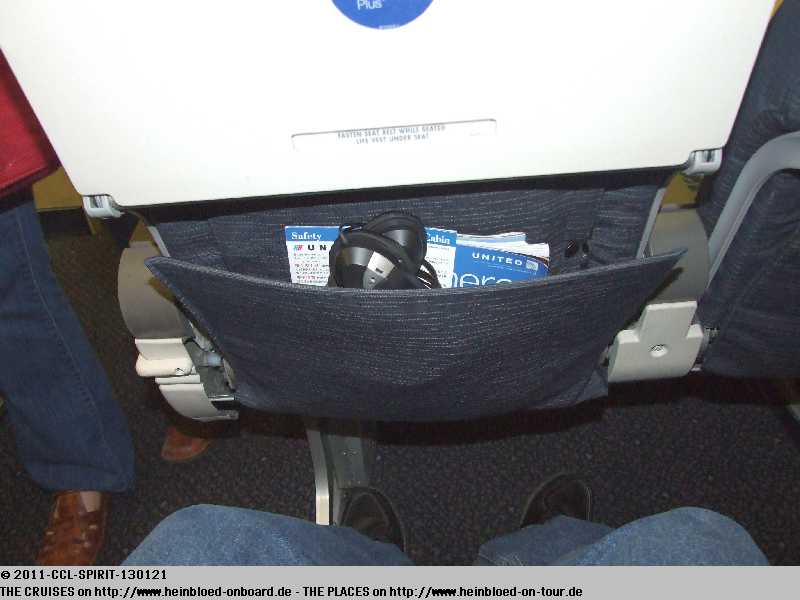 That meant upto 5 inches more legroom.

We had to pay for our food ourselves. 9.50 USD for a breakfast wrap. The flight attendant said that he could not recommend the cheese-ham-croissant...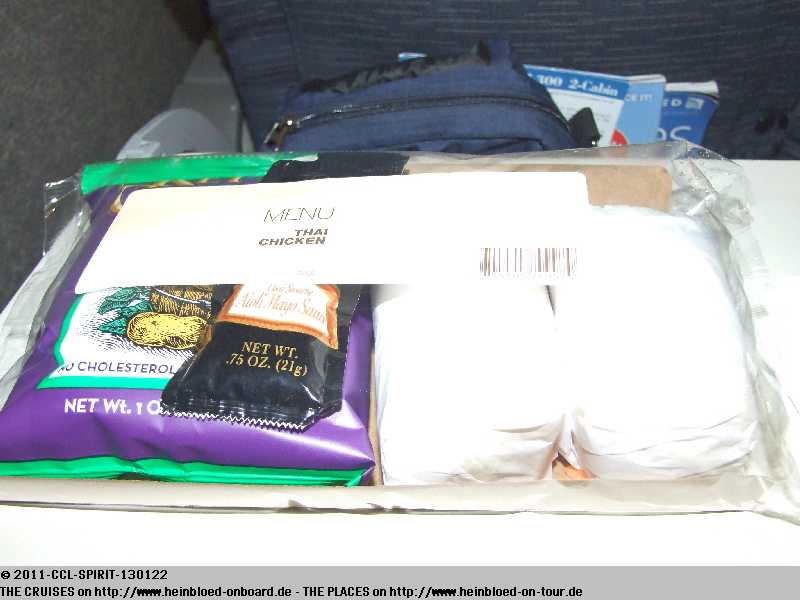 Zu essen müssen wir aber trotzdem selbst bezahlen. 9,50 USD für ein Frühstückswrap. Der Flugbegleiter meinte ausdrücklich, dass er das Schinken-Käse-Croissant nicht empfiehlt...
Jemand ist es auch hier zu kalt und zu zugig...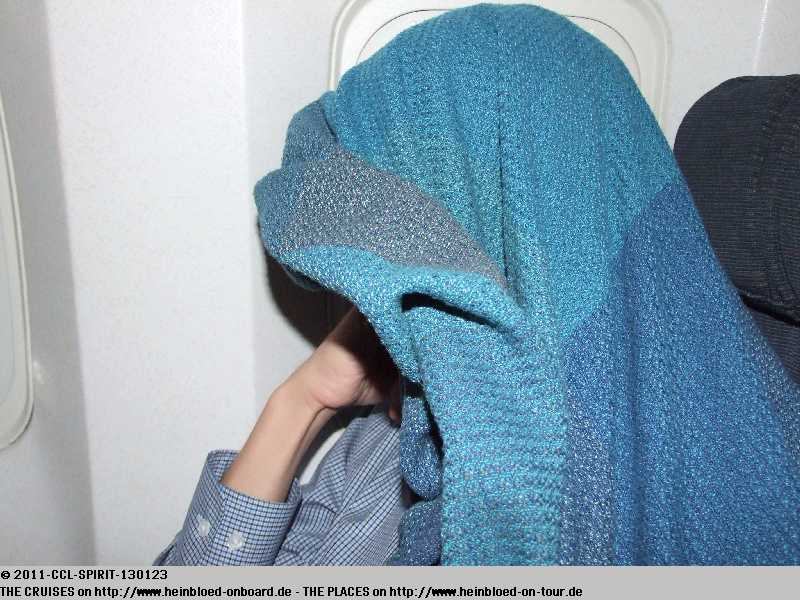 Someone said it was too cold and breezy...